TerraMaster NAS at the Computex 2019 Show
I talk about ALOT of NAS brands here on the blog and YouTube, however very few have displayed the incredible evolution speed of TerraMaster. In the last 2-3 years I have seen then accelerate their hardware and software platform (TOS) at a speed that vastly outweighs that of top tier brands like Synology and QNAP and although they are still a way off from toppling those big guns, they are making very competent moves for 3rd place, producing NAS drives that can compete with the likes of Asustor and Drobo, leaving brands like Thecus a little in the dust. It is for this reason that I have always made time to focus on their NAS hardware since my early days and when I first learnt that they would be at the Computex show, I looked forward to seeing the team behind the products and get an idea of what they have in store for 2019-2020.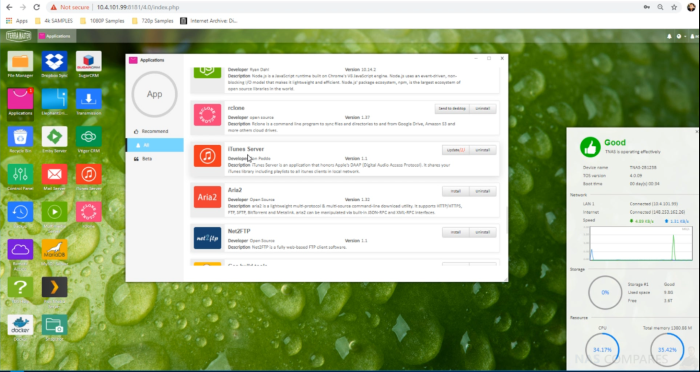 Before I start banging on about how much innovation we will be seeing from Terramaster in 2019-2020 (pssst,,, there's 10Gbe, Thunderbolt 3 and Xeon E3 processors), I do think we should take a moment to look at just how much work has gone into their software. The browser-based GUI and OS, TOS 4 is really something. Since my software overview a little over a month ago, they have really left a positive impression on me. It is worth highlighting that they do have fewer first-party applications than Synology, QNAP and Asustor – but way, WAY more than every other brand. As well as finding a really good balance of easy and useful.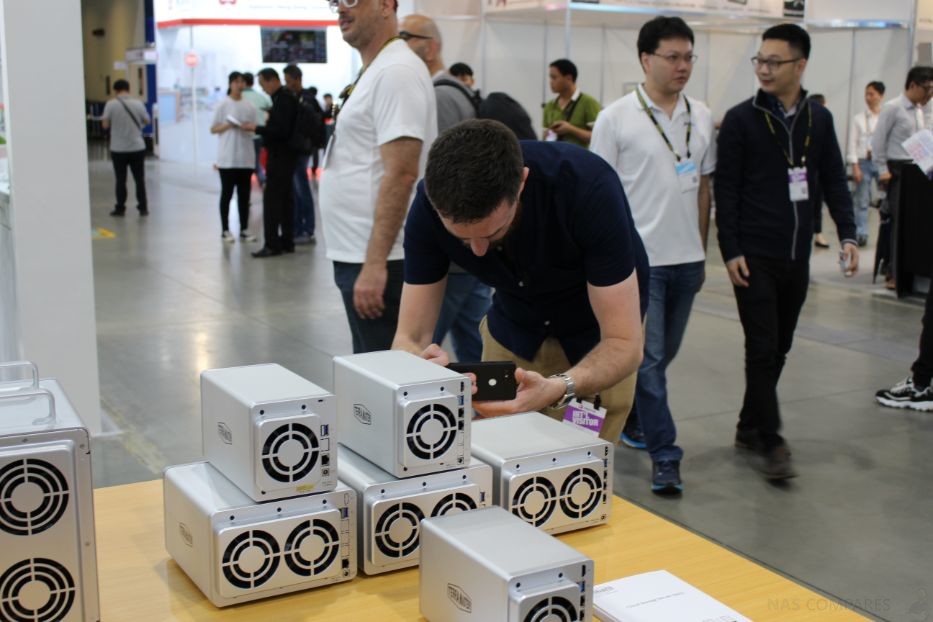 One feeling that I jsut kept having time and time again was that they have the silky smooth UI and responsiveness of Synology DSM, but the android/window utilities and configuration found in QNAP QTS. Although I have already covered these previously and I strongly recommend you check out the video below, here are the highlights:
BRTFS supported on Intel and ARM V8 CPU NAS – so you can take advantage of the easy background integrity checks, self file healing and smoother snapshots that this file system provides
AES and AES-NI 256bit encryption – so your data is safely contained and moveable, but not crackable outside the NAS if you so chose
Plex Support – so home media users can now get a much more affordable and powerful Plex Media Server
Genuinely impressive mobile application (easily rivalling that of competitors)
Support concurrent NAS access for up to 1,000 users
SSD Cache Support
Cloud Migration and Synchronization Support
Multiple File storage server applications, mail servers, web servers, FTP servers, MySQL databases, CRM systems, Node.js, and Java virtual machines, as well as a host of other commercial applications. I have yet to see how well this translates across from hometo business users, there does not seem to be an enterprise version GUI on the Rackmount U TNAS range, but the TOS 4 platform is versatile enough to cover both at the moment.
TerraMaster NAS Hardware
With a good selection of products on show, they were definitely able to make a simple yet powerful portfolio to show off on their stand. Several of the products, such as the Terramaster F5-221 5-Bay with Intel Quad Core CPU and F4-220 4-Bay Dual Core x86 NAS. have already featured here on NASCompares recently and despite the fact we cover them frequently, they still managed to have a few surprises up their sleeves.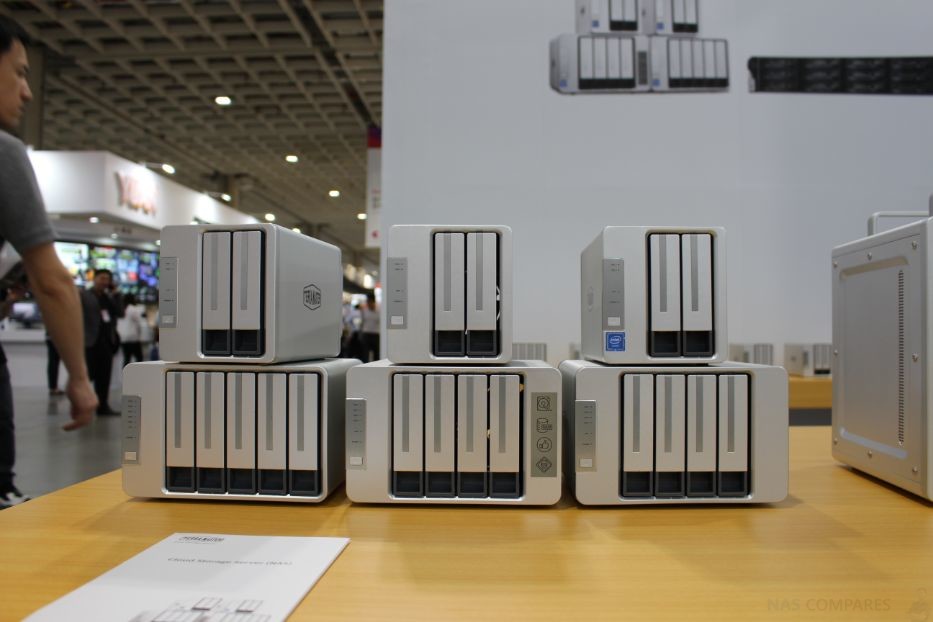 I could go on about the stand layout (clear, wood effect, clean, clear, etc) but I will let the pictures take care of that. I want to focus on the hardware. Pretty much the entire current generation of TerraMaster NAS devices were on show and it's a real testament to how far this brand has accelerated in the last few years that they have managed to incorporate the best features of other NAS brands, eliminate the sore points and create some genuinely thought-provoking NAS devices. Honourable mentions should go to devices like the recently released F2-210 and F4-210 (2 and 4 Bay respectively) that arrive with the latest generation of ARM 64bit Realtek RTD1296 Processors, 4K playback and transcoding support, BTRFS support, Snapshot support. Along with all this, they support pretty much everything taht the new TOS 4 software and GUI have to offer (though you may have to forget about full Plex Support and Virtual Machines).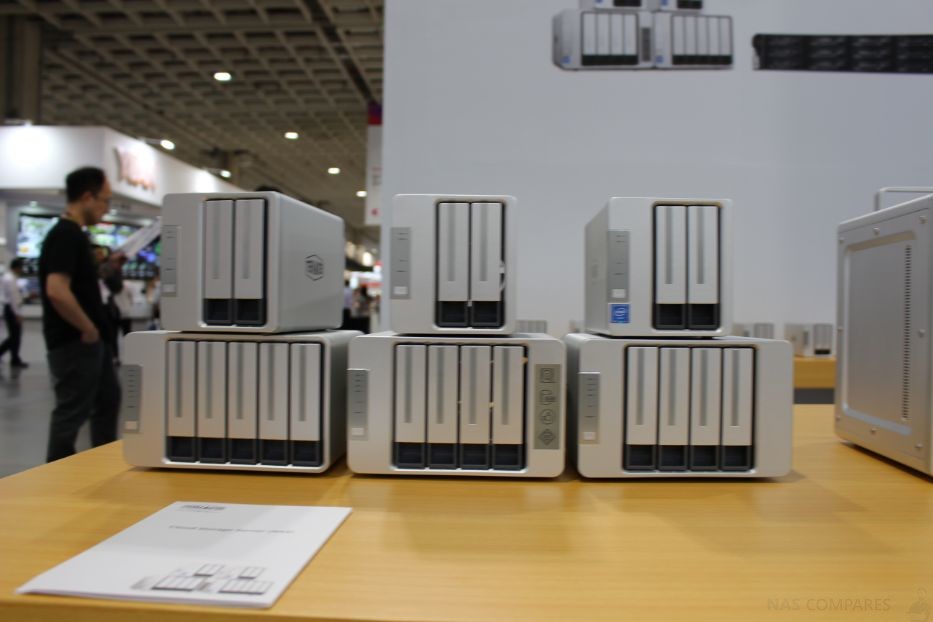 However, the unit that really, REALLY had my interest was the newly revealed TerraMaster F5-422 5-Bay. All to often (and several times in this article in fact) I will compare TerraMaster with other NAS brands in an effort to put them into perspective. This might seem a little unfair, but this is because they are a younger brand that some of the others and context and comparison just makes things a little easier. So, with that in mind, let me say that the TerraMaster F5-422 has the potential to be in my top 5 NAS of 2019! Notwithstanding the fact that it supports EVERYTHING that the TOS 4 software can do to a very high degree, but that the TerraMaster F5-422 has the same internal specifications as a DS1019+ and DS918+ from Synology and TS-453Be from QNAP, HDMI (currently only in dev use), USB, SSD Caching – BUT includes a 10Gbe port!
This slideshow requires JavaScript.
Let's take a moment here to consider that. They are releasing a mid-range NAS to compete with three of the most popular NAS from their competitors and they have INCLUDED the one thing that neither of them has, that everyone wants. This adds a much, MUCH needed degree of future proofing in the purchase of a NAS that content creators, photo/video editors and content creators sorely request.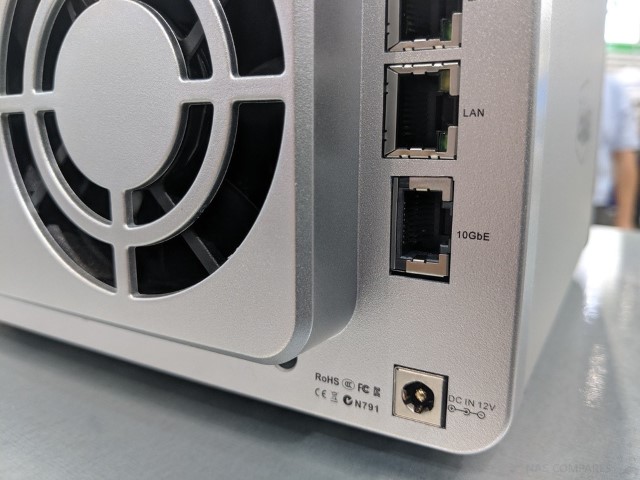 We are still awaiting full information regarding price and release of the F5-422 NAS from TeraMaster, but below are a number of the key specifications.
| | |
| --- | --- |
| NAS Model | TerraMaster F5-422 NAS |
| Processor model | Intel® Celeron® J3455 |
| Processor architecture | 64-bit |
| Processor frequency | Quad Core, 1.5GHz (Maximum Turo: 2.3GHz) |
| Memory | TBC |
| System memory | TBC |
| Pre-installed memory module | 4GB (1 x 4GB) |
| Storage Device | |
| DiskS | 5 |
| Compatible disk types | 3.5″ SATA HDD |
| | 2.5″ SATA HDD |
| | 2.5″ SATA SSD |
| Maximum internal storage capacity | 70TB (14 TB drive x 5) (Capacity will vary along with the RAID type) |
| Disk hot swap | Yes |
| 10GBASE-T Port | 1x |
| RJ-45 1GbE network jack | 2x |
| USB 3.0 port | 2 |
| | |
| Internal disk | EXT4,BTRFS |
| External disk | EXT3, EXT4, NTFS, FAT32, HFS+ |
| Appearance | |
| Size (H*W*D) | 227(H) x 225(W) x 136(D) mm |
| Others | |
| System fan | 80 mm x 80 mm x25mm  2 pcs |
The other big draw to the Terramaster Computex 2019  stand was the enterprise level rackmount storage they have recently release, spanning many possible storage capacities and physical volumes. This is partly because TerraMaster recently launched the most powerful Intel Xeon E3 rack-mounted NAS series in their catalogue. The storage capacity of this rack-mounted NAS series reaches up to 24 bays, including 1U 4-Bay, 2U 8-Bay, 3U 12-Bay, 4U 16-Bay, and bigger. The functional configurations and features are ideally suited to meet the requirements of day to day and enterprise business users. These features and benefits range from a seamless remote/local GUI and access control to multi-tiered cloud synchronisation and data clustering.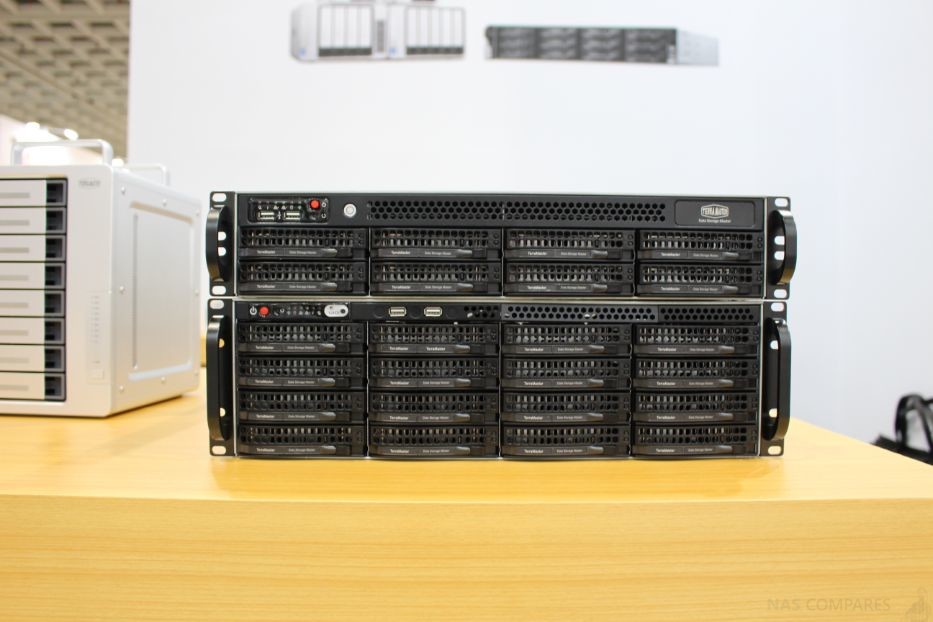 On the subject of data transmission for business users, the TerraMaster NAS U Rackmount Series arrived rated with over 500,000 IOPS, thanks to DDR4 Memory supported upto 64GB over 4 slots, 3x PCIe slots for adding 10, 25 and 40Gbe, 4 LAN ports straight off the bat and supports a full range of SMBs, AFP, NFS, ISCSI, and FTP file services. They even manage to challenge Synology and it's SHA system of Active-Passive servers, thanks to Active cluster configurations. In real terms, that means that a pair of Terramaster NAS drives can be combined into one by using a server cluster, where one server functions as a work activity server and the other functions as a standby passive server. The purpose of the active server is to process data requests and services, all the while copying content to the passive server. As a result, users benefit from a rigorous hardware and data redundancy solution in case of unforeseen emergencies.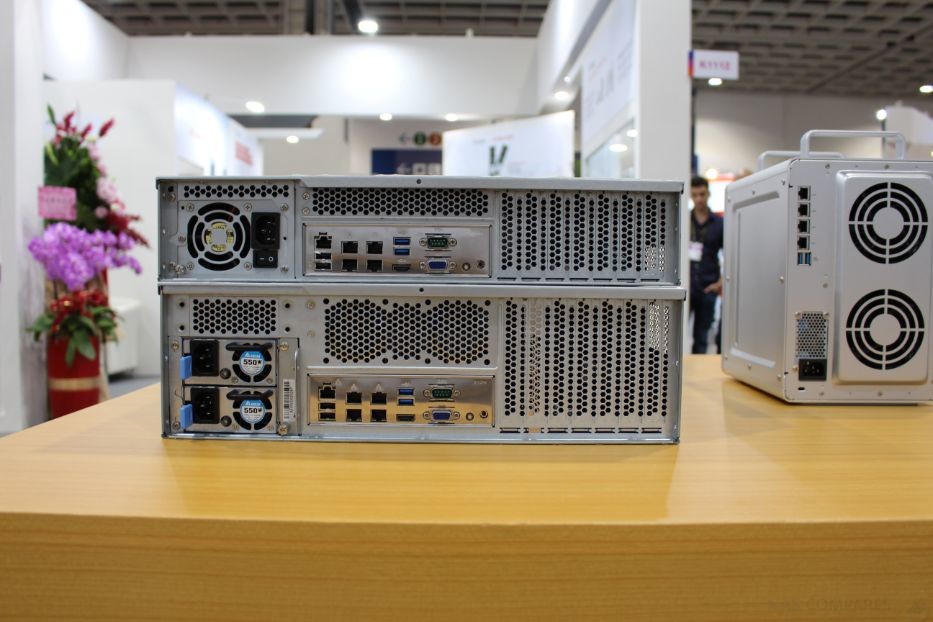 Finally, they Rackmount terramaster NAS range supports internal virtual machine handling, docker for container applications, BTRFS (something a number of brands do not include at the enterprise level) and many, many ways to mount virtual disks via ISCSI to expand storage space for terramaster NAS servers and improve storage space management and utilization efficiency.  I have yet to personally test out the Rakmount series of NAS servers from Terramaster and how they compare with the QNAP and Synology alternatives at this level, but if they compare as well as the desktop units have done, I do think we will be seeing alot of enterprise activity in Terramaster in 2019-2020.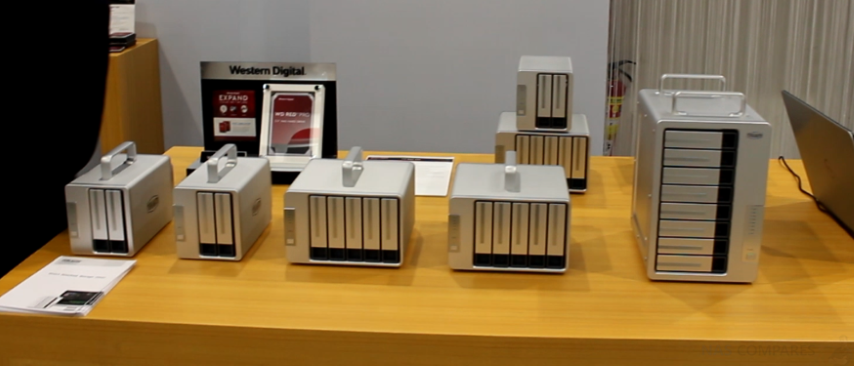 TerraMaster Thunderbolt 3
Another rather unique feature of Terramaster in comparison with other big NAS brands (I will try to stop comparing them – I promise) is that alongside their range of home, SMB and Enterprise NAS, they also have a healthy range of USB 3.2 Gen 2 and Thunderbolt 3 Direct Attached (DAS) solutions. Already available worldwide in 2-Bay (the D2), 4-Bay (the D4), 5-Bay (the D5) and 8-Bay (the D8).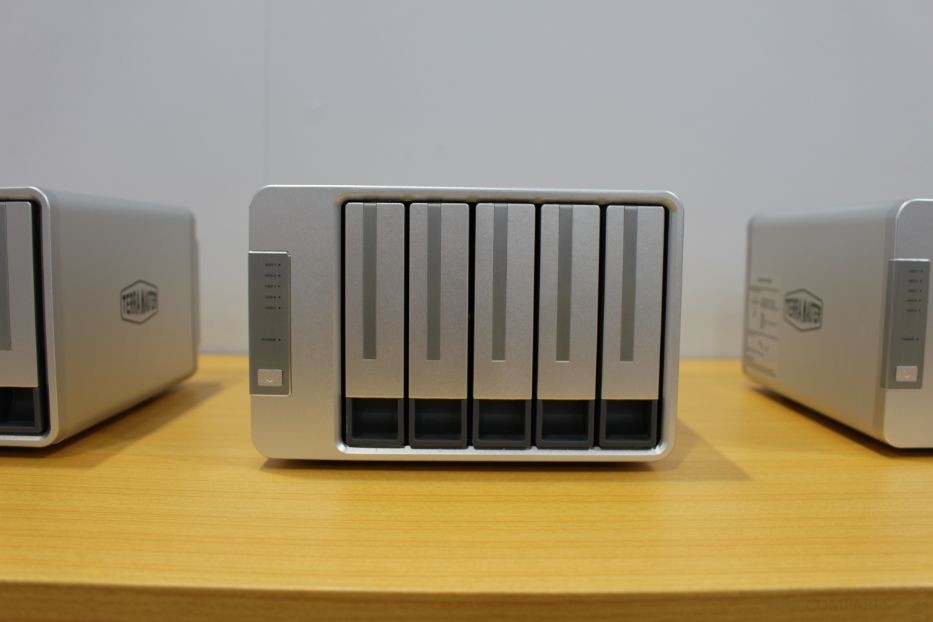 Each device in the Terramaster Thunderbolt 3 D range arrives with two Thunderbolt USB-C ports (enabling daisy chaining of thunderbolt 3 devices, as well as adding more storage), a display port for adding a high definition monitor, support for 14TB and 16TB Hard drives (and the latest SATA SSD of course) and, most importantly of all, almost all of the Terramaster D TB3 DAS range have a hardware-RAID controller. This ensures greater overall speeds compared with software RAID enclosures and those users who use OS-RAID (when your system handles to redundancy).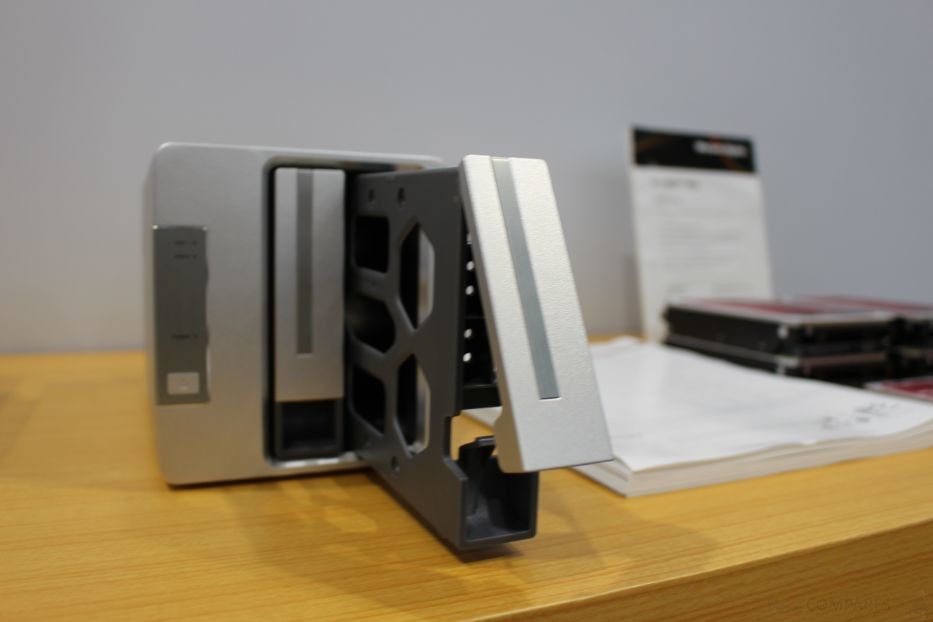 D2 Thunderbolt 3 can operate at reading speeds of 760 MB/s (SSD x 2, RAID 0) all the way upto D8 via Thunderbolt 3 can accommodate speeds of 1600MB/s (using hard drives at 7200 RPM) in RAID 0 and in a RAID 5, the D8 will still hit over 1400MB/s. Remember – that is with HARD DRIVES! With SSD, you will see even greater speeds!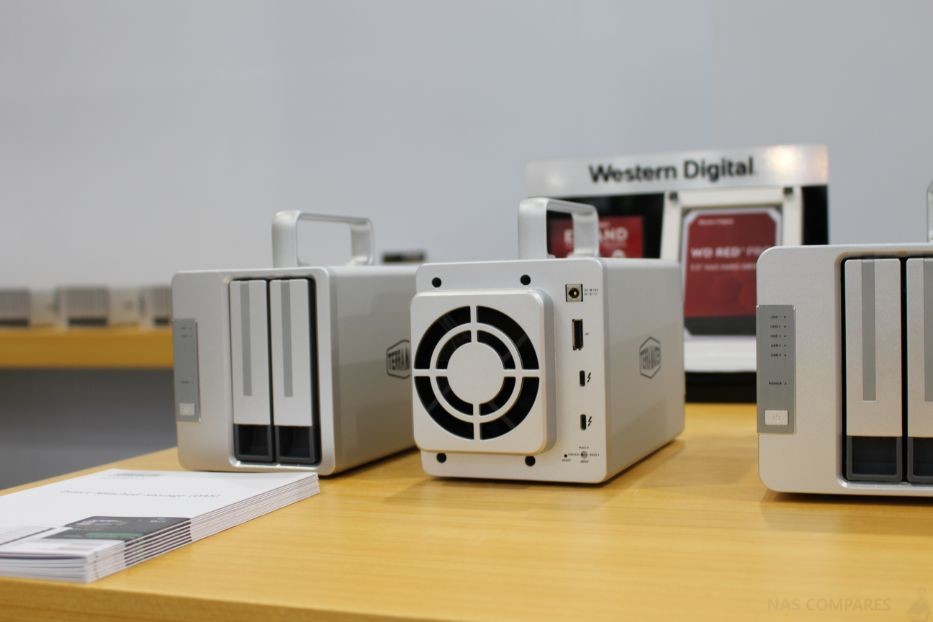 At lightning speed, the Terramaster D series promises that users can transfer several hours of footage from a Blackmagic device to Adobe Premiere Pro. In turn, with uncompressed HD 10-bit and 12-bit video, users can edit the ProRes 422 (HQ), ProRes 4444 XQ, and other data streams. Thumbnails and preview rendering are significantly more responsive when using large items with numerous high-definition clips. I will be reviewing the Terramaster D2 Thunderbolt 3 DAS 2-Bay next month and look forward to seeing how it compares against the LaCie 2big Thunderbolt 3 2-Bay and Drobo.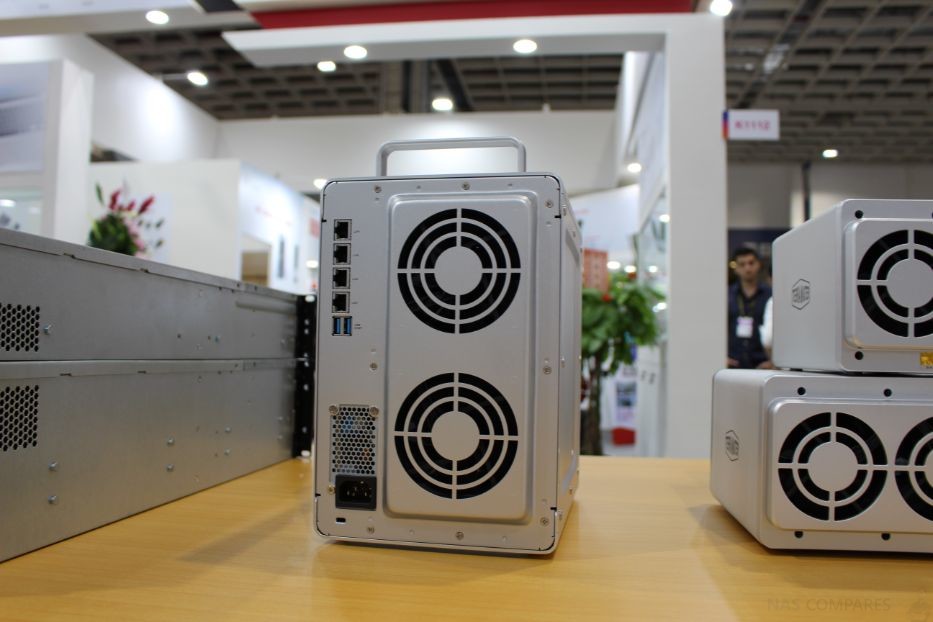 All in all, the Terramaster NAS and DAS series at Computex 2019 left me happy and confident in this brand for 2019 and 2020. Despite my continued comparisons with other more known brands, I think there is every possibility that Terramaster, this time next year, will be even BIGGER, BETTER and known brands will start to feel threatened. If you are a home or business users considering a solid addition to your storage environment in the next 12 months, I strongly recommend you factor TerraMaster into your considerations, as this moderately young company does appear to be running rings around their competition in key areas and I cannot see them remaining at this affordable level for much longer.
📧 LET ME KNOW ABOUT NEW POSTS 🔔
Join 1,416 other subscribers
Get an alert every time something gets added to this specific article!
This description contains links to Amazon. These links will take you to some of the products mentioned in today's content. As an Amazon Associate, I earn from qualifying purchases. Visit the NASCompares Deal Finder to find the best place to buy this device in your region, based on Service, Support and Reputation - Just Search for your NAS Drive in the Box Below
Need Advice on Data Storage from an Expert?
We want to keep the free advice on NASCompares FREE for as long as we can. Since this service started back in Jan '18, We have helped hundreds of users every month solve their storage woes, but we can only continue to do this with your support. So please do choose to buy at Amazon US and Amazon UK on the articles when buying to provide advert revenue support or to donate/support the site below.

Finally, for free advice about your setup, j
ust leave a message in the comments below here at NASCompares.com and we will get back to you.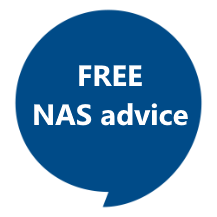 Need Help?
Where possible (and where appropriate) please provide as much information about your requirements, as then I can arrange the best answer and solution to your needs. Do not worry about your e-mail address being required, it will NOT be used in a mailing list and will NOT be used in any way other than to respond to your enquiry.
Support What We Do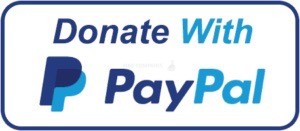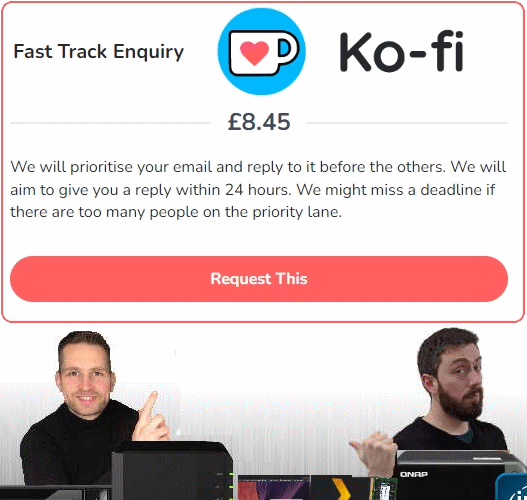 Terms and Conditions
Alternatively, why not ask me on the
ASK NASCompares forum
, by clicking the button below. This is a community hub that serves as a place that I can answer your question, chew the fat, share new release information and even get corrections posted. I will always get around to answering ALL queries, but as a one-man operation, I cannot promise speed! So by sharing your query in the
ASK NASCompares
section below, you can get a better range of solutions and suggestions, alongside my own.
This description contains links to Amazon. These links will take you to some of the products mentioned in today's video. As an Amazon Associate, I earn from qualifying purchases