Choosing the Right 4K Affordable NAS – DS218+ Vs TS-251B?
Back in September 2017, Synology (currently regarded as one the top NAS brands) decided to release almost their entire desktop diskstation NAS series at once. Understandable this caused a great deal of confusion for many NAS buyers as suddenly they were no longer choosing between two or three devices, but now over ten to twenty (if you factored in the older releases too). I still don't think this was a fantastically smart idea and only time will tell if this gamble paid off for them, but after the dust settled, a Synology NAS device was more popular than all the others – the Synology DS218+ 2-Bay. Somehow these two NAS servers had really appealed to NAS buyers because all the other devices released were either too expensive for the hardware, or too lacking in hardware too start with to provide the performance NAS users needed.
However, despite the big margin of price and hardware difference between them, most users choose either the DS218+ for its great Price VS hardware and with the release of the brand new QNAP TS-251B, it is becoming very clear that the battle for best affordable NAS of 2018 is between the older Synology and the newer QNAP NAS. So, lets find out which one deserves your attention, your money and your data!
The TS-251B NAS and DS218+ NAS? What can both do?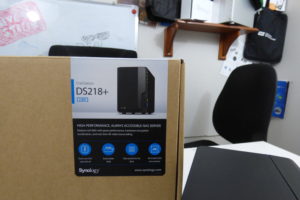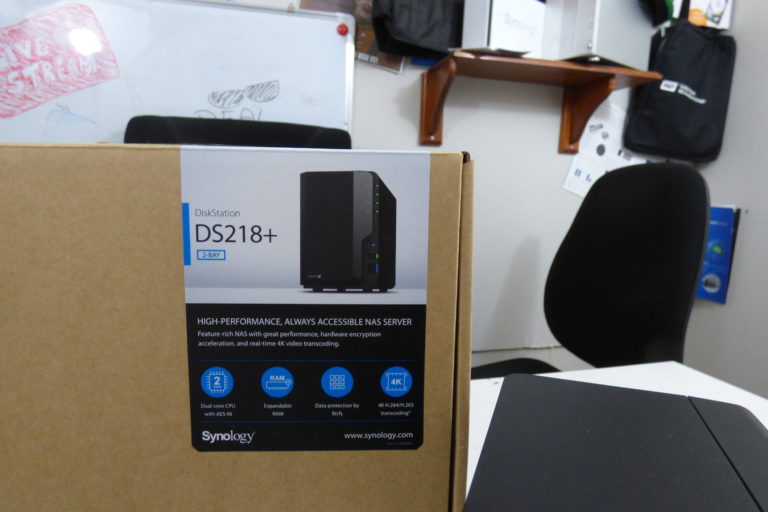 Despite their differences, there are a number of things both the QNAP TS-251B and Synology DS218+ NAS can do. With around £10-20 price difference between them, if you need your NAS to only do one or two of the things below then congratulations, then either of these NAS servers will do the job! Take a look:
Both units feature the Intel J3355 2.0-2.5GHz x86 CPU and plastic compact chassis, thereby reducing power consumption, noise and heat generated

Stream and transcode on the fly (so, live) 1080p HD or 4K media

Both units are DLNA certified so can be accessed, browsed and played from by popular DLNA devices, such as Amazon Firestick, Chromecast, Apple TV, Bose, Sonos, iPads, etc
Both are multi-bay, RAID enabled devices NAS devices that support JBOD, RAID 0, RAID 1 ( as well as SHR on the DS218+), as well as supporting the very latest SATA based 10TB and 12TB NAS Hard Drives from brands like WD, Seagate and HGST. Both units can be expanded too with the Synology using a DX517 (independent storage) or the QNAP using the TR-004, UX-500P and UX-800P.

Both devices run on their own proprietary operating system. Synology use DSM 6.2 and QTS use QTS 4.3.4 (4.3.5 in beta) software that arrives free on the device – lots of apps, access, functionality and intuitively designed software at your fingertips

Both use and can be accessed equally by a multitude of mobile applications such as DS File, DS Video, DS Photo and DS Music for Synology and Qfile, QMusic, QVideo and QRemote on QNAP, available on iOS and Android

Both units support use as a surveillance station, arriving with two camera licences on the DS218+ and 4 licences on the QNAP TS-251B,  providing live access to at least x20 IP Cameras. Synology use the Surveillance Station App and QNAP use QVR Pro and Surveillance Station.
Both units are completely compatible with Windows, Android and Mac systems, as well as acting as a bring between software platforms to share and distribute files

Both can be used as a comprehensive iTunes server

Both units can be used as mail and business servers, providing excellent CRM and CMS systems

Both units can be used as download stations, allowing you to set up tasks and schedules for downloading files and in popular formats such as BT, NZB, HTTP, FTP and more
Buy your Synology DS419slim NAS Drive using the links below to Support this Site
What are the Pros and Cons of the Synology DS218+?
DESIGN – I absolutely love this new chassis. Robbie on our YouTube channel, when asked to compare it with the DS216+ case, described it as comparing the new Robocop movie with the older one. Much more modern shape and design, a good mix of sharp edges with all the curves in the right places
FEATURES – On a hardware level, you are going to be hard pushed to find a better 2 bay in this price range. Only the Synology DS718+ gives you better hardware options, but at a price of just £280+ without VAT, this is hard to beat
PERFORMANCE – Featuring a great J series CPU from intel in Dual Core and 2GB of memory, this unit can perform all of the very latest applications from synology in DSM 6.2
VALUE – Synology has really turned a corner on their NAS series with this upgrade to the DS218+ flagship home two bay NAS. This is a worthy successor to the DS216+II and highly recommended.
DESIGN – Still features that odd removable front panel, instead of lockable trays.
FEATURES – Just one LAN port mans that link aggregation is not supported
PERFORMANCE – That dual core CPU, though an x86 chip that is highly suitable as a plex media server, is just a little underwhelming for creating even a single standalone VM use.
VALUE – If you reduce the size of your hard drives for this NAS by even 1TB each, you can afford the more powerful DS718+
This slideshow requires JavaScript.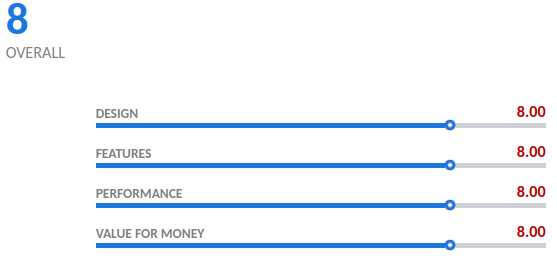 What is the QNAP TS-251B NAS and Why should you buy it?
As one of the biggest brands in NAS, it will not come as a huge surprise QNAP have big plans for 2018/2019. Back in June 2018, we learnt about many of the new NAS servers for Q3 and of all of them, the one that seemed to stir the most interest for home users was the QNAP TS-251B server. With a lot of rather 'out-there' devices uncovered, this one seemed the most relatable to home and business users. Whether it was the fact that it arrived with an Intel J3355 CPU (a popular processor) or the fact it had an HDMI port and PCIe slot to upgrade, or the fact that you've got all of this at an affordable £240+ price tag (without tax) is open to debate.
Pros of the QNAP TS-251B
Cons of the QNAP TS-251B

Intel J3355 Celeron CPU
HDMI Output
4K Transcoding
Audio In/Out
PCIe Slot
Affordable
Can build a 10GBe Editing Solution inc media for just over £500

Only 2 Years Warranty
CPU is too weak for solid Virtual Machine Use
Plastic Chassis may out some users off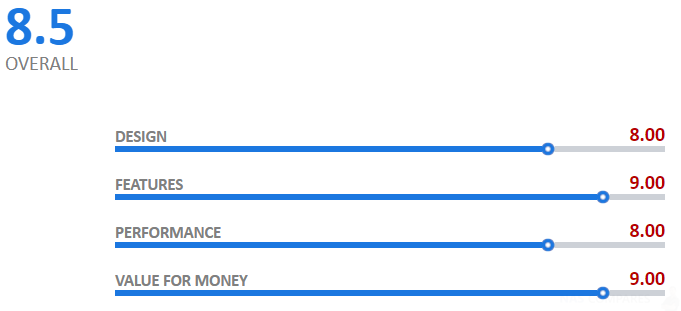 asa
What are the PROs and CONs of the TS-251B?
So, what are the advantages and disadvantages of the QNAP TS-251B:
DESIGN – The design of the new QNAP TS-251B may seem awfully familiar and that is because it is the same shape and materials as the TS-253Be. What makes it stand out is that the white and silver textured design. I genuinely love the look of this device. It sits really well in a Mac environment and the compact nature of the chassis means it will fit in some remarkably discreet areas. Additionally, the chassis is designed with lower noise and better air pass through in mind. Noise levels were rated at 17.3 db(a) and temperatures were nice and low, even when usage was high.
FEATURES – For a NAS arriving at such an impressively low price point, the amount of hardware on offer is remarkably impressive. The QNAP TS-251B arrives with a dual-core Intel J3355 CPU, upto 8GB of memory, an HDMI port and a PCIe slot. This is staggering for just over £240+ ex.VAT and means you can almost use the FULL extent of the QTS QNAP Operating system. It supports Surveillance of 20-25 cameras via QVR Pro and Surveillance station, a Plex Media Server, lite virtual machine use, linux container and desktop use with container station/linux station – This is already several times more than most NAS at this price tag can do. Alongside home and business use, this 2 bay really goes give ALOT of bang for your buck!
PERFORMANCE – Because of the combination of PCIe upgrade and Intel CPU, this device gives both high results for use right-out-the-box and if you want to upgrade to 10Gbe for just another £90 ex.VAT. Right now, the QNAP TS-251B and 2x QNAP QXG-10G1T 10Gbe upgrade cards arrive at around £440 ex.vat altogether – that is a fantastically low price for fantastic live file editing over 10gBE. This will be especially attractive to photo and video editors, as well as content creators of all kinds. More over, in terms of multimedia and backups, the TS-251B arrives with excellent hardware for multiple simultaneous backups and transcoding of media files at 1080P and 4k.
VALUE – I genuinely struggle to complain about just how much hardware and software ability you get in the TS-251B. I can name 10+ other NAS server devices that cost twice this device, whilst giving half the ability. Add to this the fantastic 10-gigabit ethernet potential and you are looking at potentially the best NAS of 2018.
DESIGN – The plastic chassis (metal inside) might put some hardcore IT users off and the white chassis may get dirty over time (it is no accident that black and grey are the most commonly used colours in technology).
FEATURES – As much as the QNAP TS-251B is ableto do, the CPU being a dual core and the base unit arriving with 2GB means that it will not multitask as well as more powerful units like the TS253Be or DS718+. Do consider the extent to which you will use the device before buying.
PERFORMANCE – Once again, the TS-251B will do 2-3 things at once very well indeed and the 10Gbe upgrade option is a great plus, but it will not multitask anywhere near as well as a quad-core CPU.
VALUE – Like most QNAP NAS, there is definitely a 60/40 design in favour of hardware over software and if you plan on using 3rd party software (plex, emby, windows server, apple time machine, windows explorer, Kodi, etc) then you will be happy. But if you plan on using the 1st party QNAP Apps, you may need to invest a little higher in the TS-253Be.
This slideshow requires JavaScript.
Should you buy the Synology DS218+ or TS-251B NAS – Conclusion
As hard as it is to decide between the QNAP TS-251B NAS and DS218+ NAS in terms of money/cost, you really have to try to remove this as a factor when deciding between them. Whichever Network attached storage device you buy, you are going to want to make the most of it and justify the purchase for today and for the years that it will be working in your home and business life. That is the key difference between these devices. The Synology DS218+ provides an excellent performance on most common NAS tasks and applications and will suit those looking for a NAS for themselves, their family and light business use for up to and above 3 years.
The QNAP TS-251B provides you with all the same functionality of the DS218+ 2-Bay in hardware, but with much, much more on top with the PCIe slot allowing 10Gbe, HDMI output and Audio Upgrades. Synology have a fantastic range of 1st party apps and solid support for 3rd party apps. The QNAP TS-251B, as well as supporting many business class applications from 3rd parties, also has a solid 1st party lineup. Not quite as polished as the synology software, but makes up for this with an EXCELLENT selection of 3rd party apps supported. This is further bolstered with numerous means to access the NAS and your data in a much more direct way. That is the key difference – Network Only access vs Network+Direct access. If you want the former, the DS218+ is great for you, if you want the option of accessing locally over HDMI, USB, 10GBe and more – the QNAP TS-251B is the NAS for you.
Where to buy the QNAP TS-251B or Synology DS218+ NAS?
Both these two amazing NAS devices are available now and can found below along with how the Synology DS218+ and TS-251B specifications compare:
Buy your Synology DS419slim NAS Drive using the links below to Support this Site
 

Model

Synology

DS218+

QNAP

TS-251B

Price

CPU Model

Intel Celeron J3355

Intel Celeron J3355

CPU Architecture

64-bit

64-bit

CPU Frequency

Dual Core 2.0 burst up to 2.5 GHz

Dual Core 2.0 burst up to 2.5 GHz

Hardware Encryption Engine (AES-NI)

YES

YES

Hardware Transcoding Engine

H.264 (AVC), H.265 (HEVC), MPEG-2 and VC-1; maximum resolution: 4K (4096 x 2160); maximum frame rate per second (FPS): 30

H.264 (AVC), H.265 (HEVC), MPEG-2 and VC-1; maximum resolution: 4K (4096 x 2160); maximum frame rate per second (FPS): 30

Memory

System Memory

2 GB DDR3L

2 GB DDR3L

Memory Module Pre-installed

2GB (1 x 2GB)

2GB (1 x 4GB)

Total Memory Slots

2

2

Memory Expandable up to

6 GB (2 GB + 4 GB)

8 GB (4 GB x 2)

Storage

Drive Bays

2

2

Maximum Drive Bays with Expansion Unit

 2+5

10

PCIe Slots

 0

1

Compatible Drive Type* 

(See all supported drives)

3.5″ SATA HDD

2.5″ SATA HDD

2.5″ SATA SSD

3.5″ SATA HDD

2.5″ SATA HDD

2.5″ SATA SSD

Maximum Internal Raw Capacity

24 TB (12 TB drive x 2) (Capacity may vary by RAID types)

24 TB (12 TB drive x 2) (Capacity may vary by RAID types)

External Ports

RJ-45 1GbE LAN Port

1

1

USB 3.0 Port

3

2

USB 2.0 Port




0

3

eSATA Port

1

0

USBCopy

YES

 YES

File System

Internal Drives

External Drives

Btrfs

EXT4

EXT3

FAT

NTFS

HFS+

exFAT*

Btrfs

EXT4

EXT3

FAT

NTFS

HFS+

exFAT*

Brightness adjustable front LED indicators

YES

YES

Power Recovery

YES

YES

Noise Level*

19.3 dB(A) (at the back)

17.3 dB(A) (at the front)

Scheduled Power On/Off

YES

YES

Wake on LAN/WAN

YES

YES

Warranty

2 Years

2 Years
📧 LET ME KNOW ABOUT NEW POSTS 🔔
Join 1,582 other subscribers
Get an alert every time something gets added to this specific article!
This description contains links to Amazon. These links will take you to some of the products mentioned in today's content. As an Amazon Associate, I earn from qualifying purchases. Visit the NASCompares Deal Finder to find the best place to buy this device in your region, based on Service, Support and Reputation - Just Search for your NAS Drive in the Box Below
Need Advice on Data Storage from an Expert?
We want to keep the free advice on NASCompares FREE for as long as we can. Since this service started back in Jan '18, We have helped hundreds of users every month solve their storage woes, but we can only continue to do this with your support. So please do choose to buy at Amazon US and Amazon UK on the articles when buying to provide advert revenue support or to donate/support the site below.

Finally, for free advice about your setup, j
ust leave a message in the comments below here at NASCompares.com and we will get back to you.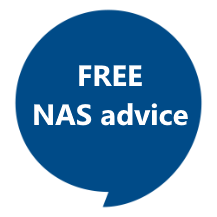 Need Help?
Where possible (and where appropriate) please provide as much information about your requirements, as then I can arrange the best answer and solution to your needs. Do not worry about your e-mail address being required, it will NOT be used in a mailing list and will NOT be used in any way other than to respond to your enquiry.
Support What We Do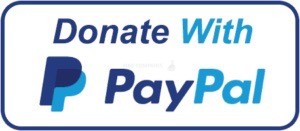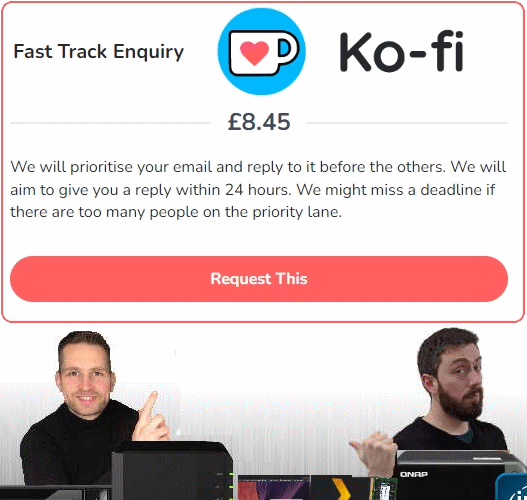 Terms and Conditions
Alternatively, why not ask me on the
ASK NASCompares forum
, by clicking the button below. This is a community hub that serves as a place that I can answer your question, chew the fat, share new release information and even get corrections posted. I will always get around to answering ALL queries, but as a one-man operation, I cannot promise speed! So by sharing your query in the
ASK NASCompares
section below, you can get a better range of solutions and suggestions, alongside my own.
This description contains links to Amazon. These links will take you to some of the products mentioned in today's video. As an Amazon Associate, I earn from qualifying purchases