Does the New 2.5Gbe

Nimbustor 4 NAS

from Asustor Perform?
As long as I have been in the NAS industry, I can say with confidence that there has been one single constant – gigabit ethernet (1Gbe) via copper (RJ45) has been present on every single device up to this point. From small little DLNA media NAS boxes, all the way upto enterprise-grade rackmounts, the humble 1Gbe port has always been there.  Even when a brand has included large 10Gbe ports, it has always been largely outnumbered by 1Gbe ports. This is understandable, the network market hugely features this default port, but with file sizes always getting bigger and increased access speeds being required, it is fair to say that 1Gbe is starting to look rather out of its depth. It is for this reason (or similar) that Asustor's newest generation of NAS drives for home and business in 2019/2020 have taken the very bold move of completely eliminating the 1Gbe RJ45 ports, and instead, making the jump to 2.5Gbe ports by default instead. I have already touched on this previously on the build-up to, and during, the Computex 2019 event – highlighting why this move into 2.5 gigabit ethernet is such a big, BIG deal, but today I finally have a Nimbustor 4 here in the office and am going work my way through it's hardware, it's software and how the new AS5304T NAS compares with likewise rivals units from Synology and QNAP. Today is the Hardware review and the main question I want to answer is whether the Nimbustor 4 is a gimmick or a genuine game-changing NAS server that will be the start of a new kind of network attached storage. Let's get to work.
Asustor

Nimbustor 4

AS5304T NAS Drive – Packaging
When I first unpacked the shipping container to get to the Nimbustor 4, I was pleasantly surprised by the retail packaging. I shouldn't be – Asustor has always been very graphical in their packaging, going to good lengths to detail what the units can do, the hardware specs, the software specs and generally creating a very appealing and engaging retail design. I often comment warmly on the attention many companies make on retail packaging, despite the fact these devices are almost always purchased from online stores (so by the time you see the packaging, you have already purchased it), it would be a dull, dull world indeed if everything arrived in default brown box packaging (do you hear me Synology?).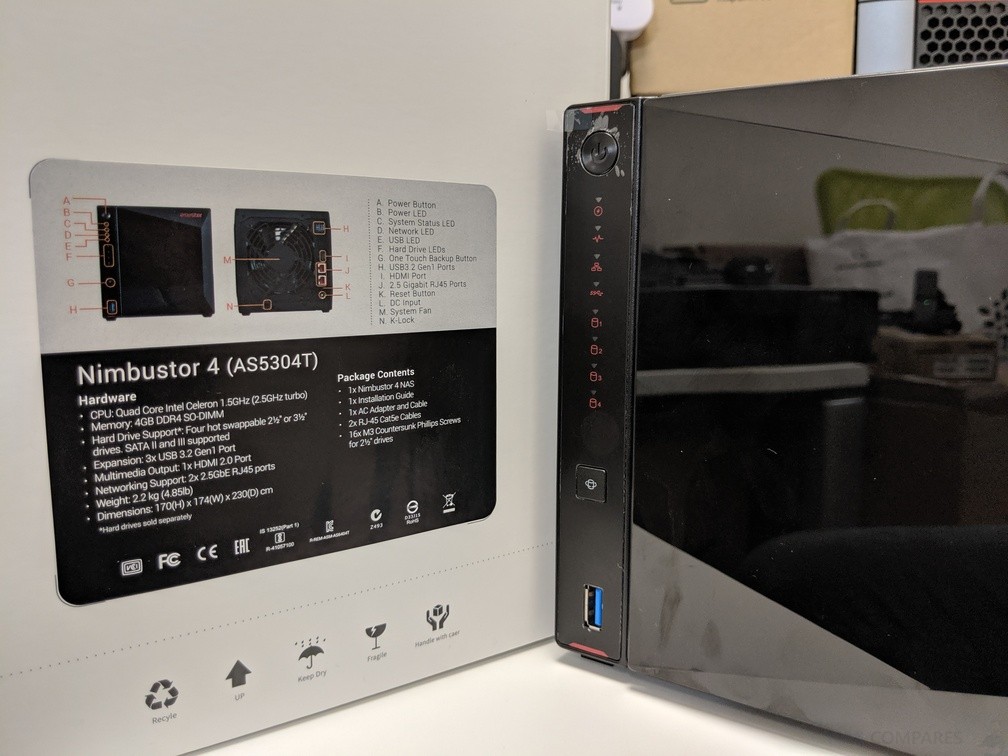 No, my surprise was at the size of the retail box. Considering this contains a 4-Bay NAS drive, it is rather small, at 23.7 (H) x21.4 (W) x32.3 (D) cm. Given this device promises a whole lot of hardware abilities, along with 4 bays of HDD storage, it seemed remarkably condensed. As minor a point as this is, I thought it would be remiss not to highlight this, as, alongside speed and capacity, factors such as noise, chassis and heat are pretty important concerns. If we open up the box, we find the following contents: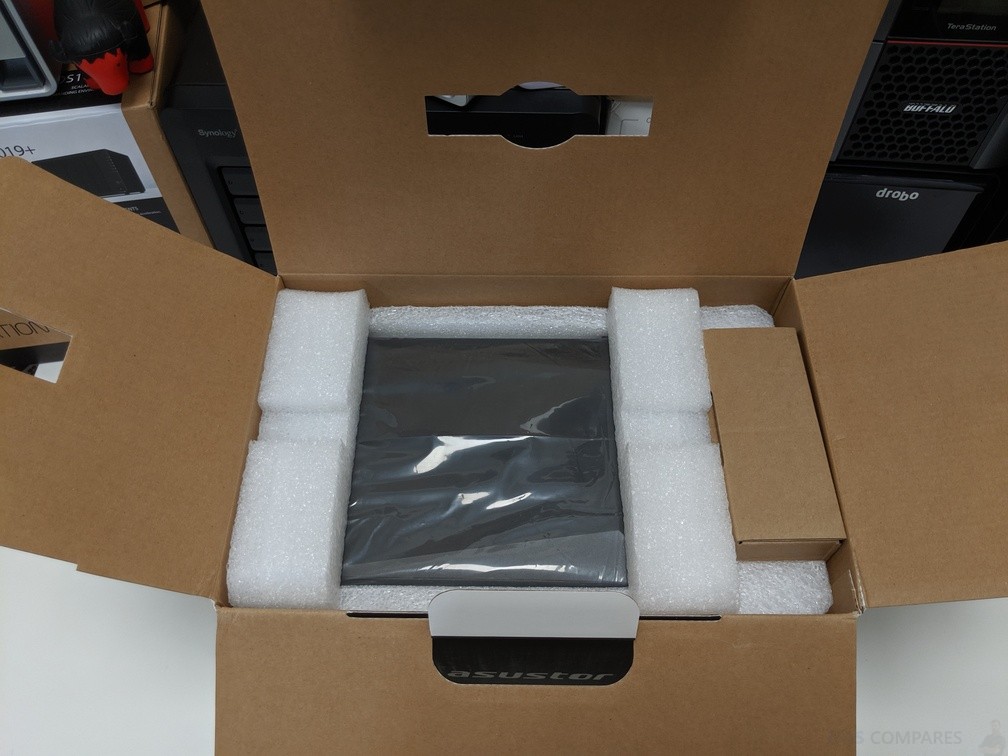 1x Asustor Nimbustor 4 AS5304T NAS Drive, measuring just 17cm (H) x 17.4cm (W) x 23cm (D)
1x 90W External Power Supplier, 100V to 240VAC
1x Mains Power Cable
2x RJ-45 LAN Cable(Cat 5e) x2
Packed of Flat Head Screw (for 2.5″ HDD)
Quick Start Guide and Instruction Manual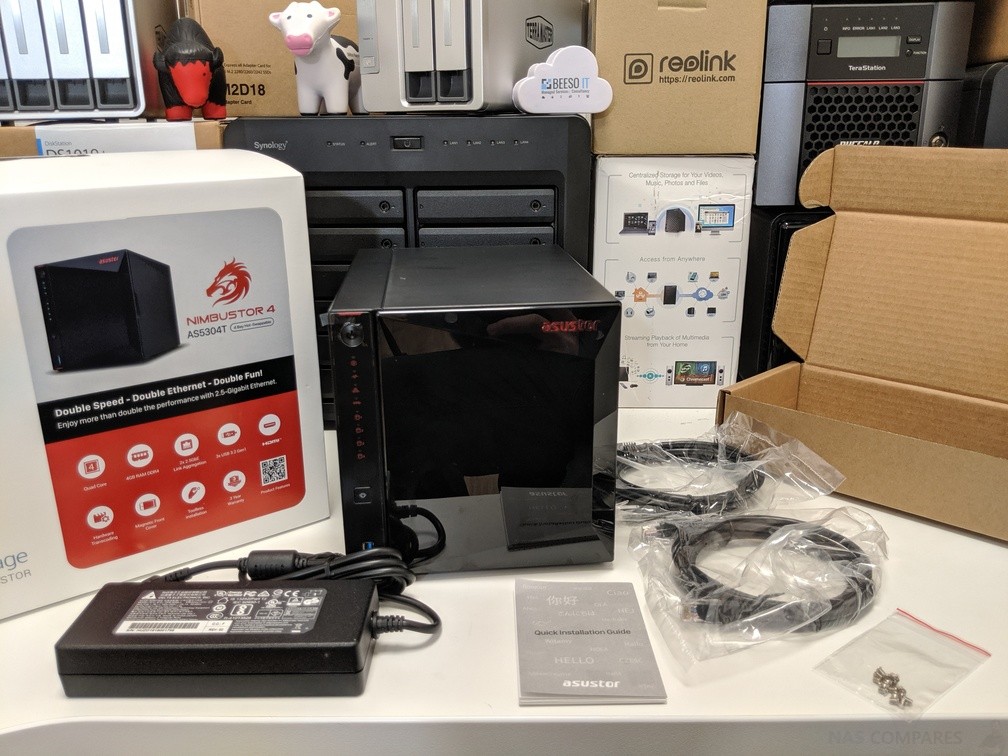 These accessories seem all standard (perhaps I would expect Cat 6e, but at 2.5Gbe, this makes no difference), but with a very efficient PSU (especially for a 4 bay NAS) I still very much a fan of external Power suppliers, as in event in 2019 (and this applies to all brands, not just in NAS) the power supplier is still the most failure prone part of any hardware (it is technically ALWAYS working) and in the 2-3 times in my working history that a PSU failed, in the case of an internal power supplier, it has been difficult and time-consuming to repair. External power bricks are jsut easier for desktop devices, plus this 90W PSU means that the Nimbustor 4 will be making a very, very tiny make on your environment. Lovely stuff.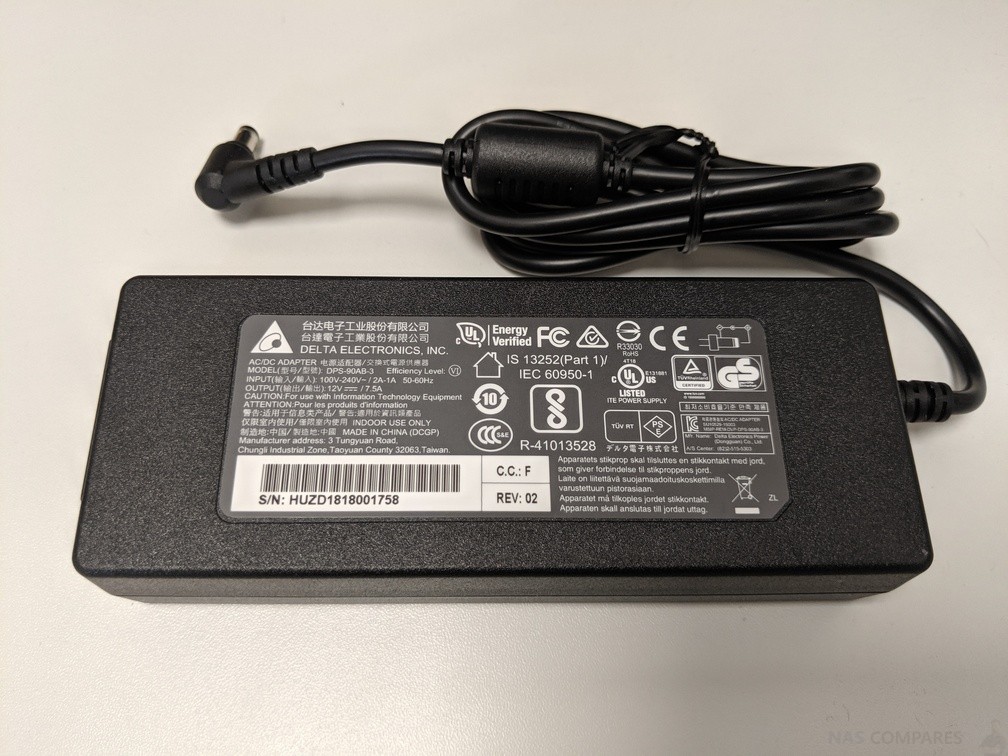 Asustor

Nimbustor 4

AS5304T NAS Drive – Design
Next, we need to move onto the Nimbustor 4 Chassis design. I have a bit of a disclaimer to add here that I should mention, I bloody LOVE the Asustor AS5304T NAS chassis. I liked it when it first premiered on the AS40 10Gbe series last year and this newer model is even better. In recent years, as NAS drives have moved ever more into home and small office environments, the old and ugly design of servers has changed into something much sleeker and appealing. The Nimbustor AS5304T NAS is one of the best looking 4-Bay NAS devices I have ever seen in my opinion, so you will have to factor this personal view into the hardware review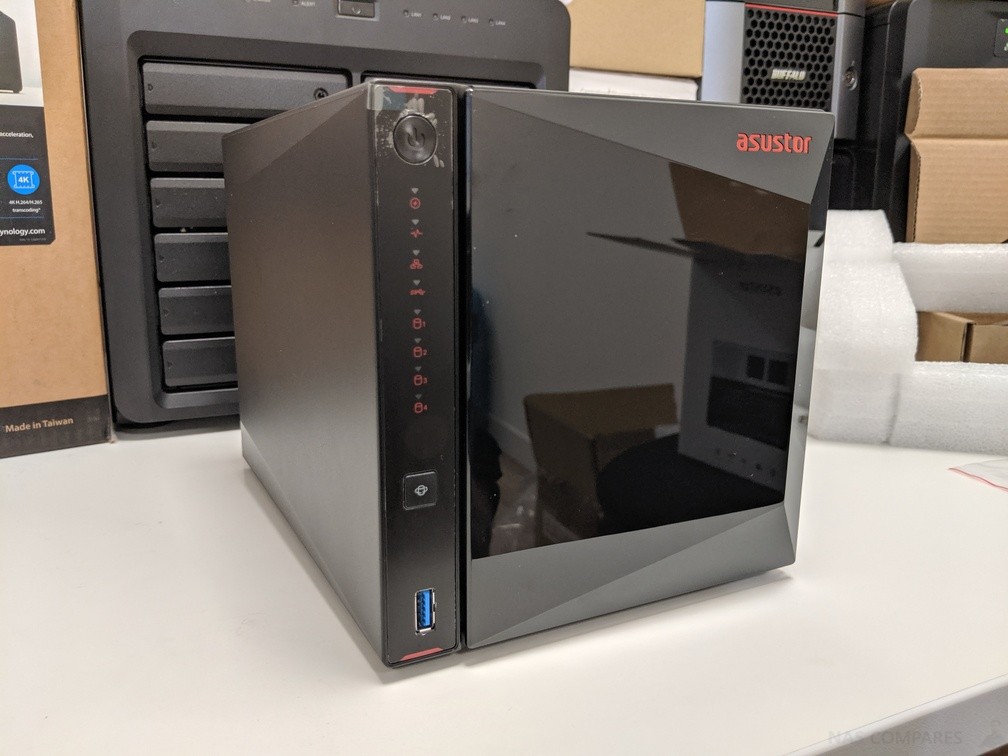 As is a growing trend, the front panel of the Asustor Nimbustor is not hinged or fixed, but can be removed easily. This means that when the device is doing it's day-to-day tasks and not being physical used, it is a contained and covered unit, that looks very neat in most office environments. This removable front panel is even slightly raised and ventilated on all sides, to ensure the rear fan's active airflow is not interrupted.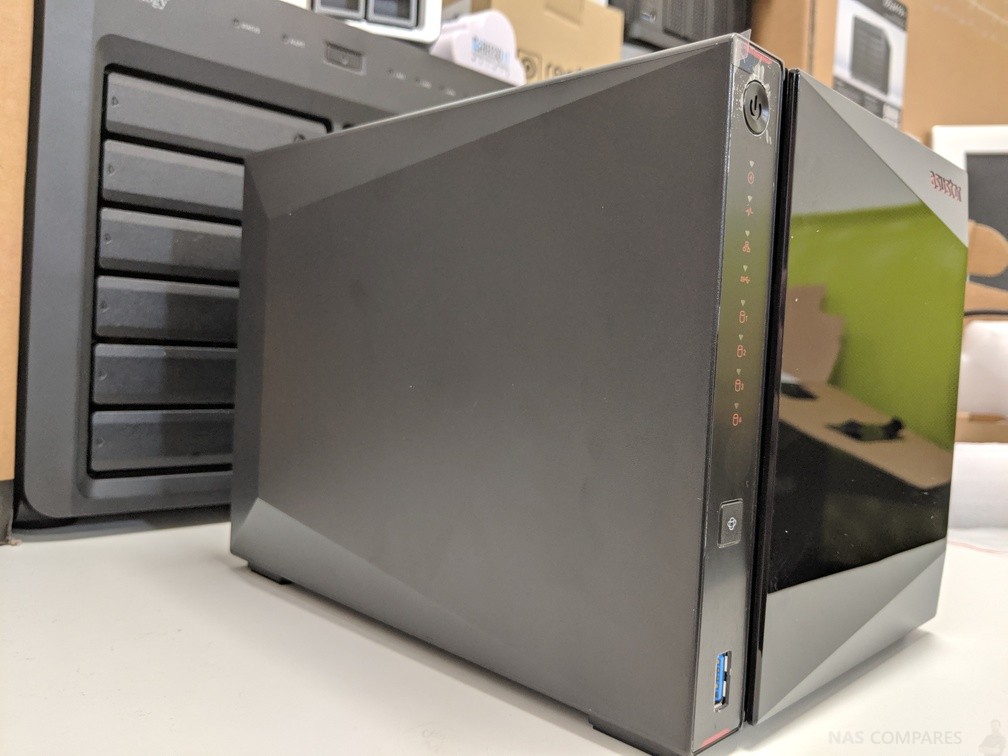 Like the modern edged design of the front panel, the sides of the Asustor Nimbustor 4 AS5304T NAS Drive have they angular edge to their surface. The chassis is only available in black and is plastic outside, surrounding a metal internal frame. Additionally, looking at the screw layout, this is a fixed frame that is not intended to be opened for upgrades/maintenance. If you are looking at upgrading the memory beyond the default 4GB SO-DIMM DDR4, RAM slots are found inside  by removing the internal bays and accessing the 2 SO-DIMM memory module slots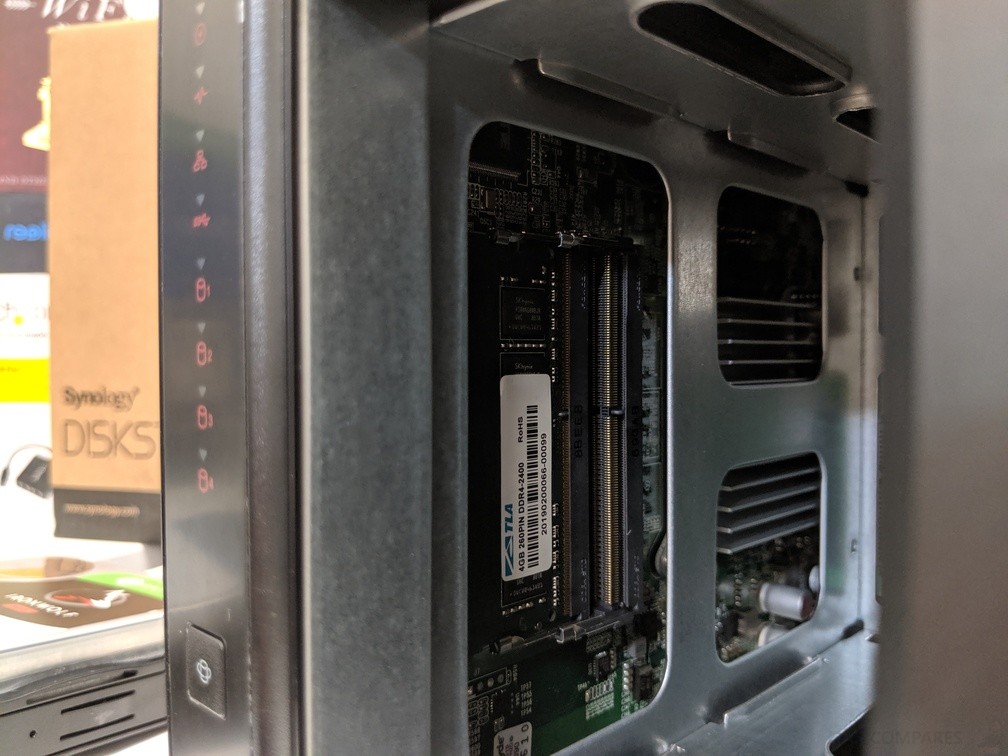 The manufacturer recommends a maximum of 8GB of DDR4 memory can be installed inside this NAS (4x 4GB) with the default model arriving with 1x 4GB stick (as opposed to that 2x 2GB stuff that some brands do that is absolutely infuriating in the long run). Later in the month, we will be experimenting with exceeding this with 16GB (2x 8GB DDR4), but for now, 8GB maximum will be good for VMs, Plex, Surveillance and more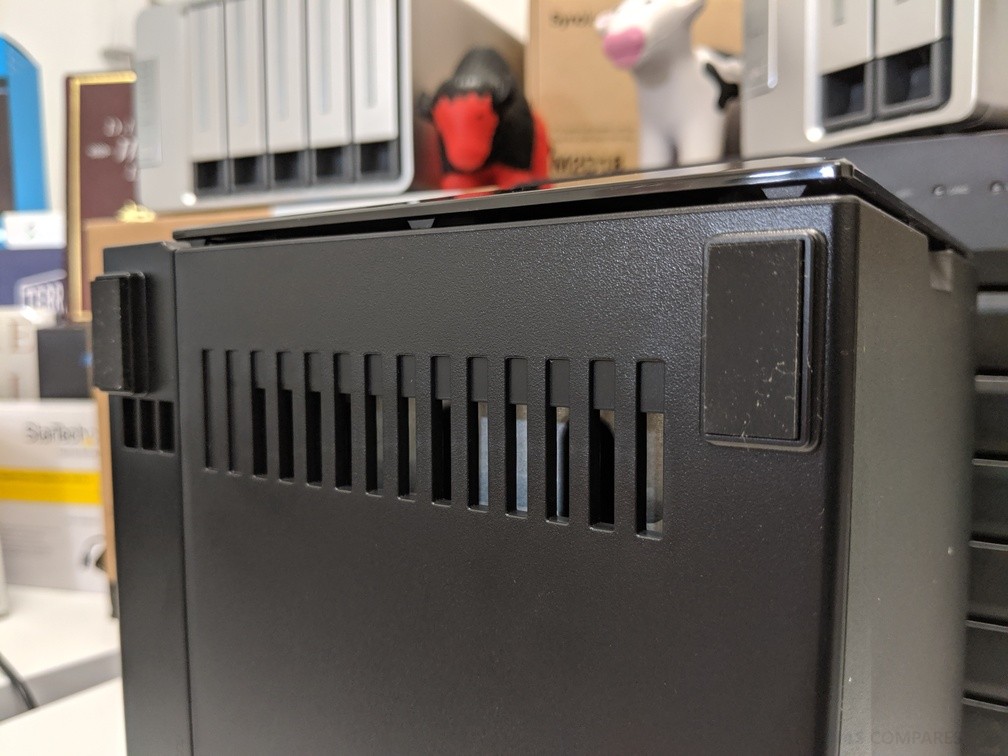 The base of the device features rubberized feet and a large ventilation slot that spans the base of the device to further assist passive airflow through the Hard Drive/SSD installed inside the Nimbustor 4 NAS. Aside from this, there is little else on the base of the Asustor AS5304T NAS of note.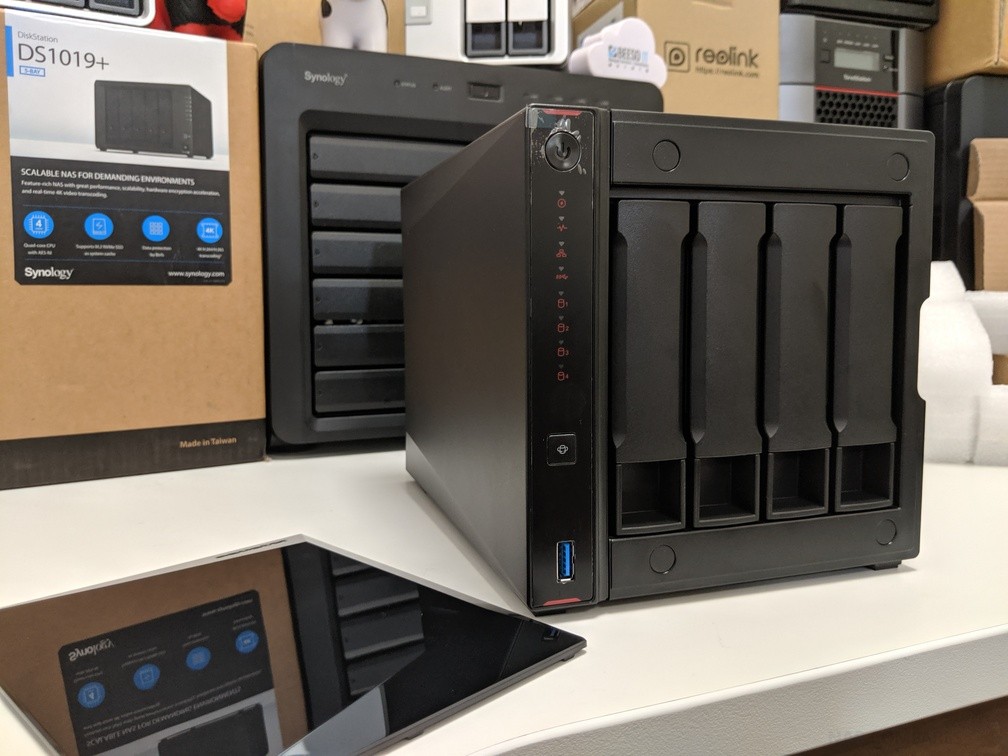 Removing the front panel completely and taking a closer look at the front of the Nimbustor 4 reveals the media bays, LED indicators and a USB Copy Button. Although these are fairly standard across all NAS drives in 2019, it is worth highlighting that many popular NAS brands have removed/simplified some/all of these in a way that has not pleased many users. The "if it ain't broke, don't fix it" attitude is still very much a staple of many techies.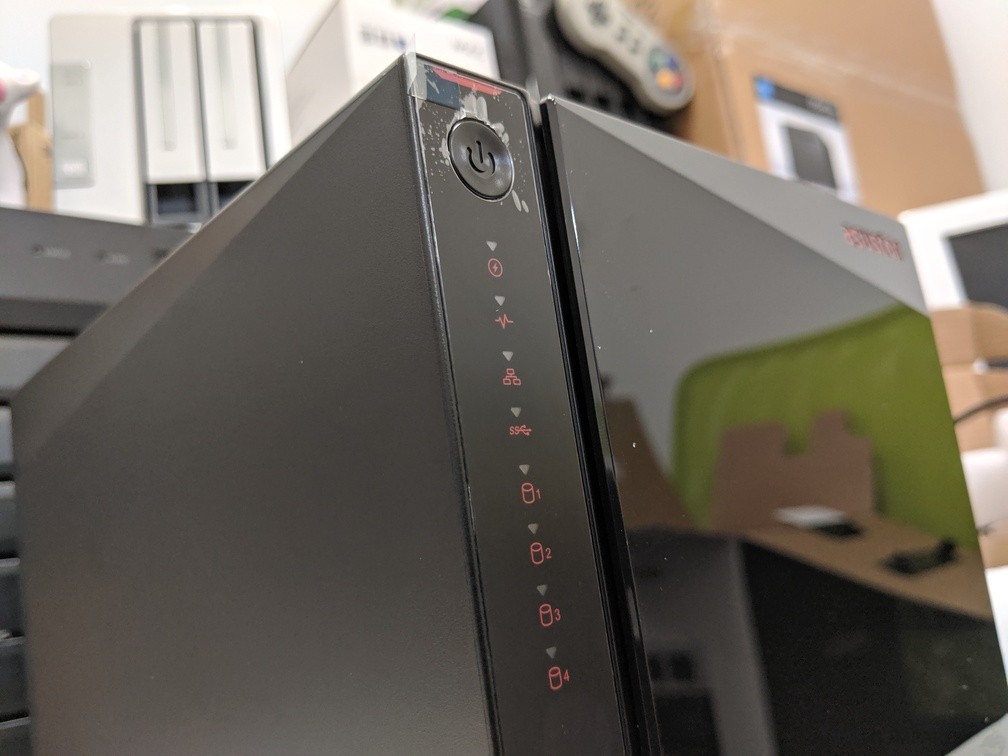 The front displayed LED lights and power button pretty much cover every active/passive factor you will need in the running of this NAS. The LEDs indicate the following:
Power/Standby
Network Access/Activity (one for each port)
System Activity (Read/Write Actions in progress)
Drive Activity (one for each drive, regardless of RAID)
I know LEDs are fairly standard, but the number of brands that are simplifying this for no real reason is growing and those who care about this kind of thing will notice!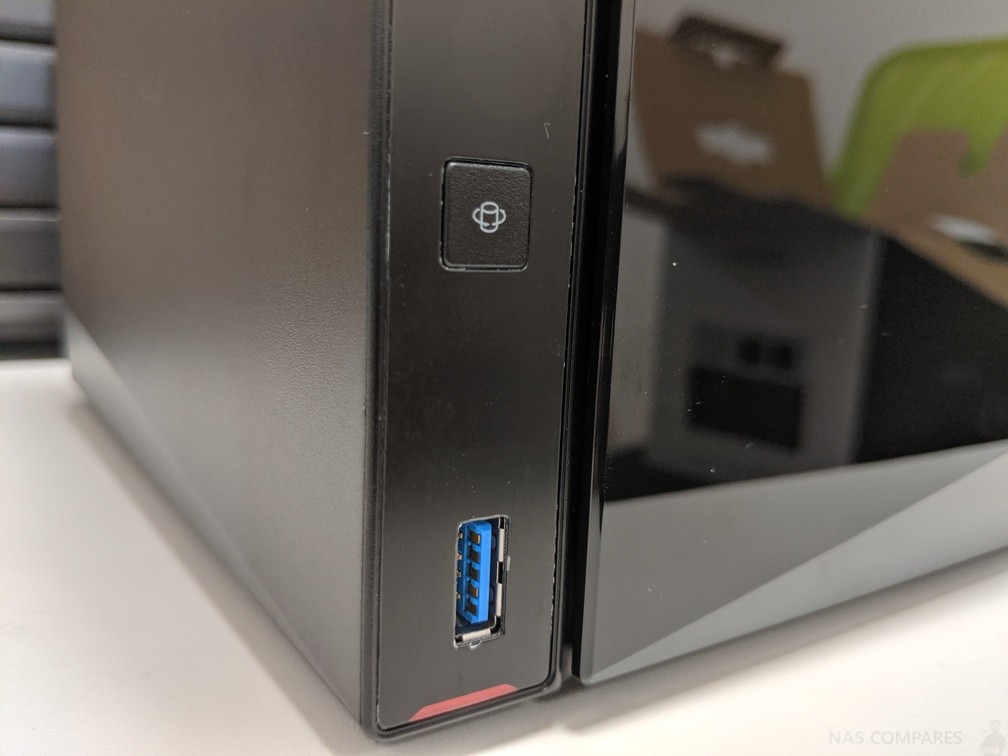 Another often simple, yet overlooked hardware feature is the USB copy button. I know this seems a bit 'meh', but the number of users who use a NAS drive store all their files from phones, PCs, iPads, etc, then delete them from those devices to make room, thinking they have a backup (WRONG!) is pretty high. Storing all your files on a NAS is only good if you have those files somewhere else too, else what you have is the ONLY version of that file – THAT is not a backup. The easiest and most straight forward means to backup all/some files on a NAS in a portable offsite way is by connecting a USB 3.0 device and using the Asustor backup tools to make a backup. A one-touch USB copy button means that you do not even need to interact with the NAS software after the first time and after it is set up to back up the files you care the most about, you can jsut connect the USB device each time (daily, weekly, etc) and then just press the button to action a backup. Again, a simple idea that is not exactly new, but I am pleased they have kept this feature when other brands are making it button-less and fully reliant on the software. What's wrong with having both?!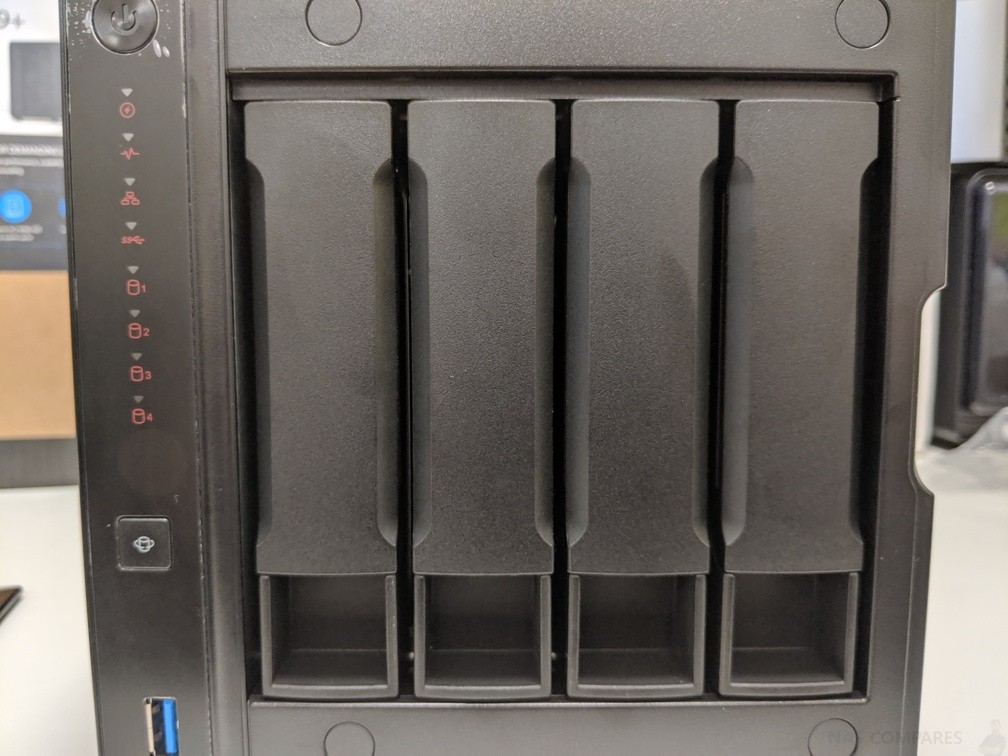 Of course, the main focus when removing the front panel is the HDD/SSD media bays of the Nimbustor AS5304T NAS. These 4 Bays support the very latest SATA based Hard Drives and Solid State Drives (16TB Seagate Ironwolfs and 4TB commercially available grade respectively). The Asustor AS5304T can function with a single drive if you wish, as well as gradually/fully populated and features its own RAID handling of RAID 0, 1, 5, 6, 10 and more. Additionally, you can install a combination of Hard Drives and SSDs in individual bays, which can then be used to create separate RAID-enabled storage pools for fast/regular accessing data volumes. Alternatively, it is becoming common for small office and business users to use a 4-Bay with HDD and SSD installed for a large volume of storage space, supported with a portion of SSD caching. This results in an increased performance internally (and indeed externally thanks to those 2x 2.5Gbe) when working from traditionally slower mechanical hard drives.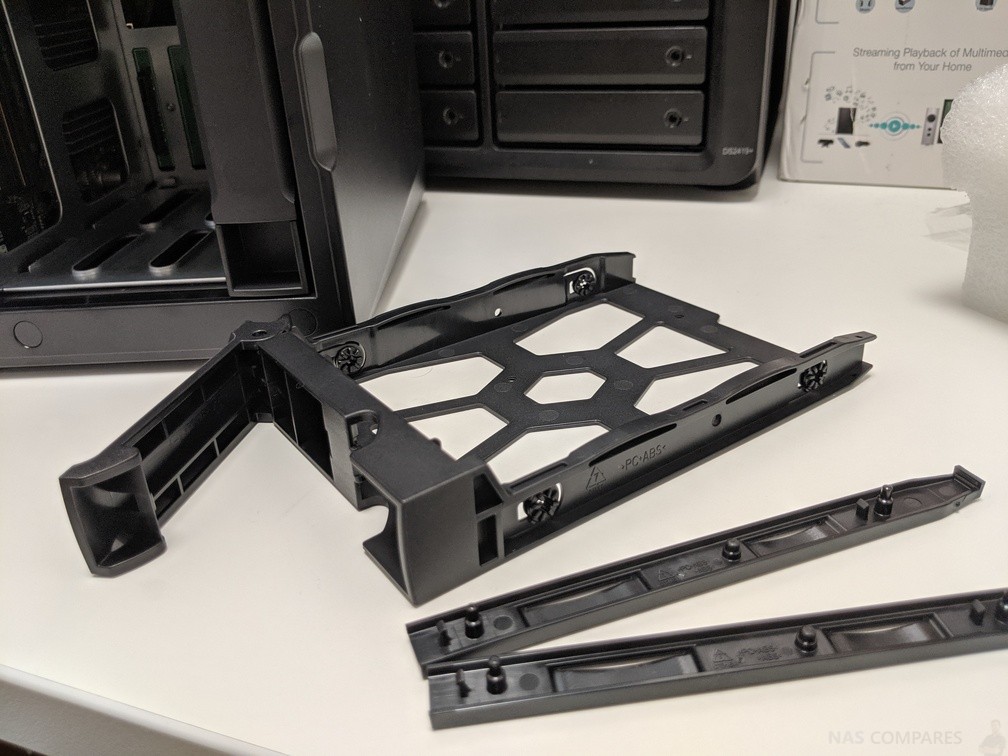 The trays themselves are plastic in design and (in the case of installing Hard Drives) do not require a screwdriver, featuring click and lock brackets. I tried installing 14TB Seagate Ironwolf NAS Drives, to see if there were any issues with their exceptionally large/enterprise frame in these bays (not uncommon) and they went in smoothly!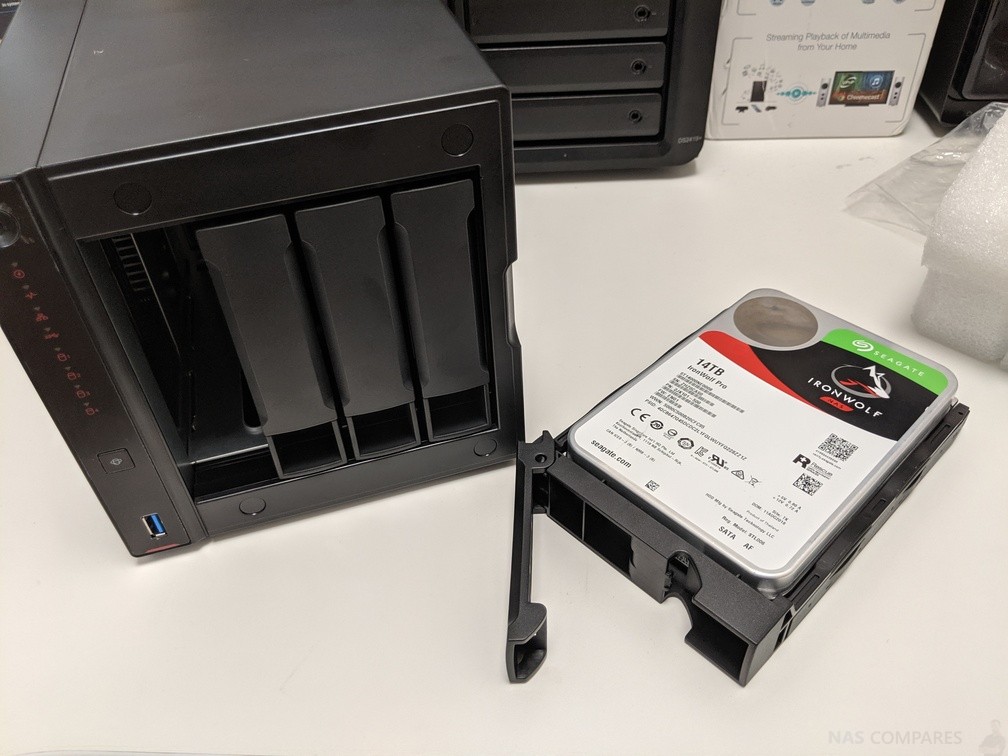 Alternatively, you can always use 1 or more Solid State drives for raw storage or caching (as discussed above), however, it is worth highlighting that these will require a screwdriver and use of the included screws. Not a massive surprise. Just remember that in order to take advantage of Read/Write caching, you need to have 2 drives installed (as it will create an SSD RAID 1 mirror for separate Read/Write actions), though 1 SSD will let you enable Read-Only cache.
All in all, this 4-Bay gives you a decent scope of storage potential so far and the Nimbustor 4 manages to do this with minimal space being used. Now, let's delve a little deeper into the hardware.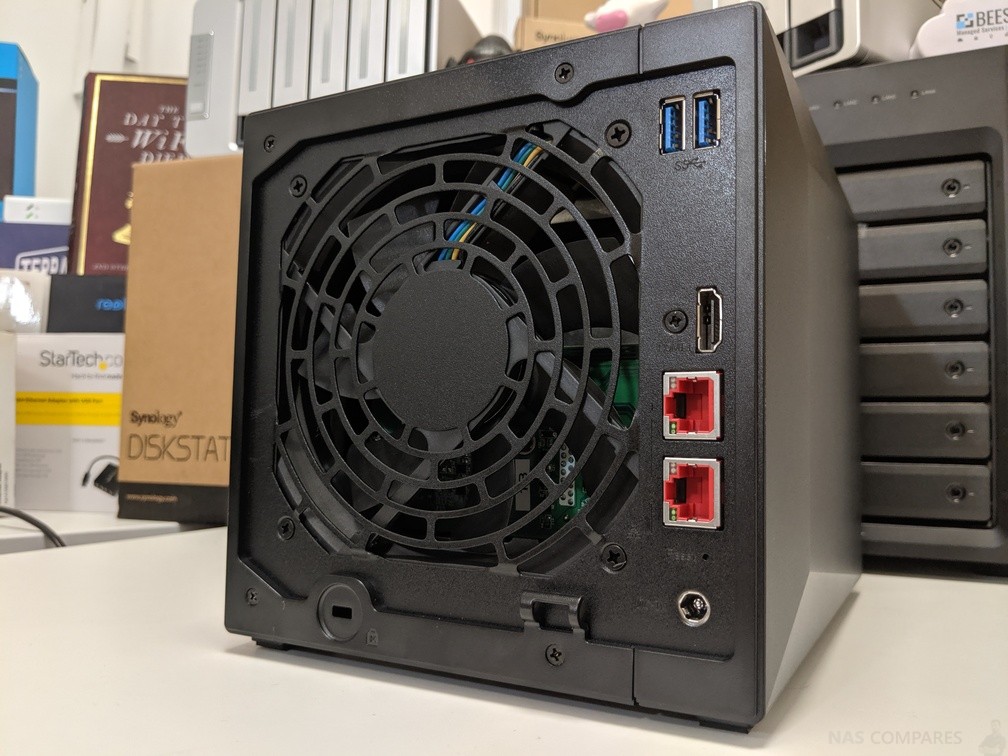 Asustor

Nimbustor 4

AS5304T NAS Drive – Ports
The rear of the Nimbustor 4 NAS is fairly well contained. This 4 Bay really keeps the focus on keeping things as compact as possible. Featuring mostly top tier connections, as well as a fully controllable fan. It takes up the bulk of the rear of this device and though it large in proportion to the Asustor AS5304T NAS chassis, it is still fairly standard when compared to that of the QNAP TS-453Be or surface area of the DS918+ twin fans.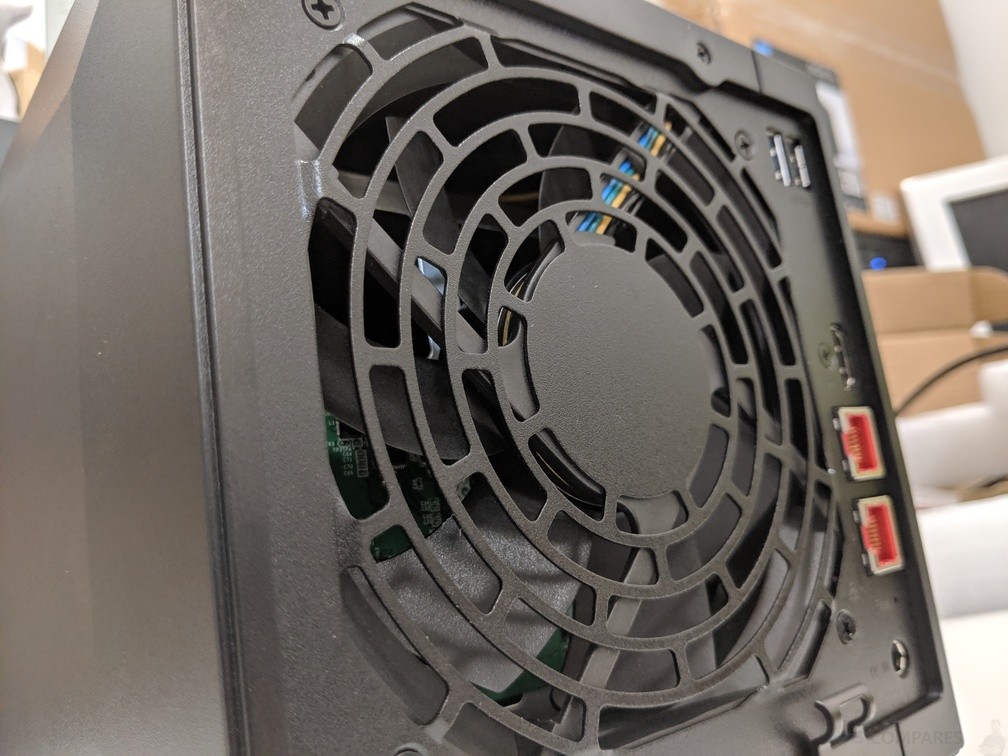 The rear fan can have its rotations per minute (RPM) altered from the ADM software (browser and client app enabled) to increase or decrease the speed. This is set to work automatically by default in reaction to increases internal temps as more intensive operations are carried out, but if the noise of a fan is abhorrent to you, you can manually decrease the RPM as needed. That said, the publish Noise Level of 19.7dB whilst the drives are installed is pretty respectable and in almost all cases, you can rely on the automatic management of this fan by the system itself.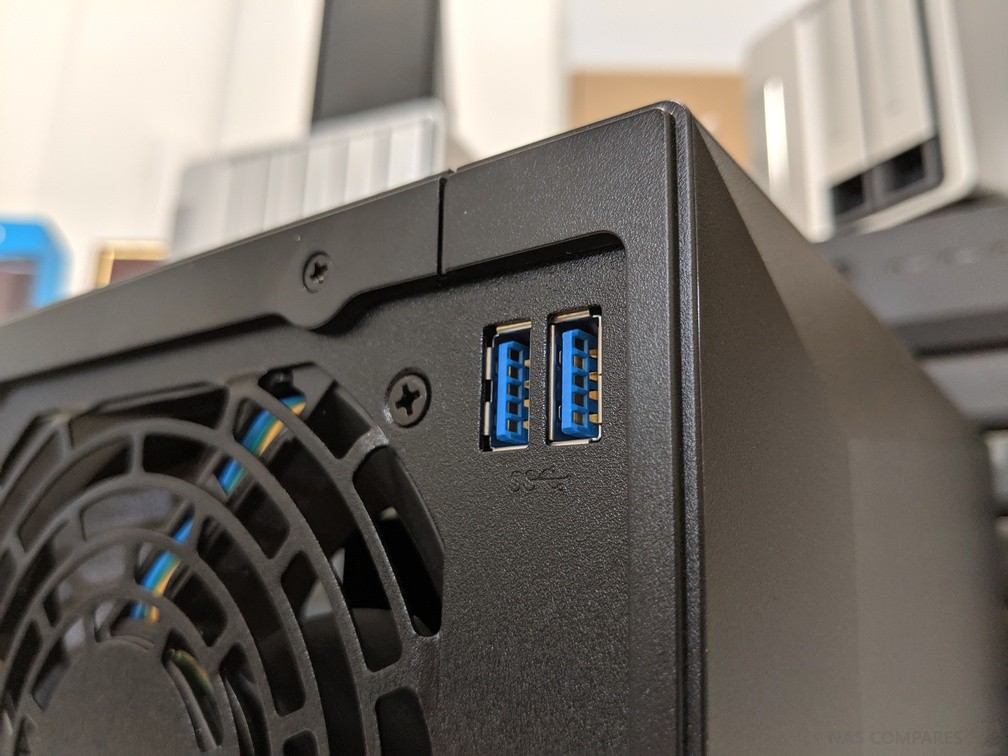 Additional to the front mounted one-touch copy button USB, there are two further USB 3.0 (USB 3.1 Gen 1, USB 3.2 Gen 1 – damn this naming convention) ports on the rear. Along with use for additional USB based storage media (external flash drives, USB external HDDs, etc), these ports also support multiple other devices in the Asustor ADM software, such as:
USB Keyboard & Mouse
USB Remote Control
USB-TO-Network Adapters (a select few)
USB Bluetooth Dongle
USB Wireless Radio Control Dongles
USB Control Pads for Gaming
UPS Controller over USB
USB Printers
USB WiFi Dongles
USB TV Tuners (app dependent)
The use of these ports for more than just traditional external storage is something that Asustor has really, really worked on in conjunction with innovations with HDMI supported applications. This and the growing homebrew/custom app community that has sprung up around NAS drive use in recent years is hugely positive for the industry and between Asustor and QNAP, we have seen some incredible innovations in bridging existing hardware and software in our homes/offices to work with NAS Drives.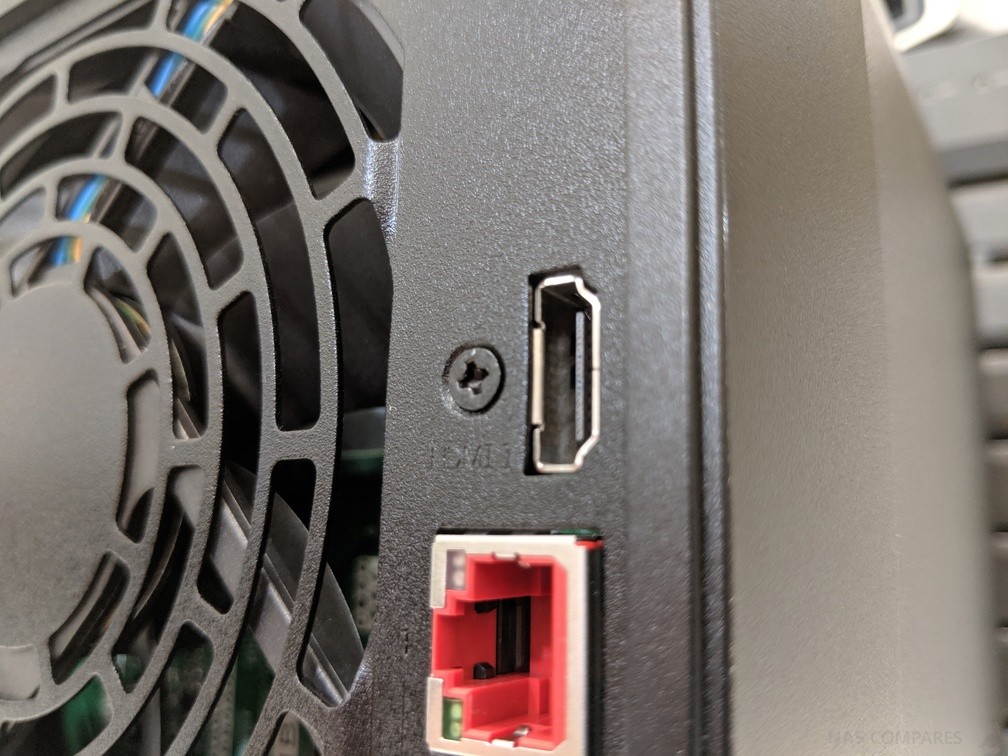 The HDMI port featured on the Asustor Nimbustor 4 AS5304T NAS Drive is HDMI 2.0a, this is more than just pointless revisioning. Although most HDMI ports will display visual media/applications, only HDMI 2.0 and HDMI 2.0a upwards will let you use 4K media at the 60FPS. This is very, very important if you intend to use the NAS drive for enjoying true 4K media on a 4K Display/ Monitor/ TV, as otherwise regular common HDMI 1.4b (found on most NAS devices will limit you to 4K 30FPS, regardless if your TV supports higher. This is an often overlooked bottleneck that people mistakenly blame the NAS drive for. In the case of the Asustor Nimbustor 4 AS5304T, you will be able to enjoy 60FPS media in 4K and 1080p over the network AND the internet, as well as use the free remote control apps for iOS and Android mobile devices to control the media if you so choose.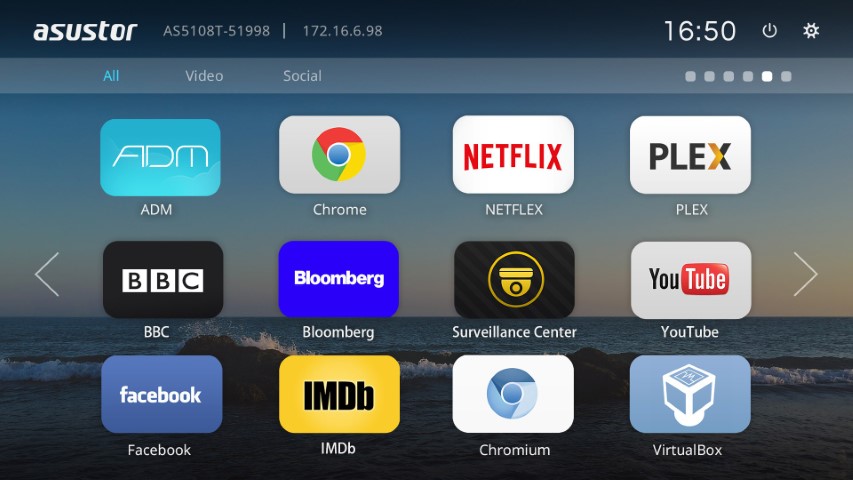 In order to use the HDMI port on the Nimbustor 4 NAS, there is a completely separate and fully featured HDMI user interface and partner applications, known as Asustor Portal. This application allows you to not only connect the AS5304T to an HDMI device, but it has it's own bespoke graphical user interface (GUI) that allows further applications to be installed and can be navigated with supported network remotes, the Asustor free remote control app for phones or a USB controller device (keyboard, mouse, joypad). From this GUI you can install a tonne of first and third party applications for HDMI output, such as:
Asustor Photo, Video and Music File Access
File/Folder Level Navigators
VirtualBox for VMs with KVM support
Spotify for a Music Server and HDMI Video/Audio Output
Plex Media Server, so you can access your PMS over HDMI (no more streaming content)
LibreOffice for Document Editing with a Keyboard and Mouse
Web Browsers (Firefox, Chrome, etc
Multiple Retro Gaming Emulators (RetroArch, SNES9X, Mednafen, etc)
This is just a few and there are multiple 3rd other 1st and 3rd party options open to you, with even more custom applications available online. Full support and specifications of the HDMI 2.0a port and Asustor AS5304T NAS are:
Supports Output for 4 Channels of Megapixel IP Camera Video Feeds
Support Chrome / Chromium browsers.
Downloads from Chrome/Chromium Automatically Saved to the NAS
Power Control Settings: Power on, Sleep, Restart and Wake via Remote
Customizable ASUSTOR Portal Desktop Wallpaper
Add Shortcuts to Favorite Websites
Increased TV Compatibility via Overscan and Resolution Settings
Max. Resolution: 1080p(HD)/2160p(4k)
ASUSTOR Portal comes preloaded with Netflix and Youtube. Users can install the supplementary URL-Pack to get access to even more popular video streaming sites such as Plex, Vimeo and Youku.
After installing URL-Pack-Social, users will be able to choose between social media sites such as Facebook, Google+, Hangouts, Pinterest, Twitter, Linkedin, WhatsApp and Instagram.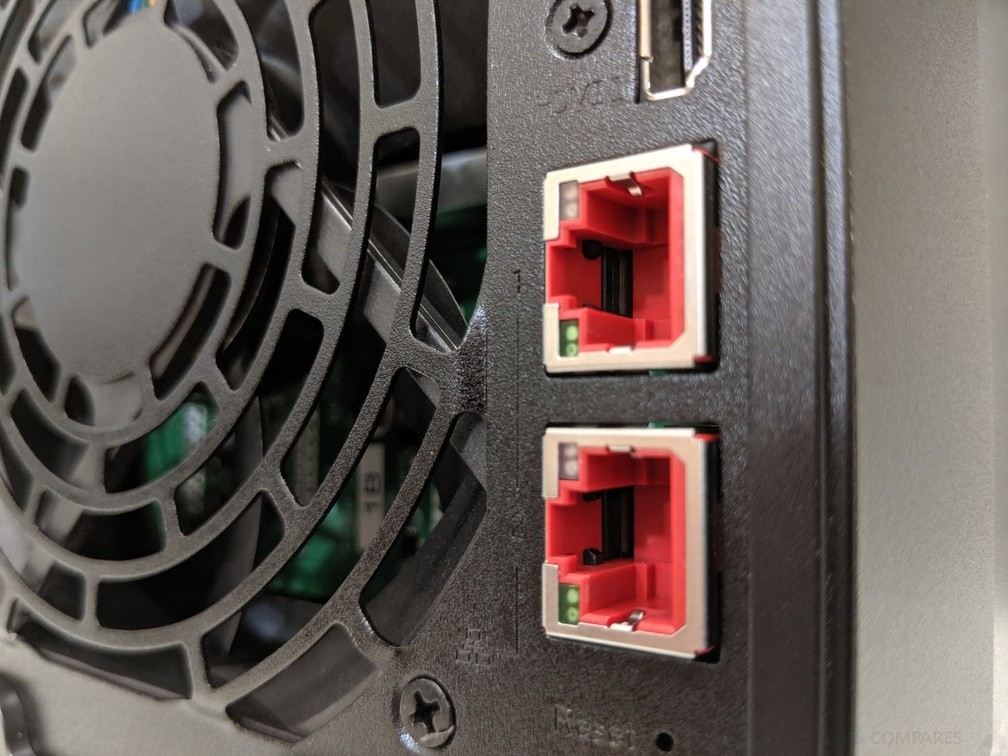 Which leads us to possibly the most important and sought after reasons that people are interested in the Nimbustor 4 AS5304T NAS Drive, the two 2.5Gbe RJ45 LAN ports. These ports are completely backwards compatible with 1Gbe connections and if the rest of your network environment is still using 1Gbe, then you will of course only get 1-gigabit connectivity with this device. If you are using a 10Gbe network environment, these ports will provide 2.5Gbe independently, but more interestingly, can be combined with Link Aggregation (also known as port trunking) to provide upto 5Gbe transfers with this device. This is enabled in seconds using the network management options in ADM, but you will need a LAG enabled smart switch in order to take advantage of this.
It is important to discuss why 2.5Gbe is such a big deal. It is more than just about it being faster than the 1Gbe found everywhere. 10-gigabit networks have been around for years now, but even though the price has decreased, it is still not at a price point that home users are willing to spend. Likewise, 10GBASE-T (so copper based 10Gbe) though as equally backwards compatible as 2.5Gbe, is still at a cost that would increase the hardware costs of ALL internet-enabled devices in the market in a big way if implemented. 2.5Gbe is a useful stepping stone in the right direction, is at a price that is barely a fraction higher than 1Gbe and given that it has no physical differences, it makes it very attractive as an upgrade.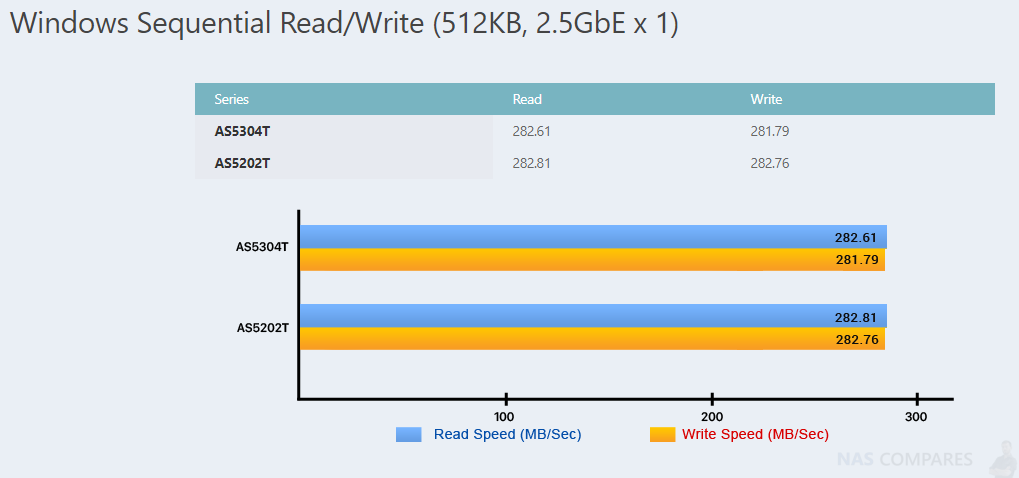 Likewise, with a growing trend towards USB adapters for 2.5Gbe and 5Gbe starting to emerge, as well as companies like Aquantia producing some very, very affordable and efficient network controller chips, Asustor bring the world's first desktop 2.5Gbe enabled NAS into the market, as well as ditching 1Gbe all together in the Nimbustor 4 (as well as in the LockerStor and CabinetStor releasing later in 2019) is a very bold move indeed.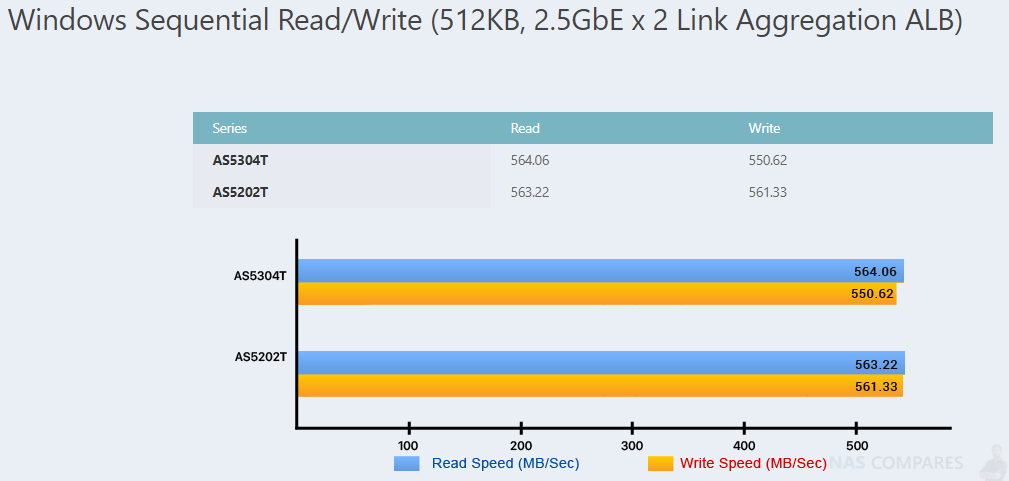 Asustor

Nimbustor 4

AS5304T NAS Drive – Internal Hardware
Another key area where the Nimbustor NAS has really seemed to push the boat out is with the choice of CPU. After the Asustor AS40 NAS last year featured 10Gbe, but an ARM 64bit CPU, I was worried that this new flagship NAS model would follow suit in the interests of affordability and efficiency. However, I was pleased to see, not just a powerful Celeron CPU, but one of the most popular and powerful mid-range processors currently in the NAS industry, the Intel J4105 quad-core chip. This processor is only available in about 4-5 NAS in the world right now and an excellent example of 24×7 performance, that still manages to be powerful. Alongside this, the Asustor AS5304T supports the BTRFS file system, which means your storage will benefit from background fil integrity checks that do not impact system resources noticeably, file self-healing and faster/better snapshot generation. Features and functions like these are made thanks to the Gemini lake J4105 Celeron and 4/8GB od DDR4 memory included. This processor features: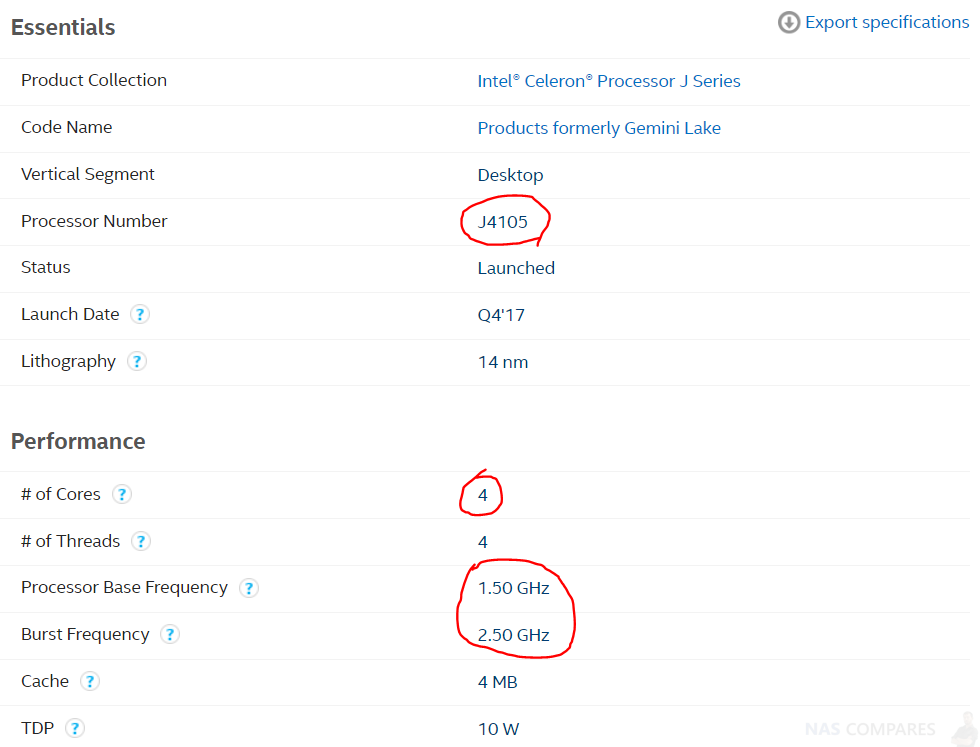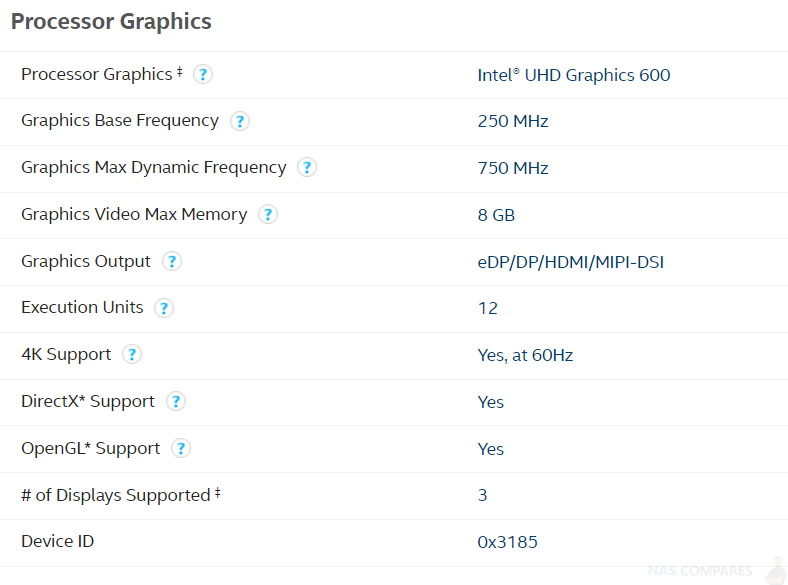 What this CPU means in terms of NAS drives like the Nimbustor is a large variety of things. We will go into more depth with the software review, but in brief:
Plex – Hardware Transcoding (with a Plex Pass) is likely and with 1080p handled very well indeed, as well as some Plex 4K transcoding in H.265 – lower tier stuff though
Virtual Machines – A graphical embedded CPU like the Gemini Lake in this Nimbustor NAS will run Windows 10 and Android VMs very well. With the added support for Ubuntu and Hackintosh with VirtualBox
Surveillance – With the dedicated Surveillance Center App from Asustor onboard, this CPU will easily handle 40 IP cameras in your environment, via the intuitive UI and Control Deck
Storage Management – BTRFS Support, as well as EXT4 for the traditionalist, Multiple Snapshot storage and browsing for recovery, a large number of ISCSI and LUN target creation, fast-acting SSD caching use
Network Management – Support of LAG, Load Balancing and virtual switches, as well as maintaining top transmission over 2.5/5Gbe for editing or gaming over the network. As well as Jumbo Frame control, DDNS automation, Wake on LAN support and internet/external NAS access with EZ Connect
Backups – Supporting a wide range of multi-tiered backup options that can be carried out simultaneously thanks to the powerful CPU in the Nimbustor NAS, such as network RSync, USB Backups, NAS-2-NAS migration, Cloud Backups with Google Drive, Dropbox and Backblaze and numerous RAID levels internally for redundancy.
Content Management – Numerous Content Management Systems (CMS) and Customer Relationship Managers (CRMs) available in 1st and 3rd party forms, with simultaneous operations supported by the Asustor Nimbustor 4 NAS
User Account Control – Supporting over 4,000 accounts, each with their own bespoke privileges and access levels, as well as grouping methods to automate the process easily
Security – AES 256bit hardware encryption on data in/out of the device, as well as over backup methods, with the J4105 CPU in the AS5304T maintaining high R/W speeds throughout, as well as Windows ACL permission and configuration, auto blacklisting and multiple VPN provider support
These are just the tip of the iceberg and I will be going into more ADM 3.4 and Nimbustor 4 applications in the Software Review.
Asustor Nimbustor 4 AS5304T NAS Drive – Software
The Asustor AS5304T NAS arrives with the latest version of ADM 3.4 included. Additionally, this software receives frequent updates to ensure taht the software runs the very best it can on the Nimbustor, as well as keeping up to date with security patches and application versions. We have touched on a number of the Nimbustor 4 NAS software highlights already, but I have a full software review available in another article
Asustor

Nimbustor 4

AS5304T NAS Drive – Conclusion
In terms of hardware, I am genuinely astounded at how much Asustor have crammed into the Nimbustor 4 NAS. Arriving at around £375 / $475 / EUR 425, this is a very, VERY impressive selection of hardware at this price point. Even WITHOUT the 2.5Gbe, it still arrives at a price lower than the Synology DS918+ and QNAP TS-453B NAS – neither of which have the powerful J4105 CPU and 4GB DDR4 Memory combination that the Asustor AS5304T have. Add to this that buying the Nimbustor 4 means you are using a network connection 2.5x larger in speed (potentially 5x with Link Aggregation) and you are looking at some seriously affordable NAS with serious future proofing for things like Plex Media Server, Business class surveillance, true 4K playback and media enjoyment in many forms too. Alot depends on the software (featured in the send part of this review) but in terms of hardware, the Asustor Nimbustor 4 AS5304T NAS is currently the Best Hardware VS Price NAS I have ever seen!
PROs of the Nimbustor 4
CONs of the Nimbustor 4

Best Price Vs Hardware right now
2.5Gbe Speeds
Best Mid-Range CPU
Great Plex Media Server Hardware
HDMI 2.0a = 4K 60FPS
Dedicated HDMI (Asustor Portal)
Huge USB Peripheral Support
BTRFS Support
Cloud/NAS/USB Backup Support
1Gbe and 10Gbe Compatible
Great VM Support

No PCIe Upgrade Option
No M.2/NVMe Bays
2-Bay features 2-Core J4005 CPU instead
Nothing is perfect of course. Little things that can be overlooked, like an LCD panel on the front, CAT 6/7 cables included or the ability to upgrade with a PCIe slot would be nice, but at this price point, it makes it very hard to complain about these physical issues. Just remember that to take advantage of the 2.5Gbe increased network coverage, you will need to upgrade your network to 2.5Gbe or 10Gbe over copper(RJ45) accordingly. However, seeing as the storage industry is fast approaching this as the normal, that isn't necessarily a bad thing. Be sure to check out the links below to 2.5Gbe Network Interface Cards (NIC) to upgrade with.
Going to Buy on Amazon? Use the button Below to Buy your Asustor Nimbustor 4 NAS and Support NASCompares to keep producing NAS content for you!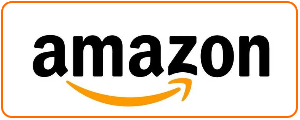 📧 LET ME KNOW ABOUT NEW POSTS 🔔
Join 1,411 other subscribers
Get an alert every time something gets added to this specific article!
This description contains links to Amazon. These links will take you to some of the products mentioned in today's content. As an Amazon Associate, I earn from qualifying purchases. Visit the NASCompares Deal Finder to find the best place to buy this device in your region, based on Service, Support and Reputation - Just Search for your NAS Drive in the Box Below
Need Advice on Data Storage from an Expert?
We want to keep the free advice on NASCompares FREE for as long as we can. Since this service started back in Jan '18, We have helped hundreds of users every month solve their storage woes, but we can only continue to do this with your support. So please do choose to buy at Amazon US and Amazon UK on the articles when buying to provide advert revenue support or to donate/support the site below.

Finally, for free advice about your setup, j
ust leave a message in the comments below here at NASCompares.com and we will get back to you.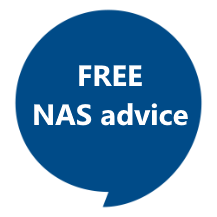 Need Help?
Where possible (and where appropriate) please provide as much information about your requirements, as then I can arrange the best answer and solution to your needs. Do not worry about your e-mail address being required, it will NOT be used in a mailing list and will NOT be used in any way other than to respond to your enquiry.
Support What We Do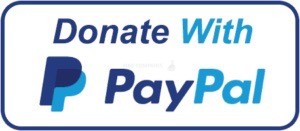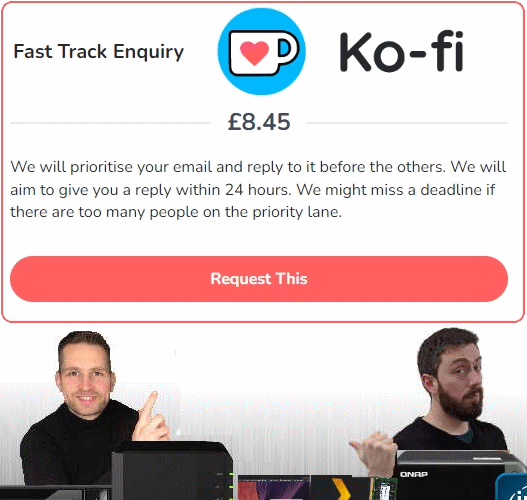 Terms and Conditions
Alternatively, why not ask me on the
ASK NASCompares forum
, by clicking the button below. This is a community hub that serves as a place that I can answer your question, chew the fat, share new release information and even get corrections posted. I will always get around to answering ALL queries, but as a one-man operation, I cannot promise speed! So by sharing your query in the
ASK NASCompares
section below, you can get a better range of solutions and suggestions, alongside my own.
This description contains links to Amazon. These links will take you to some of the products mentioned in today's video. As an Amazon Associate, I earn from qualifying purchases
Summary
Reviewer
Review Date
Reviewed Item
Asustor Nimbustor NAS Hardware Review
Author Rating