Bargains and Deals on NAS on Day 2 of Prime Day 2019
The subject of IP Cameras and NAS is a really tricky one to stay on top of. Despite my best efforts, the near weekly firmware updates that are rolled out by both Synology and QNAP on their own operating platforms, the individual Surveillance software and the cameras themselves, can easily lead to a once compatibility camera not being supported. Amazon Prime day has come around again and for those of us with that Amazon Prime Subscription making it a little dent in our bank account each month, this seems reason enough for us to take the plunge and investing in some new IT hardware. A NAS Surveillance and NVR storage was once a rather niche item, however, in 2019 the ability to have your very own surveillance system for home and business CCTV has fast become something that can be very affordable, very useful and very appealing. Buying a NAS and IP Cameras has many advantages to those of you who want to ensure the security and crime prevention of their homes and business environments. The growing use of NAS drives by families, students, small offices, shops and professional industries for 24×7 security are now at a point that you can really find some great bargains if you shop around. If you are looking for IP cameras deals for your NAS this Amazon Prime day 2019, I recommend that you check out the bargains below. I have even separated them into different uses, so you can be sure to get the right Amcrest, Edimax, Reolink Camera or more for your needs. Be quick though, as Amazon Prime deals can be fantastically brief, often have limited stock or are on strict time limits.
WiFi Security IP Camera ONVIF – $31.99 – SAVE 5%
(Click to get offer)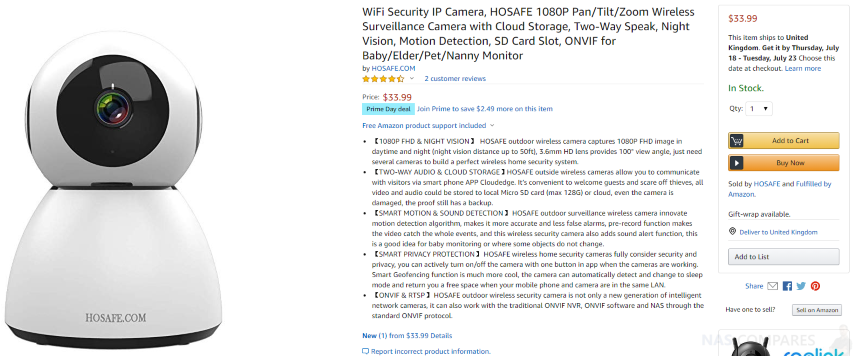 Amcrest 4MP UltraHD Indoor WiFi Camera – $61.99 – SAVE 20%
(Click to get offer)

5MP IP POE Dome Camera Outdoor IP66 WaterProof – $43.50 – SAVE 7%
(Click to get offer)
Amcrest 2K 3MP Wireless Outdoor Security Camera – $45.99 – SAVE 12%
(Click to get offer)

Anpviz 5MP H.265 IR Dome IP Camera PoE IP Security Camera – $46.39 – SAVE 20%
(Click to get offer)

Anpviz 5MP Outdoor Bullet POE IP Camera – $47.99 – SAVE 20%
(Click to get offer)
Foscam Outdoor PTZ 1080P WiFi ip66 WaterProof – $159.99 – SAVE 20%
(Click to get offer)

SPAN.COM Better Than Prime Day Deals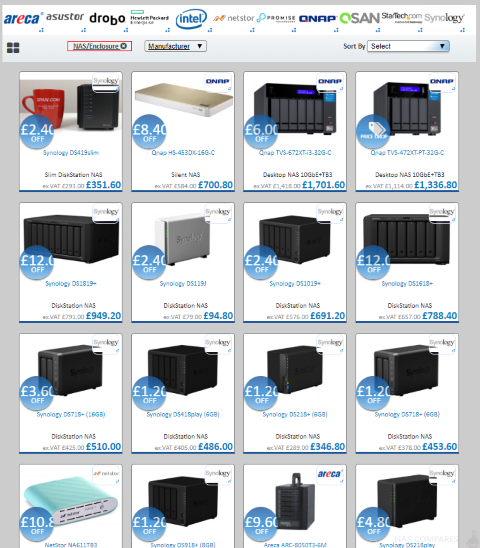 Dedicated Synology NAS Prime Day Deals
Dedicated QNAP NAS Prime Day Deals
Hot Tips when you Buy a NAS this Prime Day 2019
In order for you to get the very best NAS deals this prime day, here are some hot tips that I have personally used for the last few years to get the very best deals.
Amazon Warehouse Deals are 20% lower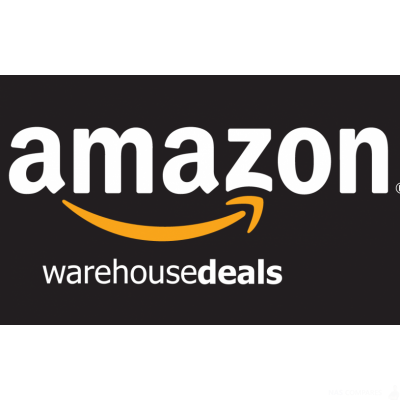 For those that aren't aware, Amazon has a whole section of their website that is dedicated to pre-owned and opened items. This includes both NAS, hard drives, SSD and more for your storage. During Amazon Prime day 2019, the discount on these broken-seal items will be increased by an additional 20% and for those looking for an insane bargain, this will be irresistible.
Another tip when buying NAS or Hard Drives from Amazon Warehouse is that although (as they are broken seal/used/returned items) they have a shorter warranty from Amazon, you will almost certainly be able to claim the FULL warranty coverage from Synology, QNAP, WD or Seagate. They just want your serial number and a receipt of purchase – this will not state the amazon reduced warranty.
Amazon Warehouse for different countries can be found below:
Amazon Warehouse USA
Amazon Warehouse UK
Amazon Warehouse Germany
Latest Deals Update and Notifications


If you want to make sure you see the LATEST prime day deals for NAS (as new ones are added every hour) then I would recommend checking the official Amazon Prime page here regularly. It will also include the very latest Lightning Deals too
US Amazon – Amazon Prime Day Page
UK Amazon – Amazon Prime Day Page
Amazon Prime for FREE
The prices listed on Amazon for NAS during the Prime Day event are only available to Prime members. If you are not a member, don't worry, as you can use the 30-Day free trial to sign up for a Prime, or just pay for 1 month of Prime as a student and get it at 50% off. Then after you finish your purchase, you can cancel your subscription. The other bonus of this is that you will qualify for fast, next day delivery for free. I would recommend however that you do not cancel your subscription until you have received your order and tested your item.
As then you will still be able to take advantage of the fast and free return policy extended to Prime members. This is especially useful when buying NAS Hard Drives and you are worried about broken drives!
Improved Delivery on your NAS Prime Day Deal
It is a well-known fact that Amazon Prime membership includes free next day delivery and Amazon has even upped the stakes by stating that they will be providing the fastest-ever Prime Day delivery of just 14 minutes between the cart and the courier, last year we saw and heard numerous examples of delivery issues with prime day deals, adding 2-3 days on supposed next-day shipping.

If any of your Amazon Prime delivery dates are not the 24 hours turn around that they promise, then definitely complain to Amazon after you receive your goods (not before) as they will almost certainly have a deluge of customer enquiries after prime day 2019 and  in an effort to conclude the matter, you might get an additional discount, a gift vouchers or more. Currently, the trending 'gesture of goodwill' gift is a free month of Prime membership.
Guide to NAS Compatible IP Cameras for indoor use
One of the most common questions i am asked here at NASCompares is "What is the best IP Camera for my NAS?". The appeal of using the awesome surveillance and NVR abilities of a Synology and QNAP NAS is one of those features that was the deciding point for many when choosing a NAS for the first time. Even users who buy a NAS for Plex, Backups or business file server use will often pencil in the idea of using it for CCTV and security cameras somewhere down the line. The good news is that the Surveillance Station and QVR Pro software for NAS is FREE, available with even the most basic models and very, very easy to use. The bad news is that there are literally thousands of different IP cameras to buy and only a small percentage are compatible with NAS devices and their software. This is especially true for cameras you will use indoors, as these will often arrive with their own software and not designed to be used by the software on a NAS. Never fear though, below I have detailed several impressive, affordable and NAS compatible IP cameras for 2018 for office and home in-door use.
Things to consider when buying an IP Camera for NAS
With so, so many iP cameras available to buy and only a small % actually compatible with Synology or QNAP,  it is important that you buy the right one. Synology NAS has a compatibility list of IP Cameras that lists over 6000 models, but even if you use the vague filters to narrow the choices down, you still need to know which features are important to your individual surveillance NAS need. Here are the most important must-have features to look for in an indoor security camera are:
IP Camera Video Resolution
The resolution of the IP cameras you use for your NVR NAS will make all the difference when it comes to reviewing recorded footage for both legal and personal matters.  I would go as far as to say that any camera that is less than 720p as it's peek resolution is probably not reliable in any capacity, where the resolution of lost or assignment of blame is required.  The video resolution is as important as the frames per second when using an IP camera for your NAS based surveillance. Unsurprisingly the higher the resolution the better the picture quality.
IP Camera Field of view or horizontal viewing angle
Unless you choose to use a PTZ (pan, tilt and zoom) camera, you are going to find that placement of your camera is pretty much the most important decision you will make in terms of planning ahead. Not just the area of coverage, but also the proximity to a power outlet and/or Ethernet connectivity. Also, remember that if you are using POE enabled (Power over Ethernet) IP cameras with your NAS and purchase Powerline adapters, this will often solve two problems in one and mean that you can place a camera within a connectable distance to a power outlet only.
If you are looking at PTZ IP Cameras for your NAS based NVR, then field of view will be a much broader topic, as many will have 180-260 degrees of coverage, thanks to the motion from the base of the IP camera being controllable by the NAS in a manual or automatic tracking capacity.
IP Camera Night vision
Nightvision support on IP cameras for NAS comes down into two different kinds. The Cheap kind and the reliable kind. I cannot urge you enough NOT to buy cheap IP cameras for your NAS on the promise of 'night mode', as a number of these are just regular IP camera views with altered contrast and light control – this is not genuine nightvision and in the event of you needing reliably recorded footage on your NAS, these will let you down EVERY TIME.
The reliable IP cameras for NAS that have nightvision are the ones that use IR, or infrared, sensors built around the lens of the camera (normally numerous smaller glass circles). Additionally, these cameras will arrive with a rating for the distance that would be covered at night, thanks to these IR and LED sensors on the front. In almost all cases, an IP camera that is compatible with a Synology NAS or QNAP NAS, that features night vision, will also let this be controlled and enabled at needed via the surveillance software on the NVR.
IP Camera Audio In and Out
Almost all NAS surveillance software supports recording both audio and video together, so if you purchase a NAS compatible camera that features a microphone, then this audio will be recorded with the video on the surveillance NAS. However, some cameras arrive with audio-out – a speaker built into the base of the camera. This is typically used to deter would-be burglars, communicate with those on screen, or issue warnings to those in the field of view. Some NAS software such as QVR Pro and Surveillance station will let you create automatic warns to those that are detected by motion triggers on screen and will issue barking dogs and pre-recorded warnings via the inbuilt speaker on the IP camera. A neat little feature and one I recommend for those who want to deter potential crime, not just report and pursue.
Wireless IP Cameras
It is fairly common when looking at IP cameras for NAS to find a camera that is available in both Wired and WiFI versions. You will be pleased to hear that any IP camera that is compatible with NAS, can be wifi enabled, even when the original NAS is wired/connected to your router. This is because wifi and wired networks are almost always on the same network (unless set up on purpose to be separate). So as long as the camera is connected to the same wifi as all the other devices in your home/office, and your NAS is connected to the router, then the IP camera will appear on your Synology or QNAP surveillance NAS.
IP Camera with Local storage
Often you will find that some IP cameras arrive with an SD card slot. There are for if you want to store recorded footage locally. It is worth mentioning however that your NAS is not going to take advantage of this local IP camera storage and therefore you should not factor it into your decision when buying a NAS compatible IP camera.
📧 LET ME KNOW ABOUT NEW POSTS 🔔
Join 1,570 other subscribers
Get an alert every time something gets added to this specific article!
This description contains links to Amazon. These links will take you to some of the products mentioned in today's content. As an Amazon Associate, I earn from qualifying purchases. Visit the NASCompares Deal Finder to find the best place to buy this device in your region, based on Service, Support and Reputation - Just Search for your NAS Drive in the Box Below
Need Advice on Data Storage from an Expert?
We want to keep the free advice on NASCompares FREE for as long as we can. Since this service started back in Jan '18, We have helped hundreds of users every month solve their storage woes, but we can only continue to do this with your support. So please do choose to buy at Amazon US and Amazon UK on the articles when buying to provide advert revenue support or to donate/support the site below.

Finally, for free advice about your setup, j
ust leave a message in the comments below here at NASCompares.com and we will get back to you.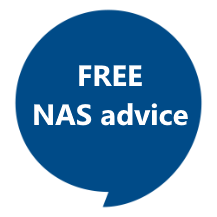 Need Help?
Where possible (and where appropriate) please provide as much information about your requirements, as then I can arrange the best answer and solution to your needs. Do not worry about your e-mail address being required, it will NOT be used in a mailing list and will NOT be used in any way other than to respond to your enquiry.
Support What We Do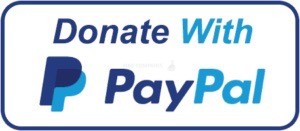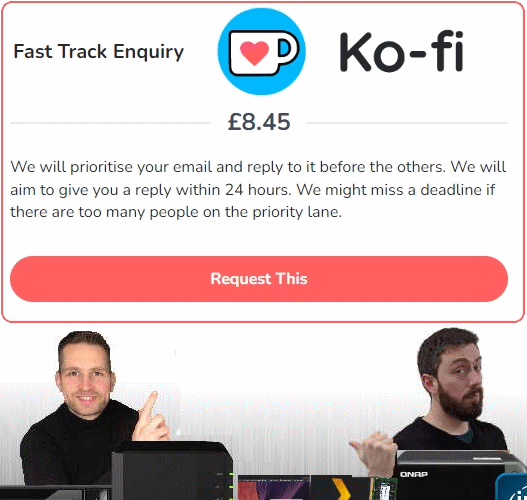 Terms and Conditions
Alternatively, why not ask me on the
ASK NASCompares forum
, by clicking the button below. This is a community hub that serves as a place that I can answer your question, chew the fat, share new release information and even get corrections posted. I will always get around to answering ALL queries, but as a one-man operation, I cannot promise speed! So by sharing your query in the
ASK NASCompares
section below, you can get a better range of solutions and suggestions, alongside my own.
This description contains links to Amazon. These links will take you to some of the products mentioned in today's video. As an Amazon Associate, I earn from qualifying purchases