QNAP
TVS-672N

5Gbe NAS with SINGLE, RAID 5 and RAID 5 – 1Gbe vs 5Gbe

Today I wanted to take some time and test just how good the new Gbe NAS devices from QNAP in 2019/2020 are. We are seeing some tremendously affordable solutions featuring this 5x traditional ethernet connection start to appear from the big NAS brand and I wanted to see if it is as good as they promise. I have already tested numerous 1Gbe and 5Gbe devices from them in recent years, but now that we are seeing 2.5G and 5G enabled CPUs to become more mainstream in NAS, the traditional 1Gbe bottleneck of NAS is starting to disappear, with many NAS brands releasing their standard/base units for 2020 with 2.5G or 5G as the standard ethernet connection. Today I want to test 1Gbe vs 5Gbe on the new QNAP TVS-672N, in some standard test scenarios with BlackMagic and AJA, using Seagate Ironwolf hard drives and solid-state drives. These drives will be in different RAID configurations and we will see how the 5Gbe performs against traditional 1Gbe in practice.
The QNAP Test NAS Specifications and Seagate Drive Media
The 5Gbe NAS we are using for our test today is a powerful, 8th gen i3, based NAS from QNAP, the late 2019 released TVS-672N. The specifications are:
QNAP TVS-672N NAS
Intel® Core™ i3-8100T 4-core 3.1 GHz CPU
4GB SODIMM DDR4 (2 x 2 GB)
Full Review of the QNAP TVS-672N can be found here – https://nascompares.com/2019/10/23/qnap-tvs-672n-5gbe-nas-review/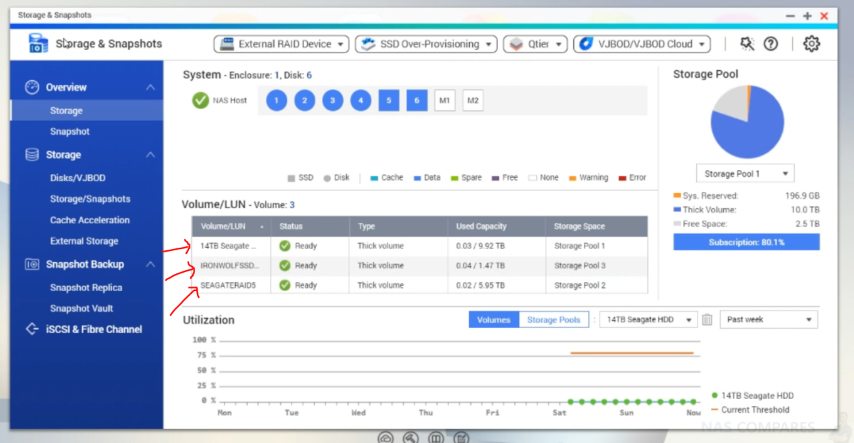 The 3 Types of storage pool that we will be using in our QNAP 5Gbe tests will be connected over 1Gbe and 5Gbe, and are:
1x Seagate Ironwolf ST14000VN0008 NAS Hard Drives, 14TB 7200RPM, 256MB Cache, SINGLE Storage Pool
3x Seagate Ironwolf ST4000VN008 NAS Hard Drives, 4TB, 5900RPM, 64MB Cache, RAID 5 Storage Pool
2x Seagate Ironwolf ST4000VN008 NAS SSD, 1.9TB, DuraWrite, RAID 1 Storage Pool
These three storage pools are based around testing the advantages of SSD vs HDD and RAID vs SINGLE Performance, within the context of 1Gbe vs 5Gbe.
The Test Machine using in the Testing
The machine used to perform the 1Gbe and 5Gbe tests today was the following machine:
Windows 10 Pro
Intel i7-6600U 2.6-2.8Ghz CPU
16GB DDR4 Memory
512GB Micron 1100 SATA SSD
QNAP USB-to-5Gbe Adapter (QNA-UC5G1T)
The 1Gbe tests were conducted via the dedicated 1Gbe port on the client testing device, whereas the 5Gbe tests were conducted using the QNAP USB to 5Gbe ethernet adapter. Where possible, the 1/5Gbe adapter was disconnected when the alternative device was used for testing, to eliminate false readings.
Test Parameters of the QNAP 5Gbe NAS and Seagate Ironwolf Drives
In order to conduct these tests, the QNAP was directly connected to the 1Gbe and/or 5Gbe adapter, to the test machine. In order for the test software to interact with the QNAP NAS, I created 3 storage pools on the NAS storage manager, then created 3 shared folders (each living on the respective storage pool type, named accordingly). These mapped drives were mounted in both 1Gbe and 5Gbe connections. These mounted drives were then accessed by the client, via AJA and BlackMagic for comparative testing.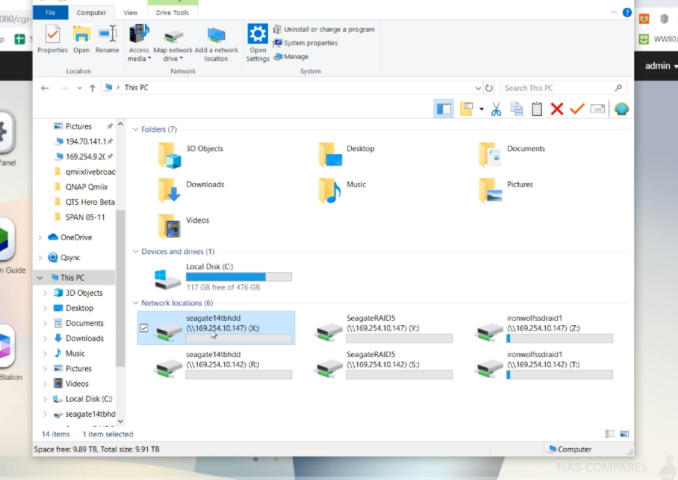 The test settings for each test application were:
MTU/Jumbo Frame at 9000 on ALL connections (where possible), both on the QNAP NAS 'Network and Virtual Switch' and the Windows Network Adapters.
BlackMagic Test, 1Gbe Test File
AJA Test, 1Gbe, 3840X2160 4K RED HD
NO disk caching on the NAS
Results presented in MegaBytes per Second, with data sent to the device measured as 'Write' and data retrieved from the NAS measured as 'Read'
QNAP 5Gbe and Seagate Ironwolf Media – Important Test Factors
These test results are taken from my own testing scenario and results may differ in your own use case scenario. Like all test results, these should be used for guidance purposes only and I recommend contacting me using the free advice section on the right-hand side of the page if you want more help identifying the right drives for your own unique storage environment. Additionally, these results were susceptible to drag/friction factors below:
1 – Capture recording software, OBS, can affect test results. Read speeds between the local SSD are affected and will result in a dip in Read speeds that is nt going to be there in the real world
2 – The Single Seagate 14TB Ironwolf HDD is 7200RPM and 256MB cache, compared with the 5900RPM and 64MB Cache of the 4TB RAID 5 Drives
3 – Screenshots are of longer test periods and it recommended to watch the video in full for full results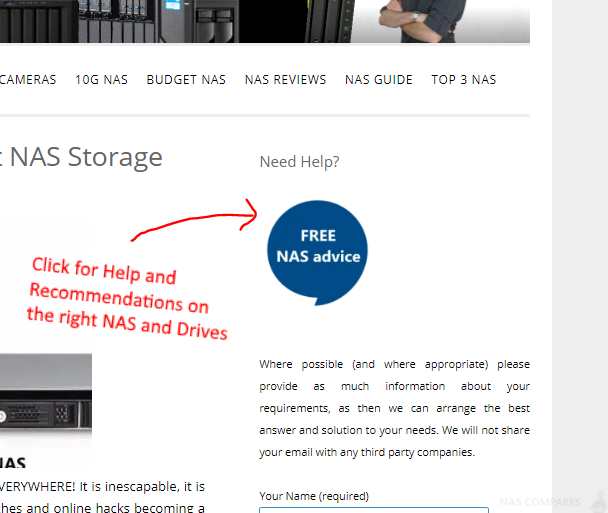 14TB Seagate Ironwolf Single Hard Drive Test
The first tests are using a single large capacity 14TB NAS hard drive from Seagate. Although this is an Ironwolf NAS optimized drive, I used it in a single HDD environment in order to see the benefits of it's performance, as well as to gauge it against RAID when using 5Gbe later on. Additionally, this 14TB hard drive was set to a 10% reduction in available space in the RAID group (reserved for snapshots in a future test) and when the SINGLE non-RAID storage pool was created, a shared folder was made on the drive called 'seagate14tbhdd', with the mapped drive of X: being the 1Gbe connection and the R: drive being 5Gbe.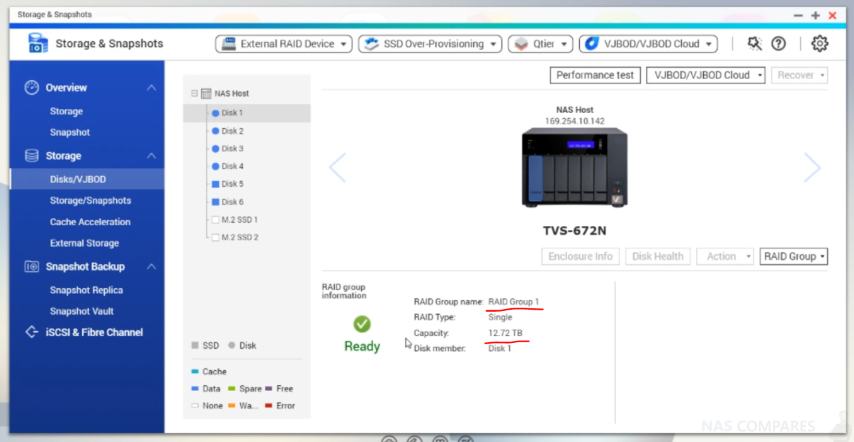 First I did a standard Black Magic Speed test of the SINGLE14TB Seagate Iornwolf Drive. As this was conducted on a mapped network drive over 1Gbe (the X Drive), the results were predictably limited and Write speeds maxed out at 109MB/s and Read stayed in the high 95-100MB/s consistently (it would have been greater than write normally, but OBS and the density of the file played their part on creating a false ceiling.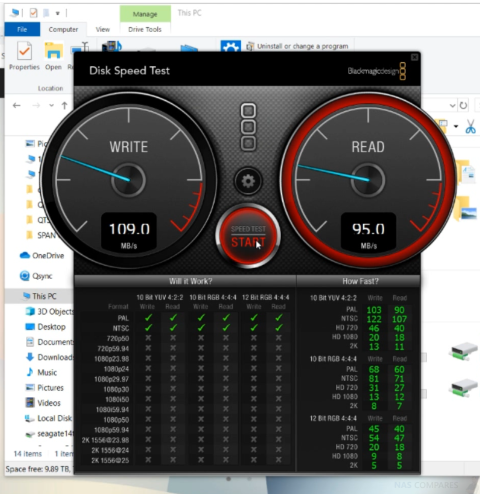 So, now we saw what a 1Gbe connection to the single 14TB Seagate ironwolf drive would be, let's see what the 5Gbe connection would show. As this is an enterprise build drive, at 7200RPM and 256MB cache, combined with the removal of the 1-gigabit bottleneck, we got some impressive speeds of over 300MB/s on write and 250-280MB/s on Read. So, we can see that the 5Gbe certainly did what it was supposed to in opening up that bandwidth.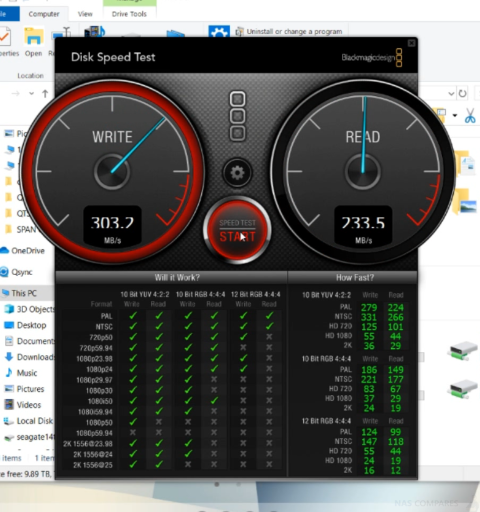 Next up, in order to make sure it was not a fluke, I ran an AJA speed test of the single drive over 5Gbe.  However, as mentioned in the intro, I selected a fantastically complicated test file – a 4K RED HD 1Gbe file. Unlike the standard 1Gbe variable video test file used in Blackmagic. I am pleased to confirm that the single drive still achieved an impressive 150-170MB/s on write and 150-165MB/s on read. All in all, impressive numbers for these kinds of files and both of the later tests showed that the QNAP 5Gbe NAS, connected via a USB-to-5Gbe adapter, opened up the performance bandwidth between my test PC and the drive media.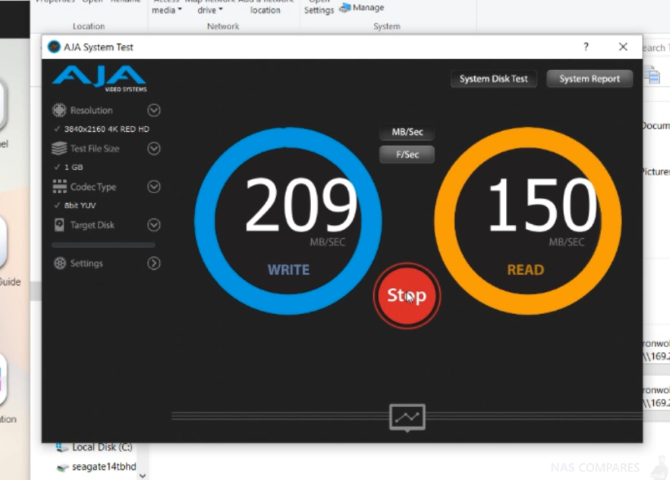 3x 4TB Seagate Ironwolf NAS Drive, RAID 5
The second test was to use three 4TB Seagate Ironwolf regular NAS drives in a RAID 5 environment. Like before, these three drives were in a storage pool, this time as a RAID 5 environment, meaning that performance generally takes a small hit in performance as the CPU in creating parity in order to maintain the redundancy. The main benefit of RAID 5 (other than the ability to withstand 1 hard drive of failure) is that multiple disks will be rea/written from at once and this can mean that multiple drives in a RAID 5 will present better results than a single drive, in terms of read and write. The Seagate Ironwolf drives in these series of tests are 4TB (so 10 terabytes less than the single drive from test 1) as well as being more standard in build quality (designed for smaller NAS arrays), but there are three drives, so I hope to see higher performance values.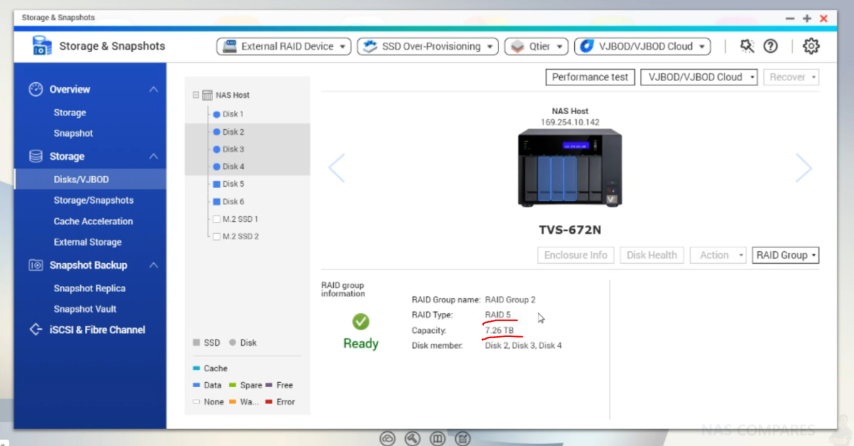 Test one on this RAID 5 array was over 1Gbe and just like in the previous single drive tests, 1Gbe just created TOO MUCH of a bottleneck. The performance was throttled to 109MB/s on Write and 95MB/s on read (once again, take into account the recording software and host PC SSD). So I quickly moved over to the testing of the 5Gbe to see how much of the bottleneck could be removed.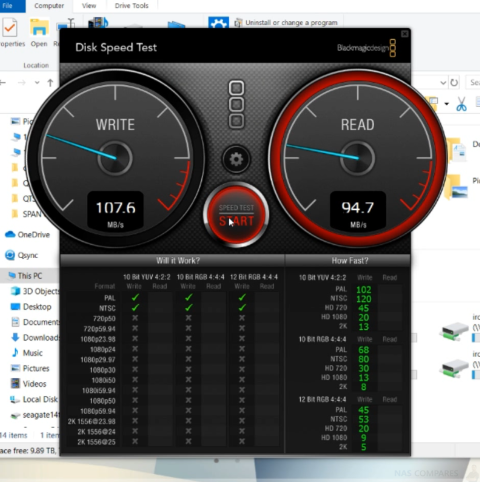 Much more impressive read and write speeds in black magic over 5Gbe with the QNAP NAS, with the 3 regular Ironwolf HDD (5900ROM and 64MB cache) in a RAID 5, outperforming the write of the single enterprise built Ironwolf drive (7200RPM and 256MB Cache).  The top speed would head into 290-300MB/s frequently overwrite and the read would never fall below 230MB/s, often over 250MB/s.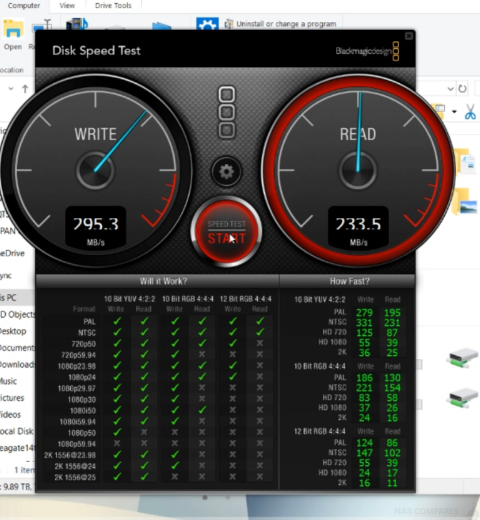 Once again, I think moved into AJA to get some more dense testing performed and once again presented a much higher Read and write compared with the single HDD tests. Overall this test only further highlighted the performance improvements available with a 5Gbe connection over 1Gbe instead, as well as further underlining the performance benefits that RAID can provide.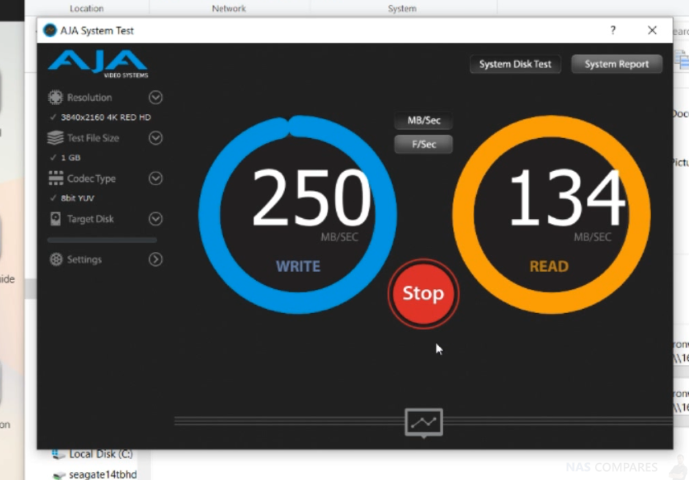 asa
2x 1.92TB Seagate Ironwolf 110 SSD, RAID 1
The final test was using the newer Seagate ironwolf 110 NAS Solid-state drives, 1.92TB each, in a RAID 1 Setup, This was done in order to move from traditional slower/mechanical hard drives and remove any possible hardware bottleneck from the seagate storage media over 1Gbe and 5Gbe. The two SSDs in a mirrored RAID environment would have a fantastic speed boost, theoretically maxing out the connection that QNAP state is the minimum these ports can do. Even taking into account that the recording software and test conditions are not optimal, we should still see some good results.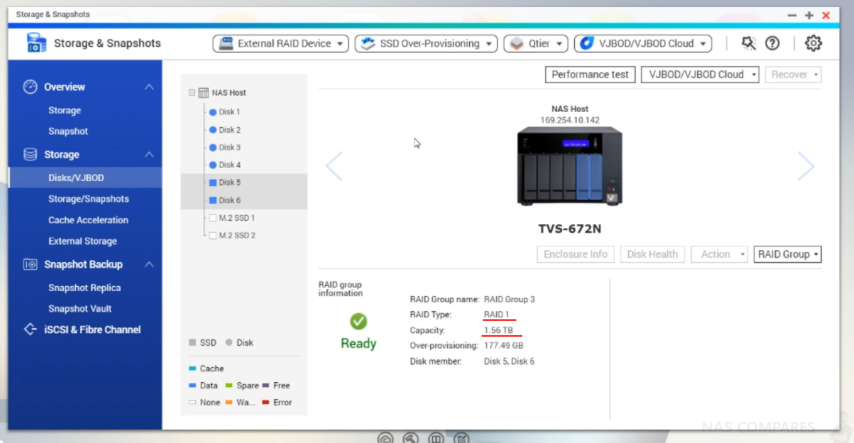 For just clarity sake, I have run a test over 1Gbe and predictably it completely maxed out the connection at 109MB/s. This was to be expected and only further goes to show why 1Gbe for modern media is jsut not cutting it!
Switching to 5Gbe for Blackmagic immediately showed the Read and Write speeds hit an impressive 300-350MB/s, for this 1GB file test over a 5Gbe connected mapped drive. Over 10Gbe, I would have expected speeds of 500-650MB/s, so I assume we are hitting the potential storage maximum transfer of the 5Gbe connection. Still higher than 1Gbe, but some users hoping for an immediate 500MB/s over 5Gbe may be disappointed.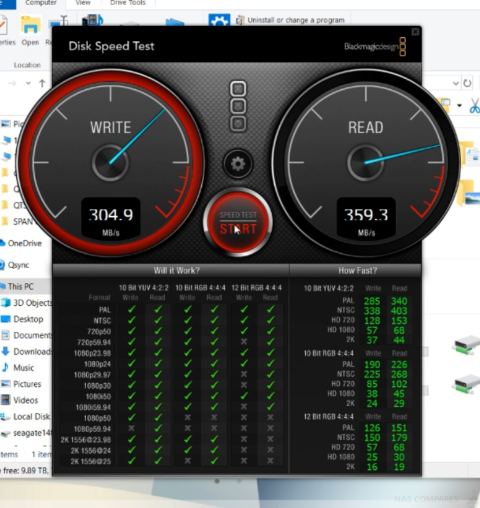 Switching over to AJA and back to 1Gbe 4K RED HD, we once again saw the immediate glass ceiling of 109MB/s. However, it was when we switched to the 5Gbe mapped network drive of the RAID 1 SSD Ironwolf 110 SSD that we saw something interesting.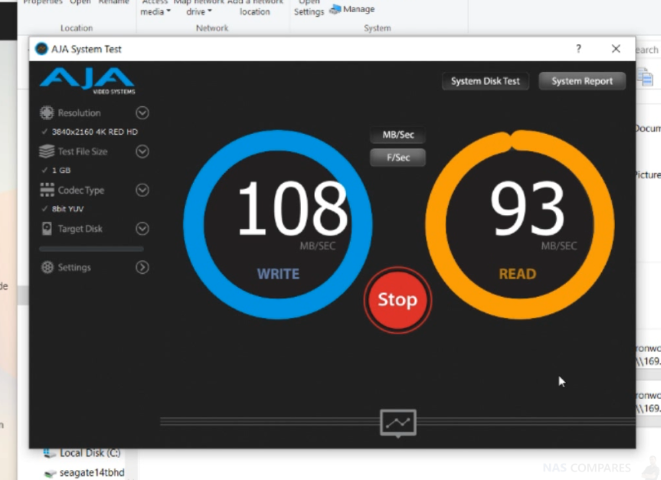 The AJA test of the RAID 1 SSD mapped network drive, despite the dense 4K 1GB file, still maintained those highs of over 300MB/s and without the performance hinderances of the test machine/recording software I think we would have seen closer to 400MB/s overall. It comes as no surprise that SSD would out perform HDDs, but once again it is still great to see that 5Gbe definitely opens up the available traffic options.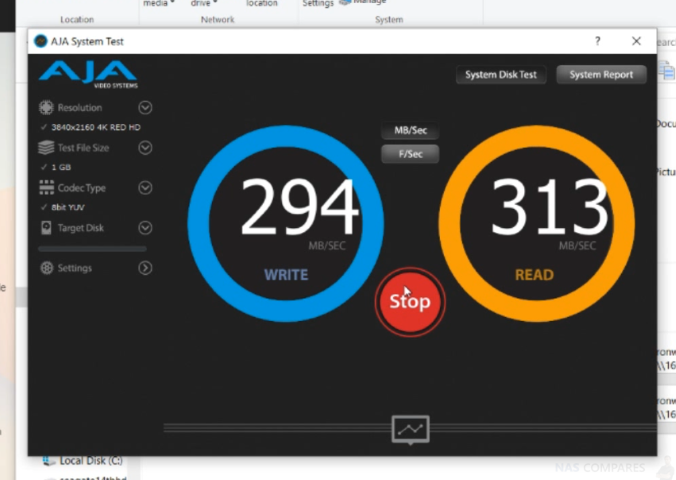 QNAP and Seagate Ironwolf 5Gbe NAS Test – Conclusion
I came into these tests with certain preconceptions about the difference between 1Gbe and 5Gbe. QNAP has never been secretive about the maximum speeds of their 5Gbe adapters and 5Gbe NAS – highlighting speeds of around 425MB/s at the very top. This is fair, just because you have 500 megabits of bandwidth, does not automatically mean every media connection can take advantage. We are certainly at a point where the hard drive and SSD media we buy for our NAS far exceeds the maximum speed we can get over traditional ethernet. This is why we are seeing enormous innovations in 2019 and 2020 that attack the minimum speed of our data between devices 5G cell phone networks, Wi-Fi 6 wireless connectivity and the rise of 2.5Gbe and 5Gbe NAS/Routers/Switches. You cannot look at 5Gbe solutions as suitable replacements for an existing 10Gbe setup environment. But if you are on a 1Gbe connection that is feeling the pinch of bottlenecks, looking to buy a new NAS/Network device and are considering the futureproofing or are looking at ways to create a more fluid/hybrid network environment, then 5Gbe NAS like the QNAP TVS-672N are certainly a very good investment.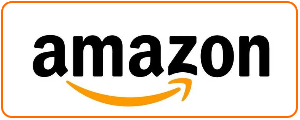 Articles Get Updated Regularly - Get an alert every time something gets added to this page!
This description contains links to Amazon. These links will take you to some of the products mentioned in today's content. As an Amazon Associate, I earn from qualifying purchases. Visit the NASCompares Deal Finder to find the best place to buy this device in your region, based on Service, Support and Reputation - Just Search for your NAS Drive in the Box Below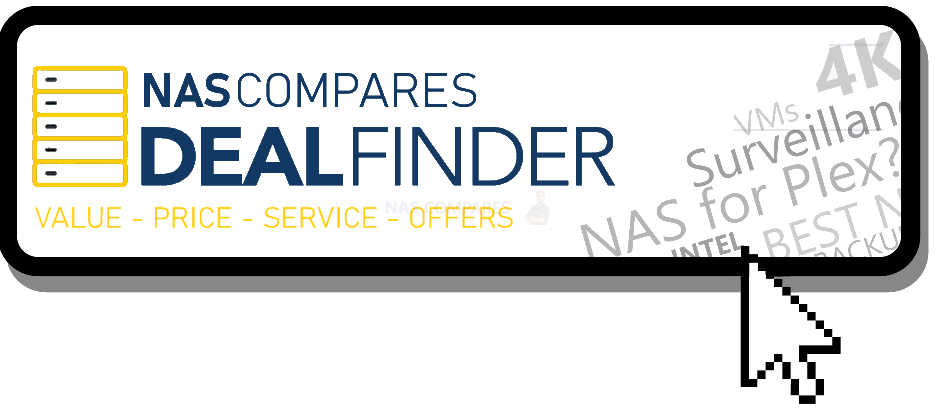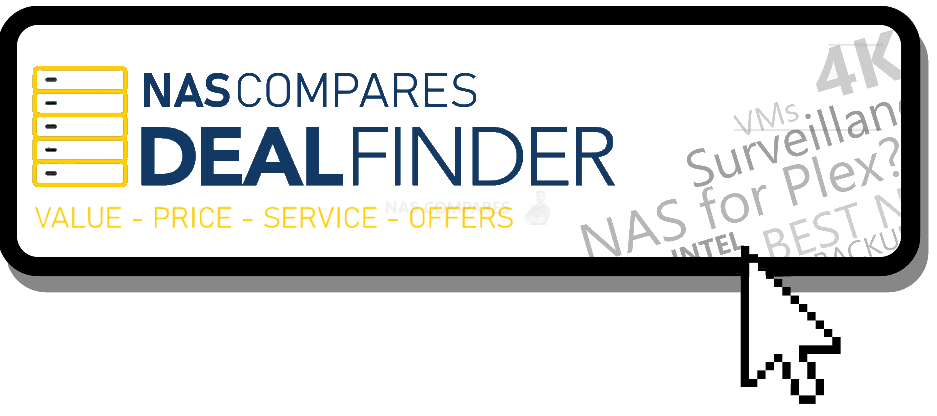 SEARCH IN THE BOX BELOW FOR NAS DEALS
Need Advice on Data Storage from an Expert?
We want to keep the free advice on NASCompares FREE for as long as we can. Since this service started back in Jan '18, We have helped hundreds of users every month solve their storage woes, but we can only continue to do this with your support. So please do choose to buy at Amazon US and Amazon UK on the articles when buying to provide advert revenue support or to donate/support the site below.


Finally, for free advice about your setup, j
ust leave a message in the comments below here at NASCompares.com and we will get back to you.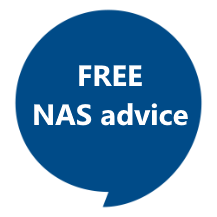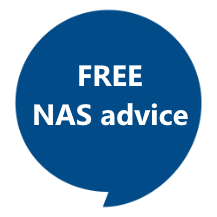 Need Help?
Where possible (and where appropriate) please provide as much information about your requirements, as then I can arrange the best answer and solution to your needs. Do not worry about your e-mail address being required, it will NOT be used in a mailing list and will NOT be used in any way other than to respond to your enquiry.
Terms and Conditions
Alternatively, why not ask me on the
ASK NASCompares forum
, by clicking the button below. This is a community hub that serves as a place that I can answer your question, chew the fat, share new release information and even get corrections posted. I will always get around to answering ALL queries, but as a one-man operation, I cannot promise speed! So by sharing your query in the
ASK NASCompares
section below, you can get a better range of solutions and suggestions, alongside my own.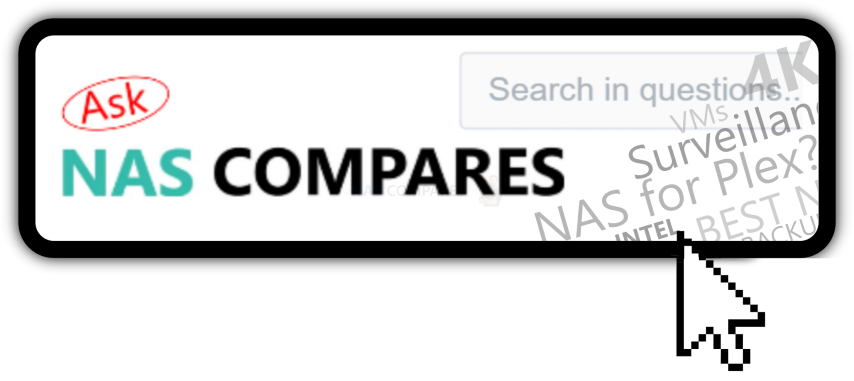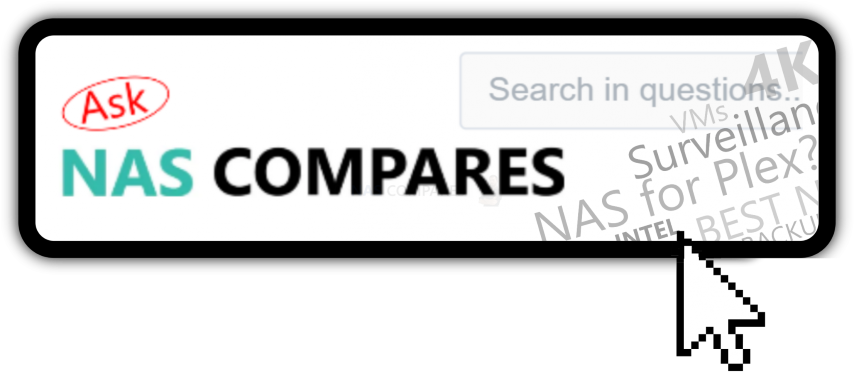 This description contains links to Amazon. These links will take you to some of the products mentioned in today's video. As an Amazon Associate, I earn from qualifying purchases
Summary
Reviewer
Review Date
Reviewed Item
QNAP and Seagate Ironwolf 5Gbe NAS Tests
Author Rating