Reviewing the

TerraMaster F2-422

2-Bay NAS with 10Gbe
Of all the brands that I discuss here on the blog, one that always seems to surprise me is TerraMaster. On the surface, they are a fairly standard NAS brand that, though lacking the wide commercial notoriety of a brand like Synology, still produce a remarkably impressive and affordable product range to users that want NAS as storage at its heart. One of the fastest evolving names in NAS, terramaster has reached a point in peoples checkout baskets where they are being compared against the big, BIG names in network-attached storage. That fast evolution is one of the main reasons why, when I first heard about the F2-422 in May 2020, I was already looking forward to this review. Arriving with the same featured hardware options and software support of the existing range of 22 Series, the Terramaster F2-422 raises the stakes further with the inclusion of 10Gbe (copper) on board. Arriving at around £320 including VAT, that makes it almost £80-100 lower in price than the QNAP TS-253Be and Synology DS718+ NAS – Both of which feature the same CPU+Memory, but crucially do NOT include 10Gbe. For those looking for an affordable 10Gbe fully featured software+hardware NAS, the TerraMaster F2-422 becomes a remarkably attractive purchase! So, let's take a moment to take a closer look at this intel powered NAS drive and whether it deserves your data in 2020/2021.
TerraMaster F2-422

NAS Review – Packaging
Much like previous NAS hardware from Terramaster, the packaging arrives in their recognizable blue retail box, though ever so slightly darker blue. If there is one area that terramaster has not evolved many forms over the years, it is that retail packaging. Whether it is because of the affordability of their product OR because they want to keep it very branded, this box is fantastically non-descript and is the same box used across the majority of their 2/4/5 Bay NAS retail packaging. On the label on the side denotes which unit you have. This is not really something ANY brand can be criticised for, as it is very commonplace with Synology and Drobo, with only QNAP and Asustor countering this with more pictorial packaging.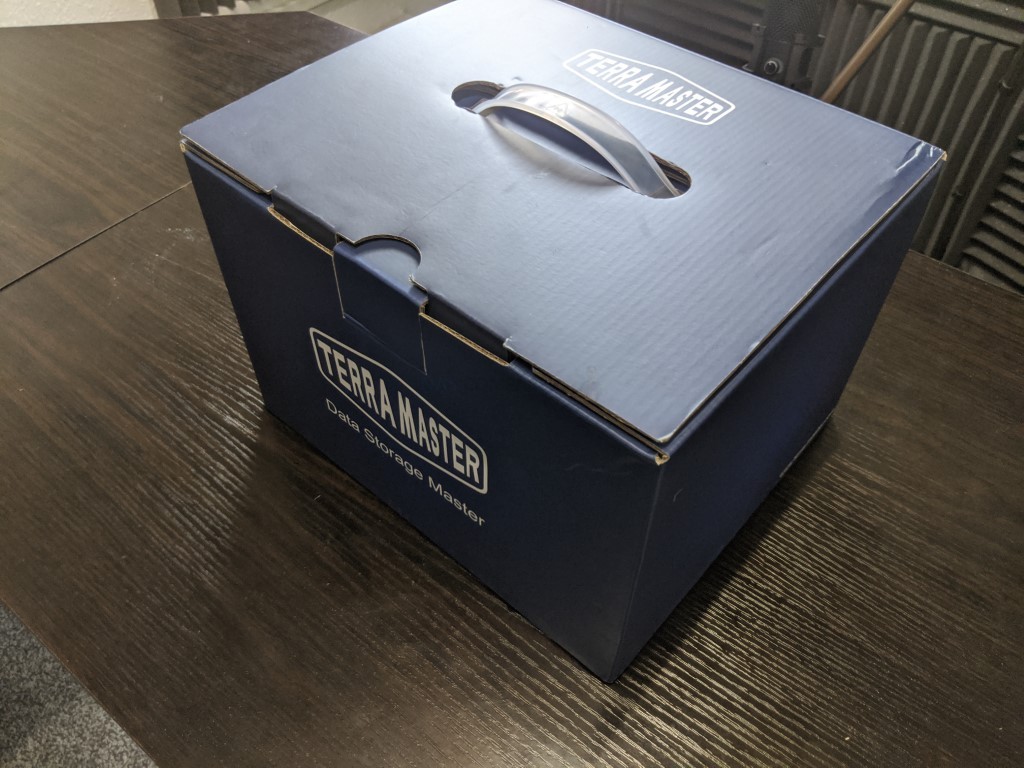 Inside we find the contents well protected from motion and it is also pleasing to note that it is a good balance between protection and waste of packaging materials. Aside from maybe a little too much plastic being used with the accessories, it is a pretty well presented and protected retail kit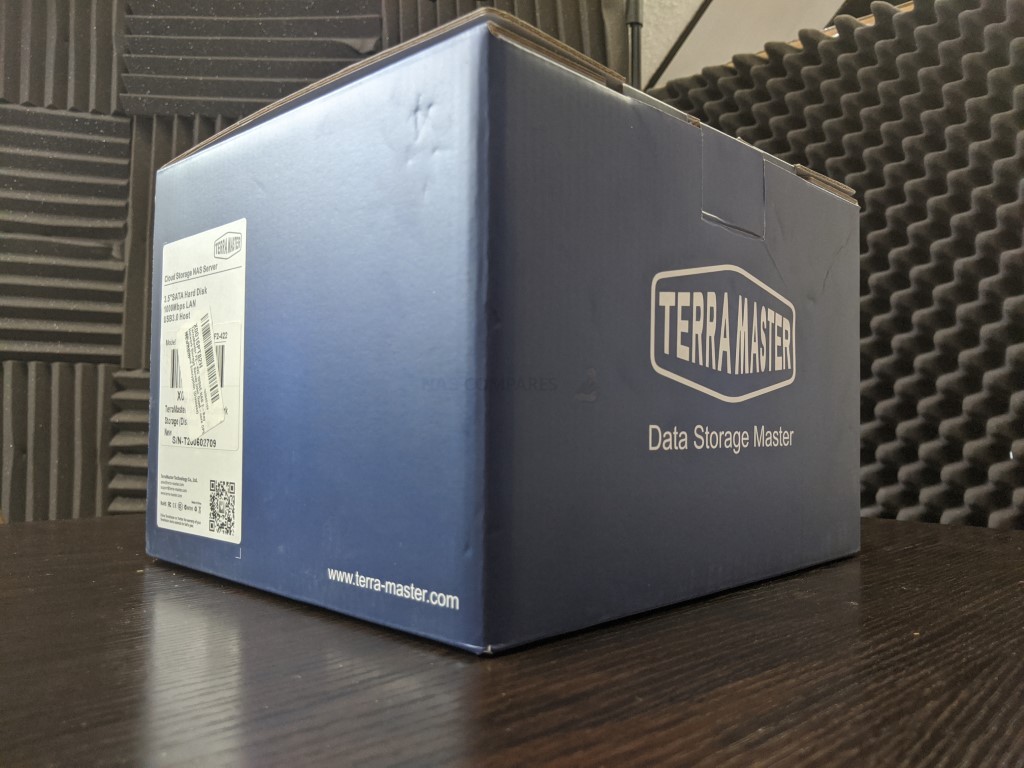 Inside, we find, aside from the Terramaster F2-422 NAS itself, a whole host of other accessories – some of which I have never seen from another brand (I will try to keep my own personal feelings about terramaster in check here, but it is true about the screwdriver!). Inside we find:
Screwdriver
Manual
Network cable
Screws/Rubber Feet
Power Adaptor
EU and UK Cables
Drive Stickers
Unit Itself
Weight: 2Kg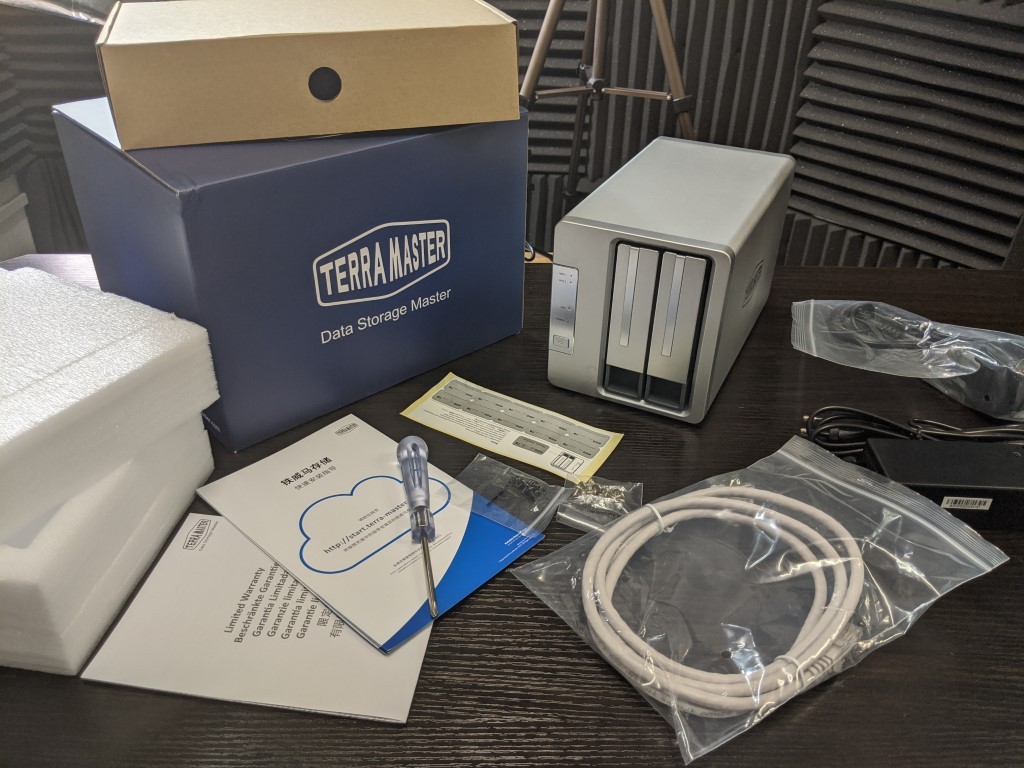 Although some of those (the stickers in particular) will seem rather redundant to many of you, the screwdriver is actually surprisingly good and for the keen-eyed of you, you will know that I still use the one provided with the F4-220 NAS review back in earlier 2019 , as well as on the NASCompares YouTube Channel. Aside from that, these are fairly standard accessories overall. However, I do want to take a moment to talk about POWER.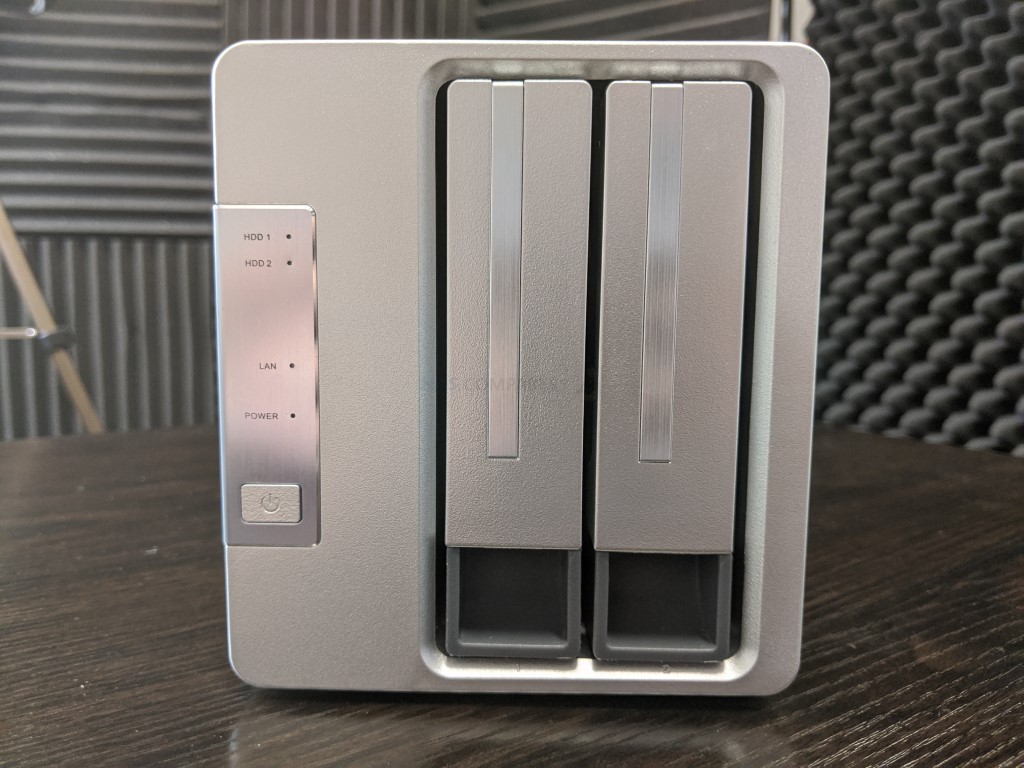 The external PSU that the F2-422 arrives with is a 90W standard external PSU, compared with the 100W in the Synology DS918+. Now, it is worth highlighting that the Synology featured 2x NVMe SSD slots at its base, which might explain the larger PSU, but that's quite alot for who PCIe powered SSD media bays, plus you need to remember that the F2-422 also features 10Gbe, which is arguably going to use more power when in operation.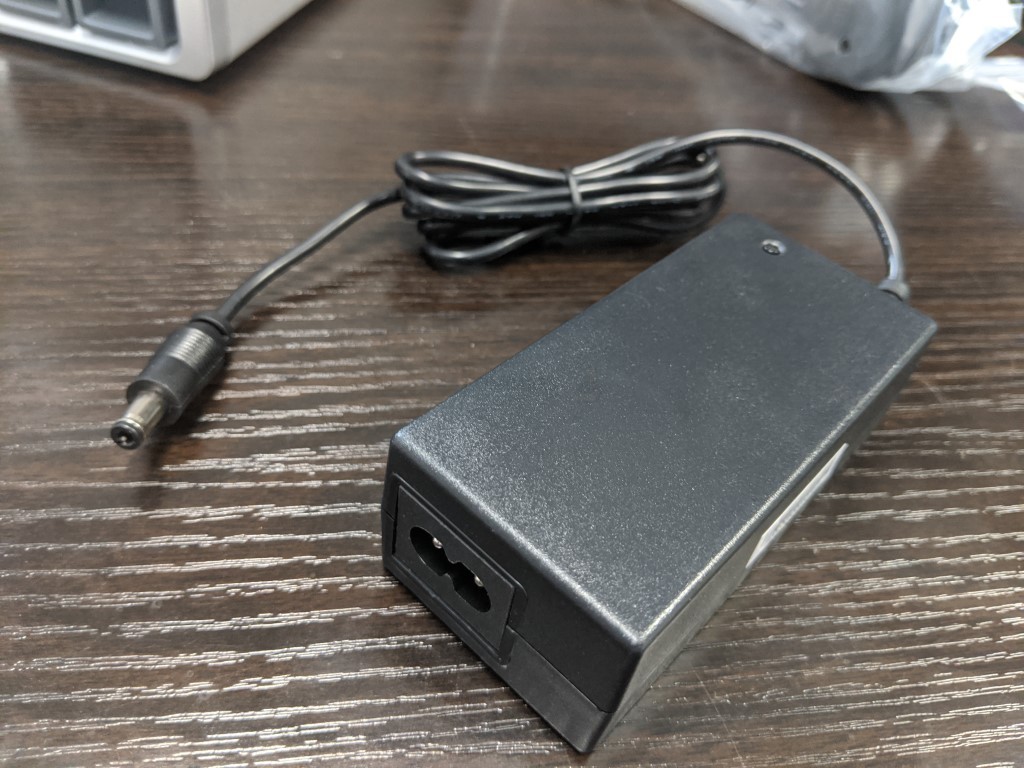 I only really highlight this for those of you that want to keep an eye on the meter, so it's up to you about whether you think this a good or a bad thing.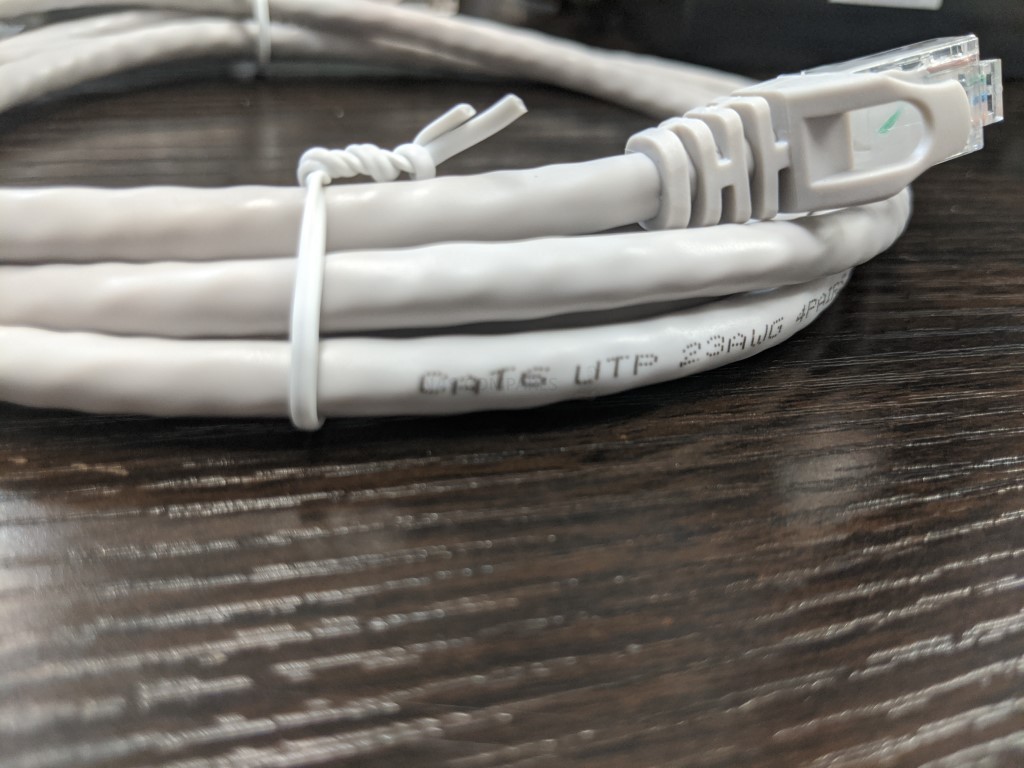 Also, tiny extra point here, but the Terramaster F2-422 NAS arrives with a Cat6 cable. This seems like a minor point, but the number of brands I see includes Cat 5e with their 10Gbe solutions is alot higher than it should be. The price difference, though present, is negligible and the fact that a generally considered budget brand like Terramaster includes Cat 6 is with mentioning as a picture of their brand.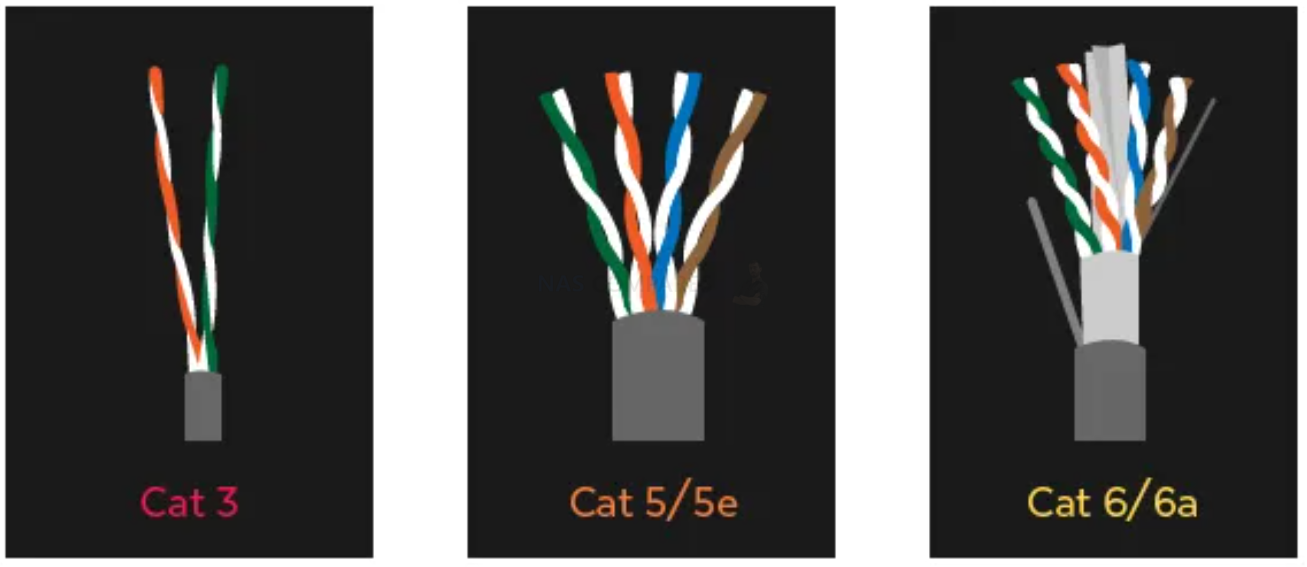 TerraMaster F2-422

NAS Review – Design
The front of the Terramaster F2-422 NAS is similar to that of the most recent 2-Bay from their range, the F4-421 (which is very similar to this device but lacking the 10Gbe). The chassis has actually been refined a great deal over the last 3 years since the first time I handled one of their range of NAS and though the front panel has changed the least, areas like the HDD/SSD trays, sides and even the top have become a great deal more streamlined.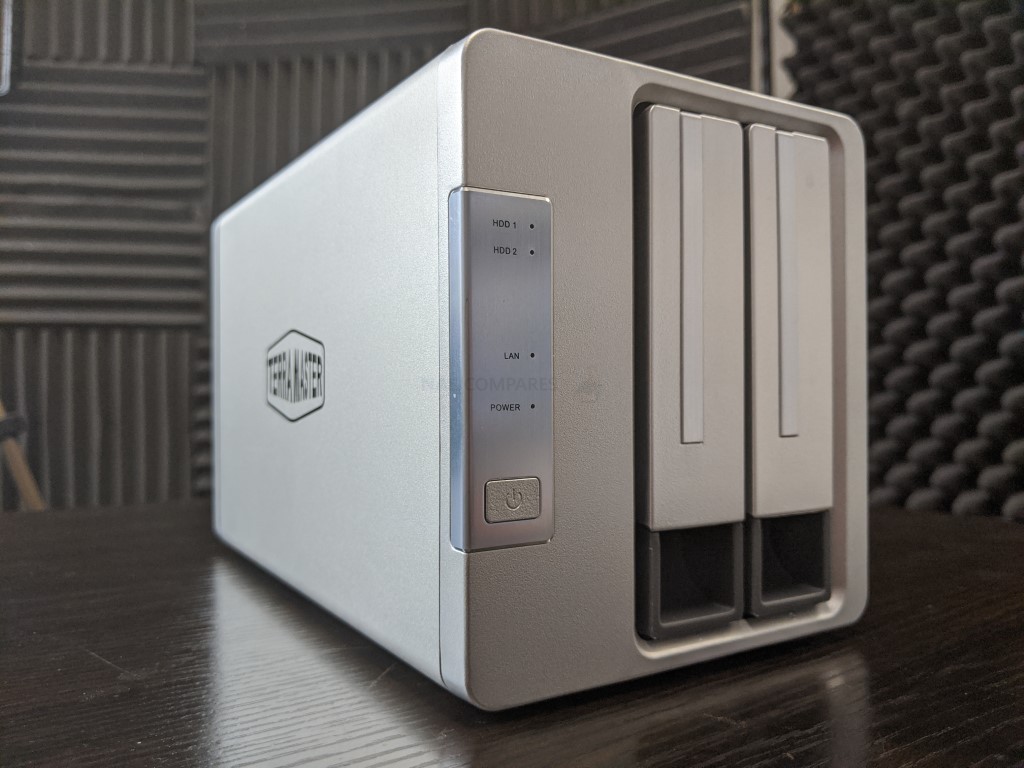 The chassis has even managed to become smaller than previous generations (oddly close to the TD2 TB3 DAS casing seen last year, but seemingly filling the width of the standard 2 HDD casing seen in the F2-421). It does this by being a fraction deeper than most NAS, filling the majority of the available width with the storage bays, moving the controller board to the rear.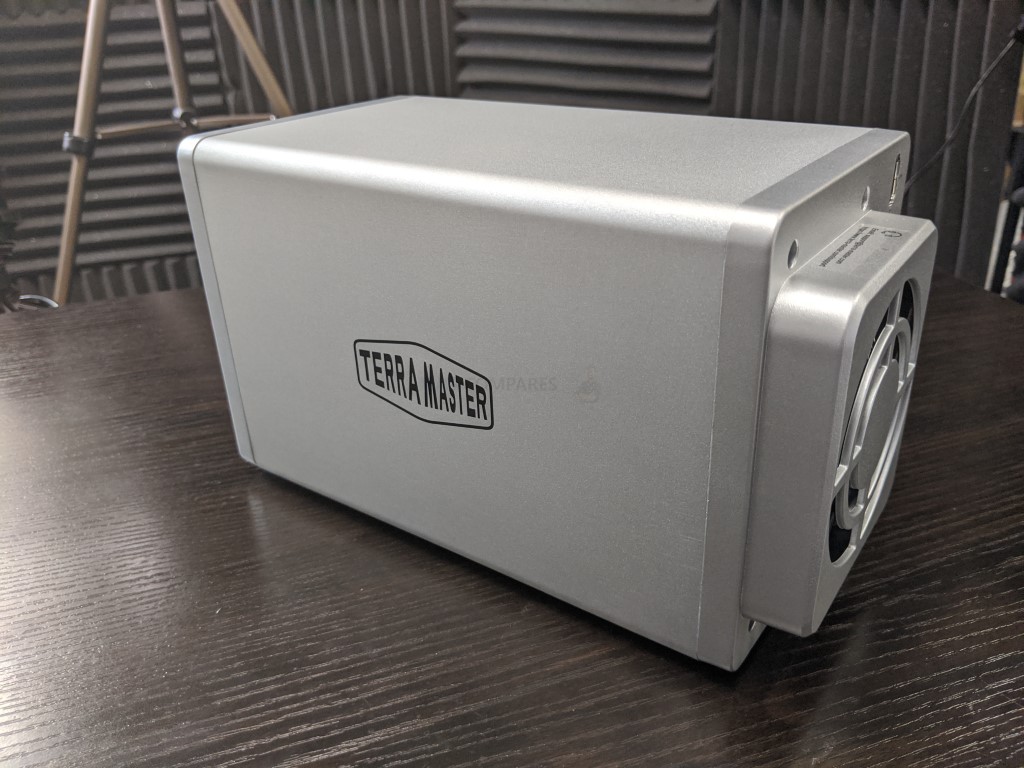 This is how we end up with the rather understated and non-descript front panel. It still manages to be informative and though metal in external chassis, the front panel is mostly plastic mould design.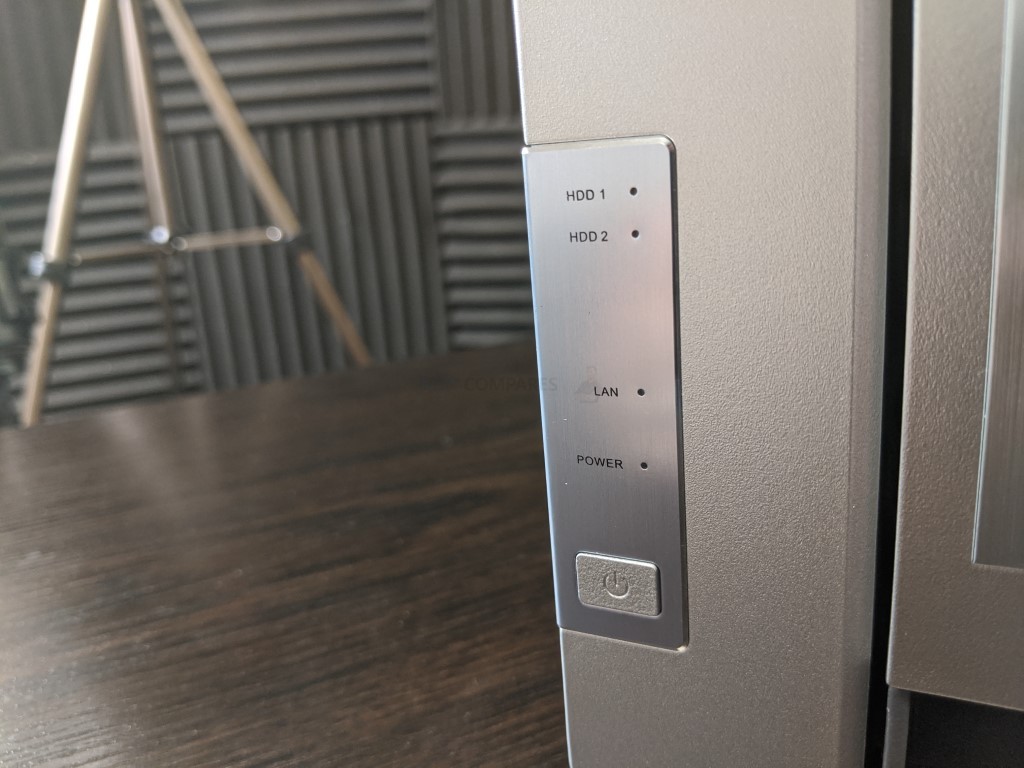 On the left-hand side, we find the LED indicators that denote the system access, network activity and drive health. Though the LEDs (which can be controlled in brightness from the GUI) are useful for general system health/access, it is worth highlighting that there is a full SMART test facility open to you via the graphical user interface on your browser/mobile TOS app. As well as support for the Seagate Iornwolf Drive Health Management tool, when using Seagate Iornwolf NAS hard drives.
As mentioned, the trays for storage media take up the majority of the front panel and have undergone a redesign since the first time I used a TerraMaster NAS Drive. They are plastic mould design and feature screw holes for both 2.5″ and 3.5″ media, supporting upto the latest SATA 16TB Seagate Ironwolf NAS NAS drives and 4TB SSD.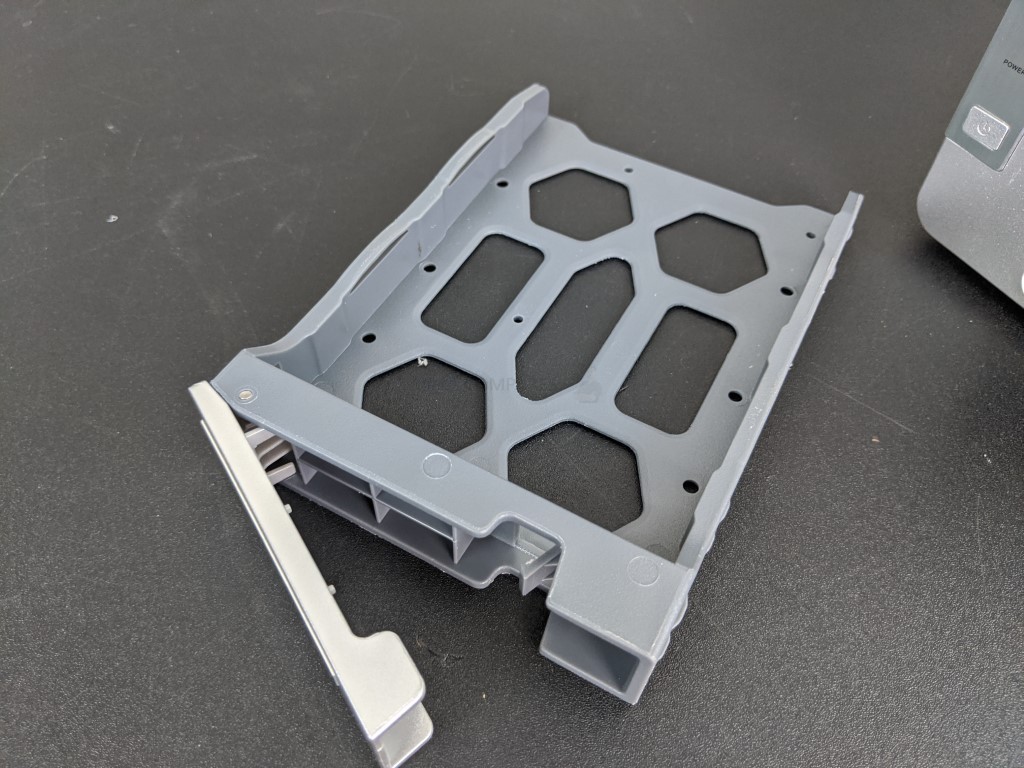 Additionally, you do not need to fully populate this device to use it and the F2-422 can operate with a single media drive, and you can select individual RAID levels (JBOD, 0, and 1) as you add more drives. There is even support for SSD caching, by installing 1 or more SSD in the available bays. This area of caching is used to vastly improve the internal Read and/or Write speed of the HDD RAID (in the other bays) and if you are going to take advantage of 10Gbe on this device, SSD caching can help to ensure that you achieve those 800-1000MB/s speeds available to this 10-gigabit connection.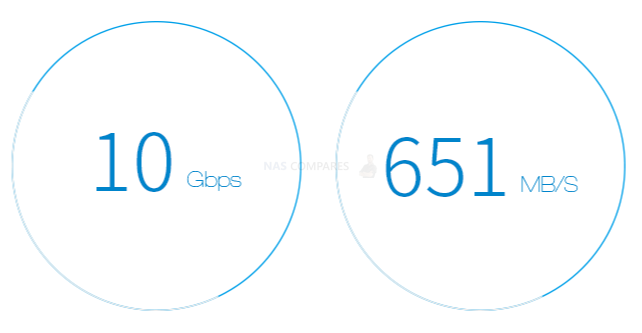 Though you need to appreciate that reaching those kinds of performance speeds will be near enough impossible in an all-HDD array, even a RAID 0. As generally, hard drives will max at around 250-260MB/s (the enterprise ones anyway) and will increase by around 100-120MB/s with each drive in the right RAID. Even SSDs will struggle to hit the 1000MB/s in a RAID 0 or RAID 5, and will most likely max out at around 500-600MB/s tops. The side of the F2-422 chassis is branded and is a metal surround, in a single piece, connected at the base of the device. Lacking ventilation panels on the sides, cool air is passed through the device via the twin rear fans and air is also dissipated via the base of the device. Additionally, given that the main board of this device is at the rear, the need for side ventilation is substantially reduced.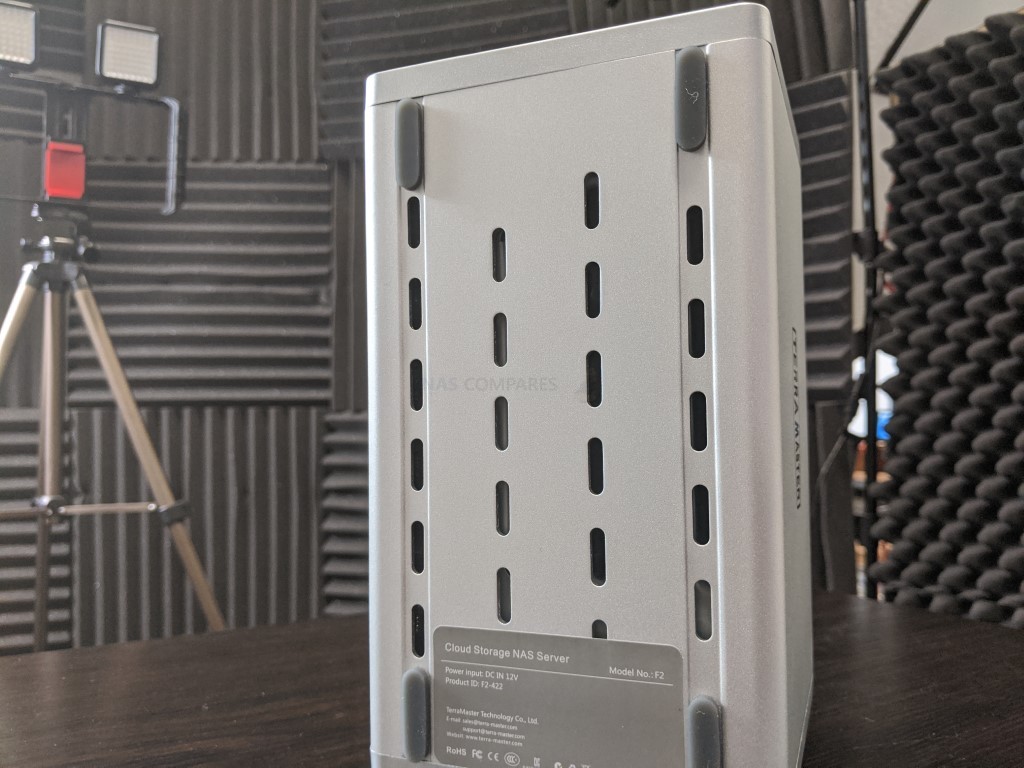 The base of the F2-422 TerraMaster NAS easily has the largest arrangement of ventilation that I have ever seen on the device's base. Marginally similar to a cheese grater, there is a whole bunch of space for air to travel and the device is raised from the surface by around 5mm by the rubberized feet in 4 places. In terms of the design, there is no avoiding that the Terramaster F2-422 is a rather odd bird and although you have to admit they have a specific design of their chassis in mind, it is certainly not for everyone.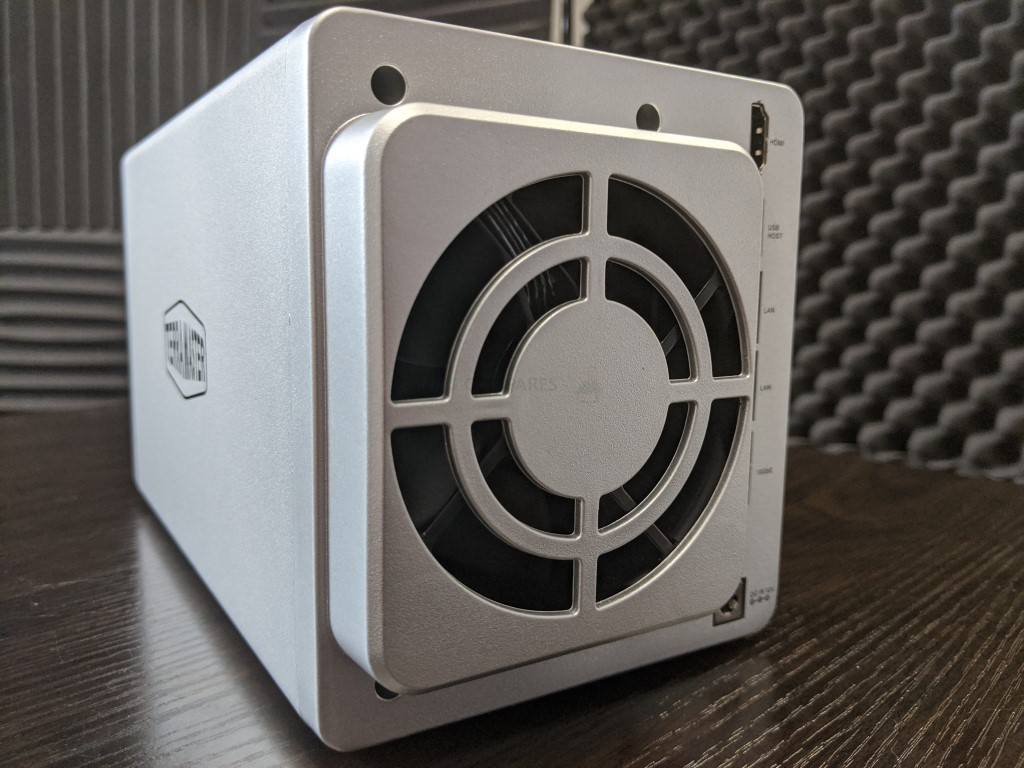 TerraMaster F2-422

NAS Review – Ports and Connections
Now we move on to some of the more task-specific areas of the Terramaster F2-422 that the more experienced NAS or network storage user will appreciate. The NAS arrives with a single rear cooling fan that can be set to automatic or manually have it's rotations per minute adjusted as needed and claims a respectable 18.9db(A) audio rating when in use. This will of course depend on the media you use, with more enterprise or capacities above 10TB certainly making a pinch more hum/tick which spinning.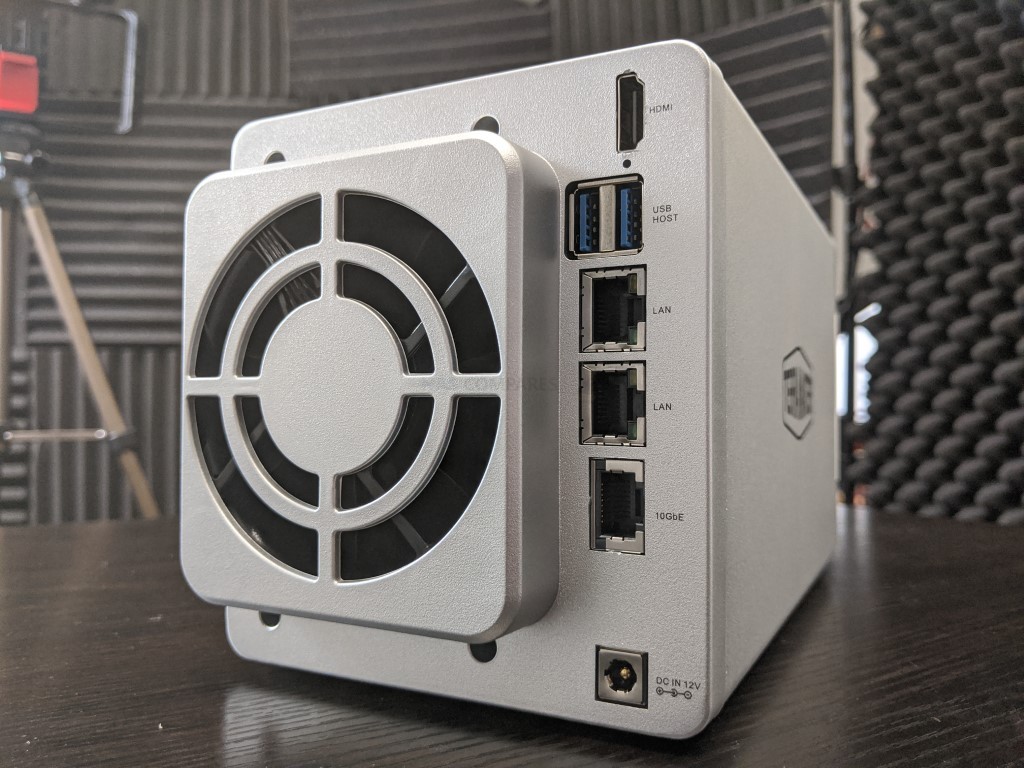 The internal temperature of the device whilst in operation can be accessed and monitored from both the free mobile app and the web browser-based GUI. The fan is 80 mm x 80 mm x 25mm and they can even be opened up in a small panel for cleaning/manual switch off.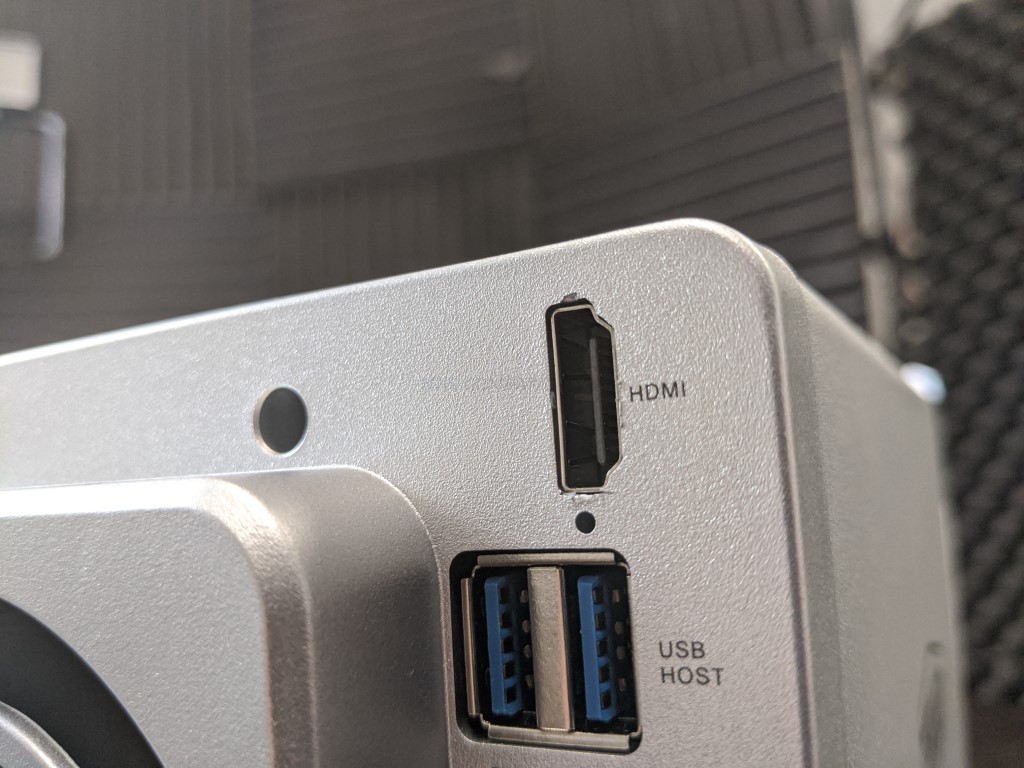 One sore area of disappointment at the moment is regarding the Terramaster F2-422 HDMI port. There are not a huge number of NAS brands out there that feature HDMI ports (with QNAP and Asustor largely covering this market for reasons I will get to in a moment) and the fact this 10Gbe and Intel Celeron powered NAS has an HDMI output is really really appealing. However, at this time it does not work in any commercial sense. Unlike QNAP and Asustor (which feature an HDMI version of their GUI than can be controlled by remote control / KVM), the Terramaster F2-422 HDMI out is simple for seeing the code backend of the device and cannot be accessed by the end-user. I have raised this issue previously about a future release of the TOS software with an HDMI output enabled, but though they say it is something they are discussing and working on, it is not something available right now. This will be HUGELY disappointing to users that do not know that the port is unusable, as it may well factor into their reasons for choosing a Terramaster over a QNAP/Asustor.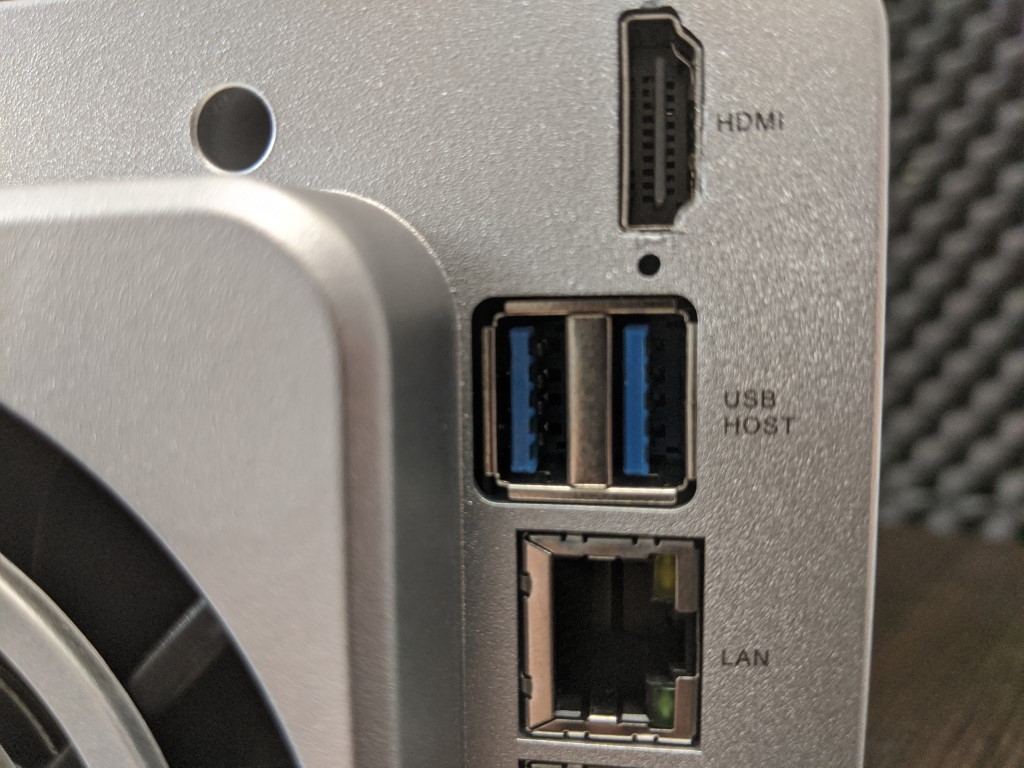 Though the HDMI port is not usable, I am pleased to confirm that the two USB 3.0 ports work great and support a large number of peripheral devices, from USB storage and USB Printers to dongles, UPS heartbeats and even a few adapters. Still no support of Keyboard, controllers or Mouse though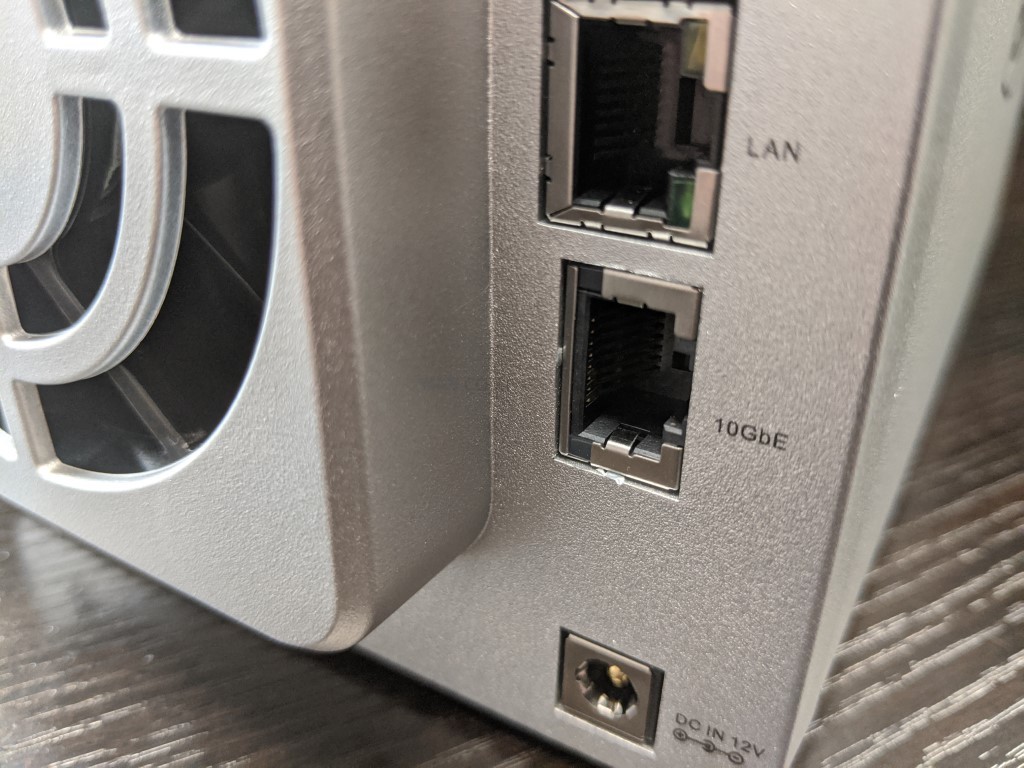 The main connections of the Terramaster with your network and the internet are both copper/RJ45 based, which makes it largely compatible with any home or business network. There are two 1Gbe connections that can be link aggregated (port trunking) with a supported network switch to effectively double the read/write speeds to 2Gbe, which may be of benefit to business users looking to get more transmission of their data out of the F2-422 NAS, with a full network traffic and control panel available via the GUI and Mobile app for TOS. However, we should probably talk more about the other connection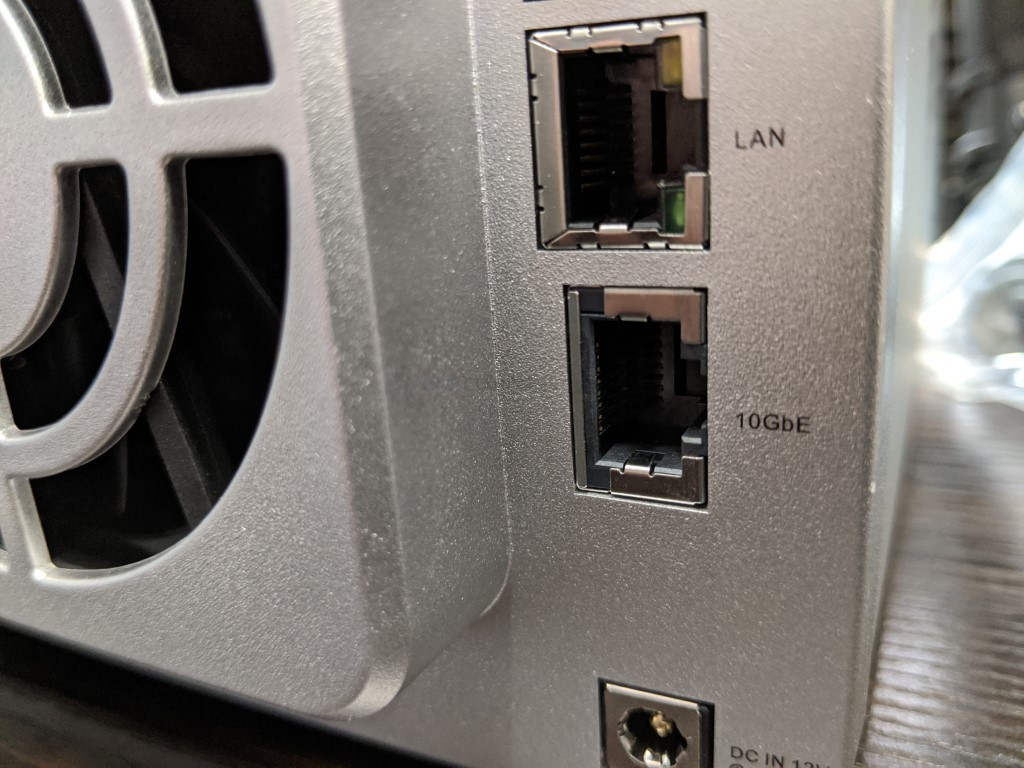 The OTHER copper-based port is a far, far bigger deal though. Featuring a 10GBASE-T port, the 10Gbe RJ45 LAN connection is able to give you a potential 10x access speed to your HDD/SSD RAID and opens the door to far more detailed file access to bigger, BIGGER files. You will, of course, need to have adapted 10Gbe into your existing network (via a switch and/or upgrading the connection of your client machine with a PCIe card or Adapter), but this 10GBASE-T port allows you to connect DIRECTLY to your NAS over a connection of between 600-1000MB/s (depending on the media and RAID you are using) and then you can use it to do a great many things that traditional 1Gbe NAS just cannot support to any usable degree, namely:
Playing Games on your Steam library over 10Gbe
Edit Videos in popular post-production software
Edit larger RAW photos over the network in supported software
Backup much, much quicker
Run VMs of higher quality with their core files on the NAS
The benefits of 10Gbe are also shared if you connect the F2-422 to a 10Gbe router. With a number of affordable routers now arriving with 90% 1Gbe and 10% 10Gbe PORTS, you can pick up great switches that will let you connect the 10Gbe (and indeed the 1Gbe ports of the F2-422) and then all the connected 1Gbe users will get FULL/MAX 100MB/s read and Write each, without worrying about the NAS connection being shared/halved with each connected user to the network. Having this port/feature at this price point and with the specs inside is remarkably impressive and challenges Synology, QNAP and Asustor on affordable Gb+ networking a great deal.
TerraMaster F2-422

NAS Internal Hardware
Inside the Terramaster F2-422 is quite a simple affair. This isn't a huge surprise, given that NAS is designed to be primarily large areas of storage that can be accessed over the network/internet. It is, therefore, no big surprise that the bulk of the internal space is given to the media bays. However, in order to maintain a combination of intelligent and fast access to the data, as well as supporting the RAID, Operating system and handling multiple users at once, you need a good CPU and Memory combination (much like any PC/Mac/Mobile device. The CPU featured in the Terramaster F2-422 NAS is the popular Intel Celeron J3455 Quad-Core 1.5GHz (Max burst up to 2.3GHz) processor and that is supported with 4GB of DDR3L Memory that is expandable to 8 GB (4GB+4GB). This is a very reliable and well-tested hardware backend and this combined with the 10Gbe support featured on this device means that you have a 4K equipped CPU, with transcoding, AES 256bit encryption and rendering power at your fingertips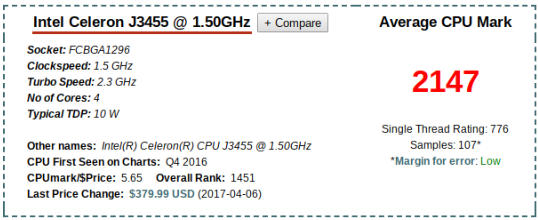 That said, the power consumption is a pinch higher in practice than the majority of the Terramaster NAS or its competitors that arrive with this CPU, but this is largely down to that 10Gbe network – something rarely found at this level and definitely throws the numbers out a bit, with a reported 46.6W Power Consumption in Full Access.
TerraMaster F2-422 NAS Software
Once again, I need to highlight that the F2-422 NAS needs to be viewed with its price tag always in mind. With software and hardware that is available on other NAS brand devices, it is easy to imagine that this device is a much, more affordable alternative to QNAP or Synology NAS. However, you should always remember that this device is still aimed at those looking for a first dip into NAS and if should be compared with WD NAS and D-Link when making your choice of NAS. it is DEFINITELY better than those and arrives at a better price, but it may still be a year or more before the Terramaster TOS Software platform can compete with DSM and QTS. That said, the Beta is really showing that TOS is going to evolve even further and for more information about the TerraMaster TOS operating System, I recommend visiting my software review here.
Key Software and NAS tasks that are supported are:
RAID 0, 1, 5, 6, 10, JBOD
Apple Time Machine Backup
Cloud Migration and Synchronization
NAS to NAS Rsync Support
Plex Media Server
Docker
Mail Server
Web Server
DLNA Media Server
WordPress Server
Download Server
Snapshot Support
With a good range of applications to choose from, as well as the support of modern NAS applications in the mix, the TerraMaster F2-422 does give you a good base with which to start your NAS journey, though it may feel a little streamlined for those with greater NAS experience.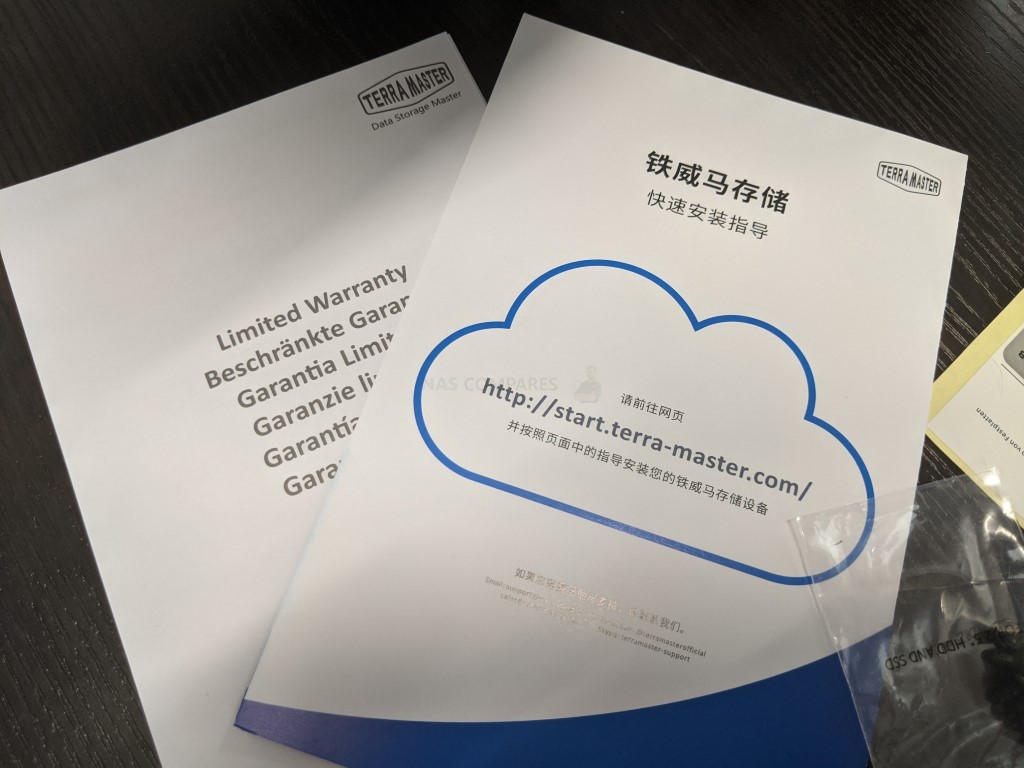 TerraMaster F2-422

NAS Review Conclusion
Internally the hardware that this unit arrives with is very competitive at this price point, even without 10Gbe. Include 10Gbe into the mix and this could likely be one of the most affordable Intel/4K enabled 10 gigabit NAS drives in the market right now. The
Terramaster F2-422 2-Bay NAS
features an Intel CPU and 4GB of DDR3 memory which is not even the limit, opening up the device and installing an additional 8GB stick is very easy indeed. This internal hardware certainly enables a number of features that a large number of cost-effective ARM CPU could not. Most important of which is acting as a proficient and encoding enabled Plex media server. The device can support many users at the same time, each with their own login and privileges thanks to this CPU. All the while, setting up, configuring and maintaining a stable RAID across all available hard drives or SSD. However, if your budget is tight, you will be pleased to hear this device can function with a single HDD/SSD if need be and you can add further storage media as your budget allows (and expanding a RAID).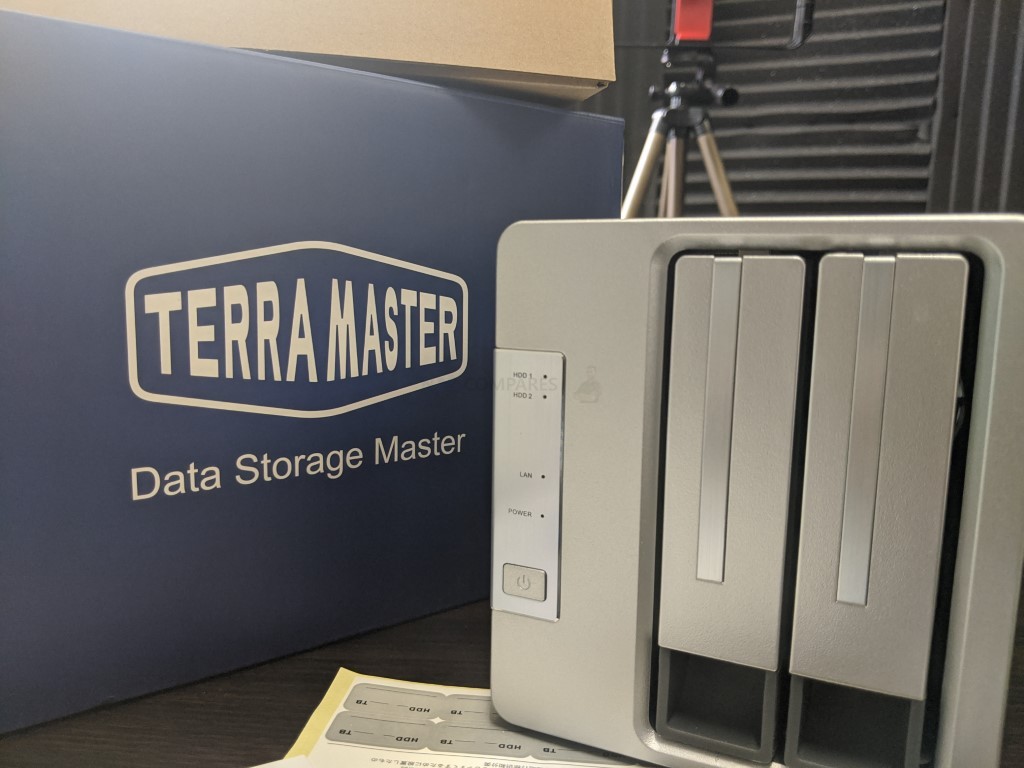 Overall the
terramaster F2-422 NAS
is definitely worth the price. I have seen numerous NAS brands grow in the last 8 years and the speed with which terramaster is developing, both the hardware and software, massively outpaces the likes of Synology and QNAP, that have taken twice as long to reach the point that terramaster has. If you are looking to buy your first NAS, but want to ensure that you get maximum features at a modest price-tag, you genuinely would be hard pushed to beat the Terramaster F2-422 right now in 2020. That said, there is no denying that some cost-cutting measures have taken place, with the HDMI output not functioning as you would expect at release or the lack of USB Copy Button. However, you will never find features like those, or software options with this hardware at this price limit that still have 10Gbe on the table and the Terramaster F2-422 serves as a great middle-ground for those that want their cake and eat it in their first steps into the world of NAS at a higher speed going forward.
PROS
CONS

Affordable 10Gbe
Great RAID Options
Fluid GUI
Snapshot Replication
BTRFS
Supports Plex
4K Video transcoding
Full Plex Transcoding
DLNA Compliant
RAM upgradable

No Copy button
HDMI Currently Unsupported
SSD Caching requires the loss of 1 Bay
No Surveillance or VM App
Summary
Reviewer
Review Date
Reviewed Item
Terramaster F2-422 Review - A 10Gbe 2-Bay NAS
Author Rating