Synology DS1520+ vs DS1019+ NAS – Which Should You Buy?
When it comes to buying a robust desktop NAS solution for a professional consumer or small business, Synology has always ranked pretty high in terms of popularity. Providing a well-defined portfolio of solutions that tailor towards different priorities, be they power, storage or efficiency, you would be hard pushed to find a decent solution in their current series that doesn't suit your needs. However, when it comes to 5 bay NAS solutions in 2020/2021, the available Synology solutions are actually quite thin on the ground. In fact, the 2 most relevant solutions available are the brand new Synology DS1520+ and the Synology DS1019+ (released in mid-2019). With both solutions serving as more storage optimised upgrades on their respective 4-bay alternatives (DS920+ / DS918+ respectively), they have a great deal in common. However, with different price tags and more than a year between them in terms of release, many users are having difficulty choosing between the DS1019+ or DS1520+ NAS as their next data storage solution. So today I want to compare both of these NAS drive in terms of storage, power, performance and price in the hopes of hel you decide which one deserves your data. Let's get started.
Synology DS1520+ vs DS1019+ NAS – Price and Value
Despite the fact that the DS1019+ and DS1520+ were released more than a year apart, it has to be said that you do technically get more for your money with the new Synology DS1520+. The new DS1520+ NAS just arrives with a pinch more future-proofing in terms of value and this ultimately is what you need to factor in when investing in a new NAS server. Of course, the DS1019+ is lower in price and for those that are restricted in their spending, or simply have a tighter budget, that may ultimately dictate the solution they purchase. Indeed both the DS1019+ and DS1520+ are similar enough that regardless of which one you buy, you are going to get a very similar day one experience of what Synology promote in their diskstation solutions. Here is how both the DS1520+ and DS1019+ compare on general specifications, as well as how far off it is from another recent NAS, the DS920+ NAS. Alternatively, you can read my DS1520+ vs DS920+ NAS Comparison here.
Synology DS1520+ NAS

Synology DS920+ NAS

Synology DS1019+ NAS

Intel J4125 1.5-2.7Ghz
8GB DDR4 Memory (8GBMax)
5 HDD Bays
Expandable to 15 Bays
2x NVMe 2280 NVMe Cache Bays
2x USB 3.0
4x 1Gbe RJ45 LAN
3yr Warranty

Price: £700+

Intel J4125 1.5-2.7Ghz
4GB DDR4 Memory (8GB Max)
4 HDD Bays
Expandable to 9 Bays
2x NVMe 2280 NVMe Cache Bays
2x USB 3.0
2x 1Gbe RJ45 LAN
3yr Warranty

Price: Approx £550+

Intel J3455 1.5-2.3Ghz
8GB DDR3L Memory (8GB Max)
5 HDD Bays
Expandable to 10 Bays
2x NVMe 2280 NVMe Cache Bays
3x USB 3.0
2x 1Gbe RJ45 LAN
3yr Warranty
Price: Approx £685+
The bulk of the price tag difference between the more expensive DS1520+ and the slightly more affordable DS1019+ is one that is leveraged later in the device's lifespan, as you are paying more for more network connectivity possibilities and a greater degree of expandability down the line (that we will touch on in more detail in the hardware section). So for the best price, go for the DS1019+ and it's day-1 hardware and for the best value, go for the DS1520+ and it's long-term expandability.
Winner = A Tie!
Synology DS1520+ vs DS1019+ NAS – Internal performance
When comparing the internal performance of the Synology DS1019+ and DS1520+ NAS drives, the internal performance available to a handful of users is going to be near enough identical in most software user case scenarios. With both devices arriving with quad-core Intel Celeron based CPUs, 8 GB of memory and being 5-bay SATA solutions, there is an exceptionally large degree a similarity to the architecture of these two NAS solutions. However, given the release difference of around a year between the DS1019+ and DS1520+ NAS, I'm pleased to confirm both the CPU generation and the memory quality is greater on the new DS1520+ NAS drive.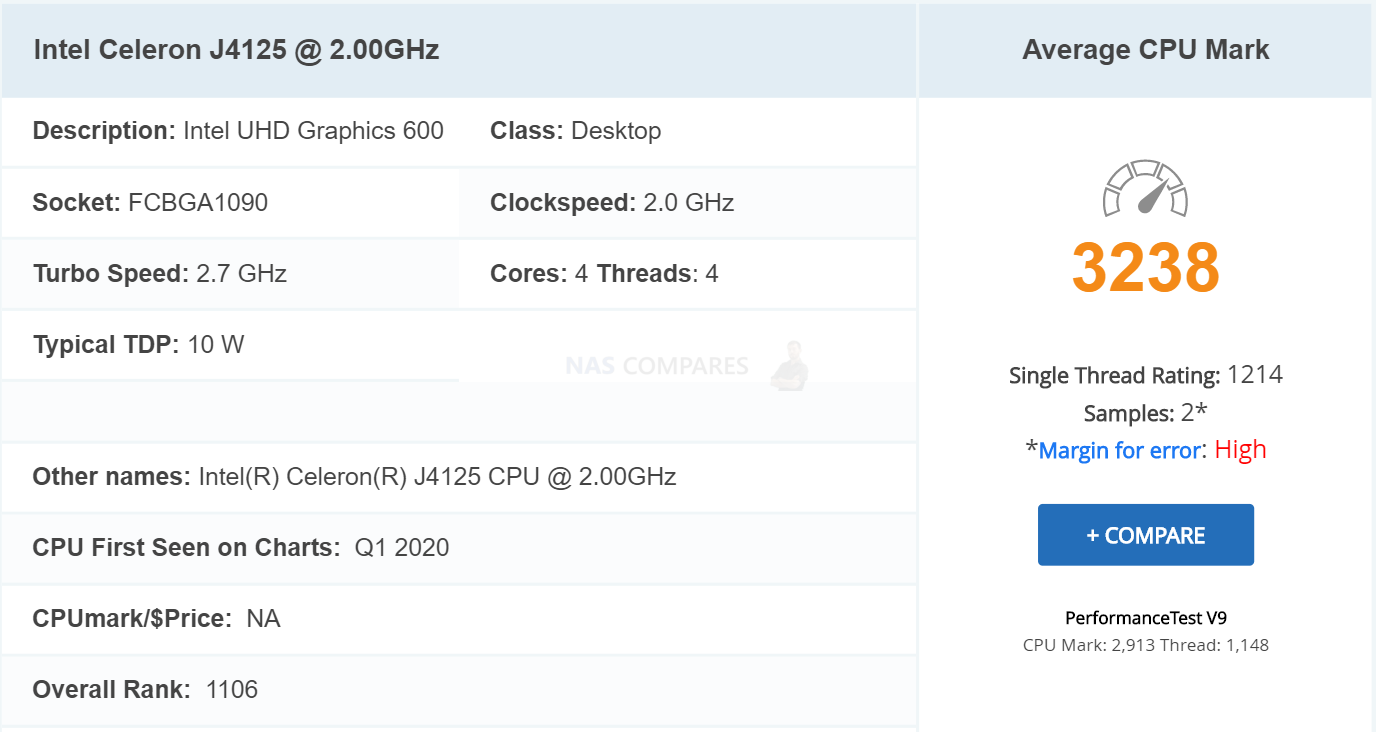 With a higher clock speed Intel Celeron J4125 CPU, as well as DDR4 memory (instead of DDR3L), the hardware available to the DS1520+ has a higher overall speed and efficiency (eg less power use per task). Typically, both devices can run exactly the same apps to a comparatively high standard, however, the improved hardware inside the DS1520+ allows the system to run more simultaneous users and apps at any given time, thanks to its use of fewer resources with each typical action compared with the DS1019+. What that ultimately means is that even though most of these systems will provide are you near identical standard when used liberally, when the device is pushed you will ultimately get more horsepower and a wider degree of coverage on the newer DS1520+ Synology NAS.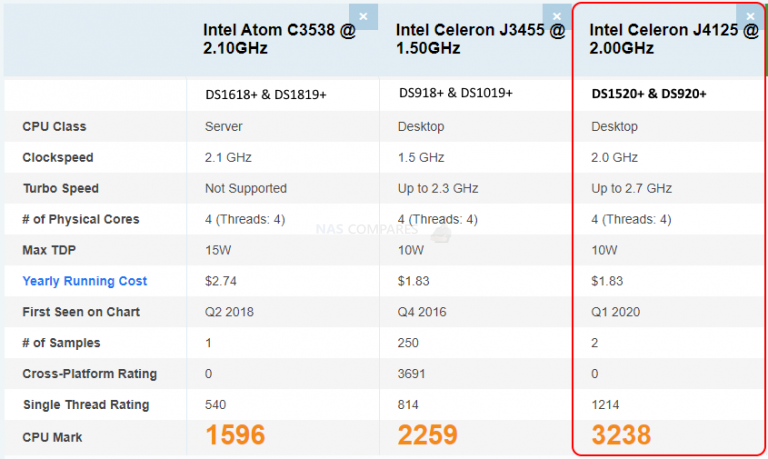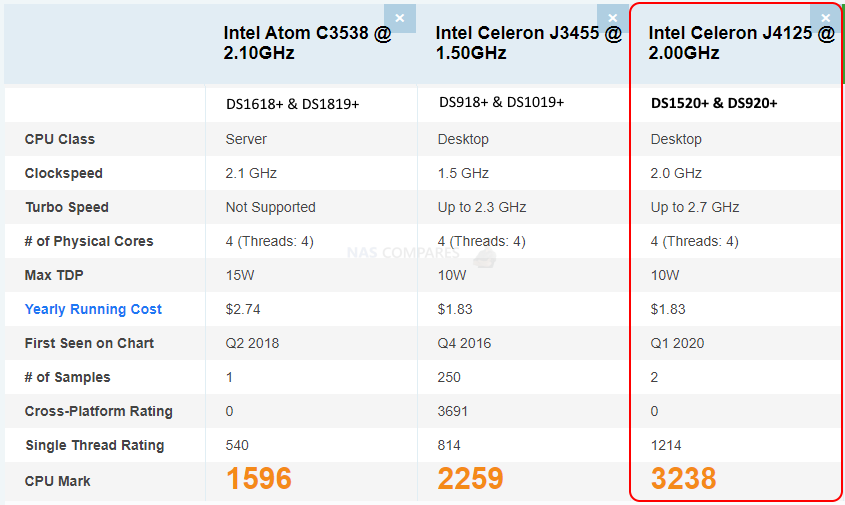 Winner = Synology DS1520+
Synology DS1520+ vs DS1019+ NAS – External performance
On the subject of external performance, the DS1520+ once again arrives with a small but important advantage over the older DS1019+ NAS. Despite the fact that both devices have very similar hardware architecture, (as well as committing to multiple 1Gbe LAN ports and link aggregation), the DS1019+ has two RJ45 LAN and the DS1520+ has four. Of course, if you have little need for link aggregation in your network, you will see precious little of this performance benefit that four times 1Gbe can provide on the DS1520+, but even then for more complex and heavy file access, the improved DS1520+ internal hardware means that there are more resources available to handle everything from simple file transmission to improved execution of the NVMe cache in conjunction with your hard drive RAID array.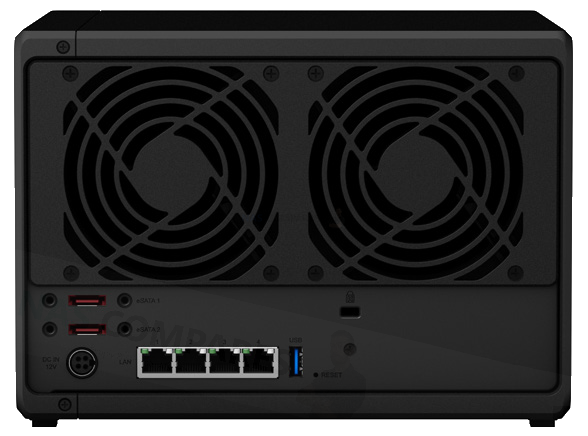 You will, of course, need to have a LAG supported network environment, factoring in such devices as multiple network port card upgrades and a managed network switch, but if you have already featured this architecture into your network environment, then you would be hard pushed to beat the DS1520+ right now.
Winner = Synology DS1520+
On day one of your DS1019+ or DS1520+ NAS purchase, there is practically no difference in terms of storage between these NAS system. Both are 5 bay devices, both support SATA hard drives up to 16 TB (with 18TB and 20TB Segaate Ironwolf NAS Drives on the horizon with HAMR technology), both support NVMe SSD for caching and both support the same selection of RAID configurations, including Synology hybrid RAID (SHR). However, the real storage difference between these two systems may well become apparent years down the line once you consider expansion systems in your storage array. When the hard drives in your NAS system begin to run out of available space, most users are left with few options. You can start to introduce larger hard drives, but this is really just kicking the can a short distance down the road, if you want to maintain the existing storage array and all of the existing mapped drives and shares. Alternatively, you can buy a brand new NAS drive to run parallel with your existing system (so another whole NAS and Drives on the network), but this is fantastically counterproductive, is more complex to pair long term and works out much more expensive.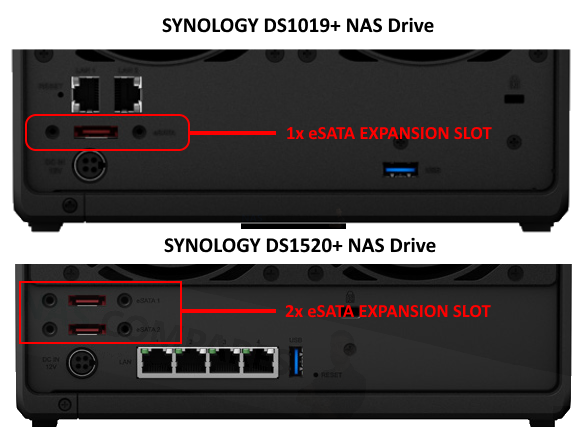 That is why the most desirable and popular way to improve the available storage on your DS1019+ or DS1520+ NAS will be to use official Synology expansion devices like the 5 bay DX517. This is where the big long-term storage difference between the DS1019+ and DS1520+ becomes apparent. The older DS1019+ device has a single expansion slot, which means you will be able to expand your storage from the initial 5-bays of the DS1019+ to 10x total bays of storage, expanding your RAID configuration across all 10 disks. However, the DS1520+ system can support two expansion chassis (e.g 2x DX517) and therefore allows you to expand the 5 bays to a total of 15 disks of storage, that you can expand the original RAID configuration of your DS1520+ on to. So, it should come as no surprise that the DS1520+ ultimately wins which of these NAS is the best for storage, long term.
Winner = Synology DS1520+
Synology DS1520+ vs DS1019+ NAS – Conclusion
It probably comes as no surprise that when choosing between the older Synology DS1019+ and newer DS1520+ NAS drive, that I am going to recommend the DS1520+ as the overall better choice NAS. What you have here is more than just a simple rehash of a year-old product and more of a reorganization of what made the previous few generations of 5 bay NAS popular (DS1019+, DS1517+, DS1515+, etc). When the DS1019+ was first released it drew a significant comparison with the DS918+ because the margin of difference between them (as well as within the product portfolio) was exceedingly narrow. The DS1520+ NAS on the other hand not only makes a larger margin of difference between it and the DS920+ but also shows more work in improving the hardware architecture against its predecessor and ultimately, that's the best you can hope for. If you currently own the Synology DS1019+, I'm not sure the DS1520+ justifies a significant upgrade, at least enough to justify the hassle of swapping the old for the new you, but for a new NAS buyer, I heartily recommend the Synology DS1520+ when choosing between them.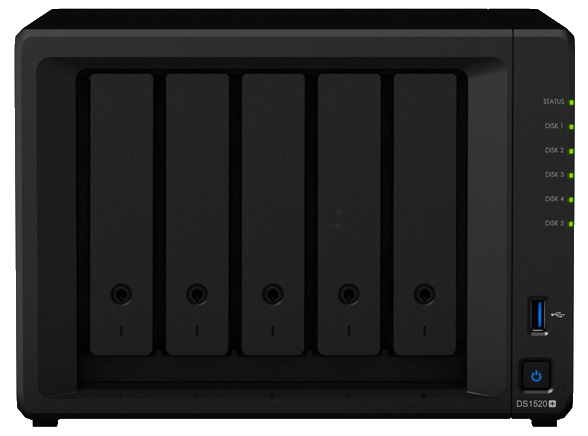 If you have already purchased the Synology DS1019+ NAS and are having buyers remorse, never fear. The difference between the DS1019+ and the DS1520+ is still not exactly vast and what advantages you get, you still need to pay for. If you had been considering several NAS before buying your DS1019+ system, then chances are that you already looked at numerous 4 x 1Gbe systems or larger RAID arrays and eventually ended up choosing the DS1019+ anyway. It is still a very solid and reliable solution from Synology and either of these NAS drives still presents an excellent investment for your money and data.
📧 LET ME KNOW ABOUT NEW POSTS 🔔
Join 1,410 other subscribers
Get an alert every time something gets added to this specific article!
This description contains links to Amazon. These links will take you to some of the products mentioned in today's content. As an Amazon Associate, I earn from qualifying purchases. Visit the NASCompares Deal Finder to find the best place to buy this device in your region, based on Service, Support and Reputation - Just Search for your NAS Drive in the Box Below
Need Advice on Data Storage from an Expert?
We want to keep the free advice on NASCompares FREE for as long as we can. Since this service started back in Jan '18, We have helped hundreds of users every month solve their storage woes, but we can only continue to do this with your support. So please do choose to buy at Amazon US and Amazon UK on the articles when buying to provide advert revenue support or to donate/support the site below.

Finally, for free advice about your setup, j
ust leave a message in the comments below here at NASCompares.com and we will get back to you.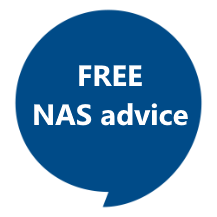 Need Help?
Where possible (and where appropriate) please provide as much information about your requirements, as then I can arrange the best answer and solution to your needs. Do not worry about your e-mail address being required, it will NOT be used in a mailing list and will NOT be used in any way other than to respond to your enquiry.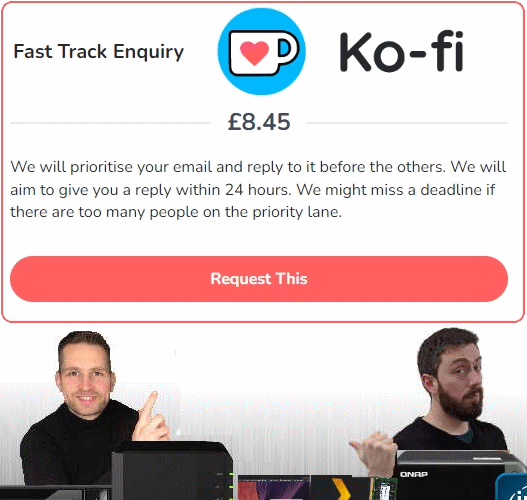 Terms and Conditions
Alternatively, why not ask me on the
ASK NASCompares forum
, by clicking the button below. This is a community hub that serves as a place that I can answer your question, chew the fat, share new release information and even get corrections posted. I will always get around to answering ALL queries, but as a one-man operation, I cannot promise speed! So by sharing your query in the
ASK NASCompares
section below, you can get a better range of solutions and suggestions, alongside my own.
This description contains links to Amazon. These links will take you to some of the products mentioned in today's video. As an Amazon Associate, I earn from qualifying purchases
.
Summary
Reviewer
Review Date
Reviewed Item
Synology DS1520+ vs DS1019+ NAS Comparison
Author Rating