Synology DS1621xs+ NAS Drive Review
To say that I have looked at a lot of different devices over the years would be a fantastic understatement. Nevertheless, when I finally got my hands on the new Synology DS1621xs+ NAS drive, I have to admit I was excited. For those of you that have followed the Synology NAS brand over the years, along with numerous positive aspects of both their hardware and software series, there has always been one subject of which they have been fantastically abstinent in pursuing at the desktop level – 10Gbe. The subject of desktop profile solutions that are equipped with 10Gbe is something that Synology has resisted for an incredibly long time. That isn't to say that they hey have never pursued 10 Gigabit at all, from a series of well-equipped upgrade PCIe cards that enable the 10x NIC connection, to numerous rackmount solutions that arrived with the port, they do understand it's value. However, the Synology DS1621xs+ is the first Intel-powered desktop solution with 10Gbe they have ever released, as well as bringing numerous other Synology brand hardware options to the mix. With its slightly intimidating price tag at around £1600+, it is quite the investment on day one. So today, let's take a good look at the Synology DS1621xs+ 10G NAS and decide if it deserves your data.
Synology DS1621xs+ NAS Review – Quick Conclusion
Whatever way you look at it, you cannot what question the sheer level of hardware value present in the DS1621xs+, especially compared with other similarly priced Synology NAS. In the DS1621xs+, you find one of the best performing internal and external NAS systems in the entire Synology portfolio, as well as providing you with an enterprise rackmount grade solution in a desktop form. I know it seems like a big statement, but this could genuinely be one of the best examples of what Synology provide to business users and certainly reorganises the portfolio for small and medium business users for the better in 2020/2021. Is it perfect, of course not, few things ever can be. But if your budget can extend to it, the Synology DS1621xs+ easily represents the very best of everything that Synology has to offer, while still maintaining a fantastic high standard to third-party software users worldwide.
Synology DS1621xs+ NAS Review – Packaging
The Synology DS1621xs+ is a largely business targeted piece of kit, so unsurprisingly the retail packaging is a little underwhelming. Like most other NAS systems, the DS1621xs+ will be purchased via online platforms and the first time you see the retail packaging will not be on the shelf of your it hardware store and almost certainly when the courier hands it to you. So, aside from a brand-specific label that details the contents and capabilities of this piece of NAS hardware, what you find is a standard brown box.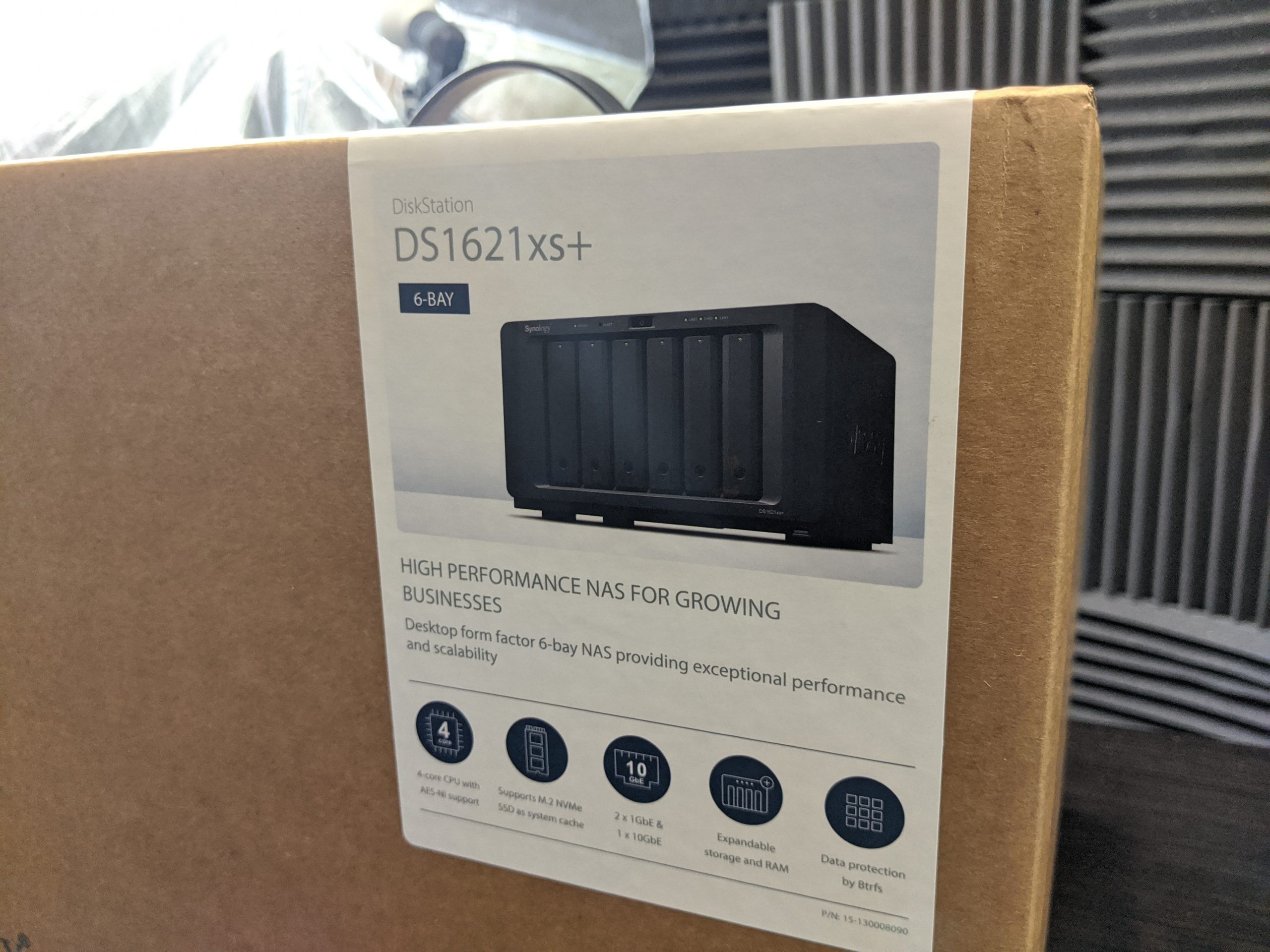 However I will highlight that despite the relative ease it would be for a brand to just BASH out a few 100,000 of the same brown box and add the right label, the box is indeed distinctive to the DS1621xs+ and there is lots of printed information about this specific device.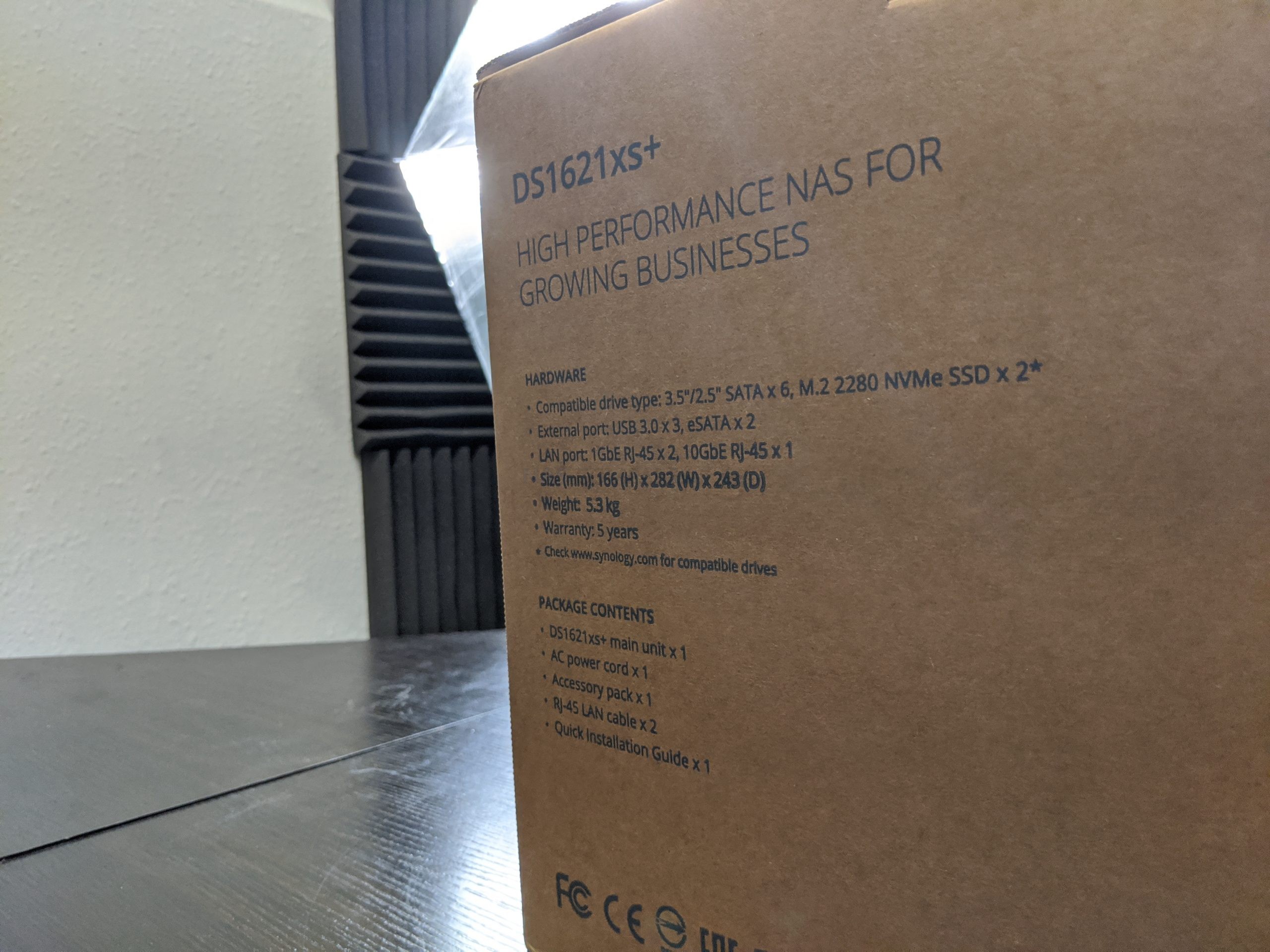 Inside the large external box, we find a fantastic degree of hard foam protection for the Synology DS1621xs+ to ensure the device is not affected by shock damage in transit. Another often overlooked part of the shipping and logistics of these devices is protection from motion in transit. No NAS brand is going to be able to protect the hardware from an ill-placed forklift truck spike, but they can ensure that the far more invisible shock damage caused by motion in transit is eliminated. And often overlooked peril on data storage devices that will not become apparent until much later in the products life, it is nice to see Synology continue to ensure their business class devices have an unparalleled level of protection in transit.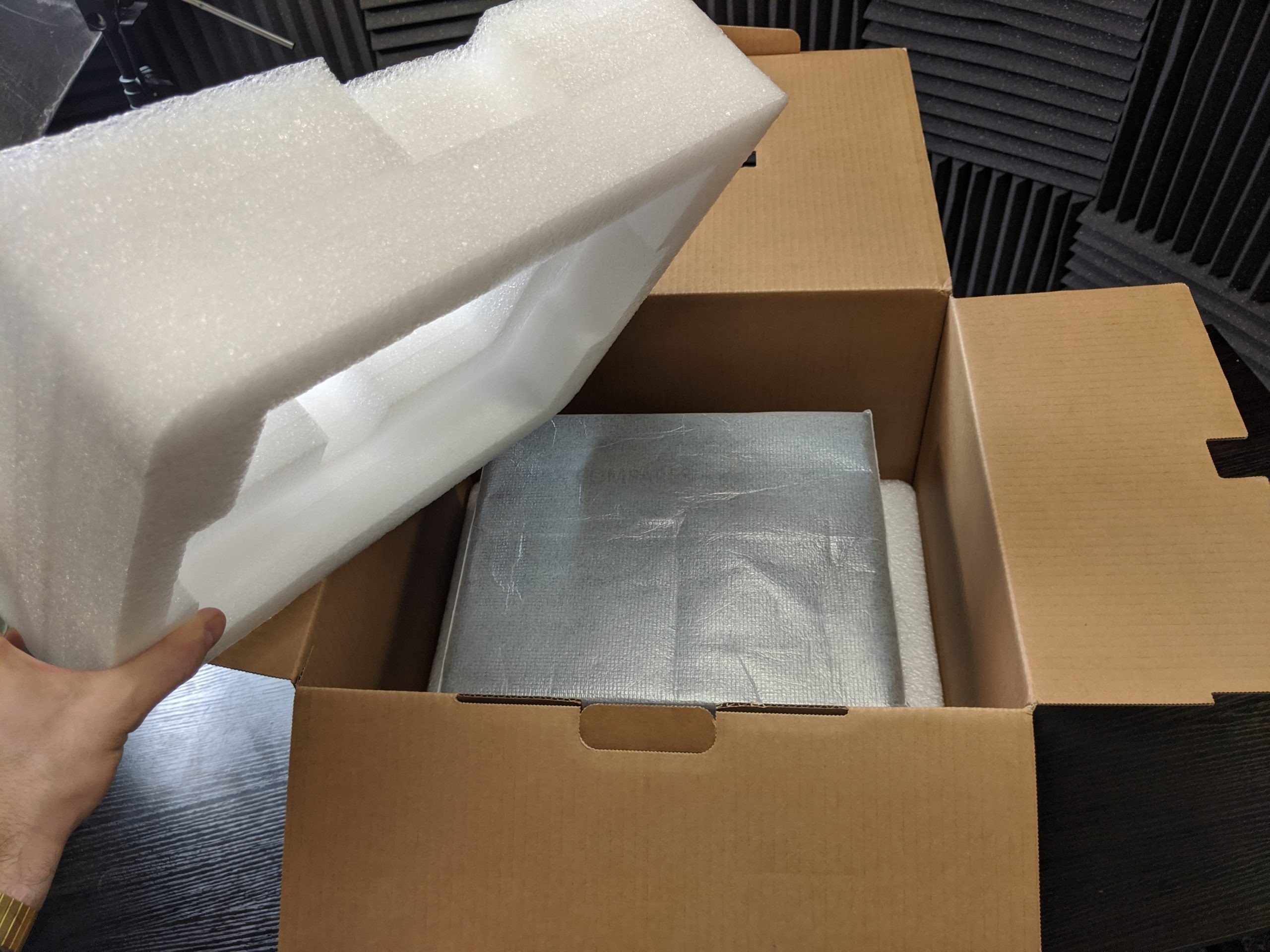 Alongside the device, you also receive a small box of accessories. Unsurprisingly, these accessories are a little thin on the ground as the bulk of equipment needed to integrate the DS1621xs+ into on your network environment is generally always provided by your respective client hardware brands. Nevertheless, short of the HDD and SSD media, you have everything here to deploy the device in minutes.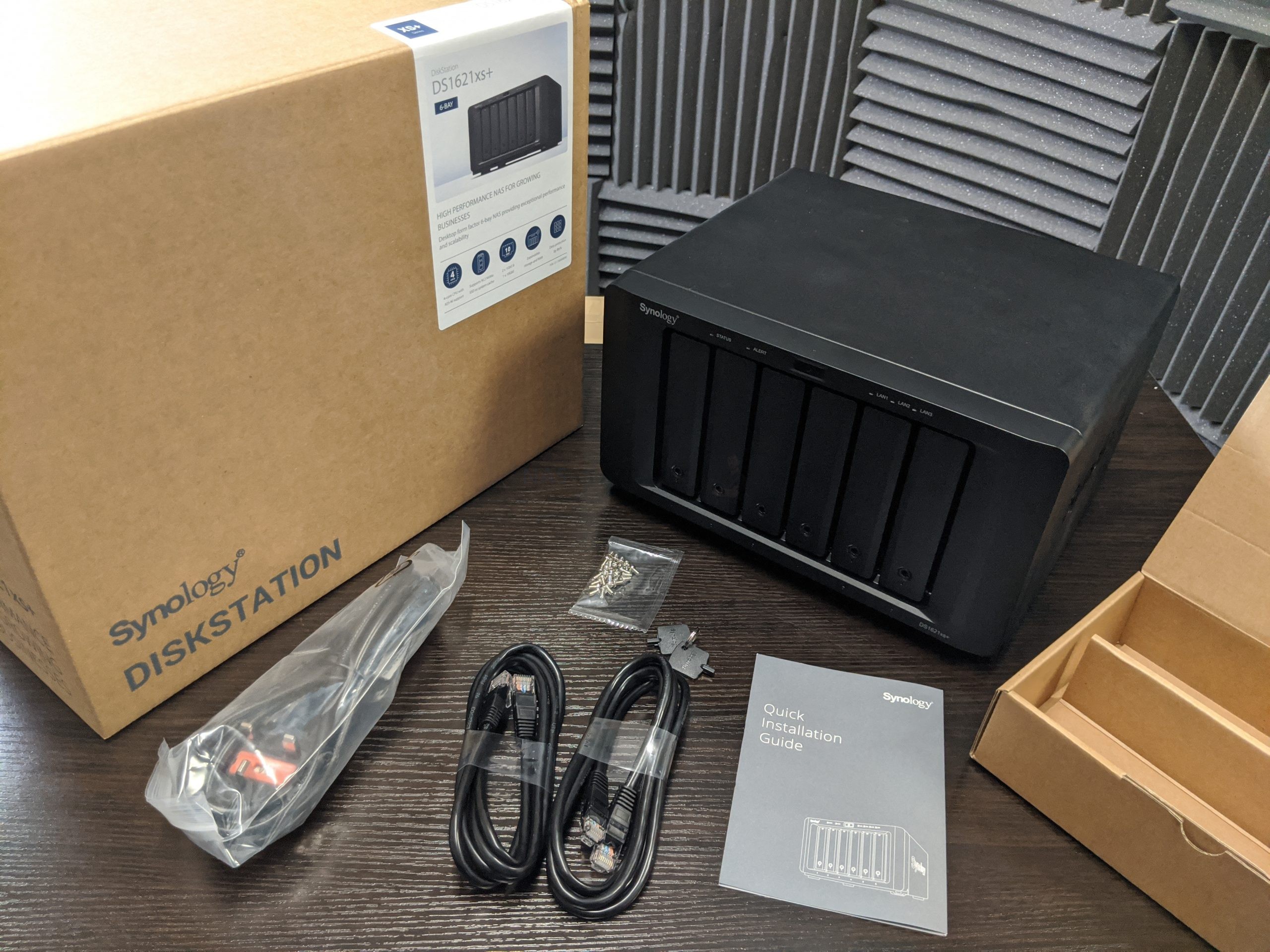 One part of the DS1621xs+ package that I will highlight though is that as the device features an internal PSU, you only need a mains power cable. I personally am a fan of external PSUs on desktop devices, as these are far easier to replace when needed and may reduce its internal heat on the NAS by a minor margin.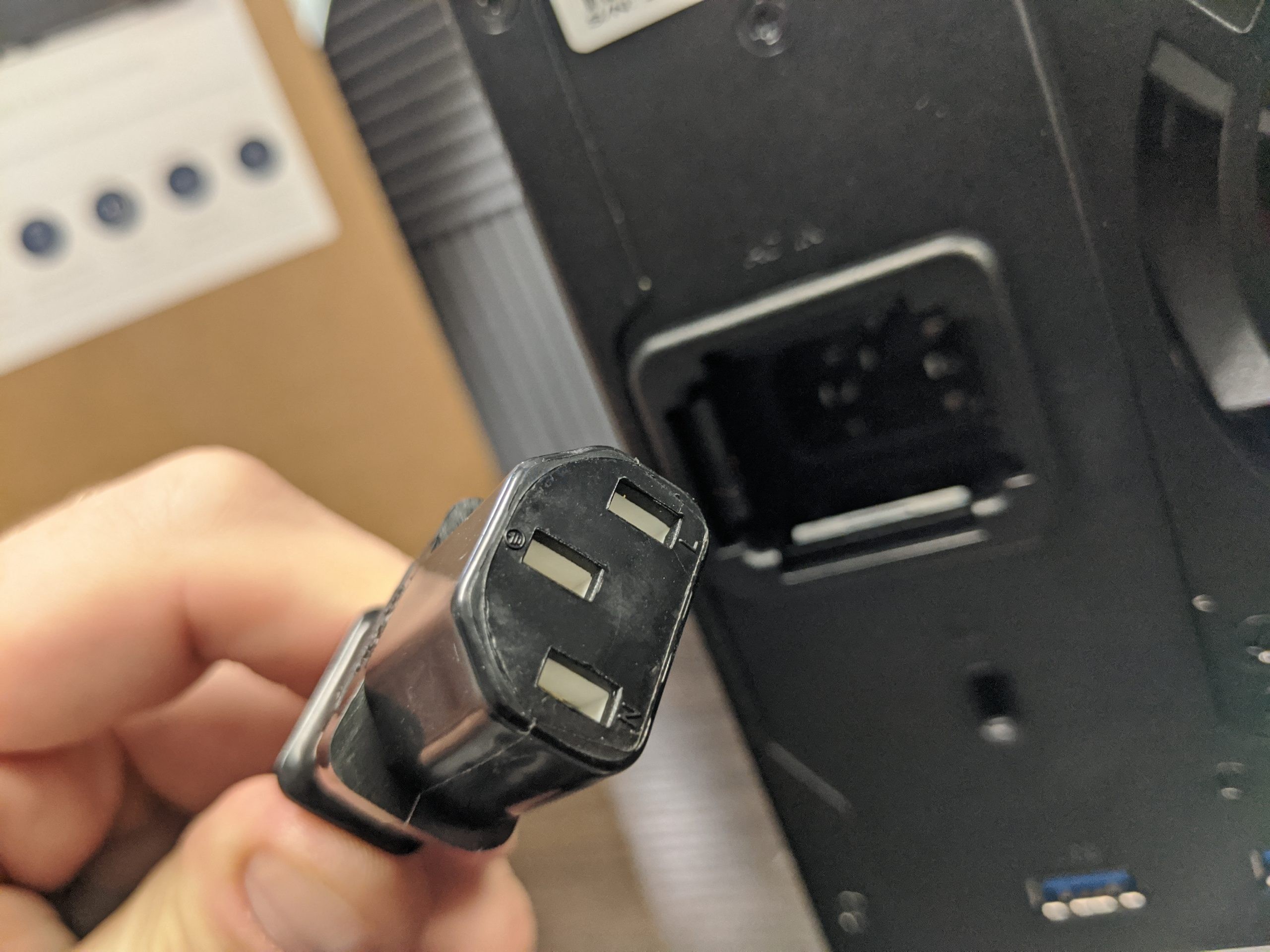 I appreciate that there are arguments on both sides, with a number of users thinking external PSU are just another dangling weighted wire that's waiting to be gently knocked out of the back of your NAS by accident, or lost in transit delaying deployment. But I do think it is a point worth highlighting.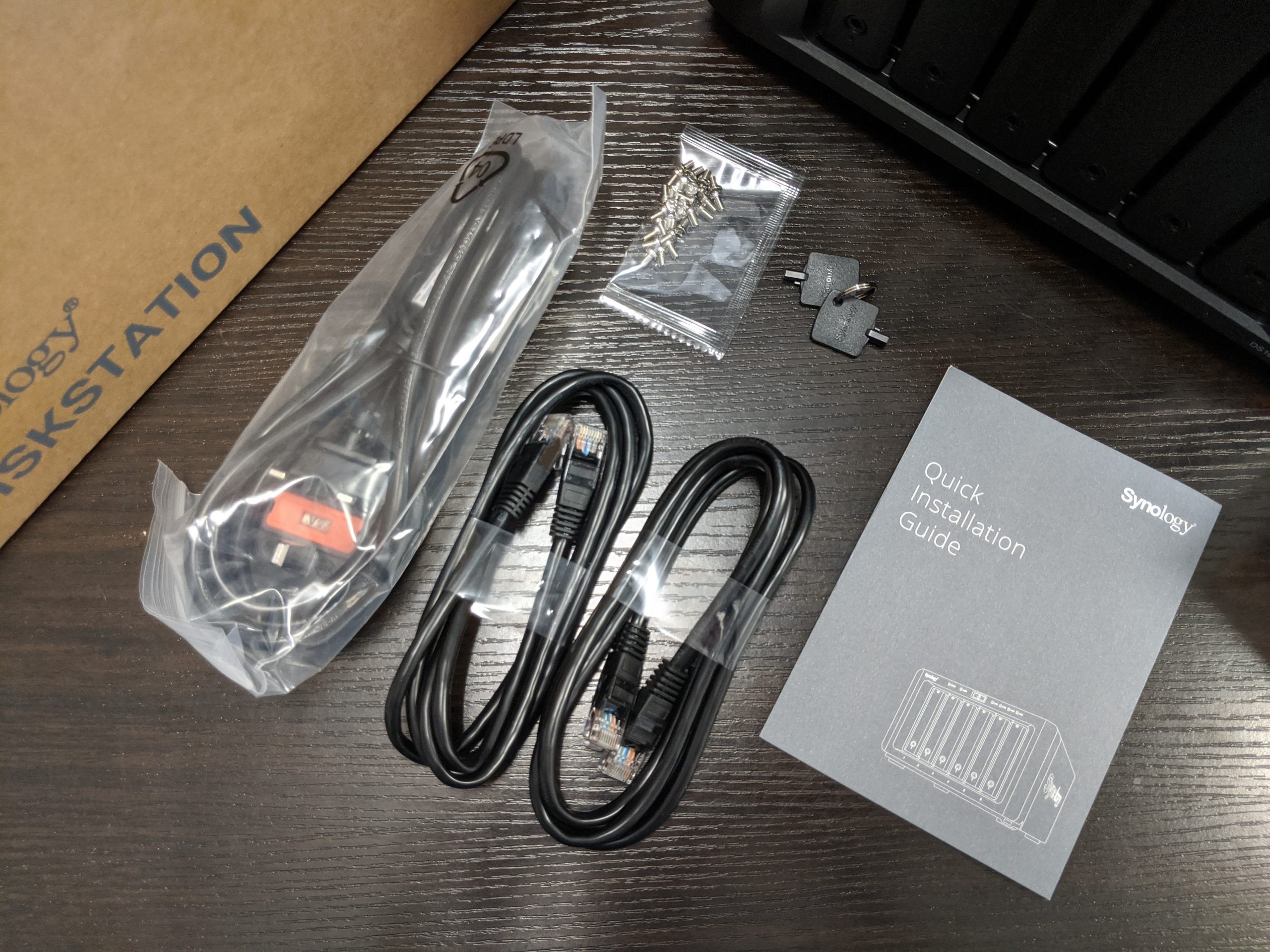 Additionally, the system arrives with two 1M cat cables that are RJ45 and designed for both the 10Gbe and 1Gbe slots on the DS1621xs+ NAS system. However, both cables are cat5e which although perfectly fine for 1Gbe use, are favoured less for 10Gbe and most will prefer CAT6 for 10 Gigabit deployment. This is a very very minor criticism ultimately and I'm sure Synology includes these two cat5e cables for both of the 1Gbe ports. Nevertheless, it seems a very minor inclusion and surprising for Synology not to spot this accidentally.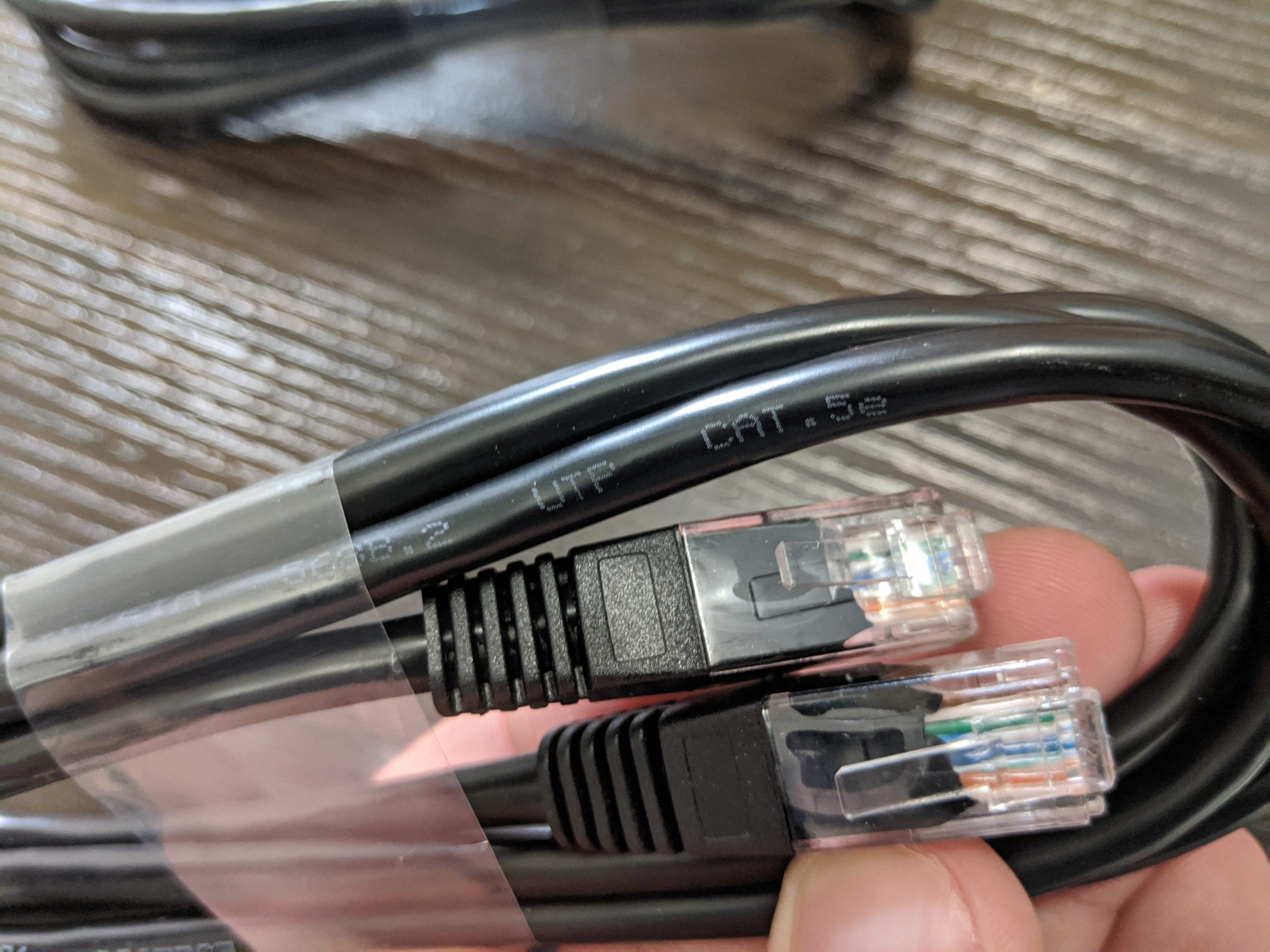 Aside from some small matters that are heavily a matter of personal preference, the retail kit of the Synology DS1621xs+ is everything I would expect from this brand and is otherwise very high quality. So let's get to the good stuff.
Synology DS1621xs+ NAS Review – Design
The Synology DS1621xs+ is not the first time that the brand has produced a 6-bay solution. Although, Synology has only been making 6 Drive desktop solutions for about two-and-a-half years in its 20-year history. Already providing numerous 4, 5 and 8 bay solutions in their portfolio for more than a decade, the popularity of 6 Drive solutions in both home and business sectors has grown proportionally with the popularity of configurations like RAID 6 with it two-disk safety net and development of bigger and bigger hard drives in the consumer and commercial markets.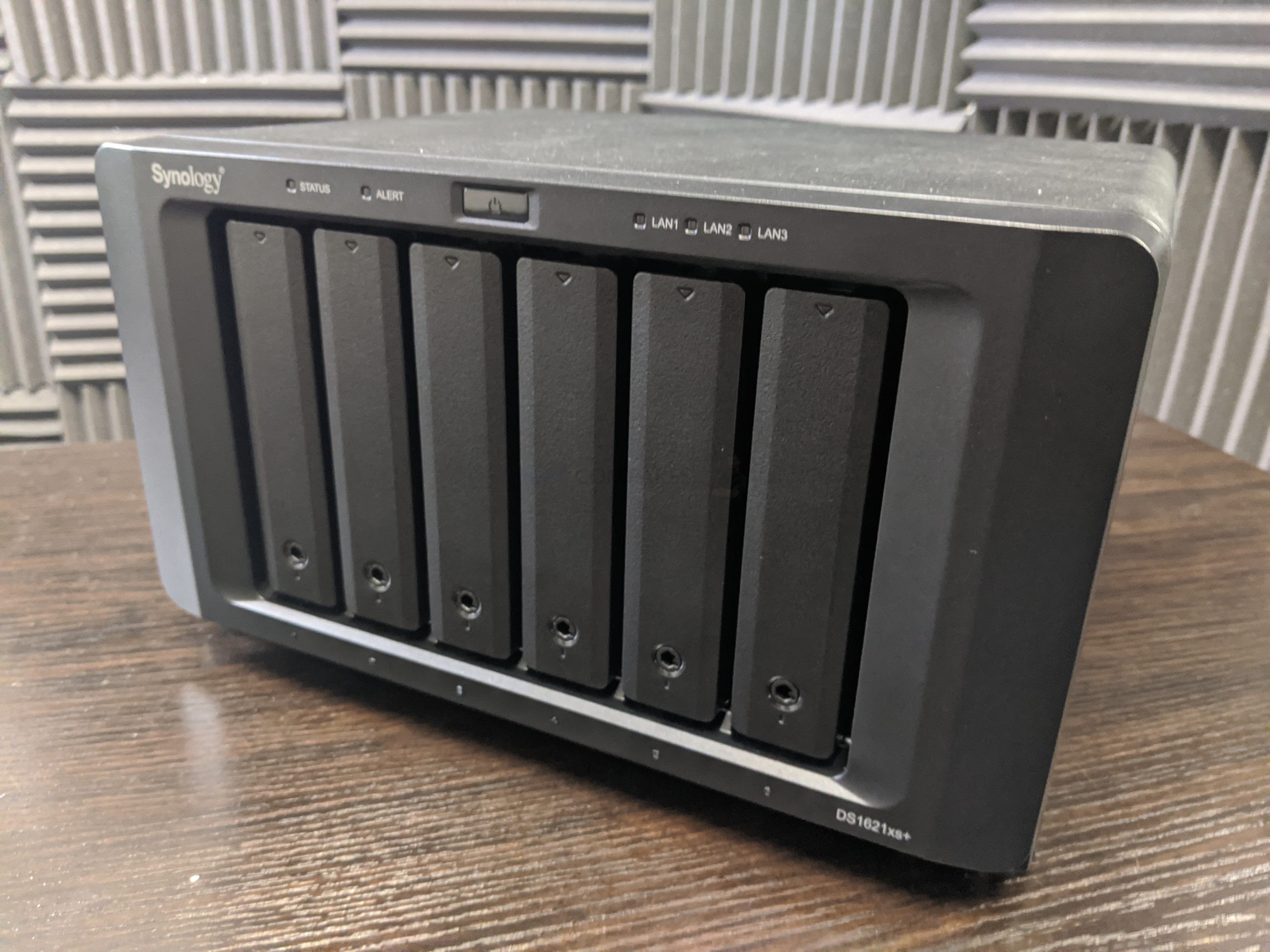 The chassis of the Synology DS1621xs+ 6 bay NAS is a very compact affair and at-a-glance is identical to the other 6-bay solutions from Synology. This is by no means a coincidence, as Synology is a brand that has spent a lot of time creating an exceptionally identifiable aesthetic on these solutions and this business class 6-bay is no exception.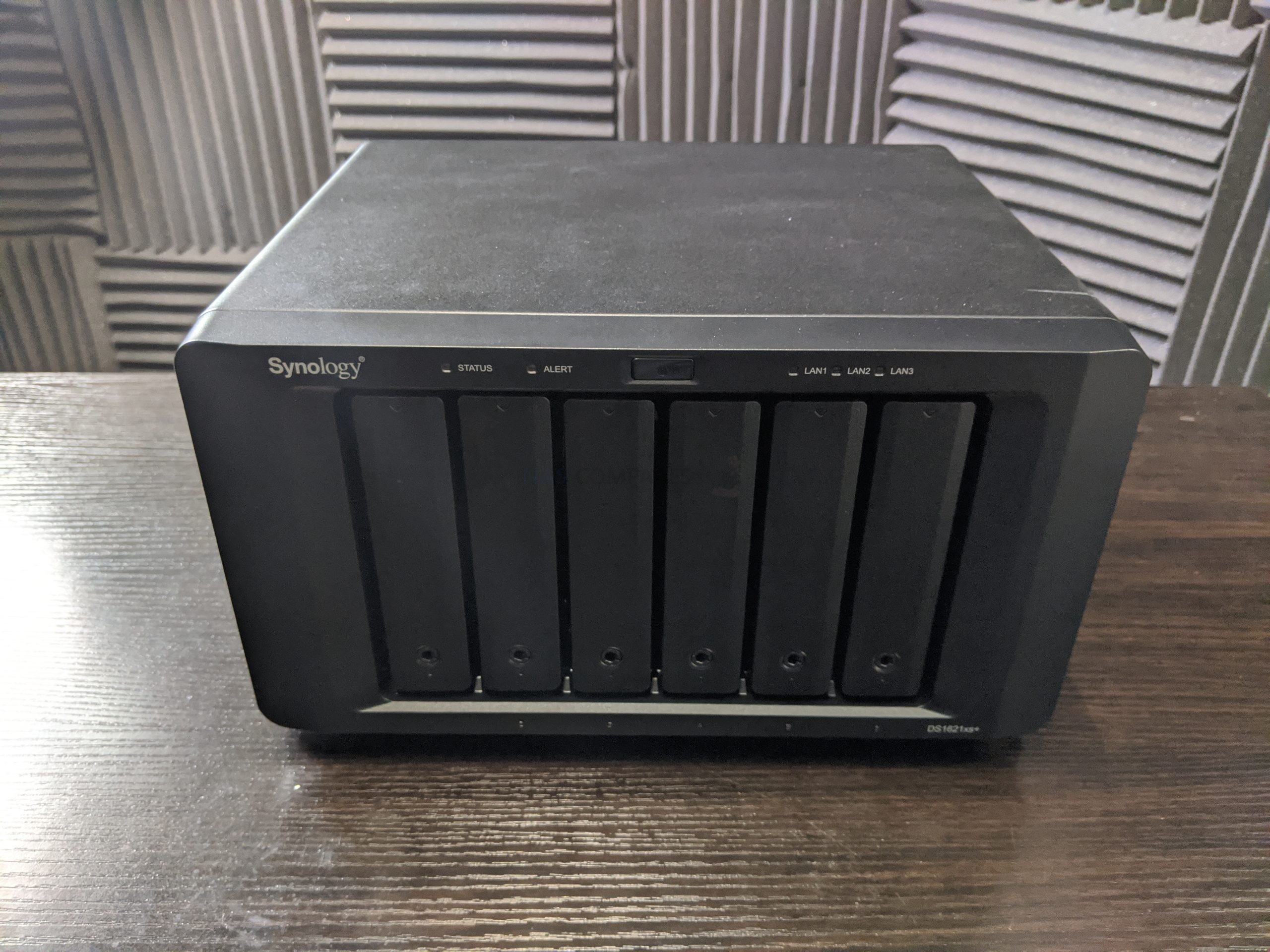 The external chassis of the DS1621xs+ features a metal casing in three-quarters of the entire visible space, acting as both a robust outer layer and to assist heat dissipation in conjunction with active internal cooling and numerous heatsinks inside. Smaller form diskstations predominantly use plastic chassis that although are not quite as useful for dissipating heat, do end up with a lower general noise level as metal chassis will amplify the clicks, hums and spin-ups of more enterprise crafted hard drives in Pro series classes and above 6 terabytes. However, there is no arguing with the quality of the design overall.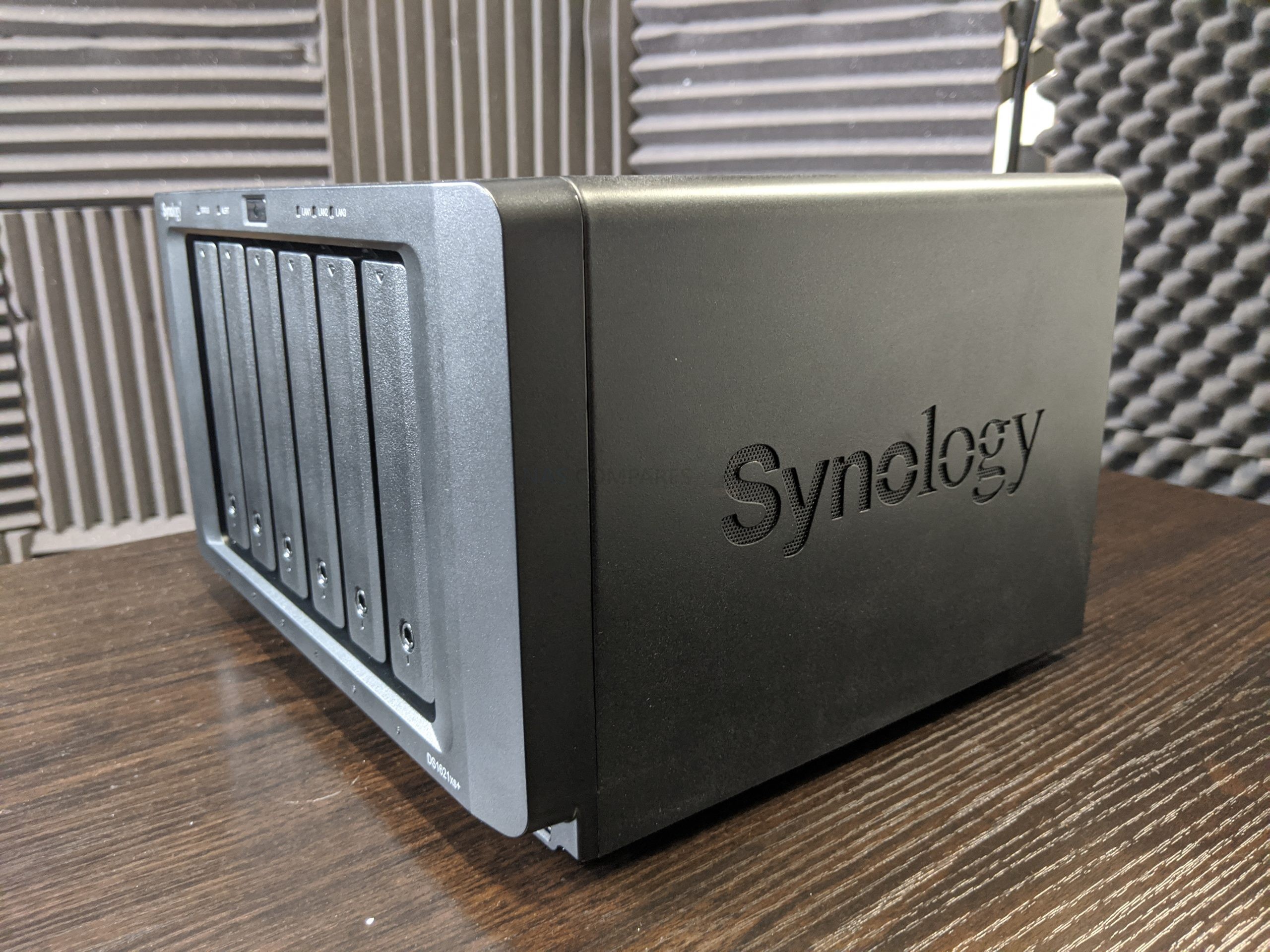 Indeed, the Synology DS1621xs+ also benefits from the familiar branded ventilation panels that feature internal mesh to isolate dust in the air and ensure it does not what affect the performance of the internal hardware are of the device. The whole DS1621xs+ chassis is a compact but heavily and robust design and you'll definitely get a feeling of build quality.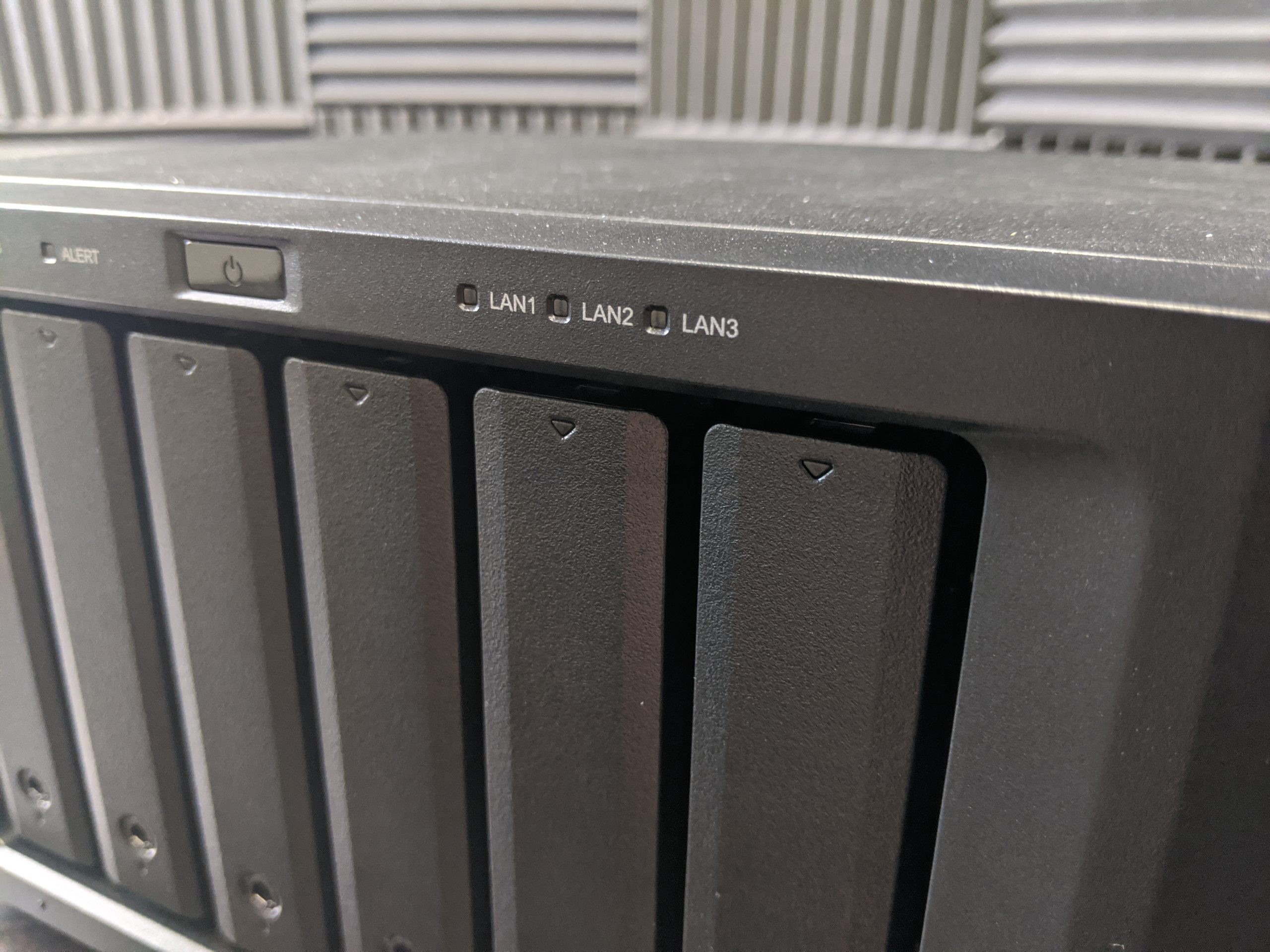 Although the DS1621xs+ does not feature any kind of LCD panel to give real-time information on the system, it does feature numerous LEDs on both the individual bays and several along the top of the chassis that denote numerous access factors. these include system status, system access and the activities of each of the individual network ports available on the DS1621xs+ NAS device.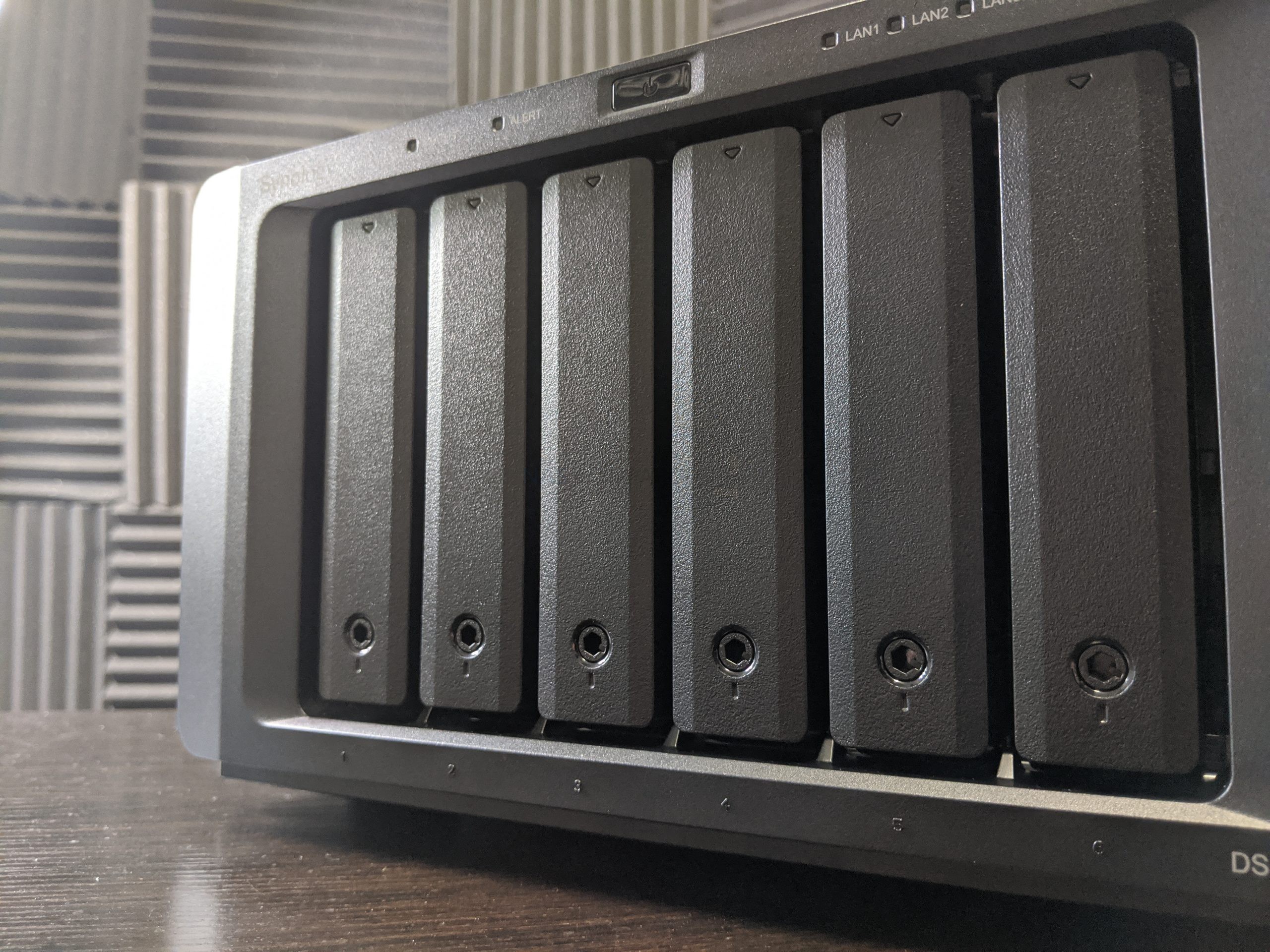 Each one of the six bays available on the Synology can be populated by 3.5-inch storage media. the device does not need to be fully populated on day 1 and drives can be added gradually throughout the device's lifespan if you choose for a more gradual RAID storage system.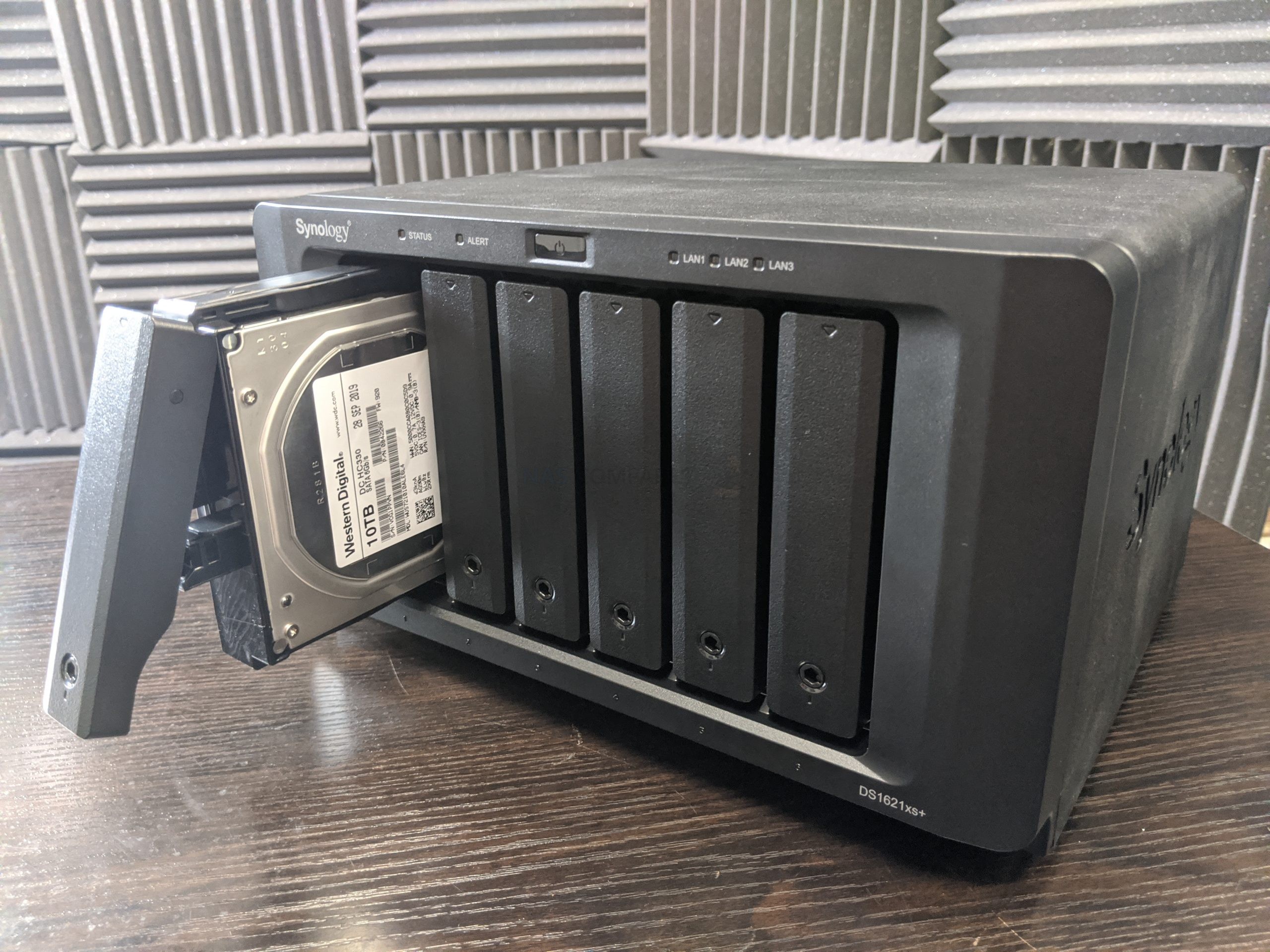 Each individual tray can install a standard 3.5 in hard drive without the need of a screwdriver as they click and load in design, though 2.5″ SSDs will require the use of a screwdriver and included screws. Alongside this, each bay supports hot-swapping whilst the device is in operation, allowing drives to be added or swapped out as RAID configurations may require.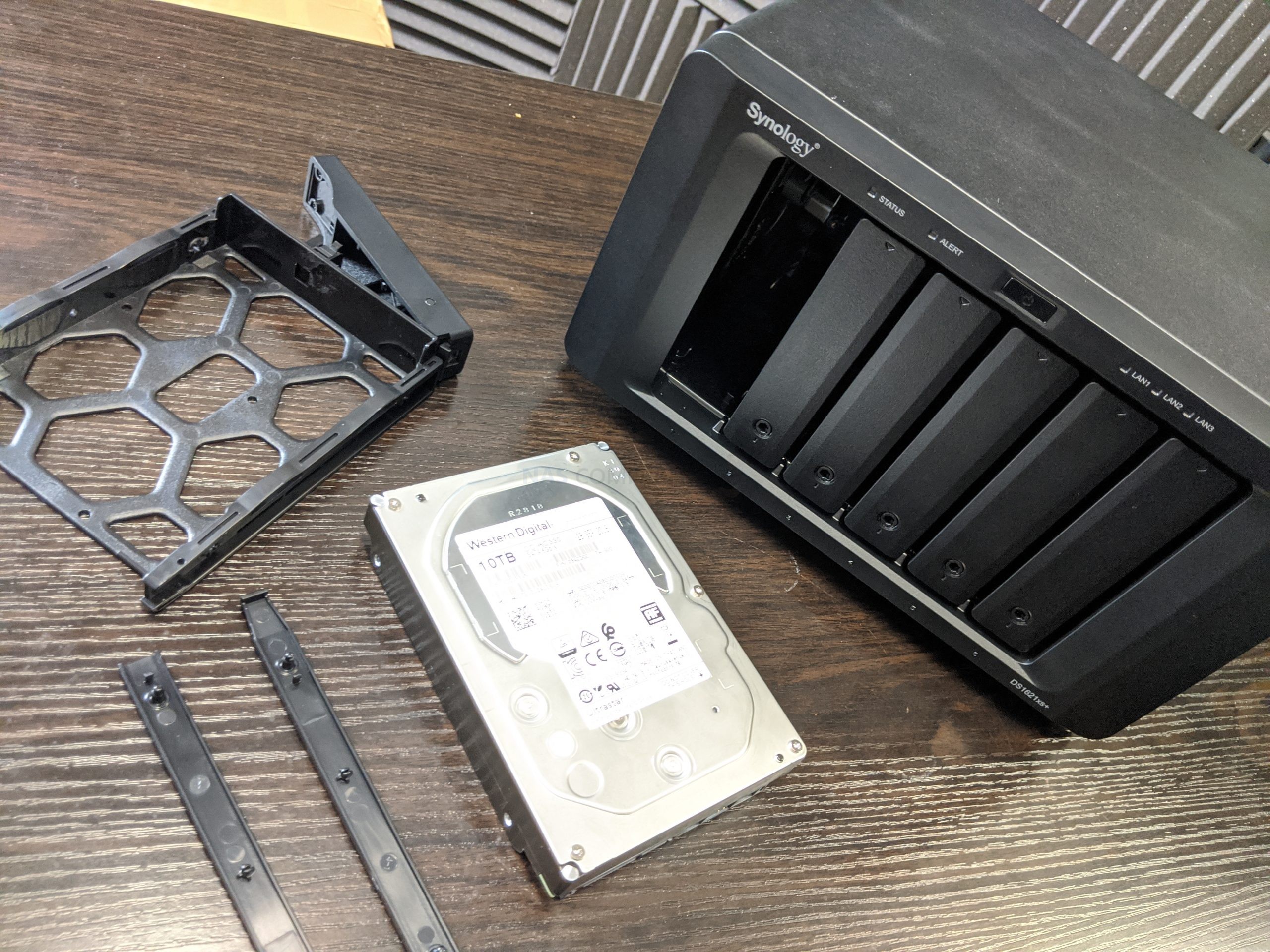 Along with being click and load in design, each bay is spring-loaded and even features a locking mechanism. Although this locking mechanism is a tad rudimentary, it is not really there to prevent the more aggrieved theft and is more designed to prevent accidental removal of a drive and accidentally causing RAID destabilization. As this is a 6 bay device, it is ideally suited towards mid-level RAID 5 and RAID 6 environments, especially given that currently SATA based hard drives are available at up to 16 terabytes in NAS categories, with 18TB and 20TB Seagate Ironwolf and WD Red NAS drives coming very soon. Consequently, that means this device promises a solid 64 Terabytes of storage in a RAID 6 (double parity) configuration – quite impressive.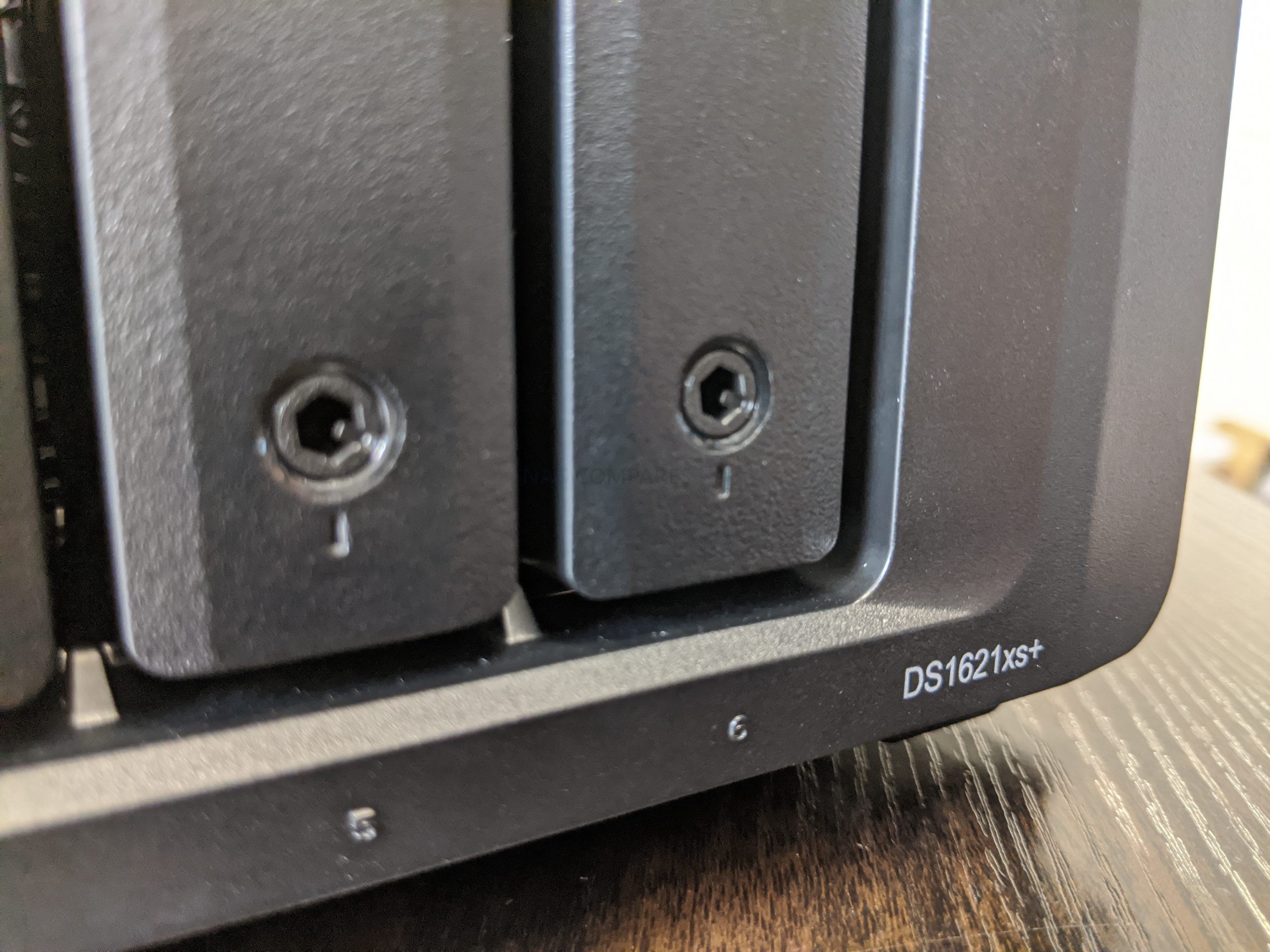 Although it is worth highlighting for those that have utilised more of the smaller Diskstation 2/4-bay desktop NAS, that the DS1621xs+ does not feature Synology hybrid RAID (SHR), the more fluid RAID system from Synology that allows mixing and matching of drives. Though the device does support all the traditional RAID configurations you would expect and even RAID F1 for flash-optimised servers and endurance-aware use.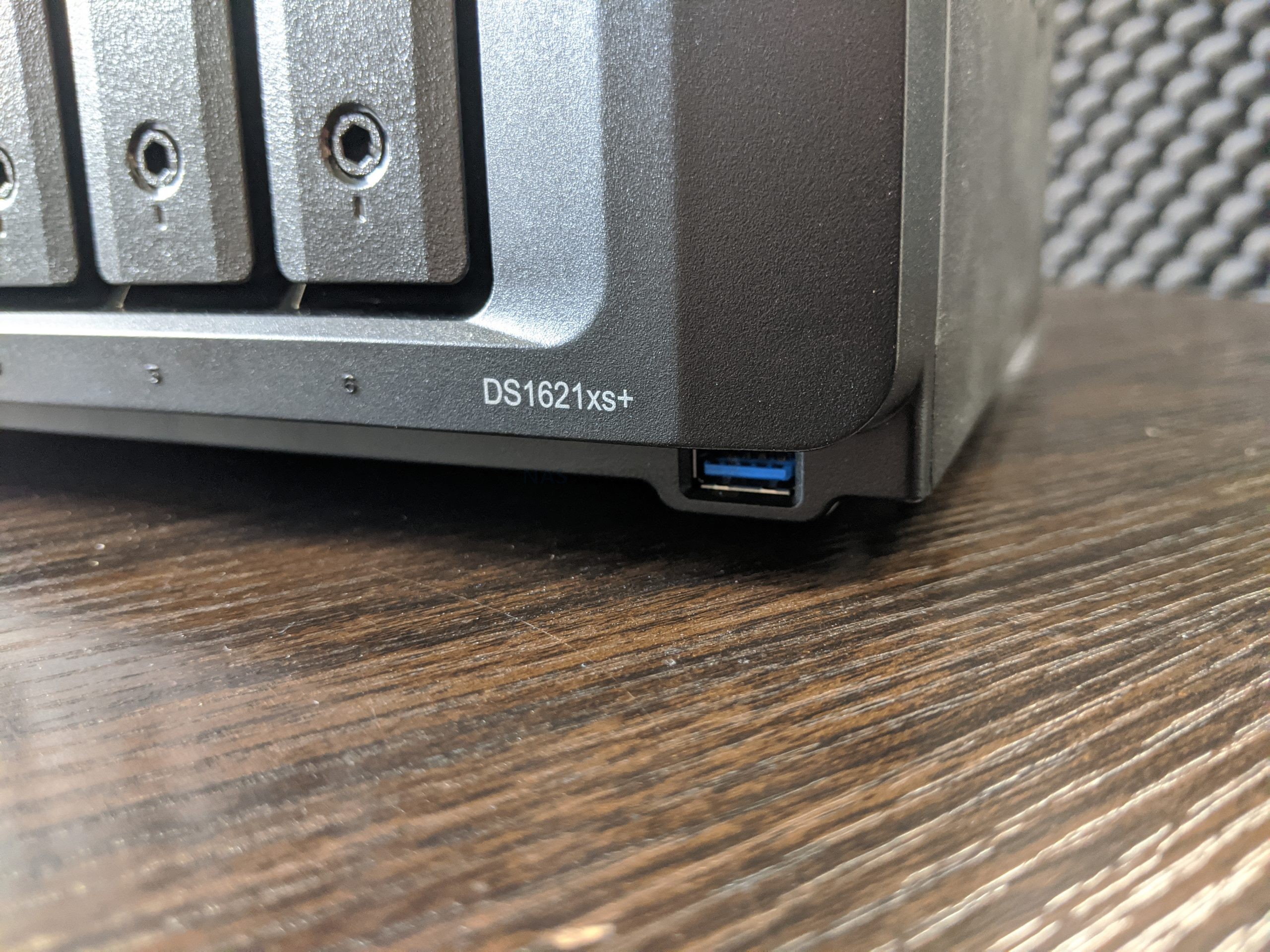 Despite the more enterprise-geared design, Synology has still opted to include a front-mounted USB port on the DS1621xs+ NAS. Although it lacks the one-touch button design that I personally quite like, it will still automatically register a connected USB device and allows multiple variants of USB to NAS (and vice versa) backup strategies to add an additional layer to your backup strategy. This is a 5Gigabit per second USB 3.0 Port, so I would personally recommend a differential backup long term.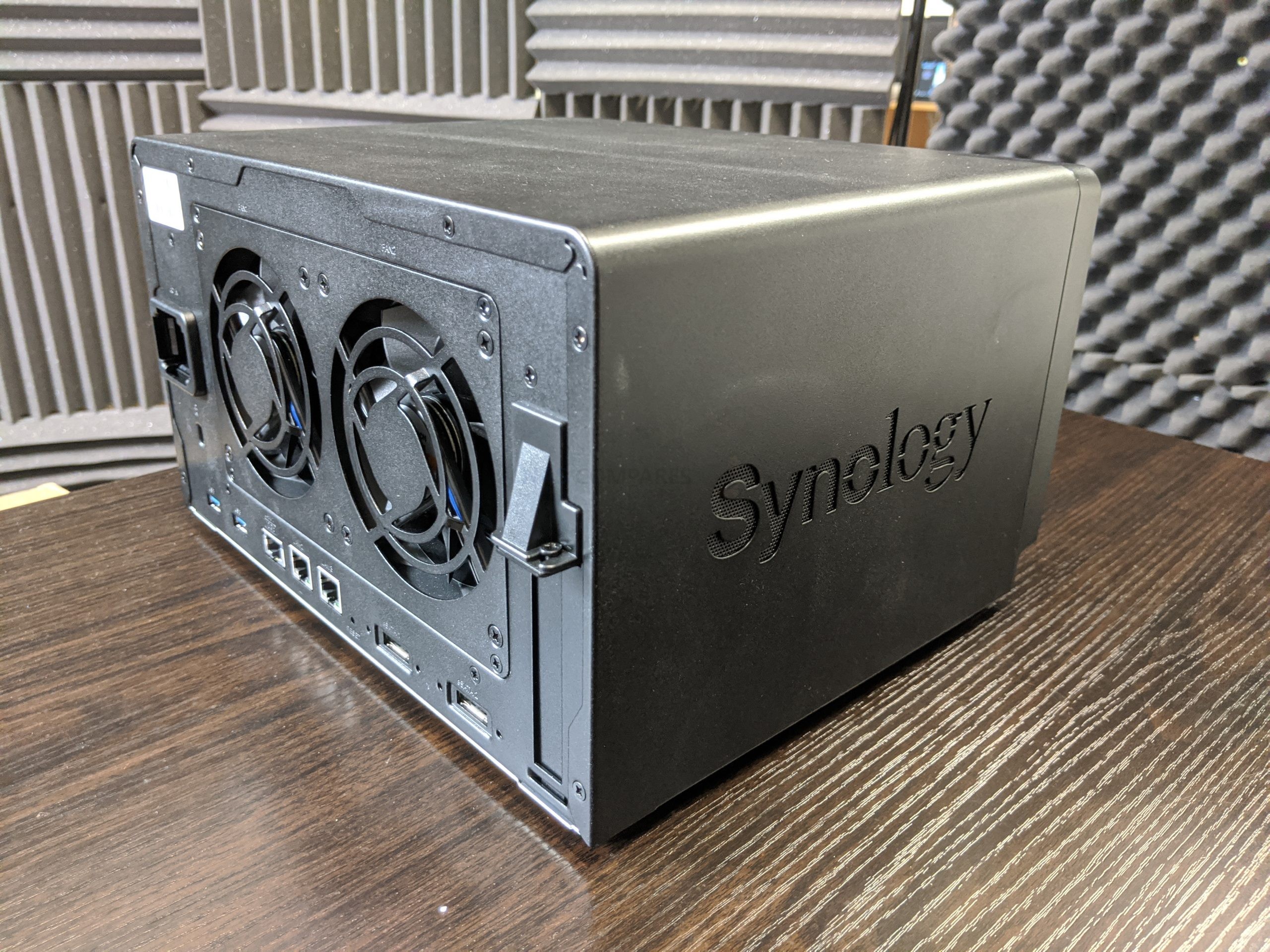 Overall, the DS1621xs+ features all of the swish' and compact design I would expect from a Synology NAS and does not disappoint. Although the metal chassis might not favour everyone, as it will make a pinch more noise than smaller plastic designs, it is still a fantastically robust device.
Synology DS1621xs+ NAS Review – Ports & Connections
Aside from the inclusive 10Gbe port, the rest of the connections and hardware featured on the rear of the DS1621xs+ are all pretty familiar and comparable to that of the DS1618+ and DS3018xs. Synology has maintained a familiar and reliable sense of design and practicality on these things and the DS1621xs+ is no exception here.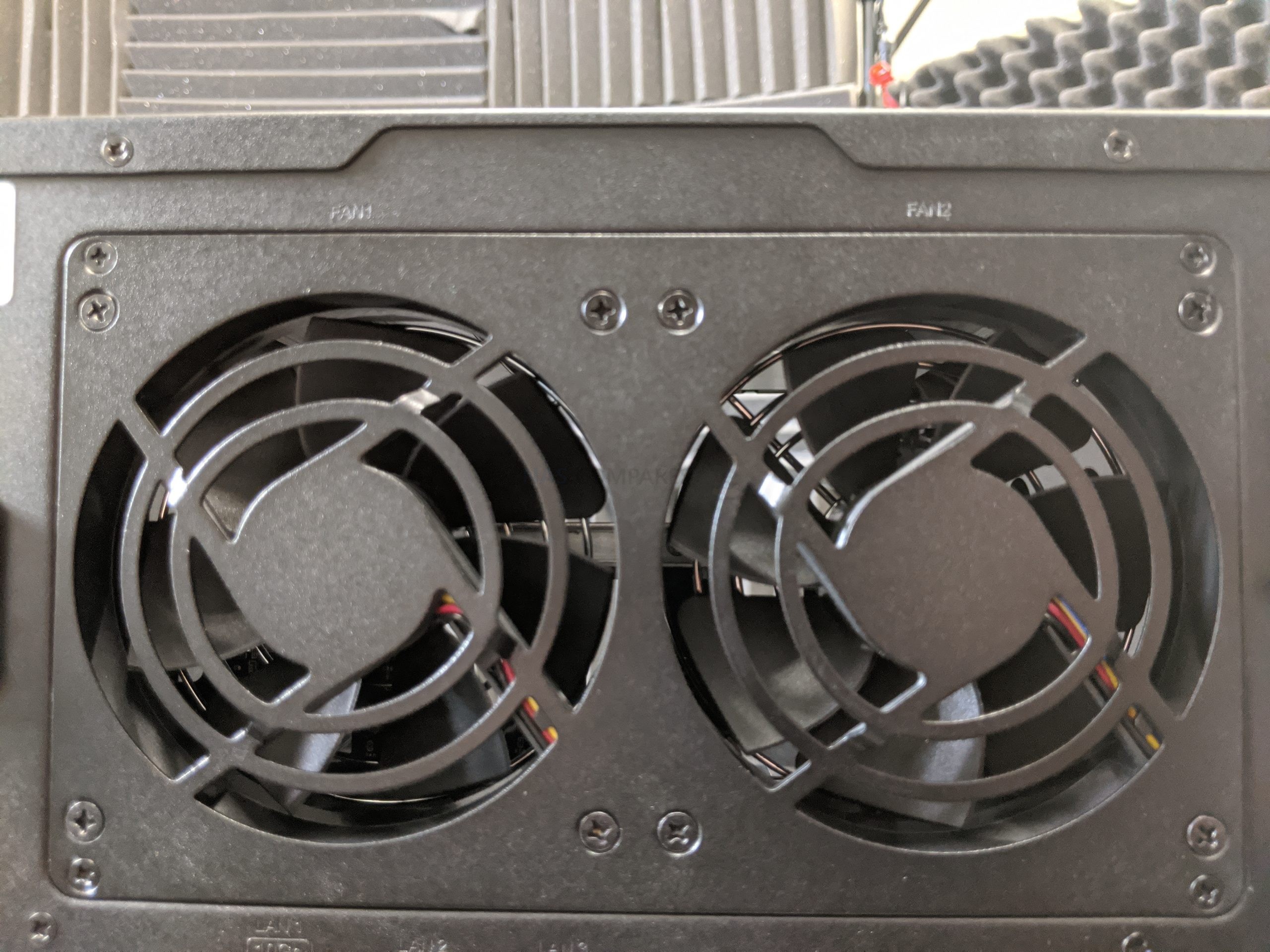 The rear of the device, of course, features two large active cooling fans that are designed to promote active airflow throughout the device, working in conjunction with the passive cooling vents and numerous internal heat sinks. These fans can be adjusted in their RPM manually to decrease noise, however, I recommend leaving them on the automatic settings as notwithstanding the noise generated is pretty small compared with the 6 hard drives, but also NAS systems are designed to be on for days, weeks and months at a time and therefore a cool box is a far more productive box overall.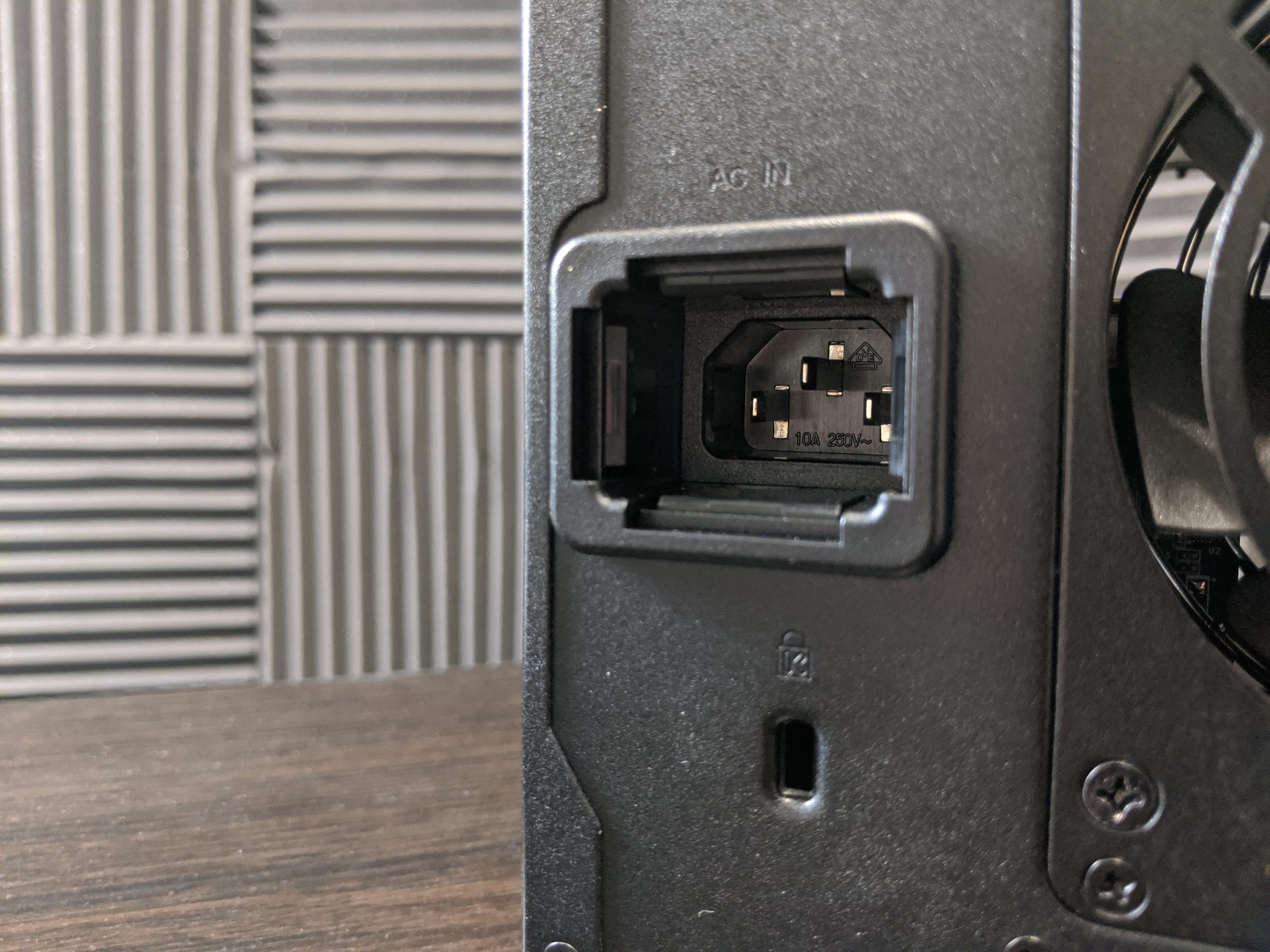 The DS1621xs+ features an internal PSU, something I touched on earlier, and instead of a large external block power supplier, we simply have a 3-pin mains connector and included power mains cable (an internal 250W PSU to be more precise).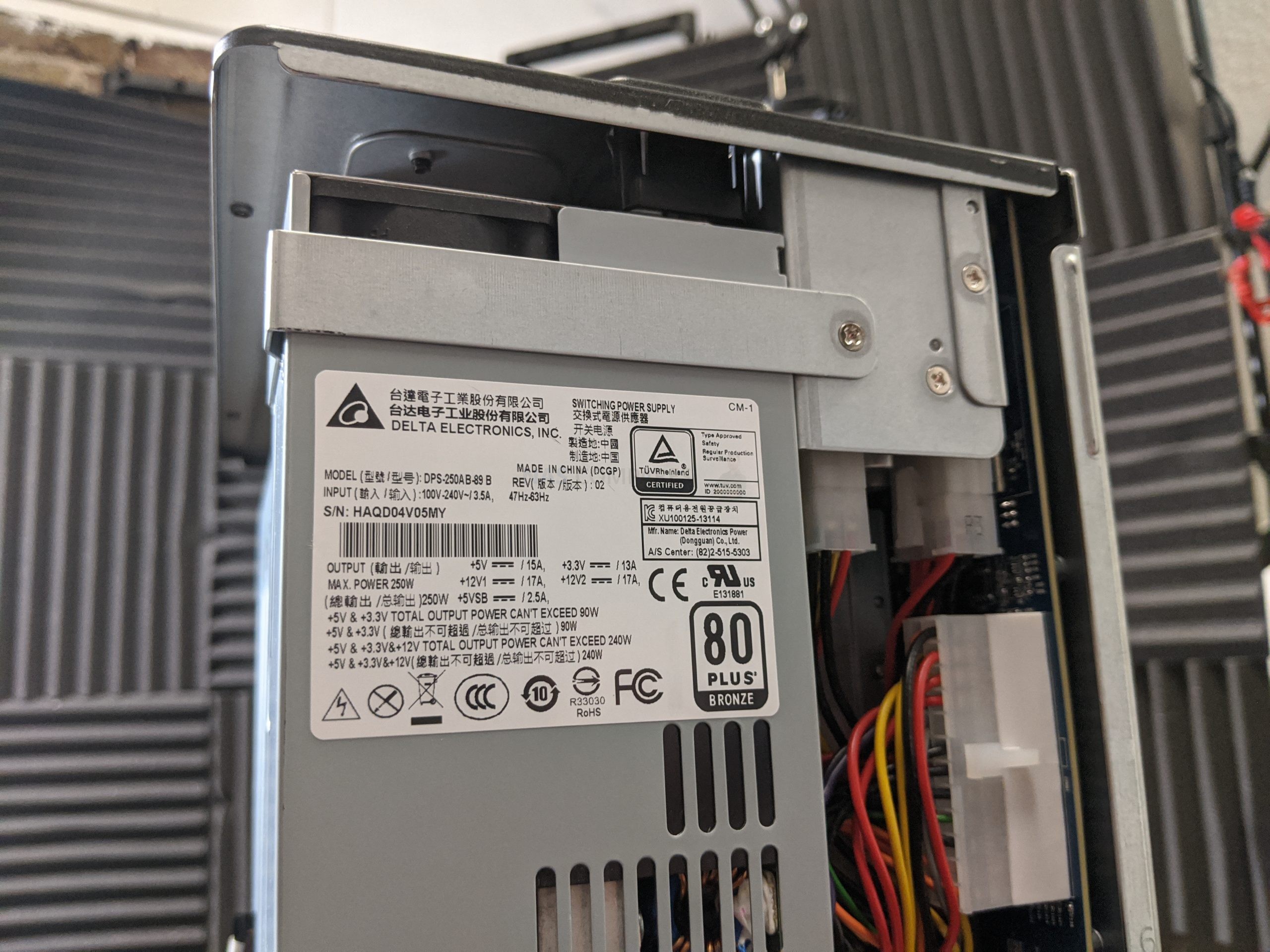 Alongside the 10G port, we also find two 1 Gbe network ports that each provide just over 100MB/s between the NAS and your local network devices. Both ports can be combined via link aggregation to allow up to 200MB/s+ to a compatible network switch or dual NIC LAG supported client device.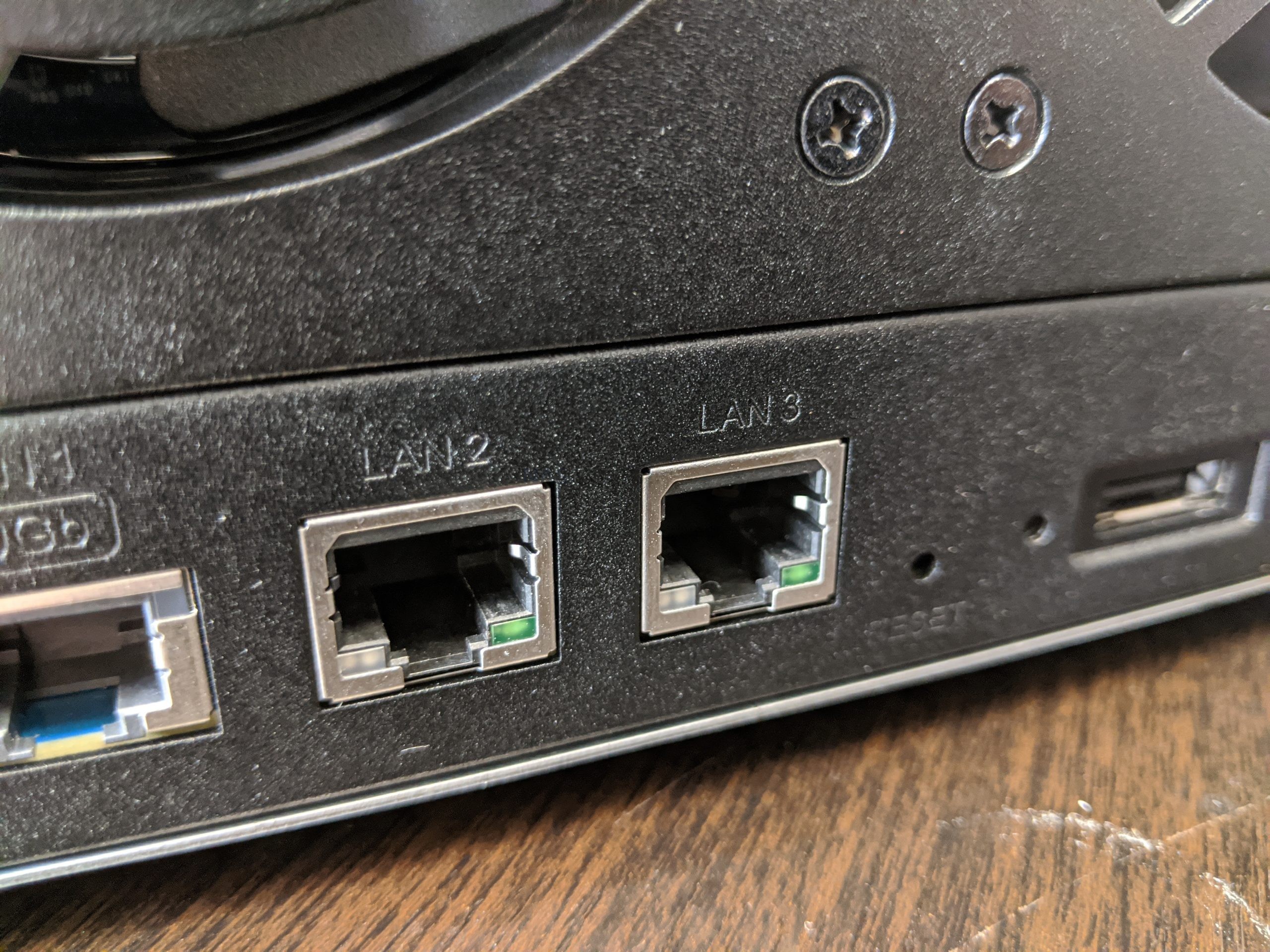 It would have been nice for Synology to swap these out, perhaps for 2.5 Gbe or even and additional 10Gbe Port, but I can appreciate the hardware vs price balance on the DS1621xs+ NAS, as well as the chipset it features. Nevertheless, these two 1Gb ports can still be utilised for separate network environments or to make sure that lower-priority clients can be funnelled into a less bandwidth-hungry environment automatically.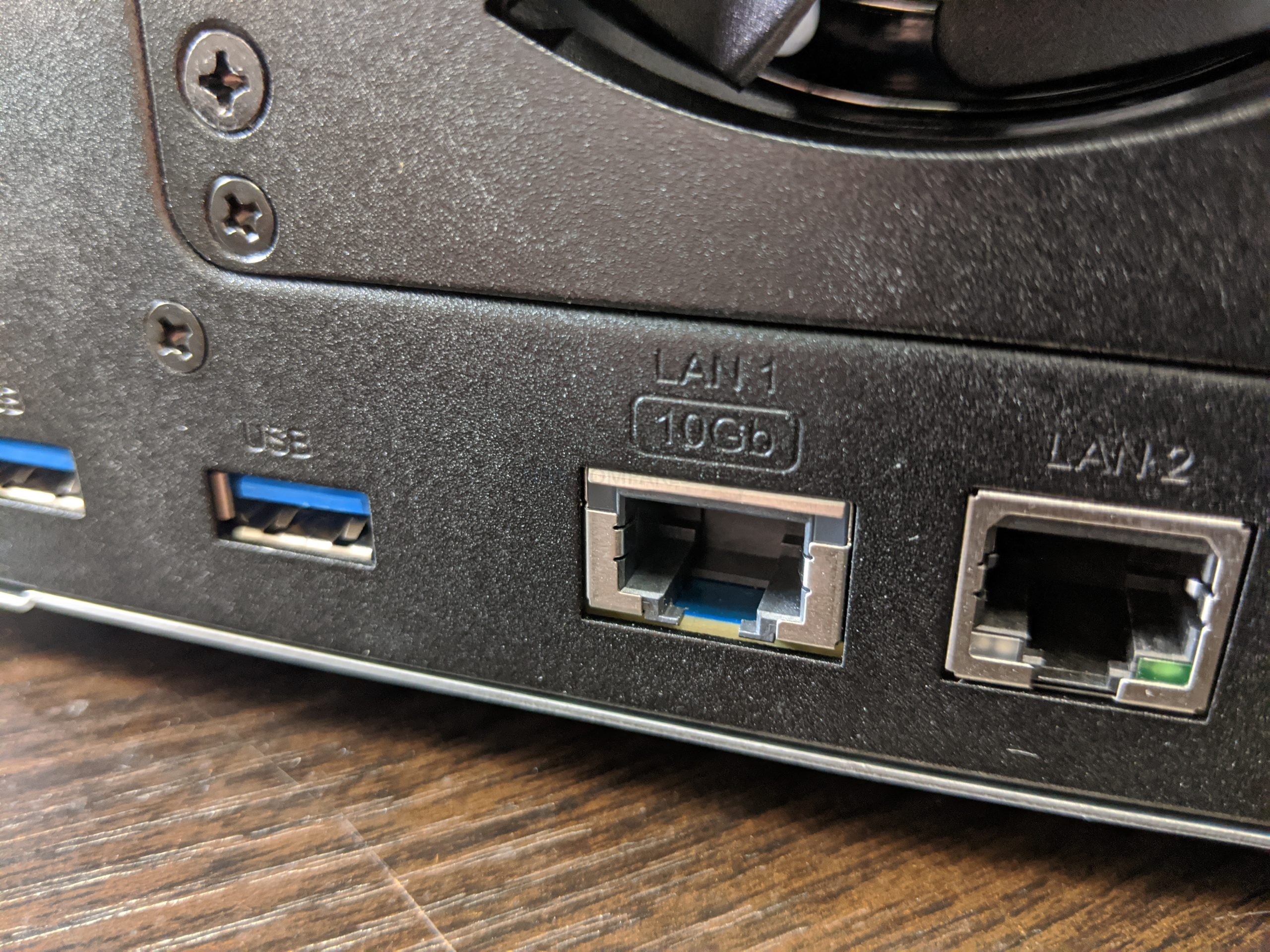 Of course, what really steals the show is that this is a 10GBe equipped desktop NAS from Synology. The DS1621xs+ utilises copper-based 10GBASE-T which is compatible with 1, 2.5 and 5Gbe networks too. As mentioned, this is not the first time that Synology have produced a 10 Gigabit desktop solution, but whereas the older DS1517 (not the DS1517+)featured a rather humble ARM 32-bit processor, the DS1621xs+ and it's Xeon architecture make a huge difference and it is very easy to imagine this system providing a full 1000MB/s without trouble. With the right storage media, cache setup and RAID configuration inside, the DS1621xs+ could max out the 10G and both of the 1G ports and provide a full 1200MB/s of throughput to a supported switch, and support numerous individuals in accessing shared folders, surveillance systems, virtual machines and more. I'm surprised that Synology has not considered a fibre option (SFP+), but given their range of upgrade cards for both copper and fibre being supported on this device, this is hardly the end of the world.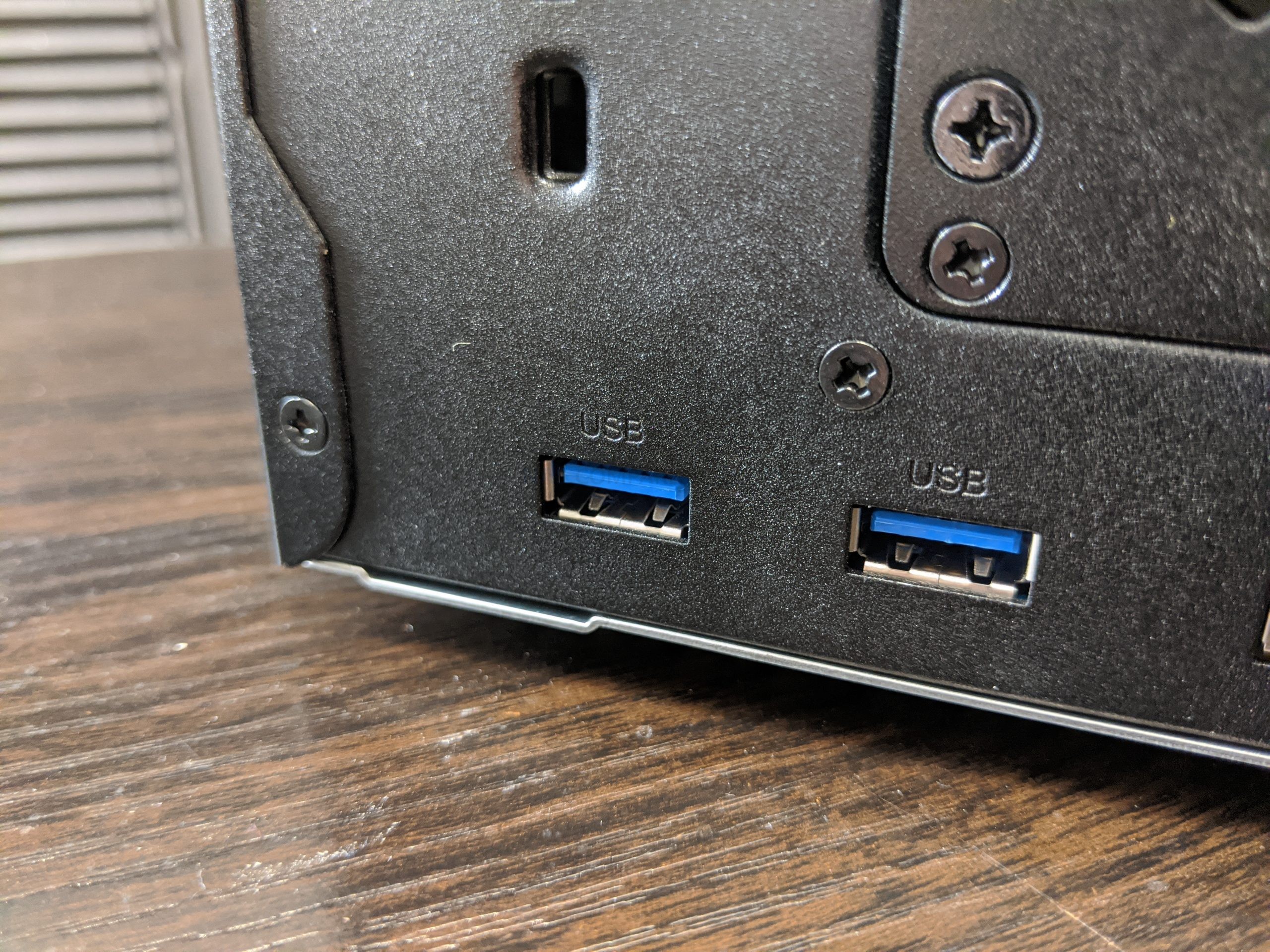 Alongside the single USB on the front of the device, there is also two additional USB 3.0 ports on the rear of the DS1621xs+ that can be utilised for external storage, additional network interface ports and a few network fidelity accessories for pairing systems. Any storage that is connected to these ports can be made network accessible, as well as assigned to a virtual machine within the Synology virtual machine manager software. In terms of utilising localised USB storage as a tier in your backup strategy, the Synology has both a dedicated USB backup tool with 3 different tears of NAS to USB backup, as well as USB being factored into one of the many options in the hyper backup application from Synology.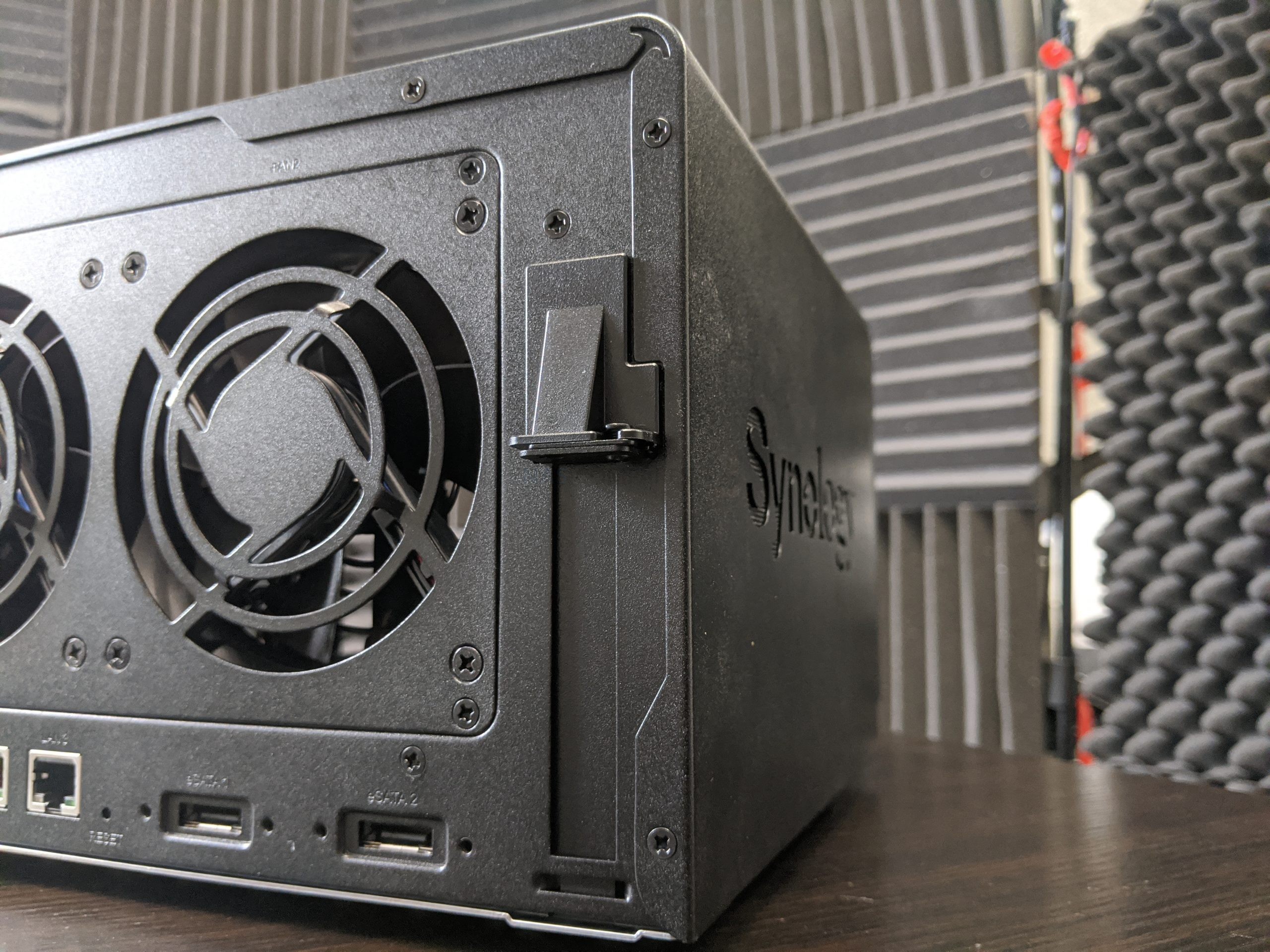 The PCIe slot that is available on the DS1621xs+ is certainly a welcome addition. When I saw that the DS1621xs+ featured a PCIe gen 3 x 8 upgrades slot I was pretty surprised, especially given that the device has both 10Gbe and NVMe SSD cache – unusually generous from Synology in the hardware stakes. There are several official PCIe expansion cards currently available that allow you to introduce more 10Gbe ports (E10G20-T1), add more NVMe SSD cache base (M2D20) and even combo cards with both together (E10M20-T1).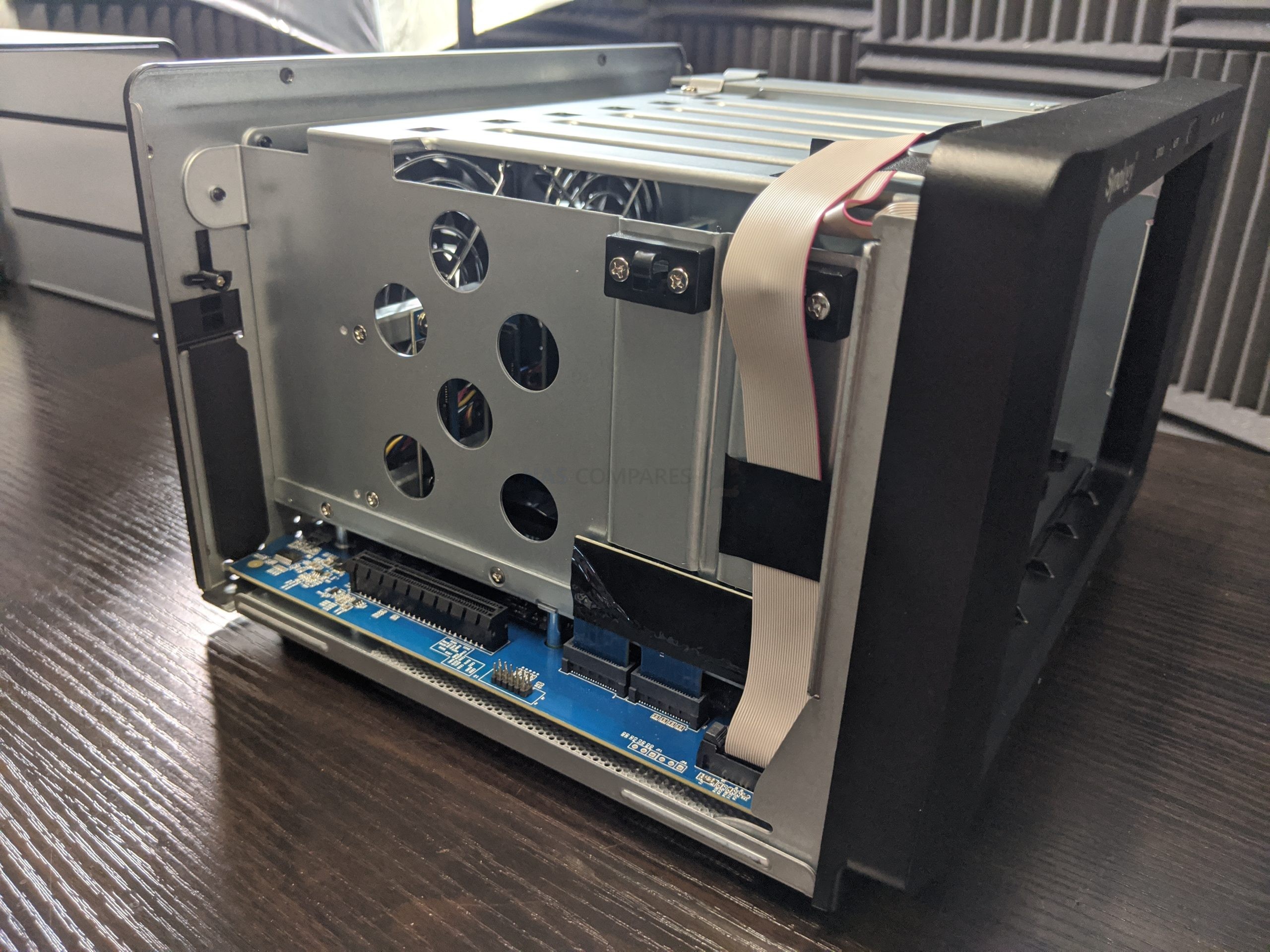 So despite already featuring all of these hardware services, you can max them out even further with these officially supported cards. Additionally, there is the support of numerous Intel and Mellonex cards to add even larger bandwidths cards, such as 25Gbe and 40Gbe, both of which are supported by this DS1621xs+ NAS and that Xeon processor exceptionally well. It really helps to ensure that this device can have its full potential even further fleshed out in its lifespan.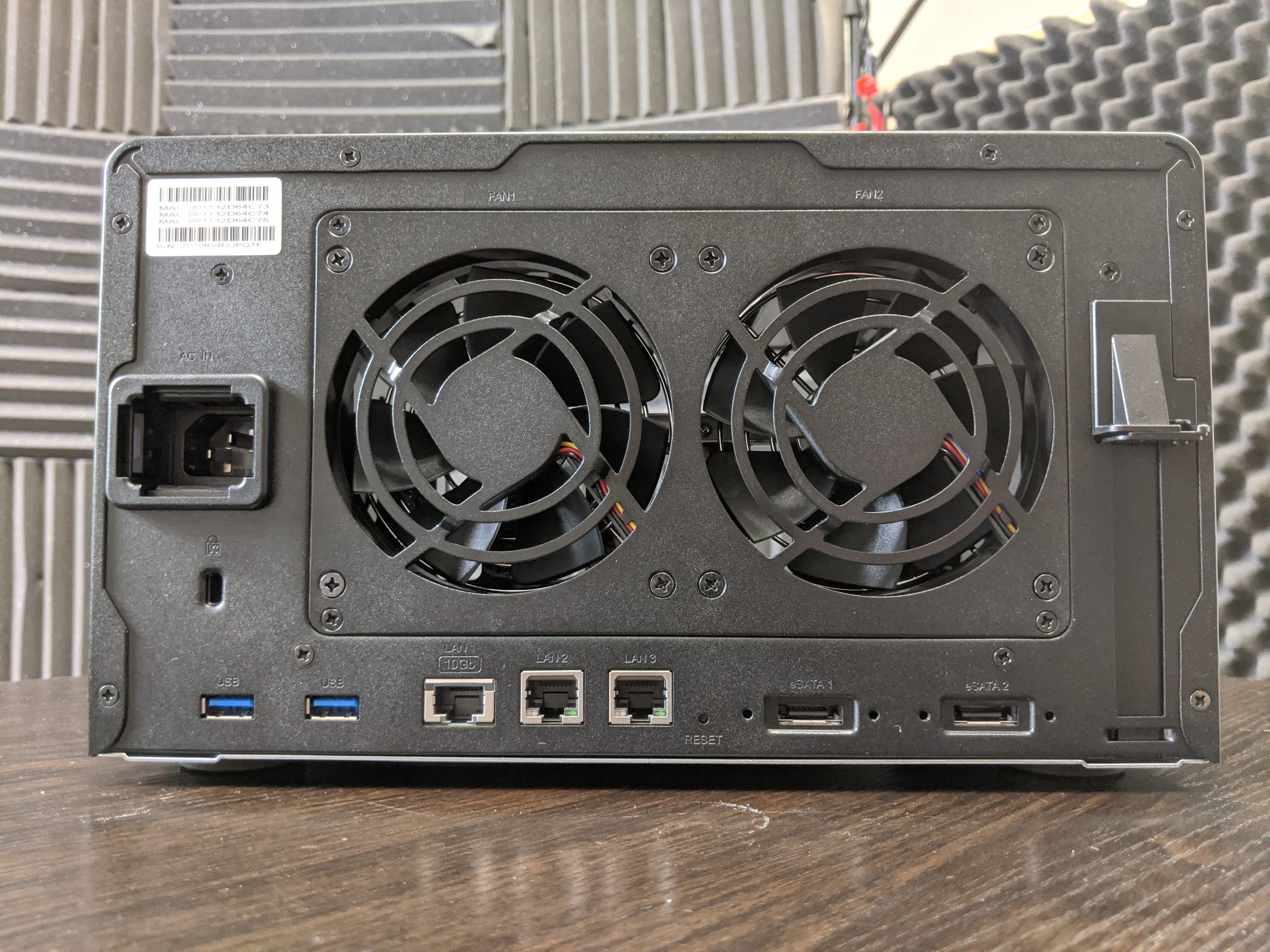 Overall, all the ports and connections of the Synology DS1621xs+ are a good mix of the familiar, yet outstanding. Let's talk about the inside of the DS1621xs+ NAS.
Synology DS1621xs+ NAS Review – Internal Hardware
As I've mentioned about 100 times now, one hugely desirable hardware factor in the DS1621xs+ NAS that will make it incredibly desirable to business users is that it features quite an impressive Xeon processor (the Intel Xeon D-1527) to keep things moving. Generally, a NAS system will rarely feature a Xeon processor below 8 bays of storage and even less likely to be featured in a desktop solution, as you will likely not be able to take advantage of the Xeon's full extent of proficiencies. That said, the DS1621xs+ does an exceptionally good job of this for such a compact solution, consuming the bulk of the available PCIe lines of this processor. Although not the newest Xeon-D CPU in the market right now, this processor has been featured on several other Synology business class NAS systems to tremendous success. Synology has a history of utilising the same CPU for a few years at a time, across multiple hardware systems in their portfolio, managing to squeeze every last drip of performance that the r&d team can an-8 out of it. Arriving with 2.2Ghz clock speed on each of its 4 cores, that can be turbo/boosted to 2.7Ghz when needed, this 12 thread processor opens the door to alot of high-speed file processes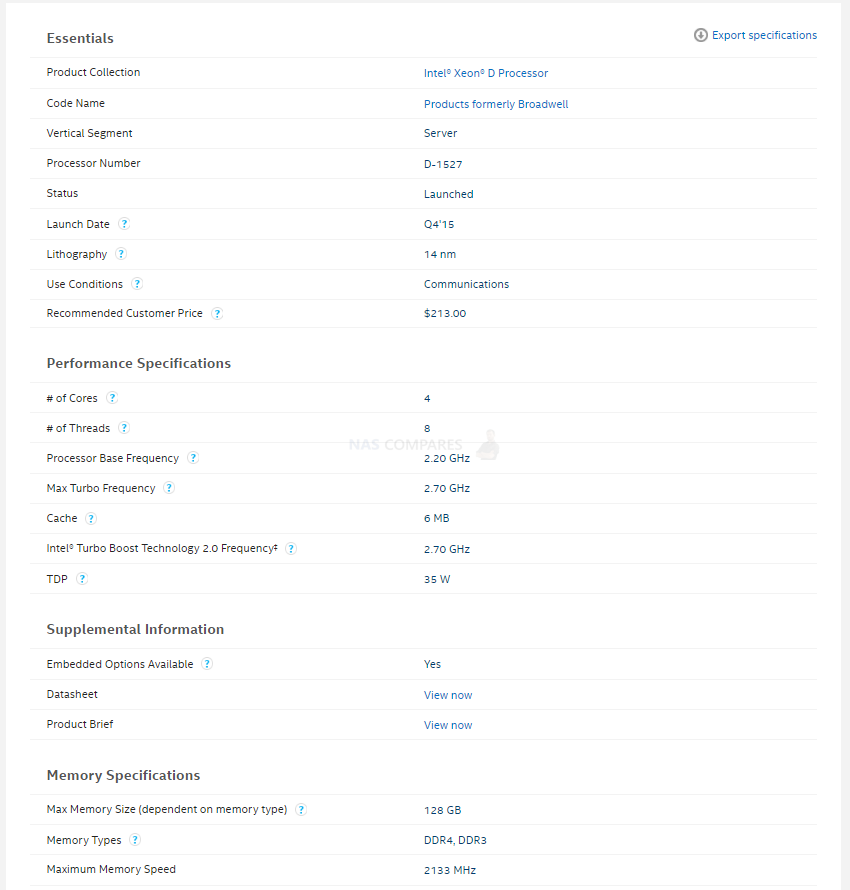 Intel Xeon processors have fast become the go-to choice of CPU for business class servers because, although so they rarely arrived with embedded graphics support, they produce consistently high read and write performance on even lower-tier storage media. They also provide fantastic support of virtual machine and AI optimised systems that require exceptionally low latency. This CPU also arrives with impressively high support in terms of memory on your server too.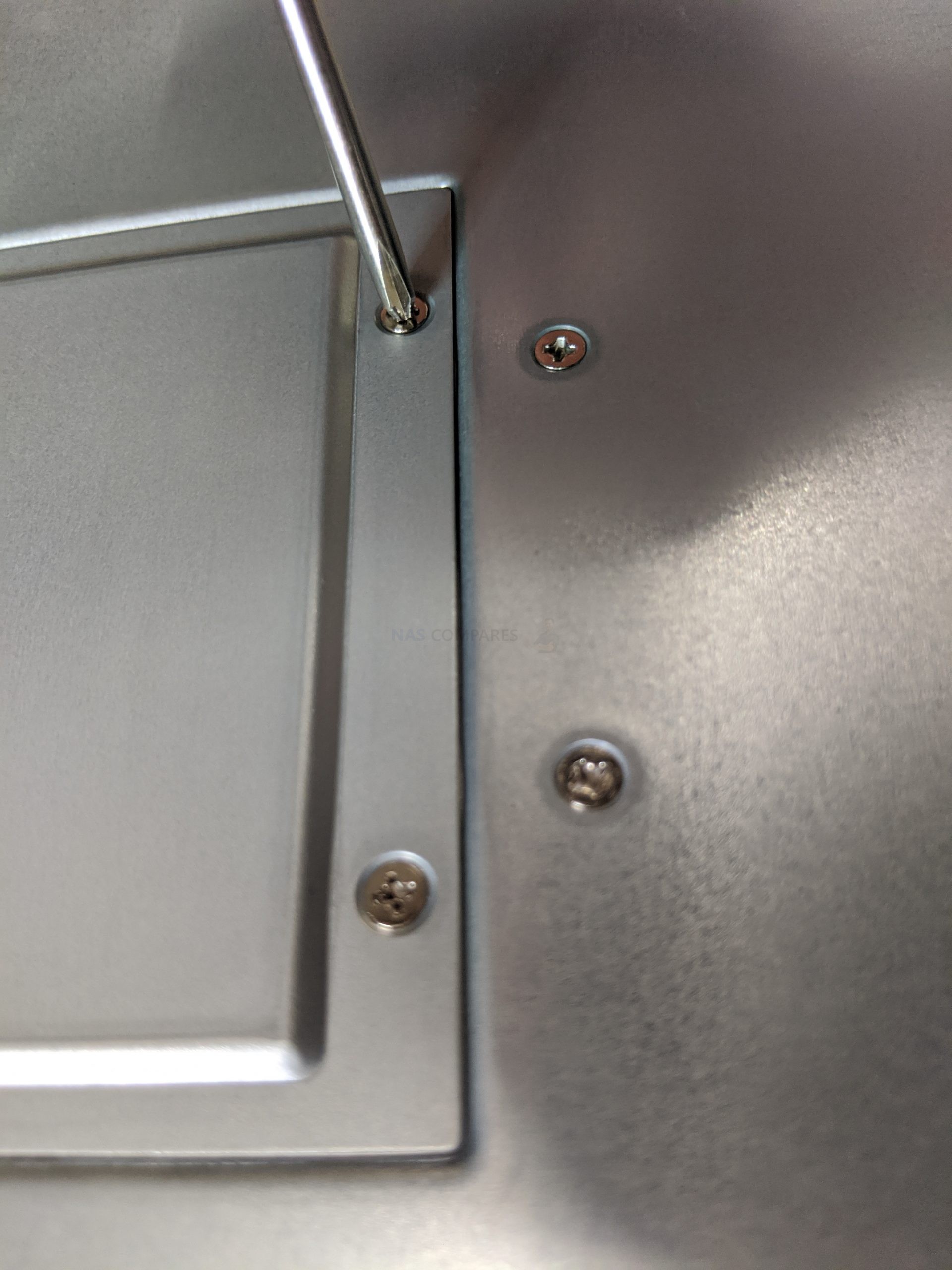 The Synology DS1621xs+, thanks to that processor, supports ECC (error code correction) memory and arrives with 2666Mhz 8GB by default, supporting up to 32GB across two slots. That is a lot of memory to assign to multiple VMs, to support many surveillance cameras and ultimately support numerous users and apps at any given time. It is worth highlighting that this processor can support up to 128GB of memory, but both the hardware architecture and chipset of the DS1621xs+ do not allow this to be possible.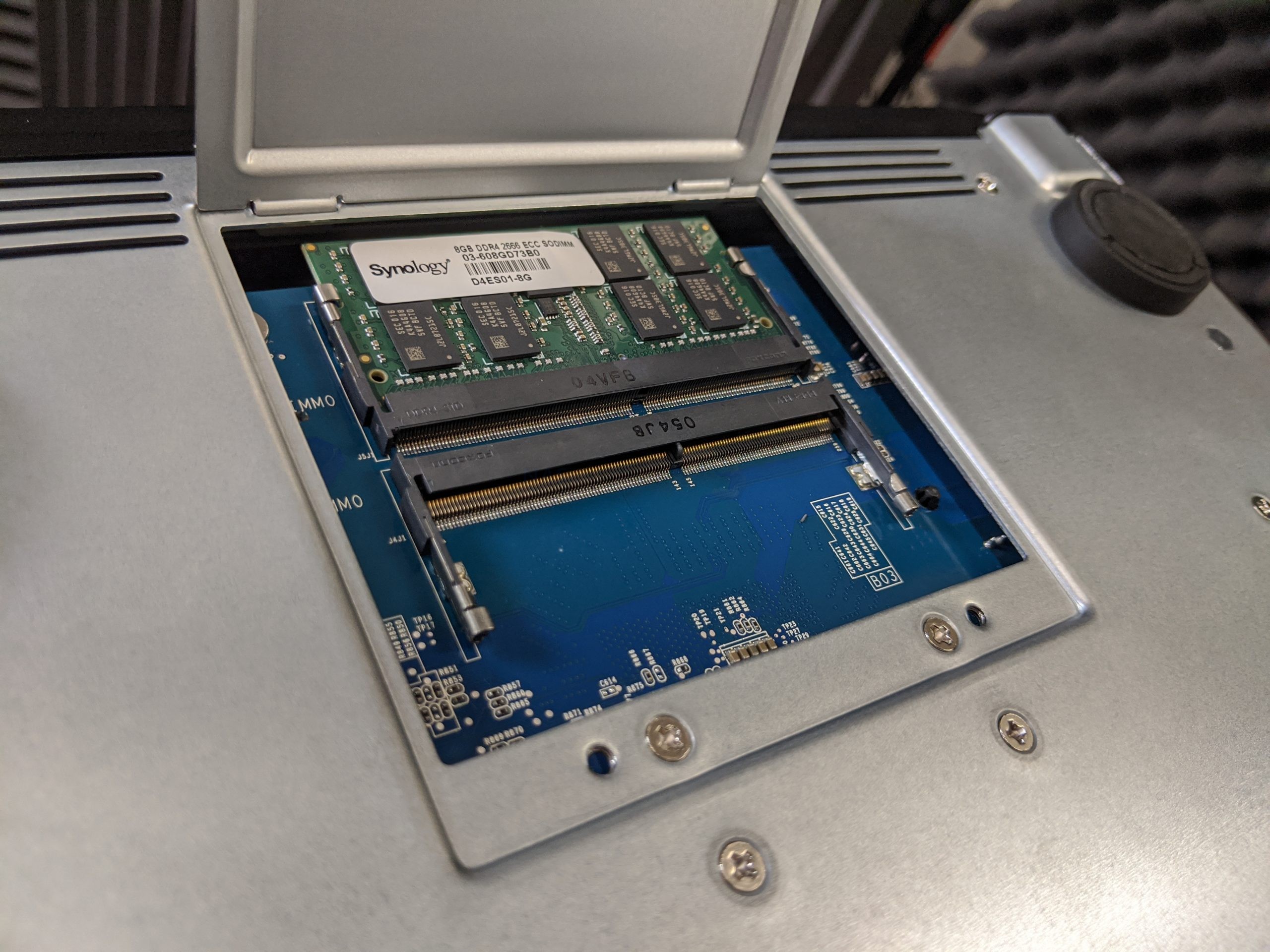 Much like other Synology NAS systems, the DS1621xs+ needs to be used with official Synology NAS memory, as Synology has not tested unsupported memory modules or capacities. Therefore it may limit or invalidate your 5-years hardware warranty support with the DS1621xs+ if you go with a Kingston or Crucial module. The two memory bays are SODIMM in architecture and are located on the base of the device, as opposed to being located inside the SATA media bay area where they are traditionally found on other Synology diskstation.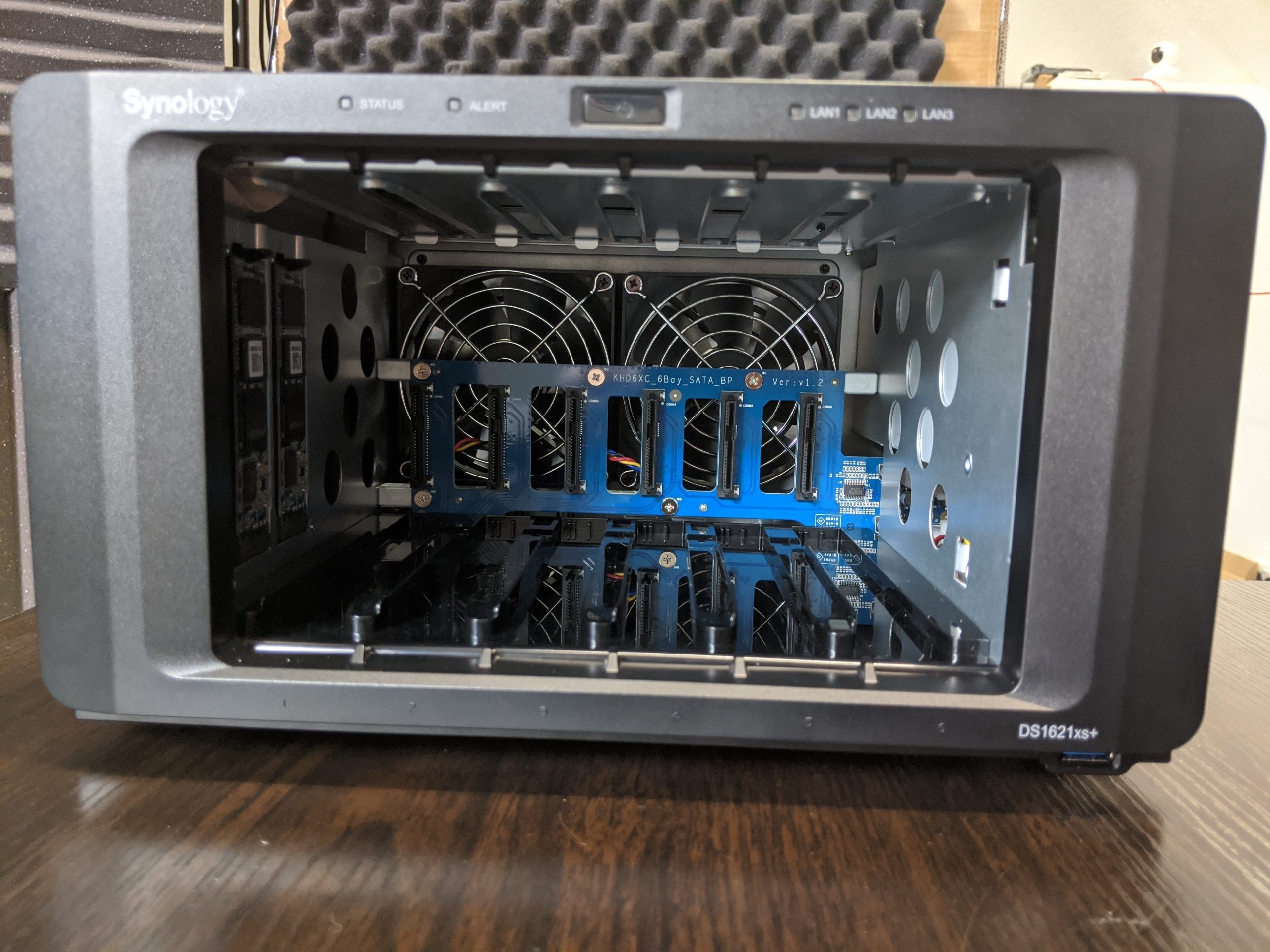 Once you remove each of the main media bays, you get a clear look at the internal SATA connectors inside. Behind them, you can see both of the active cooling fans so they can draw air over the internal media and ensure they maintain an optimal performance temperature.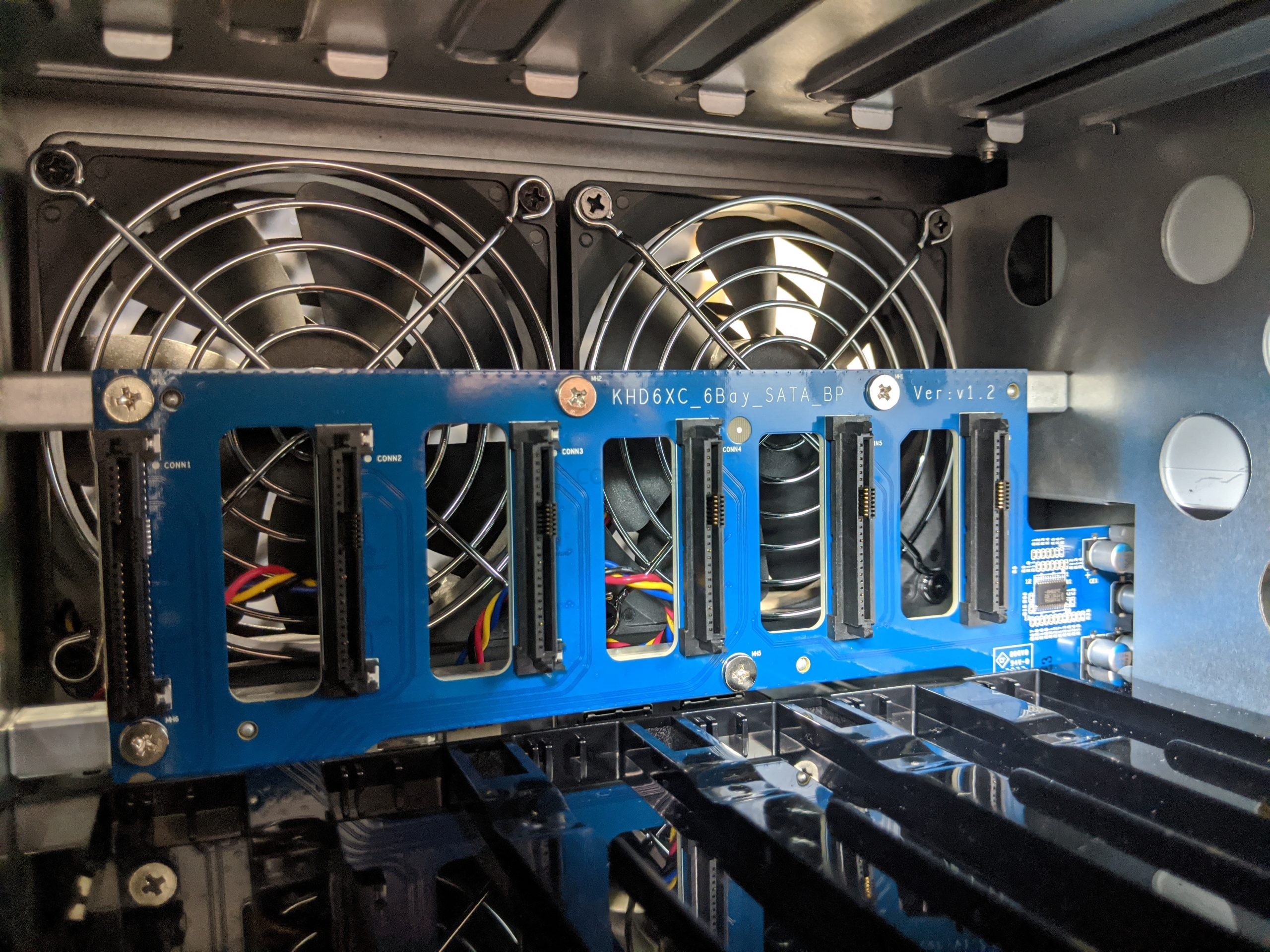 As mentioned, the system can operate with even a single hard drive inside, though obviously the DS1621xs+ is designed for full population.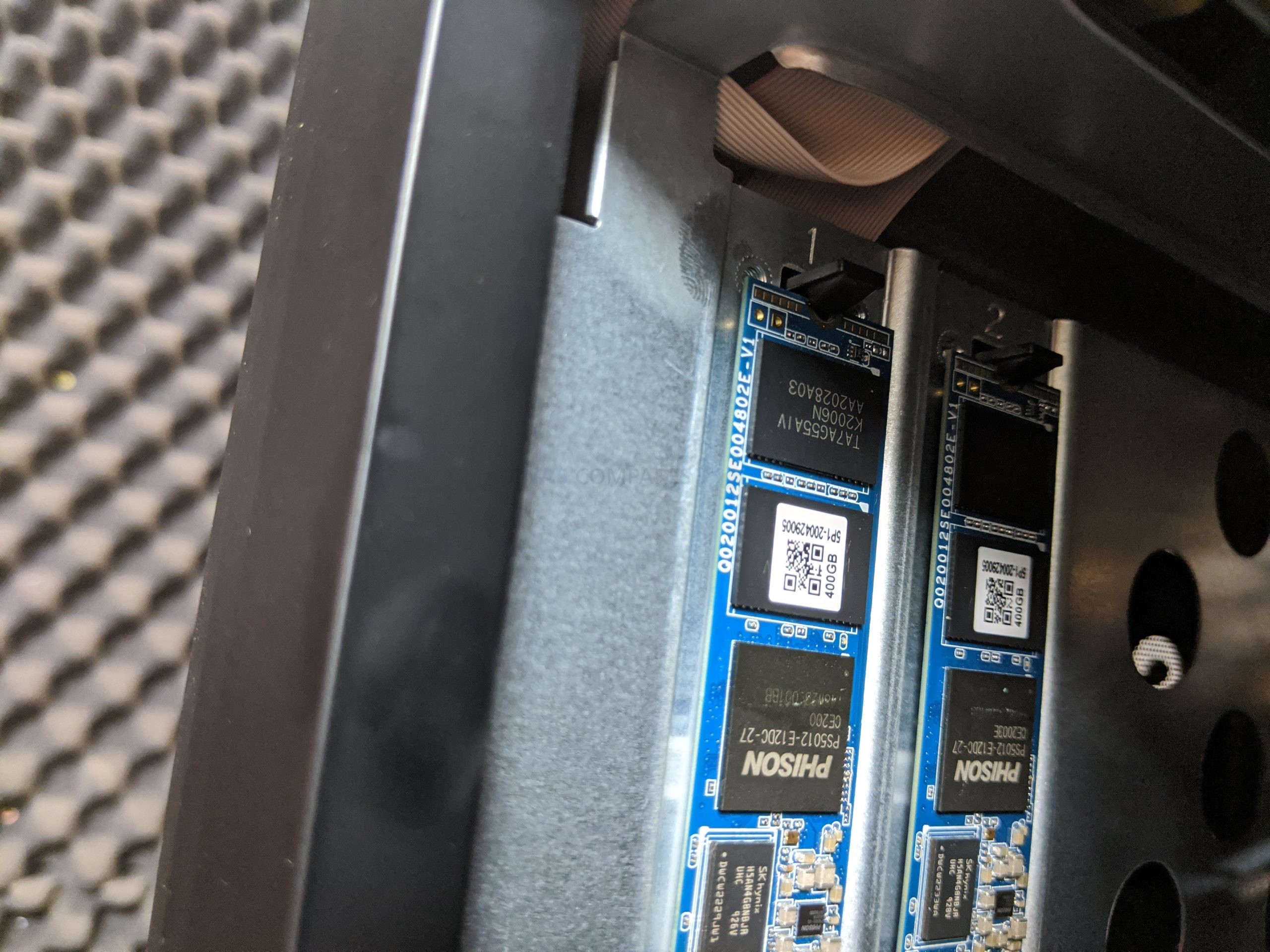 In the spot where traditionally most diskstation NAS devices feature the memory bays, we find the two dedicated M2 NVMe SSD caching bays. Each slot is a PCIe Gen3 x4 type slot and can be populated by pretty much any modern NVMe SSD. That said, Synology does monitor their compatibility lists quite often and it never hurts to double-check their own support lists to ensure that you are using appropriate media inside your device.
Needless to say, Synology would quite like it if you used their own range of SSDs in these bays, the SNV3400 series. I have tested this device with both the Synology official SSD and the Seagate ironwolf 510 SSDs and both worked absolutely fine. The SSD that are installed in these bays do not require any screws for installation and are held in place by clips located on the bay's themselves.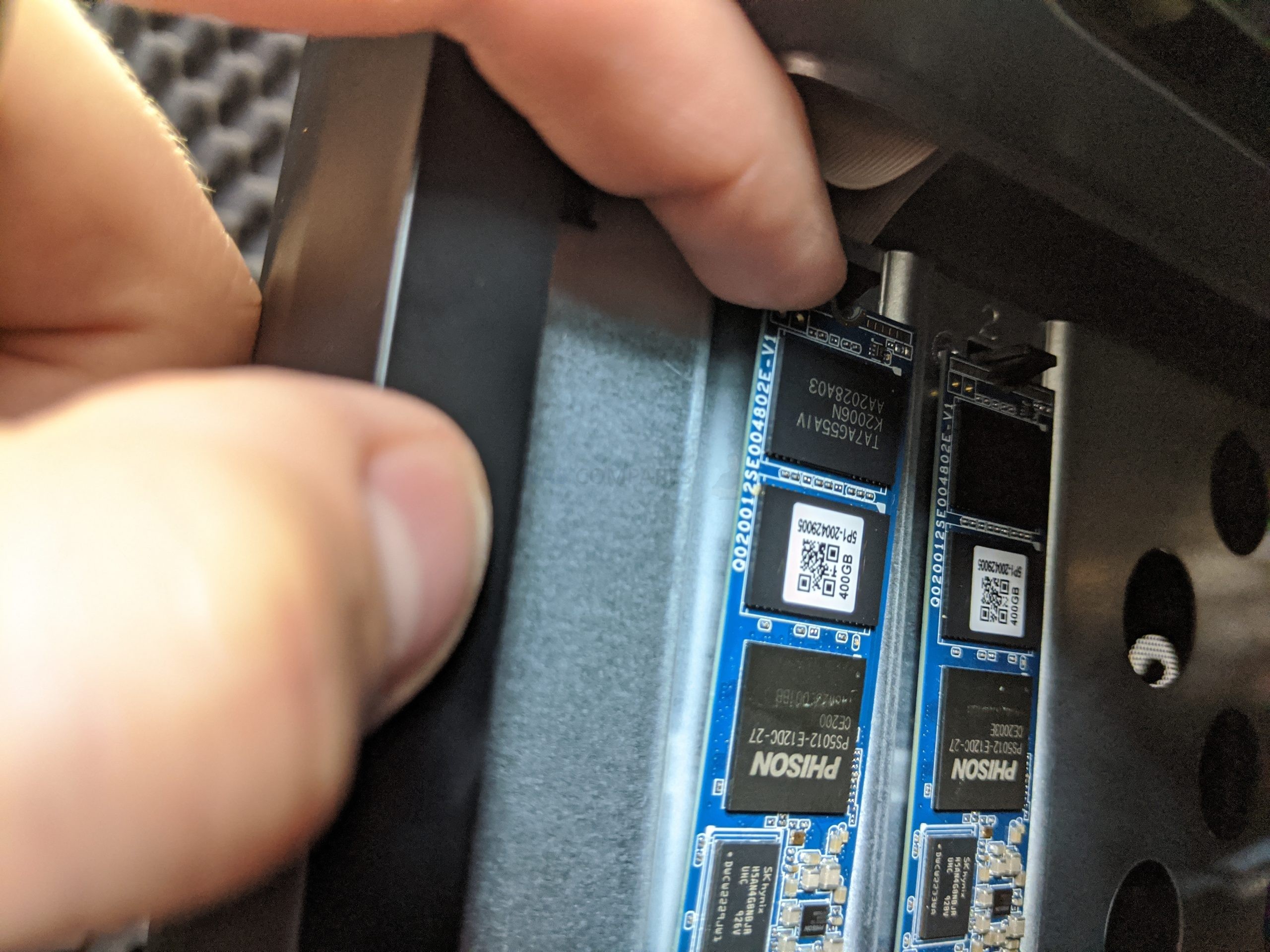 Synology has been remarkably enthusiastic about the utility of NVMe in their brand new 2020/2021 series of diskstation devices and this is further enforced in the upcoming DSM 7.0 beta at the end of the year, with further improvements of system performance with the benefit of SSD caching. SSD caching largely of most benefit to storage users with considerable numbers of smaller files to work through on a regular basis, frequently accessed common files and files that have copious metadata surrounded architecture.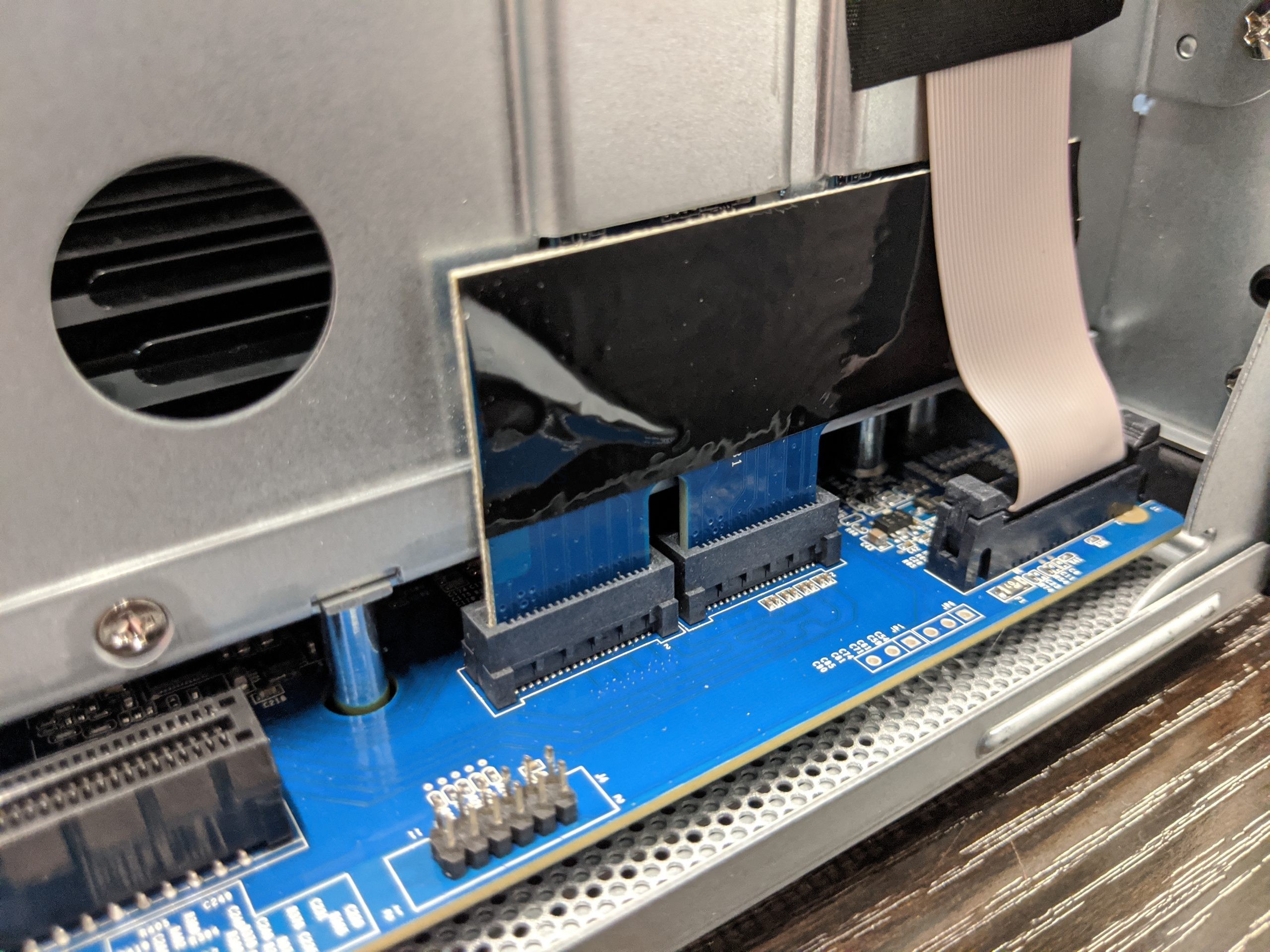 So, for example, big 4K video files and large disc image ISO will feel almost no benefit from SSD caching on a storage level (but once deployed, that's a different story), however large photo collections with thumbnails, duplicated virtual machines and large multi-access databases from a shared drive environment will certainly see performance improvements as the cache burns in and learns which files the uses would see advantages. Ultimately, the use of SSD caching is to allow the NAS users to leverage the high IOPS and general greater performance of two SSDs to benefit the larger array of slower, but larger capacity, hard drives in the RAID. Let's see how you would utilise this device in practice.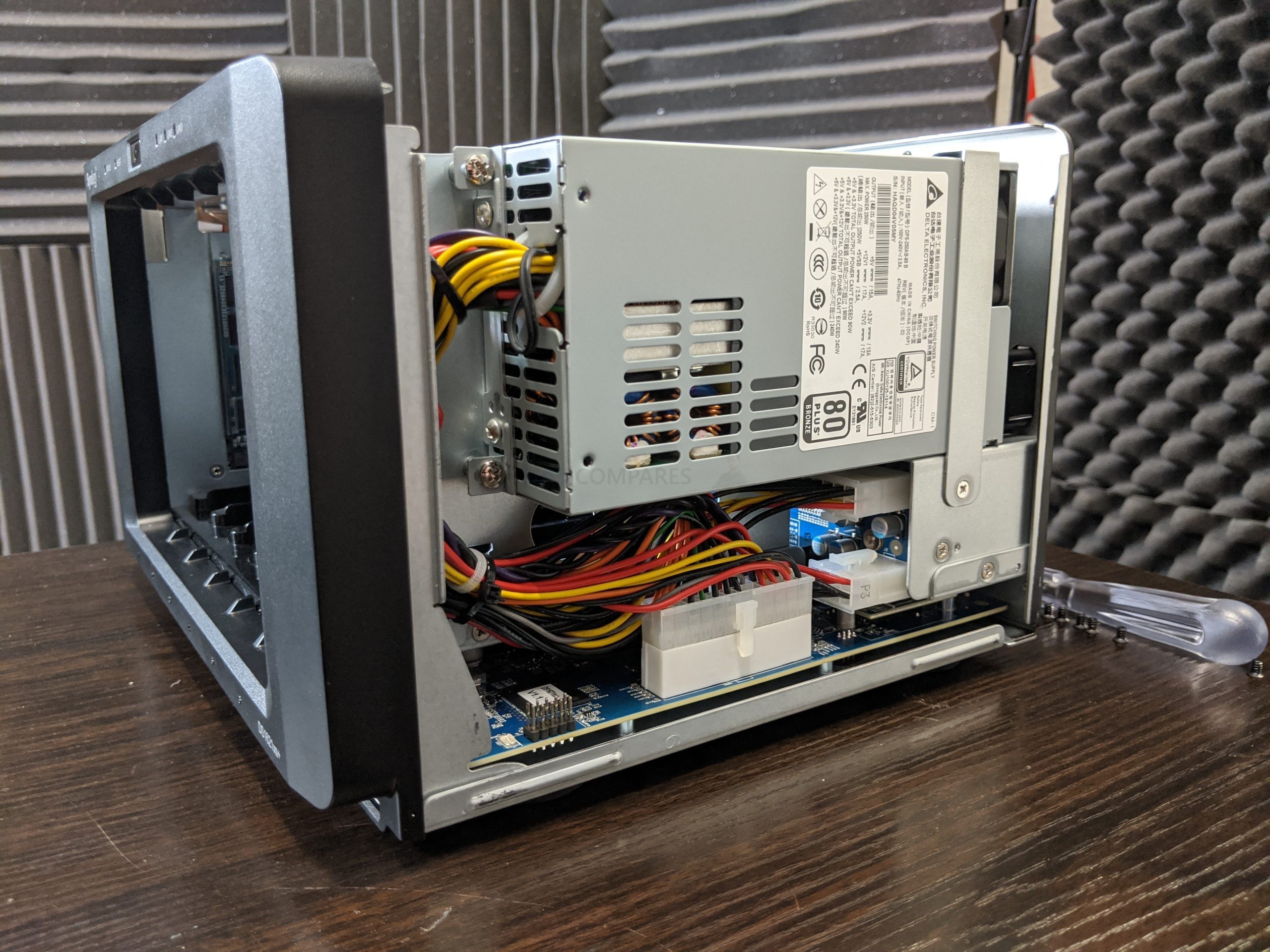 Synology DS1621xs+ NAS Review – Software
The Synology range of NAS devices all features the same software, in DSM 6.2. What separates them is the extent to which it can run the software, both in terms of which applications and to what extent. This is often governed by the memory and CPU inside and the DS1621xs+ NAS is no exception. If you currently own a DS3617xs+ NAS from Synology, then chances are that the Synology DS1621xs+ NAS will have little or nothing that you have not seen before. Featuring a similar (if greater gen) CPU in the Intel Xeon, this quad-core processor in the DS1621xs+ does not present a massive upgrade to you. in terms of scaling between the new and older device. However, for those looking for a robust storage NAS with RAID coverage and internal hardware that will stand the test of time, the newer NAS represents a great starting block for your network-attached storage system and in a straight comparison, wins in almost every way.  It unsurprisingly arrives with all the software advantages available on a modern NAS, thanks to the DiskStation Manager (DSM) platform currently in version 6.2.2 and DSM 7.0 soon to be available towards the end of the year. The DS1621xs+ NAS supports a multitude of first-party applications and third-party apps for home and business use, such as:
First Party Applications included with your NAS system
Synology Office (Docs, xls, PDF, etc – Alternative to Google Docs)
Synology Chat (Alternative to Skype for internal User Conversation/Collaboration + mobile app)
Synology Drive (alternative to DropBox/Google Drive with 1-point access to all file types for Mobile and Desktop, as well as intelligent localized sync)
Synology Moments (Photo Sorting and Tagging system with Deep Learning)
Synology Calendar (Smart Calendar App, can be used in conjunction with other apps)
Synology Active Backup (Manage Multiple Server/PC backups via a single control point)
Synology Surveillance Station (Enterprise-grade CCTV / NVR software that is included with your Synology NAS)
Synology Virtual Machine Manager (setup and manage multiple VMs on your NAS)
Synology High Availability (for Syncing Synology NAS and having instant failover support to ensure constant connectivity)
Synology Cloud Station (multi-client internet sync tool)
Synology CMS (manage multiple Synology NAS equipped sites from a single dashboard)
Synology Multimedia Apps (Video Station, Photo Station, Music Station, File Station, etc)
MANY more, as well as
Third Part App Support in:
Google Drive, DropBox, Elephant Drive and other cloud migration tools
Docker for virtual application environments
Nakivo Backups, 
WordPress Site Hosting and numerous 3rd party
 CRM for Business
The DSM platform has evolved a great deal over the last few years and has become practically an entire reason to buy a Synology NAS on its own. You can, of course, try out the Synology DSM software platform before investing in a NAS, by visiting the link below and trying DSM 6.2 for yourself:

A full software review of the DSM 6.2 platform on the DS1621xs+ NAS is currently in process and I hope to have this to you here on the blog very soon or on the YouTube channel in due course. Stay tuned.
Synology DS1621xs+ NAS Review – Conclusion
It is fair to say that the Synology DS1621xs+ NAS makes a bold statement in what it is bringing to the table. Synology has been a brand that up until a few years ago traded significantly more on its software than it does on its hardware. Devices like the DS1621xs+ go a long way to dispel this myth in 2020/2021 and what we find here is an exceptionally well-equipped desktop NAS system. Obviously, at this price tag, you would expect it to deliver a lot and as a combined hardware and software package, the DS1621xs+ certainly achieved this. What issues you can make with the hardware are of the DS1621xs+ are more a question of the brands own decisions on what users want in storage right now.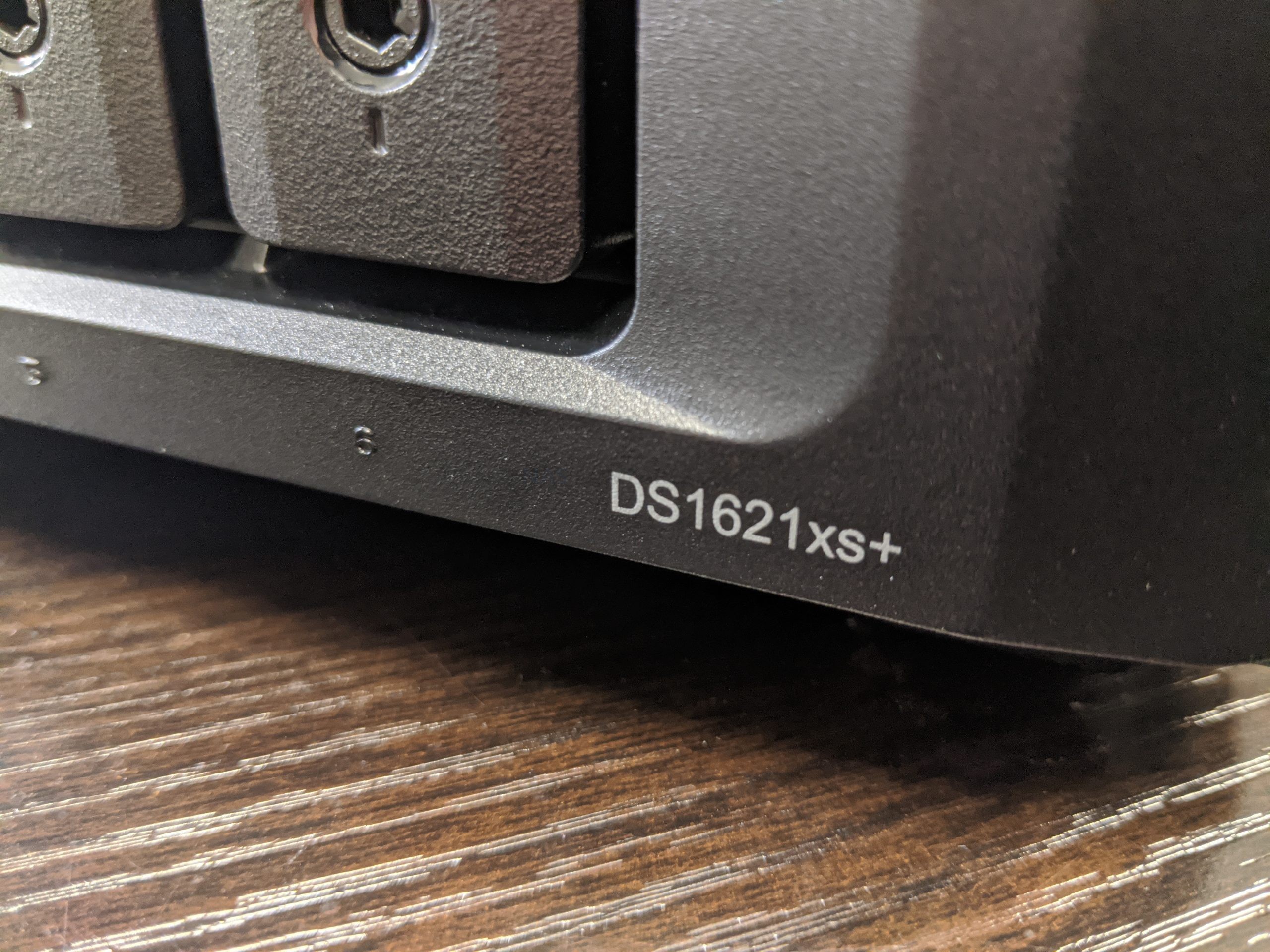 Small factors such as the NVMe bays not being accessible for RAW storage, the lack of Synology hybrid RAID and the use of CPU seen in 2017 and 2018 release hardware might put some potential buyers on the fence. But ultimately if you've committed to a desktop Synology solution because of DSM, the brand's high reputation and that spec sheet – you will genuinely struggle to find a more powerful and equipped desktop NAS from this company right now.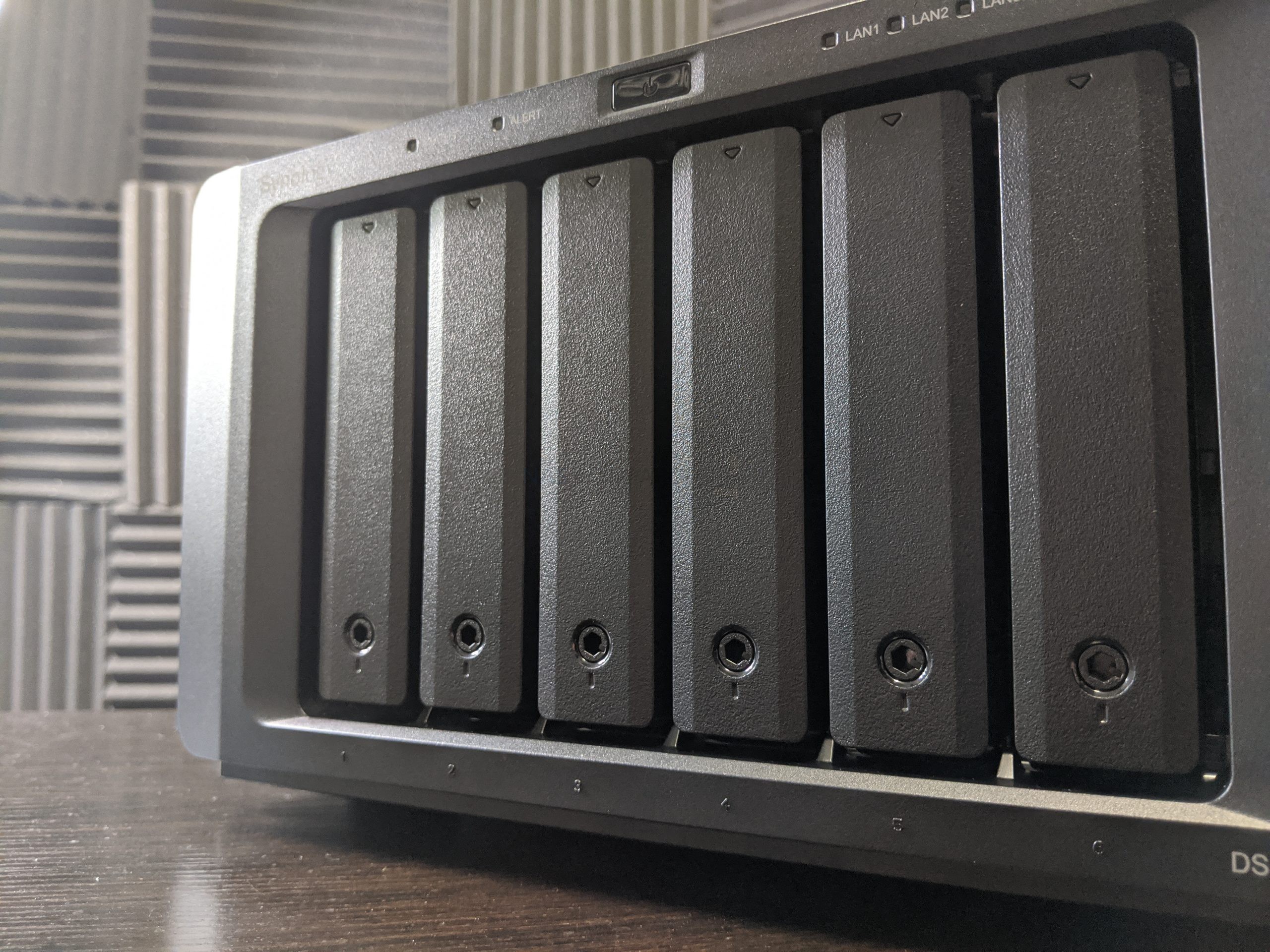 Synology DS1621xs+ PROS
Synology DS1621xs+ CONS

10Gbe Equipped!

Desktop Xeon Solution

Dual NVMe M.2 cache

PCIe Gen 3 x8 PCIe Equipped

Great RAID Options (inc RAIF F1)

Excellent choice of Apps

DDR4 ECC Memory

Numerous Backup Software Options

Huge Virtualization Support

5yr Warranty

2x 5-Bay Expandable

1Gbe Ports seem a bit unnecessary

No SHR Support

NVMe SSDs cannot be used for RAW storage
If you are thinking of buying a Synology NAS, please use the links below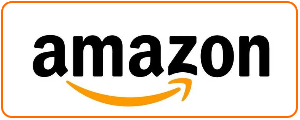 📧 LET ME KNOW ABOUT NEW POSTS 🔔
Join 1,582 other subscribers
Get an alert every time something gets added to this specific article!
This description contains links to Amazon. These links will take you to some of the products mentioned in today's content. As an Amazon Associate, I earn from qualifying purchases. Visit the NASCompares Deal Finder to find the best place to buy this device in your region, based on Service, Support and Reputation - Just Search for your NAS Drive in the Box Below
Need Advice on Data Storage from an Expert?
We want to keep the free advice on NASCompares FREE for as long as we can. Since this service started back in Jan '18, We have helped hundreds of users every month solve their storage woes, but we can only continue to do this with your support. So please do choose to buy at Amazon US and Amazon UK on the articles when buying to provide advert revenue support or to donate/support the site below.

Finally, for free advice about your setup, j
ust leave a message in the comments below here at NASCompares.com and we will get back to you.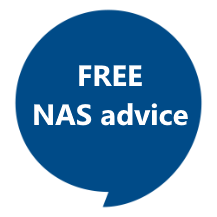 Need Help?
Where possible (and where appropriate) please provide as much information about your requirements, as then I can arrange the best answer and solution to your needs. Do not worry about your e-mail address being required, it will NOT be used in a mailing list and will NOT be used in any way other than to respond to your enquiry.
Support What We Do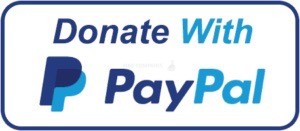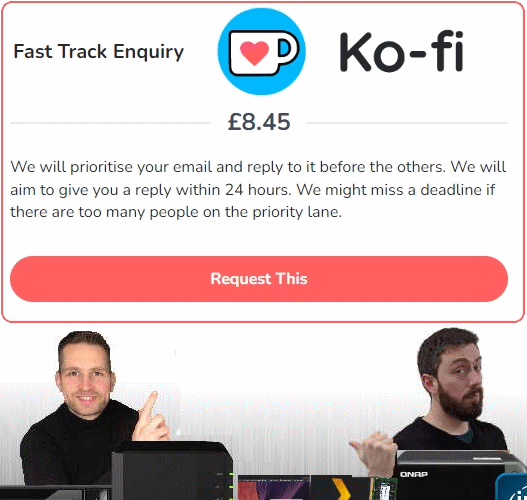 Terms and Conditions
Alternatively, why not ask me on the
ASK NASCompares forum
, by clicking the button below. This is a community hub that serves as a place that I can answer your question, chew the fat, share new release information and even get corrections posted. I will always get around to answering ALL queries, but as a one-man operation, I cannot promise speed! So by sharing your query in the
ASK NASCompares
section below, you can get a better range of solutions and suggestions, alongside my own.
Summary
Reviewer
Review Date
Reviewed Item
Synology DS1621xs+ 10Gbe NAS Review
Author Rating