The Synology DS1621xs+ NAS – 5 Reasons You Should Buy It, And 5 Reasons You Shouldn't
The brand new Synology DS1621xs+ was recently revealed and although it is not the only new NAS from the big brand in 2020, it is certainly the one that many have been waiting for the longest. Originally revealed towards the end of 2019, even before it's official release, the DS1621xs+ has had a few changes to its hardware before reaching its final form. With a hefty £1600+ price tag, yet unique hardware choices available, this new 6-Bay NAS brings a lot to the table and presents numerous pieces of hardware architecture in its desktop form that you would generally find combined in a data centre rackmount solution. But is the new DS1621xs+ from Synology right for you, is it your best foot forward in preparing a robust data storage solution and ultimately, does it deserve your data? Today I want to go through five reasons that you should buy the Synology DS1621xs+ and five reasons that you shouldn't.
Synology DS1621xs+ NAS Review – https://nascompares.com/2020/09/10/synology-ds1621xs-nas-review
Synology DS1621xs+ NAS – Five Reasons you SHOULD Buy It
The DS1621xs+ is a real standout piece of hardware, especially compared with other desktop Synology NAS solutions in 2020. Below are five reasons why I think you should buy the DS1621xs+ as your next NAS solution.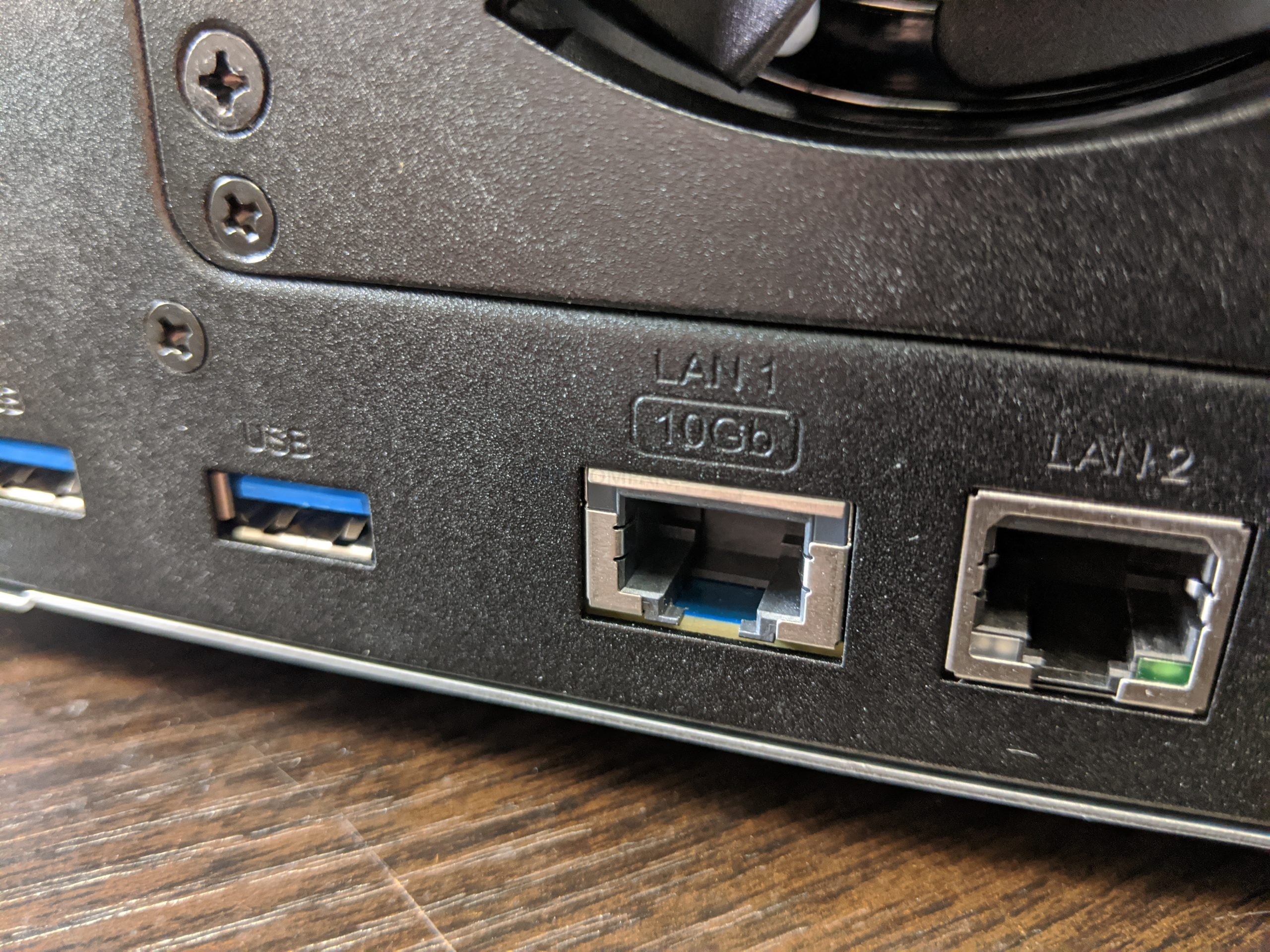 The Synology DS1621xs+ NAS Is 10Gbe
Come on! This was always going to be a highlight of the new Synology DS1621xs+. In the past, Synology has always held 10Gbe at a little bit of arm's-length with regard to the diskstation portfolio. Despite numerous rackstation solutions arriving with 10Gbe by default, there has been barely any 10Gbe desktop solutions from the brand and the DS1621xs+ hopefully represents a change of attitude by Synology on this moving forward. 10-gigabit Ethernet has become considerably more affordable as an upgrade for both home and business users, as well as Innovations from companies such as Aquantia making very affordable 10Gb network solutions possible. The previous Synology that featured 10Gbe in a desktop was the DS1817 (not the DS1817+), but it arrived with a remarkably weak CPU and this resulted in performance limitations quite early on. The 10Gbe featured on the Synology DS1621xs+, in conjunction with the CPU and memory combo that this device arrives with, should present fantastic performance in both short and long-term.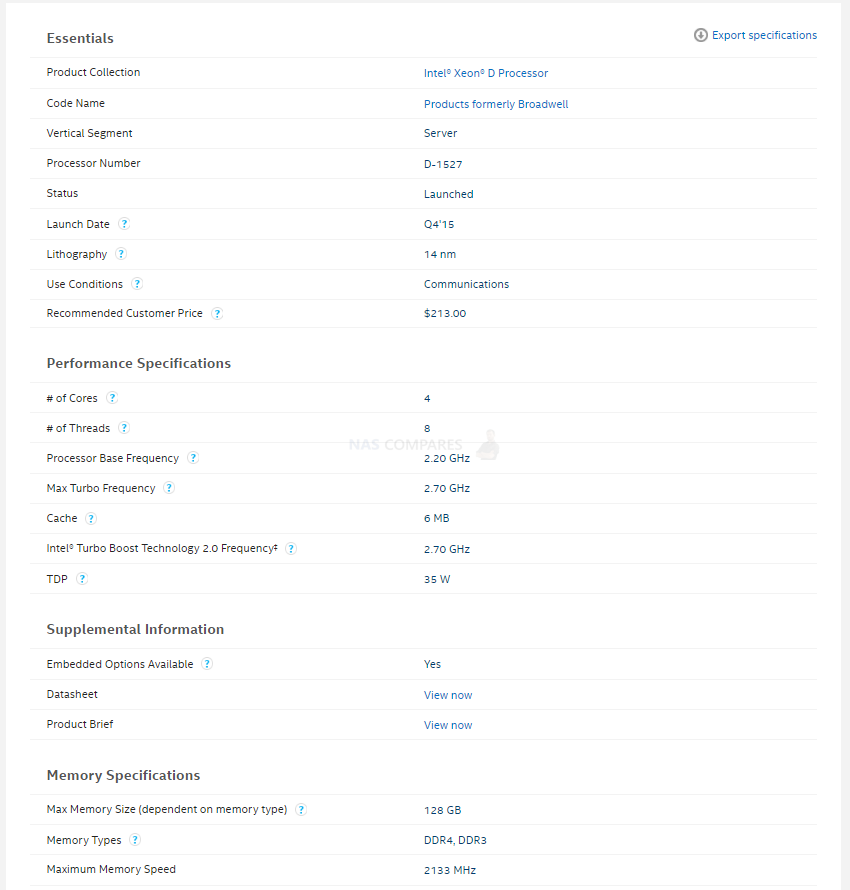 The Synology DS1621xs+ NAS Features a

Xeon CPU and ECC DDR4 memory
If the fact that this device arrives with 10Gbe external performance was not enough for you, the fact that it is both a Xeon and DDR4 ECC memory equipped device should really get your attention. Xeon has fast become the CPU of choice in the enterprise NAS industry in the last few years due to its a fantastic scaling of threads/lanes, cores across the product family line and the 24/7 efficiency present in this processor. This CPU in the DS1621xs+ in conjunction with faster DDR4 memory that features error code correction means you are going to have both a robust and exceptionally fast system to play with. Although this processor lacks any kind of embedded graphics or transcoding engine, it is still exceptionally efficient at file handling and in 2020 if you wish to run an enterprise multi VM environment or business class file handling server with alacrity, you would be hard pushed to beat the Xeon.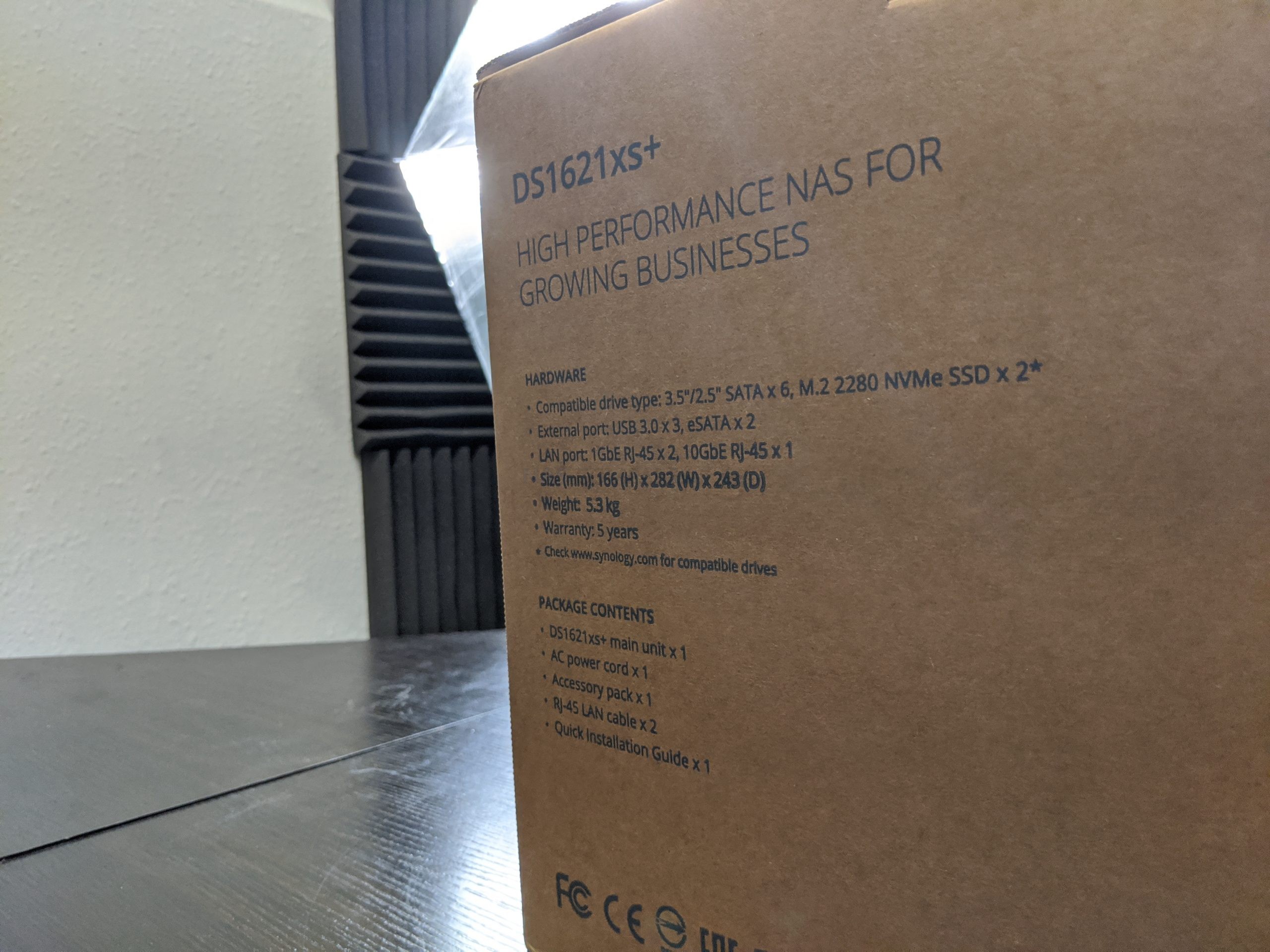 The Synology DS1621xs+ NAS Arrives with

5 Years Warranty
Because the Synology DS1621xs+ is in the high-end XS series, it benefits from numerous architecture choices that are associated with this particular product family. One particular highlight is that the DS1621xs+ features 5 years of manufacturers hardware warranty, as well as the regularly inclusive lifetime software warranty. This warranty covers the internal base hardware yeah and is not just limited to RMA replacement, so that means inclusive technical guidance and support from Synology in your local region. Generally, most NAS server providers will limit the warranty of a desktop solution to around 2-3 years, so a 5-year warranty on this somewhat modestly sized 6 bay desktop solution is pretty impressive, even at this price tag.
The Synology DS1621xs+ NAS Includes 

NVMe SSD bays
Up until recently, the majority of Synology solutions would force you to make a choice between improved external speeds and improved internal speeds, with NAS systems either limiting internal or external upgrades in the lifespan of the system. However, the Synology DS1621xs+ arrives with both the fast external speed of 10Gbe and the ability to add NVMe SSD to the existing 6 disks of hard drive storage. NVMe is considerably faster than traditional hard drives, as well as operating higher IOPs values for multiple transactions at any given time. However, they provide this at a significant premium over hard drives and with lower total capacity available. The two NVMe SSD cache bays inside the DS1621xs+ allow you to leverage the speed and performance benefits of just two NVMes and provide their advantages in caching to your larger, more affordable but slower hard drive RAID storage array. These benefits can be felt both internally with remote access applications and externally when utilising the 10Gbe connectivity on more frequently accessed directories. This is the first time we have seen NVMe present on larger diskstation devices from Synology (till now only being available in the lower tier 2/4/5 Bay Diskstation and I hope this is a trend that will continue.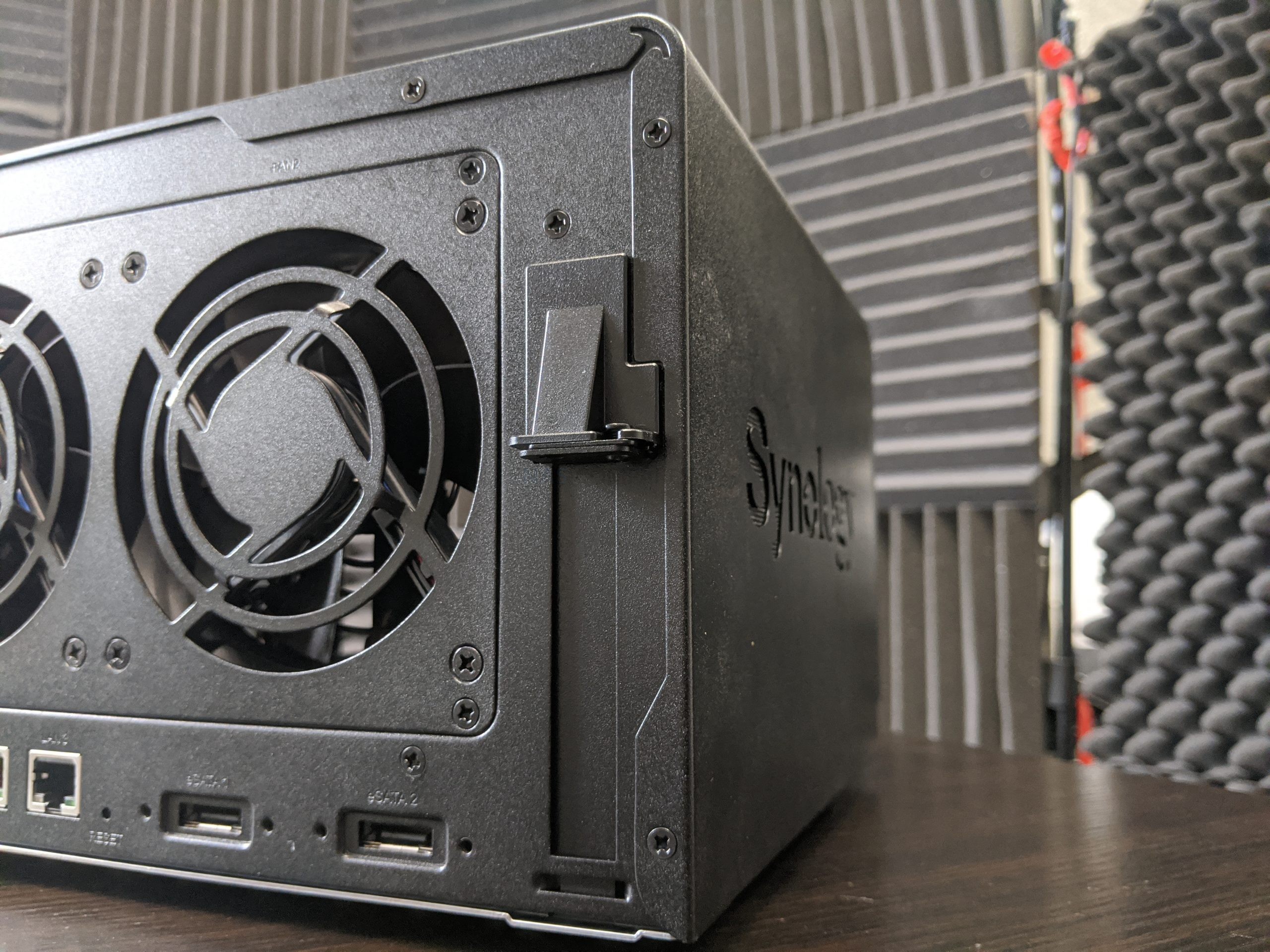 The Synology DS1621xs+ NAS Arrives with

PCIe Gen 3 x8
As mentioned earlier, the DS1621xs+ does a very good job of improving both internal and external operations speed for anyone looking to upgrade their NAS solution in the product's life span. However, it gets even better when you find out that the device also arrives with a PCIe gen 3 x 8 slot available that allows you to upgrade the NAS drive even further. There is a wide range of official Synology PCIe expansion cards that allow you to add more 10Gbe ports, more SSD bays, as well as a varied selection of third-party card from companies like Intel and Mellonex with their 20Gbe and 40Gbe network cards. Although the DS1621xs+ is not the first NAS to include PCIe upgradability in a desktop model, it is also still pleasing to know that this choice of PCIe bandwidth allows up to 8000 MB per second transmission on the PCIe lane, which means tremendous throughput potential for those network cards and even combo cards like the E10M20-T1 and their communication with the main controller board will have plenty of bandwidth to play with. In short, the DS1621xs+ arrives with some fantastic future-proofing built-in.
Synology DS1621xs+ NAS – Five Reasons you SHOULD NOT Buy It
As good as it all sounds, the DS1621xs+ is not perfect and for many, there are reasons why it will just not be suitable for their architecture, data or budget. Here are five reasons why the DS1621xs+ should not be your next NAS purchase.
The Synology DS1621xs+ NAS is Pretty Expensive
There's no avoiding it, you can't have a NAS as well equipped as the Synology DS1621xs+, whilst still having it arrive in a desktop compact chassis, with 5-years of manufacturers warranty and expected to be cheap! The DS1621xs+ is quite an expensive NAS and you will certainly need to examine your own budgets when considering investing in this NAS solution. Arriving at a similar price to some smaller rackmount chassis, you are paying a lot for quite an even 50/50 split between hardware power and base storage potential. If you are buying this device for your 3rd party software use, you may find that price point a touch high.
The NVMe in the Synology DS1621xs+ NAS Are for C

aching Only
A constant thorn in the side for most Synology NAS users, the two NVMe SSD bays featured on the DS1621xs+ do not allow their use for raw storage, only for use as caching the main hard drive storage array. Synology has been particularly adamant on this subject, making it a blanket rule across their systems to not allow the super-fast PCIe SSD to be used for general storage. In smaller 2/4 Bay Intel Celeron powered diskstation NAS, it made a bit more sense, given the more limited chipset potential they arrived with and the number of PCIe lanes that CPU can support. However the DS1621xs+ has a Xeon processor and although quite a few lanes have been dedicated to the NVMe bays, the 10Gbe and the physical PCIe expansion slot, they should still be enough availability in that Xeon CPU to get high enough speed from the NVMe to justify their utilisation as raw storage. Sadly, Synology does not agree on this to be a viable feature.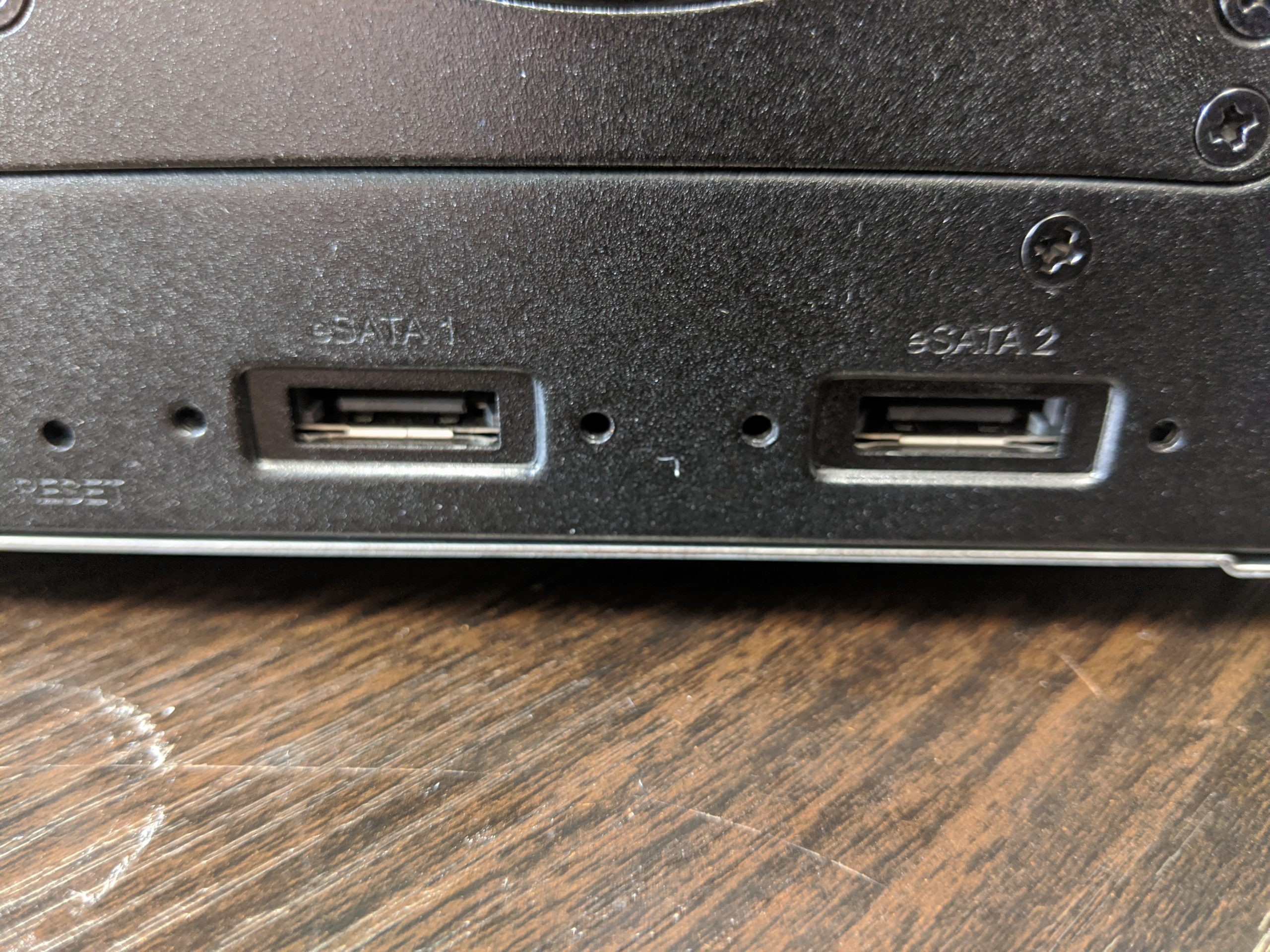 The Synology DS1621xs+ NAS does not Support the 12-Bay DX1215 Expansion
This one is more surprising that it is disappointing, but given the more enterprise-grade outlook of the brand new Synology DS1621xs+ NAS, it was odd that the system includes the ability to add two separate 5-bay expansion devices (2 x DX517) but does not support the connection of the 12 bay expansion desktop, the DX1215. Not only does the choice of two eSATA 5-bay expansion devices in the DS1621xs+ result in having to purchase two individual expansion units, with their own individual power and eSATA connection seem a bit messy by comparison, but also you end up with two less overall available storage bays than you would by connecting a single external SAS DX1215 expansion chassis. This is made even more confusing when you look at the predecessor to the DS1621xs+, the DS3018xs NAS, that supports TWO DX1215's by default. That is a really odd choice.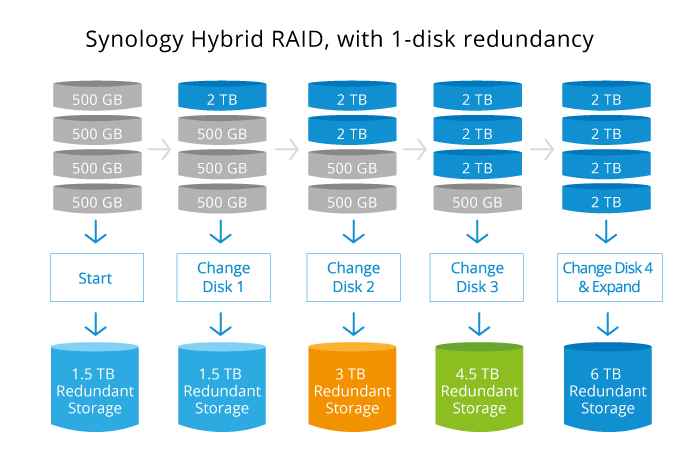 The Synology DS1621xs+ NAS does not Support Synology Hybrid RAID (SHR)
Synology has pioneered quite a few unique hardware and software developments on their NAS systems for a number of years but one that is not available on the DS1621xs+, as it is part of the whole XS series, is Synology Hybrid RAID (or SHR). Available on more mid-range NAS systems, SHR allows users to have mixed Drive capacities inside the RAID configuration and present the best possible storage possible. most platforms do not support the use of mixed drive configurations and indeed, most users would not mix the drive capacities inside their NAS on day one anyway. However, years down the line as drive capacities grow and the cost per terabyte of the average hard drive decreases, years down the line it can become desirable to mix the drive media in your system in efforts to ensure future proof storage capacity is available. It is arguably one of the core reasons why the number of users choose brands like Synology, or to a lesser extent Drobo and the BeyondRAID system). Synology state that it will always support SHR on smaller diskstation devices, but they are less keen on users using SHR/Mixed Drive architecture on more enterprise-level storage configurations such as those that utilise the DS1621xs+ NAS. Consequently, it does not arrive with support of SHR, which comes with a bit of a look below for some users.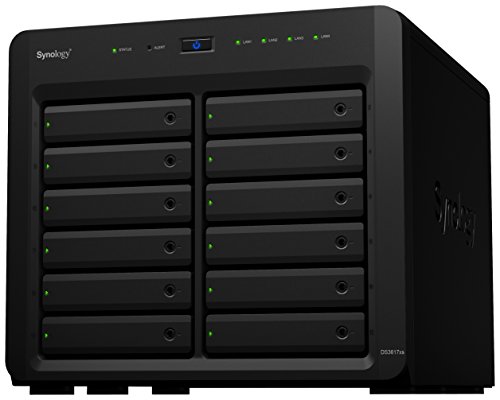 The Synology DS1621xs+ NAS is Quiet Similar to the DS3617xs++
Although there is a large degree of interesting hardware featured inside the new Synology DS1621xs+ NAS 6-bay, there is no avoiding the fact that a lot of the architecture present here has been available on other NAS' for a while. In particular, the CPU, memory and PCIe upgradability are near identical to that of the over three-and-a-half-year-old Synology DS3617xs+, which still manages to arrive with 12 bays of storage by default and can add an additional 24 bays of storage with two expansion devices. Yes the 12-bay does not feature NVMe or 10Gbe, but these can be added with the inclusion of the combo card (E10M20-T1) and in fact the price difference between might well seem high at around £700-800 difference, but you do not need to fully populate the DS3617xs+ in day one. So more storage focused buyers may see value in buying the much older and possibly soon-to-be bargain friendly DS3617xs+ over the DS1621xs+ NAS.
And there you have it, 5 reasons you should and should not buy the brand new DS1621xs+ NAS in 2020. Synology has revealed a lot of quality solutions in the last few months and the DS1621xs+ will not be the last one. Remember to subscribe or follow the YouTube channel to stay abreast of everything new in the world of network-attached storage.
📧 LET ME KNOW ABOUT NEW POSTS 🔔
Join 1,410 other subscribers
Get an alert every time something gets added to this specific article!
This description contains links to Amazon. These links will take you to some of the products mentioned in today's content. As an Amazon Associate, I earn from qualifying purchases. Visit the NASCompares Deal Finder to find the best place to buy this device in your region, based on Service, Support and Reputation - Just Search for your NAS Drive in the Box Below
Need Advice on Data Storage from an Expert?
We want to keep the free advice on NASCompares FREE for as long as we can. Since this service started back in Jan '18, We have helped hundreds of users every month solve their storage woes, but we can only continue to do this with your support. So please do choose to buy at Amazon US and Amazon UK on the articles when buying to provide advert revenue support or to donate/support the site below.

Finally, for free advice about your setup, j
ust leave a message in the comments below here at NASCompares.com and we will get back to you.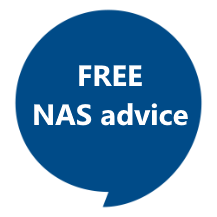 Need Help?
Where possible (and where appropriate) please provide as much information about your requirements, as then I can arrange the best answer and solution to your needs. Do not worry about your e-mail address being required, it will NOT be used in a mailing list and will NOT be used in any way other than to respond to your enquiry.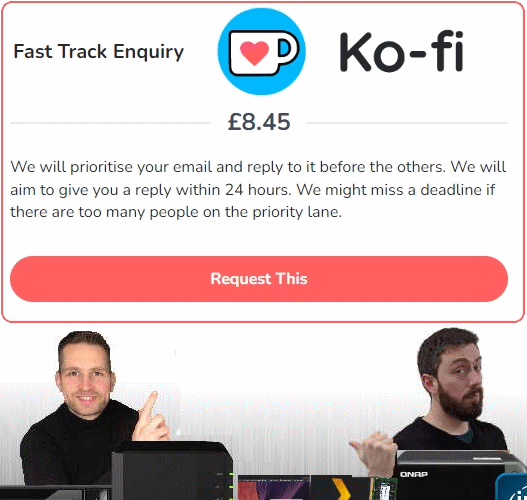 Terms and Conditions
Alternatively, why not ask me on the
ASK NASCompares forum
, by clicking the button below. This is a community hub that serves as a place that I can answer your question, chew the fat, share new release information and even get corrections posted. I will always get around to answering ALL queries, but as a one-man operation, I cannot promise speed! So by sharing your query in the
ASK NASCompares
section below, you can get a better range of solutions and suggestions, alongside my own.