Should You Buy the QNAP QXP-W6-AX200 WiFi 6 Upgrade Card
It took a long time, but I think the hardware development sectors and industry, in general, have all got behind the idea of WiFi 6 (aka 802.11ax or WiFiAX). Traditional WiFi as we know it has been around for quite a while, with practically all of the recent innovations over the last few years providing relatively small jumps in speed in each iteration in a 1-to-1 sense, but rather providing greatly data packet handling, security and range. WiFi 6 (and to a greater degree WiFi 6E next year with any luck more widely) provide a much larger jump in speed and packet exchange than any of the attempts at other 802.11a/c/n seen before and with more client device wifi network devices (iPhones, Samsung Galaxy handsets, laptops premium gaming routers and even a few ISP routers too) jumping on board, it is great to see that QNAP (generally regarded as the hardware innovators of the NAS industry) has released the new QXP-W6-AX200 WiFi 6 Card. This new PCIe Upgrade card allows you to connect with your NAS and it's data at up to 2.4Gbps (2.4x that of traditional RJ45 LAN ethernet cables) with your WiFi 6 enabled device. Alternatively, you can install the card in a PC for an improved wifi connection AND Bluetooth 5. Arriving at £50, this rather affordable upgrade purports to allow you to communicate with your NAS wirelessly at up to 240MB/s. Let's take a closer look at this card.
QNAP QXP-W6-AX200 WiFi 6 Card Review – Packaging & Accessories
The very first thing that struck me about the QNAP QXP-W6-AX200 WiFi 6 upgrade card is that it is clearly not a QNAP 1st party product. This is not unusual in the world of NAS, when a brand will rely on a 3rd party to produce an accessory for their NAS systems, as the time and cost of researching a new product are often much higher than extensively testing a 3rd party product. Still, I am surprised that QNAP (with an already extensive range of PCIe Upgrade cards and adapters in the QXG, QNA and QM2 series have the original manufacturers packaging so prominent.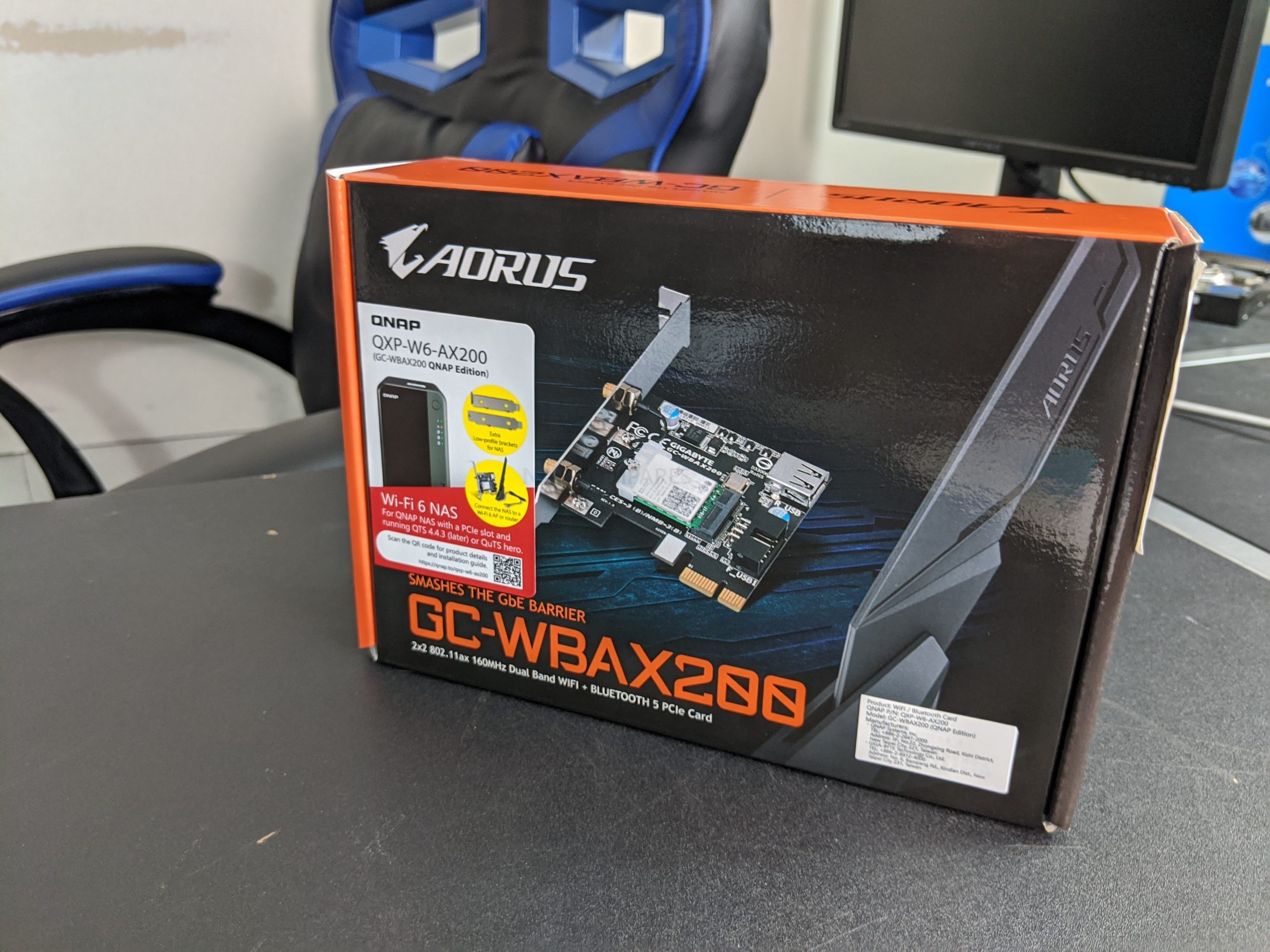 The retail box certainly shows that it is handled and tested by QNAP on their range of NAS solutions, as indicated by the labels and QNAP ID on the front.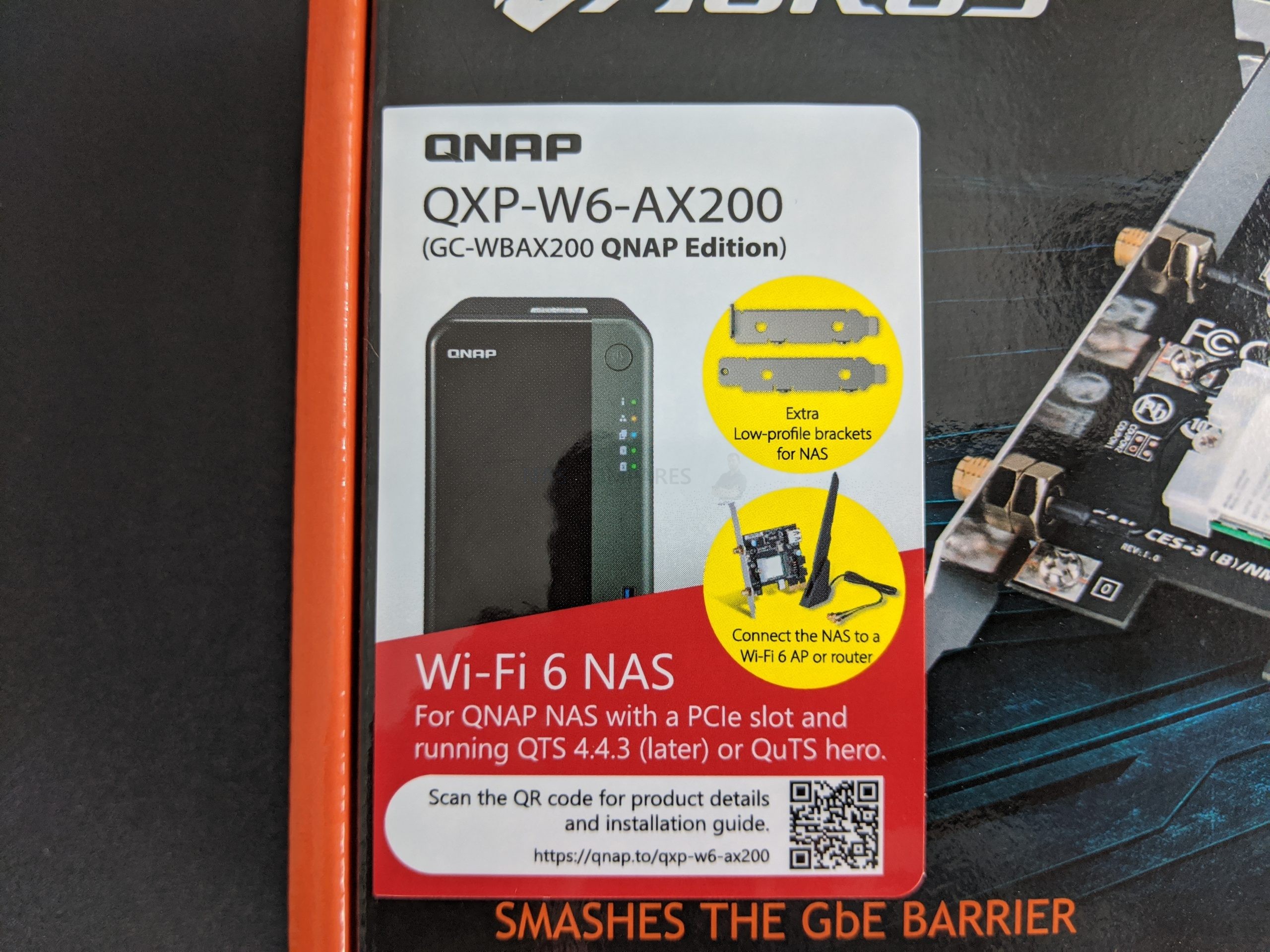 This is pretty clearly an upgrade card for a motherboard, but then ultimately that is not a bad thing. This upgrade, which is supported by both NAS and PC systems, does not need a huge amount of information at the point of sale.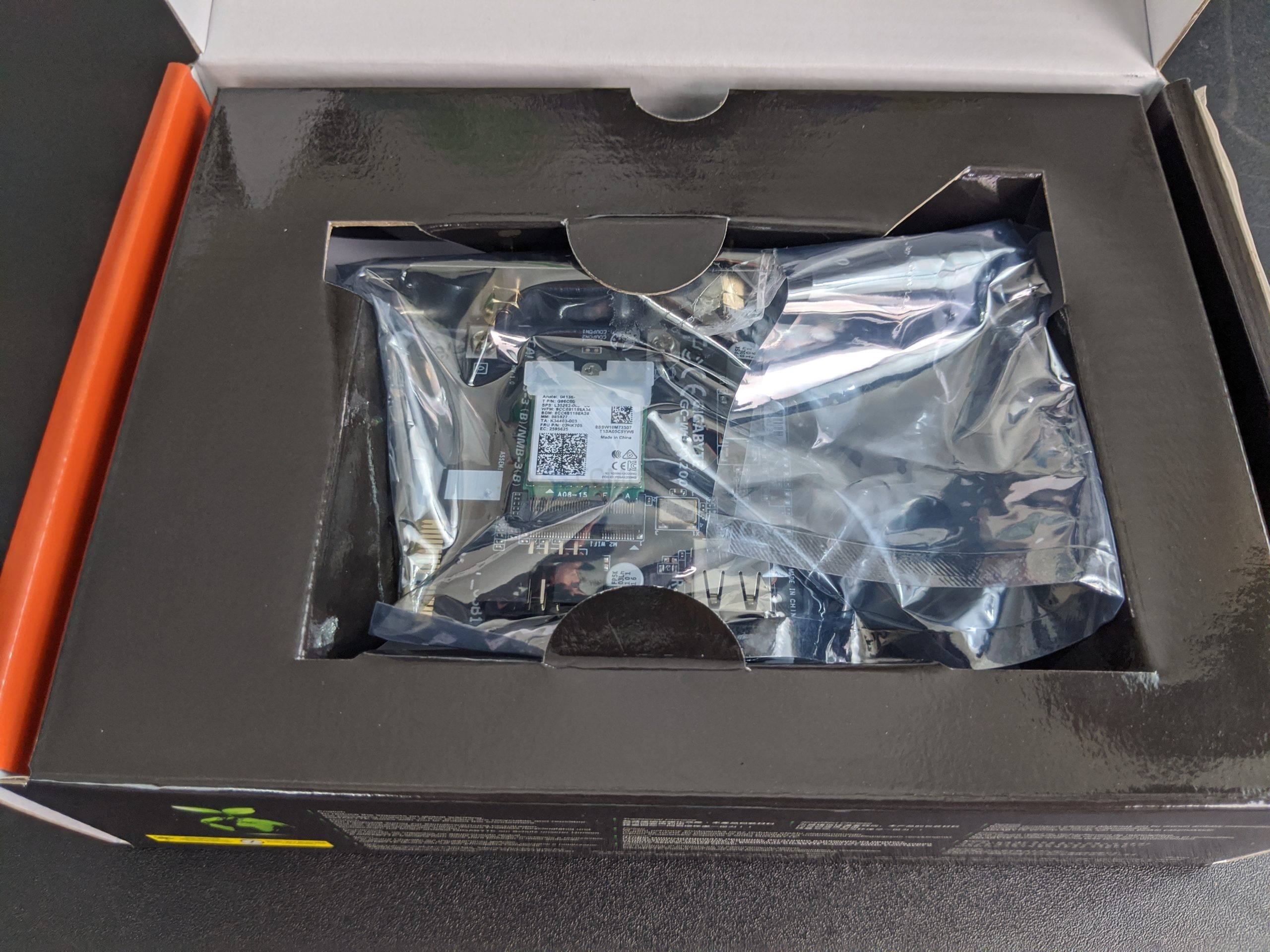 Opening the box immediately shows us the sealed QXP-W6-AX200 WiFi 6 Card. Along with this, there are several accessories available.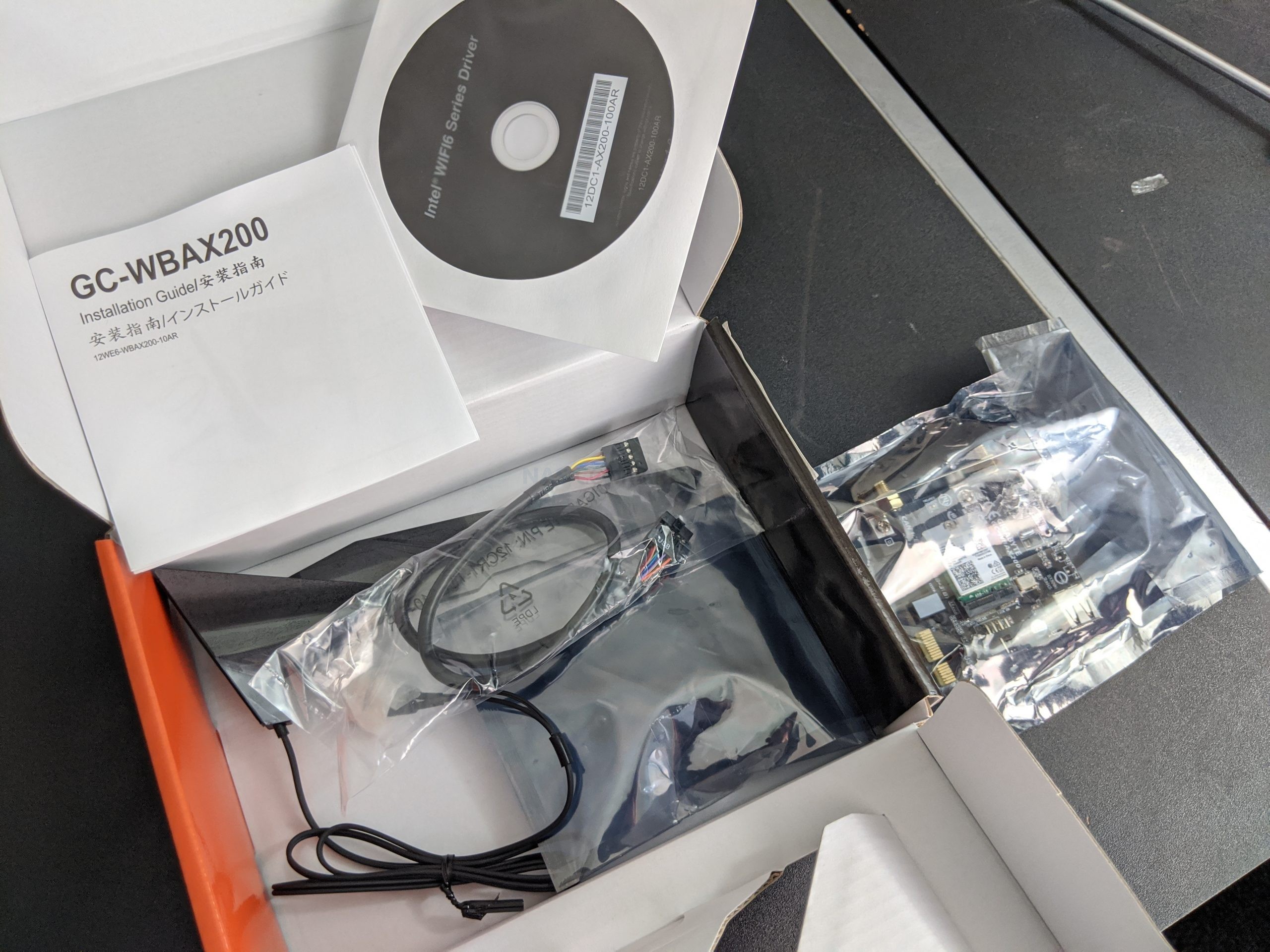 Included with the card we find:
Dual-band external 2.4GHz/ 5GHz antennae
1 x installation guide
2 x half-height low-profile brackets (flat and standard, with a full-height adapter already on the card)
Windows 10 driver CD
Motherboard data connector
The CD and Motherboard connector are largely useless to NAS users (as QNAP NAS will only need you to install in the available PCIe slot and the drivers are included in the latest version of QuTS.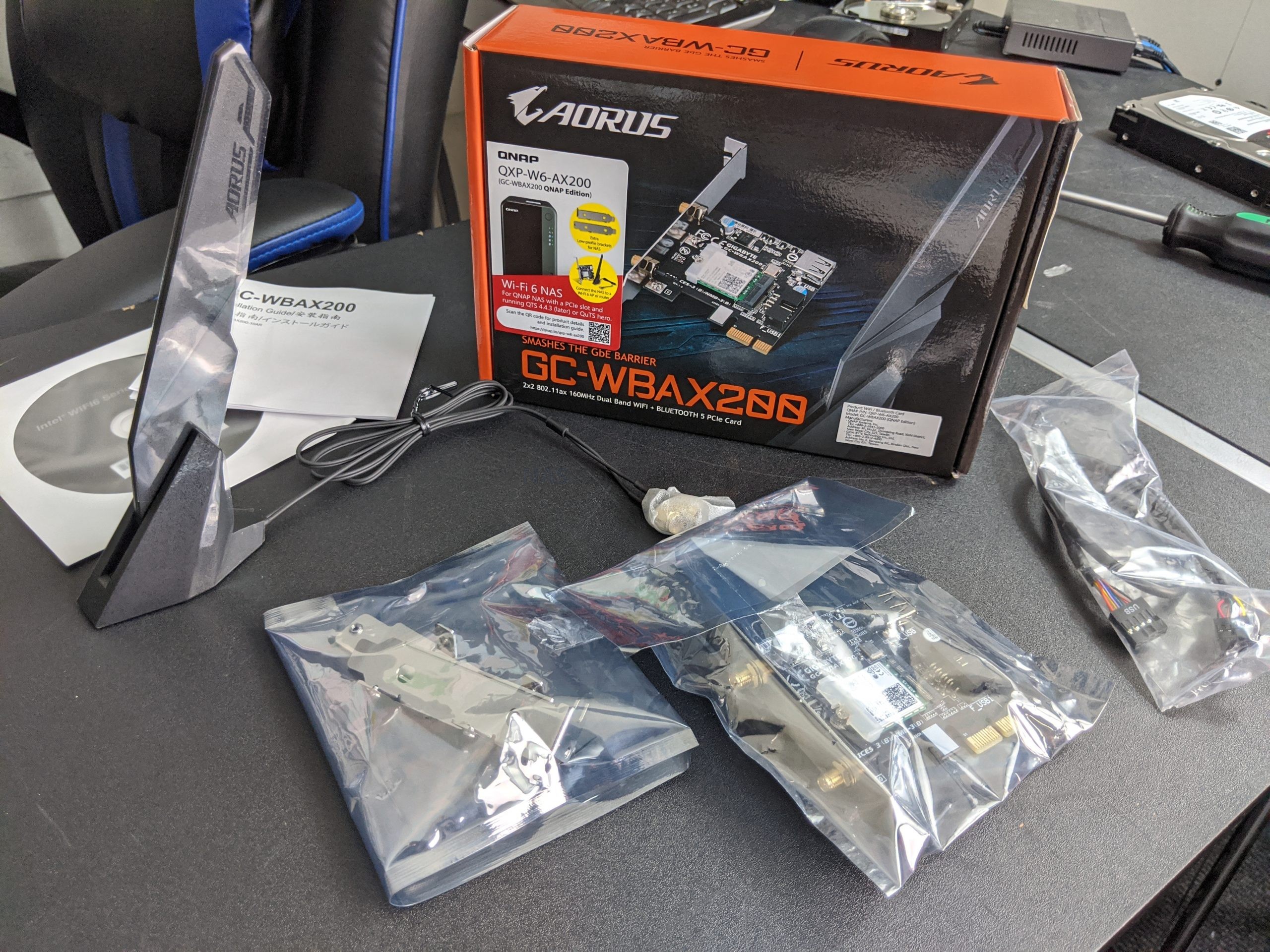 However, the internal data cable and CD are more for PC users who wish to install the card in their systems. In order for the Bluetooth functionality of the card to be used, you need to connect the cable between your QXP-W6-AX200 and PC Motherboard.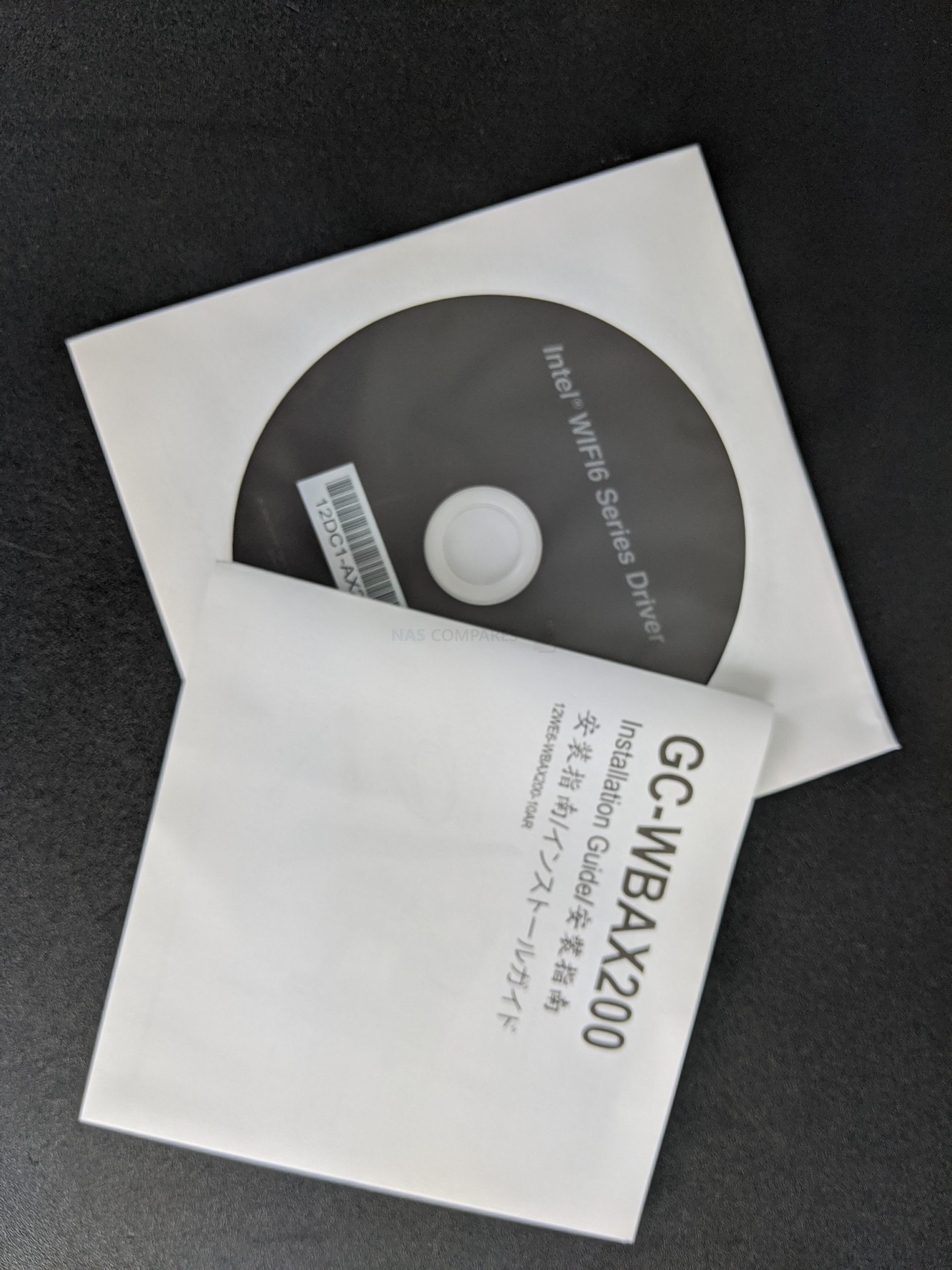 I am pretty happy with the accessories but am a little disappointed in the lack of QNAP documentation or further branding that the odd sticker here and there. These are very minor points indeed though in the grand scheme of things.
QNAP QXP-W6-AX200 WiFi 6 Card Review – Hardware Design
Removing all the retail packaging, we take a look at the two key elements of this WiFi 6 card – the QXP-W6-AX200 itself and the dual-band 2.4GHz/ 5GHz external antennae that you connect to the card.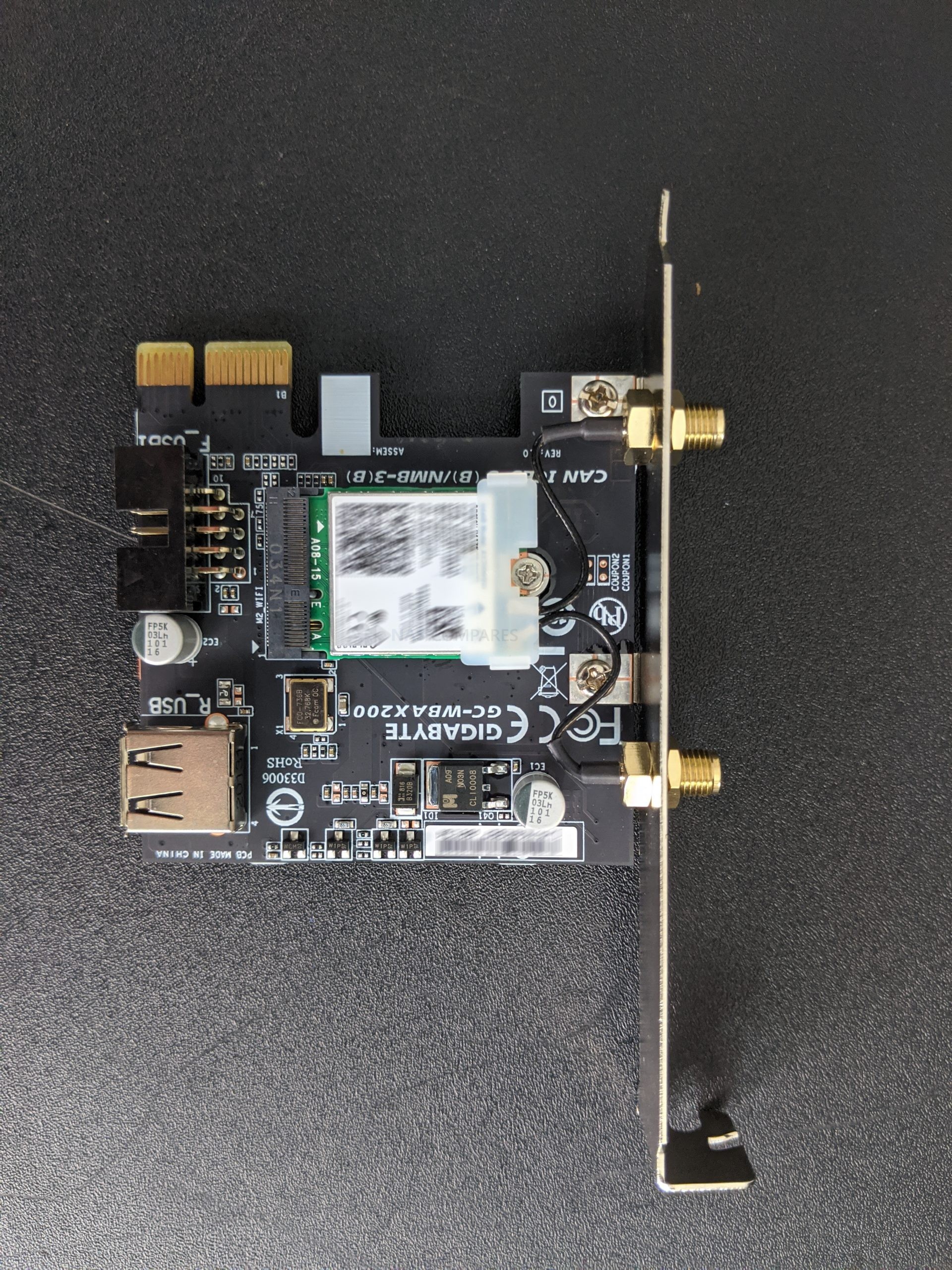 The first thing that stands out immediately is the m.2 adapter based card that is central to the PCIe card PCB.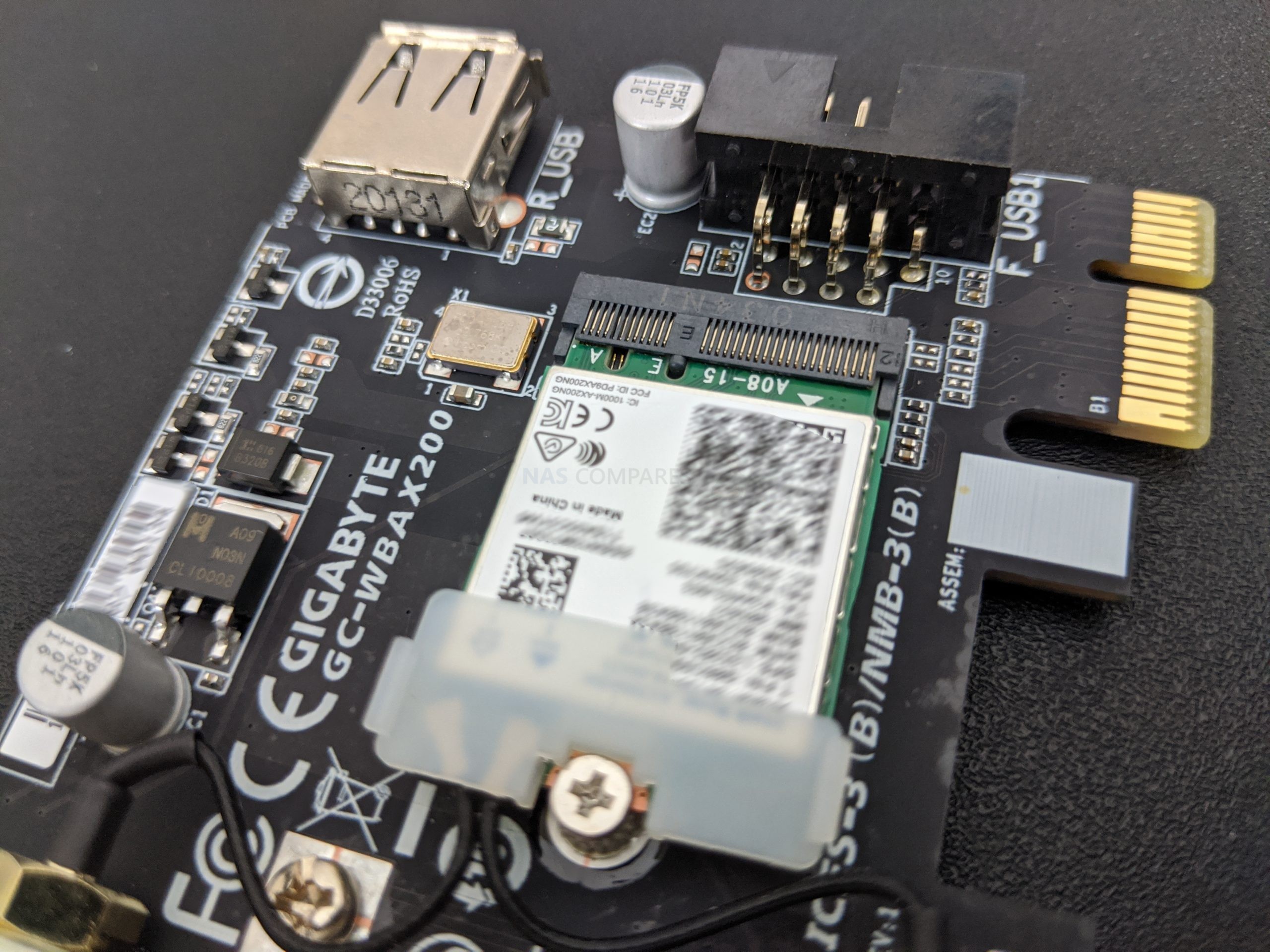 This is the Intel AX200 WiFi 6 adapter that is the brains of the operation.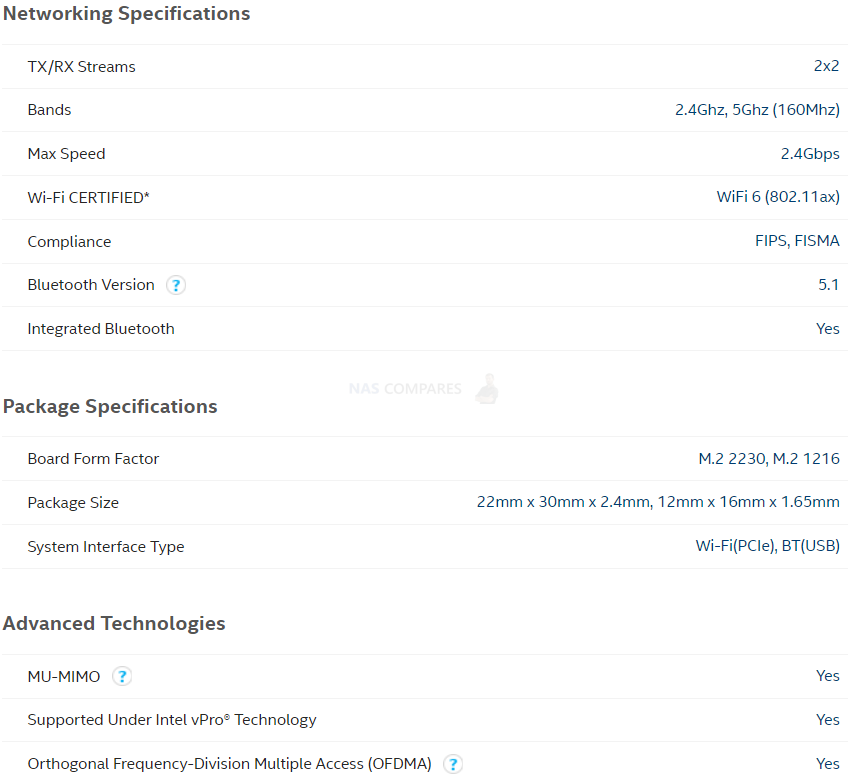 This smaller adapter module that the card supports is one that is available from a number of brands and is near identical to a card we tested earlier in the year in the QNAP TS-251D to no success – clearly, this is a now a driver that has been added to QTS platform and firmware for the release of the QXP-W6-AX200
It is worth highlighting that this card connects via a PCIe Gen 2 x1 slot, so although that is just a maximum 500MB/s throughput to the main controller board of the NAS/PC, it is still twice that of the maximum throughput of the card.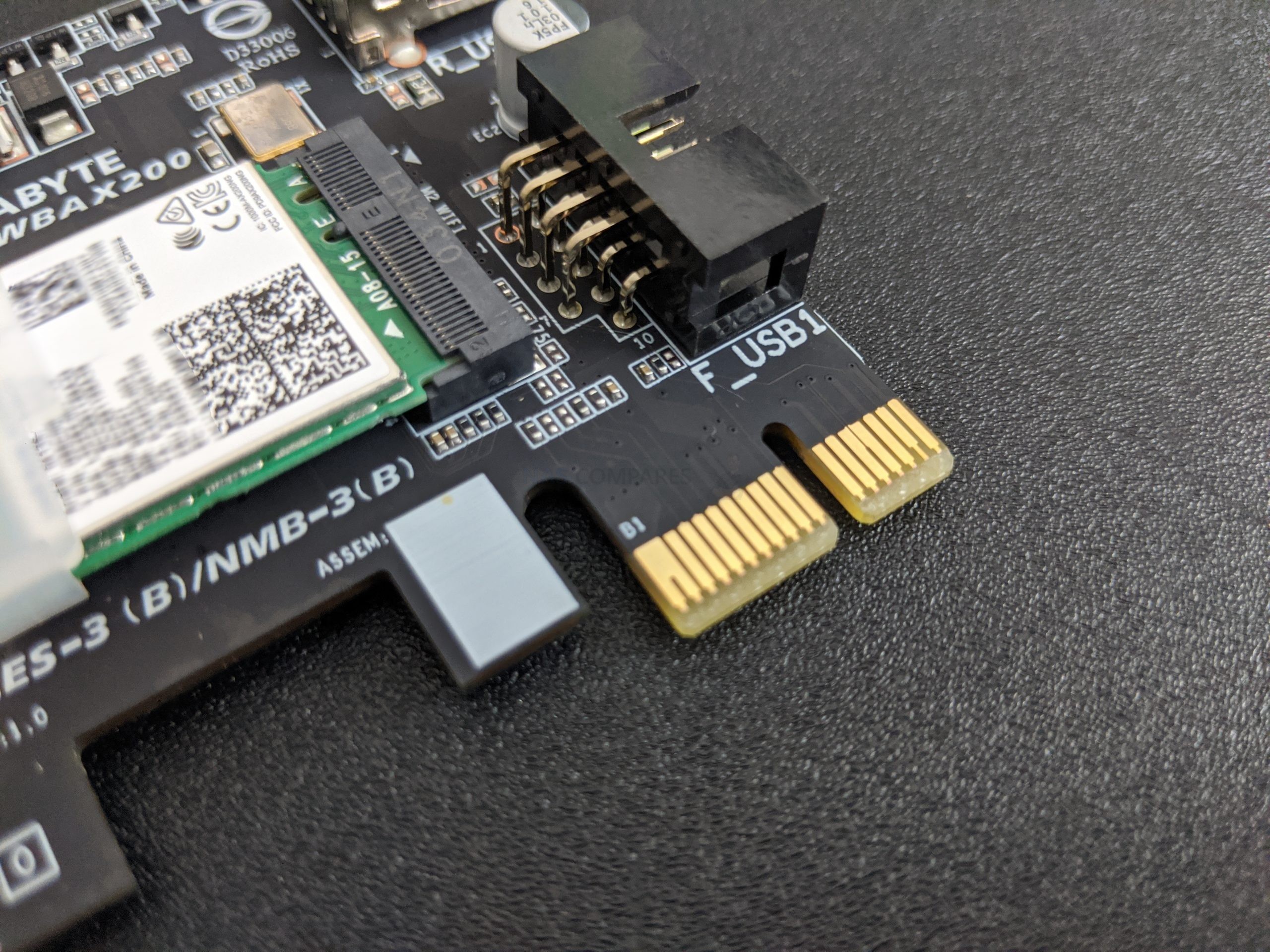 Additionally, it will increase the number of QNAP NAS and other devices that will support the card. QNAP do state that some devices may need their bios updated to support the card, so do head over there to find out more.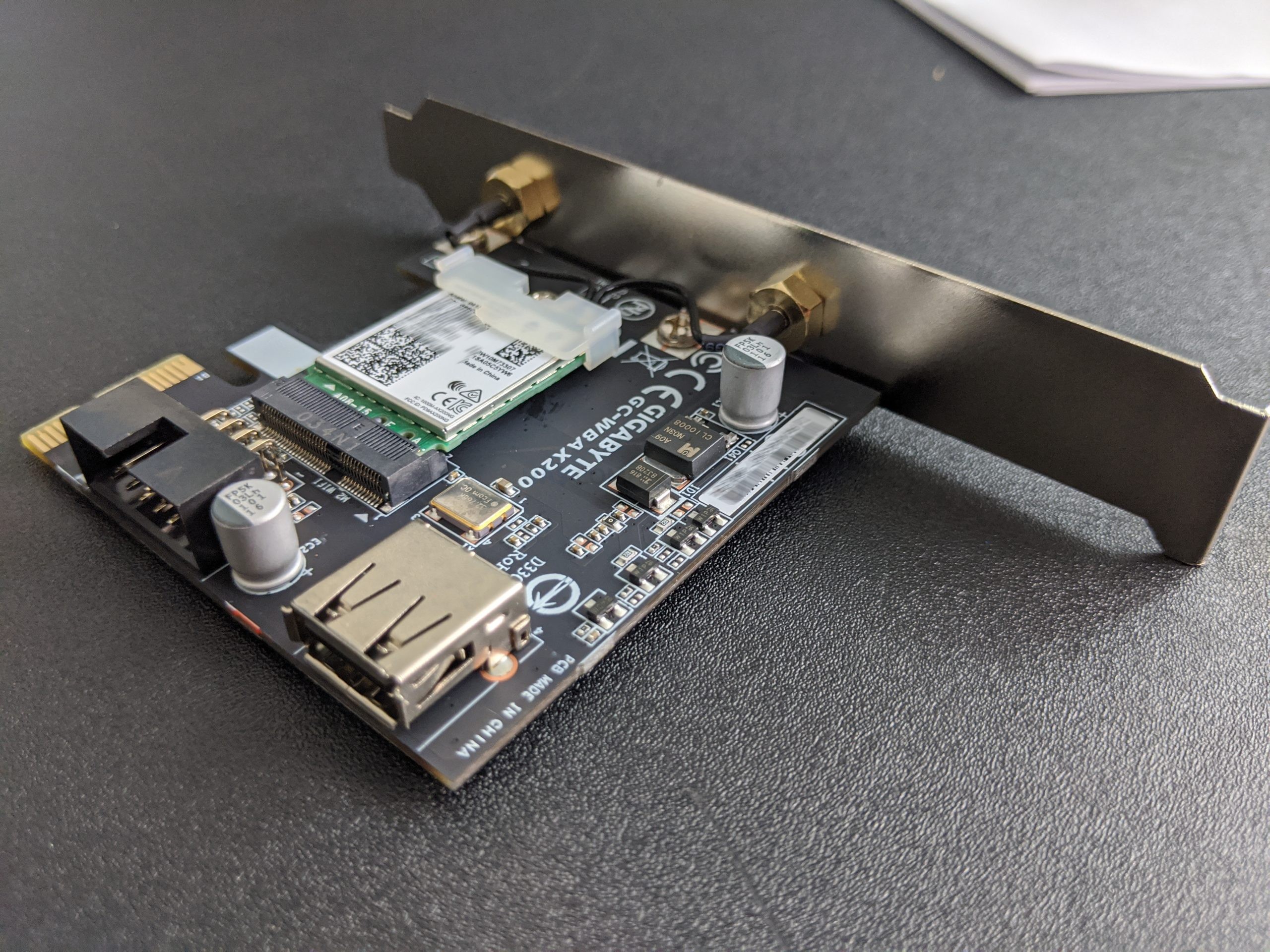 Another thing that I am interested in is whether this card can be adapted to the new WiFi6E conventions that are being phased in next year, as the AX200 controller module can be removed and upgraded – something I will certainly look into next year.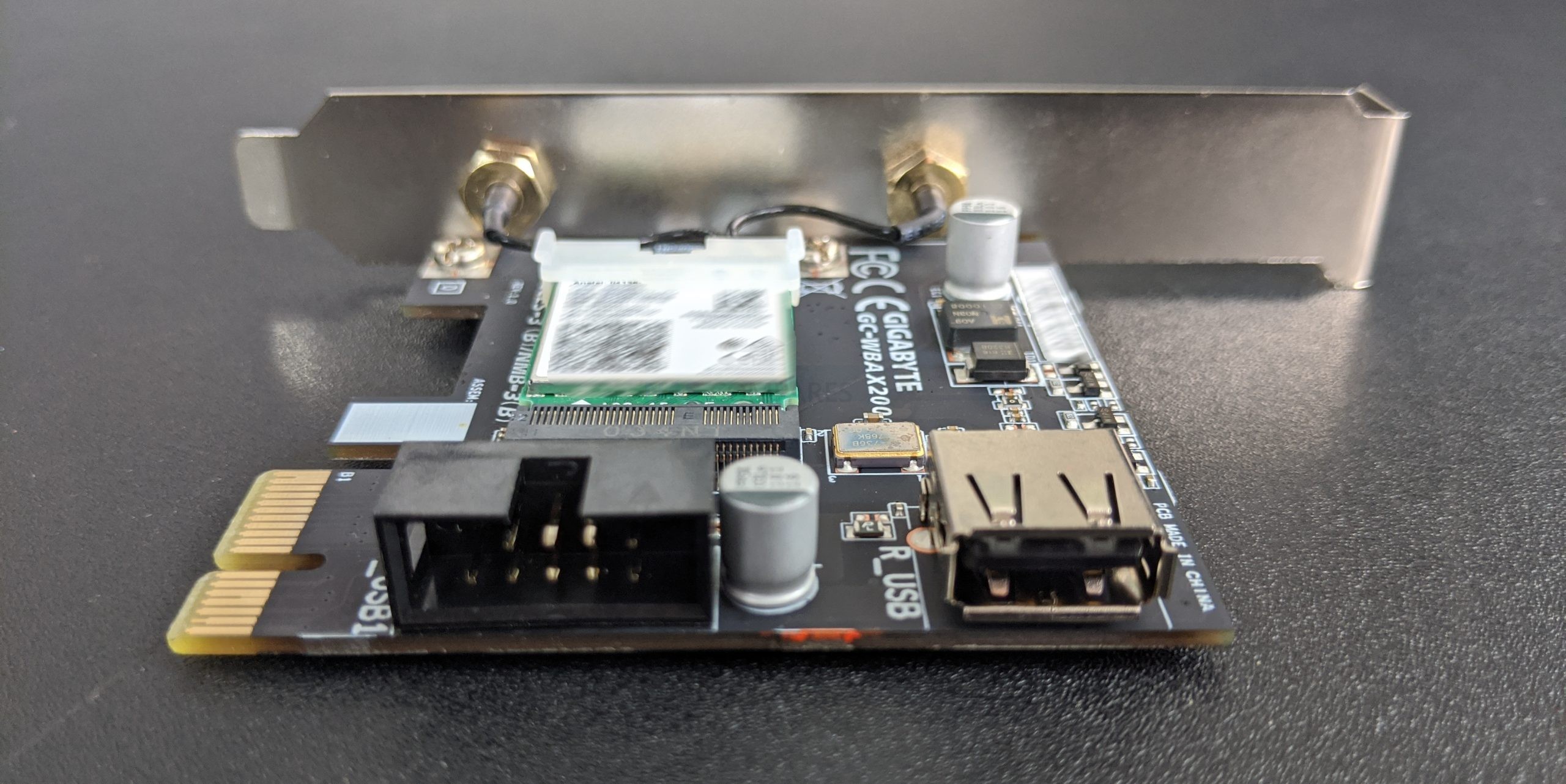 The rear of the card shows the two PC targetted connectors that seemingly allow you to have another USB Port (but internally, so it's utility is hugely limited) but also a data connector (with cable included in the box) that allows you to add Bluetooth 5 to your PC system.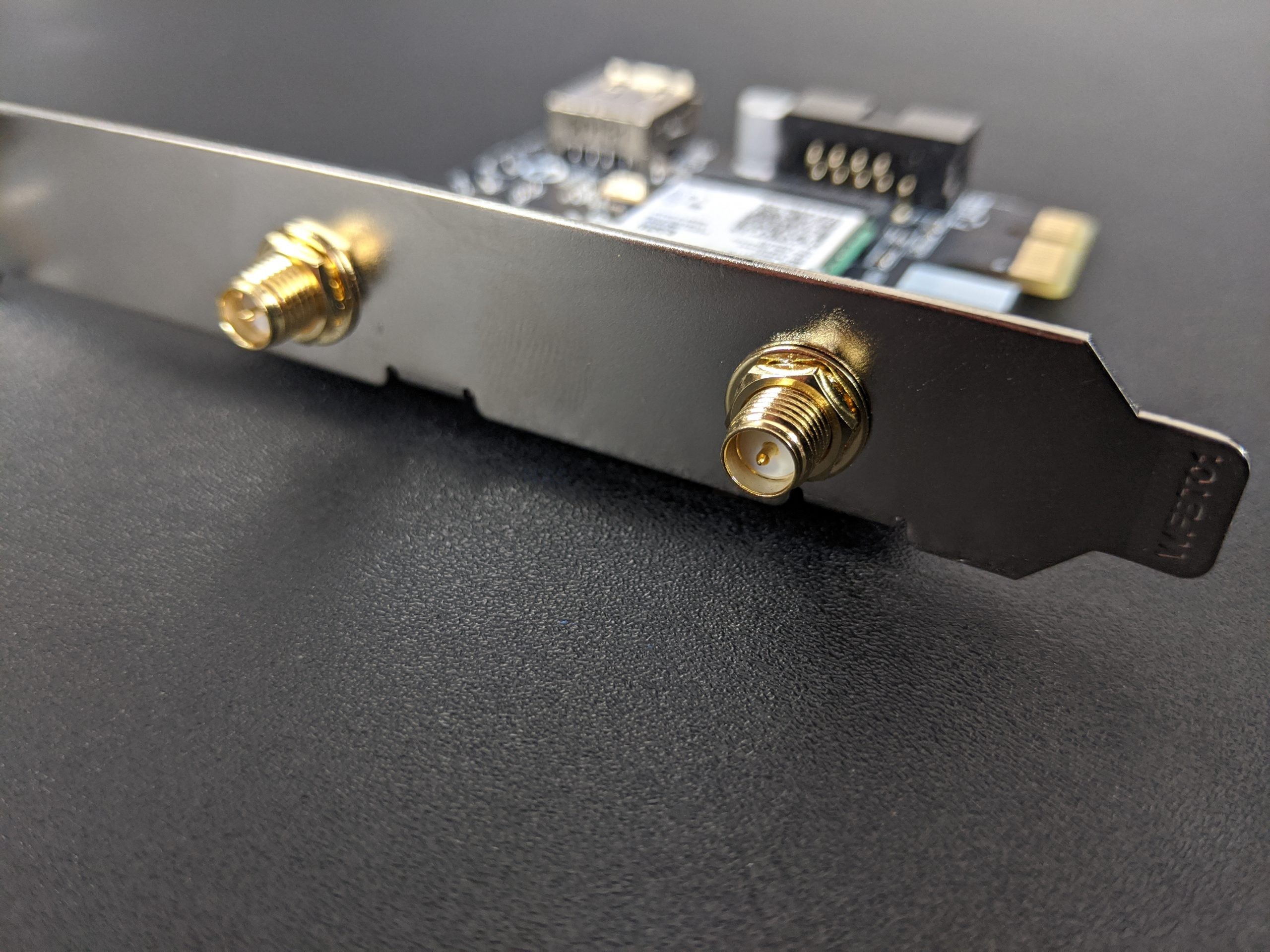 The external connectors of the card feature the backplane and twin ports that all you to connect the specialized antennae over a cable – so it can be placed away from the NAS for better coverage.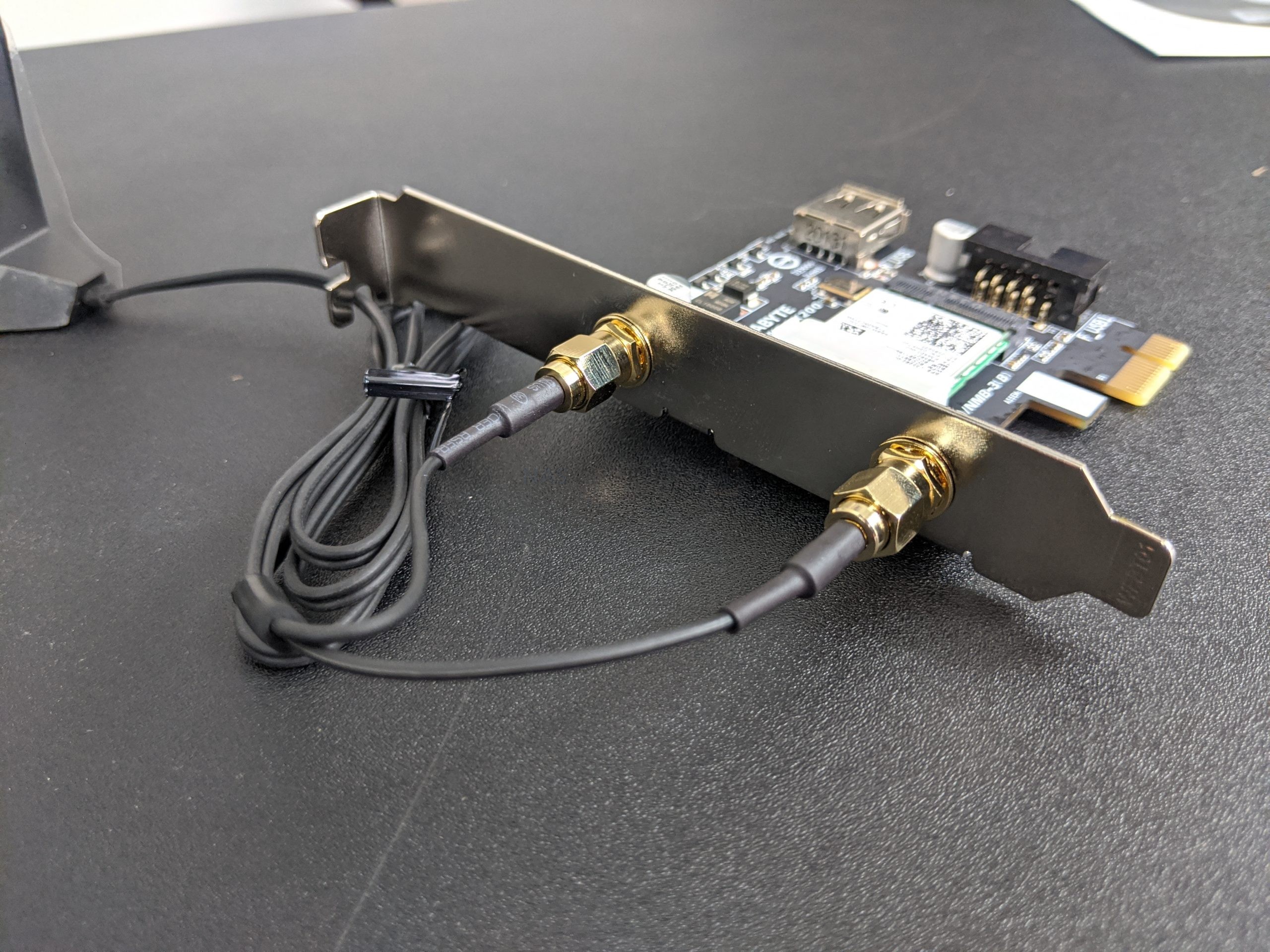 The antennae for the QXP-W6-AX200 card is quite nice looking and branded with AORUS. It might have been nice to have the more discreet (but arguable less convenient) directly accessible antennae options that the AX2200 QNAP card from 2018/2019 features as an option, but this is still quite nice for the price tag.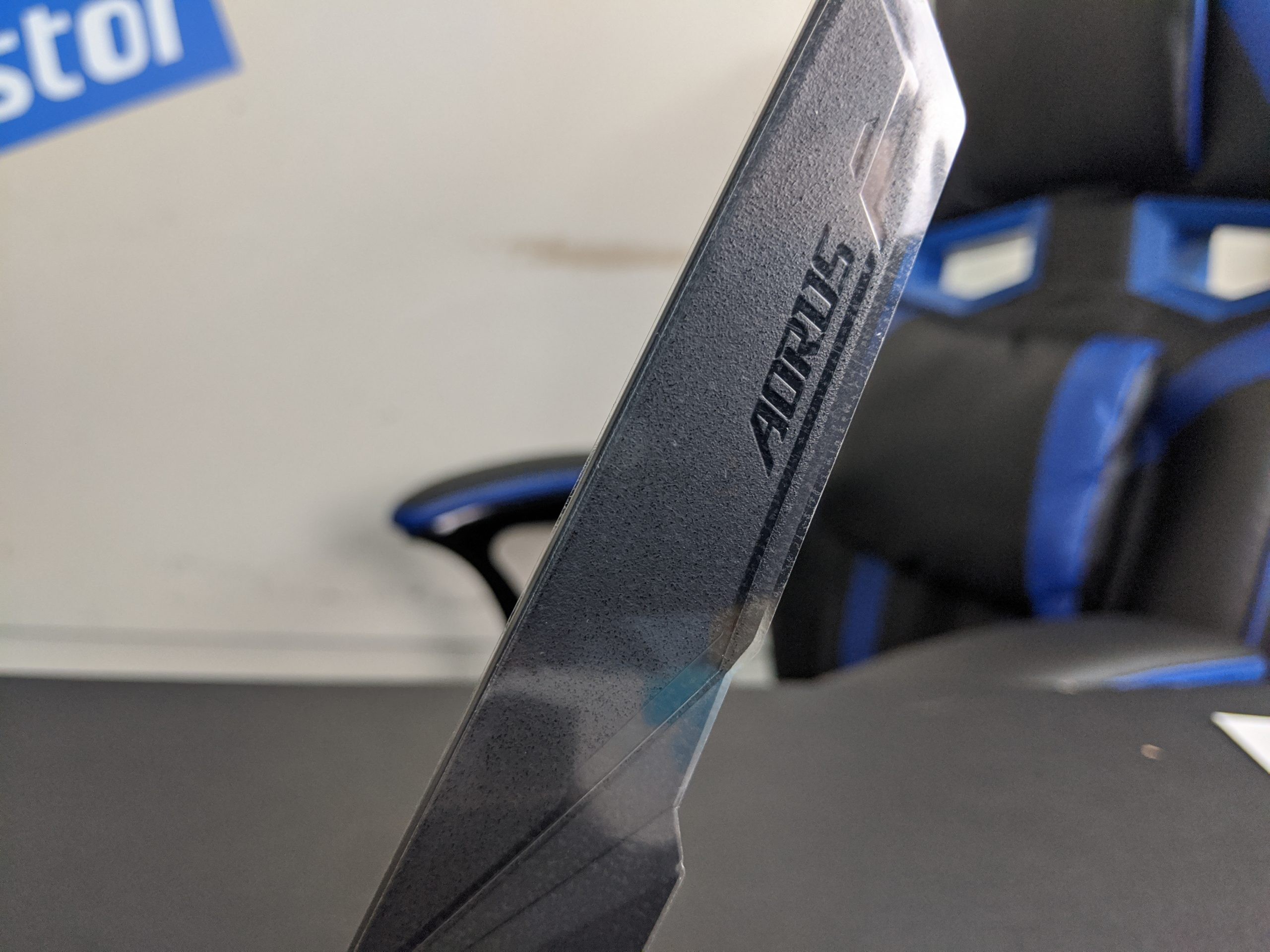 The antenna itself is magnetic at the base, so it will remain in place on metal locations. This also helps as the base is hinged and allows the antennae to be moved into the best direction for coverage.
Connecting the cables to the available ports on the card is incredibly easy and doesn't require screws. Supporting 2×2, it might have been nice to see an antenna as featured on the AC2200 card previously, but as the AX200 would likely not support it's full functionality, this can be forgiven.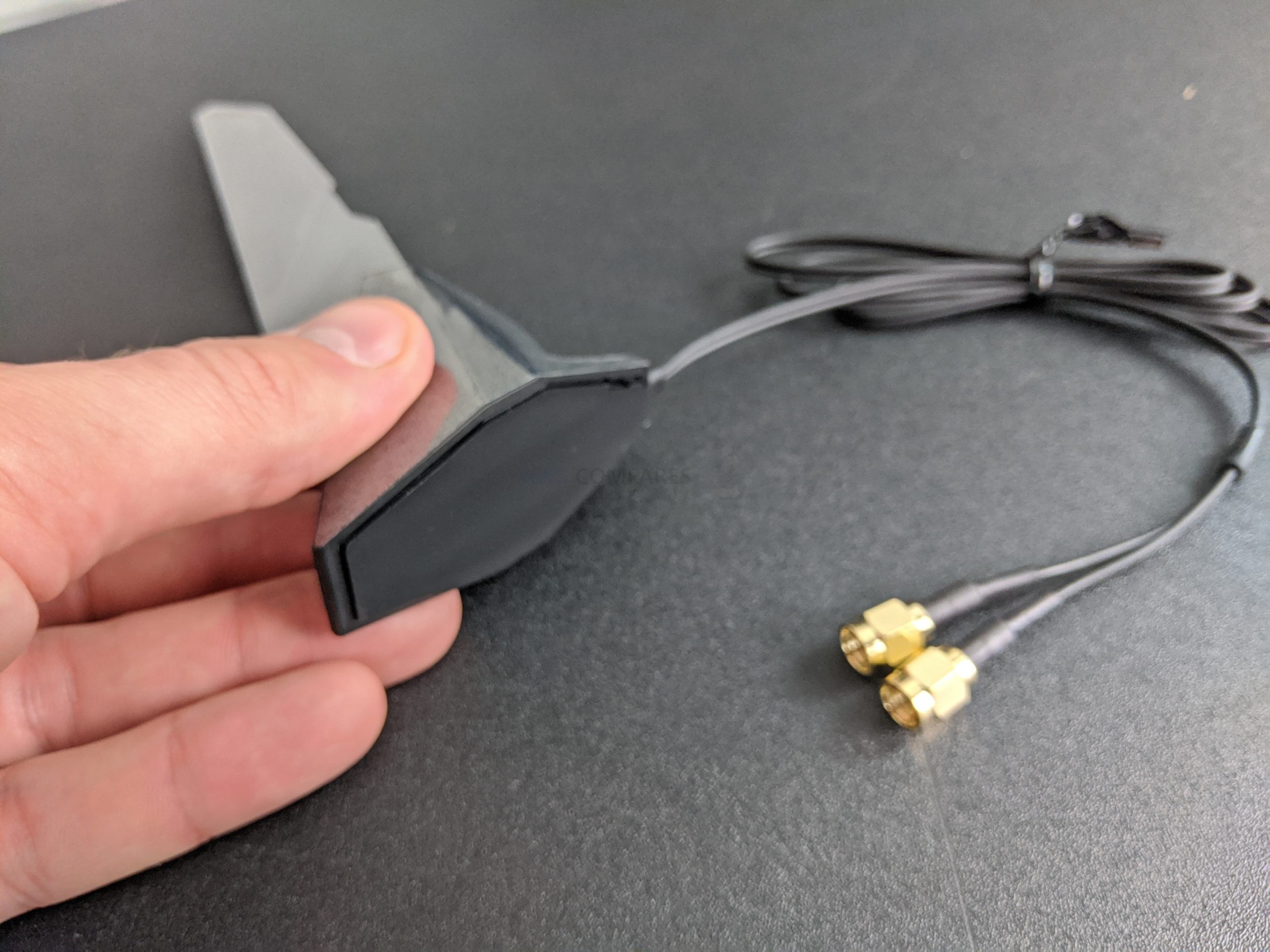 QNAP QXP-W6-AX200 WiFi 6 Card Review – Software
The majority of benefits that most users of WiFi 6 are aware of are featured in the QXP-W6-AX200, as it uses 1024-QAM to provide a signal packed with more data, and enables 25% faster data rates than 256-QAM. This is how the card is reported to support (via Wi-Fi 6 802.11ax compatible devices), up to 2400Mbps connection speeds, and is backwards compatible with 802.11acR2,a,b,g and n, so is not going to prohibit older network devices over the wireless connection.

The included antennae are dual-band in architecture (2.4GHz/ 5GHz) and up to 2400Mbps connection speed which is 2.8x faster than Wi-Fi 5(802.11ac) and 2.4x that of traditional LAN connectivity. Though it is worth remember that you will always need to have sufficient performance media in the NAS or your client device for this.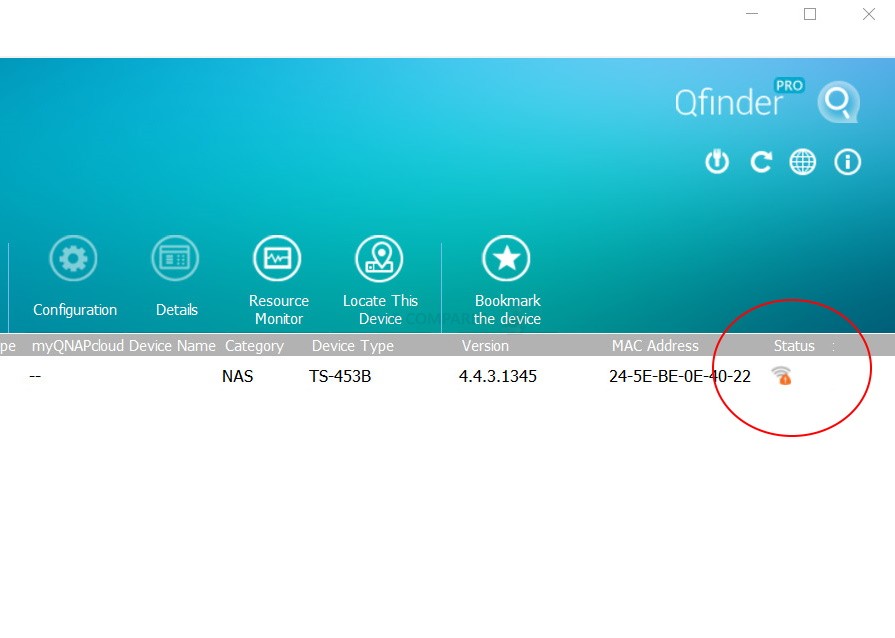 After installing the QXP-W6-AX200 in your NAS, use Network & Virtual Switch or Qfinder Pro to set up the Wi-Fi connection, guest network environment or captive portal. This full potential of this kind of upgrade is still not fully realised from what I can see if used in a regular NAS, but in a NAS use environment where you and your family/work-colleagues use a VPN, or want to create private networks inside your existing network environment, there is still a lot of potential for you.
QNAP QXP-W6-AX200 WiFi 6 Card Review – Verdict
The convenience of wireless connectivity is pretty clear. At least half of the devices in the average network are either wireless in architecture or can benefit from making the switch towards it (both home and business use) as aside from the lack of cables and work to physically create it, the advantages of this switch and using the NAS as a security funnel are pretty impressive. Add to this the use of firewall VMs on the device being available to download with ease, several VPN options on the QNAP NAS platform and you can see a whole lot of potential in this WiFi 6 upgrade card from QNAP – and that is something I can firmly get behind.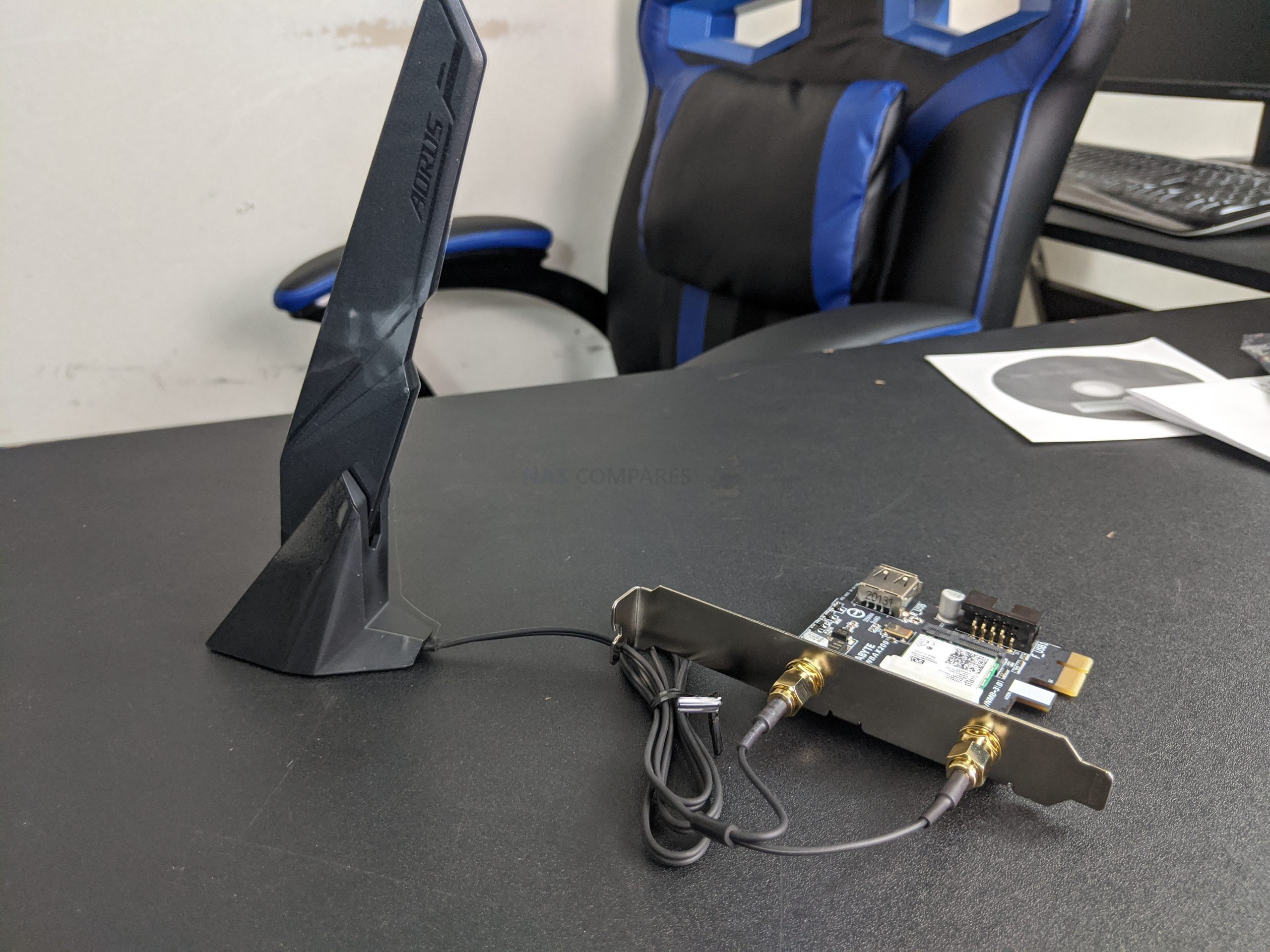 That said, I would have liked to have seen a far more 'first party' presented solution in line with their other PCIe upgrade cards and hope this is not going to be a continuing trend moving forward.
Otherwise for those looking to create fast, private and hassle-free network environments on their NAS system, or want to upgrade their PC as this wireless convention grows, I recommend the QNAP QXP-W6-AX200 WiFi 6 Card.
PROs of the QNAP QXP-W6-AX200
PROs of the QNAP QXP-W6-AX200

Great to see WiFi 6 breaking onto NAS
PC and NAS Compatible
Potential to upgrade adapter internally along the line
Affordable
BT5 for PC Users
Good quality antennae
Easy to Install

Only available in 2×2 – Higher performance WiFi 6 cards are available (though not NAS compatible)
Not quite as robust in design as the QWA-AC2600 and it's 4X4 architecture
3rd Party Designed and Manufacturer might put some users off