New 4-Bay NAS for 2020 – Does the TS-451+D2 Deserve Your Data?
If you have been in the market for a 4-Bay/RAID5 solution and found this NAS review, then chances are that you already know a little about the QNAP TS-451D2. In fact, I will go a little further. There is a good chance that you (yes, you reading this) are one of the people that were looking to buy a new NAS solution at the end of 2020 and found that…well… nothing was released. Yes, there was a tonne of high-end enterprise rackmounts, along with a bundle of new software improvements – but for the home or small business owner, the NAS scene was pretty quiet. There was plenty of reasons for this, ranging from a constantly evolving world economy, the hardware shortages, to changes in cloud trends and a little bit of uncertainty to boot. Whatever the reason, the usually busy Autumn period of the year has started oddly quiet. However, the more I hear, the more I am convinced that 2021 is looking ridiculously busy! The new TS-451D2 is a step into a new decade for QNAP NAS and with it, we see a much more mature, established and self-assured company than ever before.  With a newer generation of pretty much, every hardware component in the TS-451D2 over its predecessor (the TS-251A and TS-451+ too), there is alot to love, but is this new QNAP NAS just a rehash of the old or are we looking at a 4-Bay that is exactly what we needed! Let's find out.
QNAP

TS-451D2

NAS Review – Quick Conclusion
We have seen many new releases announced in 2020 from QNAP and now they are fleshing out their 2021 portfolio, there did seem to be ALOT of business and not enough pleasure! The TS-451D2 fixes this by giving you a great middle-ground for home and/or business users, finding an affordable hardware package that is genuinely tough to beat. The TS-451D2 NAS features everything you want in the latest generation of NAS, especially from an innovative brand like QNAP, but does it without commuting you to hardware that you may never use or feel doesn't have a place in your budget.
QNAP

TS-451D2

NAS Review – Retail Kit
Unsurprisingly, the retail box of the QNAP TS-451D2 is very much what you would expect. Featuring plenty of details about the QNAP brand, the software specs, the hardware inside and more, in this newer release you can see alot of nods to changing NAS culture, with mentions of Plex Media Server, Virtual Machines and Home compatibility. The retail box seems a little big for a 4-Bay, but this is largely because of the internal retail box structure and not the TS-451D2 itself.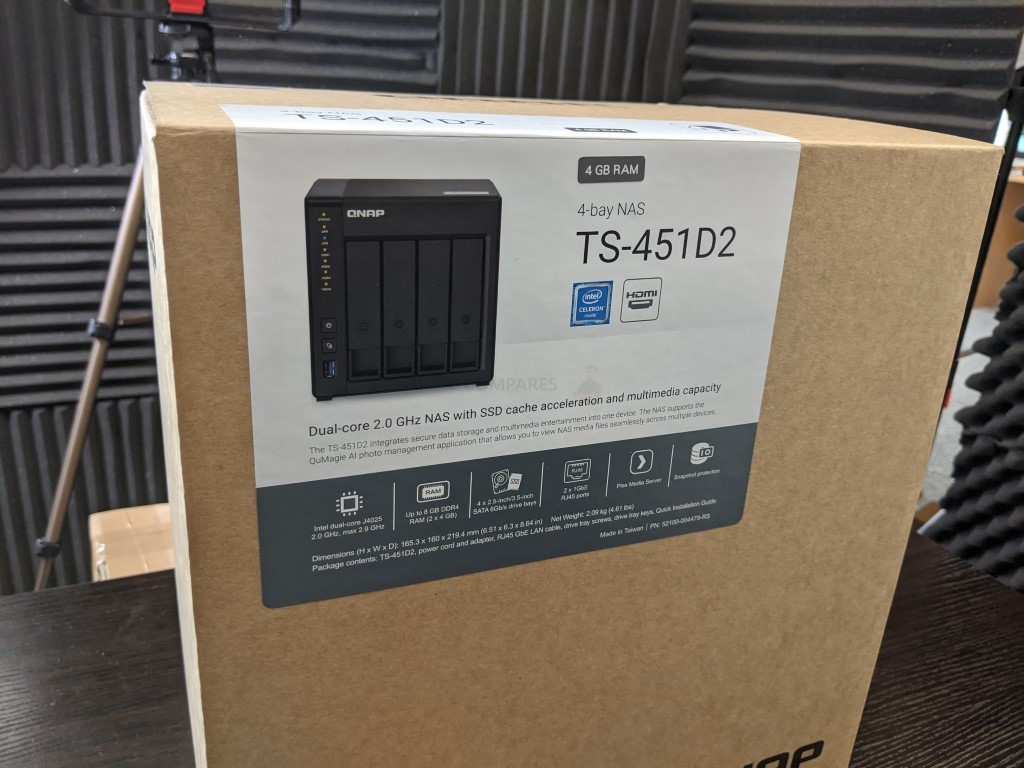 Opening up this retail box shows us the TS-451+D2 itself (in wrapping) and an accessories box. This is fairly standard for NAS drives, though QNAP is still the brand that includes the most accessories per NAS compared with other brands and aside from an HDMI cable, can't see you needing anything else for the initial setup – aside from HDDs obviously.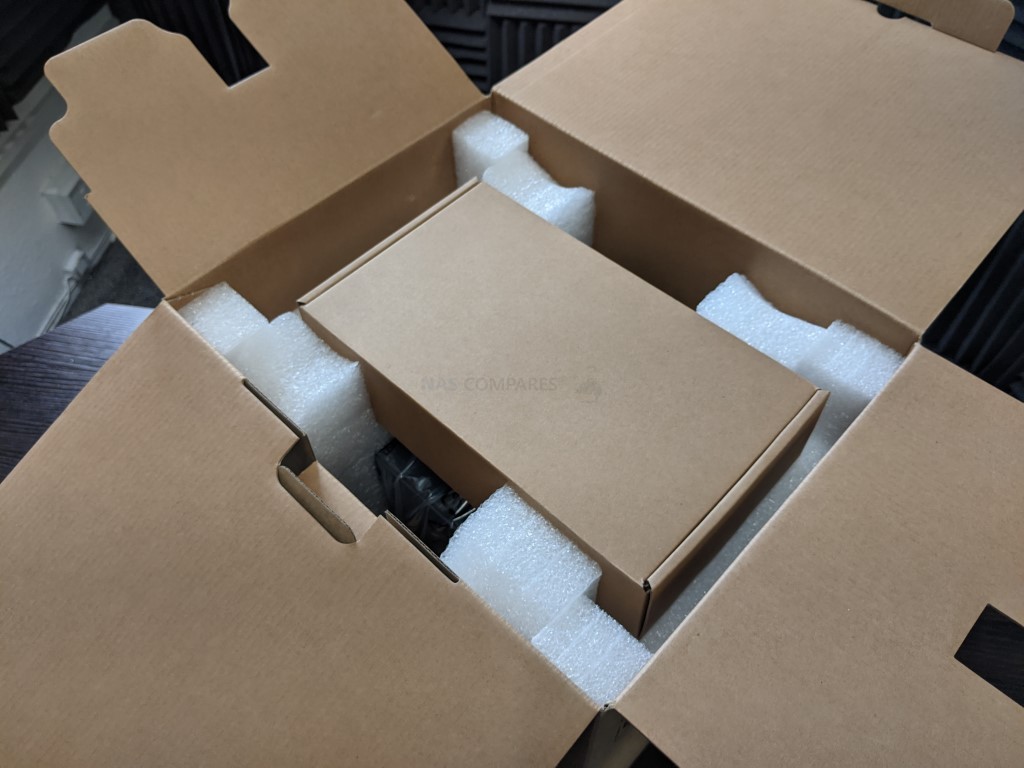 Removal of all the packaging shows us the TS-451D2 NAS itself, leaves us with a much small collection of hardware to look through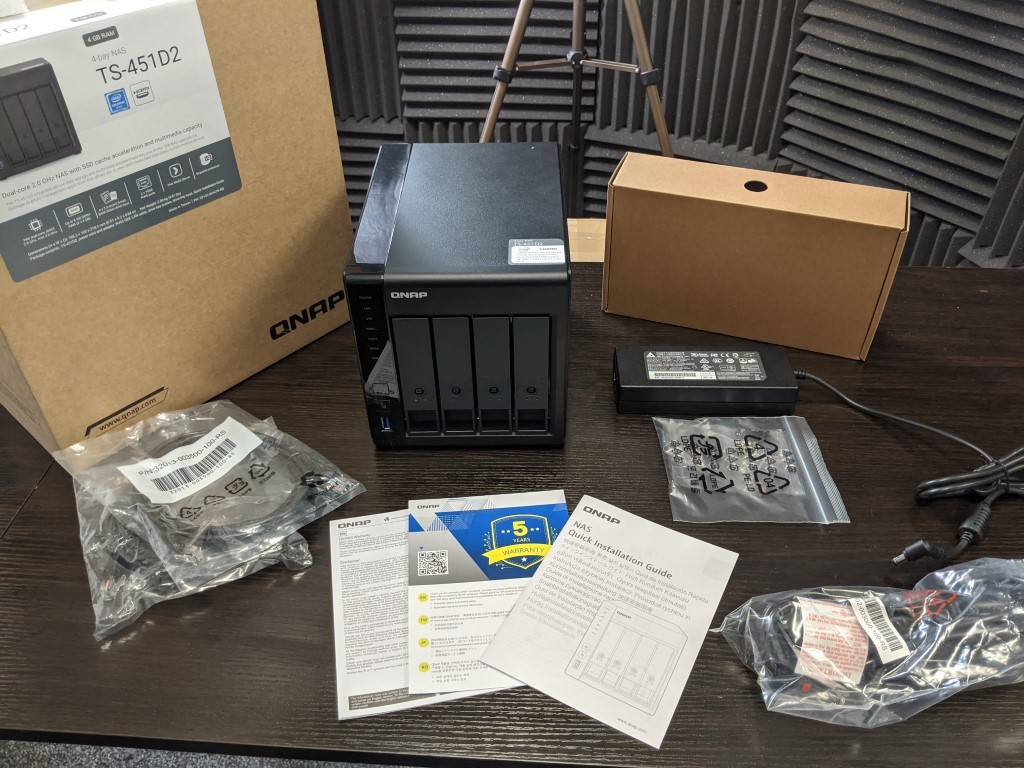 Fairly standard stuff and the PSU is especially small for such a comparatively powerful NAS
2x Ethernet Cable
Quick Installation Guide
Warranty Information
Main Power Connector
HDD/SSD Screws
90W PSU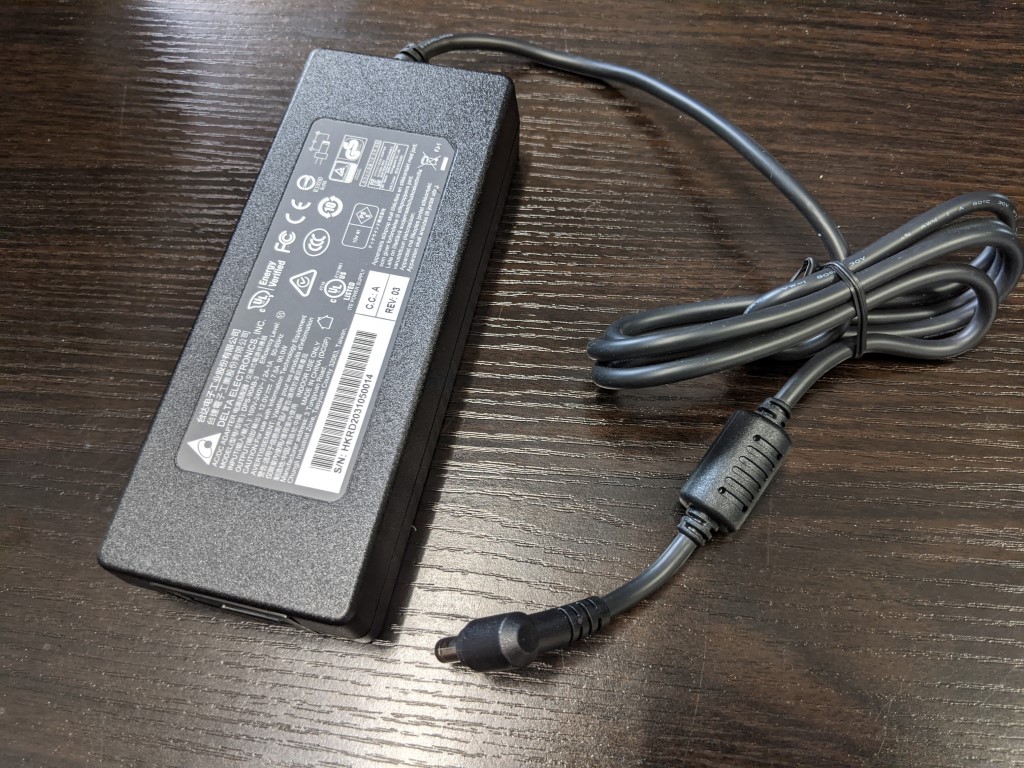 The only complaint I have in terms of the TS-451D2 retail kit and accessories is the same one I ALWAYS have – the lack of HDMI cable! I know this is a remarkably minor point, but given the 4K 60FPS HDMI 2.0 port is a primary selling point, as well as fewer and fewer devices, are released these days with the cable included – including a cable could cost practically nothing extra AND would help users try out the HD Station applications straight out of the box.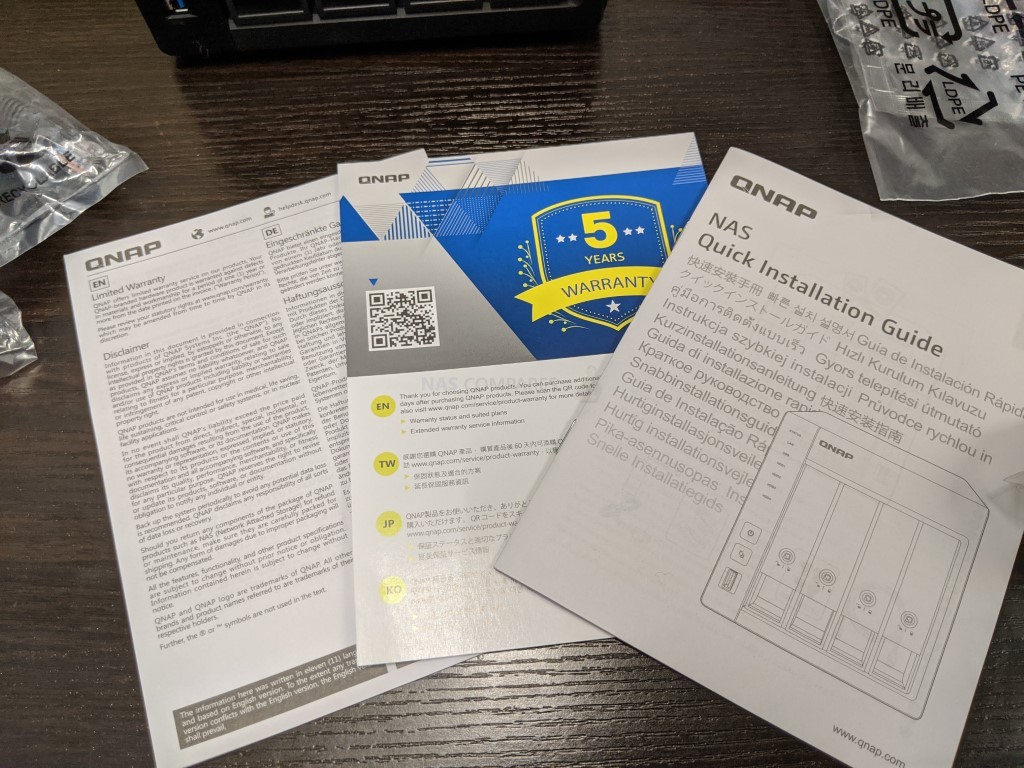 QNAP

TS-451D2

NAS Review – Design
The chassis consists of a combination of the plastic external casing and metal internals. The chassis is identical to that of the TS-451+, TS-451+A and TS-431 series (favouring two-tone black and charcoal colours) and that's not a bad thing. QNAP has been featuring this chassis in their 4-Bay Home/SMB NAS range for a few years now and each tier of their range adds a little something different to the mix.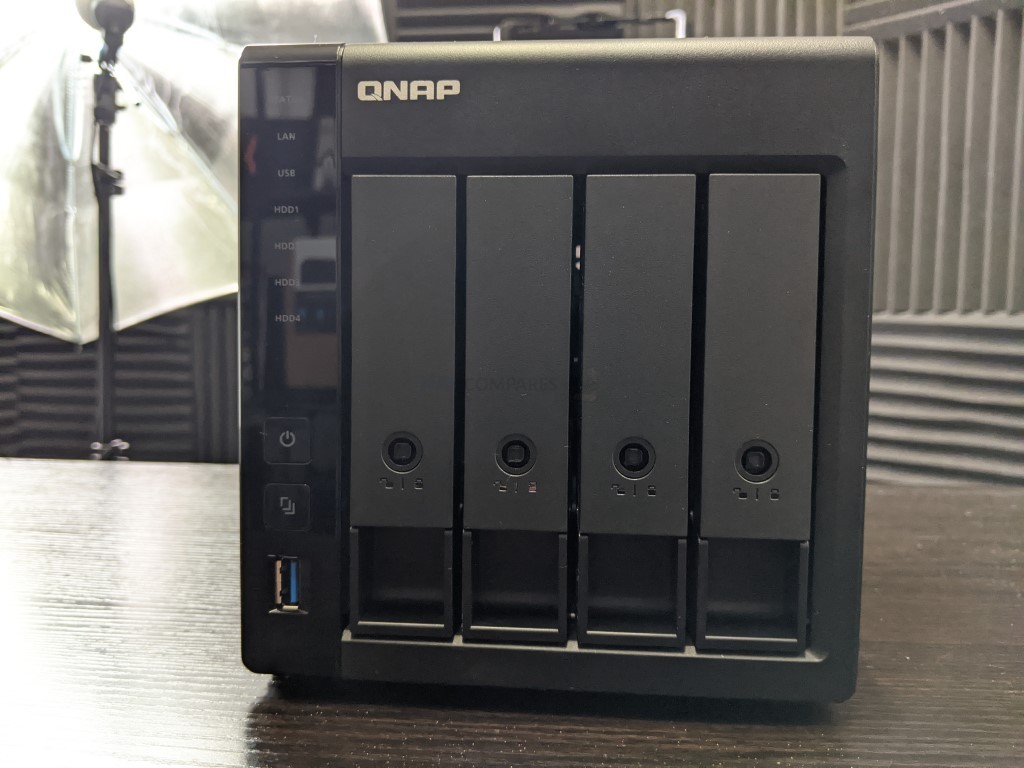 Measuring 16.5 × 16 × 21.9cm without the external power brick, the TS-451D2 is a pretty compact device. Although the size and general design are remarkably similar to that of the previously mentioned older NAS, you can easily spot the differences between them and the newest addition is probably the most nondescript.
| | |
| --- | --- |
| QNAP TS-451D2 – 2020 | QNAP – 2018/19 |
| | |
When the unit is in operation, the TS-451+D2 features LEDs (much like any other NAS) that can be dimmed/brightened as needed in the QTS software. Each LED (in 3 colours) provides indications on Power/Status, LAN connectivity and activity, USB Copying, and individual lights for each HDD/SSD installed. Unlike a number of other QNAP's there is no LCD panel, but the LEDs are pretty much all you need for a casual glance at the activity.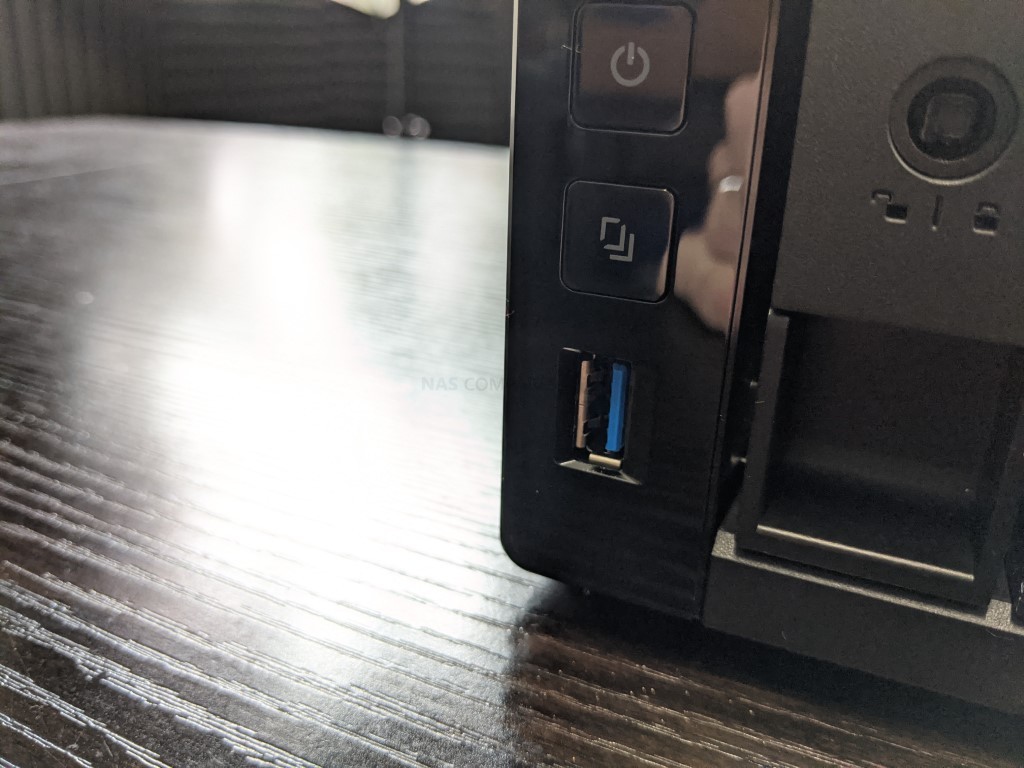 One feature that I am pleased to confirm is on the TS-451D2 is a front-mounted USB port and a one-touch copy button. This is great for ad-hoc backups too/from the NAS, as well as the included Hybrid Backup Sync software that allows you to create multiple tiers of a backup strategy. a one-touch backup button is not essential, as often the system can be set up to automatically trigger a backup, but a physical button is always useful.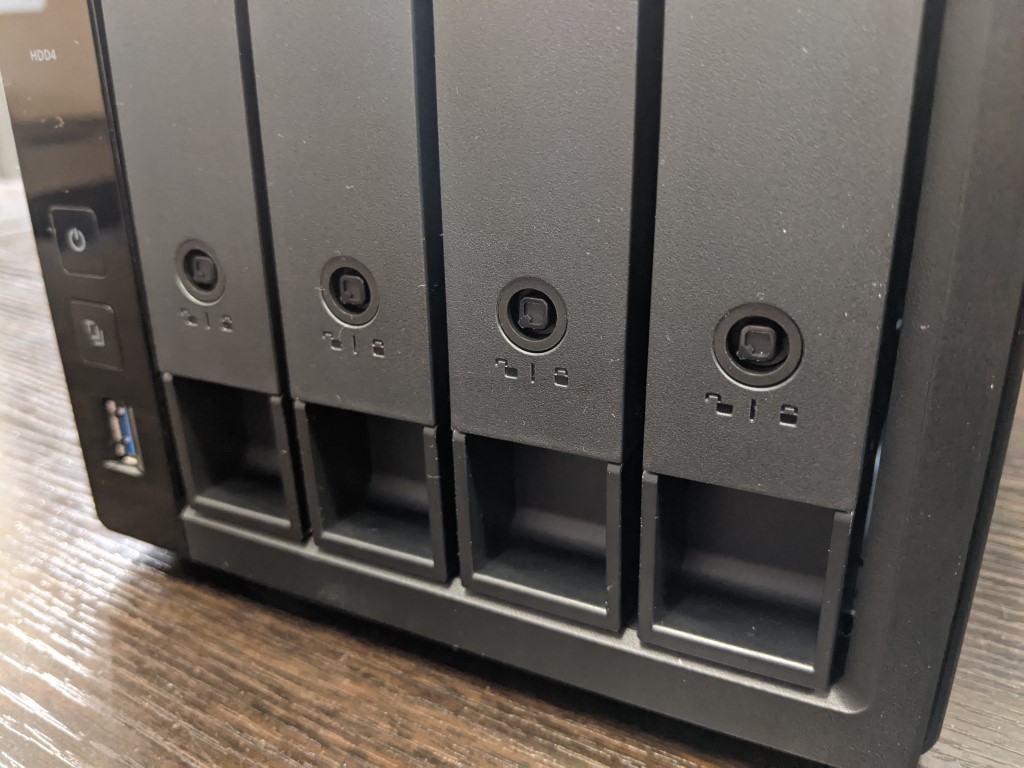 The 3.5″ media trays are located at the front of the TS-451+D2 NAS case. The front panel features plenty of ventilation and can be locked. The four bays and inclusive key locking mechanism ensure that the system can be protected from accidental drive removal, but would struggle to hold up to physical attack – so don't go thinking these will keep out particularly determined individuals. The trays themselves are plastic in design.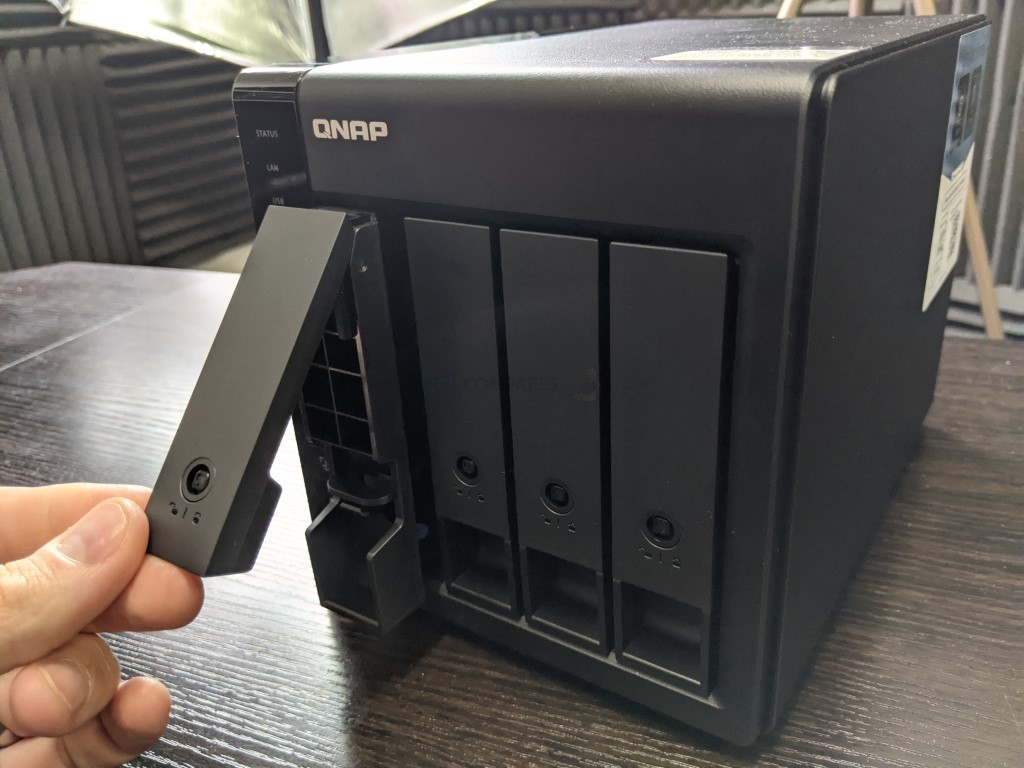 Each tray features a 'click and stay' design, so installing a 3.5″ hard drive is remarkably easy. Supporting the latest NAS hard drives (currently 16TB with WD Red and 18TB with Seagate Ironwolf) you can run the TS-451+D2 on a single drive if you wish, or installing two or more drives in a RAID configuration with the QNAP initial setup. With regards to SSD usage, each tray features screw holes at the base for 2.5″ media.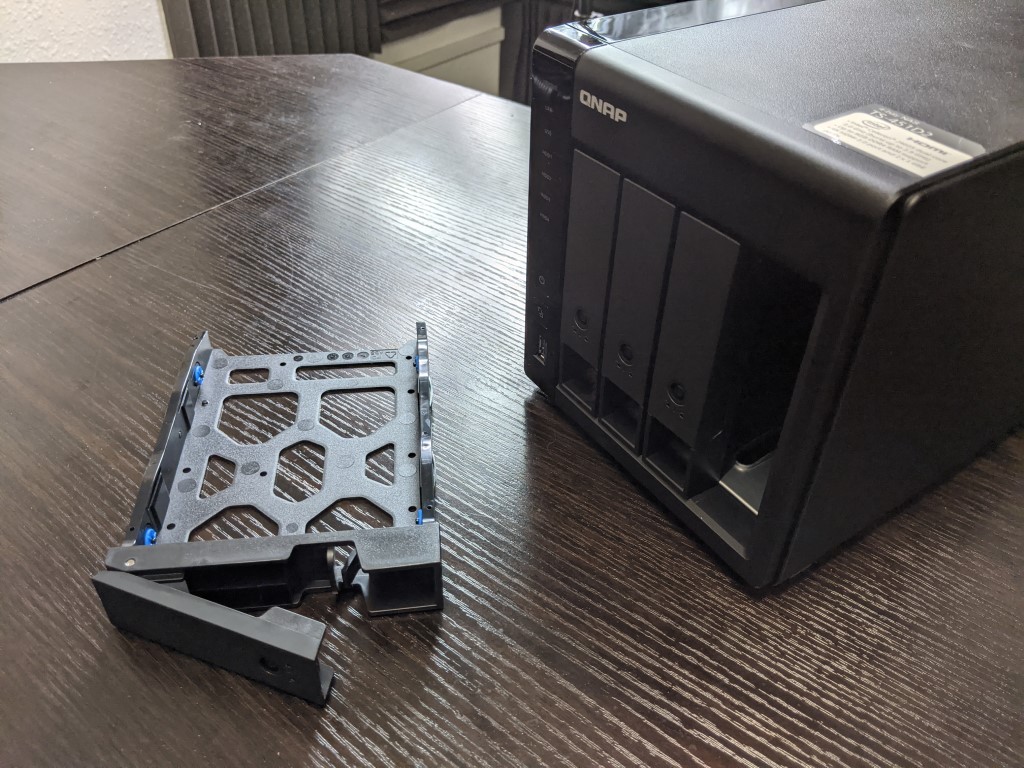 The trays themselves are pretty standard in design. Although they are plastic, they are pretty rigid and if you are looking at utilizing hot-swapping (exchanging drives whilst the device is operational), then the TS-451+D2 tray architecture is pretty nice – plus reduces noise. If you remove the trays completely, you can see the DDR4 memory modules. This makes upgrading your RAM super easy from the default AMOUNT.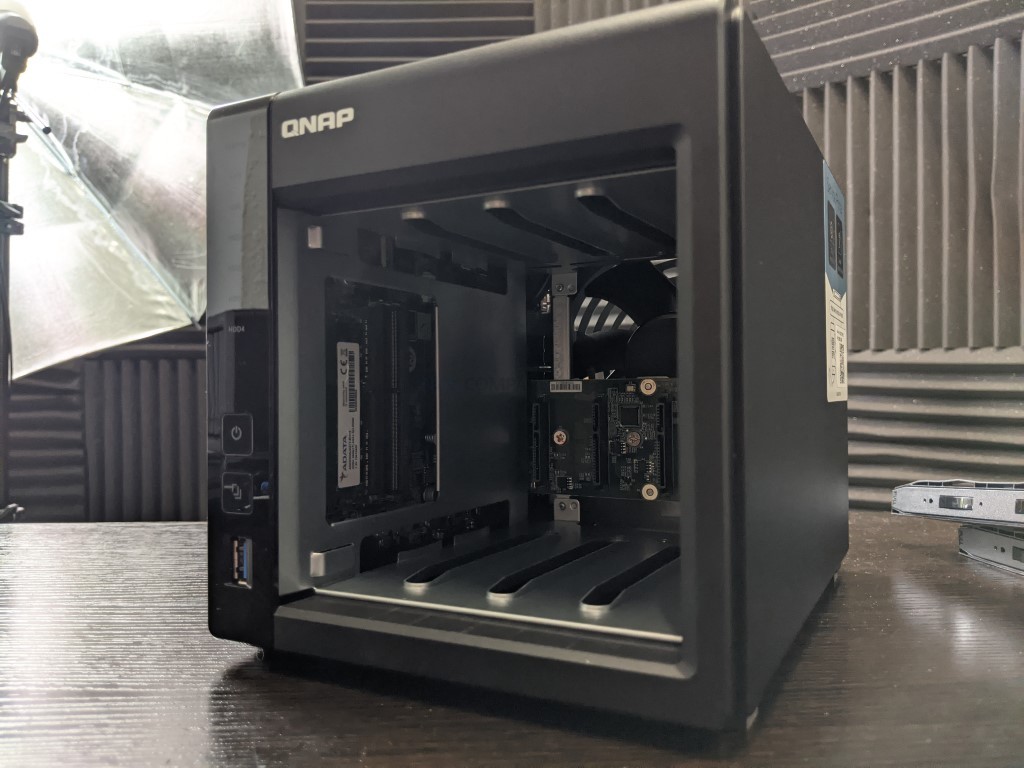 If we take a look at the sides of the TS-451D2, we can see two lots of ventilation, working as a passive cooling measure to assist the active cooling FAN. The internals of the device do not feature a CPU fan, but favour heatsinks in key component locations.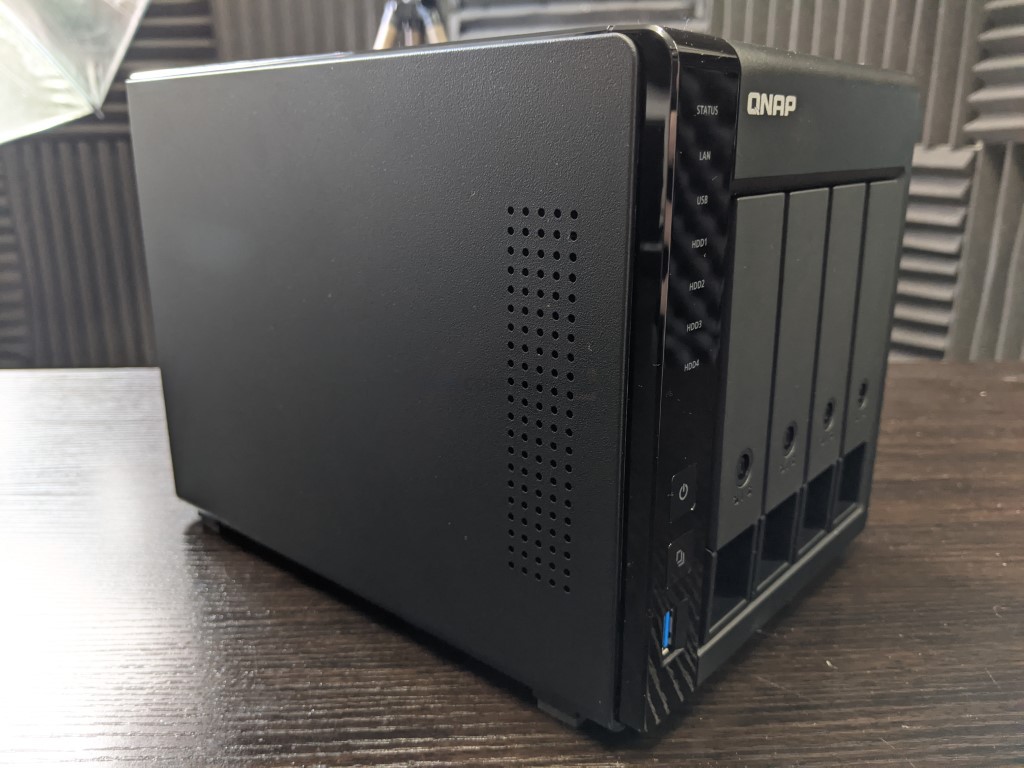 Alongside the ventilation on each side of the chassis, the base of the TS-451+D2 has a short, but wide ventilation panel that helps cool air pass across the HDD/SSD that are installed.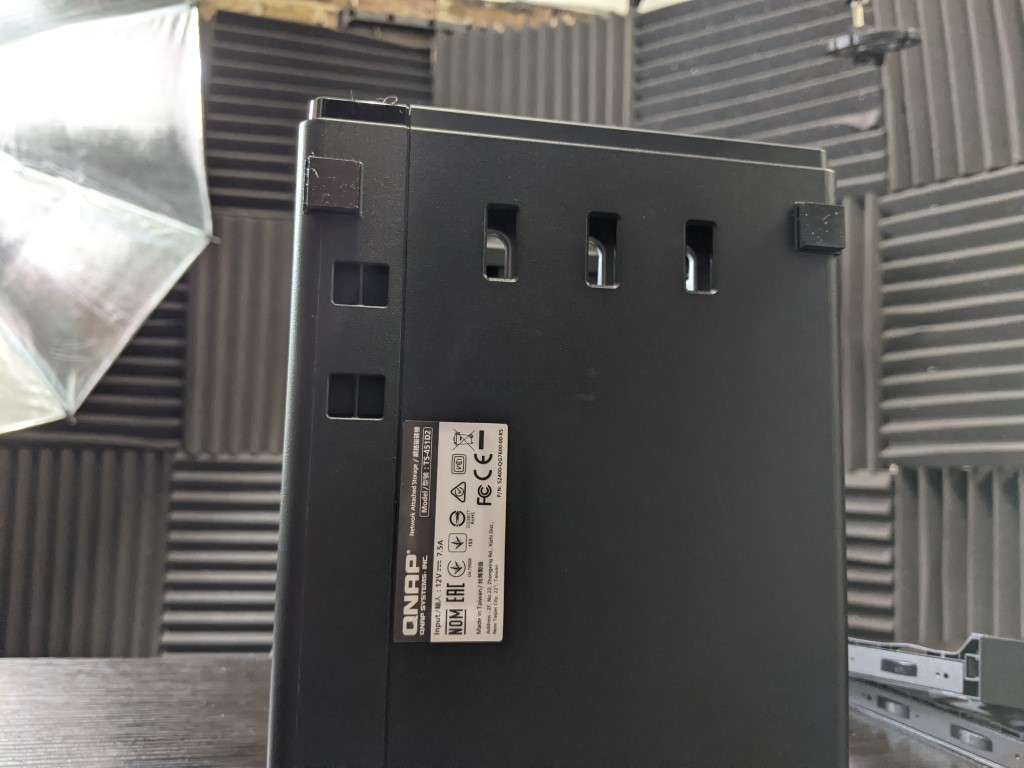 Overall, the TS-451+D2 is a quite petite design and the compact nature of the chassis means that it will have a much smaller impact of your hardware environment overall and noise levels (As long as you avoid more industrial built high-end capacity hard drives) are going to be pretty low!
QNAP TS-451+D2 NAS Review – Ports and Connections
Taking a closer look at the rear of the TS-451D2 shows us some impressive connections possible at this price point. Also, there are some noticeable absences in the form of audio in/out and a speaker that was found in the TS-451A and TS-453Be.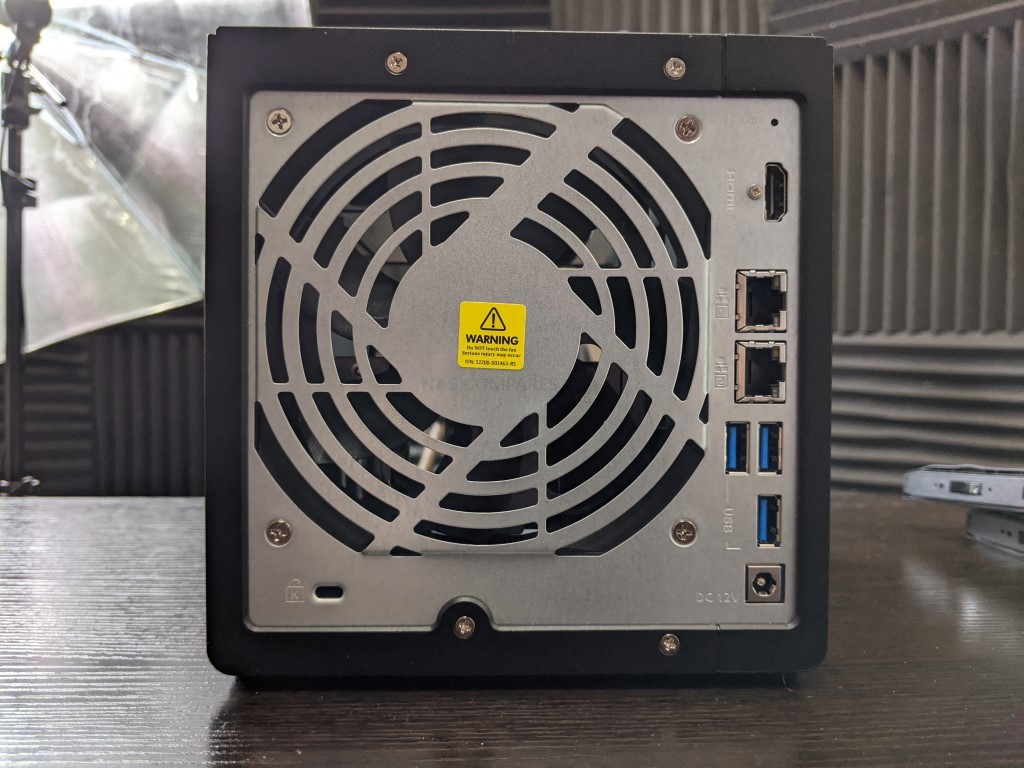 Given the way QNAP have moved in the network hardware market lately, I was surprised to not see 2.5Gbe as the default network port. Then again, this is still relatively new in the industry (less than 18 months on the NAS scene) and would also tread on the tos of the TS-453D in many ways.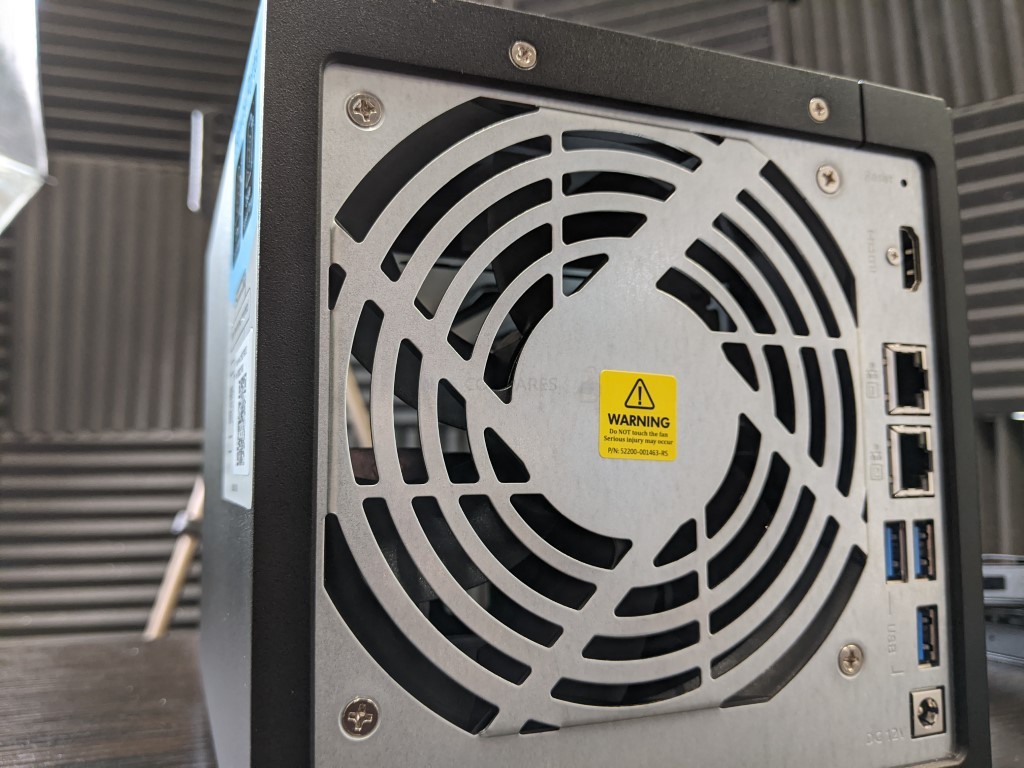 The rear fan measures 120mm and the rotations per minute (RPM) can be adjusted manually or automatically as needed. I would recommend keeping it at automatic, however, as the TS451D is designed to be a 24×7 device.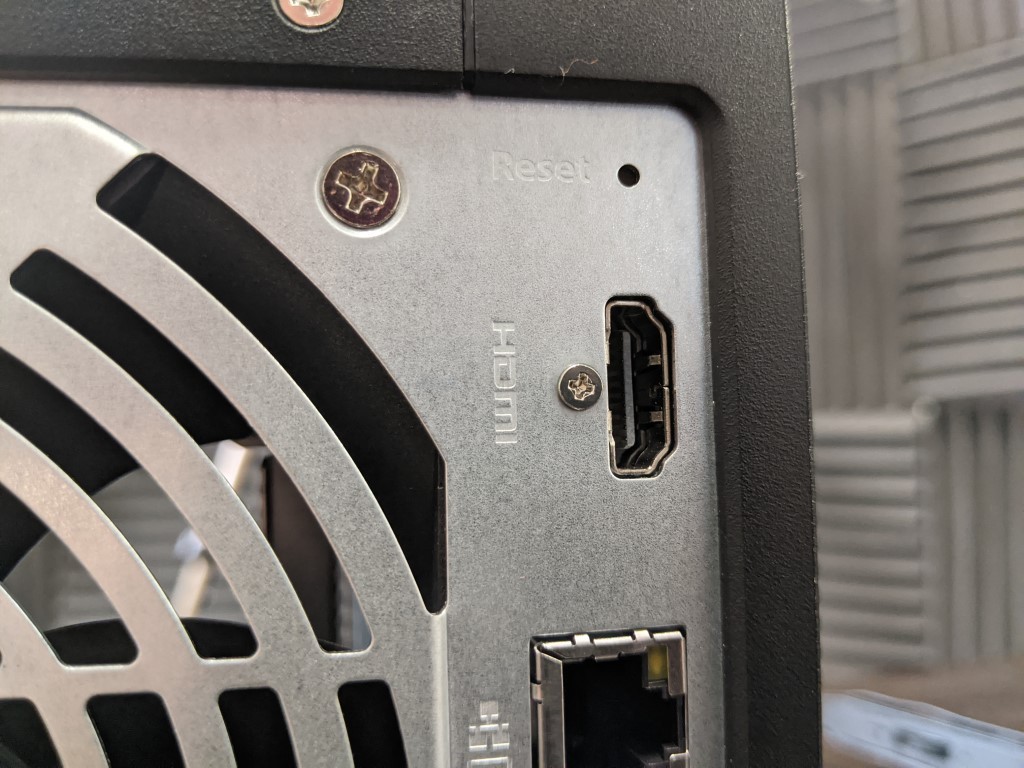 The HDMI out port is HDMI 2.0a – which I think should be the standard in 2020. Arriving with support of 1080p and 4K at 60fps, it means that you can access media directly over the HDMI connection between the TS-451+D2 and your TV/Monitor, resulting in next to zero latency in playback! Additionally, the HDMI Port is equipped with HD Station, the complete graphical user interface and natively controlled platform.
HD Station via the HDMI port can be controlled by an IR remote control, a USB Controller, keyboard+Mouse, or even the completely free QRemote application for iOS and Android. This allows you to run some fantastic operation locally, such as:
HD and 4K Multimedia Centre
KVM supported Surveillance System
Standalone Computer (just connect a keyboard and mouse) that allows Windows, Linux, Container and Android virtual computers
Emulate Computer Games for play, directly from the NAS (using RetroArch or numerous free games in the app center
Use as a file system with a direct graphical user interface
Edit files with LibreOffice, Photo Editing tools and more
ALL of these functions can be run via the HDMI port (connecting a controlling device as mentioned) SIMULTANEOUSLY with the NAS doing its day-to-day job for hundreds of users at the same time.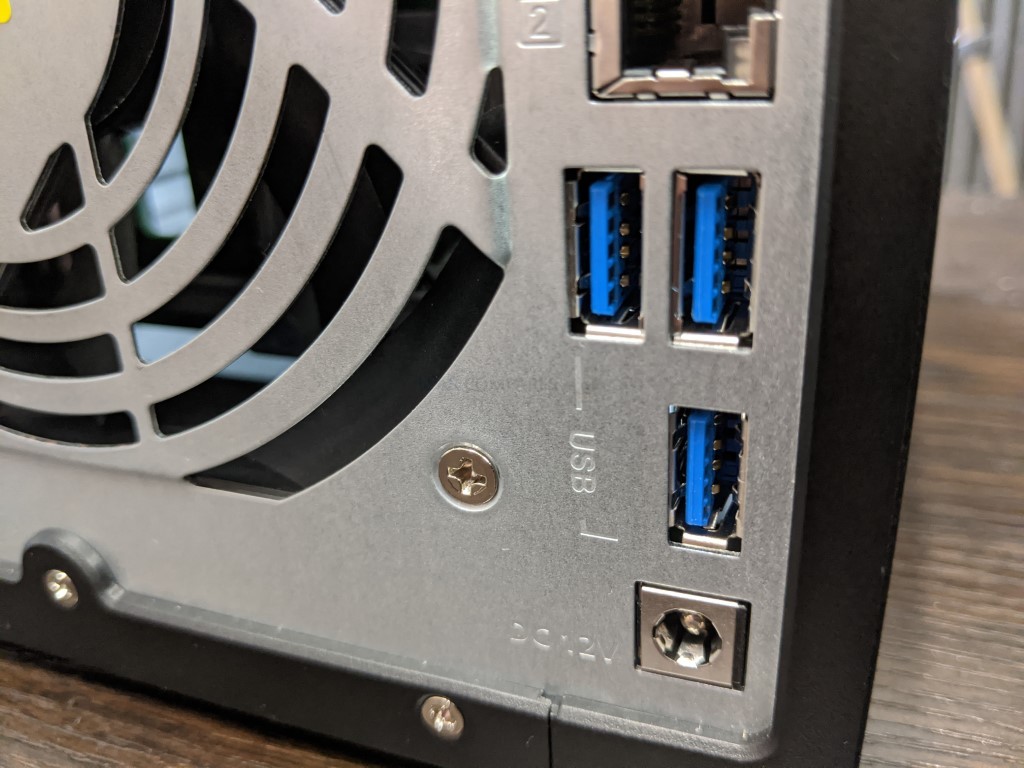 In terms of data connectivity, we have 3 more USB ports (USB 3.0, USB 3.1 Gen 1, USB 3.2 Gen 1 – whatever you want to call it these days!) for connecting a multitude of supported peripheral devices. These range from USB WiFi Dongles to Bluetooth adapters, Controllers, UPS devices, 5Gbe to USB adapters, Web Cameras and more.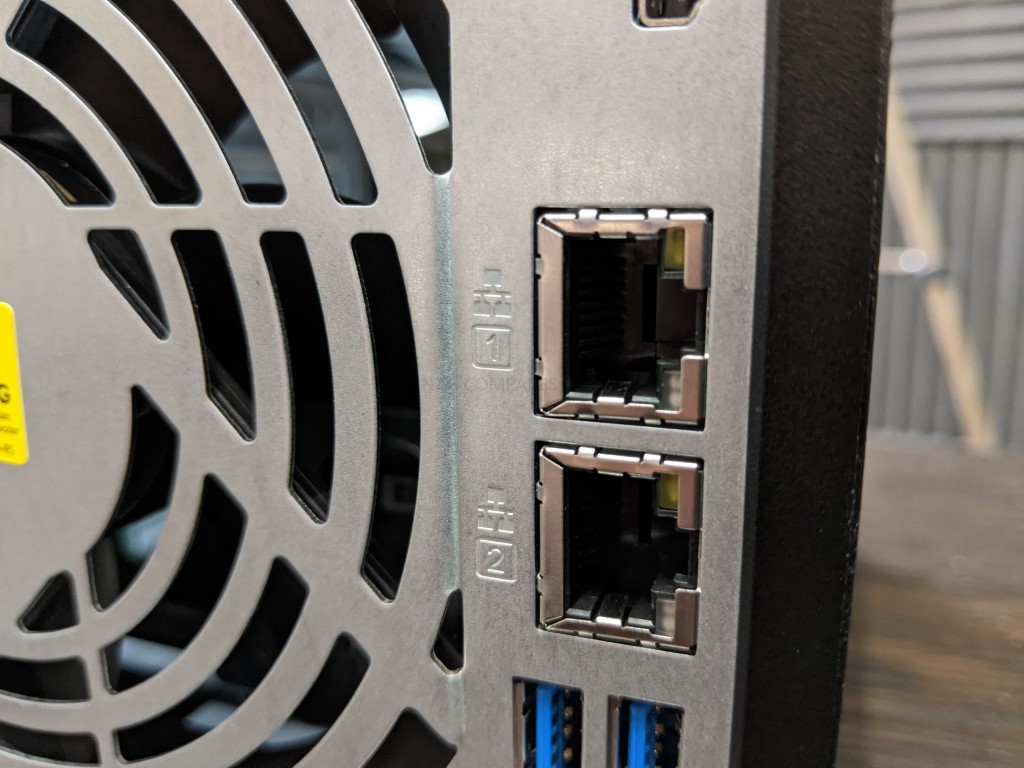 Next to those USB ports, we find two RJ45 1Gbe LAN ports. This is the means of connecting the TS-451D2 to your network and (if you choose to) the internet. As mentioned, I am a little surprised that it is not 2.5Gbe by default, given the push that QNAP and other brands have been making on this (as well as the cost point of it now being incredibly close to 1Gbe at the point of manufacture). Though that disappointment is a little eased with the inclusion of two ports and therefore the support of link aggregation. I know this may well be because it would then tread on the toes of the TS-453Be, or increase the base price, but still, it is a shame for such a capable CPU to be fractionally bottlenecked in this way at 1Gbe. Alternatively, you can use the QNAP QNA-UC5G1T (see below).
Sadly, unlike the TS-251D (arguable in the same product family) there is no PCIe upgrade slot. Had this been included, the TS-451D2 could have allowed you to upgrade a number of transmission and performance options on day 1, or later in the life of the device if you need to improve things. I can appreciate the need to keep their product ranges different in efforts to help users chose the right solution for their budget and priorities, but at this price point it does seem off not to have either 2.5Gbe or the means to Upgrade over PCIe later.
This slot opens the door to faster access, more storage, better caching of data and overall allows you to make the TS-451+D2 incredibly flexible down the line. This video will explain why the PCIe 2×4 (compared with the PCIe 2×2 in the TS-451+D2) is a good thing: Speaking of 1Gbe, I can confirm that the CPU and general architecture of the TS-451+D2 results in FULL 1Gbe connectivity over the network. This shouldn't be a massive surprise, but still nice to know.

Meanwhile, using both 1Gbe LAN ports via LAG reported the following speed (from QNAP):
QNAP themselves report access speeds over 5Gbe (using their QNA-UC5G1T USB to 5G adapter supported by the TS-451+D2) in a regular 10GB windows file transfer to be 432MB/s read and 368MB/s write – though this is not typical of all interactions and I recommend you visit the QNAP performance page for lots more tests in other environments with 1Gbe and 10Gbe.

So, overall you are getting some solid performance here, even if it is at 1-2Gbe typically out of the box.
QNAP TS-451+D2 NAS Review – Internal Hardware
We have already discussed the internal hardware a bit in this review, but it is worth digging a little deeper. The main CPU of the TS-451D2 is the Intel Celeron J4025. This dual-core 2.0 GHz processor (burst up to 2.9 GHz when needed) is a 64-bit x86 architecture chip, so this opens the door to a large variety of applications being used. This is both due to its impressive clock speed and architecture in file handling, but also because of the processor featuring embedded Intel HD Graphics 600. This means that Plex, VMs, Graphical file handling, 4K transcoding and more is available – and the QNAP + 3rd party apps definitely take advantage of the extra horsepower under the hood.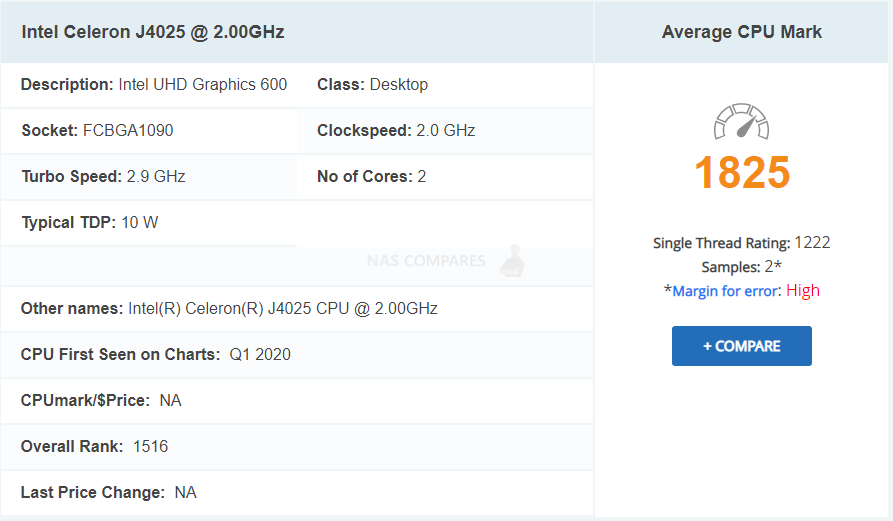 Outside of large scale graphical operations, the J4005 processor is also remarkably good at file handling, with some fantastic read/write internally for a mid-range 4-Bay NAS, both generally and utilizing the 256bit AES-NI encryption enabled on all transmission.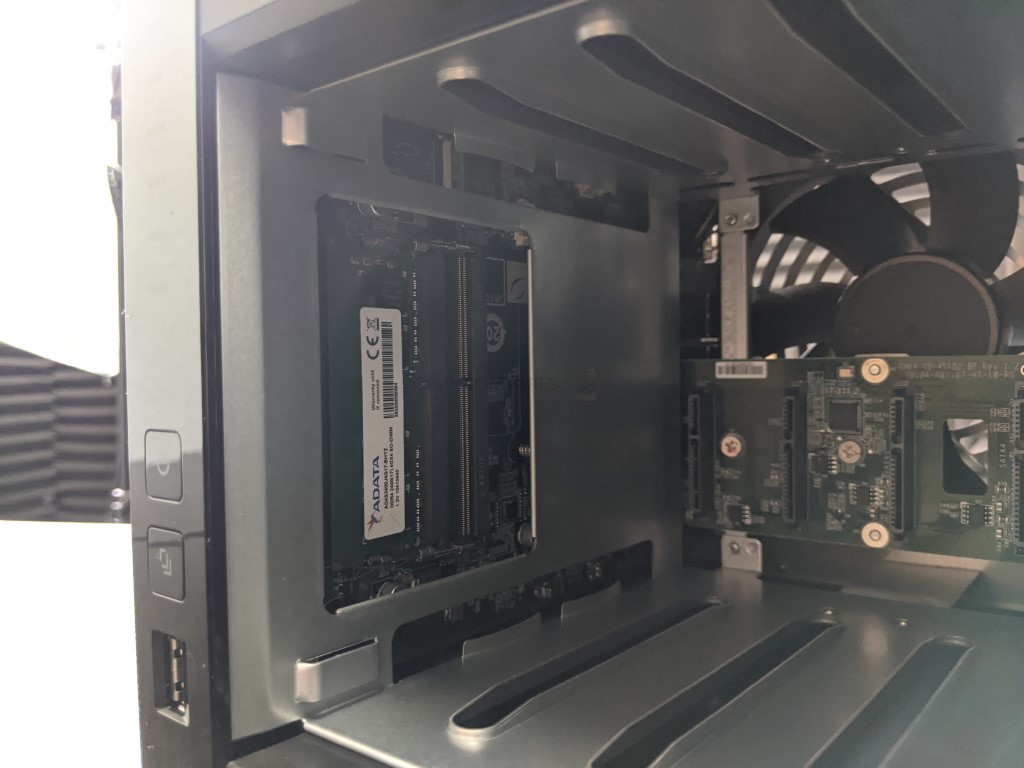 This processor is paired with 2 slots of DDR4 memory, SO-DIMM DDR4 to be precise.  This is a higher frequency than the DDR3L featured in the TS-451+A and DDR3 of the TS-451+ by default, the device arrives with 2 or 4GB, but can officially be expanded to 8GB – as well as unofficially upgraded to 16GB (I suspect – and testing will take place shortly). This is a nice extra upgrade over its predecessor and helps justify the small price increase. With the device being used for general but active file transfers, with 4x 4TB NAS Hard drives, QNAP stated power consumption of 10.30W in Standby and 23.98W whilst in use. The CPU is still pretty damn efficient for an affordable solution and this combined with the combination plastic chassis and internal metal frame results in a very surprising 18.5 db(A) sound level when in use – however, do remember that the hard drives you use will make all the difference when it comes to any noise, as newer hard drives at larger capacities create more noise (from more and denser platters and active cache inside).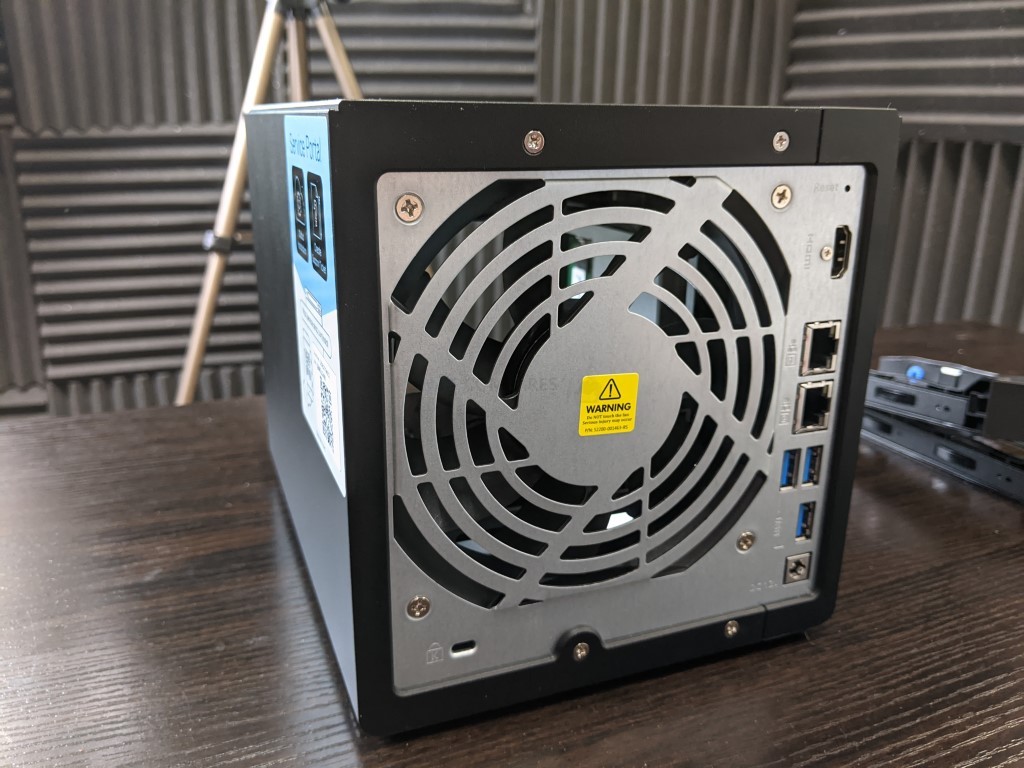 QNAP

TS-451D2

NAS Review – Software
The QNAP TS-451+D2 is more than just hardware and arrives with the QuTS (4.4.3 current version at the time of writing) NAS software. This software is included in the price of the TS-451+D2 and is easily one of the best user interfaces and operating systems that are available for those users in both home and business circles. it is important to understand that when you buy the TS-451+D2 server (or indeed any QNAP NAS), it arrives with the QTS software platform, with constant updates and hundreds of applications included. These are all tested and maintained 1st party QNAP apps and 3rd party applications. This is further improved with desktop client programs for PC/Mac and mobile applications for iOS and Android – ALL INCLUDED and downloadable at any time. The TS-451+D2 can perform most modern applications that you would want from a modern NAS, such as:
QNAP QTS 4.4.1 File Management Highlights
File Station
QSirch
QFiling
SSD Caching
QTier
Hybrid Mount for making cloud storage services appear local to the NAS
vJBOD to allow your storage to be bolted on/synced with cloud platforms
Microsoft Active Directory Support
Access-Anywhere with myQNAPcloud
Qsync for multiple hardware environment backups and Sync
Boxafe to mirror your GSuite and Office 365 data in their current form (accounts, emails, profiles)
Key Applications on the QNAP TS-451D2
Hybrid Backup Sync 3 – Allows you to Backup and Sync with Amazon Glacier, Amazon S3, Azure Storage, Google Cloud Storage, HKT Object Storage, OpenStack Swift, WebDAV, Alibaba Cloud, Amazon Drive, Amazon S3, BackBlaze B2, Box, Dropbox, OneDrive, Google Drive, HiDrive, hubiC, OneDrive, OneDrive For Business, ShareFile and Yandex Disk. As well as backup to another NAS over real time remote replication (RTRR) and USB connected media. All scheduled and all accessible via a single app user interface.
QuMagie – Facial and Thing recognition application to help you retrieve, tag and catalogue photos by its use of AI to actually 'view' all your years of photos and let you search by the contents of them, not the file names.
HD Station – The complete HDMI user interface, with it's own applications and access. It can also be accessed via your web browsers and configured via the NAS
vJBOD and Hybrid Mount – Gives you the ability to mount cloud storage as a visible drive within the NAS (and the apps access it as if it was local) or mount a % of space from your NAS onto another as a virtual chunk of space to use
Multimedia Console – one portal access point to manage media access, searching, indexing and transcoding on your NAS device.
Photo, Video and Music Station – Multiple file type tailored applications to access data in the best possible way that is suited to their output – along with smart searching, playlists and sharing
Virtualization Station – Used to create virtual computers that can be accessed anywhere over the network/internet with the correct credentials. Supporting Windows, Linux, Android and more. You can import an existing VM image to the NAS, or you can even download Linux and Windows VMs directly to the NAS for trials for free
Container Station – much like the VM app, Container station lets you mount and access smaller virtual tools and GUIs, then access them over the network or internet.
Linux Station – Handy application to deploy multiple Linux based Ubuntu VMs from the NAS, all easily and within a few clicks
QVR Pro and Surveillance Station – Surveillance applications that allow you to connect multiple IP cameras and IP speaks to your network and manage them with the applications. Arriving with 4 camera licenses for Surveillance Station and 8 for QVR Pro (the better one IMO), QNAP is constantly updating this enterprise-level surveillance application – adding newer security hardware and software tools for 2020 (see QVR Face and QVR Door)
Download Station – A download management tool that can handle HTTP, BT, FTP and NZB files in bulk to be downloaded to your NAS drive and keep safe. As well as keeping an eye on your RSS feeds and keeping your podcast downloads automatically updated with every episode
Malware Removers and Security Councillor – Along with Anti Virus software trials on the app centre, QNAP also provide numerous anti-intrusion tools and even a whole app interface to monitor in/outgoing transmissions with your NAS. It can make recommendations to beef up your security and keep you safe.
Mobile Applications for iOS and Android
Qfile – File manager
QPhoto – Photo Manager
QVideo – Video Manager
QMusic – Music Manager
QVR Pro Mobile – Surveillance App
QRemote – Remote Control App over the Network
QNotes – Central note-taking app, for collaboration between users
Full list here – https://www.qnap.com/en-uk/mobile-apps/TS-451D2?category=productivity
Whatever way you look at it, the QNAP TS-451D2 NAS provides an extensive degree of software and hardware support for those starting out in the fields of NAS, as well as providing a solid base of operations for more experienced NAS users who are looking for an affordable, yet powerful network solution. It should be mentioned however that the CPU, though Intel-based and powerfully efficient, is still lacking enough to carry extensive operations involving virtual machines and 4K transcoding via a Plex media server on a grand scale. If those are your main needs, then you should look at the TVS-x73e and TVS-x72N series, as they arrive with top tier AMD and Intel Core Processors.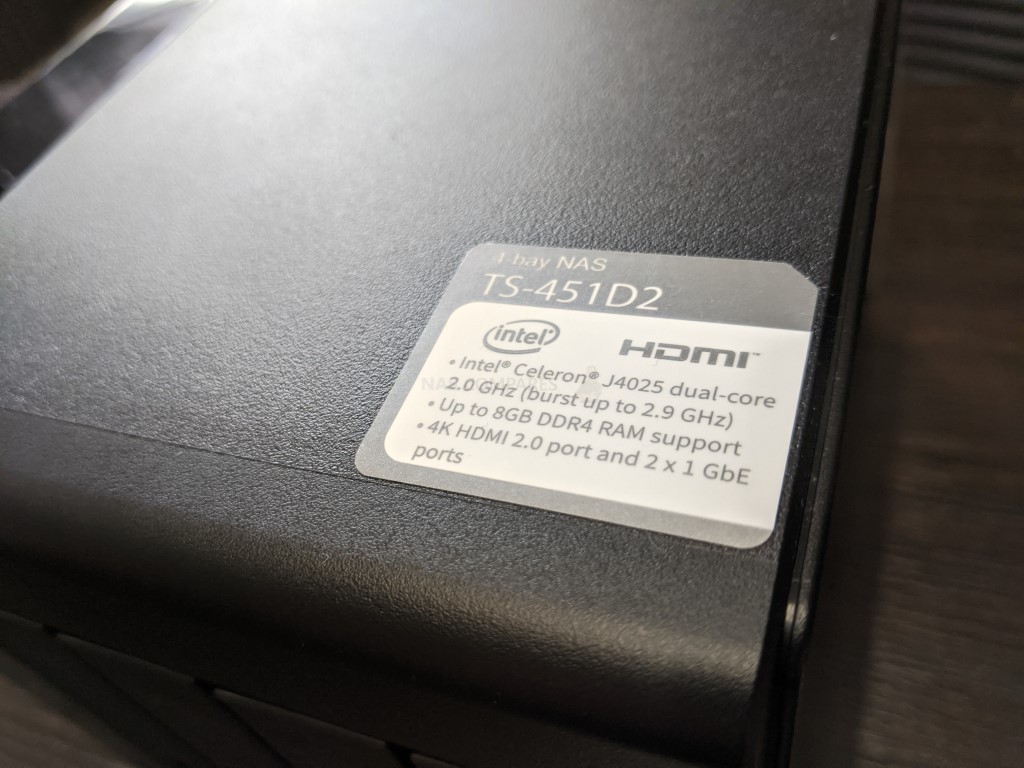 QNAP

TS-451D2

NAS – Review Conclusion
The QNAP TS-451D2 is an interesting solution to add to the range at the tail end of 2020 for the company, sandwiched in between the launch of newer business devices and likely one of the last units in the QNAP D series. The brand has long since shaken off the reputation of being a hardware provider and light software provider, becoming something much, much even. With a huge number of first-party applications in the QNAP QuTS library (many of which are genuinely unique) as well as releasing an affordable 4-Bay NAS solution that has aimed itself at the new NAS buyer, or the NAS user who wants to spend a little now but can expand greatly later.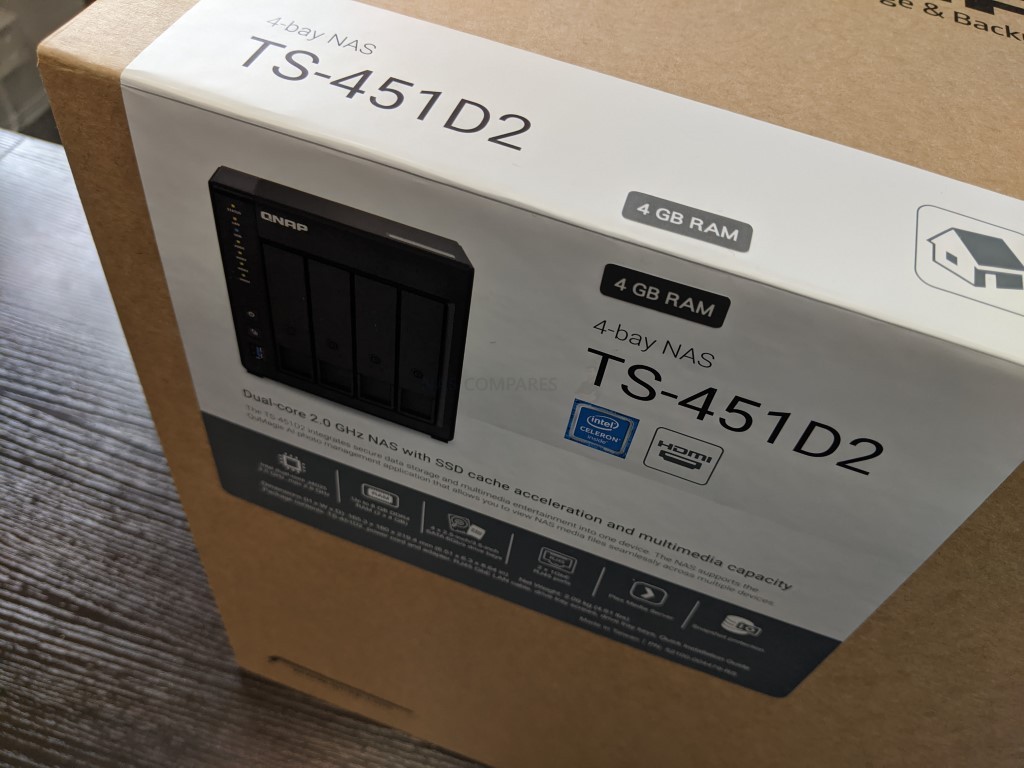 It isn't perfect – a dual-core, not a quad-core. 1Gbe and not 2.5Gbe – but that is not the point in the TS-451D2. This is aimed at the 4-Bay NAS buyer that want a good level of software and hardware performance, without breaking the bank. I will be doing further testing of this device on surveillance and Plex media handling, but even early tests have been remarkably positive. How it performs with key applications in the QNAP app library is already pretty easy to predict (quick well indeed), but overall the TS-451D2 is a great little NAS with a huge amount of potential for those that want their abilities to grow with their data. Just maybe the lack of PCIe will be a dealbreaker for some at this price point.
Pros of the QNAP TS-451D2
Cons of the QNAP TS-451D2
Great Choice of CPU

HDMI 2.0 at an affordable level – always good

Supports pretty much the entire QNAP app catalogue

Very Compact and low noise

Arriving at a good price point for a standard Intel 4-Bay

Good as a first NAS if you want all the features

EXCELLENT home multimedia NAS at this price point

VERY Good Surveillance NAS for Home or Small Business

Expandable with TR-002 and TR-004 QNAP expansion devices to many, many more drives

Only 2 Years Warranty

CPU is a little weak for solid Virtual Machine Use

Only 1Gbe ports, not 2.5Gbe or LAG support

Lacks the PCIe Upgrade slot of the TS-251D
A Quick Request to You – Yes, you reading this!
If you plan on buying your NAS Drive from Amazon, please use the links below for the best prices and Availability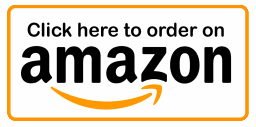 📧 LET ME KNOW ABOUT NEW POSTS 🔔
Join 1,461 other subscribers
Get an alert every time something gets added to this specific article!
This description contains links to Amazon. These links will take you to some of the products mentioned in today's content. As an Amazon Associate, I earn from qualifying purchases. Visit the NASCompares Deal Finder to find the best place to buy this device in your region, based on Service, Support and Reputation - Just Search for your NAS Drive in the Box Below
Need Advice on Data Storage from an Expert?
We want to keep the free advice on NASCompares FREE for as long as we can. Since this service started back in Jan '18, We have helped hundreds of users every month solve their storage woes, but we can only continue to do this with your support. So please do choose to buy at Amazon US and Amazon UK on the articles when buying to provide advert revenue support or to donate/support the site below.

Finally, for free advice about your setup, j
ust leave a message in the comments below here at NASCompares.com and we will get back to you.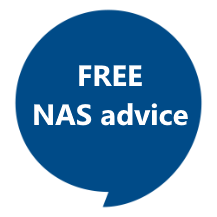 Need Help?
Where possible (and where appropriate) please provide as much information about your requirements, as then I can arrange the best answer and solution to your needs. Do not worry about your e-mail address being required, it will NOT be used in a mailing list and will NOT be used in any way other than to respond to your enquiry.
Support What We Do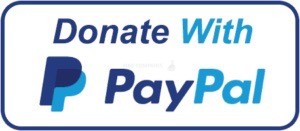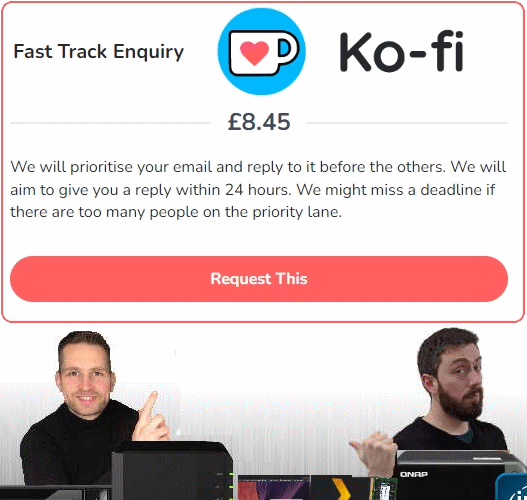 Terms and Conditions
Alternatively, why not ask me on the
ASK NASCompares forum
, by clicking the button below. This is a community hub that serves as a place that I can answer your question, chew the fat, share new release information and even get corrections posted. I will always get around to answering ALL queries, but as a one-man operation, I cannot promise speed! So by sharing your query in the
ASK NASCompares
section below, you can get a better range of solutions and suggestions, alongside my own.