QNAP QHora-301W Hardware Review – ALOT to live up to!
Earlier this year when I first learnt about the release of the QNAP QHora-301W router, I think it would be fair to say that I was impressed. Wi-Fi 6 protocol has already been around commercially for more than a year and I have already reviewed numerous AX class routers throughout that time here on the site. Arriving with an 8 internal antenna architecture, switch capabilities over four Gigabit LAN ports and even two 10Gbe connections, this is the first big move from QNAP into the field of routers for business use. Already stretching out of the subject of NAS and into an extended world of network switches and interface upgrades, the QHora-301W represents the first device to branch out towards completely facilitating your entire office network needs. The keyword here is business, with the QHora-301W arriving at £350, it is certainly a jump up from your average bog-standard free ISP router in price too though. So today we want to review the QNAP QHora-301W and find out whether it's home and business class hardware and features deserve a place in your network environment in 2021. Let's begin.
QNAP QHora-301W Hardware Review – Quick Conclusion
Overall, the QNAP QHora-301W get almost everything right and fulfils practically all the modern needs of the home user looking for a pro router, a professional looking for a business class system and a business looking to move towards an enterprise-grade setup. Having leaned heavily on the QHora-301W's support of the subscription SD-WAN service in all their marketing (and to their credit, it definitely does the job), many buyers might not be as aware of the other core strengths of this device, such as several first-party router and network management tools that even novice home users will be able to take advantage of. Because of this, the QHora is in danger of being overlooked as 'all business, no pleasure', which is simply NOT the case. The design is a tad bland and some users may have favoured external antennae, but you cannot argue with the hardware that is available inside the QHora-301W. A decent and efficient CPU for handling network management easily, coupled with 1GB of memory, will keep things moving no sweat. Introducing a number of the inclusive switch capabilities into this router into your own setup means that you really do have an all-in-one solution here with the added benefit of USB support and, of course, dual 10-gigabit Ethernet connectivity that can be used for a myriad of improvements in your workflow, backups and file-sharing needs across the wider network. Aside from the lack of more traditional back node mesh support that I would have liked to see here (and is coming in the QMiro Mesh router soon), I struggle.to fault the QNAP QHora-301W and it's certainly a solid step forward for the brand in this new area of hardware. I'm looking forward to seeing where QNAP go from here.
QNAP QHora-301W Hardware Review – Retail Box
The retail box of the QNAP QHora-301W is quite petite and is in stark contrast to the more bold and enterprise retail kits that their NAS systems typically arrive with. A small and slim affair that will not look out of place on a retail shelf and, let's be honest, you are far more likely to find the QHora-301W available at a physical shop than most of their NAS systems, which one would consider far more eShop friendly.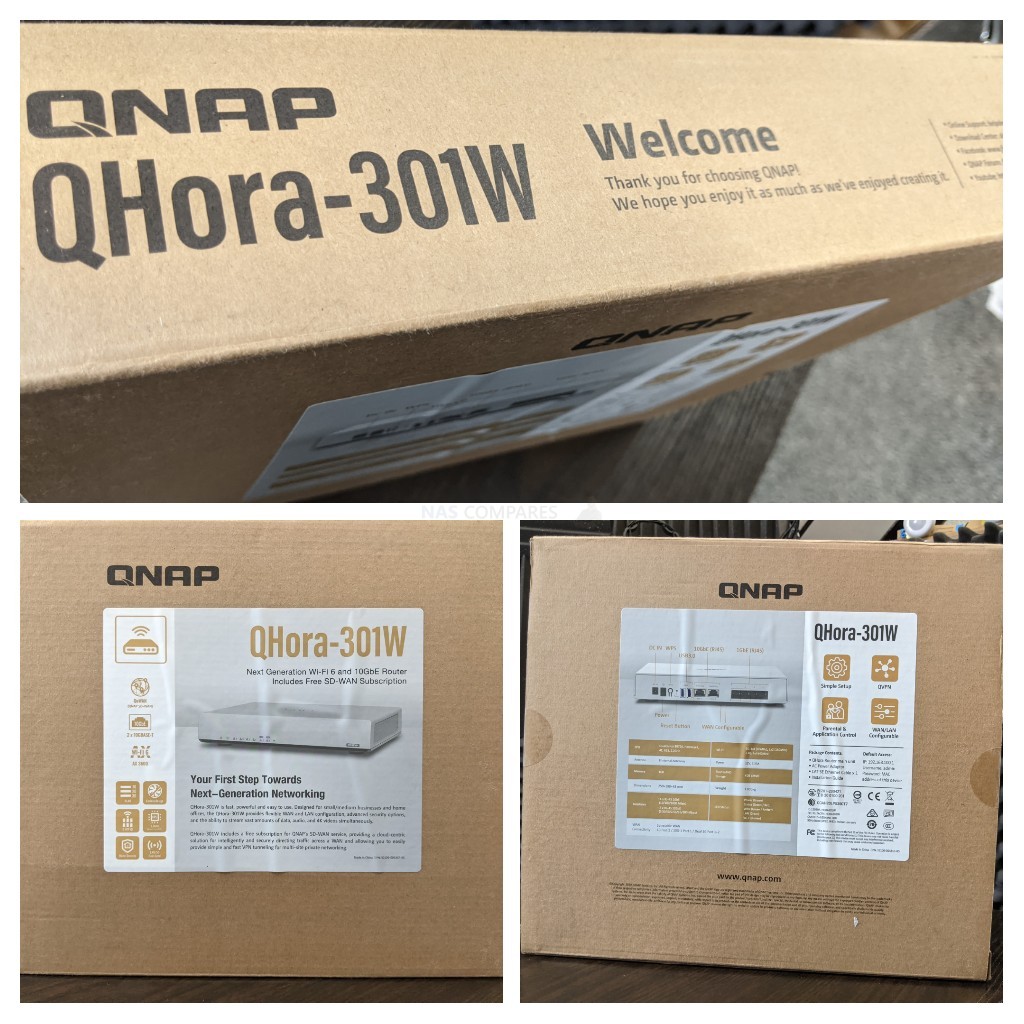 The front label gives us plenty of information about what to expect with the QHora-301W in our network environment. Highlighting some of the key software and hardware advantages included, clear but simple, but still talks a big game.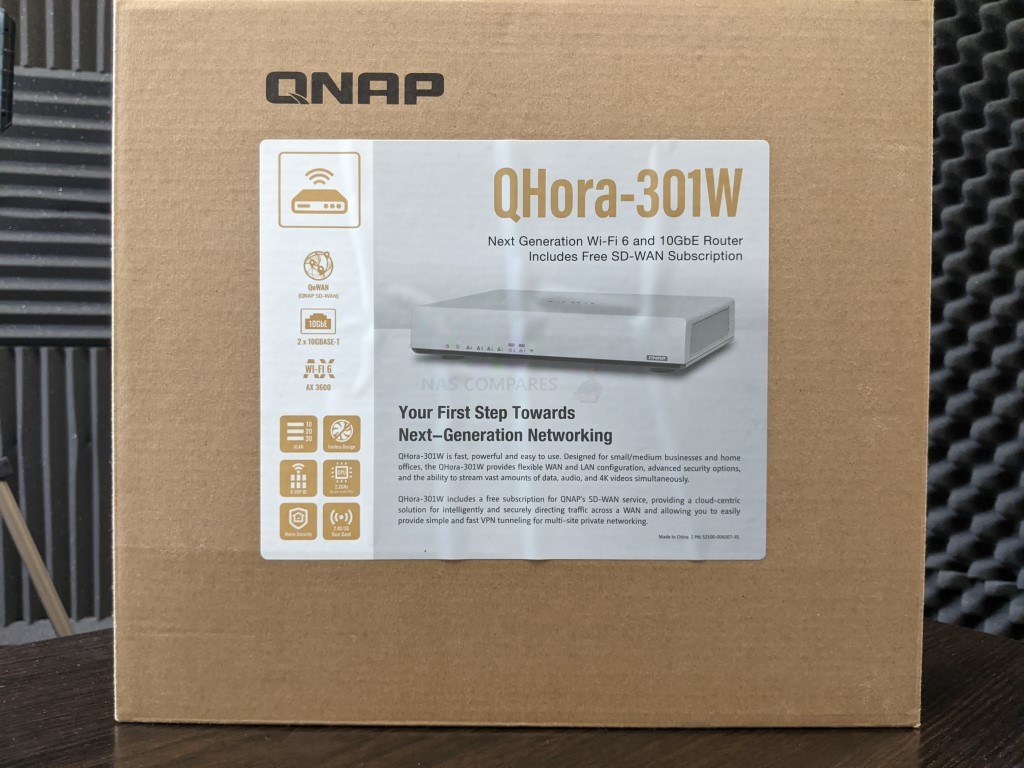 The packaging itself is nowhere near as robust as that of the NAS hardware that QNAP have sold for more than a decade, favouring a recycled cardboard internal structure that spaces everything out neatly – you get a slight feeling that this system was not packed in the usual QNAP facilities. I know I harp on about the packaging materials used in most of these systems that I review, but the effects of shock damage to most devices in transit is a subject that does not get anywhere near enough attention and although the QHora-301W is a remarkably solid piece of kit with barely any moving parts to speak of, the retail packaging internally is a touch underwhelming.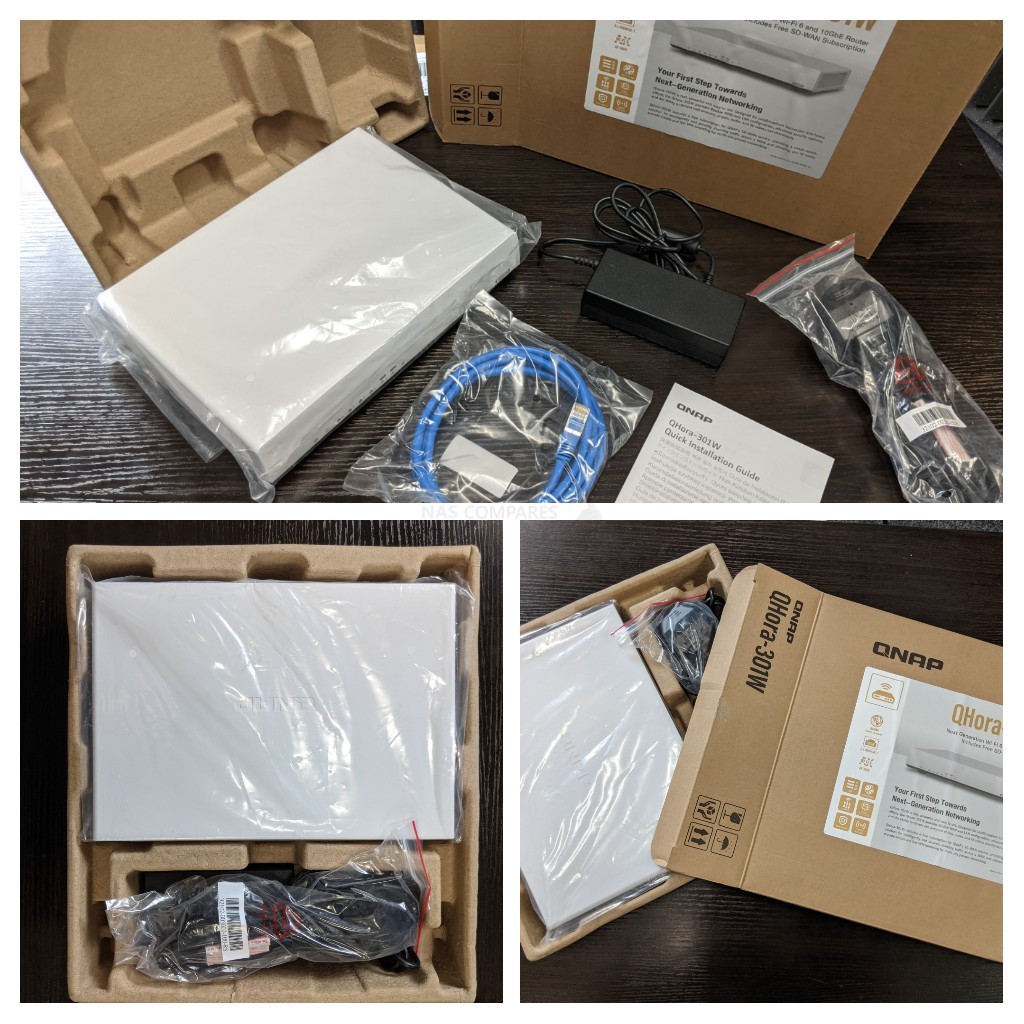 Moving aside from the fantastical dull subject of the rigidity of cardboard though, you do have a fully-fledged kit with the QHora-301W router from QNAP and arguably everything you're going to need to upgrade your home or business network to Wi-Fi 6, as well as integrate existing 10Gbe networks to share with old and new devices alike. Setup of the device is largely guided through online sources which are regularly updated (going by other system resources in the portfolio at least), and information pertaining to the warranty is detailed clearly too. The QHora arrives with 2 years of warranty, which does seem the tiniest pinch short (with most routers arriving with 5yrs or a lifetime warranty – but those are far less hardware equipped than this one). The full list of included items are:
QHora-301W router

First Time Setup Guide
Warranty Information
24W External PSU
Mains Power Cable
Cat 6 ethernet cable (Blue)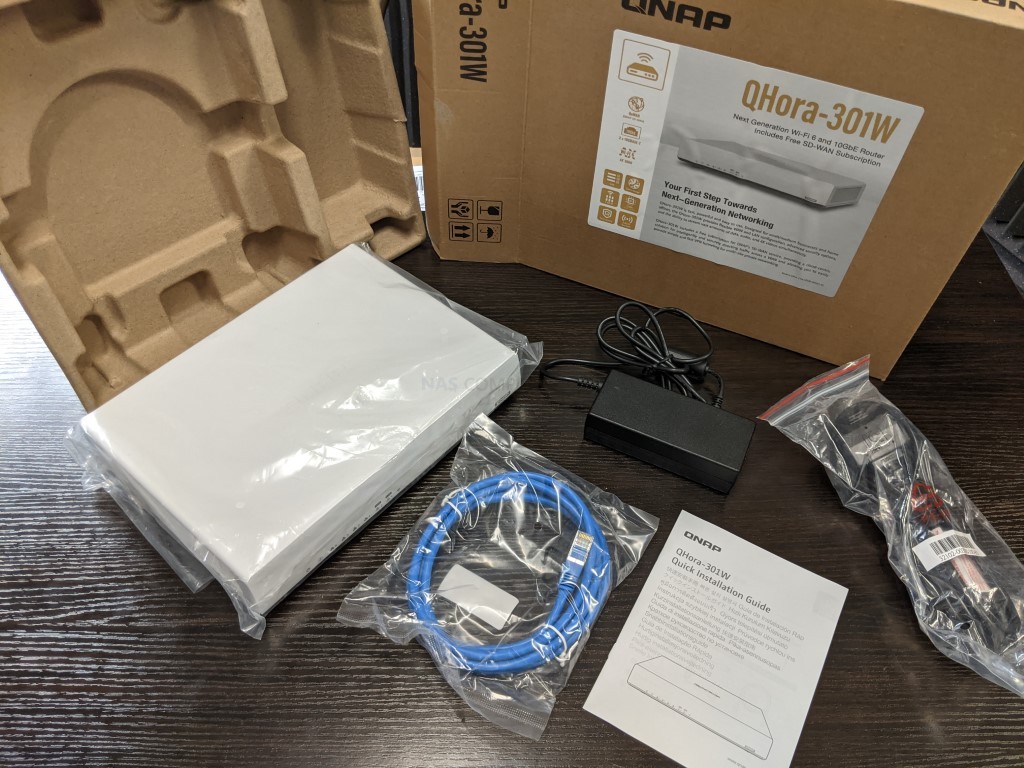 All fairly standard stuff. the system also utilizes an external PSU much like the majority of modern routers and this 24-watt power supplier is going to be more than enough to provide power to the core system when in use. Some might argue that even at a humble 24W, that seems a pinch high for a router. However, you have to factor in that this system has a fairly capable CPU for network and software management that is always active, as well as dual 10Gbe network ports with a dedicated controller, 8 antennae with multiple band coverage and even two USB 3.2 Gen 1 ports for adding additional external storage that can be made network accessible. All of these things make their own small mark in terms of power consumption footprint and therefore the 24 watt PSU is hugely justified in my eyes.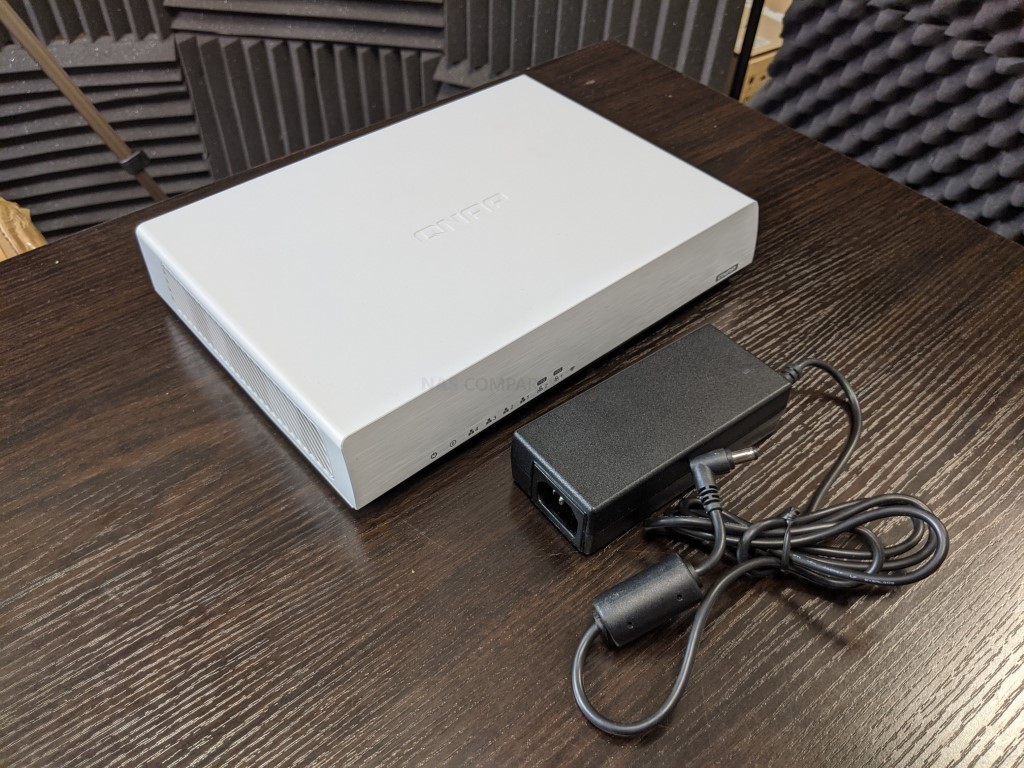 One slight area I wanted to highlight that made me happy (small as it was) is the fact that the QHora arrives with a Cat 6 cable, which is far more suitable to 10Gbe and longer distance contents to maintain low latency. This is a fantastically pedantic point I know, but if you plan on utilising the copper 10G ports and connections (either as a WAN or LAN), then it is always recommended to go with a Cat 6e at the very least. This is by no means a deal-breaker in terms of utilising the device but still, nevertheless, it's a tiny thing that too many brands seemingly overlook.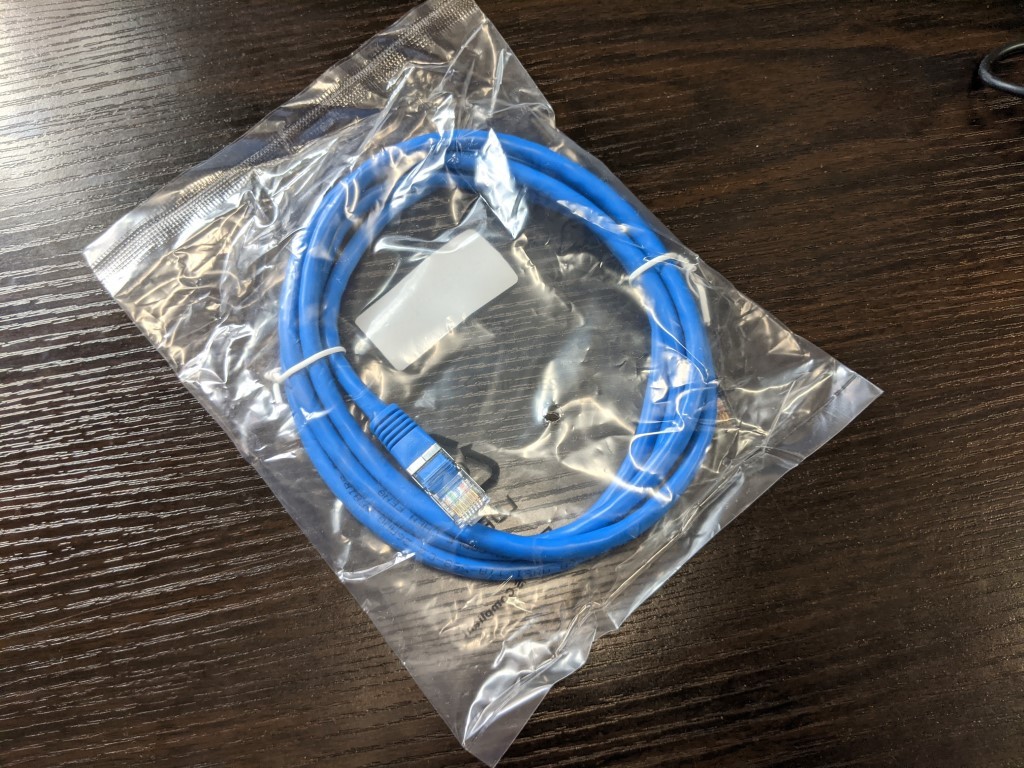 That said, my incredibly pedantic qualms over the retail box and Ethernet cable aside, the QHora-301W does arrive with everything that I would expect, especially if I am an SMB user moving away from the router or modem supplied by my ISP. Let's take a closer look at what £250 of router looks like these days.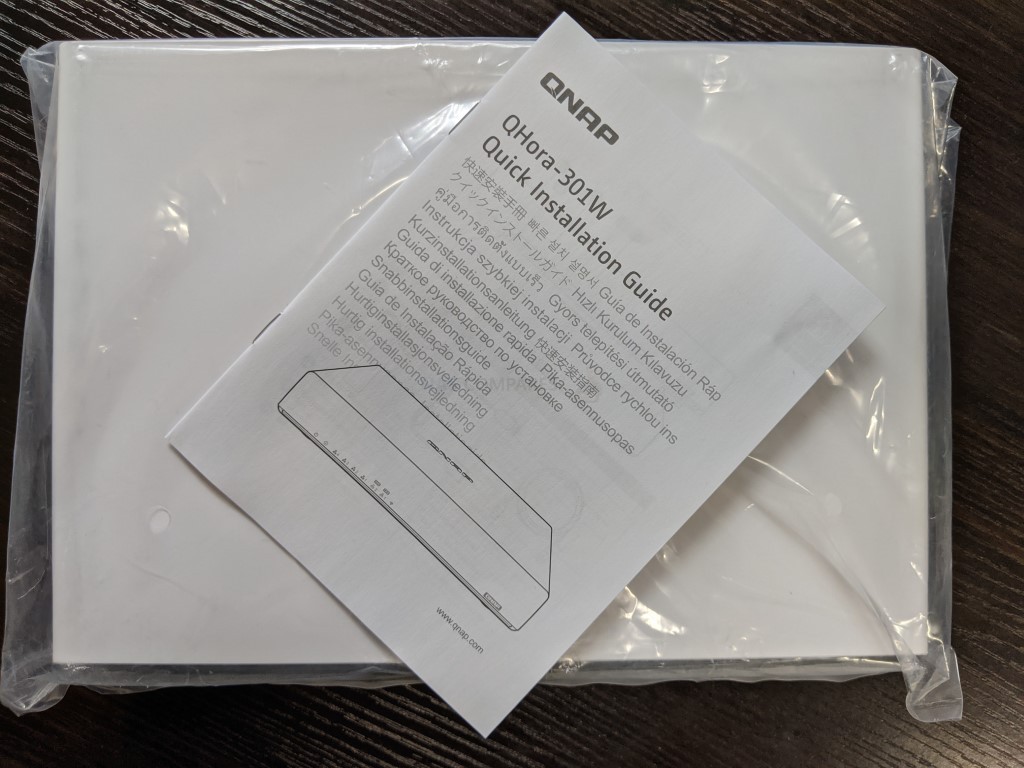 QNAP QHora-301W Hardware Review –

Design
The design of the external casing of the QHora-301W is clearly a move towards a simple, discrete and compact setup. Not everyone will be a huge fan of the white external casing, and although the majority of ISP routers for home and business typically arrive in white, I'm surprised that QNAP stuck with that colour, given that generally white in most of their product portfolio symbolises a more cost-effective product. The QHora-301W is by no means an example of a budget solution, both in the hardware that it arrives with and the price tag. It is remarkably compact, especially for the hardware are inside, and the fanless nature of the device means that the core or temperature control of the device is handled via a series of heatsinks internally.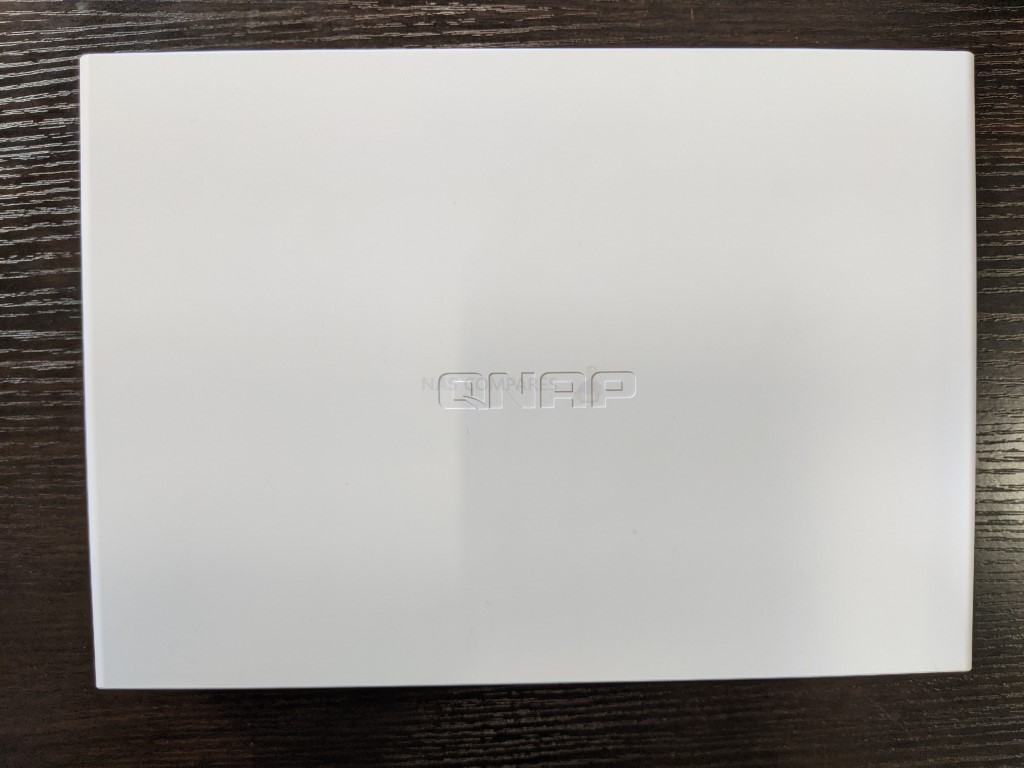 The top of the device carries the embossed logo of QNAP as one might expect, and is largely clear of any other distinctions, leaving the bulk of LEDs and details related to use directly on the front panel. The texture and design of the front panel is actually a fraction different to the rest of the chassis, showing a brushed steel effect that is quite nice. This is still a mostly plastic chassis though.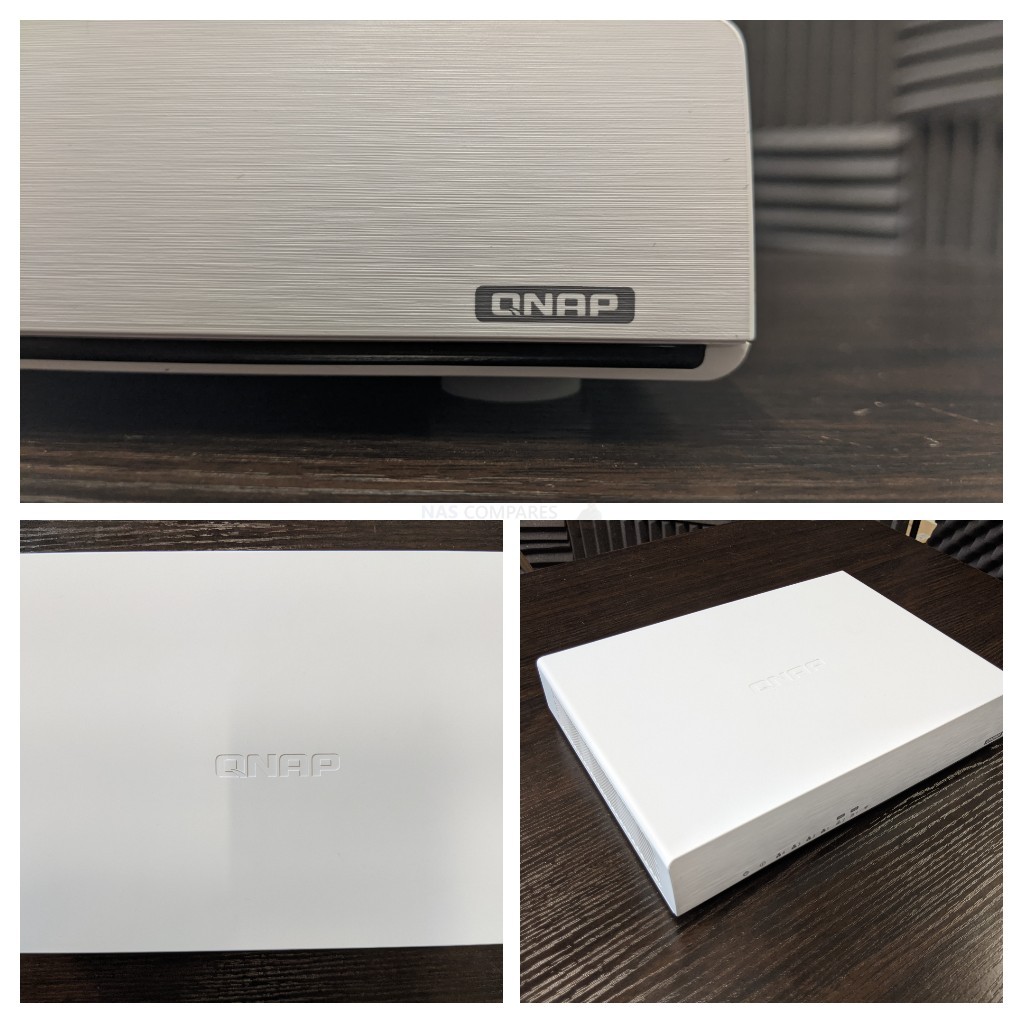 Looking more like a compact switch than a router, the QHora-301W router packs a hell of a lot of ports and lights into that front-mounted panel yet still manages to maintain a clear single glance layout. Each part of the physical interface of the device, located on the other side, are presented very clearly and you are under no misunderstandings about which ports and indicators relate to which services. However, in most cases, you will have the LED side facing out.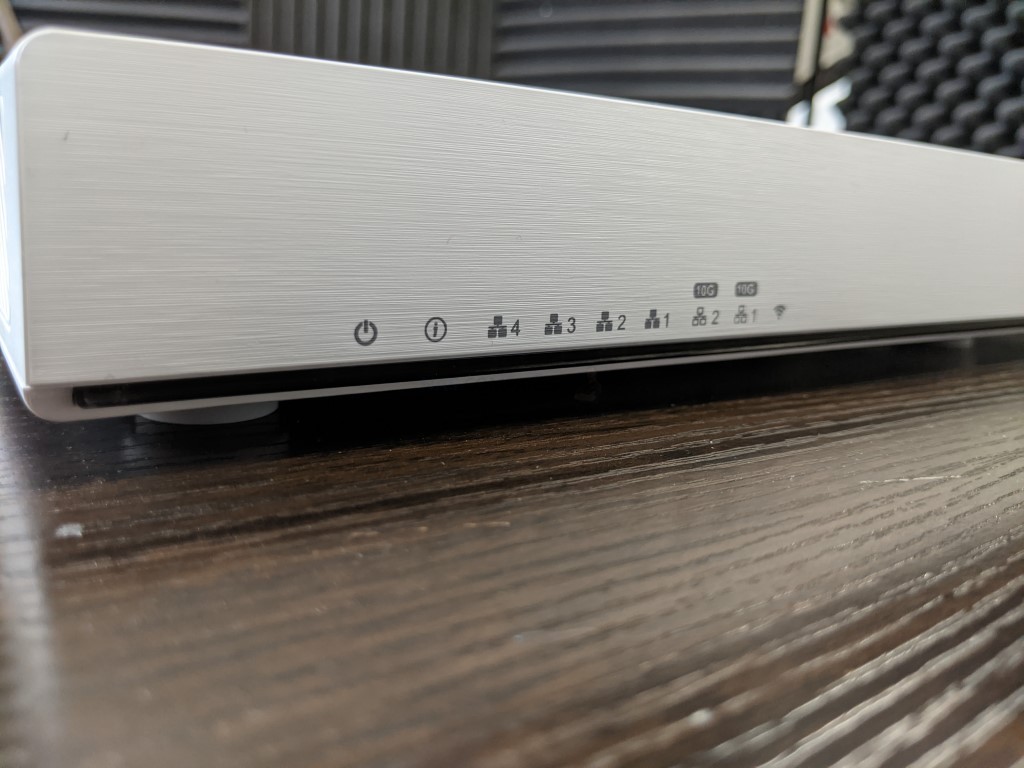 The bank of LEDs on the front of the device is particularly well presented and arguably one benefit of the colour scheme that the QHora-301W has in it chassis as it allows these embossed LED descriptions to be clearer. Each of the LEDs can be adjusted in their brightness via the GUI of the main system software that the QHora-301W arrives with that can be accessed by the network or internet (with several security settings that can be applied). There is a typical 3-tier light functionality for each and they relate to the system operation, overall network status, internal activity, Wi-Fi activity and six network interface LEDs that relate to the four-gigabit ethernet connections and each of the 10 Gbe ports. I'm still remarkably impressed that this compact chassis still manages to have that many features on its front panel and still maintain clarity as well as it does, extra marks there.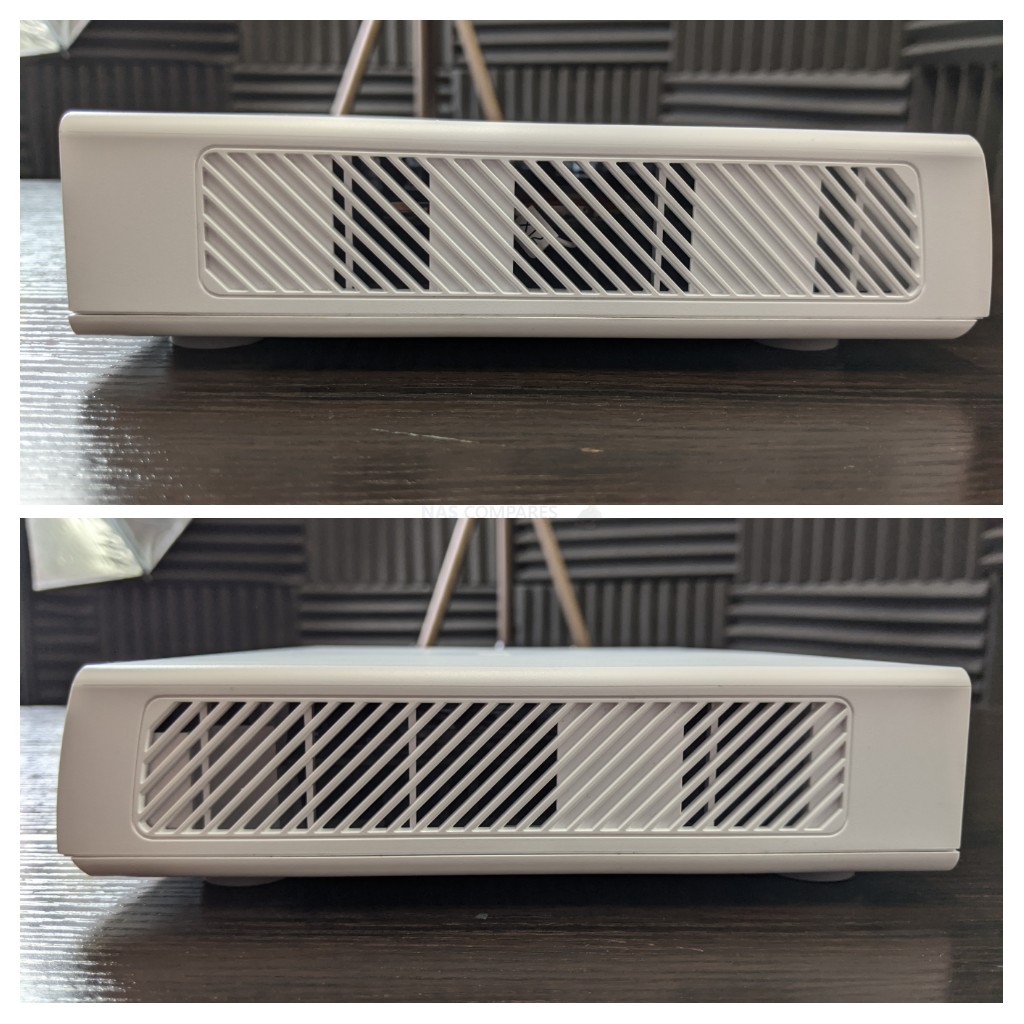 As mentioned, the QHora-301W does not feature internal cooling fans so it's operation is near silent. the internal components of the main PCB and chips are surrounded by a system of heatsinks to dissipate heat from the core components and ensure good performance at all times. These heat sinks are further assisted by passive cooling vents on either side of the QHora-301W, as well as assisting heat dissipation via the chassis itself. Although temperatures generally are less of a problem in traditional ISP 1Gbe routers, in this dual 10Gbe equipped device and with 8 antennae, WiFi 6 and external storage ports mean it is going to be a tad more formidable and therefore the assisted heat dissipation internally is key. QNAP has been doing some excellent work this last year or two on their managed and unmanaged range of silent switches and even arrange of silent nurses, so they have a decent body of experience with dealing with efficient heat dissipation in their hardware portfolio. The casing being largely plastic in design does counter this point a little though and I look forward to monitoring the heat levels when this device is at full utilization.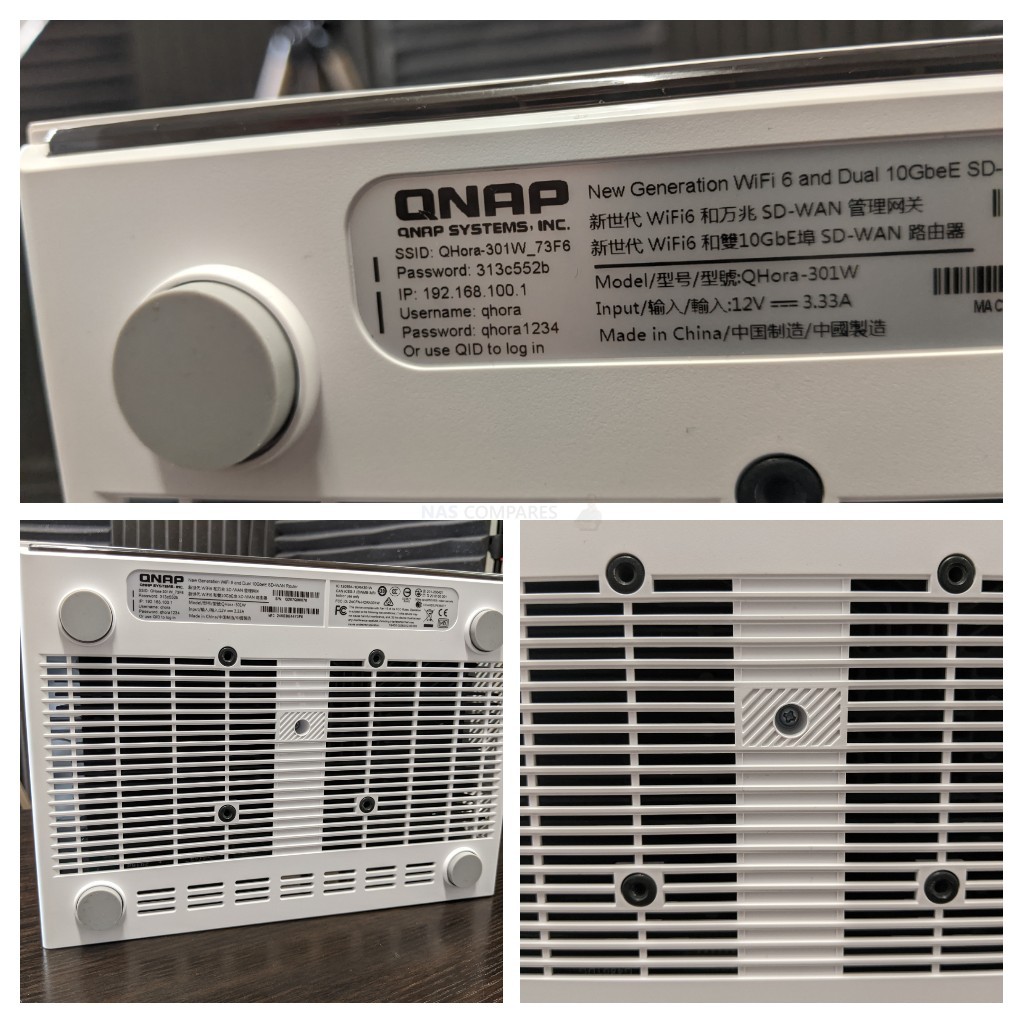 The base of the device is fairly innocuous and aside from the assisted heat dissipation of that base panel and the four raised rubber feet that allow the device a fraction more cooling space, there is little more of concern here. Though it is also worth highlighting that the base also features screw holes that allow this router to be mounted much higher, which is recommended for a device with internally placed antennae (remove typical home/office obstacles). Let's take a closer look at those individual ports and connections and how you are able to take advantage of them.
QNAP QHora-301W Hardware Review –

Ports and Connections
Anyone that has been in the difficult position of having to move away from the router that is supplied by your internet service provider, whether it is for home or business services, will always query deep down why they should be paying hundreds of pounds for something that their internet plan includes for free? How much better can they actually be? Currently, the Wi-Fi 6 support on modern routers somewhat makes up for a little of the jump from free to premium class routers in 2020-2021. However, in the case of the QHora-301W, the baseline hardware that this system arrives with along with an exceptional range of software and services that are included with the device arguably make the justification for such an upgrade considerably easier on the palate.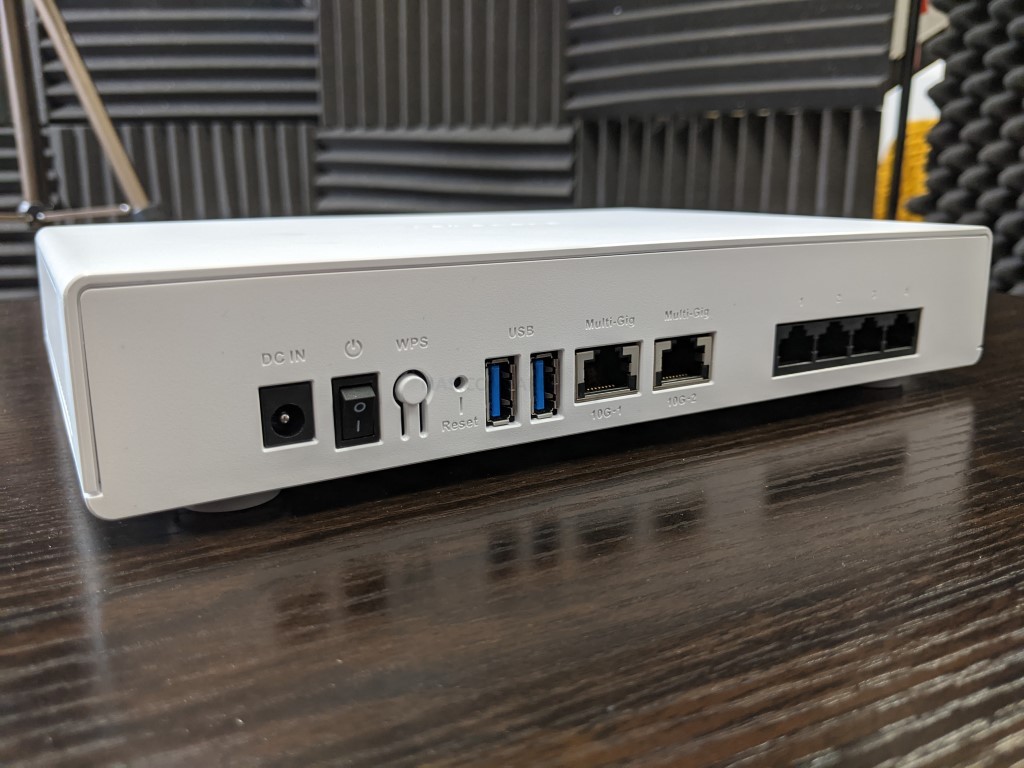 Those who are planning on buying the QHora-301W as more of a future-proofing upgrade to the existing setup or are a new business start-up, will likely only take advantage of the four one gigabit ethernet ports featured on the front of the device – leaving the 10Gs for a NAS perhaps. Each 1G port provides 100MB/s per second directly connected bandwidth, as well as the Qurouter software also supporting numerous ways of creating sub-networks and virtual networks (vLANs). The software seemingly skips a number of the more 'switch' friendly features that one might like (such as LAG/Port trunking) which makes a little sense, as most users would be expected to connect a switch to an available 10Gbe port. Still, giving the total 6 LAN ports available here, as well as the range of LAG supported NAS in the QNAP portfolio, perhaps it would have been nice to also have the option of the QuNetSwitch software from the Guardian/managed switch portfolio available on the device.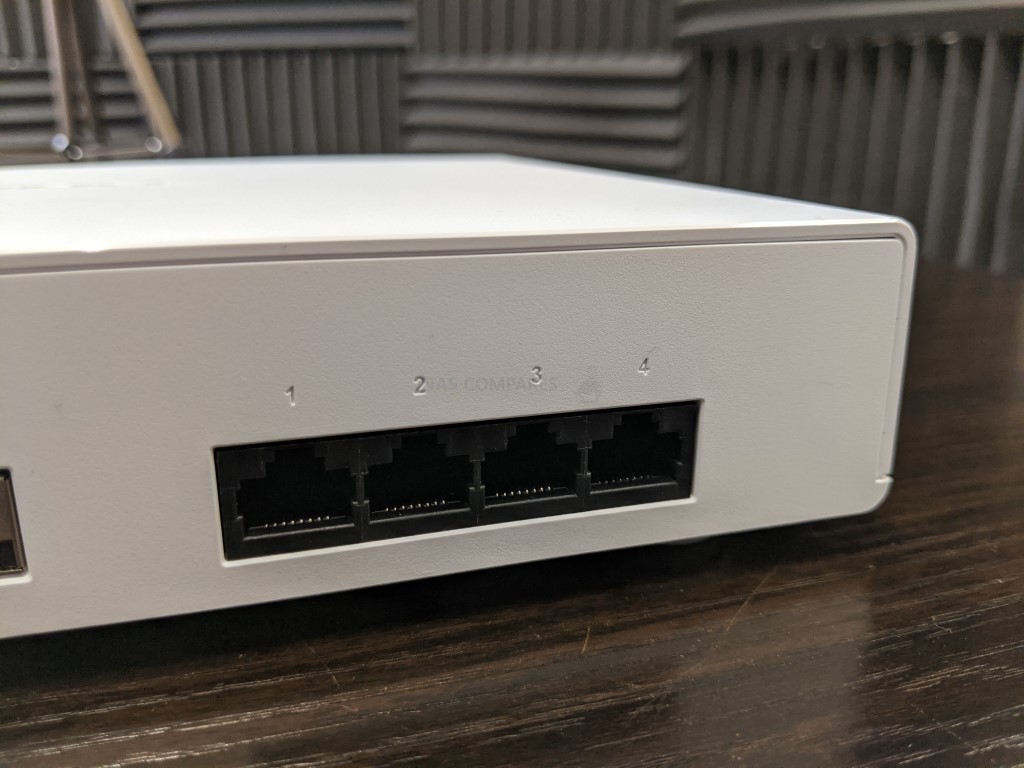 However, let's be honest for £350, you are going to be far more interested in the two 10Gigabit ethernet copper connections that are available on this device. These 10GBASE-T connections that each provide up to 1000MB/s per second bandwidth are available to you to be used as traditional LAN ports in conjunction with the 1Gb/s as a shared network, as well as supporting WAN (wide area network) which is a massive deal-breaker for many businesses who are looking at the benefits of intelligently managed multi-site operations, moving away from subscription-based SD-WAN services, older MPLS (Multiprotocol Label Switching – what came before SD-WAN) users or just those that have vastly improved upload and download speeds available in their regions. Additionally, those that own 10-gigabit ethernet equipped NAS systems from QNAP and other brands will be able to connect one or two to the available 10Gports and allow numerous connected users over wireless or ethernet connections to max out their connections.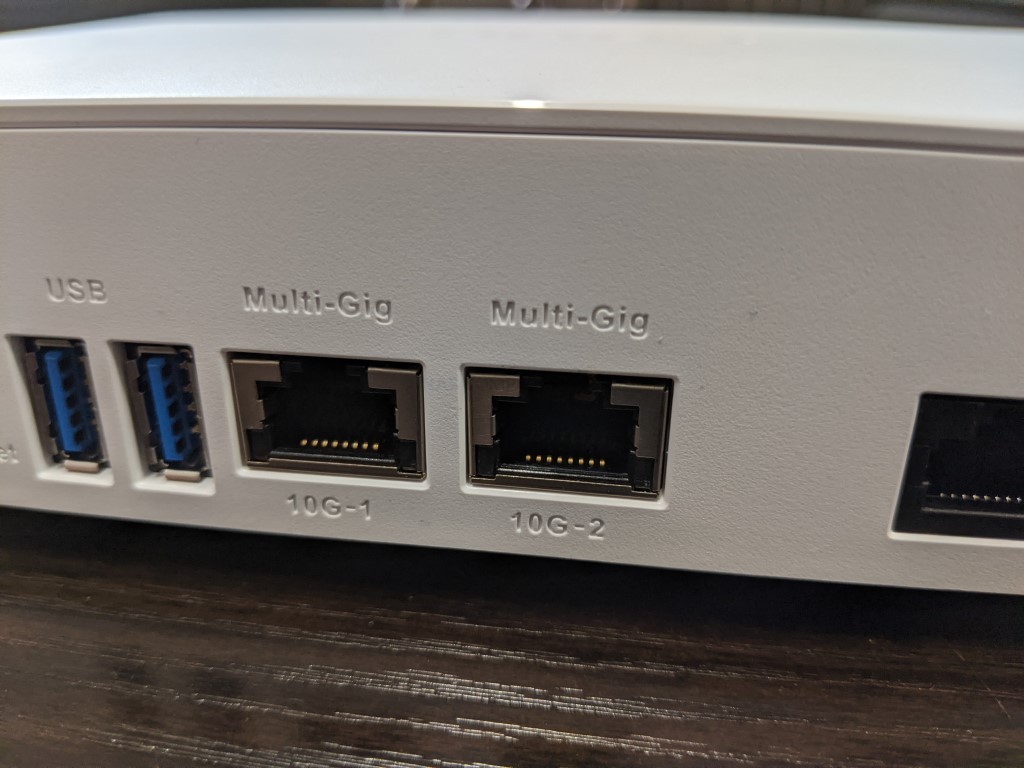 Arguably, the QHora-301W router featuring 10Gbe is a bigger deal than it's the inclusion of Wi-Fi 6 right now as 10Gbe routers are still remarkably expensive and typically only arrived in SFP+/fibre based connections. The benefits of 10G WAN and utilising inclusive QuWAN services in conjunction with the QHora-301W will easily promote faster date of transactions between office locations over a wider geographical level, as well as locally for clients and staff alike. For me, along with the wide range of software management options, this is where the real money is and actually makes the QHora-301W quite an affordable item long term.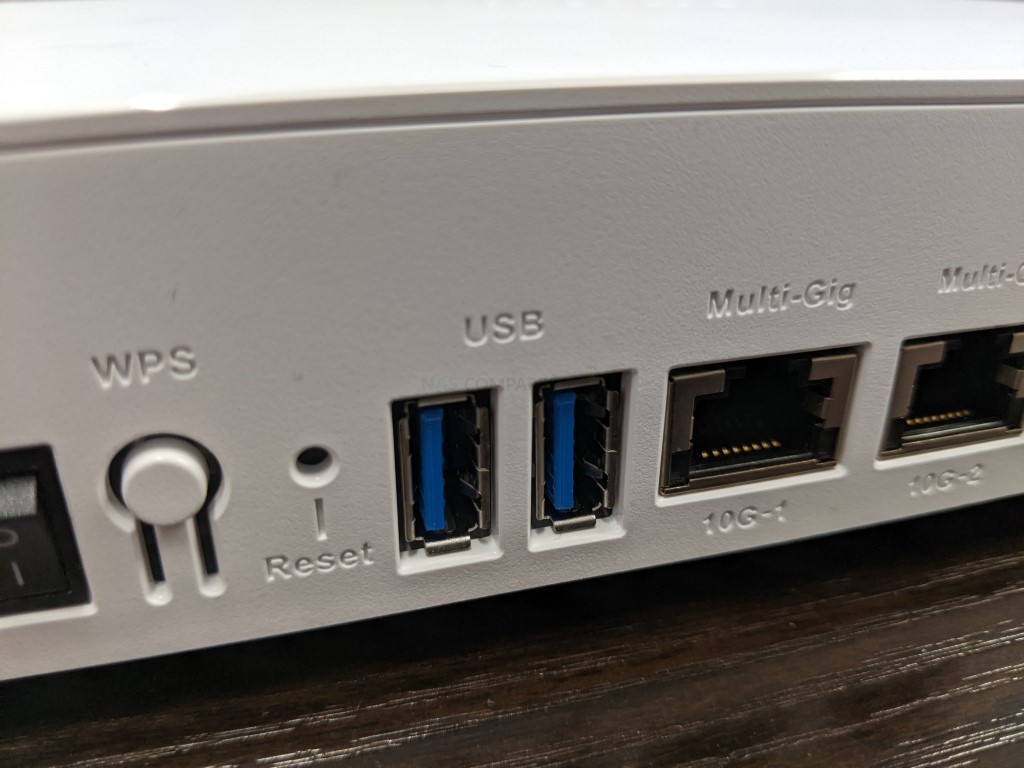 Along with all of these network equipped connections, there is also no additional USB ports available that can be used for numerous compatible USB devices. As the QHora-301W has only recently been released, the full range of supported USB devices has still yet to be fully fleshed out. However pretty much all external USB storage drives are supported and allow you to make locally connected storage to the router become network and internet access to any user who has the credentials created – with the router supporting the QFile client app for mobile devices. I'm looking forward to seeing increased USB support of wireless dongles that allow 4G/5G SIM utilisation, as seen in other router systems, but I was unable to test this during the review.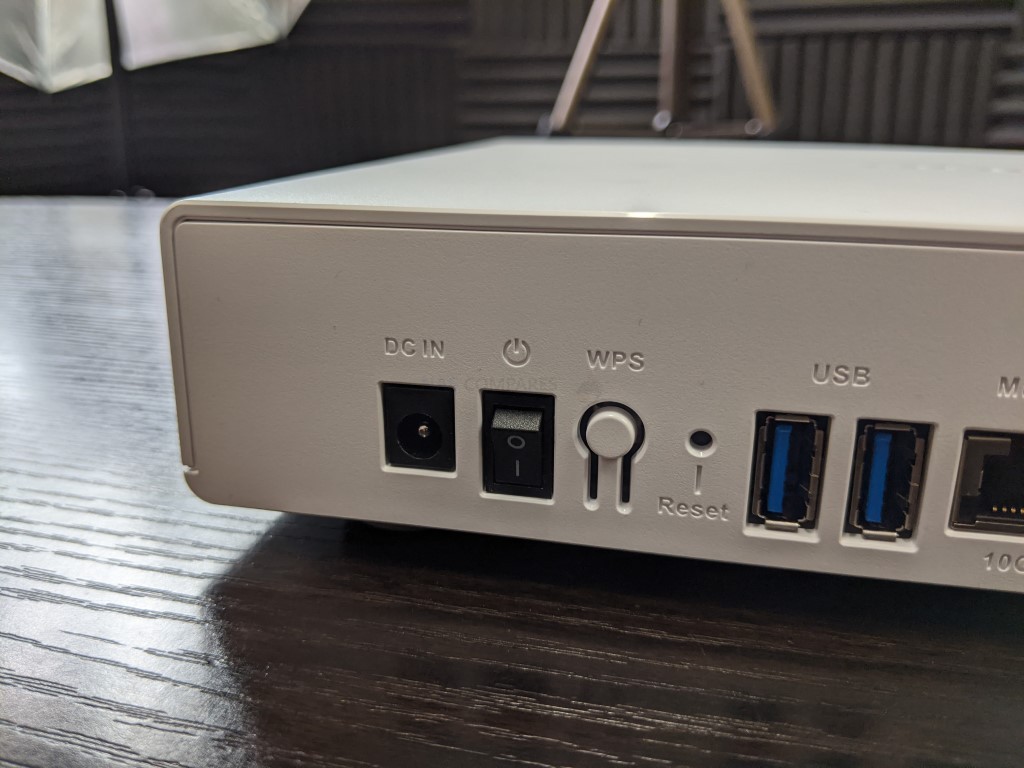 Finally, we have the oh-so-familiar WPS button. For those that are not aware of this somewhat rudimentary if the arguably still relevant button, it allows devices that lack a usable GUI or control system to be connected to the router via a WPS confirmation signal being exchanged at the click of a button on each device in the exchange. Its inclusion here is a touch rudimentary, but still useful for some who plans on using this in a more prosumer capacity rather than business wholeheartedly. Let's talk about that internal hardware.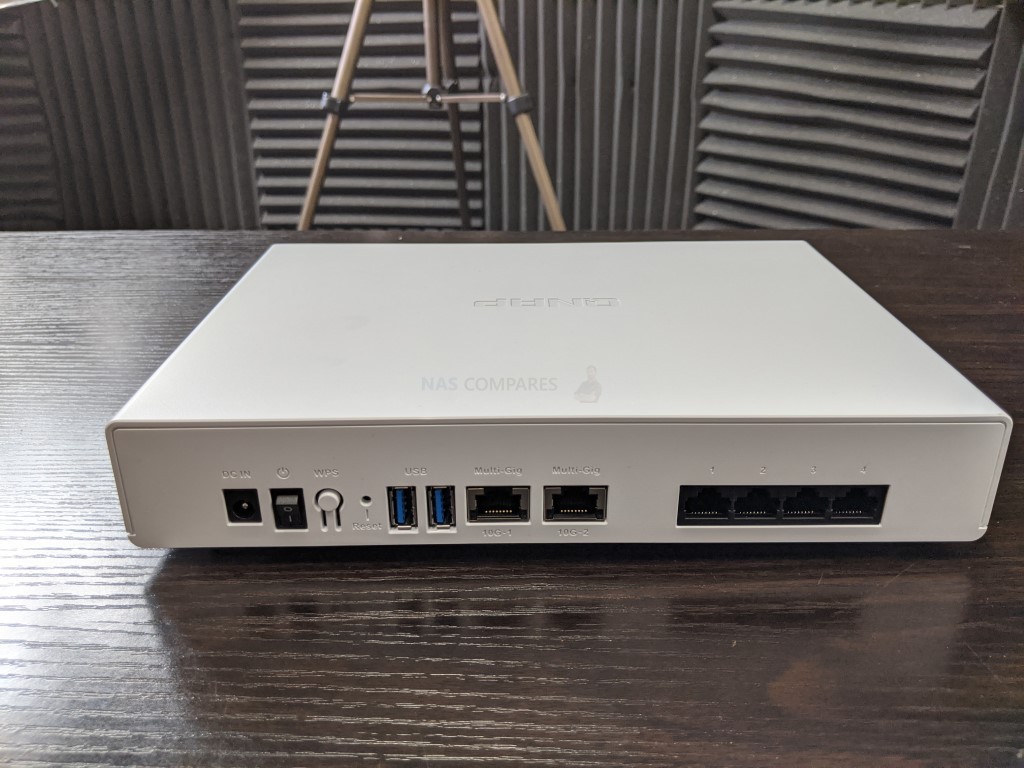 QNAP QHora-301W Hardware Review – Internal Hardware
The internal hardware of the QHora-301W, as you might expect from the hardware discussed so far, is all pretty solid. The majority of modern routers these days do not arrive with external antennae, despite the fact external antennae provide significantly better zonal coverage, as well as allowing far better-shared bandwidth two single users with sufficient client coverage. That said, the QHora-301W does arrive with 8 internal antennae and each one is neatly nestled around the edges of the internal chassis. Though more discrete and low profile in their appearance, these 8 antennae inside the QHora-301W provide an impressive range of coverage options. Though, home users will still typicallycdesire the external antenna found in more aggressive 'gamer' routers from Asus and Netgear.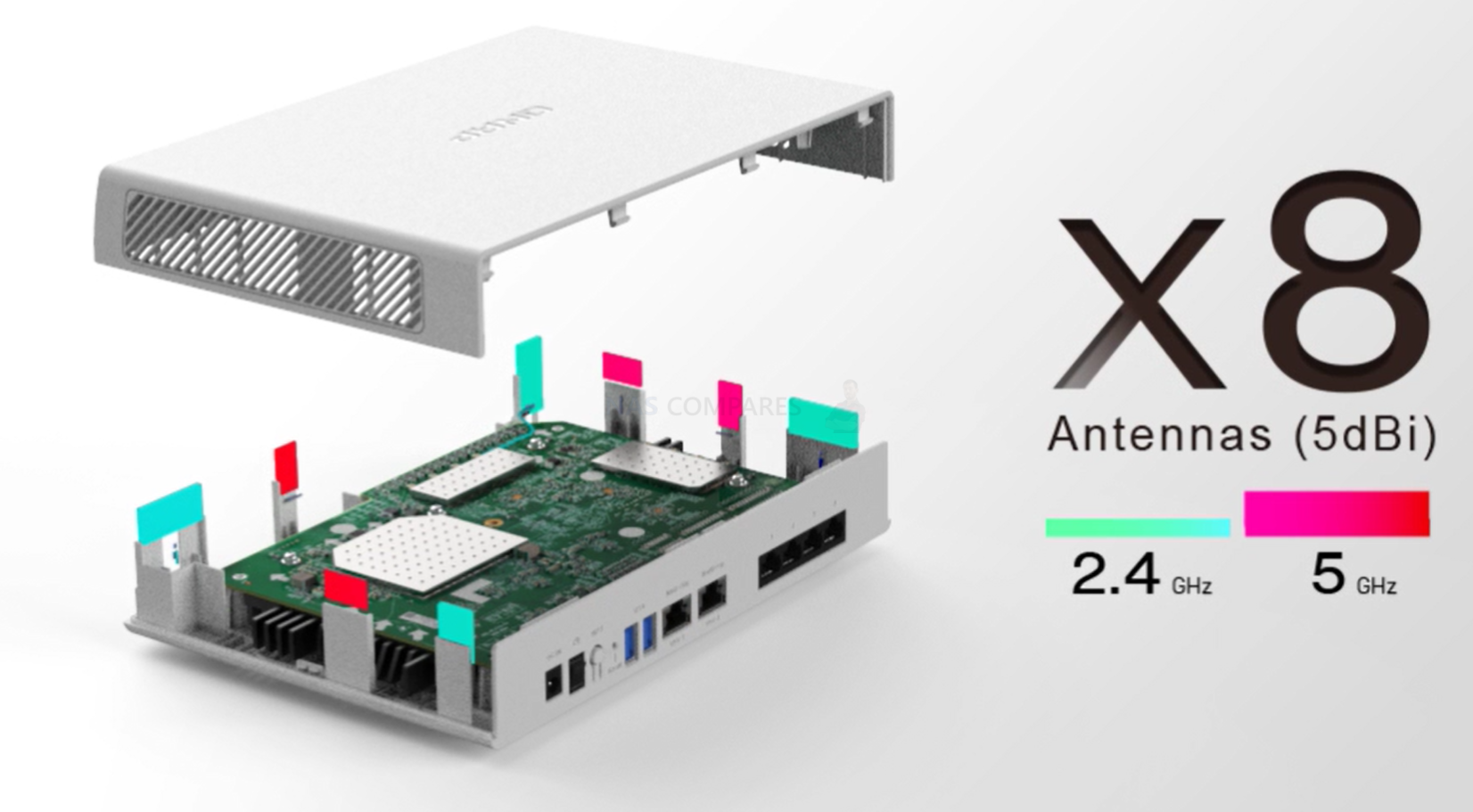 Each of these 5dBi antennae, although small, help in the transmission of wireless data over both WiFi 5 and the newer WiFi 6 protocol, across multiple bands. Supporting both 2.4Ghz and 5Ghz, they can provide a blanket coverage bandwidth (spread across users) of U TO 3600Mbps (3.6Gbps), this is where the AX3600 rating for the QHora-301W comes in. In total, the 2.4 GHz provides up to 1182Mbp/s on 4×4 (40MHz) and the 5GHz provides a further 2475Mbps on 4×4 at 80MHz or 2×2 at 160MHz. The support of 802.11ax (WiFi 6 – not to be confused with WiFi 6E – important) and older protocol 802.11a/b/g/n/ac means that the QHora-301W serves as a solution for both new and legacy devices. Finally, it is worth remembering that the system is fanless, there will be no interference from internal movement on these individual signals.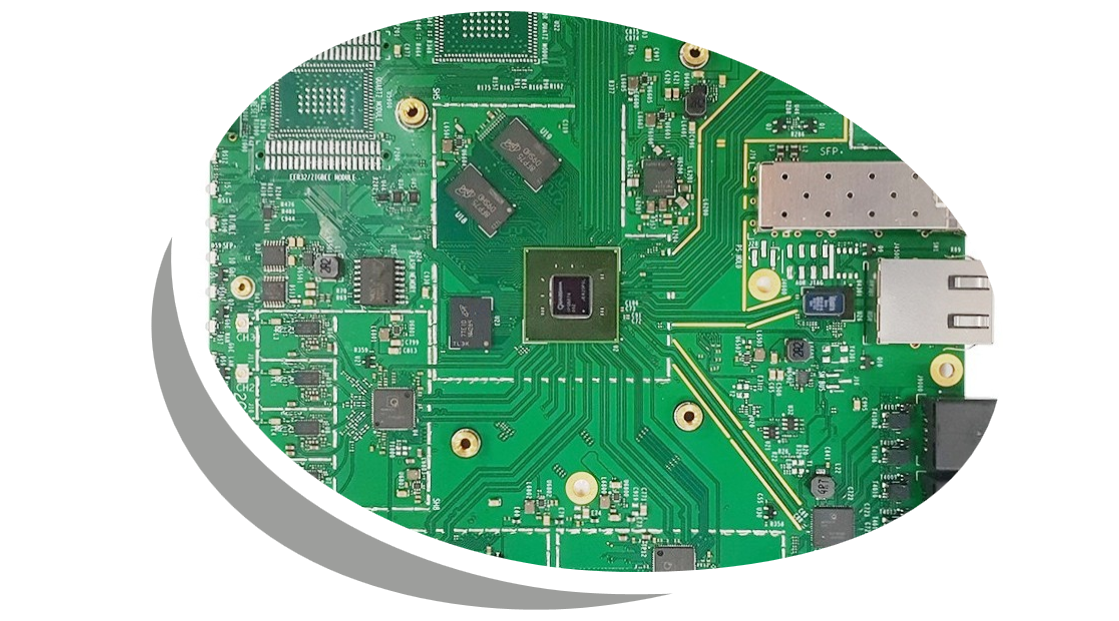 The hardware, software and services are services that the QHora-301W arrives with all handled internally (for the most part) by a similar CPU and memory structure as you would find in any computer, though of a far more low power-hungry and efficient nature by comparison. The Qualcomm IPQ8072A Hawkeye 2 processor inside is a neat piece of kit, arriving with wide-ranging support of the modern WiFi 6 convention and QNAP first Party applications, Graphical User interface and wireless security including WPA2, WPA, WPS, 802.11i security, AES-CCMP, AES-GCMP, PRNG, TKIP, WAPI, WEP protocol. In order to keep things moving, the QHora-301W also features an impressive 1GB of DDR4 Memory, as well as a pre-set 4GB eMMC OS flash model, both soldered. The 1GB of memory is especially impressive, given that the majority of WiFi 6 routers (mesh and standalone) I have reviewed in the last year+ have all had 256MB or 512MB. Of course, the Qhora has a lot more services and software (plus larger wired traffic demands for both home and business) but still – 1GB is pretty generous for a router. Especially when scaled against the fact that the Qualcomm router CPU inside is a quad-core processor, at 2.2Ghz per core. Unsurprisingly it is an ARM processor (an x86 would be far too beefy here) but this was never going to be a router for high-end data manipulation – it just needs to move those packets as fast, as safe, as secure and as reliably as possible.
QNAP QHora-301W Hardware Review – Software and Services
I have touched on the software side of things on the QNAP Qhora-301W a little already, but to go into them in more detail, you need to look at them from two different end-user perspectives, home and business (enterprise really). Tools for both and the services are available to both, but each certainly has appeals to their own audience.

The Quora's primary interface for most small-mid level users will be the new QuRouter software it arrives with. I will certainly go into more detail on the software review coming soon on the QHora on Youtube, but even in this short stint of time using it, I am impressed by the GUI. Compared with the Netgear router management (looking remarkably 2000s even now in 2020) and my Virgin ISP router (fantastically limited UI), the QuRouter software is very clear, arriving with guides, tips and pointers – each allowing the user to create a very unique and secure setup that fits their needs. This software controls and manages all 6 of the LAN/WAN ports that cover 1GBe and 10Gbe, allowing you to create quality of service protocols, priority assignment to ports and devices, as well as create virtual NETWORKS (vLANs) inside your main network, so you can group devices appropriately to their status in your home/business. The management of 10Gbe WAN is something that although seems straight forward (same logic but 10x faster) is actually an area whereby the improved hardware of the Qhora will be of enormous benefit. Anyone that has used a 10Gbe client or host solution will know that managing 10G connectivity is harder than you might think and if you are piping in a 10g ethernet (whether as an SD-WAN network or high-speed connection) you are going to need a decent CPU and Memory supporting the management software in order to adequately handle these in practice. The QHora seemingly has this.
WiFi 5 vs WiFi 6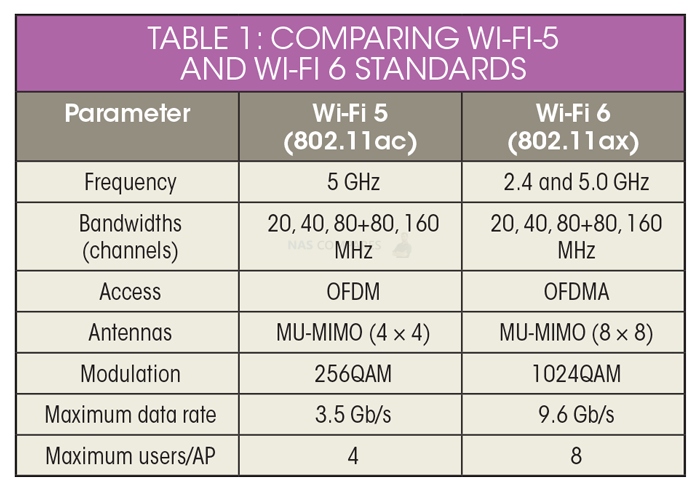 The QHora is advertised as a AX3600 router which (as already touched on) means that you have blanket wireless coverage of a shared 360MB/s. This does not include the 2,400MB/s wired coverage via the 4x 1Gb and 2x 10Gb, but it is worth noting that no single band 802.11ax connected client over wireless can get higher than 1200Mb/s (120MB/s) which is higher than the 800MB/s or so available on WiFi 5/ac, but still less of a jump that many might think. The benefits of WiFi 6 in terms of data packet handling, both in rapidity and simultaneously are quite well noted, though the distance is not quite as broad as the older wireless protocol. Additionally, that wireless coverage in the QNAP Qhora is spread across multiple bands, with the system supported 3x 2.4Ghz and 3x 5Ghz bands, over MU-MIMO. It is still a tremendous achievement and still comfortably meets the WiFi 6 standard
Another handy advantage of the QNAP QHora-301W is the ability to create six separate SSIDs (wireless networks) each with their own wireless connection name and security login credentials. The six separate wireless networks use separate frequency/bands with 3 on the 2.4GHz band and 3 on the 5GHz band. Most routers include the ability to create a 'guest' SSID on the single lower 2.4GHz band, but on the QHora-301W, you can create fully featured wireless networks and give them appropriate security privileges and access to the selected wired networks and vLANs you create via QuRouter.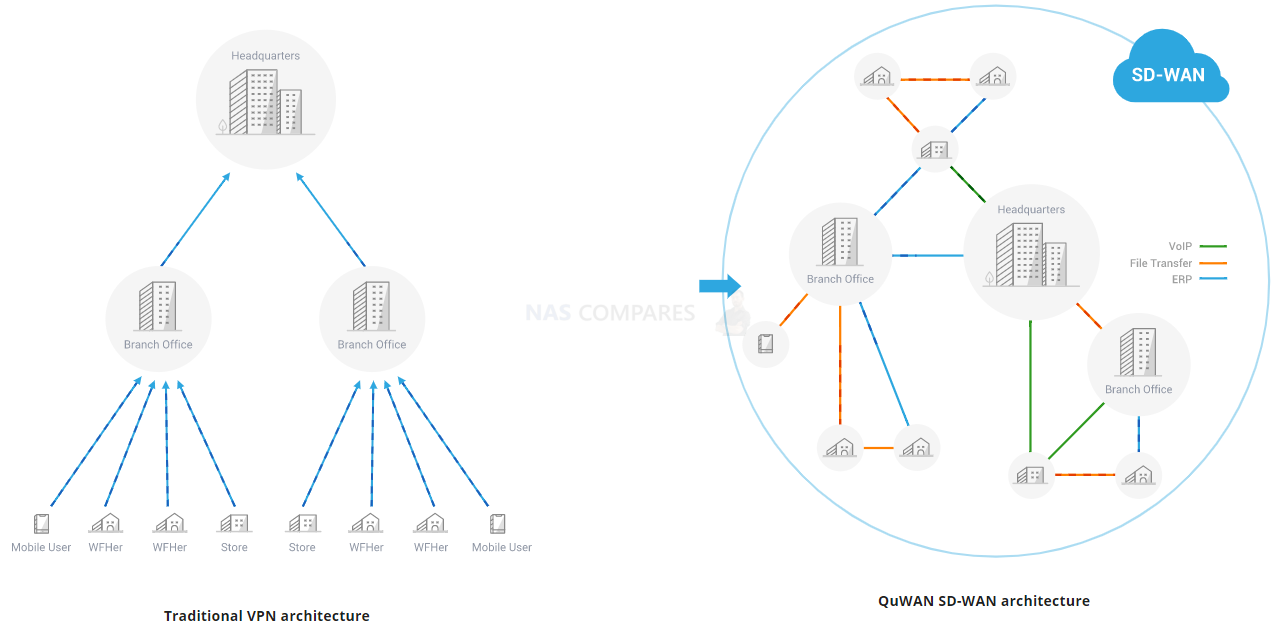 Under the traditional enterprise network architecture, multi-site connections must be connected back to the head office, which often suffers from insufficient bandwidth. In addition, the price of VPN equipment on the market is expensive, which is far from the load of ordinary SMEs. With QNAP SD-WAN technology (QuWAN), multi-point units can flexibly form a network at any point, realizing a low-cost and highly flexible network deployment architecture.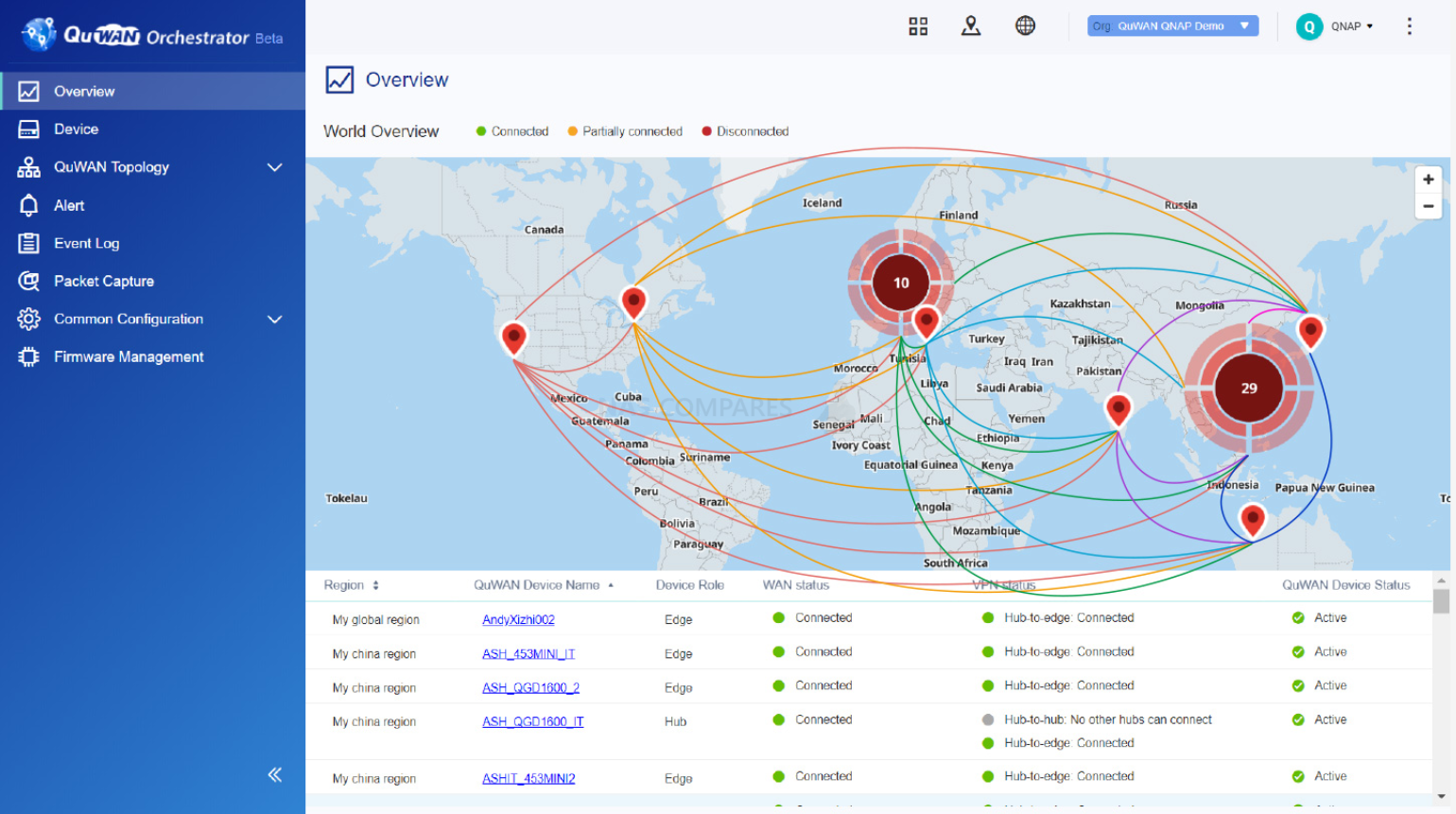 QuWAN Orchestrator provides a convenient and powerful cloud network centralized deployment and management platform. IT personnel can remotely deploy all local network equipment at each branch in the headquarters, without having to travel to various locations The network deployment of ZTP truly achieves zero-touch deployment (ZTP, Zero Touch Provisioning), and can perform multiple functions such as bandwidth monitoring, parameter setting, and traffic analysis on a single platform. Endpoint devices can directly connect to QHora-301W via wireless or wired LAN, and easily join the SD-WAN network. This is achieved with the three first-party tools: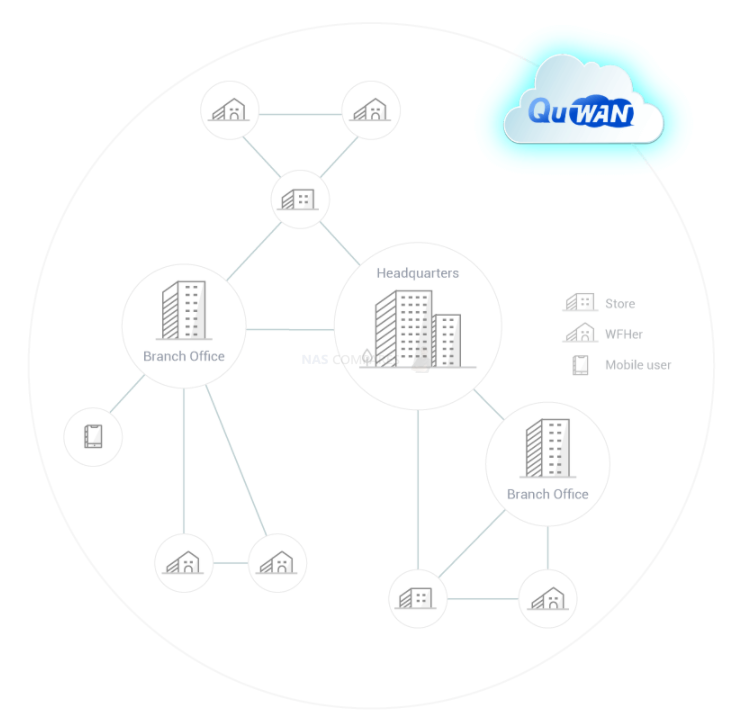 QuWAN Orchestrator
Log in to quwan.QNAP.com , you can view the connection status of all devices that have joined the network, and apply network settings to all devices in batches. You can also set up real-time notifications for real-time remote troubleshooting and control connection problems
QuWAN Agent
You need to enable QuWAN Agent on the QNAP device and add your device to the Mesh VPN networking environment (that is, join QuWAN Orchestrator).
QVPN Client
After installing QVPN Client on mobile phones and computers, and connecting with QHora-301W, you can access multipoint intranet resources.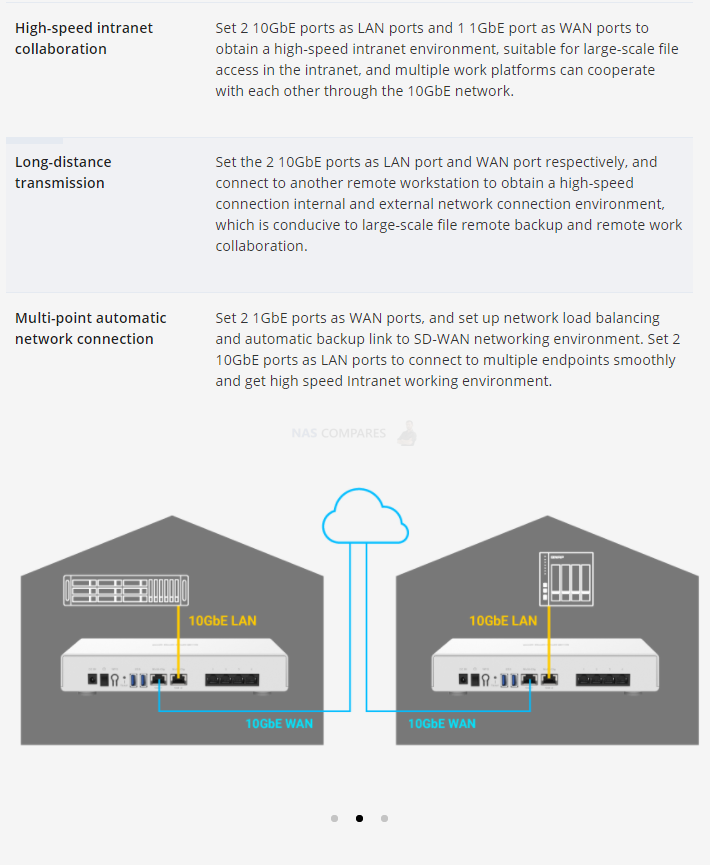 In addition to being built in QHora routers, QuWAN is actually FREE and can also run on compatible devices such as QNAP NAS, QGD switches and QuCPE series servers. It also works with exclusive QVPN Client software to enable teleworkers/WFHers to pass Terminal devices such as computers, laptops, and mobile phones are connected to SSL VPN, which facilitates the formation of a micro-segmentation network architecture that is separated by different departments as large as a state or country, as small as a single site, and through the central cloud Unified management of the platform. QuWAN is now available for free in QNAP App Center, and the license fee is free of charge.
And the rest:
Dynamic Frequency Selection (DFS) channels (Auto, custom)
RTS/CTS (Request to Send/Clear to Send) function
Guest wireless options
Wireless scheduler
Protocol-based firewall (TCP, UDP, ICMP, TCP+UDP)
Firewall rules based on domain names and IP addresses
Port forwarding and Network Address Translation (NAT)
Support FTP ALG, PPTP ALG and SIP ALG
Secure remote access with L2TP, OpenVPN and QBelt (QNAP proprietary) protocol
VPN client management
USB Settings: FTP Server, Device User, USB usage condition
So, the QNAP QHora-301W really is a fully-featured router for home and business. This review is primarily centred on the hardware of course, but the software review (as well as WiFi 6 performance and 10Gbe speed testing) is still in progress and will be published shortly.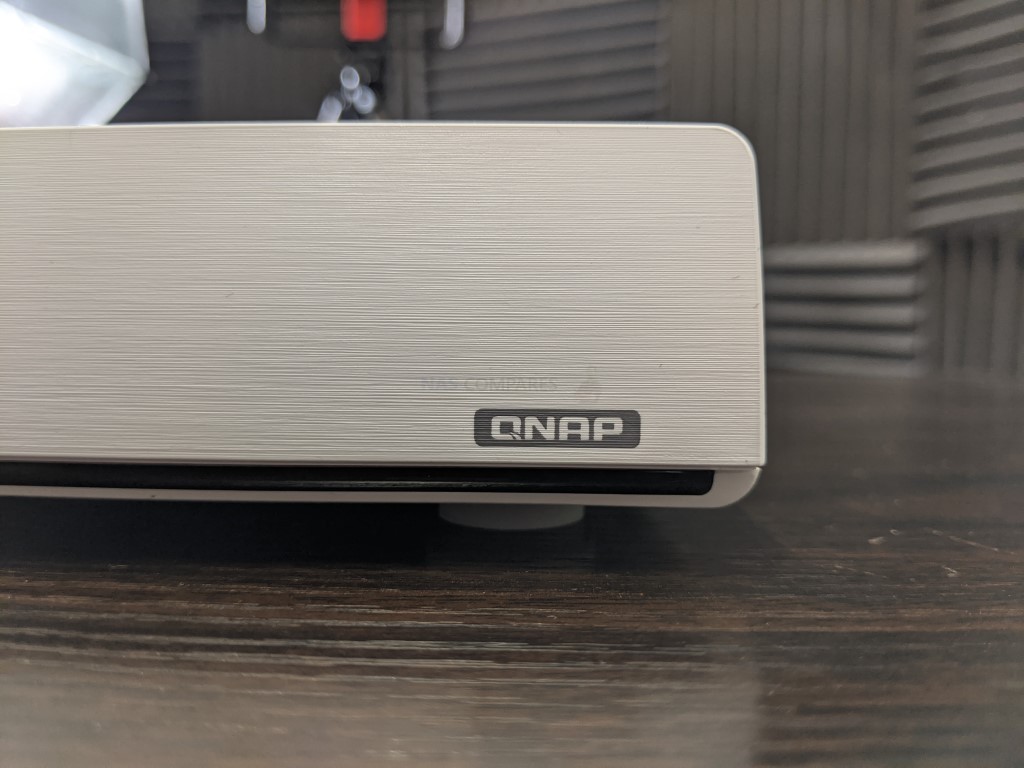 QNAP QHora-301W Hardware Review – Verdict
The QNAP QHora-301W Business router is a brave move from the brand to continue diversifying their hardware and software portfolio – and I think they MOSTLY nail the landing! I have the odd quibble with design choices and I think perhaps the fully extent of the services and software on offer here is not being explained enough for buyers to see it's utility in their own home/business networks, but those who ARE looking for a business class router to replace the sluggish ISP hardware they are stuck with OR those that want to take advantage of the inclusive free first-party SD-WAN service will DEFINITELY understand why the device is a big deal. For the rest of the audience, a WiFi 6 enabled router, with a great UI, 10Gbe on board and a whole bunch of brand-unique services should just about justify the £350 price tag (certainly when compared with netgear's own hardware offerings in this area). Otherwise, keep an eye on this new solution arm of the QNAP portfolio, as this could really be something special.
PROS
CONS

2x 10Gbe Port Router, Copper too
Slick Router GUI with easy access
WiFi 6 Support
8 antennae
FAST setup and inc wall brackets
Fanless/noiseless
USB 3.2 Gen 1 Ports
Works straight out of the box
Free SD-WAN software and services included
Works with Several QNAP NAS Apps

Design and colour will split opinion
2 Year Warranty is shorter than Netgear
Antennae are oddly placed and internal, which will put some people off
If you are thinking of buying a QNAP Solution, please use the links below
📧 LET ME KNOW ABOUT NEW POSTS 🔔
Join 1,411 other subscribers
Get an alert every time something gets added to this specific article!
This description contains links to Amazon. These links will take you to some of the products mentioned in today's content. As an Amazon Associate, I earn from qualifying purchases. Visit the NASCompares Deal Finder to find the best place to buy this device in your region, based on Service, Support and Reputation - Just Search for your NAS Drive in the Box Below
Need Advice on Data Storage from an Expert?
We want to keep the free advice on NASCompares FREE for as long as we can. Since this service started back in Jan '18, We have helped hundreds of users every month solve their storage woes, but we can only continue to do this with your support. So please do choose to buy at Amazon US and Amazon UK on the articles when buying to provide advert revenue support or to donate/support the site below.

Finally, for free advice about your setup, j
ust leave a message in the comments below here at NASCompares.com and we will get back to you.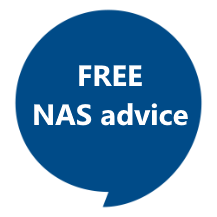 Need Help?
Where possible (and where appropriate) please provide as much information about your requirements, as then I can arrange the best answer and solution to your needs. Do not worry about your e-mail address being required, it will NOT be used in a mailing list and will NOT be used in any way other than to respond to your enquiry.
Support What We Do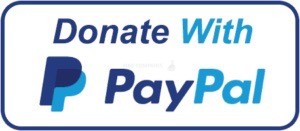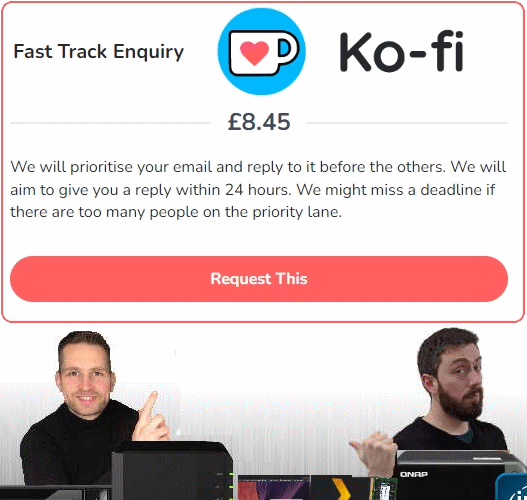 Terms and Conditions
Alternatively, why not ask me on the
ASK NASCompares forum
, by clicking the button below. This is a community hub that serves as a place that I can answer your question, chew the fat, share new release information and even get corrections posted. I will always get around to answering ALL queries, but as a one-man operation, I cannot promise speed! So by sharing your query in the
ASK NASCompares
section below, you can get a better range of solutions and suggestions, alongside my own.
Summary
Reviewer
Review Date
Reviewed Item
QNAP QHora-301W AX & 10Gbe Router Review
Author Rating