The New Synology DS1821+ NAS Drive for 2020
Good News! The DS1821+ NAS has now been revealed and I am pleased to say that all our guesses about the hardware seem to be true! This information arrives shortly after our reviews of the Synology DS1621xs+ and DS1621+ NAS (released in mid-October 2020), and today want to discuss the new Synology 8-Bay NAS for 2020/2021. The Synology DS1821+ NAS is a device that a lot of users have been waiting on, as it serves as a neat middle-ground for many between robust storage for a RAID6/SHR-2 environment, whilst still having a decent hardware base to work with. This new diskstation is one that we kind of expected but still managed to surprise us in a few ways (yes, that CPU again, but also because we thought we saw the last of the new Synology hardware in 2020) and not only a very solid follow up to the DS1819+ in a few key ways, but also makes it quite an interesting comparison against the DS1621+ too, given that similar architecture. Arriving in the familiar 8-Bay metal chassis seen in the previous generation, supporting DSM 6.2 (as well as DSM 7 no doubt – keep an eye open for the public beta) and bringing a number of the more modern conventions of Synology in 2020/2021 in terms of upgradability, improved internal caching improvements, there is also a couple of new things to look out for. The DS18xx+ range has always been a long-running staple in what was always widely regarded as the Intel Atom/Denverton series (such as the DS16xx+, DS24xx+, RS12xx+, etc) and it will be interesting to see if this new AMD NAS drive will represent a new hardware convention across these devices in follow up generations in the 2020/2021 series moving forward. We have already seen lots of improvement in the DS1621+ testing and performance since it's review last month, and it compared favorably with its own predecessor. So, let's take a look at the brand new Synology DS1821+ NAS and see if it deserves your data in 2020.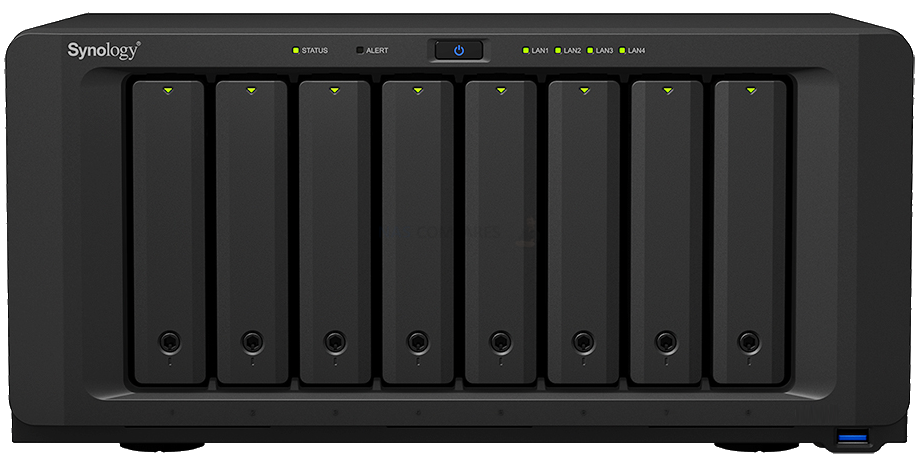 Synology DS1821+ NAS  – Hardware Specifications
For the most part, the DS1821+ NAS drive is quite familiar. As one might expect from this series, the general building blocks of the device are comparable to the DS1819+ and DS1621+ in terms of physical build, hardware standards and capabilities. However, the AMD Ryzen based CPU represents a noticeably large shift from the brand in this generation, arguable a noticeable jump over the Intel Atom C3538 processor in the 2018/2019 series predecessor, as well as biting a pinch on the toes of the DS2419+ in terms of what you get for your money. It is worth clarifying though that this is not a Ryzen 3/5/7 based processor, as that would all but assure this system would have a price point more than double at least. No, the Ryzen V1500B featured here is more conservative in design, to provide a much more efficient 24×7 architecture to Small/Medium business users, whilst still providing a good level of throughput in virtual machine deployment, surveillance, multimedia handling and all the while supporting the entire range of Synology First party collaboration suite applications. Here is how the Ryzen V1500B compares with the Intel C3538 featured in the previous generation. Both processors are considered small/medium server-class processors:
CPU-WORLD.COM SOURCE – CLICK TO ENLARGE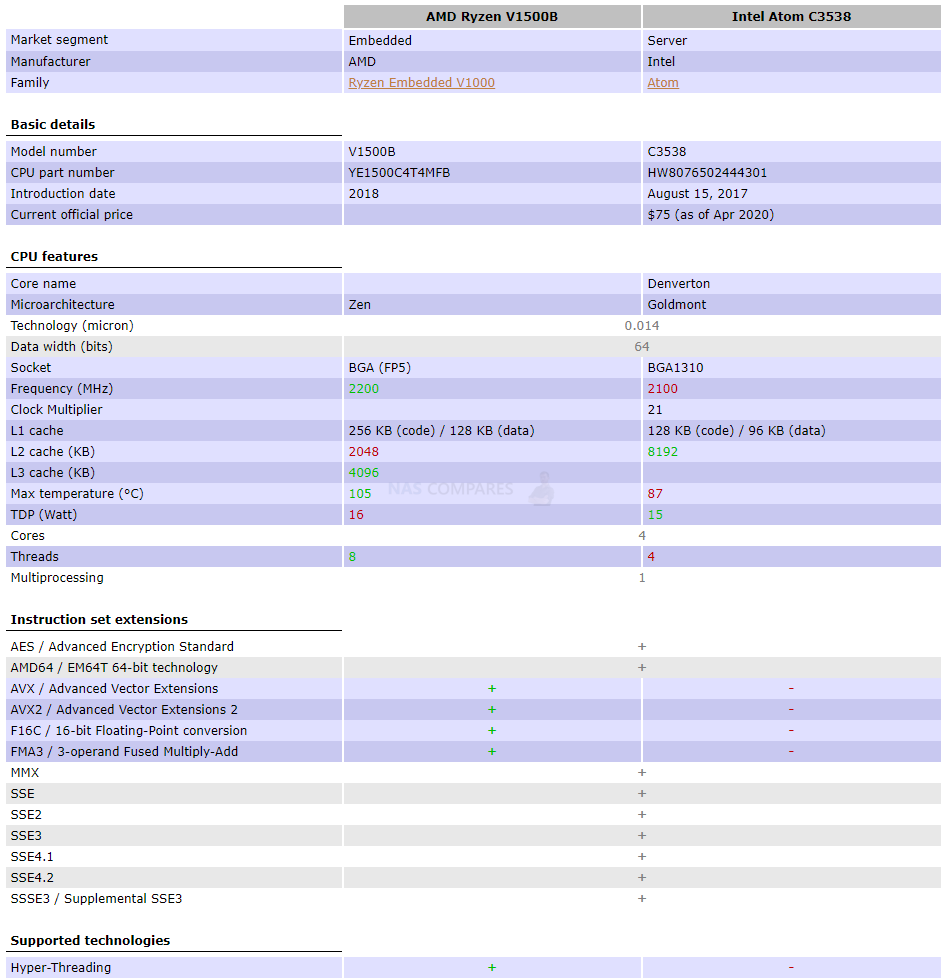 There is, of course, a great deal more to the architecture of the device that we will cover in more detail in our comparisons later on, but I think it is fair to say that the fact the DS1621+ is the first Synology solution to embrace AMD processors (an often heard request by their audience) and it's appearance on the new 8-Bay DS1821+ means that this confirms our suspicions that the newer generation of SMB hardware will push forward with this architecture. Along with this, we find a few more familiar upgrades in the newer generation (with NVMe SSD caching bays being expected but still welcome) along with the PCIe upgradability opening the doors to 10Gbe down the line and multiple gigabit LAN to work with. The processor itself does not have a reported benchmark online on the usual tracking websites that I would direct to (CPUBenchmark, etc) however the Ryzen V1500B is comparable to the Ryzen V1404I, without the higher burst or embedded graphics to count on. This would give it a resulting PassMark in excess of 5000, CONSIDERABLY higher than that of the 1596 rating found on the Intel C3538 found in the previous-gen. Let's go into the hardware highlights:
AMD Ryzen V1500B
2.2Ghz 64-bit x86 Architecture
Embedded Ryzen SoC Design
4GB DDR4 ECC SODIMM Memory (Max 32GB)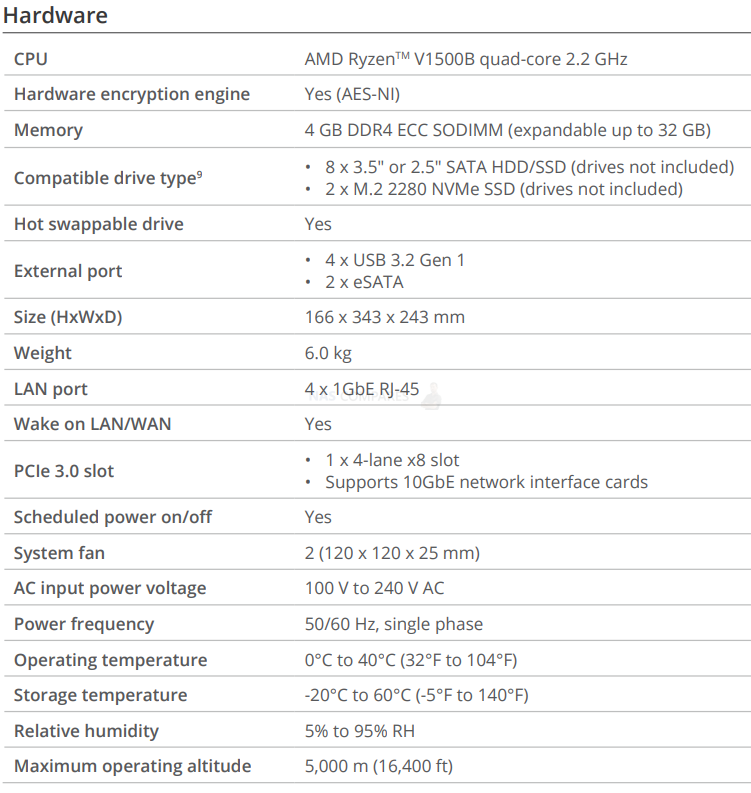 8 SATA Media Bays (supporting 3.5" and 2.5″ drives)
2x M.2 NVMe Slots for cache (supporting upto 2280 NVMe)
4x 1Gbe RJ45
Image Below is of the Synology DS1819+ NAS for Guidance
PCIe Gen 3 x8 Slot for Expansion Cards
2x eSATA ports to connect 2x DX517
4x USB 3.2 Gen 1 (5Gbps, 1 at the front, 3 at the back)
16.6 x 34.3 x 24.3 cm
3yrs Warranty, extendable to 5yr with the EW201 license
So, as you can see, there are a few new things to consider this generation and it will be interesting to see how DSM is able to utilize this new CPU architecture now it is appearing on my Synology NAS systems and how the improved chipset is reflected across the device's performance as a whole. Many users will also be pleased to hear that the device is confirmed to arrive with BTRFS support, as well as Synology Hybrid RAID (SHR).
Synology DS1821+ NAS – Software Specifications
In terms of software performance on the DS1821+ NAS, even without the unit in front of us, we can make some educated guesses on the applications and output of this device. The newly introduced processor in this device (and hopefully series as a whole) does bring an element of the unknown though in terms of total throughput. I have no doubt the DS1821+ will outperform the older gen by a noticeable degree in practically every meaningful way (1st party and 3rd party tools alike) but the extent to which is something that is hard to confirm without the unit on the test bench here. The Ryzen in the DS1821+ IS an x86 64bit processor and its multi-core architecture will lend exceptionally well to the Synology Diskstation NAS software catalogue with little or no limitations, so the more graphically led software that may have struggled a tad on the Atom previously or flat out wasn't supported by more value Realtek's SHOULD all work great on the DS1821+ NAS. Below are the first party (i.e Synology) based applications that should run fine on this NAS architecture, as well as the 3rd party tools:
Synology Office (Docs, xls, PDF, etc – Alternative to Google Docs)
Synology Chat (Alternative to Skype for internal User Conversation/Collaboration + mobile app)
Synology Drive (alternative to DropBox/Google Drive with 1-point access to all file types for Mobile and Desktop, as well as intelligent localized sync)
Synology Moments (Photo Sorting and Tagging system with Deep Learning)
Synology Calendar (Smart Calendar App, can be used in conjunction with other apps)
Synology Active Backup (Manage Multiple Server/PC backups via a single control point including virtual machines)
Synology Surveillance Station (Enterprise-grade CCTV / NVR software that is included with your Synology NAS)
Synology Virtual Machine Manager (setup and manage multiple VMs on your NAS)
Synology High Availability (for Syncing Synology NAS and having instant failover support to ensure constant connectivity)
Synology Cloud Station (multi-client internet sync tool)
Synology CMS (manage multiple Synology NAS equipped sites from a single dashboard)
Synology Multimedia Apps (Video Station, Photo Station, Music Station, File Station, etc)
MANY more, as well as Third Part App Support in:
Plex Media Server – 1080p and 4K (with raw CPU use in transcoding)
WordPress Server Hosting
Docker for virtual application environments
Nakivo Backups, 
WordPress Site Hosting and numerous 3rd party
CRM for Business
The DSM platform has evolved a great deal over the last few years and has become practically an entire reason to buy a Synology NAS on its own. You can, of course, try out the Synology DSM software platform before investing in a NAS, by visiting the link below and trying DSM 6.2 for yourself:

When Will the Synology DS1821+ NAS Be Released and the Price?
Given the amount of information that is available on this device and the stage of development that it appears to be at, it would certainly point towards a VERY late 2020 release window – somewhere around December week 1 or 2. This year has been rather unusual for the technology sector (as with every sector in the supply chain for obvious reasons) and therefore even the most certain of predicts are drought with uncertainty. Still, I nevertheless think we are looking at a release for relatively soon, as Synology have clearly committed to this new choice of CPU+Chipset in this product family and they would not have entered into this with a large degree of R&D already established, so will be keen to show off the results in a prompt enough window for it to make the best impact. It is no coincidence that network appliances are one of those that have seen a tremendous increase in popularity in 2020 and this is a trend we will likely see spike in 2021. With so much of business being conducted remotely worldwide, along with the scale of data quantity and speed growing with it, Synology would be keen to provide this solution to end-users at a time most suitable to them. Regarding pricing, as we have seen from the recently released DS1621+ and DS920+, DS220+, etc in recent months, I think it wholly likely that this device is going to arrive at a price point near-identical to that of the DS1819+ that came before it and with a tiny bit on top, so around the £950-1000+ mark (includes your local tax).
How Does the Synology DS1821+ Compare with the More Expensive and More Powerful DS1621xs+ NAS?
In the coming weeks, we will be looking at how the new DS1821+ compares against the older generation of Synology NAS solutions (not just the DS1819+, but also the more recent DS1621+ and DS1621xs+). Though as the DS1821+ have an arguable Prosumer-SMB business target in mind and the architecture is relatively new inside (CPU, ECC Memory, M.2 NVMe Cache), there is the more current comparison between it and the DS1621xs+ NAS overall, as that has a higher price stage, but leverages the spending towards higher hardware outside of storage media capabilities. With hard drive capacities becoming quite substantial (with 18TB NAS hard drives in the market now and 20TB on the horizon) there is the flexibility for users to leverage their spending towards fewer physical HDDs and more on the internal hardware power. With the DS1621xs+ likely arriving at 30-40% more expensive to buy, many will want to know they are making the best long term choice for their storage.
Synology DS1821+ NAS Drive
Synology DS1621xs+ NAS Drive

AMD Ryzen V1500B Quad Core
2.2Ghz
4GB DDR4 ECC SODIMM (32GB Max)
8-Bays (Supporting up to160x with 2x 5-Bay Expansion)
4x 1Gbe
4x USB 3.2 Gen 1
PCIe Gen 3 x8
SHR Support
BTRFS Support
3 Year Warranty (Can be Upgraded to 5yrs)

Intel Xeon D-1527 Quad-Core CPU
2.2Ghz (can be burst to 2.7Ghz)
8 GB DDR4 ECC SODIMM (32GB Max)
6-Bays (Supporting up to 16x with 2x 5-Bay Expansion)
1x 10Gbe
2x 1Gbe
3x USB 3.2 Gen 1
PCIe Gen 3 x8
No SHR Support
BTRFS Support
5 Year Warranty
Learn more about Synology in 2020/2021 from our Q &A earlier this year:
Click Below to Read the Full Q & A with Synology Taipei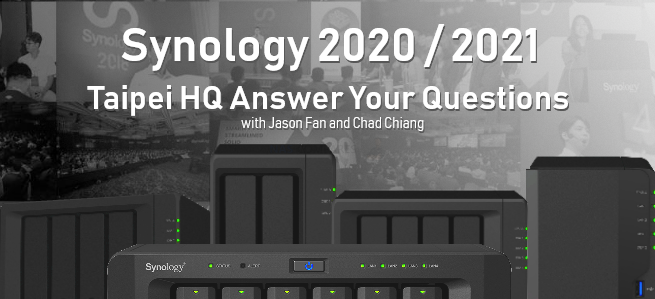 📧 LET ME KNOW ABOUT NEW POSTS 🔔
Join 1,570 other subscribers
Get an alert every time something gets added to this specific article!
This description contains links to Amazon. These links will take you to some of the products mentioned in today's content. As an Amazon Associate, I earn from qualifying purchases. Visit the NASCompares Deal Finder to find the best place to buy this device in your region, based on Service, Support and Reputation - Just Search for your NAS Drive in the Box Below
Need Advice on Data Storage from an Expert?
We want to keep the free advice on NASCompares FREE for as long as we can. Since this service started back in Jan '18, We have helped hundreds of users every month solve their storage woes, but we can only continue to do this with your support. So please do choose to buy at Amazon US and Amazon UK on the articles when buying to provide advert revenue support or to donate/support the site below.

Finally, for free advice about your setup, j
ust leave a message in the comments below here at NASCompares.com and we will get back to you.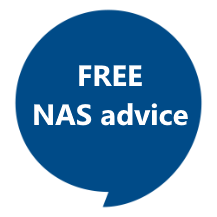 Need Help?
Where possible (and where appropriate) please provide as much information about your requirements, as then I can arrange the best answer and solution to your needs. Do not worry about your e-mail address being required, it will NOT be used in a mailing list and will NOT be used in any way other than to respond to your enquiry.
Support What We Do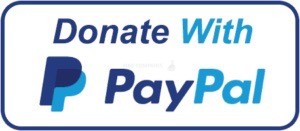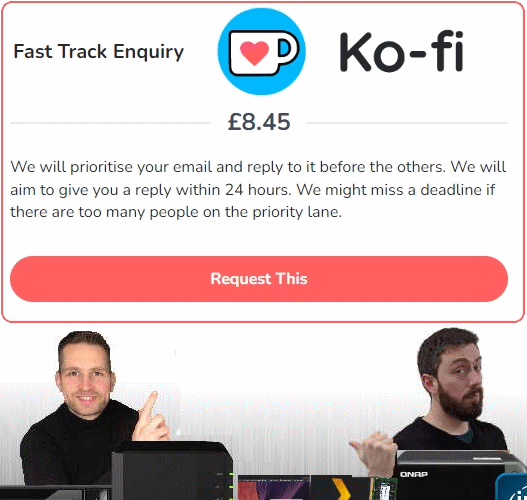 Terms and Conditions
Alternatively, why not ask me on the
ASK NASCompares forum
, by clicking the button below. This is a community hub that serves as a place that I can answer your question, chew the fat, share new release information and even get corrections posted. I will always get around to answering ALL queries, but as a one-man operation, I cannot promise speed! So by sharing your query in the
ASK NASCompares
section below, you can get a better range of solutions and suggestions, alongside my own.
This description contains links to Amazon. These links will take you to some of the products mentioned in today's video. As an Amazon Associate, I earn from qualifying purchases