Synology RS1221+ Rackmount NAS Review – Is it Innovation or Limitation?
Rackmount servers have undergone something of a shift in the eyes of the buying public in recent years, with the once heavily enterprise associated hardware architecture of a rack deployed server becoming available in a form that is so close to desktop form, that the lines certainly have become blurry. Smaller 1U/2U units, simply 4 Bay storage chassis and half depth chassis as some of the more common ways in which the heavy metal of a rackmounted NAS has been refined into something a little softer and deployable. Into this new middle ground of more petite racks, we find the new Synology RS1221+ Rackstation NAS. Arriving with internal and external hardware that is comparable to the desktop DS1821+ in a number of key ways, whilst still being designed around a rackmount deployment, the RS1221+ is the follow up to the popular RS1219+. But does this new Ryzen SoC based NAS tick all the boxes? Does it deserve your data? Let's find out.
Synology RS1221+ NAS Review – Quick Conclusion
The RS1221+ NAS is a device that is designed with a more minimalist deployment in mind, yet still manages to provide this whilst maintaining a decent level of hardware inside too. Half-depth/compact rackmount NAS have long been associated with low level hardware inside and a "you-get-what-you-are-given-and-be-grateful' kind of attitude in recent years and it is only in the last year or so with very, VERY competent solutions such as the Synology RS1221+ that we can expect a lot more from these more petite solutions. The lack of NVMe caching bays by default, slightly weak storage expandability and the continued appearance of 1Gbe is a little disappointing, but this needs to be balanced against a great CPU, great CPU, great PCIe expandability and (of course) Synology Diskstation Manager (DSM) being a continued hot selling point of all their hardware. If you are looking at buying a complete solution (i.e hardware & software for your business collaboration, security, backups and asset sharing with clients), the RS1221+ is a fantastic solution. But those who are looking for a bare-metal solution to wrap their existing software and services around might find the RS1221+ a little limiting. Another great release from Synology, if a little 'safe'.
Synology RS1221+ Rackmount NAS Review – Retail Packaging
The external packaging of this rackmount NAS server is, as you might expect, fantastically understated! Rack-based servers still get alot of 'business' treatment and on the subject of retail appearance, brown box packaging is still the order of the day. That said, there are still a few hints towards that certain Synology swagger.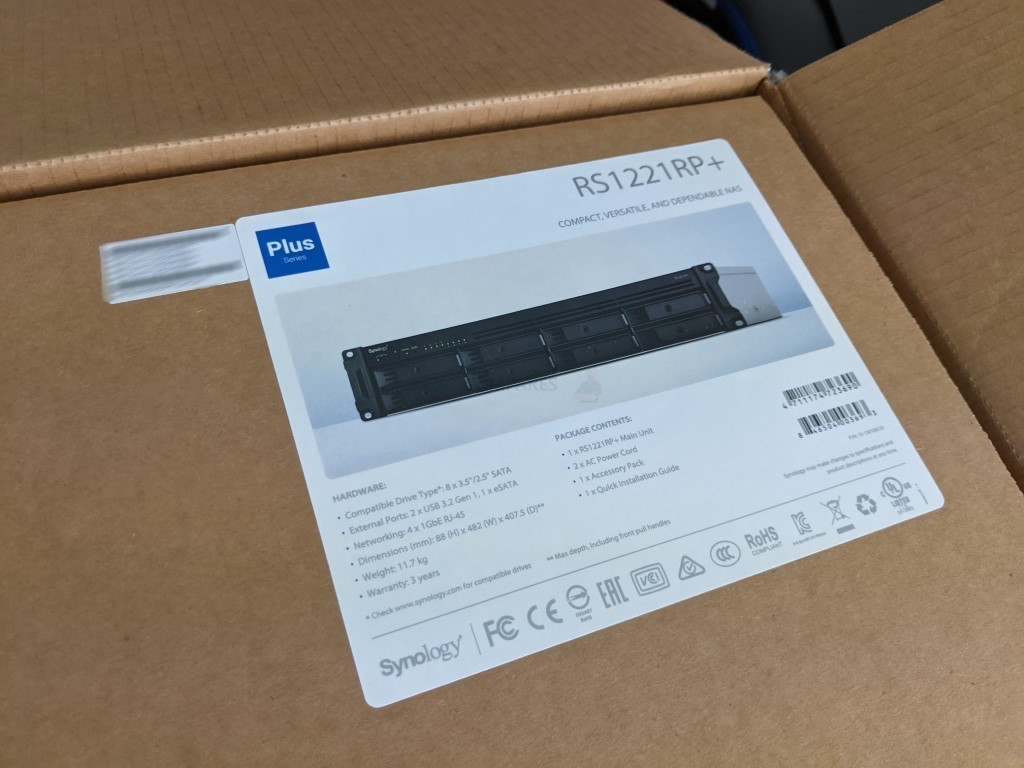 The label on the outer packaging goes on to describe the contents and hardware specifications, but the unit was never going to be on the shelf of your local IT shop. The box is double layered and contains the familiar skeleton of hard protective foam for transit. It's quite understated, but still a good, rigid level of protection from shock/motion damage.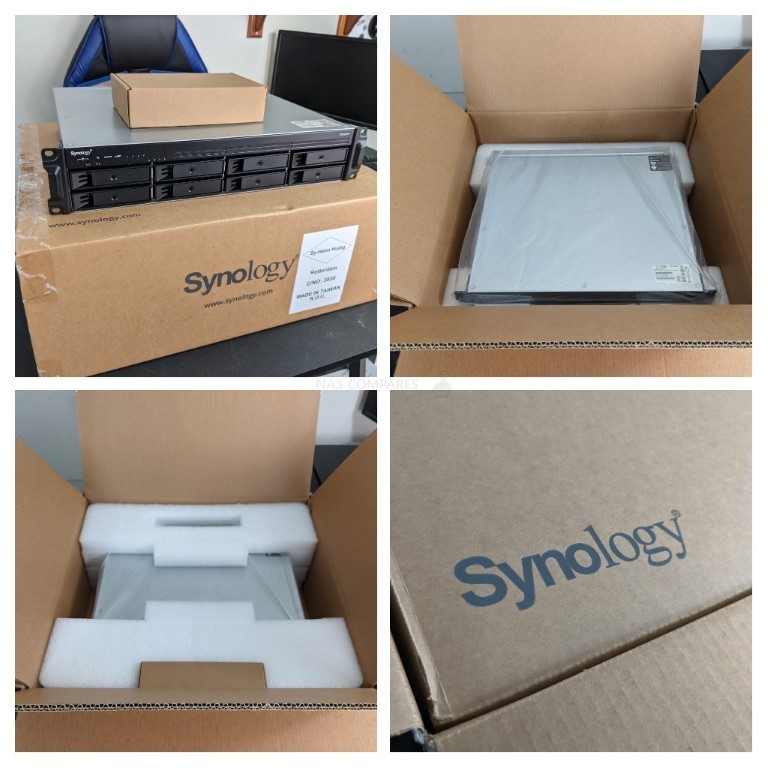 Inside we find both the Synology RS1221+ NAS unit and a small box of accessories. This is largely what we have come to expect from the brand and contains pretty much everything (barring the storage media of course) that you will need to deploy the NAS in your home or office environment.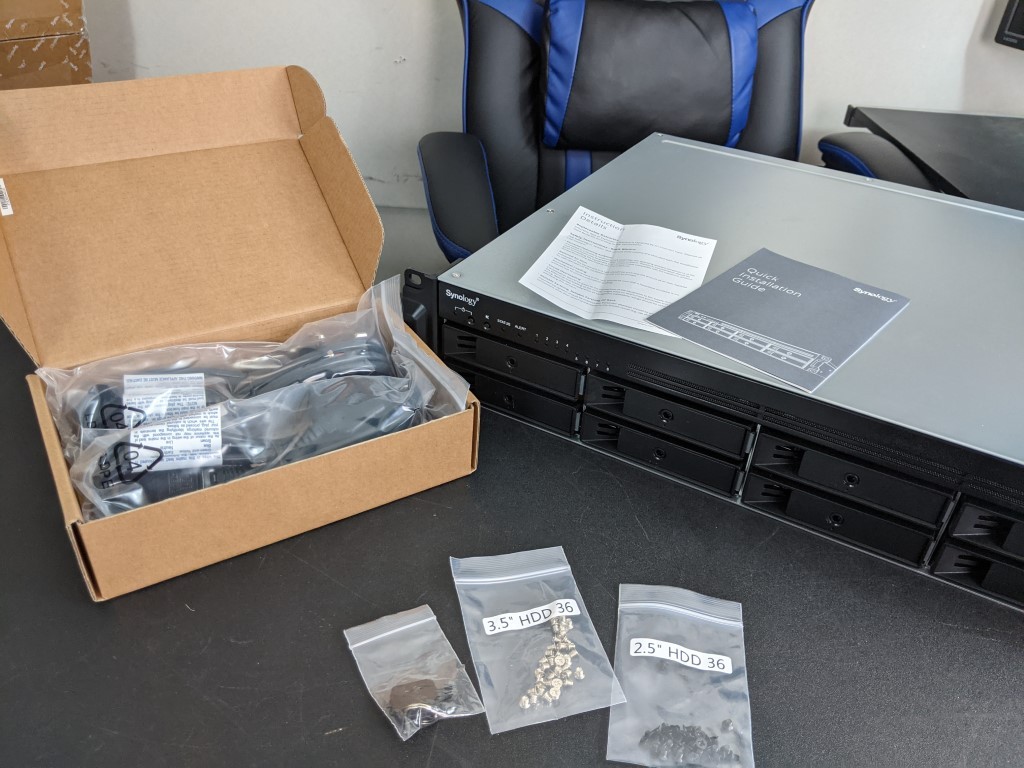 The accessories include Cat 5e cables, screws for 3.5" and 2.5" media, keys for the tray locks, mains power cable for the internal PSU, a first-time setup guide and information on the included 3yr manufacturers warranty (the software features a lifetime warranty). This is all pretty standard stuff and what small complaints I can make are still pretty innocuous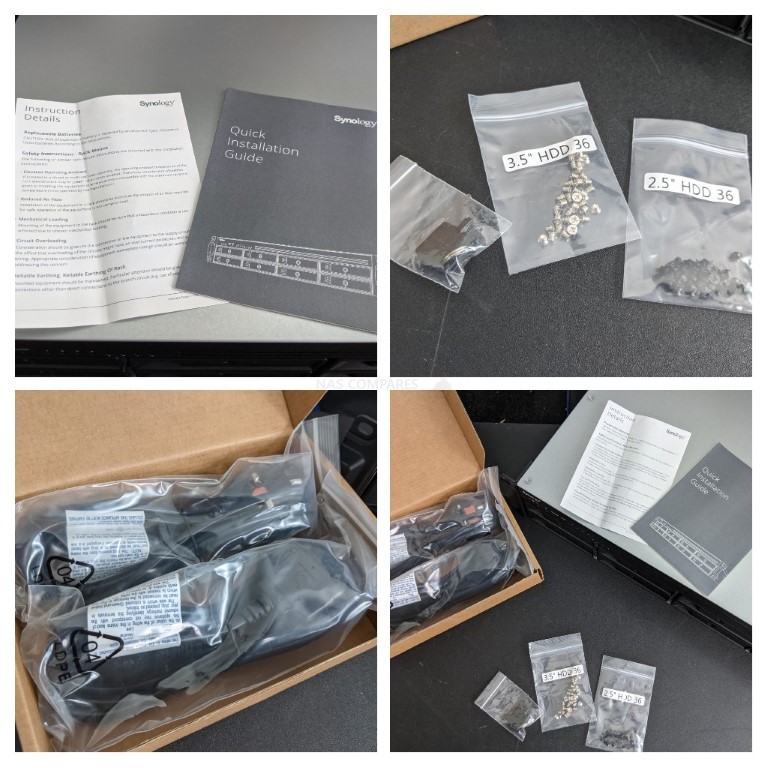 The fact the system does not include rails is something I will often complain about on a NAS system but can be overlooked here (due to its compact dual deployment form), the ethernet cables are Cat 5e, not Cat 6, but then you would not see any difference when utilizing the 1gbe ethernet ports on the RS1221+. This is all part and parcel of what a rackmount NAS system would arrive with, dull but competent nonetheless.
Synology RS1221+ Rackmount NAS Review – Design
The design of the chassis itself is remarkably petite and is comparable in overall volume to the desktop 8-Bay Diskstaiton chassis DS1821+, the new Synology RS1221+ Rackstation NAS does an excellent job of spacing out the storage, cooling and spacing out the front panel, whilst still maintaining that impressive half-depth (12") chassis. A Lot of solid research has gone into making this rackmounted NAS server exceedingly space-efficient and though little has externally changed between it and the RS1219+ released previously, it is still an excellently proportioned device. Even the Redundant PSU version (the RS1221RP+ featured in this review) manages to still only increase that depth to 40cm (10cm deeper) and still maintain all the ports, connections and internal hardware.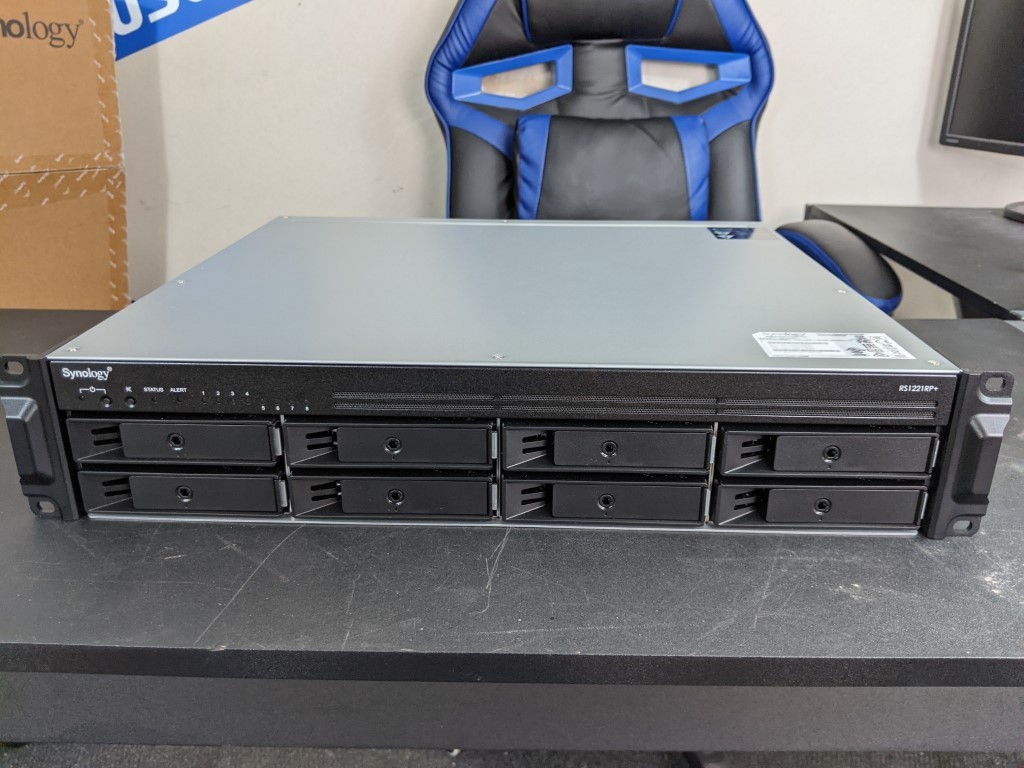 This is one of those rare rackmount devices that is wider than it is deep, something that is necessary for effective cooling across all eight storage bays, over the internal controller heatsinks and out the rear fans. In fact, I can imagine that despite the smaller surface area for the internal hardware to be spread across, that cooling is remarkably effective on this NAS. The placement on the fans (that we will touch on later) allow excellent active cooling, especially when physical space inside is largely taken up by the hard drive bays.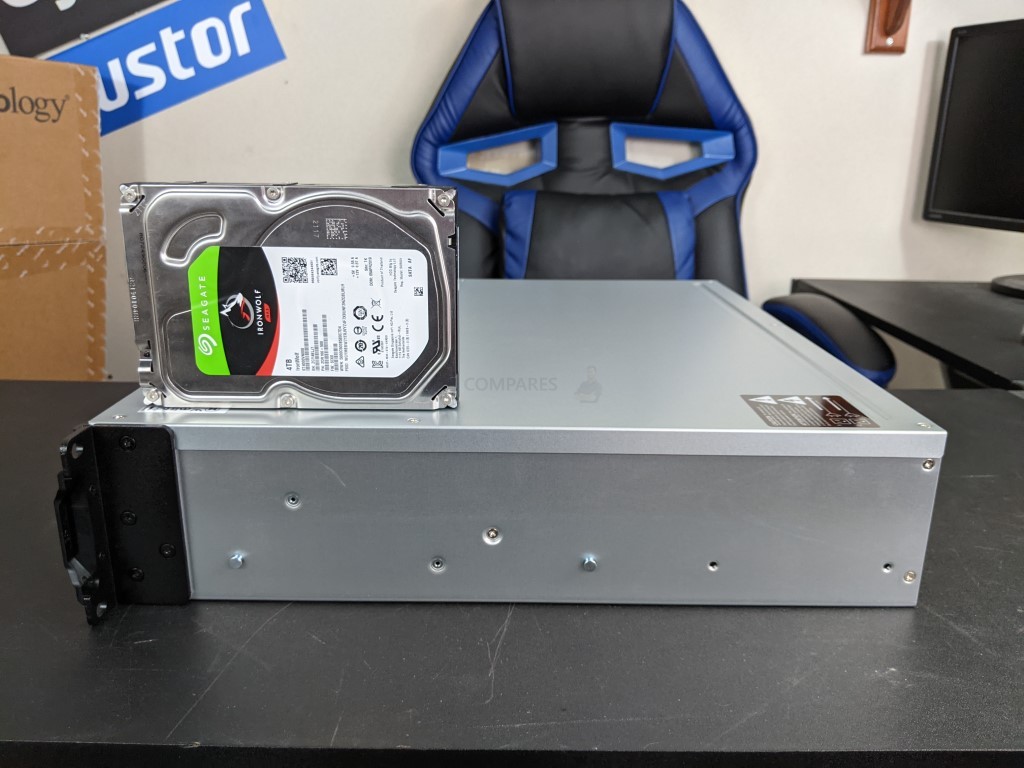 That shallow depth allows this device to be deployed in numerous environments. These include traditional full-depth rack cabinets (rails required), portable compact rack cabinets and even just on a desktop or compact space. That last one is especially appealing to users who want to deploy a NAS but a tall but narrow desktop solution is unsuitable. The RS1221+ is still not the smallest rackmount the brand has ever produced (with the RS217 being by far the most petite) but there is certainly a growing trend for these mid-level 'desktop NAS in a rackmount's clothing' style of device and 2021 looks set to continue this.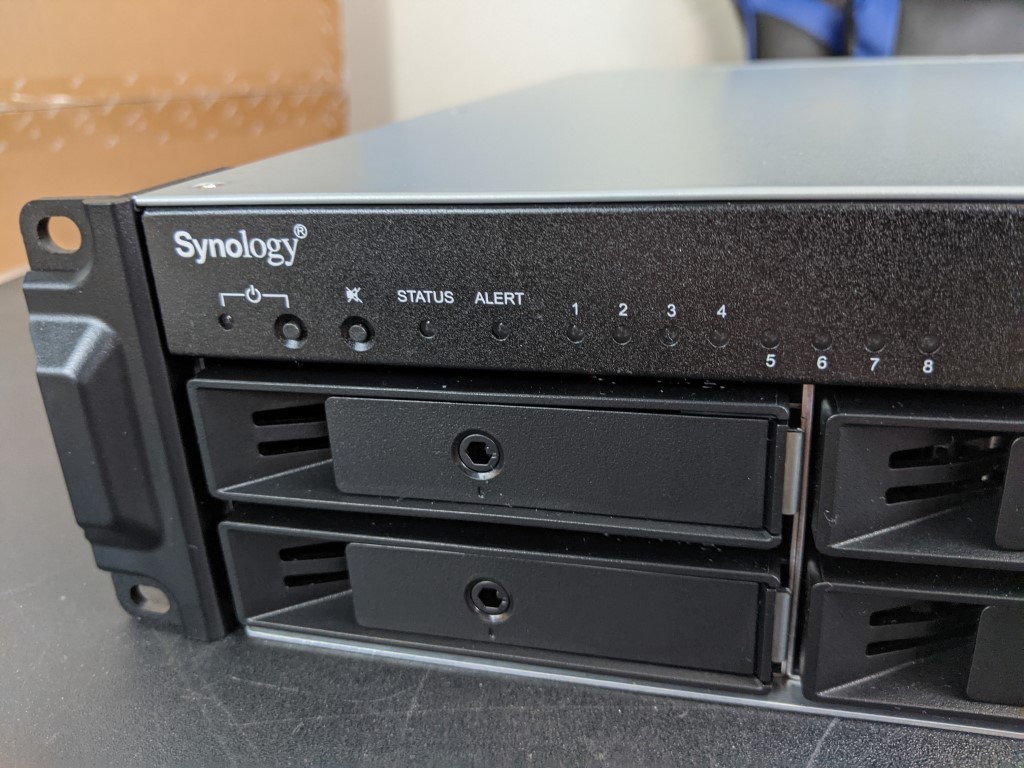 However, at its heart, the RS1221+ is still a rackmount NAS solution and physically arranged as such. There are individual buttons for power and muting the device. That latter one is very much a rackmount-only feature, as it allows admins on-site (physically) with the device to mute the NAS in the event of an alert being triggered. This can, of course, be done with the software (much like any other NAS) but you will typically find a rackmount solution in a bigger environment and when waiting for the in-house tech guy to resolve the warning alert, having a button to suspend it easily is a must for some.
The RS1221+ Rackstation still continues with the Synology position on network/internet only interaction as it does not arrive with an LCD panel. More associated with QNAP, LCD panels that denote errors, IPs and warning is something that Synology are less keen on, favouring the use of LEDs that are denoted to system hardware and processes. The eight LEDs on the top of the front panel denote network activity on each of the 4 LAN ports, as well as four LEDs to denote activity and health on each bay. It's quite rudimentary and despite the fact you can, of course, find out all the system information you need on the DSM GUI, I always prefer an optional LCD panel too – as it allows fast recognition of individual IPs, system temperature and more.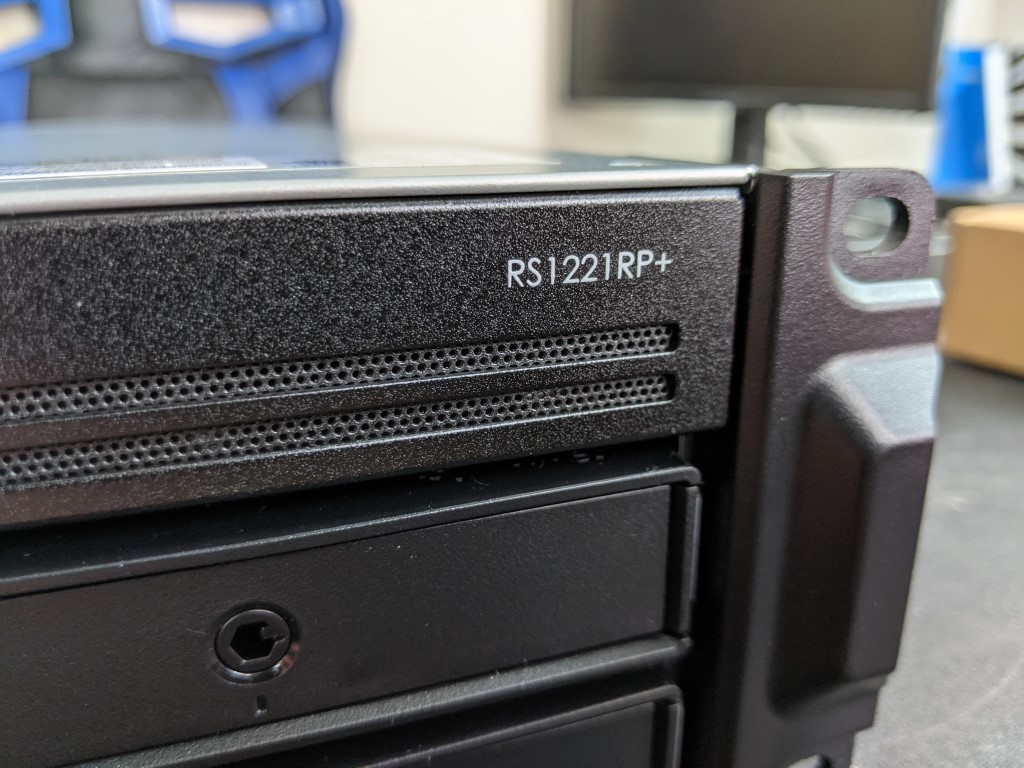 Across the top of the RS1221+ chassis, we find a long dual slitted ventilation area, that is primarily designed to draw air over the more compact internal controller board. The larger 12-Bay Rackstation devices from Synology that are also 2U in height, use this space for more storage, but it is nice that they have ventilated this panel. Especially useful for those who are deploying this device in more compact shelved areas.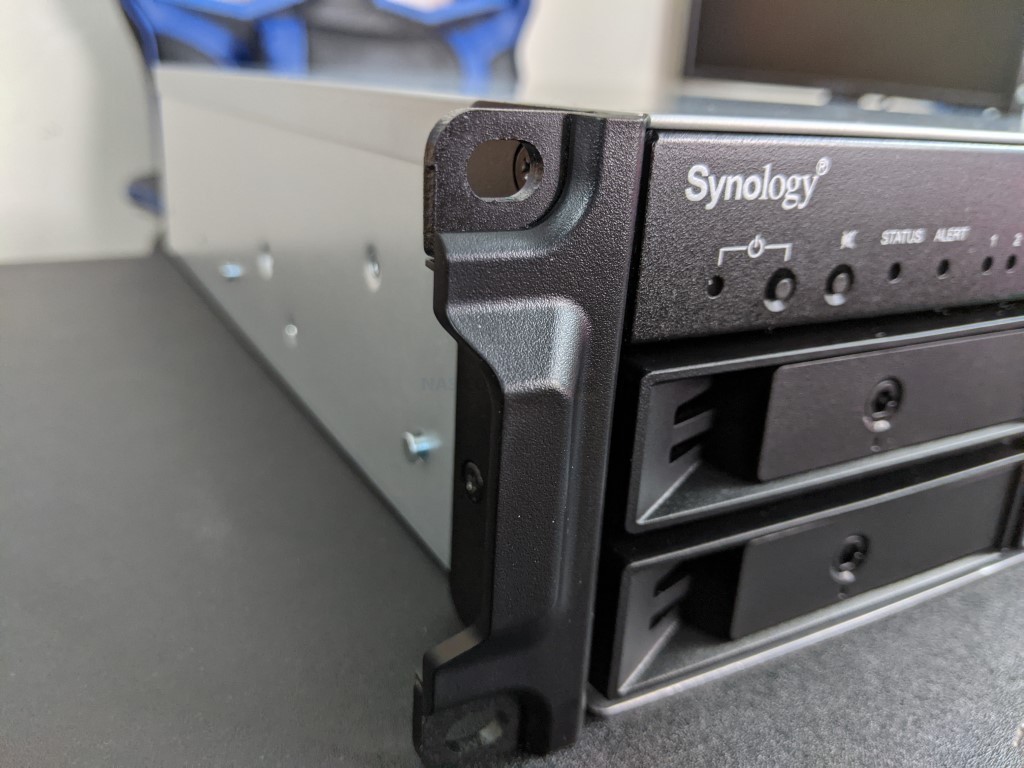 As this system is tailored to deployment in a rackmount, that means that it features handles on either side of the front panel. The main reason for this is two-fold. Firstly it is so the rackmount can be screwed into a stationary position on an existing rack cabinet. The second is when the RS1221+ is used in conjunction with sliding rails that allow you to pull the rackstation forward and perform maintenance or review your cable setup. If you are of a mind to just deploy the RS1221+ in tight horizontal shelf space, you can always easily remove these handles with a screwdriver.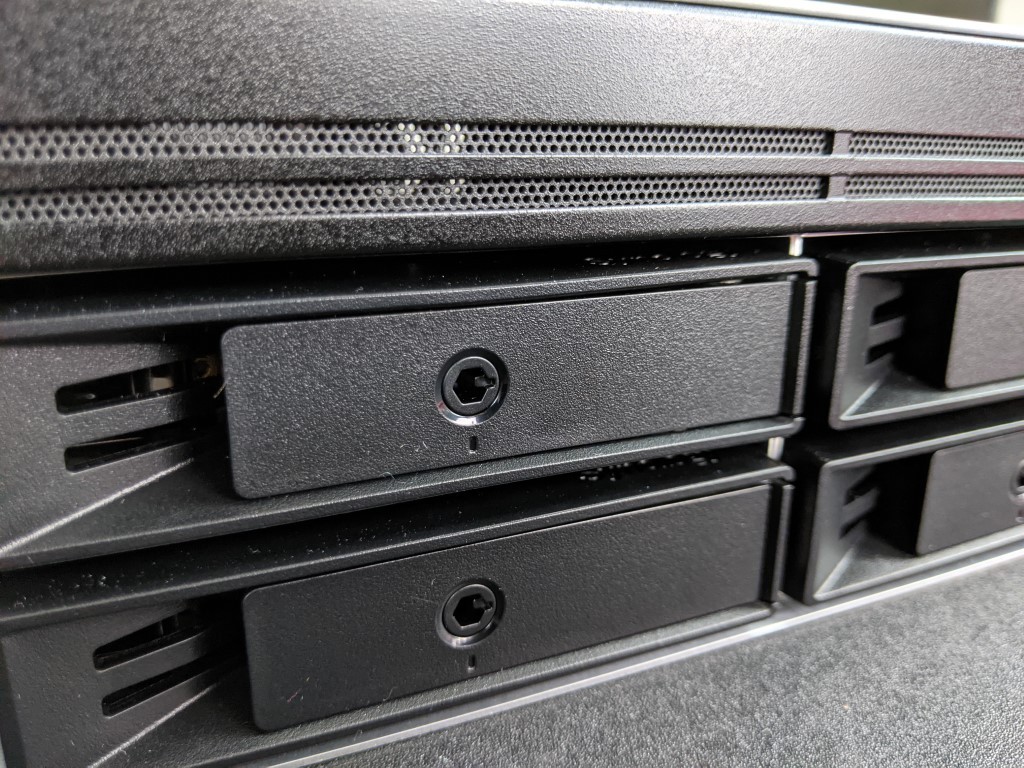 The main storage area of the Synology RS1221+ is comprised of eight SATA bays that support upto 18TB and 20TB hard drives from the likes of Seagate ironwolf and WD red. The system can operate with as little as a single media drive if need be, but what a system like this is clearly designed for numerous drives to be operated within a raid configuration. I am also pleased to confirm that alongside the usual RAID configurations of RAID 1, RAID 5 and RAID 10, this system also supports SHR, or Synology hybrid RAID as a means of a more fluid storage configuration. Generally, Synology does not include the SHR option on enterprise-level devices, but thanks to this system arriving in their plus series, it means you can still take advantage of it even in a rack mount form.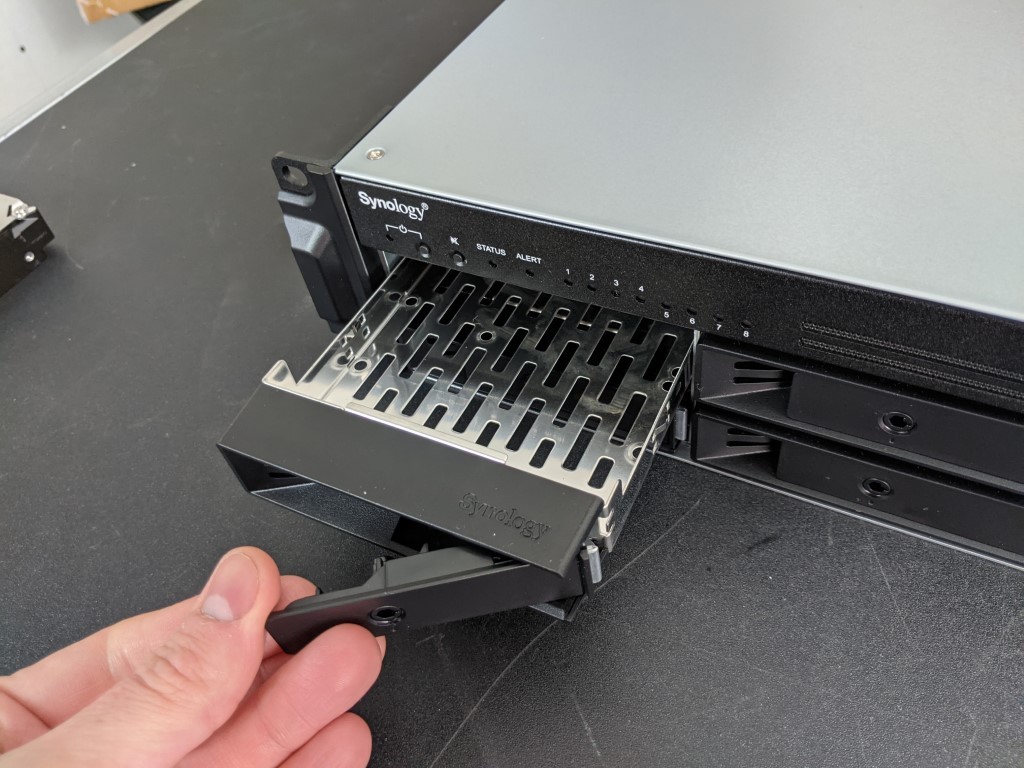 Each tray has its own dedicated locking mechanism and keys are included with the accessory pack on the Synology RS1221+ NAS. These locks are more designed to prevent accidental drive removal and to secure each drive as much as possible than to deter any would-be thieves. The system supports hot-swapping and breaking these locks would be quiet easy, so although these seem like a security move they are far more useful as a deterrent against accidental media ejection. Unlike the more plastic chassis-based desktop options in Synology's portfolio, the RS1221+ arrives with metal trays that all require hands-on drive installation. These metal trays each have screw holes for 3.5" and 2.5" media, so you can install mixed varieties of storage media and leverage their advantages on this system in both caching and raw storage. There is no avoiding that metal trays will tend to generate a little more noise, but in the case of a rackmount solution, this is largely irrelevant in the grand scheme of things.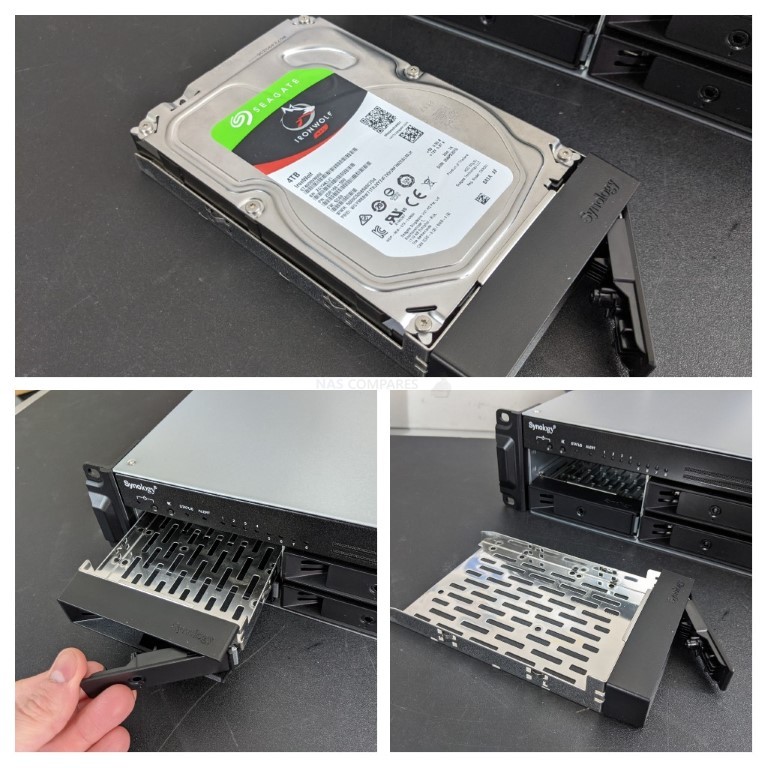 It is worth highlighting that the hard drives do occupy the majority of space in this chassis, but still managed to do it in a compact and intelligent fashion. Inside, each bay directly connects to a dual power and SATA interface connector, so no loose wires or cables are present. Equally, this means that airflow throughout the device to maintain optimal operational temperatures is uninhibited.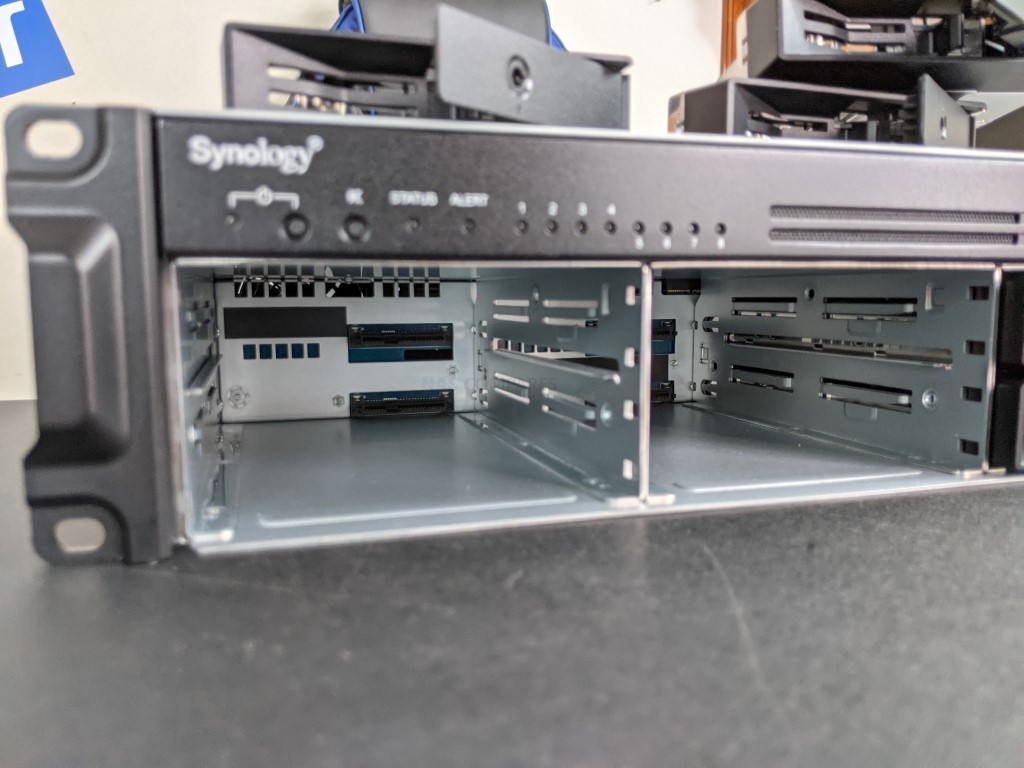 Removing all 8 of the storage bays reveals to us all of the available SATA ports Available vents throughout this device passes air over each of the storage media drives and takes advantage of a large amount of ventilation on each tray and the front panel of the RS1221+. There is no avoiding with a rackmount solution that it is generally noisier because of that ventilation and the more horizontal requirements of cooling passing through it. But for such a compact rack mount solution, you have to give them credit in the design stakes.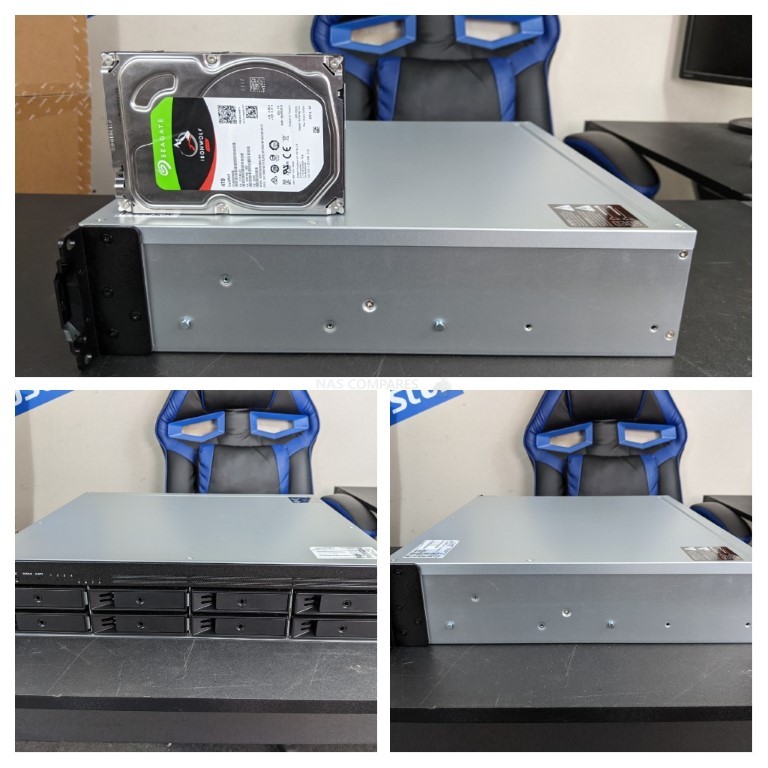 Synology RS1221+ Rackmount NAS Review – Ports and Connections
If there is one area that gives me mixed feelings of happiness and joy it would be the ports and connections available on the Synology RS1221+ Rackmount NAS. Largely identical to that of its predecessor, and although I continue to be impressed by just how compact yet well-spaced this entire piece of hardware is, there is still no avoiding that in some areas Synology still seemed to hold back a little bit on the architecture itself. There is also a dual PSU configuration and although today's review is of the single PSU model, the difference between them in terms of ports and connections is identical and only had around 10 cm to the depth of the device – quite impressive. Let's start with the things that I like. The twin fans at either corner of the rear of the RS1221+ are well placed and large enough to cover the full height of the chassis, as well as operate very well internally, something I noticed later on when removing the lid of the chassis and showing how a nice circular airflow was present on the device.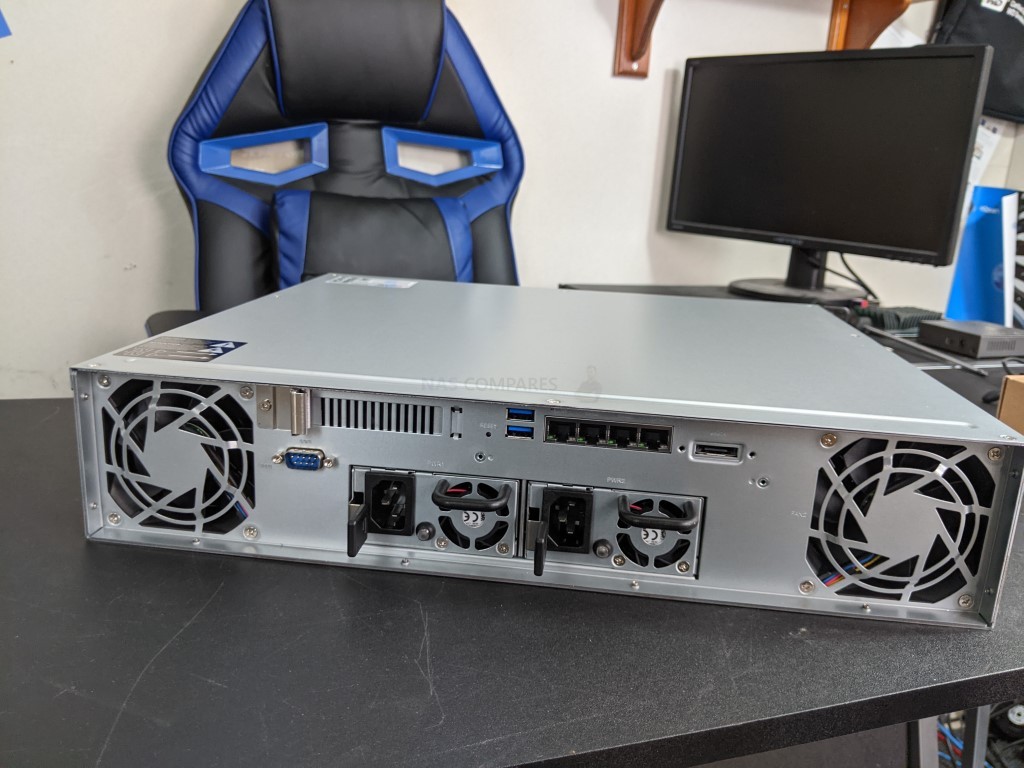 Each fan can have its operational speed increased or decreased manually by the end-user, but it is advised to keep the device at automatic fan control as this system will operate best when it is at optimal internal temperature. In fact, the only reason most users lower the RPM of internal fans is due to any noise they generate in close proximity, but in a rack mount device, this point is largely superfluous (I'll stop hammering this point). Additionally, in line with the discrete and compact nature of the RS1221+, the internal power supplier and connector are so well hidden that at a glance you can't even see it. In fact, the system utilizes an angular PSU connector that dips into the chassis. This means that even with the mains power connected to this device it does not protrude any further from the rear of the device and potentially invalidate compact deployment of this half-depth chassis.
| | |
| --- | --- |
| | |
The PSU at 250W may seem a little aggressive for just 8 bays of storage, but factoring in PCIe upgrade cards, increasingly larger drives and network connectivity will always increase that power draw, it's nice to have something you can use later if needed. The dual PSU model does not factor this rather discrete PSU and is forced to adopt the more traditional side-by-side block PSU on the rear. Some might well prefer this, as discreet as that PSU is, in the event of a repair, it is going to be tough to remove safely and likely require the whole system be sent back, rather than just the PSU. The Redundant PSU version of the RS1221+ (the RS1221RP+) features two 350W PSUs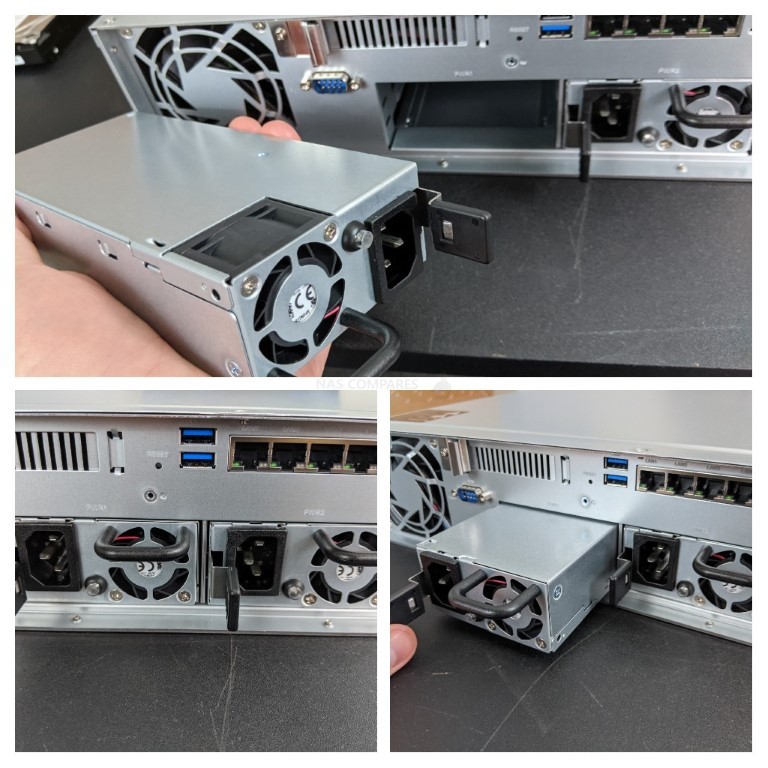 Further to the internal 8 storage media bays, this rackmount NAS does allow expansion of an additional 4 days of storage by connecting the RX418 via eSATA (6Gb/s). This allows you to add an additional 50% of storage media hardware over the existing base amount. Although, I will highlight that it is a shame that this system only supports the 4 bay expansion and not the larger and arguably more popular 12 bay expansion. Moreover, the DS1821+ desktop NAS which arrives with two expansion ports (so can add 10 more drives). Expandability is always nice but for a business, 4 bays of expandability may seem a little short term-ist.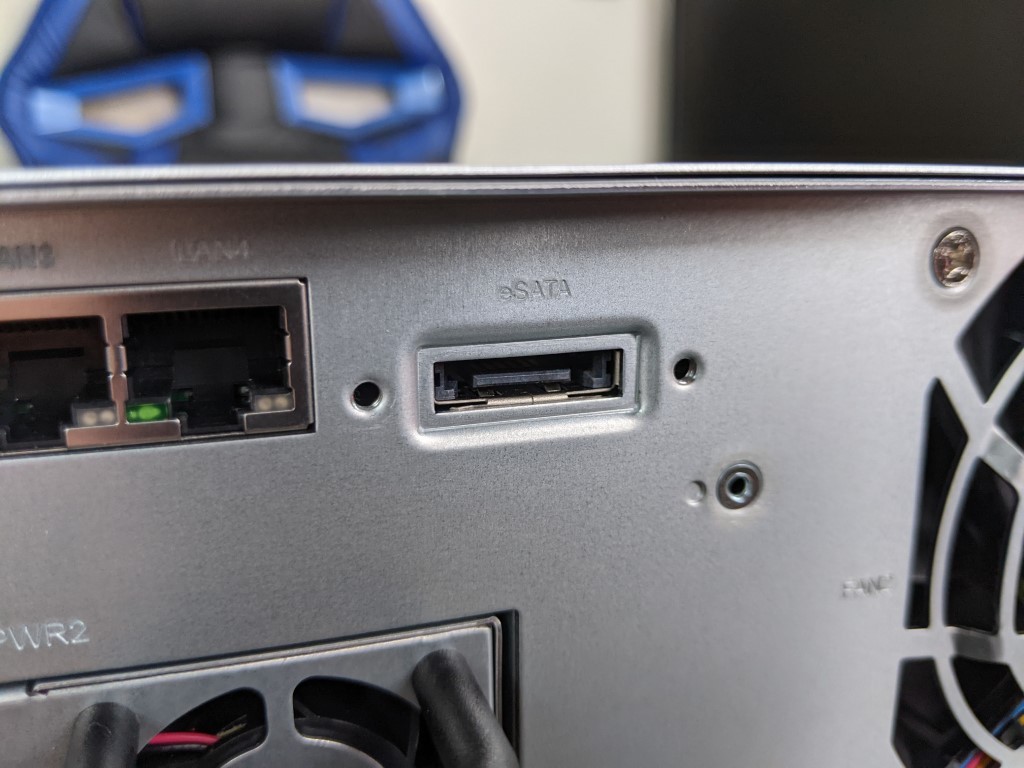 Much like any other Synology hardware, this device also arrives with USB 3.2 Gen 1 (5Gb/s) ports at the rear that support additional storage. Aside from traditional USB DAS storage to be used for adding backup options, the utility of these ports is quite thin on the ground and only really covers a small range of network peripherals and smart UPS connectivity. Even network interface upgrades that are officially supported by Synology are largely limited to only 1 Gbe upgrades over USB.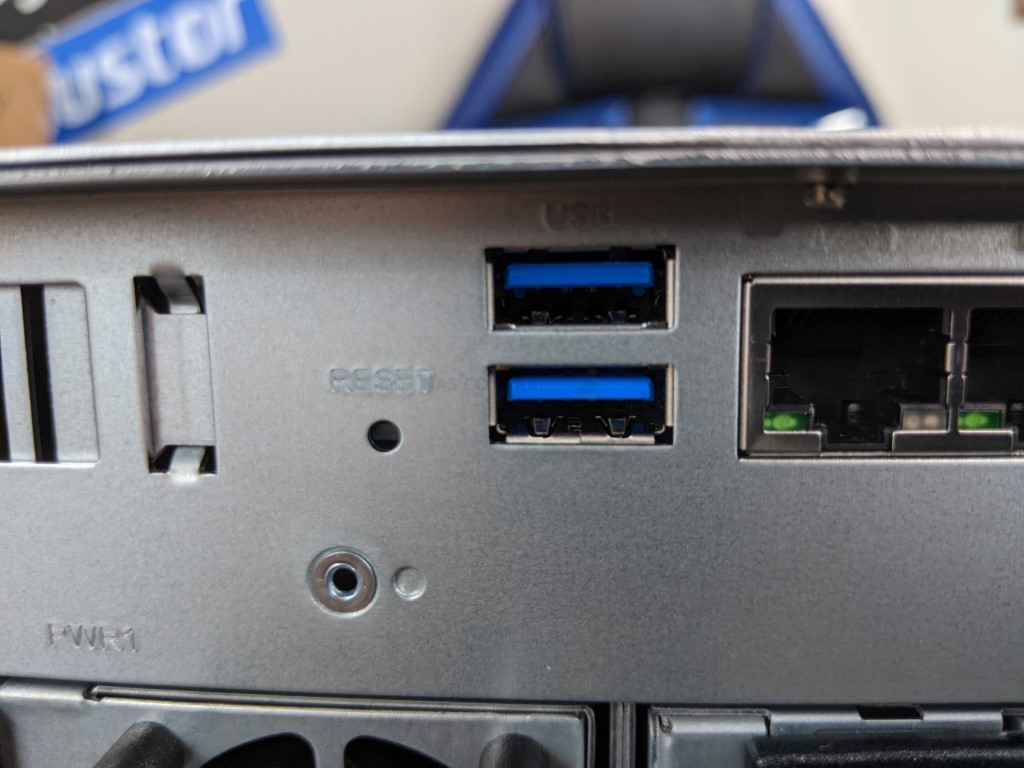 In terms of default network interfaces, the Synology RS1221+ once again sticks with Gigabit Ethernet as standard, on each of the four available RJ45 connections. Many have complained about the continued absence of greater than gigabit connectivity on the Synology plus series of mid-range hardware in 2020/2021 and although the RS1221+ supports link aggregation and therefore a potential 440MB/s transmission externally, 1Gbe is looking a little underwhelming. Numerous other brands have embraced 2.5Gbe and 5Gbe on this tier of device currently and although Synology has slightly increased the number of 10Gbe devices in their portfolio, it has almost exclusively featured on data centre and enterprise-class hardware only (eg XS and SA series).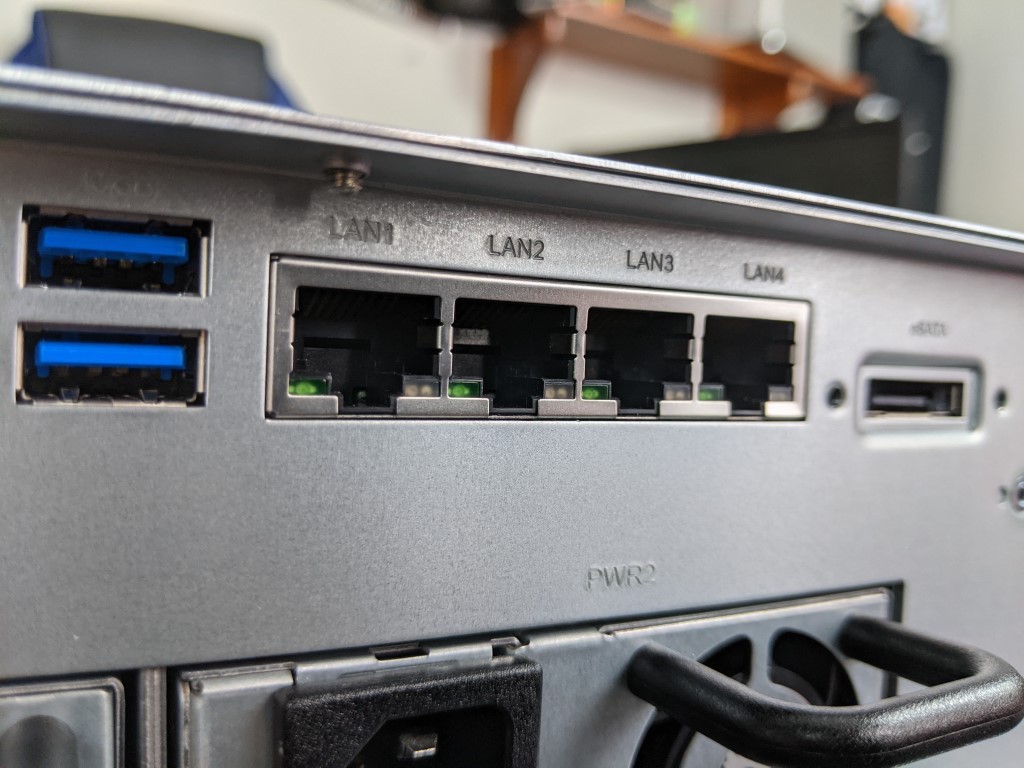 Although internal performance is going to be at a decent enough level on the RS1221+ with it's available hardware and storage, those 8 drives in an appropriate RAID are going to be noticeably bottlenecked by why those 1Gbe connections, throttling a potential 1000Mb/s more than in half. That isn't to say that at the four Gigabit LAN connections are all you can have, as the RS1221+ also features a PCIe upgrade slot too that allows the installation of improved network interface cards. There is a large range of first and third-party supported network upgrades cards available and although you will incur additional costs in pursuing this upgrade, it is largely the only way you are going to fully utilise the external performance that an eight-bay of this calibre is capable of.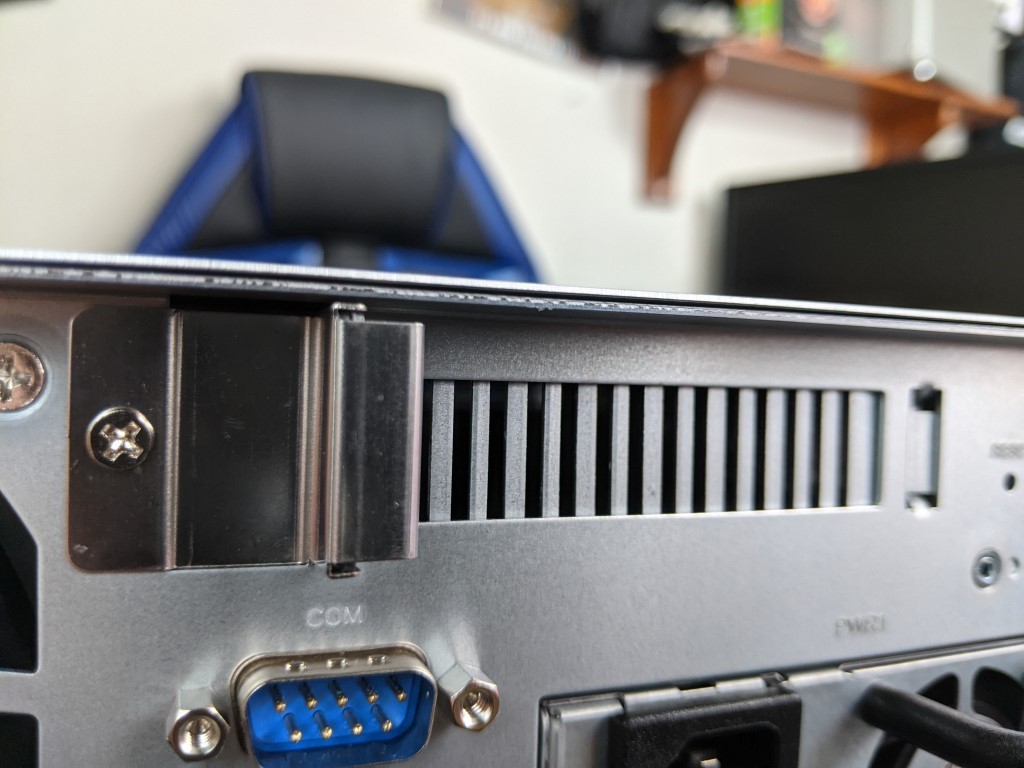 Indeed, that PCIe connection in question is an impressive PCIe gen 3 x8 architecture, allowing up to 8000MB/s of throughput to the main system. That means that dual-port cards and combination cache and ethernet cards are remarkably suitable for this device and will allow a large degree of bandwidth available to be present between the RS1221+ NAS and connected users. Likewise, the aforementioned combo cards such as the E10M20-T1 allow you to add both 10Gbe connectivity and the improved internal performance benefits of M.2 NVMe cache to this NAS via a single card.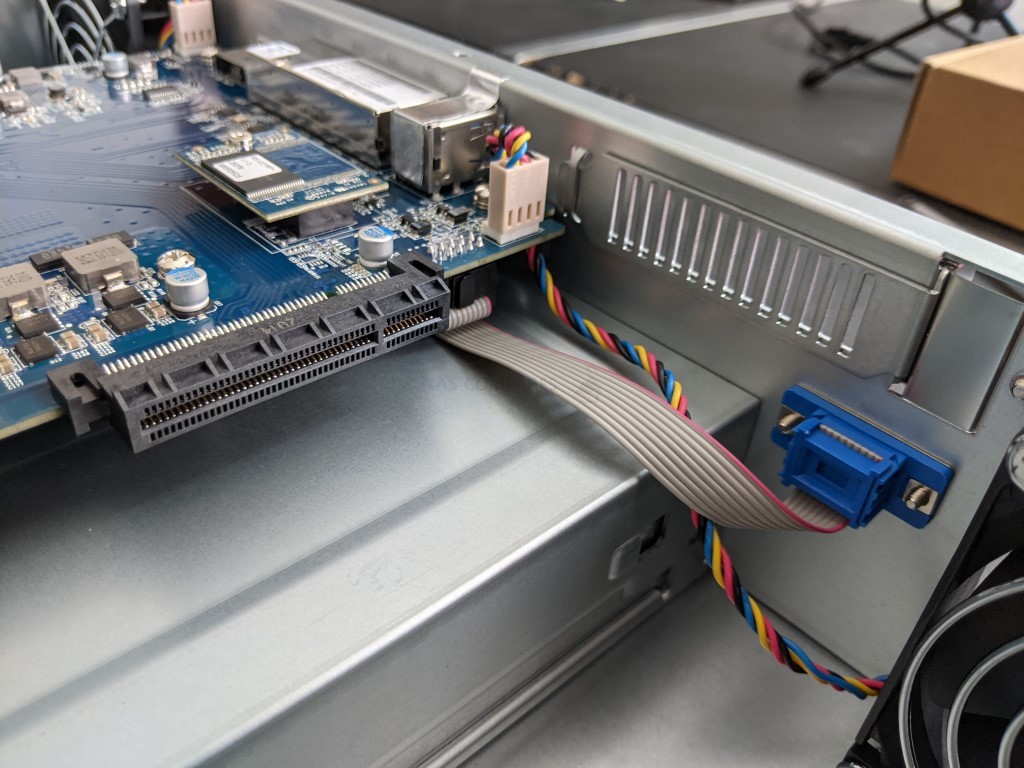 As good as the ability to add this improved combo card is, it does highlight another omission in the hardware of the RS1221+ NAS, namely the lack of those NVMe slots on the device itself. Many (more than half) of the new Synology hardware for 2020/2021 have arrived with m.2 NVMe bays internally. Indeed, Synology has been talking a big game about their improved performance of intelligent caching on the internal applications and across the whole system – it is just odd that it is not present on the latest rackmount solution. This is especially odd when comparing the device with the desktop 8-Bay DS1821+ released a month before that DOES arrive with m.2 NVMe slots. Nevertheless, the upgradability of the RS1221+ is still impressive and that Gen 3 x8 slot will go a long way!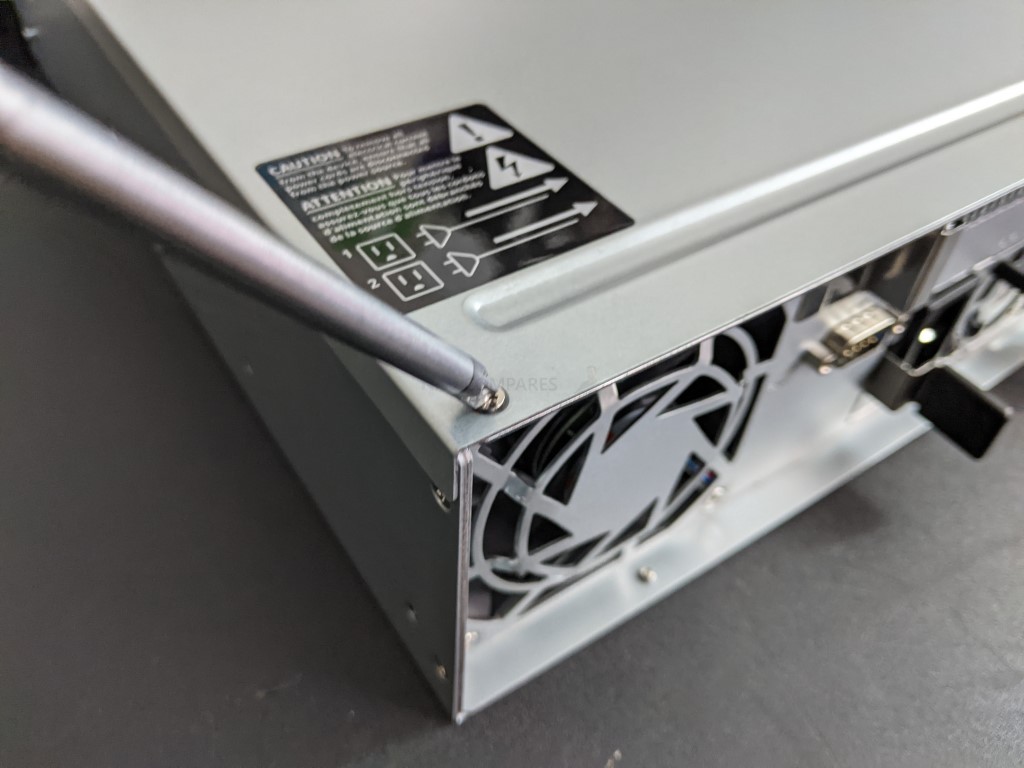 Synology RS1221+ Rackmount NAS Review – Internal Hardware
Internally, the RS1221+ rackmount NAS is quite an impressive piece of minimalist design! Rackmount hardware has always been big, heavy and with a big emphasis on high performance for business. The RS1221+ manages to provide great performance and hardware to support it, but does so at a physical volume that is comparable to a desktop NAS 8.8cm x 48.2cm x 30.6cm. Despite this small physical space, it manages to still maintain excellent cooling, an x86 64bit CPU, upto 32GB memory and plenty of room for a chunky PCIe card inside. The heat sinks have plenty of clearance and although the bulk of the space is occupied by the storage media, Synology has been very clever here about hardware placement. Let's discuss the highlights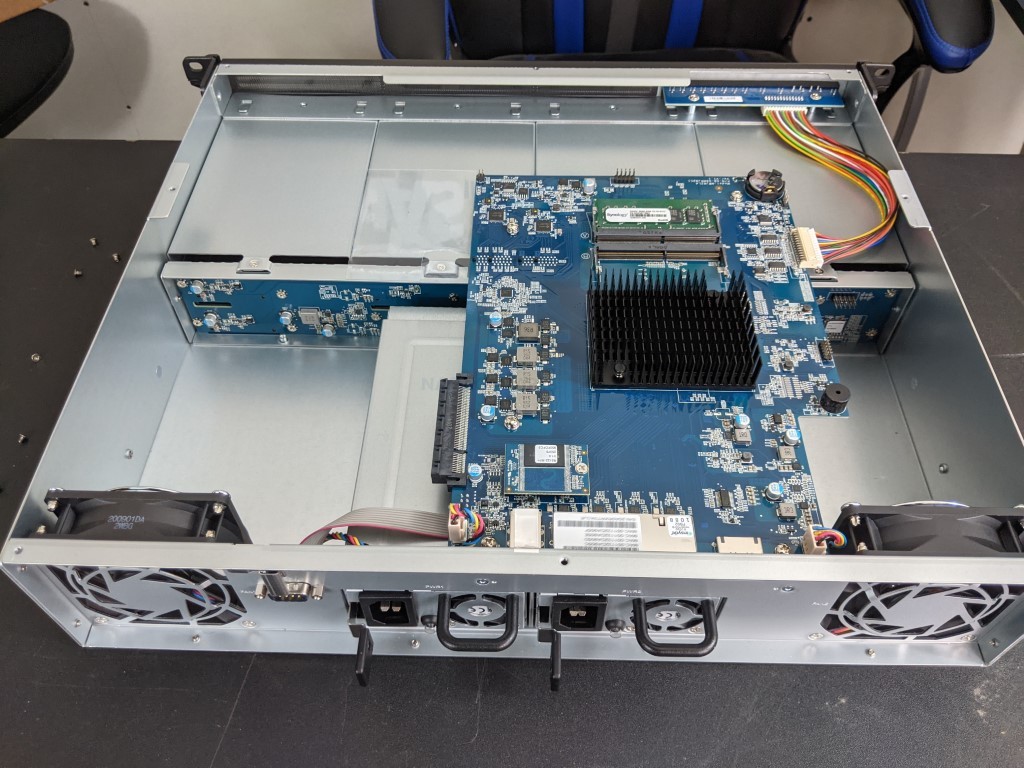 The main CPU does not need active cooling/fan coverage and is kept at a good operational temperature with a comparatively large heatsink on top. There are numerous smaller heatsinks for individual controllers handling lesser processes, but the main CPU of the RS1221+ is where it all happens!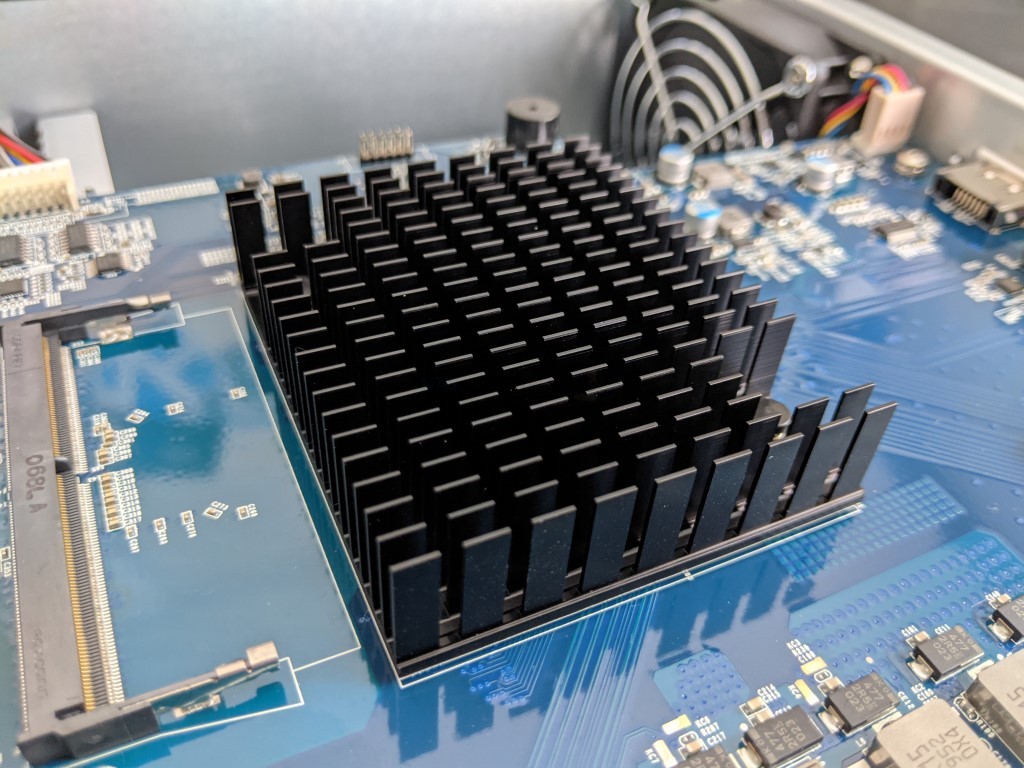 The CPU, as mentioned, is the AMD Ryzen V1500B processor. This is an SMB server-grade SoC version of the Ryzen series that is quad-core in architecture, with 2.2Ghz available per core. Although this CPU is not graphically embedded (as you might find on a Celeron or Pentium) it is exceptionally proficient at file handling and in previous tests with single and dual-port 10Gbe cards on the DS1821+, we were able to comfortably exceed 1,000MB/s and even reach 1,450MB/s (note – that was with 8 SSDs in a RAID 0, so could be larger with an increased number of bays at our disposal). This processor has an excellent floating-point, AES-NI encryption (a more efficient and higher speed upgrade on traditional AES 256bit) and also allows faster and higher quality memory to be used in the RS1221+ than in the RS1219+ NAS that came before it.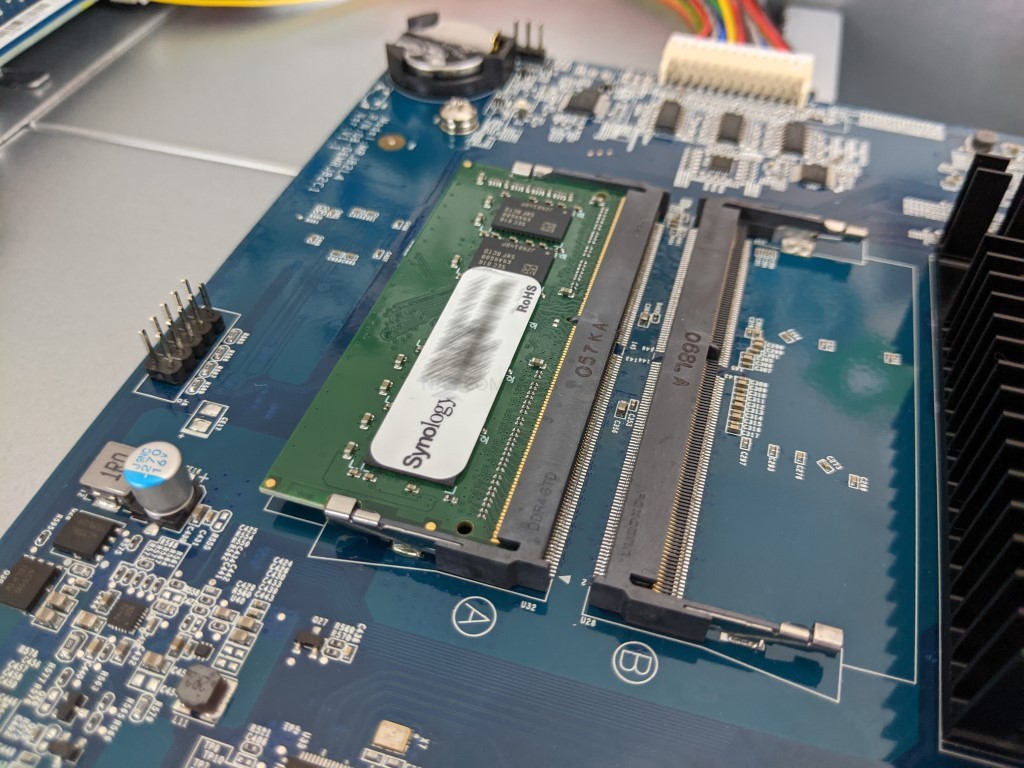 The RS1221+ NAS arrives with some excellent memory options (both in comparison to the RS1219+ and just generally) at 4GB of DDR4 ECC that can be upgraded over two slots up to an impressive 32GB of memory! Let's break that down a bit. First off, the 4GB by default is DOUBLE that of the 2GB that its predecessor arrived with – not massively impressive, but worth noting. Next, there is the fact it is a maximum 32GB DDR4 memory in the RS1221+ (whereas the RS1219+ had DDR3 upto 16GB). DDR4 consumes less power and faster in comparison with DDR3 with the clock speed of DDR3, in this case, being 1600MHz, while the clock speed of DDR4 is 2400MHz on this device.
Finally, there is the use of ECC (error-code correction) memory in the RS1221+. For most businesses, it's mission-critical to eliminate data corruption, which is the purpose of ECC memory. ECC is a type of computer memory that detects and corrects the most common kinds of memory data corruption. Memory errors occur as a result of electrical or magnetic interference inside the computer. This interference can cause a single bit of DRAM (dynamic random-access memory) to spontaneously change to the opposite state. Electrical and magnetic interference is present as background radiation and is largely unavoidable the longer your system is operational. Generally, ECC memory is more expensive and there can be a slight slowdown when compared to non-ECC memory. The other components in the system, such as the CPU and motherboard, must also support ECC memory. Though most modern ECC memory is considerably better and the reported difference in performance is as low as 2-3%. In industries such as the financial sector and the scientific community, ECC memory is essential to maintain data integrity. Most server memory is ECC memory, as well. ECC memory further reduces the number of crashes, which is very important in multi-user server applications. So, kudo to Synology including this is a mid-range solution for SMB. This combined with the performance increase between the Ryzen SoC in the new RS1221+ over the Intel Atom C2538 in the previous RS1219+ (see comparison below) make the newer device a noticeable jump up in terms of internal hardware and the performance.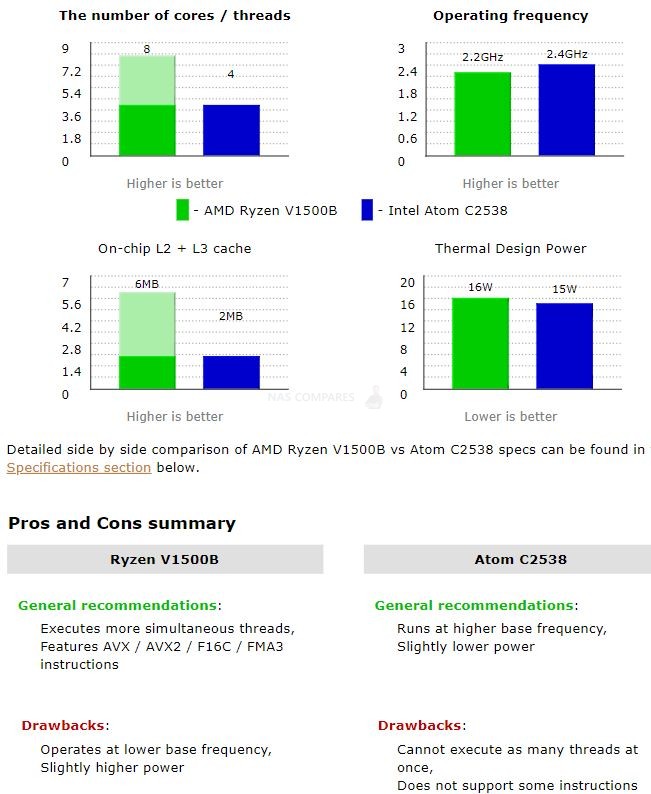 Overall, the available hardware in this compact rackmount is ticking alot of positive boxes for me and, although the lack of the now VERY brand associated NVMe bays is annoying, it has to be stated that the RS1221+ brings a good degree of performance to a genre of storage (half-depth/micro rackmounts) that has largely only arrived with weak hardware in the past. How does that translate to software though/ What does Synology provide in DSM for the RS1221+ NAS?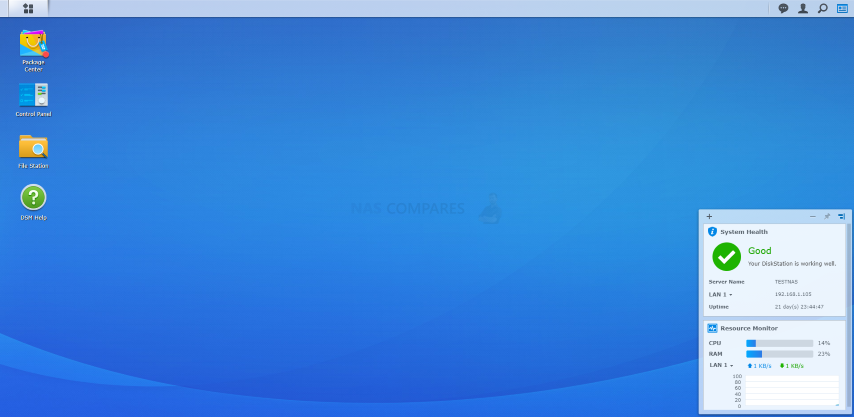 Synology RS1221+ Rackmount NAS Review – Software
You will be pleased to know that the upgrades in the Synology RS1221+ NAS of that Ryzen powered processor, over that of the Intel Atom, mean that to the entire Synology application range is available to you and in all cases, you will get faster performance and larger simultaneous access than previously. The Synology range of NAS devices all features the same software, in DSM 6.2 (DSM 7 beta revealed and available to test NOW). What separates them is the extent to which it can run the software, both in terms of which applications and to what extent. This is often governed by the memory and CPU inside and the RS1221+ NAS is no exception. If you currently own an RS1219+ NAS from Synology, then chances are that the Synology RS1221+ NAS will have little or nothing that you have not seen before. Likewise, the higher tier RS1619xs+ (which features a more powerful CPU in the Intel Xeon and M.2 NVMe SSD Bays), this quad-core processor in the RS1221+ does not present a massive upgrade to you. In terms of scaling between the new and older device. However, for those looking for a robust storage NAS with RAID coverage and internal hardware that will stand the test of time, the newer NAS represents a great starting block for your network-attached storage system and in a straight comparison, wins in almost every way.  It unsurprisingly arrives with all the software advantages available on a modern NAS, thanks to the Diskstation Manager (DSM) platform currently in version 6.2.2 and DSM 7.0 fully available towards the start of this year. The RS1221+ NAS supports a multitude of first-party applications and third-party apps for home and business use, such as:
First-Party Applications included with your NAS system
Synology Office – Create documents, spreadsheets, and slides in a multi-user environment. Real-time synchronization and saving makes collaboration a breeze.
Synology Chat – Aimed at businesses, Synology Chat is an IM service that transforms the way users collaborate and communicate.
Synology Drive – Host your own private cloud behind the safety of your NAS with 100% data ownership and no subscription fees.
Synology Moments – Manage your photos and videos with deep-learning algorithms that automatically group photos with similar faces, subjects, and places.
Synology Calendar – Stay on track, share calendars, and schedule meetings, while ensuring sensitive information remains safely stored on company premises.
Synology Active Backup for Business (ABB) – Consolidate backup tasks for virtualized environments, physical servers, and personal computers, and rapidly restore files, entire machines, or VMs – completely license free.
Synology Hyper Backup – backup you NAS safely and efficiently to multiple destinations with deduplication, integrity checks, compression, and versioning.
Synology Surveillance Station – Safeguard your business, home, and other valuable assets with reliable video surveillance tools.
Synology Virtual Machine Manager (VMM) – An intuitive hypervisor that supports Windows, Linux, and Virtual DSM virtual machines. Its powerful disaster recovery tools help users achieve maximum service uptime.
Synology High Availability – Synology High Availability (SHA) combines two Synology NAS servers into one active-passive high-availability cluster, alleviating service disruptions while mirroring data.
Synology Central Management System (CMS) – Synology CMS allows you to manage multiple Synology NAS servers quickly and conveniently from a single location.
Synology Video Station – Manage all your movies, TV shows, and home videos. Stream them to multiple devices or share them with friends and family.
Synology Photo Station – Built to help photographers manage their photos and share them with clients for feedback or business development.
Synology Audio Station – Manage your music collection, create personal playlists, stream them to your own devices, or share with family or friends.
Synology File Station – Manage your Synology NAS files remotely through web browsers or mobile devices.
MANY more, as well as Third Part App Support in:
Synology RS12
21+ PLEX MEDIA SERVER (4K & 1080p Coming Soon Below)
Plex Media Server
Google Drive, DropBox, Elephant Drive and other cloud migration tools
Docker for virtual application environments
Nakivo Backups, WordPress Site Hosting and numerous 3rd party CRM for Business
The DSM platform has evolved a great deal over the last few years and has become practically an entire reason to buy a Synology NAS on its own. You can, of course, try out the Synology DSM software platform before investing in a NAS, by visiting the link below and trying DSM 6.2 for yourself:

Alternatively, you can test Synology DSM 7.0 Beta in an online demo by visiting below:

A full software review of the DSM 6.2 platform on the RS1221+ NAS is currently in process and I hope to have this to you here on the blog very soon or on the YouTube channel in due course. Stay tuned.
Synology RS1221+ Rackmount NAS Review – Conclusion
As someone who has handled most of the Synology software and hardware in one form or another for the last decade, I can say that the RS1221+ is a very good solution and certainly represents everything that the brand is about in 2021. The RS1221+ NAS is a device that is designed with a more minimalist deployment in mind, yet still manages to provide this whilst maintaining a decent level of hardware inside too. Half-depth/compact rackmount NAS has long been associated with low-level hardware inside and a "you-get-what-you-are-given-and-be-grateful' kind of attitude in recent years and it is only in the last year or so with very, VERY competent solutions such as the Synology RS1221+ that we can expect a lot more from these more petite solutions.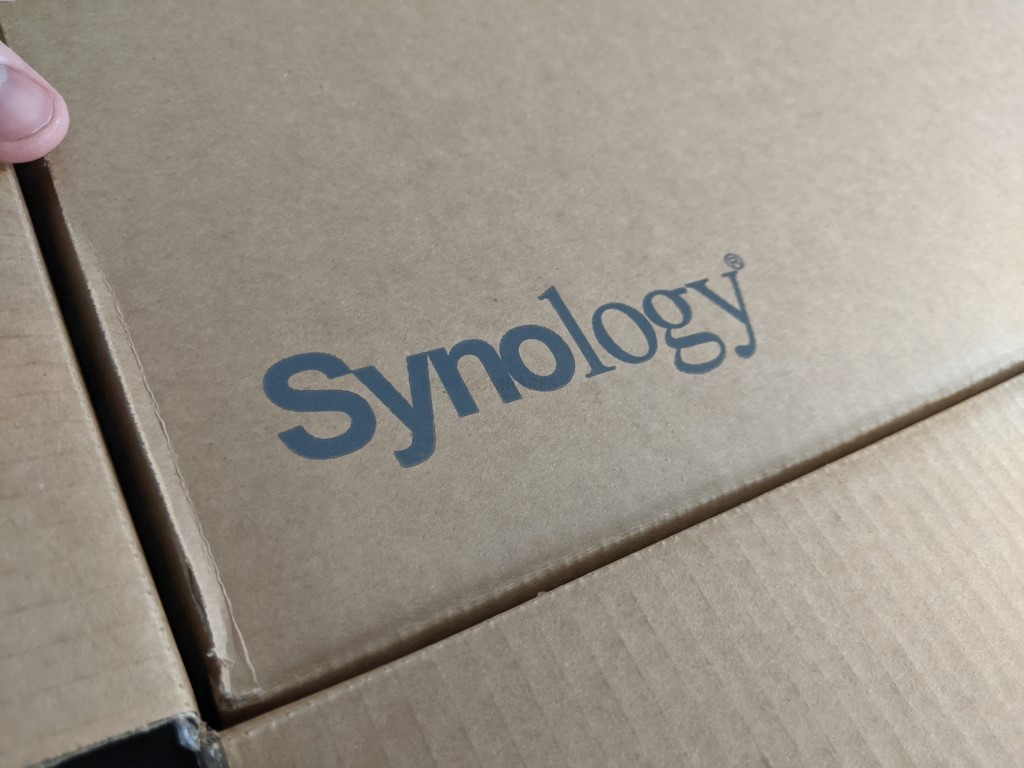 There are of course areas of contention. The lack of NVMe caching bays by default, slightly weak storage expandability and the continued appearance of 1Gbe is a little disappointing, but this needs to be balanced against a great CPU, great CPU, great PCIe expandability and (of course) Synology Diskstation Manager (DSM) being a continued hot selling point of all their hardware. If you are looking at buying a complete solution (i.e hardware & software for your business collaboration, security, backups and asset sharing with clients), the RS1221+ is a fantastic solution. But those who are looking for a bare-metal solution to wrap their existing software and services around might find the RS1221+ a little limiting. Another great release from Synology, if a little 'safe'.



Synology RS1221+ PROS
Synology RS1221+ CONS

Desktop Ryzen Powered Solution

30cm Compact Rackmount is always attractive (RP ver. larger)

PCIe Gen 3 x8 PCIe Equipped

Great RAID Options (inc SHR)

Excellent choice of Apps

DDR4 ECC Memory up to 32GB

Numerous Backup Software Options

Huge Virtualization Support

3yr Warranty and Extendable to 5yrs

1Gbe Ports seem a bit limited now

Shame it does not support 1/2 x DX1215

NVMe SSDs Ports not available, unlike desktop alternatives
Articles Get Updated Regularly - Get an alert every time something gets added to this page!
This description contains links to Amazon. These links will take you to some of the products mentioned in today's content. As an Amazon Associate, I earn from qualifying purchases. Visit the NASCompares Deal Finder to find the best place to buy this device in your region, based on Service, Support and Reputation - Just Search for your NAS Drive in the Box Below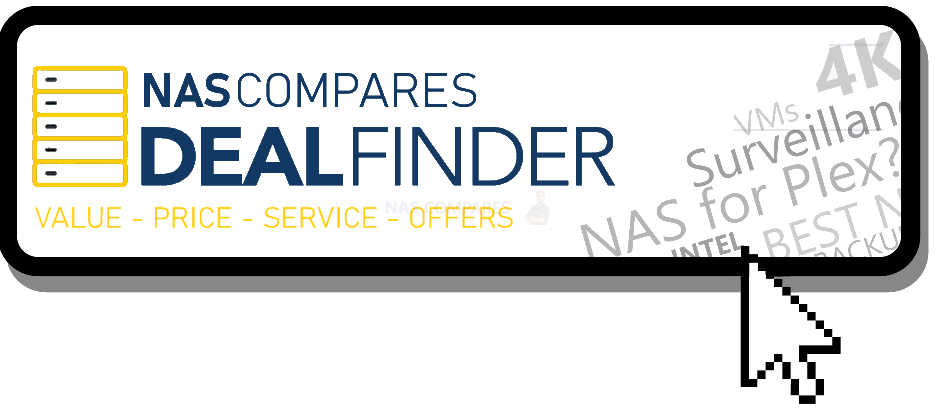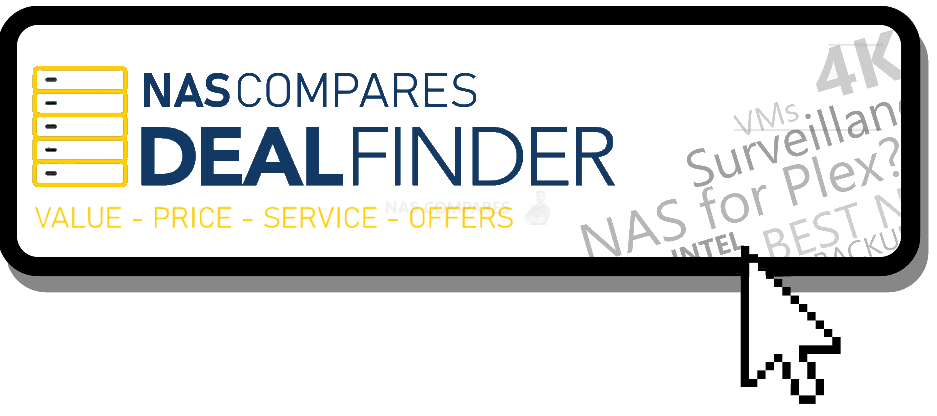 SEARCH IN THE BOX BELOW FOR NAS DEALS
Need Advice on Data Storage from an Expert?
We want to keep the free advice on NASCompares FREE for as long as we can. Since this service started back in Jan '18, We have helped hundreds of users every month solve their storage woes, but we can only continue to do this with your support. So please do choose to buy at Amazon US and Amazon UK on the articles when buying to provide advert revenue support or to donate/support the site below.


Finally, for free advice about your setup, j
ust leave a message in the comments below here at NASCompares.com and we will get back to you.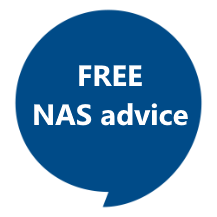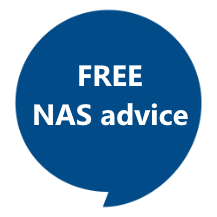 Need Help?
Where possible (and where appropriate) please provide as much information about your requirements, as then I can arrange the best answer and solution to your needs. Do not worry about your e-mail address being required, it will NOT be used in a mailing list and will NOT be used in any way other than to respond to your enquiry.
Terms and Conditions
Alternatively, why not ask me on the
ASK NASCompares forum
, by clicking the button below. This is a community hub that serves as a place that I can answer your question, chew the fat, share new release information and even get corrections posted. I will always get around to answering ALL queries, but as a one-man operation, I cannot promise speed! So by sharing your query in the
ASK NASCompares
section below, you can get a better range of solutions and suggestions, alongside my own.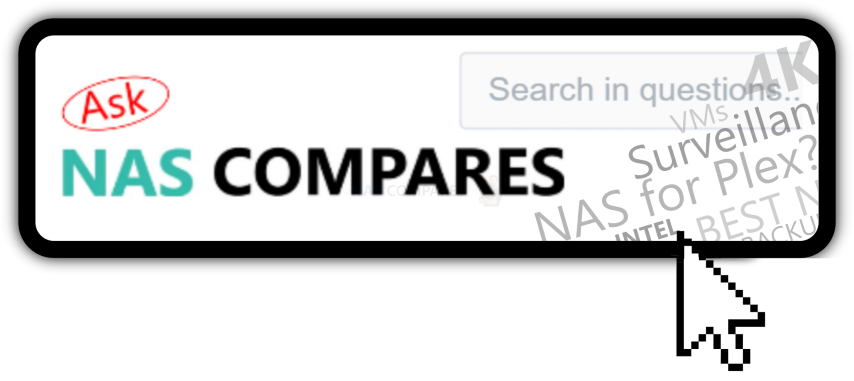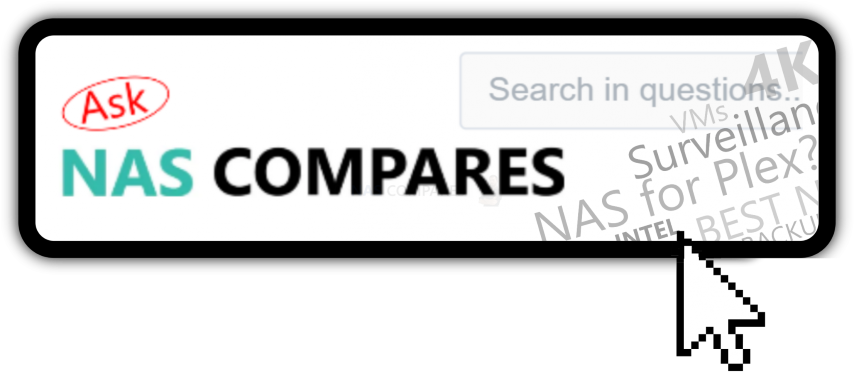 This description contains links to Amazon. These links will take you to some of the products mentioned in today's video. As an Amazon Associate, I earn from qualifying purchases
Summary
Reviewer
Review Date
Reviewed Item
Synology RS1221+ NAS Review
Author Rating