The Synology MR2200ac and RT2600ac – Still Worth Buying?
Synology we have made quite a name for itself in the world of network-attached storage (NAS) for the last two decades, however in the last few years they made some impressive moves into the world of prosumer routers, with technically three generations of hardware in their RT1900ac, RT2600ac and MR2200ac routers. Of course, like most Synology products, the appeal of their routers is a lot more about the software than the hardware and each unit arrives with access to the latest version of Synology router manager (SRM). However, for all of the positive things I say about the range, Synology we haven't actually released a new router in almost 2.5 years and although the SRM software has several updates since, the Synology Router physical product runs the risk of appearing out-of-date in terms of hardware. Today I want to answer the question of whether the Synology RT2600ac and MR2200ac router hardware is still worth buying in 2021? Mesh, stand-alone or separate networks in a single building, the points covered should be applicable to all end users. Below I have detailed several pros and cons, advantages and disadvantages and hopefully, they will help you decide whether the Synology router range still deserves your money.
Synology RT2600ac Router – $199

Dual core 1.7 GHz CPU / 512MB Memory

4×4 MIMO Omni-directional high-gain dipole (2.4GHz / 5GHz)

Gigabit (RJ-45) x 4 /  Gigabit (RJ-45) x 1 WAN

USB 3.0 x 1 / USB 2.0 x 1 

SD card reader x 1 (SDXC, SDHC)

IEEE 802.11a/b/g/n/ac

5GHz: 1.73Gbps /  2.4GHz: 800Mbps

Synology MR2200ac Mesh Router – $139

Quad core 717 MHz CPU / 256MB Memory

2×2 MIMO high-performance internal antenna (2.4 GHz / 5 GHz)

Multiple Mesh Node Deployment

Gigabit (RJ-45) x 1 /  Gigabit (RJ-45) x 1 WAN

USB 3.0 x 1

5GHz-1: 867Mbps / 5GHz-2: 867Mbps

2.4GHz: 400Mbps
The Synology MR2200ac and RT2600ac – 5 Reasons You Should Buy Them
First off, let's keep things positive and talk about good reasons why you should buy the Synology MR2200ac and RT2600ac router for your network management needs in 2021.
Impressive User Control Options in Synology Router Manager (SRM)
The SRM software that all Synology routers arrived with is one of the most advanced yet user-friendly network management tools that I have ever used on a consumer accessible router. Most of the highlights of the system are related to SRM and it's many unique features. One particularly interesting feature that has evolved beautifully in the products lifetime is that of the advanced client management control. Most routers have the simple ability to recognise or block individual IPS or MAC addresses, however, the Synology RT2600ac and MR2200ac router take things much, much further and creates a pictorial view of individual users in the network.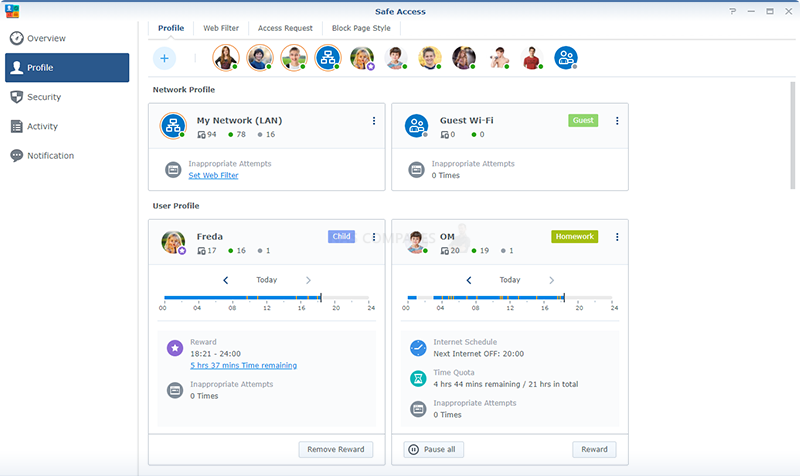 Within a few clicks, you are able to create individual profiles with photos and clusters of their network devices into manageable boxes. These individual uses, be they staff or family members, can then have their network connectivity, access privileges and intelligently managed site privileges beautifully scheduled automatically or manually. Great features such as allocating total internet access to a user, which is then shared across multiple devices to ensure that access time is not abused, as well as alert triggers for negative websites and reports on a users activity can all be produced and managed easily. You can even grant rewards and extensions easily via the mobile app or GUI on a web browser. It genuinely is an impressively detailed function that is presented in an incredibly intuitive and user-friendly way. Routers and general network management can be exceedingly intimidating for the less tech-savvy and Synology and its SRM platform on their routers make the management of the internet in your home or business incredibly straightforward.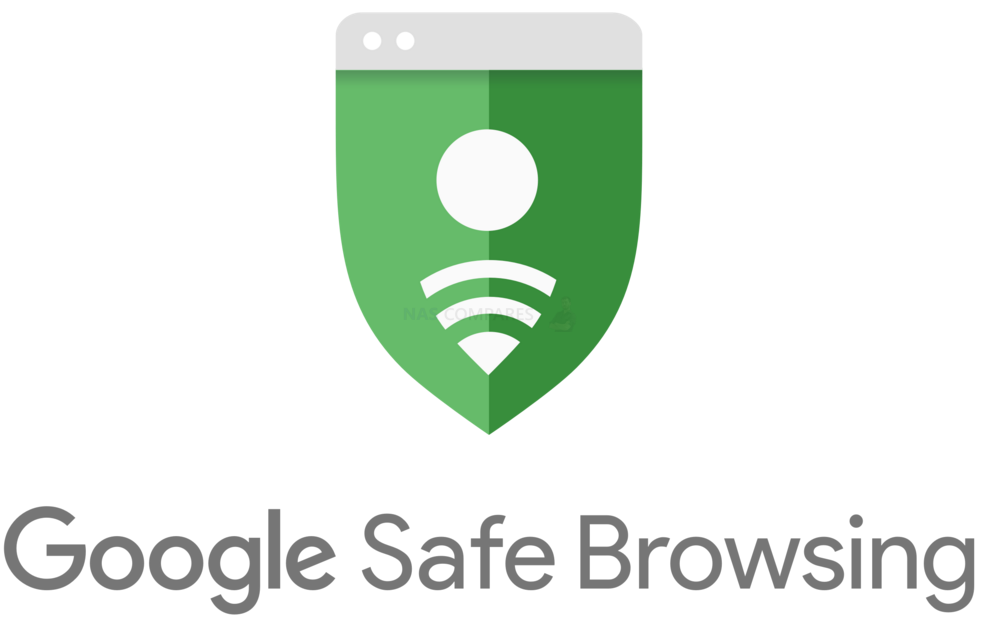 The Newest Generations of Synology Router Feature Google Safe Search and WPA3
Carrying on with the subject of security, two more great additions to the Synology Router software working to keep your network safe is WPA3 security built-in, as well as the inclusion of Google SafeSearch. Now, of course, Synology did not develop either of these security and protection protocols, they nearly included them in their SRM platform. However, WPA3 despite being well established as the latest and best Wi-Fi data packet security protocol is still not widely available on most routers and is a great deal harder than you would think to include on your system without the price taking a notable increase or wait for a possible software update by the brand.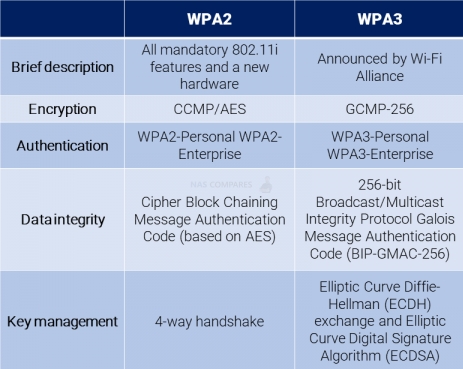 Additionally access to the Google Safe Search database to ensure that positive and negative websites for your security settings are accurate and up-to-date is not as easy as you might think and they are surprisingly few modern routers on the market that include access to this database. It is a hugely useful feature and one and alongside the support of WPA3, which mean that even in 2021, this 2018/19 released hardware is still very much up to date in terms of protection.
No Subscription Payment or Hidden Fees for Parental Control or Automated Network Safely Management
One of the earliest criticisms of the Synology router series was that it's seemingly arrived around 20% higher in price than other similar router hardware at launch. However, one big reason for that is that a number of other prosumer and mesh enabled routers place a lot of the safety and parental controls behind subscription-based paywalls. When we first conducted our performance, coverage and software reviews of the Synology Router system back in 2018/19, we compared it with numerous alternatives from D-Link, TP-Link and even Google Wi-Fi. Most of these other platforms placed fundamental family protection and automated blocking measures behind 30-day and 12-month subscription services for around £8/10pm. This was especially present on the more affordable mesh router systems and over the course of 2 years would quickly consume any saving you might have made on Day 1.
This slideshow requires JavaScript.
The Synology router hardware and router management software include all of these features with the base price with no additional subscription fees in the product lifespan. This along with the profile and client network system mentioned in my previous point, show why despite its slightly higher price tag, the Synology router system still manages to provide a great deal more customisation, security and control to the home or business user network. That is even without the extended free Synology VPN Plus license still available till September 2021.
Excellent Range of Analytic Tools in Synology Router Manager SRM
Yes, I am still talking about the software, but it is really important that you understand where the bulk of the price tag of the RT2600ac and MR2200ac has been spent in Synology' R&D. When you utilise the device for extended periods of time, can produce numerous impressive analytical reports that give you a better understanding of how much the network and internet are used, as well as recommendations on the best way to assign priorities in your wider network environment.
This slideshow requires JavaScript.
Of course, how much you intend to use this analytical information from your Synology router network is up to you and perhaps several uses will never really take advantage of it, but it is still a fantastic feature for those that like to keep an eye on things happening over the network and like most of the features of SRM, is accessible and viewable at any time via your browser or mobile DS router application for iOS and Android.
USB SIM Card and Mobile Phone Tethering Support with Easy Setup
Another cool little feature that I stumbled on by accident in a video last year, as well as something that Synology barely mention on their product pages, is that you can connect a mobile phone via USB tethering, or a USB mobile SIM broadband dongle, then use it as the live Internet connection on your router network. For those who take advantage of impressive 4 g or 5G mobile routers for work, the fact you can simply connect this router to the Synology RT2600ac or MR2200ac as your current Internet connection, or as an emergency failover, is hugely beneficial and is a feature that is weirdly absent from a number of other router releases in 2020/2021 and their manufacturer's software.
The Synology MR2200ac and RT2600ac – 5 Reasons You Should Not Buy Them
Of course, and there are several reasons why you may not wish to invest your hard-earned money in a Synology router system. Not only is the latest system over 2 years old, but there have been numerous impressive developments in the world of network protocol and technology that may be absent in the Synology MR2200ac or RT2600ac router. Here are some reasons that might make you want to give the Synology router range a miss.
The Synology RT2600ac and MR2200ac are WiFi 5 Only (No WiFi 6)
Easily one of the most off-putting reasons for users looking at prosumer and premium price routers whilst moving away from their standard ISP modems is that since the release of the RT2600ac and MR2200ac, the improved bandwidths and performance Wi-Fi protocol known as Wi-Fi 6, or (802.11AX), has boomed in popularity. Although you will of course need to have Wi-Fi 6 supported client hardware around your home or office in order to capitalise on the new faster wireless protocol, a lot of more modern handheld and portable technology released in the last two years feature Wi-Fi 6 and even Wi-Fi 6E soon by default. So buying the Synology router system in its current form may reduce your potential performance in a Wi-Fi 6 populated environment.
The Synology RT2600ac and MR2200ac Only Feature 1Gbe Connectivity
Although most users are buying a router for its connection to the internet, it is important to remember that devices that share the network still needs to communicate and therefore the network switch abilities of a Synology router are important. Standard 1Gbe is featured on all Synology routers, which provides up to a maximum of 100-109 MB per second throughput. However in the last year or so we have seen numerous 2.5Gbe and 10Gbe routers appear on the market at a similar price point to the Synology RT2600ac and MR2200ac, which although difficult to fully saturate with your standard internet connection, is still hugely advantageous for sharing files between network devices.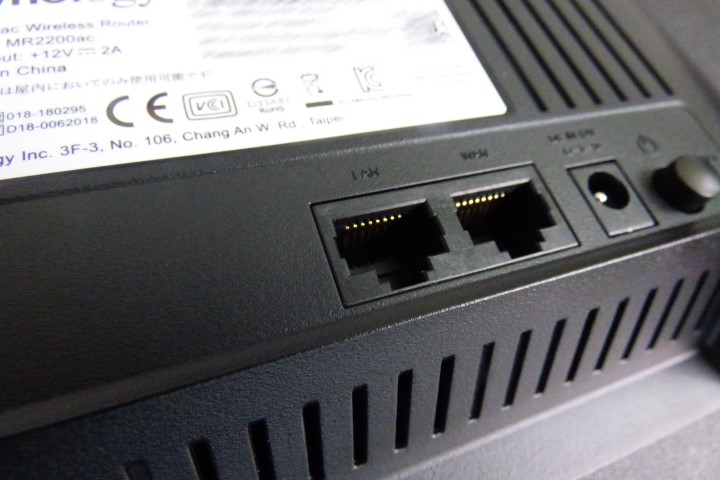 The Synology RT2600ac and MR2200ac Are More Expensive Than Similar Routers in Hardware
Although already mentioned earlier, the price tag of the Synology RT2600ac and MR2200ac router system is noticeably higher than other prosumer routers in the market of a similar hardware level. Yes, the Synology router range arrives with SRM and an enormous array of control, customisation and security options, but a lot of people will never really take advantage of these and therefore will be paying more for something they will potentially never use. Although I firmly believe the Synology router range provides excellent value for money, it's still arrived at an intimidating price tag for some who just want a setup-and-forget style router.
There Might Be a New Synology Router Later in 2021/2022
Probably one of the biggest and most compelling reasons for some users to avoid buying the current generation of Synology router is that since the most recent release was in late 2018-early 2019 (depending on your region of the world), that there is hope that a new and improved model will arrive relatively soon. Whether it is because you want to wait and see if a new release has a number of the hardware options that are absent in the current RT2600ac or MR2200ac, or simply that when you buy something you want it to be the latest piece of kit, many users have held off purchasing the latest Synology hardware because they are waiting for a potential AX/WiFi6 Synology router or something with improved gigabit connectivity. Perhaps a WiFi 6 RT2600ax and MR2200ax, or something a tad beefier at RT3200ax and MR3000ax?!
And there you go, those are five reasons when you should consider buying the Synology Router Series, as well as five reasons why you might not want to. Thanks for reading. Do you still need help? Use the NASCompares Free Advice section here – https://nascompares.com/contact-us. It is my free, unbias community support system that allows you to ask me questions about your ideal setup. It is NOT a sales platform, NOT a way to push hardware you don't need and, although it is just manned by me and might take a day or two for me to reply, I will help you any way I can.
Synology RT2600ac Router – $199

Dual core 1.7 GHz CPU / 512MB Memory

4×4 MIMO Omni-directional high-gain dipole (2.4GHz / 5GHz)

Gigabit (RJ-45) x 4 /  Gigabit (RJ-45) x 1 WAN

USB 3.0 x 1 / USB 2.0 x 1 

SD card reader x 1 (SDXC, SDHC)

IEEE 802.11a/b/g/n/ac

5GHz: 1.73Gbps /  2.4GHz: 800Mbps

Synology MR2200ac Mesh Router – $139

Quad core 717 MHz CPU / 256MB Memory

2×2 MIMO high-performance internal antenna (2.4 GHz / 5 GHz)

Multiple Mesh Node Deployment

Gigabit (RJ-45) x 1 /  Gigabit (RJ-45) x 1 WAN

USB 3.0 x 1

5GHz-1: 867Mbps / 5GHz-2: 867Mbps

2.4GHz: 400Mbps
📧 LET ME KNOW ABOUT NEW POSTS 🔔
Join 1,410 other subscribers
Get an alert every time something gets added to this specific article!
This description contains links to Amazon. These links will take you to some of the products mentioned in today's content. As an Amazon Associate, I earn from qualifying purchases. Visit the NASCompares Deal Finder to find the best place to buy this device in your region, based on Service, Support and Reputation - Just Search for your NAS Drive in the Box Below
Need Advice on Data Storage from an Expert?
We want to keep the free advice on NASCompares FREE for as long as we can. Since this service started back in Jan '18, We have helped hundreds of users every month solve their storage woes, but we can only continue to do this with your support. So please do choose to buy at Amazon US and Amazon UK on the articles when buying to provide advert revenue support or to donate/support the site below.

Finally, for free advice about your setup, j
ust leave a message in the comments below here at NASCompares.com and we will get back to you.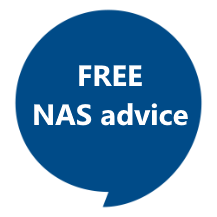 Need Help?
Where possible (and where appropriate) please provide as much information about your requirements, as then I can arrange the best answer and solution to your needs. Do not worry about your e-mail address being required, it will NOT be used in a mailing list and will NOT be used in any way other than to respond to your enquiry.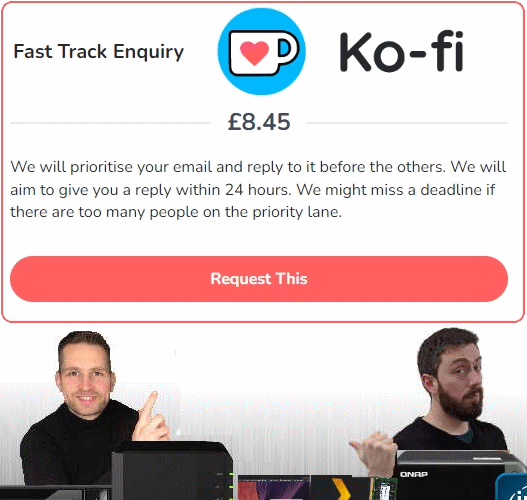 Terms and Conditions
Alternatively, why not ask me on the
ASK NASCompares forum
, by clicking the button below. This is a community hub that serves as a place that I can answer your question, chew the fat, share new release information and even get corrections posted. I will always get around to answering ALL queries, but as a one-man operation, I cannot promise speed! So by sharing your query in the
ASK NASCompares
section below, you can get a better range of solutions and suggestions, alongside my own.
This description contains links to Amazon. These links will take you to some of the products mentioned in today's video. As an Amazon Associate, I earn from qualifying purchases
Summary
Reviewer
Review Date
Reviewed Item
Is the Synology Router Still Worth Buying in 2021?
Author Rating