A Guide to Choosing the Right IP Cameras for Your Surveillance NAS
Of all the ways to make the most of a NAS in your home or business environment, few are as useful as implementing a surveillance system. Alot of people might have purchased a NAS for backup, for multimedia editing, for Plex Media Server or just for streaming over DLNA. However, all of those tasks are only going to be accessing the NAS for a fraction of the time, whilst it remains on 24×7. So, given the affordability of network cameras (you can pick some up for as little as £30) and the fact that most modern NAS brands include a surveillance software (some being remarkably enterprise in feel too), it almost becomes a no brainer to use the system for CCTV at home, shop or office. Today I want to discuss the important buying factors when choosing cameras for your surveillance NAS setup, as well as important setup factors to consider (camera licenses, IP camera compatibility and the software itself). Let's begin.
Useful Tip – Is the IP Camera you are looking at not on the official NAS compatibility list? If it is an ONVIF supported camera, then there is a very high chance it will be usable by compatible with your NAS, but it may mean that a few hardware features of the camera are not accessible to the NAS Surveillance software.
NAS IP Surveillance and Camera Licences
Why do you need to pay for more licences? Well, the surveillance software is included with your NAS and has no subscription fee for consistent use. It is a 24/7  and 52 weeks a year program and requires a large degree of support externally from your device to be fully accessible and reliable online at all times. Unsurprisingly, the more cameras you use, the larger the load and therefore to subsidise this and keep costs low for those that just need lite service, additional camera licences above the ones included with your NAS purchase are on a paid basis. Most Synology and QNAP NAS arrive with 2-4 Licences (as well as 8 cameras licences for QNAP QNR Pro currently) included with your device, which unless you are taking Network Attached Surveillance very seriously will be enough for basic home needs. However, if you want to expand your NVR NAS camera availability further you are of course able to purchase more licences. You can buy QNAP and Synology licences:
Synology Surveillance Licences

Most Synology NAS include 2 Camera Licenses

QNAP Surveillance Licences

QNAP NAS include 2/4/8 Camera Licenses (QVR Pro or Surveillance Station Depending 
Once again though – ONLY buy NAS IP Camera Licenses if you think you will 100% need them, as it can get quite expensive once you start getting more and more cameras on your network.
Useful Tip – Any QNAP NAS with an available USB port can also allow you to connect pretty much ANY USB Webcam and using the QUSBCam software available in QTS.
Surveillance IP Cameras and NAS Compatibility
If you know all about IP cameras or are too impatient to read through the blurb, you can skip right ahead and below is the recommended cameras for PTZ, Optical Zoom, Nightvision, etc. All the cameras below are compatible with the following NAS Surveillance and NVR software (at the time of writing):
Synology Surveillance Station
QNAP Surveillance Station
QNAP QVR Pro
Asustor Surveillance Centre
MIlestone Surveillance for WD NAS (Check, as Support, may have changed)
If you want to see how each NAS brand handles Surveillance, then you will be pleased to hear that I have made numerous video setup guides and reviews. Below are first-time setup guides and software overviews for the Synology Surveillance Station, QNAP QVR Pro and Asustor Surveillance Center applications. (Click the video title to open it in a new tab)
However, if you want to test out the software for yourself and find out if a NAS is the right surveillance solution for you, then below you can test out demos of the popular Synology Surveillance Station surveillance platform, as well as the QNAP QTS and QVR Pro CCTV software. Bear in mind that these are demos that are being accessed remotely, so their performance might not be exactly the same as a NAS Surveillance platform that your set up in your own home or office network.
Synology Software Online Demo – https://demo.synology.com/en-uk/surveillance 
QNAP Software Online Demo – https://www.qnap.com/en-uk/live-demo 
Asustor Software Online Demo – https://www.asustor.com/en/live_demo 
So, now you know more about NAS Surveillance, how a number of the bigger brands handle Surveillance on their platforms and have had a good look at the software itself available on each system. Let's discuss the IP cameras that are compatible with each NAS brand.
Useful Tip – If you are looking at a Synology NAS PURELY for Surveillance, look at their dedicated DVA or NVR range for more included Camera Licences by default. If you are looking at a QNAP Surveillance NAS, look at 64bit x86 CPU based NAS (Intel or AMD) as it means the NAS will have QVR Pro support and 8 Camera Licenses in QTS.
Recommended NAS IP Cameras and Key Camera Features
Here are the key software and hardware considerations you will need to know when buying IP cameras for your NAS. You may not need them all, but there is probably one of two that are key to your Surveillance NAS setup.
IMPORTANT – The Recommended IP Cameras for NAS below are based on best VALUE, as I know a lot of people will purchase IP cameras for home/shop/small office use. There are ALOT of more enterprise cameras out there from brands like AXIS that are pretty much EXCELLENT at everything and compatible with most QNAP or Synology NAS systems, but they also cost about 10x as much as the likes of Reolink, Annke, Edimax, Hikvision and more. So, I am recommended cameras below based on being the best for their features AND their affordability. The subject of IP Cameras and NAS is a really tricky one to stay on top of. Despite my best efforts, the near-weekly firmware updates that are rolled out by both Synology and QNAP on their own operating platforms, the individual Surveillance software and the cameras themselves, can easily lead to a once compatibility camera not being supported. The pain is that the failure in compatibility is sometimes not even a performance halt or the camera suddenly falling off your available capture device list in the software – once it appears on the available camera list in the software, it will sometimes stay there regardless – possibly switching to a ONVIF class camera (kind like a default driver visible device). This matter is further compounded when I produce an update for you guys that lists cameras I have tested that work, that 6 months later 30-40% are no longer supported! I can only give you advice on this one based on my own experience, links to my existing articles and a little personal advice.
IP Cameras with PTZ and Optical Zoom
One of the most common features that people request in an IP camera for a NAS is PTZ, or pan tilt zoom. This is the ability for a camera to monitor more than just what it is originally pointed at once it is set-up and gives a greater degree of coverage to both the users that access the camera and the NAS server itself. More sophisticated PTZ IP cameras, for the NAS can be controlled directly by the surveillance station/ QVR Pro software directly. So you are able, for example, to set up a recording routine path of motion and direction of recording via the surveillance NAS and it, in turn, will move to adjust and recalibrate the camera as you demand. It is worth remembering that some cameras will only do this when prompted manually, whilst others can conduct this manually and in reaction to movement (see motorized smart tracking) in the field of view.
Recommended IP Cameras for NAS that Support Pan, Tilt and Zoom (PTZ)
Reolink E1 Pro Camera
–
$49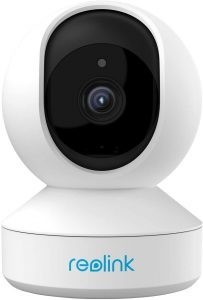 Reolink E1 Pro security cameras captures super HD videos in the resolution of 2560×1440 (4 megapixels), the eight infrared LED lights bring you excellent night vision up to 40ft.

Plug it in. Connect the wifi camera to 2.4 GHz or 5Ghz WiFi. Up and running in minutes. Rotate 355° horizontally and 50° vertically. See every corner of your home with easy pan and tilt control on Reolink software.

This indoor camera supports both 2.4GHz and 5GHz dual-band WiFi. the 2T2R MIMO antennas ensure a strong signal for reliable network performance. Support Alexa/Google Assistant. Control your pet camera hands-Free with your voice.

24/7 monitoring when connected with Reolink NVR. Save motion clips to a micro SD card (up to 64 GB) and Reolink Cloud for double insurance for 7-days, for free. (Micro SD Card and NVR isn't included)

You can remotely see live-streaming via free Reolink software on iOS or Android phones, Windows PC or Mac. With built-in mic and speaker, you can hear and speak through the wireless camera.

MegaPixel and why it is Important in NAS in IP Cameras
Another popular factor that people take into account when buying an IP camera for their NVR/NAS Server is the megapixel rating. As I am sure you are aware, the larger the number of megapixels rated, the higher the resolution and quality of your recording output. However, there are certain key factors to bear in mind when considering a camera with a high megapixel rating. Firstly, if you start higher resolution recordings, it will not only create larger recorded playback files for retention on your surveillance NAS, but larger files may also consume more bandwidth on your network. One or two cameras and you will not notice any real delay or drop in latency on your network, however, once you are using 6 or 7 IP cameras with a high megapixel rating, drops over a standard one gigabit ethernet (1Gbe) network are to be expected and dedicated switches of both POE and non-POE are recommended.
Another thing to bear in mind with IP cameras that feature large megapixel recording facilities is that you are always able to adjust the resolution of those recordings, and therefore are not committed to stick to this large recording resolution. So, if you think you will need a better quality camera somewhere down the line, then perhaps by one or two high megapixel rated cameras alongside some standard generic IP cameras which would be rated around 2 to 3 megapixel (high-end cameras at entrance/exit and lower density inside the building).
Recommended High-Quality Rated IP Cameras for NAS
Reolink E1 Pro Camera
–
$84.99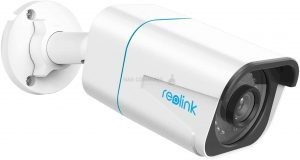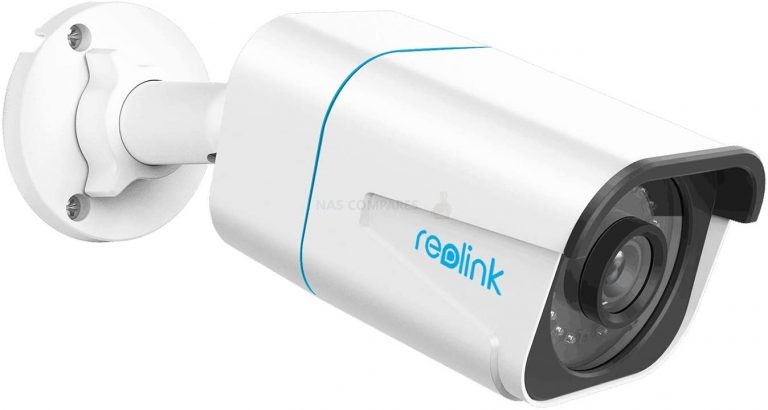 Human/Vehicle Detection with Smart Alerts: This PoE IP camera can identify people and vehicles in terms of their shapes, which minimizes the unnecessary alarms such as animals or shadows. It can also specify the type of detection when sending motion alerts to you. You can know what happened by just glancing at the phone screen.

4K Ultra HD Videos: This PoE security camera jumps from 5MP to 4K (8MP) Ultra HD. It is 1.6X clearer than 5MP and 4X clearer than 1080p. Details you see around home or store will be reproduced perfectly in live streaming and playback.

Faster and Simplified PoE Installation: Thanks to the power over Ethernet (PoE) technology, this outdoor bullet camera can transmit videos and get power via only one network cable. You can install this camera quickly and easily for a reliable connection.

Time-Lapse to See the Day in a Minute: This surveillance camera supports to record time-lapse videos. You can keep tracking of your 3D printing, see the whole construction process in a few minutes, or capture beautiful views from sunrise to sunset. It is easy to use and fun to share with friends. (Time lapse only works on Reolink App.)

2 Years Warranty – Users are provided with a 30-day money-back guarantee and 2 years warranty. Simply contact Reolink tech support, and we will replace any defected or broken products.

NightVision Support on IP Cameras
It is certainly worth bearing in mind that a number of cameras promise 'night vision' as a facility on their IP cameras. However, it is remembering that some cameras can only record night vision to a very basic standard and are little more than raised light/contrast versions of normal recordings. If you require night vision facilities on the IP cameras you purchase, then you need to consider IP Cameras that can cover a range well in excess of 15 feet night vision, featuring multiple IR sensors and are certified at least.
Recommended IP Cameras for NAS that Support NightVisIon
Hikvision 8MP Dome Camera DS-2CD2185FWD-IS
–
$164.99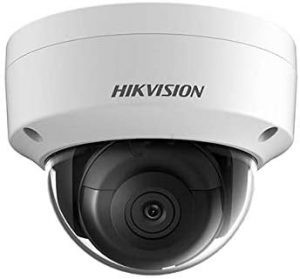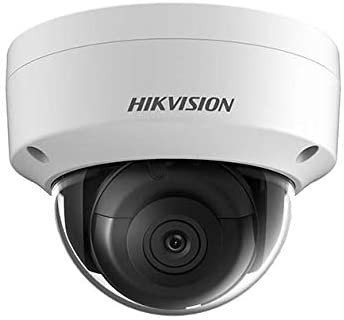 Up to 8MP high resolution and Max. 3840×2160@20fps image ~ Using video compression technology, high compression ratio, and the processing is very flexible, Support H.265, H.265+, H.264+, H.264, ultra-low bit rate

Progressive scan CMOS, captures moving images without jagged edges ~ Support DC12V & PoE (802.3af) ~ Support on-board storage, up to 128 GB ( NO Card ) ~ Support Face Detection

Support a pair of input and output audio, support voice intercom( NO Built-in mic) ~ High-efficiency infrared lamp, long service life, irradiation distance of up to 100FT ~ 2.8 mm fixed lens, 102° horizontal field of view

ICR infrared filter automatically switches to achieve true day and night monitoring ~ Support three streams ~ IP67-class dust and water proof design, IK10-class Impact Protection, high reliability

IP Cameras with Motion Tracking
Once again, the majority of IP cameras do support motion tracking to a greater or lesser degree. However, there is a difference between motion tracking which alerts you to any motion in front of the camera regardless of how small, and more intelligent motion tracking that can be adjusted to both zones in the field of view and to adjust the sensitivity.
Recommended IP Cameras for NAS that feature Motion Tracking
Amcrest ProHD IP Camera IP2M-841B- $49.99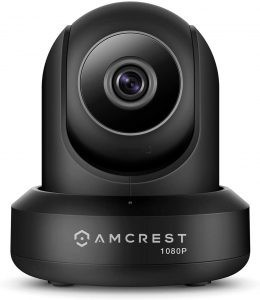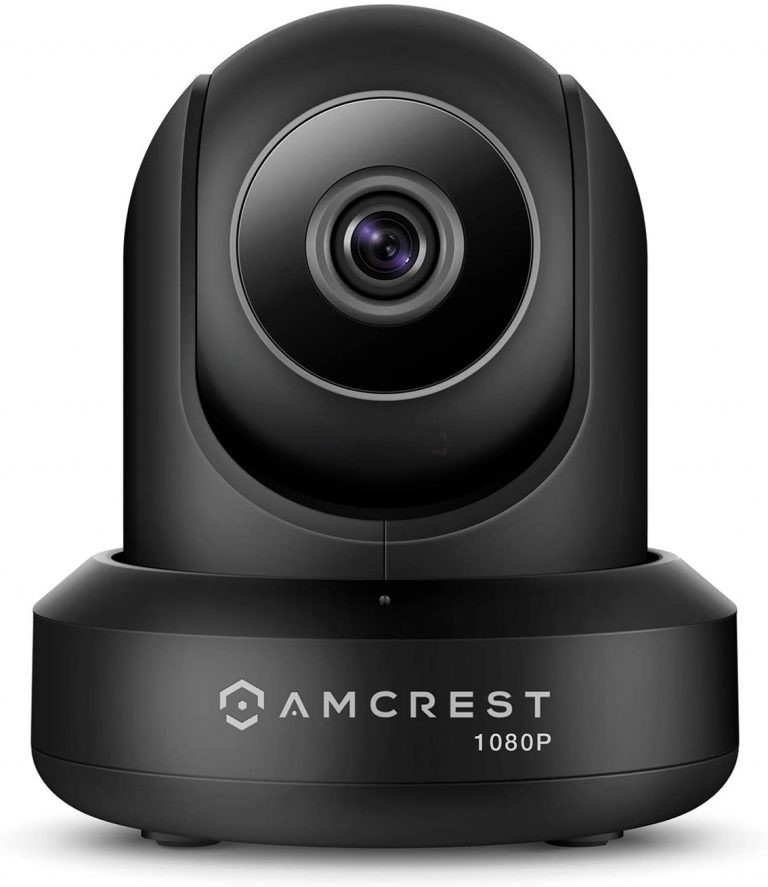 HIGH PERFORMANCE, REAL-TIME, TRUE HD – Experience magnificent full-HD 1080P video at 30fps with enhanced low light capability utilizing the Sony Exmor IMX323 image sensor and Ambarella S2LM chipset. Extra-wide 90° viewing angle as well as remote pan/tilt and digital zoom allow you to cover more ground and keep more of what matters to you safe. Works with Alexa through AmcrestCloud. 360° Pan & 90° Tilt.

SMARTER SECURITY – Receive motion alert notifications, review footage and engage in two-way communication via your smartphone with the Amcrest View app. Playback and record professionally on a PC using Amcrest Surveillance Pro for Windows and MAC (included) or Blue Iris Professional. Works with Amcrest Cloud remote video storage, MicroSd card, Amcrest NVRs, Synology and QNAP NAS, FTP, Pale Moon and Sea Monkey Browsers, IE, Safari, Firefox 49.0 and Chrome with Amcrest Web View Extension.

DAY OR NIGHT, QUALITY ASSURED – Featuring a Sony Exmor 1/2.9" 2.07MP image sensor and built-in IR LEDs this WiFi camera achieves industry leading 1080P nightvision up to 32 feet. Not all 1080P WiFi IP cameras are built the same and our Texas based team with over 10 years of IP camera experience has guaranteed the out-performance of this camera by using the highest quality components in order to deliver the ultimate best in class 1080p pan/tilt WiFi camera experience.

SECURE CLOUD VIDEO BACKUP – The optional Amcrest Cloud remote video storage subscription service allows you automatically store your videos off-site in a third-party location hosted and secured by Amazon AWS. This way if something happens to your local PC/NVR/SDcard/NAS, the footage will be safely recorded in a secure off-site location and accessible to you through a web-based Flash interface for PC (Windows & MAC) (Chrome/Firefox/Safari/Edge) and AmcrestCloud smartphone app.

IP Cameras with Heat Detection
This is a facility you will not really find in an IP camera for less than £500 – and those that promise this facility for less, provide it to a very poor standard. If you are considering heat motion cameras for your NAS surveillance setup, then I recommend skipping straight ahead to the axis brand of cameras as the majority are compatible with NAS and they have a number of suitable heat detection and heat vision certified IP cameras.
Recommended IP Cameras for NAS that Support Heat Detection
Aonton 5MP PoE Thermal Detection IP Camera-

$59.99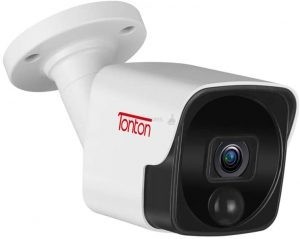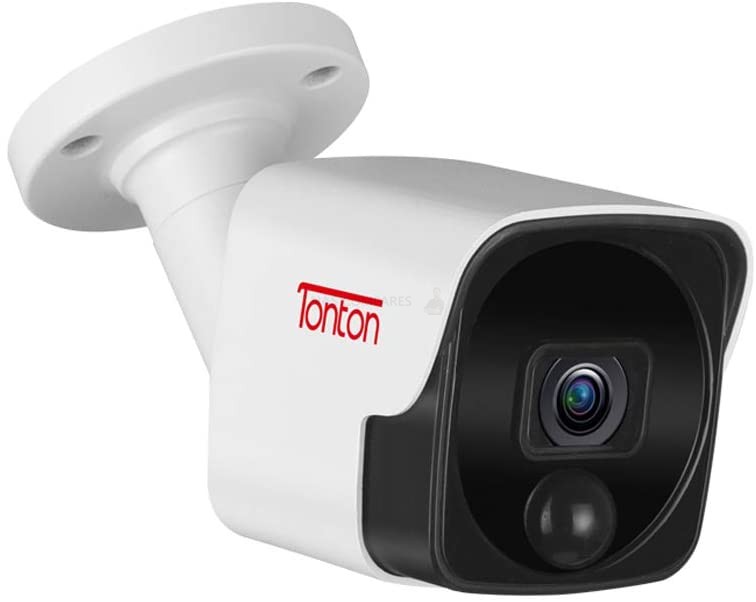 【5MP Ultra HD resolution IP audio bullet camera】–At the center of this security camera is a cutting edge 5MP image sensor. This sensor is capable of recording 5MP video, which is especially important for security camera footage. listen-in audio, extreme weather capabilties, a heavy duty metal housing, and more.

【Easy PoE installation】–These security cameras only need a single Cat5e ethernet cable to connect it to a compatible NVR. This cable provides video transmission, power to the camera, a stable network connection, and installation flexibility up to 300ft* (as the cameras do not need to be plugged into a nearby power source).

【Expanded coverage with built in microphone】–The built-in microphone will add a whole new level of security monitoring.This feature can provide you with more information (such as voices) should an incident ever occur. It will also help provide more insight into key events, even if they occur off-screen.

【Heat Sensing&Protection 24/7】–Heat & motion-based PIR detection reliably captures & records activity, with fewer false triggers & reliable push notifications.Know what's happening at any hour with powerful night vision up to 130ft/40m, a wide 90° viewing angle, a built-in microphone & the choice to mount indoors or outdoors

【All-weather security cameras】–Mother Nature is no match for your security cameras. Rated IP66, they can endure anything from torrential downpours to freezing snowstorms. So go ahead and place them where you need them most.

Tonton 5MP PoE Thermal Detection IP Camera
IP Cameras that Claim to be WaterProof
If you are looking at IP cameras for outside of the home, then chances are you will need to look at NVR cameras that are certified as waterproof for your surveillance NAS. Simply putting the camera in a plastic bag will not do, and I cannot advise you against this enough! Look for cameras for your surveillance NAS server that have IP66 waterproof certification, as this means they will be designed to be outside your home or office in typical British weather!
Recommended IP Camera for NAS that is WaterProof
Reolink RLC-423 Outdoor PoE 360 Dome IP Camera-

$209.99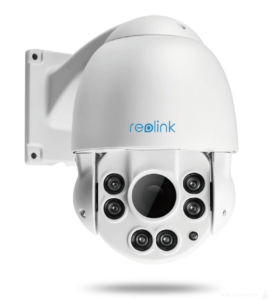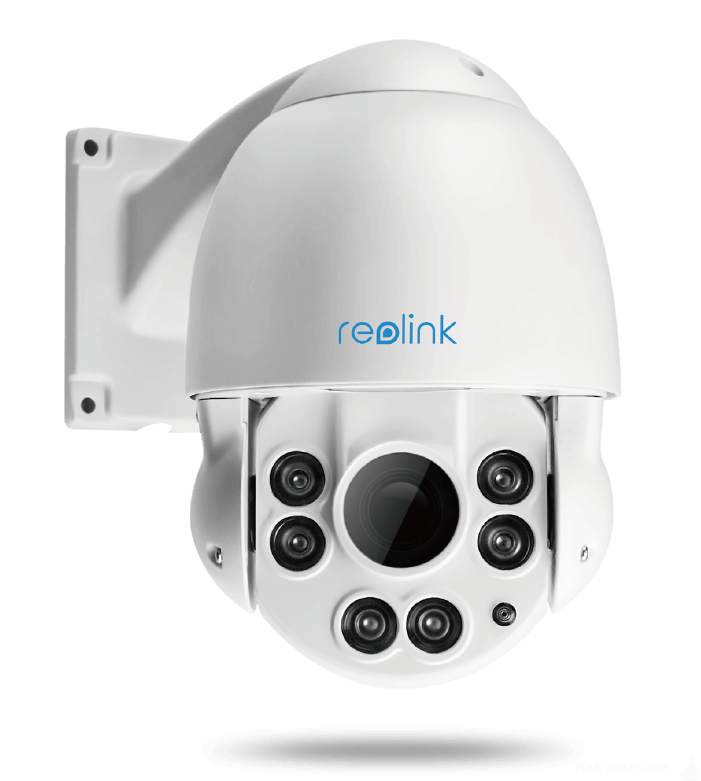 5MP PoE Camera Outdoor 190FT NIGHT VISION: 2560×1920 Super HD, this IP surveillance outdoor camera supports190ft long range night vision in dark, ideal for large areas like parking areas, garage, backyard, front yard, etc.

Free App and Remote Access: Work with Google Assistant, the 5mp PoE security cameras can live stream to your TV in real-time using simple voice-activated commands. Rich feature and functions in Reolink free apps for iPhone, Android, Windows PC, Mac with no subscription fee, intuitive and easy to navigate with your Reolink PoE security camera systems.

PTZ Security Camera: Pan-tilt-zoom camera with cruise 360˚ pan, 90˚ tilt, 4x optical zoom, PoE with one cable and easy wiring, no blind spots left for this weatherproof commercial-grade surveillance camera and wired security camera system.

MOTION DETECT and ALERT: This PTZ IP camera has flexible motion detection (set detection zone, schedule detection time and adjust sensibility), real-time and accurate movement alert via app push notification or email. Automatically upload motion-triggered image capture and recording FTP server is supported.

Facial Recognition Supported IP Cameras
Now that the Synology and QNAP surveillance software for NAS has grown in both popularity and it's features to match it, facial recognition on IP cameras is now quite desirable to a number of NAS users. Though this is a software feature already supported in the NAS Photo applications, this is still a feature that is slow to being adopted by individual camera brands with regard to NAS compatibility. In real terms, that means that although an IP Camera states that it has facial recognition, there is no guarantee that your Synology or QNAP NAS will be able to use this facility on its platform.
Recommended IP Cameras NAS that Support facial recognition
Jidetech P14-POE Outdoor Dome with ONVIF and Shape Detection IP Camera –

$149.99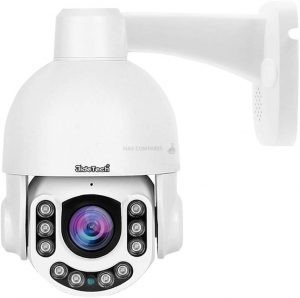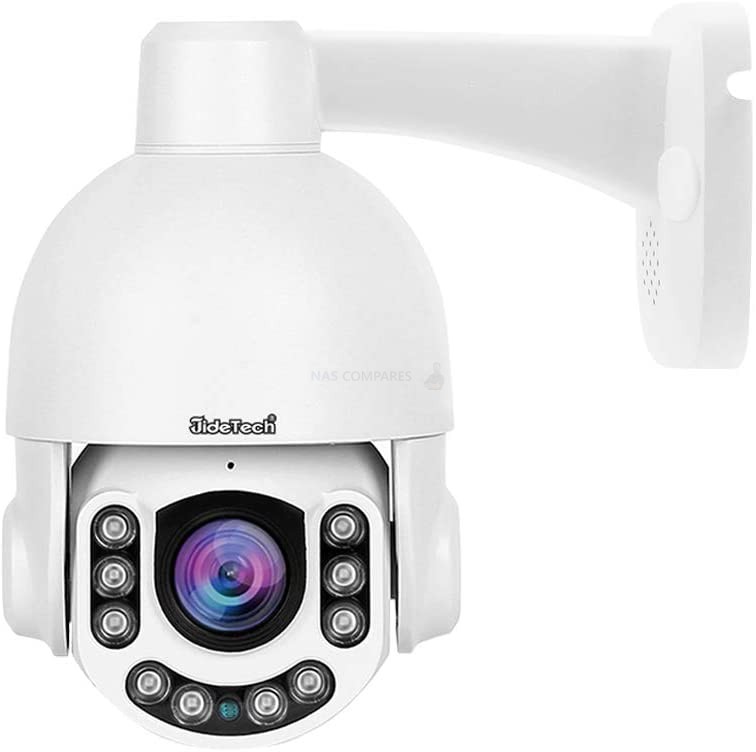 ★【HD Video Resolution】Ultra HD 5MP picture quality 1944(H)x2600(V) at 18 frames 2.8-12mm 4X motorized zoom lens with H.265 video compression and advanced 3D dynamic noise reduction technology

★【Built-in POE】- With this Power over Ethernet (POE) camera, it only needs a network cable connected to the POE switch, which makes the installation more convenient

★【Two-ways audio real time communication】Build-in microphone and speaker,G.711A codec standard Anti-noise technology make sure the voice more clearly. After setting the motion detection area, when motion is detected, the camera will have the alarm sound. You can set sirens / warnings / even custom sound warning intruders

★【Onvif Compatibility】Support RTSP, multi-language. Remote watching by PC(IE, firefox, Chrome browser) and smartphone (IOS, Android). Compatible with 3rd party software: iSpy, VLC Player, and Blue Iris to watch video. Support onvif protocol GB/T28281, compatible with Hikvision, XM, Dahua, Amcrest NVR. Can't wokr with MAC.OS

★【Best service】Will this Camera work with my NVR? Camera is compatible with onvif 2.4, generally speaking, it is possible to work with NVR supporting ONVIF

And there you go. There was my guide to NAS Surveillance, Recommended and compatible IP Cameras and why a NAS Drive might be best for your CCTV set up in 2021. Thanks for reading this guide. Still need help? Use the NASCompares Free Advice section below. It is my free, unbias community support system that allows you to ask me questions about your ideal setup. It is NOT a sales platform, NOT a way to push hardware you don't need and, although it is just manned by me and might take a day or two for me to reply, I will help you any way I can.
Popular IP Camera Reviews Previously on NASCompares:
| | |
| --- | --- |
| Reolink C2 Pro NAS IP Camera Review | SimCam 1 Smart Camera Review |
| Early Guide to Synology & QNAP NAS Cameras | Heimvision HM203 Budget IP Camera Review |
📧 LET ME KNOW ABOUT NEW POSTS 🔔
Join 1,582 other subscribers
Get an alert every time something gets added to this specific article!
This description contains links to Amazon. These links will take you to some of the products mentioned in today's content. As an Amazon Associate, I earn from qualifying purchases. Visit the NASCompares Deal Finder to find the best place to buy this device in your region, based on Service, Support and Reputation - Just Search for your NAS Drive in the Box Below
Need Advice on Data Storage from an Expert?
We want to keep the free advice on NASCompares FREE for as long as we can. Since this service started back in Jan '18, We have helped hundreds of users every month solve their storage woes, but we can only continue to do this with your support. So please do choose to buy at Amazon US and Amazon UK on the articles when buying to provide advert revenue support or to donate/support the site below.

Finally, for free advice about your setup, j
ust leave a message in the comments below here at NASCompares.com and we will get back to you.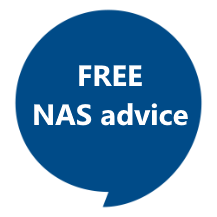 Need Help?
Where possible (and where appropriate) please provide as much information about your requirements, as then I can arrange the best answer and solution to your needs. Do not worry about your e-mail address being required, it will NOT be used in a mailing list and will NOT be used in any way other than to respond to your enquiry.
Support What We Do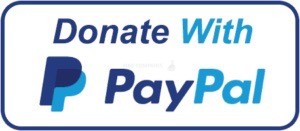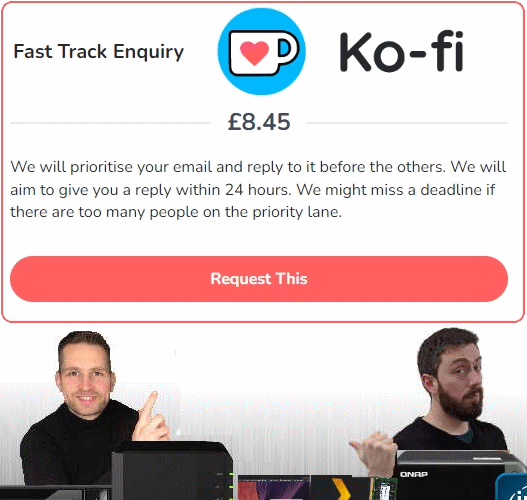 Terms and Conditions
Alternatively, why not ask me on the
ASK NASCompares forum
, by clicking the button below. This is a community hub that serves as a place that I can answer your question, chew the fat, share new release information and even get corrections posted. I will always get around to answering ALL queries, but as a one-man operation, I cannot promise speed! So by sharing your query in the
ASK NASCompares
section below, you can get a better range of solutions and suggestions, alongside my own.
This description contains links to Amazon. These links will take you to some of the products mentioned in today's video. As an Amazon Associate, I earn from qualifying purchases
Summary
Reviewer
Review Date
Reviewed Item
Recommended IP Cameras for NAS Surveillance in 2021
Author Rating