Synology RS2821RP+ Rackmount NAS Hardware Review
Synology has really spent the first half of 2021 concentrating on their enterprise and SMB solutions, haven't they? In just over 5 months we have seen 5 or 6 new Rackmount solutions arrive in their portfolio and although each of them is similar in software and arguably comparable in hardware, none of them provides the level of storage that the RS2821RP+ Rackstation that we are reviewing today can. The Synology RS2821RP+ is the latest in their small-medium business 16 bay solution series and much like other Rackstations that the brand has released into the market this year, the RS2821RP+ uses the popular embedded Ryzen processor, features ECC memory, PCIe upgradability and does this while supporting the full range of DSM applications. Arriving with twice the storage potential of the RS1221+, this solution with its £3000+ Price tag can be a touch intimidating for some. So today we will take a closer look at what this rather monstrous sized rackmount NAS includes, what it is capable of and ultimately whether the Synology RS2821RP+ NAS deserves your enormous data? 
Synology RS2821RP+ NAS Review – Quick Conclusion
It is reasonable to say that when it comes to having a huge storage array, competent hardware and business class software, that the Synology RS2821RP+ does deliver on a number of its promises. Indeed, despite the huge similarity in internal hardware between the RS2821RP+ and other recent rackmount releases in 2021, the RS2821RP+ manages to still stand out with its unparalleled level of storage against the majority of solutions in the Synology portfolio. The price tag, edging closer to a number of Xeon powered solutions, may seem a touch high for some and given the difference between this 16-bay and the £1200+ 12-bay being relatively small – that price tag does seem a tad overly ambitious. That said, much like other rackstation NAS solutions of late, the jump from Intel Atom C3538 to embedded Ryzen V1500B was long overdue and although may seem fairly predictable and pedestrian now in, still remains a firm favourite. If the software and services of Synology Diskstation Manager appeal to you, you need storage in the hundreds of terabytes and you need a solution that is both scalable and centralised, you would be hard pushed to find a better solution from Synology right now without spending £5,000-10,000 without drives.
Synology RS2821RP+ Rackmount NAS Review – Retail Packaging
I'm not going to spend too much time talking about the packaging that this rackmount NAS arrives with. The Synology RS2821RP+ is a solution for business and hardly something you're going to see sitting on the shelf of your local PC shop. However, I will take a small moment to highlight that Synology did not scrimp on the protection in transit and the RS2821RP+ arrives in multiple layers of the cardboard, as well as being surrounded in the usual rigid hard foam to protect it from motion and shock damage. That said, let's be realistic though – the box itself is underwhelming in the extreme.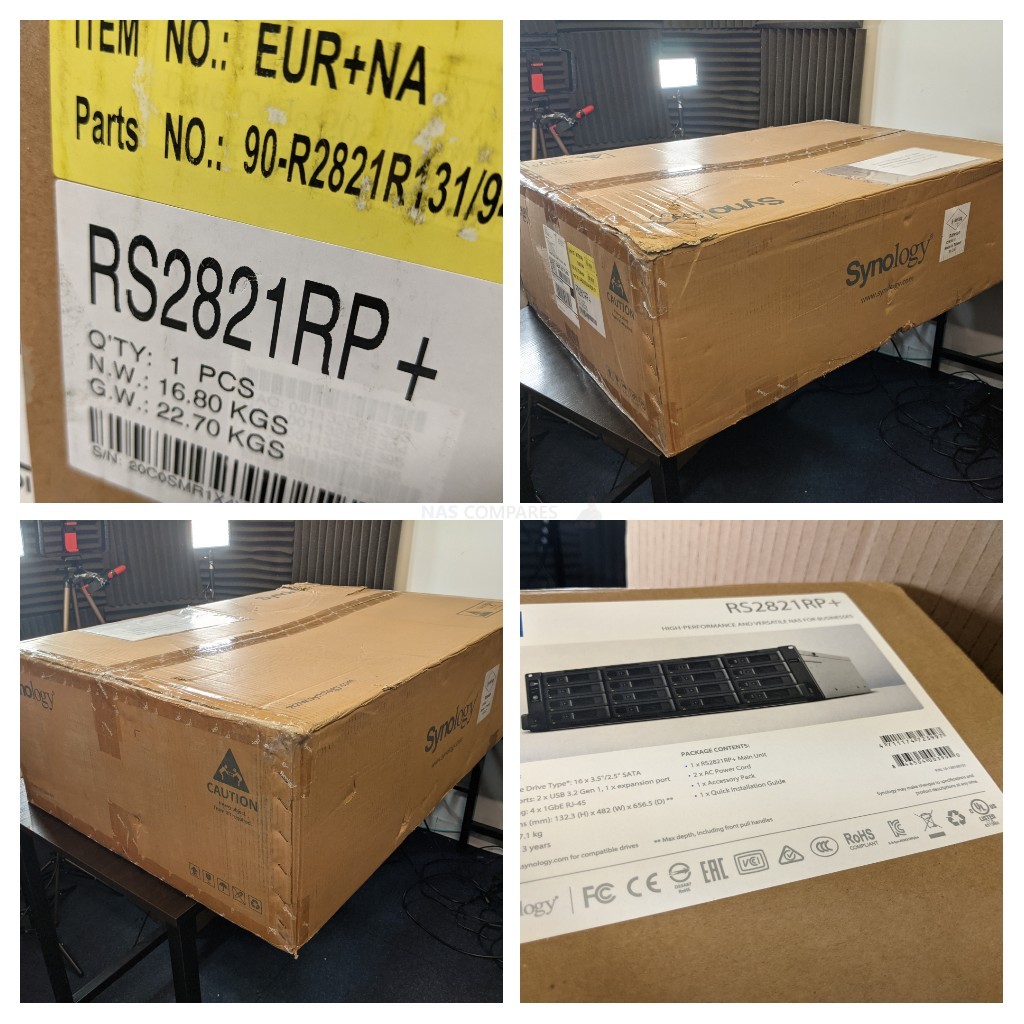 Opening the shipping carton however shows us an impressive level of protection surrounding the entire RS2821RP+ chassis and ensures that short of a forklift truck arm penetrating the box, that this system can withstand even the harshest typical logistics.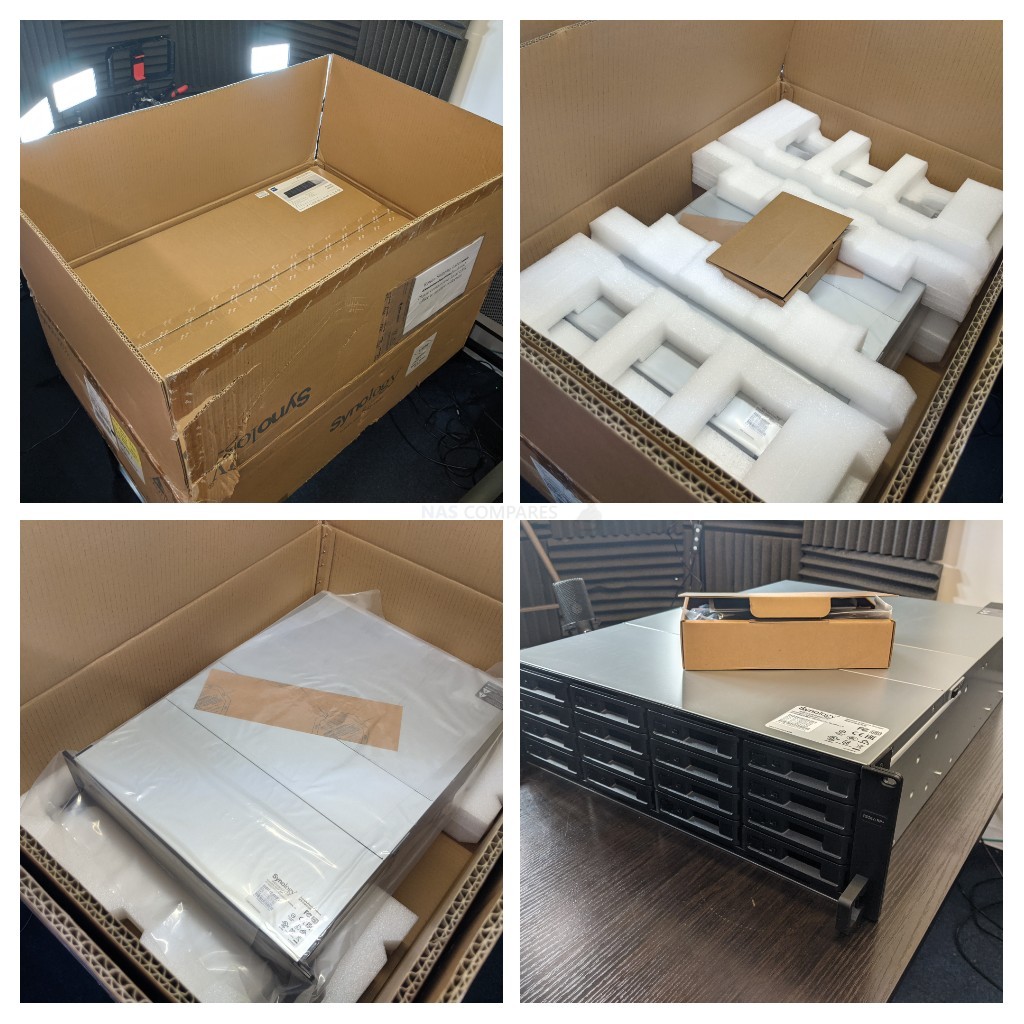 Inside we find and the Synology RS2821RP+ chassis itself and a small box of accessories. In recent years we have seen Synology scale back on the number of included accessories with their systems, with them sighting that most business users will have the default cabling already in place. For the most part, I agree, however, I don't quite agree that rackmount devices should arrive with optional rail kits. Rackmount servers like these, especially 3U chassis' like the RS2821RP+, will almost certainly live in a rack cabinet and regardless of sliding or fixed rails, will need them. Why Synology continues to make rail kits and optional extra still confounds me.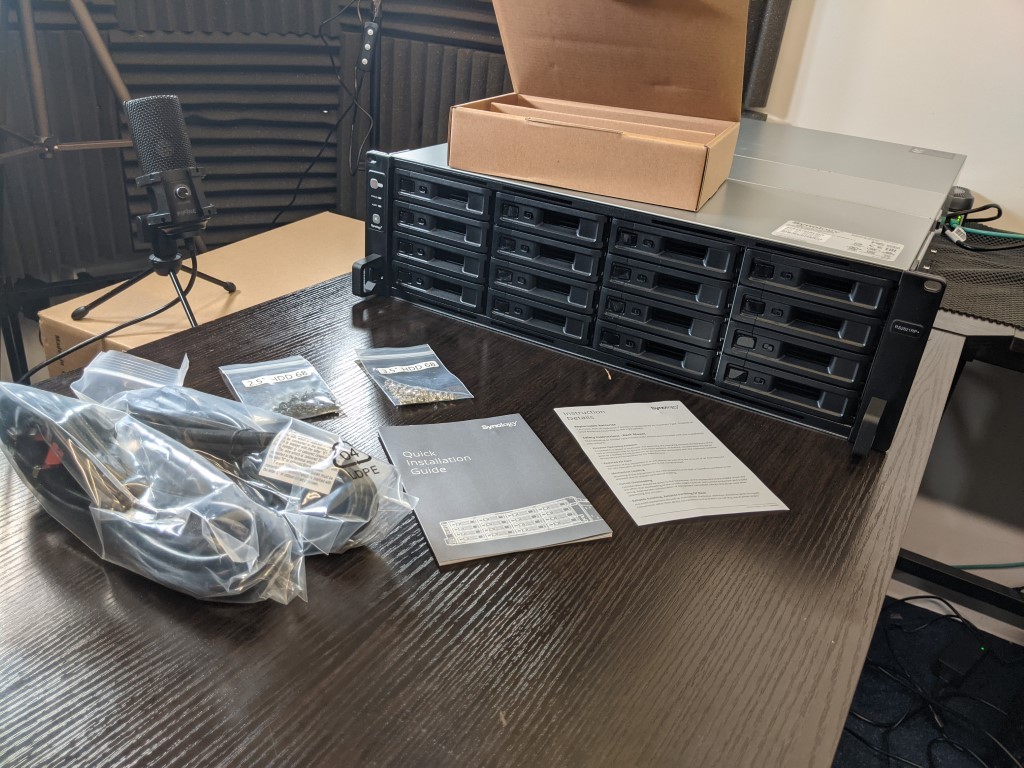 The unit itself is pretty massive and aside from its 3U height is also an impressively deep chassis in order to facilitate active cooling and ambient airflow throughout the full length of the chassis. Inside the accessory box, we find a light pamphlet on first-time setups that is significantly less useful than the online portal, as well as information on the 3-year manufacturers included warranty, screws for individual hard drives or SSD to be installed, power cables and that's about it.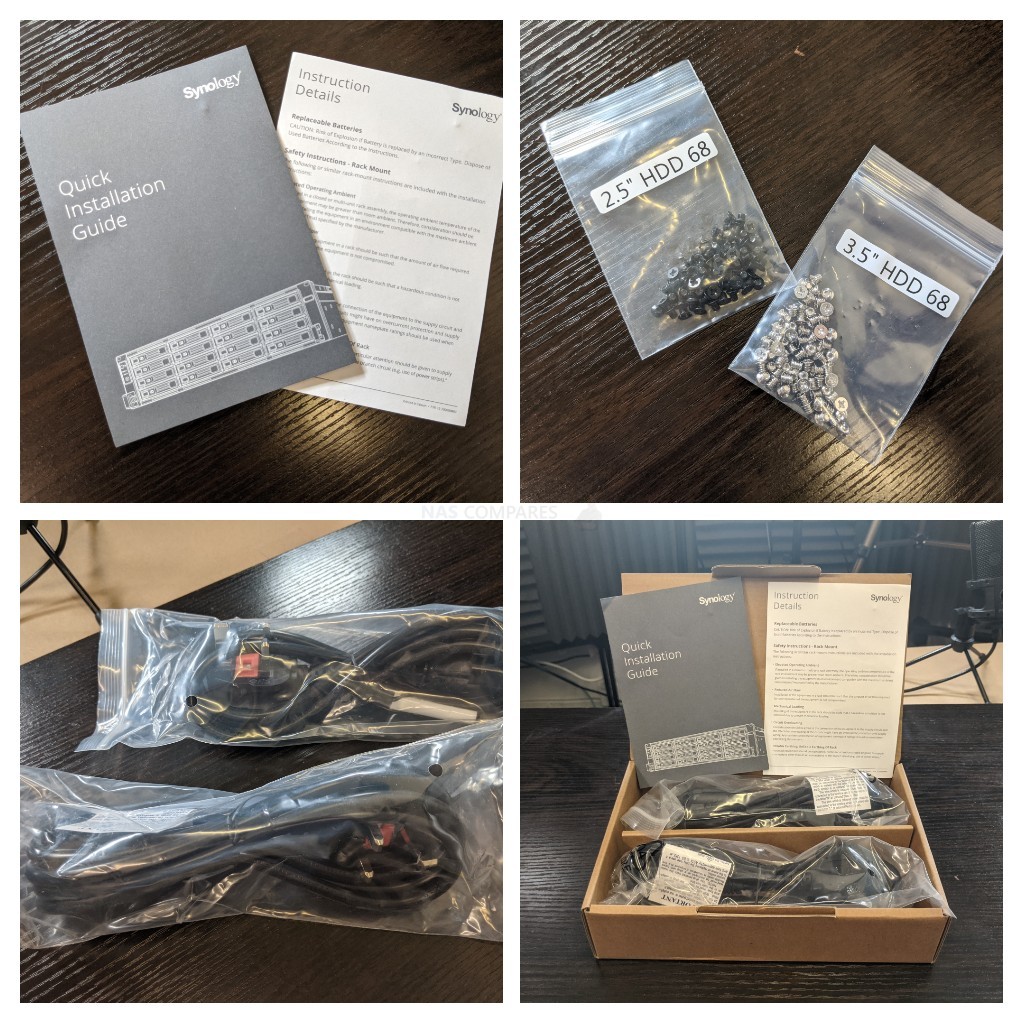 As mentioned, there isn't a great deal to talk about in terms of external packaging on this but nevertheless, there are still the small branded touches for this box that are part of how Synology market themselves. Most brands would just wrap a label on a default one size fits all carton, and at first glance, it looks like Synology did that. However, a closer look at the box shows that it is printed with information dedicated to the RS2821RP+ NAS unit precisely and its little things like this that make Synology stand out in the presentation stakes. Let's take a look at the unit itself.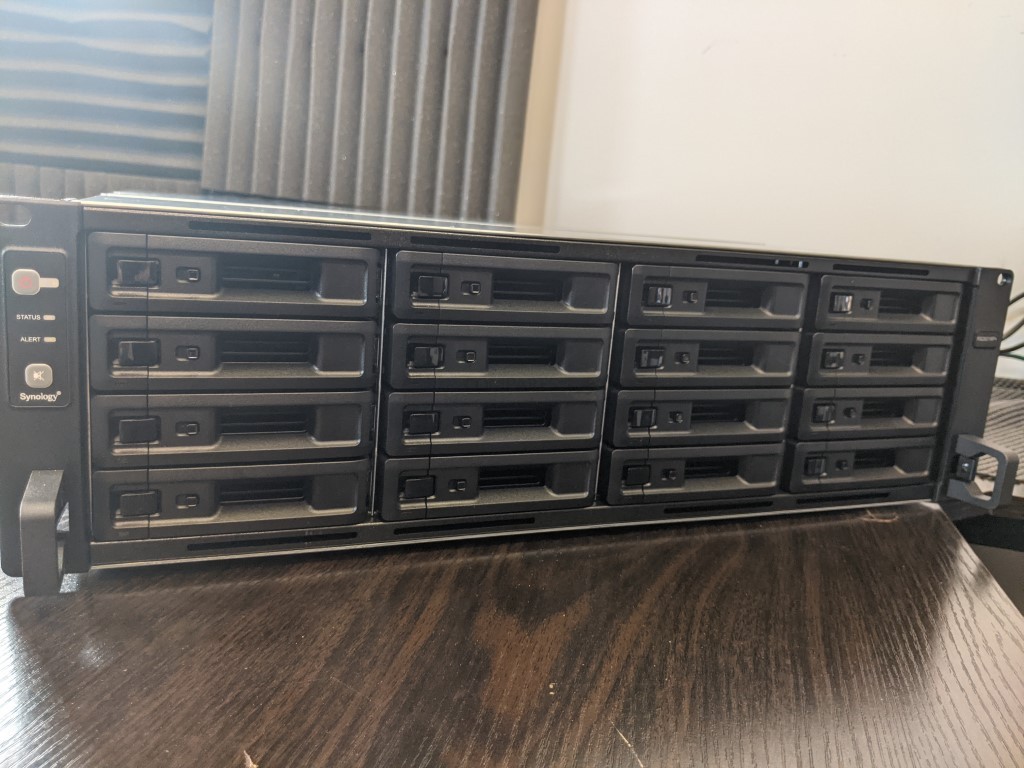 Synology RS2821RP+ Rackmount NAS Review – Design
The chassis of the Synology RS2821RP+ is one that many are already familiar with, largely because it has featured on each iteration of this product series and serves as the template for most of the Synology SMB rackmount solutions. lacking any kind of real-time LCD panel or connected interfaces like USB or HDMI, this system communicates either by using sound alerts, multiple LEDs or almost exclusively via the Synology DSM user interface and applications.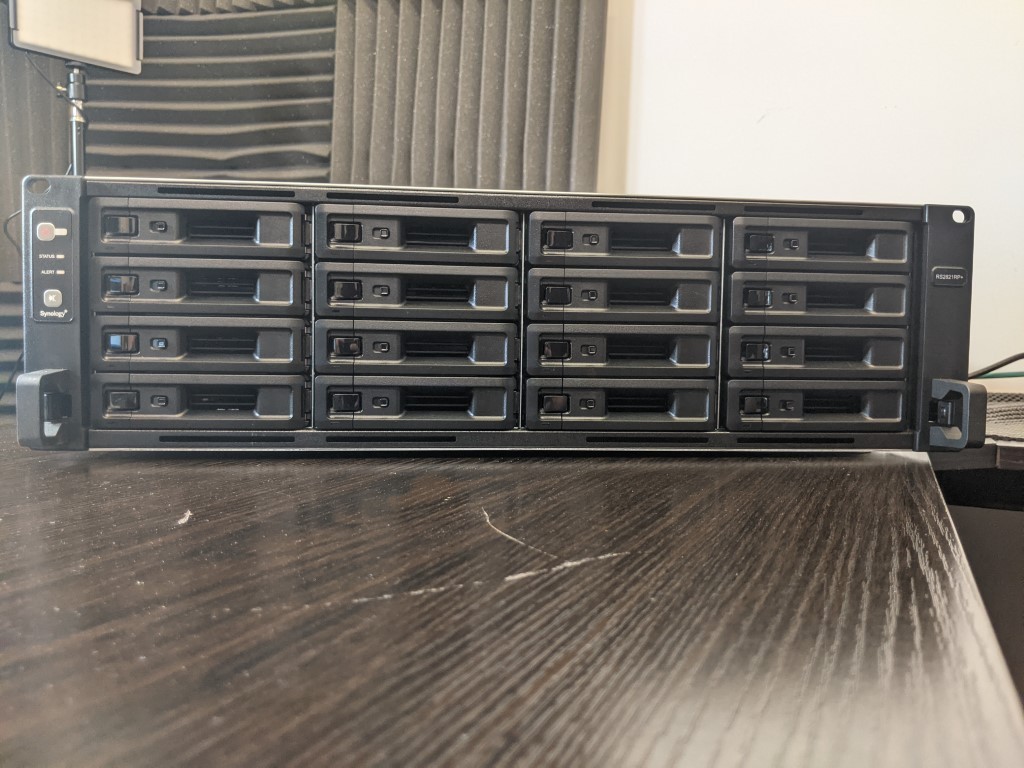 The front of the RS2821RP+ rackmount NAS is 95% made up of 16x 3.5″ SATA storage bays. These allow ventilation to be passed around the storage media inside, as well as further ventilation panels featured in the middle of each tray and at the top of the front panel.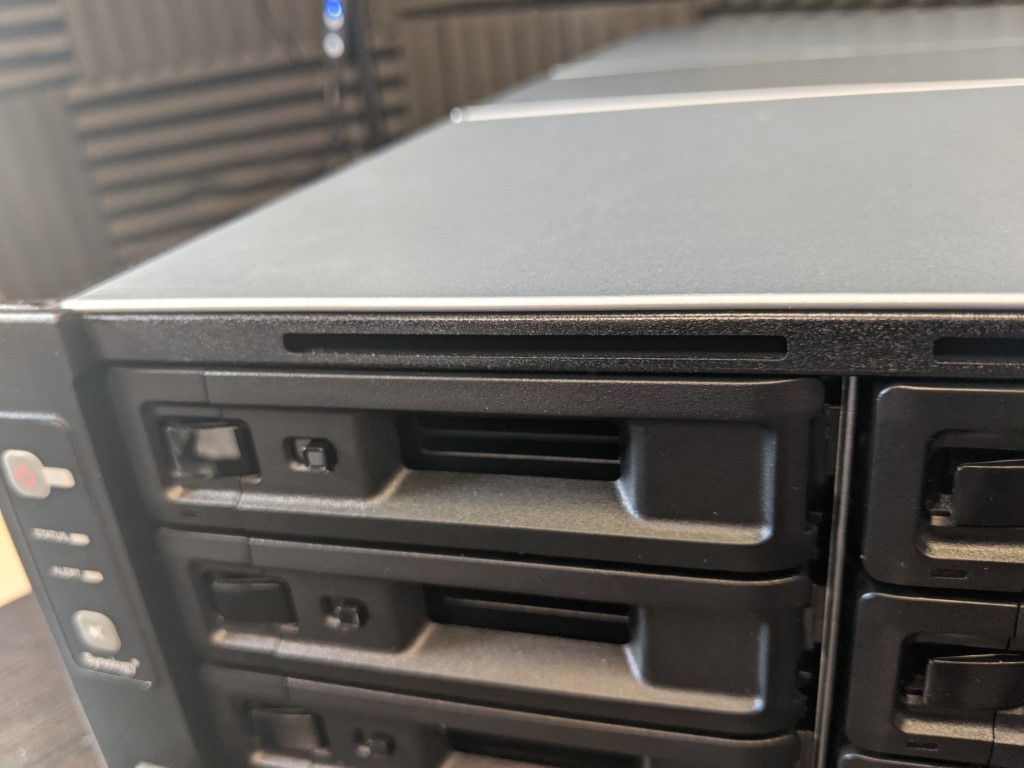 These areas of passive ventilation work together with multiple active cooling fans throughout the whole system and this is how the RS2821RP+ maintains efficient working temperatures, gets away with passive heat sinks on components (instead of inefficient CPU fans) and ultimately allows the system to achieve the reported 2,220MB/s performance benchmark stated on official pages. The right storage media and external connectivity always play their part of course, but NAS servers at this scale and with this sheer volume of storage will generate a comical amount of heat, which is the kryptonite of high-performance in storage. It does mean that the system will also be insanely loud, but no one buys a rackmount NAS solution and expects it to be whisper-quiet. Each corner of the RS2821RP+ front panel features handles for moving the device in an appropriate rack cabinet, as well as a power and mute button.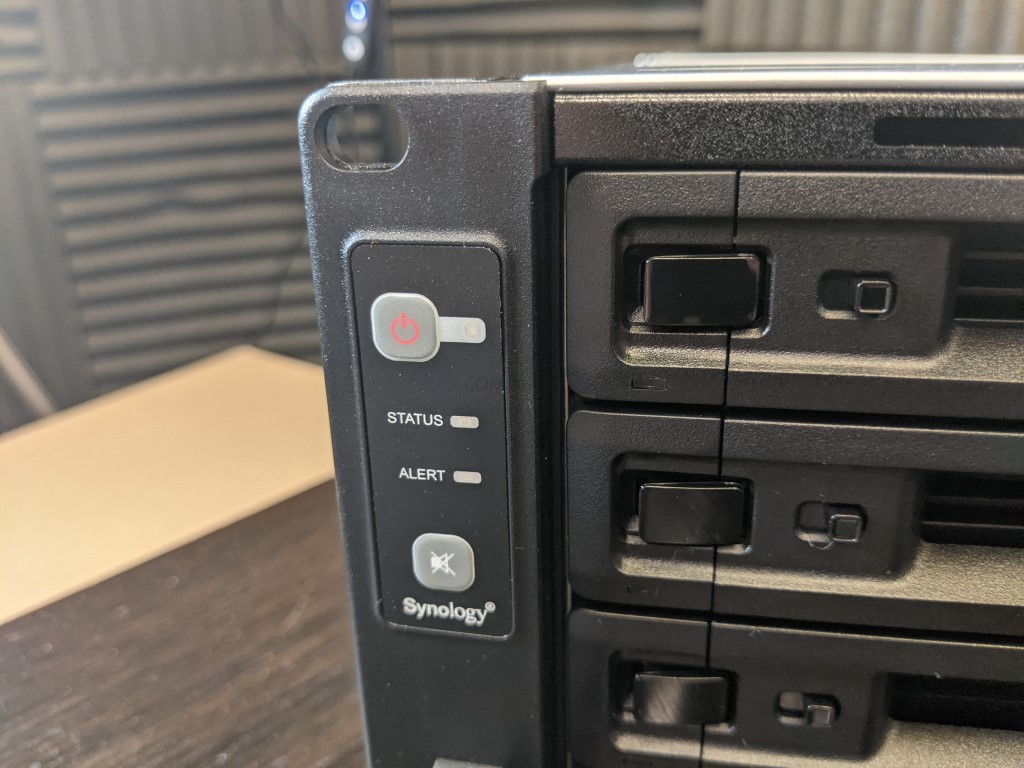 Although the power button is pretty obvious, many users don't actually realise that the mute button is simply to disable alerts that may come from the system as warnings occur. It always seems odd to me that rackmount solutions should feature a mute button and desktop solutions do not, despite the fact that most users will rarely be in close proximity to a rack-mount but will be to a desktop NAS solution. Nevertheless, this button is designed to silence warning alarms on the NAS without having to log in via the system software user interface.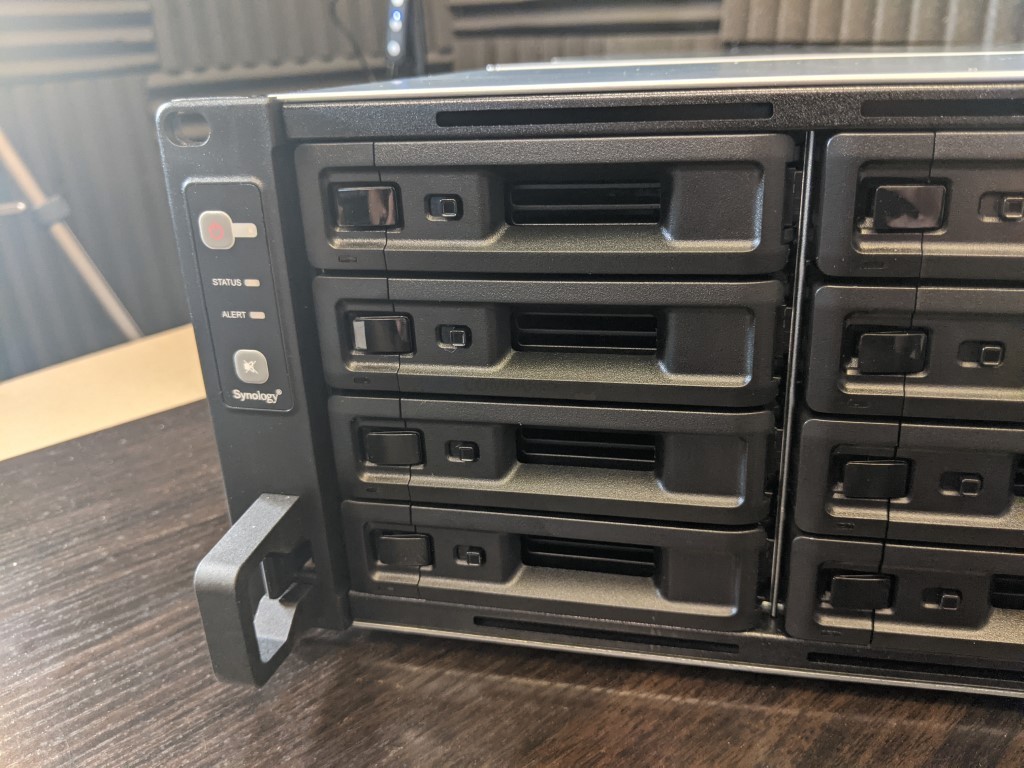 The 16 bays at the front of the system each have their own dedicated LED notification light which allows users at a glance to see when drives are active, having status abnormalities or are completely unable to respond to the system. The Synology RS2821RP+ does not technically need the full 16x storage bays to be occupied in order to use the system and indeed you can run it with a single drive if you chose. This would be rather foolish however and somewhat underutilising the storage potential of this system, but nevertheless, some users may choose to partially populate the RS2821RP+ in an expandable storage configuration that allows them to add more drives as time goes on and their data requirements grow. This flexibility is especially useful when using Synology Hybrid RAID (SHR), which I am pleased to confirm is available on the RS2821RP+.
Each tray also features a locking mechanism that allows you to ensure a drive is not removed by accident. This is not a key lock arrangement and will not stand up to any kind of physical abuse, but nevertheless is still useful when making sure that non-hotswap and hot-spare discs are not removed in error. Unlike a number of desktop SMB solutions, the Synology RS2821RP+ does not arrive with screwless click and load plastic trays. Instead, this rack mount system arrives with metal trays that support screwdriver installation of SATA hard drives and SSD. Once again, arguably metal trays generate noticeably more noise when in operation but in the case of this rather hefty rackmount, that would rather be a case of locking the door after the horse has bolted. Installation is quick and easy, with SATA SSD being available for use in caching or raw storage pools and volumes.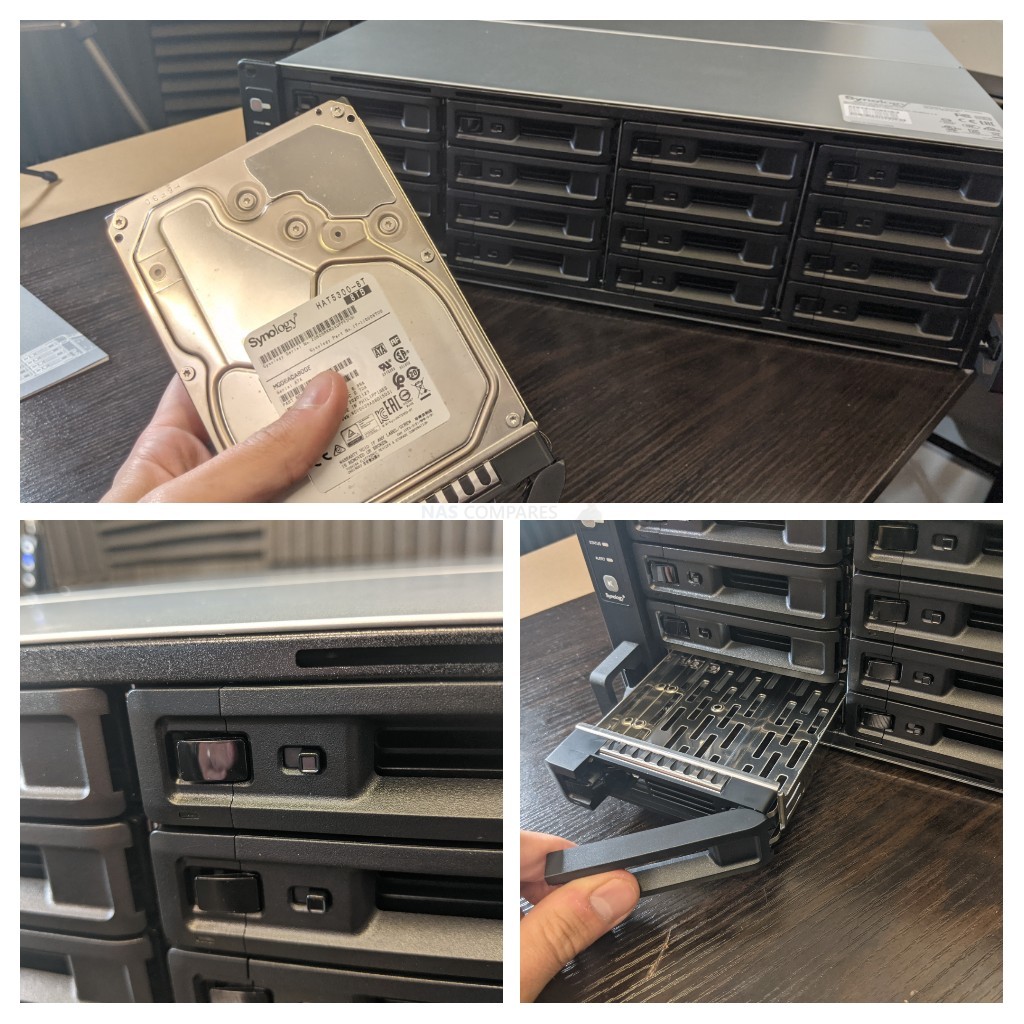 Generally, I would always recommend that a NAS system uses network-attached storage class hard drives (Seagate Ironwolf/WD Red/ Toshiba N300) and although the RS2821RP+ is not really an exception, at this kind of volume I would strongly recommend the use of PRO class NAS hard drives such as WD Red Pro and Seagate Ironwolf at the very least. Otherwise, go for Western Digital Ultrastar, Seagate EXOS and WD Gold SATA hard drives to really get the best possible performance that this system is reported to be capable of, even in a RAID 6 or SHR-2.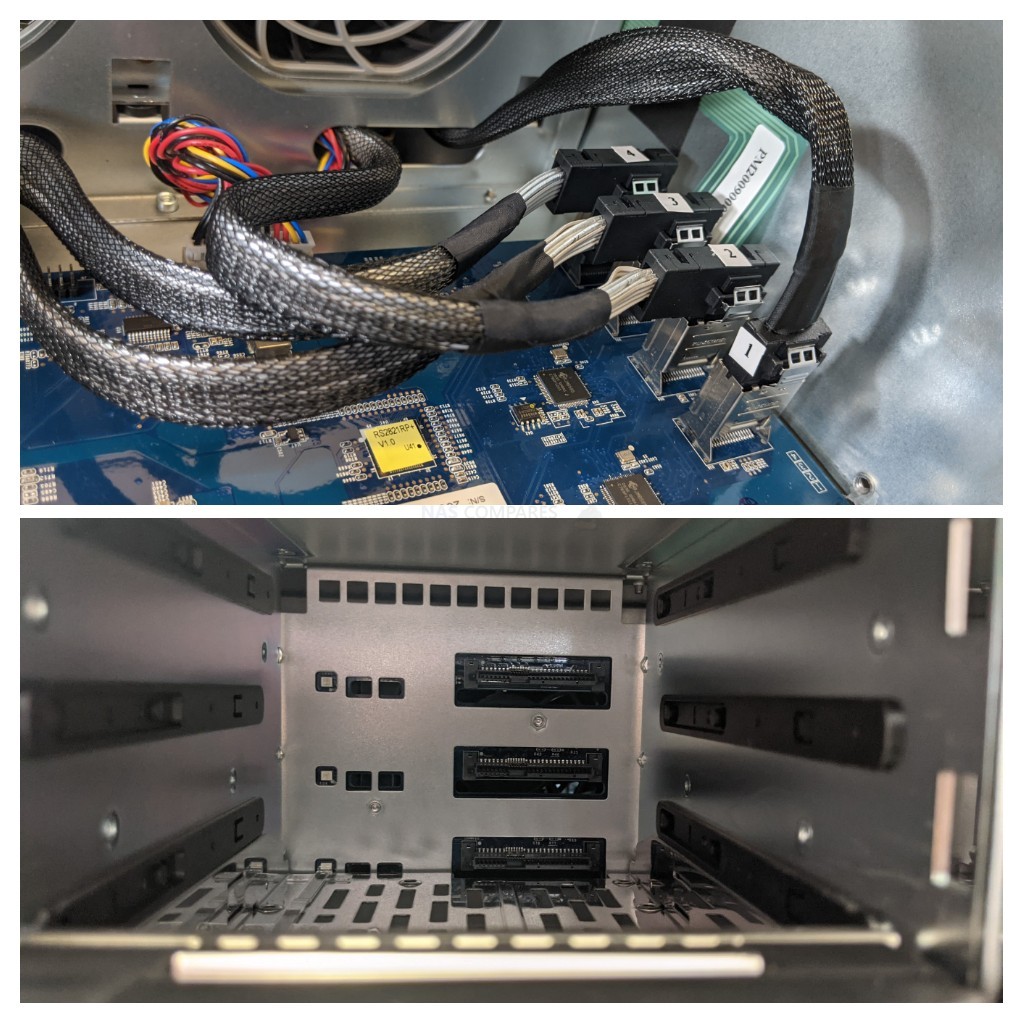 However – according to the Synology Compatibility pages for the RS2821RP+ NAS, only Synology HAT5300 3.5″ Hard drives and SAT5200 2.5″ SSDs are primarily supported by the NAS. There are a few exceptions in a Toshiba, Seagate and Ultrastar drive being added at the time of writing this review (see image below) and Synology have been observed in bending this rule in some places if a user is migrating from an existing NAS with alternative drives (or a chosen capacity is unavailable in the Synology portfolio). However, if you are in any doubt, I would recommend contacting Synology directly to check, as this is the kind of potentially prohibited support that would be a real pain, years down the line!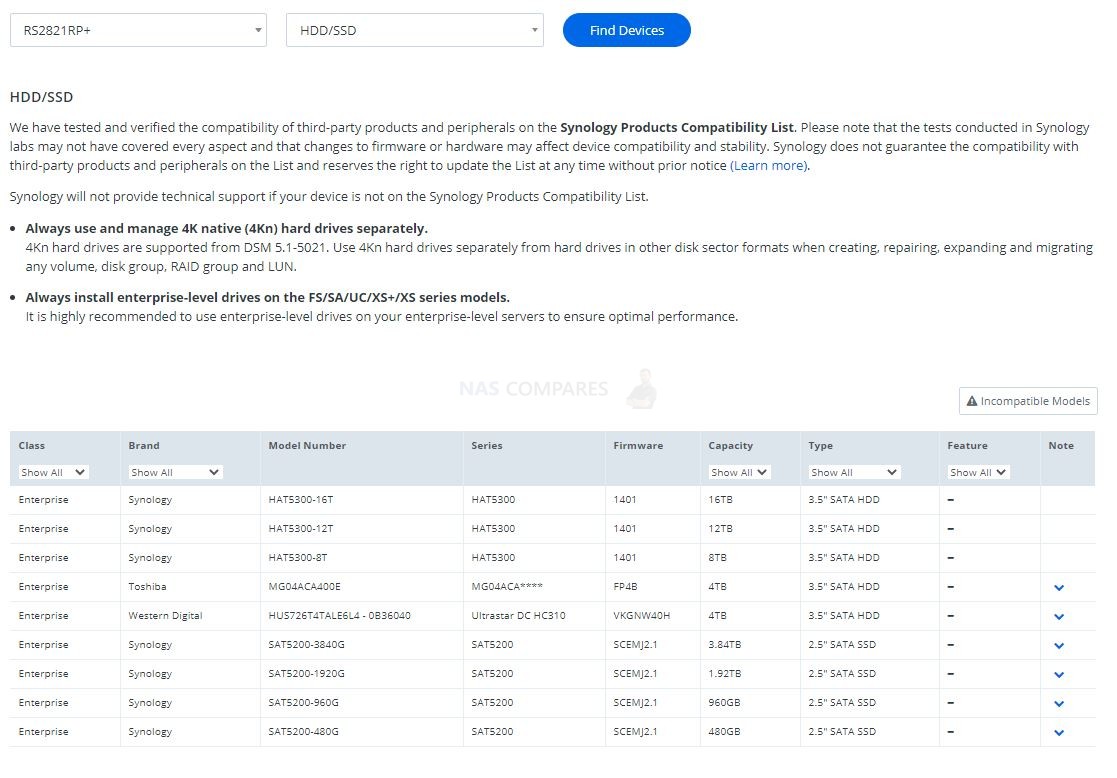 Removing all of the trays inside the RS2821RP+ and taking a look inside will show us each of the 12 dedicated SATA ports. As is the expected standard these days, separate power and data connection wire cables are long gone and replaced here with dedicated combination SATA ports and little to no exposed wiring visible. Equally, there is plenty of ventilation visible in order to facilitate that horizontal active airflow mentioned earlier.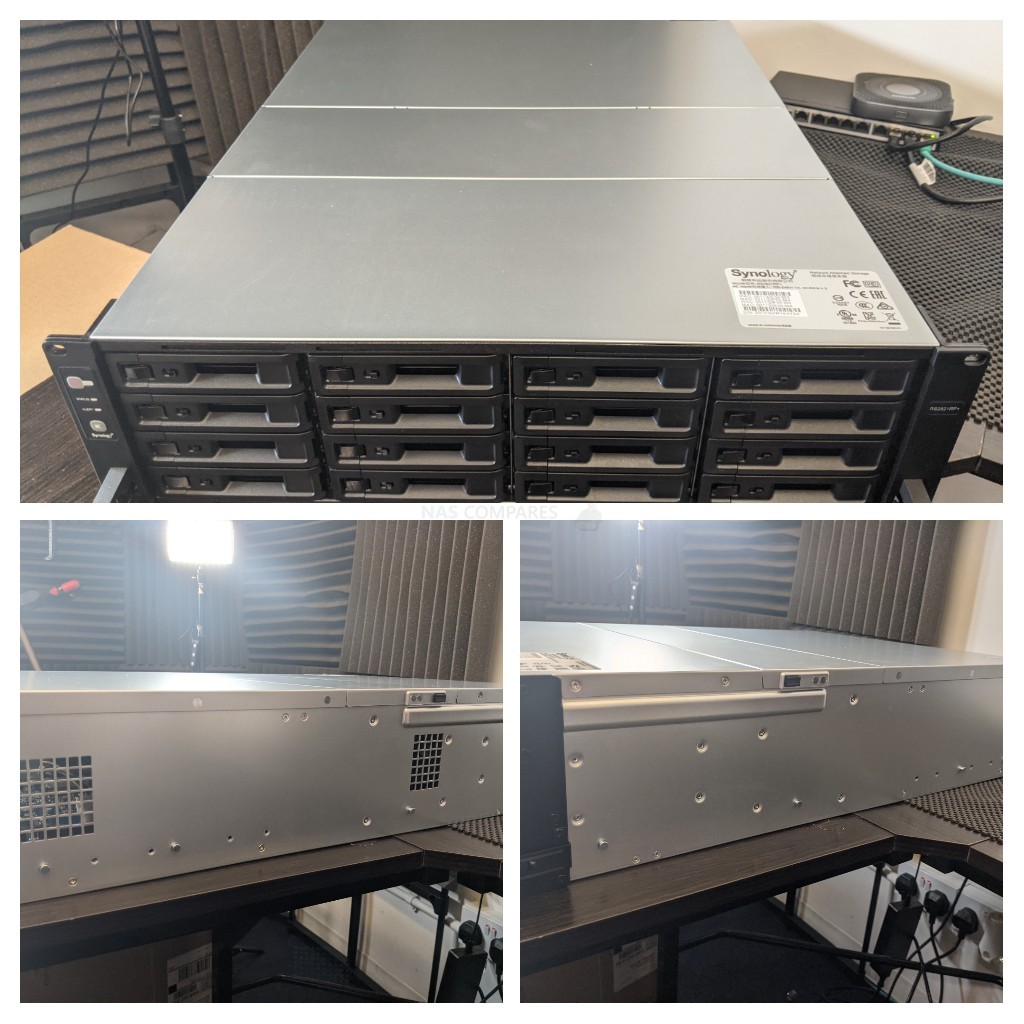 The sides of the RS2821RP+ chassis are suitably nondescript for a rackmount, although a couple of areas can be highlighted. One side of the rack mount chassis features too small patches of ventilation, likely for side-mounted sensors and the wiring towards the front of the chassis. The other side is much more sparse but features an ejector button at the top.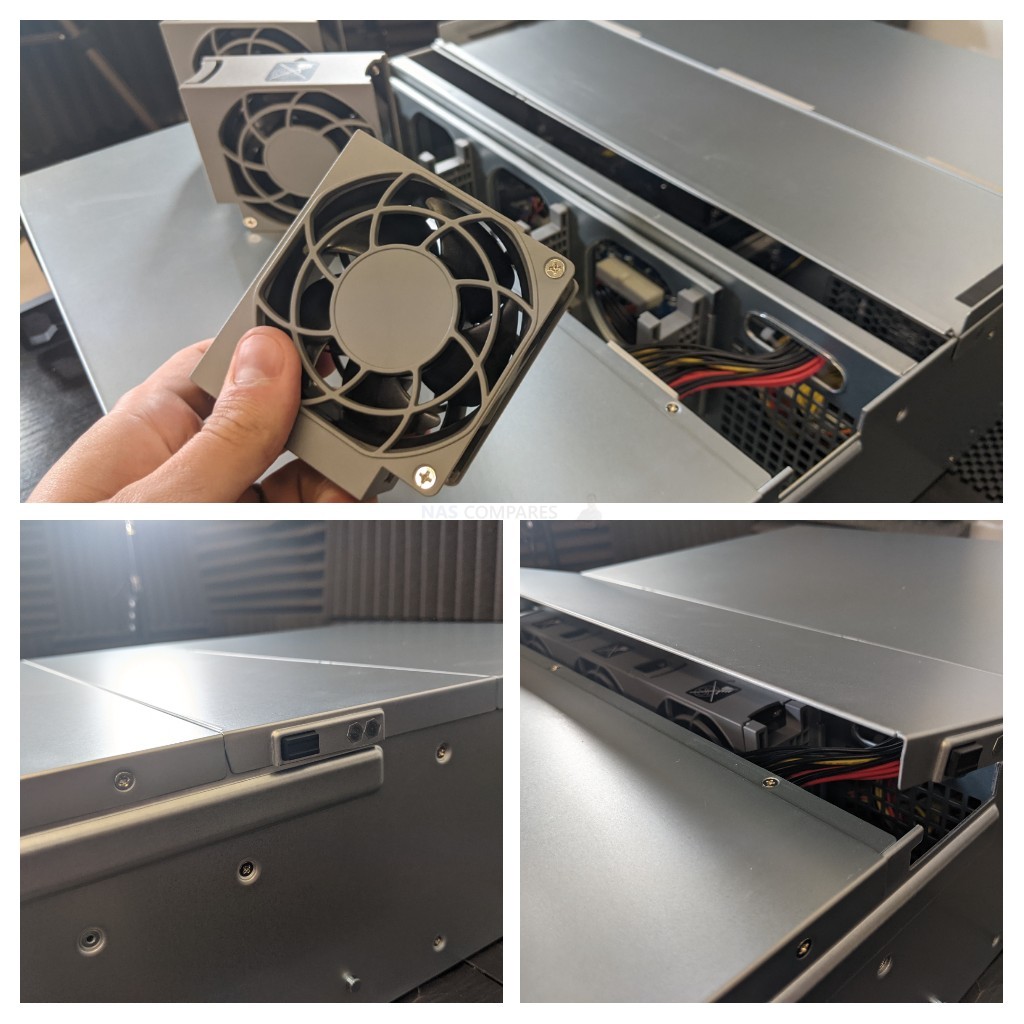 This ejection button allows the end-user to access the removable internal fans for maintenance when the system is in operation. These fans can be removed even when the system is in operation, cleaned and then reintroduced into the system with immediate reactivation. The RS2821RP+ is not really designed to have its external chassis opened regularly, as a big part of the consistent successful performance is by using a controlled airflow environment for low temperatures. Nevertheless, I've always kind of liked this small token gesture by Synology in allowing maintenance without too much intrusion of their rackmount solutions.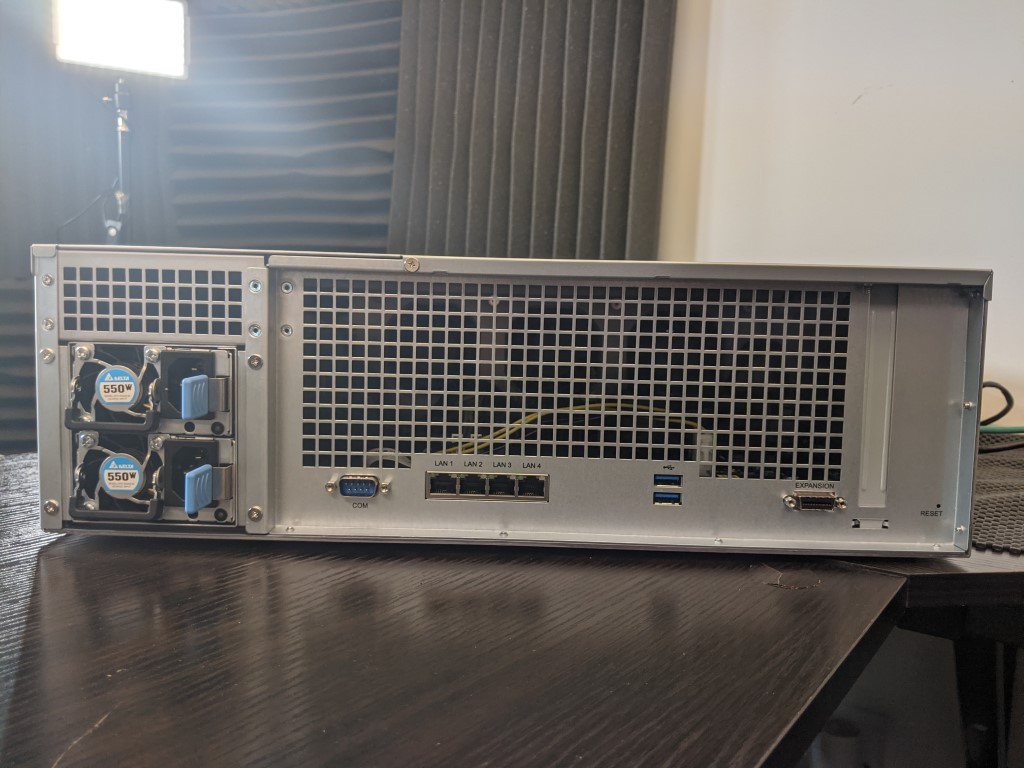 Synology RS2821RP+ Rackmount NAS Review – Ports and Connections
The external connectivity of the Synology RS2821RP+, much like recent Synology rackmount solutions in 2021, will please some and annoy others due to Synology seemingly continuing to play-it-safe with the level of hardware on offer to bridge with your network environment. Once again, there is a huge amount of passive and active cooling visible, but it would be overstating it to say that the external connections available here are in any way groundbreaking.
The ventilation covers more than 80% of the rear of the Synology RS2821RP+ and this leads to a fantastically noisy environment with the reported ambient noise when the system is in operation at 53.5 dB(A). You know that bit when you're on a plane and it is taxiing onto the runway? Well, that bit just before the plane begins to move and the pilot ramps up the engines is not unlike this rackmount when it is in full operation. Not exactly deafening but certainly impossible to work around in any kind of close proximity.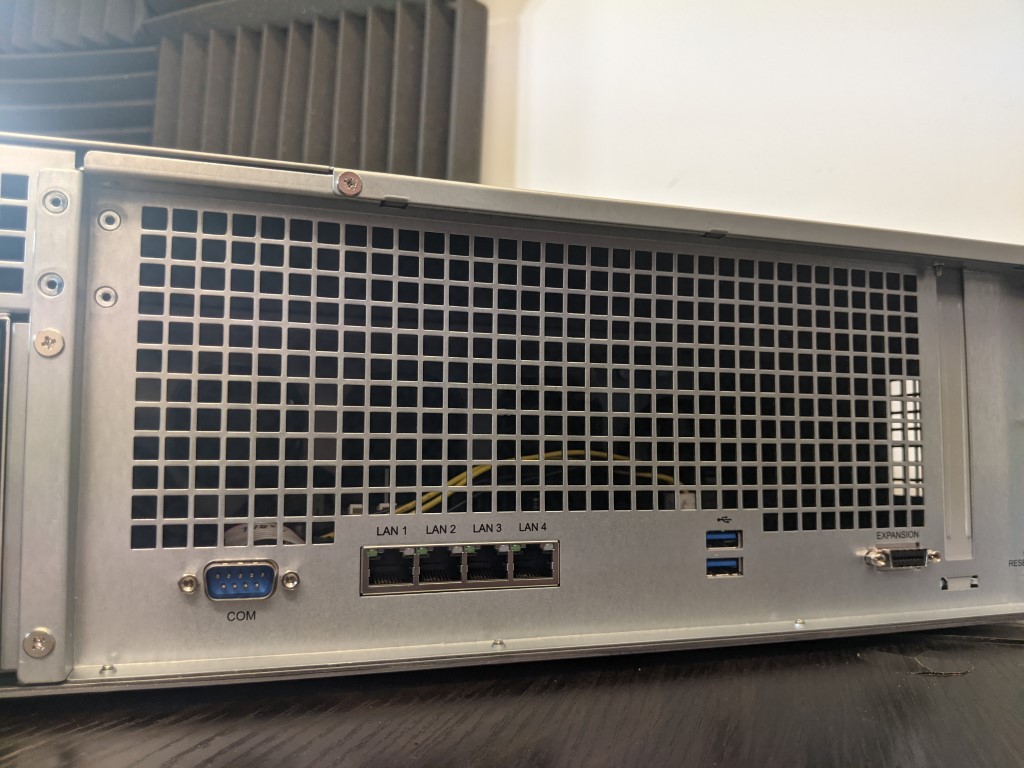 One area that Synology has received notable criticism for in 2020/2021 is their continued use of 1Gbe / Gigabit connectivity on all of their SMB solutions. Greater connectivity at 10Gbe is available on their SA and XS series devices, as well as the ability to upgrade this system to 10Gbe with numerous first-party supported cards (the most recommended being the E10M20-T1 combo card), but the continued use of gigabit LAN on Synology solutions has become a tad underwhelming. In their defence, they do provide four 1Gbe LAN connections on the RS2821RP+ which opens the door to link aggregation and failover support, but still, 100-109 Megabytes per second connectivity by default seems wildly unsuitable to this 16-bay solution, especially at over £3000+.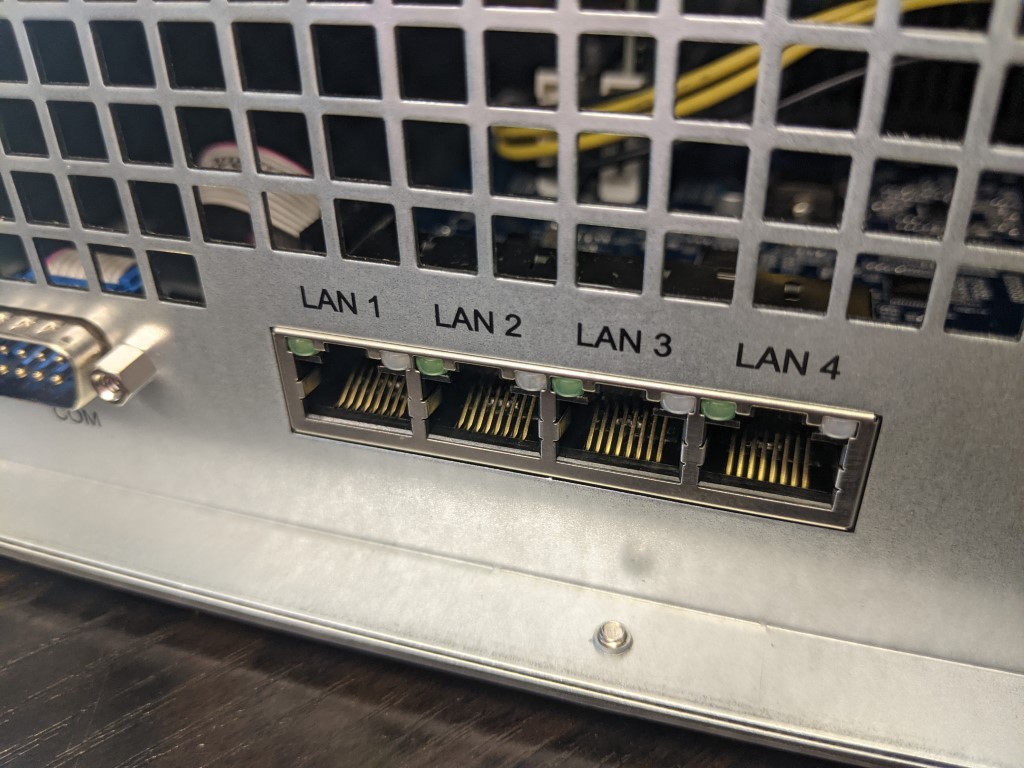 Equally, the Synology also arrives with USB connectivity as found on all of their NAS solutions. However, the USB ports on the RS2821RP+ are still just USB 3.1 Gen 1 (5Gb/s) connections, something that is looking a tad dinosaur in 2021. Additionally, Synology is quite strict about the supported range of compatible USB devices that their Synology NAS systems will work with and along with the lack of support of any kind of KVM setup, you cannot even officially use increased network interface adaptors over USB on this device to enable 2.5Gbe or 5Gbe connectivity. Support of large USB storage, office peripherals and UPS' are still more than possible, but it's still a tad underwhelming.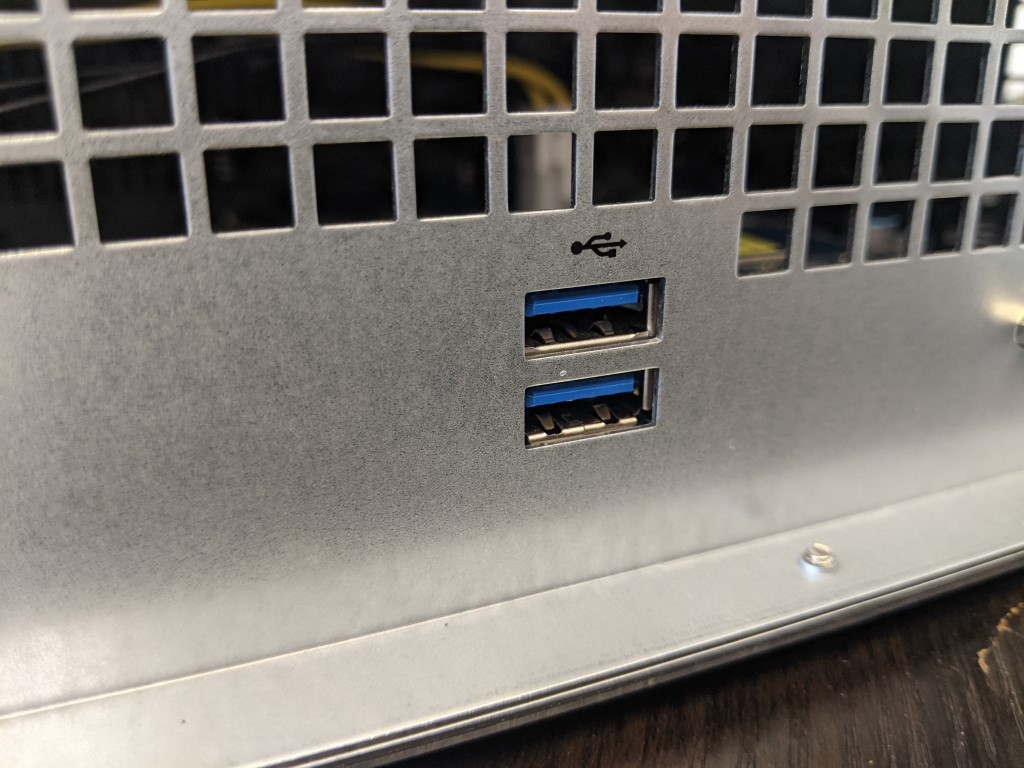 Lastly, there is the expandability of the Synology RS2821RP+ with the device arriving with an external mini-sas (12Gb/s) connection to connect the RX1217 or RX1217RP 12-bay expansion device. This ability to create a potential 40-bays of storage between the RS2821RP+ and a connected expansion is always going to be welcome for business and the fact they aren't using more limited eSATA connectivity (as seen in the RS1221+ or RS820+) remove the potential for a bottleneck. This level of expandability was absent in smaller embedded Ryzen solutions from the brand and is therefore particularly welcome here.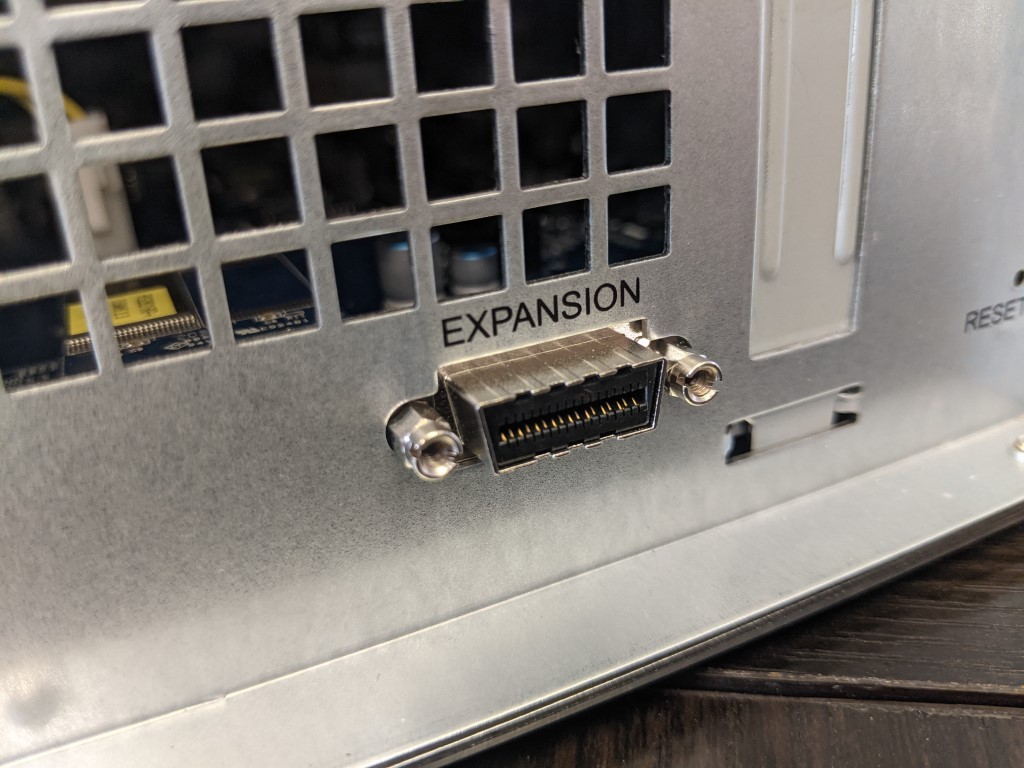 Another popular feature of the RS2821RP+ that you would have expected is the inclusion of redundant power supply units (RP). The system arrives with two removable 550W oblong PSU modules that are connected in unison when the RS2821RP+ is in operation. This means that in the event that the power supplier fails (not uncommon in 24×7 utilisation and the PSU is arguably one of the most fragile parts of a storage server), the second unit will continue to maintain the device's operation and audio alerts and push notifications will be sent to appropriate admins in order to replace the PSU as quickly as possible. These PSU can be exchanged individually without having to power down the device and many system admins will tend to keep a spare PSU on a shelf in order to facilitate this transition when needed.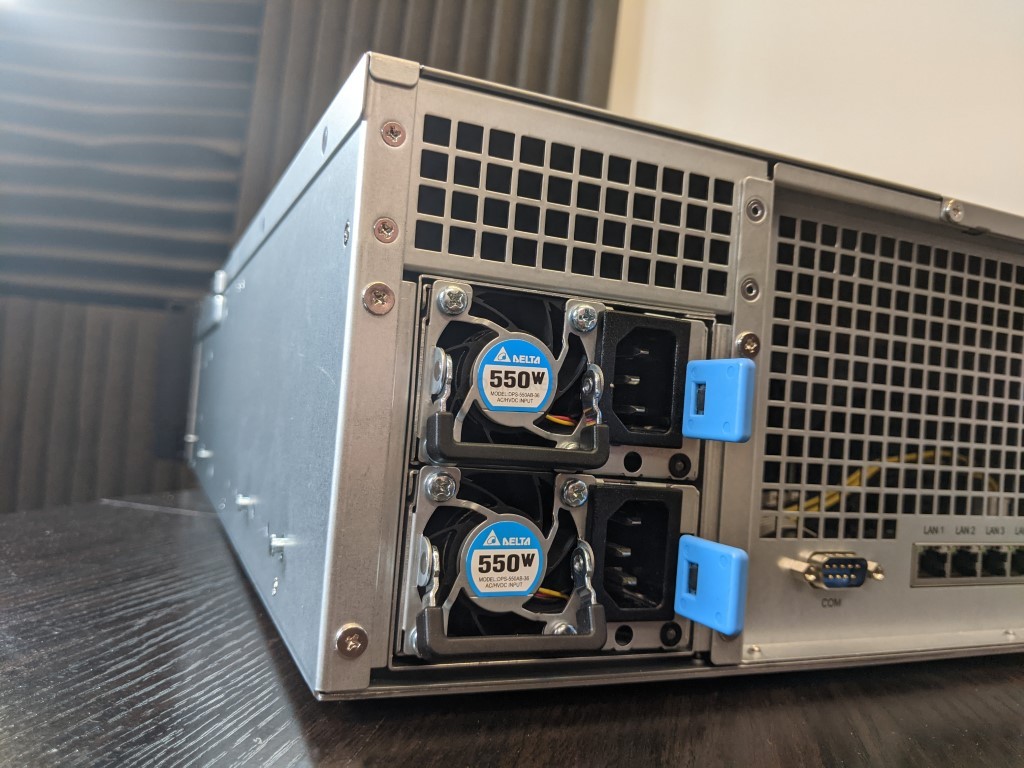 These twin PSUs are included by default and are covered by the manufacturers 3-year warranty, as well as included with any additional warranty extensions you purchase. They are specific to each NAS model and you are unable to utilise the PSU from another Synology Rackstation model or another storage server due to this unique design. Each PSU is surprisingly petite for such a large watt rating and even then, is quite high for just needing to support 16 SATA storage devices and a single PCIe slot. Nevertheless, a big chunk of this power likely goes into operational cooling which the RS2821RP+ has in spades.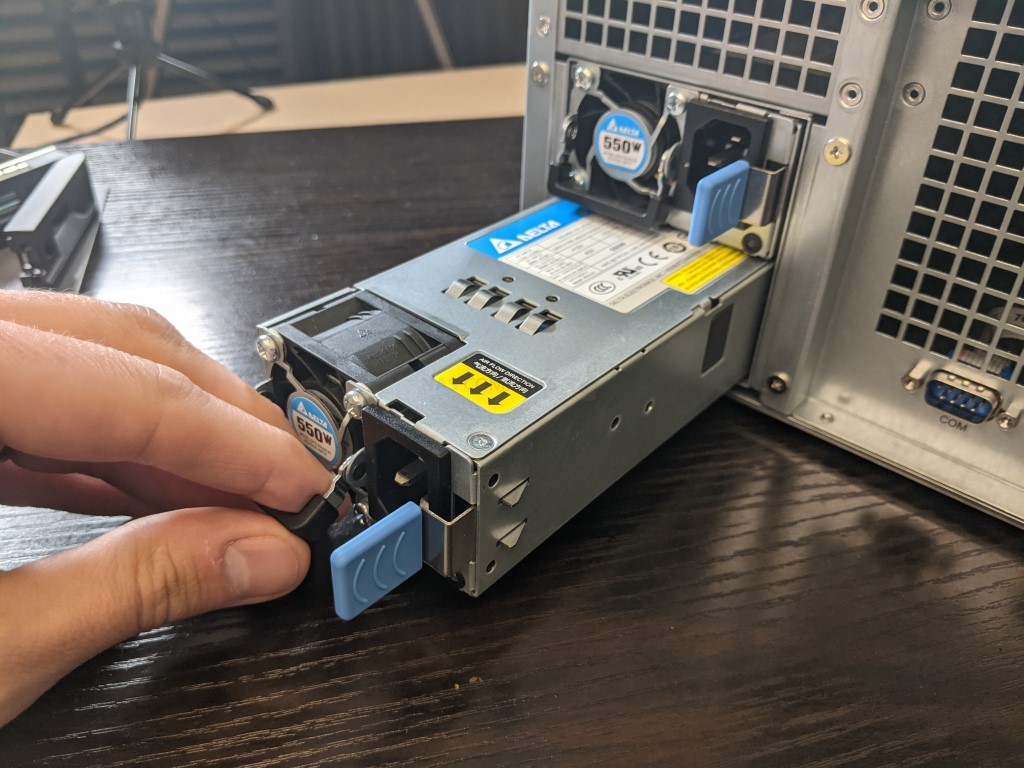 As mentioned, the Synology RS2821RP+ external connectivity and general ports are not exactly groundbreaking for this series of rack-mount devices. Nevertheless, this is a functional, if rather safe, arrangement on the rear of the device. Next up, we will take a look at the inside of this device to examine the internal hardware on offer.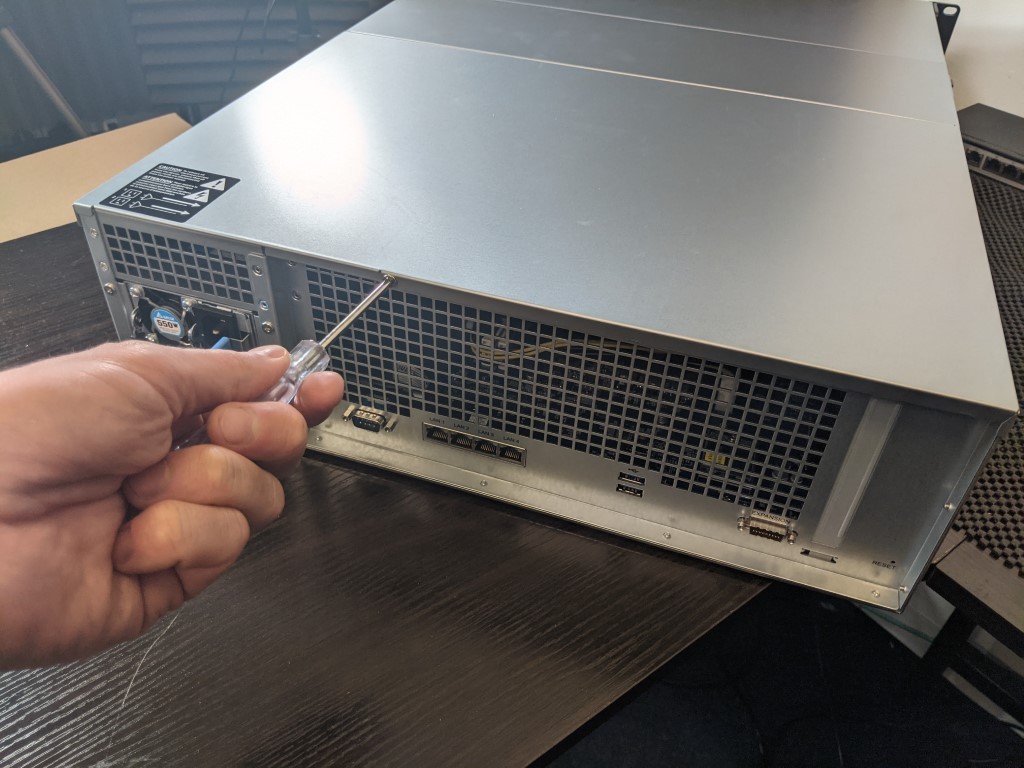 Synology RS2821RP+ Rackmount NAS Review – Internal Hardware
Most rackmount NAS servers are quite similar to likewise scaled desktop solutions. There are differences in how chips are placed and certainly the controller board used in rack-mount devices will be wider, so active airflow can cross all the heatsinks, but generally, they can be compared to traditional computer mobos. The Synology RS2821RP+ controller board is surprisingly small for such a large system and although you likely (and rightly!) assumed that the majority of the internal chassis was occupied by the storage media and cooling, it is still a relatively compact controller board inside.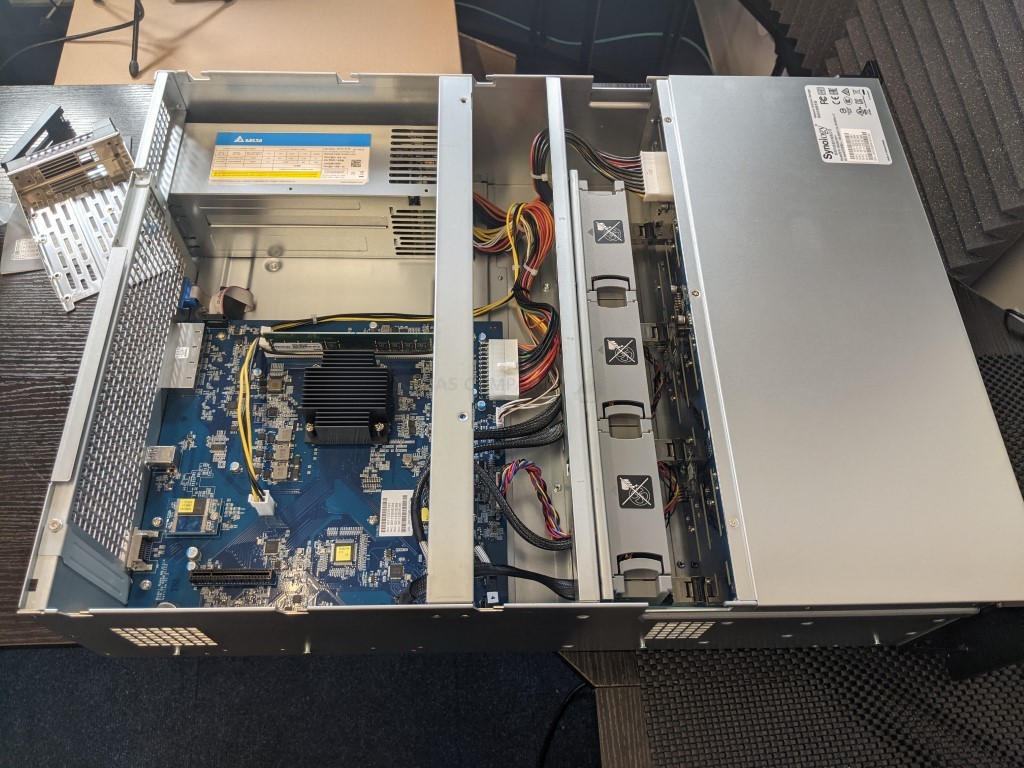 Accessing the internal hardware are of the RS2821RP+ is done via the removal of several screws dotted around the rear of the chassis. Whether you are doing this for maintenance, for PCIe upgrades or simply for reviewing the thing like me, this is a pretty straightforward way to get to the nuts and bolts of the Synology RS2821RP+ system. Efficient operation and low impact cooling are observed in great quantities inside the RS2821RP+ chassis and all components are sufficiently spaced out to ensure that airflow is consistently passed over the key processors.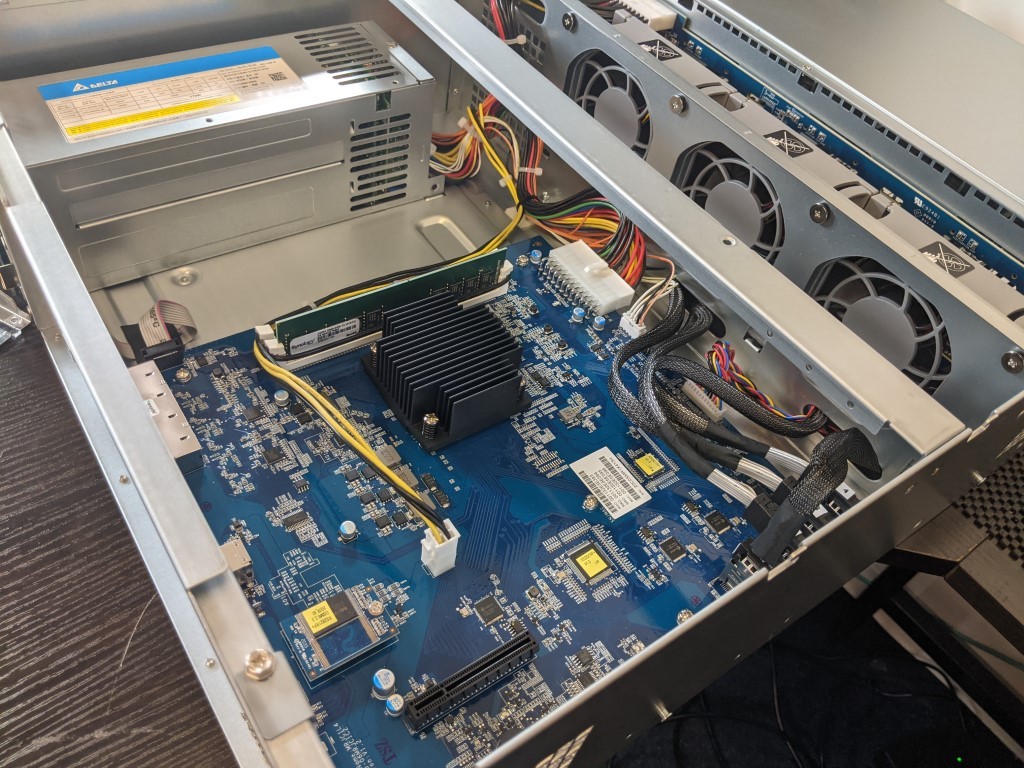 The contents are remarkably similar to that of the half-sized RS1221RP+, however, the RS2821RP+ takes advantage of improved memory modules and the systems greater height facilitates taller network cards too. The CPU does not need active cooling/fan coverage and is kept at a good operational temperature with a comparatively large heatsink on top. There are numerous smaller heatsinks for individual controllers handling lesser processes, but the main CPU of the RS2821RP+ is where it all happens!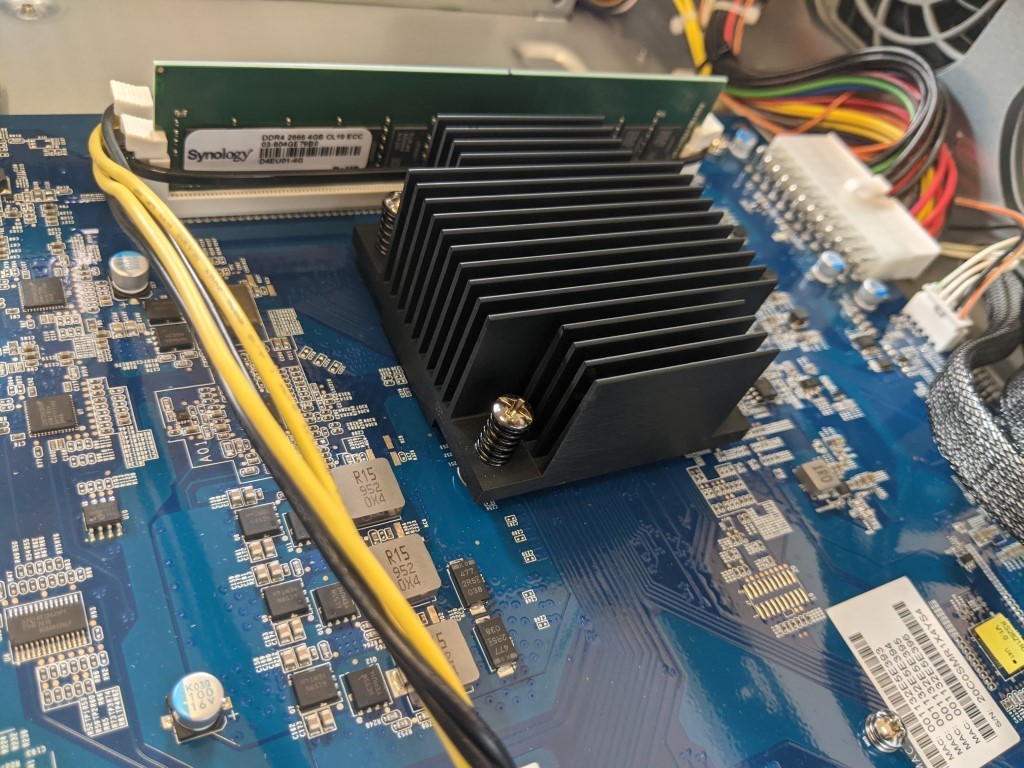 The CPU, as mentioned, is the AMD Ryzen V1500B processor. This is an SMB server-grade SoC version of the Ryzen series that is quad-core in architecture, with 2.2Ghz available per core. Although this CPU is not graphically embedded (as you might find on a Celeron or Pentium) it is exceptionally proficient at file handling and in previous tests with single and dual-port 10Gbe cards on the DS1821+, we were able to comfortably exceed 1,000MB/s and can easily see it reaching the RS2821RP+ reported 2,220MB/s top-end speed (note – that was with 16 SSDs in a RAID 0, so could be larger with an increased number of bays at our disposal in an expansion).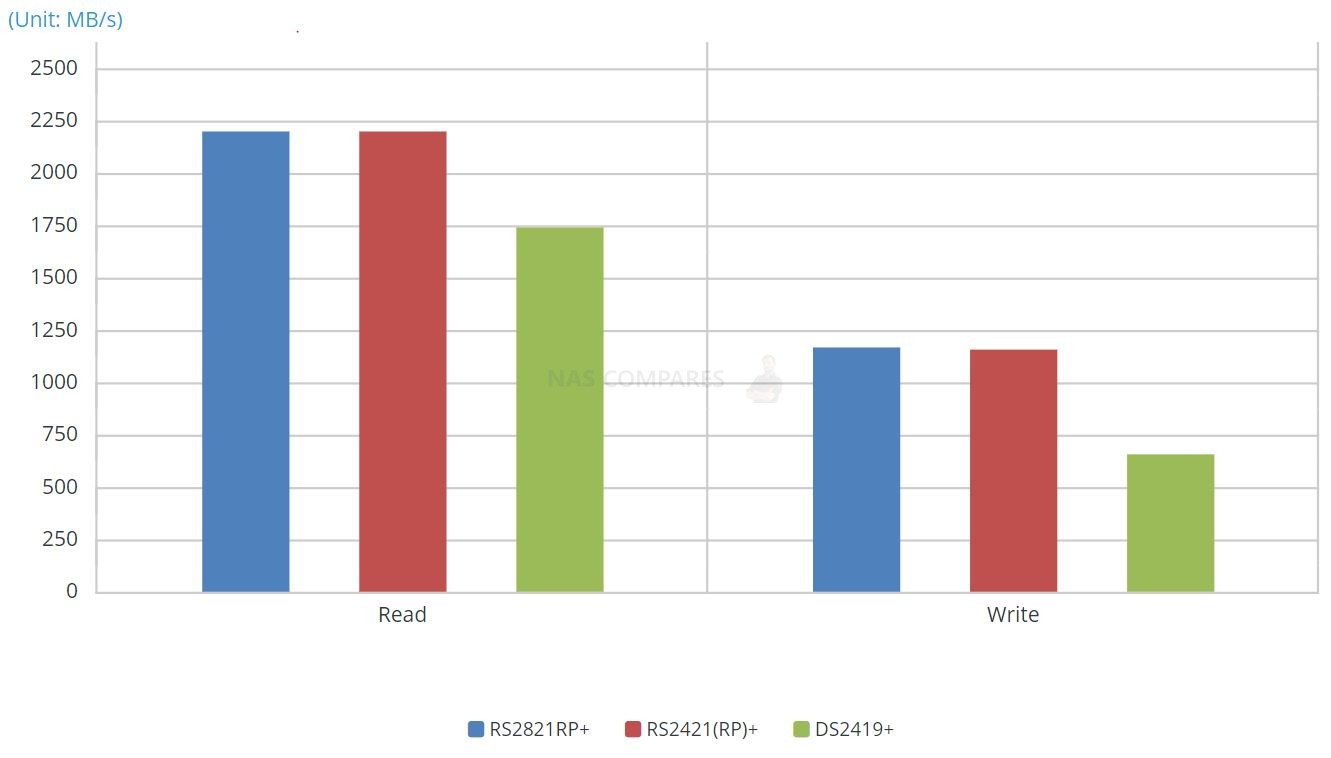 The above speed was achieved using the RS2821RP+ fully loaded with Synology SAT5200-960G SATA SSDs (2x 10GbE network environment), but the write speed was a little less impressive at just under 1,200MB/s. The V1500B processor has an excellent floating-point, AES-NI encryption (a more efficient and higher speed upgrade on traditional AES 256bit) and also allows higher quality memory to be used in the RS2821RP+ than in the RS2818+ NAS that came before it.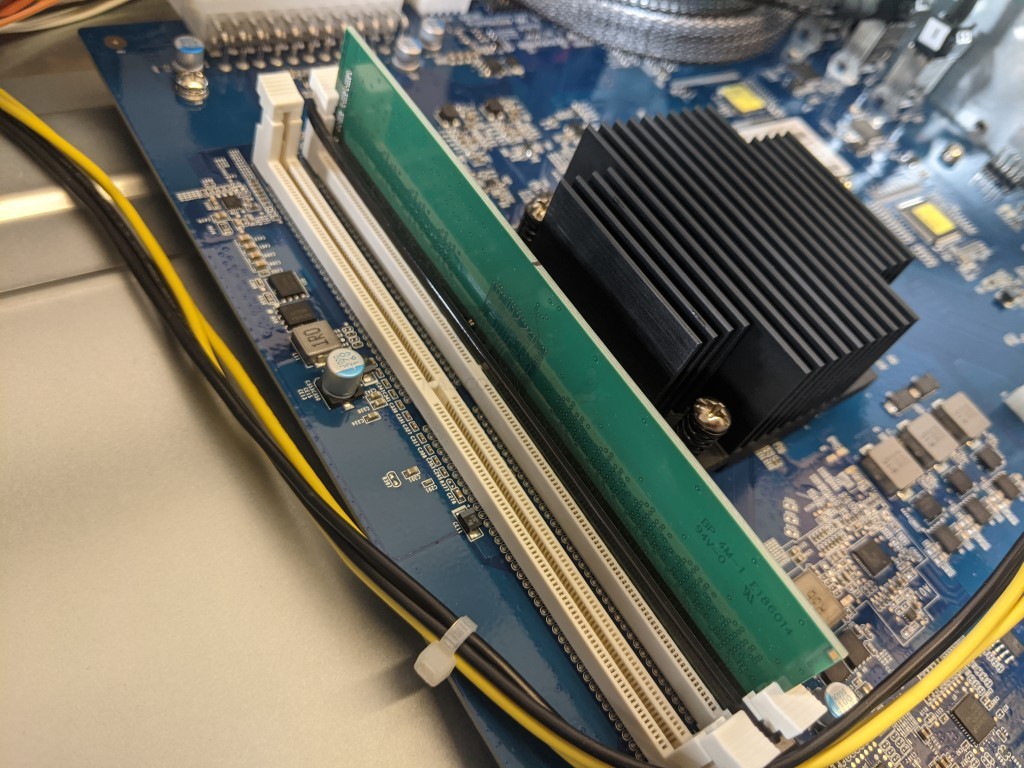 The RS2821+ NAS arrives with some excellent memory options (both in comparison to the RS2818rp+ and just generally) at 4GB of DDR4 ECC that can be upgraded over two slots up to an impressive 32GB of memory. Let's break that down a bit. First off, the default memory available is the same as the 4GB that its predecessor arrived with – so not massively impressive, but worth noting. Next, there is the fact it is a maximum 32GB DDR4 memory in the RS2821+ (whereas the RS2818RP+ had DDR4 upto 32GB too but it was non-ECC). DDR4 consumes less power and faster in comparison with DDR3 with the clock speed of DDR3, in this case, being 1600MHz, while the clock speed of DDR4 is 2400MHz on this device. As positive as all this sounds, 4GB of memory on the RS2821RP+ does seem a little low for a 16-Bay system that could comfortably accommodate a 2x 10Gbe NIC or 1x 25Gbe SFP+ NIC upgrade. In those setups, 4GB will potentially be an early bottleneck. Additionally, the RS2821RP+ uses UDIMM memory (not the SODIMM found in the RS820+ or RS1221+) which is a fraction more expensive but allows higher performance.
Finally, there is the use of ECC (error-code correction) memory in the RS2821RP+. For most businesses, it's mission-critical to eliminate data corruption, which is the purpose of ECC memory. ECC is a type of computer memory that detects and corrects the most common kinds of memory data corruption. Memory errors occur as a result of electrical or magnetic interference inside the computer. This interference can cause a single bit of DRAM (dynamic random-access memory) to spontaneously change to the opposite state. Electrical and magnetic interference is present as background radiation and is largely unavoidable the longer your system is operational. Generally, ECC memory is more expensive and there can be a slight slowdown when compared to non-ECC memory. The other components in the system, such as the CPU and motherboard, must also support ECC memory. Though most modern ECC memory is considerably better and the reported difference in performance is as low as 2-3%. In industries such as the financial sector and the scientific community, ECC memory is essential to maintain data integrity. Most server memory is ECC memory, as well. ECC memory further reduces the number of crashes, which is very important in multi-user server applications. So, kudo to Synology including this is a mid-range solution for SMB. This combined with the performance increase between the Ryzen SoC in the new RS2821+ over the Intel Atom C2538 in the previous RS1219+ (see comparison below) make the newer device a noticeable jump up in terms of internal hardware and performance.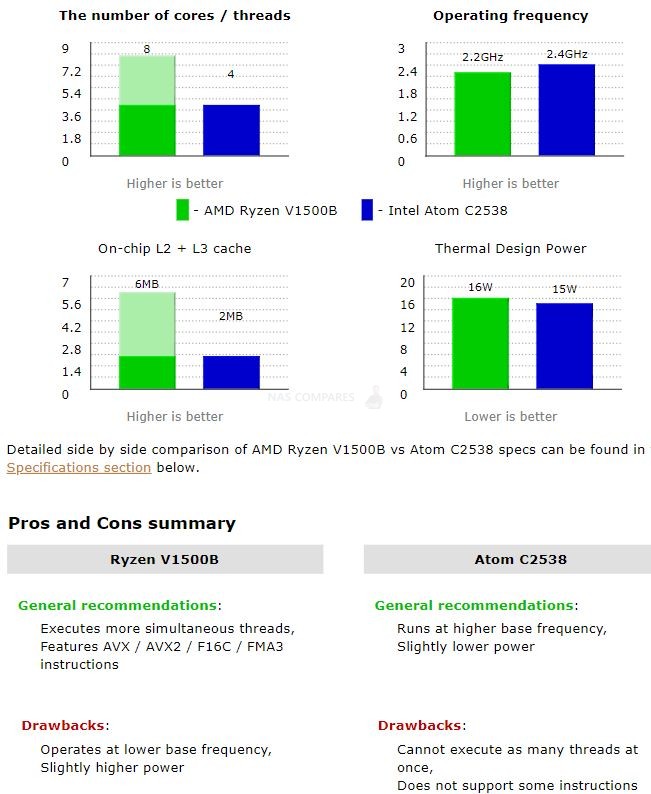 Overall, the available hardware in this compact rackmount is ticking alot of positive boxes for me and, although the lack of the now VERY brand associated NVMe bays is annoying (forcing you to invest another £250+ on the E10M20-T1 combo card or £200+ M2D20 m.2 NVMe SSD card), it has to be stated that the RS2821RP+ still brings a good degree of performance to a genre of storage (affordable SMB large scale storage) that has largely only arrived with weak hardware in the past to maintain a half-decent price vs return. How does that translate to software though? What does Synology provide in DSM for the RS2821RP+ NAS?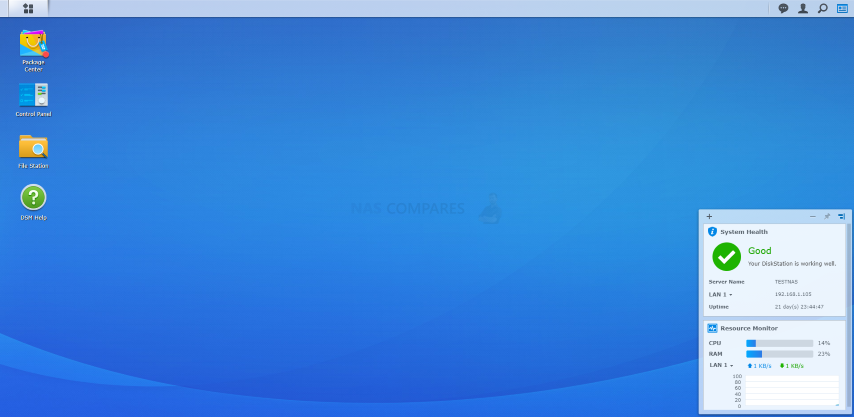 Synology RS2821RP+ Rackmount NAS Review – Software
Although the hardware featured in the Synology RS2821RP+ is arguably less impressive than the Xeons and SAS based storage connectivity found in the Synology FS, UC, SA and XS ranges, this system arrives with support of the entire Synology diskstation manager range of applications and services. Although this system software supports numerous third-party platforms and popular business integrated platforms, Synology is at its best when you purchase their solutions to utilise both the hardware and the software. SMB solutions like the RS2821RP+ aren't designed to simply be brainless areas of storage and the heavier price tag is because they promise a range of software to replace paid subscription or outdated service programmes that exist in your business environment for handling files, communicating with clients and colleagues, managing multi-site backups and forming the basis of a surveillance system too. Alongside this, recent releases in the Synology portfolio have championed their support in the field of virtual machine deployment, both utilising and hosting virtual environments in existing third-party tools such as VMware and Hyper-V, as well as primarily using Synology own Virtual Machine Manager application. Below is a breakdown of recommended apps for small and large business users considering the RS2821RP+ as their next big business purchase:
First-Party Applications included with your NAS system
Synology Office – Create documents, spreadsheets, and slides in a multi-user environment. Real-time synchronization and saving make collaboration a breeze.
Synology Chat – Aimed at businesses, Synology Chat is an IM service that transforms the way users collaborate and communicate.
Synology Drive – Host your own private cloud behind the safety of your NAS with 100% data ownership and no subscription fees.
Synology Moments – Manage your photos and videos with deep-learning algorithms that automatically group photos with similar faces, subjects, and places.
Synology Calendar – Stay on track, share calendars, and schedule meetings, while ensuring sensitive information remains safely stored on company premises.
Synology Active Backup for Business (ABB) – Consolidate backup tasks for virtualized environments, physical servers, and personal computers, and rapidly restore files, entire machines, or VMs – completely license free.
Synology Hyper Backup – backup you NAS safely and efficiently to multiple destinations with deduplication, integrity checks, compression, and versioning.
Synology Surveillance Station – Safeguard your business, home, and other valuable assets with reliable video surveillance tools.
Synology Virtual Machine Manager (VMM) – An intuitive hypervisor that supports Windows, Linux, and Virtual DSM virtual machines. Its powerful disaster recovery tools help users achieve maximum service uptime.
Synology High Availability – Synology High Availability (SHA) combines two Synology NAS servers into one active-passive high-availability cluster, alleviating service disruptions while mirroring data.
Synology Central Management System (CMS) – Synology CMS allows you to manage multiple Synology NAS servers quickly and conveniently from a single location.
Synology Video Station – Manage all your movies, TV shows, and home videos. Stream them to multiple devices or share them with friends and family.
Synology Photo Station – Built to help photographers manage their photos and share them with clients for feedback or business development.
Synology Audio Station – Manage your music collection, create personal playlists, stream them to your own devices, or share with family or friends.
Synology File Station – Manage your Synology NAS files remotely through web browsers or mobile devices.
The DSM platform has evolved a great deal over the last few years and has become practically an entire reason to buy a Synology NAS on its own. You can, of course, try out the Synology DSM software platform before investing in a NAS, by visiting the link below and trying DSM 6.2 for yourself:

Alternatively, you can test Synology DSM 7.0 Beta in an online demo by visiting below (Officially Releasing in Summer 2021):

As always, a full software review of the DSM 6.2 platform on the RS2821+ NAS is currently in process and I hope to have this to you here on the blog very soon or on the YouTube channel in due course. Stay tuned.
Synology RS2821RP+ Rackmount NAS Review – Conclusion
If you came to this review hoping that you would read that the Synology RS2821RP+ NAS is the best thing since sliced bread, then you may be disappointed. It is not that it is a bad NAS, it really is a good NAS and a solid release from the brand in 2021. Indeed, this system sits at a fine place in their portfolio, allowing buyers to spend their budget towards storage and away from unnecessary power. What's the issue then? It is simply that it is not a particularly groundbreaking system off the back of their previous rackmount releases in the last 6-months and although it still stands as a notable upgrade over its predecessor, the RS2818RP+, the continued use of 1Gbe, the default inclusion of just 4GB memory and a slight whiff of Synology playing safe all add to this solution being good but not great.
If you want a server to wrap the popular Synology diskstation manager software around to improve your business and create the perfect in-house data eco structure, I have no hesitation in recommending the Synology RS2821RP+ NAS. But for this system to fulfil its potential, expect a few upgrades early on in the memory, network interface ports and connectivity in general within the first 2 years of ownership. Another solid, if overly safe solution from Synology NAS.


Synology RS2821RP+ PROS
Synology RS2821RP+ CONS

Ryzen Powered Solution

Massive Scale Synology System at £3k

PCIe Gen 3 x8 PCIe Equipped

Great RAID Options (inc SHR)

Excellent choice of Apps

DDR4 ECC Memory up to 32GB (UDIMM, not SODIMM too)

Numerous Backup Software Options

Huge Virtualization Support

3yr Warranty and Extendable to 5yrs

1Gbe Ports seem a bit limited now

4GB Memory seems a little low

Synology Hard Drive Exclusivity is still an Opinion Splitter!

NVMe SSDs Ports not available, unlike desktop alternatives and requires a PCIe Upgrade Card
Choosing A NAS Server – Need More Help?
So, those were the key considerations for those looking to buy a new NAS or looking to upgrade/migrate from an older NAS Drive. However, there is still so much that you may need to know to range from operating system compatibility, how to connect the NAS in the best way, ideal software and the best backup methods. If you still need help choosing the NAS solution for your needs, use the NASCompares free advice section below. It is completely free, is not a subscription service and is manned by real humans (two humans actually, me and Eddie). We promise impartial advice, recommendations based on your hardware and budget, and although it might take an extra day or two to answer your question, we will get back to you.
📧 LET ME KNOW ABOUT NEW POSTS 🔔
Join 1,410 other subscribers
Get an alert every time something gets added to this specific article!
This description contains links to Amazon. These links will take you to some of the products mentioned in today's content. As an Amazon Associate, I earn from qualifying purchases. Visit the NASCompares Deal Finder to find the best place to buy this device in your region, based on Service, Support and Reputation - Just Search for your NAS Drive in the Box Below
Need Advice on Data Storage from an Expert?
We want to keep the free advice on NASCompares FREE for as long as we can. Since this service started back in Jan '18, We have helped hundreds of users every month solve their storage woes, but we can only continue to do this with your support. So please do choose to buy at Amazon US and Amazon UK on the articles when buying to provide advert revenue support or to donate/support the site below.

Finally, for free advice about your setup, j
ust leave a message in the comments below here at NASCompares.com and we will get back to you.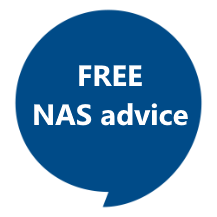 Need Help?
Where possible (and where appropriate) please provide as much information about your requirements, as then I can arrange the best answer and solution to your needs. Do not worry about your e-mail address being required, it will NOT be used in a mailing list and will NOT be used in any way other than to respond to your enquiry.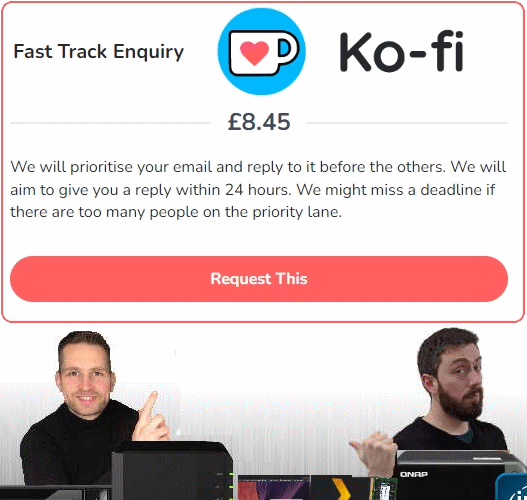 Terms and Conditions
Alternatively, why not ask me on the
ASK NASCompares forum
, by clicking the button below. This is a community hub that serves as a place that I can answer your question, chew the fat, share new release information and even get corrections posted. I will always get around to answering ALL queries, but as a one-man operation, I cannot promise speed! So by sharing your query in the
ASK NASCompares
section below, you can get a better range of solutions and suggestions, alongside my own.
This description contains links to Amazon. These links will take you to some of the products mentioned in today's video. As an Amazon Associate, I earn from qualifying purchases
Summary
Reviewer
Review Date
Reviewed Item
Synology RS2821RP+ NAS Review - Bigger and Better?
Author Rating