Choosing Between Buying a 2-Bay or 4 Bay NAS
For many users who decided to make the switch from subscription-based Cloud services and to their own private NAS server, it can be tricky to understand exactly what they need in terms of storage and power. Network-attached storage NAS has evolved rapidly over the years and now there is a tremendous range of solutions that vary in size and ability to choose from, often resulting in the most expensive servers not always being the most capable. One of the first hurdles that many users encounter when choosing their first NAS drive is choosing between a 2-bay NAS and 4-Bay. With the majority of NAS brands out there offering most standard solutions and across different hard drive scales, choosing between these different sized NAS is not as straightforward as one might think. So today I'm going to talk to you about the differences between each, which one is the best value, their advantages and hopefully help you decide which one best suits your storage needs. Let's start.
2-Bay vs 4-Bay NAS – Storage, Expandability and Capacity
On the face of it, it seems pretty obvious that a 4-Bay NAS model with its increased storage bays will be the better storage option overall. How on earth can a NAS device that is 50% less in media bays possibly compete?!? Well, in recent years the largest available capacity in hard drives has massively increased and therefore the total potential terabytes available for each media bay has grown drastically. Yes, you could fully populate a four-Bay NAS with 4TB hard drives, but you could always just use a single 12TB hard drive at a lower price per TB in 2021 and regardless of whether you use RAID 0 or RAID1 with two disks, still have a huge capacity in a 2 Bay NAS. Additionally, these days a number of brands provide the same level of external enclosure expandability on both the 2-Bay and 4 Bay NAS systems (eg DS920+ / DS720+ and TS-253D / TS-453D), therefore 2-Bay NAS does not have the lower metaphorical glass ceiling that it once had in terms of additional storage down the line. Indeed, you can even expand a RAID 1 to a RAID 5 on a 2-bay but spreading it over both the NAS and expansion enclosure at once, to provide an excellent way to still increase the storage on your 2-Bay later on and not feel trapped within its dual media design architecture.
However, this is not quite as cut and dry as it appears. Despite the improvements in 2-Bay NAS architecture in recent years, there is always going to be one big day 1 advantage in the flexibility of 4 Bay NAS that 2-Bays cannot really match. That is that you do not necessarily need to fully populate a 4-bay on day one and many users go ahead with just putting two hard drives inside a 4-Bay NAS in a RAID 1 at the start. Not only does this give you exactly the same level of storage and performance that you would find in 2 Bay NAS, but it also allows you to add drives to this partially populated NAS and expand its storage pool from a RAID 1 to a RAID 5, increasing the total storage gradually throughout the lifespan of the system, WITHOUT buying a whole expansion chassis. This allows flexibility in how much storage you use now and how much you need to graduate to later at a minimal cost at the start. In summary, although 4 Bay NAS is still technically the better storage, flexibility and capacity option, a 2-Bay is not necessarily as inferior as it once was.
2-Bay vs 4-Bay NAS – Price and Value
This is an often underestimated factor in choosing between a 2-bay or 4-bay NAS system. Many people assume that a 4-Bay NAS costs more money to buy and even more money to populate. Although this is still technically true, it is hardly any more expensive to operate a 4-bay NAS 24×7 than a 2-bay. As far as actual day 1 costs go, notwithstanding the flexible storage installation mentioned in the previous subject, 4-Bay NAS systems allow you to use smaller capacity hard drives in order to match the same storage on larger hard drives. What this means is that a 4-ay NAS allows you to install four 4TB drives inside in a RAID5 and arrived at a lower price per terabyte than 2x 12TB drives. Depending on how you scale your storage and the number of drives you use, 2-Bay shares and 4-Bay NAS can retail at a similar price point and will differ only depending on the drive you choose and the RAID configuration you opt for.
Likewise, returning to the point of the cost of 4-bays as being more expensive than 2-bays, the newest generation NAS drives will often barely be more than $100-150 difference in their prices between 2 and 4 bays and are largely identical in CPU, Memory and ports in every other way. 4-Bays may seem like a bigger chunk of money (especially for those already feeling stretched on a prosumer 2-Bay) but if you are prepared to perhaps drop the capacity you have in mind 1-2TB  (i.e purchase 4TBs, not 6TBs)  to compensate this price difference, the result will be that your 4 Bay NAS can achieve much higher read and write speeds with more drives being accessed simultaneously, whilst also opening the door to dual-drive redundancy configurations (i.e RAID 6) and will ultimately provide a more responsive, higher performing and data safe NAS for all of your needs.
In summary, the savings available in choosing a two-bay over a four-bay can easily be countered in the grand scheme of things by scaling the capacity or architecture of the HDD you choose to put inside. The money saved in a 2 bay might well be money you need to spend a year or two down the line.
2-Bay vs 4-Bay NAS – Power, Performance and Speed
As mentioned, using 4 hard drives in a RAID 5 will likely provide better performance than two drives in a RAID 1 environment. This performance can be measured by traditional direct read and write activity between your client hardware and your NAS, or it can be measured by the performance of individual applications and services from within the network-attached storage drive itself (i.e the NAS software and services). When looking at buying your first NAS, many will overlook 2-Bay's simply because of this performance boost available in the 4-Bay alternative models. However, enterprise-grade/Pro hard drives Seagate ironwolf Pro or EXOs) will often provide performance benefits in a RAID 1 environment that can surpass the use of standard hard drives in a RAID 5. Of course, Pro series drives cost $40-50 more per drive, but also have longer warranties, data recovery services, more onboard cache and faster rpm to increase that read and write speed, so you get more for your money ultimately. Additionally, if you plan on taking advantage of 10Gbe, either with a port already on your NAS or as an upgrade down the line via PCIe, then you are much, MUCH better off with a 4-Bay NAS, as a 2-Bay (even if populated with the latest generation SATA SSDs) cannot fully saturate 1,000MB/s.
Finally, it is worth discussing that a large number of modern 4-Bay NAS systems in 2021/2022 arrived with dedicated SSD caching bays. These bays do not replace the existing SATA hard drives and are parallel media bays that allow you to install M2 NVMe SSD to improve the internal performance of your NAS by copying more frequently accessed files partially or fully onto the SSD to reduced access time to these more popular pieces of data. Although a handful of 2 Bay NAS systems have arrived on the market with support of dedicated SSD caching bays (Lockerstor 2 and DS720+), the feature is still more available on foUr Bay solutions and for many users that want to graduate the utility of their NAS from home to prosumer and inevitably into business use, the ability to upgrade internal performance in this way can often sway buyers to opt for a 4-bay NAS.
2-Bay vs 4-Bay NAS –
Power Use, Noise and Deployment
Unsurprisingly, the bigger the NAS drive, the more power it will consume. When comparing like-for-like deployments in similar architecture on 2-Bay and 4-Bay NAS, the latter will always use a little bit more. This is the reason that you will generally find that the PSU on a 4-Bay NAS is always of a higher what rating. However overall, unless you are pushing the system particularly hard, the simple act of adding two more SATA hard drives will generally make a minuscule difference and is hardly a reason to compare these two overall – A PSU power rating is the MAXIMUM draw it can make, not the amount it will be using constantly! However, in terms of vibration generated when the system is in operation and the rise in assisted fan operation as usage increases, generates more heat which makes a noticeable impact on the ambient noise generated when you are running a 2-Bay vs a 4-Bay.
The power difference will still remain rather small as these are still quite small components but if you are especially sensitive to noise then the increased drive and fan-based sound will annoy you. Additionally, this increase in ambient noise generation scales accordingly if you use larger capacity drives or more enterprise-level hard drive builds. So therefore if you are looking at a 2-Bay NAS with bigger capacity hard drives, it will still generate a comparable level of ambient noise that a 4-Bay would when populated with standard class NAS media or smaller capacities. Now that brands like Seagate and WD have reshaped their respective portfolios for NAS hard drive media in a way that ALL large capacity hard drive (eg 10TB and above) are Pro class (i.e noisier), it makes the lines increasingly blurry between 2-Bay and 4-Bay NAS noise levels. Below is an example of the noise difference between a standard class and pro class drive noise generation in just a single drive. It may seem a tad irrelevant, but it's important if you are a user looking to go for a smaller NAS with BIGGER drives:
WD Red

NAS Hard Drive Noise Test

WD Red PRO

NAS Hard Drive Noise Test
2-Bay vs 4-Bay NAS – C
onclusion
So as you can see, the difference between a 2-Bay and a 4-Bay NAS is a great deal more than the number of available hard drives you can use. Each kind of NAS system can have its performance, capacity, ambient noise and power consumption scaled in a multitude of ways in order to facilitate the best possible network attached storage solution for you. Users on a tight budget might all too soon end up purchasing a 2 Bay NAS without realising that a 4-Bay has scalability that can save you money down the line. Likewise, users who like to invest a little bit more long term or prefer their NAS investment to be a little bit more spread over the lifespan of their product will tend to err towards a 4-Bay solution, without realising that a 2-Bay is still quite viable in the short term and modern scalability of NAS means taht a 2-Bay NAS is not quite the dead-end it once was! Below I have detailed some of the BEST examples of 2-Bay and 4-Bay NAS Synology, QNAP and Asustor that are great examples of margins between each tier has become spectacularly narrow.  If you are still unsure on how to proceed, be sure to take advantage of the free advice service here on NASComapres using the boxes at the bottom. We (me and Eddie the web guy!) answer every email and do it without profit in mind (i.e it's absolutely free), so though it might take an extra day for us to reply, we will get back to you with recommendations on the best solution for you.
Synology DS720+ 2-Bay –

$399+

Synology DS920+ 4-Bay –

$559+

J4125 4-Core CPU – 2/6GB DDR4 – NVMe SSD – 2x1Gbe

J4125 4-Core CPU – 4/8GB DDR4 – NVMe SSD – 2x1Gbe

QNAP TS-253D 2-Bay –

$389+

QNAP TS-453D 4-Bay –

$549+

J4125 4-Core CPU – 4/8GB DDR4 – PCIe Slot – HDMI – 2×2.5Gbe

J4125 4-Core CPU – 4/8GB DDR4 – PCIe Slot – HDMI – 2×2.5Gbe

Asustor Lockerstor 2 2-Bay –

$379+

Asustor Lockerstor 4 4-Bay –

$499+

J4125 4-Core CPU – 4/8GB DDR4 – NVMe SSD – 2×2.5Gbe
J4125 4-Core CPU – 4/8GB DDR4 – NVMe SSD – 2×2.5Gbe
📧 LET ME KNOW ABOUT NEW POSTS 🔔
Get an alert every time something gets added to this specific article!
Want to follow specific category?

This description contains links to Amazon. These links will take you to some of the products mentioned in today's content. As an Amazon Associate, I earn from qualifying purchases. Visit the NASCompares Deal Finder to find the best place to buy this device in your region, based on Service, Support and Reputation - Just Search for your NAS Drive in the Box Below
Need Advice on Data Storage from an Expert?
We want to keep the free advice on NASCompares FREE for as long as we can. Since this service started back in Jan '18, We have helped hundreds of users every month solve their storage woes, but we can only continue to do this with your support. So please do choose to buy at Amazon US and Amazon UK on the articles when buying to provide advert revenue support or to donate/support the site below.

Finally, for free advice about your setup, j
ust leave a message in the comments below here at NASCompares.com and we will get back to you.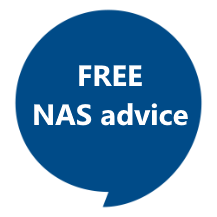 Need Help?
Where possible (and where appropriate) please provide as much information about your requirements, as then I can arrange the best answer and solution to your needs. Do not worry about your e-mail address being required, it will NOT be used in a mailing list and will NOT be used in any way other than to respond to your enquiry.
Terms and Conditions
Alternatively, why not ask me on the
ASK NASCompares forum
, by clicking the button below. This is a community hub that serves as a place that I can answer your question, chew the fat, share new release information and even get corrections posted. I will always get around to answering ALL queries, but as a one-man operation, I cannot promise speed! So by sharing your query in the
ASK NASCompares
section below, you can get a better range of solutions and suggestions, alongside my own.
Summary
Reviewer
Review Date
Reviewed Item
Should You Buy a 2-Bay or 4-Bay NAS Drive
Author Rating