A Guide to the Recommended 2-Bay NAS Drives to Buy Right Now
Making the move away from your free'mium services such as Google Drive and DropBox towards a privately owned NAS is already a tough enough decision – then you find out that there are literally thousands of different models available and many, many brands. Whether it is because your storage needs are a little modest, you are physical space-limited or you have a budget that is comparable to a 3+ year cloud storage for more than 4TB (so, about $300-500 or so) – whatever your reason, there is a very good chance that you have been considering a 2-Bay NAS solution. It's a great entry point into network-attached storage, it allows a complete redundancy/safety-net option of mirroring/RAID 1, it allows you to use the bulk of the modern software offered by the brands, allows media sharing with ease, security tools and a wide array of backup tools – all whist staying well within that tighter budget. Indeed, as good as a 2-Bay can sound in terms of price vs ability, it is worth taking a quick moment before discussing the best 2-bay NAS, to work out if you even need a 2 HDD NAS at all! So, if you are still o nthe fence about 2-Bay NAS, use my before you buy guide below that discusses the Pros, Cons and things that are often overlooked about 2 drive NAS systems:
Still interested in a 2-Bay NAS? Good. However, there are ALOT of 2-Bay NAS drives in 2021/2022 available (with promised refreshed ranges from Synology and QNAP this summer), so choosing the right one the first time can be tricky! Never fear, below I have detailed the best three 2-Bay NAS drives that you can buy right now, as well as detailing what makes them so special. Remember, what makes these three NAS systems my recommended 2-Bay is not just because of hardware, but the entire package of hardware, software and services that they offer. So, let's take a look.
What Have All the Perfect 2-Bay NAS Drives Have in Common?
It is worth remembering that although there are ALOT of different 2-Bay NAS drives available to buy, they are by no means created equal! With numerous super budget brands popping up online, it can be tempting to consider these alongside the premium NAS brands. However, all too often they offer solutions righty seem 'too good to be true' and then are gone from the web before your warranty even gets cold! So, whether you are looking at the three best 2-Bay solutions that I am recommending below OR are looking at another 2-Bay NAS you saw on offer/recommended elsewhere – the best NAS system ALWAYS include the following software and services:
Combined Hardware & Software Solution – That means that you are buying the hardware, but it ALSO includes a web browser GUI, mobile apps and desktop client apps (including backup, media, streaming, surveillance and file management software)
All NAS systems in this guide are compatible with (and can be accessed by) Windows, Mac, Android and Linux operating systems
All NAS Solutions arrive with between 2-3 years Warranty (with the option to extend to 5 years)
All NAS drives can be accessed locally over the network, as well as secure remote access is possible with brand supported services (at no additional cost)
The most modern and regularly updated NAS systems will support the very latest 20TB NAS hard drives (such as the Seagate Ironwofl 20TB and WD Red 20TB)
All the recommended solutions support multiple drive configurations (RAID) for drive failure protection and performance enhancements
All solutions receive regular updates to their security, features and services
All recommended NAS drives can connect and synchronize with cloud services (Google Drive, DropBox, OneDrive, etc), as well as Business/Enterprise services such as AWS, Azure, Backblaze and more
All NAS solutions (regardless of brand) feature the ability to host a shared drive on your PC/Mobile/Laptop systems that are synchronized with the NAS via the network/internet, but is shown in your native operating system file manager (i.e Mac Finder or Windows Explorer)
All the NAS solutions listed can be accessed DIRECTLY via an ethernet/network cable being connected from your PC/Mac system, to the NAS RJ45 port for 100MB/s and higher connectivity
All the best NAS solutions (regardless of brand) feature backup and sync tools that can be installed on your local client computer and allow regular backups of your files and system data
So, make sure that if you are looking at a NAS solution that is NOT recommended below, that it includes all of the above. As these are some of the clearest areas that brands all too often cut orders to produce cheaper by ultimately inferior NAS servers for home and business. So, let's discuss the very best 2-Bay NAS to buy now in 2022.
Best Priced 2-Bay NAS Drive – Synology DS220+j NAS Drive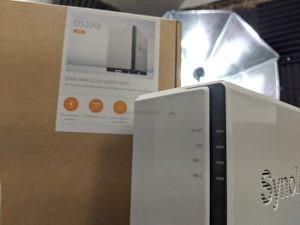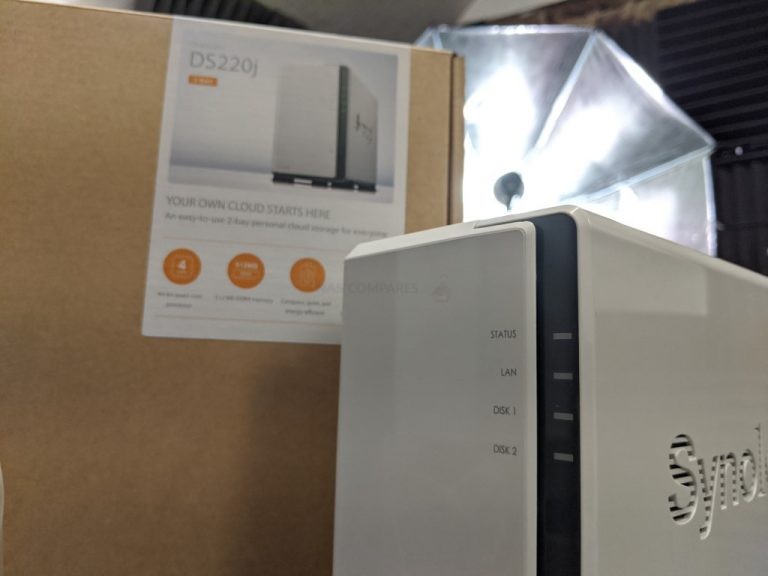 0-40TB, 2-Bays, 4-Core Realtek 64bit ARM CPU, 512MB Memory, 1x 1Gbe Port, 2yr Warranty
Current Price/Availability on Amazon – $199
Hardware Review – LINK
YouTube Video Review – Watch
What I hoped would be a NAS that kicks off the new 2-Bay range from Synology for 2020/2021, does so with reasonable success. I cannot say that I am not impressed by the hardware here at this price – the specifications for this £125+ NAS (ex.VAT) is genuinely impressive and much, much more than all the other 2-Bay J Series Synology that have come before it – in that way, the DS220j is a flat out winner! It gives you a great baseline experience of DSM, at a price point that is low enough to hook you in at the low level, but still not too expensive that you will feel bad if you want to upgrade sooner than you would have liked! Plus, the new and old NAS can be used to synchronize and add to your backup strategy, so in that way, the DS220j is genuinely unbeatable in it's field.
This slideshow requires JavaScript.
The Synology DS220j NAS is not the most powerful NAS drive, or the most fully-featured NAS drive – but the point is that it is not trying to be! Synology has held an exceptionally good reputation in the world of network-attached storage for a decade and if a new NAS buyer wanted to cautiously invest in a new piece of equipment in this area, then despite their modest budget, they will want to get the best they can for their money, from a brand with an established pedigree – THAT is what the Synology DS220j NAS is trying to achieve and for the most part, it completely succeeds! Aside from the memory being a touch light on the ground and the white chassis not being to everyone's taste, in almost every other regard the DS220j is a great little NAS drive that any first time NAS users, or those making the jump from subscription cloud services like Google Drive and DropBox, are going to enjoy. Just keep an eye on the number of active users and tasks at any given time and you will be on to a winner here.
---
Best Value 2-Bay NAS Drive – Synology DS220+ NAS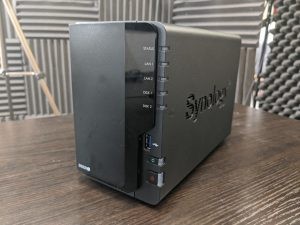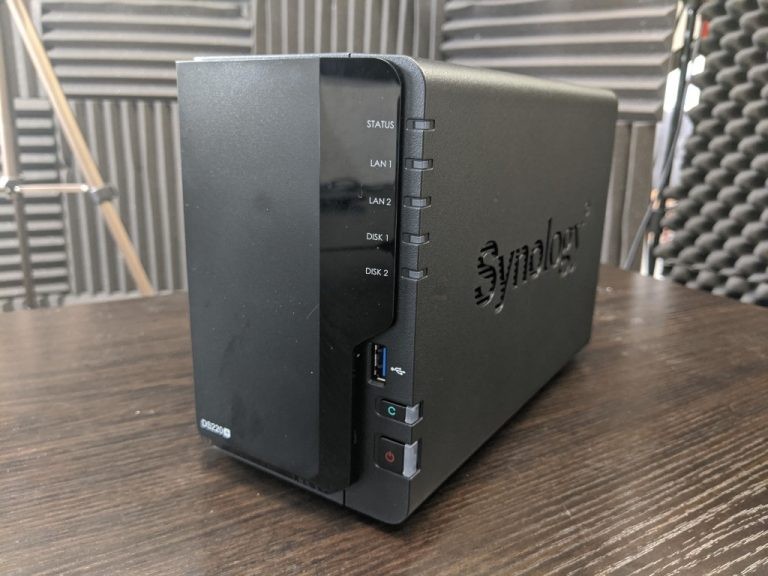 0-40TB, 2-Bays, Intel Celeron J4025 2 Core CPU, 2-6GB Memory, 2x 1Gbe Port, 2yr Warranty
Current Price/Availability on Amazon – $285+
Hardware Review – LINK
YouTube Video Review – Watch
The Synology DS220+ affordable NAS does not make overly bold promises, leaving those to more expensive and more powerful devices in the product portfolio (DS920+, DS1621xs, etc). Whether you are a new or old NAS user, Synology has made a clear distinction in the DS220+, showing the difference between buying what you want and buying what you need. That may sound like pointless and annoying rhetoric, but comparing the DS220+ with other diskstation plus series NAS shows you that by removing a lot of the bells and whistles of the bigger and boulder devices (i.e NVMe SSD caching, expandability of storage down the line, longer warranties and higher end processors) it provides you with a setup that will serve a smaller and less intense user exceptionally well, at a price point that makes the first investment in a Synology NAS considerably easier to make.
This slideshow requires JavaScript.
The 2/6GB memory option on the DS220+ is a bit of a shame in some respects. 6GB is still a great amount of memory (well, I say that -as I touched on earlier, it's a bit odd to use a 2GB and 4GB stick in a pair), as well as the DDR4 SO-DIMM 2666Mhz memory available being some 10-20% faster in usage frequency than the 1866Mhz DDR3L SODIMM on the past DS218+. However, it is worth noting that if you the 2GB starting memory it starts with will be utilized by the intelligent caching/flushing feature of DSM. What this means is that if you look at the resource monitor when the device boots, it is caching more data in the memory than it technically needs to. This is not a bad thing though, as when the memory is needed for applications and services, it is near-instantly flushed by the reserved system area. The result is that the OS of DSM via the browser seems silky smooth at all times and when an app needs the resources, it makes it available – very 'Mac'. Though this means that if you are running 2-3 CORE applications (VMM, Surveillance, Containers, Plex) then you are going to hit a few bumps on the 2GB that the unit arrives with. Ultimately, why buy a Ferrari if you just need something to do the weekly grocery shopping? The Synology DS220+, much like its predecessors in this product line, is still a great and solid NAS purchase in 2020 and something that Synology can continue to be proud of, just don't expect that Ferrari and you'll be fine.
---
Most Powerful 2-Bay NAS Drive – QNAP TS-253D NAS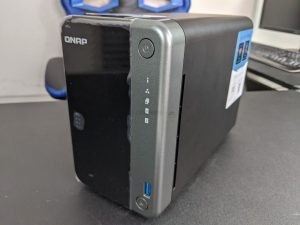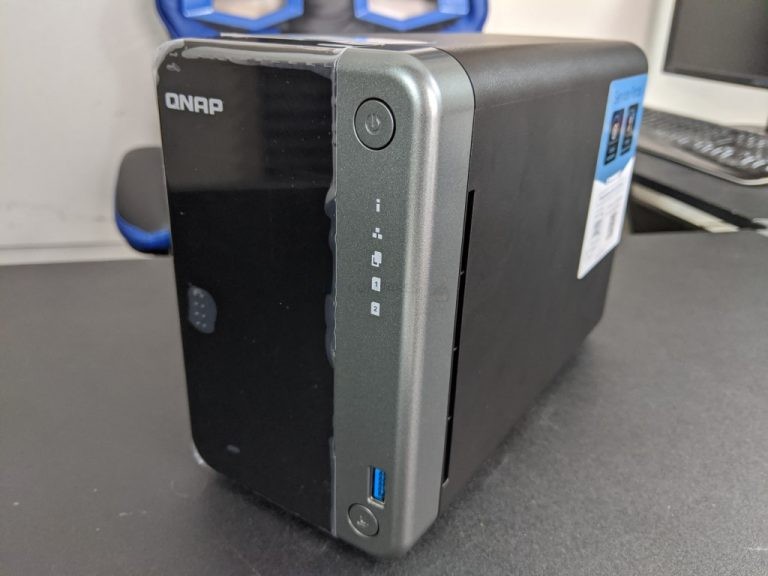 0-40TB, 2-Bays, Intel Celeron J4125 4-Core CPU, 4/8GB Memory, 2x 2.5Gbe Port, PCIe Gen 2 x4 Upgrade Slot, 5x USB Ports, 1x HDMI 2.0 4K 60FPS, 3-5yr Warranty
Current Price/Availability on Amazon – $325
Hardware Review – LINK
YouTube Video Review – Watch
To put it bluntly – the QNAP TS-253D is a heck of a piece of kit! The hardware available at this price point, along with the software that is bundled with your purchase is possible some of the best 'price vs return' I have yet to see in a NAS drive. This combined with a very open-door policy on upgrades and future-proofing, as well as maintaining a very good first/third-party software support ratio, make the QNAP TS-253D one of the best units the company has produced in the history of the brand and an excellent unit to begin a new decade. Is it perfect? No. With a few of the shiny slick branding touches of their biggest rival Synology, as well as a design that is not for everyone, the QNAP TS-253D is a NAS that gives you alot of tools, alot of ways to use them – then lets you choose to how and where you want to interact with it, rather than ask you to do it 'it's way' for the most part.
This slideshow requires JavaScript.
The internal hardware of the device that people will be the most attentive about however is the CPU and memory on offer in the TS-253D. Arriving with the Intel J4125 Celeron Processor, this 4 core 2.0Ghz processor can be burst to 2.7Ghz when needed and features UHD HD Graphics 600, so it has a great little transcoding engine on offer. Although it is better than it's predecessor in most ways (barring a slight dip in some H.265 bitrates (according to @eddiethweb) it is still a great CPU and one that does very well in the family of QNAP expandable 2/4 Bay NAS processors. There is a % of the market that hoped for something a little beefier (the same ones who wanted 2.5Gbe) and perhaps a return to the use of an Intel Pentium (as we saw in the TVS-471 of 2014), but this is still a very good processor with a good score on CPU benchmark. The software and performance review of this NAS should give us more info on the CPU in a more day to day use (as well as Plex Media Server of course), but we can make some educated guesses.. As is often the case, whereas the Synology platform and the closest rival to the TS-253D (the DS720+) will provide a very 'Apple' design, fluidity and ease of design to a % of the market, the QNAP TS-253D caters to many more users and although sometimes that versatility can lead to early confusion (a teeny pinch of tech knowledge will help) it is an enormous jump forward for this big brand in NAS storage.
---
And there you have it. Those are the three best 2-Bay NAS drives available right now at the end of 2021 and going into 2022. thought it is always worth remembering that these systems typically have a refresh (i.e manufacturers release a new version/follow-up) every 2-3 years on average. Therefore although these systems are all still great 2-Bay NAS drives, they might have been upgraded in a newer released version, or recently released alternative 2-Bay's may have arrived on the scene that provides better pricing, value or features. If you are in doubt about whether to buy a 2-Bay solution from my recommendations, want to check if a newer system has been released recently OR are simply looking for some free expert advice, then use the free advice section below over. Just enter in a few details of your setup, storage requirements and (in the case of buying a new solution) your budget – then me and Eddie the Web guy can help you with your question. This is a completely free service, is NOT provided with profit in mind and is manned by two humans (no bots, no automated replies, etc). Assistance might take an extra day or two (the service gets a lot of visitors) but we do try to answer every message. If you want to support this service, you can find out how to donate HERE. Otherwise, you can still jsut message us for free advice anyway!
📧 LET ME KNOW ABOUT NEW POSTS 🔔
Join 1,462 other subscribers
Get an alert every time something gets added to this specific article!
This description contains links to Amazon. These links will take you to some of the products mentioned in today's content. As an Amazon Associate, I earn from qualifying purchases. Visit the NASCompares Deal Finder to find the best place to buy this device in your region, based on Service, Support and Reputation - Just Search for your NAS Drive in the Box Below
Need Advice on Data Storage from an Expert?
We want to keep the free advice on NASCompares FREE for as long as we can. Since this service started back in Jan '18, We have helped hundreds of users every month solve their storage woes, but we can only continue to do this with your support. So please do choose to buy at Amazon US and Amazon UK on the articles when buying to provide advert revenue support or to donate/support the site below.

Finally, for free advice about your setup, j
ust leave a message in the comments below here at NASCompares.com and we will get back to you.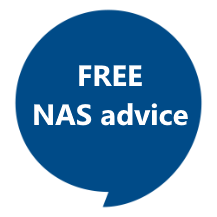 Need Help?
Where possible (and where appropriate) please provide as much information about your requirements, as then I can arrange the best answer and solution to your needs. Do not worry about your e-mail address being required, it will NOT be used in a mailing list and will NOT be used in any way other than to respond to your enquiry.
Support What We Do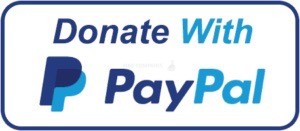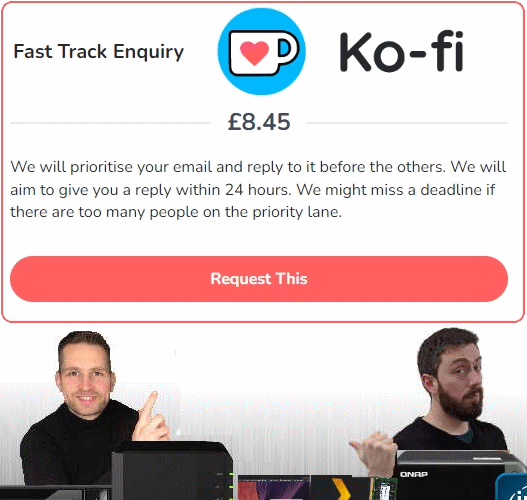 Terms and Conditions
Alternatively, why not ask me on the
ASK NASCompares forum
, by clicking the button below. This is a community hub that serves as a place that I can answer your question, chew the fat, share new release information and even get corrections posted. I will always get around to answering ALL queries, but as a one-man operation, I cannot promise speed! So by sharing your query in the
ASK NASCompares
section below, you can get a better range of solutions and suggestions, alongside my own.
Summary
Reviewer
Review Date
Reviewed Item
The Best 2-Bay NAS to Buy in 2022
Author Rating