The Synology

DS220+

2-Bay NAS Drive Hardware Review
If you have been considering purchasing a Synology NAS for home or business in 2020, then chances are that you fall into one of two categories. The first category is is is made up of those who are aware of what a NAS can do, as well as how much more you will have to send for a capable and reliable solution. The other party is made up of either first time buyers or those that invested in an entry-level NAS a few years ago and are looking to upgrade. Both of these parties have always been the target market for the Synology standard NAS 2-bay in their flagship plus series. Arriving with good mid-range hardware inside, as well as a solid base from which to protect and share the data, the Synology DS2xx+ NAS family has always been a popular choice. The brand new Synology DS220+ is the long-awaited follow up to the DS218+ released back in autumn 2017 and has a lot to live up to in the eyes of new and established NAS owners alike. This new NAS has already been previewed HERE on the blog a few weeks ago and now we have the hardware here, so let's find out if the Synology DS220+ has been worth the wait, or has it arrived too little, too late? Let's find out.
Read our reviews of the other new-generation Synology NAS Drive
The Synology DS920+ NAS Drive Review – https://nascompares.com/2020/05/21/synology-ds920-nas-drive-hardware-review/
The Synology DS720+ NAS Drive Review – https://nascompares.com/2020/06/18/synology-ds720-nas-drive-hardware-review
The Synology DS420+ NAS Drive Review – https://nascompares.com/2020/06/18/synology-ds420-nas-drive-hardware-review
Synology

DS220+

NAS – Quick Conclusion
The DS220+ to buy NAS from Synology gives you a decent hardware base from which you can enjoy largely any modern application, both first party and third party. Although no it does not seem a huge jump over its predecessor, the DS218+, what changes are present are welcomed. Likely the least powerful of the newest Intel-powered 2020 generation from the big brand in NAS, it arrives at a price point that is both approachable and easier to justify for brand new buyers. If you are in the market for an affordable yet Powerful compact solution, the DS220+ brings a lot to the table. However, those looking to upgrade from the DS218+ may want to give this one a miss.
Disclaimer – This review features a Synology DS220+ NAS unit that has been purchased from Japan and therefore may differ from a retail unit purchased in your region at release. Some details are more obvious (such the local language retail labelling and region mains power connector, others are less familiar to new buyers (such as the remarkably detailed and pictorial Japanese instructional manual, something I have never seen in European/US provided NAS from Synology). Do bear in mind that although 99% of what you see in the review today is going to be globally equal, there may be the tiniest of changes between regions. I just thought I would mention it. Fire me a message if you have specific questions
Synology DS920+ NAS Drive Review HERE – https://nascompares.com/2020/05/21/synology-ds920-nas-drive-hardware-review/
Synology

DS220+

NAS – Retail Packaging
Synology is a brand that is a big fan of slick design, both inside and outside of their ranges. There is the odd bit of personal branded design flare (the logo on the handle, the focus on utility and software, rather than hardware and specifications), as well the practical requirements of supply chain protection and differentiation from other units in their product families. The DS220+ retail box is not a huge change over its predecessor (DS218+) and that is not always a bad thing – if it's ain't broke, don't fix it, etc, etc.
Here is how the DS220+ compares with the DS218+ retail packaging:
The retail packaging of the DS220+ NAS is fairly standard for a Synology solution. Arriving in functional retail packaging, with the odd branded splash of design, if you plenty of information about what you're getting inside, what the device can do and still manages to be functional. Given that this device will generally be purchased via and eShop, such aesthetic retail niceties aren't hugely necessary, so I always appreciate when these extra little marks of branded flare are included.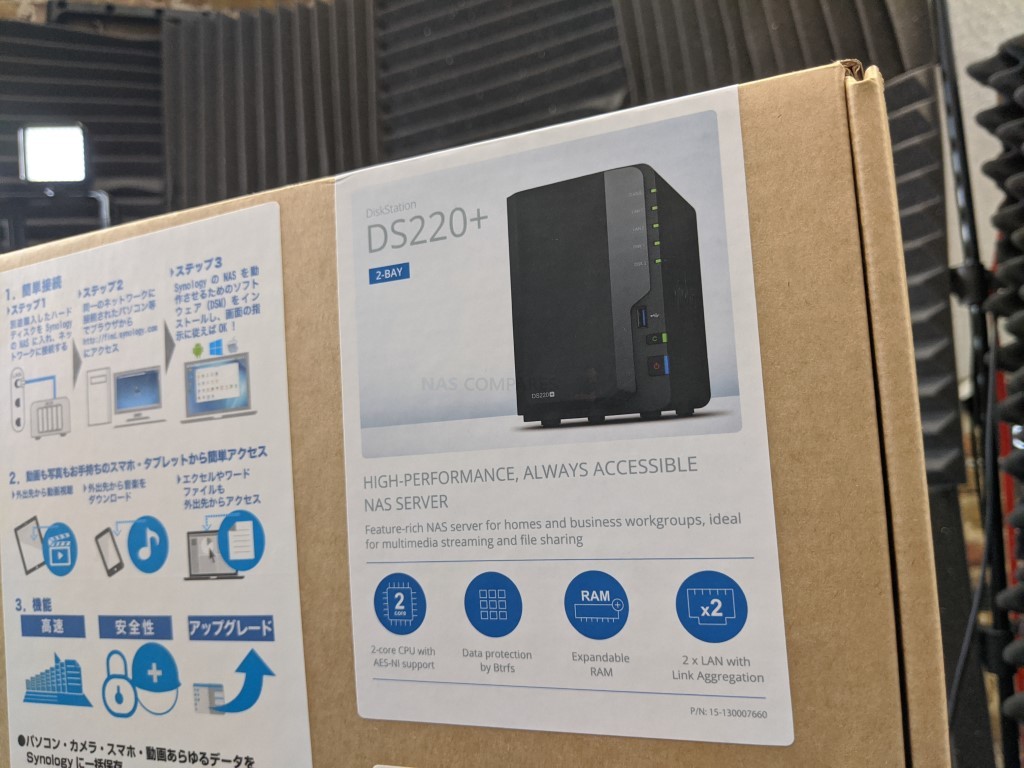 The inside of the DS220+ shipping box shows us the unit in a sealed bag contained NAS, a box of accessories and a cardboard framework that keeps the unit removable in transit. Not quite as robust as some larger NAS devices such as the DS920+ and ds1819+, but given the relative in-expensive of this retail package to the end-user, as well as the lightweight of the chassis unpopulated, this can be overlooked.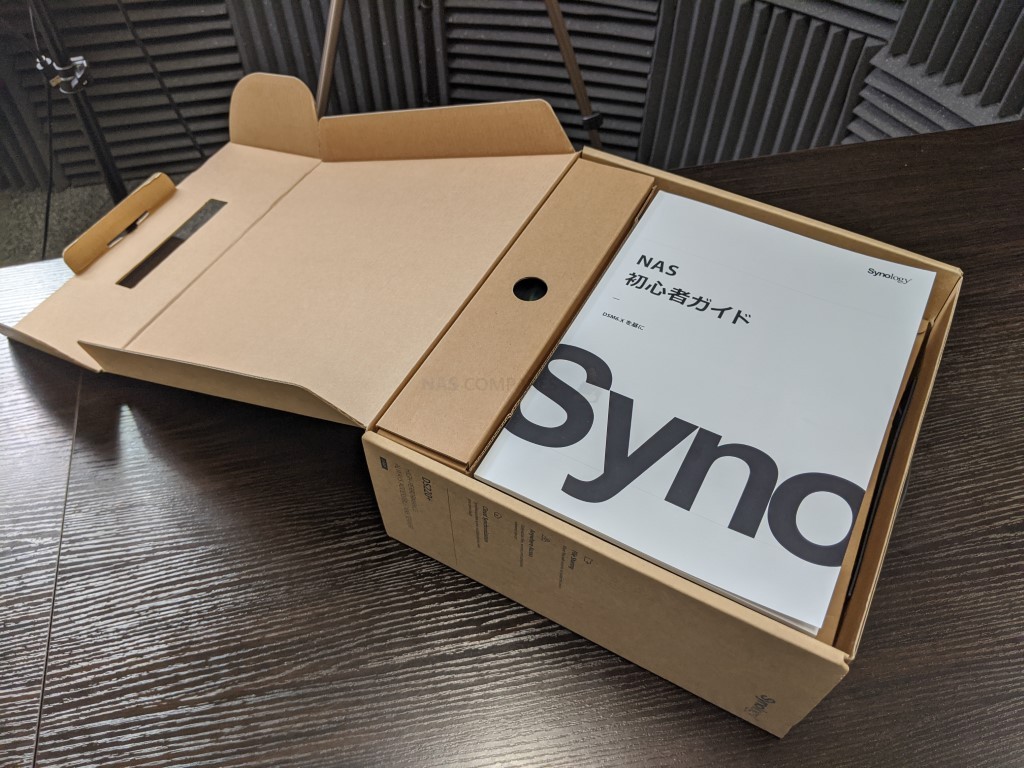 Inside, find the standard accessories that one would expect from a Synology product. With the exception of the media storage, it includes everything you will need to set this device up for the first time. The full contents of the Synology DS220+ accessories kit are:
Synology DS220+ NAS (duh!)

External PSU (65W)

Regional Mains Power Connector (Kettle Type)

2x RJ45 LAN cables

Quick Start Installation Guide

Tray lock Keys

Screws for 2.5″ media
There are little things that always stand out for me in a Synology NAS retail kit that still continue to leave a positive impression on me. Such as the branded PSU inside that gives you that tiny extra bit of confidence that the company handles the production of this element in the hardware, Something that many brands will happily hand over to a third party to save a few quid – no such compromise here!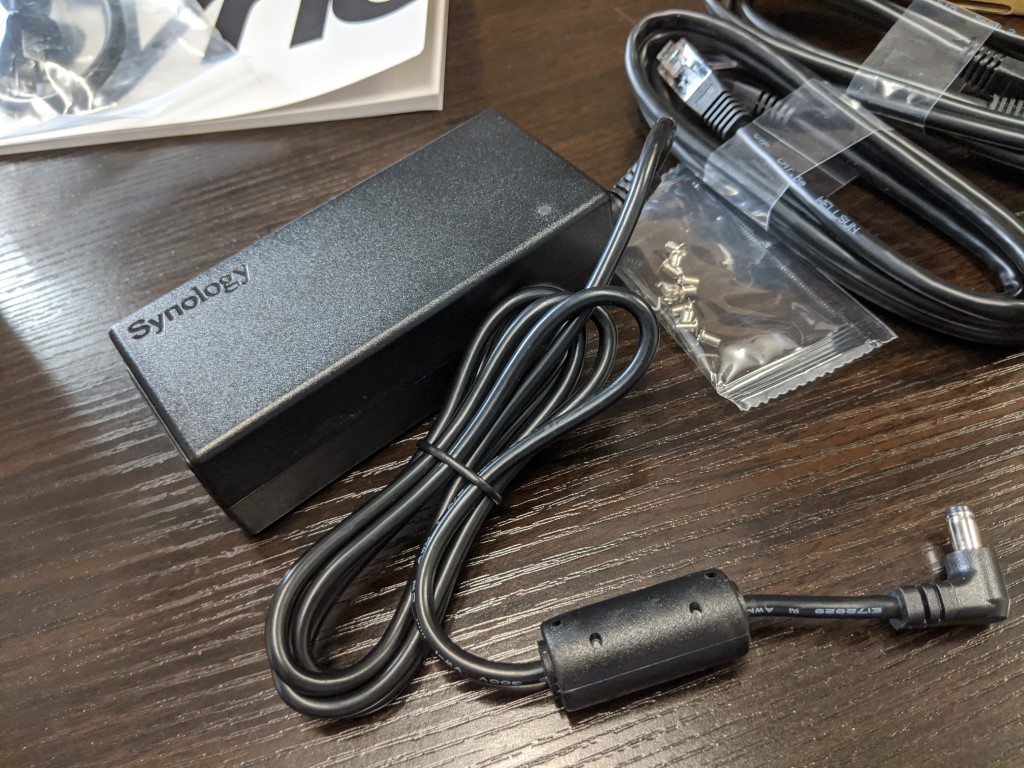 Aside from the branded PSU, the majority of the rest of the contents is pretty standard for this kind of device and allows you to set up pretty quickly from the off.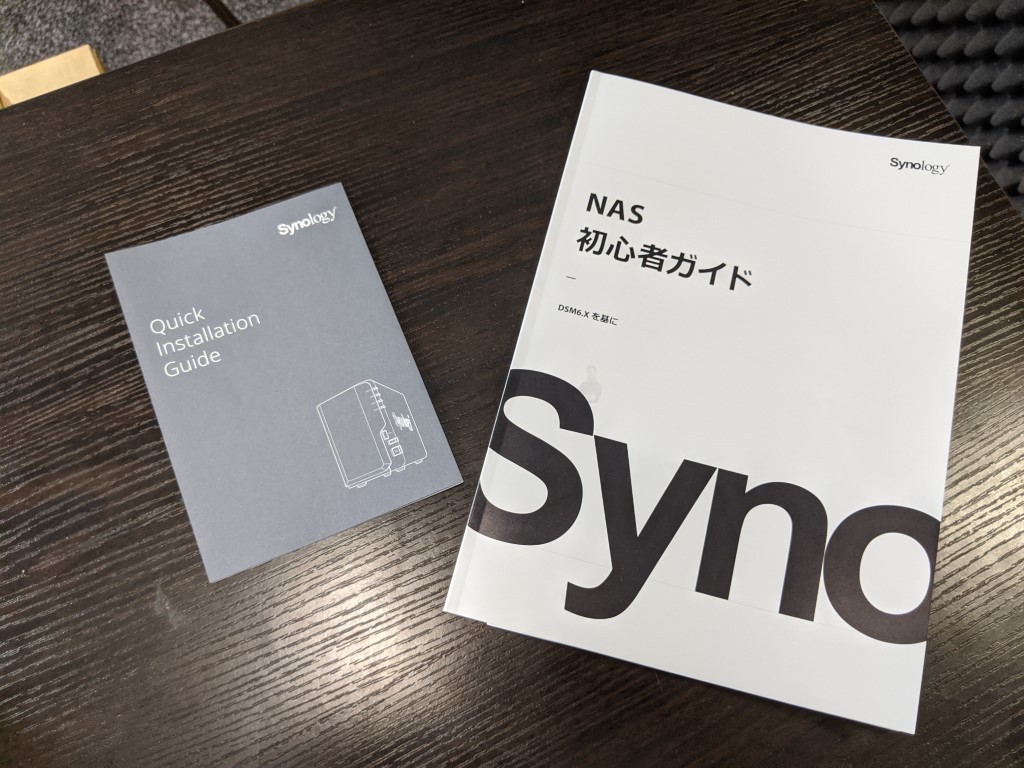 With regard to set up, the device includes a quick-start installation guide. However, I will highlight that it is a fairly brief document that largely directs you to use the frequently updated Synology tutorials and downloadable guide for setting up your network environment on day one.
A booklet with Japanese DS220+ model – Region Specific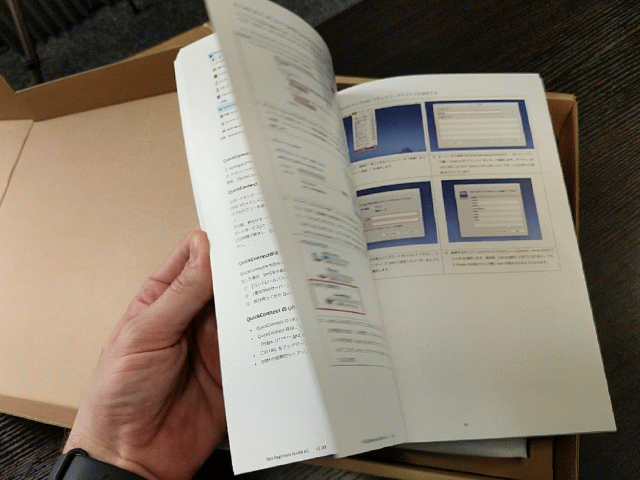 Other regions often receive additional instruction information in their retail kits (as observed in our Japanese Synology DS920 + hardware review previously) so don't be surprised if your Synology DS220+ has a bit more paperwork included.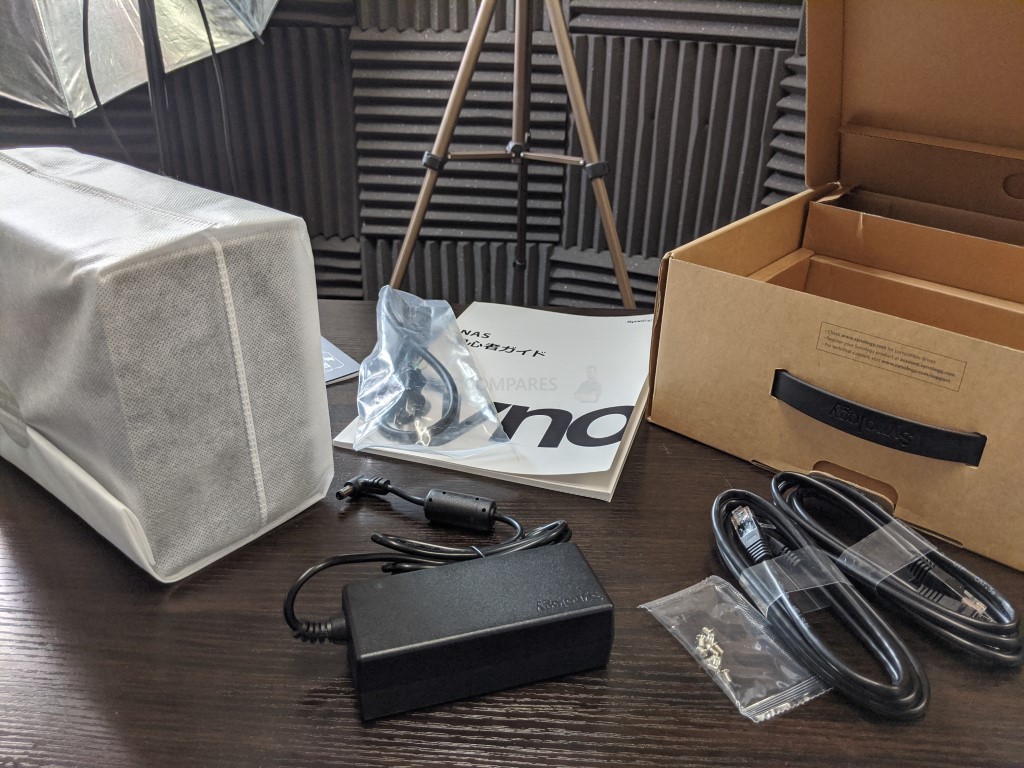 That said, the fact it is an external PSU/Power-brick will make some people happy, whilst infuriating others. There are bonuses to both sides to have a power supplier inside/outside. Having an external power supplier MIGHT lead to accidental disconnection, another part to accidentally lose in transit and might be prone to external damage. However, the reverse argument of an external PSU being easier to replace if needed, results in less internal heat generated, easy of changing main power dependency with a UPS/Battery Pack and 1 set type of connector are all true too. It's a personal preference, but in a small desktop chassis like this, I like the external PSU use. Overall, I am happy with the DS220+retail pack and it maintains the standard we have seen so far from Synology in recent years.
Synology

DS220+

NAS – Design
The external chassis of the Synology DS220+ is near identical to that of the DS218+ released previously (arriving at 16.6 cm x 10.6 cm x 22.3 cm in size). It's an attractive, modern and efficient design that takes an already existing Synology aesthetic and sharpens it in a few ways. Years ago in my review of the Synology DS218+, I described this chassis as comparable to the remake of RoboCop with a slightly edgier and more militaristic design. Fast forward almost 3 years and I have warmed to this design a bit more and when compared to even earlier generations, I think this new chassis wins overall.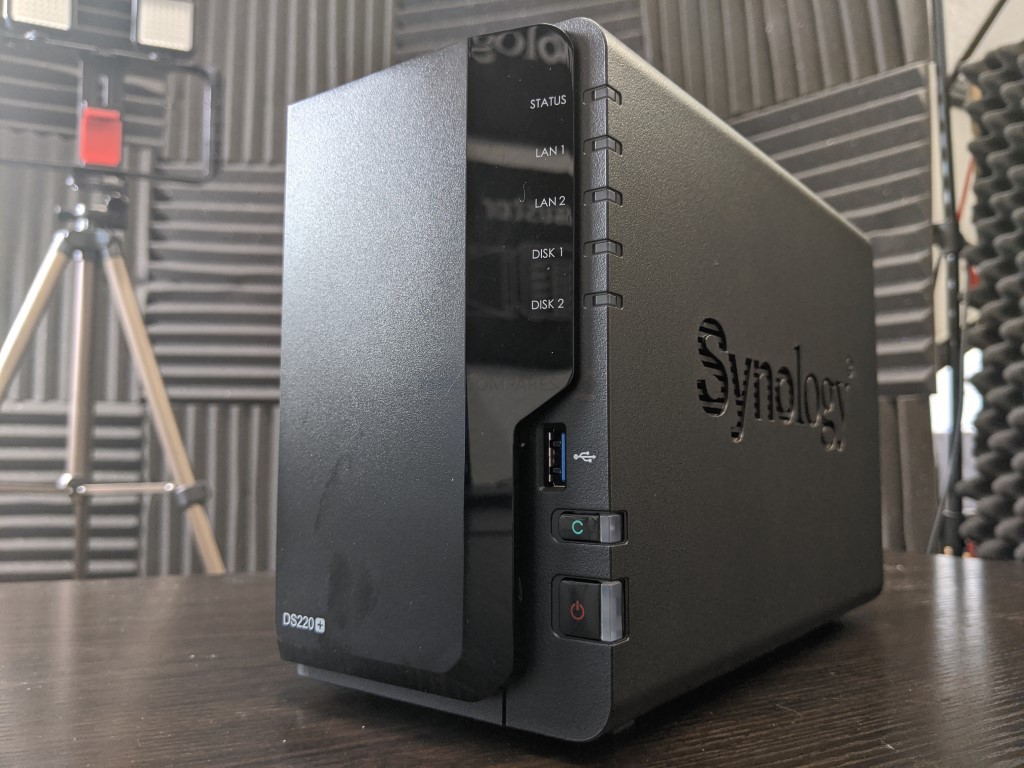 The front of the DS220+ features a removable front panel, designed to protect the internal hard drive bays from accidental removal as well as giving the system a closed front design.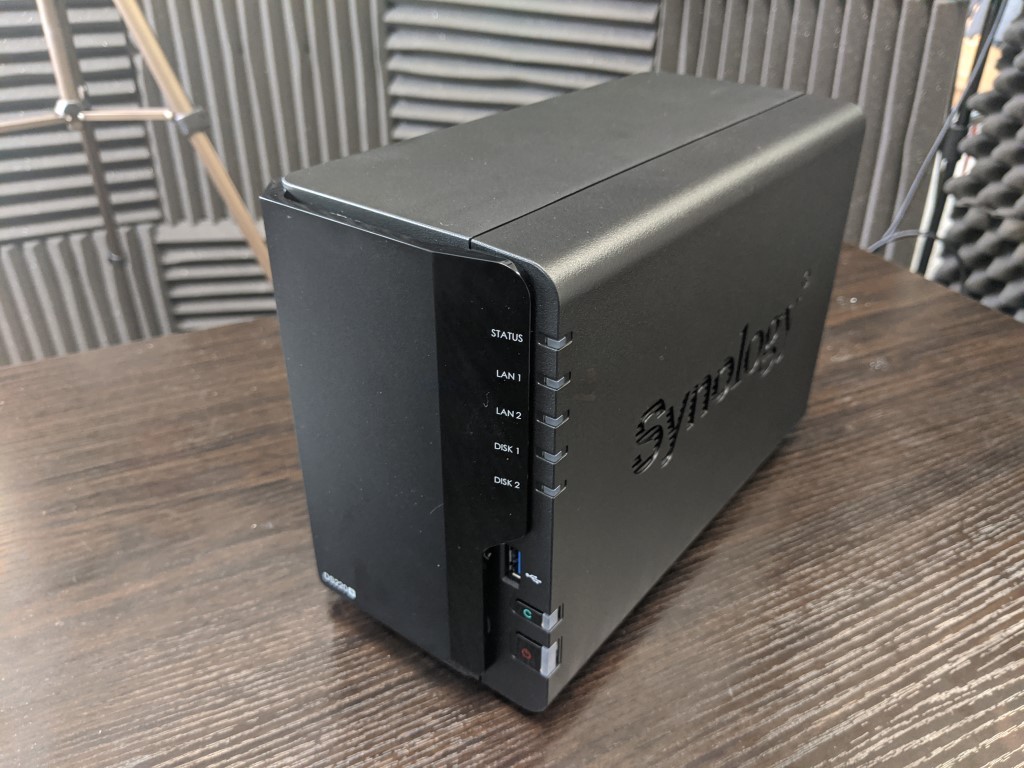 More expensive generations of the Synology Diskstation NAS series will generally arrive with spring-loaded lockable trays that are lockable individually, without a covering front panel, so I've never quite understood why the more standard plus diskstation series like the DS220+ utilize this quirky design choice.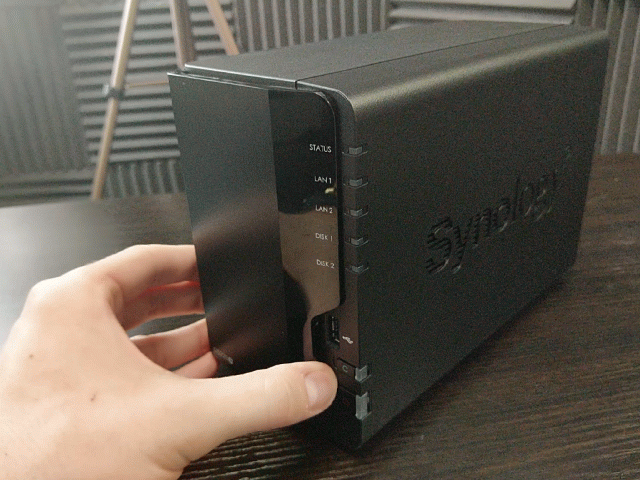 Removing the front panel of the DS220+ reveals two media bays that can be used independently, half populated or fully populated with multiple RAID options for improved capacity or as a safety net in the event of a hard drive failure. Though the device supports both hard drives and solid-state drives over SATA in these bays, the majority of users buying an affordable solution such as this will likely opt for the better value 3.5 in hard drives available in the market today. Other members of the newly revealed and gradually released Synology 20+ Series of diskstations have featured 2x NVMe SSD bays for improved caching, something absent in this tier of NAS.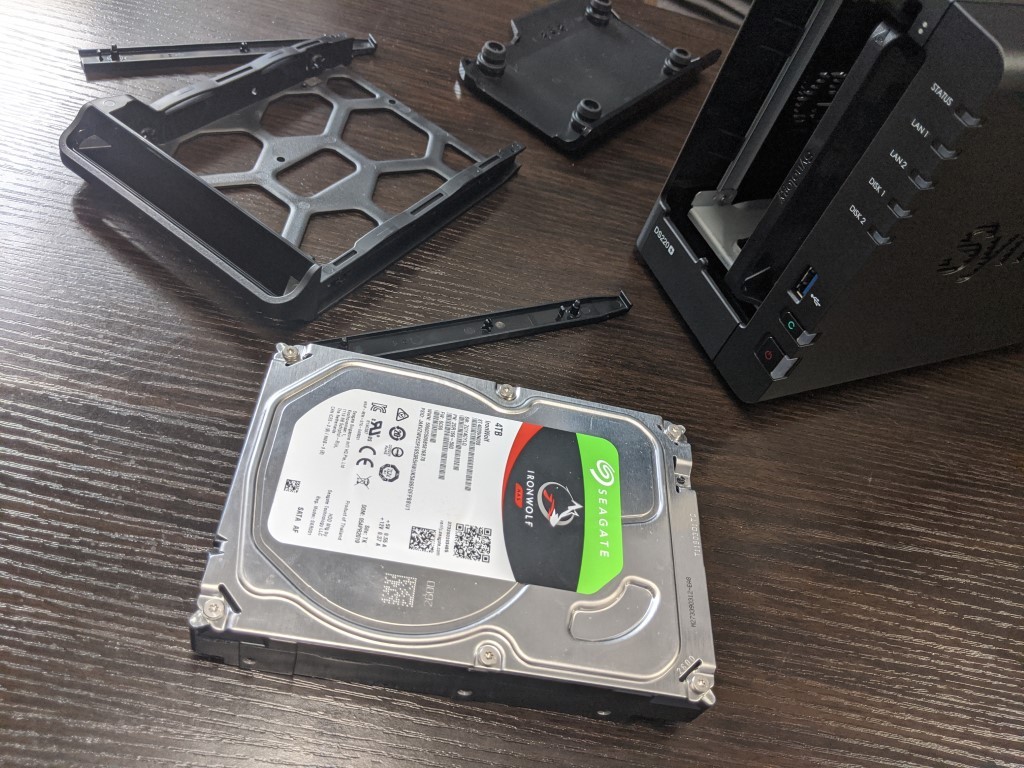 Currently, at the time of writing this review, the largest commercial NAS hard drives you can buy are the Seagate 16TB ironwolf series of network-attached storage optimised drives. That means that the DS220+ can be used as a potential 32 Terabytes of usable storage before applying your RAID configuration, which is damn impressive for a 2 bay NAS.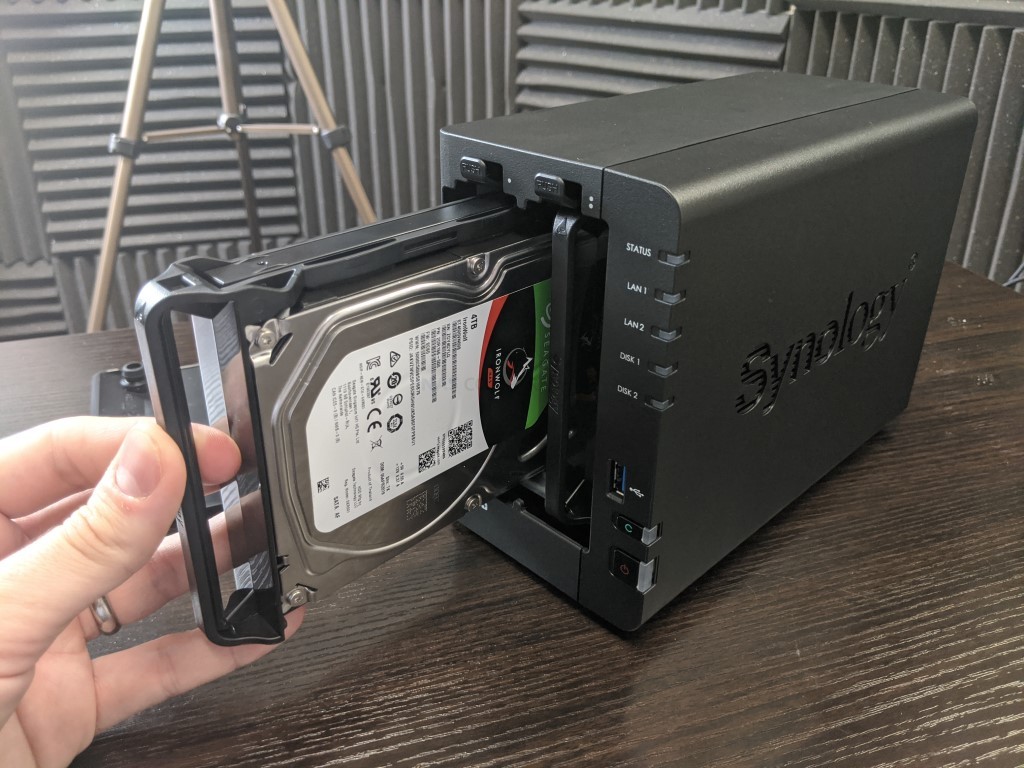 Much like other Synology diskstation NAS, the DS220+ features plastic click and load trays for installing the media in seconds. This toolless means of installing hard drives have been around for a few years, though they have of course had to make tiny modifications in line with bigger and more numerous platter hard drives, as well as the growing affordability of SSD meaning screw holes and additional screws for them to be required in the kit. Considering these are plastic trays, you have to give Synology their due, as they are pretty robust and a far cry from the easy to snap caddies of old.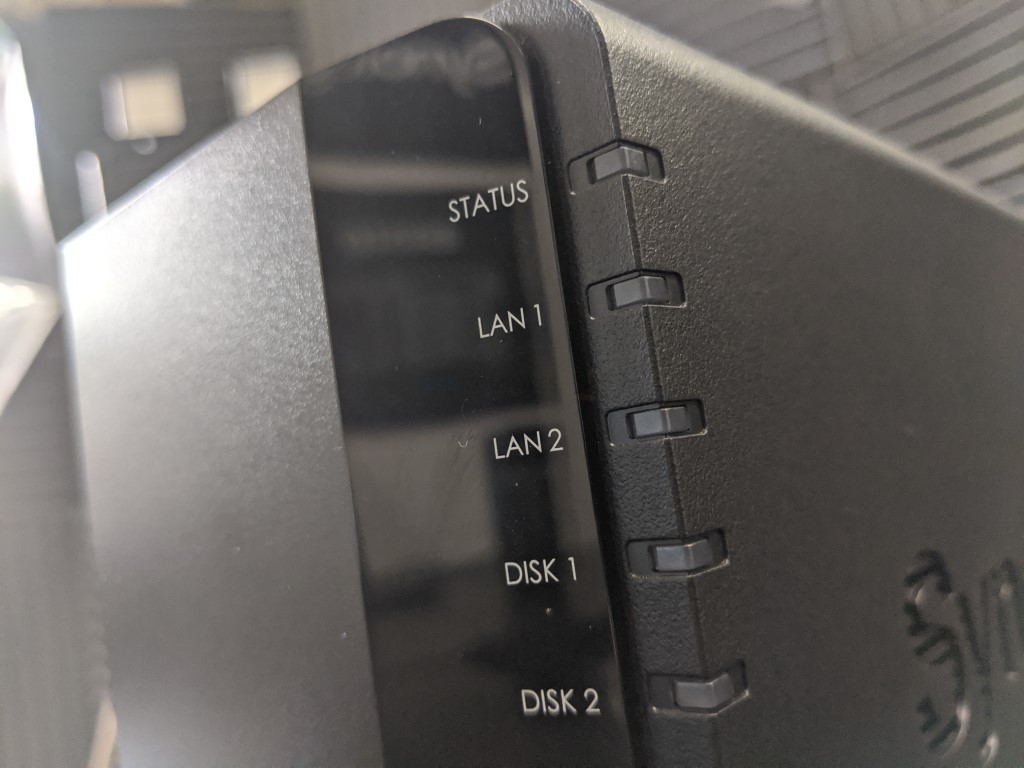 The front of the chassis is also supplied with LEDs that provide the end-user with information, Admittedly, this information is quite light and generally only the denotes power, network access, drive activity and system status. Much like every other Synology NAS, the DS220+ does not feature any form of LCD panel, or physical display of any kind to give real-time information, internal health details or even denoting an IP for users to then use on their desktop. This may well be a bit annoying all those of you moving from techier and hardware are focused server brands of which an info panel on the front of the chassis is standard. However, Synology seemingly invites users to to be able to access all information via the network or internet, supporting a myriad of client devices. Additionally, these LED can be dimmed if needed.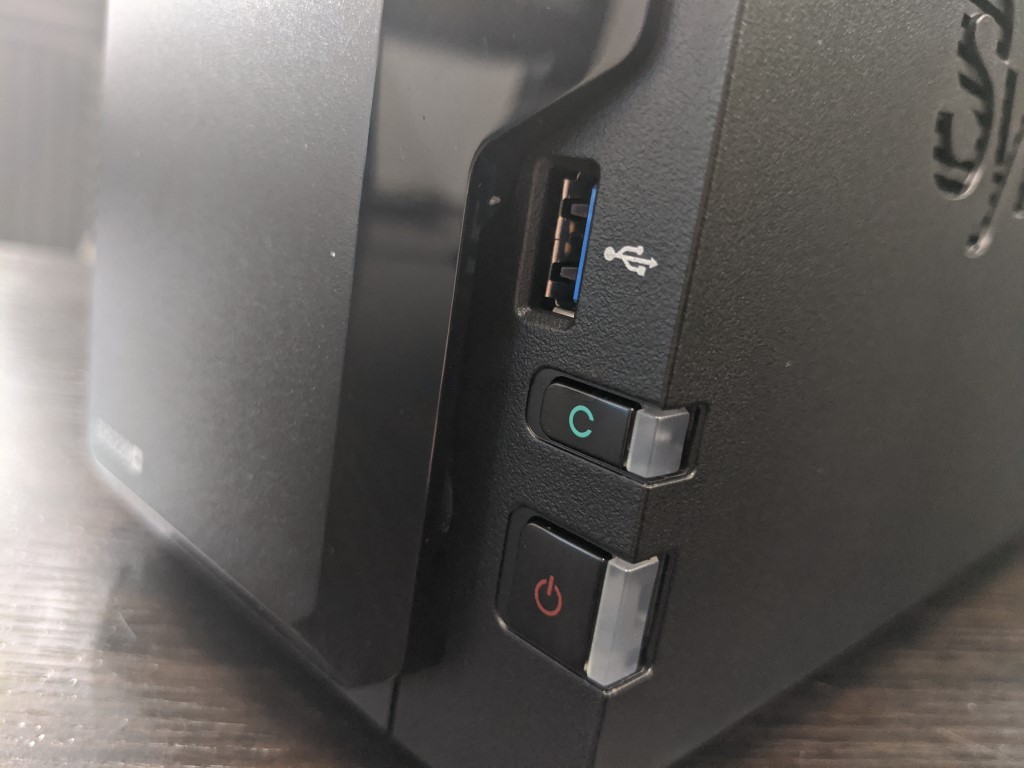 On the front panel, we find a USB port and one-touch copy button, something that has been featured on the majority of diskstation NAS for almost 10 years now. This rather simple but useful addition, allows users to back up the contents of an external drive to the NAS, or vice versa, at a single touch of a button. There is even a dedicated USB copy app in the DSM software that allows you to create whole Drive backups, differential backups (so, only the changes), all-time managed backups that will create a complete independent backup each time the button is clicked. you can even preset rules where only certain file types or certain folders are affected by the click of this physical button and although this is a fairly low key feature that is common among Synology NAS hardware, I am still always pleased to see it's presence continue on this diskstation series.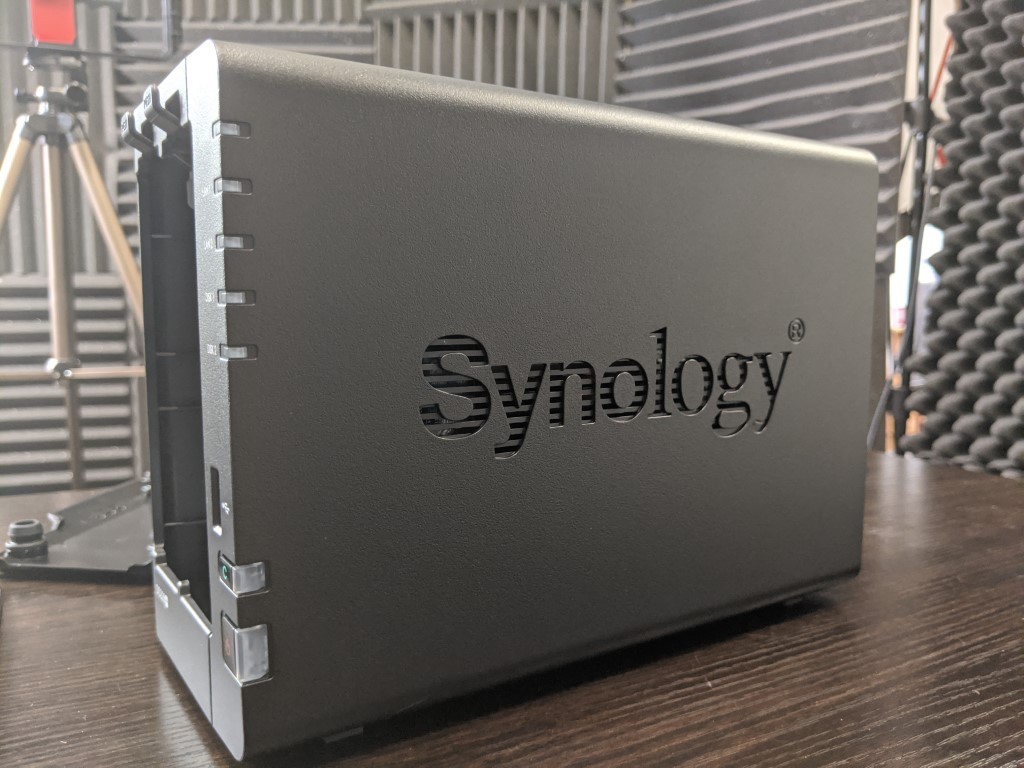 The sides of the DS220+ NAS chassis, much like the rest of the casing, is plastic in material and houses a small internal metal framework of PCBs, chips and simple yet efficient circuit boards. Two important design features that are factored into all NAS drives is that of ventilation and noise. The plastic chassis of the DS220+ does an excellent job of maintaining low internal noise levels, as well as doing a slightly better than average job of disguising noise than more enterprise-level hard drives that tend to generate their own degree of noise.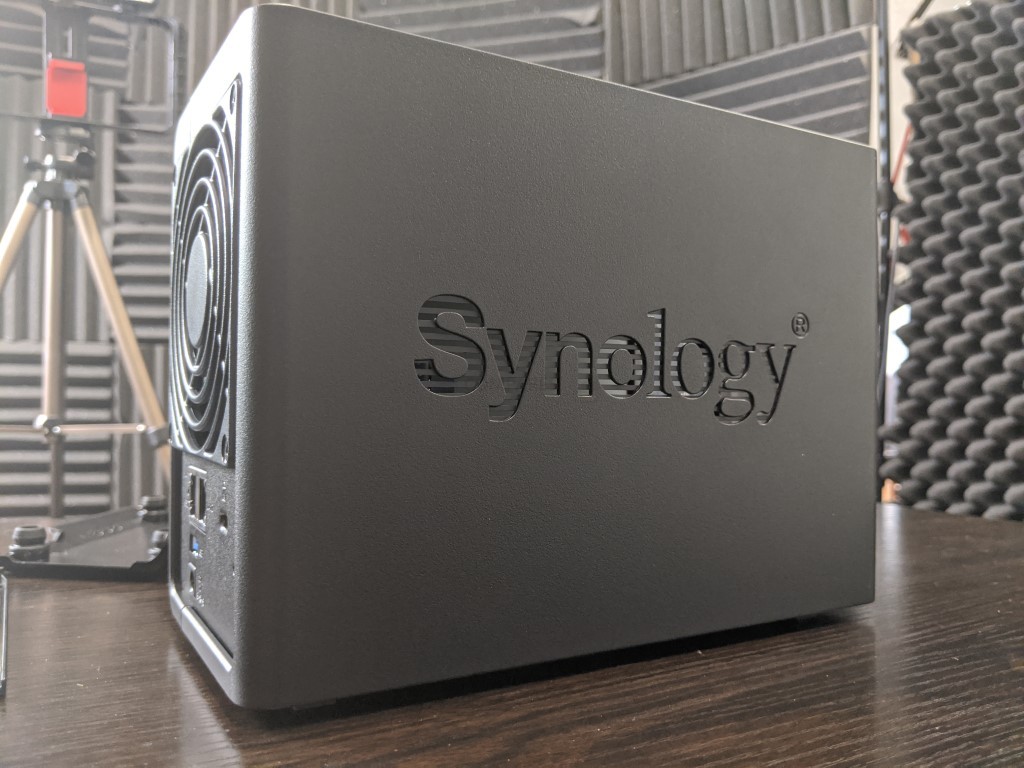 However in terms of ventilation, they do an especially great job of keeping things cool, yet still very on-brand. Either side of the DS220+ chassis features a ventilated embossed Synology logo, that act as passive airflow in conjunction with the active rear fan of this NAS. This combined with the raised front panel with ventilation slots, further ventilation in the base of the case and the logos acting as dust capture filters in some cases, mean that there are plenty of small yet impactful design choices that are conducive to an efficient and cool 24×7 power-on environment. This is still a welcome and smart move on Synology design team. It may seem like remarkably underwhelming design traits, but much like the 1st party PSU, vented logos and contained design, it's just another part of what makes Synology very much the Apple Mac of NAS.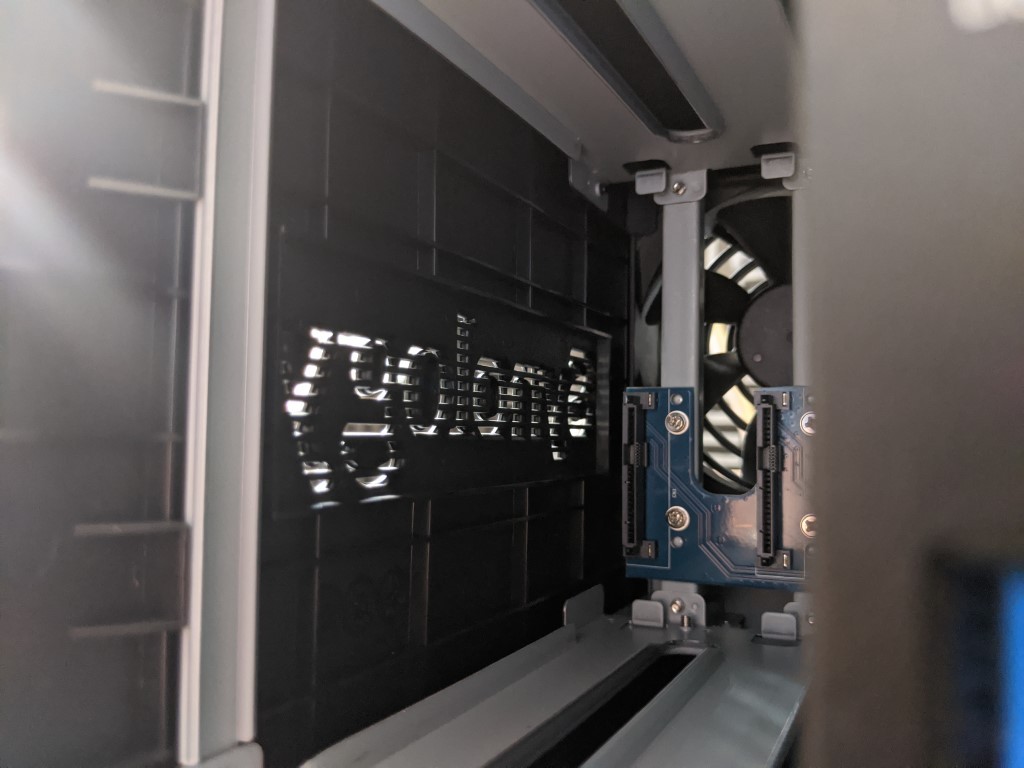 Synology

DS220+

NAS Review – Rear Ports
Taking a look at the rear of the Synology DS220+ 2-bay NAS, we find the first real meaningful change in design between it and the DS218+ released previously. However, there is still plenty of similarities.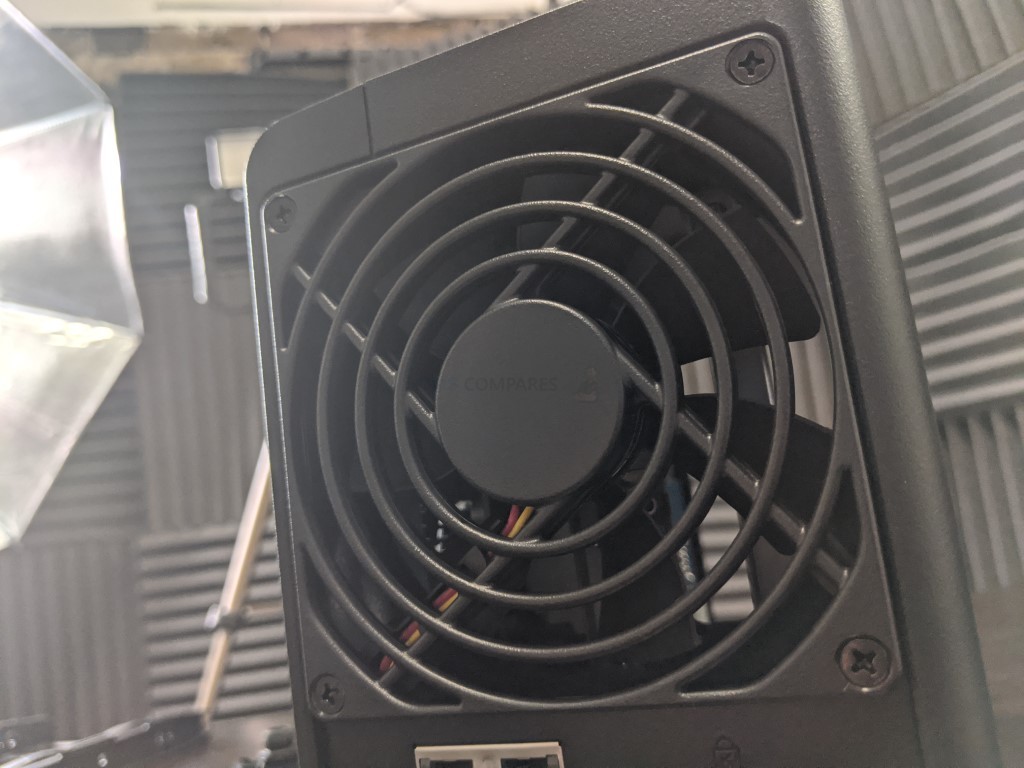 For a start, we still find a single rear-mounted fan that can be adjusted automatically or manually by the end-user, which works in conjunction with the passive cooling throughout the chassis.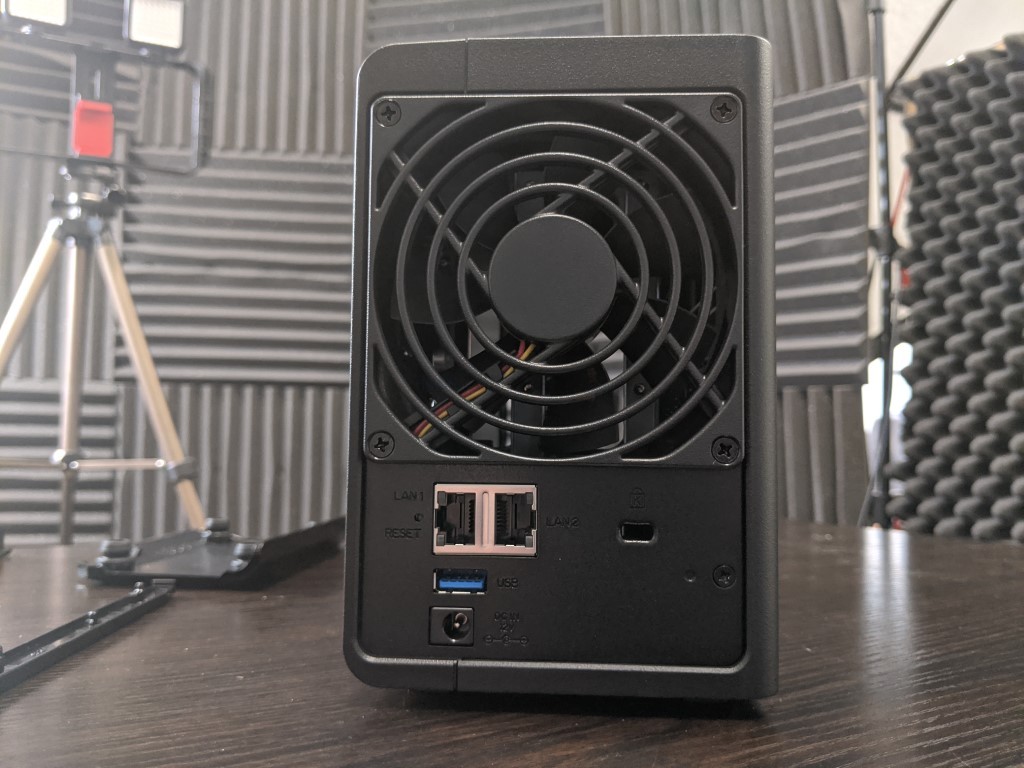 Likewise, there is a further extra USB port available for connecting additional external storage, as well as other supported devices, ranging from UPS', compatible Wi-Fi dongles, network-attached printers and more. Unlike a few of the other brands, Synology has always kept local visual access and control via a peripheral device largely off the table (eg HDMI, remote controls, keyboards, etc), so you will never really find a compatible remote control or KVM standalone setup that will work with the DS220+ or indeed any Synology diskstation NAS (with the NVR1219 and NVR216 proving an exception).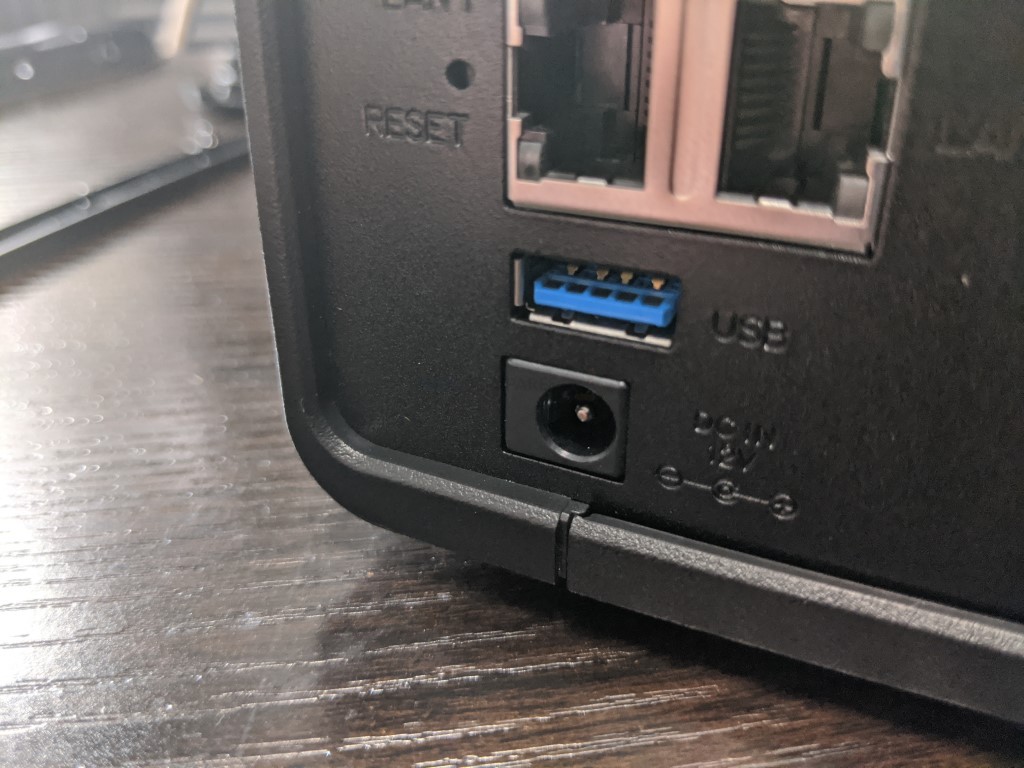 Once again, this very much plays into the rhetoric of the brand and its priority of a seamless network and internet level access, not really seeing market demand for HDMI and stand-alone general access.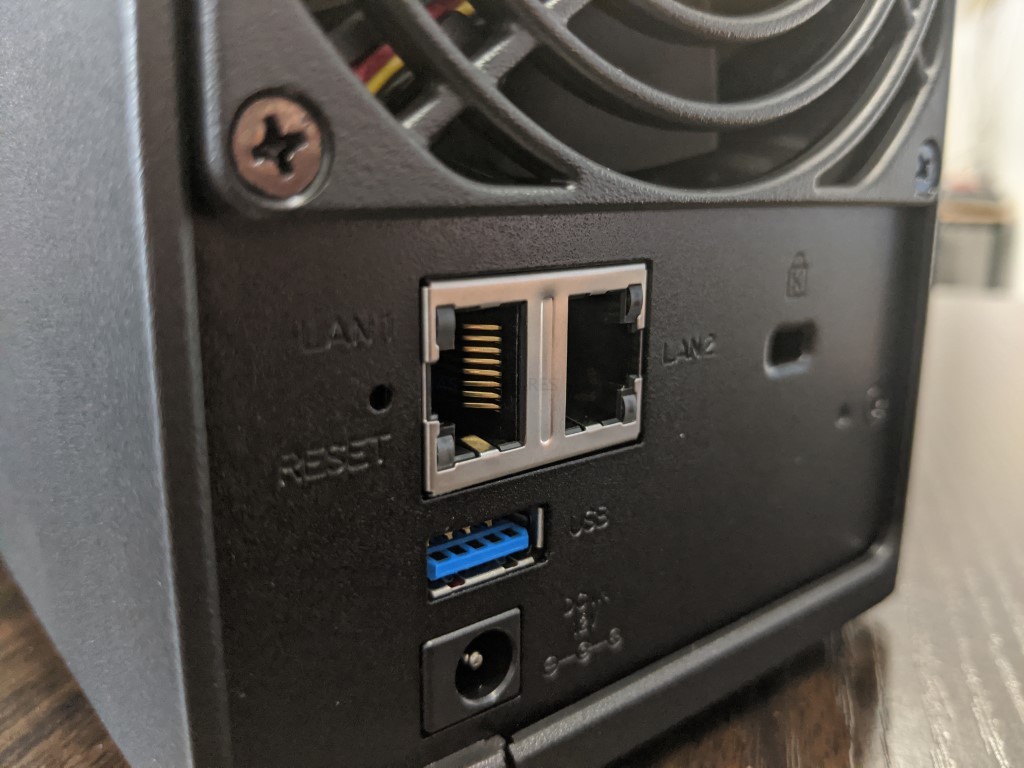 Though the biggest change externally between the new DS220+ and it's predecessor the DS218+, is the inclusion of an additional RJ45 LAN 1Gbe Port on the newer model. Previous generations of Synology NAS in this product family (i.e DS218+, DS216+, DS214+, etc) have all arrived with a single network ethernet connection, as well as a now missing eSATA Port. I can certainly see the logic behind removing the eSATA port, given that Synology state this hardware level is not considered sufficient for utilising the DX517 expansion as anything more than external storage, but the inclusion of a second network port is definitely welcome, as well as particularly good news for those with managed switch environments and better than average ISP routers can take advantage of it. ThiS is also going to be good news to those with WiFi 6 routers that are beginning to arrive with dedicated 2.5Gbe LAN ports and modern mobos with 2.5Gbe too. Introducing a LAG enabled NAS into a network with open up the available file access to multiple users at once achieving higher speeds compared with what they would see one shared 1Gbe NAS connection to the network.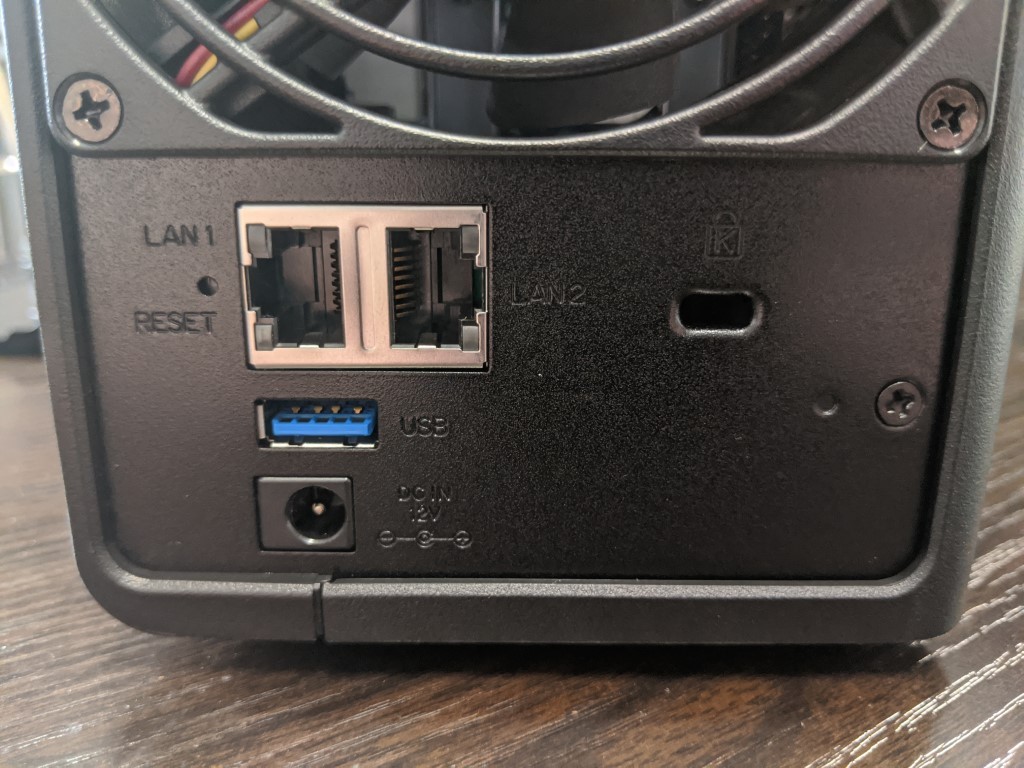 The importance of an additional 1Gbe LAN Port is clear to anyone with a managed network switch or a dual-port network adapter on their client system. Two LAN ports at 1Gbe each, opens the door to up to 200+ MB/s over link aggregation/port trunking (and to a lesser degree load balancing) with a supported hardware environment. Other releases in the 2020 diskstation range from Synology have all featured two 1Gbe LAN ports, but whereas there are still a few outcries of a lack of 2.5Gbe on the more expensive series, most users will be pleased as punch to hear that they can get link aggregation up and running on the DS220+.with the exception of this modification between generations of network ports and losing the eSATA connection, the DS220+ and DS218+ NAS are but identical in design externally.
Synology

DS220+

NAS Review – Internal Hardware
At a brief glance of the hardware specifications found inside the Synology DS220+ compared with the older DS218+ release, it appears that on a part-by-part level, things are largely identical, despite the near three-year release difference. Below are the core specifications:

However, dig a little deeper into to the model's comparable frequency and efficiency of those similar components and you do see a significant jump in a number of ways these two NAS compare. Both feature an Intel Celeron dual-core processor that supports both 1080p and 4K playback. Thanks to embedding graphics featured on this processor (HD UHD Graphics 600), there is is a good level of transcoding support possible natively (as well as in Plex, but slightly less so). However, that newer generation CPU found in the DS220+, the Intel J4205 processor, allows for a much higher frequency both in standard use and when extra resources are required from the CPU. if you are a single user, you will likely not really see the difference between the old and new gen processor in day-to-day file handling operations. However for multimedia uses, as well as those who intend to allow friends, family and colleagues to access then NAS simultaneously, there are clear advantages to that newer processor with it's improved graphics and higher frequency. That processor also allows the use of more efficient and higher frequency memory, making the switch from DDR3L 1866Mhz in the DS218+ to the the 10 to 20% faster DDR4 in the DS220+ at 2666Mhz.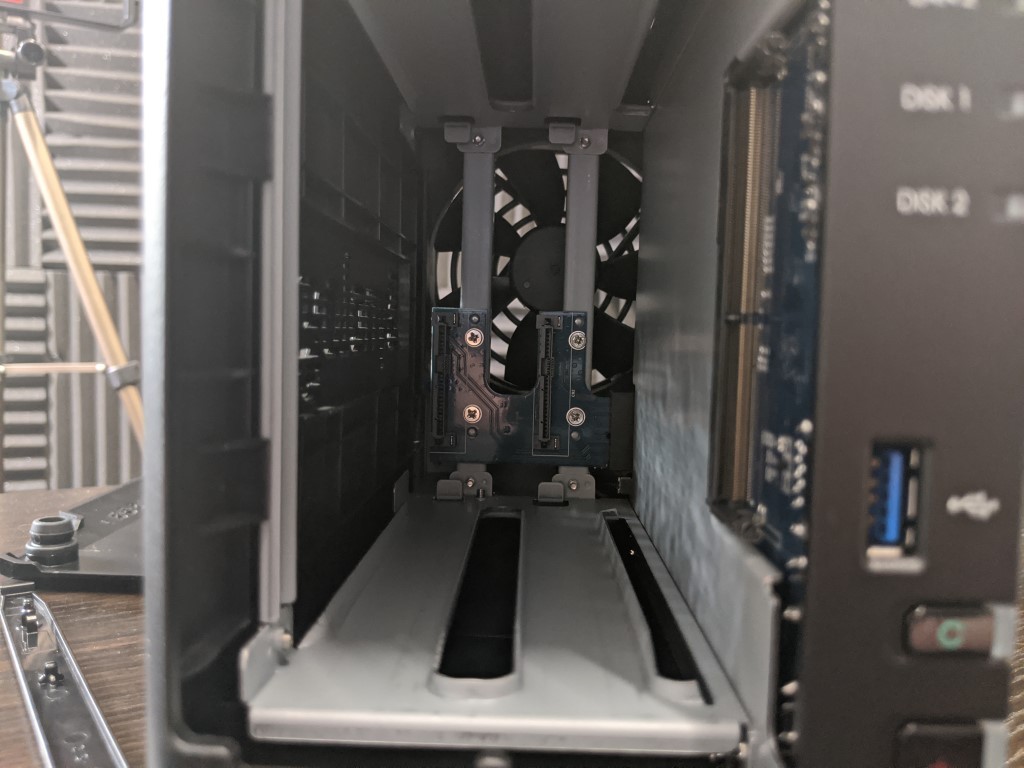 That said, the DS220+ still limits you to a maximum 6GB of memory, with an internal inaccessible 2-gigabyte module included and an available upgrade slot to install an official Synology DDR4 4GB memory module. Notwithstanding the fact that this CPU has as official support of upto 8GB of memory maximum, it seems an odd choice to pair different capacities of memory within a single device. There is not anything intrinsically wrong or damaging in pairing contrasting memory capacity, it just seems an odd choice to make from such a slick company as Synology. This may well be related to users who purchased the previous generation NAS and installed unofficial memory that exceeded the recommended maximum previously and in efforts to ensure system stability, perhaps they created this limitation. However, that is pure speculation from me!
Synology DS218+ Memory Module

Single Module available inside the bay area

Synology DS220+ Memory Module

1x Available slot in the bay area, another pre-populated and generally inaccessible
The 2/6GB memory option on the DS220+ is a bit of a shame in some respects. 6GB is still a great amount of memory (well, I say that -as I touched on earlier, it's a bit odd to use a 2GB and 4GB stick in a pair), as well as the DDR4 SO-DIMM 2666Mhz memory available being some 10-20% faster in usage frequency than the 1866Mhz DDR3L SODIMM on the past DS218+. However, it is worth noting that if you the 2GB starting memory it starts with will be utilized by the intelligent caching/flushing feature of DSM. What this means is that if you look at the resource monitor when the device boots, it is caching more data in the memory than it technically needs to. This is not a bad thing though, as when the memory is needed for applications and services, it is near-instantly flushed by the reserved system area. The result is that the OS of DSM via the browser seems silky smooth at all times and when an app needs the resources, it makes it available – very 'Mac'. Though this means that if you are running 2-3 CORE applications (VMM, Surveillance, Containers, Plex) then you are going to hit a few bumps on the 2GB that the unit arrives with.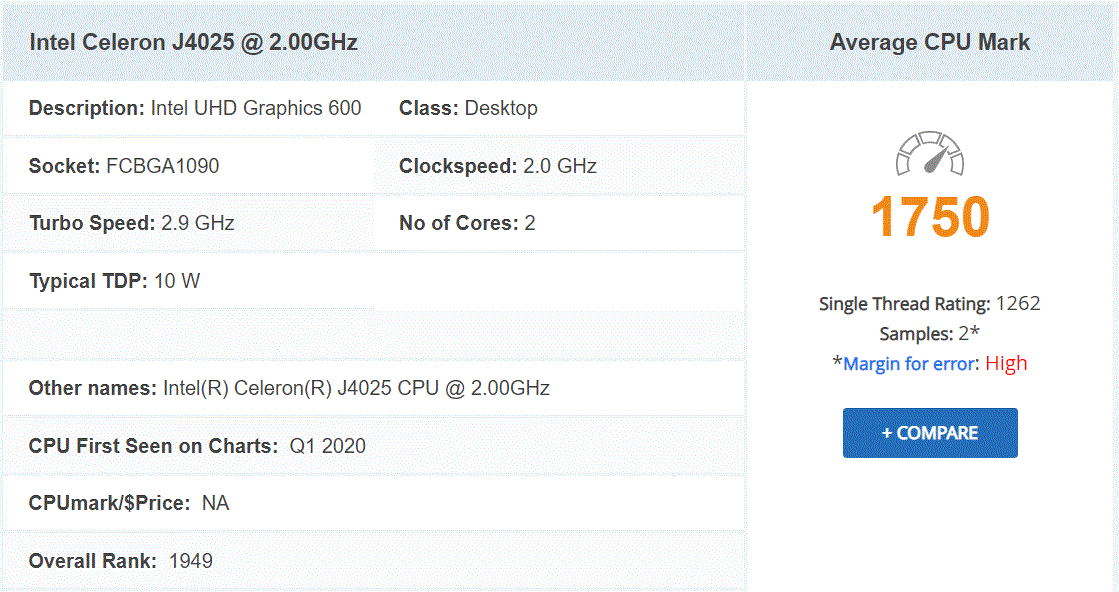 Aside from these core 'PC builder' spec hot point's, the rest of the internal hardware build of the Synology DS220+ is a clean and efficient affair. Internally, with the exception of the rear fan, there are are no moving parts and practically no wires. The internal SATA board that connects the media bays is clean, clear and sits directly behind the rear rotating fan for optimal ventilation. This controller board connect with a secondary board inside that houses the memory and CPU components, as well as as other less notorious chips for network handling and even a dedicated small area of flash that houses the system software, DSM. Overall all it is a fantastically lightweight and efficiently optimised piece of hardware, clearly designed to withstand the rigours of a 24/7, month by month power on lifestyle. Not an enormous jump from the previous gen, but certainly a robust and reliable hardware architecture to begin storing your data. But what about the Synology software, and how the device manages your bits and bytes? Let's talk about how the Synology DS220+ runs DSM and to what extent do expect to be able to use those lovely applications it includes.
Synology

DS220+

NAS Review – Software
Buying the Synology DS220+ NAS is actually a 2 part deal. The hardware is something that Synology tend to lend the smaller % of your investment towards and in fact, it is the Synology system software, it's in-built applications, client apps for desktop, mobile clients for iOS/Android and constant evolution over the last decade or more that they consider 'where your money goes'. Fair play to them, Diskstation Manager (or DSM, currently at version 6.2 at the time of writing this review and DSM 7.0 on the horizon) is probably one of the best examples you can have of that fluid 'operating system feel' that we get from Windows 10, OSX and Android – but hugely focused on DATA. The hardware inside the DS220+ does take a few of the more popular applications off the table, or at the very least requires them to be a bit streamlined in order to function on this hardware. This is not new and it is already fairly well understood by Synology NAS users that different tiers of Synology NAS hardware will result in slightly different DSM experience, see the video below to give you more of an idea:
All this said, for a dual core NAS with just 2GB of memory, DSM runs to a surprisingly high degree and pretty much the entire library of Synology First Party applications are available to download from the app center (no additional cost). Many serve as alternatives to 3rd party applications that you may already use in your PC/Mac/iOS/Android environment and your data can be exported to the Synology NAS alternatives pretty easily. So, key examples of these applications that you might buy the DS220+ for are:
First Party Apps
Synology Office (Docs, xls, PDF, etc – Alternative to Google Docs)
Synology Chat (Alternative to Skype for internal User Conversation/Collaboration + mobile app)
Synology Drive (Alternative to DropBox/Google Drive with 1-point access to all file types for Mobile and Desktop, as well as intelligent localized sync)
Synology Moments (Photo Sorting and Tagging system with Deep Learning)
Synology Hyper Backup (for creating a multi-tier backup strategy that allows NAS<->NAS, NAS<->USB, NAS<->CLOUD, NAS<->SERV Backups
Synology Calendar (Smart Calendar App, can be used in conjunction with other apps)
Synology Active Backup (Manage Multiple Server/PC backups via a single control point)
Synology Surveillance Station
Synology Virtual Machine Manager (setup and manage multiple VMs on your NAS)
Synology High Availability (for Syncing Synology NAS and having instant failover support to ensure constant connectivity)
Synology Multimedia Apps (Video Station, Photo Station, Music Station, File Station, etc)
Considered the Synology DS220+ NAS for Plex? Read the NASCompares 4K & 1080p Plex Test by clicking below or visiting HERE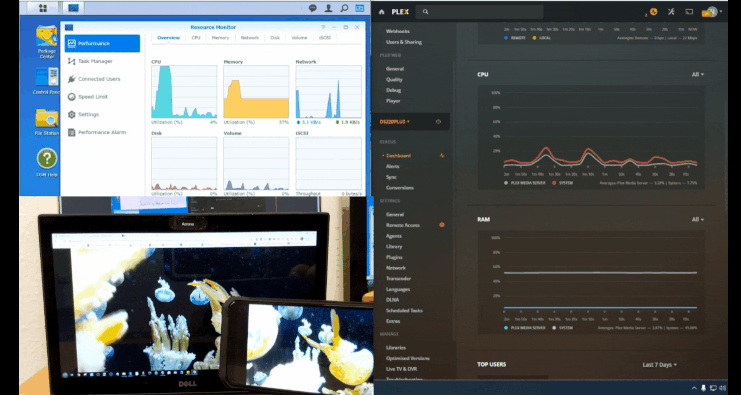 Now, as good as that all sounds, here is the slight rain cloud on your parade. Some applications are alot more resource-hungry than others (either generally or need you to pre-allocate the resources early on), so applications as the Virtual Machine Manager and Surveillance Station are quite hungry when in use, taking the lion share of your system resources. So, if these are the MAIN reason you are buying the DS220+, then I would recommend a device such as the DS720+ or DS920+, as these will arrive in quad-core and (at least in the case of the DS920+) can have the memory upgraded to 8GB. Likewise, the Surveillance station application is EXCELLENT and easily the most intuitive, feature-rich and slick surveillance and NAS NVR software available on ANY platform (I stand by that!) but that CPU and Memory combo in the DS220+ will reduce your total number of cameras to around 15-25 (based around the features/quality of the cameras you use) and still use a large % of your hardware. Ultimately, what I am saying is that the DS220+ NAS arrives with excellent first-party app support, more than you might expect at this price point, but if you are going to do far more demanding tasks that have a strong whiff of business about them, this may struggle.
However, the charm of the Synology DS220+ NAS extends beyond its first-party Synology apps and supports a large range of 3rd party applications, with many available in it's own app center or downloadable via their respective 3rd party sites. Though there are multiple DLNA media center apps, 3rd party cloud migration sites, web host tools and smaller container box apps that people look at using on a Synology, I think one key question many users have is about how well the DS220+ performance as a Plex Media Server.
Third Part App Support
Google Drive, DropBox, OneDrive, Elephant Drive and other cloud migration tools
Docker for virtual application environments
We will be running multiple Plex Media Server videos on the newest generation of Synology NAS that go into more detail, however with regard to the DS220+ NAS it is safe to say that at its price, it DOES give you a good low-level Plex Media server with some 1080p transcoding (with a Plex Pass for Hardware Transcoding enabled), but you will need to give this a miss if you have more intense files in mind that either need conversion across diverse devices in your environment OR are particular high bitrate files. It will certainly playback mostly anything (as long as you do not need transcoding i.e you have a remote internet connection and/or client device to watch on that supports the original format), thanks to the CPU supporting 4K/1080p playback. But there is a reason why the DS920+/DS918+ are the more suitable choice for Plex. If you are drawn to the DS220+ for multimedia and it's price tag, then I STRONGLY recommend you use Synology Video Station, as it has native access to the transcoding on the NAS CPU, has alot of the cool metadata scraping and smooth design of Plex, has applications for Amazon firestick, desktop and mobile devices and does not need a subscription of any kind. The DSM platform has evolved a great deal over the last few years and has become practically an entire reason to buy a Synology NAS on its own. You can, of course, try out the Synology DSM software platform before investing in a NAS, by visiting the link below and trying DSM 6.2 for yourself:

A full software review of the DSM 6.2 platform on the DS220+ NAS is currently in process and I hope to have this to you here on the blog very soon or on the YouTube channel in due course. Stay tuned.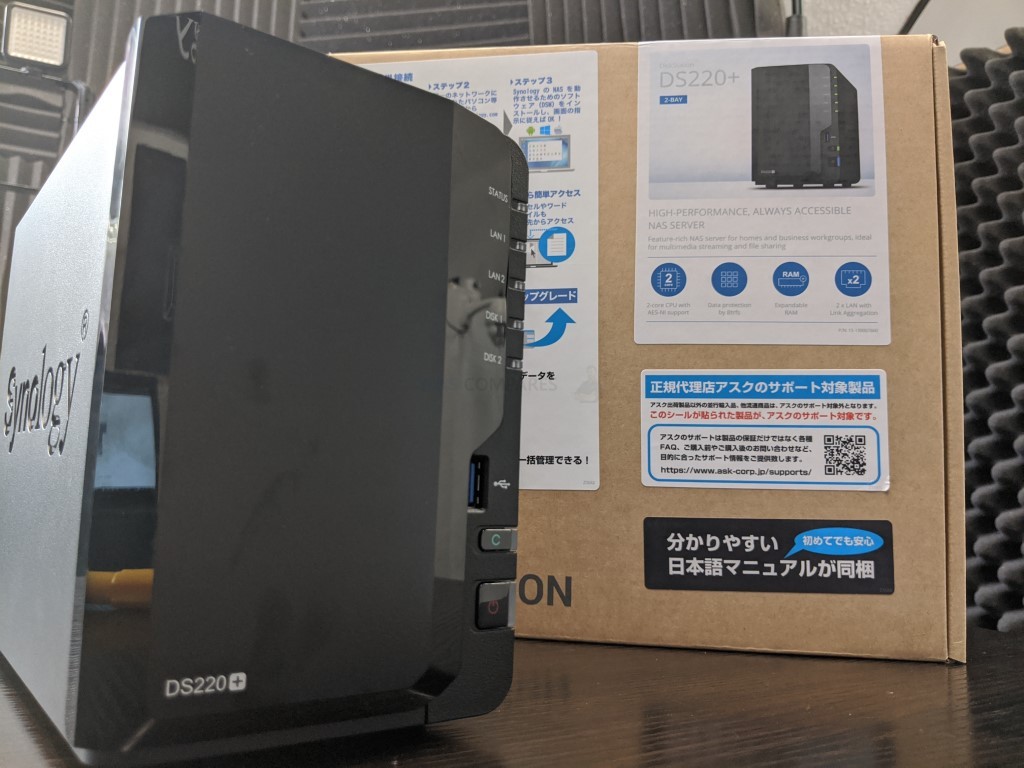 Synology

DS220+

NAS Review – Conclusion
The Synology DS220+ affordable NAS does not make overly bold promises, leaving those to more expensive and more powerful devices in the product portfolio (DS920+, DS1621xs, etc). Whether you are a new or old NAS user, Synology has made a clear distinction in the DS220+, showing the difference between buying what you want and buying what you need. That may sound like pointless and annoying rhetoric, but comparing the DS220+ with other diskstation plus series NAS shows you that by removing a lot of the bells and whistles of the bigger and boulder devices (i.e NVMe SSD caching, expandability of storage down the line, longer warranties and higher end processors) it provides you with a setup that will serve a smaller and less intense user exceptionally well, at a price point that makes the first investment in a Synology NAS considerably easier to make. Ultimately, why buy a Ferrari if you just need something to do the weekly grocery shopping? The Synology DS220+, much like its predecessors in this product line, is still a great and solid NAS purchase in 2020 and something that Synology can continue to be proud of, just don't expect that Ferrari and you'll be fine.
PROS
CONS

Excellent choice of Apps

Snapshot Replication

BTRFS and SHR

Support Plex

4K Video transcoding

Full Plex Transcoding

Hot-Swap trays

DLNA Compliant

Dual LAN

Only 1Gbe Ethernet ports

Only a single accessible Memory Bay
Visit the NASCompares Deal Finder to find the best place to buy this device in your region, based on Service, Support and Reputation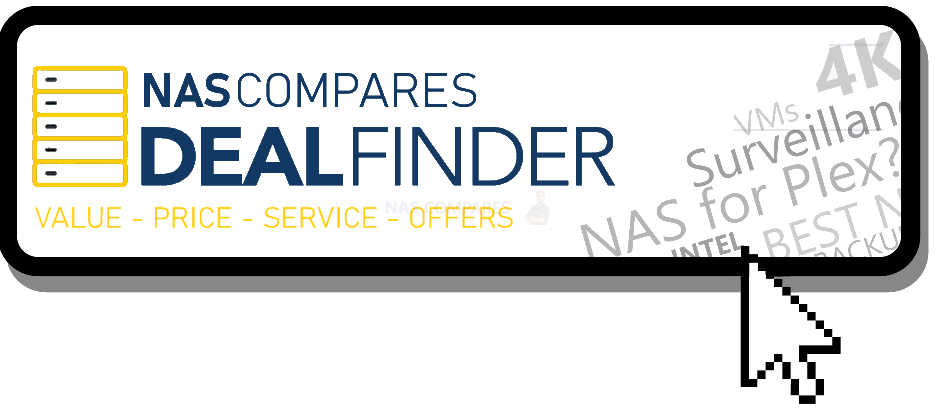 Click Below to Read my Synology DS220+ and DS218+ NAS Comparison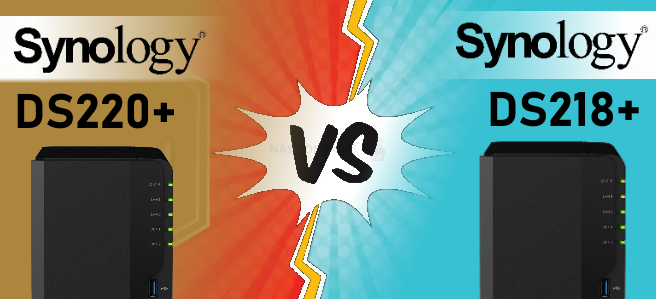 📧 LET ME KNOW ABOUT NEW POSTS 🔔
Join 1,570 other subscribers
Get an alert every time something gets added to this specific article!
This description contains links to Amazon. These links will take you to some of the products mentioned in today's content. As an Amazon Associate, I earn from qualifying purchases. Visit the NASCompares Deal Finder to find the best place to buy this device in your region, based on Service, Support and Reputation - Just Search for your NAS Drive in the Box Below
Need Advice on Data Storage from an Expert?
We want to keep the free advice on NASCompares FREE for as long as we can. Since this service started back in Jan '18, We have helped hundreds of users every month solve their storage woes, but we can only continue to do this with your support. So please do choose to buy at Amazon US and Amazon UK on the articles when buying to provide advert revenue support or to donate/support the site below.

Finally, for free advice about your setup, j
ust leave a message in the comments below here at NASCompares.com and we will get back to you.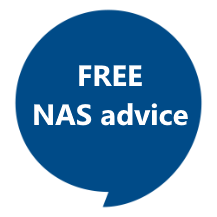 Need Help?
Where possible (and where appropriate) please provide as much information about your requirements, as then I can arrange the best answer and solution to your needs. Do not worry about your e-mail address being required, it will NOT be used in a mailing list and will NOT be used in any way other than to respond to your enquiry.
Support What We Do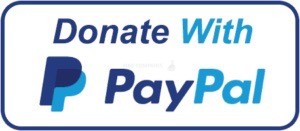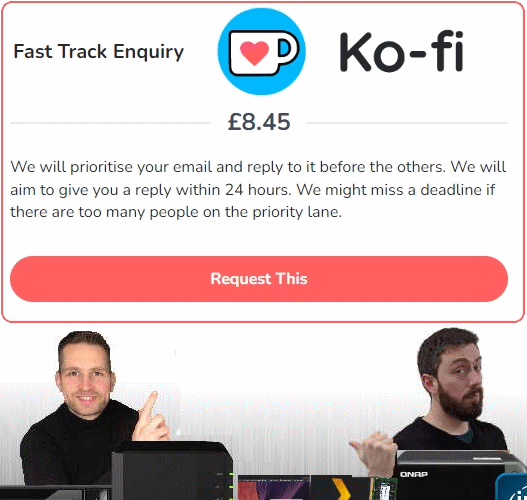 Terms and Conditions
Alternatively, why not ask me on the
ASK NASCompares forum
, by clicking the button below. This is a community hub that serves as a place that I can answer your question, chew the fat, share new release information and even get corrections posted. I will always get around to answering ALL queries, but as a one-man operation, I cannot promise speed! So by sharing your query in the
ASK NASCompares
section below, you can get a better range of solutions and suggestions, alongside my own.
Summary
Reviewer
Review Date
Reviewed Item
Synology DS220+ NAS Hardware Review
Author Rating