Comparing the Synology DS220+ vs the DS218+ NAS Drive
Choosing to buy a NAS drive can often be a tricky investment choice to make. Although the development of network-attached storage in 2020 has far outgrown the rather simplistic ideas of it being a brainless hard drive you can access by the network or internet, growing into a complete and unique operating system comparable to those found on the desktop or mobile platforms, it still constitutes a difficult choice for those new to this kind of hardware. Even if you are going for basic NAS hardware for storing and backing up data for your friends, family or work colleagues, you are still going to need to spend a few hundred Pounds, Dollars or Euros in order to get the right piece of kit and you want to make sure you get it right first time. For this kind of buyer who wants performance without the lofty price tag, I will always recommend a mid-range NAS that features an Intel processor, 2GB of memory, and the ability to support a little bit of everything that a modern as should be able to do. The Synology mid-range 2-Bay diskstation NAS series has been around for well over a decade and has always been a remarkably suitable choice for those who want to take their first confidence steps into the world of NAS. Currently, the newest of these 2-Bay choices for this kind of user is the brand new Synology DS220+, but it only JUST recently arrived on the scene, almost 3 years after the DS218 NAS. Both of these devices have been designed to give an excellent and balanced package of affordability yet functionality. Often users will simply buy the new piece of kit on the market, under the impression that new means better –  however, this is not always the case and comparing the DS220+ and DS218 shows a few areas that allow a more selective approach to buying the right NAS drive for your data storage needs. So let us take a look at these two affordable Synology NAS drive to see which one truly deserves your data.
What can Both of the Synology DS220+ and DS218 NAS Do?
Of course, if you are going to go to the trouble of spending hundreds of pounds on a good network storage solution, whether as an alternative to cloud services like DropBox and Google Drive, or as a means of streaming all of your media, then chances are that you want to be doubling sure that it is going to be able to perform the tasks you need
Both units feature the Intel-based processors for a good price vs hardware balance
Both the DS220+ and DS218 are constructed of plastic desktop compact chassis, thereby reducing power consumption, noise and heat generated
Both can Stream and Transcode on the fly (so, live) 1080p HD or 4K media, with superior performance natively and mid-range performance in Plex
Both the Synology DS220++ and DS218 NAS support AI-supported photo and 'thing' recognition supported to a very high degree from the free branded software included
For Business users who currently enjoy the use of G Suite or Office 365, both of these NAS provide excellent means to backup your mass cloud accounts (as well as natively sync, dupe and configure rules on the fly)
Both units are DLNA certified so can be accessed, browsed and played from by popular DLNA devices, such as Amazon Firestick, Alexa, Google Home Chromecast, Apple TV, Bose, Sonos, iPads, etc, as well as connectivity between these platforms with IFTTT
Both are multi-bay, RAID enabled devices NAS devices that support JBOD, RAID 0, RAID 1,   RAID 5, RAID 6 and RAID 10 (Synology Hybrid RAID too for their Plus series range), as well as supporting the very latest SATA based 14TB and 16TB NAS Hard Drives from brands like WD Red, Seagate Ironwolf, Western Digital UltraStar and Seagate EXOs media.
Both units can be expanded too with the Synology using a DX517 (independent storage) to increase total available storage availability, as well as allow the partial and gradual population of media
Both devices run on their own proprietary operating system that can be accessed remotely or locally. These include regular updates to the firmware, security patches, applications and more. Ranging from multimedia, home and multi-tiered backup applications, to more business end tools such as Surveillance software, Virtual Machine deployment and business-class backup and synchronization tools.
Both the DS218+ and DS220+ use and can be accessed equally by a multitude of mobile applications such as DS File, DS Video, Moments, DS Photo, DSCam and DS Music that are created by and constantly improved by Synology.
Both NAS are completely compatible with Windows, Android and Mac systems, as well as acting as a bring between software platforms to share and distribute files for migration and file sync (with improvements in newer DSM 7.0 later in 2020 to Mac Finder file streaming and file pinning
Both units can be used as a mail and/or business servers, providing excellent 3rd party CRM and first-party CMS systems, as well as the fantastic Synology collaboration Suite of applications Chat, Drive, Mail, Calendar, Office and Active Backup Suite
So, regardless of whether you buy the DS218 or DS220+ NAS, you are going to have a remarkably functional NAS drive. But, let's dig a little deeper into the differences between these two devices.
Synology DS220+ vs the DS218 NAS – Design
One area where there is almost no real difference between the new DS220+ and DS218+ is in the field of design, where both of these NAS' are hallmarks of the Synology brand as a whole. Indeed, Synology has had a long reputation for producing low noise, highly efficient and compact NAS chassis – and these are two represent two of the best examples you can buy in a desktop form in 2020. A plastic, matte-black external case, with a metal internal, an active cooling fan that can be adjusted manually or automatically, as well as excellent passive ventilation on the base, front and either side via ventilated branded logos. Indeed, in terms of physicality, there is really only one difference between the DS218+ and DS220+ NAS  that I will touch on in the next section, but purely on the subject of physical design there is virtually no difference between these two servers and both will serve to be a very discreet and low impact hardware purchase on your physical environment.
This slideshow requires JavaScript.
If an advantage needed to be given, then chances are it would go to the lower price DS218 in a very small one, thanks to the DS220+ featuring fractionally higher internal hardware and therefore the potential for increased power consumption and heat generated, despite the near-identical builds. Although this is purely relative to the utilisation of the NAS and still hardly a debating point.
Synology DS220+ vs the DS218 NAS – Hardware
The hardware featured in both of these NAS' represents some of the best hardware vs price point currently available in two-bay media NAS today. The CPU in both is near identical in the architecture with a dual-core Intel Celeron based processor, 64bit and x86, as well as 2GB of memory that can be expanded to 6GB being consistent across both models and results in a great hardware base for you to begin in a robust home or small business personal server populated network environment. However, it would be foolish to ignore the time difference between the DS220+ and DS218+ release date and quite a lot has happened in the two and a half to three years release difference between these two drives. For a start, the Intel Celeron featured in the new DS220+ is of a higher proficiency and efficiency level than that found in the DS218+, as well as opening the door towards a higher frequency and therefore for more agile DDR4 memory choice, compared with the DDR3L in the older gen Synology drive. That newer generation CPU also opens the doors 2 to improved performance of the NAS drive in both single and multi use operating environments, though that is not the only hardware distinction between these two NAS drives. The Synology DS218+, much like its own predecessor,s features 1 RJ45 LAN and an eSATA port that, although does not allow for expansion utilising the popular Synology DX517 expansion chassis, does allow you to connect that device for external and additional storage. the newer DS220+ has removed this port and instead has favoured upgrading the network connectivity by the inclusion of an additional 1Gb RJ45 LAN port. The result is that the next-gen DS220+ has the potential for just over 200MB/s  transmission speeds with a LAG/Port-Trunking supported switch or load balancing. This is always been a hardware feature inclusive of higher and more expensive diskstation series and a welcome inclusion in this more affordable form here. Ultimately that more proficient processor and memory, combined with improvements in connectivity mean that the DS220+ overall gives you a lot more bang for your buck in terms of hardware, although the more energy conscious amongst you may favour the DS218+ and it's lower power consumption and noise generated overall.
Model
DS218+

DS220+

CPU
Intel Celeron J3355 dual-core 2.0 GHz, burst up to 2.5 GHz

Intel Celeron J4025 2-core 2.0 GHz, burst up to 2.9 GHz 4 MB Cache

Benchmark
1313
1825
GPU
Intel® HD Graphics 500 250 – 750 MHz (8GB)
Intel® UHD Graphics 600 (250 – 750 MHz (8GB))
RAM
1X 2 GB DDR3L (expandable up to 6 GB)
1X 2 GB DDR4 (expandable up to 6 GB) 2400 MT/s
RAM slots
2X
2X
Cache
NO
NO
External port
• 3 x USB 3.0 port
• 1 x eSATA port
• 2 x USB 3.0 port
LAN
1 x Gigabit (RJ-45)
2 x Gigabit (RJ-45)
Synology DS220+ vs the DS218+ NAS – Performance
It should not come as a huge surprise that the new DS220+ Synology NAS with its improved CPU and memory ultimately outperforms the older generation DS218+. Both of these NAS' support the Synology diskstation manager software (currently in DSM 6.2 at this time of writing) to an impressive degree and even provide support for the likes of Synology virtual machine manager and 20 cameras in the surveillance station application. Although, in both cases, an additional memory upgrade will be required to really take advantage of these apps in conjunction with that mid-range processor. That said, the performance on the DS220+ will almost certainly be higher with increased utilisation by one or more users than that of the DS218+ in more general day to day use and aside from certain codec and media compression techniques (resulting in encode/decode differences between the featured CPUs), in all regards, the DS220+ wins the race in terms of performance. Additionally, both NAS feature support of BTRFS and SHR, like any other plus series Synology NAS, so regardless of whether you buy the DS220+ or DS218+, you are covered o that one!
| | | |
| --- | --- | --- |
| Model | DS218+ | DS220+ |
| Hardware encryption engine | Yes (AES-NI) | Yes (AES-NI) |
| Power | 17.23W | 14.96W accessing / 4.41W Hybernate |
| Noise value | 19.3 dB(A) | 19.3 dB (A) |
| Codec h264 | Decode / Encode | Decode / Encode |
| Codec h265 8bit | Decode / Encode | Decode |
| Codec h265 10bit | Decode | NO |
| Codec VP8 | Decode / Encode | Decode / Encode |
| Codec VP9 | Decode | Decode / Encode |
| Codec VC-1 | Decode | Decode |
| Codec AVC | Decode / Encode | Decode / Encode |
However, focusing on the subject of multimedia, it is worth highlighting that the j4000 Gemini Lake family of Celeron processors handles the H.265 media compression format a fraction less well than that of the J3000 series processor and if the bulk of your multimedia collection utilizes this video file format, it may result in your NAS drive having to work that small bit harder to output your media. Likewise, if you are going to take advantage of transcoding on your NAS server natively, then you will see increased hardware utilisation with more troublesome codec, though if your collection is a great deal more diverse in file formats, density and bitrate, the DS220+ will be a better-balanced choice overall between them, or maybe aiming a little higher and looking at Pentium or i3 Powered devices.
| | | |
| --- | --- | --- |
| Model | DS218+ | DS220+ |
| PLEX HD | Yes (mostly) | Yes (mostly) |
| PLEX 4K | Yes (without transcoding) | Yes (without transcoding) |
| Native 1080p | Yes (Mostly) | Yes (Mostly) |
| Native 4K | Yes (Mostly) | Yes (Mostly) |
| VM Support | Yes, Depending on Memory Allocated | Yes, Depending on Memory Allocated |
| Containers | Yes, Depending on Memory Allocated | Yes, Depending on Memory Allocated |
| File System | EXT4 and BTRFS | EXT4 and BTRFS |
| Backup Types | NAS-to-(NAS,PC, Mac, Mobile, USB, Cloud) | NAS-to-(NAS,PC, Mac, Mobile, USB, Cloud) |
If you are looking at choosing between the Synology DS218or DS220+ for utilisation within Plex Media Server, however, both of these  NAS servers may well hit a bit of a performance rut, due to the CPU being more geared towards native transcoding than Plex media server transcoding overall. Even if you are taking advantage of a Plex Pass membership and support of hardware transcoding, both of the CPU found in the DS220+ and DS218 will max out very early on regardless of their respective proficiency for h264 or H.265.
Synology DS220+ vs the DS218 NAS – Conclusion
I do not think it would be an exaggeration for me to say that I have spent the bulk of the last two years telling people that the Synology DS218 NAS is one of the best hardware vs cost purchases for new and established NAS buyers alike vs almost anything else we have seen in that time. Devices have been released in its 2-3 year lifespan (with more powerful processors or more connectivity) and the DS218 has continued to be a firm favourite thanks to just giving so much at the low comparative price. That said, all good things must come to an end and the Synology DS220+ is a worthy successor to the DS218's legacy and although may not seem like a huge jump in terms of hardware architecture over its predecessor (certainly compared with other recent Synology releases), it still presents an excellent upgrade and hierarchical replacement overall. If you are looking to buy brand new mid-range compact, powerful yet affordable server right now, I have no hesitation in recommending the DS220+ from Synology. However, if you are an existing DS218 NAS owner and are looking/considering an upgrade, then you might find the DS220+ does not bring enough new elements to the party to warrant this upgrade –  for you, I recommend checking out the Synology DS720+ and DS920+, as a far more substantial jump in hardware for your needs. So, in summary, if you are looking to buy the DS220+ or DS218 NAS;
Best NAS for Plex Media Server = DS218+ NAS (though check your existing library for more a more informed choice)
Best NAS for Surveillance = DS220+ NAS (thanks to that CPU and Memory)
Best NAS for Virtual Machines = DS220+ NAS (thanks to that CPU and Memory)
Best NAS for Photographers = DS220+ NAS (thanks to that dual LAN options, as well as the CPU and Memory)
Best NAS for Business = DS220+ NAS (thanks to that CPU and Memory)
Visit the NASCompares Deal Finder to find the best place to buy this device in your region, based on Service, Support and Reputation
📧 LET ME KNOW ABOUT NEW POSTS 🔔
Join 1,406 other subscribers
Get an alert every time something gets added to this specific article!
This description contains links to Amazon. These links will take you to some of the products mentioned in today's content. As an Amazon Associate, I earn from qualifying purchases. Visit the NASCompares Deal Finder to find the best place to buy this device in your region, based on Service, Support and Reputation - Just Search for your NAS Drive in the Box Below
Need Advice on Data Storage from an Expert?
We want to keep the free advice on NASCompares FREE for as long as we can. Since this service started back in Jan '18, We have helped hundreds of users every month solve their storage woes, but we can only continue to do this with your support. So please do choose to buy at Amazon US and Amazon UK on the articles when buying to provide advert revenue support or to donate/support the site below.

Finally, for free advice about your setup, j
ust leave a message in the comments below here at NASCompares.com and we will get back to you.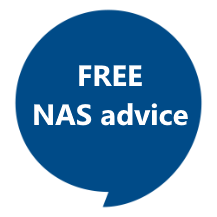 Need Help?
Where possible (and where appropriate) please provide as much information about your requirements, as then I can arrange the best answer and solution to your needs. Do not worry about your e-mail address being required, it will NOT be used in a mailing list and will NOT be used in any way other than to respond to your enquiry.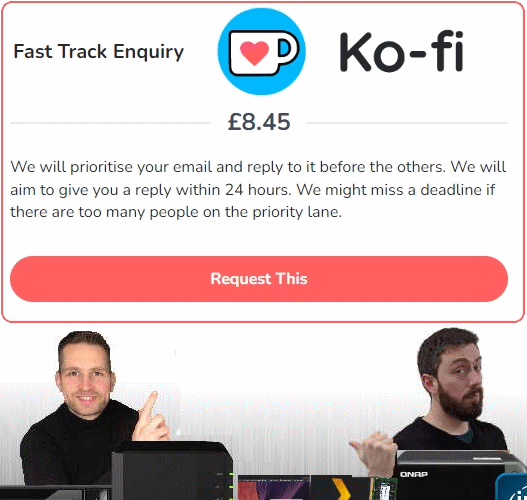 Terms and Conditions
Alternatively, why not ask me on the
ASK NASCompares forum
, by clicking the button below. This is a community hub that serves as a place that I can answer your question, chew the fat, share new release information and even get corrections posted. I will always get around to answering ALL queries, but as a one-man operation, I cannot promise speed! So by sharing your query in the
ASK NASCompares
section below, you can get a better range of solutions and suggestions, alongside my own.
Summary
Reviewer
Review Date
Reviewed Item
Synology DS220+ vs DS218+ NAS Drive Comparison
Author Rating