The Synology DS920+ 4-Bay NAS Drive Hardware Review
When the new Synology Diskstation series was revealed a few weeks ago, I think it was safe to say that it got peoples attention! The previous 18+ series of NAS had been around since September 2017 and many users were starting to get worried about choosing the older generation or holding out for a brand new announcement of something bigger and better to come. During this time, the unit that seemed to get the most mention, was the DS920+, a follow up to the remarkably popular DS918+ (possibly one of the most popular diskstation NAS they have ever put out) and one that provides a fantastic balance of hardware on day 1, upgradability down the line and excellent access to the award-winning Diskstation Manager (DSM) software platform. The full release date of the Synology DS920+ NAS is still to be confirmed in Europe and the US, however, you can still find it listed for sale in some regions of the world. Which brings me to today's review of the Synology DS920+ NAS, which is currently on very limited sale in Japan. Thanks to the wonderful world of the internet, worldwide logistics and most of all, the huge assistance of 'Takeo from Tokyo' – find this hero on Reddit here) I can bring you the hardware review (software review coming soon) of the brand new expandable 4-Bay from Synology and their 2020 series. As mentioned previously, this new NAS is in someway a good jump forward in hardware abilities, and a smaller step in others. There is no denying that it is one of the best NAS drives they have put out for a while, but the main questions to answer in today's review are, is this a better choice of the DS918+ NAS that came before it (and perhaps might be a pinch cheaper now) and if you are a current owner of the DS918+, is the DS920+ enough of an upgrade to warrant trading up? Let's take a look at the hardware and find out.
Disclaimer – This review features a Synology DS920+ NAS unit that has been purchased from Japan and therefore may differ from a retail unit purchased in your region at release. Some details are more obvious (such the local language retail labelling and region mains power connector, others are less familiar to new buyers (such as the remarkably detailed and pictorial Japanese instructional manual, something I have never seen in European/US provided NAS from Synology). Do bear in mind that although 959% of what you see in the review today is going to be globally equal, there may be the tiniest of changes between regions. I just thought I would mention it. Fire me a message if you have specific questions
Read our reviews of the other new-generation Synology NAS Drive
The Synology DS220+ NAS Drive Review – https://nascompares.com/2020/06/01/synology-ds220-nas-hardware-review/
The Synology DS720+ NAS Drive Review – https://nascompares.com/2020/06/18/synology-ds720-nas-drive-hardware-review
The Synology DS420+ NAS Drive Review – https://nascompares.com/2020/06/18/synology-ds420-nas-drive-hardware-review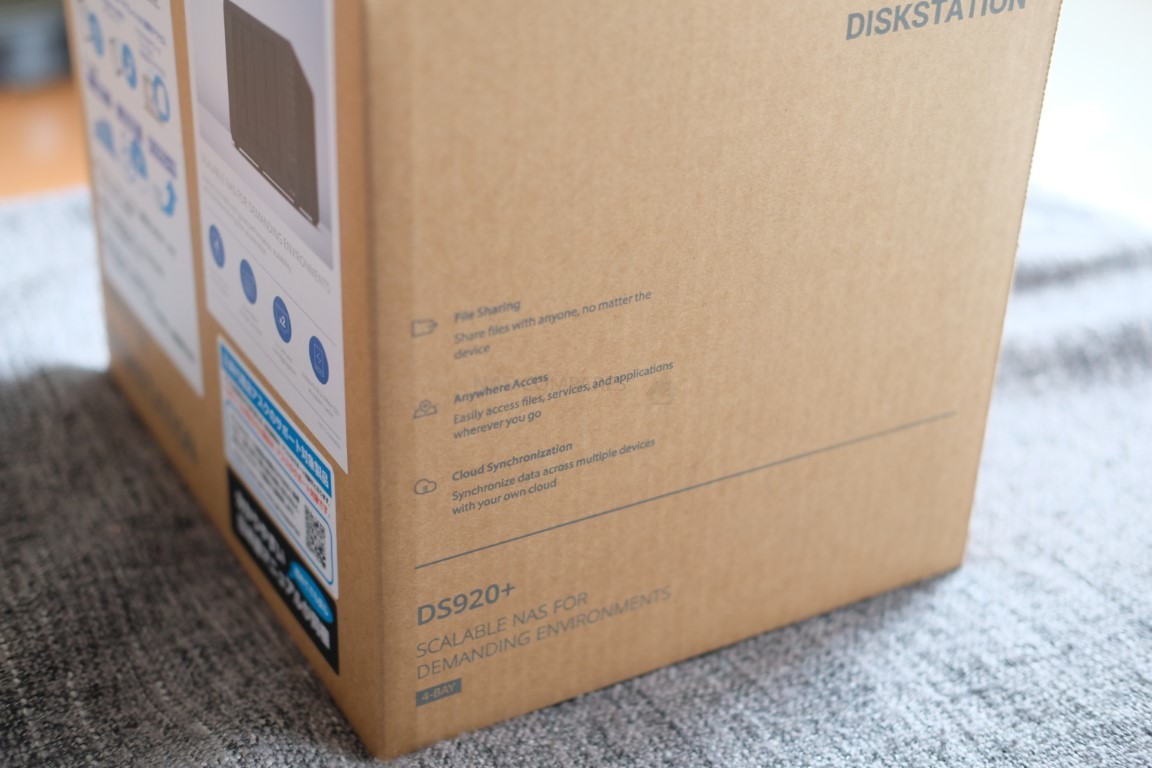 Synology DS920+ NAS – Quick Conclusion
The DS920+ NAS is something that Synology should be proud of. It is a great entry into their already impressive range of Diskstation NAS devices. If you are looking for a brand new NAS to consolidate your home media, to support your relative as the 'IT whizz' of the family, or move your business away from Google Drives and DropBox' onto something safer, more scalable and dependable – then the DS920+ has alot to offer you. It gives you a great base to start using the DSM platform, as well as a good means to upgrade your storage internally at a later date (expansions in memory, expansions in storage, expansion in NVMe). If you are an existing DS918+ or DS916+ owner, this might not seem like the jump you were waiting for.
Amazon UK -32% £55.44
[LINK HERE]
Synology DS920+ NAS – Retail Packaging
The retail packaging of the new Synology DS920+ is what you might have expected from a company that makes tech products that are largely all internet purchased – brown box packaging and a clean, detailed label on the outside that denotes the model inside, the abilities of the device, hardware specifications and it drips of that Synology branding! As this is the Japanese release, there are more localized details (that big 'first-time setup' sticker on the front, as well as information about answering common questions and guides).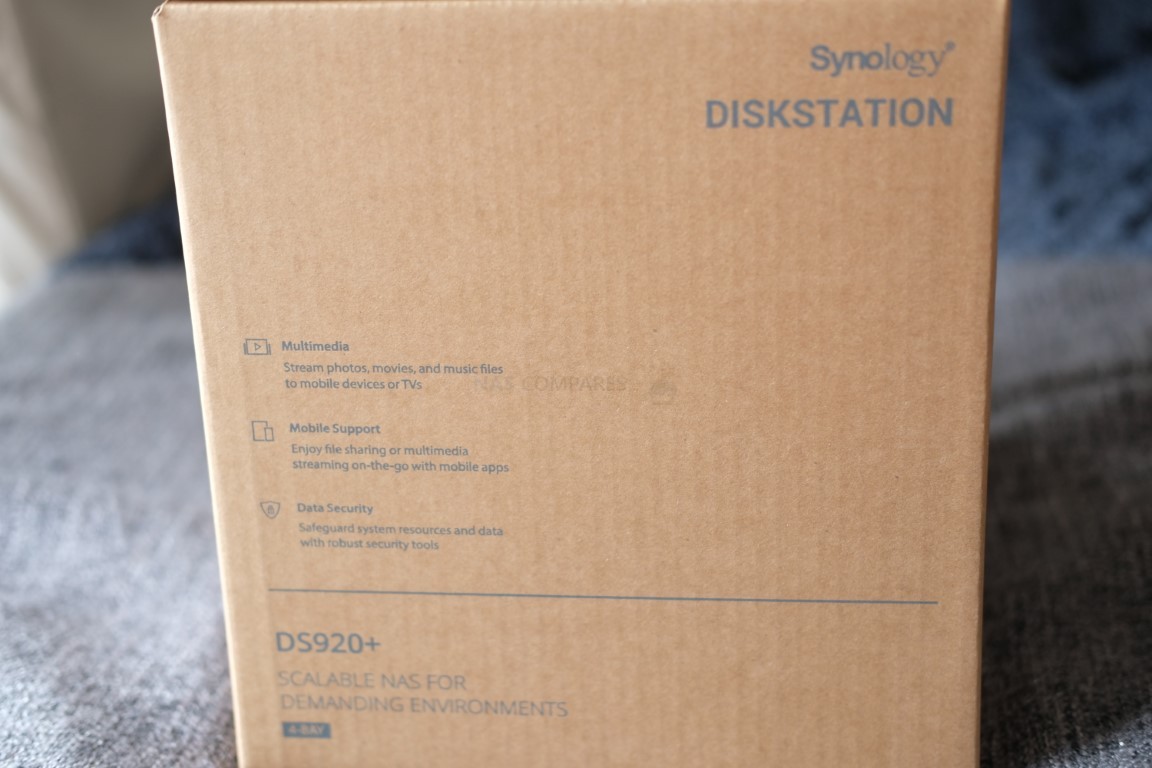 Here is how it compares with the DS918+ retail packaging:
That said, the majority of the rest of the packaging is very similar to other Synology Diskstation NAS drives, right the way down to the logo branded handle on the DS920+ retail kit. I have always been a fan of any brand (not just in NAS) that goes the extra mile to make reactive retail packaging in an almost exclusively e-shop industry. It is easy to see why businesses might justify switching to plain packaging, as the previous need to jump out from the shelf in the eyes of the consumer is no longer a factor. As mentioned, the DS920+ retail box is dripping in that Synology style and that is always pleasantly surprising.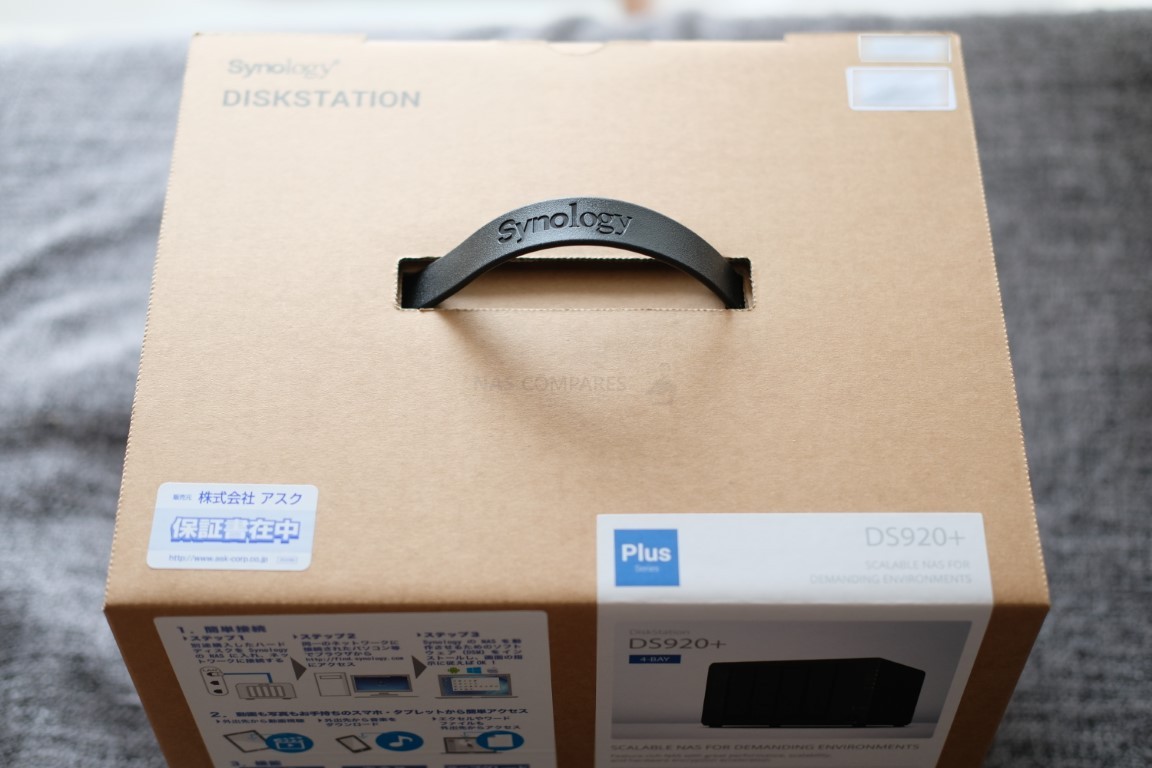 Opening up the retail box shows us neatly packed content. The Synology DSM software guidebook that is nestled at the top is something I have never seen before in EU/US releases and might even be something I wish we DID have.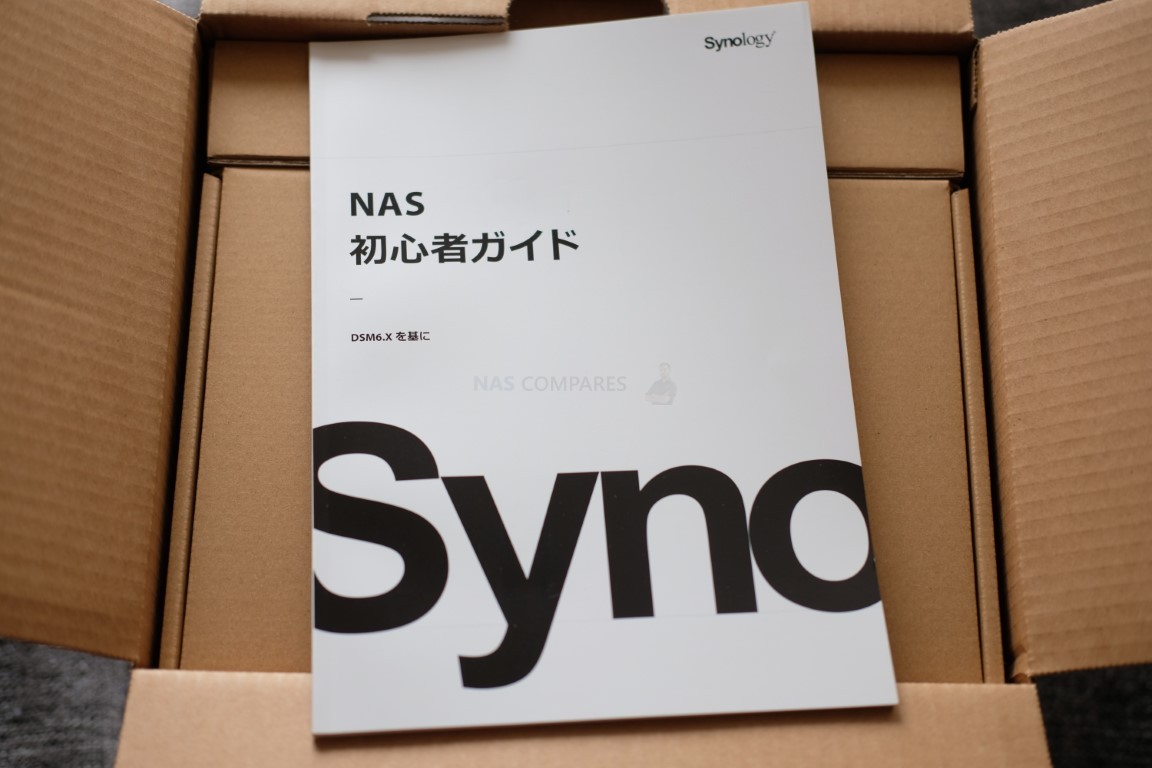 The manual included is pretty detailed and although it is certainly something that most users would only lightly read through (favouring online links that can be followed via the same web browser they are communicating with there NAS with) it is still a nice extra for the Japanese market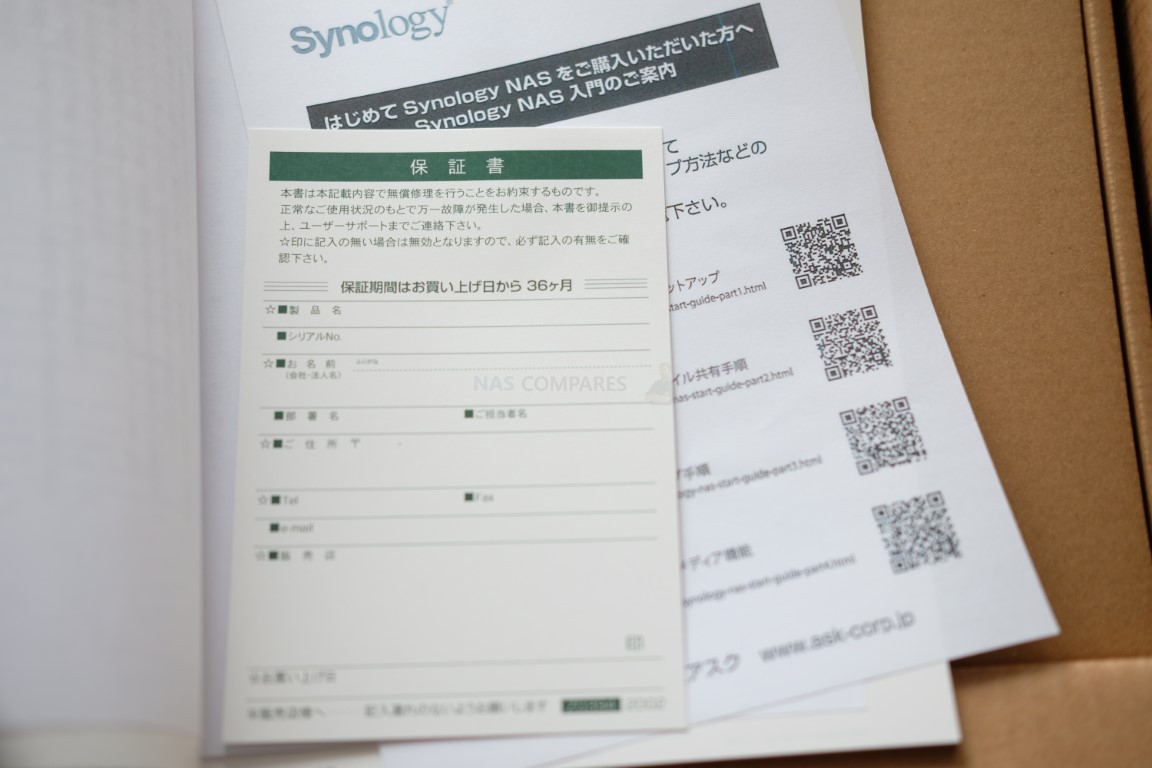 It covers largely everything that is available in the Synology information and tutorial portals that you might need and though it clearly lacks the updated information and additions that are each to implement on the online portal, it is still pretty nice.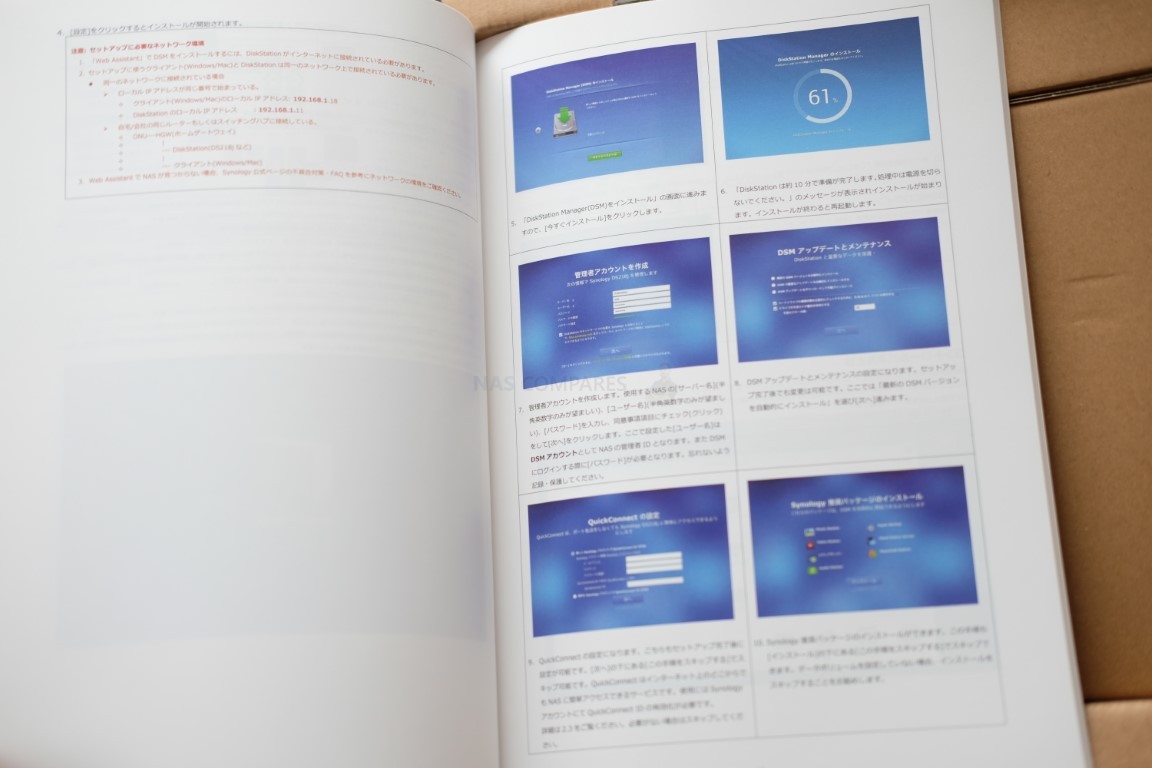 Once the Synology DS920+ was fully unpacked, we can see the full accessories that are included alongside the NAS server all neatly laid out. This is largely identical to other Synology NAS drive retail kits that you can get, as well as the DS920+ NAS arriving in the just protective bag.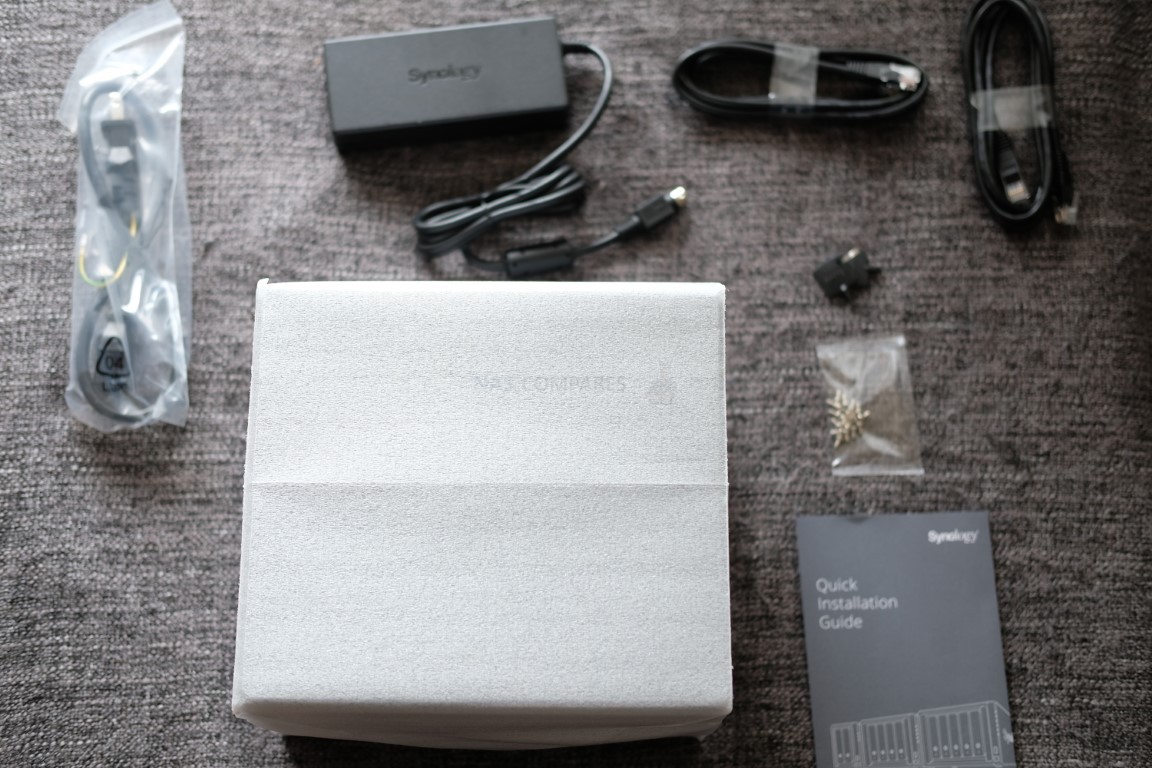 The full contents of the Synology DS920+ accessories kit are:
Synology DS920+ NAS (duh!)

External PSU (100W)

Regional Mains Power Connector (Kettle Type)

2x RJ45 LAN cables

Quick Start Installation Guide

Tray lock Keys

Screws for 2.5″ media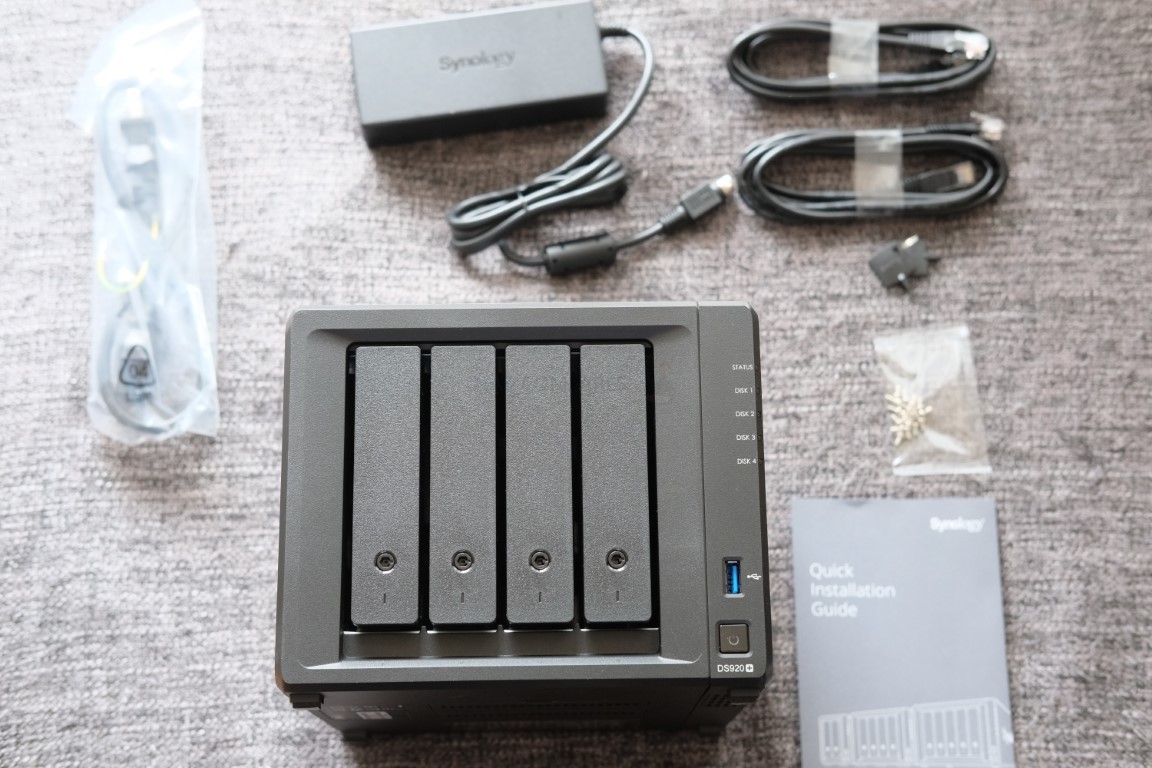 So, a fairly standard collection of parts that are included in the retail kit. Clearly the mains power cable is regional and changes depending on your country of purchase, but the rest is fairly standard.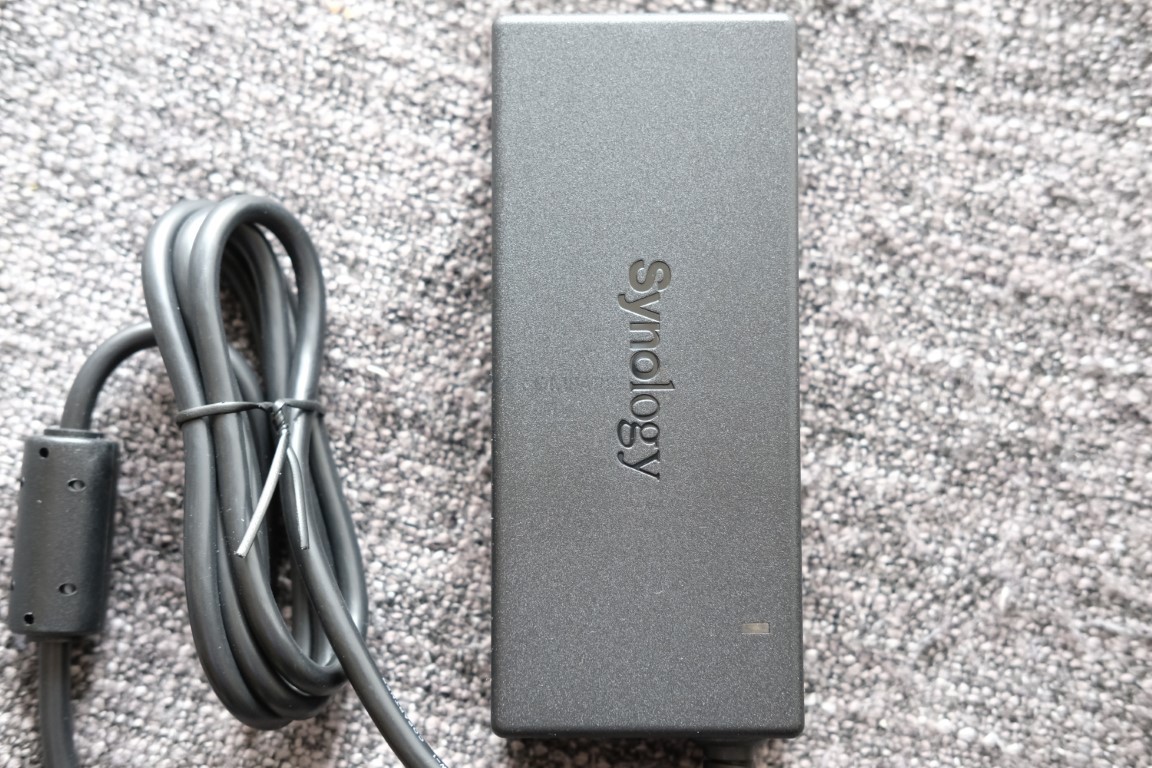 One nice and often overlooked touch is the branded PSU that the Synology NAS arrives with, and the DS920+ is no different. This might seem like a tiny detail and more to do with the slick bran marketing I touched on earlier, but it is also a neat bit of buyer confidence work, as it helps the buyer know that this is not a generic, third-party certified/included PSU and one that has had attention from the brand itself involved. It's a bit of a stretch to say that of course, but I think it is a subtle bit of customer confidence work that likely hits the mark!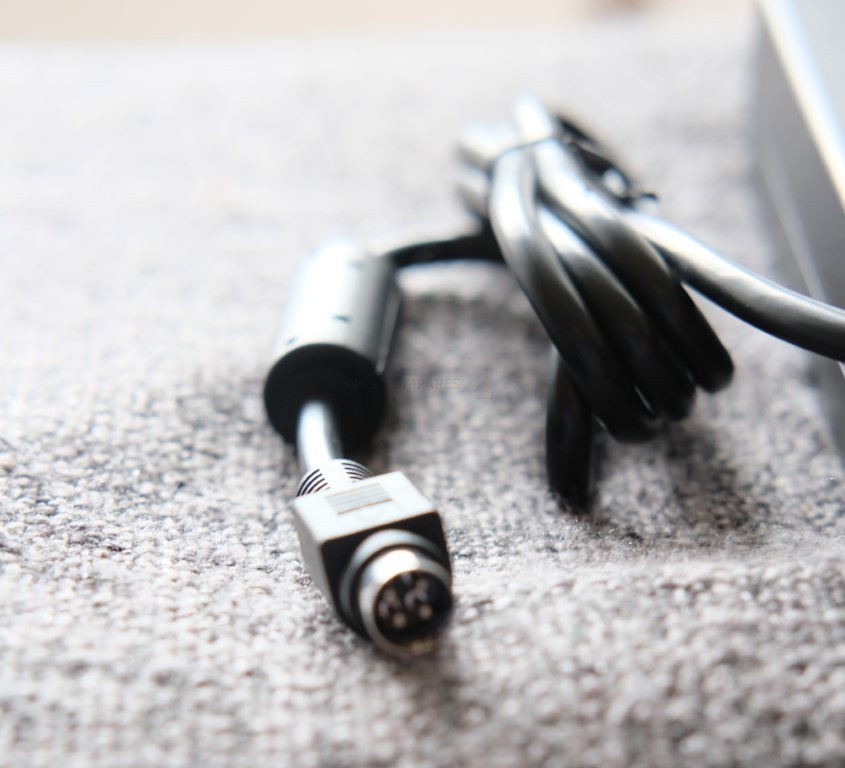 That said, the fact it is an external PSU/Power-brick will make some people happy, whilst infuriating others. There are bonuses to both sides to have a power supplier inside/outside. Having an external power supplier MIGHT lead to accidental disconnection, another part to accidentally lose in transit and might be prone to external damage. However, the reverse argument of an external PSU being easier to replace if needed, results in less internal heat generated, easy of changing main power dependency with a UPS/Battery Pack and 1 set type of connector are all true too. It's a personal preference, but in a small desktop chassis like this, I like the external PSU use. Overall, I am happy with the DS920+retail pack and it maintains the standard we have seen so far from Synology in recent years.
Synology DS920+ NAS – Design
The external chassis of the DS920+ is near identical to that of the DS918+. What changes there are, are all factored internally, with little no change externally. Much like it's predecessor, the DS920+ measures 16.6cm x 19.9cm x 22.3cm (without PSU) and the bays of the device are all flush with the flat profile of NAS chassis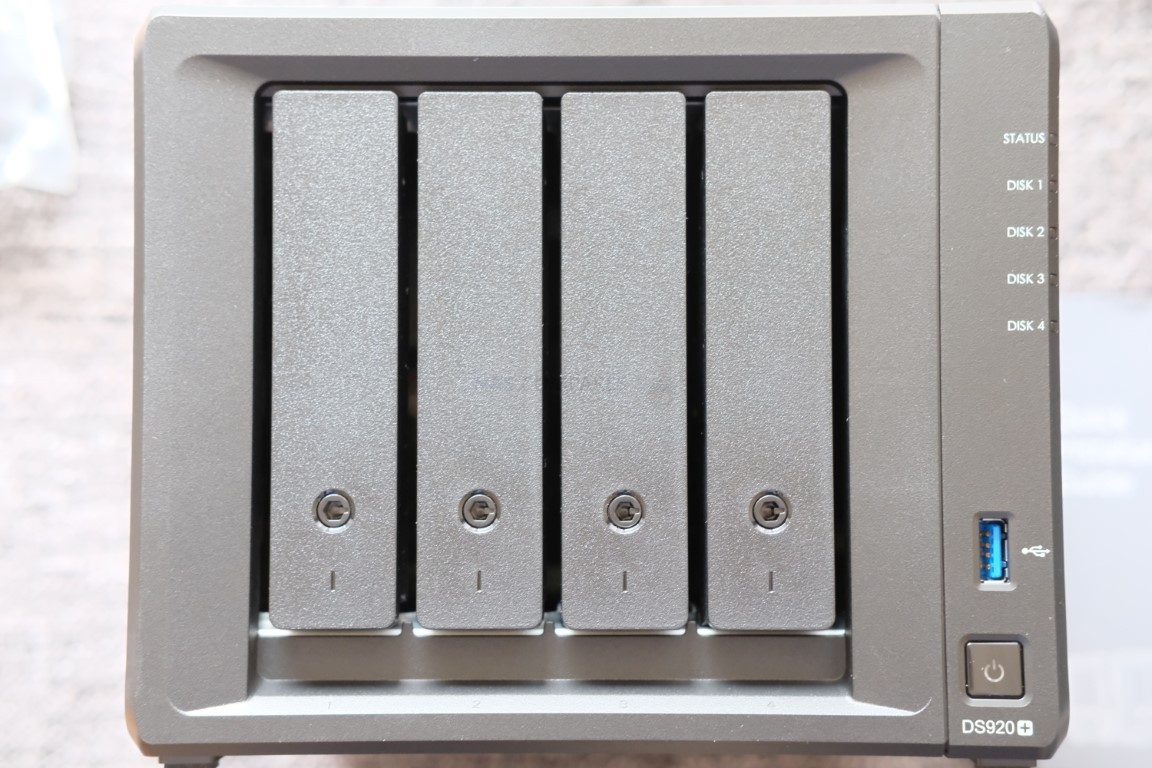 This chassis was originally debuted in the DS918+ and has since been used ina number of different NAS drive releases (DS418, DS418play, DS420+ and more) and finds a good balance between rugged construction, passive airflow and noise control. It does not feature any LCD panels or visual output for the end-user, relying on more network-centric means of notification and alerts. That said, it does feature LEDs and an internal buzzer for more immediate alerts and information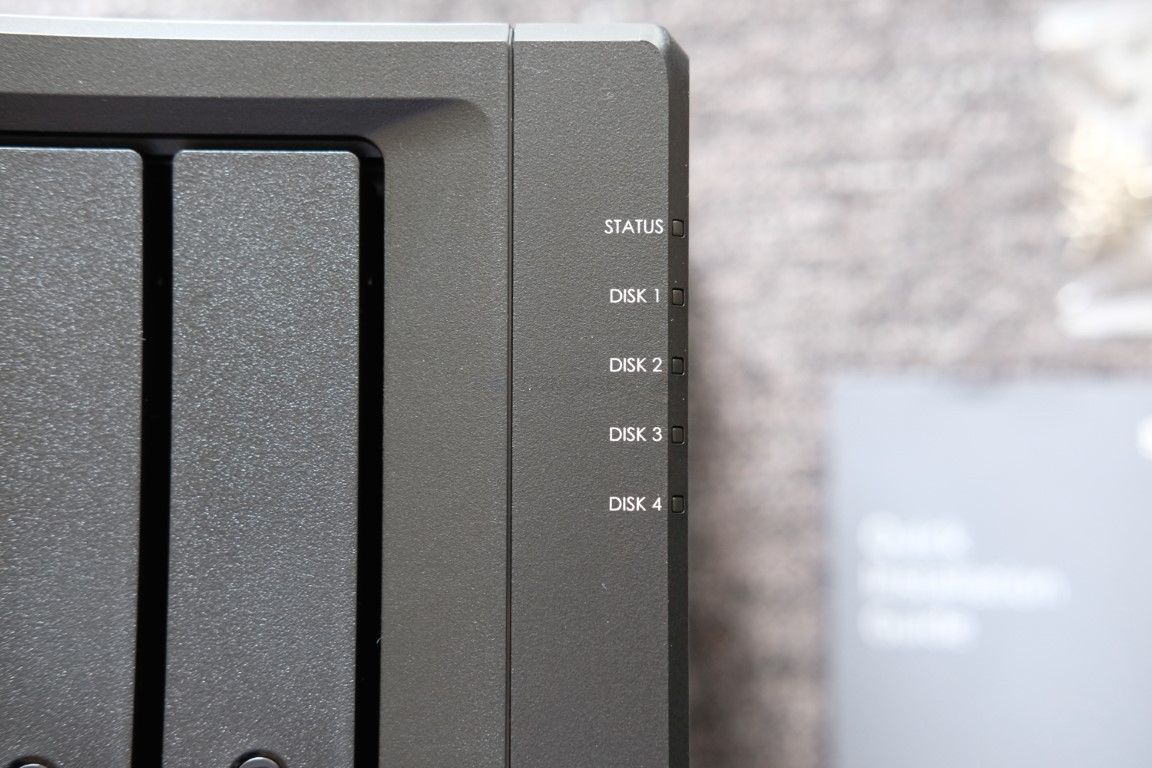 These LEDs are designed to give the end-user more immediate information about the device whilst in operation, providing light information on Synology power, Network Activity, Drive access and System status (Red, Amber and Green). This may seem a little limited, but the Synology NAS platform is largely designed around being discreet/hidden away whilst in typical use so, therefore, it does not really need to shout too much when in use. The LEDs can be adjusted in their brightness, if you are a user who is in close proximity to this device, especially at night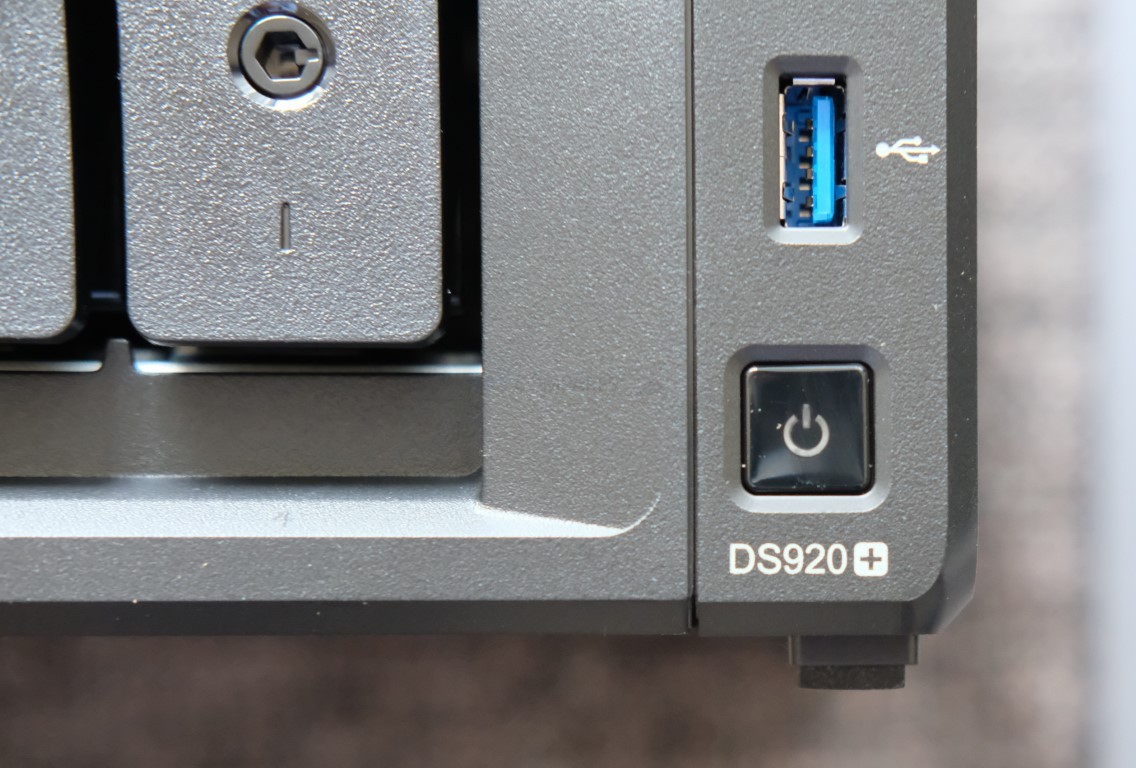 Also at the front of the Synology DS920+, we find (just above the power button) a USB 3.0 port (Type A) that can be used for connecting a local USB backup drive (among other supported devices). This is used in conjunction with the backup software options in DSM to make backups of external storage devices to the NAS (or visa-versa) easily. This can be done ad-hoc, on a schedule or when a specific drive is connected. Also, this backup can be complete 2-way sync, a diff-backup that only copies new files, or a time managed backup that creates a new directory each time. There are alot of options and for those of you that like to incorporate a local tier into your backup strategy, this may well be appealing. Though I will highlight that I think Synology has been using USB 3.0 (USB 3.1 Gen 1 / USB 3.2 Gen 1) for quite a while now and am a little surprised we have not see at least a partial adoption of USB 3.2 (USB 3.1 Gen 2) utilizing the 10Gb/s connection, rather than the 5Gb/s on offer.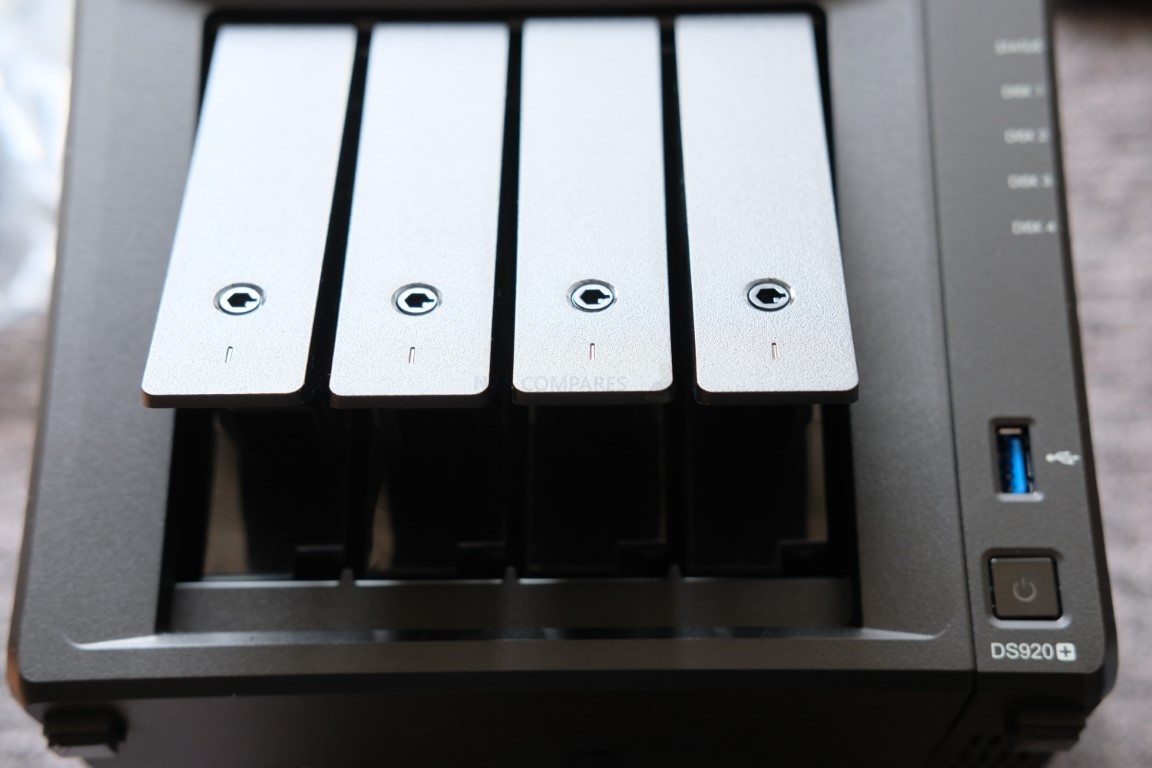 The 4 storage bays that are available on the Synology DS920+ are all SATA 6GB/s and support the very latest Seagate Ironwolf 16TB NAS Hard Drives, as well as the 14TB WD Red series too. This means that you can have upto a current maximum of 64 terabytes of storage, not factoring in a RAID level. Though that does not mean you have to FULLY populate the device and the Synology DS920+ can also be used to partially populate the device with as little as 1HDD/SSD, then expand the storage pool as you add more drives. Obviously, there are some factors like the storage provisioning, the RAID changes being suitable (eg RAID 5>6) and the compatibility of the media, but it is still a good flexible arrangement. So, taking the current drive maximums into account, you can store upto:
64TB in a RAID 0

32TB in a RAID 10 (or 2x 16TB in RAID 1's)

48TB in RAID 5 and SHR

32TB in RAID 6 and SHR-2
Technology has come a long way over the years and THAT is alot of raw storage to play with. Of course, the DS920+ does not limit you to just 4 bays and in fact, there is a way to add an additional 5-bays of storage to the NAS with the DX517 that we will touch on later.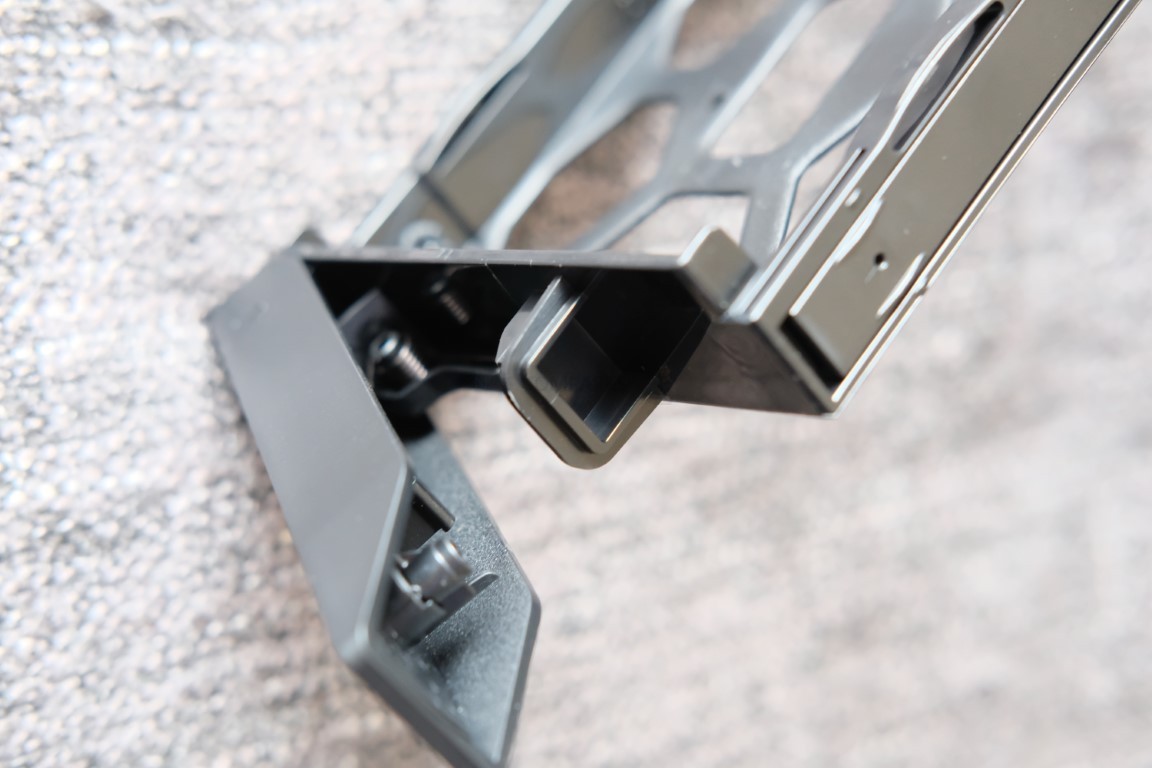 Each tray is plastic in design, with a good solid hinge that when pulled up, will automatically eject the tray. The trays themselves can accommodate 3.5″ and 2.5″ media (HDD and SSD) and you do not necessarily need to have the same drive type in every bay (thanks to support of fluid/mixed drive support in SHR and the utilization of SSD caching in SSD bays). The installation of 3.5″ media is incredibly simple with the click and load tray design that lets you install a hard drive without a screwdriver. 2.5″ media will require the use of a screwdriver, the included screws and the holes in the base of the tray.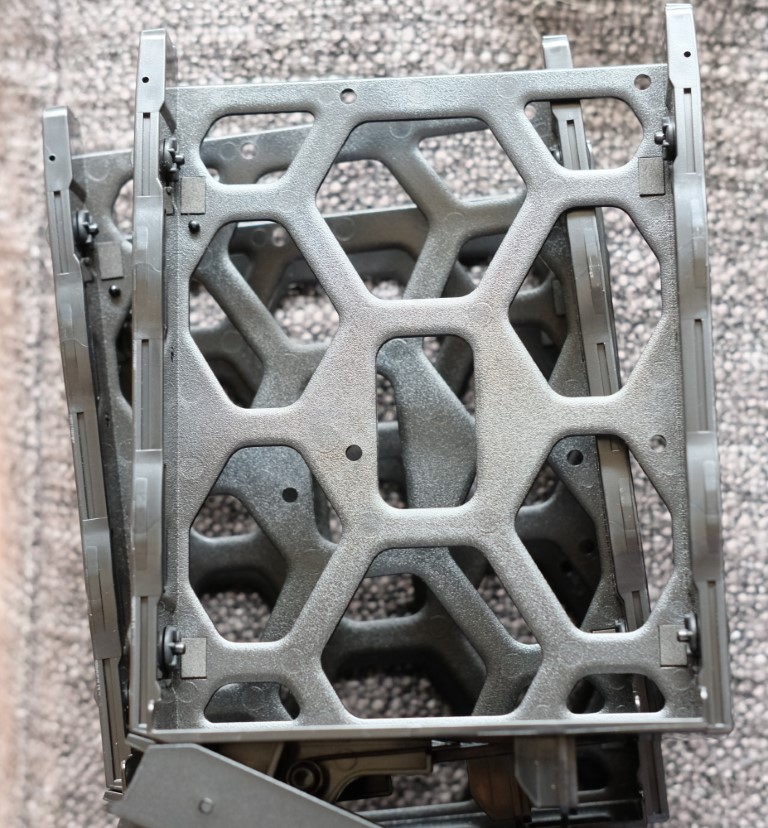 Each tray also arrives with its own dedicated locking mechanism. It is hardly 'Fort Knox 'as it is a simple lock and key mechanism, but it will certainly stop accidental drive removal and also allows you to differential drives that are more critical than others. Additionally, each tray has it's own activity LED built-in, so you can see when any/all drives are being accessed by the system/user.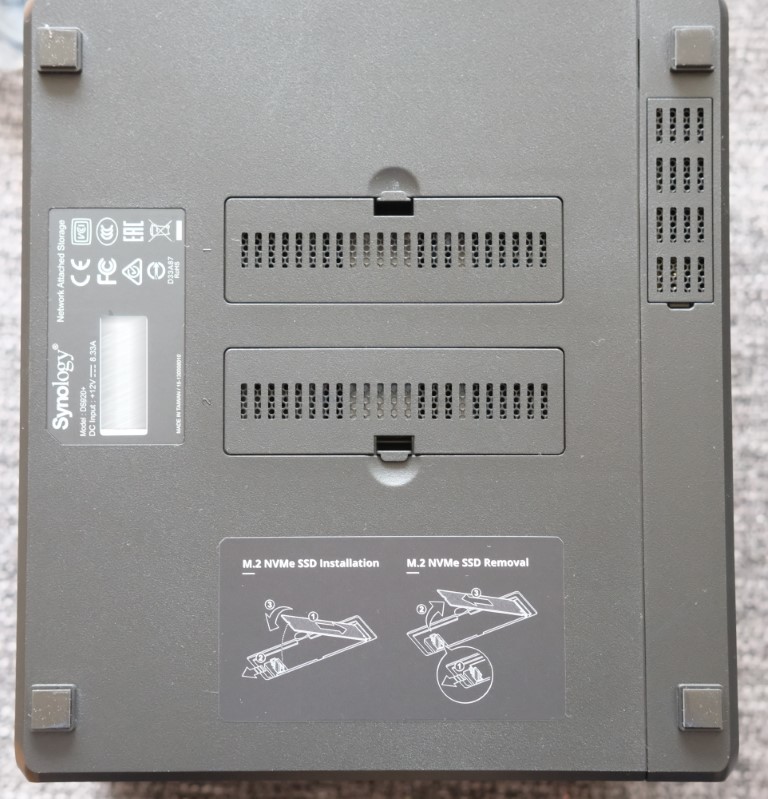 The base of the device shows us a couple more things. First, we see those two NVMe SSD caching bays (that I will touch on in more detail later) and a small area of ventilation that supports the internal controller board of the DS920+ NAS. Ventilation on a NAS is one of the most important areas of concern, as these devices will likely be on for days, week, months and even years at a time. So, alongside the active cooling that these devices feature, you need sufficient passive cooling to work with it. One neat design feature that is present in most of the desktop Synology NAS that is continued in the DS920+ is the logo on either side acting as a mesh filtered ventilation panel. Again, dripping in style, this is a lovely mark of the brand and anyone that has had one of these disk stations running for months on end will see how much fluff/environment dust it can capture.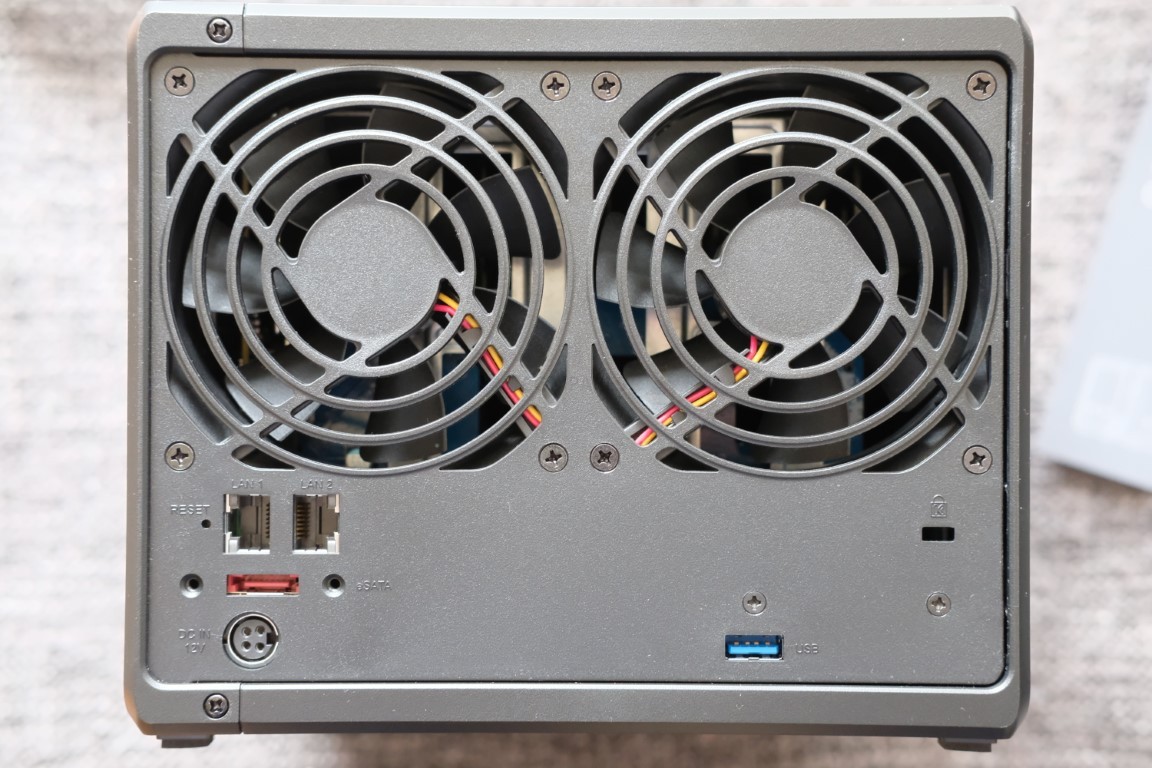 Overall, though the design of the DS920+ is largely unchanged from what I can see when compared with the DS918+, that is not necessarily a bad thing.
Synology DS920+ NAS Review – Rear Ports
What sets a NAS drive apart from having cloud subscription to Google Drive or DropBox is the fact that you get to own a PHYSICAL server, not just a web portal and some space in a cloud service in the sky (I know, I know….  it's not actually in the sky, that'd be dangerous as hell). Because of this, a Synology NAS needs to be connected to the wider environment of your home or office and because of this, the ports and connections available on the DS920+ are important to consider.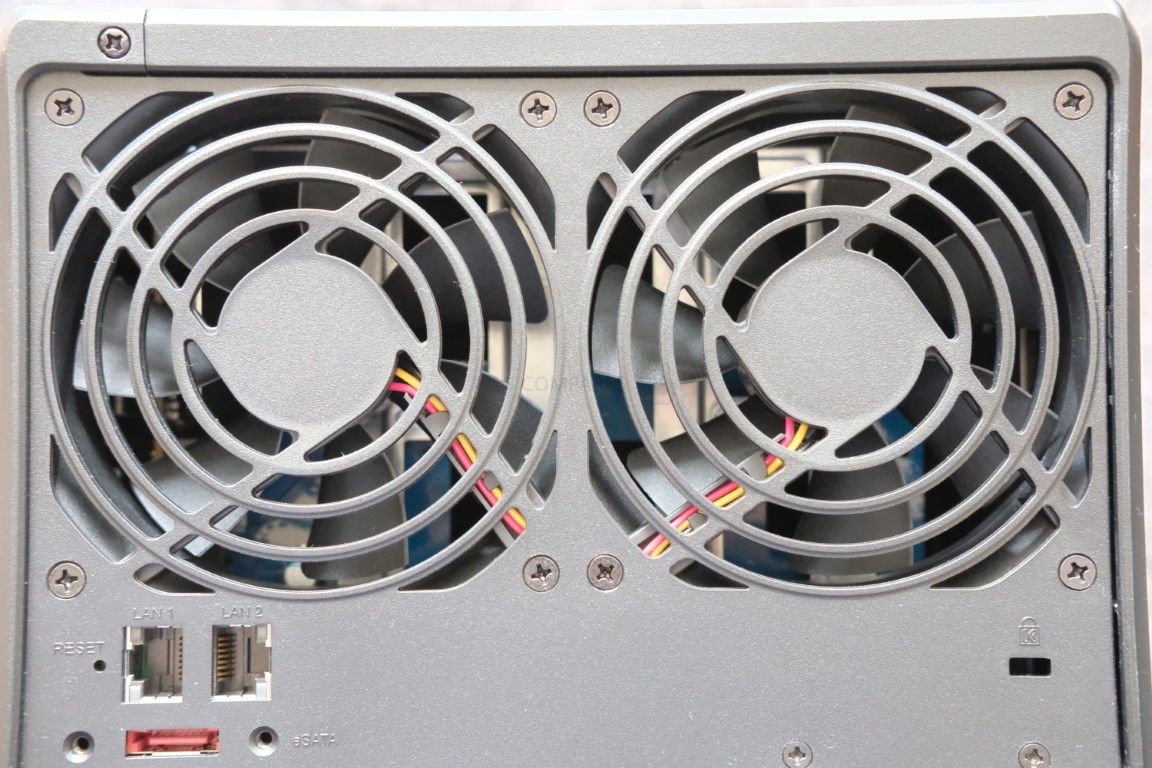 The rear of the DS920+ features two 9.2cm x 9.2cm fans, that are used in conjunction with internal heatsinks on the CPU and the passive airflow system we already touched on around the external chassis. These fans can have their RPM adjusted manually if the noise/hum in the background needs decreasing for the more sensitive of hearing. This is a pretty handy, but given the NAS is rated by Synology at a noise level of 19.8 dB(A)when fully populated with WD Reds, I would recommend you leave the fan settings at automatic and let the device adjust it's own fan RPM in line with temperature control to keep things efficient internally.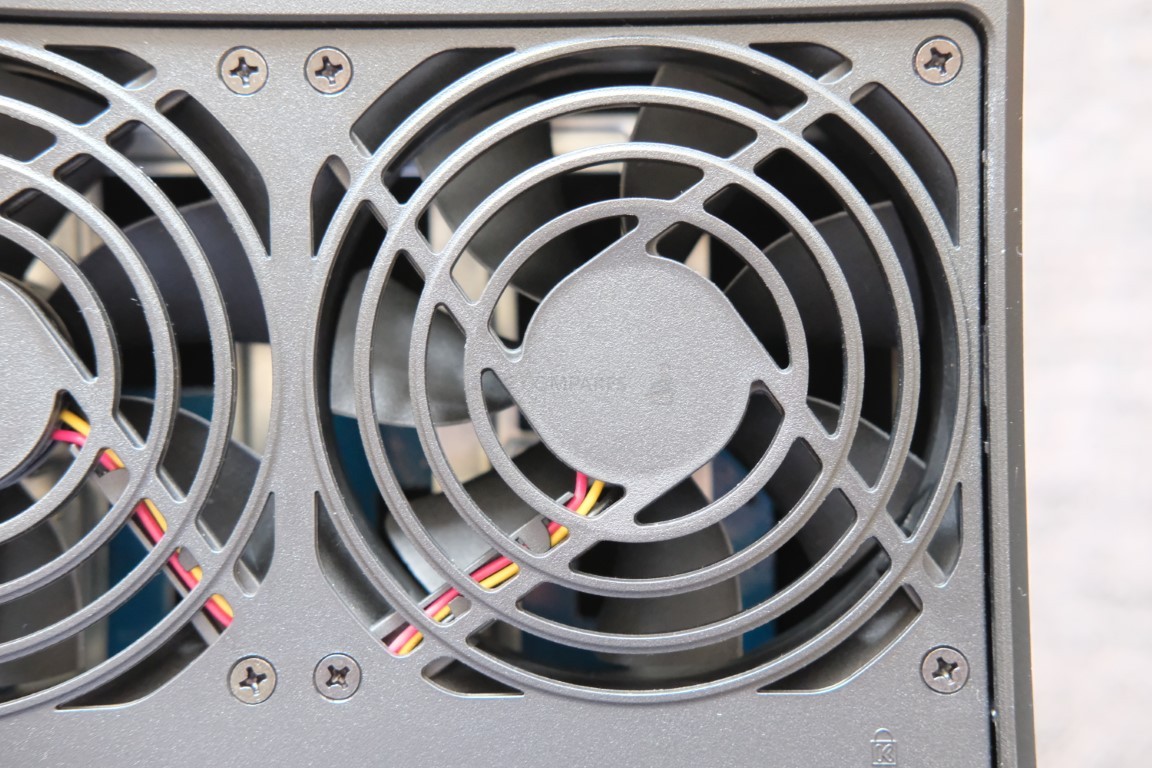 Each fan is plastic in design and the settings in DSM allow three modes Full speed mode, Low-temperature mode and Silent mode. Which are all pretty self-explanatory.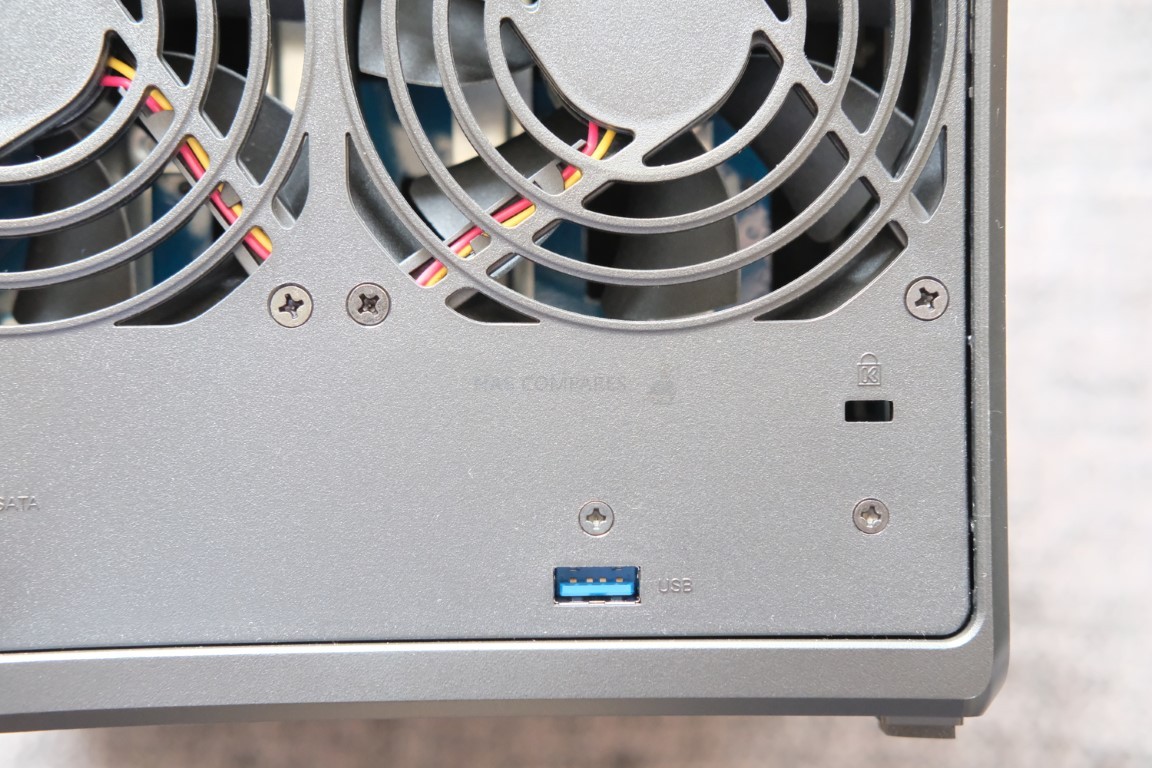 The USB port on the rear of the NAS is(much like the front port) USB 3.0 in architecture and is generally used for USB connected UPS devices, the few remaining supported network dongles and some office stationary devices (USB Printers, etc) to make them network accessible. Still a shame they are USB 3.0, but I'll let it go. Talking of adding and expanding your hardware…The eSATA port. This allows you to connect the DX517 5-Bay expansion from Synology. This means you effectively bolt 5 more additional SATA bays to the DS920+ that are then usable by the Storage Manager to expand the storage pool (with up to 80TB of storage currently with the 16TB Ironwolfs), thereby keeping your existing file paths, but increasing the overall capacity available, or you can use it to mirror the storage in the NAS and have it as another backup tier.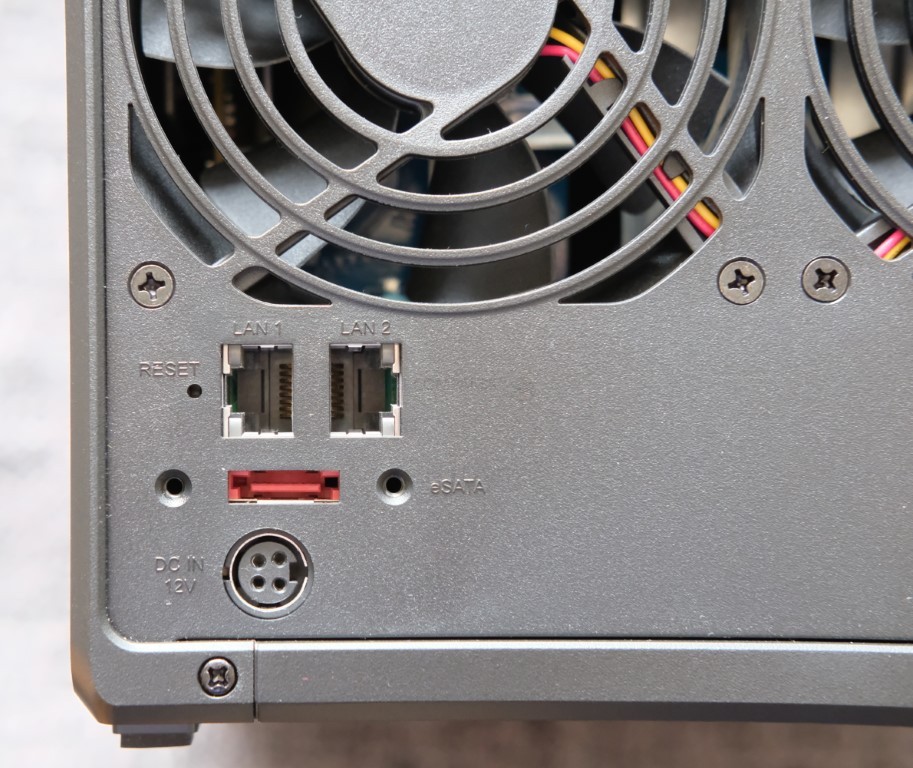 This is a handy feature for those that want to spread the cost of their hardware over the years, rather than commit to a larger 8/12-Bay NAS on Day 1. The network ports on the DS920+ are one are that has led to moderate contention. Much like the DS918+ before it, the DS920+ features 2x RJ45 1Gbe LAN ports. These can be combined with Link Aggregation/Port Trunking (and to a lesser degree Load-Balancing) and allow up to 2Gbe (200MB/s) file transmission speeds, as long as you have a supported LAG switch and/or a connected PC/Mac devices with 2 LAN ports or higher connected. This is all well and good, but given the fact that 2019/2020 saw a big rise in 2.5Gbe and 5GBe (as well as the affordability of 10Gbe becoming even greater), many users (myself included) thought that the DS920+ would be 2.5Gbe at least. We have seen 2.5Gbe featured on the up and coming DS1620xs/DS1621xs, as well as 10Gbe on higher-end rackstation units, so the inclusion of 1Gbe might well deter some buyers, as well as those looking to upgrade from a DS916+ or DS918+ right now. Overall, I will say that I like the DS918+ connection options, but I would be lying if I said that they 'blew me away. I understand a price point for the DS920+ is important to consider, as well as its place in the family of devices. But the 1Gbe connection is a bit disappointing.
Synology DS920+ NAS Review – Internal Hardware
The internal hardware of the DS920+ is actually surprisingly light. This is not a criticism in the value sense, there is alot of airflow inside and you can see that ALOT of work has gone into the design of the DS920+ in order to keep it powerful, yet efficient. Everything is well spaced out and when there is crucial hardware, it is well deployed internally. Take the SATA bays inside for example.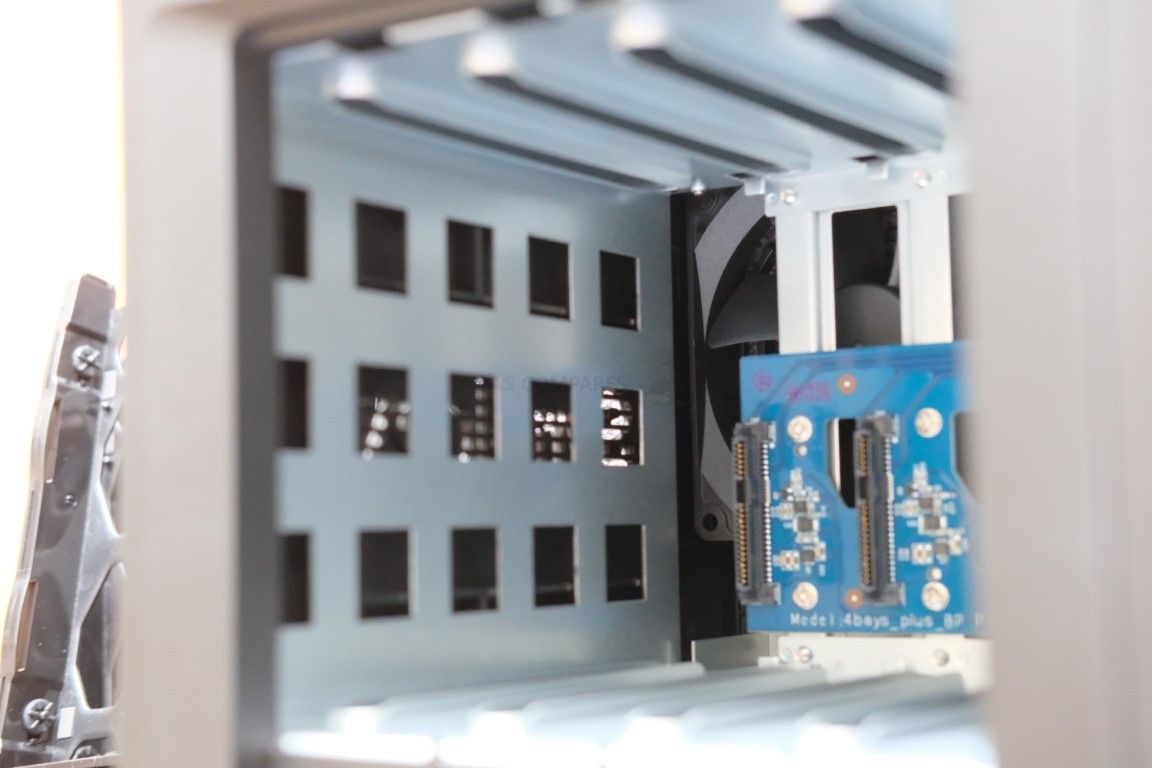 Taking all four trays out of the NAS reveals the internal board that connects each drive to a single PCB/Circuit board. This board is connected to another main processor board at the corner (the latter featuring the CPU and Memory). The SATA connection board inside is a nice, clean and cleat connection. No power cables internally, so unnecessary bumpf – just exactly what you need to do the job well and made to be as frictionless as possible.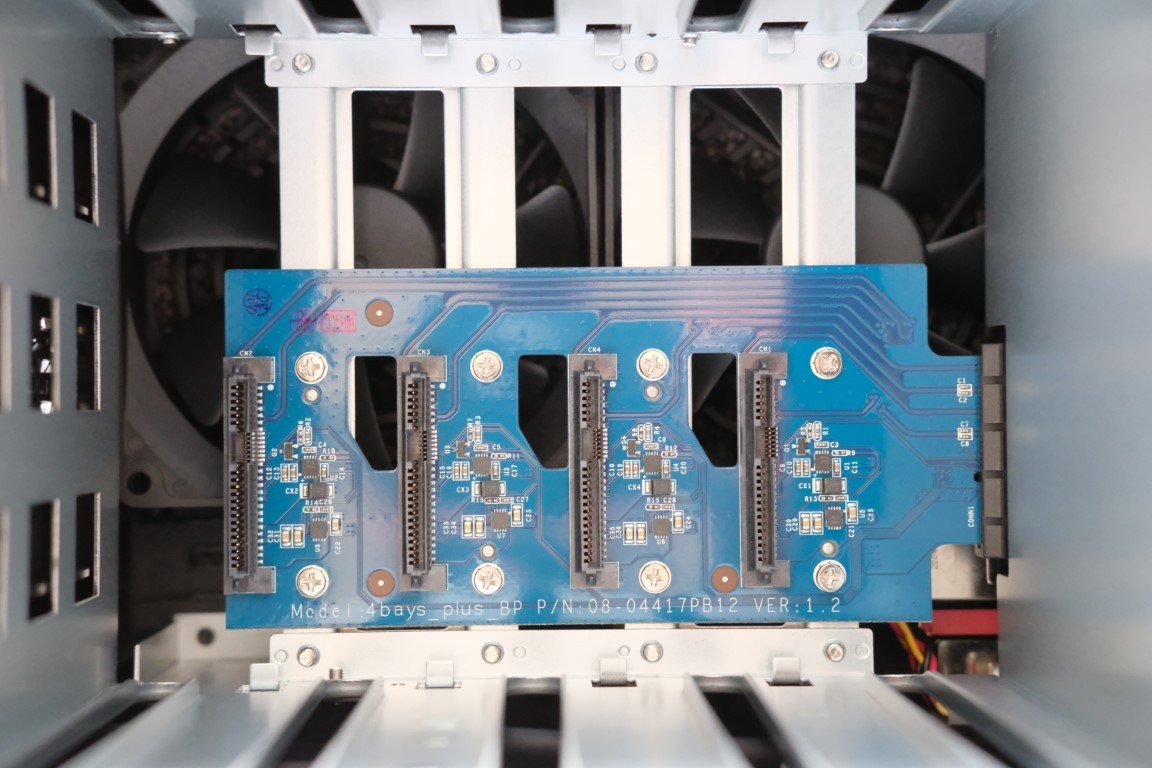 You can see above just how much of the area of the HDD bays are going to be covered in ventilation from the rear cooling fans whilst this device is cooperation. Heat is the enemy of most technology and storage media devices are no different on this score. Also in this area is the expandable memory bay. Now, again, this is an area of disagreement! The CPU inside the DS920+ has an officially support memory maximum of 8GB of DDR4. One module of the 4GB memory (THAT'S RIGHT DekkaR score one too you) is located internally of the DS920+, that cannot be easily/safely reached in a conventional means. This means that Synology provides this device at 4GB and you can upgrade to 8GB with a single extra 4GB SODIMM module in the available bay.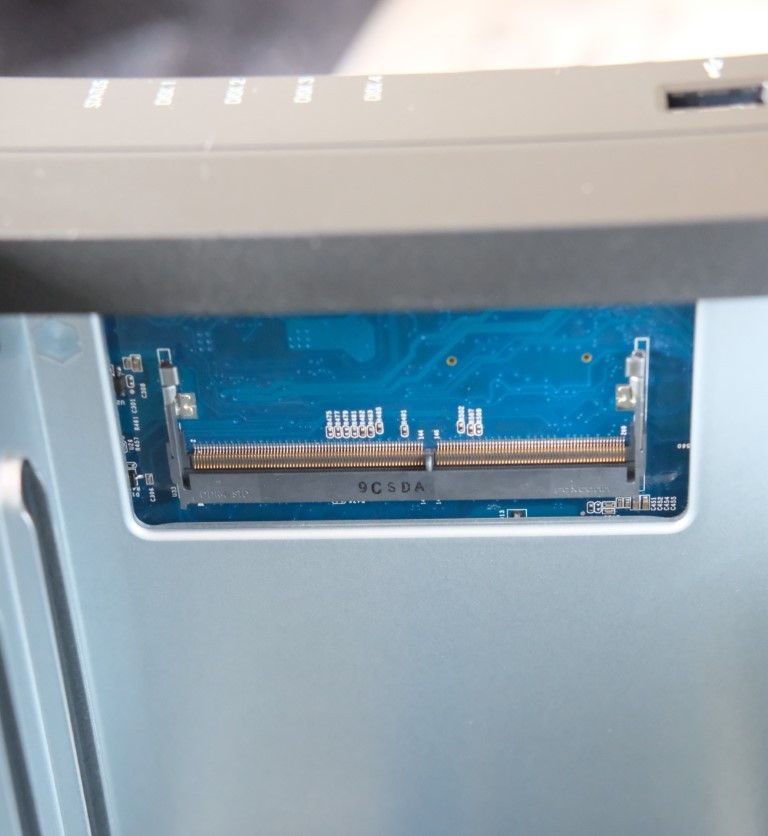 Now, Synology is NOT a fan of people upgrading that memory beyond 8GB, threatening to invalidate warranties on occasion if people do, as well as alerting users to the installation of 'non-official memory' internally when installed. I can see their point – they want to run a smooth, reliable and fluid platform and if the official CPU specs say 8GB max, they want to keep things stable. However, many users in previous generations have successfully exceeded the 8GB limit for VMs, Surveillance and more and done at their own risk. So, some users might be surprised at the single expandable memory slot, but if you are looking for a reason why, that is it! However, more so than memory expansions and storage expansions, there is another core way to improve your DS920+ on Day 1 or later down the line, with NVMe SSDs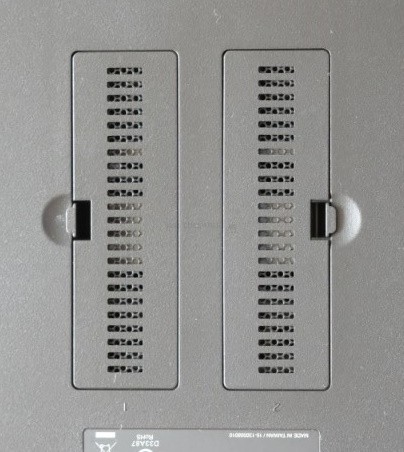 Much like the DS918+ and DS1019+ that came before it, the DS920+ arrives with two NVMe SSD bays built into the base. These are used for installing fast performing SSD media to help increase internal file performance speeds. Synology was the first commercial NAS brand that introduced NVMe SSD into the commercial and SMB market, as well as allowing home users to get involved. SSD caching has really been a core focus of Synology in recent years, with improved SSD caching algorithms in DSM 7.0 promised, easier SSD cache dismounting/remounting and a great degree of coverage in its use in the new DS720+ and DS420+.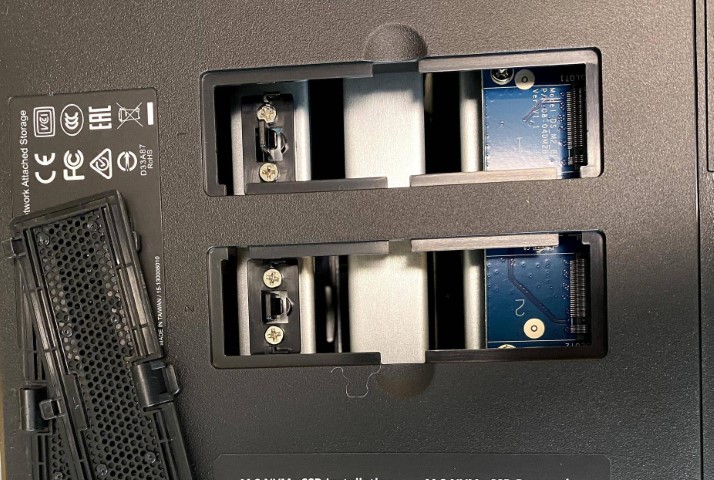 You can fully populate the bays, or just use a single SSD as needed. This allows you to use varies levels or caching (Read-Only, Read-Write, etc) in conjunction with your traditionally HDD built RAID array and therefore improve common file operations as needed. Alot of users would like the option to use this SSD storage for RAW data storage (as you can with SATA SSDs in the main bays) and use the tremendous speed benefits of NVMe in day to day file operations. However, this is not an option on the Synology platform and although I can see the point (this NAS is just 1/2Gbe) I still think people would enjoy the choice for the rather more expensive media. It is also worth highlighting that these NVMe Bays support 2280 length NVMe, so up to a current commercial capacity of 4TB per bay. Up and coming to NVMe in the near future will be at 22110 lengths in order to allow greater surface coverage of NAND/Cells.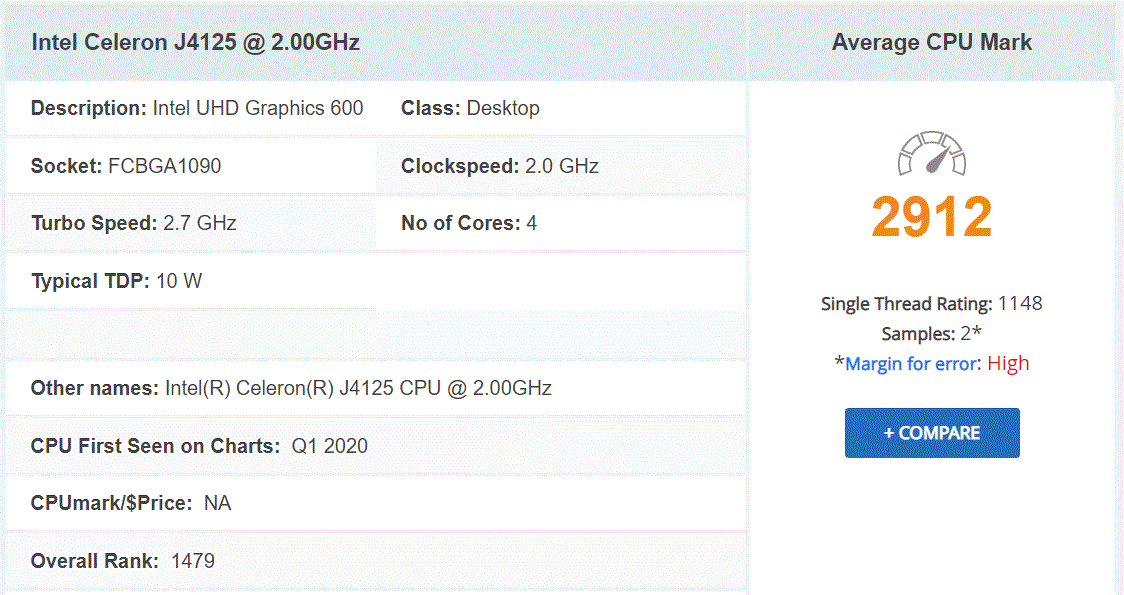 The internal hardware of the device that people will be the most attentive about however is the CPU and memory on offer in the DS920+. Arriving with the Intel J4125 Celeron Processor, this 4 core 2.0Ghz processor can be burst to 2.7Ghz when needed and features UHD HD Graphics 600, so it has a great little transcoding engine on offer. Although it is better than it's predecessor in most ways (barring a slight dip in some H.265 bitrates (according to @eddiethweb) it is still a great CPU and one that does very well in the family of Synology expandable 4 Bay NAS processors. There is a % of the market that hoped for something a little beefier (the same ones who wanted 2.5Gbe) and perhaps a return to the use of an Intel Pentium (as we saw in the DS916+), but this is still a very good processor with a good score on CPU benchmark. The software and performance review of this NAS should give us more info on the CPU in a more day to day use (as well as Plex Media Server of course), but we can make some educated guesses.

For a start, it will perform much better in a native transcoding environment with Synology Video station on the DS920+ and DS Video on your Phone, PC, Amazon FireTV or more, than it will in Plex Media Server. You will be able to playback and transcode both 1080p and 4K for the most part natively, whereas in Plex (even with a PlexPass and Hardware Transcoding) you will likely struggle at top-end 1080p and almost no 4K support in a reliable way. Additionally, that CPU will open the door comfortably to virtualization/VM use, but no more than 1-2 with the Synology Virtual Machine app and enough memory (I would bump up to 8GB for that one for sure). In surveillance, the DS920+ will likely do exceptionally well, with 30+ cameras comfortably (the manf says 40x, but that would be at a lower FPS for sure) and the software is still the best you can get on that one. All of these tasks, especially in unison, need memory.
Synology DS918+ Memory Modules

Two Modules available inside the bay area

Synology DS920+ Memory Modules

1x Available slot in the bay area, another pre-populated and generally inaccessible
The 4/8GB memory option on the DS920+ is a bit of a shame in some respects. 8GB is still a great amount of memory, as well as the DDR4 SO-DIMM 2133Mhz memory available being some 10-20% faster in usage frequency than the 1866Mhz DDR3L SODIMM on the past DS918+. However, it is worth noting that if you the 4GB starting memory it starts with will be utilized by the intelligent caching/flushing feature of DSM. What this means is that if you look at the resource monitor when the device boots, it is caching more data in the memory than it technically needs to. This is not a bad thing though, as when the memory is needed for applications and services, it is near-instantly flushed by the reserved system area. The result is that the OS of DSM via the browser seems silky smooth at all times and when an app needs the resources, it makes it available – very 'Mac'. Though this means that if you are running 2-3 CORE applications (VMM, Surveillance, Containers, Plex) then you are going to hit a few bumps on the 4GB that the unit arrives with.
Synology DS920+ NAS Review – Software
The Synology range of NAS devices all features the same software, in DSM 6.2. What separates them is the extent to which it can run the software, both in terms of which applications and to what extent. This is often governed by the memory and CPU inside and the DS920+ NAS is no exception. If you currently only DS918+ NAS from Synology, then chances are that the Synology DS920+ NAS will have little or nothing that you have not seen before. Featuring a similar (if greater gen) CPU in the Intel Celeron J4125, this quad-core 2.0 GHz processor in the DS920+ does not present a massive upgrade to you. in terms of scaling between the new and older device. However, for those looking for a robust storage NAS with RAID coverage and internal hardware that will stand the test of time, the newer NAS represents a great starting block for your network-attached storage system and in a straight comparison, wins in almost every way.  It unsurprisingly arrives with all the software advantages available on a modern NAS, thanks to the DiskStation Manager (DSM) platform currently in version 6.2.2 and DSM 7.0 soon to be available towards the end of the year. The DS920+ NAS supports a multitude of first-party applications and third-party apps for home and business use, such as:
First Party Apps
Synology Office (Docs, xls, PDF, etc – ALternative to Google Docs)
Synology Chat (Alternative to Skype for internal User Conversation/Collaboration + mobile app)
Synology Drive (Alternative to DropBox/Google Drive with 1-point access to all file types for Mobile and Desktop, as well as intelligent localized sync)
Synology Moments (Photo Sorting and Tagging system with Deep Learning)
Synology Calendar (Smart Calendar App, can be used in conjunction with other apps)
Synology Active Backup (Manage Multiple Server/PC backups via a single control point)
Synology Surveillance Station
Synology Virtual Machine Manager (setup and manage multiple VMs on your NAS)
Synology High Availability (for Syncing Synology NAS and having instant failover support to ensure constant connectivity)
Synology Multimedia Apps (Video Station, Photo Station, Music Station, File Station, etc)
Third Part App Support
Google Drive, DropBox, ElephantDrive and other cloud migration
Docker for virtual application environments
The DSM platform has evolved a great deal over the last few years and has become practically an entire reason to buy a Synology NAS on its own. You can, of course, try out the Synology DSM software platform before investing in a NAS, by visiting the link below and trying DSM 6.2 for yourself:

A full software review of the DSM 6.2 platform on the DS920+ NAS is currently in process and I hope to have this to you here on the blog very soon or on the YouTube channel in due course. Stay tuned.
Synology DS920+ NAS Review – Conclusion
The DS920+ NAS is something that Synology should be proud of. It is a great entry into their already impressive range of Diskstation NAS devices. If you are looking for a brand new NAS to consolidate your home media, to support your relative as the 'IT whizz' of the family, or move your business away from Google Drives and DropBox' onto something safer, more scalable and dependable – then the DS920+ has alot to offer you. It gives you a great base to start using the DSM platform, as well as a good means to upgrade your storage internally at a later date (expansions in memory, expansions in storage, expansion in NVMe). If you are an existing DS918+ or DS916+ owner, this might not seem like the jump you were waiting for.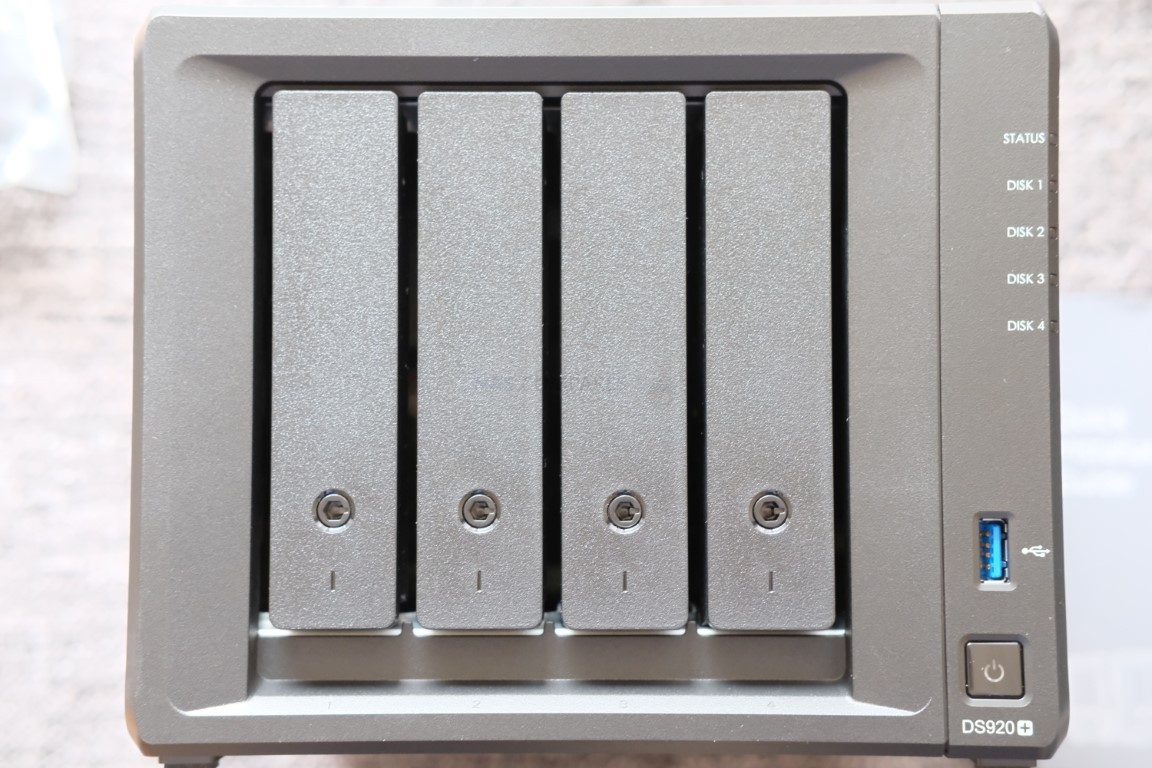 There are always areas of improvement, the USB ports, the 1Gbe, that 1 memory slot – but these are things that Synology no doubt feel should be pushed into a higher price/hardware bracket – Allowing the DS920+ Price to be as close to its predecessors it can be. Whether you agree or disagree, I think that we can agree that this NAS is still giving you alot of bang for your buck in 2020. Thank you once again to 'Takeo from Tokyo' for all his assistance on this hardware review
PROS
CONS

Dual NVMe M.2 cache

Great RAID Options

Excellent choice of Apps

Snapshot Replication

BTRFS and SHR

Support Plex

Virtualization

4K Video transcoding

Full Plex Transcoding

Hot-Swap trays

DLNA Compliant

Expandable

No Copy button

Only 1Gbe Ethernet ports

No PCIe slots

Only a single accessible Memory Bay
Visit the NASCompares Deal Finder to find the best place to buy this device in your region, based on Service, Support and Reputation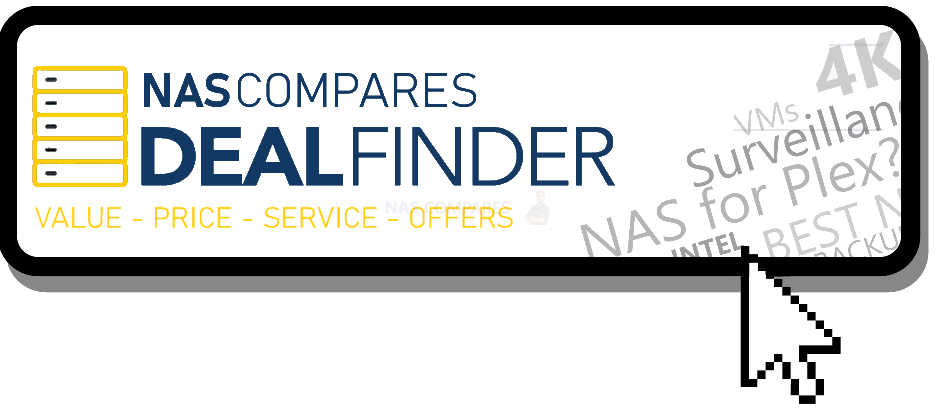 If you are thinking of buying a Synology NAS, please use the links below
Click Below to Read my Synology DS920+ and DS918+ NAS Comparison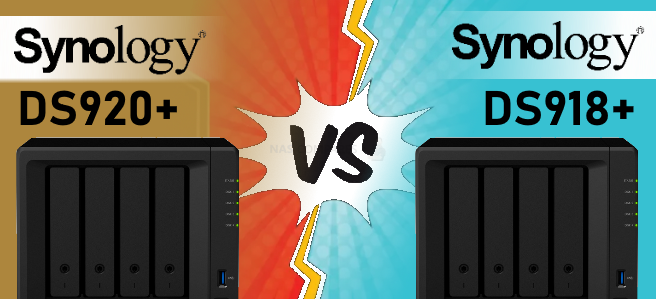 📧 LET ME KNOW ABOUT NEW POSTS 🔔
Join 1,410 other subscribers
Get an alert every time something gets added to this specific article!
This description contains links to Amazon. These links will take you to some of the products mentioned in today's content. As an Amazon Associate, I earn from qualifying purchases. Visit the NASCompares Deal Finder to find the best place to buy this device in your region, based on Service, Support and Reputation - Just Search for your NAS Drive in the Box Below
Need Advice on Data Storage from an Expert?
We want to keep the free advice on NASCompares FREE for as long as we can. Since this service started back in Jan '18, We have helped hundreds of users every month solve their storage woes, but we can only continue to do this with your support. So please do choose to buy at Amazon US and Amazon UK on the articles when buying to provide advert revenue support or to donate/support the site below.

Finally, for free advice about your setup, j
ust leave a message in the comments below here at NASCompares.com and we will get back to you.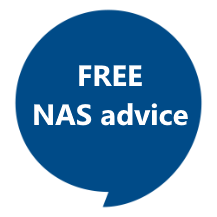 Need Help?
Where possible (and where appropriate) please provide as much information about your requirements, as then I can arrange the best answer and solution to your needs. Do not worry about your e-mail address being required, it will NOT be used in a mailing list and will NOT be used in any way other than to respond to your enquiry.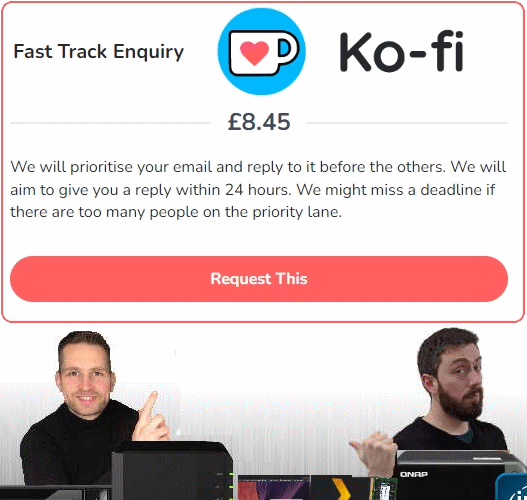 Terms and Conditions
Alternatively, why not ask me on the
ASK NASCompares forum
, by clicking the button below. This is a community hub that serves as a place that I can answer your question, chew the fat, share new release information and even get corrections posted. I will always get around to answering ALL queries, but as a one-man operation, I cannot promise speed! So by sharing your query in the
ASK NASCompares
section below, you can get a better range of solutions and suggestions, alongside my own.
Summary
Reviewer
Review Date
Reviewed Item
Synology DS920+ NAS Drive Hardware Review
Author Rating