TrueNAS Core Software Review – Part II, Managing Accounts, Alerts & Business Support
If you are considering managing your own private server, want to build it yourself (investing your budget primarily into the hardware) and want to take advantage of free to download open source software, then there is a huge chance that you are aware of TrueNAS. In part two of my full review of the TrueNAS Core software, I will be looking at how business users are going to find the account management of TrueNAS, how those accounts can be adapted/changed on the fly, what authentication methods are on offer to those accounts, how detailed the alerts are, in what ways can those concerned by notified as quickly as possible and just what options are available to business users who like the flexibility of TrueNAS but want commercial-grade support. We have a lot to cover, so I won't waste much of your time, but I should add that today's review was made possible with help from iXsystems providing a Mini X+ TrueNAS system. iXsystems is the business arm of the open-source TrueNAS platform and they provide the means for users who like the FreeBSD platform to have more of a turnkey 'off the shelf' solution at their disposal. If you want to read the FULL review, you can read the (LONG) FULL Review of TrueNAS is available HERE.
Part I of the TrueNAS Review Can be found HERE
Part III of the TrueNAS Review is HERE (25/03)
Review of TrueNAS – Accounts Creation, Control & Management
Given the rather technical, bespoke and detailed nature of TrueNAS, it is easy to understand why the solution is aimed at business users who want things set up in a 'certain way'. Although turnkey solutions are easier to deploy and are generally more user-friendly, they are more often than not too rigid and inflexible for businesses to use in their larger business models. In most cases, a TrueNAS custom-built (or iXsystem) will be deployed in the center of a business and accessible from many, many company staff for backups, email, document archives, hybrid sync storage and more. Therefore it is important to review how TrueNAS handles multiple accounts, how security is afforded to these accounts and how privileges and access to more mission-critical or confidential data are managed. TrueNAS features a quick and easy means to create multiple users and/or groups for the host user network (as well as connecting these with remote access as required). Let me talk you through what stood out for me in TrueNAS when it comes to account management.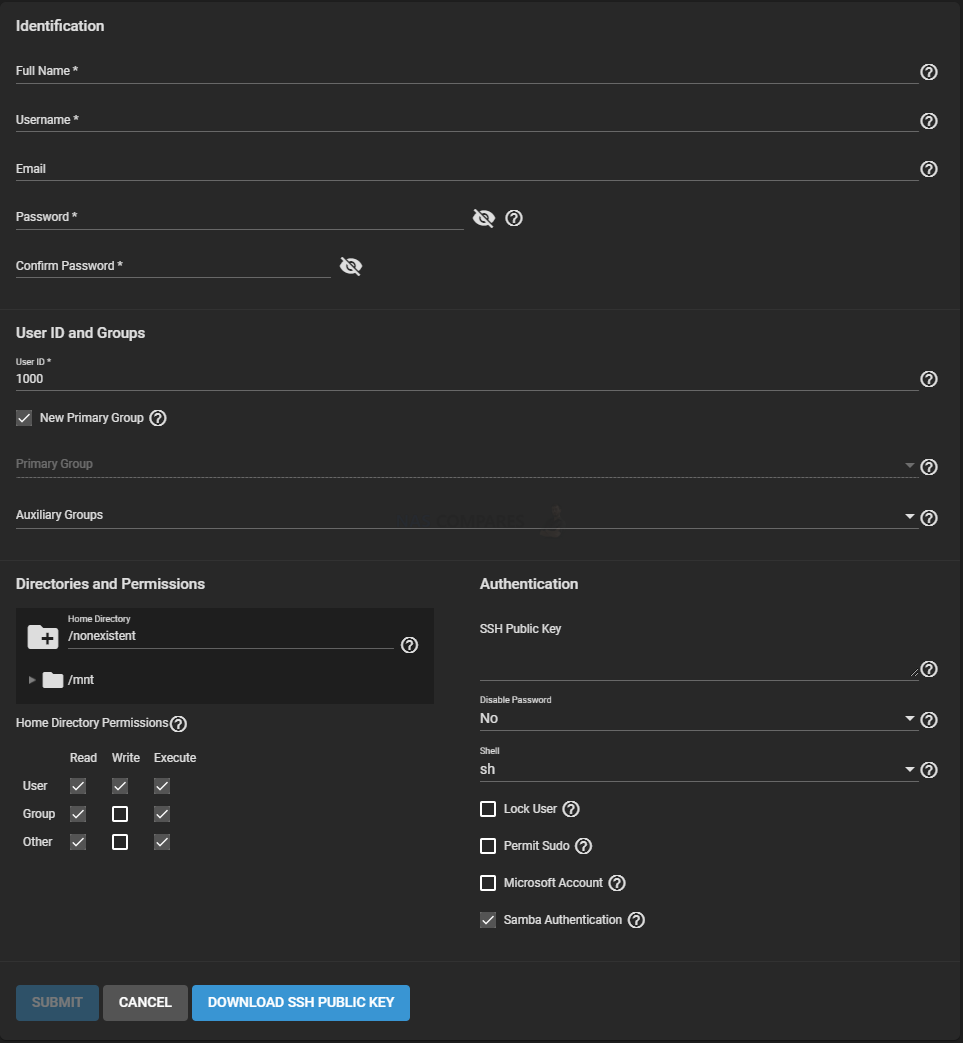 Significant Range of Security and Account Configuration Options
Creating a user account in TrueNAS is incredibly straightforward, as well as making each account as secure as possible. Each account has the standard username and password settings you would expect, but then they delve quite a bit deeper into how you want these users to access the system, their subgroups (which then allows you to create bulk protocols/privileges for all users in that group quickly) and the nature of their account. Options such as which file directories this user can interact with can be set to rear only, write or full access are fairly standard, but I like the options for locking some user accounts easily, creating unique SSH keys, creating temporary admin powers and rotational/changeable passwords are a nice extra touch. As the system is predominantly designed to be remotely accessed via 3rd party client OS' and 3rd party client software, the more customizable user account features of user images and bespoke desktop GUI found on NAS systems such as Synology and QNAP are absent, but this is still a very easy and detailed user creation element to TrueNAS.
Good Support of Microsoft Account Authorization
It's a relatively small extra detail, but user account security in TrueNAS also includes an option to integrate the use of Microsoft account security when accessing the storage on the server. This is applicable to any system running Windows 8 or higher (including Windows 11) and allows the authentication methods that are used in the Windows operations system to be used to further verify the identity of a connected user. This user service is not exclusive to TrueNAS of course, but it is another neat piece of third party crossover support that the software includes in its open-source architecture.

Impressively Configurable 2-Step Authentication
The fact that TrueNAS features the support of 2 step authentication (also known as 2FA – 2 Factor authentication) is not going to be a huge surprise for many, given its ubiquitous appearance on pretty much all software clients in the last few years. For those that arent aware, in brief, two-step authentication allows you to have a 2nd degree of user authentication when logging into a service/software alongside your password, as your phone will need to provide a randomly generated code every time when you log in. You need to use one of the many authentication client tools available online (with Google Authenticator being one of the most used for mobiles), but it is surprisingly easy to set up. Where 2-Step authentication in TrueNAS differs from most is the level of configuration that is on offer within the 2FA settings.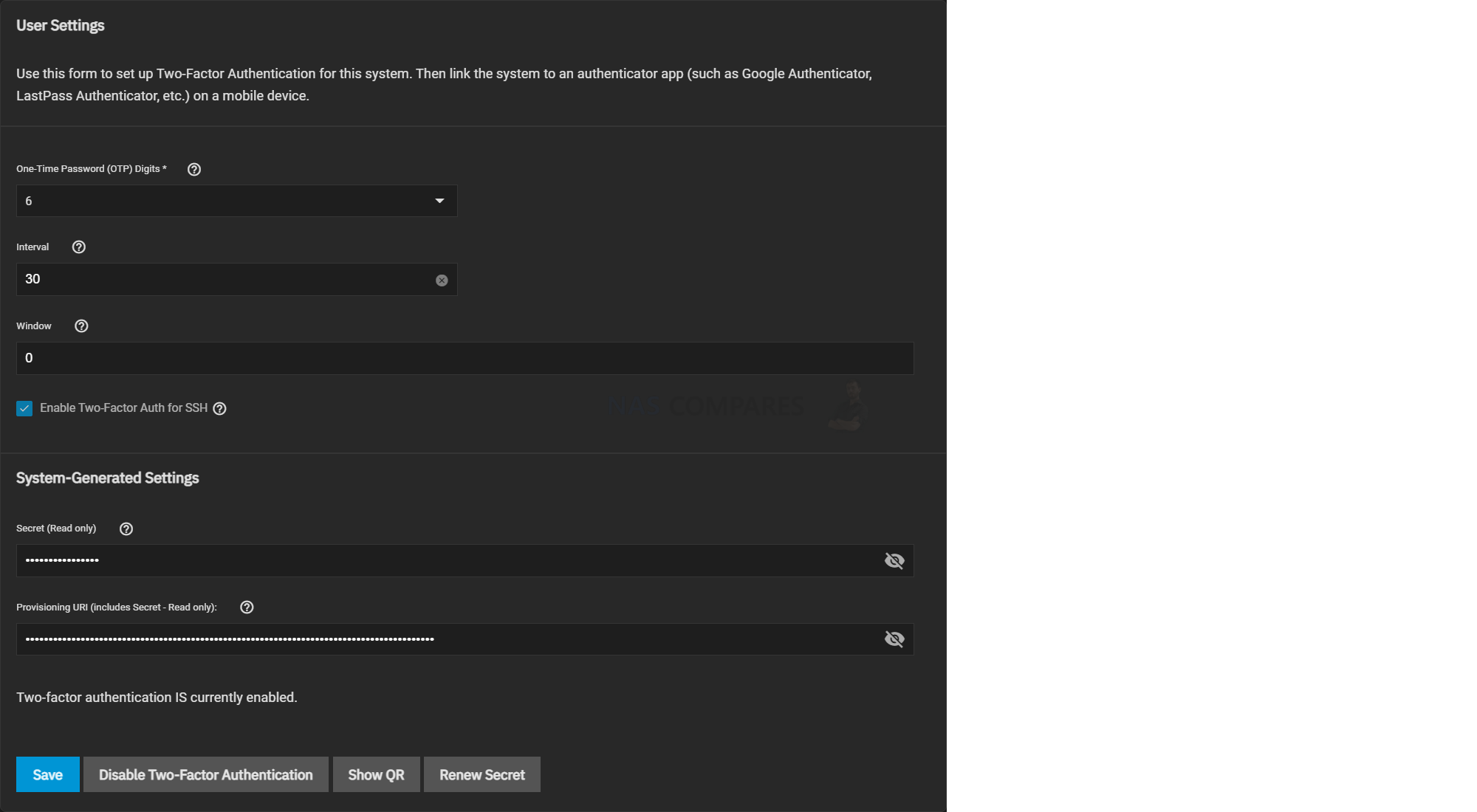 Most systems will provide you with the option to simply synchronize with the authentication tool you are using (3D generated barcode or long passkey as best suited to the end-user). TrueNAS on the other hand allows you to change the authentication interval that the randomly generated code changes (usually 30 seconds) to longer for those that need it for accessibility support, as well as change the validity period/number of attempts before a potential lockout. Then you have the option to customize the length of the one-time password (OTP) to greater than the usual default 6 digits (something I have not seen offered by any other NAS brands in 2022). Finally, there is the choice to integrate the requirements for 2-step authentication into SSH logins (command line access with an SSH client window tool such as Putty), which given the huge degree of SSH access built into the typical TrueNAS use scenario, it definitely beneficial.
No Bulk Group or User Creation Options
One small but present absence that I noted in TrueNAS was the lack of an option to create bulk users at once or to import an existing CSV or .xlsx file. This is a very minor detail of course and only applicable to users who have larger volumes of users they wish to move over to a new server from an existing setup, but I am still surprised that it is absent in TrueNAS Core. I have contacted iXsystems to enquire about this and apparently it IS an option that is available in TrueNAS Scale, but nevertheless, I am disappointed that it is not available across the whole platform.
Review of TrueNAS – Alerts & Notifications
Most users who are looking at getting a private server, although initially heavily invested in tinkering and playing with the device, will eventually want the system to just sit in the corner, be quiet and do it's job! It's understandable, as interesting as the software and services are, ultimately a NAS (TrueNAS or otherwise) is a tool and as soon as you have set the device up to do the thing you specifically need it to, you want to go back to doing other things and whilst your NAS carries on. However, whilst that is true, in the event something is wrong or out of the ordinary system processes are noticed internally, you want the TrueNAS to tell you ASAP! Most NAS systems have inbuilt notifications and alerts that can be pushed to select/all end users that can be tailored to preferred client devices and methods. In the case of TrueNAS there are (as you might expect) a wide, WIDE variety of settings and choices for delivering those all-important notifications and although in the case of many apps being 3rd party (therefore having their own notification and alert schemes in place as appropriate), the greater storage system, network/internet connections and user behaviour alerts are still pretty extensive in their alert options. Here is what stood out in TrueNAS for me in this area.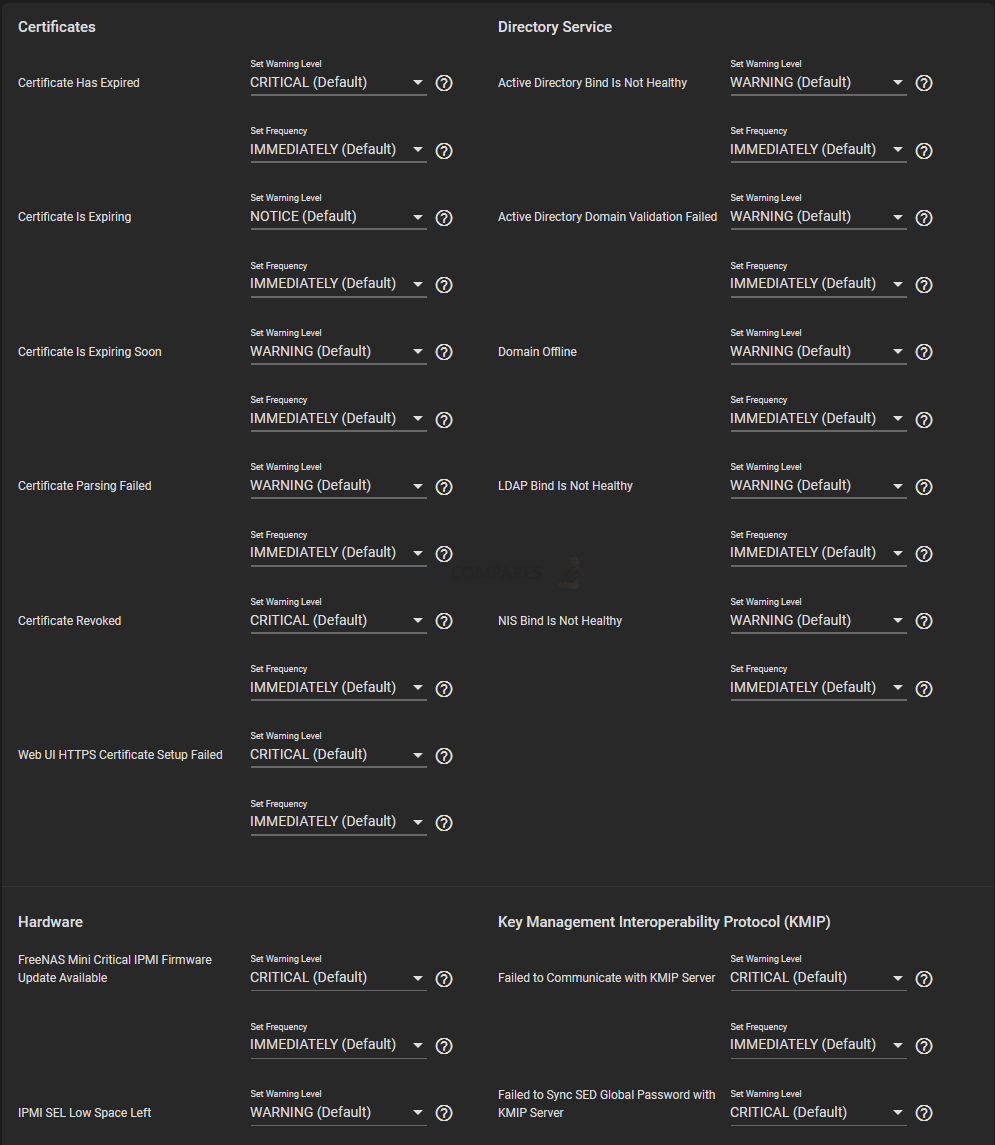 VERY

Customizable Alerts and Notification Customization
I really cannot stress enough how diverse the range of alert configuration options that TrueNAS allows you to adapt. The window above is just a small example of the many, many windows available although it is a long, long list of options, you cannot really suggest that TrueNAS didn't cover all the scenarios. There are even slightly more customizable ones that you can add too. The delivery of these alerts is a little less straightforward than those found in Synology/QNAP (which have proprietary client apps for mobile and desktop that allow faster alert methods) but a large number of platforms are supported in TrueNAS for notifications that include email, Slack, AWS, InfluxDB, Mattermost, Pager Duty, SNMP Trap and more. Alongside incredibly concisely built alert parameters, each one can be scaled in priority and in turn, its urgency adjusted.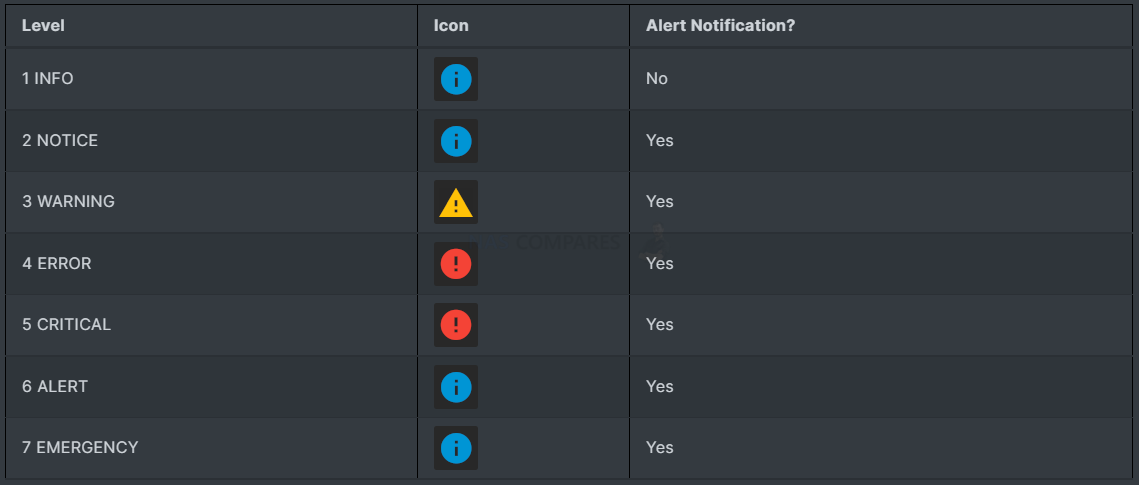 TrueNAS uses a 7 tier alert priority scale and you can adjust each alert & notification variable in the wide-ranging list to your own requirements. For example, if you were running a shared storage area with a team of 10 users and 8/10 of those users were accessing the system at once (potentially bottlenecking the network in a 1GbE network, depending on the file volume/frequency), you might want the system admin/IT to know this. It isn't a high-level alert, more of a case of being aware of the additional network load. In that case you can setup an alert of bandwidth/zdev access above a certain level/% and suitable admin to receive a level 2 notification (NOTICE) so they are aware. Alternatively, example 2, there have been several failed login attempts under a specific user account, but eventually that user has logged in successfully. This might be a cause of concern as repeated password attempts could so easily be an unauthorized individual connecting to the greater system. You can set the # of failed login attempts before an automatic lockout OR set an alert of level 3 'WARNING' to alert a system admin to look into this account behaviour to access the situation. Alerts and notifications become significantly more intricate (breaking down into encryption certificates, hardware health, critical system failure, SSH/Telnet logins. etc) and this easy 7 tier alert system can be applied to all instances.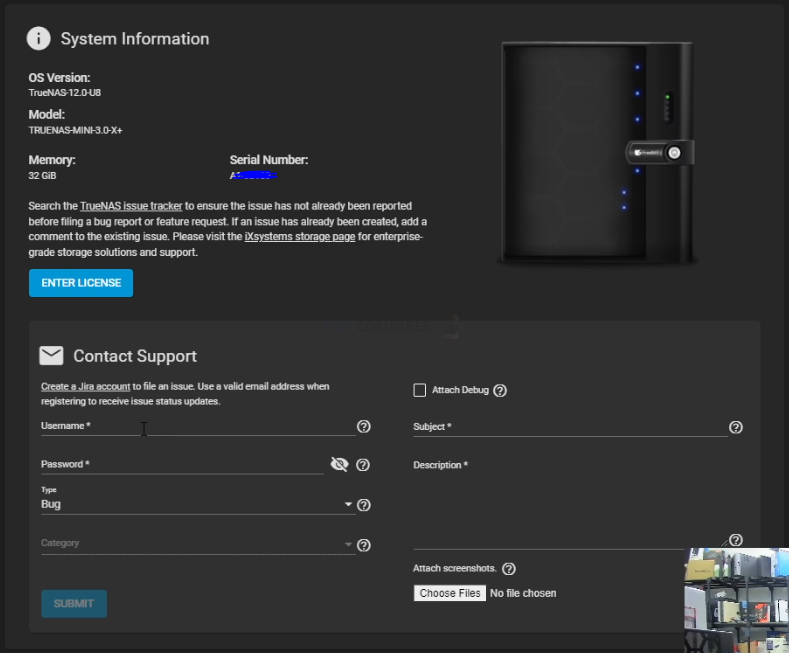 Build In Support Lines, Business Support tiers, Direct System Messaging System and

Issue Reporting Mechanism in the TrueNAS GUI
As TrueNAS is an opensource and community-driven NAS platform, you would be forgiven for wondering just how much this all means when you hit a technical wall, encounter system roadblocks, need advice on a setup or just generally looking for guidance. One of the main appeals of an off the shelf/turn-key solution from brands such as Synology and QNAP is that as a paid hardwware+software solution, you feel that there will be technical support lines via live chat, email and even phone in some cases (depending on the level of solution of course) that a homebrew/DiY solution will not be able to supply. However, the support on a TrueNAS system is a little more diverse than that. If you build your own NAS system from scratch and install TrueNAS Core onto your system, you will not have access to premium/commercial level support, but you do have links in the TrueNAS GUI to community support, details online guides and access to the Jira support system that allows your query for assistance to be submitted to the community pool. There are also provisions there to check if your issue has already been documented and resolved elsewhere. These links are immediately available from within the GUI in multiple areas.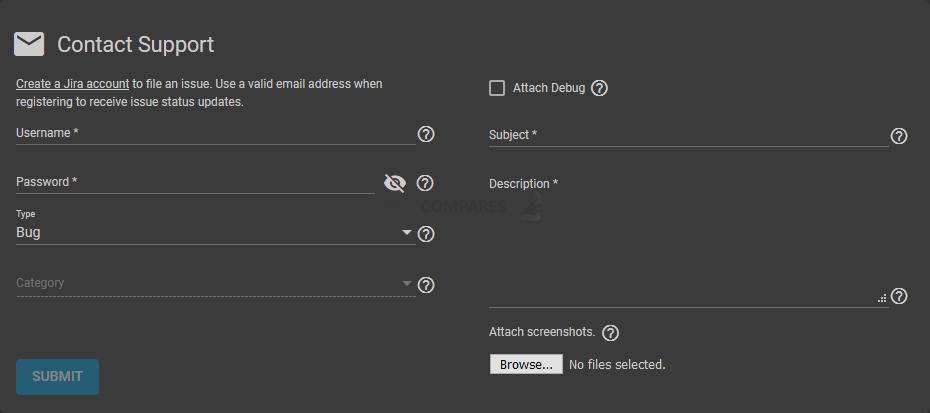 But if you are a business user, despite the TrueNAS open-source/freely available status, you may well have opted for it for it's customization and flexibility compared with off the shelf NAS solutions. Therefore you might still want paid/commercial/enterrpise grade support. This is where the distinction between going TrueNAS DiY and pre-built TrueNAS from iXsystems becomes a little clearer, as iXsystems are the official pre-build provider of TrueNAS and with their solutions, they offer a scaled range of support options that include numerous contact methods. In addition to all the TrueNAS CORE support options that are still available, TrueNAS Enterprise customers who purchase hardware from iXsystems can receive assistance from iXsystems if an issue occurs with the system. Silver and Gold level Support customers can also enable Proactive Support on their hardware to automatically notify iXsystems if an issue occurs. Here is how those support options scale and which systems support each tier:
Gold
Silver
Bronze
Warranty
Software Help Desk
24×7
12×5

12×5
Limited
Hardware Support
4 Hour

On-Site Support & Repair

Next Business Day
On-Site Support & Repair
Advance Parts Replacement
Return to Depot
Remote Deployment Assistance (60 days)
Yes
Yes
Yes
No
On-Site Hardware Spares Kit
Included
Optional
Optional
Optional
Proactive Support & System Monitoring
Yes
Yes
No
No
Advanced Hardware Replacement

Delivered the next business day
and/or Saturday.
Delivered the next business day.
Delivered the next business day.
No
After Hour Maintenance/Upgrade Assistance
By appointment
By appointment
No
No
Online Support Portal and Knowledge base
Yes
Yes
Yes
Yes
Software Updates
Yes
Yes
Yes
Yes
S1: Not serving data or severe performance
degradation, critically disrupting business.
Response within 2 hours, 24×7 Help Desk Support
Email Response within 4 hours, 6:00 AM to 6:00 PM Pacific Time (M-F)
Email Response within 4 hours, 6:00 AM to 6:00 PM Pacific Time (M-F)
Email support (Next business day) for S1 and S2 intermittent faults only
S2: Performance degradation in production or
intermittent faults.
Response within 4 hours, 24×7 Help Desk Support
Email Response within 4 hours, 6:00 AM to 6:00 PM Pacific Time (M-F)
Email Response within 4 hours, 6:00 AM to 6:00 PM Pacific Time (M-F)
Email support (Next business day) for S1 and S2 intermittent faults only
S3: Issue or defect causing minimal impact.
Email Response within 4 hours, 6:00 AM to 6:00 PM Pacific Time
Email Response within 4 hours, 6:00 AM to 6:00 PM Pacific Time (M-F)
Email Response within 4 hours, 6:00 AM to 6:00 PM Pacific Time (M-F)
No support available.
S4: Request for information or administrative
requests.
Next business day response.
Next business day response.
Next business day response.
No support available.
The level of support afforded to each tier of the iXsystem hardware portfolio is not quite as straightforward, however, as smaller-scale systems only support upto a bronze tier. Therefore on closer examination, you can only access the highest/most-involved customer support tier when you are looking at the enterprise tier hardware systems. Now, on the face of it, that makes sense in terms of priority as it is those highest volume use systems that are going to want the fastest and most responsive support. Equally, the most modest systems will be used by smaller-scale users and have smaller scale utilities in mind. Still, I know more than enough NAS users who choose more modest NAS systems from Synology and QNAP, BUT will push for extended warranties, 5year warranty enterprise storage media, choosing to allocate their storage server budget towards lengthy support periods for peace of mind/insurance. Here is how the commercial support options spread across iXsystem hardware options:
| | | | | |
| --- | --- | --- | --- | --- |
| Model | Gold | Silver | Bronze | Warranty |
| M-series | Available | Available | Available | 3-Year Included |
| X-series | Available | Available | Available | 3-Year Included |
| R-series | Not Available | Available | Available | 3-Year Included |
| FNC | Not Available | Available | Available | 3-Year Included |
| Mini | Not Available | Not Available | Available | 1-Year Included. SW Warranty requires registration |
In the case of my review, I have been using a TrueNAS mini x+ and below is how the support prices are based on this model of the TrueNAS iXsystem mini. It is worth noting that only systems with all hardware provided by iXsystems are eligible for software support and warranty. Enterprise Bronze Support is only available for customers that have larger TrueNAS systems also under Enterprise Support Contract. Component swaps are the standard process for resolving major issues.
| | | | | |
| --- | --- | --- | --- | --- |
| Model | 3-Year Silver | 3-Year Bronze | 3-Year Warranty | Warranty |
| Mini E, E+ | Not Available | $299 | $149 | 1-Year Included. SW Warranty requires registration. |
| Mini X, X+ | Not Available | $399 | $199 | 1-Year Included. SW Warranty requires registration. |
| Mini XL+ | Not Available | $599 | $299 | 1-Year Included. SW Warranty requires registration. |
Overall, I think TrueNAS (and iXsystems) have balanced the level of support and assistance options that are available to most kinds of NAS user. It makes sense that a free-to-download software platform would not be able to provide a commercial/enterprise-grade support level without having to financially support this behind a subscription service. And they do not leverage this against the community support, opening encouraging this as an option and facilitating multiple methods of looking up similarly submitted and solved issues, streamline the community support process as much as possible and still presenting the choice to go down the paid-support route when needed. The face this support is not available in non-iXsystem TrueNAS setup's might be a bit of a downer for some, but as mentioned multiple times in this review, the money that some users are saving in a custom/DiY solution in TrueNAS vs a turnkey/off-the-shelf solution from Synology/QNAP needs to be paid in learning how it all works. I think TrueNAS and iXsystems found the best middle ground possible here.
Larger Range of Configuration Options Can be Overwhelming and Lacks Convenient Preset Options
When I said that there are a lot of alert and notification choices built into TrueNAS, I was not kidding. Even at a casual glance, they are in the triple figures, and that is jsut on the outset. It IS true that the bulk of them are automatically set to one of the 7 pre-set alert levels by default, but if you have a slightly more secure/closed setup in mind for your system notifications, you are going to be spending hours, not minutes adjusting them all to your unique needs. The same goes if you want to run a more open setup for testing, as the TrueNAS default settings are a pinch higher than I would class as 'casual' in scaled alerts (better safe than sorry). Now, other turnkey solutions on the market combat this by providing various alert/notification switches BUT also arriving with security councillors/preset configuration dropdowns. In brief, I wish TrueNAS had a range of preset notification levels, perhaps set as 'low-medium-high-business-enterprise' that changed these settings in bulk and THEN you can go in manually where needed and change a few, allowing you to create a custom profile which you can then save as 'CUSTOM'. Similar tiered/scaled choices exist in other areas of TrueNAS for other services that change bulk options on the fly, as well as 'advanced' tabs in places when you want to get your hands a little dirtier and play with options at a deeper level in the GUI. Overall though, I prefer to have too many alert/notification options that are not enough though!
In the third and final part of my review of TrueNAS coming later this week, you can find out what I thought about Security, Network Management, how the platform handles applications & Addons and my overall verdict of TrueNAS Core 12.
Part I of the TrueNAS Review Can be found HERE
Part III of the TrueNAS Review is HERE (25/03)
Alternatively, you can read the (LONG) FULL Review of TrueNAS is available HERE.
📧 LET ME KNOW ABOUT NEW POSTS 🔔
Join 1,462 other subscribers
Get an alert every time something gets added to this specific article!
This description contains links to Amazon. These links will take you to some of the products mentioned in today's content. As an Amazon Associate, I earn from qualifying purchases. Visit the NASCompares Deal Finder to find the best place to buy this device in your region, based on Service, Support and Reputation - Just Search for your NAS Drive in the Box Below
Need Advice on Data Storage from an Expert?
We want to keep the free advice on NASCompares FREE for as long as we can. Since this service started back in Jan '18, We have helped hundreds of users every month solve their storage woes, but we can only continue to do this with your support. So please do choose to buy at Amazon US and Amazon UK on the articles when buying to provide advert revenue support or to donate/support the site below.

Finally, for free advice about your setup, j
ust leave a message in the comments below here at NASCompares.com and we will get back to you.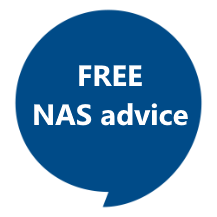 Need Help?
Where possible (and where appropriate) please provide as much information about your requirements, as then I can arrange the best answer and solution to your needs. Do not worry about your e-mail address being required, it will NOT be used in a mailing list and will NOT be used in any way other than to respond to your enquiry.
Support What We Do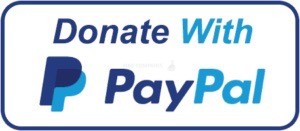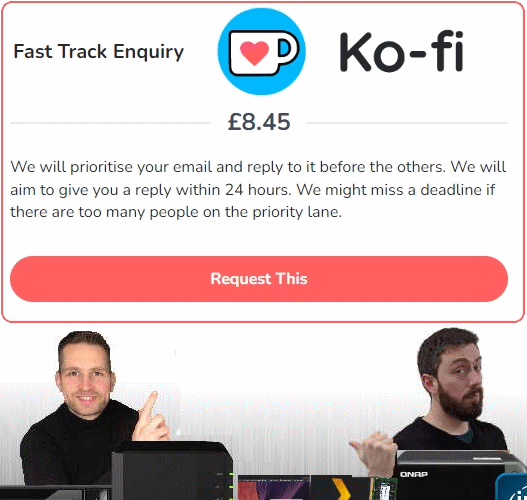 Terms and Conditions
Alternatively, why not ask me on the
ASK NASCompares forum
, by clicking the button below. This is a community hub that serves as a place that I can answer your question, chew the fat, share new release information and even get corrections posted. I will always get around to answering ALL queries, but as a one-man operation, I cannot promise speed! So by sharing your query in the
ASK NASCompares
section below, you can get a better range of solutions and suggestions, alongside my own.