Synology RT6600ax Router Review – Premium Networking?
Reviewing the new RT6600ax router was always going to be quite a tall order. Routers, unlike the NAS drives I so often talk about, are far more common in every home or office in the world. Then there is the fact that they are available practically for free with most internet service providers and therefore are always something of a tough pill for some users to swallow when it comes to handing over cold, hard cash for. Yet, the premium router market continues to grow and into it, Synology released the latest addition to their growing router portfolio, the RT6600ax WiFi 6 and 2.5GbE fully-featured router. Remember when Synology was the brand you only knew about because of NAS? That does seem like a long time ago and in the last 5-6 years, we have seen this brand transform into quite the behemoth that is providing a wide range of network hardware and software solutions to practically every tier of the buyers market. So, therefore, their expansion into routers for home and business users makes a great deal of sense (cough when are the cameras and switches coming though!) and although WiFi 6 (aka 802.11ax or WiFi AX) and 2.5GbE has now been around a while, Synology has only now entered this market with their new router. This has also been accompanied by the release of their new SRM (Synology Router Manager) software up to version 1.3, which is improving an already remarkably intuitive yet highly customizable and flexible security platform. So, let's review the Synology RT6600ax router, discuss what we like, what we don't and ultimately help you decide whether now is the time to ditch your freebie ISP router and move to Synology's solution.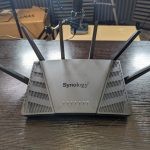 Synology RT6600ax Router Review Chapters

Synology RT6600AX Review, ALL Parts - HERE
Synology RT6600AX Review, Part 2, Connections & Internal Hardware - HERE
Synology RT6600AX Review, Part 3, Software, 5.9Ghz & Verdict - HERE
Hardware Highlights of the Synology RT6600ax Router
Arrives with Synology Router Manager 1.3 with new features and services included
Quad-core 1.8 GHz Qualcomm Processor
DDR3 1 GB Memory (2x 512MB on-board)
Tri-Band WiFi 6 Support 6600Mbs Bandwidth Potential:
2.4 GHz: Up to 600 Mbps
5 GHz-1: Up to 4800 Mbps
5 GHz-2: Up to 1200 Mbps
6 x High gain adjustable antennae (4×4 MIMO antennas)
5.9Ghz / 160MHz channel Support
Four 1GbE (Gigabit Ethernet ports) (1x WAN 3x LAN)
1x 2.5GbE LAN/WAN Port
Multi-Network creation in SRM 1.3 later in 2022
Improved DS Router Mobile Application and Browser GUI in SRM 1.3 in 2022
Mesh Support with future AX devices, as well as MR2200ac over 5Ghz Backhaul
USB 3.2 Gen 1 (Type A 5Gb/s) Port supporting several SRM applications
Note – This is not the first Synology router I have ever reviewed, it is in fact the 4th. That said, this review might well be read by someone who is completely unaware of Synology's routers, SRM and the way their routers work vs other brands out there. So, I decided to write this review to cover practically everything, So, if you are already aware of Synology's router solutions (perhaps already own one and looking to upgrade), some of the SRM stuff you will already know is available to older gen Synology routers. I present it in full here to ensure that new users to the brand's routers get the full picture.
Synology RT6600ax Router Review – Presentation
The retail box of the Synology RT6600ax router is largely the same as a number of the brand's NAS solutions. A Brown box, with a product detail sticker on the front that denotes a number of the key specifications. However, unlike brands that tend to slap a different label on the same brown box, Synology always adds a bunch of very product-specific details to the carton that shows more of that brand awareness they regularly exude.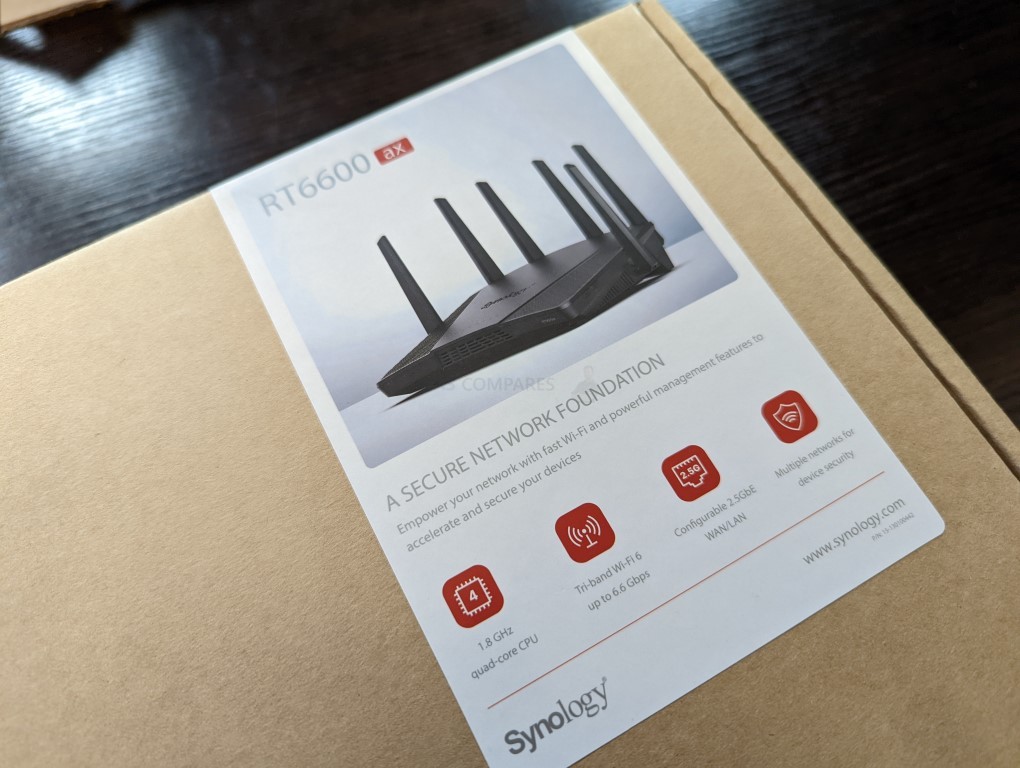 Details on the retail packaging highlight what sets this apart from other premium routers (as well as others in their portfolio) such as the use of the 5.9Ghz frequency support and certified 160Mhz channel support, which make this WiFi 6 router more future proof than many in the market right now, even in spite of WiFi 6E appearing on peoples radar.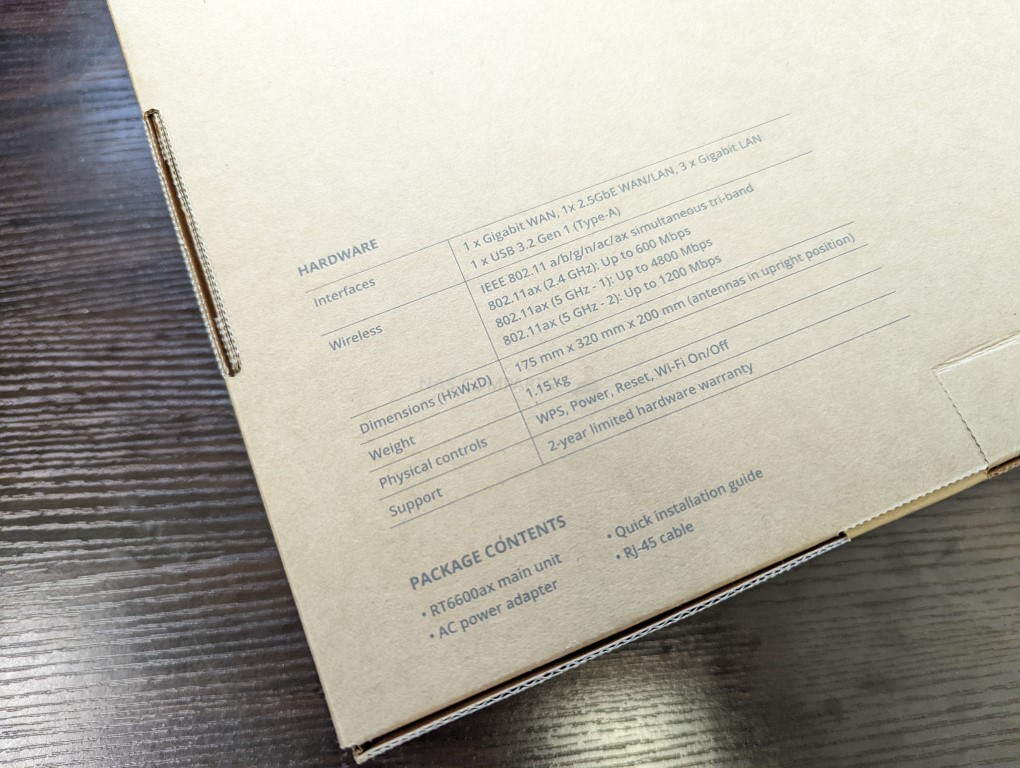 All that said, there will always be some conventions in the packaging of routers that are consistent (and in some cases, baffling) that the RT600ax router does not avoid. To date, routers are still the only mainstream device you can buy that is still packaged in this oddly shaped corrugated cardboard packaging. Whether it is 'freemium' ISP routers or paid-up top tier routers, they always arrive this way. If you have any idea why that is, let me know in the comments.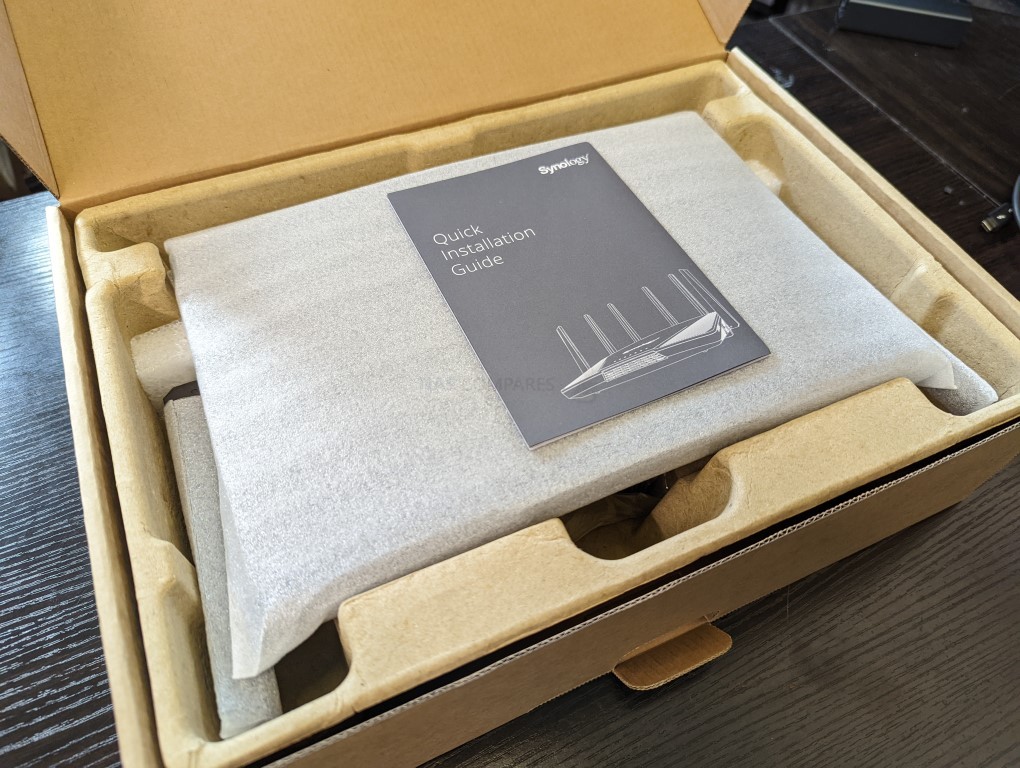 Despite the router's large scale, the system arrives with all of the antennae pre-attached (no small feat, given that there are 6 of them) and the system arrives with pretty much the base level of accessories and components that you would expect: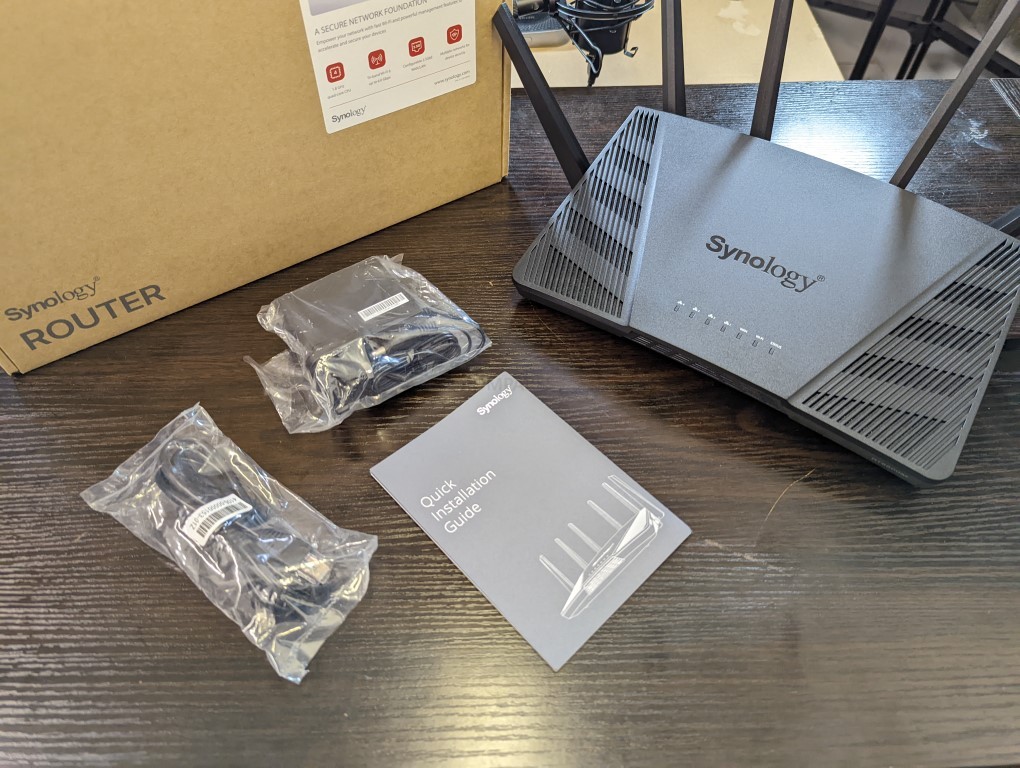 These include the RT6600ax itself, setup instructions, an RJ45 ethernet cable and details on the included 2 years warranty. All fairly standard stuff and in spite of this being a 5x (1 WAN 4 LAN) router, I can appreciate for reasons of wastage that Synology wouldn't provide more. Additionally and somewhat predictably, the RT6600x arrives with an external 42W PSU, but it's quite the chunky number (with a changeable regional plug clip).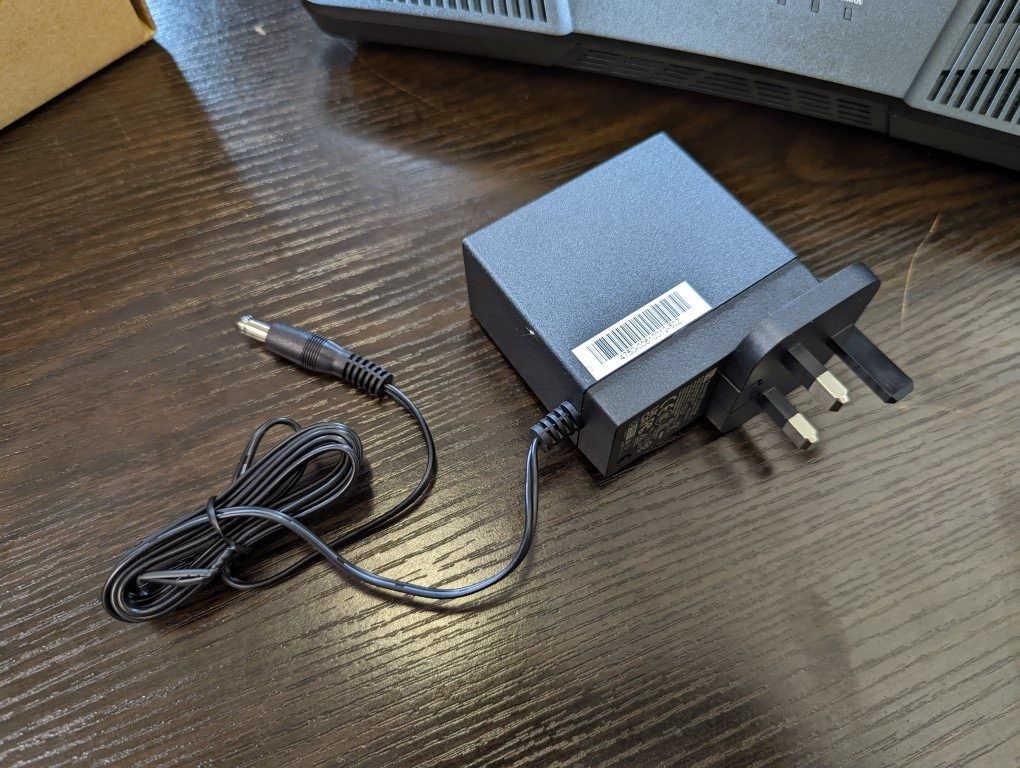 Overall this is all fairly safe and competent packaging and you cannot even really fault the inclusion of Cat 5e, given the single 2.5GbE and no 10GbE/Cat7 consideration to factor in. Let's get to grips with the RT6600ax router itself and discuss the design.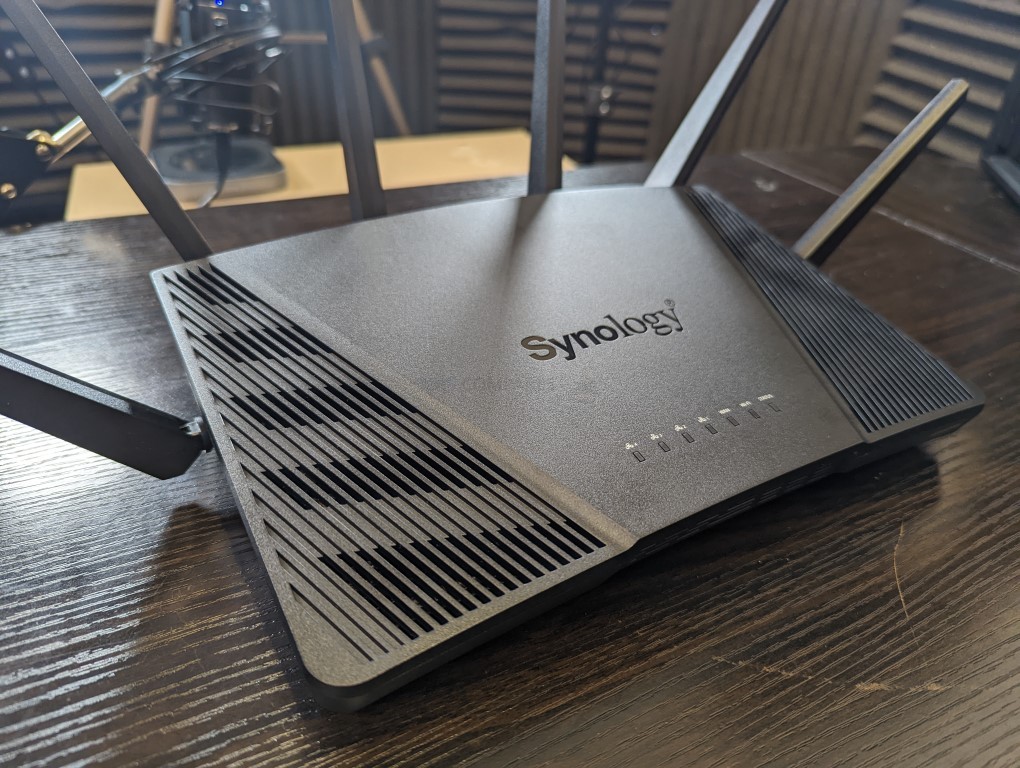 Synology RT6600ax Router Review – Design
The Synology RT6600ax router is quite a decent sized router at 175 mm x 320 mm x 200 mm (with antennae up) and is covered in ventilation on practically all sides.  The Synology logo embossed in the centre is fairly standard for the brand's slick image and despite there being quite a few 6 antennae prosumer routers on the market in 2022, there is something distinctly 'Synology' throughout the design.
The vents across the entire surface of the RT6600ax are there because the system relies heavily on passive airflow in conjunction with a very large internal heatsink and no active internal fans. Few routers feature active cooling internally but given the three separate internal Qualcomm processors internally (two for those three bands and one for managing the system with SRM 3.1 onboard), this would have been a suitable candidate. Still, despite the system no doubt running a little hot at peak times, it definitely worked perfectly in testing.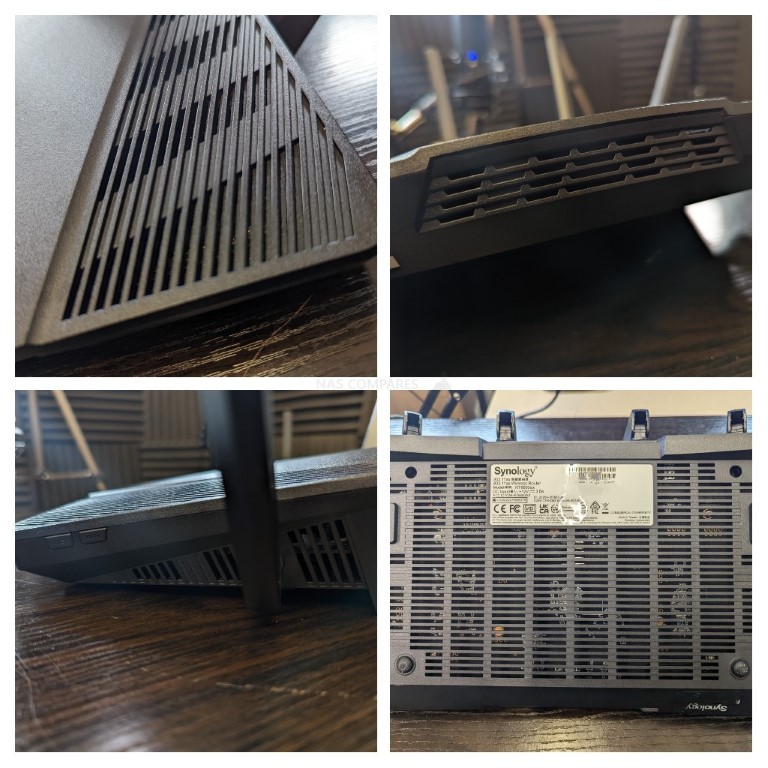 The top of the system features seven LEDs that denote the internet/WAN connection, the status of the Wi-Fi connection, one for each of the four LAN/RJ45 ports and a final one to denote system status. All fairly standard stuff.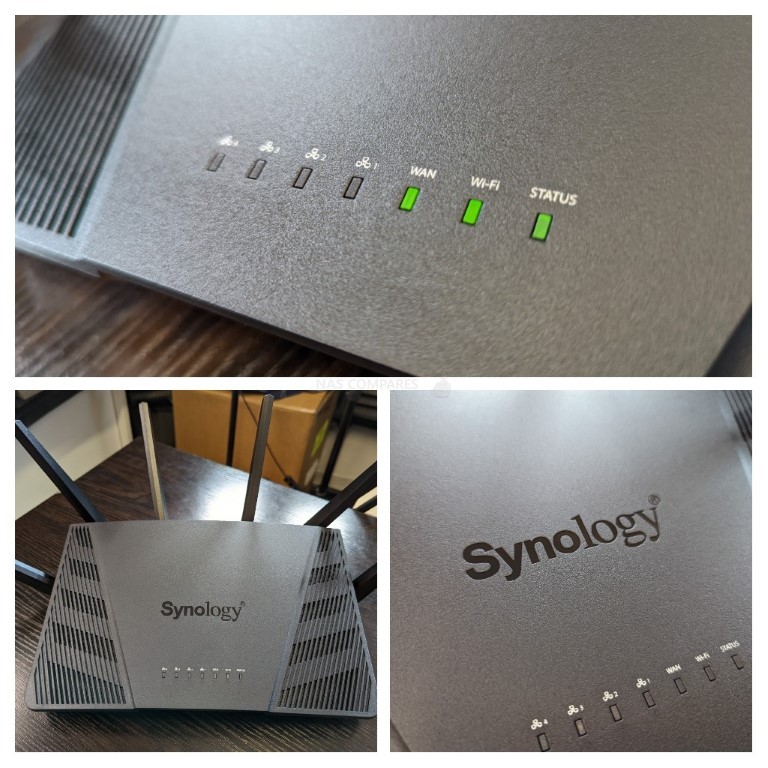 Focusing more on the six antennas, these are completely adjustable and are quite rigidly attached (something that is often not the case with budget routers), supporting three active and simultaneous bands of coverage (2.4Ghz and two 5.Ghz bands), which can be used independently to support multiple SSIDs (upto 15x) or can be used intelligently with systems like Smart Connect that will juggle a connected user to the more suitable band as their distance from the router(s) changes. The coverage of these antennae, as well as their being movable by hand means that you are going to have quite an impressive range of coverage available with this router.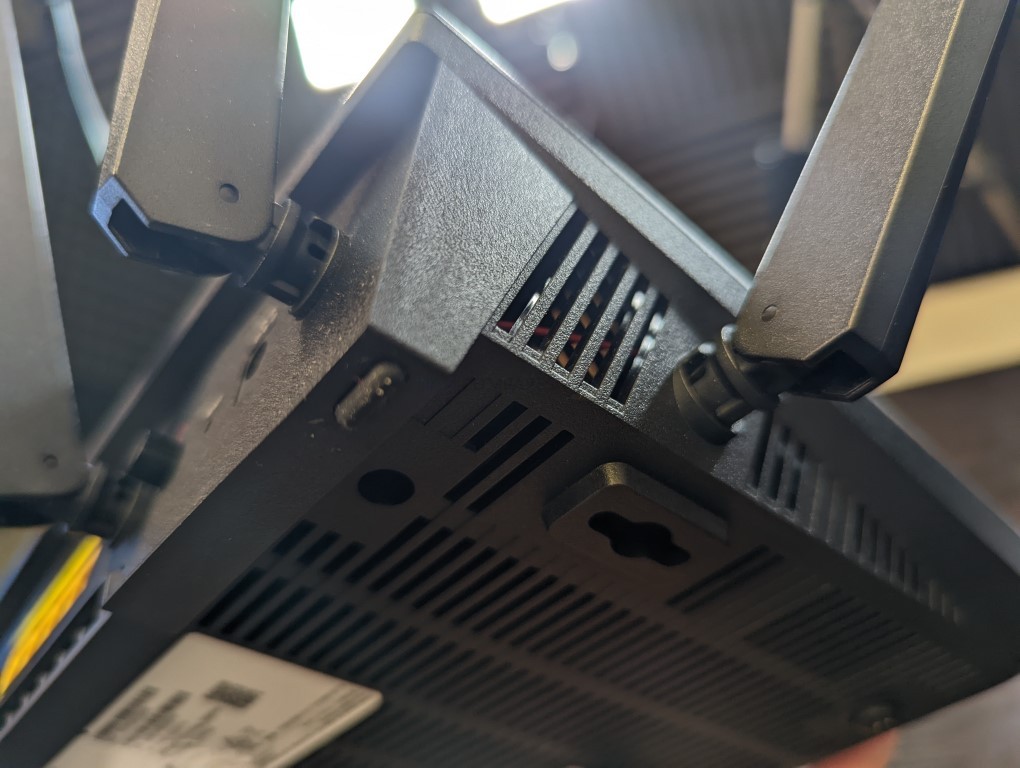 In total, the RT6600ax's tri-band coverage means that you have upto 600Mb/s bandwidth available on 2.4Ghz, 1200Mb/s available on the 2nd 5Ghz band and a crazy 4800Mb/s available on the other 5Ghz band, thanks to Wifi6 and that 5.9Ghz band being opened up here. This allows connectivity over 802.11 a/n/ac/ax over the three bands, with support of numerous encryption and wireless protection protocols supported on the RT6600ax, such as WPA/WPA2-Personal, WPA/WPA2-Enterprise, WPA2/WPA3-Personal, WPA3- Personal/Enterprise, Wi-Fi Enhanced Open (OWE) and use of Wi-Fi Protected Setup (WPS) 2.0.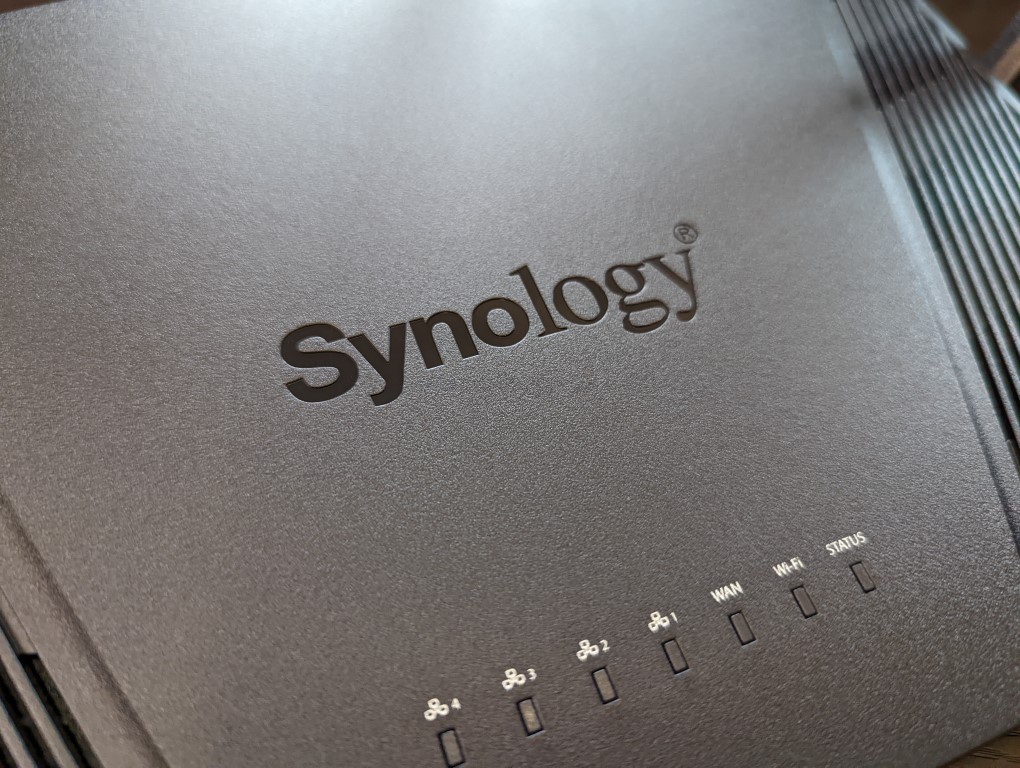 5.9 GHz spectrum support enables additional high-speed 80 and 160 MHz channels to be utilized. Given how much WiFi 6 has utilized the 5Ghz band in recent years and router solutions, as well as WiFi 6E hitting the 6Ghz band, the relatively lesser used 5.9Ghz band that was long restricted to government assigned to transportation communication has been sitting there, massively underused. Till now! The Synology RT6600ax is one of the very few routers right now that's commercially available that can take advantage of 5.9Ghz and take advantage of the additional frequency/bandwidth potential. Before we go through the how's and why's, let's discuss the physical ports and connections available.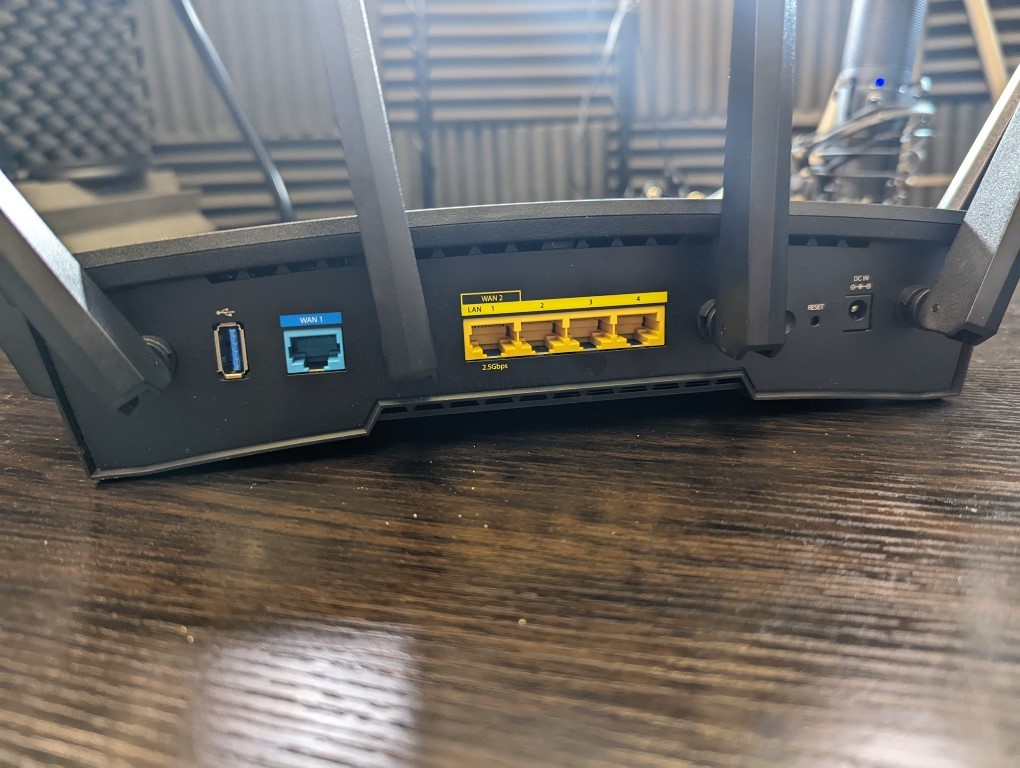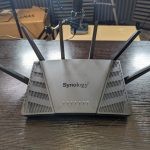 Synology RT6600ax Router Review Chapters

Synology RT6600AX Review, ALL Parts - HERE
Synology RT6600AX Review, Part 2, Connections & Internal Hardware - HERE
Synology RT6600AX Review, Part 3, Software, 5.9Ghz & Verdict - HERE
Alternatively, you can watch the FULL review of the Synology RT6600ax over on YouTube below:
📧 LET ME KNOW ABOUT NEW POSTS 🔔
Join 1,411 other subscribers
Get an alert every time something gets added to this specific article!
This description contains links to Amazon. These links will take you to some of the products mentioned in today's content. As an Amazon Associate, I earn from qualifying purchases. Visit the NASCompares Deal Finder to find the best place to buy this device in your region, based on Service, Support and Reputation - Just Search for your NAS Drive in the Box Below
Need Advice on Data Storage from an Expert?
We want to keep the free advice on NASCompares FREE for as long as we can. Since this service started back in Jan '18, We have helped hundreds of users every month solve their storage woes, but we can only continue to do this with your support. So please do choose to buy at Amazon US and Amazon UK on the articles when buying to provide advert revenue support or to donate/support the site below.

Finally, for free advice about your setup, j
ust leave a message in the comments below here at NASCompares.com and we will get back to you.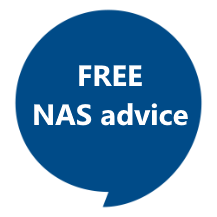 Need Help?
Where possible (and where appropriate) please provide as much information about your requirements, as then I can arrange the best answer and solution to your needs. Do not worry about your e-mail address being required, it will NOT be used in a mailing list and will NOT be used in any way other than to respond to your enquiry.
Support What We Do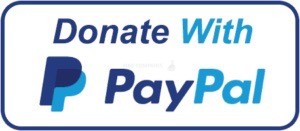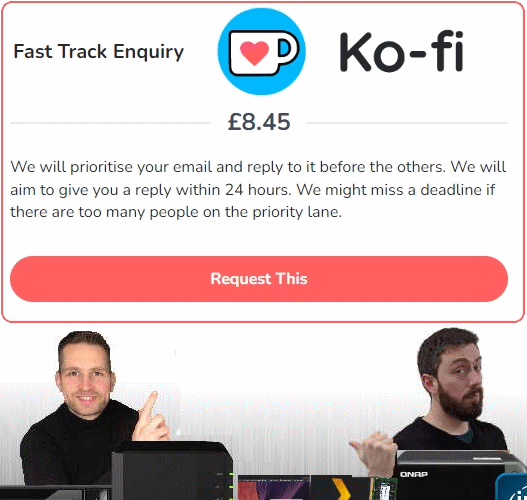 Terms and Conditions
Alternatively, why not ask me on the
ASK NASCompares forum
, by clicking the button below. This is a community hub that serves as a place that I can answer your question, chew the fat, share new release information and even get corrections posted. I will always get around to answering ALL queries, but as a one-man operation, I cannot promise speed! So by sharing your query in the
ASK NASCompares
section below, you can get a better range of solutions and suggestions, alongside my own.