Using Synology NAS, DSM 7.1 and Unofficial Memory Modules for DSx20+ series
NAS systems are not cheap and nor are the accessories! However, one area that many new/existing NAS buyers take issue with more than most is the cost of official NAS memory. It's an unfortunate fact that any computer system that has been built/tailored towards a specific purpose, is going to end up costing more. This usually comes down to much more specific design requirements and NAS drives are no different. But when it comes to Memory modules, people are slightly less forgiving. When a NAS brand sells it's branded memory, many are quick to raise that the brand rarely makes the memory itself and instead they are putting their branded labels on memory from the likes of Kingston, Samsung, ADATA or Crucial. Now, this is only partially true, as brands tend to test a wide range of memory in the development phase of their products and then settle on the best choice based on that system architecture (no doubt factoring cost of course too) and then THAT memory is made the brand's recommended choice, labelling it brand-approved. Where things get murky is when brands start to become rigid on their system's use of other memory and how that impacts brand support and how the system treats 'other' or 'unofficial' memory.
In the case of Synology, this can lead to DSM 7.1 displaying a warning notification in the software highlighting the use of an unsupported memory. There is also the fact that the brand might become less able to assist you in any warranty claims from reasonable system hardware failure if the issue can be stemmed in any way to memory. Now, when Synology released the latest revision of their software, DSM 7.1, there were some reports online of users stating that their system would no longer boot with 3rd party memory installed. Although I tested this on the NASCompares YouTube channel with mixed results, I have since RE-TESTED this (on the heavy request of users who did not experience any issues, who queried the results) and in that follow-up testing, ALL 3rd party memory modules worked (video embedded later in the article below). So, it looks confirmed that unofficial/3rd party memory STILL WORKS in DSM 7.1 at the time of writing, which means users still have a choice of choosing the 3rd party RAM route or sticking with the officially provided and branded memory. Nevertheless, many users who look at Synology's pricing for their official memory modules might be thinking "HOW MUCH???":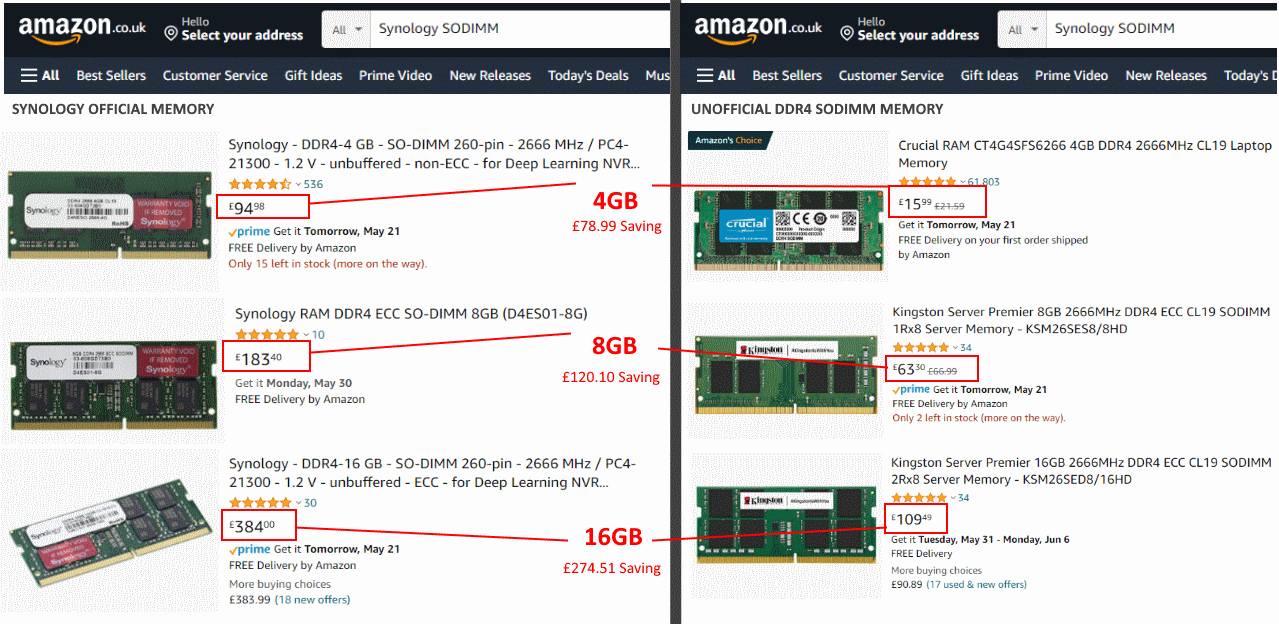 Important Considerations about Synology NAS and Unofficial Memory Upgrades
Now, let's get serious real quick. A Synology NAS does not occupy the same importance in your hardware environment as a TV, sound system or even day-to-day PC. A NAS system will often be one of many backups of ALL your data! Therefore exercising caution on how your upgrade/tinker with it can have more dire consequences than simply breaking it – it can lead to the potential loss of genuinely irreplaceable photos, videos and more. Therefore if you are looking at upgrading the memory of your NAS drive and using hardware that is not on a recommended list by the manufacturer, you need to make sure you have your backups in order – have at least two backups (i.e 2 complete copies of your data OUTSIDE of the original file – one on your phone and one on a NAS only means ONE copy!). Additionally, if/when you install ANY new memory, it is highly recommended that you run a quick(ish) memory test using the desktop Synology Assistant application (for Windows/Mac) so that the NAS can check that the memory is good-to-go. Be warned, this process can take several hours (a relatively simple 2GB Transcend DDR4 2400Mhz SODIMM module in a DS920+ in my testing for a YouTube video took just over 1 HOUR and 40 MINUTES) and during that time, access to the NAS is largely impossible (plus the system will re-boot at least once). So ensure you do this during a quicker/downtime moment for your network. Below is a brief overview of where the Memory Test setting of Synology Assistant is and how to enable it: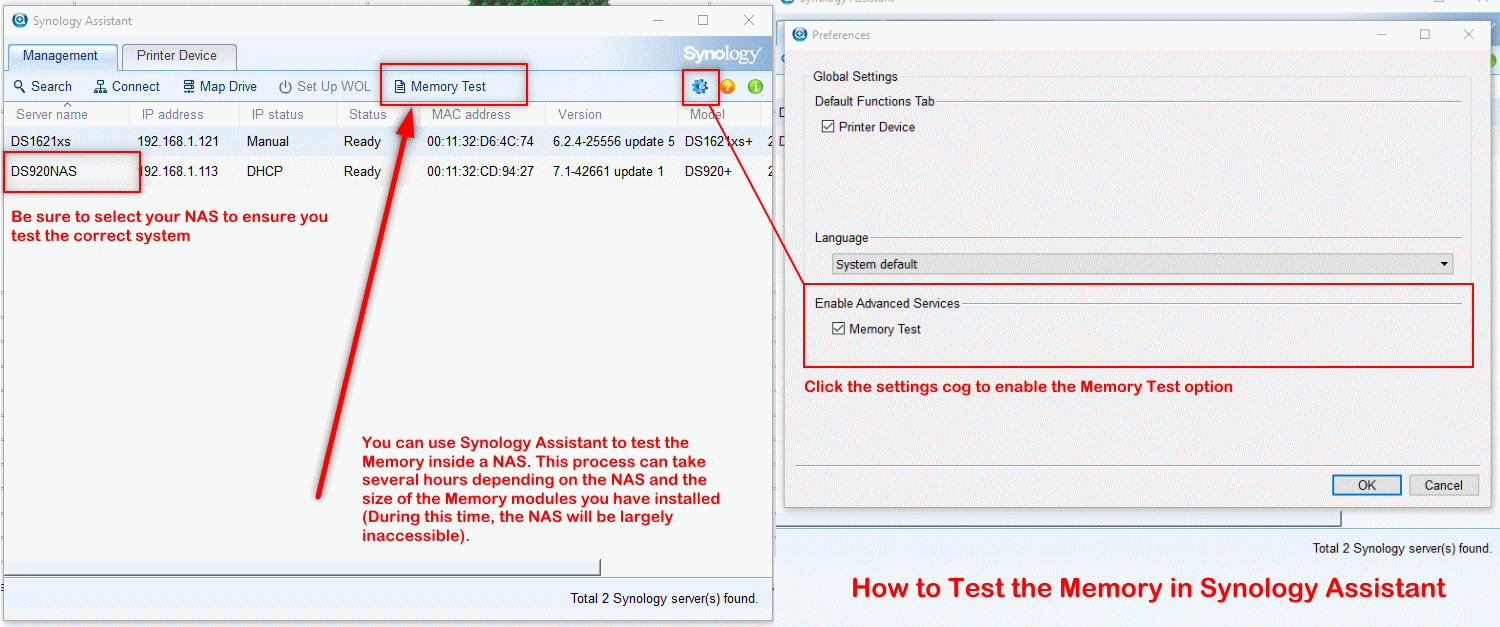 We conducted a wide range of tests of memory from Crucial, Transcend, ADATA, Kingston, Sabrent and ADATA DDR4 SODIMM memory. These tests were conducted with a Synology DS220+ and DS920+, each running DSM 7.1. Here are the results from a video over on NASCompares:
So, let's discuss 3rd party memory, Synology NAS and DSM 7.1 on some of the brand's most popular systems for home/prosumer users – as it is these users who are less inclined to choose the official memory route.
Synology DS920+, DS220+, DS720+, DS420+ and DS1520+ NAS Memory Tested
Now, before getting to the confirmed working memory that works in DSM 7.1 on the popular Synology Plus Series NAS right now, it is worth remembering that official Synology memory is always going to be the 'ideal' choice for the NAS. Despite reservations of price and (in some places) availability, this is still the memory that is going to present you with the least hurdles in the event of ALL support claims with Synology. Additionally, official memory will ensure no 'warning – incompatible/unsupported memory installed' message being displayed in DSM 7.1. Most home users will be able to ignore this warning no doubt, but if you are installing a Synology NAS for a 3rd party (friends, family or professional installation), it might un-nerve the receiver. It is for reasons like these that you might still want to opt for the official Synology memory. In that case, you can find the official memory modules available from Synology here:
| | | | |
| --- | --- | --- | --- |
| D4NESO-2666-4G | D4ES01-4G (ECC) | D4ES01-8G (ECC) | D4ECSO-2666-16G (ECC) |
However, we have been testing ALOT of memory with the Synology Diskstation Intel J4125 and Intel J4025 series of NAS devices since DSM 7.1 was released (DS920+, DS220+, DS720+, DS420+, DS1520+) and the following 3rd party memory modules are all confirmed to work in those systems.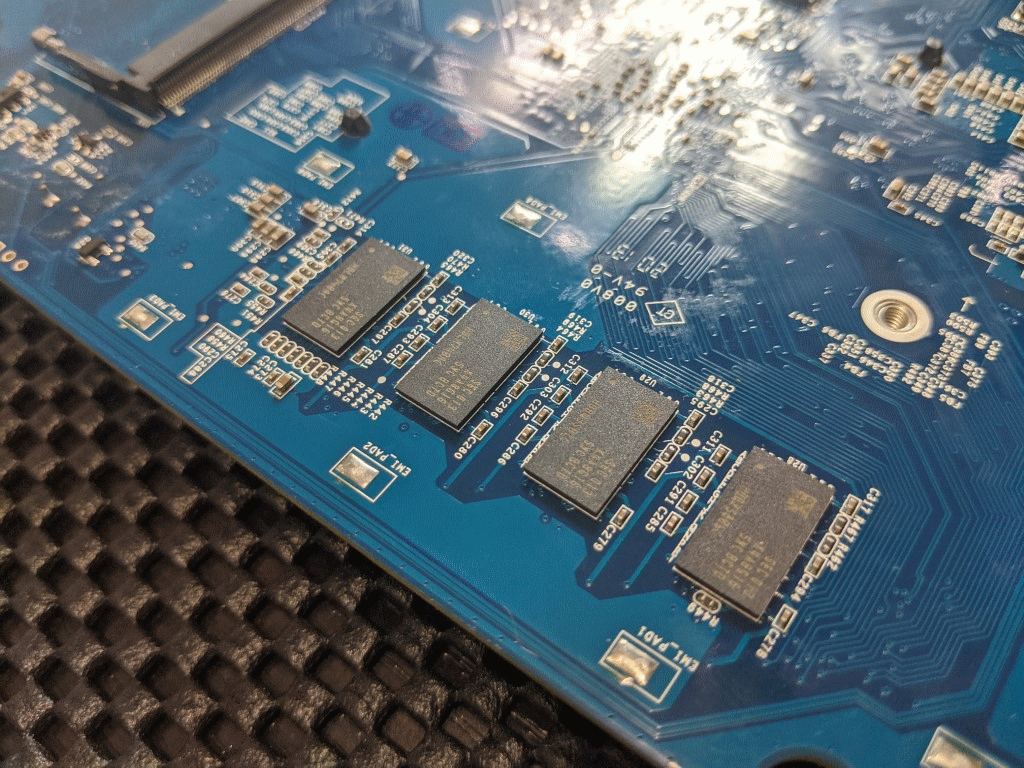 IMPORTANT
 The Synology DSx20+ series of NAS devices all arrive with default 2GB or 4GB of memory internally that is attached to the controller board/PCB which CANNOT be removed. Therefore you will ONLY be able to install a single memory module to upgrade these systems.
When installing a new memory module, the Synology NAS system may take longer than usual to boot that first time (as I found out to my somewhat embarrassing error!), so give the system upto 20mins to boot the first time you install a new memory module.
 The Intel CPU inside these systems has a maximum memory support of 8GB and they recommend that all memory matches the frequency/speed (Synology provide 2666Mhz DDR4 on these systems). So, try to err towards 2666Mhz (though we have successfully tested both 2400Mhz and 3200Mhz). Additionally, having in excess of 8GB is not guaranteed to mean the CPU can actually use more than 8GB in its architecture internally.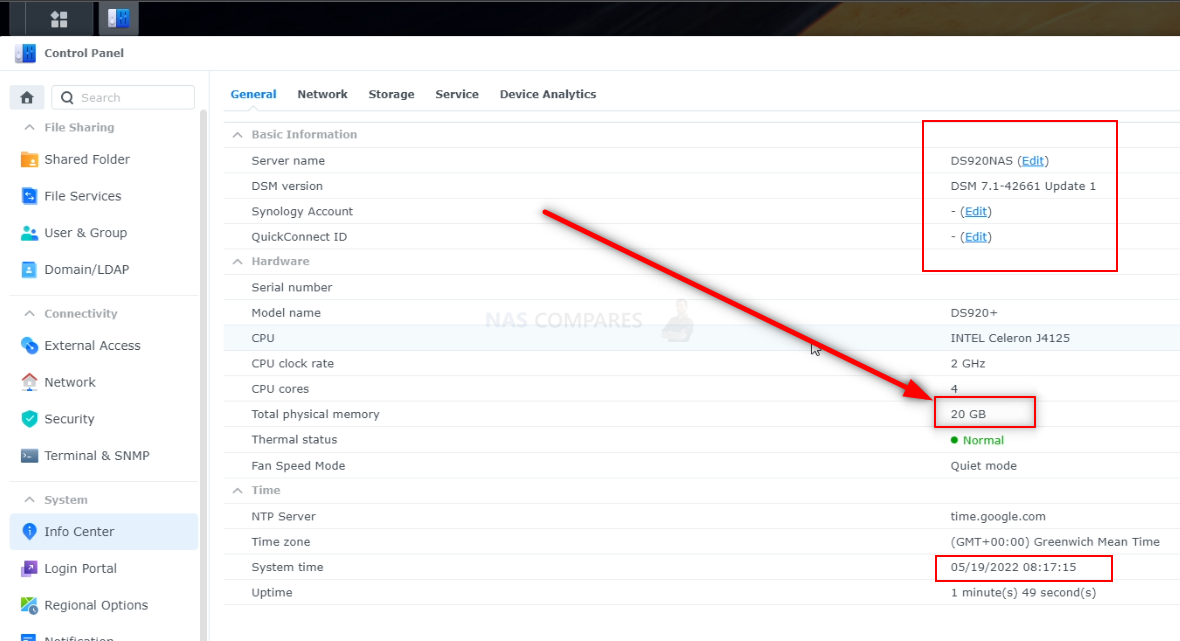 ---
4GB Confirmed to work on DS920+/DS220+/DS720+/DS420+/DS1520+
The following 4GB Modules of DDR4 SODIMM memory have been tested in the DS920+, DS220+, DS720+, DS420+ and DS1520+ NAS running DSM 7.1. The Links used below will take you to amazon (it SHOULD re-direct to your own country/storefront automatically) where this memory is available. HOWEVER, thanks to their site having a policy of substituting product links to something else in the event the original product is out of stock, MAKE SURE to check that the memory modules for 16GB and 32GB SODIMM modules are DUAL RANK or 'DR', as Synology NAS typically have trouble with SR/SINGLE RANK modules above 8GB. When in doubt, use the model ID.
Kingston KVR26S19S6/4

2666Mhz, Single Rank

AM-D4NESO-2666-4G

2666Mhz, Single Rank

Crucial CT4G4SFS8266

2666Mhz, Single Rank

$23.25

(18/05/22)

$34.95

(18/05/22)

$33.77

(18/05/22)
TimeTec 76TT26NUS1R8-4G

2666Mhz, Single Rank

Transcend M2666HSH-4G

2666Mhz, Single Rank

SK Hynix HMA851S6CJR6N

3200Mhz, Single Rank

$31.99

(18/05/22)

$26.49

(18/05/22)

$15.99

(18/05/22)
---
8GB Confirmed to work on DS920+/DS220+/DS720+/DS420+/DS1520+
Now, when it comes to 8GB Memory modules on the DS920+, DS220+, DS720+, DS420+ and DS1520+ NAS running DSM 7.1, it is once again worth remembering that the CPU has that 8GB recommended maximum memory in place from both Intel and Synology. So, although all six of the tested modules below WORK, the jury is still out on whether you will be able to use them to their fullest extent. Additionally, remember that this will be paired with the 2/4GB of memory that the NAS has soldered to the controller board internally, so you will end up with either 10GB or 12GB of visible memory inside your NAS.
TimeTec 76TT26NUS1R8-8G

2666Mhz, Single Rank

SAMSUNG M471A1K43CB1

2400Mhz, Single Rank

Crucial CT8G4SFS8266

2666Mhz, Single Rank

$28.99

(18/05/22)

$27.75

(18/05/22)

$38.50

(18/05/22)
ATech AT8G1D4S2666NA0N12V

2666Mhz, Single Rank

Sabrent Rocket SB-DDR8

3200Mhz, Single Rank

ADATA AD4S240038G17

2666Mhz, Single Rank

$31.25

(18/05/22)

$49.99

(18/05/22)

$55.80

(18/05/22)
---
16GB Confirmed to work on DS920+/DS220+/DS720+/DS420+/DS1520+
Finally, we have the largest current memory that works in the DS920+, DS220+, DS720+, DS420+ and DS1520+ NAS running DSM 7.1 – 16GB in a single DDR4 SODIMM non-ECC module. For many users, the idea that a 16GB RAM stick for their NAS from Kingston, Crucial or Samsung will cost less than a 4GB official module is just too damned tempting! Much like the 8GB modules, it is really important to remember that these are substantially higher than the recommended maximum of the CPU by Synology and Intel, so although these have been tested and confirmed to work by both me (Robbie @ NAScompares) and many online sources, I would still ensure you have at least 2 backups in place of your data at all times regardless. 
TimeTec 76TT26NUS2R8-16G

2666Mhz, Dual Rank

SAMSUNG M471A2K43CB1

2666Mhz, Dual Rank

Crucial CT16G4SFD832A

3200Mhz (2933/2666Mhz)

$52.99

(18/05/22)

$77.00

(18/05/22)

$73.99

(18/05/22)
Crucial CT16G4SFRA266

2666Mhz, Dual Rank

Sabrent Rocket SB-DDR16

3200Mhz, Dual Rank

ADATA AD4S3200716G22

3200Mhz, Dual Rank

$67.39.99

(18/05/22)

$74.99

(18/05/22)

$98.00

(18/05/22)
Is Upgrading the Memory on a Synology NAS worth it?
Many users will avoid updating default Memory on a Synology NAS server while it is still under warranty – thinking that "if it ain't broke, don't fix it". However, If you are buying a Synology NAS that supports an official or unofficial user memory upgrade, there's almost no reason not to do the upgrade. There are practically no disadvantages (none at all, if you buy official Synology Memory) and the benefits will be immediate. You can always wait till later on an upgrade when you notice a drop in performance, however, I would keep an eye on deal websites for your compatible DDR3 or DDR4 Synology NAS supported memory and then grab some when a bargain appears. I do wish some lower capacity NAS' drives, such as the DS120j, DS220j and DS420j (that arrive with much less memory soldered to the motherboard than their CPU can handle at maximum) were able to have their memory upgraded, as this becomes a tremendous bottleneck. There are cases where two drive bays are enough in terms of total available storage space (especially with 18TB Seagate and 20TB WD Red NAS drives in-coming), so you will be able to run a lot of applications, for multiple users, but the rather comical 256MB, 512MB and 1GB memory available in these budget models is just not enough to run DSM 7.1 to its full potential on these NAS and the result will be that most users will walk away with a very poor opinion of the Synology NAS experience.
Looking for Other Synology NAS and Compatible Unofficial Memory?
We have made several guides on finding the right unofficial memory that can be used on Synology NAS systems over the last few years. You can use the huge guide liked below to scroll the current available range of NAS from the brand and the official and unofficial RAM that works with it.
Synology Unofficial Memory Upgrades – 2022 UPDATED (Click Below)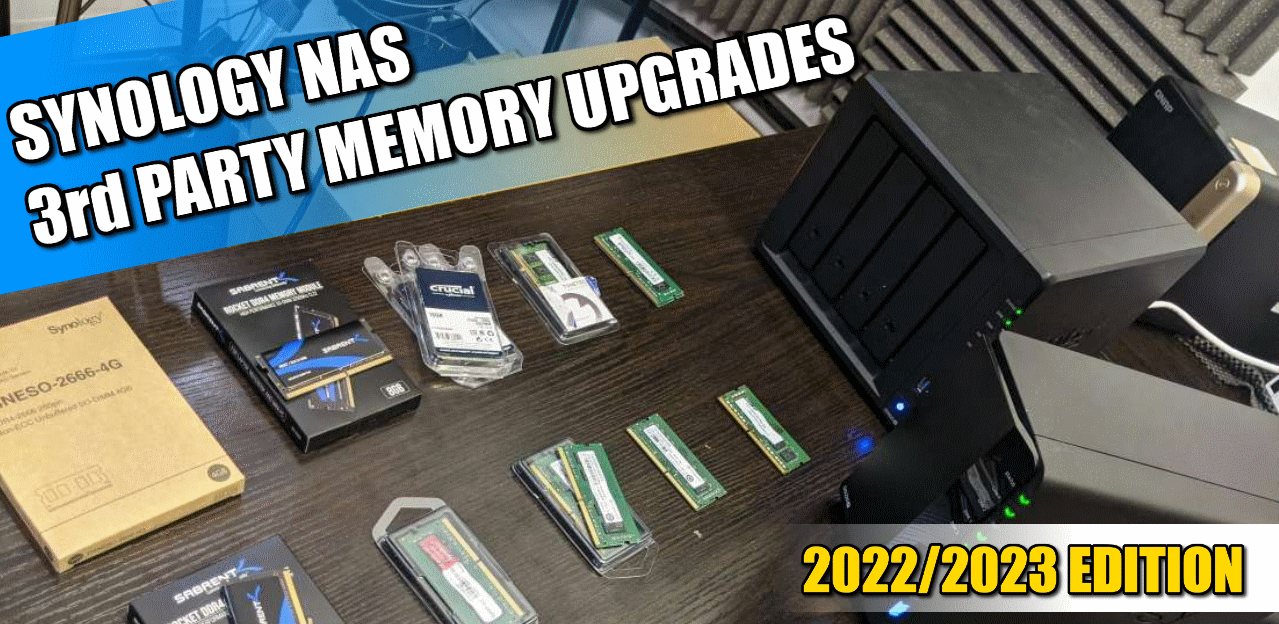 📧 LET ME KNOW ABOUT NEW POSTS 🔔
Join 1,582 other subscribers
Get an alert every time something gets added to this specific article!
This description contains links to Amazon. These links will take you to some of the products mentioned in today's content. As an Amazon Associate, I earn from qualifying purchases. Visit the NASCompares Deal Finder to find the best place to buy this device in your region, based on Service, Support and Reputation - Just Search for your NAS Drive in the Box Below
Need Advice on Data Storage from an Expert?
We want to keep the free advice on NASCompares FREE for as long as we can. Since this service started back in Jan '18, We have helped hundreds of users every month solve their storage woes, but we can only continue to do this with your support. So please do choose to buy at Amazon US and Amazon UK on the articles when buying to provide advert revenue support or to donate/support the site below.

Finally, for free advice about your setup, j
ust leave a message in the comments below here at NASCompares.com and we will get back to you.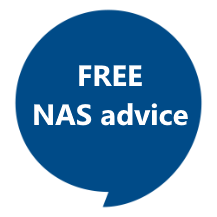 Need Help?
Where possible (and where appropriate) please provide as much information about your requirements, as then I can arrange the best answer and solution to your needs. Do not worry about your e-mail address being required, it will NOT be used in a mailing list and will NOT be used in any way other than to respond to your enquiry.
Support What We Do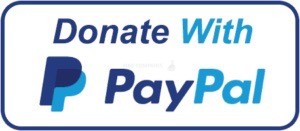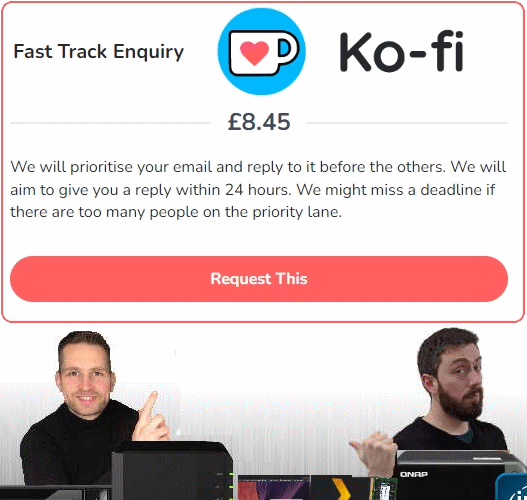 Terms and Conditions
Alternatively, why not ask me on the
ASK NASCompares forum
, by clicking the button below. This is a community hub that serves as a place that I can answer your question, chew the fat, share new release information and even get corrections posted. I will always get around to answering ALL queries, but as a one-man operation, I cannot promise speed! So by sharing your query in the
ASK NASCompares
section below, you can get a better range of solutions and suggestions, alongside my own.