Buying the Right 2.5GbE Switch Switch First Time
Whether you like it or not, 2.5 Gigabit ethernet is very much a THING in 2022! From ISP routers and gaming desktops, to USB adapters and PCIe cards at $25, the access to 2.5x traditional 1GbE network speeds is pretty much 100% for everyone now. The ease of making the switch to 2.5GbE is made even easier when many client network hardware devices are either arriving with 2.5G at the same price as 1G, or include WiFi6 capabilities and therefore have the potential to exceed wired 1GbE too. So, when buying hardware for your home or office in 2022 or 2023, it is understandable that for reasons of future-proofing, you might want to invest in 2.5Gb hardware to ensure everything has the fullest bandwidth possible, without breaking the bank. One of the most important devices you will need to get in order to manage a 2.5GbE network (ensuring no bottlenecks and/or making sure everything gets their fair share of the bandwidth) is by investing in a network switch. A network switch is much like a plug adapter/extension can provide more power points from a single socket over a larger distance, but that also means that much like plug adapters, some are more reliable than others, have features of control and efficiency that are not available on all others and, ultimately, that some 2.5GbE network switches are better than others!
So, today I want to walk you through the best 2.5Gb network switches you can buy right now, broken down into the best for price, value, scale, features and more. Before we go any further though, I know what you are thinking. Why should someone invest in a 2.5GbE network switch/setup, when they can just skip it and go for a 10GbE setup?

Which Choose 2.5GbE over 10GbE in 2022 and 2023?
It's a fair point. Although 10GbE is still more expensive than 1GbE and 2.5GbE, it HAS come down in price quite noticeably over the last 5 years. This alongside improvements in more efficient and affordable 10GbE network controllers has led to 10GbE routers and 10GbE switches arriving on the market at a much more affordable price point than ever. Many die-hard network veterans turn their noses up at 2.5GbE, as (alongside 10G being available to businesses and prosumer users for the better part of 10-15years) they consider 2.5G to be a stop-gap and overall better to spend the money towards something bigger and broader in bandwidth. So, why should you care about 2.5G then? Well, a few reasons actually. Such as:
Although 10GbE switches and routers ARE in the market at a better price than ever, they are still 3-4x the price of 1GbE alternatives in the managed or unmanaged form
10GbE ports on laptops, computers and standard office hardware is still very much in low adoption. 2.5GbE featured less than 1G, but it's still ahead of 10GbE in consumer adoption by default
PCIe  upgrades with 10GbE are still very expensive (1Gb PCIe = $10, 10Gb PCIe = $80-100 minimum)
External 10GbE upgrades are limited and very expensive (Thunderbolt to 10GbE are your only option and start at $150-200, such as the Sonnet SOLO10G-TB3 or QNAP QNA-T310G1T), whereas USB-to-1G adapters are $10-12 and USB-to-2.5GbE are $20-25
10GbE arrives in both Copper and Fibre, which is useful for diverse setups, but leads to a coin toss of more expensive 10G Copper base hardware vs 10G Fibre cables/transceiver high price point and complexity. 2.5GbE uses all the same hardware in place as traditional 1GbE and allows for improved sustainability and less waste
Most client hardware is not able to take advantage of 10GbE and although having 1-2 high bandwidth devices (a NAS or SAN type server) connected over 10Gbe to the network can be beneficial to all, most client hardware devices will never be able to saturate 10Gb Connections. In those cases, a 1x10G and 8+ X 1G solution is preferable – which end up costing more than full, widespread 2.5G adoption.
So, yes, 10GbE will most certainly provide you with more bandwidth to play with, but it will cost you more – both for the switch, but also to upgrade each of the client devices on the network .This can slightly mitigated in a few ways (opting for 10GBASE-T and reusing some hardware, gradually upgrading the key clients, choosing comb style switches that featured mixed ports, etc) but 2.5GbE is a more affordable alternative that allows you to upgrade some systems enough for them to saturate 250MB/s bandwidth and not overspend on 10GbE for systems/networks that were never going to take advantage of the 1,000MB/s on offer.
Understanding the Difference Between Managed & Unmanaged
This is one of the two main areas whereby the price of your networks switch can differ wildly. Network switches predominantly arrive in two software types. namely managed and unmanaged. A managed switch is a device that allows an admin or another authorised user to access a control panel visually displayed in the web browser or a supported mobile app, to configure numerous settings inside the switch and create a much more tailored, superior network environment for their own needs. Ranging from configuring which ports and devices have priorities, combining network ports for larger bandwidth (known as link aggregation or port trunking), creating security rules to prevent network invasion and numerous other unique and customisable configuration options. It can be intimidating to configure these settings and although things have become a little more user-friendly in recent years, it is still pretty overwhelming at first to configure your own network connection in a managed switch.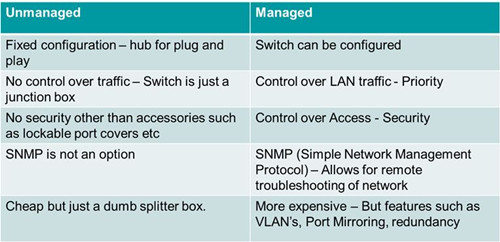 An unmanaged switch, as you probably have already guessed, does NOT allow users to configure the network in any kind of unique way. Unmanaged network switches arrived with more rudimentary internal processes that have numerous default settings for network access, security protocol and how to behave as more client hardware connect to the network. You lose a number of key and popular features such as link aggregation, priority of service, quality of service, failover configurations and more. However an unmanaged switch arrives at a noticeably lower price point due to its more cost-effective internal hardware requirements and if you are a home or even low-level business user who does not require a particularly unique network setup, an unmanaged network switch can often be perfectly fine. It should also be highlighted that smaller, unmanaged switches are often fanless and near-silent in operation too. In short, if you are not particularly tech-savvy, have no interest in learning the ins and outs of your network management, are on a tight budget or are running a fairly rudimentary setup, then an unmanaged switch should be perfectly ok for you and your network requirements. However, in almost every other regard, a managed switch is always better in the long run.
Learn More About Managed VS Unmanaged in the Article Below: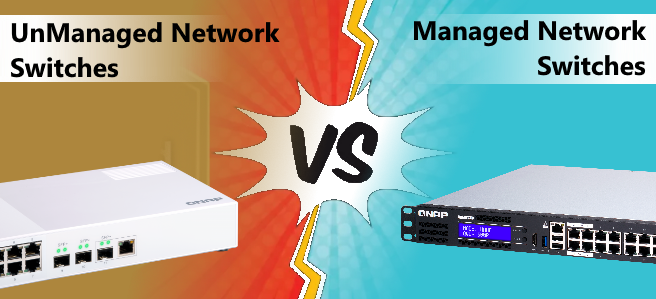 ---
BEST 2.5GbE to USB Adapter – QGeeM 4-in-1 2.5GbE & USB C Hub –

£25.49

(currently on offer 06/22)
The 4-in-1 USB C to ethernet hub expands the USB-C port of your laptop to 6 functions. You can connect to the Ethernet, charge the laptop, use an external monitor, data transfer, connect the mouse, etc. to improve your work efficiency. In the process of expansion, it cleverly retains all the functions of the USB-C port that supports up to 100W PD to charge your laptop at full speed, the data transmission speed reaches an astonishing 5Gbps, and it also supports 4K@30Hz media display (mirror mode and extended mode. The USB C adapter is stylishly designed, lightweight and portable, very suitable for home, office environments and business trip, easily handle multitasking and increase productivity.
1x Ethernet: up to 2.5 Gbps

1x USB C: 100W Charging / 4K@30Hz Video / 5Gbps Date Transfer

2x USB 3.0: up to 5 Gbps
The USB c to 2.5g ethernet adapter is for users looking to move beyond Gigabit Ethernet speeds. It can provide network bandwidth of up to 2.5Gbps, 2.5 times the traditional network, and backwards compatible with 10/100/1000Mbps. Compared with wireless connections, wired networks are more secure and stable. There will be no lag in video conferencing, transferring files and playing games. 100W Power Delivery via the USB C PD port, which charges up to 100W, When expanding other devices, you don't have to worry about running out of power on your laptop, and you can also reduce the number of cables on your desktop. The USB 3.0 port can transfer your files at speeds up to 5Gbps, 10 times faster than the USB 2.0. Backward compatible with USB 2.0 and below, Allows you to connect keyboard, mouse, hard disk, U disk, etc. to your device.
I recently upgraded my MacBook Pro and I was bummed to find out that the new versions don't have USB ports anymore. This hub allows me to plug in all my devices that use a USB! It's small and portable which I appreciate because I can easily carry it with me in my backpack without much-added weight. Just tested it out using my Cricut machine and it worked like a charm! Allows 2.5 gig ethernet speed where there is no port on the laptop. Much faster for wired environments than Wi-Fi only. Since it provides a USB "C" port and two USB "A" ports, you still have USB available on the laptop. Works Great and adds functionality to the laptop! My studio has a really unstable wifi signal so I am looking for a portable hub including Ethernet and a USB port for my Dell XPS. And I am happy with this tiny hub. It works great after 3 days of use. Now I don't need to worry about the unstable connection during my zoom meeting. In addition, I can connect more devices like flash or external drives to my laptop. It is very light and convenient, I can also bring it when I travel without any concern.
Check if this switch is available on Amazon. This helps us at NASCompares

---
Cheapest 2.5GbE Network Switch – QNAP QSW-1105-5T –

£80-100

(currently on offer 06/22)
The QNAP QSW-1105-5T switch definitely lives up to what it promises and has a very clear target user in mind. It does not pretend to be more than it is and because of that can maintain high performance and low physical and power usage impact for users looking to move to the next level of networking without spending a vast amount. The QSW-1105-5T serves as a great upgrade for users moving from gigabit ethernet and towards multi-gigabit environments and with fantastic growth in 2020 towards 2.5G, 5G and 10Gbe in affordable hardware, the need for a more palatable and affordable upgrade to this tier is not only hugely welcome but fast becoming an inevitability. That said, the QSW-1105-5T is not for everyone, it seems a little pricey when unmanaged 1Gbe 5-Port switches are generally around £40-50.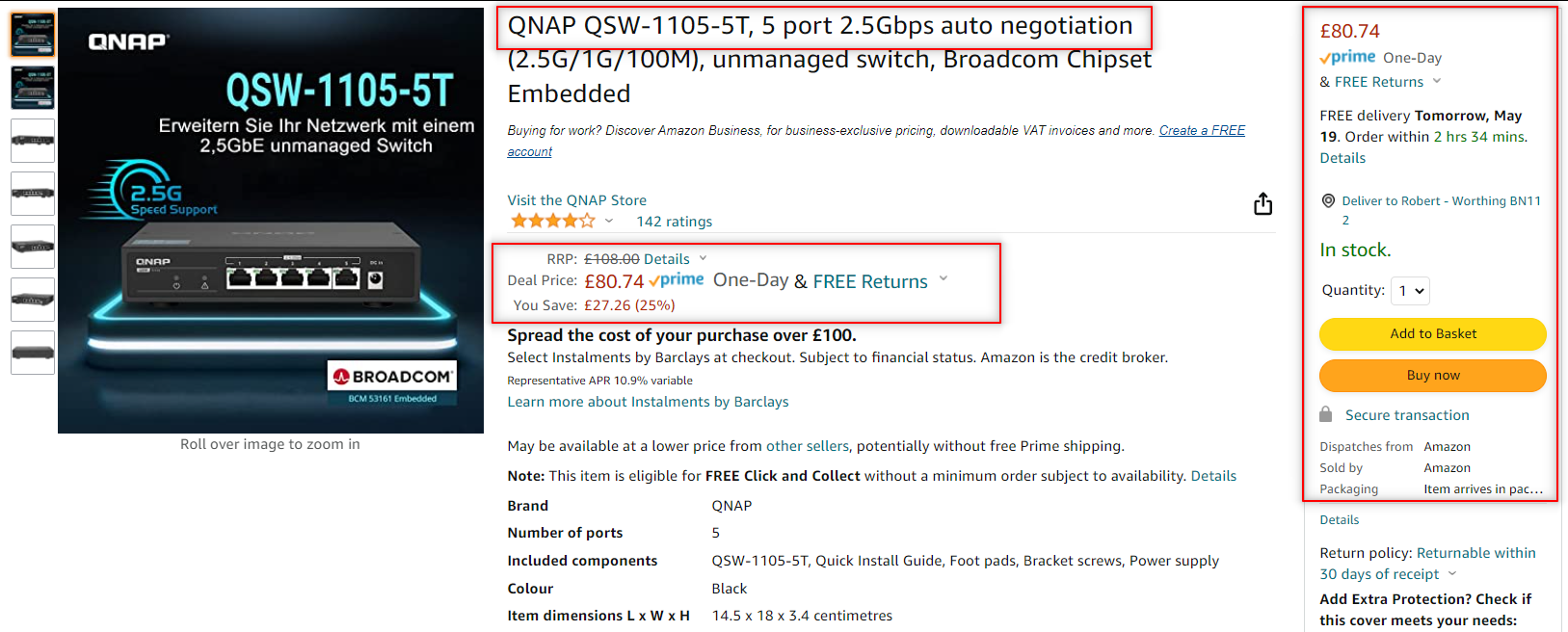 Also, if you already have a multi-gigabit network environment in place or have need of a more controllable and priority defining network environment in mind, you will probably find the QSW-1105-5T a backstep and limiting in its scope. But the QSW-1105-5T is not designed for that and does not pretend to be so, and with QNAP having released and in the process of releasing switch options to cater to an ever-evolving network clientele, whether this is the switch for you or not, by the end of 2020 QNAP will almost certainly have a switch that suits your needs and budget. Bottom line, I really like this device and couldn't see myself finding many uses for this device for aspiring YouTubers like me as well as day-to-day data work in general.
Needless to say, the QNAP QSW-1105-5T is not a hugely powerful switch that is designed to challenge smarter or larger entries into the QNAP QSW range of switches – but that is largely the point! Along with users looking at play n play upgrades to their PC/Client machines at home/office with USB adapters (such as the QNA-UC5G1T), the appeal of 2.5Gbe upgrades in networks that favour WiFi 6 and (soon) WiFi 6E is actually quite pronounced. In this arena, the QSW-1105-5T has little or no competition right now and even if it did, it's a very solid and well-made product. The price point of over $100 for a 5-Port switch that is unmanaged, when you can pick up 1Gbe unmanaged switches at $40-50 is a little off-putting, but given the next tier (10Gbe) will likely set you back $200 for the same unmanaged architecture, this is more a question of finding a balance I guess. Aside from that, It is hard to fault the switch for what it is, as it is delivering on all it's promises – I just wish there was a managed version too to take advantage of 2.5Gbe LAG connectivity that is available in almost all multi LAN QNAP solutions in 2020/2021.
Check if this switch is available on Amazon. This helps us at NASCompares

---
Best Value PoE+ 2.5GbE Switch – TRENDnet TPE-TG350 –

$184
Expand your network's bandwidth and reduce traffic bottlenecks with TRENDnet's Unmanaged 2.5G PoE+ Switches. These 2.5G PoE+ switches come equipped with 2.5GBASE-T RJ-45 ports that provide higher gigabit speeds capable of up to 2.5Gbps over your existing Cat5e or better cabling. Each high-speed 2.5G PoE+ switch features a durable metal enclosure and can be mounted to the wall for setup flexibility. The fanless design lowers energy consumption and eliminates distracting operating noise. TRENDnet's reliable 2.5G PoE+ switches are cost-effective solutions to increase your network's throughput. A 55W total PoE power budget on this PoE+ switch supplies up to four PoE+ devices with up to 30W per port.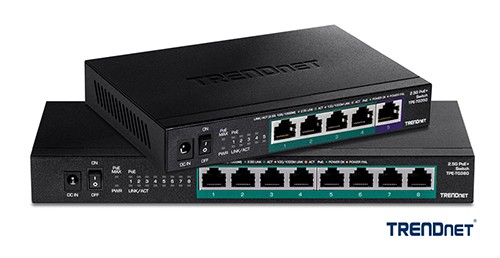 5 x 2.5GBASE-T ports
55W PoE power budget
IEEE 802.3bz (2.5G) compliant
Supports IEEE 802.3at/af PoE standards
Backwards compatible with 10/100/1000Mbps devices
25Gbps switching capacity
Fanless design eliminates noise
Wall mountable for installation flexibility
Check if this switch is available on Amazon. This helps us at NASCompares

---
Best 8-Port 2.5GbE Switch – TRENDnet TEG-S380 – $179
Despite it's growing popularity with hardware manufacturers, 2.5G still gets overlooked, and this is a shame. Why? Well, 2.5G network capabilities are showing up in more computers and motherboards nowadays, and it can be the most affordable way to go multi-gig. For instance, 2.5G cards and dongles won't break the bank, while 2.5Gbps speeds can theoretically be achieved with existing Cat5e. Along with the previously mentioned TG350, TRENDnet releases an affordable unmanaged 2.5G switches. Called "TEG-S380, an 8-Port Unmanaged 2.5G Switch and is the brand's addition to TRENDnet's Multi-Gigabit Networking Solutions family. Both switches include 2.5GBASE-T RJ-45 ports, which allow users to achieve up to 2.5Gbps over existing Cat5e (or better) cabling. TRENDnet's new 2.5G switches are cost-effective means of increasing a network's throughput, and helping to reduce or eliminate network bottlenecks.

These multi-gigabit switches also feature a durable metal housing, as well as a fanless design to eliminate distracting operating noise. For installation flexibility, the 2.5G switches are conveniently constructed to be mounted on the wall or placed on a desktop. These TRENDnet switches are IEEE 802.3bz compliant; they are also backward compatible with legacy technology hardware. No special configurations are required for these switches to connect and network devices to high-speed 2.5G Ethernet. Equipped with 2.5GBASE-T RJ-45 ports that provide higher gigabit speeds capable of up to 2.5Gbps over existing Cat5e or better cabling. The 2.5G switches feature metal housing with a convenient wall mountable design for greater installation flexibility. Meanwhile, the fanless design of the 2.5G switches lowers energy consumption costs and eliminates operating noise.
Check if this switch is available on Amazon. This helps us at NASCompares

---
Best Value Managed 2.5GbE and 10GbE Switch – QNAP QSW-M2108-2C or QSW-M2108-2S – $279-309
There is always going to be the question of "who actually has 2.5Gbe these days?", which is a perfectly valid point! The answer is that thanks to the growth of WiFi 6 (802.11ax) we are seeing lots of router solutions arriving with 2.5G ports. That's not all though, there are several USB-to-5Gbe and USB-to-2.5Gbe adapters in the market that serve as much MUCH more affordable (and far more convenient) alternatively to hardware systems upgrading to 10Gbe via a PCIe card. Lastly, some more compact systems (Raspberry Pi, MacBook, ChromeBook, Laptop, Surface Pro, etc) do NOT have the ability to upgrade their network port conventionally. So, given that to date, there is no 10Gbe-to-USB adapter on the market (and if there was, I would look at Aquantia in the future), the only alternative to break out of 1Gbe bottlenecks is to use 2.5/5G USB adapters – which is EXACTLY why this 10Gbe and 2.5Gbe network switch exists! QNAP was not one of the first to introduce a budget +Gigabit ethernet switch in 2020/2021 and given the affordability of 10Gbe, as well as the need for businesses to improve their internal networking speeds to match that of high-end ISP and fibre internet around the world, they likely will not be the last.
However, the combination of 8x 2.5Gbe with the 2x10G really makes the QSW-2108-2C managed switch really stand out, whilst still arriving in a compact and affordable way – a scaled 10Gbe switch for businesses that want to make the step towards this network bandwidth, but is still unsure about the investment. With its unique multi-port combo system, allowing users to combine copper and fibre environments, there is a large degree of flexibility even at this more affordable price point. The design is not for everyone and it lacks the lifetime warranty of some more expensive NETGEAR solutions, but the QNAP QSW-2108-2C is most certainly a capable solution and manages to live up to every single promise that QNAP claims. Along with an incredibly intuitive management panel and ease of design that lends heavily from the QTS NAS software, it certainly beats most of its competitors in the GUI department. In short, the QSW-M2108 largely defeats any notion of looking at 1Gbe switches ever again…
Check if this switch is available on Amazon. This helps us at NASCompares

---
Best Gamer 2.5G/10G Switch – D-Link DMS-106XT – $140
As you can probably guess from my tone throughout this review, I found it pretty tough to fault the D-Link DMS-106XT network switch given its price tag and wide variety of network connectivity. There are a few design choices that are going to split opinion (metal throughout, LEDs, very unconventional shape, etc) but these are quite minor points in the grand scheme of things. The Price tag of this switch for a 10GbE and 2.5GbE switch, even unmanaged, is going to make it damn near irresistible to many buyers and now that it has had some time in the market to increase exposure, availability and reviews, the price tag has become increasingly flexible (arriving as low as £130/$140 in some retailers).
D-link could stand to be a little clearer about the turbo mode and it's advantages with the DMS-106XT and the extent to which those LEDs can actually be customized is pretty weak, but you are clearly getting a sturdy, solid and high-performance piece of kit here. Additionally, with the increase of affordability of 10GbE, as well as 2.5GbE becoming the defacto port to be used with WiFi 6 client hardware, this switch has a much wider audience than it might have had just 2 years ago. A great piece of kit and one I heartily recommend.
Pros – 10G + 2.5G arriving at the same/cheaper price than many 2.5G-only switches right now.  Unique and Attractive Design. Unmanaged BUT the Turbo Mode adds Priority of Sevice features.  Fanless + Ridged Metal design assists heat dissipation. LED and lighting are quite cool looking
Cons – LED lighting controls are practically zero
Check if this switch is available on Amazon. This helps us at NASCompares

---
Best Unmanaged 2.5GbE and 10GbE Switch – QNAP QSW-2104-2T or QSW-2104-2S – $210
QNAP Systems introduced the QSW-2104 series of unmanaged switch models. The series is formed by the QSW-2104-2S and QSW-2104-2T network switches. The QSW-2104-2T is an easy-to-use unmanaged switch with 2-port 10GbE RJ45 and 4-port 2.5GbE RJ45, allowing you to upgrade your network environment by connecting a wider range of devices with different bandwidth requirements. Featuring a near-silent fanless design and compliance with IEEE 802.3az (Energy Efficient Ethernet, EEE), the QSW-2104-2T operates quietly and with optimal power usage. With high performance and superb functionality, the QSW-2104-2T is the ideal choice for creating an affordable high-speed network environment in your home or workplace.
aBoth of them are six-port with two 10GbE ports and four 2.5GbE ports, and the difference is that the QSW-2104-2S has 10GbE ports routed to SFP + fiber-optic transceivers, and the QSW-2104-2T model – to connectors designed for copper twisted pair connection. Note that in the first case, speeds of 10 Gb/s and 1 Gb/s are supported, and in the second – 10 Gb/s, 5 Gb/s, 2.5 Gb/s, 1 Gb/s and 100 Mb/s. The 2.5GbE ports in both cases are designed for twisted pair connections and support speeds of 2.5 Gbps, 1 Gbps, and 100 Mbps. With no complex settings required, the QSW-2104 series supports auto-negotiation that optimizes transfer speeds and performance for each connected device. It also features network loop detection that automatically locks looped ports to ensure the network environment quickly resumes normal operations. With plug-and-play support, near-silent, passively cooled design, IEEE 802.3az compliance, and automatic loop detection and blocking, the QSW-2104 series unmanaged switch is "the ideal choice for affordable high-speed networking environments in homes, and in the workplace" says the manufacturer.
Check if this switch is available on Amazon. This helps us at NASCompares

---
📧 SUBSCRIBE TO OUR NEWSLETTER 🔔
🔒

Join Inner Circle
Get an alert every time something gets added to this specific article!
This description contains links to Amazon. These links will take you to some of the products mentioned in today's content. As an Amazon Associate, I earn from qualifying purchases. Visit the NASCompares Deal Finder to find the best place to buy this device in your region, based on Service, Support and Reputation - Just Search for your NAS Drive in the Box Below
Need Advice on Data Storage from an Expert?
Finally, for free advice about your setup, j
ust leave a message in the comments below here at NASCompares.com and we will get back to you.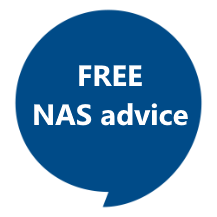 Need Help?
Where possible (and where appropriate) please provide as much information about your requirements, as then I can arrange the best answer and solution to your needs. Do not worry about your e-mail address being required, it will NOT be used in a mailing list and will NOT be used in any way other than to respond to your enquiry.
TRY CHAT
Terms and Conditions
If you like this service, please consider supporting us.
We use affiliate links on the blog allowing NAScompares information and advice service to be free of charge to you.
Anything you purchase on the day you click on our links will generate a small commission which is
used to run the website. Here is a link for
Amazon
and
B&H
.
You can also get me a ☕
Ko-fi
or old school
Paypal
. Thanks!
To find out more about how to support this advice service check
HERE
If you need to fix or configure a NAS, check
Fiver
Have you thought about helping others with your knowledge?
Find Instructions Here

ASK NASCompares forum
, by clicking the button below. This is a community hub that serves as a place that I can answer your question, chew the fat, share new release information and even get corrections posted. I will always get around to answering ALL queries, but as a one-man operation, I cannot promise speed! So by sharing your query in the
ASK NASCompares
section below, you can get a better range of solutions and suggestions, alongside my own.
Summary
Reviewer
Review Date
Reviewed Item
A Guide to 2.5GbE Network Switches
Author Rating