The QNAP TS-253E and TS-453E NAS Drive
QNAP has been remarkably loud with their 2022/2023 generation of NAS releases in the first half of the year, with updates to practically all the home/Prosumer/SMB solutions in their portfolio. However, it appears that things have not stopped there, with the reveal of a new mid-range NAS series that (based on the hardware on offer) is a change in what many might have been expecting. The new QNAP TS-253E and TS-453E NAS manage to arrive in the brand's more cost-effective external chassis (such as the TS-251+ and TS-451D2), but feature internal and external hardware choices that put them much, MUCH closer to the TS-453D and TS-464! This new series arrives with 2021/2022 generation Intel Celeron J6412 CPU, 8GB of DDR4 Memory by default, 2.5GbE ports, M.2 NVMe SSD slots, USB 3.2 Gen 2 (10G) and looks to be lower in price than the TS-x64 series. So yeah, these new TS-253E and TS-453E are going to be extremely appealing to users who want the best bang for their buck, but do not want to waste their time on ARM-powered systems. let's talk about everything we know about these new and honestly quite intriguing NAS drives.
The QNAP TS-253E and TS-453E NAS – Hardware Specifications
The hardware that the QNAP TS-253E and TS-453E arrive with is very much the star of the show here. In the last 10 years of QNAP NAS (indeed, much the same as all other NAS brands in fact), the food chain of NAS drives has changed very little. This used to go:
Enterprise (Xeon Powered)
Large Business (Intel/AMD Powered File Server Processor)
SMB (Small Medium Business – Same as above, only more affordable and scaled-down)
Prosumer (Intel Celeron/Pentium Powered Quad-Core)
Home (Intel Dual-Core)
Value (64bit ARM Powered)
Cost-Effective (32bit ARM Powered)
HOWEVER, the TS-253E and TS-453E significantly break this mould and seem to be hovering between the Value, Home and Prosumer tiers significantly. Alot of this is to do with the expectations of the end-user and what they demand from a solution at a given price point. However, even bearing this in mind, the TS-X53E series is much, MUCH closer to the Prosumer tier than many would have expected and is a big jump from the dual-core Intel that many would have assumed would arrive here (this has been replaced on the fact of it with the TS-262 and TS-264 – but that is a story for another article!). Let's take a closer look at those specifications.
Model
QNAP TS-253E NAS

QNAP TS-453E NAS

CPU
Intel Celeron J6412 4-core/4-thread processor, 2.0-2.9 GHz
Intel Celeron J6412 4-core/4-thread processor, 2.0-2.9 GHz
CPU architecture
64-bit x86
64-bit x86
graphics processor
Intel UHD Graphics
Intel UHD Graphics
floating point
Yes
Yes
encryption engine
(AES-NI)
(AES-NI)
hardware acceleration
Yes
Yes
system memory
8 GB ON-Board DDR4
8 GB ON-Board DDR4
maximum memory
8GB
8GB
memory slot
N/A
N/A
flash memory
4GB (dual boot OS protection)
4GB (dual boot OS protection)
Number of hard disk slots
2 x 3.5-inch SATA 6Gb/s
4 x 3.5-inch SATA 6Gb/s
Supported hard disk types
3.5″ SATA HDD2.5
" SATA HDD2.5
" SATA SSD
3.5″ SATA HDD2.5
" SATA HDD2.5
" SATA SSD
Hot-plug support
Yes
Yes
M.2 Slot
2 x M.2 2280 PCIe Gen 3 x2
2 x M.2 2280 PCIe Gen 3 x2
External Ports
2.5 Gigabit Ethernet port (2.5G/1G/100M)
2 (also support 10M)
2 (also support 10M)
Wake on LAN (WOL)
Yes
Yes
jumbo frame
Yes
Yes
PCIe expansion slot
N/A
N/A
USB 2.0 port
2
2
USB 3.2 Gen 2 (10Gbps) port
2 x Type-A
2 x Type-A
HDMI output
2x HDMI 1.4b
2x HDMI 1.4b
LED indicator
Power/Status, Network, USB, HDD 1-4
Power/Status, Network, USB, HDD 1-4
button
Power, USB Copy, System Reset
Power, USB Copy, System Reset
Dimensions (HxWxD)
168.5 × 102 × 225 mm
177 × 180 × 235 mm
Power Supplier
60W Transformer, 100-240V
90W Transformer, 100-240V
fan
1 x 70mm, 12VDC
1 x 120mm, 12VDC
As you can see, the hardware inside is a decent jump up from the TS-251D, TS-451D2 and TS-x51+ series that have been available for at least the last 3 years or more (closer to 5-6 years in the case of the 51+ series). If we were to focus on the major areas that stand out, the CPU choice is #1. Back before the TS-x64 series was revealed at the start of the year, I volunteered online that I would like to see either the N5105 or J6412 Intel Celeron on the next-gen of Solutions from QNAP and Synology, but highlighted that the J6412 might be a little too new. Fast forward to now and the J6412 CPU is exactly what we have here. An embedded graphics, quad-core Intel processor that rates very well on CPU benchmark (at 3930 at time of writing), which is higher than the Intel J4125 on the TS-X53D series and only a tiny pinch behind the N5105 in the TS-X64 series – I will go into more detail on this later in the article).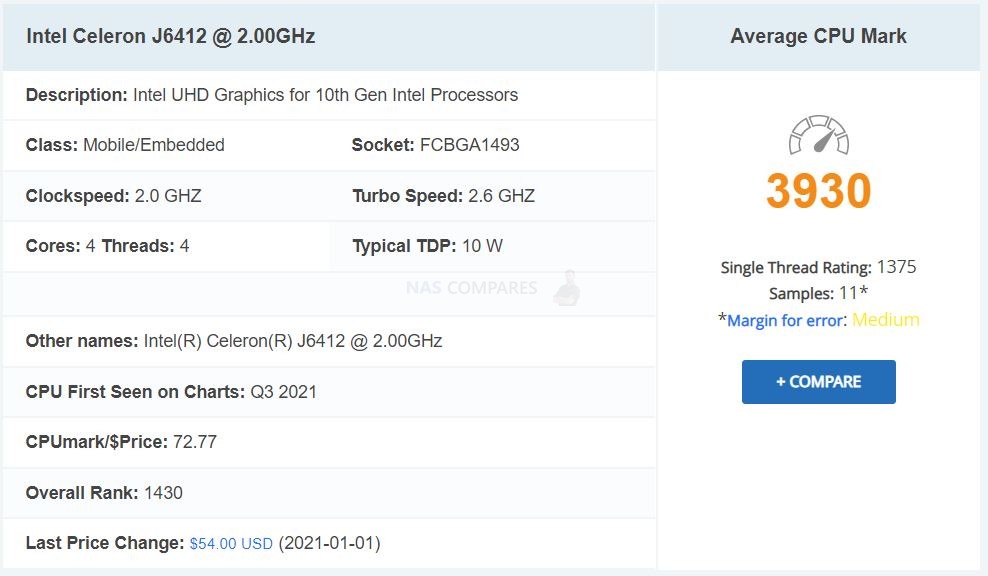 That CPU is also accompanied by 8GB of DDR4 memory in both the TS-253E and TS-453E by default. As good as this sounds, it does arrive with a fly in the ointment though. Despite this CPU supporting upto an impressive 32GB of DDR4 memory at 3200Mhz, the 8GB inside the TS-253E and TS-453E is non-upgradable (likely soldiered to the controller board). So, 8GB by default IS good (and I hope this doesn't bump the price up noticeably), but it's a shame that this is as high as it gets. Another cool feature that is here is the inclusion of two m.2 NVMe SSD bays. That means that this affordable quad-core Intel NAS will also have the option of adding super fast SSDs for intelligent caching OR as standalone storage pools if you want. Due to the PCI lanes/chipset of this CPU+NAS combo though, these slots are PCIe Gen 3 x2. This still means up to 2,000MB/s throughput being possible with the drives though.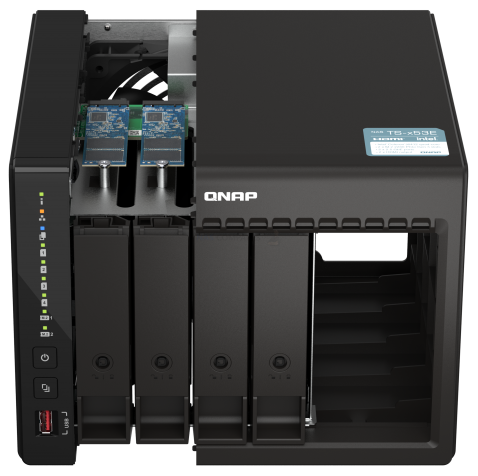 The other interesting and unique addition to the TS-253E and TS-453E is the inclusion of USB 3.2 Gen 2 ports (10Gb or 1,000MB/s performance to a supported storage device). Not only is this something we have not seen much of the Prosumer/SMB tier outside of Ryzen systems till now, but the fact that the front port is a one-touch copy button and is a USB 3.2 Gen 2 port is going to be remarkably interesting to users who like to maintain a local USB backup on their much, much bigger storage volumes via Hybrid Backup Sync and more. Additionally, there is an HDMI output (x2, but you can only use both in a mirrored or stretched screen setup) that can output 1080p at 60FPS and 4K at 30FPS, as well as two USB ports for connecting external peripherals for a KVM setup.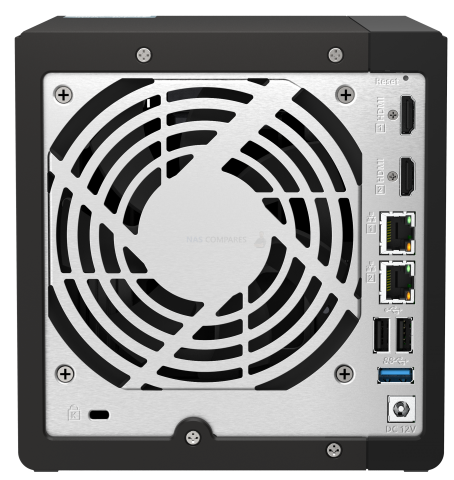 Overall, you have to be impressed by the hardware that this more affordable/value series NAS is arriving with and it is certainly going to be a tempting choice for those that looked at the TS-453D and TS-464 and thought it was a little pricey. But how does the new TS-X53E NAS series compare with the recently released TS-X64 range? Let's compare.
The QNAP TS-453E vs TS-464 NAS Drive – How Do They Compare?
As mentioned earlier, the most interesting thing about the TS-253E and TS-453E is that they are very close to (and in some cases exceed) the hardware of the recently released TS-464 and TS-664 NAS Drives. Before this, the fully-featured/prosumer tier that the TS-X64 range occupies would have a 'half hardware' type release with half the cores, half the memory and half the ports (such as the dual core, 2GB and 1x LAN QNAP TS-251D). Whereas in the case of the TS-X53E range, most of the popular elements reserved for the prosumer tier are available and presented in a more value-designed package (likely reflected in the price too). If you only want the TLDR:
Main Differences Between the TS-x53E and TS-x64 Series
The TS-X64 Series has a PCIe Slot
The TS-X53E Series has faster M.2 NVMe slots (PCIe 3×2 vs 3×1)
The TS-X64 Intel N5105 has slightly high graphical handling and higher burst/turbo clock speed
The TS-X53E Intel J6412 is more efficient and also supports more memory
The HDMI on the TS-X64 is HDMI 2.0 (4K 60FS), whereas the TS-X53E has HDMI 1.4b (4K 30FPS, 1080p 60FPS)
The TS-X53E arrives with 8GB as standard, whereas the TS-X64 arrives with 4GB that can be upgraded to 16GB
| | | |
| --- | --- | --- |
| | VS | |
What the TS-x5ED and TS-x64 Series Have in Common
Both have a 4 Core / 4 Thread Intel Celeron CPU with Embedded Gfx with a base speed of 2.0Ghz
Both use DDR4 Memory
Both have 2x 2.5GbE
Both have 2x USB 3,2 Gen 2 (10Gb)
Both have m.2 NVMe, SATA bays, HDMI out and Support the same ver of QTS 5
However, the main area of focus here is the CPU Difference. The N5105 in the TS-464 is overall better than the Intel J6412 in the TS-453E, but not by a huge degree! The graphical handling on the N5105 is a pinch better (encode, decode etc) and has a little more resources on board to get the job done. Additionally, the N5105 has a higher burst/turbo clock speed too. But again, only marginally (0.3Ghz). The difference between them is really small and it is going to be VERY interesting to see how this CPU choice is going to compare in things like Plex Media Server and QVR Pro on either of these product families.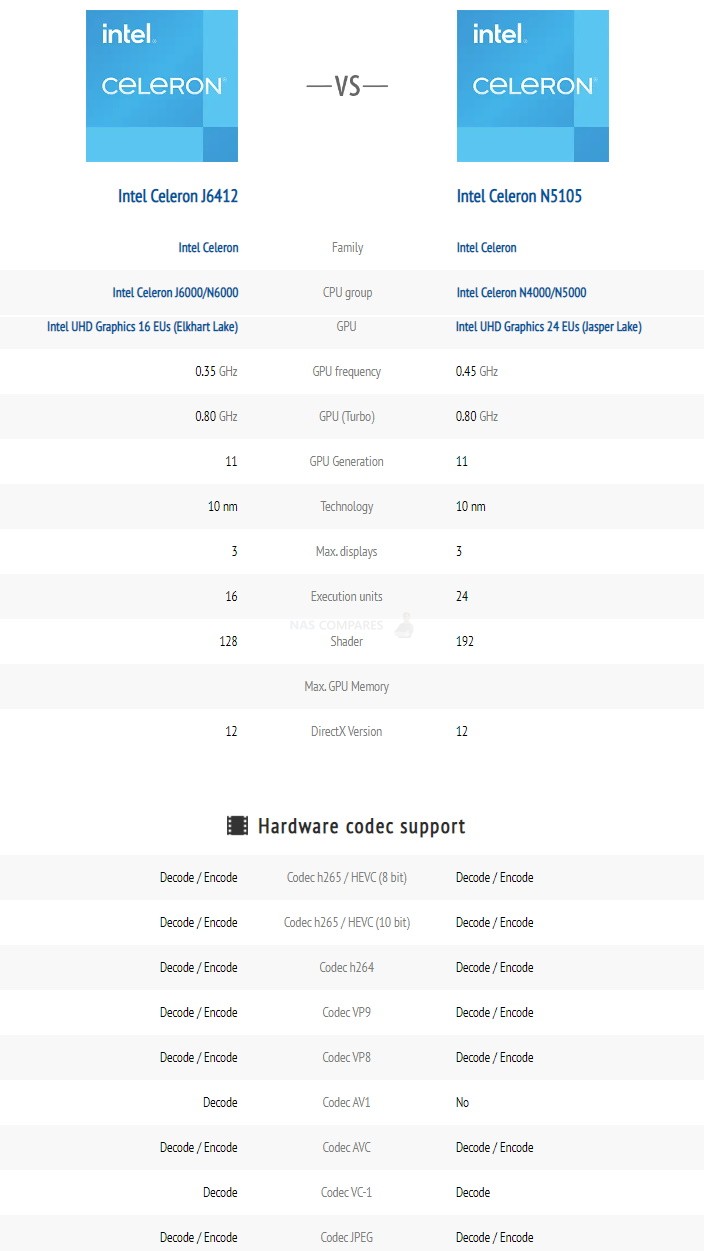 Those are the MAIN differences, but there are a few much smaller differences. Below is a breakdown of their respective specifications and how each compares.
Model
QNAP TS-464 NAS

QNAP TS-453E NAS

CPU
Intel Celeron N5105/N5095 4-core/4-thread processor, burst up to 2.9 GHz
Intel Celeron J6412 4-core/4-thread processor, 2.0-2.6GHz
CPU architecture
64-bit x86
64-bit x86
graphics processor
Intel® UHD Graphics
Intel® UHD Graphics
floating point operations
Yes
Yes
encryption engine
(AES-NI)
(AES-NI)
CPU Benchmark
system memory
4 GB SO-DIMM DDR4 (1 x 4 GB) 2666Mhz
8GB DDR4
maximum memory
16GB (2 x 8GB)
8GB (FIXED)
memory slot
2 SO-DIMM DDR4

For dual DIMM configurations, identical pairs of DDR4 modules must be used.

N/A
flash memory
4GB (dual boot OS protection)
4GB (dual boot OS protection)
Number of hard disk slots
4 x 3.5-inch SATA 6Gb/s
4 x 3.5-inch SATA 6Gb/s
Supported hard disk types
3.5″ SATA HDD2.5
" SATA HDD2.5
" SATA SSD
3.5″ SATA HDD2.5
" SATA HDD2.5
" SATA SSD
Hot-plug support
Yes
Yes
M.2 Slot
2 x M.2 2280 PCIe Gen 3 x1
2 x M.2 2280 PCIe Gen 3 x2
External Ports
2.5 Gigabit Ethernet port (2.5G/1G/100M)
2 (also support 10M)
2 (also support 10M)
Wake on LAN (WOL)
Yes
Yes
jumbo frame
Yes
Yes
PCIe expansion slot
1x Slot: PCIe Gen 3 x2
N/A
USB 2.0 port
2 x Type-A
2 x Type-A
USB 3.2 Gen 2 (10Gbps) port
2 x Type-A
2 x Type-A
USB 3.2 Gen 1 (5Gbps) port
0
0
HDMI output
1. HDMI 2.0
2x HDMI 1.4b
Power Supplier
90W Transformer, 100-240V
90W Transformer, 100-240V
fan
1 x 120mm, 12VDC
1 x 120mm, 12VDC
The QNAP TS-253E and TS-453E NAS – Software Specifications
The QNAP TS-253E and TS-453E will be arriving with QTS, the brand's software and services platform that is included with every QNAP NAS system. Given the hardware that the TS-X53E arrives with, it will almost certainly not feature the ZFS platform QuTS. QTS is currently in version 5 and I have made a full review of their latest software release in the video below, but below is a breakdown of the key applications that it includes (which can be accessed/used via the network/internet via your web browser, as well as via client apps for desktops and mobile).
QNAP Software and System Management Highlights
File Station – File Browsing and Management Tool
QSirch -Intelligent and Fast System-wide search tool
QFiling – Smart and customizable long term storage and archive tool
SSD Caching Monitor and Advisor – Allowing you to scale your SSD cache as needed, or get recommendations on how much you need
QTier – The QNAP intelligent, multi-layer tiering system that works to optimize your SSD vs HDD use, moving files to the appropriate storage media (not currently supported on QuTS Hero, just QTS)
Microsoft Active Directory– Support and cross-platform control of Active Directory processes
Access-Anywhere with myQNAPcloud – Safe and secure remote access over the internet to your storage systems, apps or just file storage
Qsync for multiple hardware environment backups and Sync – Client applications that can be installed on multiple 3rd party devices and create a completely customizable and scaled back up network between your devices
Hybrid Backup Sync 3 – Allows you to Backup and Sync with Amazon Glacier, Amazon S3, Azure Storage, Google Cloud Storage, HKT Object Storage, OpenStack Swift, WebDAV, Alibaba Cloud, Amazon Drive, Amazon S3, BackBlaze B2, Box, Dropbox, OneDrive, Google Drive, HiDrive, hubiC, OneDrive, OneDrive For Business, ShareFile and Yandex Disk. As well as backup to another NAS over real-time remote replication (RTRR) and USB connected media. All scheduled and all accessible via a single app user interface.
vJBOD and Hybrid Mount – Gives you the ability to mount cloud storage as a visible drive within the NAS (and the apps access it as if it was local) or mount a % of space from your NAS onto another as a virtual chunk of space to use
Multimedia Console – one portal access point to manage media access, searching, indexing and transcoding on your NAS device.
Photo, Video and Music Station – Multiple file type tailored applications to access data in the best possible way that is suited to their output – along with smart searching, playlists and sharing
Virtualization Station – Used to create virtual computers that can be accessed anywhere over the network/internet with the correct credentials. Supporting Windows, Linux, Android and more. You can import an existing VM image to the NAS, or you can even download Linux and Windows VMs directly to the NAS for trials for free
Container Station – much like the VM app, Container station lets you mount and access smaller virtual tools and GUIs, then access them over the network or internet.
Linux Station – Handy application to deploy multiple Linux based Ubuntu VMs from the NAS, all easily and within a few clicks
QVR Pro and QVR Elite – Surveillance applications that allow you to connect multiple IP cameras and IP speaks to your network and manage them with the applications. Arriving with 2 camera licenses for QVR Elite and 8 licenses for QVR Pro (the better one IMO), QNAP is constantly updating this enterprise-level surveillance application – adding newer security hardware and software tools for 2020 (see QVR Face and QVR Door)
QuMagie – Facial and Thing recognition application to help you retrieve, tag and catalogue photos by its use of AI to actually 'view' all your years of photos and let you search by the contents of them, not the file names.
Download Station – A download management tool that can handle HTTP, BT, FTP and NZB files in bulk to be downloaded to your NAS drive and keep safe. As well as keeping an eye on your RSS feeds and keeping your podcast downloads automatically updated with every episode
Malware Removers and Security Councillor – Along with Anti Virus software trials on the app centre, QNAP also provide numerous anti-intrusion tools and even a whole app interface to monitor in/outgoing transmissions with your NAS. It can make recommendations to beef up your security and keep you safe
Here is my full review of QTS 5.0 for QNAP NAS:
| | |
| --- | --- |
| FULL Written QNAP QTS 5 Review | FULL Video Review of QNAP QTS 5 |
| | |
The QNAP TS-253E & TS-453E NAS – Price & Release Date
The QNAP TS-253E and TS-453E NAS are being listed on numerous official regional sites by the brand, so the release of these NAS drives cannot be especially far away. Regarding pricing, although no official prices have been listed online, we can assume that a) they will be lower in price at launch than the TS-464 and TS-264, and b) that they will be a pinch higher than the pricing of the TS-251D and TS-451D2. So, somewhere between the $350-400 mark (not inc your local TAX). However this is an estimate and until we see further availability of the TS-464 and the rest of that range arrive globally, it is hard to estimate the price of the new TS-253E and TS-453E at this time. You can use the links below to take you to updated prices and where to buy page over on the NASCompares seller area to see if/when they become available.
📧 LET ME KNOW ABOUT NEW POSTS 🔔
Join 1,750 other subscribers
Get an alert every time something gets added to this specific article!
This description contains links to Amazon. These links will take you to some of the products mentioned in today's content. As an Amazon Associate, I earn from qualifying purchases. Visit the NASCompares Deal Finder to find the best place to buy this device in your region, based on Service, Support and Reputation - Just Search for your NAS Drive in the Box Below
Need Advice on Data Storage from an Expert?
Finally, for free advice about your setup, j
ust leave a message in the comments below here at NASCompares.com and we will get back to you.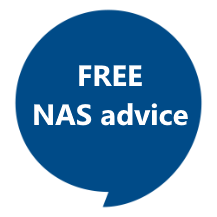 Need Help?
Where possible (and where appropriate) please provide as much information about your requirements, as then I can arrange the best answer and solution to your needs. Do not worry about your e-mail address being required, it will NOT be used in a mailing list and will NOT be used in any way other than to respond to your enquiry.
TRY CHAT
Terms and Conditions
If you like this service, please consider supporting us.
We use affiliate links on the blog allowing NAScompares information and advice service to be free of charge to you.
Anything you purchase on the day you click on our links will generate a small commission which is
used to run the website. Here is a link for
Amazon
and
B&H
.
You can also get me a ☕
Ko-fi
or old school
Paypal
. Thanks!
To find out more about how to support this advice service check
HERE
If you need to fix or configure a NAS, check
Fiver
Have you thought about helping others with your knowledge?
Find Instructions Here

ASK NASCompares forum
, by clicking the button below. This is a community hub that serves as a place that I can answer your question, chew the fat, share new release information and even get corrections posted. I will always get around to answering ALL queries, but as a one-man operation, I cannot promise speed! So by sharing your query in the
ASK NASCompares
section below, you can get a better range of solutions and suggestions, alongside my own.