Data Storage Deals to Look Out for on Black Friday 2022
Black Friday 2022 has begun! Remember when this was just a single day event? In recent years, in efforts to remain competitive and to capitalize on the global sales event, many e-tailers have switched to launching their Black Friday events to run the entire week (with arguably, the juiciest offers kicking off on the day itself, Friday 25th November) and NAS brands such as Synology and QNAP are just as keen to jump on board too. Data Storage and Networking Devices are among two of the biggest growth areas of technology we have observed in the last five years, thanks to a growing dependence of home and business users to work/live on internet based services and created hundreds of megabytes of data (and stretching into gigabytes for business) per day. The days of getting by with a drawer full of USB sticks and your free hand full of Google Drive Gigabytes are long gone (when you phone takes 4K photos at 10-15MB a pop) and ALOT of users have been holding out till Black Friday 2022 to either finally take the plunge on their first bit of premium storage tech or upgrade their existing setup. Throughout Black Friday itself, I will be keeping an eye on deals that appear over Black Friday 2022 that I would personally, GENUINELY buy – and I will be publishing a few videos to share them. However, there are already a number of rather attractive NAS deals floating around on the 2020, 2021 and even 2022 generation of storage from the big NAS brands and so I have made this article that details the NAS systems that will be on sale over Black Friday, alongside a list of retailers to check. I have also included price history on each of the devices to help you know when a deal really IS a deal. Let's take a look at the best deals to watch this week of Black Friday 2022.
BEST Synology Black Friday 2022 Deal – Synology DS920+ NAS
Popular for 2.5 years since it's initial launch in Summer 2022,the Synology DS920+ NAS has been refreshed recently with the launch of the new DS923+ NAS and for many, the DS920+ is still the superior NAS drive for Multimedia. The Synology DS920+ is regularly on sale at both Black Friday and Amazon Prime Day – and I Definitely see it appearing on sale in a huge number of locations globally, as the brand ushers out the older 2020 generation in favour of hte newer 2022/2023 Diskstation NAS. Indeed, it has seen a huge number of price changes in the last 18months: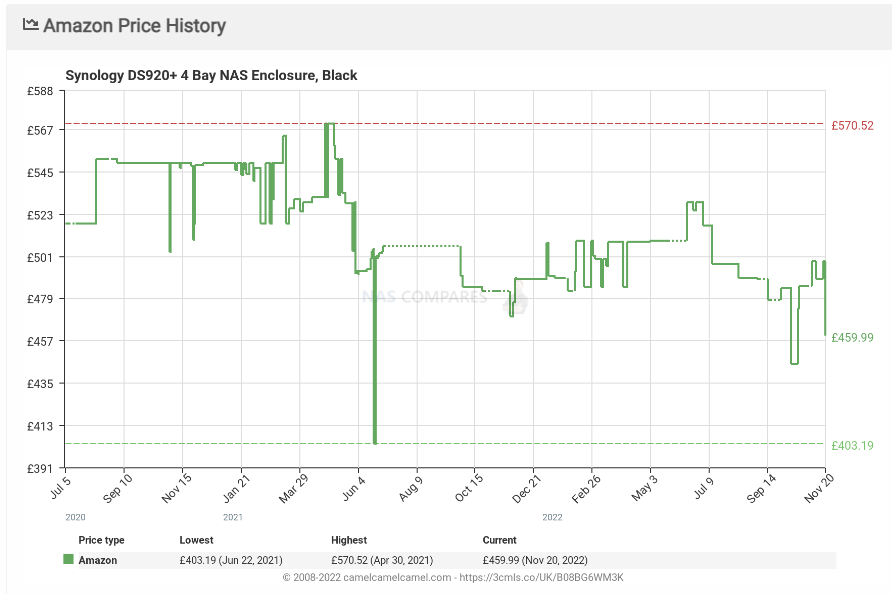 With a fantastically compact and low noise chassis, the DS920+ is still a fantastic NAS. Also, the DS920+ will also arrive with the latest version of Synology DSM 7.1, the fully featured NAS software that is included with all Synology NAS. This is almost certainly be THE DEAL of Black Friday 2022 TO WATCH!
Synology DS920+ NAS

CPU: Intel J4125 4-Core Celeron

Memory:Bays: 4-8GB

M.2 NVMe Bays: 2x m.2 NVMe, Caching Only

Network Ports: 2x 1GbE

USB: USB 3.2 Gen 1 x2

KVM: No

Network Upgrade: No

Synology DS920+ is an ideal network-attached storage solution to streamline data management and productivity. Two built-in M.2 SSD slots and Synology SSD Cache technology allow you to boost system I/O and application performance. Scalable storage design lets you start small and expand storage capacity with Synology DX517 as your data grows.

Links
---
BEST QNAP Black Friday 2022 Deal – QNAP TS-464 NAS
When QNAP launched their 2022 generation of hardware, the unit that REALLY stood out from the pack was the TS-464 NAS. This system pretty much delivered EVERYTHING that NAS buyers have been asking/demanding for at this price point for the last 6-7 years. The most powerful and capable Intel celeron featuring in NAS yet, DDR4 memory upto 16GB. M.2 NVMe SSD  says for caching OR storage, 4K HDMI, two 2.5GbE bays, 10Gb/s USB ports AND a PCIe slot to improve the system's network ports and/or storage even more! The TS-464 was such a beast that when launched, it IMMEDIATELY SOLD OUT EVERYWHERE!!! It took the better part of 4-5 months after release (April/May 2022) of the TS-464 to start seeing stock availability become a little more stable. Fast forward to now on Black Friday 2022 and the TS-464 is now much more available AND it has started seeing it's price point drop.

Now, although the price change can be attributed a little to the amount of time that the TS-464 has been available to buy, it has also been caused by the release of QNAP's big rival 'Synology' releasing their DS923+ NAS 4-Bay. I can definitely see the QNAP TS-464 NAS appearing on a few limited sales over the Black Friday period, though do not expect the stock to be especially high – so be quick on this one!
QNAP TS-464 NAS

CPU: Intel N5105 4-Core Celeron

Memory:Bays: 4-16GB

M.2 NVMe Bays: 2x m.2 NVMe, Caching and Storage Pools

Network Ports: 2x 2.5GbE

USB: USB 3.2 Gen 2 x3

KVM: Yes

Network Upgrade: Yes

Powered by an Intel® Celeron® N5095, quad-core processor (burst up to 2.9GHz), the TS-464 features two 2.5GbE RJ45 ports and Port Trunking for up to 5Gbps combined bandwidth. With M.2 PCIe Gen3 and PCIe Gen 3 slots, the TS-464 provides flexibility in extending NAS functionality, allowing you to install a QM2 card for M.2 SSD caching, or Edge TPU for AI image recognition and various 10GbE/5GbE network cards. The TS-464 comes with 4 GB RAM for running light VMs and Containers, and supports multi-cloud backup, cloud storage gateways, 4K HDMI output and real-time transcoding, alongside expandable storage capacity and feature-rich apps to perform as a cost-efficient, reliable 2.5GbE NAS.

Links
---
BEST Asustor Black Friday 2022 Deal – Lockerstor 4 Gen 2 NAS
Unlike higher profile brands such as Synology and QNAP, Asustor has always played the long game when it comes to their hardware. Unlike other brands that in 2022 released complete new refreshes of their systems, Asustor too the decision to upgrade their existing Lockerstor system to a Gen 2 version and…well…pretty much upgrade EVERYTHING! The Lockerstor 4 Gen 2 (also known as the AS6704T) arrives with the same high end Intel Celeron N5105 CPU as the QNAP TS-464, but then doubles down by providing 2933Mhz memory (4GB that can be upgrade to 16GB) and a massively surprising FOUR M.2 NVMe SSD bays (caching or pools, your pick). The system then ups the game with 10G USB and HDMI 2.0b (the only NAS in the market to feature this). Hell, the Lockerstor Gen 2 4-Bay can also swap the M.2 NVMe SSD bays out for a 10GbE card and/or a (coming soon) combination M.2 NVMe SSD + 10GbE upgrade card! The lockerstor Gen 2 series was already a huge bargain and Black Friday 2022 only makes this point louder!

Alongside all this, it is worth highlighting that we are seeing the Lockerstor Gen 1 (in 2 and 4-bay) also see a noticeable price drop in a number of locations. Ultimately, when it comes to NAS hardware, the AS6704T is near unbeatable at teh value for money and it also arrives with ADM Software and services included. Basically – a BARGAIN!
Asustor AS6704T NAS

CPU: Intel N5105 4-Core Celeron

Memory:Bays: 4-16GB

M.2 NVMe Bays: 4x m.2 NVMe, Caching and Storage Pools

Network Ports: 2x 2.5GbE

USB: USB 3.2 Gen 2 x2

KVM: Yes

Network Upgrade: Yes

Quad-Core 10 nm Intel Celeron N5105 CPU – 31% more performance over Gemini Lake
Superfast 2.5-Gigabit Ethernet ports
Flexible PCIe slot for 10GbE NICs or M.2 SSDs
Supports PCIe 3.0 SSDs for up to twice the performance of PCIe 2.0.
Uses DDR4-2933 with 40% more performance
USB 3.2 Gen2 ports – 10Gbps speed
Enjoy, download, upload and stream content with 4K transcoding
Increased ventilation for SSDs
Supports Wake on LAN and Wake on WAN

Links
---
BEST Terramaster Black Friday 2022 Deal – F4-423 NAS
Terramaster is a brand that we regularly see on offer during the Black Friday period over on amazon. However, we are only now starting to see their latest FX-423 2022 generation of devices start to see any meaningful discount. The F4-423 already arrived at a more affordable price point that the 2020 released DS920+, whilst also having the same hardware as the Lockerstor 4 Gen 2 and QNAP TS-464 for the most part. The F4-423 arrives with the Intel N5105, 4-16GB of DDR4 Memory, 2.5GbE and USB 3.2 Gen 2, yet is almost $100-130 cheaper than it's competitors!!!

Further to this, the Terramaster F4-423 has recently been updated to TOS 5, the brand's NAS software. This has seen numerous improvements in it's GUI, responsiveness and default security. It also now includes a surveillance application, AI powered photo recognition tool, several new backup and synchronization tools and improvements to the file systems and services. The learning curve on a terramaster NAS is a little steeper tha some of the other brands, but the F4-423 is still a fantastic choice to consider this Black Friday 2022.
Terramaster F4-423 NAS

CPU: Intel N5105 4-Core Celeron

Memory:Bays: 4-16GB

M.2 NVMe Bays: 2x m.2 NVMe, Caching and Storage Pools

Network Ports: 2x 2.5GbE

USB: USB 3.2 Gen 2 x2

KVM: No

Network Upgrade: No

The 4-Bay F4-423 is suitable for SMB users who need high-performance storage solutions. High performance means that users can easily handle high-load workflows, while multiple business-level backup solutions guarantee data safety and safeguard against the risk of data loss. This is a high-performance storage solution that provides a virtual storage and database service for SMB users. It uses an Intel Celeron N5105/5095 quad-core processor with 2.0 GHz and a maximum turbo of 2.9 GHz. It is integrated with a GPU graphics card and AES NI hardware encryption. In addition, it is equipped with two 2.5 GbE interfaces and a 4 GB DDR4 dual-channel memory (expandable up to 32 GB). Moreover, this storage solution is internally installed with 2 M.2 NVMe slots, which accelerate SSD caching and double the storage efficiency of your RAID.

Links
---
Affordable Home 4K Plex NAS Black Friday 2022 Deal – Synology DS220+
Plex Media series still continues to be one of the most popular reasons that many home users choose to make the jump into the world of NAS storage – with Black Friday all too often being the point that head to the checkout!  Plex Media Server gives users the ability to access, view and browse their existing multimedia collection with  the same level of graphical flare and services hat paid subscriptions services like Netflix and Disney+ include (Trailers, Cast information, media box art, reviews, etc). Plex is a little hungry as an application though and it can be tough to find a NAS drive that has the right amount of hardware to play 4K media, without breaking the bank. The Synology DS220+ arrives at an incredible affordably price point, yet (with a plex pass and concentrating on h.264 mEDIA AT UPTO 60Mb bitrate of 32Mb HEVC) it can still play ALOT of current multimedia! Add to this that the NAS is very low in power use and is a quite little 2 bay, and what you have is by far one of the best value 4K Plex NAS' in the market.

The DS220+ will almost certainly see a refresh in 2023 towards a DS223+ NAS (with question marks about whether it will feature an Intel or AMD CPU – and even more questions on the whether it will have integrated graphics), the DS220+ is 100% going to be on offer at a number of retailers, as Synology begins to run down the stock of the 2020 gen, in favour of the 2023 generation. If you see the DS220+ at £250 o less this Black Friday, SNAP IT UP!
Synology DS220+ NAS

CPU: Intel J4025 2-Core Celeron

Memory:Bays: 2-6GB

M.2 NVMe Bays: No

Network Ports: 2x 1GbE

USB: USB 3.2 Gen 1 x2

KVM: No

Network Upgrade: No

Synology DS220+ is a compact network-attached storage solution designed to streamline your data and multimedia management. It features smooth data sharing, video streaming, and photo indexing, as well as well-rounded data protection and recovery options. Video Station lets you easily manage and organize movies, TV shows, and home videos, and stream content to computers, smartphones, and media players. Organize your photos intelligently with Moments, a modern, AI-enabled photo management application that lets you effortlessly preserve your precious memories. Audio Station is your personal music center, designed to intelligently sort and organize your audio files, and stream to Google Cast enabled devices. Audio Station supports lossless formats to ensure pristine audio quality.

Links
---
BEST Budget/Value NAS Black Friday 2022 Deal – Synology DS220j
If you HAVE decided to buy a NAS as a low key multimedia server for DLNA/uPnP streaming and/or low/2n tier backup server – then the incredibly affordable DS220j NAS will make ALOT of sense! It arrives at a fraction of the price of the more powerful Intel options mentioned above in the 2020 generation, but still has DSM on board, a quad-core 64bit ARM CPU and (although a little slower and needs a pinch more patience at times) is a really impressive, small scale NAS!

This is another NAS that is fully expected to see a 2023 refresh (largely down to the talk of a new Synology Value NAS with the Realtek RTD1619 CPU coming). So, be sure to look for this bargain on the week of Black Friday 2022!
 Synology DS220j NAS

CPU: Realtek RTD1296 4-Core ARM v8 64bit

Memory:Bays: 512MB

M.2 NVMe Bays: No

Network Ports: 1x1GbE

USB: USB 3.2 Gen 1 x2

KVM: No

Network Upgrade: No

DS220j is an entry-level 2-bay NAS designed for home and personal users to store and share photos, videos, and documents. The private cloud solution is powered by the award-winning DiskStation Manager (DSM) OS, providing an intuitive user interface and safe data protection approaches for easy digital asset backups from computers and mobile devices at no additional cost.  Synology's comprehensive multi-version backup solution protects your digital assets on computers (Windows/Mac) and mobile phones (Android/iOS) against malicious attacks, including the rising encryption-based ransomware threats. Storage management is easy with Synology Hybrid RAID (SHR) technology. SHR is an automated RAID management system that allows you to easily create and expand storage volumes and migrate RAID types without requiring details on the RAID setup. SHR provides 1-disk redundancy to safeguard your data in case of drive failures.

Links
---
BEST Surveillance NVR NAS Black Friday 2022 Deal – QNAP TS-453D
Arriving at a price point that is a pinch higher than some might expect (especially those weighing up between the TS-453D and TS-453Be), this serves as a more compact and affordable alternative to the TVS-473e and TVS-472XT. The TS-453D NAS is something that QNAP should be proud of. It is a great entry into their already impressive range of desktop NAS devices, finding an excellent balance between home and business users. If you are looking for a brand new 'powerful on a budget' NAS to consolidate your home media, Set up a Surveillance network, run virtual OS environments, sort through photo media, support your relatives as the 'IT whizz' of the family, or move your business away from Google Drives and DropBox' onto something safer, more scalable and dependable – then the TS-453D has alot to offer you. It gives you a great base to start using the QTS platform, as well as a good means to upgrade your storage internally at a later date (expansions in memory to 8GB, expansions in storage with the TL & TR Series, expansion in NVMe, 10Gbe both in the QM2 range and more). When it comes to surveillance though, the fact the TS-453D has KVM support, is upgradable in about 5 different ways AND has 8 camera licences with QVR Pro, means that it is a fantastic Surveillance NAS indeed. Plus, now that you can upgrade AI services thanks to the m.2 connected $29 MTU upgrade card. As you can see from the graph below, pricing has been tremendously dynamic since the launch of the TS-464 and TS-453E NAS:

That said, If you are an existing TS-453Be or TS-453B owner, this might not seem like the jump you were waiting for. Likewise, the odd choice of PCIe Gen 2 x2 may present an internal bottleneck for some.
QNAP TS-453D NAS

CPU: Intel J4125 4-Core Celeron

Memory:Bays: 4-8GB

M.2 NVMe Bays: No

Network Ports: 2x 2.5GbE

USB: USB 3.2 Gen 1 x 3, USB 2.0 x2

KVM: Yes

Network Upgrade: Yes

The new-gen Wi-Fi 6 (802.11ax) trend has driven higher bandwidth demands for wired and wireless network connections. By integrating Intel® Celeron® J4125 quad-core 2.0 GHz processor and 2.5GbE connectivity, the TS-453D not only provides modern businesses an excellent NAS solution to upgrade to 2.5GbE environments for productive daily backup/restore tasks, but also provides gamers with ample storage for their vast game collections. Up to 5 Gbps transfer speeds can be made by setting port trunking with the two built-in 2.5GbE ports. The TS-453D also supports PCIe expansion, multi-cloud backup, cloud storage gateways, 4K HDMI output and real-time transcoding, alongside expandable storage capacity and feature-rich apps to perform as a cost-efficient, reliable 2.5GbE NAS.

Links
---
BEST Price Per Terabyte NAS Hard Drive Black Friday 2022 Deal – WD Red Plus 8TB

WD Red Plus 8TB NAS Hard Drive

Interface: SATA

Size: 3.5″

NAS Drive Scale:1-8 Bays

Recording Method: CMR/PMR

RPM: 7200RPM

Cache: 256MB

USP: NASware 3.0, 180TB Workload, Balancing and Vibration Protection

Warranty: 3yrs

Packed with power to handle the small- to medium-sized business NAS environments and increased workloads

1

for SOHO customers, WD Red™ Plus is ideal for archiving and sharing, as well as RAID array rebuilding on systems using ZFS and other file systems. Built and tested for up to 8-bay NAS systems, these drives give you the flexibility, versatility, and confidence in storing and sharing your precious home and work files. Built for Optimum NAS Compatibility

WD Red™ Plus drives with NASware™ technology takes the guesswork out of selecting a drive. Optimized for NAS systems, our unique algorithm balances performance and reliability in NAS and RAID environments. Simply put, a WD Red™ Plus drive is one of the most compatible drives available for NAS enclosures. But don't take our word for it. WD Red™ Plus drives are a reflection of extensive NAS partner technology engagement and compatibility-testing.

Links
---
BEST Large Scale / Business NAS Hard Drive Black Friday 2022 Deal – Seagate Ironwolf Pro 16TB

Seagate Ironwolf Pro 16TB NAS Hard Drive

Interface: SATA

Size: 3.5″

Recording Method: CMR/PMR

NAS Drive Scale:1-18 Bays

RPM: 7200RPM

Cache: 256MB

USP: 300TB Workload, Balancing and Vibration Protection, Data Recovery Services

Warranty: 5yrs

IronWolf® Pro drives are engineered to deliver 24×7 performance, reliability, and dependability in multi-bay, multi-user commercial and enterprise RAID storage solutions. Total peace of mind with five-year limited warranty, complimentary three-year Rescue Data Recovery Services, and IronWolf Health Management.

• Built with Agile Array firmware for RAID optimisation and 24×7 use.
• Rotational Vibration sensors on higher capacity drives to mitigate vibration in multi-bay applications.
• Iron Wolf Health Management is built into compatible NAS operating systems that monitors drive health.
• 300 TB/year workload rate for busy multi-user s allowing users to push more data through the hard drive and NAS.
• 5-year with 2-year data recovery service.

Links
---
📧 LET ME KNOW ABOUT NEW POSTS 🔔
Join 1,577 other subscribers
Get an alert every time something gets added to this specific article!
This description contains links to Amazon. These links will take you to some of the products mentioned in today's content. As an Amazon Associate, I earn from qualifying purchases. Visit the NASCompares Deal Finder to find the best place to buy this device in your region, based on Service, Support and Reputation - Just Search for your NAS Drive in the Box Below
Need Advice on Data Storage from an Expert?
We want to keep the free advice on NASCompares FREE for as long as we can. Since this service started back in Jan '18, We have helped hundreds of users every month solve their storage woes, but we can only continue to do this with your support. So please do choose to buy at Amazon US and Amazon UK on the articles when buying to provide advert revenue support or to donate/support the site below.

Finally, for free advice about your setup, j
ust leave a message in the comments below here at NASCompares.com and we will get back to you.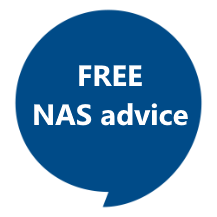 Need Help?
Where possible (and where appropriate) please provide as much information about your requirements, as then I can arrange the best answer and solution to your needs. Do not worry about your e-mail address being required, it will NOT be used in a mailing list and will NOT be used in any way other than to respond to your enquiry.
Support What We Do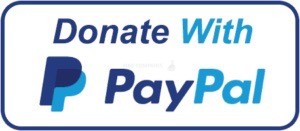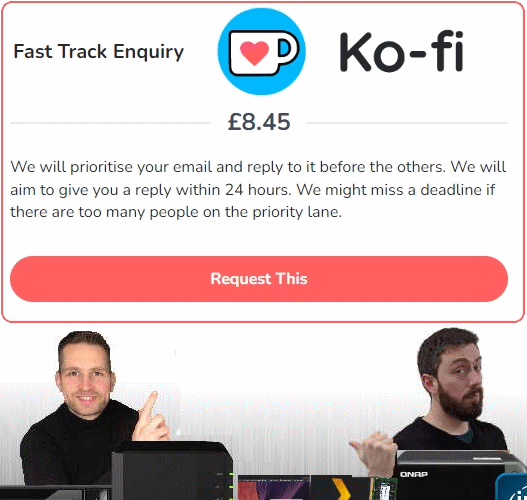 Terms and Conditions
Alternatively, why not ask me on the
ASK NASCompares forum
, by clicking the button below. This is a community hub that serves as a place that I can answer your question, chew the fat, share new release information and even get corrections posted. I will always get around to answering ALL queries, but as a one-man operation, I cannot promise speed! So by sharing your query in the
ASK NASCompares
section below, you can get a better range of solutions and suggestions, alongside my own.