SanDisk Extreme PRO and WD My Passport SSD Failures – Wait, WHAT?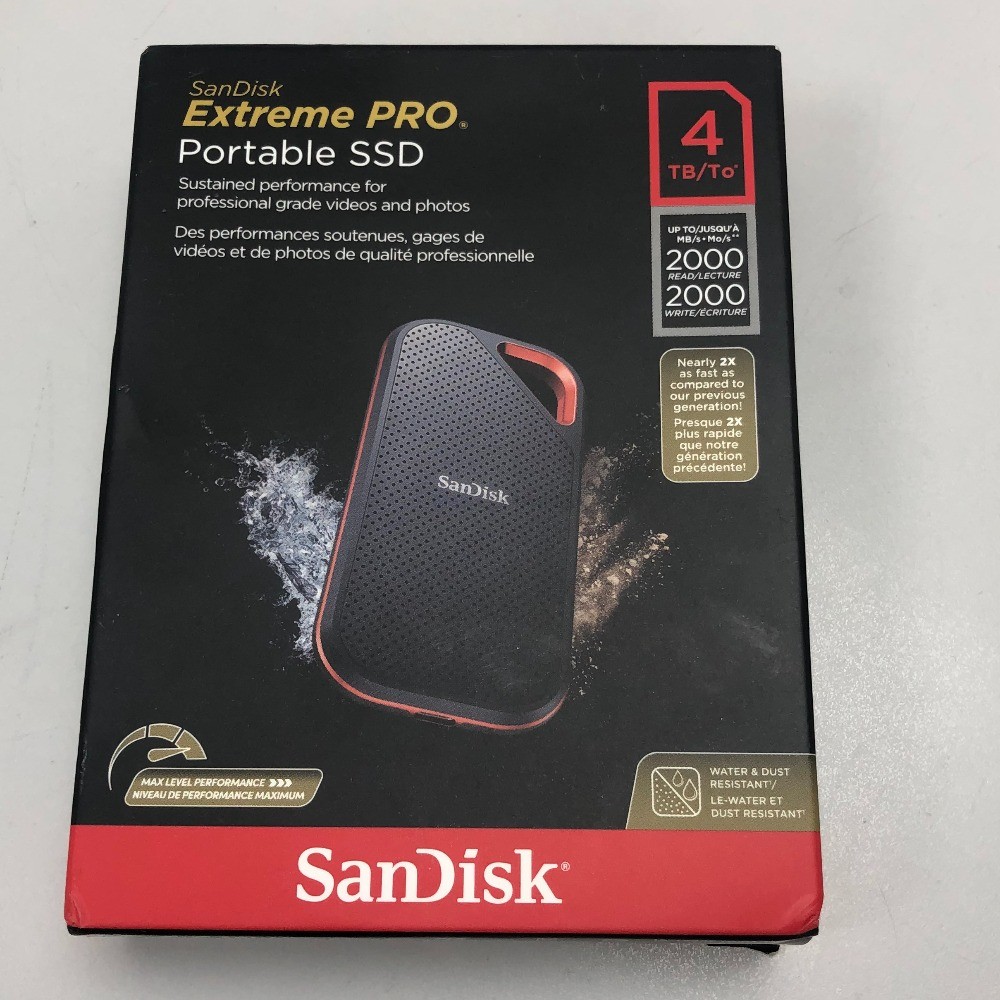 SanDisk, long established SSD brand and partner of Western Digital, in the last few months has come under scrutiny following a flurry of user complaints about their Extreme and Extreme Pro Portable External Solid State Drives (SSDs) in the first half of 2023. These popular storage devices, which are regularly on special offer and typically applauded for their speed and durability – I have personally recommended them till now!), have faced a surge of issues involving random disconnections, catastrophic data loss, and in some cases, the complete collapse of the file system. Although the bulk of these concerns has focused on the 4TB models, users of the 2TB drives appear not are not immune either. So, what is going on? What have WD/Sandisk doing about this, and how concerned should you be? Let's discuss.
Note – This article was updated 25/08/23 with updates on users stating that the updates have not stopped their drives from failing again, as well as details of three lawsuits currently filed against Western Digital. You can WATCH the video below, or scroll down the page to the 25/08 Update.
Note – WD/SanDisk have rolled out a new firmware that they state will resolve this and fix the error. The " SanDisk and WD Firmware Updater can be downloaded here, and is required to update the firmware . Additionally, for those that need further support, you can use the instructions on the Western Digital website. The following drives are impacted:

• SanDisk Extreme Portable 4TB (SDSSDE61-4T00)

• SanDisk Extreme Pro Portable 4TB (SDSSDE81-4T00)

• SanDisk Extreme Pro 2TB (SDSSDE81-2T00)

• SanDisk Extreme Pro 1TB (SDSSDE81-1T00)

• WD My Passport 4TB (WDBAGF0040BGY)

Use this tool HERE to check if your drive is one of those that is affected and whether you need to update your firmware immediately
When was the SanDisk Extreme Pro Portable SSD Issue First Seen?
The initial wave of failures primarily involved the SanDisk 4TB Extreme Pro SSDs, as reported by various digital imaging technicians, loaders, and assistant camera operators from both coasts. Probably one of the most oft-referenced sources for this so far has been HERE on reddit. related to users experiencing the same issue and seeking to share firmware/model IDs that have been affected 5 months ago and has since continued to reach 221 comments with a substantial number of them related to users sharing their own drive-loss horror stories! Typically, the issue resulted in the drive, after a prolonged write operation, unexpectedly losing its file system. This issue rendered the drive incapable of mounting, and recovery became a matter of chance rather than certainty.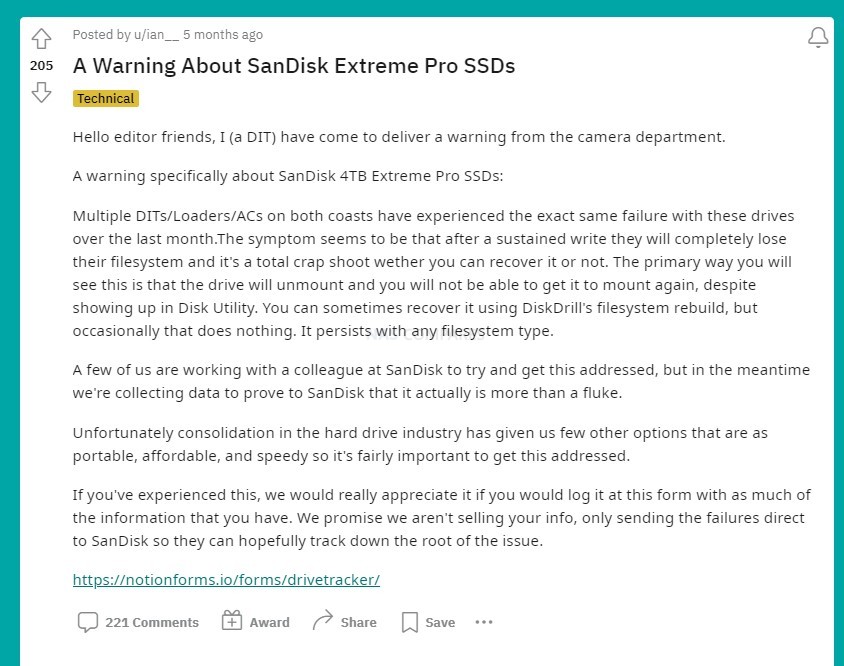 The symptom, not tied to any particular file operating system type, left the users in a conundrum. Even attempts to restore the drive using sophisticated software tools like DiskDrill's filesystem rebuild yielded inconsistent results. Despite the increasing number of reports about these failures, SanDisk's initial response was muted, failing to officially recognize the problem as anything more than an isolated incident or a mere fluke. However, even a brief bit of digging showed this was just the tip of the iceberg, as more users in the same thread raised their own stories of drive failure: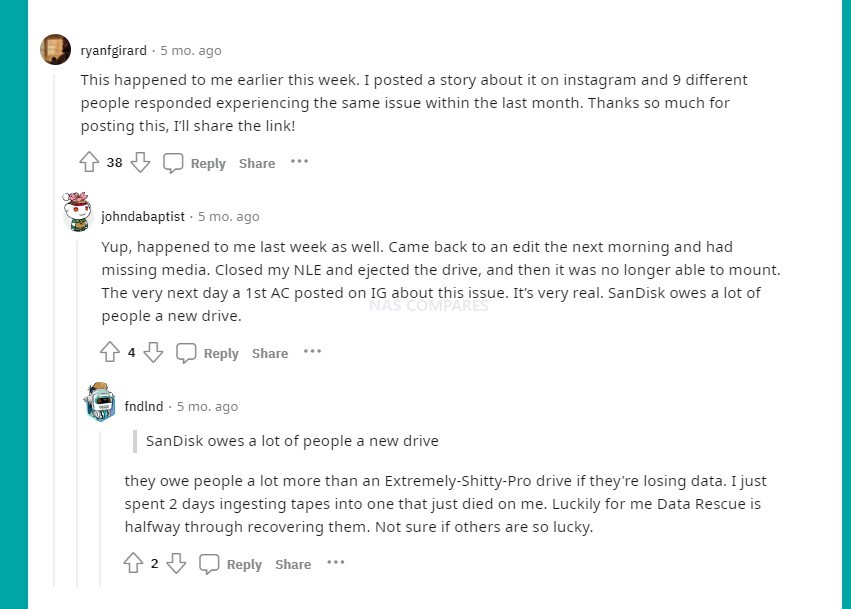 Now, given that this is an issue that has already been discussed in storage communities AND with Sandisk themselves over the course of 5-6 months, it is still kinda odd that we have only heard about a firmware update being rolled out a little over a month ago (31/05/23) that they state will resolve this issue, but the drives apparently remained on sale at multiple retailers. Given the extent to which users were impacted long before this firmware rollout, this might have been perhaps too little, too late for some.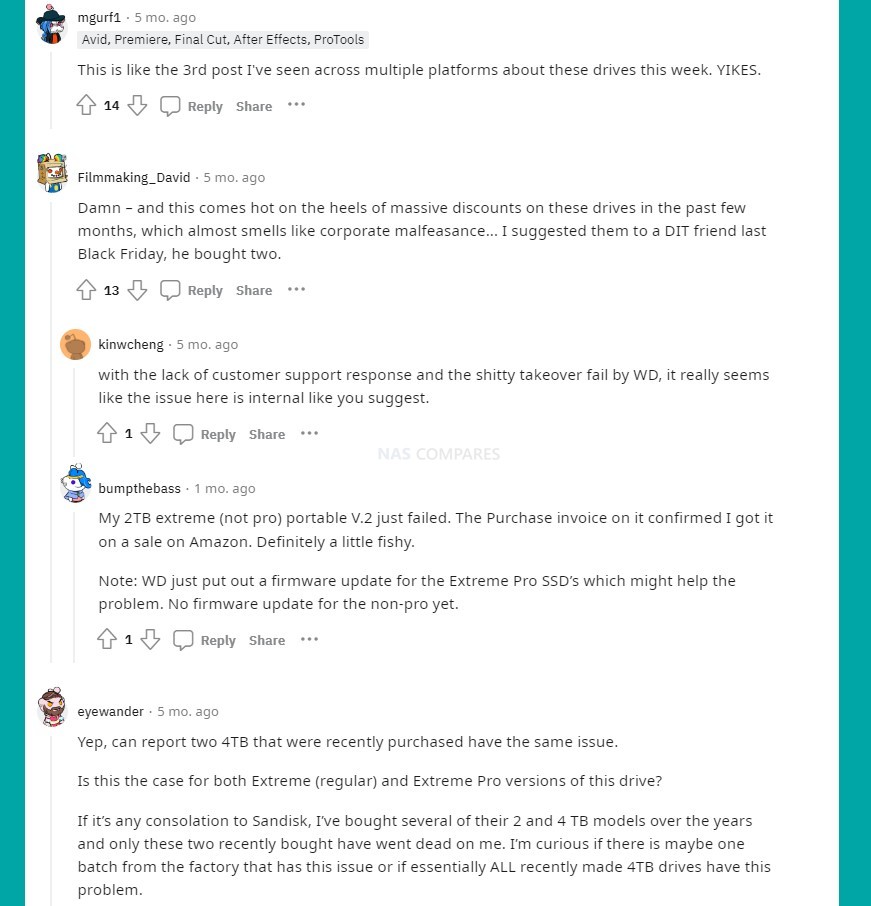 Official Sandisk Responses to the Issue
SanDisk's problems started to attract a broader audience when Ars Technica published an article citing similar issues with their staff's 2TB drives HERE. Online forums, especially on Reddit, teemed with frustrated and disappointed users sharing their experiences with their relatively recently purchased Extreme V2 and Extreme Pro V2 portable SSDs. The complaints indicated that the problem was not confined to the 4TB Pro model but extended to the non-Pro 4TB and the 2TB Pro versions. Later it would be confirmed that some 2TB and even a 1TB version had been impacted, but more on that in a bit. When contacted by Ars Technica, WD responded:
Western Digital is aware of reports indicating some customers have experienced an issue with 4TB SanDisk Extreme and/or Extreme Pro portable SSDs (SDSSDE61-4T00 and SDSSDE81-4T00 respectively). We have resolved the issue and will publish a firmware update to our website soon. Customers with questions or who are experiencing issues should contact our Customer Support team for assistance. – Statement by Western Digital to Ars Technica
Fast forward to now and it appears that said firmware update was rolled out, seemingly arriving on 31/05/23, as observed over on the ComputerBase forum. This went on to confirm which SSDs were fully impacted:
• SanDisk Extreme Portable 4TB (SDSSDE61-4T00)
• SanDisk Extreme Pro Portable 4TB (SDSSDE81-4T00)
• SanDisk Extreme Pro 2TB (SDSSDE81-2T00)
• SanDisk Extreme Pro 1TB (SDSSDE81-1T00)
• WD My Passport 4TB (WDBAGF0040BGY)
Sandisk has still remained tight-lipped on the extent of the issue, but you can use the serial number checker on their firmware update page to see if you are/could be impacted by this. Alongside the rollout of the firmware update, they offered the following FAQ:
Can I get a replacement SSD? – The firmware update is the fastest way to address and resolve any concerns about this issue. If you have any trouble accessing the firmware update, please contact our customer support team so that they can further assist you.
Is this firmware issue still a problem? – We addressed this firmware issue in the manufacturing process, and we can confirm that the issue is not impacting currently shipping products.
How can I tell if my product has been impacted?
– Use the
serial number lookup tool
to check if a firmware update is needed for your device. Once there, you will be guided through a quick assessment. If an update is needed, you will be walked through the appropriate steps based on the computer operating system you're running. In the event you don't have access to a Windows operating system, we encourage you to reach out to our customer support team so that they can further assist you.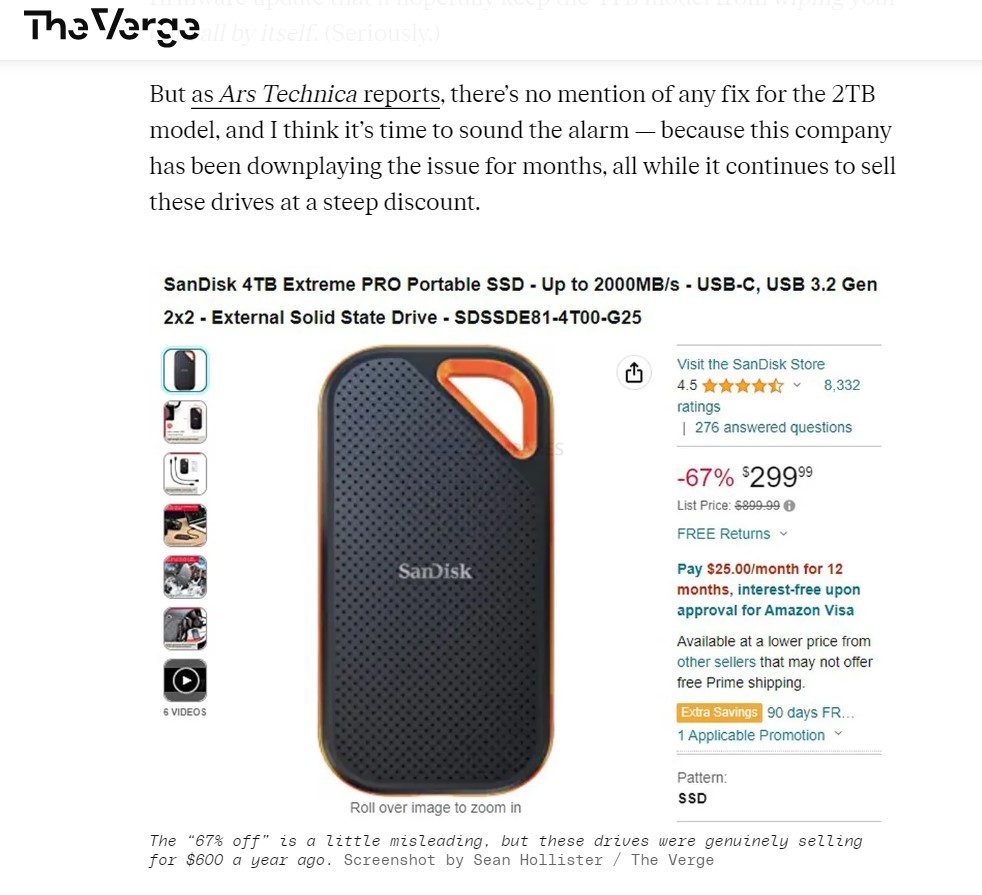 A Tepid Response: SanDisk's Minimal Acknowledgment
The public response from SanDisk to this escalating issue remained woefully insufficient, considering the severity of the problems being reported. Their early strategy mostly involved guiding affected customers to open a support ticket with the company's technical support team. When Ars Technica reached out for more information, SanDisk offered a slightly more concrete response. It should NOT have taken the larger online editorial site to encourage them to be more public with this issue, especially when you are talking about storage devices that were already in very wide circulation and being used for many users' primary backups! Additionally, they acknowledged the issue with their 4TB SanDisk Extreme and Extreme Pro portable SSDs, assuring users that they had resolved the problem and were planning to release a firmware update soon, but they failed to address that this issue affected the WD My Passort 4TB drive, or the 1TB and 2TB Extreme Pro drives that would eventually be highlighted in their firmware update. Just highlighting the issue on the 4TB SDSSDE61-4T00 and SDSSDE81-4T00 is now, with hindsight, actually pretty poor!
Do not buy these SanDisk drives. They've been faulty for months and they're trying to clear inventory with steep discounts https://t.co/Rax0FNOhod

— V (@vjeranpavic) April 12, 2023
Sandisk Extreme Pro SSD Product Recall?
Adding another layer to this already complex situation, reports started surfacing of SanDisk's customer support agents informing some users about a recall of the 4TB model. However, this seemed to contradict the reality as the 4TB model continued to be available for sale. Moreover, when contacted by The Verge in March 2023, SanDisk's parent company Western Digital seemed to downplay the issue, stating it was "actively investigating" a "small number of reports," hardly the reaction expected for a product recall. In a more official capacity, Western Digital later admitted a firmware issue causing certain SSD products, including the SanDisk Extreme Portable SSD V2 and SanDisk Extreme Pro Portable SSD V2, to unexpectedly disconnect from computers.
This slideshow requires JavaScript.
The Implications to Sandisk Long-term: Lost Data, Lost Trust
SanDisk's current woes extend beyond the mechanical or firmware issues of their SSDs. Their delayed and seemingly half-hearted response to the reported failures has ignited a wave of disappointment among their long-time content creator user base. In cases where the retailer has agreed to a refund, customers are often offered a replacement with the same model. However, considering the scale of the problem, this solution offers little comfort to those who have already lost valuable data and trust in the brand. What remains to be seen is whether SanDisk's recently released firmware fix will truly resolve the issue at hand and whether it will apply to all affected drives, or we might see the range of affected drive rise? Low %s of course, but not impossible.
Detailed Update on Sandisk Extreme Pro External USB SSD Drives
1) In-Depth Recap Back in July, we shared an article and video detailing a concerning problem faced by users of the Sandisk Extreme Pro external SSDs. They were grappling with a fatal firmware error that led to significant file system issues. Despite the rising number of complaints, Sandisk's communication about the problem was rather subdued. Users were left with many questions, especially regarding other related products like the WD My Passport SSD, which shared characteristics with the troubled drives. Alarmingly, even amidst these issues, there seemed to be no pause in the selling or any significant recalls of these drives. In fact, they were noticeably present during major sales events, raising eyebrows about their reliability. By May, in response to the growing outcry, a firmware update was released. Notable platforms such as Ars Technica and The Verge were particularly vocal about this issue. Western Digital acknowledged the following drives as affected:
SanDisk Extreme Portable 4TB (SDSSDE61-4T00)
SanDisk Extreme Pro Portable 4TB (SDSSDE81-4T00)
SanDisk Extreme Pro Portable 2TB (SDSSDE81-2T00)
SanDisk Extreme Pro Portable 1TB (SDSSDE81-1T00)
Western Digital My Passport 4TB (WDBAGF0040BGY).
Immediate Action for Users:
For those who are concerned that they might have one of these affected drives, please visit the dedicated support page. Here, you can input your drive's serial number and your operating system to get clarity on the matter.
Developments Post-Firmware-Update for Sandisk Users
Regrettably, the firmware update doesn't seem to have fully addressed the problem. Some users, even after updating their firmware, have continued to face issues like unmounting and file system errors that only a total format could resolve. Highlighting the gravity of the problem, The Verge reported a significant incident where a staggering 3TB of marketing video was lost on a 4TB Sandisk Extreme Pro SSD, which was even more surprising since the drive was provided by WD as a replacement for a previously troubled one. Additionally, legal advisory platforms, like Legalscoops.com, are now advocating for users to consider legal avenues against Western Digital, given the company's perceived inadequacies in handling the situation.
Recommendation for Users:
Given the gravity of the situation, if you believe your drive might be affected or even if you're simply unsure, don't take chances. Head over to the Western Digital support page and check the status of your drive immediately.
Legal Developments Surrounding the Sandisk Extreme Pro External USB SSD Drives
The repercussions of the firmware issue in the Sandisk Extreme Pro external SSDs have not only perturbed many users but have also paved the way for legal action. There are currently three significant lawsuits filed against Western Digital, the parent company of Sandisk. Here's a detailed examination of each: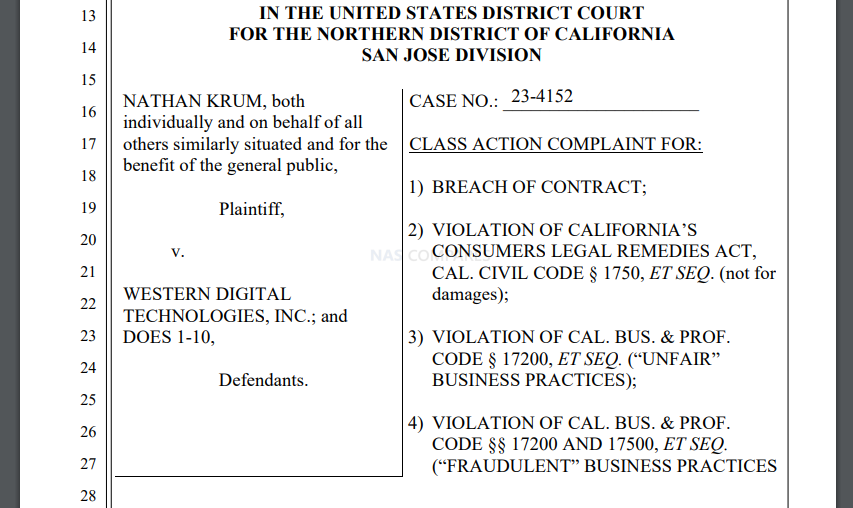 1) Lawsuit by Nathan Krum
Link: View lawsuit details
Overview:
This lawsuit was filed in a federal court in San Jose, California, by Nathan Krum. The key contention was the failure of the Western Digital SanDisk 2TB Extreme Pro SSD that Krum purchased in May for $180.
Key Allegations:
The SSD failure was due to an undisclosed flaw affecting multiple models since January 2023.
Beyond mere connection issues, the lawsuit emphasizes significant data loss occurrences without any prior warning.
Class members have been reporting an inability to access and retrieve data saved on their devices.
Potential Scope:
Krum's legal team believes that the class could represent "tens, if not hundreds of thousands" of affected users in the U.S. This projection is based on reported device failures or data losses.

2) Lawsuit led by Matthew Perrin and Brian Bayerl
Link: View lawsuit details
Overview:
This lawsuit represents two individuals who faced issues with the Sandisk Extreme SSDs.
Key Allegations:
Brian Bayerl's two Extreme SSDs reportedly had broken firmware.
Bayerl faced the failure of two drives almost simultaneously.
Due to the critical nature of his work data stored on these devices, Bayerl reportedly spent nearly $8,000 on only partially successful data recovery attempts. These third-party data recovery attempts also attributed the issue to faulty internal firmware on the drives.
Legal Standpoint:
Ian Sloss, one of the lawyers representing the plaintiffs, stated, "We believe the case is strong, that Western Digital's response to the issue has been delayed, inadequate, and incomplete."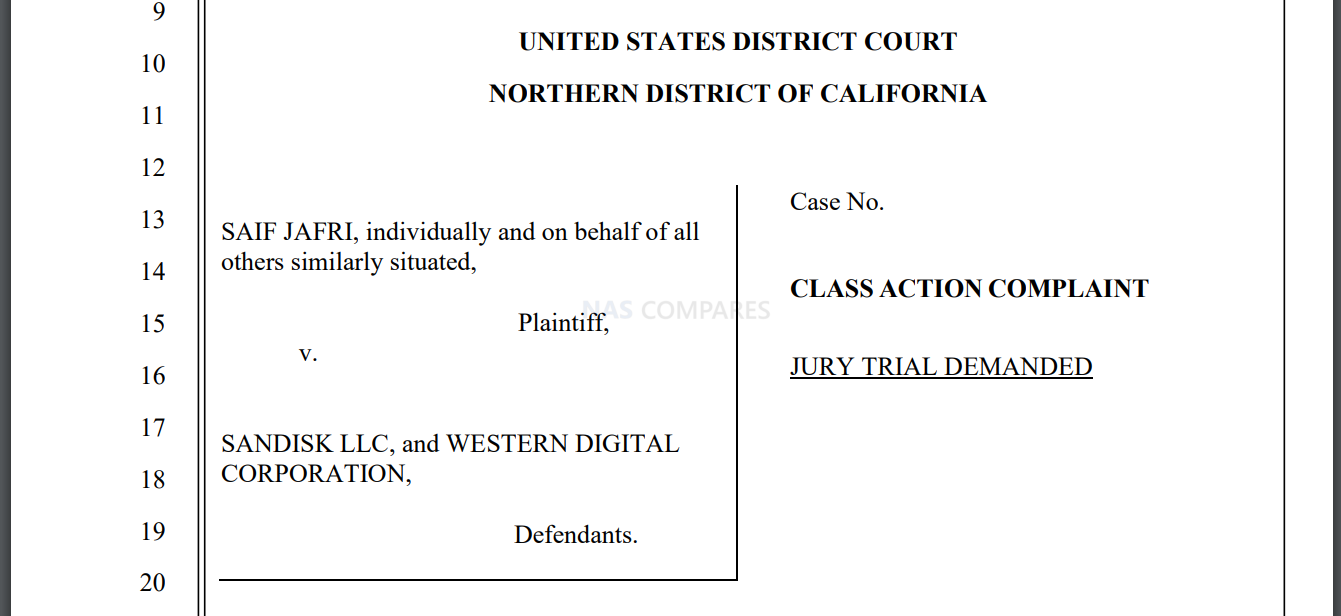 3) Class Action Lawsuit Led by Plaintiff Saif Jafri
Link: View lawsuit details
Overview:
Plaintiff Saif Jafri, on behalf of himself and those similarly affected, has initiated this class action lawsuit against both SanDisk LLC and Western Digital Corporation. The crux of the lawsuit centers around the allegation that the SSDs manufactured and distributed by the defendants have a design and manufacturing defect that renders them prone to failure.
Key Allegations:
Defective Product Design: The lawsuit purports that the SanDisk and Western Digital SSDs face an exceptionally high risk of malfunctioning within an astonishingly short period post-purchase, attributing this to an inherent design and manufacturing flaw.
Consequences of Drive Failure: When these drives malfunction, the implication isn't just a minor glitch; it leads to total data loss. The internal file system of these SSDs gets destroyed, making data retrieval impossible. What exacerbates this situation is that even if users try to reformat the drive, they can't add new data. Essentially, the drive becomes a non-functional piece of hardware.
Spontaneity of Drive Failures: The drives can fail without any discernible provocation from the user side. This spontaneous nature of drive failures means that consumers and professionals who've relied on SanDisk for their data storage are left in the lurch, losing invaluable data with no remedy in sight.
Value Proposition and Consumer Expectation: The lawsuit emphasizes the sheer incongruity between what consumers anticipate when purchasing a storage device and the reliability of these particular SSDs. The fundamental premise is that no logical consumer would spend substantial amounts on a storage device notorious for its high failure rate. Similarly, no prudent consumer would willingly risk their data by saving it on a notoriously unreliable device.
Scope and Implications:
Given the gravity of the allegations, this lawsuit underscores the massive trust breach consumers face. The apparent unreliability of a product from a reputed company like SanDisk jeopardizes not just consumer trust but also the tangible and intangible assets they hold dear. The case encapsulates the sentiments of possibly tens to hundreds of thousands of affected individuals, many of whom are grappling with the loss of critical data and the consequential professional and personal implications.
📧 LET ME KNOW ABOUT NEW POSTS 🔔
Join 1,750 other subscribers
Get an alert every time something gets added to this specific article!
This description contains links to Amazon. These links will take you to some of the products mentioned in today's content. As an Amazon Associate, I earn from qualifying purchases. Visit the NASCompares Deal Finder to find the best place to buy this device in your region, based on Service, Support and Reputation - Just Search for your NAS Drive in the Box Below
Need Advice on Data Storage from an Expert?
Finally, for free advice about your setup, j
ust leave a message in the comments below here at NASCompares.com and we will get back to you.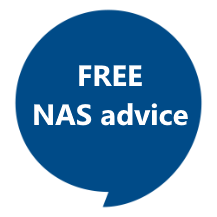 Need Help?
Where possible (and where appropriate) please provide as much information about your requirements, as then I can arrange the best answer and solution to your needs. Do not worry about your e-mail address being required, it will NOT be used in a mailing list and will NOT be used in any way other than to respond to your enquiry.
TRY CHAT
Terms and Conditions
If you like this service, please consider supporting us.
We use affiliate links on the blog allowing NAScompares information and advice service to be free of charge to you.
Anything you purchase on the day you click on our links will generate a small commission which is
used to run the website. Here is a link for
Amazon
and
B&H
.
You can also get me a ☕
Ko-fi
or old school
Paypal
. Thanks!
To find out more about how to support this advice service check
HERE
If you need to fix or configure a NAS, check
Fiver
Have you thought about helping others with your knowledge?
Find Instructions Here

ASK NASCompares forum
, by clicking the button below. This is a community hub that serves as a place that I can answer your question, chew the fat, share new release information and even get corrections posted. I will always get around to answering ALL queries, but as a one-man operation, I cannot promise speed! So by sharing your query in the
ASK NASCompares
section below, you can get a better range of solutions and suggestions, alongside my own.