Synology DS220+ vs DS224+ NAS – Worth an Upgrade?
Why would you consider upgrading your existing older-generation Synology now, or take your first steps away from public cloud subscription services and towards your own private NAS server? There are plenty of reasons why you might be considering buying either the Synology DS220+ NAS, released in summer 2020, or the Synology DS224+ NAS, due to be released in summer 2023. Synology has had over two decades of an increasingly positive reputation in the world of network-attached storage. As time has worn on, their portfolio has diversified considerably to the point where even these relatively modest 2-bay systems are surprisingly capable and fully featured. Despite both systems being able to run Synology's DiskStation Manager (DSM) software in its latest 7.2 version, and both are built incredibly similarly on a hardware architecture with significant overlap, there are a few key differences between these two devices that may influence your decision. So, let's compare these NAS devices and help you decide whether the DS224+ refresh deserves your data in 2023/2024.
Note – If you want a breakdown on the whole Synology 2-Bay NAS range, you can watch my complete YouTube video HERE
Synology DS220+ vs DS224+ NAS – Price and Value?
The prices of the Synology DS224+ and DS220+, if you're looking at the original launch price, are pretty darn similar. Synology is launching the new DS224+ at largely the same price that the three-year-old DS220+ arrived at, around $300 to $350 (Don't forget your local tax and shipping!). Given the improvements in the base CPU that the system arrives with between these two versions of the same product series, even if you factor in depreciation of how individual components are valued, it's still quite impressive for Synology to maintain this price point. However, the reality is much more nuanced. For a start, because the DS224+ has been on the market as long as it has, stock and availability are considerably larger, at least at the time of writing.
This slideshow requires JavaScript.
The DS220+ has seen numerous special offers, Black Friday sales, and Prime Day sales in which it has appeared at between $230 and $240. Given that both these systems run exactly the same software, as well as running exactly the same applications (though to a different extent, more on that later), there are definite savings to be made by buying the older generation device. Equally, there are users who are considering, or have already, upgraded their existing Synology NAS to a more powerful system during the last three years (perhaps to stay within the 2-3 Year warranty that these systems come with, or just because they needed to expand), so the scope to pick up a second-hand Synology DS220+ on Facebook Marketplace, eBay or Craigslist is going to rise all the time.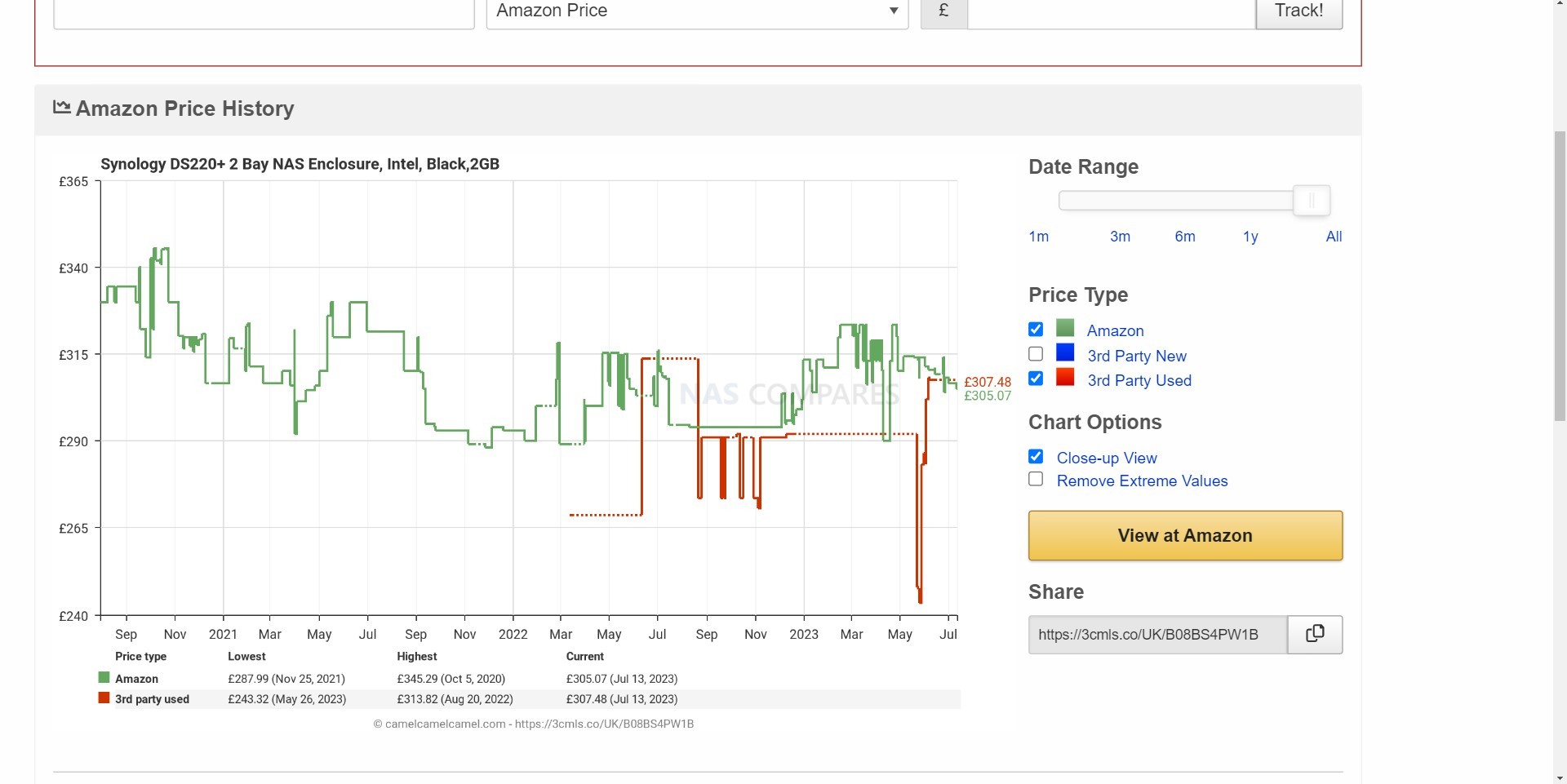 This increases the potential to pick up the DS220+ at a bargain price, and given the main difference between these two systems is genuinely just the CPU, and the systems come with an effective lifetime software support warranty, those looking for a bargain price when buying their first NAS are definitely more likely to be attracted by the older generation device. Equally, the Synology DS224+ arrives with a CPU that is already showing its age a little bit, which somewhat undermines the value for money here compared with the more scalable and impressive DS723+, which arrived with a brand new CPU with higher clock speed and capabilities, ECC memory support that went much higher, and optional 10 GBE connectivity down the line.
The Synology DS224+, on the other hand, is quite a small upgrade over its 3-year-old predecessor and most certainly undermines the return to the original RRP for some users. Needless to say, in 3 to 6 months from now, this comparison will be largely moot as availability for the DS220+ will diminish rapidly as Synology switches gears to the newer model, but if you see a DS220+ in good condition and at a decent price drop, overall, I'd still recommend the predecessor in terms of price point.
Synology DS220+ vs DS224+ NAS – Hardware and Connections
This might well be one of the shortest comparisons that I have ever made comparing one NAS against its predecessor in terms of hardware! Normally, a refresh of a previous generation NAS tends to include a few areas of note that can range from improvement in network connectivity, scalability, supported memory, and of course a newer generation CPU! However, in the case of the DS224 Plus, genuinely the only meaningful difference I could find between it and the DS220 Plus, released three years prior, is the CPU. It arrives with the same memory speed, quality, and quantity.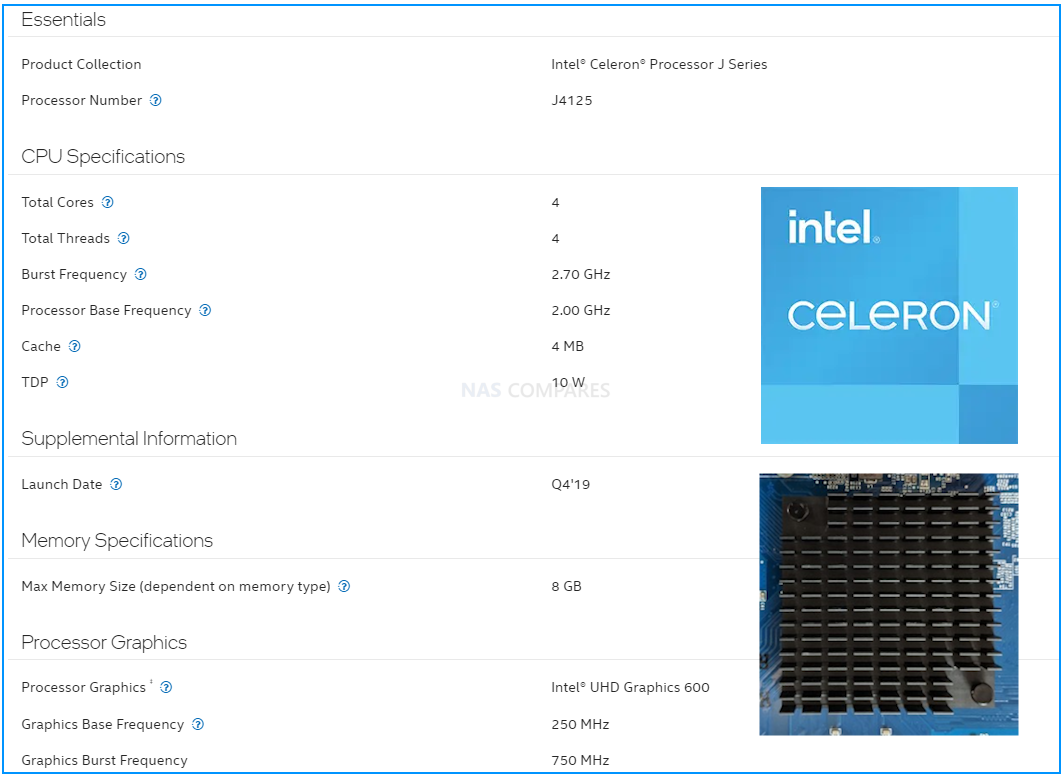 It arrives with exactly the same ports and connections as the predecessor. It arrives with the same chassis as the predecessor. Heck, I'm pretty certain that if I took this device apart, I would find the exact same motherboard inside too! The only meaningful difference between these two devices, aside from longer term hardware support and DSM support (again, more on that later) is the switch from the j4025 CPU to the j4125 CPU.
Hardware Specifications

CPU

Synology Model

Synology DS220+ NAS

Synology DS224+ NAS

Diskstation Chassis

Check Amazon

$349 (Amazon 14/07/23)

$359 (est)

CPU Model

Intel Celeron J4025

Intel Celeron J4125

CPU Benchmark

CPU Quantity

1

1

CPU Architecture

64-bit

64-bit

CPU Frequency

2-core 2.0 (base) / 2.9 (burst) GHz

4-core 2.0 (base) / 2.7 (burst) GHz

Hardware Encryption Engine (AES-NI)

Yes

Yes

Memory

System Memory

2 GB DDR4 non-ECC

2 GB DDR4 non-ECC

Total Memory Slots

1

1

Maximum Memory Capacity

6 GB (2 GB + 4 GB)

6 GB (2 GB + 4 GB)
Both CPUs are Intel Celeron architecture, from the same product family and released by Intel for their 2019 series of processors. Normally in these comparisons, and in particular, when I discuss these two CPUs, I would talk about the difference in clock speed (the J4125 having a higher maximum frequency at 2.7 GHz compared to the J4025's 2.5 GHz), or perhaps the embedded graphics (both have Intel UHD Graphics 600 series, but the J4125 has a slightly better performance), but really, the difference between these two CPUs is very, very marginal.
The Synology DS224+ arrives with the J4125, a 4-core 2.0 base/2.7 burst GHz processor that supports 4K media transcoding, AES-NI encryption, and 8GB of DDR4 memory. The older Synology DS220+ also arrives with 4K transcoding, AES-NI, and 8GB support but features a slightly less powerful 2-core 2.0 base/2.5 burst GHz J4025 processor. In real-world terms, you are not going to see a significant difference in performance from that small increase in processor capability, especially in a two-bay NAS device where your storage will be the biggest bottleneck for most high-performance applications.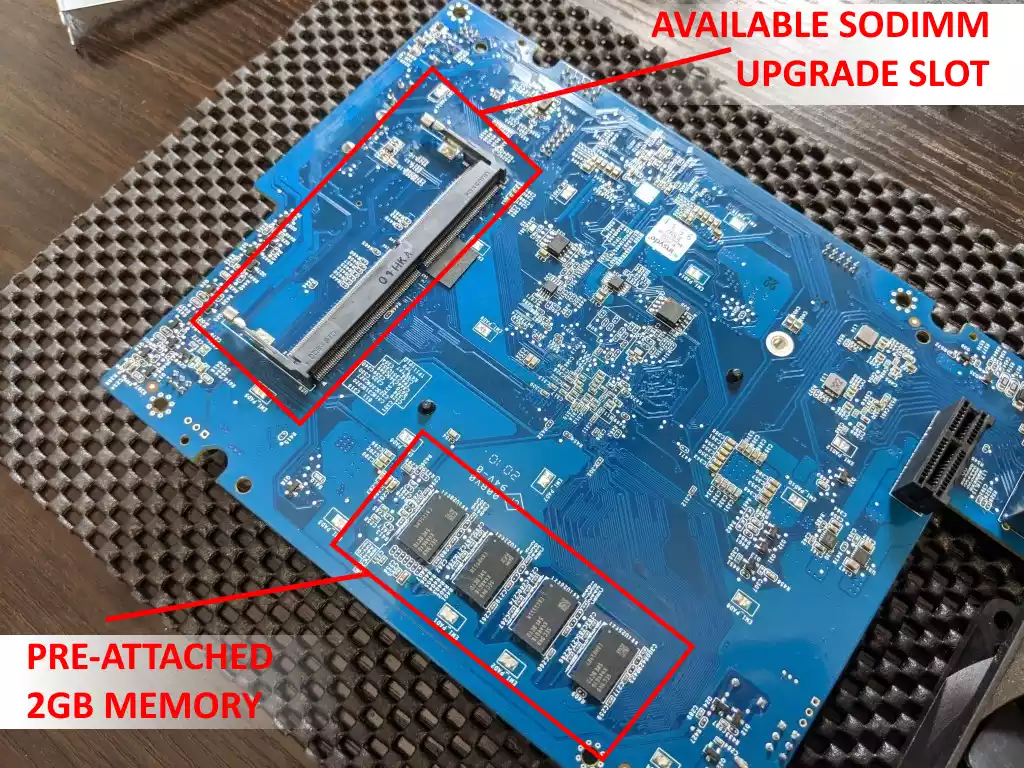 In terms of ports and connectivity, both models have two 1GbE LAN ports that support Link Aggregation and Failover, three USB 3.0 ports, and an eSATA port for expansion. They also both support the Btrfs file system, which provides advanced data protection features such as file self-healing and snapshot technology.
Hardware Specifications

Storage

Drive Bays

2

2

M.2 Drive Slots

No

No

Hot Swappable Drive*

Yes

Yes

External Ports

Ports

RJ-45 1GbE LAN Port*

2 (with Link Aggregation / Failover support)

2 (with Link Aggregation / Failover support)

USB 3.2 Gen 1 Port*

2

2

USB Copy

Yes

Yes

File System

Internal Drives

Appearance

Size (Height x Width x Depth)

165 mm x 108 mm x 232.2 mm

165 mm x 108 mm x 232.2 mm

Weight

1.30 kg

1.31kg

Others

System Fan

92 mm x 92 mm x 1 pcs

92 mm x 92 mm x 1 pcs

Power Supply Unit / Adapter

60 W

60 W

Warranty

2-year hardware warranty, extendable to 4 years with Extended Warranty+

2-year hardware warranty, extendable to 4 years with Extended Warranty+
So, in terms of hardware, the two devices are remarkably similar. If you're choosing between the two purely based on hardware specs, the DS224+ does have a slightly more powerful CPU, but the difference is likely to be negligible in most typical use scenarios. Therefore, unless the DS224+ comes with a significant improvement in software capabilities, the DS220+ may be a more cost-effective choice for many users.
Synology DS220+ vs DS224+ NAS – Software and Support
When it comes to software, both the DS224+ and DS220+ run on DiskStation Manager (DSM), Synology's proprietary operating system. DSM is recognized for its intuitive, user-friendly interface and comprehensive suite of applications and features. From file sharing and syncing with Cloud Station to data backup solutions, multimedia management with Photo Station, Video Station, and Audio Station, to robust surveillance solutions with Surveillance Station, both the DS224+ and DS220+ deliver a versatile range of functions. The DS224+ and DS220+ support the same range of add-on packages, including Synology's suite of collaboration tools such as Synology Office, MailPlus, Chat, Calendar, and more. They also both support third-party applications available in the Package Center. In terms of future-proofing, it is worth noting that Synology generally provides longer software support for newer models. This means the DS224+ will likely receive DSM updates and new features for a longer period than the DS220+. However, as of now, both models support the latest version of DSM.
Synology DS220+ vs DS224+ NAS – Conclusion and Verdict
So, is it worth buying the Synology DS224+ over the DS220+? Honestly, it depends on your specific needs. If you require a NAS with a slightly more powerful CPU and potentially longer software support, then the DS224+ could be a good choice for you. However, the overall differences between the DS224+ and the DS220+ are quite marginal. Considering that the DS220+ may be available at a lower price point due to it being an older model, it may offer a better value for money for most users, especially those who don't need the slight bump in CPU performance that the DS224+ offers. Moreover, the DS220+ has already proven its reliability and performance in real-world use. Ultimately, the choice between the DS224+ and the DS220+ should come down to your specific requirements, budget, and preference. But, in a nutshell, if you're not particularly concerned about having the latest model and the minor CPU upgrade, the DS220+ is likely to be the more cost-effective choice.
📧 LET ME KNOW ABOUT NEW POSTS 🔔
Join 1,750 other subscribers
Get an alert every time something gets added to this specific article!
This description contains links to Amazon. These links will take you to some of the products mentioned in today's content. As an Amazon Associate, I earn from qualifying purchases. Visit the NASCompares Deal Finder to find the best place to buy this device in your region, based on Service, Support and Reputation - Just Search for your NAS Drive in the Box Below
Need Advice on Data Storage from an Expert?
Finally, for free advice about your setup, j
ust leave a message in the comments below here at NASCompares.com and we will get back to you.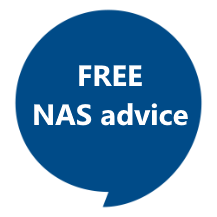 Need Help?
Where possible (and where appropriate) please provide as much information about your requirements, as then I can arrange the best answer and solution to your needs. Do not worry about your e-mail address being required, it will NOT be used in a mailing list and will NOT be used in any way other than to respond to your enquiry.
TRY CHAT
Terms and Conditions
If you like this service, please consider supporting us.
We use affiliate links on the blog allowing NAScompares information and advice service to be free of charge to you.
Anything you purchase on the day you click on our links will generate a small commission which is
used to run the website. Here is a link for
Amazon
and
B&H
.
You can also get me a ☕
Ko-fi
or old school
Paypal
. Thanks!
To find out more about how to support this advice service check
HERE
If you need to fix or configure a NAS, check
Fiver
Have you thought about helping others with your knowledge?
Find Instructions Here

ASK NASCompares forum
, by clicking the button below. This is a community hub that serves as a place that I can answer your question, chew the fat, share new release information and even get corrections posted. I will always get around to answering ALL queries, but as a one-man operation, I cannot promise speed! So by sharing your query in the
ASK NASCompares
section below, you can get a better range of solutions and suggestions, alongside my own.