Gen5 SSDs – 4 Reasons to Switch to PCIe Gen 5 NOW (and 4 Reasons NOT TO!)
There is no avoiding it, PCIe Gen 5 M.2 NVMe SSDs are the rage now! In the last 12 months, we have seen more than 20 different Gen 5 SSDs unveiled at various trade events in the tech industry, with several Gen 5 SSDs already available for purchase at your local e-retailer. The performance benefits of transitioning from Gen 4 SSDs to Gen 5 have been largely realized, thanks to the increased bandwidth afforded by PCIe 5.0. Meanwhile, the rest of the tech industry hasn't exactly been idle; we've seen an impressive improvement in motherboard manufacturers and SSD component development circles over the last 18 months. SSD storage, like most evolving areas of technology, reaches a tipping point when the appeal for consumers to embrace a new tier of technology becomes most compelling. So, with a plethora of SSDs on the market and the second half of 2023 shaping up to be even louder on the subject, is it time to invest in Gen 5 SSDs and the surrounding technology, or is the buzz around Gen 5 speeds only going to increase the appeal of the more accessible and affordable previous generation? Let's find out by exploring several reasons why you should (and shouldn't!) invest in Gen 5 today.
PCIe Gen 5 Motherboards are Dropping in Price to under $199
As you might expect, the biggest hurdle when making this switch from Gen 3 or Gen 4 to Gen 5 SSD storage is not actually the drives themselves. The main barrier for many users is the host system that the SSD will be installed within. Although PCIe Gen 5 SSDs are completely backwards compatible with previous generations of M.2 NVMe, users do not want to pay premium prices for superfast SSD storage in 2023 unless they intend to be able to access and use that high-performance bandwidth! With this in mind, many users have been keeping more of an eye on the price of Gen 5 motherboards than Gen 5 SSDs, as initial pricing for Gen 5 motherboards back in early 2022 were a bit exorbitant. Fast forward to mid-2023 and we're finding an increased affordability of Gen 5 SSD motherboards as manufacturers lower the entry tier for users to leverage both Gen 5 SSDs and Gen 5 PCIe upgrades.
This slideshow requires JavaScript.
It's now quite feasible to find several PCIe Gen 5 motherboards priced between $199 and $299, all of which come from well-established brands like ASUS and Gigabyte. However, these are still about 30 to 50% more expensive than Gen 4 motherboards, leading some users to question their value. To this end, it's worth highlighting that many Gen 5 motherboards at this price point also feature improved ports and connectivity, which only further increases the value of investing in a Gen 5 motherboard. This includes Thunderbolt 4 connectivity, USB 4 connectivity, 2.5 GB ethernet, and DDR5 memory support. Additionally, the latest generations of Intel and AMD processors are Gen 5 architecture, so if you're looking to buy a relatively recent CPU, you'll likely need a Gen 5 motherboard to make full use of the PCIe lanes and bandwidths the CPU is capable of.
The Number of Gen 5 SSDs That Have Been Revealed is HUGE
Earlier, I mentioned how many M.2 NVMe SSDs have been revealed in the last 12 months and how several of these SSDs have already made it to retail. Currently, there are around ten different M.2 Gen 5 SSDs available, with more than 20 announced SSDs in production or close to release as of Summer 2023. Compared with the first year of Gen 4 NVMe SSDs back in 2019, there are now more than twice as many SSD options for consumers to choose from. This will inevitably lead to better pricing and choice for consumers, and although this is yet to be fully realized, the second half of 2023 looks set to offer a great deal of choice in Gen 5 SSDs.
Gen 5×16 Expansion Cards Allow You to Capture the Increased Bandwidth vs CPU Lanes More Efficiently
This is something that is often overlooked, but, thanks to improvements in lanes and bandwidths offered by modern Intel and AMD processors, it's something that early Gen 5 adopters will want to consider. With Gen 5 motherboards being released, there are also quite a few different Gen 5 x16 storage expansion cards on the market. These cards allow users to make use of available PCIe Gen 5 x16 CPU slots, and attach multiple M.2 Gen 5 or even Gen 4 SSDs, and take advantage of exponential performance. Storage expansion cards that allow multiple M.2 SSDs have been around for a while, but thanks to Gen 5 x16 bandwidth permitting a rather enormous performance potential, Gen 5 allows for more efficient CPU PCIe Lane allocation than the previous generation, ultimately resulting in fewer lanes being utilized for greater performance.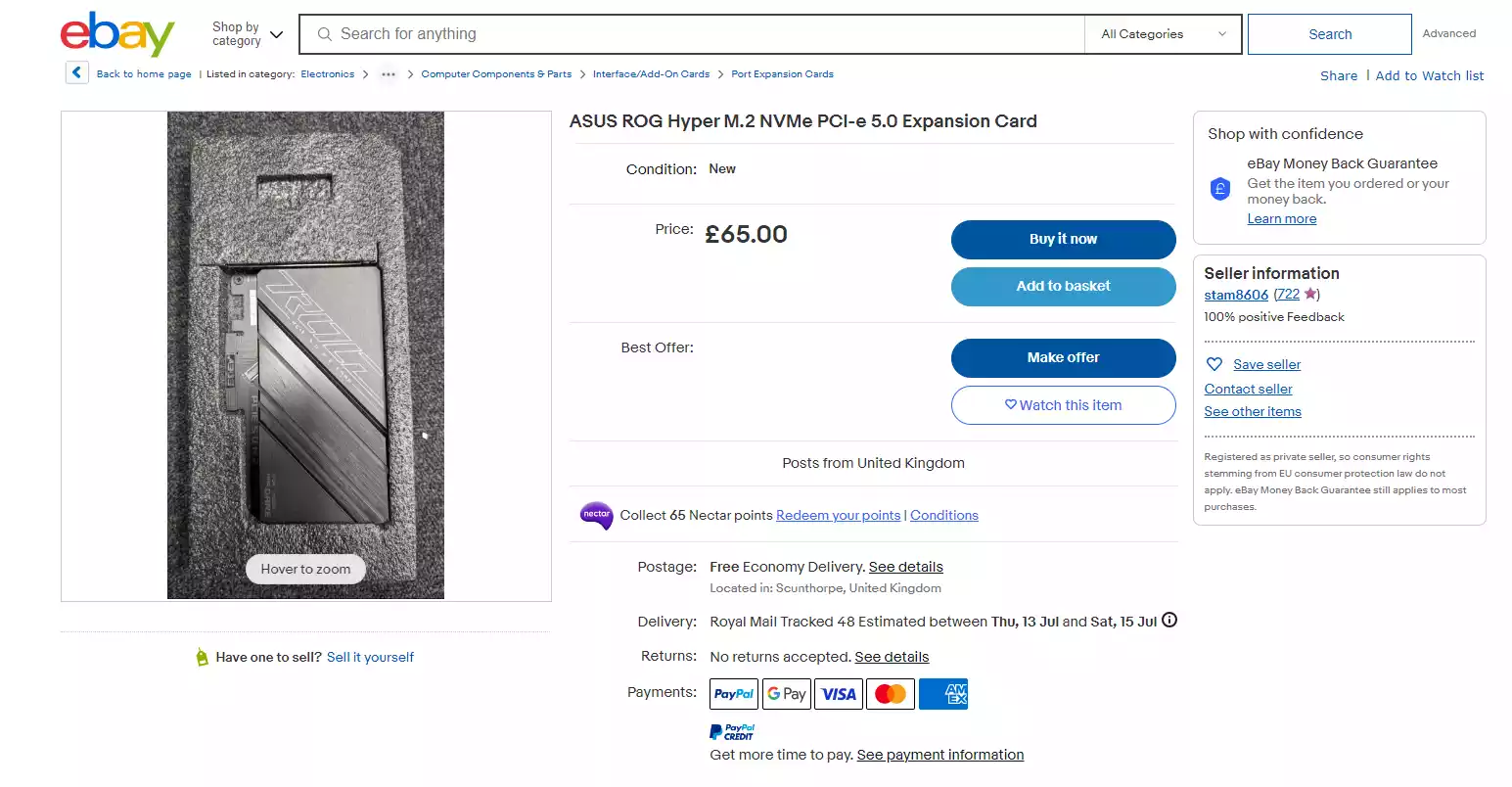 Moreover, many of the first and second wave of Gen 5 PCIe motherboards come with these expansion cards included. This means that not only will current adopters have this card at their disposal in many cases, but some users may sell this expansion card on the likes of eBay for as little as a hundred dollars to recoup some of their investment. This represents another potential saving for users, though bear in mind that some storage expansion cards are brand and motherboard specific.
Bonus Point – Game development is continually getting better at harnessing the performance of NVMe vs GPU/CPU power
This isn't a specific reason to invest in Gen 5 SSDs and Gen 5 motherboards, but rather to highlight that as game development becomes more adept at leveraging the performance benefits of Gen 4 and Gen 5 storage, the importance of a particularly fast NVMe in your gaming rig has increased substantially. It's now arguably on par with having a good CPU and graphics card when it comes to games being developed now and in the future. Innovations like Microsoft's Direct Storage capability that manages to streamline games leveraging that NVMe storage speed, as well as the enormous storage delivery demands that make up Unreal Engine 5's fantastic graphics handling, all contribute to an increased importance for faster storage in the gaming sector.
Current Gen 5 M.2 NVMe SSDs Get Oversaturated FAST!!!
This is something that we already observed in the PCIe Gen. 4 M.2 NVMe SSD arena, but it continues to be true in the Gen 5 tier as well. Namely, that although transfer speeds are exceptionally high on many Gen 5 SSDs, breaking into the teens when it comes to read speeds, the actual memory and controller of the SSDs that handle the data to and from the drive and host system are very quick to become oversaturated. Gen 5 currently suffers something of a sustained performance issue when you are not using particularly advanced systems that can counteract this.
This slideshow requires JavaScript.
The result is that although the initial performance of Gen 5 SSDs in traditional transfers can be very high, indeed, this high performance will drop to Gen 4 levels and potentially even less after a relatively short amount of time due to the cache on the drive becoming oversaturated quickly. Again, this is something we observed in Gen 4, but given the enormous performance increases in Gen 5, the surrounding architecture of NVMe SSDs only being marginally improved upon over the generation (on the NAND quality, layer count, DRAM quantities, and controller handling) results in oversaturation still being something of a barrier in Gen 5 too.
The Second Wave of Gen 5 SSDs is Coming Soon.. and THEY ARE FASTER (and cost only a pinch more)
When Gen 4 SSDs arrived in the consumer sector in 2019, after a lengthy reveal in the 12-18 months prior, the first generation boasted performance speeds of a little in excess of 5,000 megabytes per second. A handful of brands were quick to jump on this and produced their own range of Phison E16 controller SSDs and boasted about their greatness in performance. However, Gen 4 has a potential bandwidth of 8,000MB, and some brands decided to play the long game and hold off until they could release their Gen 4 SSD that could better capitalize on the bandwidth with improved controller development. This would be eventually realized when Phison released the E18 controller, to huge acclaim and wide adoption, quickly making the first Gen 4 SSDs look expensive and lesser performing. The EXACT same thing is happening right now with PCIe Gen 5 SSDs.
This slideshow requires JavaScript.
The earliest adopters have rolled out with their drives boasting 10 GB per second performance (such as the Gigabyte 10000 and Crucial T700), but it hasn't been long before several big SSD names have already started revealing their 12 GB and even 14 GB SSDs, growing closer to potentially fully saturating the full 16 GB bandwidth of Gen 5. The result is that the earliest adopters of Gen 5 SSDs have ended up paying more for an SSD that arguably has lesser performance potential than SSDs releasing just a handful of months later. No doubt, these initial Gen 5 SSD brands that brought their drives to market early will quickly scramble to release a phase 2 or Gen 2 version of their initial drives, but that still adds up to a potential loss in revenue and embarrassment from their initial drives, perhaps appearing a little less advanced than they would have liked so quickly.
Real-world Performance and IOPS are WAY Less than the Synthetic Sequential and 4K Random Tests Advertised Everywhere
This is a big deal and something that has been highlighted by us and many others online, namely that although high-performance numbers in both traditional transfer speeds and 4K random IOPS have been advertised, these do not fully represent typical day-to-day user performance numbers. It is not unusual for synthetic testing with popular tools such as ATTO Disk Benchmark and Crystal Disk to be used to measure the performance of an SSD for review, as well as for brands to have benchmarks that they can assign to their SSDs as maximum potential metrics in performance. However, these synthetic data values are based on preset and idealistic setups for the layout of data and the active process for retrieving the data from these drives. In reality, alongside the drop in sustained performance due to oversaturation that we touched on earlier, a lot of users using the majority of the available client hardware in the market right now will see a smaller percentage improvement over the same setup in a Gen 4 rig. Likewise, the improvement in 4k random IOPS, although representative of a more randomized and therefore less curated statistical performance of the drive, still is not fully representative of just how long it takes a game to load, a popular application or OS to initialize or accessing large-scale databases for immediate access for things like AI.
This slideshow requires JavaScript.
PCIe Gen 4 NVMe SSDs Are WAY Cheaper and Only Getting Cheaper (for similar Typical Small/Random Speeds)
An unexpected but nonetheless attractive benefit of Gen 5 SSDs growing in availability and models is that Gen 4 SSDs have seen significant drops in prices in the majority of e-retailers online. This price difference is exacerbated further by the lower numbers of available stock of Gen 5 SSDs. The result is that Gen 4 SSDs have dropped in price AND Gen 5 SSDs have increased in price, creating a substantial gap between the two that many consumers are simply not prepared to absorb and invest towards Gen 5 ownership. Case in point, the majority of currently available 2 TB Gen 5 SSDs that you can buy right now in July 2023 are approximately $299 to $330. In many cases, this is more than double the cost of Gen 4. Therefore, unless the rest of your system is primed to take advantage of the performance benefits and make them fully realized, buying a Gen 5 SSD early may cost you way more than Gen 4 without really seeing the full extent of the benefits.
Bonus Point – Most Speeds Advertised are of the High 2/4TB Capacity (Most expensive, approx $150-170 per TB), When 1TB Models are Much Lower
Although long-term NVMe storage buyers may be well aware of this already, I do think it is worth touching on that the performance numbers that are advertised by most brands for their SSDs (Gen 4 or Gen 5) often have a slight lie by omission about them. Namely, an SSD that is advertised as having 10 GB, 12 GB, or 14 GB in a variety of different capacities, will almost always only be able to hit that performance number in sequential read and/or write at the highest capacity drive. So if a brand is releasing an SSD in 1TB, 2TB, and 4TB, the performance numbers of the largest 4TB drive are often the ones that are advertised (which also happens to be by far the most expensive drive as well).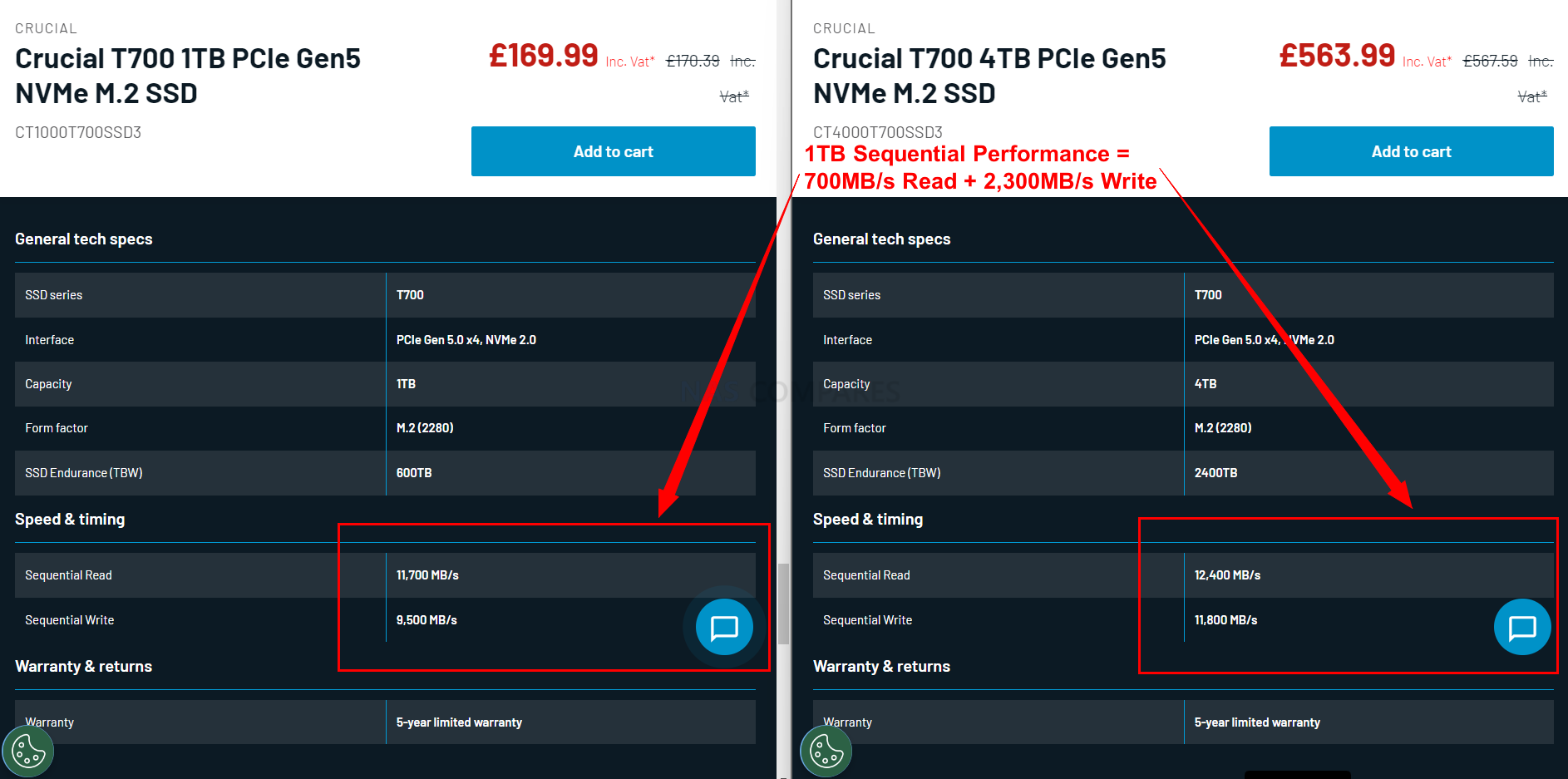 However, the smallest drive, which will be the most affordable, will have the lowest performance, and you will have to dig into the individual spec sheets or data sheets from the brand to see that performance difference of generally around 10 to 20% less. This is because the larger SSDs spread this storage across more flash memory modules on the SSD PCB. More flash memory modules on an SSD on one or both sides will allow multiple memory modules to be read and written to simultaneously, which is how the increased performance is achieved. But more flash memory modules also increase the price point to match that additional capacity too. The smallest capacity drives will have fewer modules, so fewer modules to read and write to, resulting in slower performance. So be aware of this when looking at those big performance numbers and bear in mind the capacity of the drive you will end up going for.
📧 LET ME KNOW ABOUT NEW POSTS 🔔
Join 1,750 other subscribers
Get an alert every time something gets added to this specific article!
This description contains links to Amazon. These links will take you to some of the products mentioned in today's content. As an Amazon Associate, I earn from qualifying purchases. Visit the NASCompares Deal Finder to find the best place to buy this device in your region, based on Service, Support and Reputation - Just Search for your NAS Drive in the Box Below
Need Advice on Data Storage from an Expert?
Finally, for free advice about your setup, j
ust leave a message in the comments below here at NASCompares.com and we will get back to you.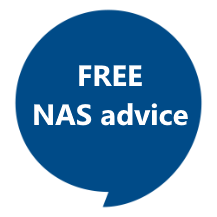 Need Help?
Where possible (and where appropriate) please provide as much information about your requirements, as then I can arrange the best answer and solution to your needs. Do not worry about your e-mail address being required, it will NOT be used in a mailing list and will NOT be used in any way other than to respond to your enquiry.
TRY CHAT
Terms and Conditions
If you like this service, please consider supporting us.
We use affiliate links on the blog allowing NAScompares information and advice service to be free of charge to you.
Anything you purchase on the day you click on our links will generate a small commission which is
used to run the website. Here is a link for
Amazon
and
B&H
.
You can also get me a ☕
Ko-fi
or old school
Paypal
. Thanks!
To find out more about how to support this advice service check
HERE
If you need to fix or configure a NAS, check
Fiver
Have you thought about helping others with your knowledge?
Find Instructions Here

ASK NASCompares forum
, by clicking the button below. This is a community hub that serves as a place that I can answer your question, chew the fat, share new release information and even get corrections posted. I will always get around to answering ALL queries, but as a one-man operation, I cannot promise speed! So by sharing your query in the
ASK NASCompares
section below, you can get a better range of solutions and suggestions, alongside my own.