The Best NAS for Under $250 of 2023 – Synology, QNAP, Asustor and Terramaster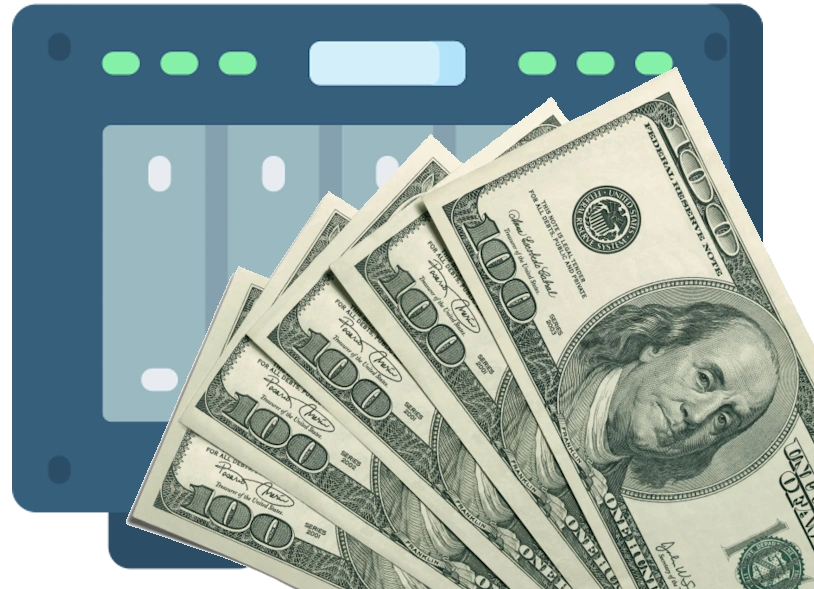 Making the tough decision to migrate away from public subscription cloud services and towards your own private server can be a costly and intimidating decision. Therefore, it is always tremendously gratifying to know that as NAS systems have now been around for a few decades, their ease of use and general affordability has grown exponentially. Previously, I have discussed the very best NAS devices you can buy for under $500, £500, or 500 euros. However, today I want to take things even further, by discussing the very best in NAS devices you can get for as little as $250. It is genuinely impressive, just how affordable this technology has become, even at this rather modest price point, which equates to less than 2 years of public cloud subscription services. By comparison, you still have access to the bulk of modern NAS software and features in 2023.
Disclaimers
Before going any further, it's worth highlighting a few disclaimers about how the different NAS for this article were selected and a few extra considerations you might have before spending a single penny. For a start, all of these solutions arrive unpopulated. That means that you will still need to purchase hard drives or SSDs separately in order to fully take advantage of these systems. The reason I have not included hard drives in these calculations is because there are just too many different kinds and capacities available to users. That said, in every case, these are two-bay NAS systems and therefore support traditional RAID configurations for two drives that allow at least one drive for failover or the performance benefits of combining two drives into a single storage pool.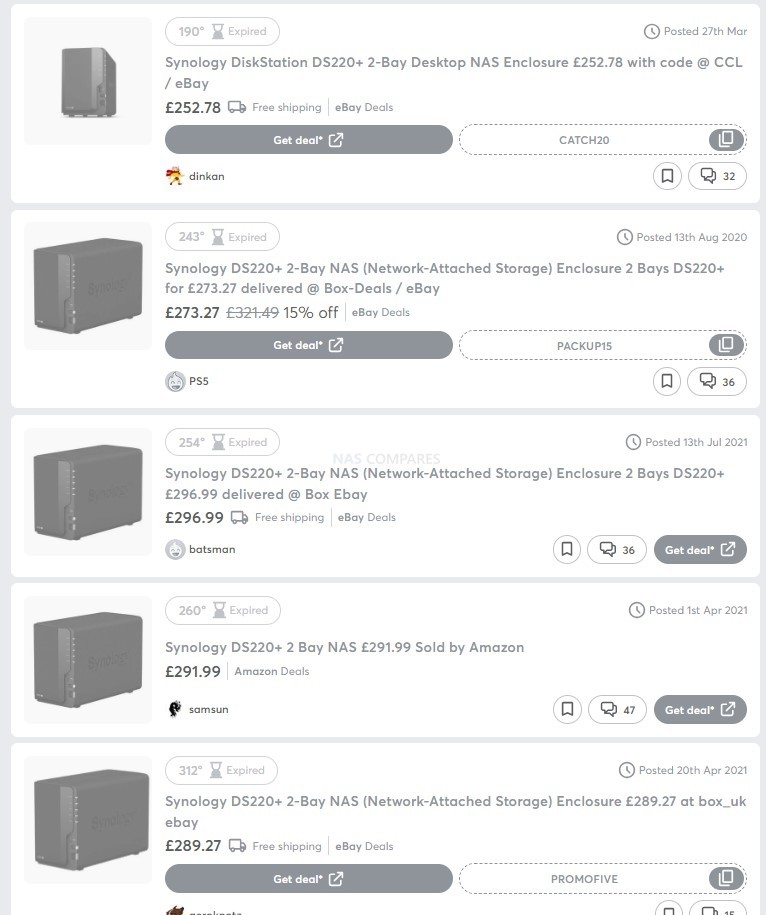 It is also worth highlighting that one NAS that I really wanted to include in this available range, the Synology DS220 + NAS released in 2020, is unfortunately too expensive to qualify for a selection of NAS devices under $250. However, this NAS has regularly been on sale for the last 12 to 18 months globally, and also is seeing a refresh to the new DS224 + NAS relatively soon. The result is that although right now the Synology DS220 + is over $250, it will relatively soon become a great deal more affordable and likely regularly on sale in the coming months. So if you do see this NAS, I do recommend getting hold of it as it is by far the best NAS on this list, if it could qualify.
---
The Synology DS223 – Best NAS Software and Services for Under £249
Realtek RTD1619b – 2GB DDR4 Memory – 2x SATA HDD/SSD – 1x1GbE – USB 5G – $249 (10/07)
YouTube Video Review HERE – NASCompares Written Review HERE
By far the most recently released NAS on this list, the Synology DS223 is one of the latest releases for the brand's 2023 portfolio and arrived with substantial support of DSM 7.2. Synology is a brand that has traded on the usability and smooth running of its popular NAS software, Disk Station Manager, and the majority of Synology NAS systems that arrive with this software are generally two or three times the price of the DS223. However, thanks to the affordability of ARM-based processors and the increasing efficiency that the brand brings to the development of their software over time, it is now perfectly possible to enjoy the majority of the features of DSM on a fantastically affordable NAS like the DS223. Originally released in the spring of 2023, it was the beginning of the refresh of the entire value series from Synology and alongside the fantastically efficient RTD 1619b processor, the system also arrives with 2GB of DDR4 memory. A way to enjoy Synology's entire ecosystem, whilst also featuring a fantastically low footprint in power consumption, scale, and noise by far.
This slideshow requires JavaScript.
What we said in our Synology DS223 NAS Review on 08/02/23:
As soon as your look at the Synology DS223 as an entry point into the Synology software platform and ecosystem for those that want to have a small, robust and user-friendly NAS – it makes ALOT of sense! There is a reason why it arrives at a price point $120-150 cheaper than the DS723+ and as long as you are looking at the DS223 as a low-power, low impact and low-demand device, you are going to come away from it happy! It provides the bulk of the DSM applications and services that most home/small office users are going to want for Multimedia, Collaboration, Backup, Sync'd team drives and surveillance, but does so in a much more affordable package than the + series. Where some users might hit issues when they assume that the DS223 can provide the same extent of features and performance of the DS220+, DS723+ and above. This NAS carries the 'Value' tag for a reason and as long as you keep that in mind, it is a great little NAS box and serves as a great first NAS or as an extension of your existing Synology NAS environment as an additional backup layer. The rather lacklustre support of USB in DSM 7 is slightly countered by this device having three on board (though 5Gb/s) for storage, which is more desirable for home users, as is that copy button function. The removal of the SD Card slot in recent refreshes of this series, + the continued appearance of 1GbE is disappointing but expected at this tier in the brand's portfolio. But overall I cannot really fault the DS223 NAS for those users who want to be able to access the Synology NAS platform, but are on a tight budget and/or have low-ranged demands for it's use. Again, just don't go expecting a Ford Mustang when you are paying the price of a Ford Focus!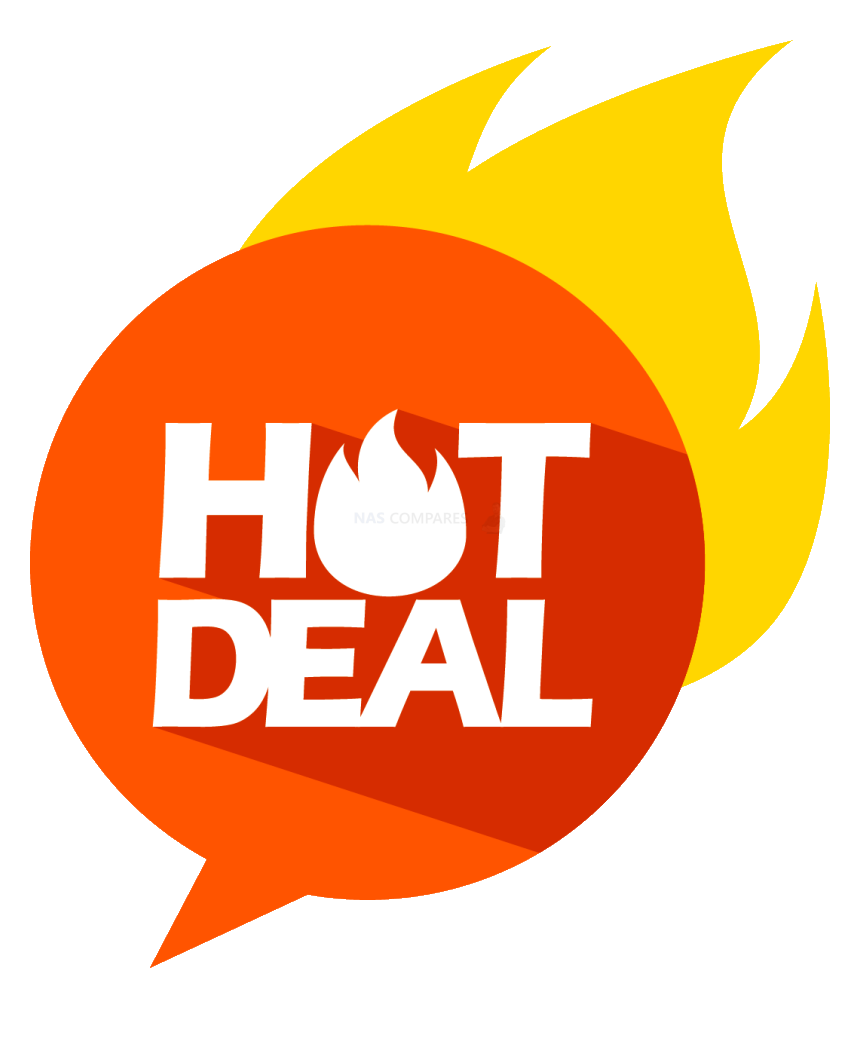 DEAL WATCH
– Is It On Offer Right Now?
These Offers are Checked Daily
---
The QNAP TS-233 – Best Priced Value NAS @ $199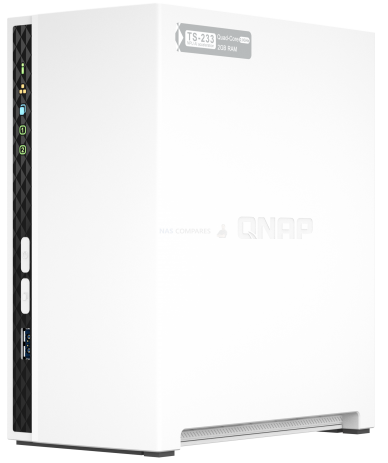 Cortax A55 4-Core 2.0Ghz – 2GB DDR4 Memory – 2x SATA HDD/SSD – 1x1GbE – USB 5G – $199 (10/07)
YouTube Video Review HERE – NASCompares Written Review HERE
At least in the early stages of 2023, the QNAP TS-233 is comfortably the lowest-priced NAS in this article, something I never thought I would say about a QNAP NAS. With a price point of $199, it would be easy to assume that this system would be inferior to the previously mentioned Synology. However, it actually arrives with a significantly superior CPU inside which features both a higher clock speed of 2 gigahertz on a quad-core architecture, but also has an embedded AI component (NPU) to directly assist with AI processes in their photo recognition and surveillance applications that are included with the QTS software platform. The system also arrives with 2GB of memory and is even lower impact in size and power consumption than the Synology offering. I think it would be fair to say that although Synology DSM is the superior software, that QNAP QTS is still pretty darn good and significantly improved year on year. Applications and support of third-party software and hardware on the QNAP NAS here and factoring in that it is also $50 less is also tremendously appealing. If you were looking for the most flexible NAS out there, then chances are the QNAP is the one for you here.
This slideshow requires JavaScript.
What we said in our QNAP TS-233 NAS Review on 25/02/23:
Overall – I would say that the QNAP TS-233 NAS Drive IS good value, although maybe not as good a value as we have seen in previous releases from the brand. On the plus side, this is by far the most modern CPU that we have seen from a NAS brand in the 'value' tier. After a few years of fatigue from everyone using the Realtek RTD1966, this newer and more powerful/capable Cortex A55 is a breath of fresh air and allows a larger range of QNAP services and simultaneous services to be used at once. Equally, QTS 5 seems to have taken a lot of the criticism that people have had towards QNAP in 2021, its 'default heavy' security, over-flexibility in its design that gave some users too much rope to hang themselves and presets – then tightened many of them up, changed how users are informed of issues, bolstered the default security tools and increased its recommendations on backup tiers. QTS still has a steeper learning curve than other NAS brands, but now thing seems a lot tighter on day 1 and changing some options that users might use carelessly has been a big part of that. The 2GB of DDR4 memory in the system is a welcome day 1 inclusion too, when many affordable systems from competitors have 512GB or 1GB (which in 2022 is rather mind-boggling), however, the lack of scalability in that memory to go higher, the default 1GbE and those USB 2.0 ports are a touch surprising from a brand that generally tends to push the envelope in the hardware department more than many others. Overall, a solid release, if a little tame and safe at times. If you are looking at entering the QNAP NAS ecosystem and are on a tight budget, the TS-233 is a solid release and excellent value.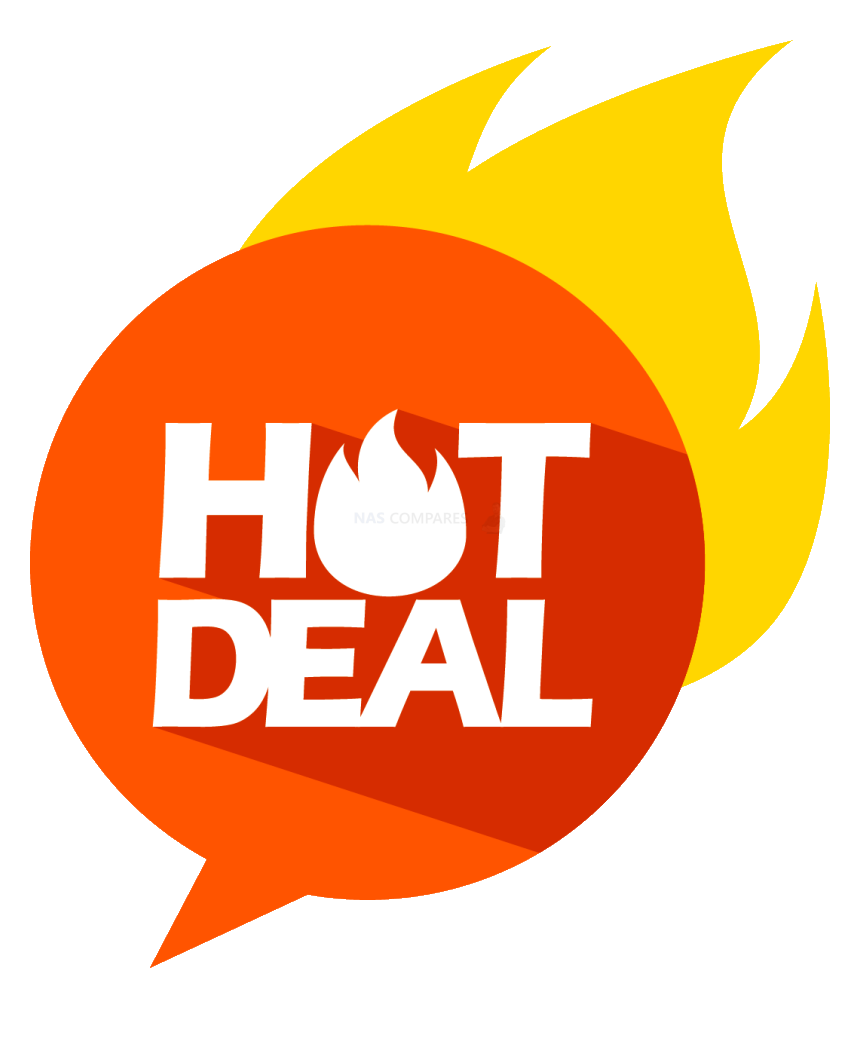 DEAL WATCH
– Is It On Offer Right Now?

QNAP TS-233-US 2 Bay Affordable Desktop NAS with ARM Cortex-A55 Quad-core Proces Amazon USA 11.86 OFF (WAS 273) [LINK HERE]


These Offers are Checked Daily
---
The Asustor Drivestor 2 Pro – A 2.5GbE NAS for Under $249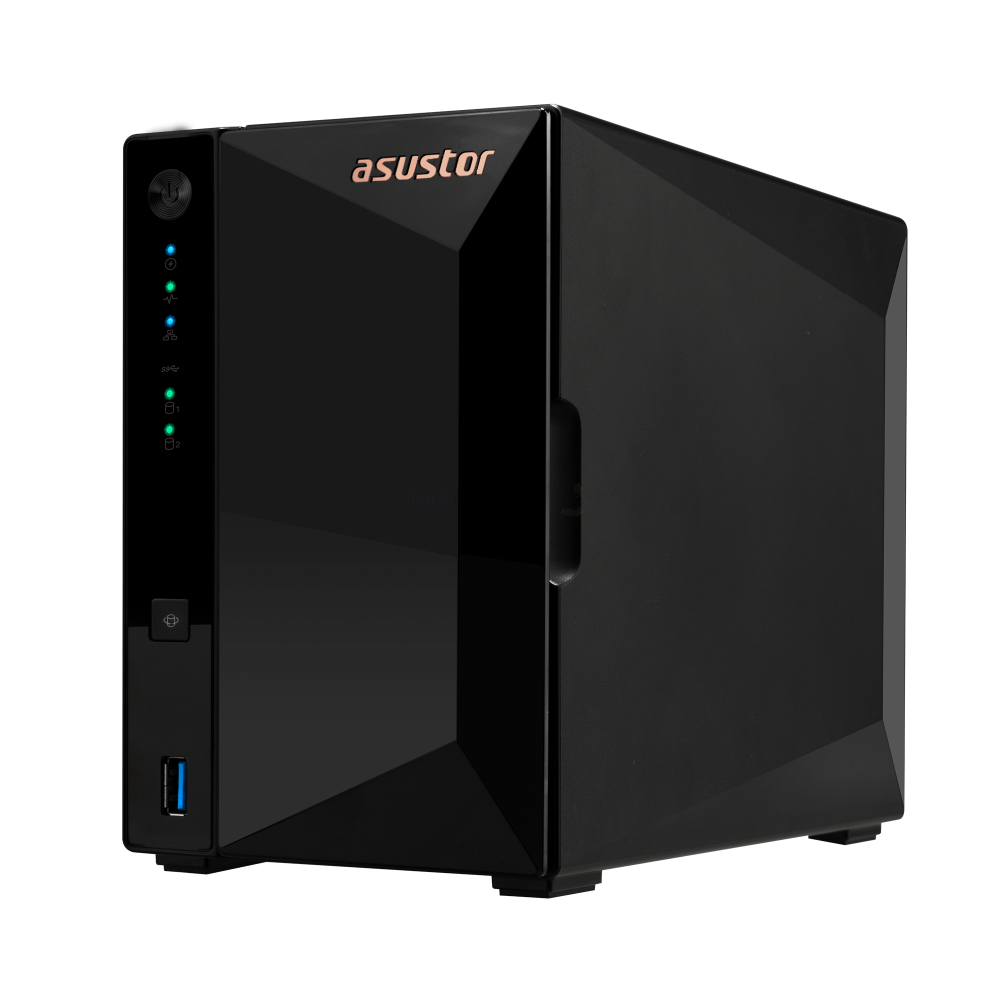 Realtek RTD1619b/RTD1296 4-Core 1.4-1.7Ghz (Gen 2 ver. has CPU Upgrade) – 2GB DDR4 Memory – 2x SATA HDD/SSD – 1×2.5GbE – USB 5G – $249 (10/07)
YouTube Video Review HERE – NASCompares Written Review HERE
Now, on the face of it, it could be argued that of all of the NAS devices here, the Asustor Drivestor 2 Pro NAS is the least compelling of the bunch. It has a CPU that is older or lower in clock speed than all the other devices in this list, and also has pretty much the same memory quantity as the bulk of solutions on this list. So what makes its $250 price point any more compelling than the other NAS we have discussed so far? Nice and simple, this system arrives with 2.5 GbE network support when all other solutions only feature gigabit network speeds. Yes, the TerraMaster can get close thanks to port trunking or link aggregation, but this system provides it straight out of the box to 2.5 G supported client hardware. This is further improved when you learn that with a simple $20 network upgrade, you can add additional 2.5G network ports using USB to 2.5G adapters available from multiple retailers. This means that the Asustor is one of the few NAS devices here that can not only allow you to fully capitalize on two hard drives inside externally, but also is the only one really capable of providing enough external bandwidth for two SSDs installed inside too. Add to that the Asustor ADM software, though the least featured of the three platforms, has BTRFS support like the Synology, smooth operation in the web browser, and a tremendous range of client tools available for Android, iOS, Windows, and Mac platforms. Overall, when it comes to network performance, this might be one of the best options for you if what you want is a system to just shut up and get the job done with the best possible external network performance. What it lacks in fully featured apps and tools, it makes up for in straightforward deployment. Just be aware that this price point does mean that some compromises between it and more premium systems have to be made.
This slideshow requires JavaScript.
What we said in our Asustor Drivestor 2 Pro NAS Review on 21/08/22:
The Asustor Drivestor 2 Pro NAS is a modest system that for the most part does not over-promise in what it can provide. Its architecture lends quite well to the more budget-friendly buyer, home users and those that are simply looking for an easy backup option to the cloud. Additionally, less demanding users who want some light multimedia support, network-based camera surveillance and cross-platform file sharing will certainly see plenty of use in the Drivestor 2 Pro device. The software and services available via ADM on the Drivestor 2 Pro AS3302T also provide a decent level of utilities and provides a good level of confidence to the end-user in housekeeping and secure functionality. Though the system is arguably let down by weak upgradeability and internal hardware that has been a tad overused in recent years, you still have a very functional solution here that mostly sticks the landing in offering your own private cloud solution.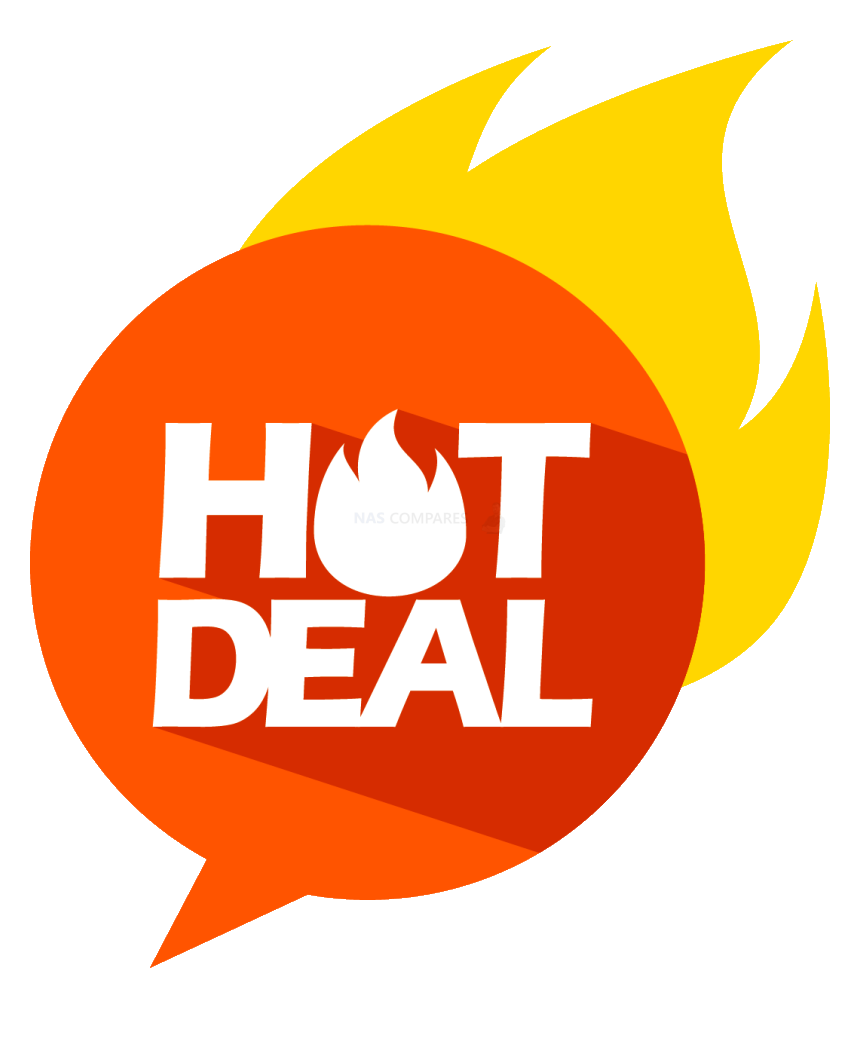 DEAL WATCH
– Is It On Offer Right Now?
These Offers are Checked Daily
---
The Terramaster F2-221 – Best Hardware Value for Under $249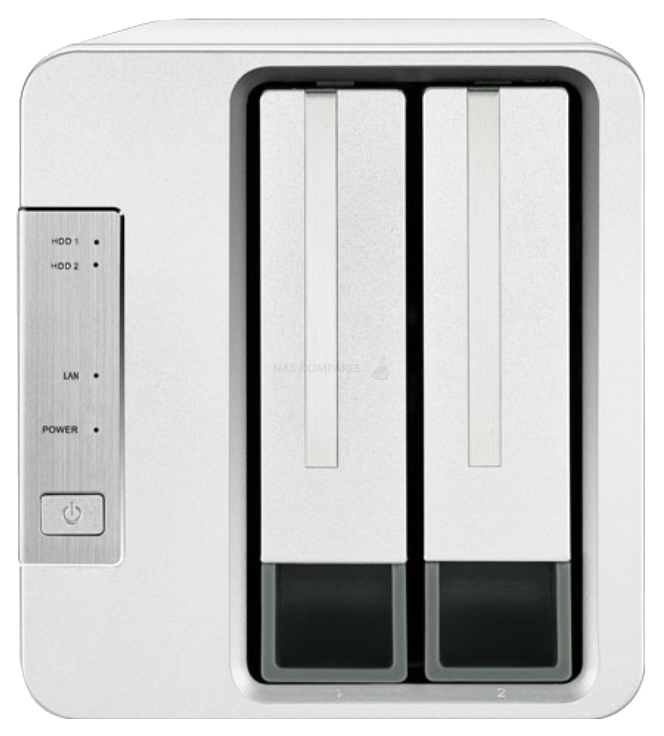 Intel J3355 Celeron CPU – 2/4/8GB DDR4 Memory – 2x SATA HDD – 2x 1GbE – HDMI 1.4b 4K 30FPS – USB 5G – $249 (10/07)
YouTube Video Review HERE – NASCompares Written Review HERE
Thanks to TerraMaster arguably prioritizing hardware over software, you generally find better value for money on their products in terms of hardware than any alternative NAS brand out there, with the F2-221 being a great example of this. However, it gets even better here because the F2-221 was released a good couple of years ago, yet the main improvement and innovations in TOS (the TerraMaster NAS software) only really kicked off about a year ago in version 5. The result is that you have a low hardware price point as it is a previous generation, yet it fully supports the latest software updates. Consequently, what you have here is the only NAS in the list that features an Intel Celeron x86 processor, 2GB of memory that can be expanded even further, and dual LAN architecture with support of SMB multichannel/Port Trunking/LAG to really take advantage of the two-drive RAID potential here externally. Their software is still less featured than what you would find in QNAP QTS and Synology DSM, but it is still a fantastically capable piece of kit, especially when you factor in the ability to install Unraid or TrueNAS on the system too.
This slideshow requires JavaScript.
Terramaster still continues to be the most affordable fully-featured provider of the whole NAS market and although a number of their solutions have always felt a little rough around the edges, you always got the impression that you were getting a good deal for the hardware that was available from QNAP and Synology. Now in 2022/2023, the same continues to be true but in the F2-221 NAS' case, you are actually getting some pretty top tier (for the Home/Prosumer) market at a price tag that is really tough to argue with. Terramaster has clearly been watching their bigger competitors and cherry-picked the features that people have been asking for this new generation. In terms of software, things are a little less convincing and although TOS 5 (currently in Beta at the time of writing) still continues to evolve into something genuinely fully featured and impressive, TOS 4 that the F2-221 includes at launch is usable (if unexciting) platform that provides the base level services that a new NAS user would want, but lacks killer apps that their competitors are offering right now (File Streaming, AI photo recognition, Surveillance, etc). Most of these ARE included in TOS5, but until it arrives much later in 2022 in a full release, the F2-221 feels like a powerful NAS that doesn't have the software to show off its strengths yet. If you are reading this later in 2022 or 2023, this might well be irrelevant though, as the brand rolls out their bit firmware update to ALL TerraMaster NAS devices. Overall, I definitely CAN recommend the F2-221 NAS for its hardware, for Plex Media server or as an affordable multi-tier backup solution, but if you are looking for a NAS for more tailored data access or in a much more fully-featured package – hold out a little longer till TOS 5 gets released first.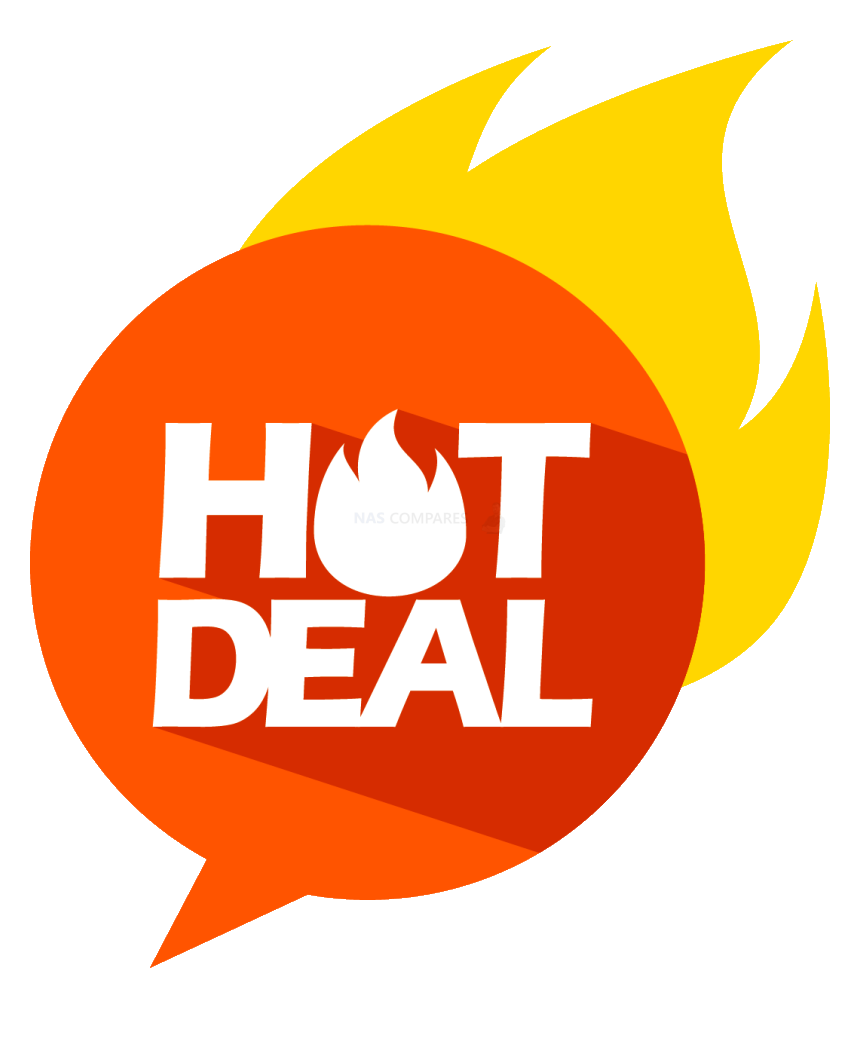 DEAL WATCH
– Is It On Offer Right Now?
These Offers are Checked Daily
---
📧 LET ME KNOW ABOUT NEW POSTS 🔔
Join 1,750 other subscribers
Get an alert every time something gets added to this specific article!
This description contains links to Amazon. These links will take you to some of the products mentioned in today's content. As an Amazon Associate, I earn from qualifying purchases. Visit the NASCompares Deal Finder to find the best place to buy this device in your region, based on Service, Support and Reputation - Just Search for your NAS Drive in the Box Below
Need Advice on Data Storage from an Expert?
Finally, for free advice about your setup, j
ust leave a message in the comments below here at NASCompares.com and we will get back to you.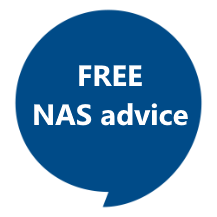 Need Help?
Where possible (and where appropriate) please provide as much information about your requirements, as then I can arrange the best answer and solution to your needs. Do not worry about your e-mail address being required, it will NOT be used in a mailing list and will NOT be used in any way other than to respond to your enquiry.
TRY CHAT
Terms and Conditions
If you like this service, please consider supporting us.
We use affiliate links on the blog allowing NAScompares information and advice service to be free of charge to you.
Anything you purchase on the day you click on our links will generate a small commission which is
used to run the website. Here is a link for
Amazon
and
B&H
.
You can also get me a ☕
Ko-fi
or old school
Paypal
. Thanks!
To find out more about how to support this advice service check
HERE
If you need to fix or configure a NAS, check
Fiver
Have you thought about helping others with your knowledge?
Find Instructions Here

ASK NASCompares forum
, by clicking the button below. This is a community hub that serves as a place that I can answer your question, chew the fat, share new release information and even get corrections posted. I will always get around to answering ALL queries, but as a one-man operation, I cannot promise speed! So by sharing your query in the
ASK NASCompares
section below, you can get a better range of solutions and suggestions, alongside my own.