Synology Photos is FIXED – AI Subject Recognition is BACK!!!
That's right! After 2 years of waiting, Synology has finally added support for AI subject recognition back into their premium photography application in DSM 7.2. Long-time followers of the Synology brand will be aware that in previous older versions of Synology's DSM platform, there was a legacy photography application known as Synology Moments that not only allowed AI-powered facial recognition of your photos but also provided a similar service for recognizing objects and subjects in your photo collections. When Synology made the switch from Synology Moments to Synology Photos in DSM 7, many users were disappointed and angry that this incredibly useful element in the photography package was absent and, over the years, has been one of the most requested features to be reinstated! Hence my excitement to finally see the return of this feature and, arguably, finally fixing Synology Photos in my view! But what is AI subject recognition, should you care, how do you enable it, and why did Synology remove it for so long?

What is AI Subject/Object Recognition and Why Is it a Big Deal?
AI-powered photo recognition has grown in popularity substantially in recent years. Every month it seems like artificial intelligence is being integrated into practically every facet of our daily lives. Its utilization in photography is at its best when applied to a large photo collection, allowing people who may have decades of photography under their belt a substantially easier means with which to sort, catalog, and classify photos on the fly. For example, you have two decades of photos stored on your NAS. Many of these are from old mobile phones, old cameras, backed up from your first-generation digital camera, and maybe scans of old celluloid images. The bulk of these images are almost certainly not going to have logical names, instead having file names made up of the date and time of their production. That makes searching for a specific photo or theme in your photo (such as a person, group of people in specific photos, elements of a photo, environments, and categories) nearly impossible without spending hours, upon hours browsing through your entire collection.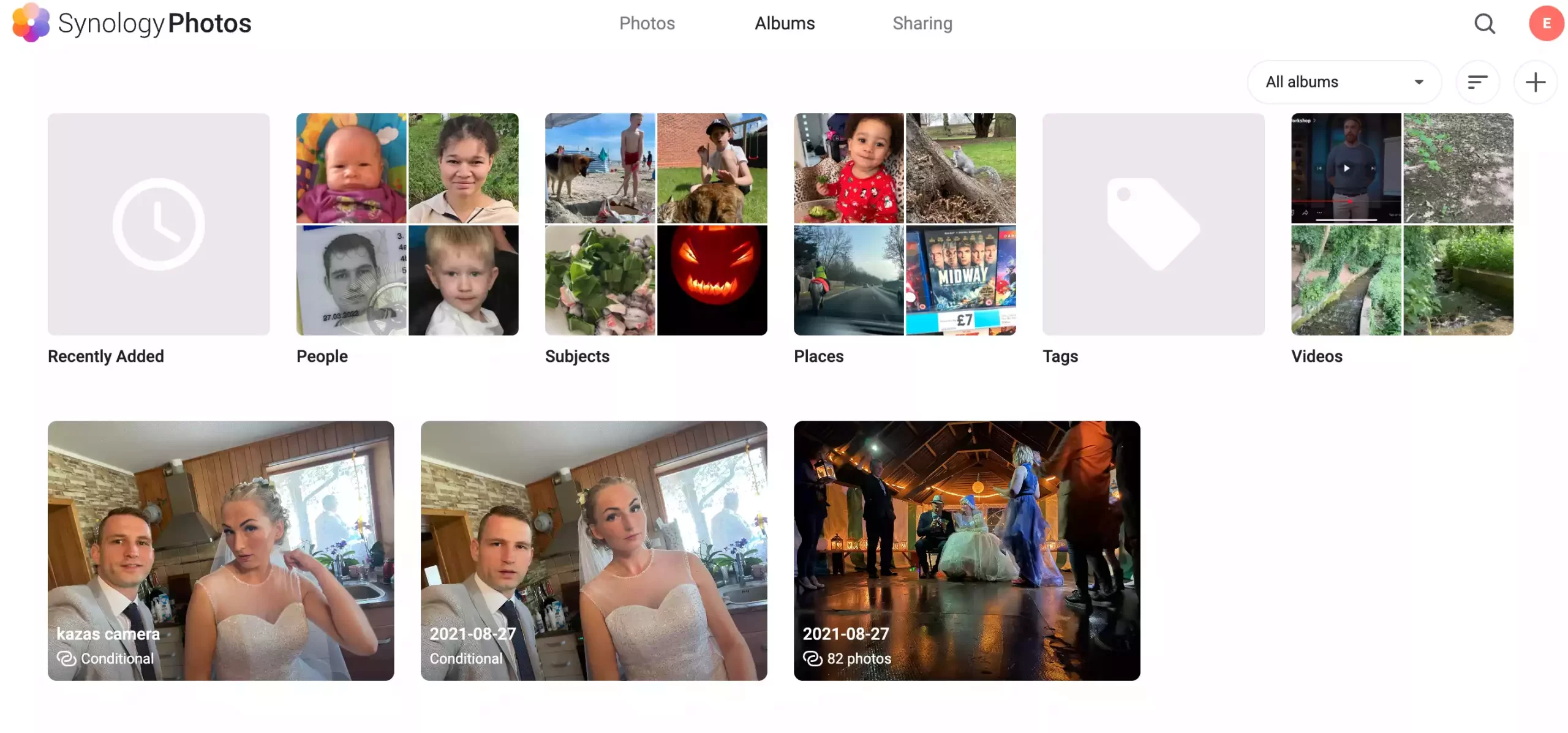 AI-driven photo recognition massively decreases the search time on your photo collection, regardless of its scale. Thanks to AI facial recognition, scanning your photos and creating a database of the people inside, you can make your way through your photo collection to find those important memories fantastically quickly. But the inclusion now of subject recognition in Synology Photos (again, massively overdue) can seriously save time with AI. Subject and object recognition is when the Synology Photos AI analyzes every single photo in the collection, identifying themes and things actually in the photos beyond just people's faces, then indexes and creates a massive database of your photo collection based on these more general themes. These can start in the more domestic, such as 'food', 'furniture', 'cars', but can get surprisingly sophisticated in some of the more nuanced searches and particularly when it comes to subcategories within general categories. So, a landscape recognized by the AI can also be broken down into smaller object recognition for things like trees, mountains, different variations of flora and fauna, ultimately creating a ready-to-search database of more human-friendly classifications of your collections. If your database of photos is in the tens or hundreds of thousands, and you need to access photos in that database in terms of more general themes and subjects, AI subject and object recognition is going to be enormously useful to you. Hence, why many were so disappointed to see the feature absent these last few years on Synology Photos, despite it being available in an older generation photo app from the same brand.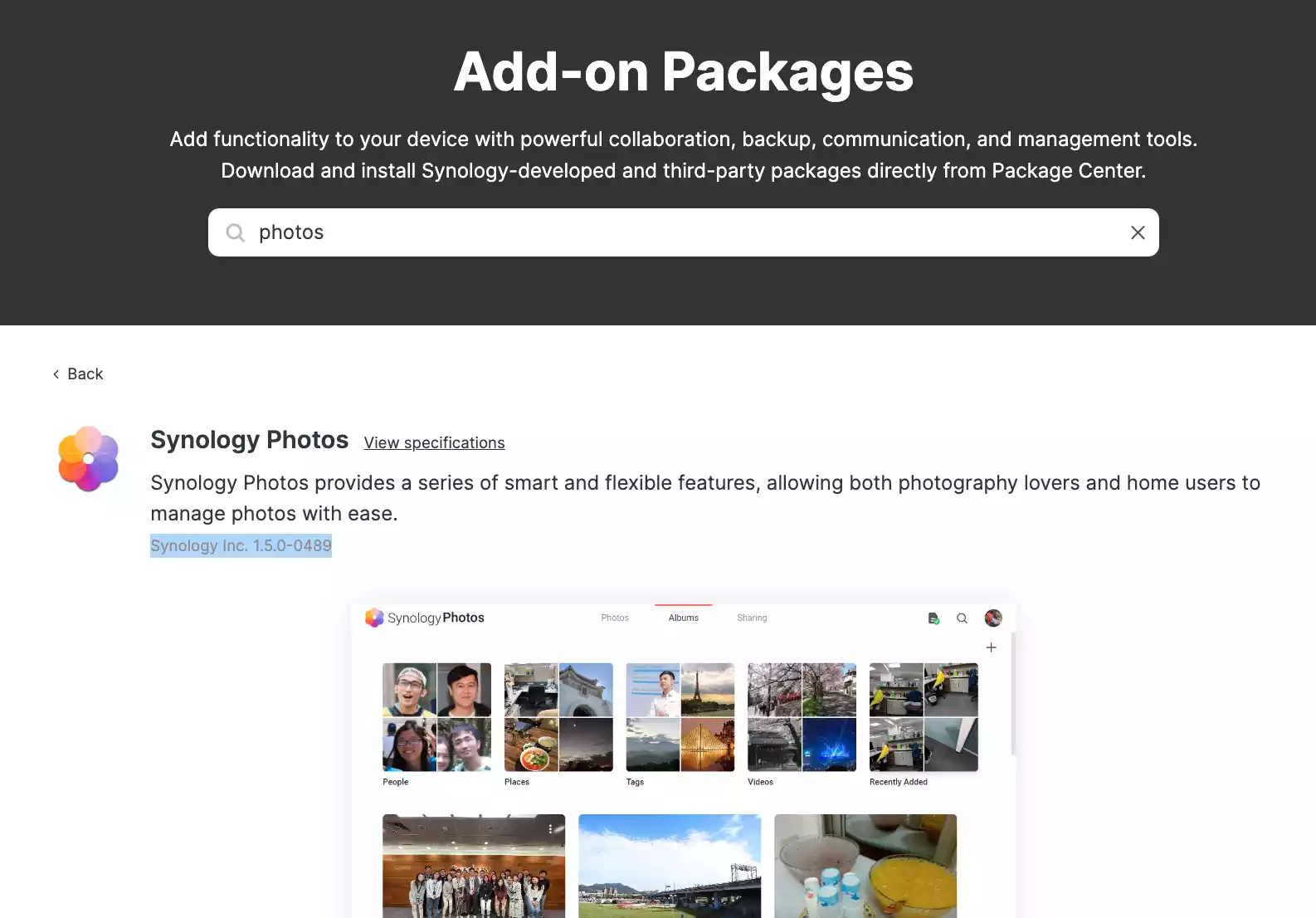 How to Download the Latest Version of Synology Photos with AI Subject Recognition?
Currently, the Synology Photos update that enables subject and object recognition is on a phased, gradual rollout across DSM, hardware, and versions. Normally, when an update becomes available to one of the apps on your Synology NAS, it will appear as an available update in the App Center which can be actioned manually. Or you can set the system to automatically install feature and security updates as they arrive. However, as (at least at the time of writing) the Synology Photos subject recognition update is not a general release, you will not see it automatically in your App Center. In order to download the Synology Photos subject recognition update, you have to head directly over to Synology's download portal and manually download the app. You can download the SPK update file HERE.
This slideshow requires JavaScript.
Once you have downloaded the file, head back into your Synology App Center and click "Manual Update" in the top right of the screen. From here, you just need to click the "Browse" button and find the Synology Photos SPK file you just downloaded. From there, you simply have to follow the installation prompts in the install wizard, and Synology Photos will restart on the new updated version. However, just installing the newest version of Synology Photos is not quite enough, and you will not have immediate access to AI photo recognition straight away. So, how does one enable AI subject recognition?
How to Enable AI Subject Recognition in Synology Photos?
By default, Synology Photos does not enable AI facial recognition or AI subject recognition by default. In order to enable it, when you have booted up Synology Photos, in a new tab, go to the top right section where your user icon is. Then click and select "Settings." From here, there will be a number of options available; scroll around halfway down, and you will see two boxes that you need to put a tick into in order for the system to enable AI recognition and begin indexing your photo collection. If you have already been using AI-powered facial recognition up to this point, that will already be active. However, you will still need to enable subject recognition for the first time.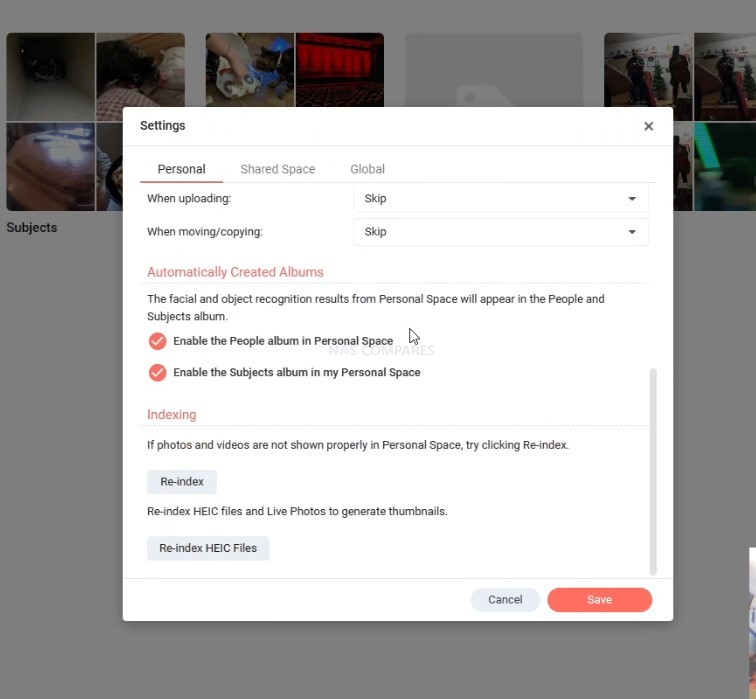 Do bear in mind that when doing this, it will result in the system needing to re-index your photo collection. The amount of time this will take, as well as the amount of system resources that are consumed during this operation, will differ from one system to another. Ultimately, the more powerful your NAS system, the shorter it should be, and the lower the impact. However, if you are using a lower-powered NAS system or have a particularly large photo collection, then you can expect the indexing to take quite a considerable length of time and will result in a larger percentage of used resources throughout, which may well impact your other services running on the Synology NAS right now. So, it is recommended that you action AI photo subject recognition and the indexing during a period when your Synology NAS is not in active use, perhaps overnight or during non-working hours.

Which Synology NAS devices support AI subject recognition in Synology Photos?
Despite all Synology NAS systems arriving with Synology Disk Station Manager (DSM), it is worth remembering that not all Synology NAS devices are built equally, and you tend to find that the more affordable, low-price Synology NAS hardware (typically classified as part of the J or value series) tend to have the least resources available and often certain key features and services that Synology promotes may not be available. If you are concerned about whether your Synology NAS supports AI facial recognition and AI subject recognition, use the table below that details each current generation Synology NAS that supports Synology Photos and the extent to which you can use AI-powered services:
Note, the following list is from 27/07/23 and may see updates.
Supported AI-calculated features

Series

Models

Face and object recognition
SA series

SA6400, SA3610, SA3600, SA3410, SA3400

23 series

RS2423RP+, RS2423+, DS1823xs+, DS923+, DS723+, DS423+, DS423, DS223

22 series

RS822RP+, RS822+, DS3622xs+, DS2422+, DS1522+, DVA1622

21 series

RS4021xs+, RS3621xs+, RS3621RPxs, RS2821RP+, RS2421RP+, RS2421+, RS1221RP+, RS1221+, DS1821+, DS1621xs+, DS1621+, DVA3221

20 series
RS820RP+, RS820+, DS1520+, DS920+, DS720+, DS620slim2, DS420+, DS220+
19 series

RS1619xs+, RS1219+, DS2419+II, DS2419+, DS1819+, DS1019+, DVA3219

18 series
RS3618xs, RS2818RP+, RS2418RP+, RS2418+, RS818RP+, RS818+, DS3018xs, DS1618+, DS918+, DS718+, DS418play2, DS218+
17 series

RS18017xs+, RS4017xs+, RS3617xs+, RS3617xs, RS3617RPxs, DS3617xsII, DS3617xs, DS1817+, DS1517+

16 series

RS18016xs+, RS2416RP+, RS2416+, DS916+

Facial recognition only
22 series

RS422+

20 series

DS220j

19 series

RS819, DS419slim

18 series

DS418, DS418j, DS218play, DS218, DS218j, DS118

17 series

RS217

16 series

DS716+II, DS716+, DS416play, DS416slim, DS416j, DS416, DS216+II, DS216+, DS216play, DS216j, DS216, DS116

15 series

RS815RP+, RS815+, RC18015xs+, DS3615xs, DS2415+, DS2015xs, DS1815+, DS1515+, DS1515, DS715, DS415+, DS415play, DS215+

14 series

RS3614xs+, RS3614xs, RS3614RPxs, RS2414RP+, RS2414+, RS814RP+, RS814+, DS214play

13 series

RS10613xs+, RS3413xs+, DS2413+, DS1813+, DS1513+, DS713+
Do you need to update your Synology NAS to the very latest version of DSM 7.2 Update 2 to use Synology Photos AI subject recognition?
I'm pleased to confirm that although the Synology Photos app requires you to update it to the latest version in order to access AI-powered subject recognition, you do not need to update your Synology DSM to the latest version to use it. This means that users that were concerned about updating a Synology NAS to a larger-scale update, potentially making some apps and services function differently or not at all without patches, do not need to worry.
This slideshow requires JavaScript.
You just need to update the individual Synology Photos app, and it doesn't require you to update the whole OS at this time of writing.
📧 LET ME KNOW ABOUT NEW POSTS 🔔
Join 1,750 other subscribers
Get an alert every time something gets added to this specific article!
This description contains links to Amazon. These links will take you to some of the products mentioned in today's content. As an Amazon Associate, I earn from qualifying purchases. Visit the NASCompares Deal Finder to find the best place to buy this device in your region, based on Service, Support and Reputation - Just Search for your NAS Drive in the Box Below
Need Advice on Data Storage from an Expert?
Finally, for free advice about your setup, j
ust leave a message in the comments below here at NASCompares.com and we will get back to you.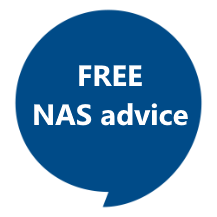 Need Help?
Where possible (and where appropriate) please provide as much information about your requirements, as then I can arrange the best answer and solution to your needs. Do not worry about your e-mail address being required, it will NOT be used in a mailing list and will NOT be used in any way other than to respond to your enquiry.
TRY CHAT
Terms and Conditions
If you like this service, please consider supporting us.
We use affiliate links on the blog allowing NAScompares information and advice service to be free of charge to you.
Anything you purchase on the day you click on our links will generate a small commission which is
used to run the website. Here is a link for
Amazon
and
B&H
.
You can also get me a ☕
Ko-fi
or old school
Paypal
. Thanks!
To find out more about how to support this advice service check
HERE
If you need to fix or configure a NAS, check
Fiver
Have you thought about helping others with your knowledge?
Find Instructions Here

ASK NASCompares forum
, by clicking the button below. This is a community hub that serves as a place that I can answer your question, chew the fat, share new release information and even get corrections posted. I will always get around to answering ALL queries, but as a one-man operation, I cannot promise speed! So by sharing your query in the
ASK NASCompares
section below, you can get a better range of solutions and suggestions, alongside my own.