EVERYTHING We Know About Synology NAS Hardware and Software for 2024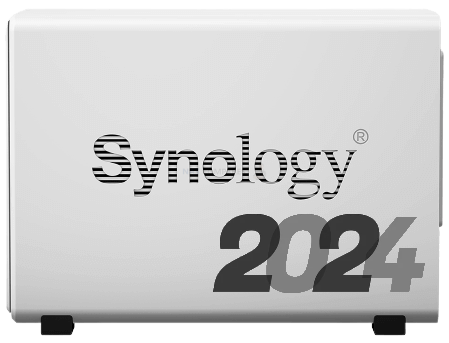 Synology has always been the 'Apple' of the NAS industry, approaching the launch of their newest hardware/software releases with a sense of gravitas and importance (global launch events, hosted digital streams, etc) that is only matched by the sheer blanket of secrecy they maintain on their upcoming solutions. However, with many of their NAS systems refreshed every 2-3 years, many new NAS buyers (or those looking to upgrade) are always keen to know whether the current range of solutions that are available are the best option, or should they wait a little longer for the launch of a new and exciting follow-up? Likewise, the Synology DSM platform (arguably the jewel in the crown of Synology's platform) sees regular updates and improvements to both the GUI itself and the range of features and services that are included in it's wonderfully detailed ecosystem. Generally, when it comes to the software, Synology opt for minor updates almost monthly, noticeable platform/app upgrades every 4-6 months and significant widespread updates (eg DSM 7.0, 7.1, 7.2, 8.0?) every year or two. The hardware on the other hand is a different story. Around July/August every year, we see the year/naming convention shift towards the next annual period (i.e DS918+ > DS920+ > DS923+) and it is THOSE new hardware releases that most users take the most interest it. Rackmount and 6-8+ Bay SMB systems have been mostly absent in the 2022/2023 series of Diskstation and Rackstation, so this is likely something we are going to see refreshes for in the 2nd half of 2023. So, I have made this page to allow me to aggregate all information that we (me and Eddie who run NASCCompares), to keep in one place.
The following list of articles, links and information will be periodically updated as new information appears and you can add your email address at the bottom of the page if you want to get immediate alerts when these updates arrive (no need to make any account etc, it's just a notification tool).
LAST UPDATED, THURSDAY 24th JULY 2023
---
Synology 2023/2024 Questions and Answers with Michael Wang @ Synology HQ
Synology has always been largely considered to be the market leader in the world of network attached storage (NAS) and more often than not the decisions that make in their range of hardware/software solutions tend to be of tremendous interest to their growing global user base. Whether it's a feature of DSM that has been added/removed, or a hardware path that they have yet to pursue, may users have questions for this big brand is the world of big data! So, today we want to share our latest Q&A with Synology (something of an annual event in itself now, with 2019 here, 2020 here, etc), in which we spoke with Michael Wang, Corporate Communications Manager at Synology, and put forward your user questions from the YouTube comments, Polls and NASCompares forums/discord/social media channels. So, let's dive straight in and see what the brand has in store for the 2nd half of 2023 as we shift our attention towards Synology 2024. Subjects covered include the Synology Play series in 2024, Synology and Ransomware, New Flash Storage, DSM 8.0 (exceedingly briefly), the potential for a Synology switch, new cameras and more.
Click the banner below to head over to the Synology Q&A: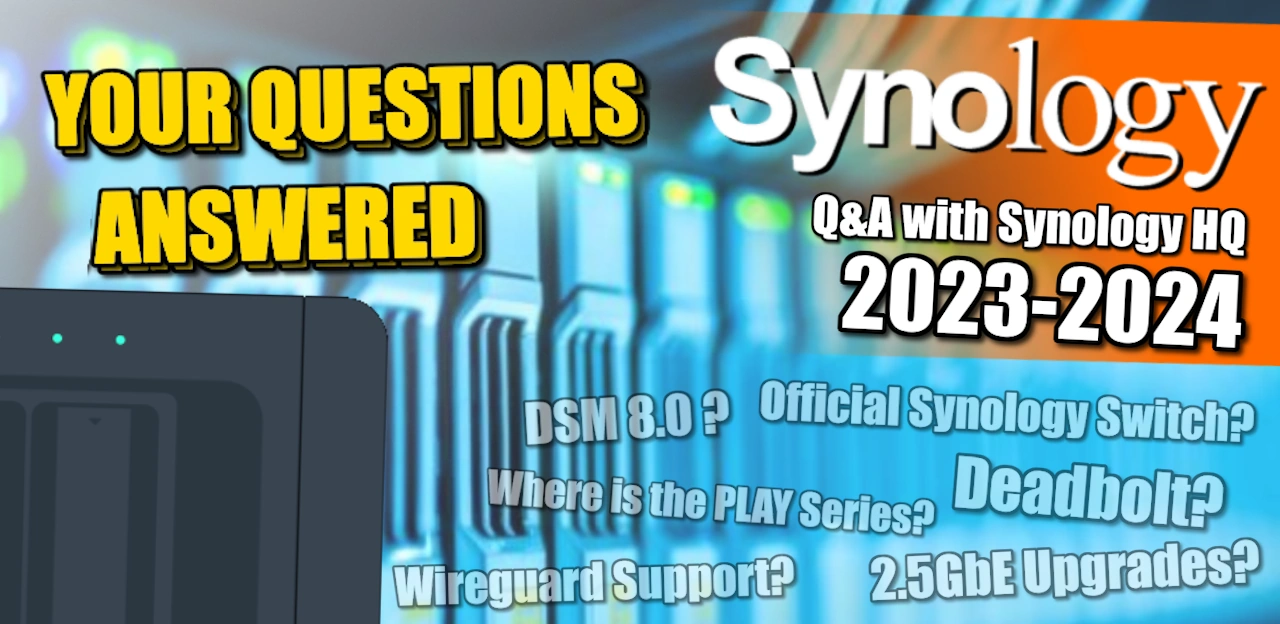 ---
Synology 2024 – Confirmed Releases, Leaks, Rumours and Predictions
It's past the halfway point of the year and that means that it's time for Robbie and Eddie to discuss what's coming in the next generation of Synology NAS hardware and software. We hosting a long, LONG video on this that covers it all. We cover the hardware we know about, as well as the releases that have been leaked and rumoured. We finish up with what we predict to happen with Synology in their 2024 generation, so if you are wondering about what the brand has in store for the future and whether you should care, give it a watch (chapters are underneath the video):
Video Chapters: 00:00 – The Start 00:54 – Synology 2024 – Where are we at? 01:34 – Synology DS224+ NAS – What Do We Think? 07:06 – Synology DS124 NAS – NICE! 11:38 – Synology AI Integration Long Term 13:29 – DSM 8.0 15:23 – What I want from AI in a Synology NAS and DSM 8.0 16:43 – Synology PLAY is DEAD? 21:54 – Synology 2024 Rumours 22:16 – Synology RS1624xs+ Rackstation 27:51 – New Synology Cameras in Winter 2023/2024 31:42 – Synology DS1824+ and DS1624+ NAS Coming 35:42 – Synology 2024 Predictions 36:21 – Fleshing Out that HDD and SSD Portfolio 38:52 – New Flash Server and Flash Drives? Bit Overdue 40:09 – The Synology Switch ISN Coming…Or is it?! 43:06 – Synology DS924+, DS724+, DS1524+ NAS etc? 44:21 – Mid Series Refresh (ver II)? 45:36 – Synology in 2024 and 2024 Moving Forward – Verdict so Far…
---
The Synology DS224+ NAS – Coming Very Soon!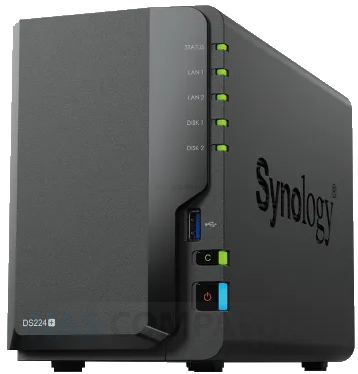 Update 06/07/23 – Synology has really been churning out the DiskStation releases this year, with a number of their popular DiskStation NAS devices all seeing a modern refresh to a greater or lesser degree. The Synology DS224+ is the update of the three-year-old DS220+ NAS, arriving in a similar framework as its predecessor. Although arguably featuring very small updates in Synology's 2024 refresh, it does boast an improved CPU, which will result in greater performance on Synology's award-winning DSM platform. The DS224+ is likely one of the last Synology home and SMB solutions we will see refreshed this year, as Synology clearly begins to set its sights on some of its larger and more centrally business-focused solutions in the 2024 range. I am not going to sugarcoat it, the DS224+ is by no means a significant upgrade over its predecessor and for some, it's not going to seem like much has changed in the three years between these releases. However, we are still seeing a setup here that the brand has rigorously invested time and development into, which likely means you are getting a superior experience that is more felt than seen compared with its predecessor. Let's discuss the new Synology DS224+ and help you decide whether it deserves your data.
Find out in the article HERE
And the video HERE
---
Synology DS124 NAS 1-Bay for the Synology 2024 Series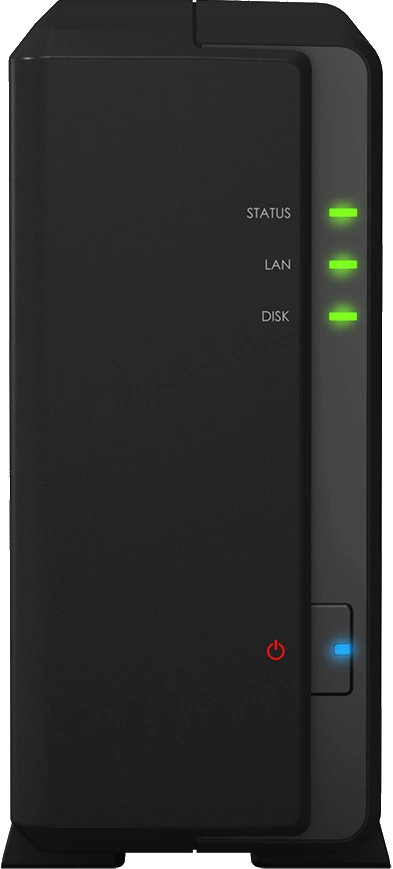 Update 04/07/23 – If you've been considering Synology as an affordable and power-efficient NAS drive option in 2023, it's highly likely that you're curious about the possible release of the DS124. Although we have seen tremendous innovation within one-bay NAS devices in recent years, we are still yet to see this brand roll out a one-bay NAS with anything higher than an ARM processor. Give them credit though, this is quite a capable ARM processor, and it would have been very easy for them to cut corners and opt for a lower-class Marvel or Annapurna AL processor in order to keep costs low. The Synology DS124 arrives with the Realtek RTD1619B quad-core ARM processor, which has a 1.7Ghz clock speed and even has a smidgen of integrated graphic support too. This processor certainly will not rival even the most modest Intel Celeron in capabilities, but Synology has been doing great things in ensuring its latest software, DSM 7.2, runs on this platform exceptionally well. The extent to which DSM runs will be discussed later on, as ARM processors have a very unique architecture that also has an inherent difficulty when it comes to more complex processes, but fair play to Synology for including this CPU on such a value series device and after already testing this CPU in the likes of the DS223J, DS223, and DS423 here on the channel, I can comfortably say this is the best value series CPU the brand has ever used and definitely runs the bulk of Synology's mainline home and light business backup applications.
Read the FULL Article HERE
---
Synology ChatGPT? Integrating an Optional AI in Synology Office & Mail Plus
Update 03/06/23 – When Synology hosted their Solutions exhibition parallel with the Computex 2023 event over in Taipei, it was always going to be a certainty that I would attend. Aside from featuring this brand regularly on the NASCompares YouTube Channel and Blog, I have always been impressed by the brand's incredible prioritization of it's software above all else. Although this can occasionally be to their detriment in the eyes of more hardware-focused users, no one could question the quality and level of R&D that has gone into DSM and its range of services. However, although a lot of new hardware was on show at their event, alongside pre-set demonstration stations to overview their abilities, the thing that REALLY stood out for me was an 'in development' feature to integrate AI support services into key DSM applications. Now, currently, the big buzzword in AI is ChapGPT of course.
With everyone from beginners and enthusiasts, all the way to multinational corporations starting to discover the benefits of integrating AI into their workflow and operations. What Synology demo'd at their event, although clearly in early development, was a clear and considered implementation of the benefits of AI assistance from within the Synology ecosystem – more precisely those in the collaboration suite. In the demo, they showed how they were in the early steps of providing AI assistance in numerous areas of content creation and communication. Currently, this was shown in Synology Mail Plus and Synology Office. So, today I want to talk through how this was shown and what we can look forward to as functionality is slowly rolled out.
Find out in the article HERE
And the video HERE
---
The Synology BeeDrive Backup Hub Revealed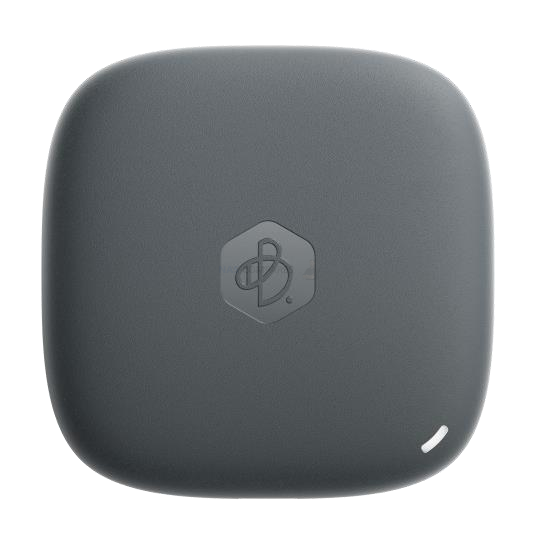 Update 07/06/23 – I've been a follower of Synology for many years, but this might be the most 'left field' release I have seen from the brand in more than a decade (psst… DS213air..I'm looking at you!). The Synology BeeDrive USB SSD Backup Hub promises to provide simplified backup and Sync storage for upto 5 devices in Windows, iOS, Android and MacOS (eventually) environments. But is it just a glorified external USB drive or much more? Synology is arguably the top dog in the world of turnkey NAS. They have an exceedingly well-populated NAS server portfolio, a very well-established storage media range, Several high-class routers and recently added surveillance cameras into the mix too! Nevertheless, when I saw the official Synology BeeDrive External USB SSD, I was very confused! Synology has diverged from its traditional NAS lineup in an attempt to provide a convenient, easy-to-use, and very user-friendly remote cloud alternative solution for personal data storage. This USB Direct Attached Storage (DAS) device arrives with either 1TB or 2TB of storage capacity and supports a USB-C 3.2 Gen 2 (10Gbps) connectivity. The main focus by Synology here seems to try and eradicate the complexity of a NAS backup drive for a handful of devices, whilst trying to replicate the ease of use and 'set up and forget' mentality of small-scale cloud backup services – Ultimately, the BeeDrive aims to make data backup as simple as it gets.
YouTube Review of the Synology Bee Drive VIDEO REVIEW and WRITTEN REVIEW
Find out in the article HERE
And the video HERE
---
Synology PLUS NAS Hard Drives – The HAT3300 Series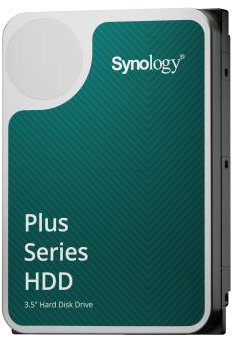 Update 28/02/23 – For those who have been following the world of network Attached Storage (NAS) and more precisely, the developments of Synology, it might not come as a huge surprise that the brand is now in the process of rolling out a new series of HAT3300 Hard Drives for 2023. Now, you might well be thinking "hold on, they have had their own range of HDDs for a few years now!" and that is correct. However, the existing HAT5300 and HAT5310 series of drives are very much targeted at Pro and Enterprise users (5yr warranty, 5400rpm, 550TB workload, etc) and Synology users who were looking to keep things 'single ecosystem' in their more modest scale systems (e.g DS920+, DS1522+, etc) were not won over by these bigger, noisier and more expensive drives in their systems. Therefore, it was somewhat inevitable that the brand would eventually get around to launching a more home/SMB-friendly range Of storage media that is better suited to smaller NAS systems of around 5-8 Bays at most. Enter the Synology HAT3300 Plus hard drive series, eventually rolling out in 4 (possibly a 5th in 16TB) different capacities and built on Seagate Ironwolf HDDs (whereas the Synology HAT5300 and HAT5310s are built on Toshiba Enterprise MG drives). Given Synology already has their other HDDs in the market, 2 types of SSD media, numerous types of memory media, upgrade cards, routers and even their own Surveillance IP cameras now – this really is one of the final steps for them to complete their own 1-brand hardware ecosystem of networking equipment.
YouTube Video – HERE
NASCompares Full Reveal Article  – HERE
---
Synology DSM 7.2 NAS Software Now Officially Released
Synology DSM 7.2 brings a range of benefits and features compared to Synology DSM 7.1/7.0. It introduces immutable storage and backup through WriteOnce shared folders, enforcing data retention policies and protecting against modification or deletion. Compliance Mode features like Tamper-proof Clock, Grace Period, Appendable Mode, and Snapshots enhance data protection. Full Volume Encryption encrypts Shared Folders, LUNs, and package data, providing security and convenience with improved performance. Immutable Snapshots defend against ransomware by securely storing unchangeable copies of data. Turbocharged VM performance is achieved with M.2 NVMe storage volume support, enabling SSD caching or creating all-flash storage volumes. Block-level full-system backups in Hyper Backup speed up large data backups significantly. Inline zero-block removal improves deduplication efficiency while maintaining performance. Adaptive Login Protection enhances security with multi-factor authentication and confirmation for external DSM admin account access. Auto Block expands protection against brute-force attacks, and QuickConnect servers globally ban IP addresses after failed authentication attempts. Container Manager, renamed and enhanced, allows easy management of multi-container applications through the UI. Hybrid Share, coming soon, prevents file conflicts across connected Synology systems and provides detailed logging. These features make DSM 7.2 a comprehensive upgrade with robust security, performance, and management capabilities for Synology NAS users.
You can download Synology DSM 7.2 HERE
Alternatively, you can look at the video below that outlines whether existing DSM 7.1/7.0/6.2 Users that own Value series devices (such as the DS223, DS423, DS220J and even DS120J) should upgrade:
---
You can find out more about Synology and their plans for their 2024 series by visiting our friends over on Blackvoid HERE
Looking for Information on Synology NAS Hardware and Software Releases and Rumours for 2023? You can visit our Synology 2023 News Page HERE
We pool the comments on this article and the videos that are featured in it to keep all the relevant comments in one place, so take a look and see if your POV is the same as everyone else's.
📧 LET ME KNOW ABOUT NEW POSTS 🔔
Join 1,750 other subscribers

Get an alert every time something gets added to this specific article!



This description contains links to Amazon. These links will take you to some of the products mentioned in today's content. As an Amazon Associate, I earn from qualifying purchases. Visit the NASCompares Deal Finder to find the best place to buy this device in your region, based on Service, Support and Reputation - Just Search for your NAS Drive in the Box Below
Need Advice on Data Storage from an Expert?
Finally, for free advice about your setup, just leave a message in the comments below here at NASCompares.com and we will get back to you.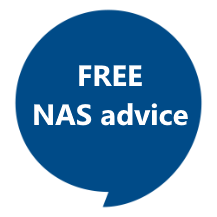 Need Help? Where possible (and where appropriate) please provide as much information about your requirements, as then I can arrange the best answer and solution to your needs. Do not worry about your e-mail address being required, it will NOT be used in a mailing list and will NOT be used in any way other than to respond to your enquiry.
TRY CHAT
Terms and Conditions
If you like this service, please consider supporting us. We use affiliate links on the blog allowing NAScompares information and advice service to be free of charge to you.Anything you purchase on the day you click on our links will generate a small commission which isused to run the website. Here is a link for
Amazon
and
B&H
.You can also get me a ☕
Ko-fi
or old school
Paypal
. Thanks!To find out more about how to support this advice service check
HERE
If you need to fix or configure a NAS, check
Fiver
Have you thought about helping others with your knowledge?
Find Instructions Here

ASK NASCompares forum, by clicking the button below. This is a community hub that serves as a place that I can answer your question, chew the fat, share new release information and even get corrections posted. I will always get around to answering ALL queries, but as a one-man operation, I cannot promise speed! So by sharing your query in the ASK NASCompares section below, you can get a better range of solutions and suggestions, alongside my own.

If you like this service, please consider supporting us.

We use affiliate links on the blog allowing NAScompares information and advice service to be free of charge to you. Anything you purchase on the day you click on our links will generate a small commission which is used to run the website. Here is a link for

Amazon and B&H

. You can also get me a ☕

Ko-fi

or old school

Paypal

. Thanks! To find out more about how to support this advice service check

HERE

If you need to fix or configure a NAS, check

Fiver

Have you thought about helping others with your knowledge?

Find Instructions Here




☕ WE LOVE COFFEE ☕

Or support us by using our affiliate links on Amazon UK and Amazon US