Synology DS224+ NAS Drive – Should You Buy It?
As we cross the halfway point of 2023, the popular network-attached storage brand, Synology, has largely refreshed the bulk of its DiskStation catalogue. Sure, there are a few of the more business-y type solutions that will likely roll out towards the end of the year, but the more popular NAS devices in two and four bays have largely now arrived. One of the last solutions to roll out in this genre from Synology is the new DS224+, a 2x quad-core Intel-powered compact solution that promises the ability to run everything in the Synology DSM catalog of applications and services. Serving as the refresh/upgrade to the summer 2020 released DS220+, the new DS224 class serves as an arguably minor upgrade over its predecessor but also benefits from a wide range of innovations by the brand in its software that have arrived in those three years. Now, whether you are an existing previous-generation Synology NAS owner that is considering upgrading your setup towards this new DS224+ NAS, or all very much in your first tentative steps towards migrating away from public cloud services toward your own NAS server (hoping this will be perfect for your needs and budget), that is the objective of today's article. We want to review the DS224+ and help you decide whether you should buy, and ultimately whether it deserves your data.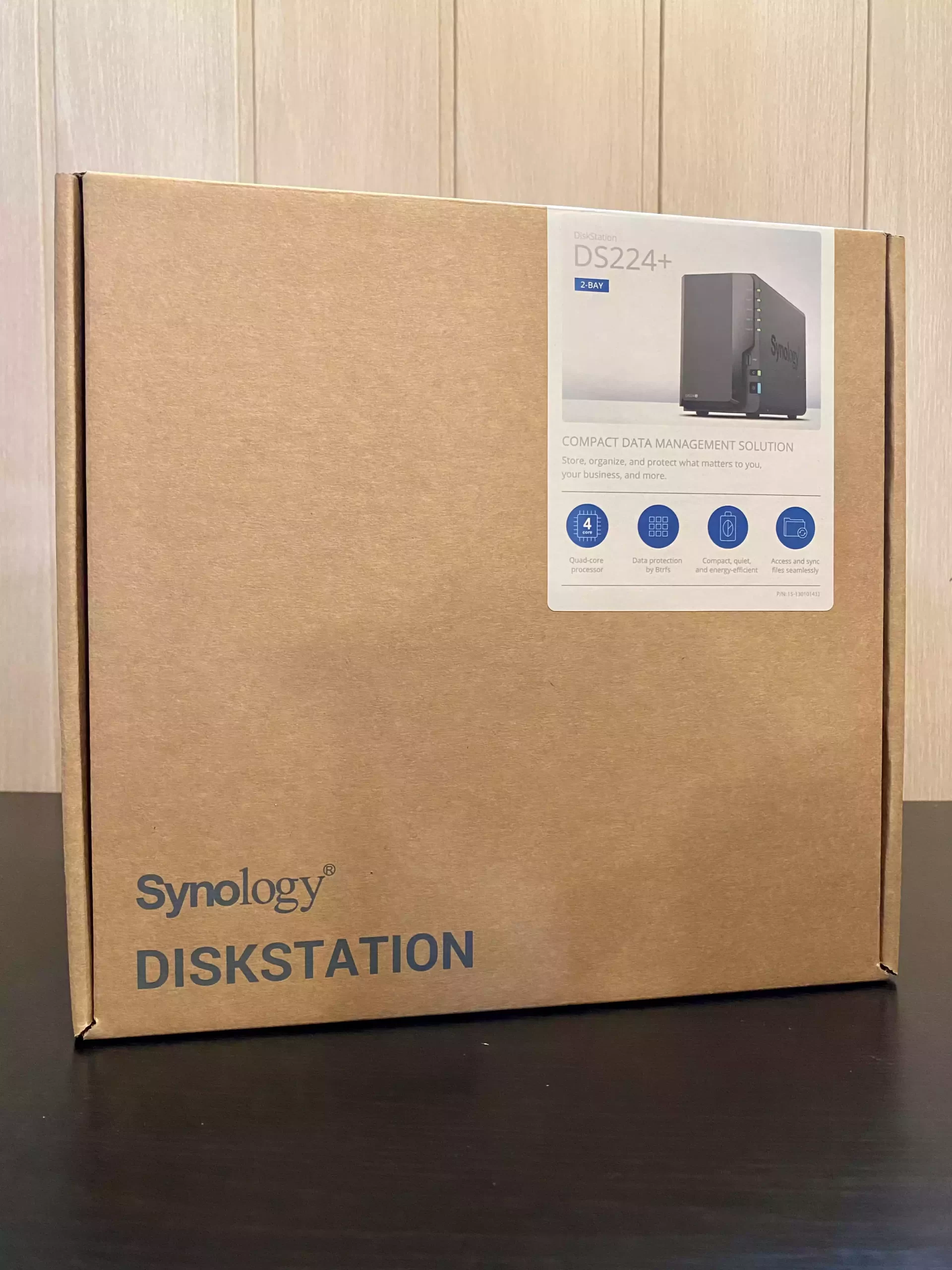 We are currently working on a much longer and more detailed review of the new DS224+ NAS. In the meantime I have made this 'Should You Buy' short review, alternatively if you want a massive, in-depth review, we recommend you check out friend of the channel 'Blackvoid' and his review HERE. This article today forms a much more short-form alternative with five good reasons to go for the NAS and five reasons to maybe remain on the fence a little bit longer. So let's start with the positives!
HARDWARE HIGHLIGHTS
CPU: Intel Celeron J4125, 4-Core, 2.0-2.7Ghz
Memory: 2-6GB DDR4 non-ECC Memory
Software Platform: Synology DSM 7 (Currently Version DSM 7.1/7.2)
Warranty: 3 Years, Extendable to 5yr
5 Reasons the Synology DS224+ is a Good NAS for You
There is no denying that this system is hugely capable, and the first thing I want to do is identify the main reasons why this NAS stands out among many of the previously released Synology NAS systems in the brand's portfolio.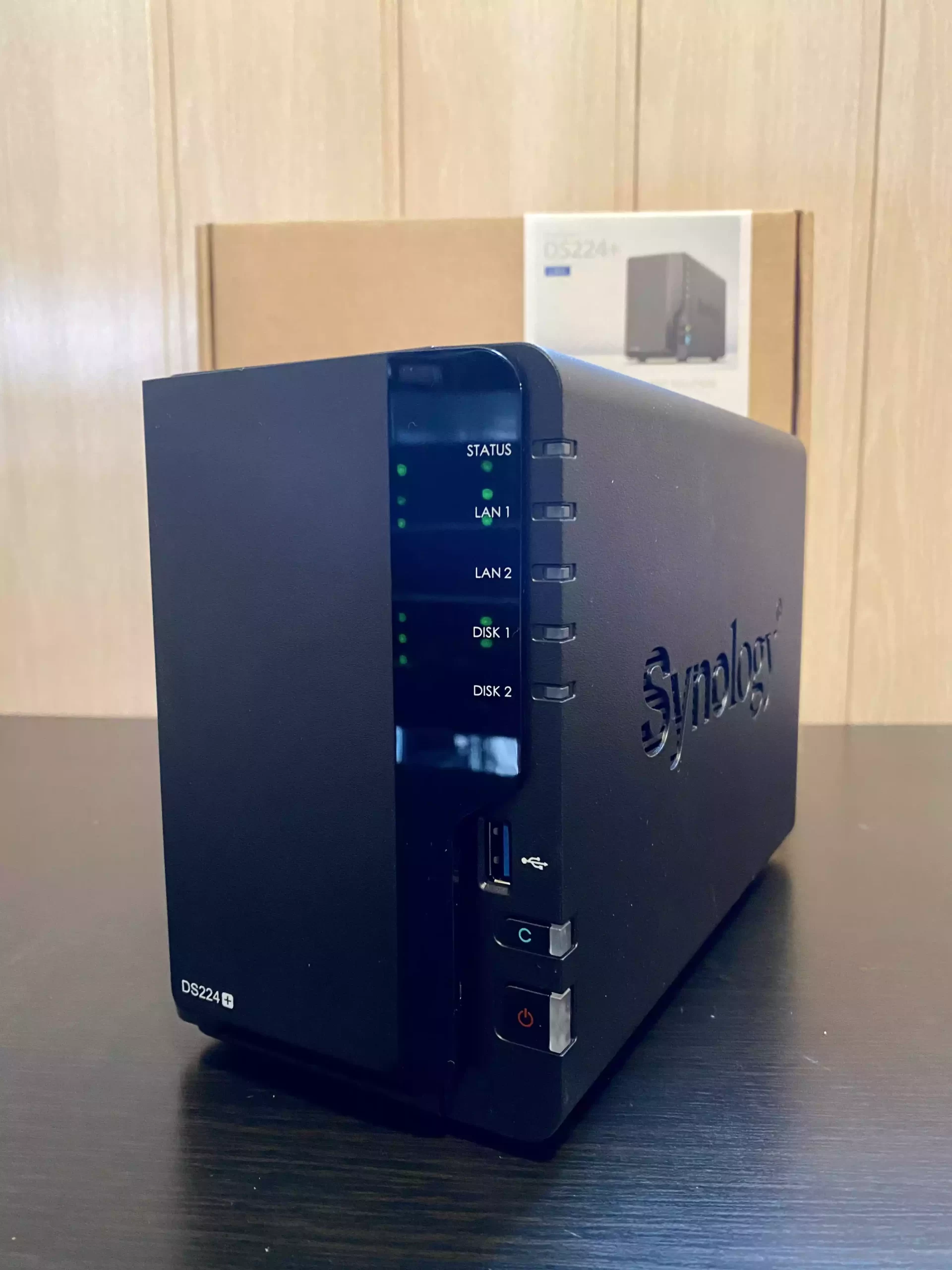 A Low Cost Synology NAS with Integrated Graphics for Plex
No, the fact that this NAS arrives with an Intel CPU that features integrated graphics is arguably only going to be massively important to a very specific demographic of Synology NAS owners. If you have been looking at buying a NAS system to host your very own Plex media server, in efforts to own all of your media yet enjoy the slick and highly graphical informative user experience provided by third-party streaming platforms like Netflix and Disney+, then using a NAS media server is one of the easiest ways to achieve this. However, depending on your own setup, range of connected users and devices, scope of different multimedia types and formats, and (most importantly for this section) plan on accessing this media via limited connections or older client devices, the necessity for a NAS that features integrated graphics is going to be essential. This also extends to high-end multimedia that may be using more complex compression or formats that are necessary to compress cinema-scale movies into something you watch from your sofa (e.g., HEVC/H.265).
In these scenarios, a NAS such as the DS224+, which arrives with integrated graphics, is going to be exceedingly useful to ensure widespread multi-user and multi-client playback of some of the richest and most diverse multimedia in your collection. That isn't to say that integrated graphics CPUs are particularly rare; however, Synology has recently been making moves towards more workhorse and file transmission optimized processors that do not feature integrated graphics (such as the IMD embedded rising, the 1500b, or v. 1780B). Although the CPUs have great base power and reported clock speed, as soon as they start handling tasks of a more graphical nature, they will be much less efficient than integrated graphics which are designed for this kind of process. Using less tailored tools for these tasks will result in higher power consumption but also much poorer overall performance and takes up system resources that are better spent elsewhere. Ultimately, if you were looking at the current range of Synology solutions and you're looking for a Plex media server NAS that is a more all-round solution for all different multimedia playback types, the DS224+ is among one of the highest recommendations right now from this brand.
Full DSM 7.2 Support on the Synology DS224+ NAS
There is no doubt that when you look at Synology NAS, in terms of hardware, it does seem quite expensive. We have touched on this multiple times on the YouTube channel and blog – just how cheap it is to build your own version of the systems by comparison. However, the price that you pay for a turnkey NAS such as the Synology DS224+ is more than just hardware, and in the case of this device, the bulk of your spending is actually going towards the software – Synology's award-winning DiskStation Manager (DSM) software. DSM is genuinely the best NAS software in the market, and you cannot purchase it separately. It is easier to think of DSM less as a piece of network software and more as an entire operating system that is arguably comparable to the likes of Windows, Android, or macOS. From the complete end-fluid desktop that you access by the web browser to the massive range of applications and services that are supported locally, remotely, and via a myriad of client tools for a range of different operating systems – DSM is insanely well-built and incredibly intuitive.
The latest version, DSM 7.2, is by far the most fully-featured revision yet and alongside a myriad of applications for backups, file sharing, tailored multimedia, surveillance, office productivity, virtual machines, containers, and more, there is an unquestionably larger ride of tools available from the brand. However, the extent to which you can use these apps and services will always be limited by the power of the NAS you buy, and you tend to find that the more affordable and low-priced solutions tend to lack support for some key Synology DSM applications. Luckily, this is not the case with the DS224+, as this system supports the full range of apps and services in DSM 7.2. These include some of the following applications: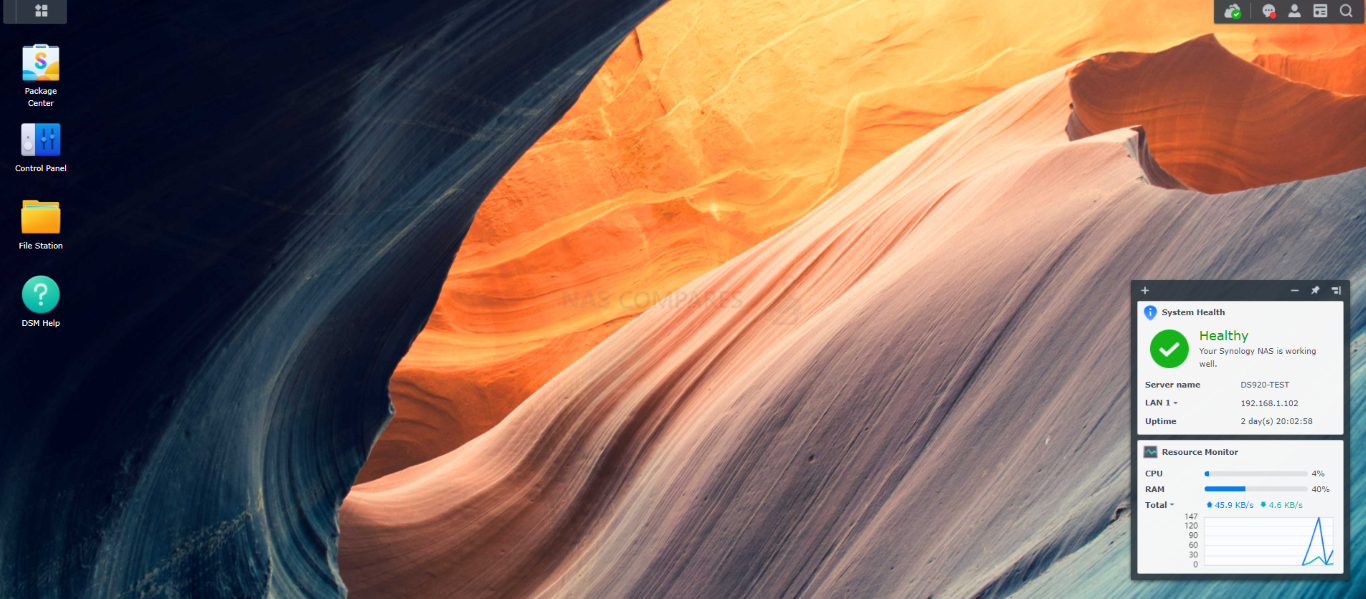 Synology Office – Create documents, spreadsheets, and slides in a multi-user environment. Real-time synchronization and saving make collaboration a breeze.
Synology Chat – Aimed at businesses, Synology Chat is an IM service that transforms the way users collaborate and communicate.
Synology Drive – Host your own private cloud behind the safety of your NAS with 100% data ownership and no subscription fees. Drive has become one of the premier applications of DSM and allows uses to create intelligent shared team folders that support versioning, file streaming+pinning, encryption, Windows AD support (soon) and native file system support with Windows and macOS.
Synology Photos – Manage your photos and videos with deep-learning algorithms that automatically group photos with similar faces, subjects, and places. Designed after the merger of Synology Photo Station and Moments, it also includes tailored folder, sharing and categorization features to help photographers manage their photos and share them with clients for feedback or business development.
Synology Calendar – Stay on track, share calendars, and schedule meetings, while ensuring sensitive information remains safely stored on company premises.
Synology Active Backup for Business (ABB) – Consolidate backup tasks for virtualized environments, physical servers, and personal computers, and rapidly restore files, entire machines, or VMs – license-free. This software also arrives as a specialised Microsoft Office 365 and Google Workspace platform to sync with those platforms and allow a bare metal tier to your cloud office services
Synology Hyper Backup – Backup your NAS safely and efficiently to multiple destinations with deduplication, integrity checks, compression, and versioning.
Synology Surveillance Station – Safeguard your business, home, and other valuable assets with reliable video surveillance tools. With improved AI services being accessible thanks to Synology BC500 and TC500 Cameras arriving in 2023. Additionally, you can connect this platform with Synology's cloud platform to use 'C2 Surveillance' and bolster the odds of recordings being maintained in the event of accidental/malicious damage to your surveillance system.
Synology Virtual Machine Manager (VMM) – An intuitive hypervisor that supports Windows, Linux, and Virtual DSM virtual machines. Its powerful disaster recovery tools help users achieve maximum service uptime.
Synology High Availability – Synology High Availability (SHA) combines two Synology NAS servers into one active-passive high-availability cluster, alleviating service disruptions while mirroring data.
Synology Central Management System (CMS) – Synology CMS allows you to manage multiple Synology NAS servers quickly and conveniently from a single location.
Synology Video Station – Manage all your movies, TV shows, and home videos. Stream them to multiple devices or share them with friends and family.
Synology Audio Station – Manage your music collection, create personal playlists, stream them to your own devices, or share with family or friends.
Synology File Station – Manage your Synology NAS files remotely through web browsers or mobile devices. This tool allows complete file management and contains all the features and services of your own native file management platform (archiving, extracting, Copy, Cut, Paste, Sharing, native file format opening, etc).
But it does not stop there, as those who have been following Synology recently and the release of DSM 7.2 will know that the brand has integrated some new enterprise-grade features such as mutable backups, thanks to WORM support (write once, read many), with enterprise or compliance mode as standard and required. Additionally, there is support for encrypted volumes now, and this system also has support for Synology's hybrid RAID system, which will come in especially useful down the line if you decide to scale up your Synology NAS years from now but still wanting to utilize your existing RAID in a bigger array. What this all adds up to is the Synology DS224 being unquestionably the lowest price point right now to have access to the FULL experience of DSM, not the cheaper but slightly hobbled version provided on Realtek NAS systems in the brand's portfolio. You can find out more about Synology DSM in my massive review of the platform via YouTube below:
A CPU that Synology has Experience with Matters
Now while this may seem a little bit 'inside baseball', I do really want to highlight just how much experience Synology has with the hardware architecture included in the Synology DS224+. Any technology manufacturer that provides both hardware and software will, over time, learn more and more how to get the very best efficiency out of the hardware. And when it comes to the world of network-attached storage and systems that will be on for days, weeks, months, and years at a time, efficiency in your solution is going to be enormously important. Now Synology has been using the Intel Celeron J4125 inside the DS224+ in their portfolio for almost 4 years in development with other solutions, and in that time they have definitely spent a great deal of time R&D-ing the hell out of that architecture.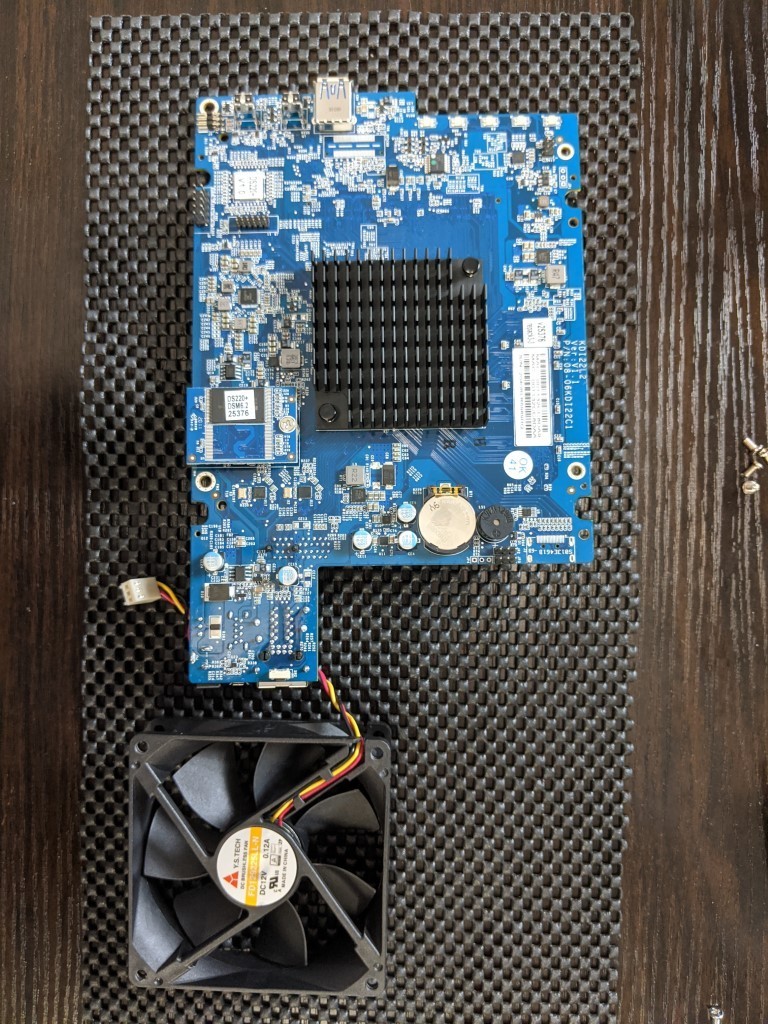 Everything from the amount of hardware resources that DSM is going to use on each of its processes has been gradually more refined over time in order to lower the overall overheads and allow even more simultaneous applications and services to run at any given time. Equally, when the system is running in a lesser used or idle state, the system will be able to estimate how much additional cache can be afforded to services running at any given time, and boost that as needed and then flush the cache in the background without the user knowing. Leading to a more consistent and responsive experience for a user, without them realizing just how much work is going on in the background at any given time. This kind of responsive and semi-automated action can only happen when a brand spends an extensive amount of time with a given hardware architecture and understanding the quirks and nuances of each one. Therefore, although later on in this review, I will be throwing shade at the CPU for other reasons, we have to acknowledge that Synology using a hardware architecture they have a huge amount of experience with here on the DS224+ does bring with it certain key advantages too.
The DS224+ NAS Arrives with 2GB Memory and the Option to Upgrade
This may seem like something of a minor point, but it's definitely something that you're going to want to keep an eye on later in the system's life. And certainly, if you plan on buying a NAS system that you want to last for anything from 5 to 10 years in your home or business environment. Although up until this point, we've harped on about the importance of the CPU in any NAS in getting the job done and running the big new applications, all of this wouldn't matter if you do not have enough memory for the system to run multiple tasks or support multiple users at once. One of the main benefits of modern network-attached storage compared with cloud services and even just basic network-connected hard drives is the ability to run numerous applications from the NAS and allow numerous users to interact with the system simultaneously. Alongside CPU power, this is done with the system having sufficient memory to run all of these processes at the same time, efficiently and effectively. Whether you are looking at the mobile phone in your pocket or the high-end PC in your editing suite, the amount of memory you have is going to be critical in how well things run. In the case of the DS224+, the system arrives with 2GB of DDR4 memory. Most other NAS devices from Synology at a similar price point to this will arrive with either 1GB or (and in 2023, this is pretty disgraceful) just 512MB of memory. The system operating system itself will be using a percentage of this memory even when you aren't doing anything, so the DS224+ arriving with 2GB of memory means that you can already run a decent number of DSM applications and services at any given time, as well as supporting quite a wide-ranging number of users and processes on day one.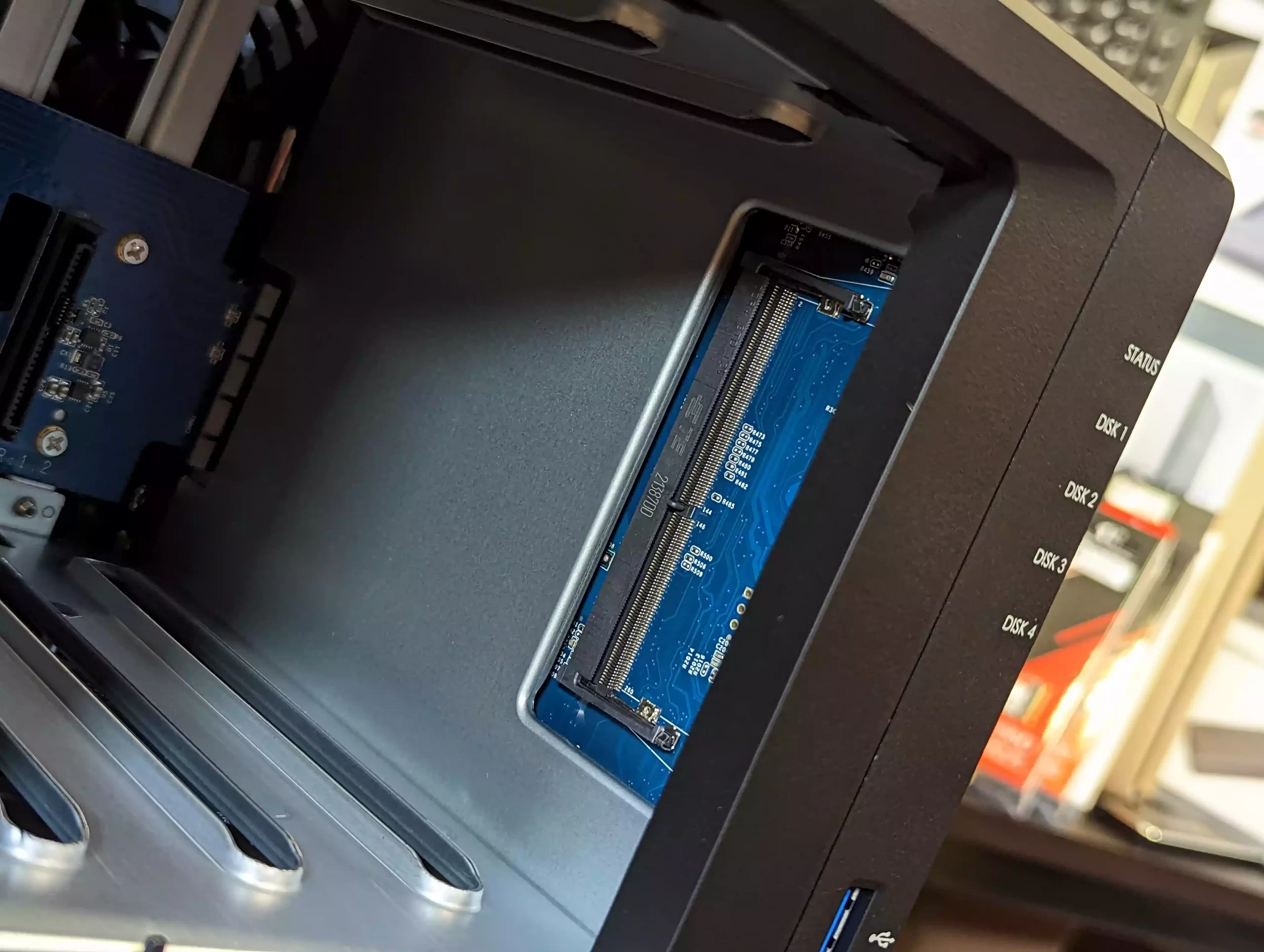 But this is further improved when you find out that the memory on the DS224+ can be further upgraded with another 4GB of memory via an available sodimm slot. We are seeing a growing trend in the more value and affordable Synology NAS solutions to not allow upgradable memory on their systems. This is done in order to keep the systems more affordable, as fixed memory is ultimately more cost-effective when directly sold it to the main PCB controller board of the system. Therefore, given this system's more affordable price point, it would have been expected that it would arrive with non-upgradable memory as standard, and therefore makes it even more appealing to maintain its price point while simultaneously allowing these upgrades for users who want to scale up their level of access and storage down the line.
The Synology DS224+ NAS has Better 3rd Party HDD and SSD Support
In the last 18 months or so, Synology has come under fire from some of its long-standing user base when it changed its number of its support and compatibility policies surrounding which hard drive and SSD plans it was prepared to support on a number of its systems. Although this was largely reserved for systems in the enterprise-level categories of their portfolio, they did provide insurance in their own range of branded hard drive and SSDs. It certainly upset a few users thought it was better. Continue to try and crack after the unified storage and hyper-converged cloud and live among NetApp and EMC. Therefore, it was pleasing to see that the new DS224+ does not suffer this same fate, providing a compatibility list that not only contains Synology hard drive media but also a range of drives from the likes of Western Digital, Seagate, and Toshiba.

The range might not be particularly massive (more on that later), but you still get the option to utilize drives from other brands inside this Synology NAS system. And for those that are looking for economies and see third-party drives on sale during the likes of Prime Day and Black Friday, this is going to be another compelling reason to go for this NAS. the Synology applications, property/metadata access, etc)
---
5 Reasons the Synology DS224+ Might NOT Be the NAS for You
All of the positives mentioned above aside, there are still going to be reasons why users might not want to opt for the new Synology DS224+ as the new home for all of their precious data. So now I want to go through five very specific reasons why you might want to remain on the fence a little bit longer and opt for a different solution.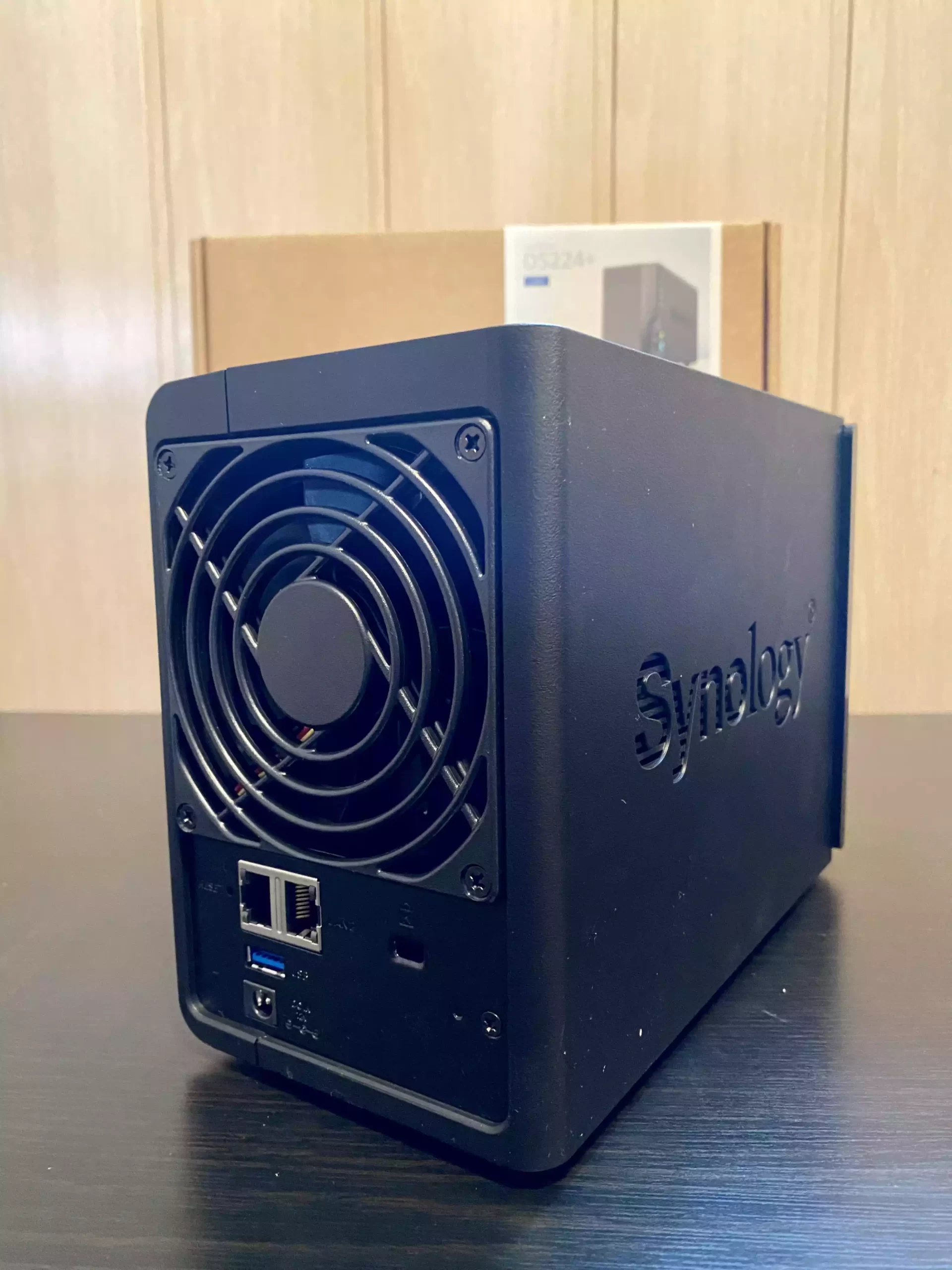 The Intel J4125 Celeron CPU is Showing its Age
This is probably one of the earliest and biggest criticisms people had for the DS224+ when it was first revealed back in June 2023, and surrounds the choice of CPU in this NAS. On the one hand, we did praise Synology for choosing an integrated graphics processor inside this system. However, this is a CPU that has already been in circulation in older-generation Synology NAS systems for quite a while. Despite the advantages that this brings in terms of software development by Synology to squeeze the most out of it, there is no denying that the age of this processor is pretty noticeable compared to alternative Intel Celeron and Pentium processors used by Synology's competitors in current generation systems. To put that into a little perspective, not only have rivals like QNAP opted for Intel Celeron CPUs one or two generations older than this in the n5105 and j6412, but even Intel has ceased production of this component and refreshed it towards newer processors in their production. The result here is some users are definitely going to feel that a 2023 device that's running on a 2020 CPU that was released in 2019 is going to feel a little short-changed, as well as feeling that this hardware may not go the distance in years to come. Equally, it raises questions about whether Synology will be able to provide the hardware components for this device in the two to three years that the system will be available before the next refresh, and therefore raises the question of whether Synology will have to provide a CPU upgrade simply because this older Gen CPU is no longer being produced.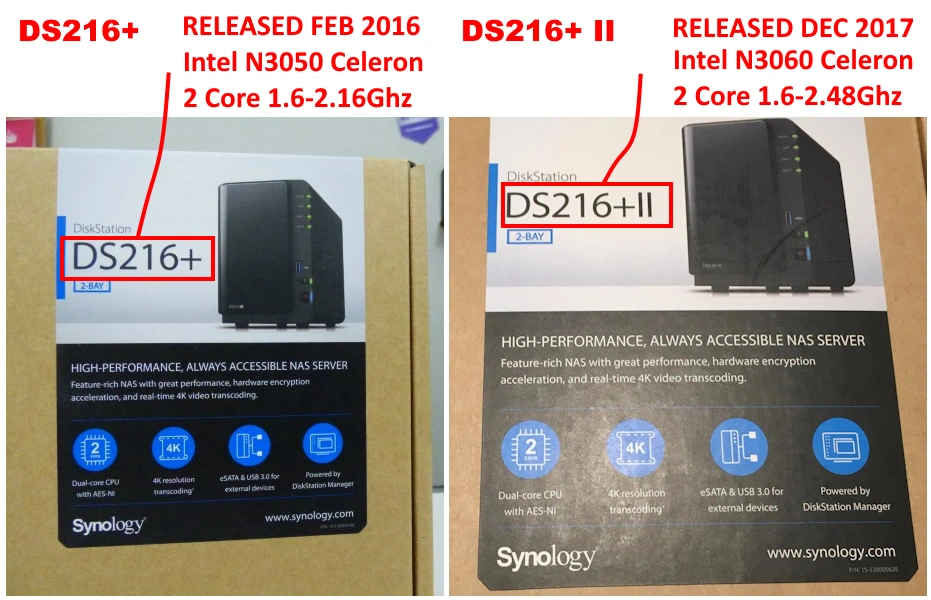 This would not be the first time that Synology would have to introduce a CPU upgrade midway through a product's lifespan. We saw this in the 2016 generation when the CPU in use was refreshed by Intel earlier than expected and a new second-gen version of that series needed to be released. So users who are a little skeptical about this CPU for several reasons are likely to sit out this generation and the DS224+ NAS in particular.
The DS224+ Lacks the M.2 NVMe Bays of Comparable Systems like the DS423+ and DS723+
As mentioned in our introduction, Synology has rolled out numerous refreshes of the bulk of their DiskStation range of solutions, barring a few enterprise-level and larger business solutions in 6/8 bays. Sometimes we see in these refreshes the available hardware be scaled in new and interesting ways, and in the last four to five years, we have seen the number of Synology solutions that arrive with M.2 NVMe SSD bays for use as caching and even storage pools increase with every generation. Nevertheless,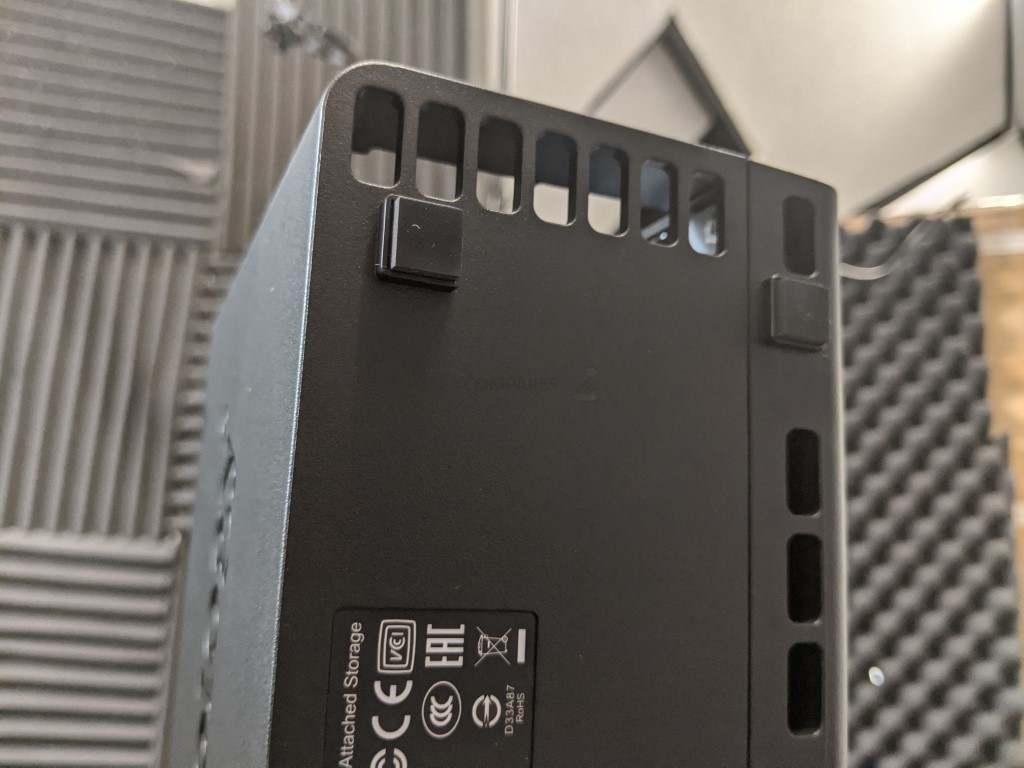 Synology has opted to deny M.2 NVMe SSD bays to this system, and given there are more than enough hardware resources on offer here to support this feature (as the nearly identical hardware DS720+ had them), it's a real letdown that this system does not have them. Even if you were to play devil's advocate and suggest that not a lot of users are going to take advantage of these in the home user sector, the advantages that they would bring in tiered storage, scalability, and improved features that capitalize on them coming in DSM 7.2, this is still something of a backstep by the brand on this system and its hardware architecture.
The DS224+ Only Supports a Max 6GB Memory
Earlier, I also praised the Synology DS224+ for arriving with a solid base level of DDR4 memory at 2GB that allows upgrades. This is true, and I am happy that these features exist. However, the fact that the DS224+ can only be upgraded to a modest 6GB of memory is a little disheartening when you look at the maximum 32GB memory supported on the recently released DS723+. This is made even more disappointing when you learn that this CPU actually supports up to a maximum of 8GB of memory, as stated by Intel, and when the same CPU was used in the older generation DS920+.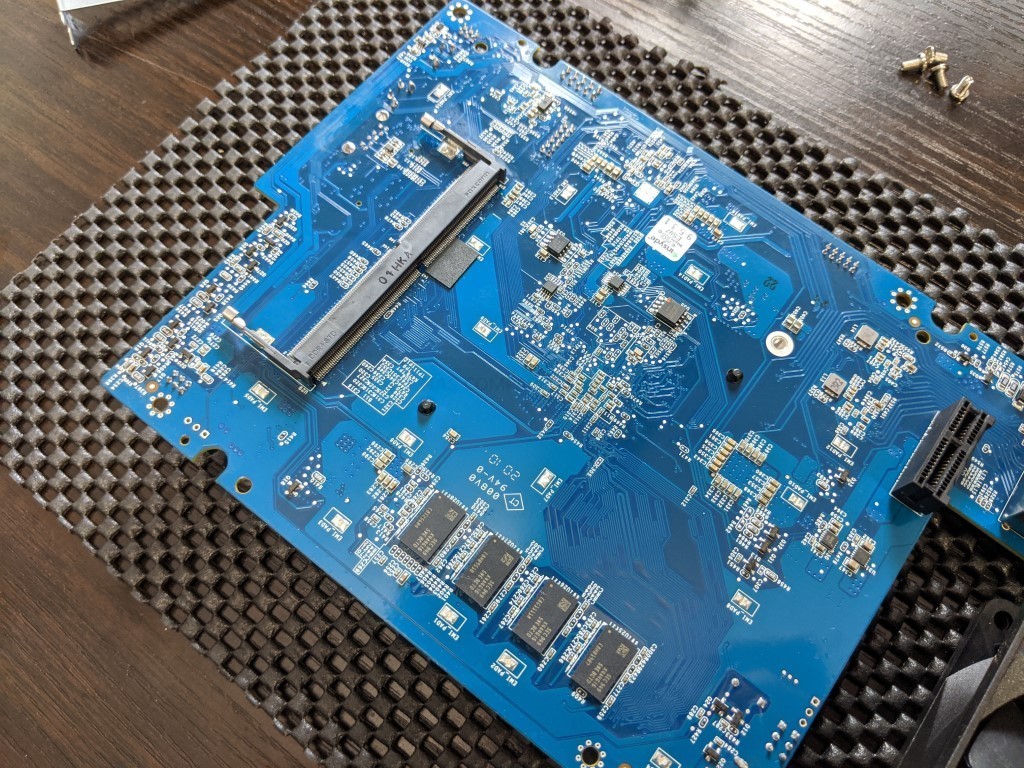 The reason the DS224+ cannot exceed 6GB of memory is that the initial default 2GB is soldered to the internal controller board. Although this results in a slightly lower production cost compared to buying removable SODIMM memory modules, it does result in the end-user having a lower glass ceiling in terms of memory upgradability. For those that were looking forward to the hardware resources of this Celeron for containers and virtualization, 6GB is actually a rather modest sum to be getting on with.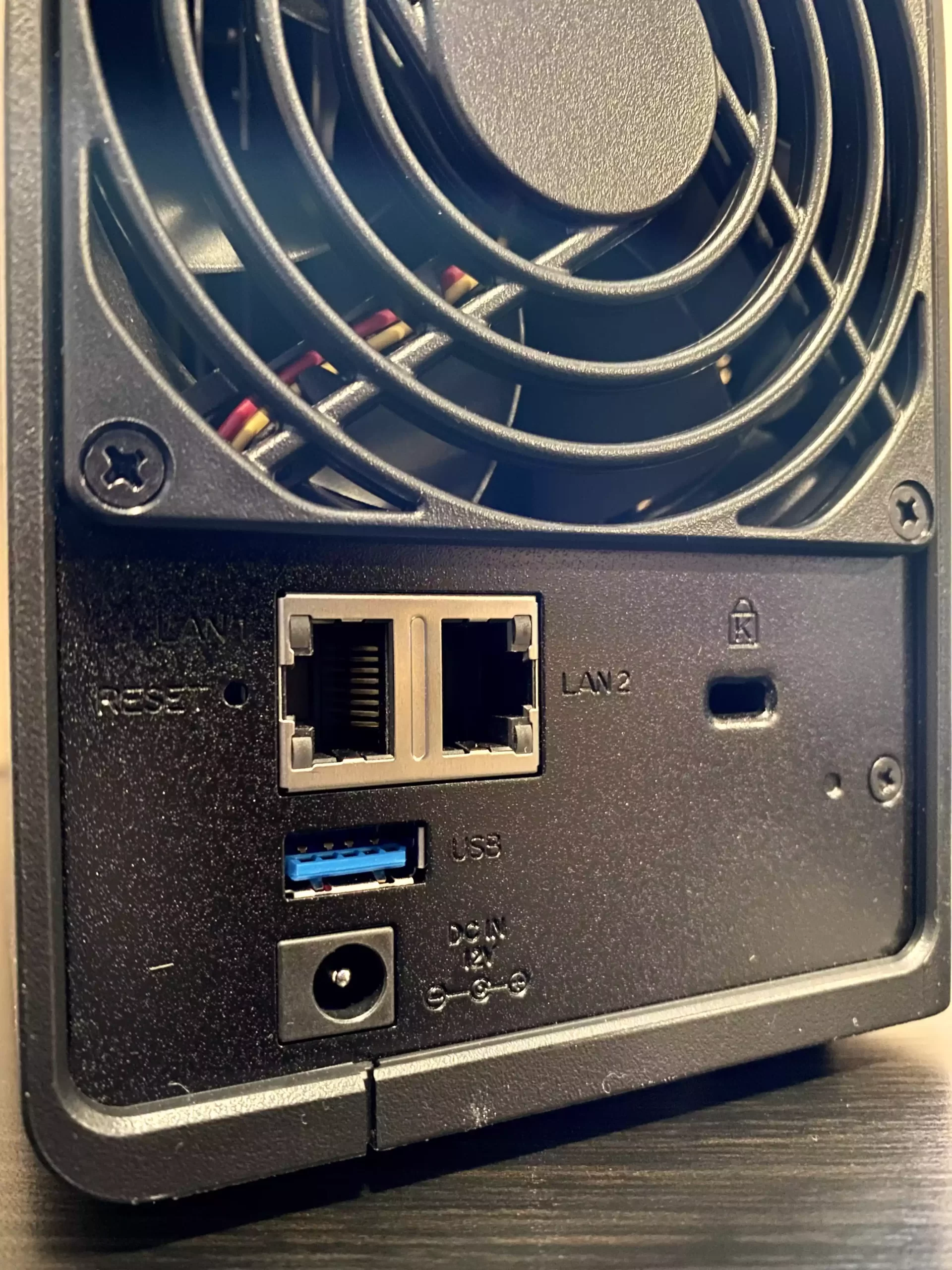 No way to Upgrade Network Connectivity
A long time ago, I would not have given a home NAS system a lot of criticism for only featuring 1 GBE network connections. Indeed, the fact that the DS224+ has two network ports is still going to be useful for those that want to take advantage of bonding protocols such as SMB multi-channel, port trunking, and link aggregation with supported network switches and operating systems. However, in 2023, 2.5 gigabit Ethernet network connectivity is getting increasingly available and alongside very affordable Wi-Fi 6 routers that feature 2.5 GBE ports, we're seeing a significant drop in the cost of network switches that include features such as 2.5 GBE fully or partially. Then when you factor in that not only does this CPU support 2.5 GBE out of the box, but the cost at the production level between 1G and 2.5G is incredibly small, Synology has often been criticized for their lack of support for 2.5G when the competitors embraced it many years ago as a middle ground between gigabit network connectivity and 10G. The overreliance on 1G on this system alongside hardware that is already looking quite old only continues to underline how dated some of the hardware in this system can appear.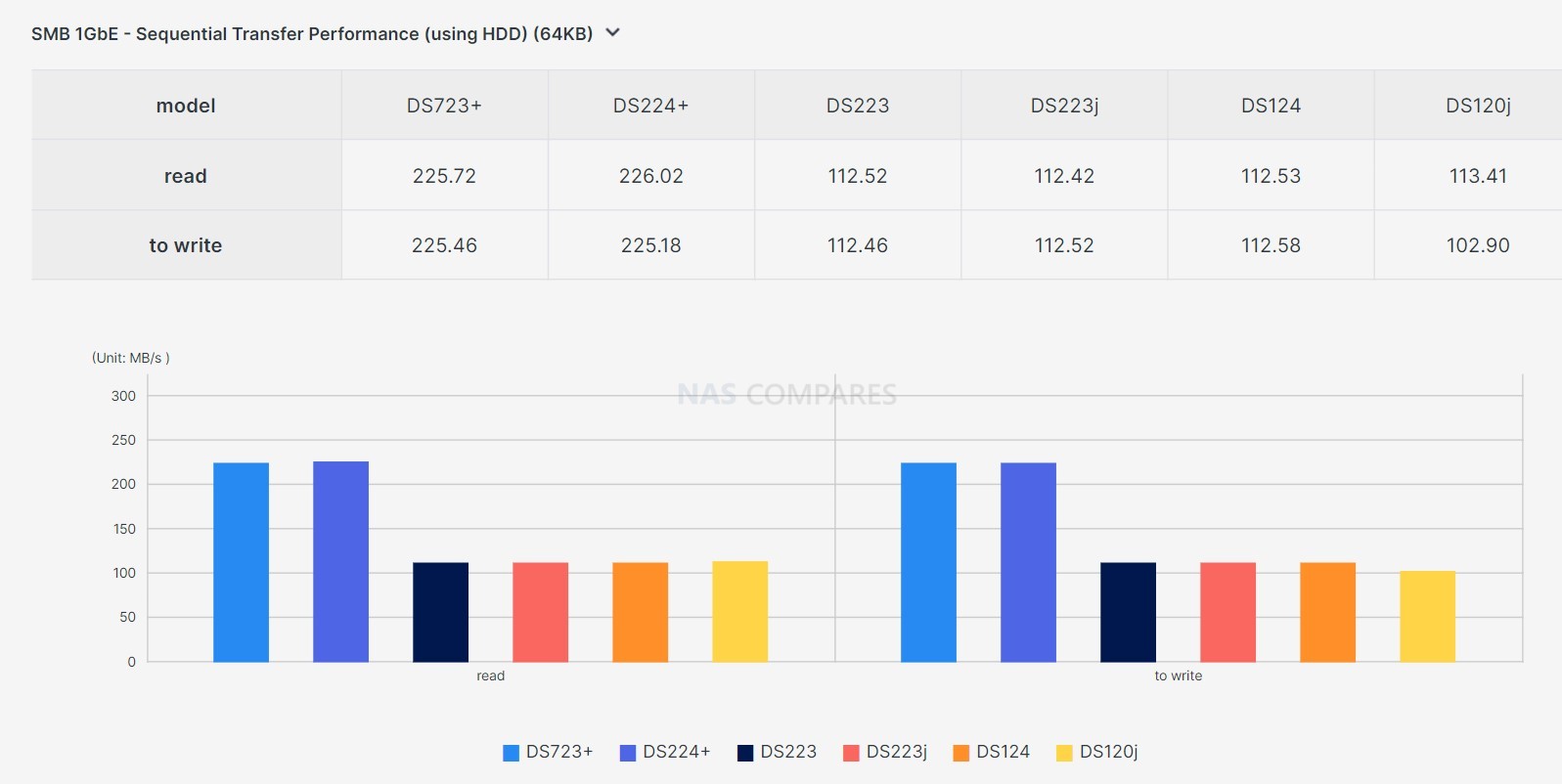 This is further exacerbated when you discover that Synology has disabled all USB to network adapters on their NAS systems. So even if you opted to purchase a $20 USB to 2.5G network adapter, you cannot officially use it on your system, and this incredibly easy way that could have allowed users to increase their network connectivity is unavailable. Other systems such as the DS723+ navigate this by including a network upgrade slot that uses Synology upgrade modules to add 10GBE to the NAS. However, this DS224+ has 0 means to scale up the network connectivity, and unless you opt for using unofficial code in the back end or GitHub-created workarounds, you are going to feel limitations in the network speeds long term.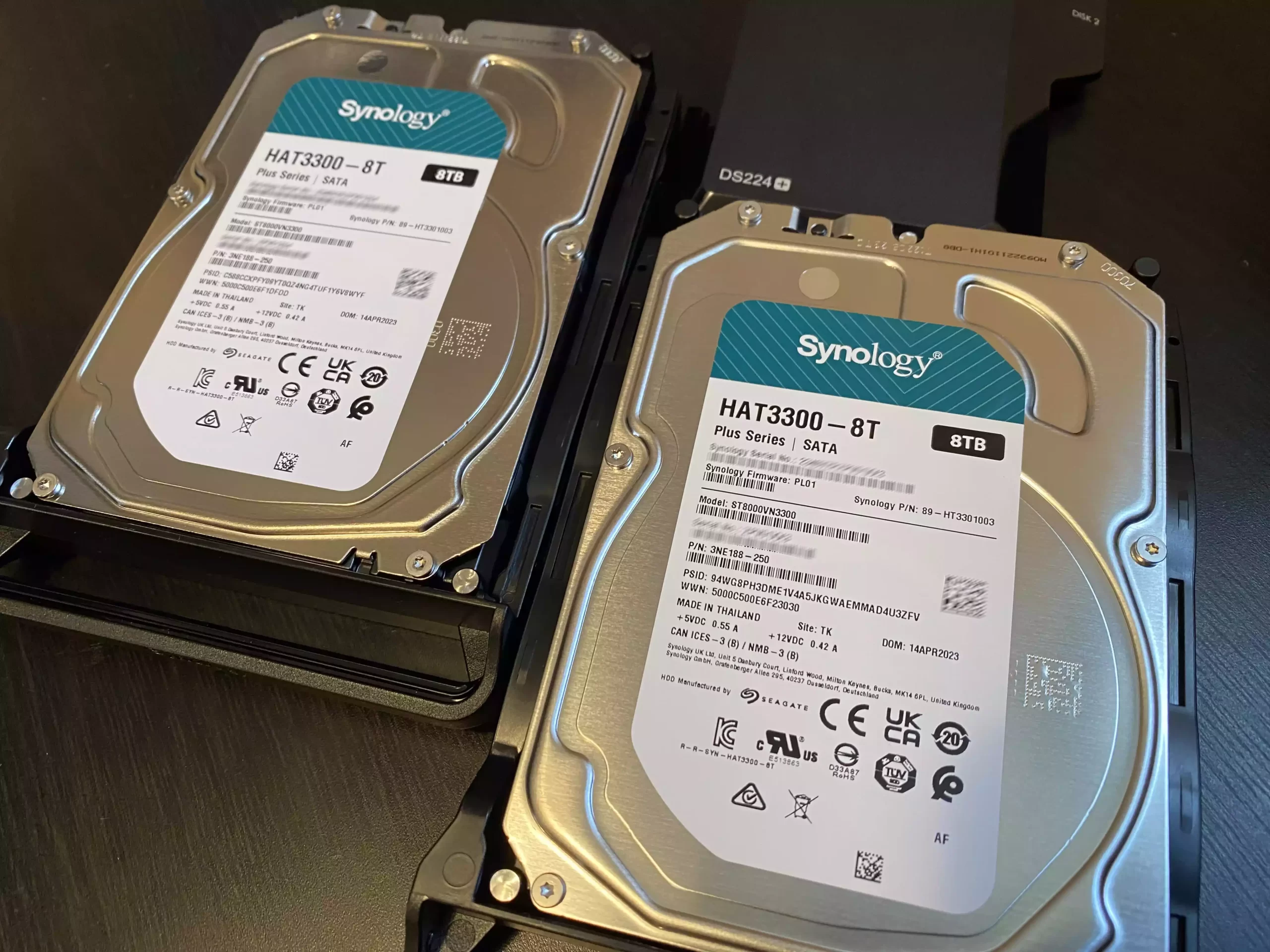 HDD and SSD Compatibility on the DS224+ NAS are still limited, but not by Brand
It is worth highlighting that this point may seem a little minor and possibly even irrelevant in the near future, but the verified compatibility list and supported media on the official product pages on Synology's website for the DS224+ are really weird. I mentioned earlier that there is support for first and third-party storage media on this NAS and that I applauded it, which is still true. However, given we are talking about a two-bay system that supports SATA storage media and using an architecture that Synology has been utilizing now for the better part of 3 years commercially and easily 4 to 5 years in development in the background, the fact that there are only eight Seagate drives and 7 WD drives, both of which only go as high as 14TB maximum capacity, is really small. You can look at the compatibility lists for other systems released in 2020 with this same CPU and memory combo in both 2 bay and 4-Bay, and more drives and larger drives are on those compatibility lists, so why are there so few verified drives on the DS224+?
This slideshow requires JavaScript.
I really want to give Synology the benefit of the doubt here, and perhaps the fact that this NAS has only just been released and therefore verification and compatibility take time, is the reason why so few drives appear on this compatibility list right now. Equally, I praise that Synology did not include their own enterprise-grade drives of larger capacity, maintaining the use of only standard class hard drives in this system – Which could have been an easy win for them to sell their own larger hard drives if they had chosen to do so. Nevertheless, given that the DS423+ has now been available for quite a few months and has a nearly identical hardware architecture, and that Synology has had vast experience with this hardware, architecture, and the internal components that surround it in near identical systems for years now, this abundant lack of choice in the selection of storage media to install in the DS224+ and remain on the official compatibility list is almost offensively small. This may well change over time, and Synology may well add countless more drives to this verified compatibility list, and therefore this point will become completely irrelevant. As it stands now at the time of writing and the launch of the DS224+, there is simply not enough choice on this range of compatible and supported storage media for this NAS.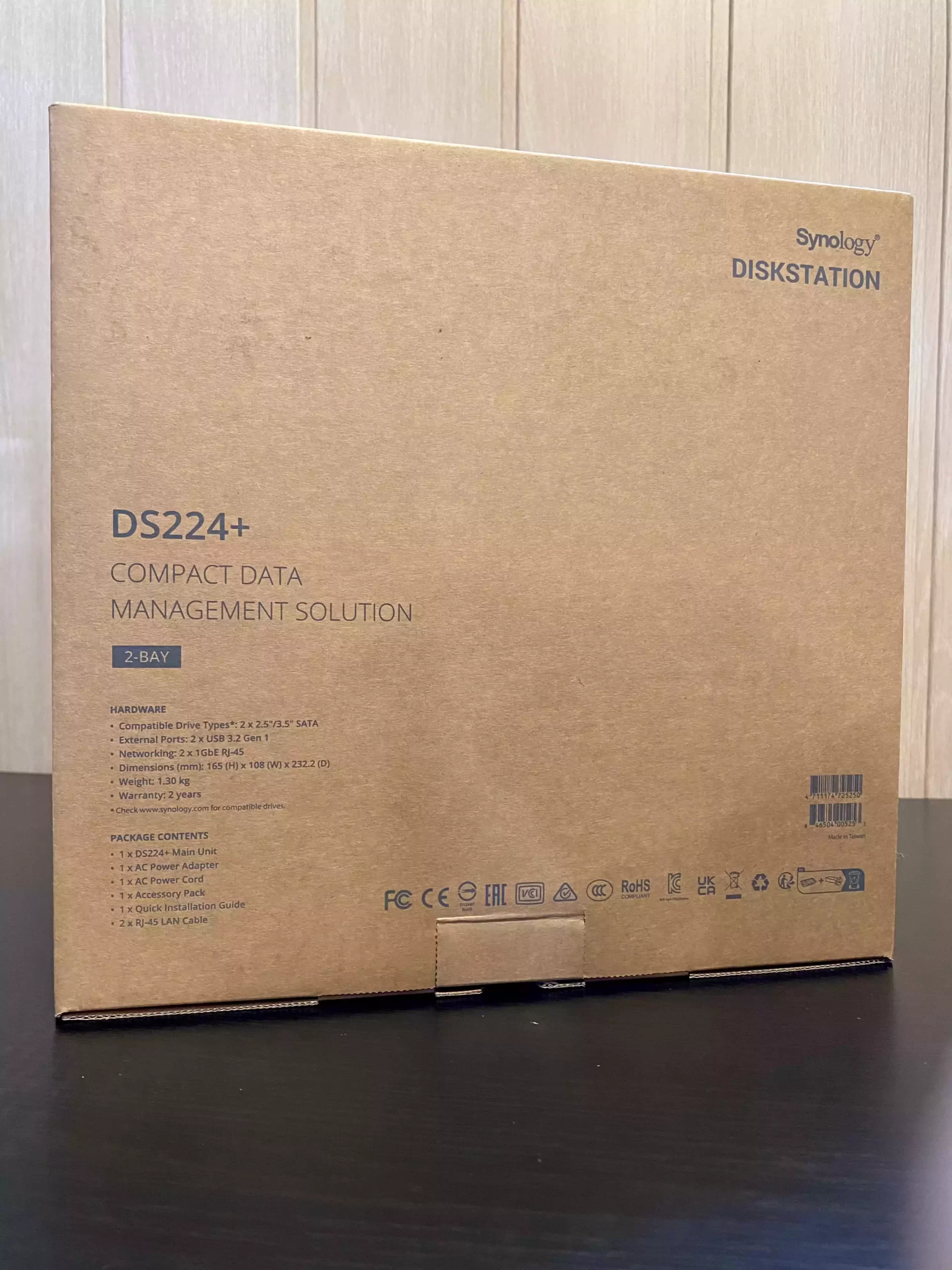 Synology DS224+ NAS Review Conclusion and Verdict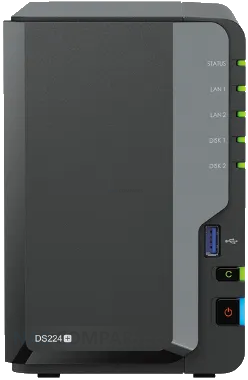 The Synology DS224+ is a NAS that, in the correct context, is actually a really good choice of server for a lot of users. When Synology rearranged their portfolio in the middle of 2022, there was always going to be inconsistencies between releases and issues surrounding the placement of solutions in their ranges that needed addressing. When they upgraded the DS923+ and DS723+ with ECC memory up to 32GB, NVMe SSD pool support, optional 10GBE network upgrades, and a much more powerful business-class CPU, it was clear that they had designated that tier of their portfolio to be far more business than pleasure. From there, it became obvious that the standard mid-range two and four-bay solutions (in this case the DS224+ and DS423+) were going to be more home-user and multimedia-user-designated, and their hardware architecture needed to sit more balanced between the business-class solutions and the value series of real tech NAS devices. However, this has resulted in a new NAS arriving on the scene that has an intentionally low glass ceiling, and the disparity in hardware created between the DS224+ and the DS723+, despite a modest price difference between them, is only further worsened when the hardware similarities between the prosumer previous generation and this SMB generation are massive. It creates a feeling to the end-user who is aware of Synology's previous releases that this is "paying money for old rope" and not a new-generation hardware solution. The reality, to new users and those that are upgrading away from the value tier into something a bit more established in the+ tier, is actually more nuanced. You are getting a great CPU here that, despite its age, still does extraordinarily well in DSM applications and third-party popular applications like Plex Media Server. Add to that that this is still a refresh of the previous generation that has moved from a dual-core to a quad-core processor, and you can see that upgrades in this refresh have occurred, though modest.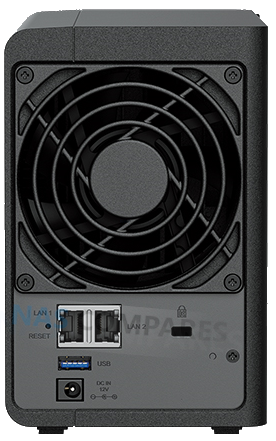 Then there is the fact that this system can still support the full range of applications and services in the Synology DSM 7.2 system software and makes it by far the lowest price you are ever going to have to pay to access everything that DSM can do in the latest generation, also guaranteeing the longest support of that software long after the hardware warranty has expired (security and feature updates). It does make a tremendous difference that the Synology developers and product managers know this hardware architecture so intricately, and that means that you are going to have a system that can run everything in the most efficient way possible, which will certainly pay dividends in the days, weeks, months, and years that you will have the system in operation – especially when factoring rising energy costs globally and how you want your system to do as much as possible while eating up as little electricity as possible! In conclusion, the Synology DS224+ is probably not Synology's most exciting release, and if you are someone that skipped the 2020 generation of solutions because you wanted to hold out for something greater and more powerful, the DS224+ will probably serve as something of a damp squib to you. But it is a very solid NAS release, and as long as you put it in the right context as a buyer and keep in mind that this system is a refresh of the DS220+, it still does a great job. It just lacks a lot of the scalability and upgradability of other recent Synology NAS releases and looks, at least in the hardware department, a little underwhelming against competitors in 2023. You can definitely do a lot worse, but there is also the potential to do a lot better by spending just a fraction more.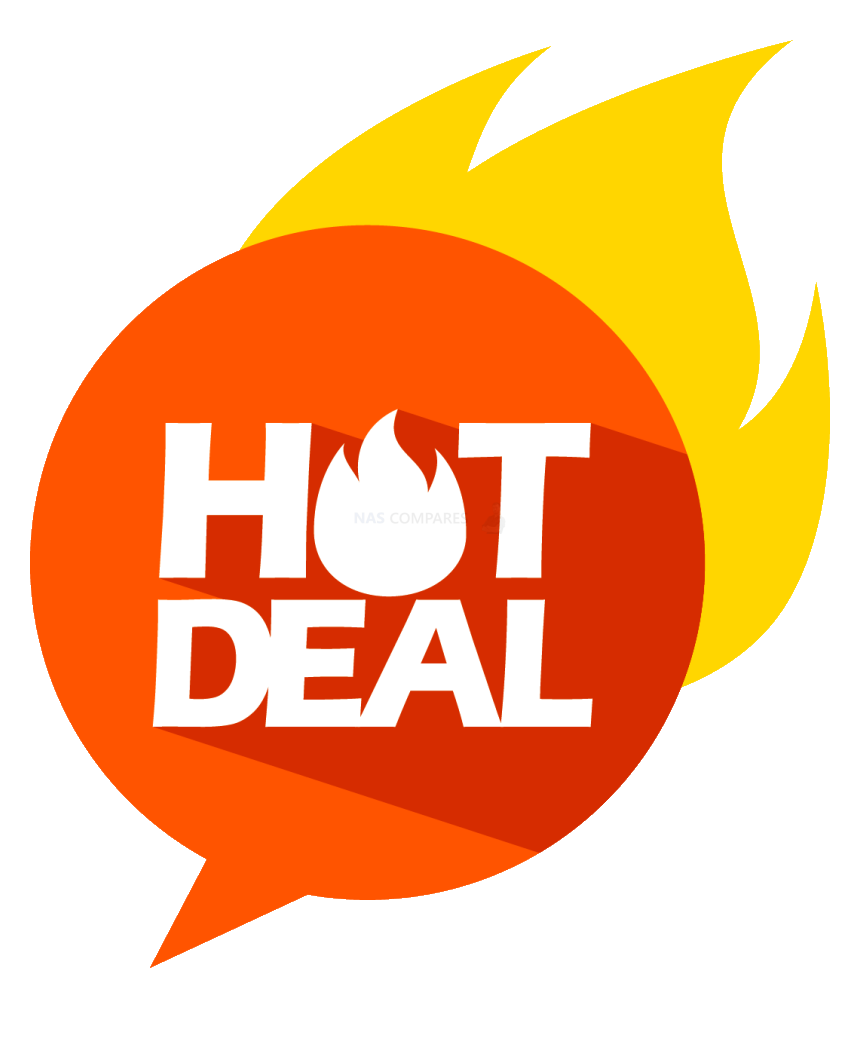 DEAL WATCH
– Is It On Offer Right Now?

Synology DS224+ 2-Bay Diskstation NAS (Intel Celeron J4125 4-Core 2.0 GHz 2GB DD Amazon USA 132 OFF (WAS 653) [LINK HERE]


These Offers are Checked Daily
Need More Help Choosing the right NAS?
Choosing the right data storage solution for your needs can be very intimidating and it's never too late to ask for help. With options ranging from NAS to DAS, Thunderbolt to SAS and connecting everything up so you can access all your lovely data at the touch of a button can be a lot simpler than you think. If you want some tips, guidance or help with everything from compatibility to suitability of a solution for you, why not drop me a message below and I will get back to you as soon as possible with what you should go for, its suitability and the best place to get it. This service is designed without profit in mind and in order to help you with your data storage needs, so I will try to answer your questions as soon as possible.
📧 LET ME KNOW ABOUT NEW POSTS 🔔
Join 1,750 other subscribers

Get an alert every time something gets added to this specific article!



This description contains links to Amazon. These links will take you to some of the products mentioned in today's content. As an Amazon Associate, I earn from qualifying purchases. Visit the NASCompares Deal Finder to find the best place to buy this device in your region, based on Service, Support and Reputation - Just Search for your NAS Drive in the Box Below
Need Advice on Data Storage from an Expert?
Finally, for free advice about your setup, just leave a message in the comments below here at NASCompares.com and we will get back to you.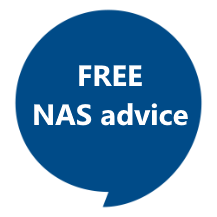 Need Help? Where possible (and where appropriate) please provide as much information about your requirements, as then I can arrange the best answer and solution to your needs. Do not worry about your e-mail address being required, it will NOT be used in a mailing list and will NOT be used in any way other than to respond to your enquiry.
TRY CHAT
Terms and Conditions
If you like this service, please consider supporting us. We use affiliate links on the blog allowing NAScompares information and advice service to be free of charge to you.Anything you purchase on the day you click on our links will generate a small commission which isused to run the website. Here is a link for
Amazon
and
B&H
.You can also get me a ☕
Ko-fi
or old school
Paypal
. Thanks!To find out more about how to support this advice service check
HERE
If you need to fix or configure a NAS, check
Fiver
Have you thought about helping others with your knowledge?
Find Instructions Here

ASK NASCompares forum, by clicking the button below. This is a community hub that serves as a place that I can answer your question, chew the fat, share new release information and even get corrections posted. I will always get around to answering ALL queries, but as a one-man operation, I cannot promise speed! So by sharing your query in the ASK NASCompares section below, you can get a better range of solutions and suggestions, alongside my own.