Thunderbolt 5: The Future of Connectivity or an Overkill for Most Users?
As Thunderbolt 5 prepares to make its debut in 2024, many consumers are left wondering if this new technology is a significant advancement they should be anticipating or just another buzz that will fade away. This doubt intensifies especially when considering the lukewarm user engagement with Thunderbolt 4. Many attributed the tepid reception to its speed similarities with Thunderbolt 3, and the pandemic-induced hardware shortages further hampered the availability of Thunderbolt 4-enabled devices. However, Thunderbolt 5 promises enhanced speeds and more power, but do users genuinely need it?
Thunderbolt 5 Highlights:
Two times the total bi-directional bandwidth; Bandwidth Boost provides up to three times the throughput for video-intensive usage, up to 120 Gbps.
Double the PCI Express data throughput for faster storage and external graphics.
Built on industry standards including USB4 V2, DisplayPort 2.1 and PCI Express Gen 4; fully compatible with previous versions.
Double the bandwidth of Thunderbolt Networking for high-speed PC-to-PC connections.
Utilizes a new signaling technology, PAM-3, to deliver these significant increases in performance with today's printed circuit boards, connectors and passive cables up to 1 meter.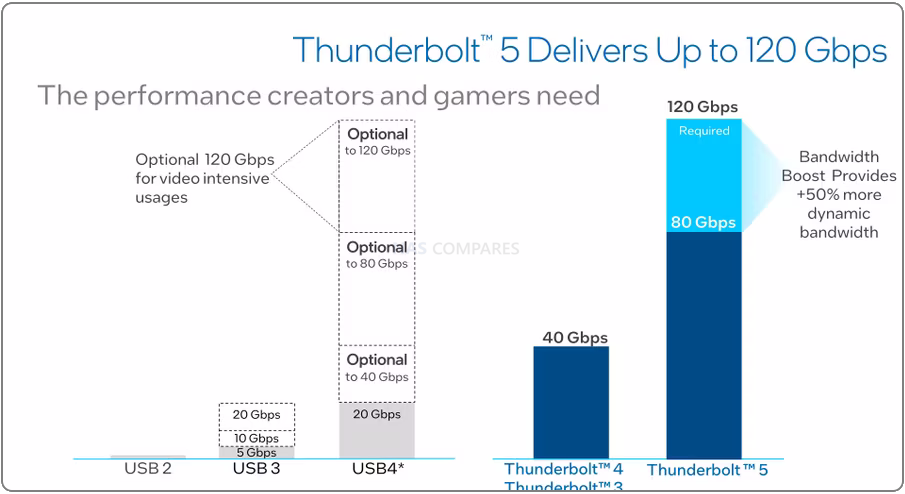 All About the Speed: Thunderbolt 5's Promise Thunderbolt 5, Intel's forthcoming connection technology, integrates the foundation of USB 4 version 2, making it possible to transfer data at a staggering 80Gbps—twice as fast as Thunderbolt 4. For gamers and creative professionals, this means the ability to connect high-resolution 8K monitors to their computing devices. Notably, Thunderbolt 5 can boost speeds up to 120Gbps for PCs-to-peripherals connections, albeit halving the return speed to 40Gbps.
Despite the impressive speed boost, average laptop users may not find a compelling use case for such advanced speeds, even if it can support larger monitors and high-end storage systems. But for those involved in intensive graphic design, gaming, and other high-demand activities, this speed bump could prove invaluable.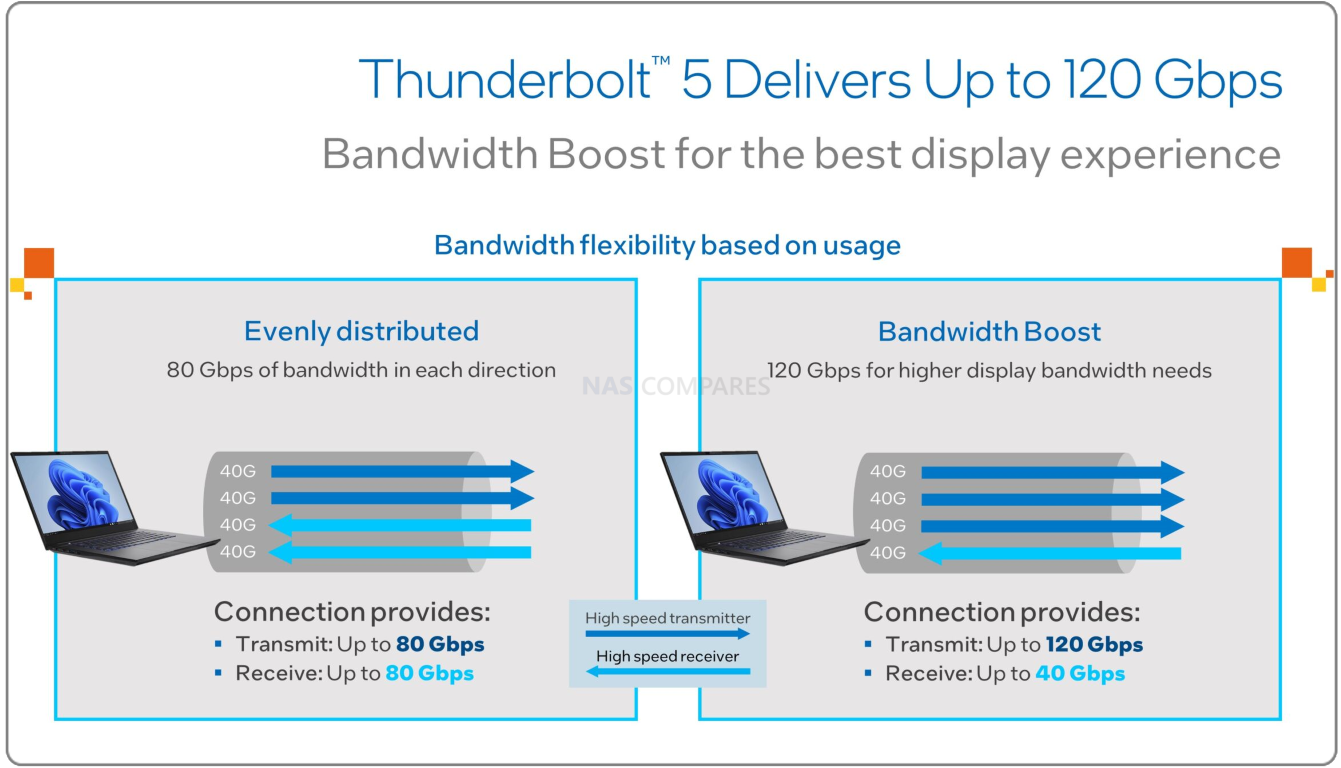 A Deep Dive: Thunderbolt 4 vs. Thunderbolt 5 The preceding Thunderbolt 4 became a staple for devices, especially in Intel and Apple laptops, since its introduction. However, Thunderbolt 5 is set to dethrone its predecessor with several significant upgrades:
Bandwidth Boost: With up to 120Gbps in boosted mode, Thunderbolt 5 offers up to three times more bandwidth than Thunderbolt 4. This advancement means users can connect to multiple 8K HDR monitors or achieve gaming experiences with up to 580Hz displays.
PCIe SSD Speeds: Made possible with Thunderbolt 5 support, via docking stations, TB5 allows plenty of bandwidth to play with! In preview testing on the official Intel YouTube channel (HERE) we saw a singe 8GB test file on a GEN4 SSD via a TB5 docking station hit  6,223MB/s and 5,383MB/s Sequential Read/Write in CrystalDiskMark via an 8GB test file:

This slideshow requires JavaScript.

Display Streams: Thanks to increased bandwidth, Thunderbolt 5 can stream to three 4K monitors simultaneously at 144Hz.
Charging Power: Another notable feature is the support for up to 240W charging. This introduces the potential for gaming laptops to solely rely on a Thunderbolt 5 port for charging.
Device Integration: While Thunderbolt 5 might sound exciting, it's expected to feature primarily in high-end creative or gaming devices. This suggests that Thunderbolt 4 will remain a standard feature in many devices for the foreseeable future. Though Thunderbolt technology has been presented as royalty-free software, suggesting its potential adoption in devices like AMD or Snapdragon, it's expected that Intel and Apple devices will continue to dominate its use.
The imminent arrival of Thunderbolt 5 brings with it the promise of faster speeds, increased power, and better compatibility for high-end users. Yet, considering the history of its predecessor, one must wonder if the average user truly needs such advanced capabilities. Only time will tell if Thunderbolt 5 becomes a mainstream necessity or remains a luxury for the few.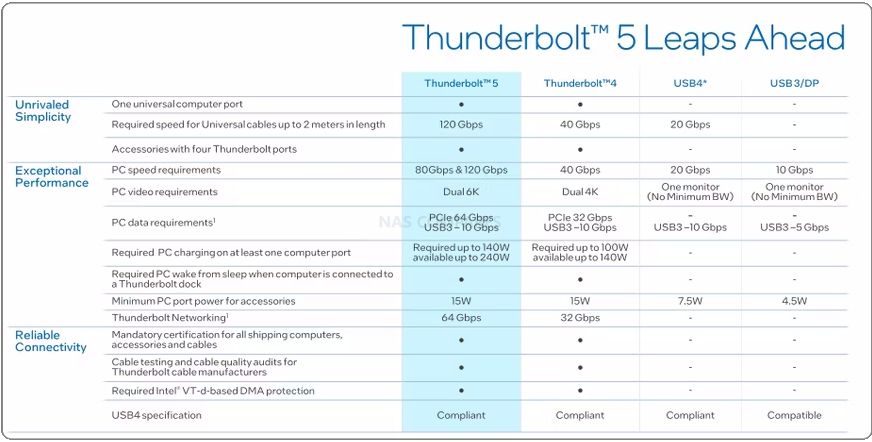 THUNDERBOLT 5
THUNDERBOLT 4
USB4
USB 3.2
Data transfer rate
Up to 120 Gbps
Up to 80 Gbps
Minimum of 20 Gbps, 40 Gbps is optional.120 Gbps is optional with USB4 Version 2.0
5 Gbps (Gen 1), 10 Gbps (Gen 2), or 20 Gbps (Gen 2×2)
PC video requirements
Dual 6K
Dual 4K
One monitor
One monitor
PC data requirements*
PCIe: 64Gbps
USB 3: 10Gbps**
PCIe: 32Gbps
USB 3: 10Gbps
USB 3: 10Gbps
USB 3: 5Gbps
Required PC charging on at least one computer port
Required up to 140 W, available up to 240 W
Required up to 100 W, available up to 140 W
Available up to 240 W
Available up to 240 W
Required PC wake
Yes
Yes
No
No
Minimum PC port power for accessories
15 W
15 W
7.5 W
4.5 W
PC to PC networking*
64Gbps
32Gbps
N/A
N/A
Intel VT-d-based DMA protection required
Yes
Yes
No
No
📧 LET ME KNOW ABOUT NEW POSTS 🔔
Join 1,750 other subscribers
Get an alert every time something gets added to this specific article!
This description contains links to Amazon. These links will take you to some of the products mentioned in today's content. As an Amazon Associate, I earn from qualifying purchases. Visit the NASCompares Deal Finder to find the best place to buy this device in your region, based on Service, Support and Reputation - Just Search for your NAS Drive in the Box Below
Need Advice on Data Storage from an Expert?
Finally, for free advice about your setup, j
ust leave a message in the comments below here at NASCompares.com and we will get back to you.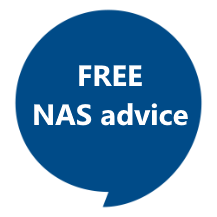 Need Help?
Where possible (and where appropriate) please provide as much information about your requirements, as then I can arrange the best answer and solution to your needs. Do not worry about your e-mail address being required, it will NOT be used in a mailing list and will NOT be used in any way other than to respond to your enquiry.
TRY CHAT
Terms and Conditions
If you like this service, please consider supporting us.
We use affiliate links on the blog allowing NAScompares information and advice service to be free of charge to you.
Anything you purchase on the day you click on our links will generate a small commission which is
used to run the website. Here is a link for
Amazon
and
B&H
.
You can also get me a ☕
Ko-fi
or old school
Paypal
. Thanks!
To find out more about how to support this advice service check
HERE
If you need to fix or configure a NAS, check
Fiver
Have you thought about helping others with your knowledge?
Find Instructions Here

ASK NASCompares forum
, by clicking the button below. This is a community hub that serves as a place that I can answer your question, chew the fat, share new release information and even get corrections posted. I will always get around to answering ALL queries, but as a one-man operation, I cannot promise speed! So by sharing your query in the
ASK NASCompares
section below, you can get a better range of solutions and suggestions, alongside my own.