Jonsbo N3 NAS Case Review – Your Ideal DIY NAS Case?
Venturing into the diverse world of NAS enclosures, where design intricacies meet functionality, Jonsbo unveils its N3 NAS Case. This embodiment of aesthetic finesse, competent storage solutions, and compact design mechanics is what we'll be diving into today. From the nuanced 'jonsbo' and 'N3' branding to the protective measures ensuring its safe arrival, this review will provide a comprehensive understanding of the Jonsbo N3. Delving deeper, we'll shed light on its internal structure, reflecting the efficiency with which it aligns with compact motherboard requirements and optimal performance parameters. Whether you're an avid tech guru or simply exploring reliable NAS options, this review encapsulates all that the Jonsbo N3 NAS Case has to offer.
Note – You can watch my massive review of the Jonsbo N3 NAS Case HERE on YouTube, alternatively you can watch my Jonsbo N2 Review and Build Video HERE.
Jonsbo N3 NAS Case Review – Quick Conclusion
The Jonsbo N3 NAS Case masterfully combines innovation with design finesse. From the outset, its protective packaging and upgraded features, such as the 8 SATA drive bays and two rear fans, underscore Jonsbo's commitment to user experience. The case's alignment with M-ITX motherboards, along with the capacity for larger CPU fans and PCIe cards, ensures both space-efficiency and future-ready adaptability. While there are minor areas for improvement, they pale in significance compared to the N3's comprehensive excellence. For those seeking a cutting-edge NAS enclosure, the N3 sets a new industry benchmark, exemplifying both aesthetic and technological advancements.
Amazon >>>
Aliexpress >>>
Amazon >>>
Aliexpress >>>
Jonsbo N3 NAS Enclosure Specifications
Evaluating the Jonsbo N3 NAS Case necessitates a thorough understanding of its specifications. Here, we present a concise breakdown of its design attributes, material selection, and standout features, enabling an informed assessment of its capabilities and its alignment with diverse applications. Dive in to ascertain the depth of functionalities the Jonsbo N3 encompasses.
Model: N3
Dimension: 233mm(W) x 262mm(D) x 298mm(H)
Material:

External cover: 2.0mm Aluminum alloy
Internal Structure: 1mm Steel

Drive Bay: 2.5SSD1 / 3.5HDD8
Motherboard: ITX
PCI Expansion Slot: 2
Front I/O Port: 1*USB3.0 / USB3.2 Gen2 Type-C + Audio+Mic (Headset+mic combined)
PSU Support: SFX ≤105mm
Max. CPU Cooler Height: ≤130mm
Max. Display Card Length: ≤250mm
Cooling System:

Hard disk compartment: 10025mm2 (optional)
Main board compartment: 8025mm2 (optional)

Weight: Net 3.9kg
Jonsbo N3 NAS Case Review – Packaging
Upon receiving the Jonsbo N3 NAS enclosure, its straightforward yet refined packaging is immediately evident. The distinct 'jonsbo' branding, complemented by the specific 'N3' logos, underscores the company's commitment to quality and authenticates the product right from the outset. On opening the outer layer, what stands out is the robust protection offered by the dense, black foam. This isn't just padding; it's a purposeful protective layer, ensuring the Jonsbo N3 remains insulated from potential transit hazards. This level of care is noteworthy, especially given the propensity of some budget NAS enclosures to skimp on such protective measures.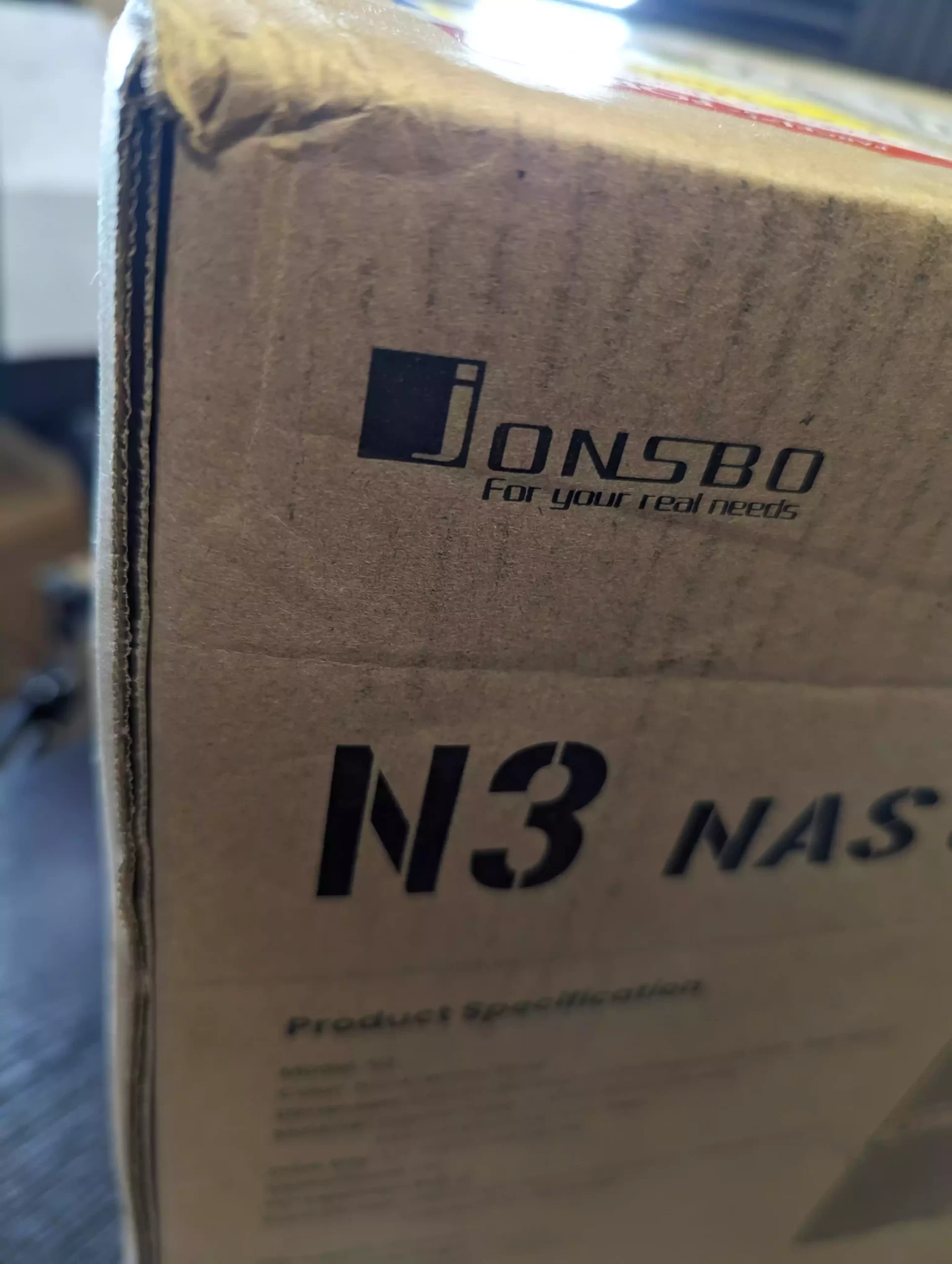 Within this safeguarded environment, a trio of essentials awaits: the core component, the Jonsbo NAS, an intuitive instruction manual, and a separate box brimming with a variety of accessories. Exploring the accessory box is a regular experience. It's packed with a plethora of handy items: specifically tailored screws for the storage devices, rubber handles ensuring ease of tray handling, multipurpose cable ties for organized setups, and an included alan key, underscoring Jonsbo's foresight in addressing user requirements, particularly for any NAS case modifications.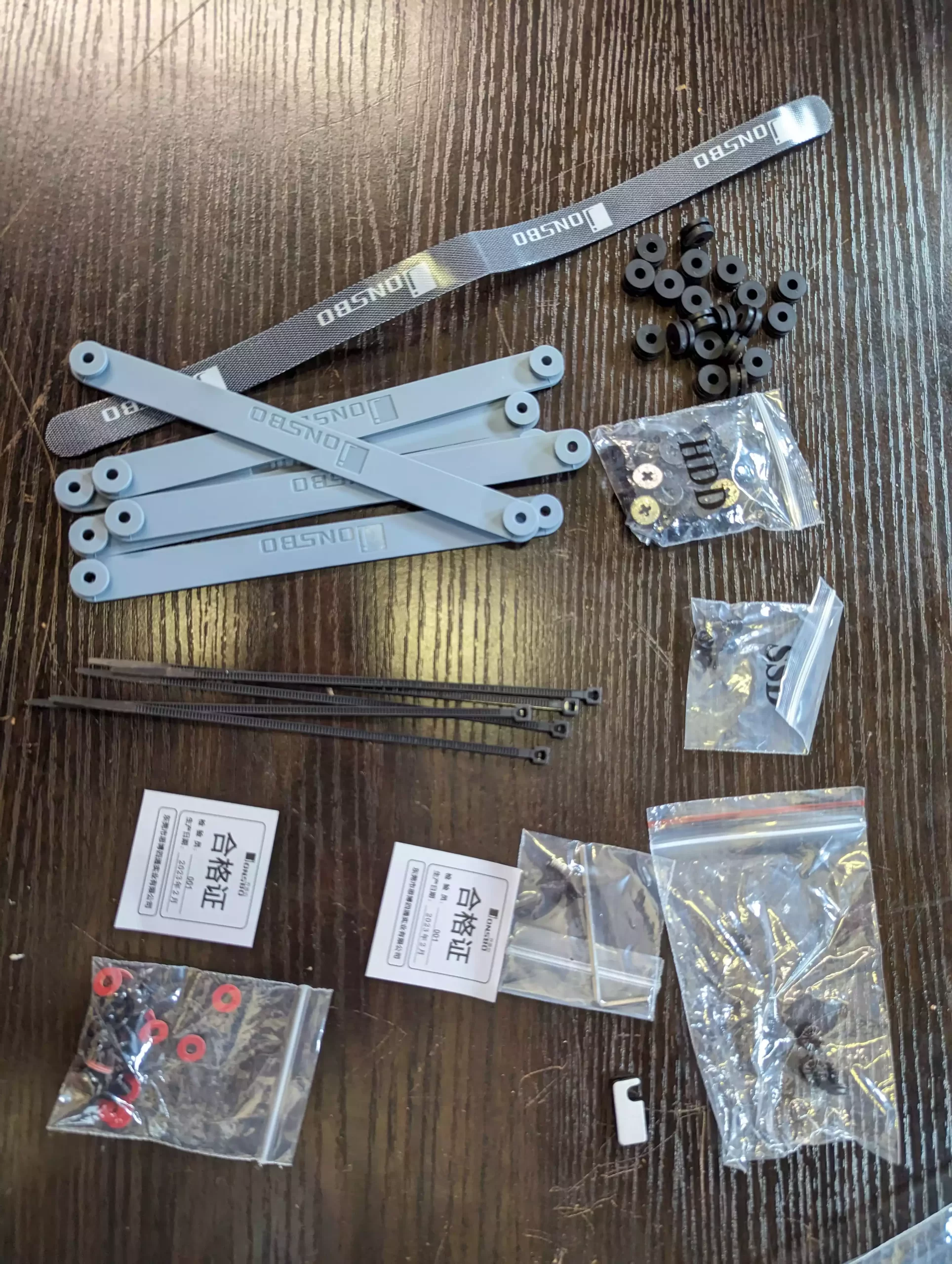 The provided instruction manual, succinct yet comprehensive, is laid out on a spacious A3 sheet. It offers a snapshot of the basic setup. However, for enthusiasts seeking a more granular understanding, Jonsbo has facilitated an extensive online manual to cater to a thorough installation process. In conclusion, the packaging of the Jonsbo N3 exemplifies a thoughtful balance of minimalism and functionality. The emphasis on protective measures is laudable, ensuring that the product reaches the end-user in impeccable condition, primed for deployment.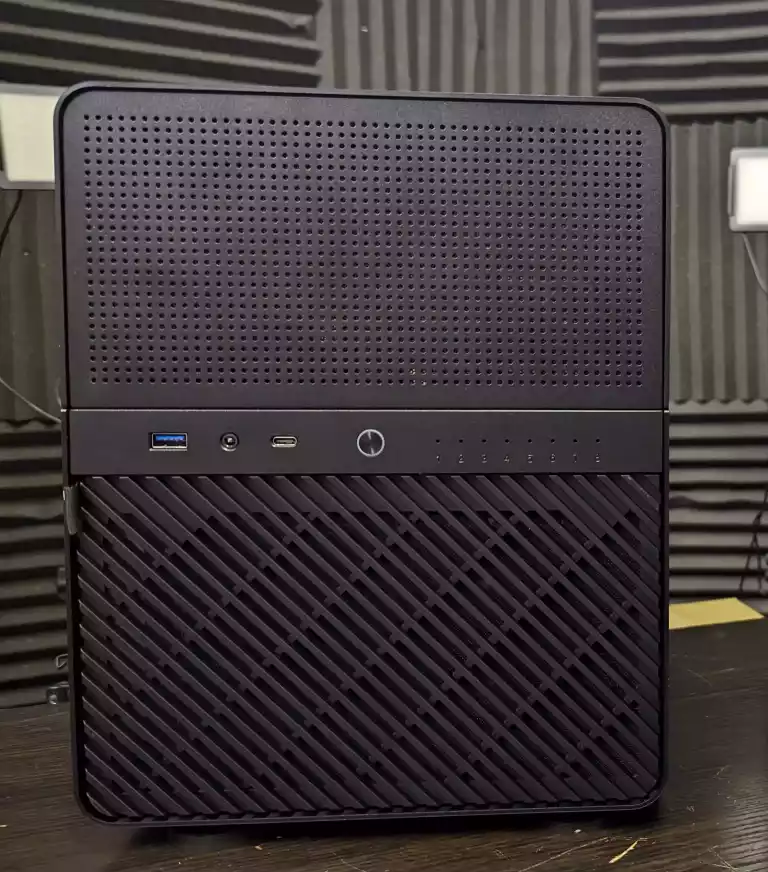 Jonsbo N3 NAS Case Review – Design
In the rapidly advancing tech arena, the Jonsbo N3 NAS Case has distinguished itself admirably. With its sophisticated, contemporary design, augmented by remarkable storage potential within a compact architecture, the N3 has captured considerable interest.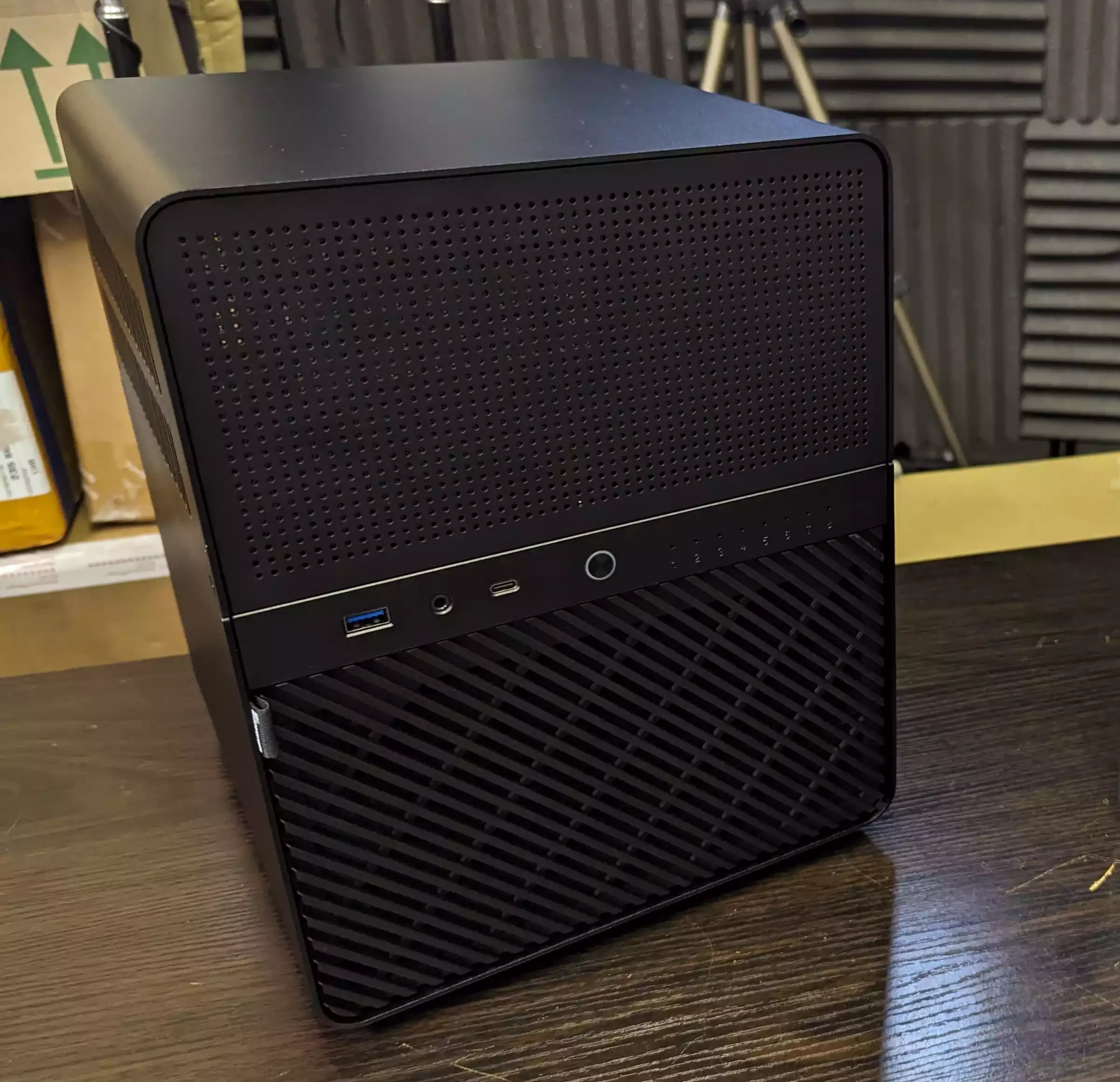 More than its aesthetic allure, the N3 is crafted for optimal function. Its expansive ventilation is a clear illustration, with almost every surface featuring air vents. These aren't simply ornamental but integral to maintaining a steady airflow, working in concert with the device's active cooling mechanism to ensure stable operational temperatures.
Specifically, the top panels are punctuated with a vast array of ventilation points, highlighting Jonsbo's dedication to thermal management, even during rigorous use.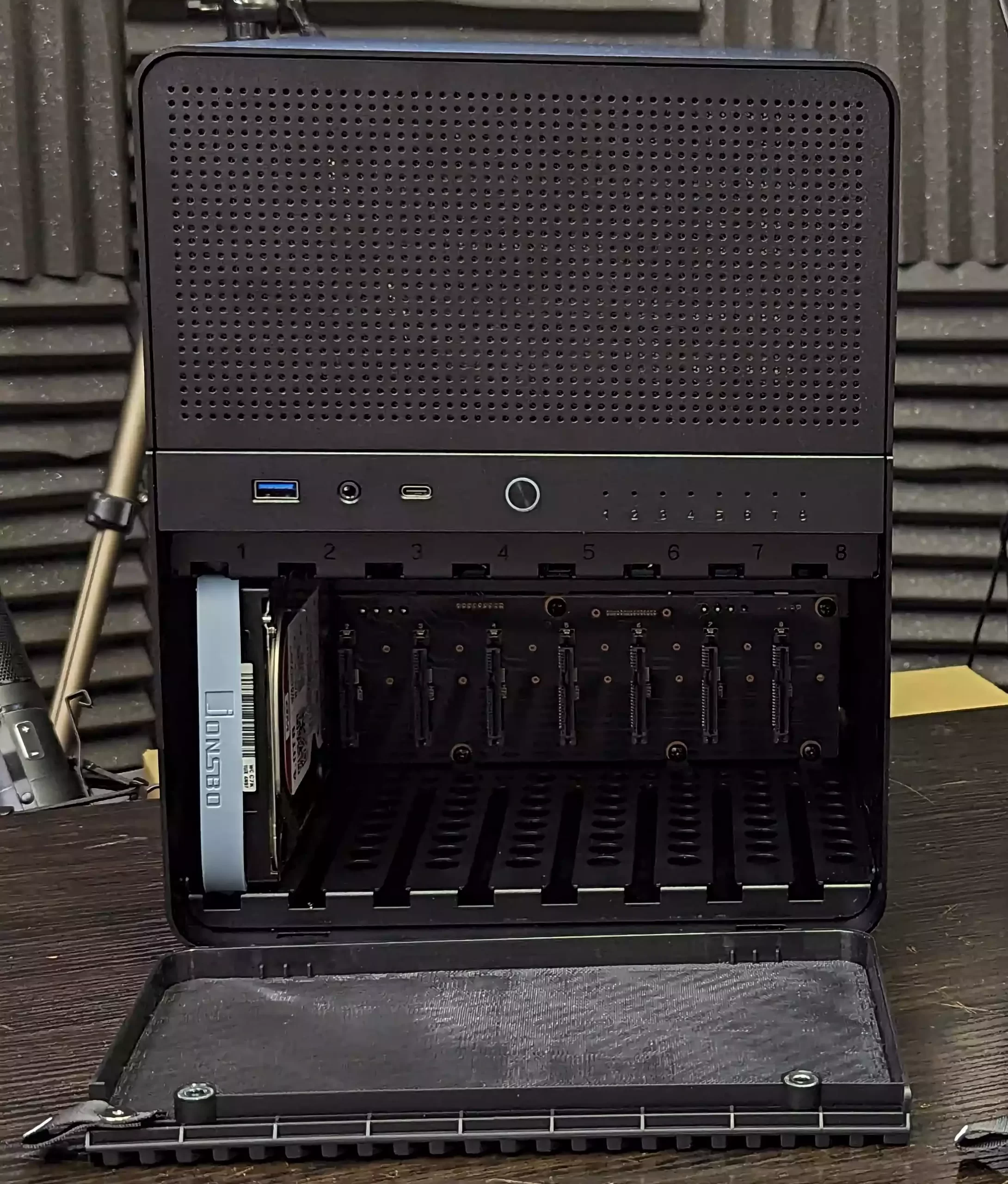 A notable attribute is the magnetically attached front panel, offering effortless detachment. Once removed, it reveals the primary SATA storage sections, a design that will resonate with users requiring regular access or modifications.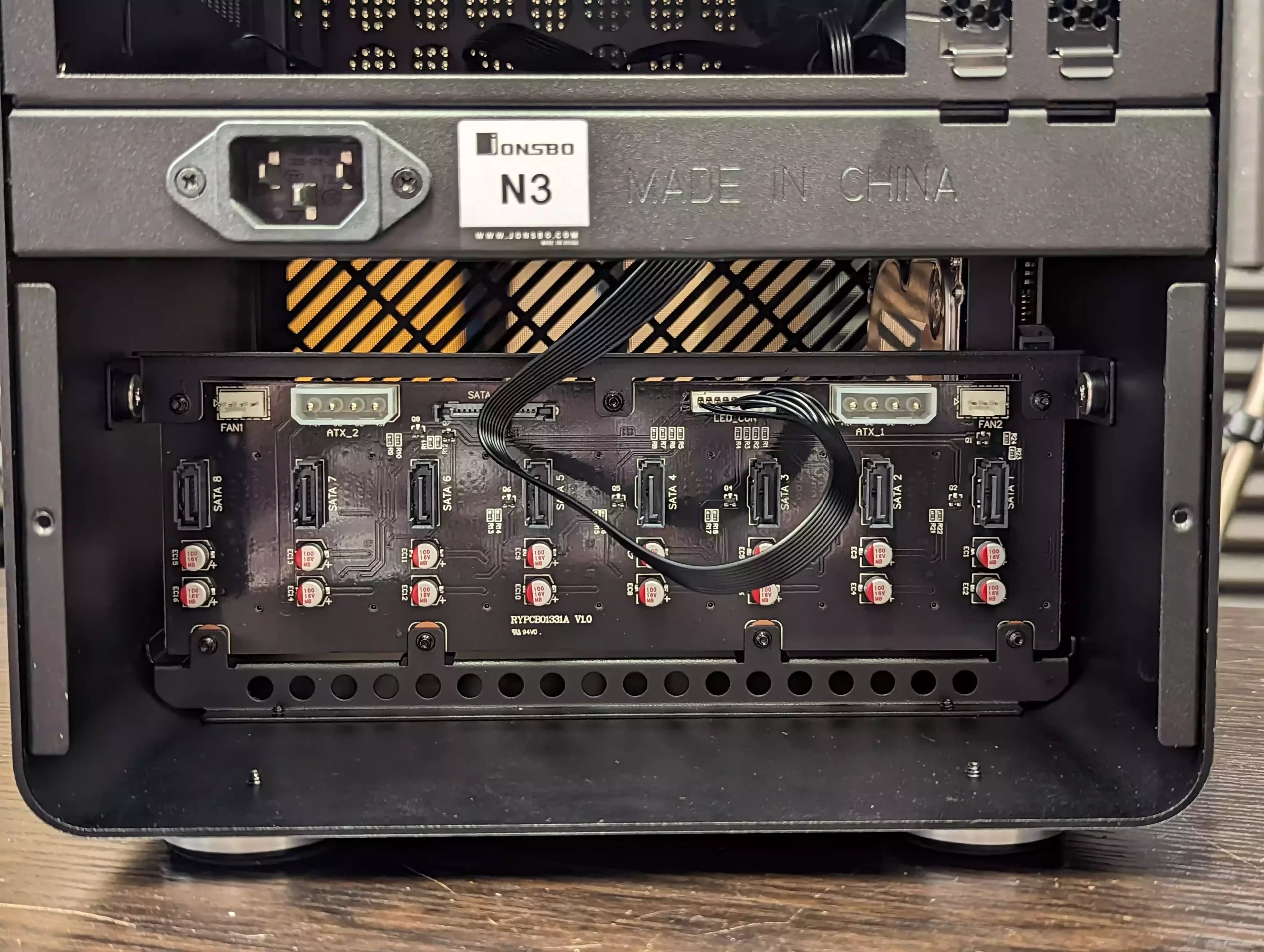 Jonsbo's approach to the SATA bays signifies innovation. Veering away from traditional configurations, they've integrated unified data and power connectors, neatly consolidated on a single, organized board. The flip side of this board is equally intriguing, featuring essential SATA connectors and a pair of molex connectors for comprehensive power delivery across storage segments.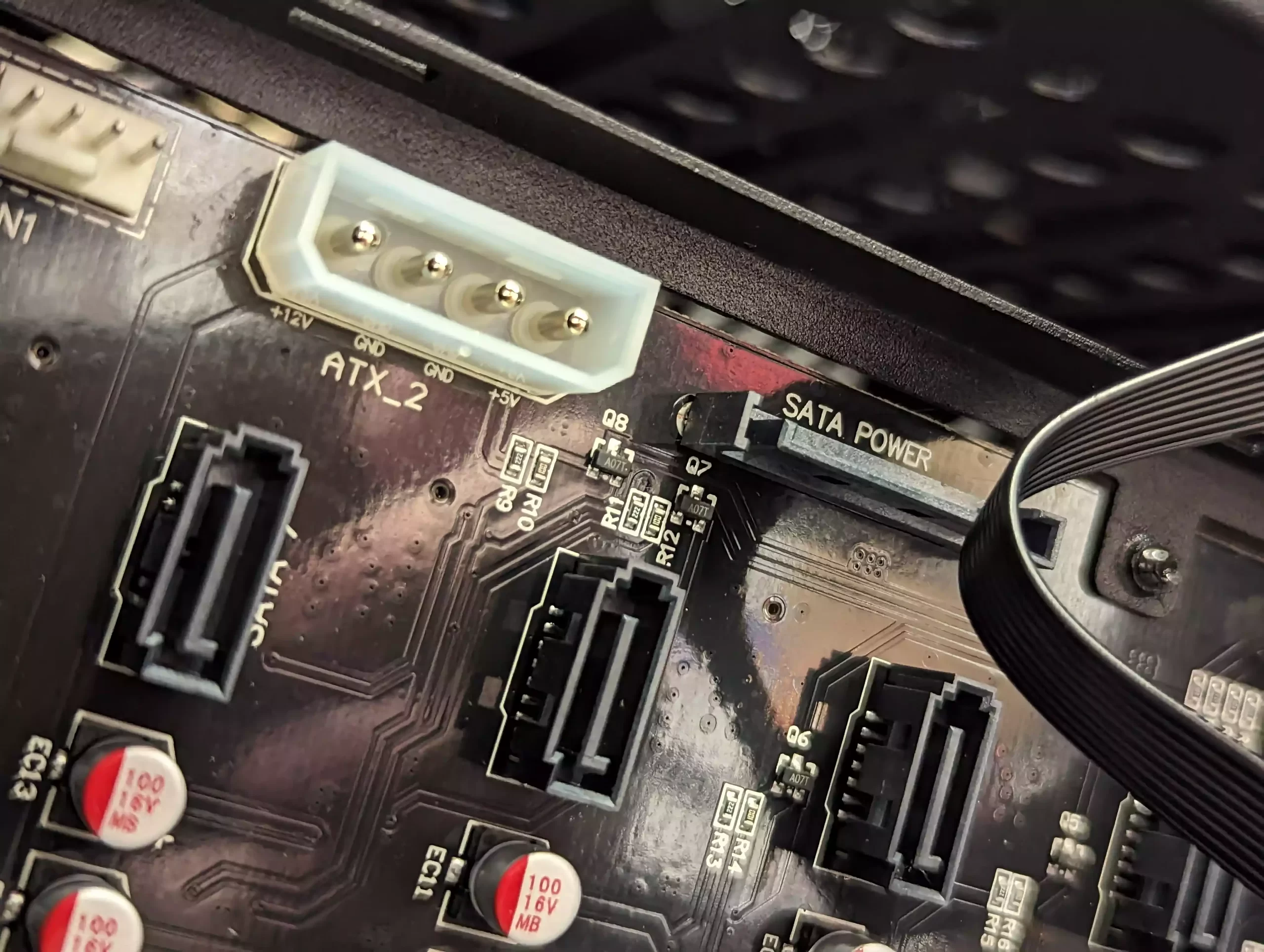 Oddly, the Jonsbo N3 also features an additional SATA power port. This might well be to allows specific PSUs to connect 1x molex and 1x SATA power, instead of 2x molex power.
In a deviation from standard practices, Jonsbo employs a distinct method for securing drives. Eschewing traditional trays, they've opted for screwable plugs complemented by rubber pull handles. Although designed to possibly dampen vibrations, extracting drives offers a unique tactile experience, which might not be everyone's cup of tea, especially considering the significance of gentle drive handling.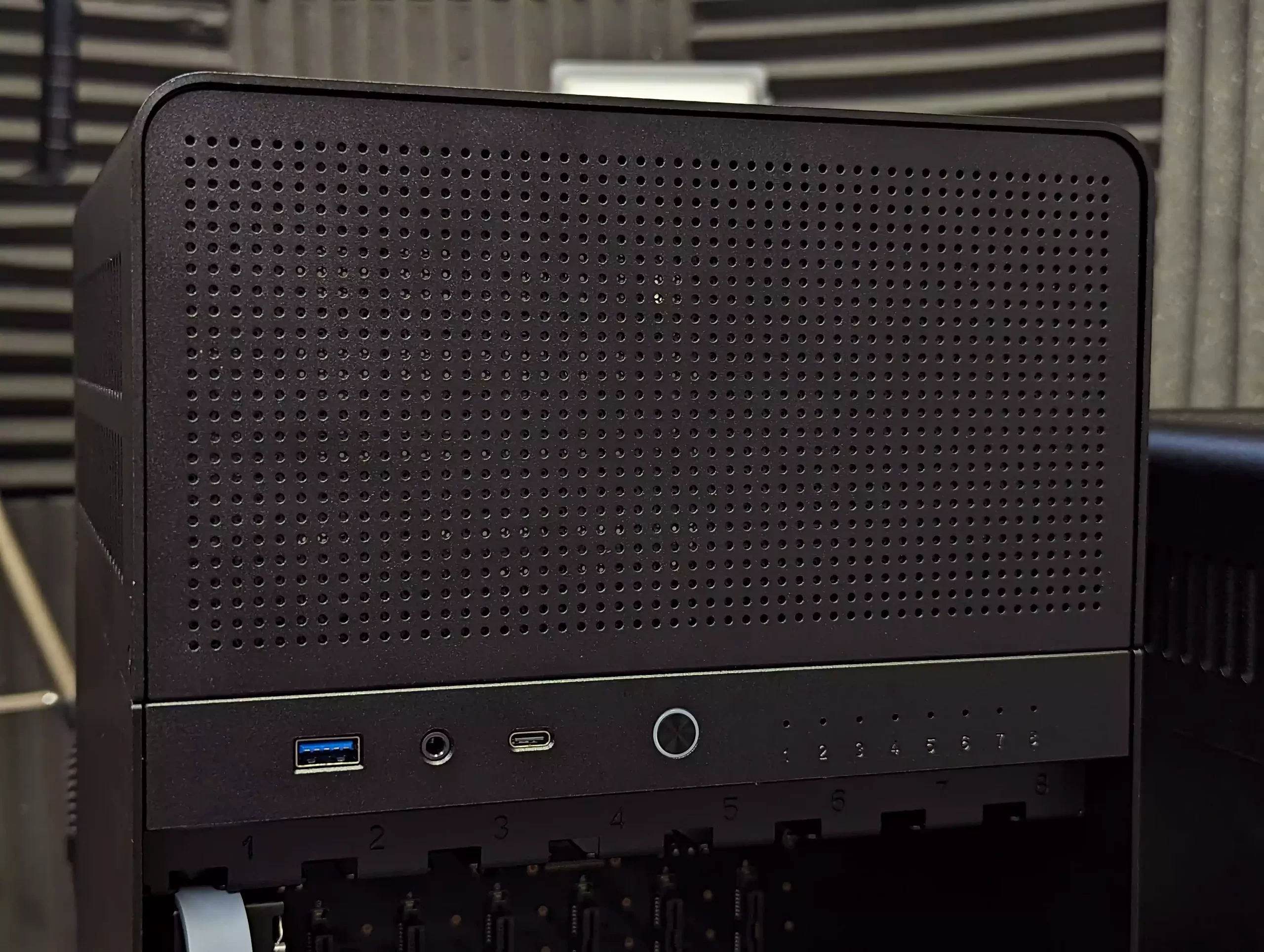 The front of the case boasts a versatile connectivity suite, inclusive of dual USB ports adaptable to both Type A and C configurations. Additionally, multifunctional audio ports facilitate uncomplicated audio interfacing.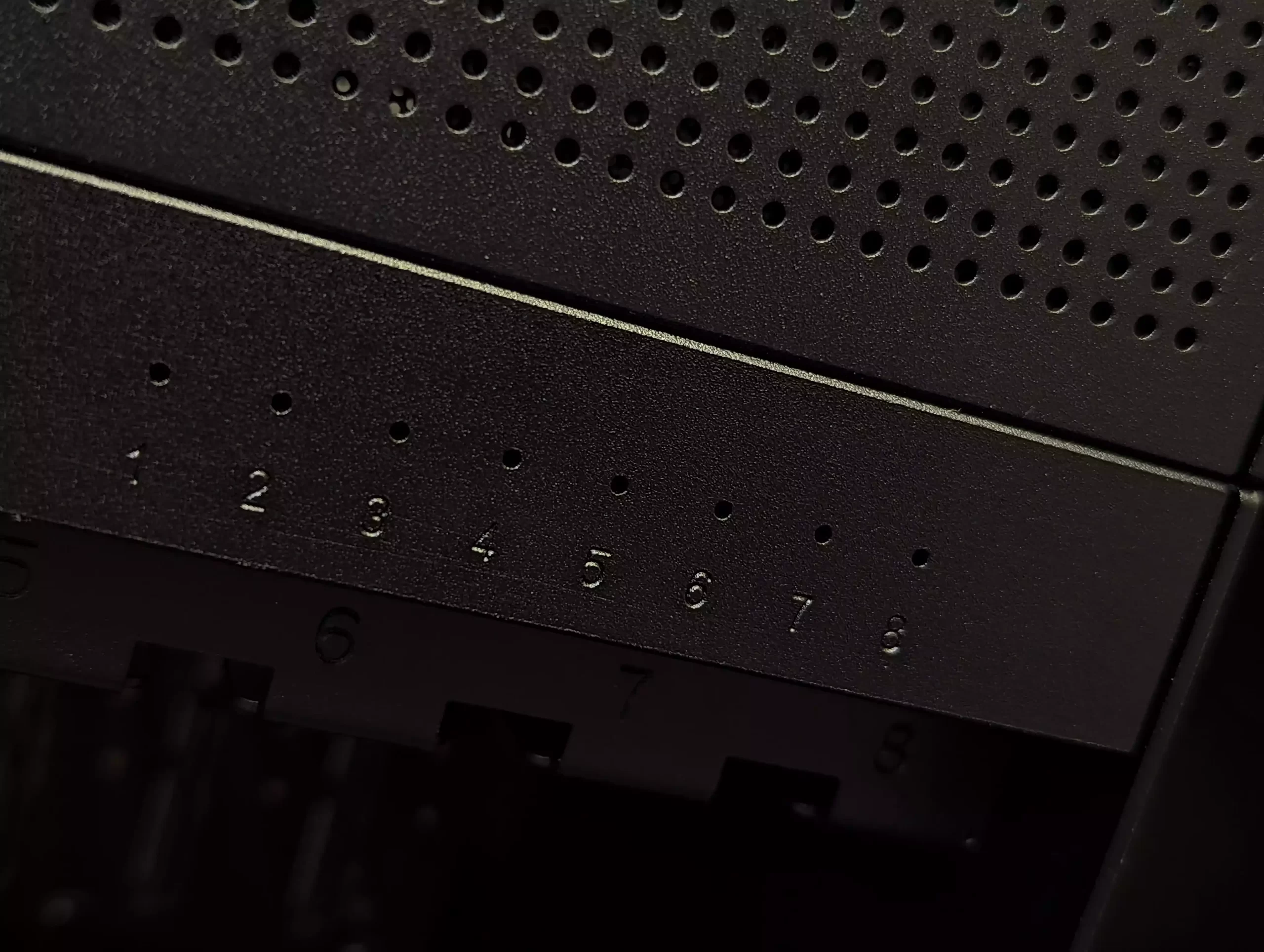 The Jonsbo N3 also improves upon the Jonsbo N2 that came before it, as it features 8 LED lights that are directly connected to the SATA drive bays and the back board. Additionally, unlike the Jonsbo N2, the Jonsbo N3 features two rear fans. These have individual 4 pin power connectors and are both attached to the rear of the SATA board. You might think this substantially increases the noise in operation – they do, but not by too much. Ultimately, we are talking about a very compact NAS chassis, so active airflow is going to be massively important!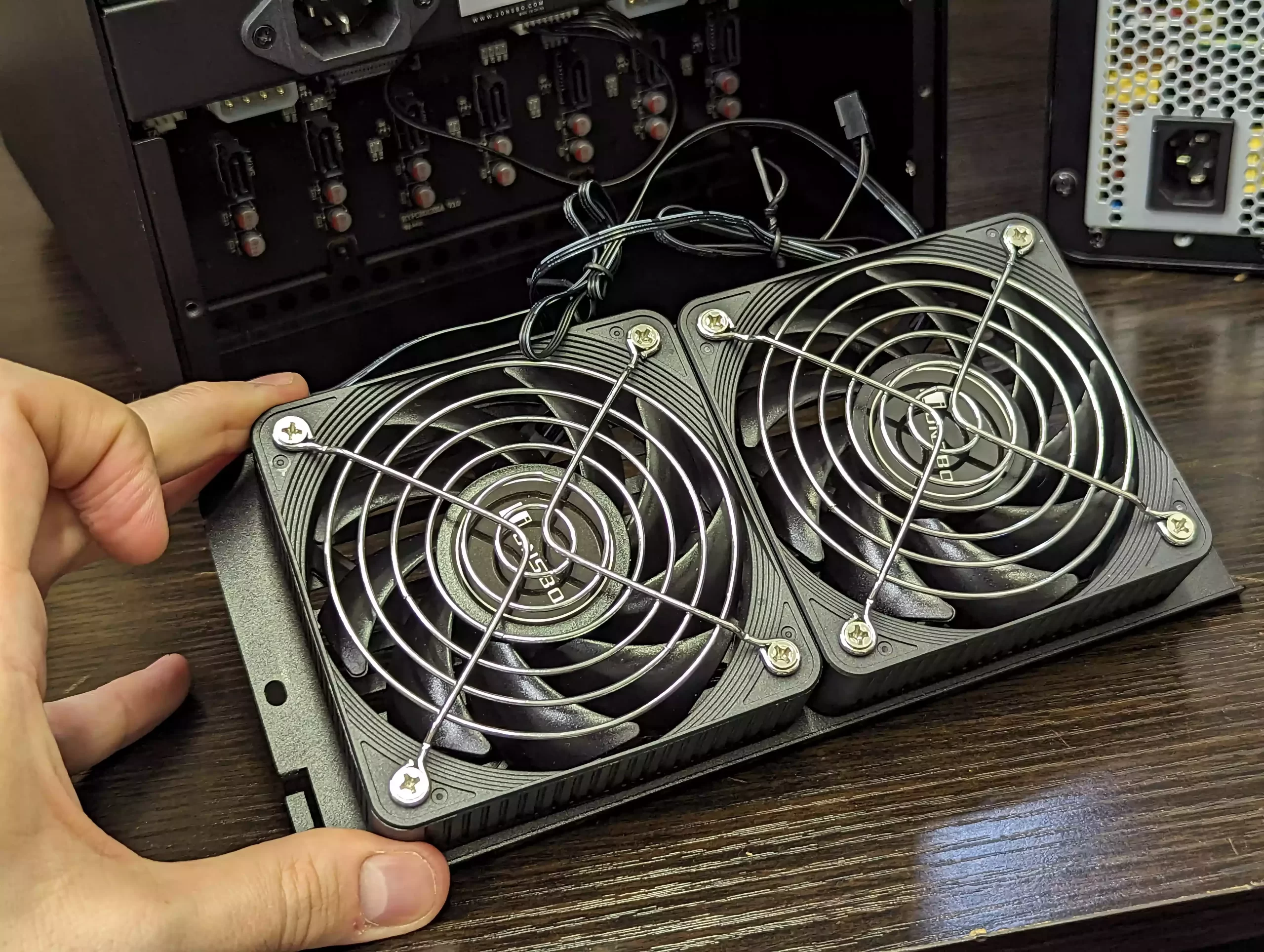 The back features a removable cooling fan, emphasizing user-friendly maintenance. Embellished with Jonsbo's emblem, this fan derives its power directly from the primary SATA storage bay board. However, potential users should be cognizant of the missing SATA cables, necessitating an external purchase. Given the space constraints at the rear, angular SATA cables are advised. These cables are guided through a designated channel at the case's top.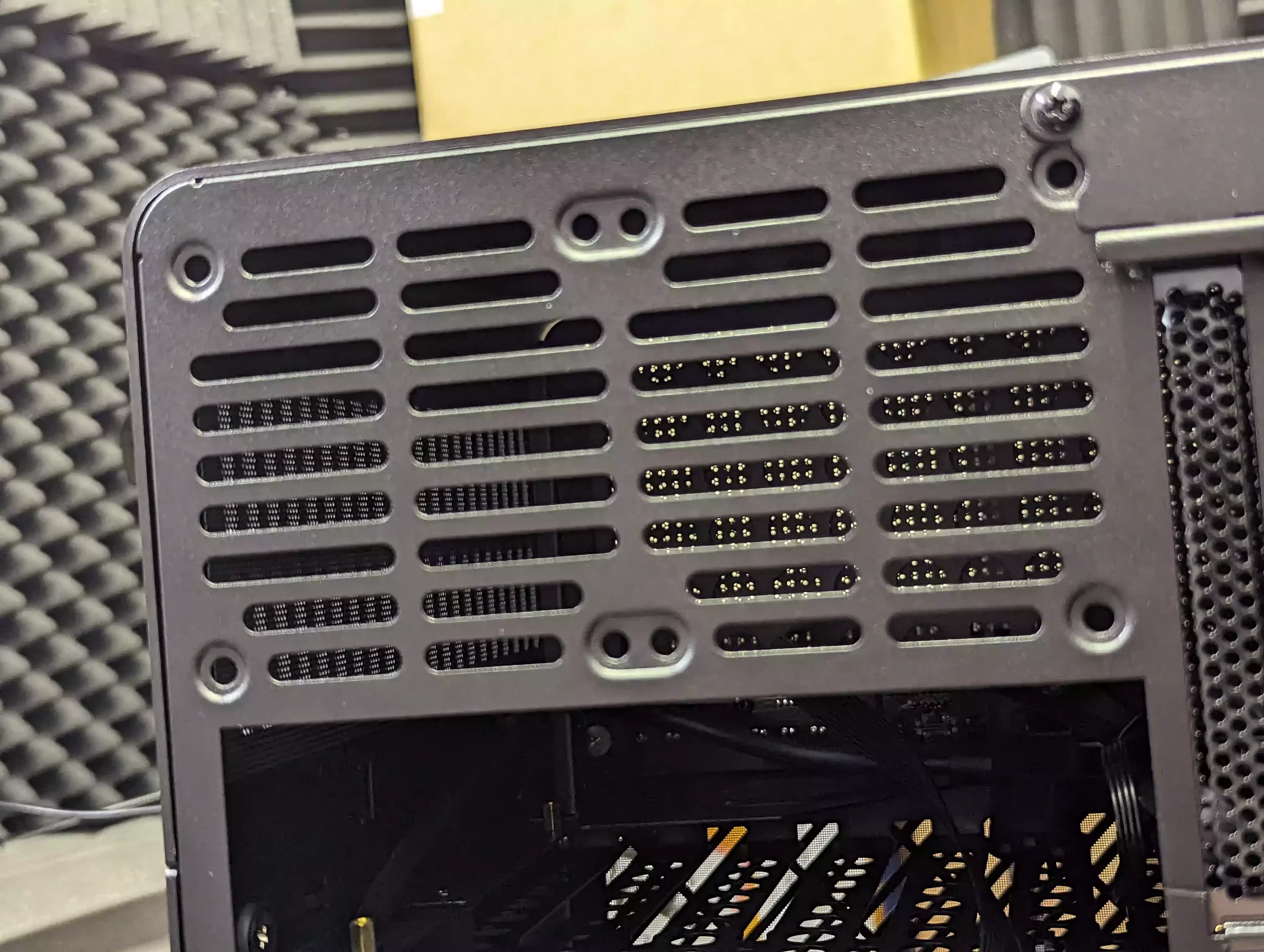 Intricate cable management is essential within the NAS, given its space-efficient design. Yet, with strategic planning, an organized setup promoting optimal airflow is achievable. In summation, the Jonsbo N3 NAS Case epitomizes precision engineering and discerning design. Every element feels purposefully placed, promising users a fluid experience. While there might be minor areas of improvement, they're eclipsed by the overarching quality of the enclosure.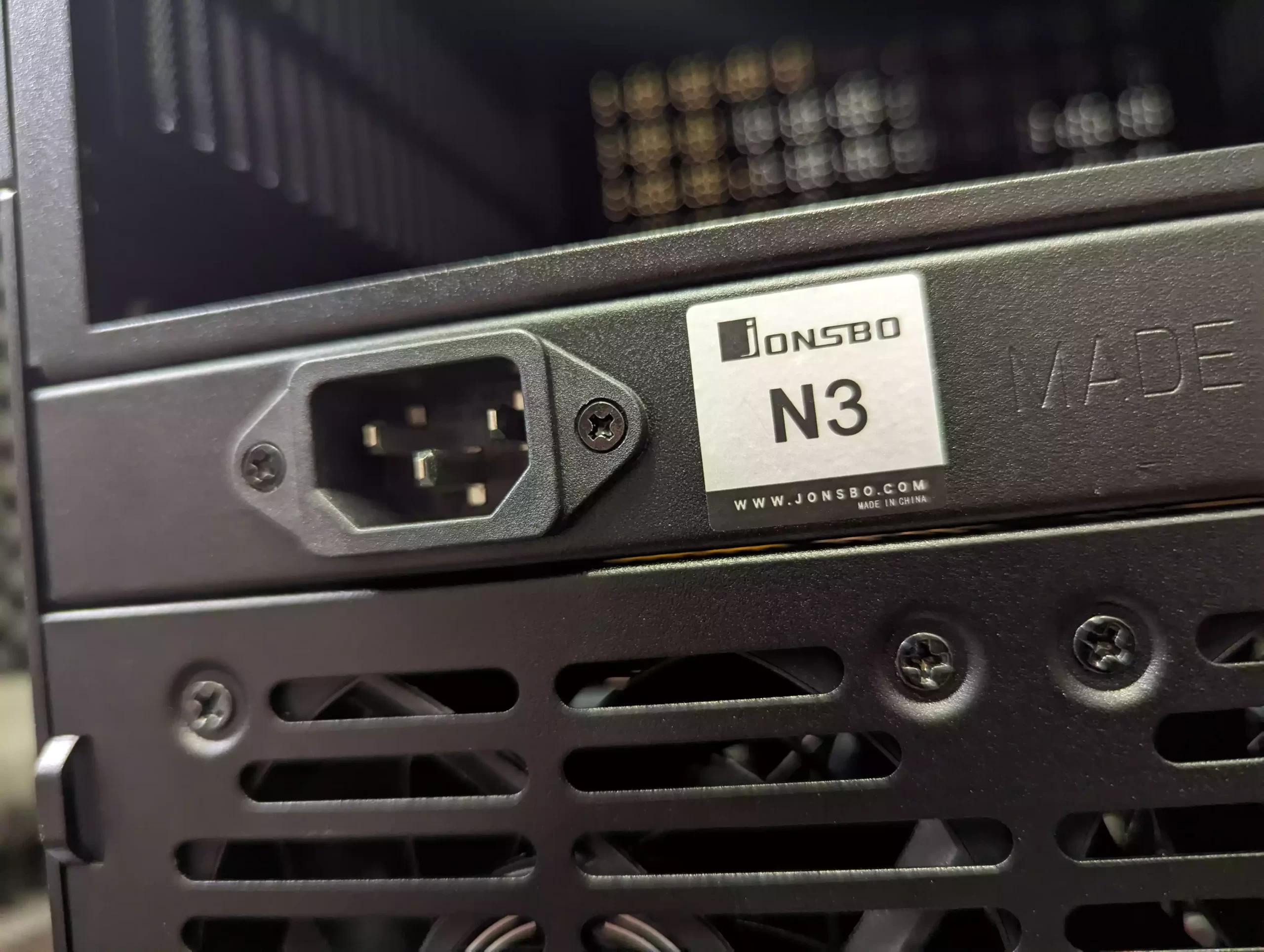 Jonsbo N3 NAS Case Review – Internal Structure
Lifting the top panel unveils a spacious chamber awaiting the motherboard. The N3 is tailored for M-ITX motherboards, recognized for their compactness and efficiency.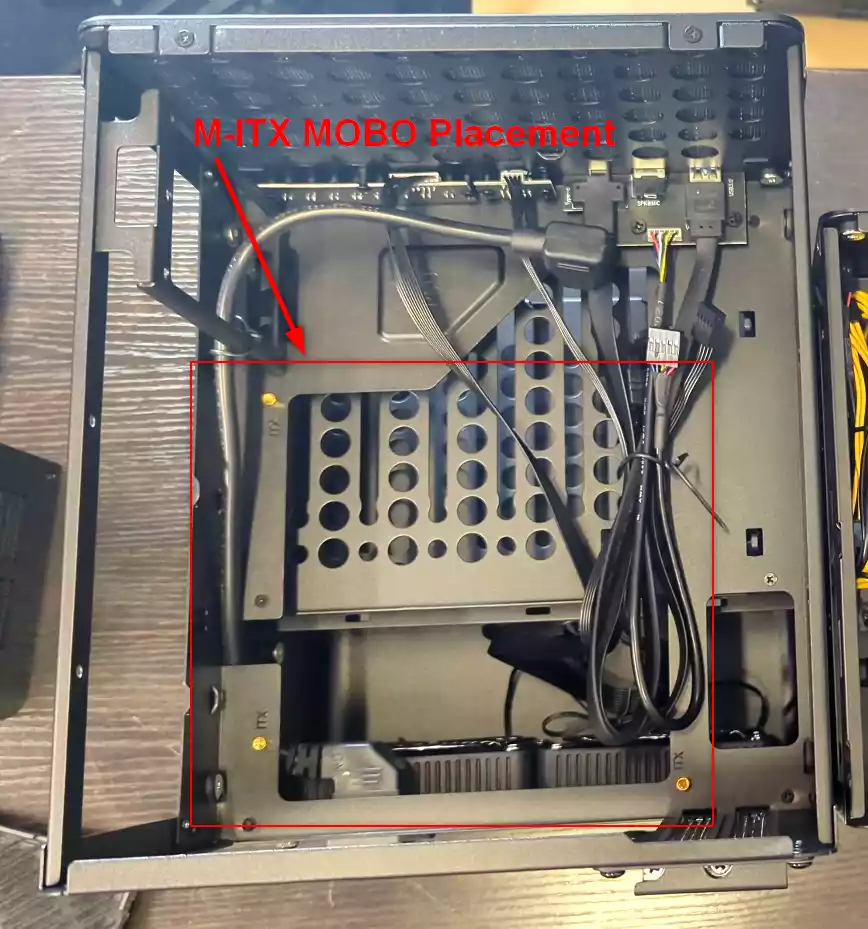 Another improvement that the Jonsbo N3 brings over the N2 is that this new 8 Bay case supports much bigger/taller CPU fans. For those looking at more aggressive Intel Core or Ryzen processors, this will be a massive relief!!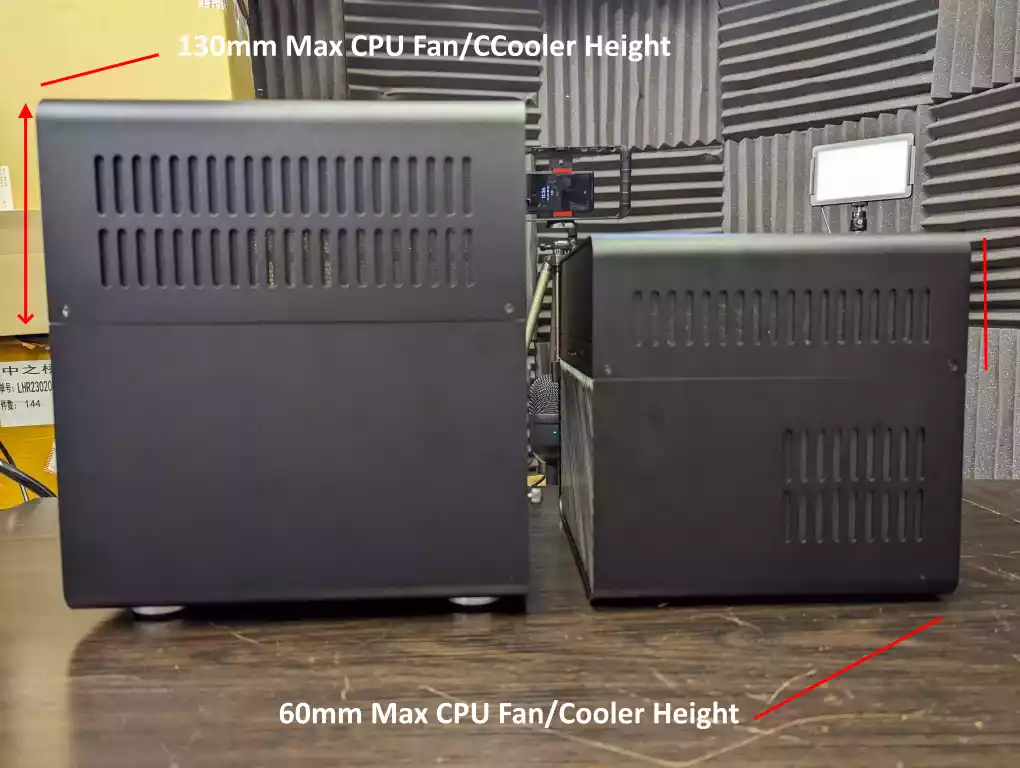 Equally, there is more space for longer and taller PCIe upgrade cards. There are even 2x PCIe slots available on the backplane, ensuring that the Jonsbo N3 can support much thicker cards (such as beefier gfx cards)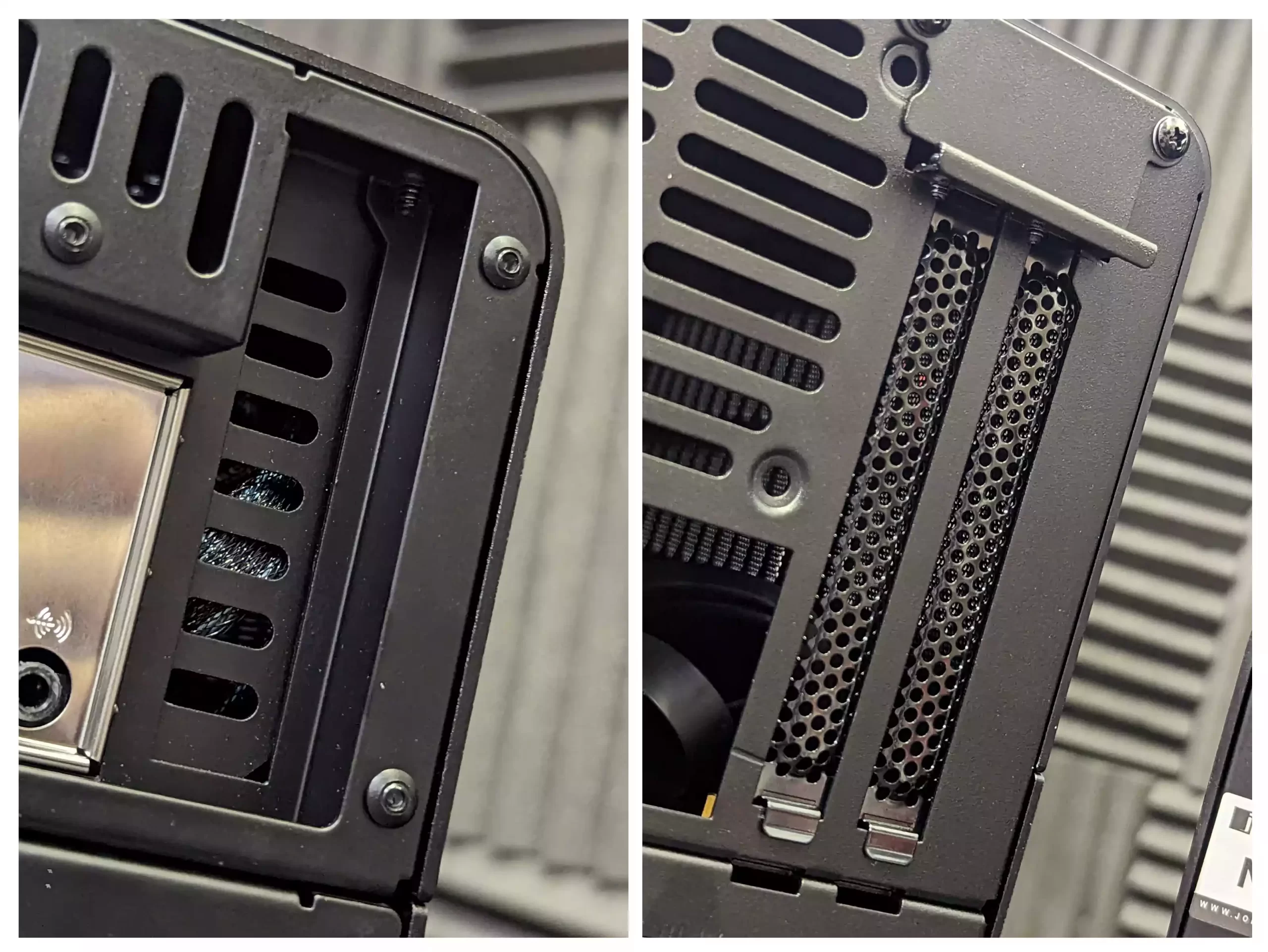 Recognizing the inherent single PCIe slot feature of M-ITX boards, the Jonsbo N3 replicates this design. The snug layout demands meticulous cable organization, especially when accessing SATA or PSU cables after the motherboard is set.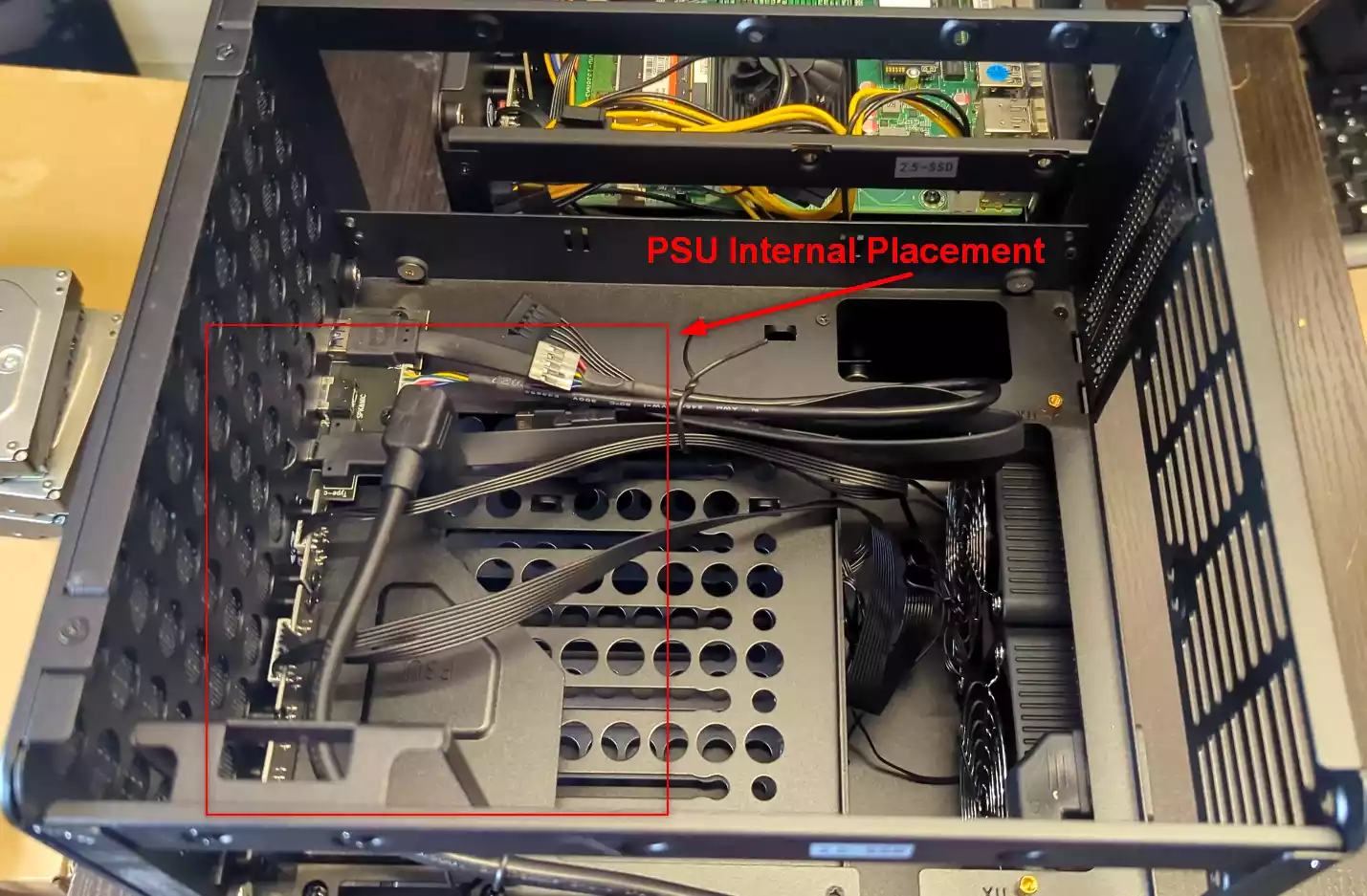 Post motherboard integration, there's limited yet adequate space for cable management. Furthermore, a specialized 2.5" SATA compartment is ingeniously incorporated on the case's side, intended predominantly for an OS drive, underscoring Jonsbo's knack for maximizing space utility.
The Jonsbo N2 versus Jonsbo N3 NAS Case
The Jonsbo N2 and N3 NAS Cases, both emanating from Jonsbo's design lineage, cater to different segments of the market with their distinct offerings. The N2, renowned for its contemporary aesthetics coupled with a compact framework, has firmly established itself among users who value a harmonious blend of form and function. Its design ethos, characterized by thorough ventilation, ensures that despite its compact nature, performance remains uncompromised, even under strenuous conditions. In contrast, the N3, while paying homage to its predecessor, incorporates a series of evolutionary enhancements that make it more adept at meeting the demands of today's tech landscape.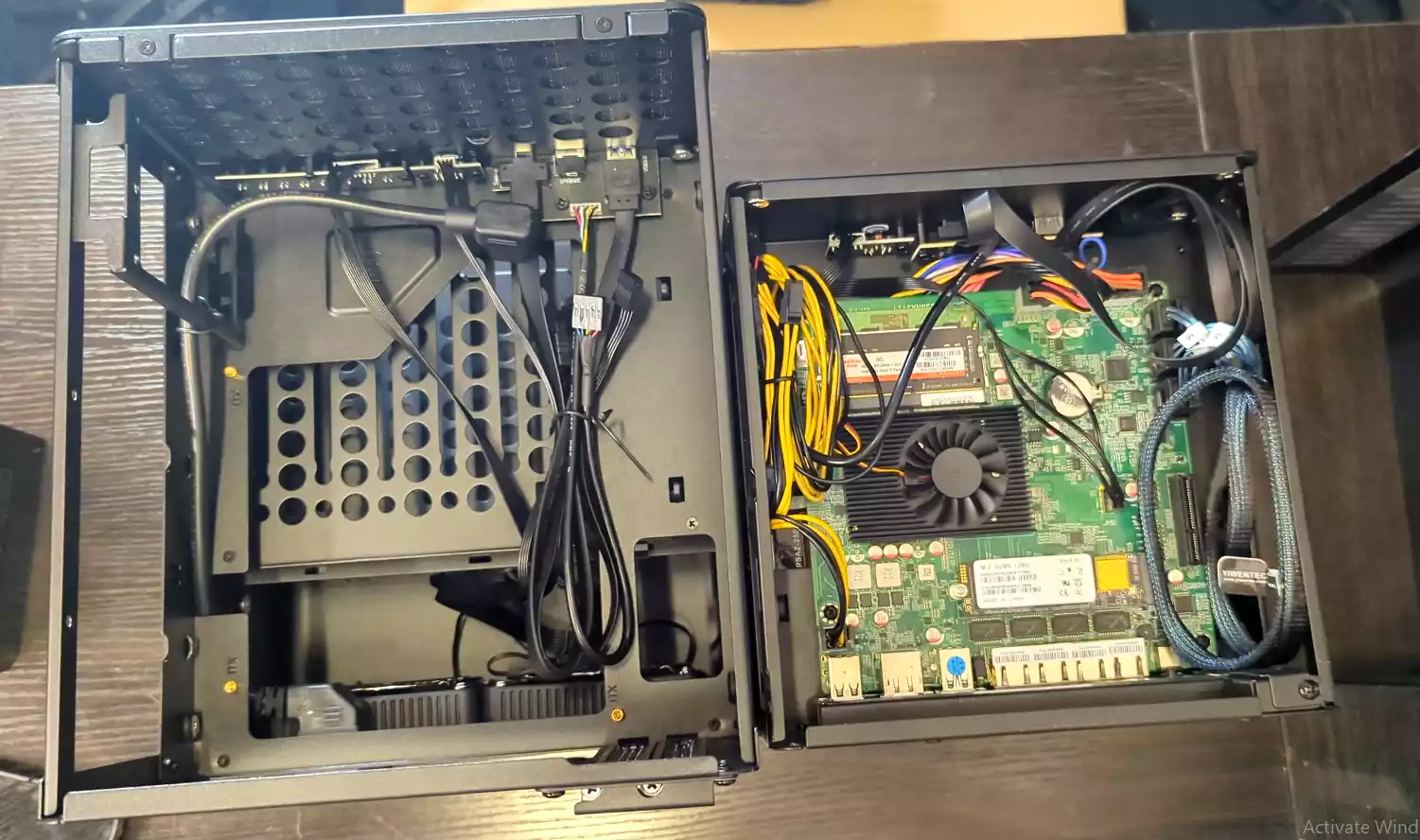 One of the most notable upgrades in the N3 is its expanded storage capability, accommodating up to 8 SATA drive bays, compared to the N2's 5. This not only provides greater storage flexibility but also caters to users who need robust data redundancy and backup solutions. More SATA bays mean more opportunities for RAID configurations, enhancing data protection and performance.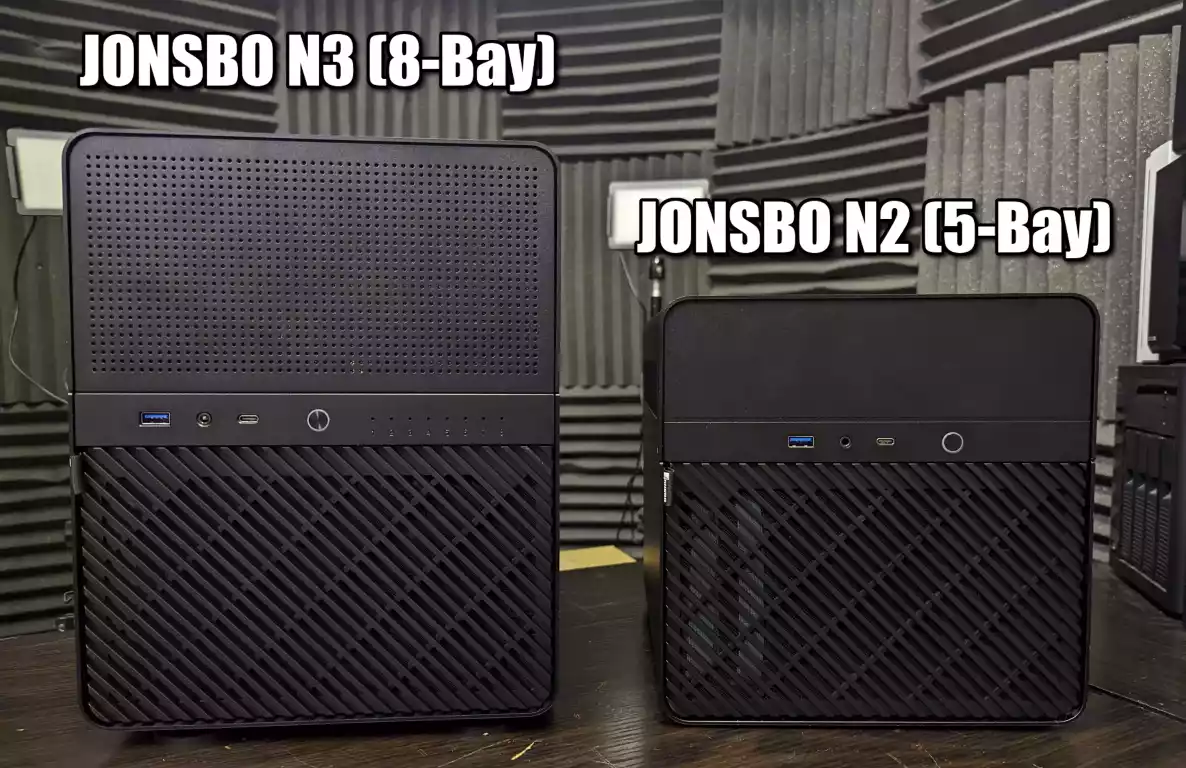 Furthermore, the N3's compatibility with larger and taller CPU fans signifies its commitment to superior thermal management. Larger fans often translate to more effective cooling at lower RPMs, leading to quieter operations while ensuring the longevity of internal components. This is particularly vital for NAS systems that often run 24/7, where maintaining optimal temperatures is paramount. Shifting our focus to the cooling design, the inclusion of two rear fans in the N3, as opposed to the single fan setup in the N2, further underscores its thermal efficiency. While this dual-fan approach certainly promises better heat dissipation and improved airflow, it may slightly increase the acoustic footprint, especially if both fans ramp up under heavy loads. Nevertheless, the benefits of enhanced cooling often outweigh the minimal noise increase, especially in ensuring consistent NAS performance.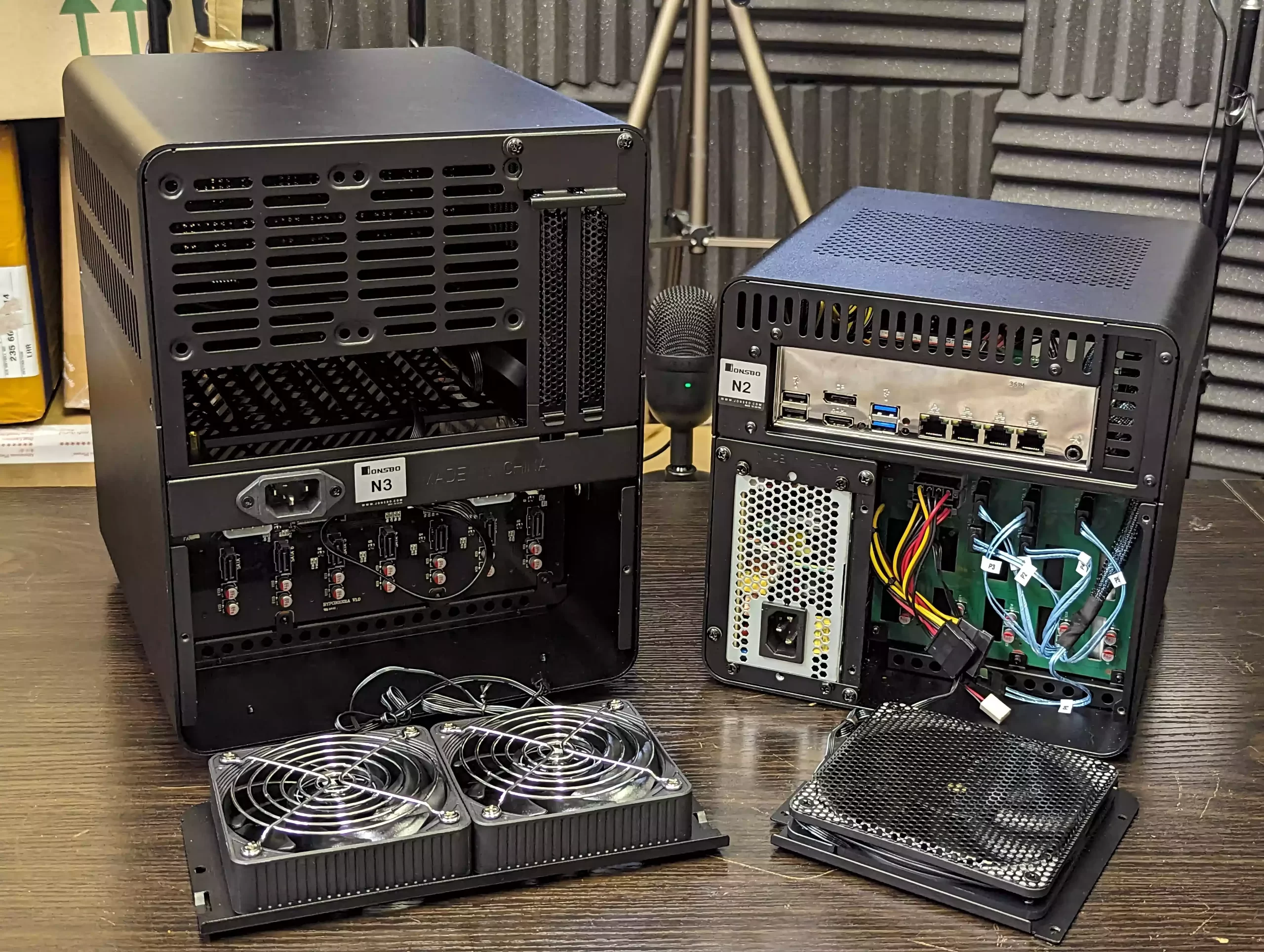 Additionally, the N3's provision to support longer, taller, and thicker PCIe cards paves the way for more substantial and versatile expansion opportunities. Whether users aim to incorporate high-end graphics cards for GPU-intensive tasks or specialized cards for network or storage expansion, the N3 is more accommodating, making it future-proof and versatile. In summation, while the N2 offers a solid foundation for those venturing into the world of NAS systems, the N3 emerges as a more advanced, adaptable, and future-oriented solution. It's a clear reflection of Jonsbo's intent to stay ahead of the curve, anticipating and addressing the nuanced requirements of modern tech enthusiasts.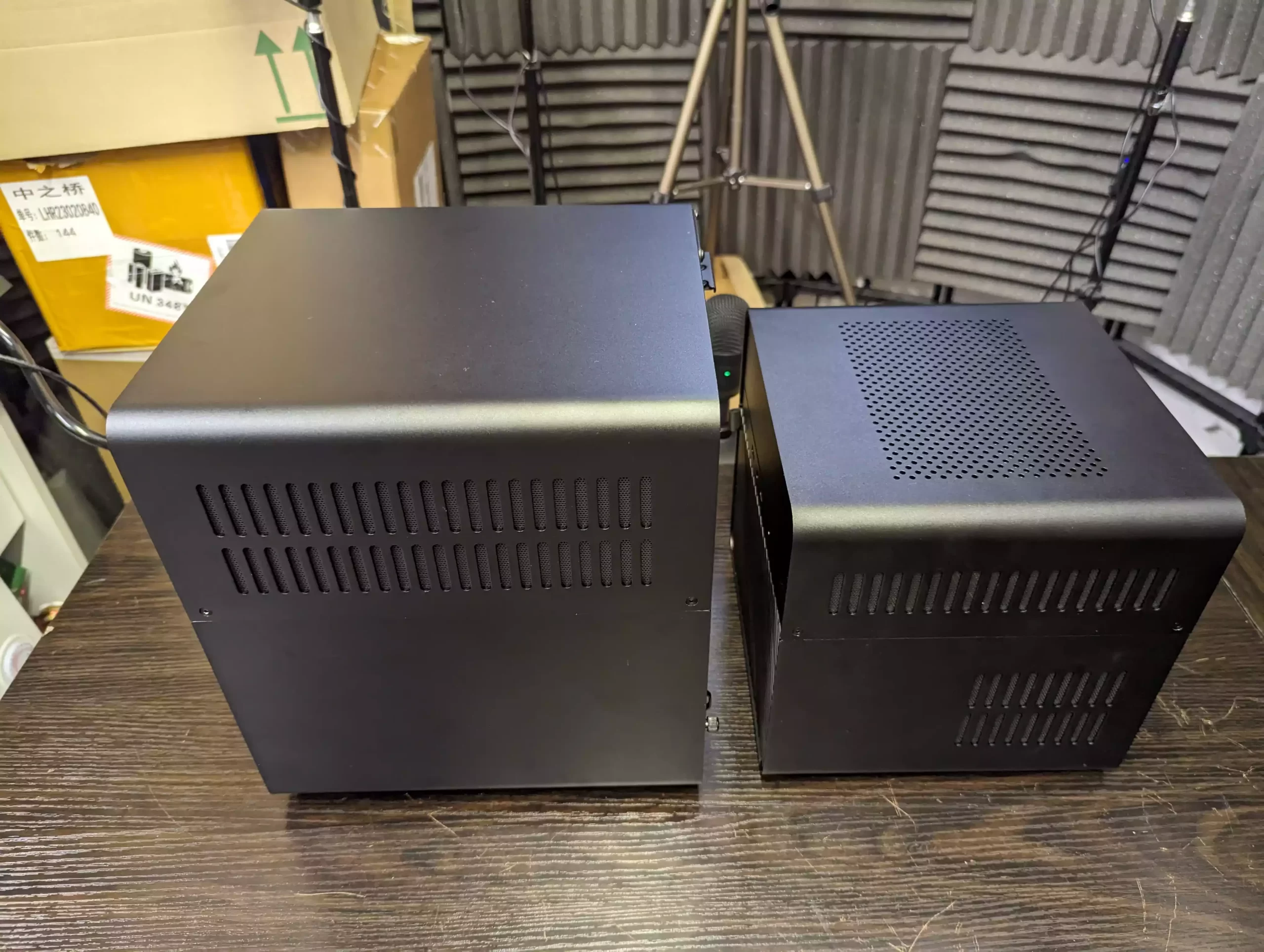 Jonsbo N3 NAS Case Review – Conclusion and Verdict
The Jonsbo N3 NAS Case epitomizes the synergy of innovation, practicality, and sophisticated design. Right from the initial unboxing, characterized by its robust protective foam and the considerate selection of key accessories, it's unmistakably clear that Jonsbo meticulously curates every user touchpoint. The N3's avant-garde design effectively couples expansive storage capabilities – evident in its upgrade to 8 SATA drive bays from the former 5 – with a streamlined form factor. Moreover, the enhanced ventilation system, now featuring two rear fans instead of one, promises unwavering peak performance even in the most demanding scenarios. On the inside, its harmonization with M-ITX motherboard specifications and insightful design nuances highlight an unmatched emphasis on space utility and top-tier efficiency. This is further accentuated by the N3's capability to accommodate larger CPU fans and more substantial PCIe upgrade cards, ensuring users have room for progressive tech enhancements. While certain elements, like the particular screw choices for the top panel or the absence of SATA cables, might be perceived as minor gaps, they are trivial when juxtaposed against the product's overarching brilliance and functional prowess. Conclusively, the Jonsbo N3 NAS Case emerges as a paragon of design precision and technological evolution, resonating profoundly with both seasoned tech gurus and casual users. For those in pursuit of a NAS enclosure that harmoniously melds aesthetic grace with superior performance, the N3 stands out as the unequivocal benchmark. With the N3, Jonsbo not only aligns with the established norms for NAS enclosures but transcends them, paving the way for next-generation standards.
Jonsbo N2 Pros & Cons

+ More Compact Chassis

+ Lower Price

+ Lower Nosie in Operation

+ Overal Lower Power Use

– Smaller CPU Fans/Heatsinks/Cooelrs Only

– Shorter Height+Width PCIe Card

– Fewer SATA Bays

Jonsbo N3 Pros & Cons

+ More SATA Bays

+ More Fans = Better Active Ventilation

+ More Room for Bigger CPU Fan/Heatsinks/Coolers

+ Supports Bigger / Wider / Taller PCIe Cards

– Odd PSU Placement

– Takes up more space

– Noisier Operation

Amazon >>>
Aliexpress >>>
Amazon >>>
Aliexpress >>>
📧 SUBSCRIBE TO OUR NEWSLETTER 🔔
🔒

Join Inner Circle
Get an alert every time something gets added to this specific article!
This description contains links to Amazon. These links will take you to some of the products mentioned in today's content. As an Amazon Associate, I earn from qualifying purchases. Visit the NASCompares Deal Finder to find the best place to buy this device in your region, based on Service, Support and Reputation - Just Search for your NAS Drive in the Box Below
Need Advice on Data Storage from an Expert?
Finally, for free advice about your setup, j
ust leave a message in the comments below here at NASCompares.com and we will get back to you.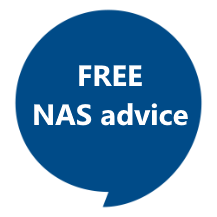 Need Help?
Where possible (and where appropriate) please provide as much information about your requirements, as then I can arrange the best answer and solution to your needs. Do not worry about your e-mail address being required, it will NOT be used in a mailing list and will NOT be used in any way other than to respond to your enquiry.
TRY CHAT
Terms and Conditions
If you like this service, please consider supporting us.
We use affiliate links on the blog allowing NAScompares information and advice service to be free of charge to you.
Anything you purchase on the day you click on our links will generate a small commission which is
used to run the website. Here is a link for
Amazon
and
B&H
.
You can also get me a ☕
Ko-fi
or old school
Paypal
. Thanks!
To find out more about how to support this advice service check
HERE
If you need to fix or configure a NAS, check
Fiver
Have you thought about helping others with your knowledge?
Find Instructions Here

ASK NASCompares forum
, by clicking the button below. This is a community hub that serves as a place that I can answer your question, chew the fat, share new release information and even get corrections posted. I will always get around to answering ALL queries, but as a one-man operation, I cannot promise speed! So by sharing your query in the
ASK NASCompares
section below, you can get a better range of solutions and suggestions, alongside my own.