NAS in Rack

Looking for a Rackmounted NAS for my use of Video surveillance and Docker containers. I m currently running the following on my QNAP TS-453A (X86?)
– Home assistant
– Influxdb
– Grafana
– Node-red
– MQTT Broker

It seem to be a problem finding one using ARM or X86 processors. This creates some issues in finding new dockers, since a lot of them are written for just X86 and ARM.
Here is a list of ARM based NAS available today (rack and desktop):
TS-431X3
TS-451DeU
TS-932X
TS-832X
TS-332X
TS-431KX
TS-431X2
TS-1232XU-RP
TS-1232XU
TS-832XU-RP
TS-832XU
TS-432XU-RP
TS-432XU
TS-431XeU
TS-431X
TS-431P2
TS-328
TS-231P2
TS-431K
TS-231K
TS-131K
TS-431P
TS-231P
TS-131P
I would choose TS-431XeU
Home
– Entry-level
Expansion Units
– SATA Interface
Expansion Units
– SAS Interface
Expansion Units
– USB Interface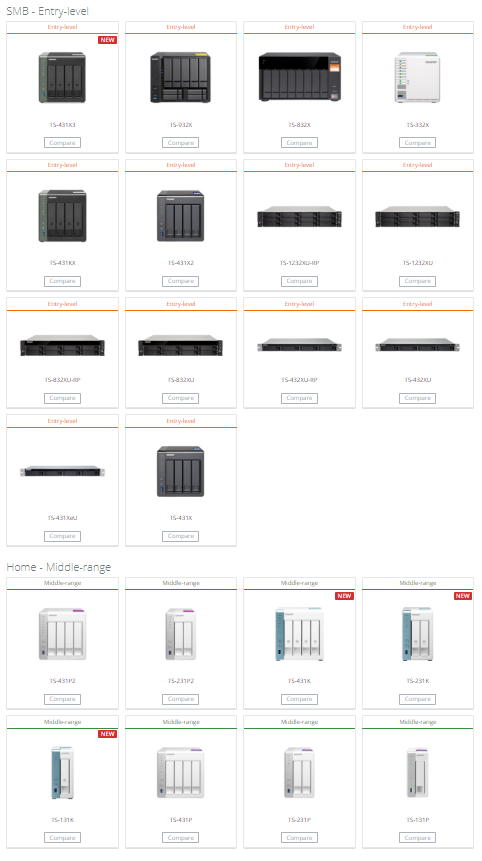 How can I determine whether my NAS uses an ARM or x86 processor?
Locate your NAS on the QNAP product page
Go to Specification > Hardware Spec, then locate the CPU entry.

ARM models will clearly list an ARM processor.

x86 models will use Intel or AMD processors.

If your NAS is an older model (EOL status) and you can not find it on the link provided above, you can still check their specifications on this page (please scroll down to the Archived Products section).
Note:
Some Photo Station features, such as facial recognition, require x86 processors.