Does my Synology NAS support DSM 7.0?
The easiest way to find out is here: https://www.synology.com/en-uk/support/download
If you find DSM7 on the list then it is supported.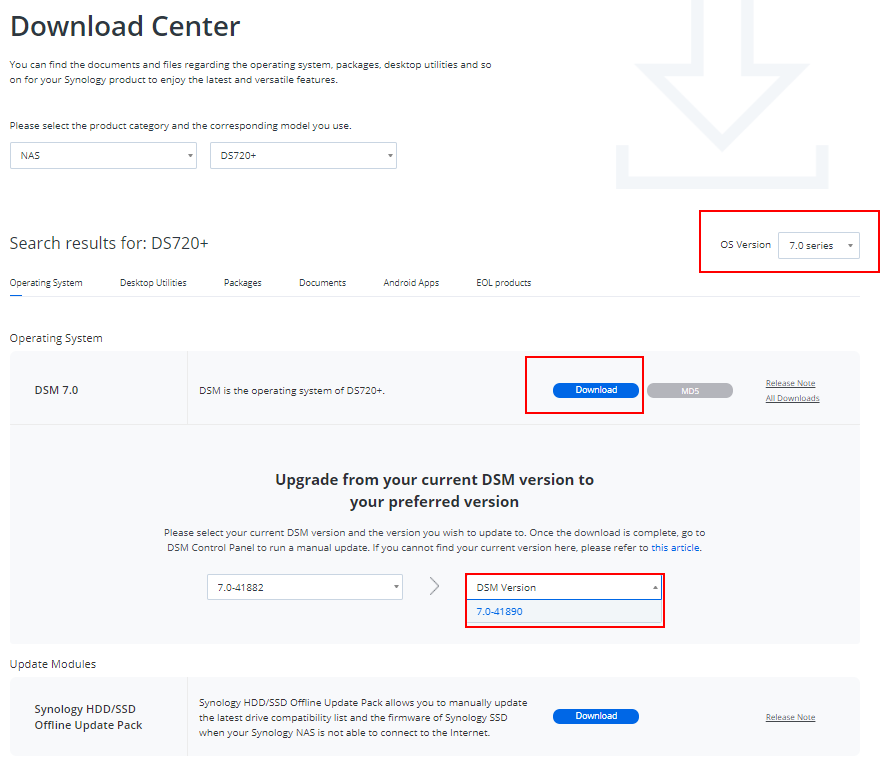 For the models below, you can only download the upgrade patch from Synology Download Center because you won't receive notifications for this update on your DSM.

15-Series: RS815RP+, RS815+, RS815, DS2415+, DS1815+, DS1515+, DS1515, DS715, DS415+, DS415play, DS215+, DS215j, DS115, DS115j
14-Series: RS2414RP+, RS2414+, RS814RP+, RS814+, RS814, RS214, DS414, DS414slim, DS414j, DS214+, DS214, DS214play, DS214se, DS114
13-Series: DS2413+, DS1813+, DS1513+, DS713+, DS213j

DSM 7.0 for FS, SA, XS/XS+, and DVA series models are currently under development and will be available in the next quarter.
FS series:  NOT YET
SA series: NOT YET
21 series RS2821RP+, RS2421RP+, RS2421+, RS1221RP+, RS1221+, DS1821+,  DS1621+, DVA3221
20 series:RS820RP+, RS820+, DS1520+, DS920+, DS720+, DS620slim, DS420+, DS420j, DS220+, DS220j, DS120j
19 series: RS1219+, RS819, DS2419+II, DS2419+, DS1819+, DS1019+, DS419slim, DS119j, DVA3219
18 series:RS2818RP+, RS2418RP+, RS2418+, RS818RP+, RS818+, DS1618+, DS918+, DS718+, DS418, DS418play, DS418j, DS218+, DS218, DS218play, DS218j, DS118, NVR1218
17 series: RS217, DS1817+, DS1817, DS1517+, DS1517
16 series: RS2416RP+, RS2416+, RS816, DS916+, DS716+II, DS716+, DS416, DS416play, DS416slim, DS416j, DS216+II, DS216+, DS216, DS216play, DS216j, DS216se, DS116, NVR216
15 series:RS815RP+, RS815+, RS815, DS2415+,  DS1815+, DS1515+, DS1515, DS715, DS415+, DS415play, DS215+, DS215j, DS115, DS115j
14 series:,  RS2414RP+, RS2414+, RS814RP+, RS814+, RS814, RS214, DS414, DS414slim, DS414j, DS214+, DS214, DS214play, DS214se, DS114, EDS14
13 series:, DS2413+, DS1813+, DS1513+, DS713+, DS413, DS413j, DS213+, DS213, DS213j, DS213air