I'm just looking to link two separate Google Drive accounts from my wife and I to the NAS, and have some residual storage on our network. We have work laptops and smaller laptops that don't hold much. I'm comfortable with Western Digital, Synology, or QNAP unless you'd recommend something different. I see that there are some nice features with Synology that could back up this drive to had another redundant copy.
The State of the art multi-account synchronization is possible with Synology CloudSync service. Create the folder called for example Google Drive. Then one subfolder for one account and one for other. Give permissions to Synology to access cloud drive and you are ready to sync. You can even encrypt the transfer process so that no hackers can see the files being synchronized.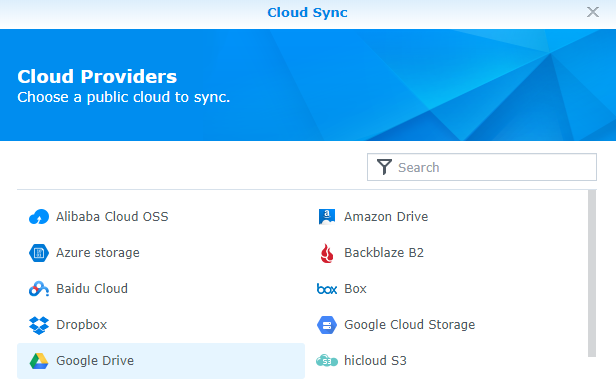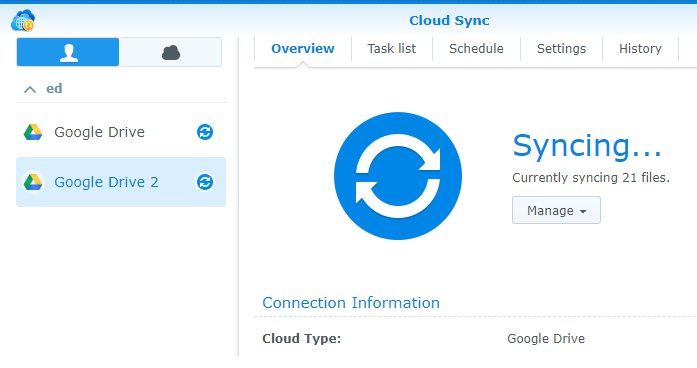 You also include/exclude specific files (more info). This is a very simple task – performance-wise. You can set this up with a simple NAS like DS118, but if you want also mirrored drive protection then DS218j will be a better option. And of course for best redundancy versus storage space – consider 4 drive option such as DS418j.
Find regulary updated NAS offers here
Of course I would prefer you choose
AMAZON UK
AMAZON USA
to buy your perfect solution, however, if you would rather buy locally, please use the links used above to take you to your local Amazon store and help support this free advice service with ad revenue. More ways of supporting the blog are described
HERE