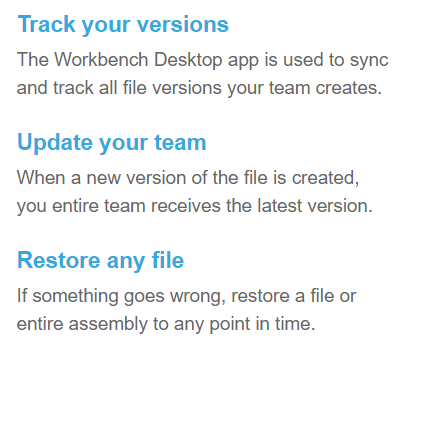 NAS that works with Grabcad Workbench

I'm looking for a storage server that can automatically update the files on my cloud account at Grabcad Workbench.
Workbench is a service that's well integrated with Solidworks and gives me the ability to restore older versions of each file, very useful with several people working on same project.
Are there apps for NAS storage that can do the storage of previous versions too?
Along with the file storage we want to be able to put some surveillance cameras on the NAS

Can you indicate which Nas should serve for our company?
For the moment I think a 4 bay unit with 12 TB of drive space will do, and a option for a expansion unit would be a nice feature.
Depending on your project size you may be happy with a DS918+ from Synology. Grabcad app will ensure that your chosen folder is always uploaded to the cloud. Before you do that, you will set up Synology Drive/ CloudStation or simply create a shared folder and attach it as a network drive in your Computer settings (you can even trick the system that network drive is actual physical drive if some software does not allow network drives).
if you will need faster data transfer speed, you may consider getting DS1517+ or DS1618+ and add 10GbE card. Or simply switch to Qnap TS-453Be with a 10GbE card. If you want, you can keep few spare bays empty or set up a hot spare for automatic drive replacement function if one of them fail.
You will be able to restore the previous version of the file or folder or entire storage to a certain point in the past. This will protect you from application crashes, overwritten files or deleted files.

You can also easily add a few cameras and run surveillance system- accessible anywhere over the internet.
[su_az_ds918]
Find regulary updated NAS offers here
Of course I would prefer you choose
AMAZON UK
AMAZON USA
to buy your perfect solution, however, if you would rather buy locally, please use the links used above to take you to your local Amazon store and help support this free advice service with ad revenue. More ways of supporting the blog are described
HERE