Choosing the Best 2-Bay NAS Drive of 2020
When you are looking for a new data storage solution, chances are that in terms of cost vs storage, a 2 drive solution is pretty much a solid choice – especially for beginners. If you can overcome the initial downfall of losing 50% of your storage space (RAID 1 over two hard drives), you can get some genuinely incredible 2 bay solutions in 2020. 2 Disk storage systems always held a rather wimpy reputation till about 2017/18, as it was assumed that because the system had limited capacity and throughput to work with, it would be a waste to make it powerful. Fast forward to now and the general standard of hardware that is equipped on some of the 2-Bay NAS released in the last year or so has escalated hugely and added to that the fact that NAS hard drives (such as Seagate Ironwolf and WD Red) are now available in 18TB sizes, a 2 HDD NAS server is compact, powerful and hugely capacity enabled! So today I want to talk about the best 2-Bay NAS drives of the year and help you choose the right one for your home or business needs, covering the best for software, the best for hardware and the best for both. Let's begin.
Best 2-Bay NAS – What Qualifies?
With so many 2 Drive NAS systems to choose from, selecting the best three NAS to choose from is not an easy task. Some companies like Synology and Asustor release a smaller but more defined range of 2 bays, whereas QNAP and Terramaster have a comparatively vast selection, each with different hardware and software abilities. So, in order for a 2-Bay to qualify and get shortlisted, they need to feature or support the following:
The NAS server needs to have been released before October 31st 2020, so it has been officially available to buy and review
Only Desktop/Tower systems are being considered, Rackmount servers are generally harder to compare and are more tailored to industry
Each solution must be a combined Hardware+Software solution
Must have at least 2 years manufacturers warranty
All NAS solutions must have an expansion option (i.e they need to allow the end-user to add more storage bays at a later date with an expansion chassis)
ONLY Intel or AMD powered NAS systems. There have been great things in terms of ARM 64bit processors of late, but that will instantly limit your software support, which is something a 2-Bay owner in 2020 should not be lumbered with when looking for the 'best of the year' – sue me!
And there you have it, those are the parameters of the 2-Bays that I chose from and below are the three NAS that I think will stand out for their own respective reasons. Each one arrives at between $300-400 and each has tremendous future-proofing in their own way.
Best 2-Bay NAS for Software Buyers – Synology DS720+
0-36TB, 2-Bays, Intel J4125 Celeron 4-Core CPU, 2/6GB DDR4 2666Mhz Memory, 1Gbe x2 Ports, eSATA expandability, NVMe SSD Cache Bays, 3yr Warranty, $399  
Hardware Review – https://nascompares.com/2020/06/18/synology-ds720-nas-drive-hardware-review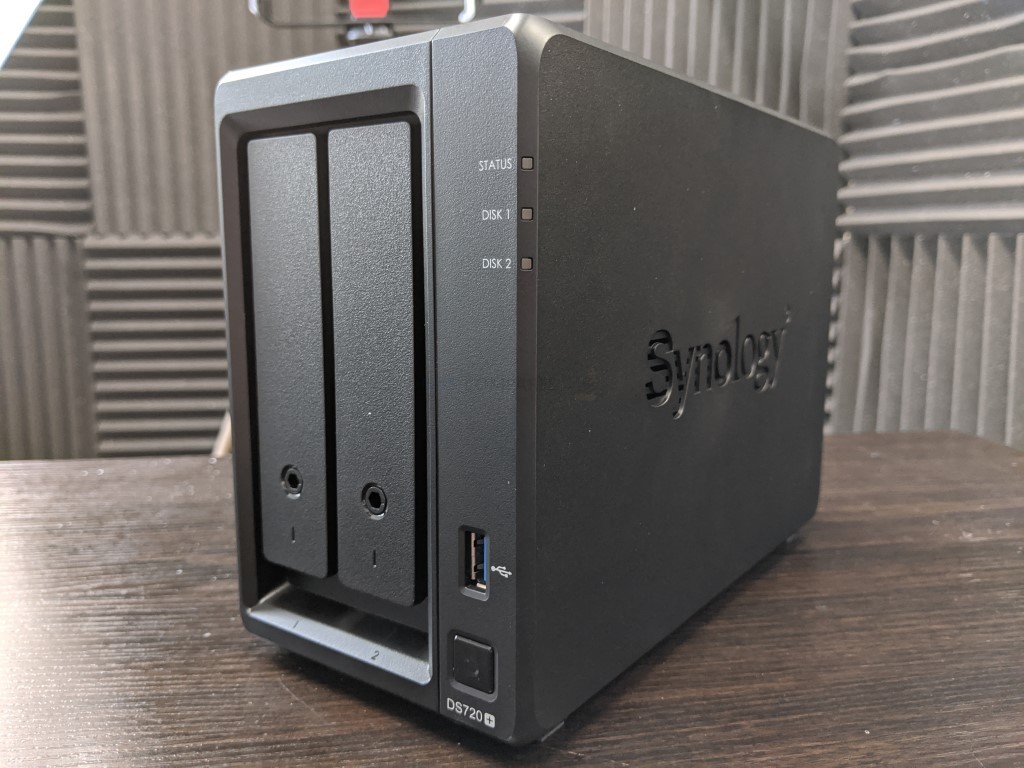 What We Said 18/06/20:
The Synology NAS brand is one that we have long associated with software as the KEY selling point. However, users these days know alot more about this kind of technology than ever before and Synology has clearly responded some ways better than others. The inclusion of NVMe SSD caching is absolutely something that I can get behind in a positive way! The standard of 1Gbe (x2 technically) is still a bit of a sore one and something many would have assumed would serve as a pricing/buying tier between the DS220+ vs DS720+ (also the DS420+ vs DS920+) but though 2.5Gbe is still in its infancy, it is growing trend that Synology will not ignore for much longer and perhaps something that will give more experienced users pause before clicking the 'buy now' button. In practically EVERY OTHER WAY the DS720+ is a worthy successor to the DS718, as well as easily earning the title of the best 2-Bay the biggest brand in modern NAS has ever put out.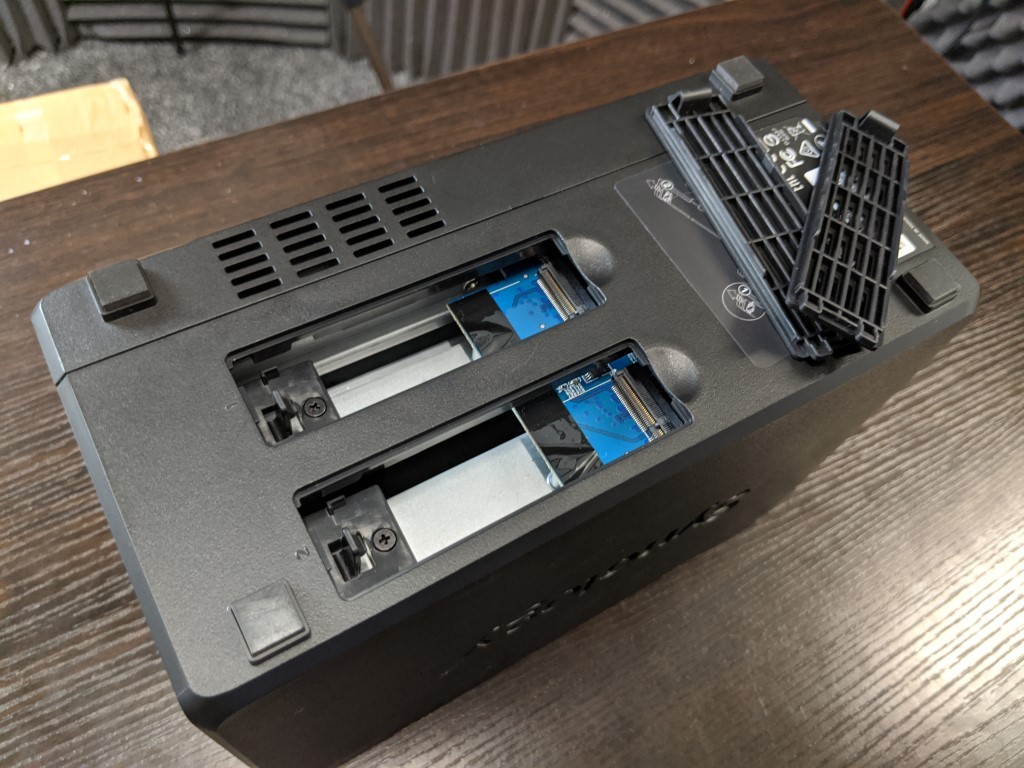 From its strengths in supporting DSM as one of the best software GUIs and platforms in the area of storage to its mould-breaking utilization of SSD caching in DSM 6.2 (with promised improves even more in DSM 7.0), the Synology DS720+ is a NAS drive that gives you ALOT of power and potential under the hood to help you enjoy your data, just know that it arrives with the tiniest bit of a network 'glass-ceiling' down the line.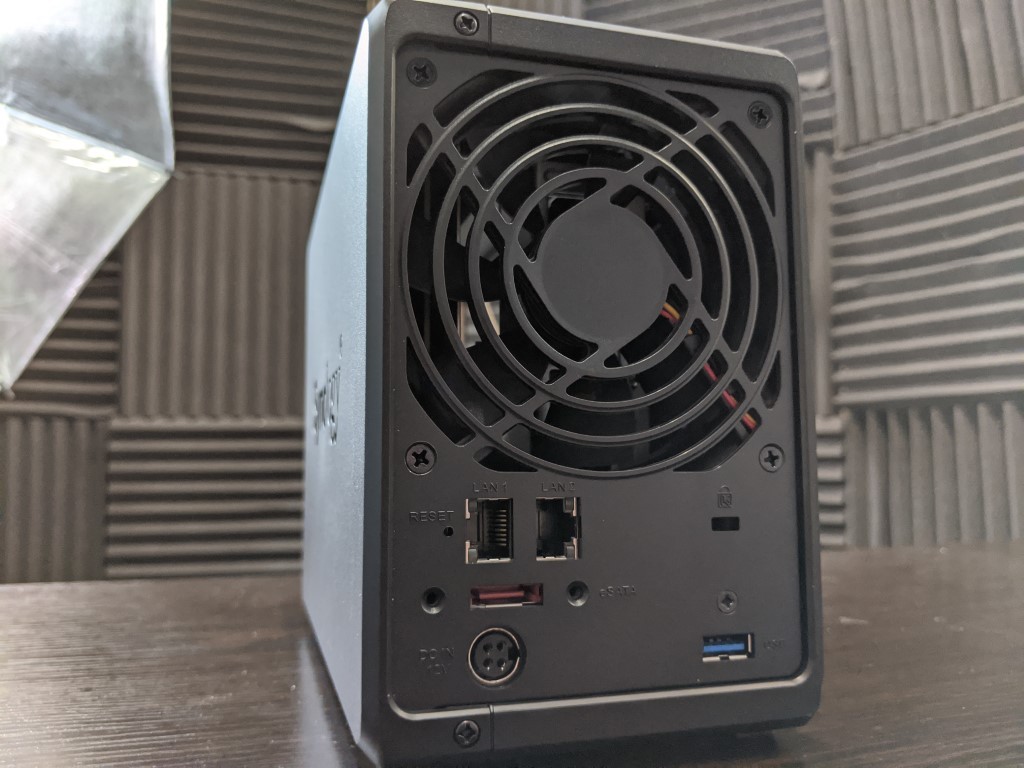 PROS
CONS

Dual NVMe M.2 cache
Great RAID Options
Excellent choice of Apps
Snapshot Replication
BTRFS and SHR
Support Plex
Virtualization
4K Video transcoding
Full Plex Transcoding
Hot-Swap trays
DLNA Compliant
Expandable

No Copy button
Only 1Gbe Ethernet ports
No PCIe slots
Only a single accessible Memory Bay
Best 2-Bay NAS for Hardware Buyers – Asustor LockerStor 2 AS6602T
0-36TB, 2-Bays, Intel J4125 Celeron 4-Core CPU, 4/8GB DDR4 2400Mhz Memory, 2.5Gbe x2 Ports, USB 3.1 expandability, NVMe SSD Cache Bays, HDMI 2.0, KVM Support, 3yr Warranty, $399  
Hardware Review – https://nascompares.com/2020/08/24/asustor-lockerstor-2-as6602t-nas-hardware-review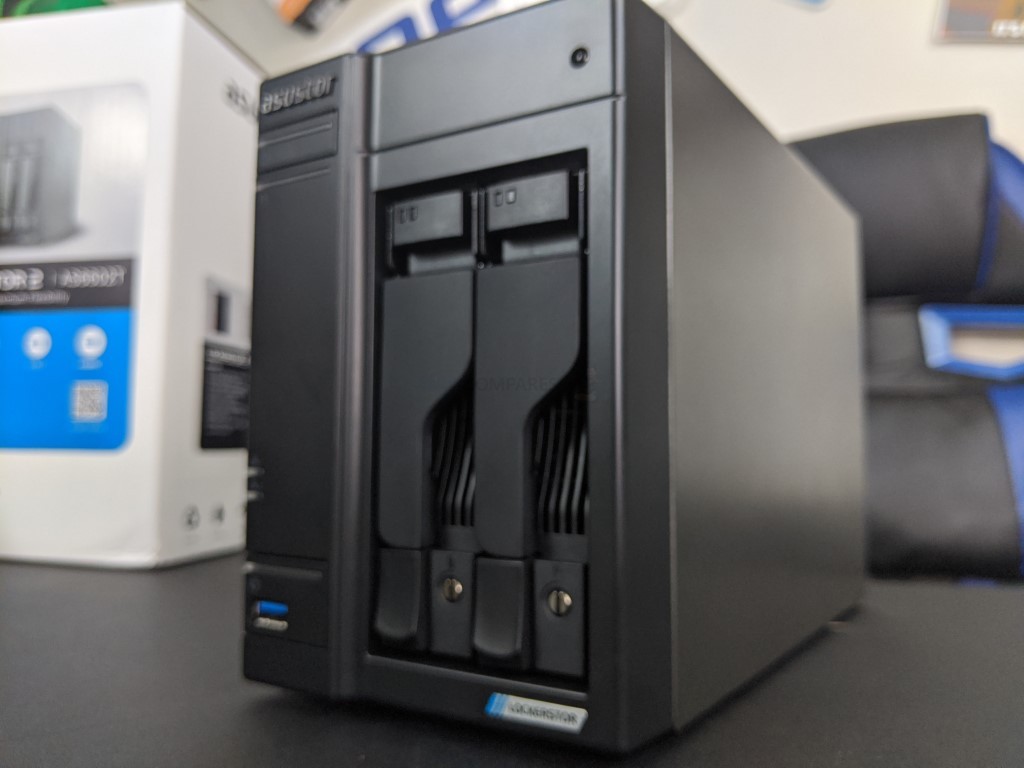 What We Said 24/08/20:
In terms of hardware, you simply cannot fault the value for money that is present in the Lockerstor 2. Practically every single modern trend in desktop NAS storage is included here, while still maintaining an exceptionally affordable price point for most prosumer users. Standout factors such as btrfs, 2.5Gbe, Celeron CPU, NVMe SSD bays and true 4K HDMI make this device an absolute hardware must-have. However, there is no avoiding that the Asustor software in ADM still has a few small lessons to learn from its competitors and although it is a solid, fluid and able platform, it lacks a lot of the software killer apps of Synology and QNAP. Nevertheless, the Lockerstor 2 is still an exceptional NAS and I heartily recommend it to those of you that will rely on third-party applications and need a NAS to just shut up and do its job!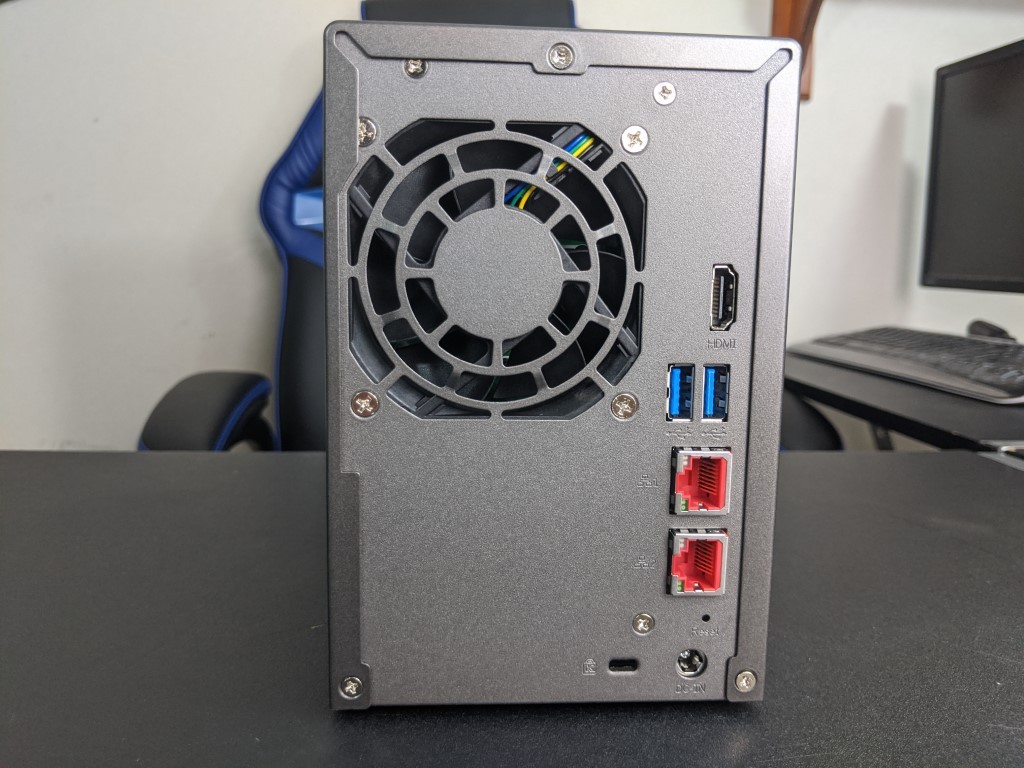 PROs of the AS6602T Lockerstor 2
CONs of the AS6602T Locktorstor 4

Best Price Vs Hardware right now
2.5Gbe Speeds
NVMe SSD Cache Bays
Best Mid-Range CPU
Great Plex Media Server Hardware
HDMI 2.0a = 4K 60FPS
Dedicated HDMI (Asustor Portal)
Huge USB Peripheral Support
BTRFS Support
Cloud/NAS/USB Backup Support
Great VM Support

No PCIe Upgrade Option
No option for NVMe as raw storage – possible CPU limitation
Software still not quite on par with competitors
Best 2-Bay NAS for Both Hardware & Software – QNAP TS-253D
0-36TB, 2-Bays, Intel J4125 Celeron 4-Core CPU, 4/8GB DDR4 2400Mhz Memory, 2.5Gbe x2 Ports, USB 3.1 expandability, HDMI 2.0, PCIe Expansion Slot Gen 2 x4, KVM Support, 3yr Warranty, $368  
Hardware Review – https://nascompares.com/2020/06/23/qnap-ts-253d-nas-hardware-review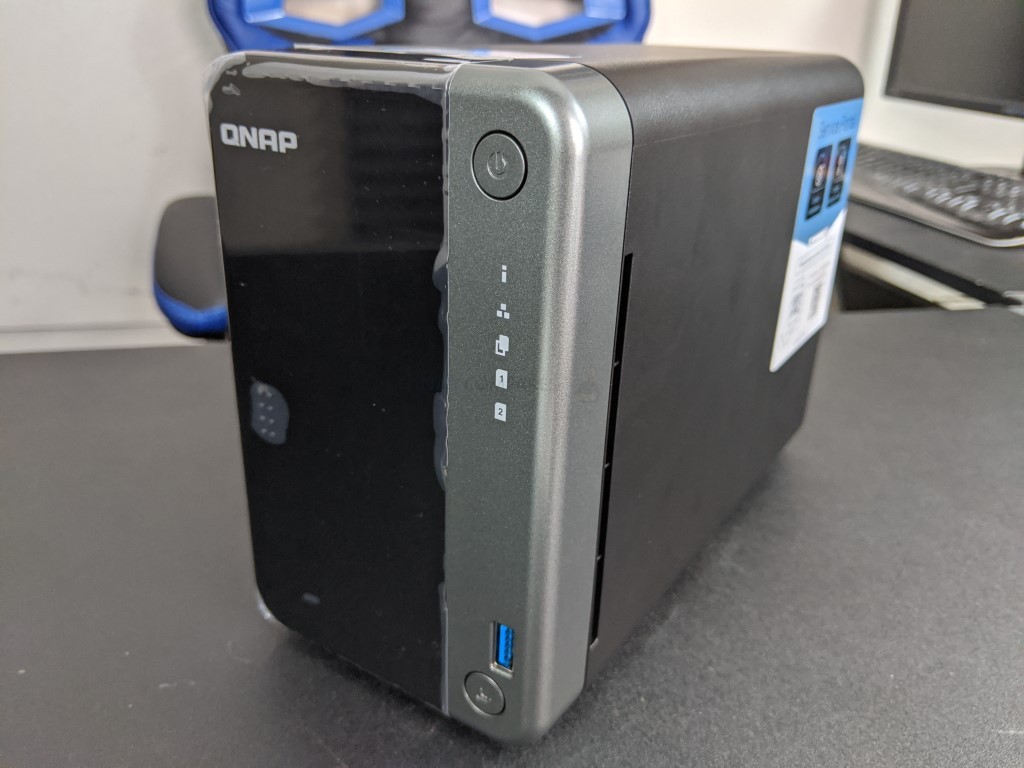 What We Said 23/06/20:
I have seen ALOT of QNAP 2-Bay hardware and I have no hesitation in saying that the TS-253D is the best 2-Bay NAS I have ever used. That is a bold statement and one that is heavily hinged on my own IT knowledge/expertise, but you are just getting so much to play with here. It lacks the slick, smooth branding of the Synology DS720+ NAS alternative and that certain apple swagger, but in its place, we find a NAS that wants to be structured around YOUR storage needs. Configurable in a way that is just not possible on other platforms (both in hardware and software) QNAP has taken alot of industry knowledge in the past and poured most of it into this device. It's not perfect (price is higher than some might want to spend) and if you aren't going to use all its features, then you may not get that value, but the TS-253D appears to be more about 'better to have it and not need it, than to need it and not have it'.Additionally, QTS is not everyone's cup of tea, as it feels more windows/Android, than OSX/iOS.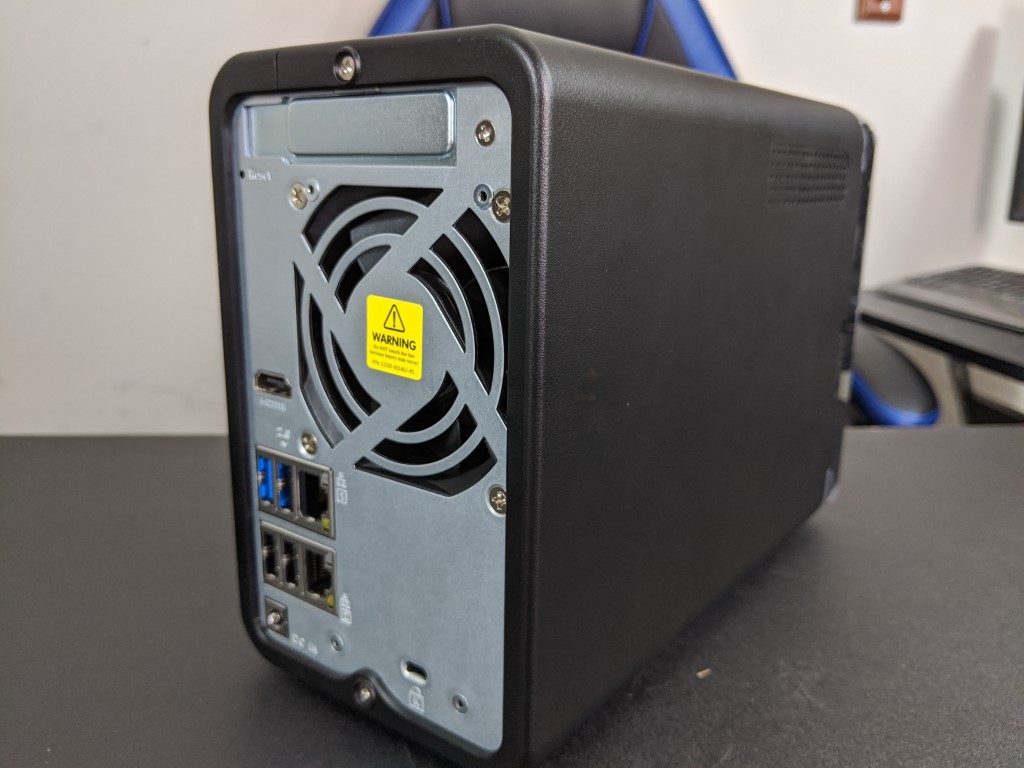 PROS
CONS

2.5Gbe LAN Ports
8 Surveillance Camera Licences
AI-Powered Apps
Snapshot Replication
PCIe Gen 2×4 Upgradable
Support Plex
Virtualization
4K Video transcoding
Full Plex Transcoding
60FPS 4K Support
10 min Windows and/or Ubuntu VM install (included)
Expandable

Quite expensive for a 2-Bay
Odd decision to limit USB ports to 2x USB 3.0
Not quite as intuitive as Synology DSM (close though)
Does not Support BTRFS
📧 LET ME KNOW ABOUT NEW POSTS 🔔
Join 1,582 other subscribers
Get an alert every time something gets added to this specific article!
This description contains links to Amazon. These links will take you to some of the products mentioned in today's content. As an Amazon Associate, I earn from qualifying purchases. Visit the NASCompares Deal Finder to find the best place to buy this device in your region, based on Service, Support and Reputation - Just Search for your NAS Drive in the Box Below
Need Advice on Data Storage from an Expert?
We want to keep the free advice on NASCompares FREE for as long as we can. Since this service started back in Jan '18, We have helped hundreds of users every month solve their storage woes, but we can only continue to do this with your support. So please do choose to buy at Amazon US and Amazon UK on the articles when buying to provide advert revenue support or to donate/support the site below.

Finally, for free advice about your setup, j
ust leave a message in the comments below here at NASCompares.com and we will get back to you.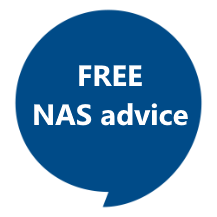 Need Help?
Where possible (and where appropriate) please provide as much information about your requirements, as then I can arrange the best answer and solution to your needs. Do not worry about your e-mail address being required, it will NOT be used in a mailing list and will NOT be used in any way other than to respond to your enquiry.
Support What We Do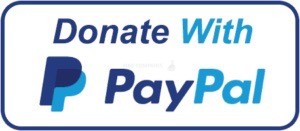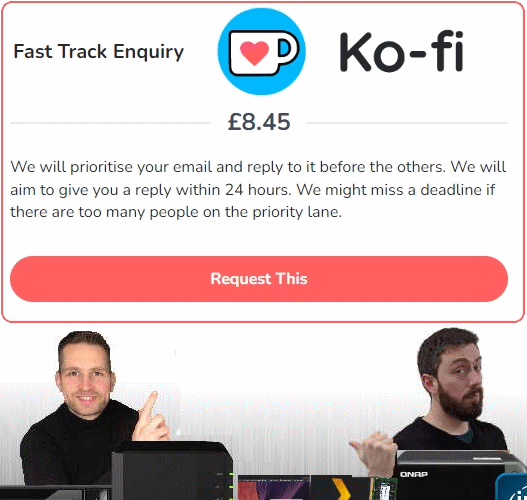 Terms and Conditions
Alternatively, why not ask me on the
ASK NASCompares forum
, by clicking the button below. This is a community hub that serves as a place that I can answer your question, chew the fat, share new release information and even get corrections posted. I will always get around to answering ALL queries, but as a one-man operation, I cannot promise speed! So by sharing your query in the
ASK NASCompares
section below, you can get a better range of solutions and suggestions, alongside my own.
This description contains links to Amazon. These links will take you to some of the products mentioned in today's video. As an Amazon Associate, I earn from qualifying purchases