Asustor AS6602T Lockerstor 2 NAS Hardware Review – Worth Your Data?
I fell like I have said this about four times this year – but today I want to talk about the most impressive hardware equipped 2-Bay solution of 2020, the lockerstor2 AS6602T! Yes, there has been an absolute flurry of new hardware releases from the big guys in NAS storage and each brand has seemingly been playing chicken with each other to see who will release their data storage solutions at the right time. Maybe it is the impact of COVID on production that has created this bottleneck, or perhaps it was that at a number of key releases for last year did not quite reach fruition, but you really are positively spoilt for choice in terms of what kind of NAS drive your money can buy right now. Into this somewhat busy arena, the brand new Asustor Lockerstor 2 AS6602T arrives. With potential market oversaturation being a potential danger to any industry, the Lockerstor 2 still seemingly managers to feature the best of the best, even managing to bring the best parts of other flagship devices released by their competitors this year and culminating it into a single device, all the while maintaining a near-identical price point. On the face of it, the Lockerstor 2 represents a solid third choice right now in the market, when most buyers are being pushed to leverage their budget towards hardware or software, the Lockerstor 2 decides to find a perfect middle. Has Asustor succeeded with the Lockerstor 2? Does it deserve your data? Let's find out.
Other Reviews You Might Be Interested in:
Asustor AS6510T Lockerstor 10 NAS Review – https://nascompares.com/2020/01/23/asustor-as6510t-lockerstor-10-nas-review
Asustor AS6604T Lockerstor 4 NAS Review – https://nascompares.com/2020/08/17/asustor-as6604t-lockerstor-4-nas-hardware-review
Asustor AS5304T Nimbustor 4 NAS Review – https://NAScompares.com/2019/06/27/asustor-nimbustor-NAS-hardware-review
Asustor AS6602T Lockerstor 2 NAS Review – Quick Conclusion
In terms of hardware, you simply cannot fault the value for money that is present in the Lockerstor 2. Practically every single modern trend in desktop NAS storage is included here, while still maintaining an exceptionally affordable price point for most prosumer users. Standout factors such as btrfs, 2.5Gbe, Celeron CPU, NVMe SSD bays and true 4K HDMI make this device absolute hardware must-have. However, there is no avoiding that the Asustor software in ADM still has a few small lessons to learn from its competitors and although it is a solid, fluid and able platform, it lacks a lot of the software killer apps of Synology and QNAP. Nevertheless, the Lockerstor 2 is still an exceptional NAS and I heartily recommend it to those of you that will rely on third-party applications and need a NAS to just shut up and do its job!
Asustor AS6602T Lockerstor 2 NAS Review – Packaging
If there is one area that in practically every single Asustor review I have ever done that the company always excels on, it is the retail packaging. I have been in the field of technology for quite a long time, as well as growing up as a 90s kid who would admire boxer from afar in my local tech retail outlet. Given the increase on the majority of tech purchases being made online, the necessity for eye-catching retail packaging is pretty low and therefore I am always pleasantly surprised when NAS devices like the Lockerstor 2 come along and put that extra bit of effort into to the point of sale design. Arriving in an attractive black and white box, it features numerous images of the Lockerstor 2 itself in near 1 to 1 scale, along with lots of highlighted information on the software and hardware advantages of this device. In short, I'm a sucker for a good bit of branding.
Upon opening the Lockerstor 2 retail box I'm pleased to confirm that the device is well packaged and partitioned for protection from movement and shock damage in transit, something that is wildly underestimated particularly in the field of data storage hardware.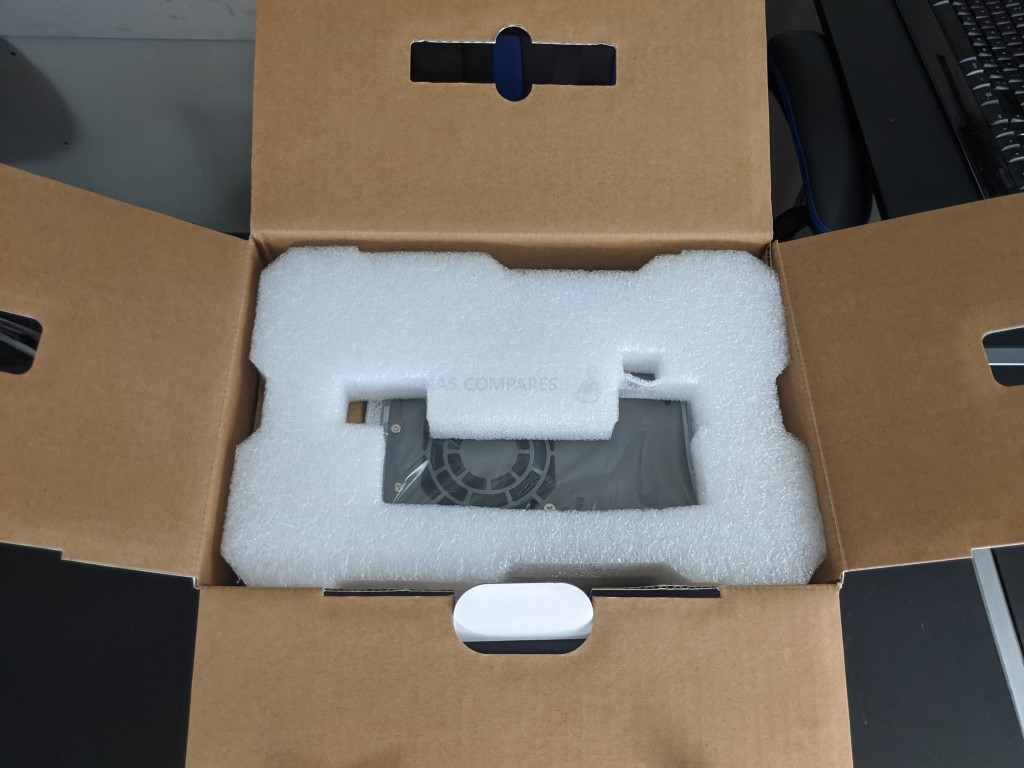 The accessories are all collected together in a separate box, with the Lockerstor 2 NAS unit itself arriving in some pretty hard dense foam that all put eliminates even the tiniest movement in transit. Once again, I will always give a few extra points to any brand that puts their hand in their pocket and will pay for suitable protection of the unit in transit, as this is a shockingly overlooked area of this kind of technology on the basis that it is sold unpopulated.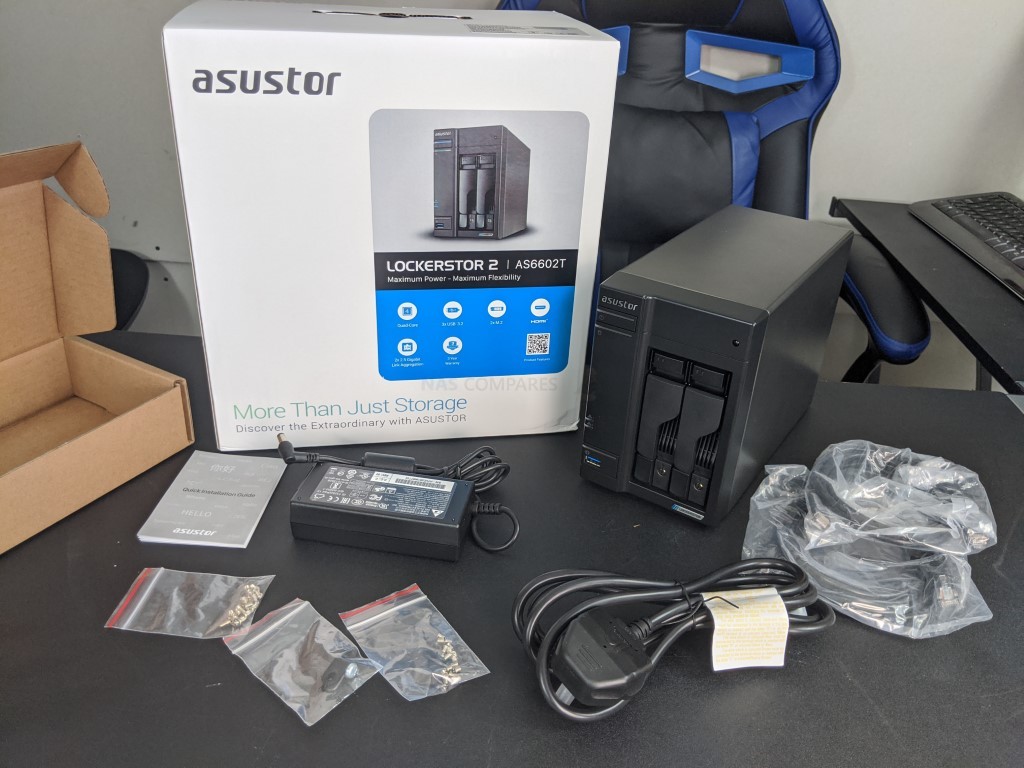 The full Lockerstor 2 retail kit contains several items that allow you to deploy the device easily for the very first time. Everything you're going to need is included here, apart from storage media, as the Lockerstor 2 is sold unpopulated. Asustor has always been in the practice of providing solutions without hard drives, so that end users can choose what media and to what extent they wish to populate their NAS on day one. This is, of course, a matter of taste and preference to the end-user, but generally, I always recommend unpopulated solutions, as it will allow you to plan your budget and spending requirements far more fitting to your requirements. The full list of accessories included with the device are:
AS6602T NAS Unit
2x CAT 5e LAN Cables
External PSU (65W) and Mains Power Cable
Setup Guide and Warranty Details (3 Years)
Screws for 2.5″ and 3.5″ media and keys
Most of these are fairly standard items, but there are a few elements of this accessory kit that I want to touch on.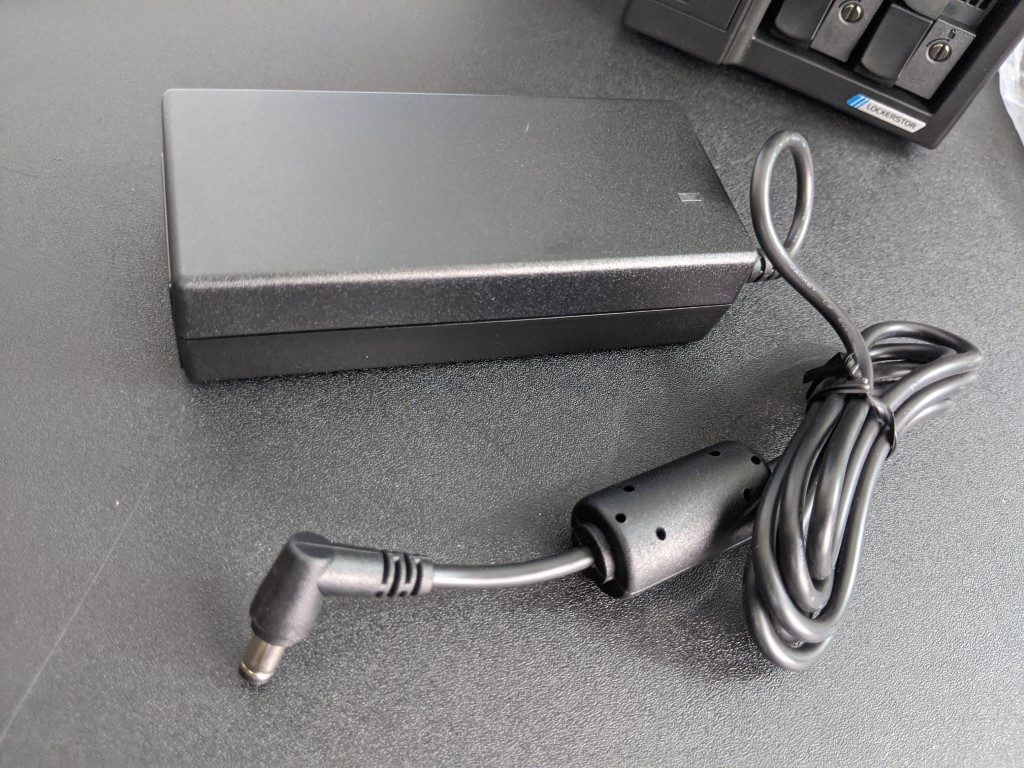 The Lockerstor 2 arrives with an external power brick, which I know is an area of contention for some buyers who consider this just another thing to accidentally forget to pack when deploying a NAS in multiple locations. I have always been very much counter to this point of view, thinking that an external PSU makes a lot more sense in terms of ease of replacement in the event of failure and it also allows the NAS to not have to contend with additional heat generated from the PSU in this typically 24 X7 environment.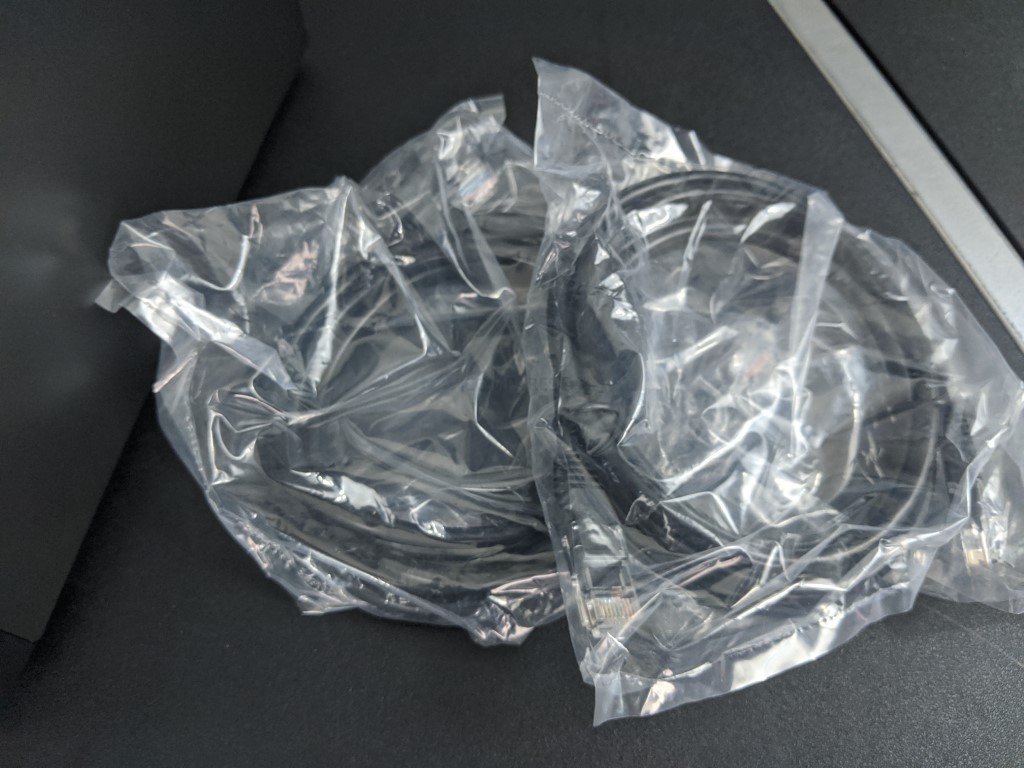 Additionally, the Lockerstor 2 arrives with to RJ45 network cables, one for each available network port. These are cat5e and therefore more than suitable for 1Gbe and 2.5Gbe.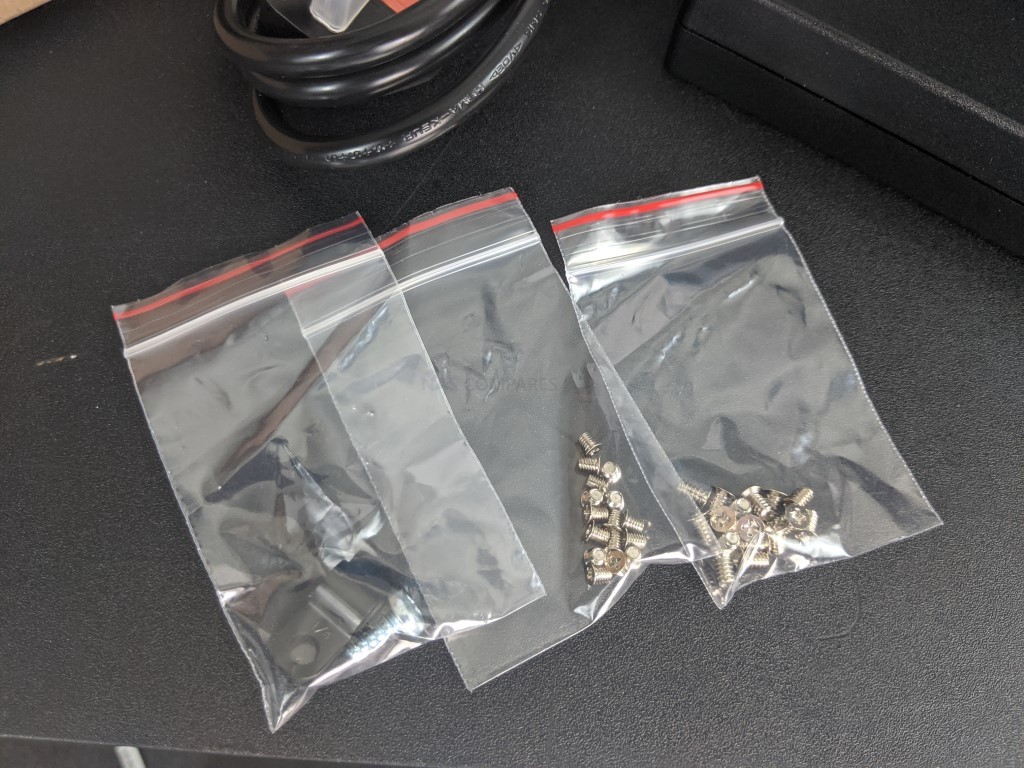 Finally, it is worth highlighting that the device also arrives with sets of hard drive tray keys, cable clips and screws for installing media into the Lockerstor 2. However, there was an absence of heat sinks for the NVMe media bays. the Lockerstor 2 features two NVMe SSD cache bays (that we will touch on in more detail later on), however, I would have expected a couple of NVMe silicone or thermal heat pads included with this device. not a huge problem but just a minor thing I noticed worthy of comment.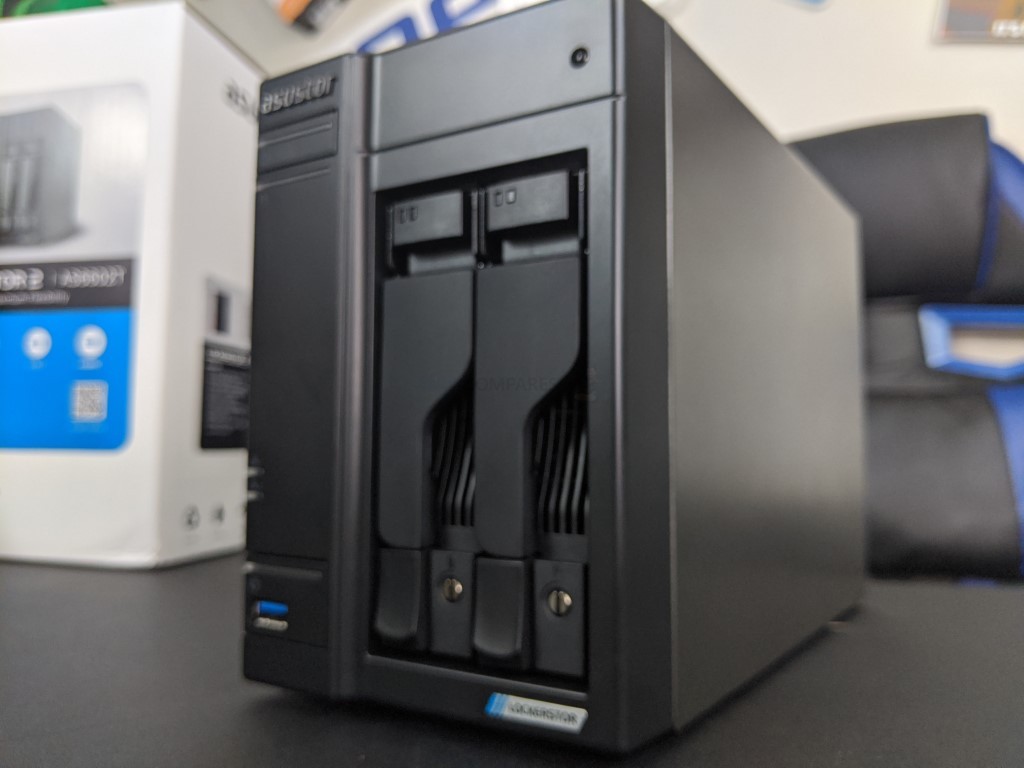 Overall I am quite happy with the Lockerstor 2 retail kit, despite the odd thing missed. However, I am sure many of you I'm more concerned with the build quality of this new Asustor NAS, so let's crack on.
Asustor AS6602T Lockerstor 2 NAS Review – Design
Design-wise, the Lockerstor 2 AS6602T is very similar to previous generations of prosumer Asustor NAS. This 2-bay solution features a fantastically rugged chassis, that is almost exclusively metal in both external casing and right the way down to the individual drive trays. Typically this is an area where most brands will make economies, for reasons of mass production or for reasons of noise reduction. However, I am well aware that there is a large contingent of NAS buyers who prefer metal NAS systems for the heat dissipation and build quality advantages.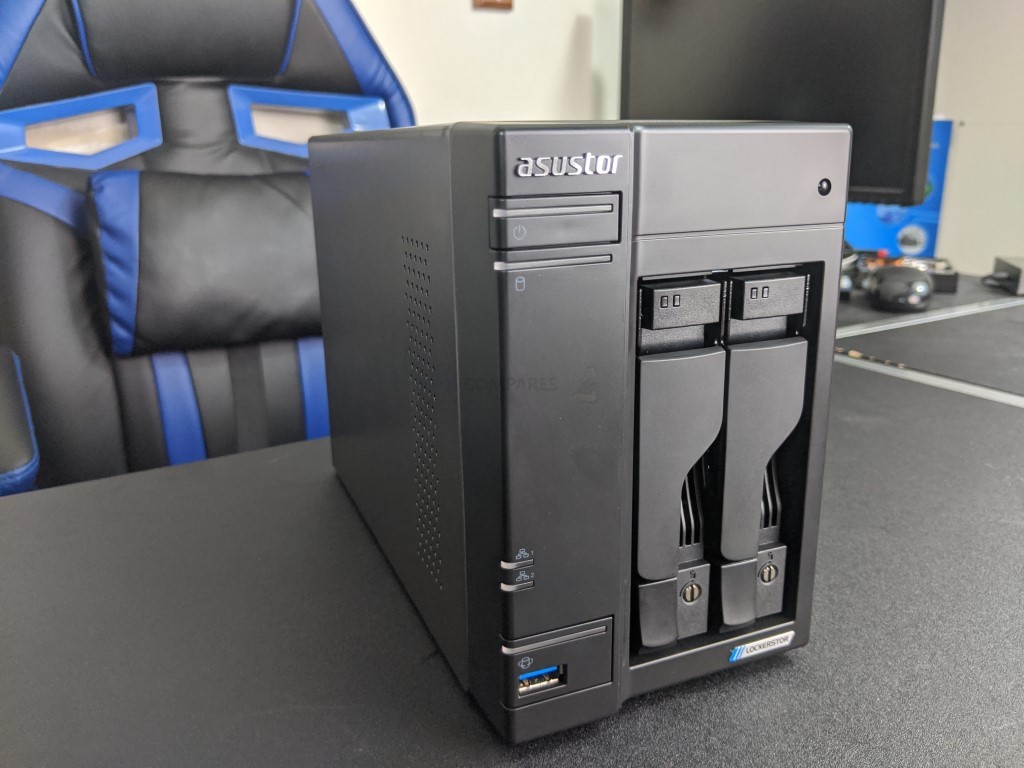 A good look at the front of the Lockerstor 2 chassis shows us that everything is well spaced out on this 2 bay NAS system. Although this chassis design has now been around with Asustor for more than 5 years, this is hardly a crime as it is something that others brands have maintained for much longer in some cases – I'm looking at you Synology and (to a much larger degree) Drobo.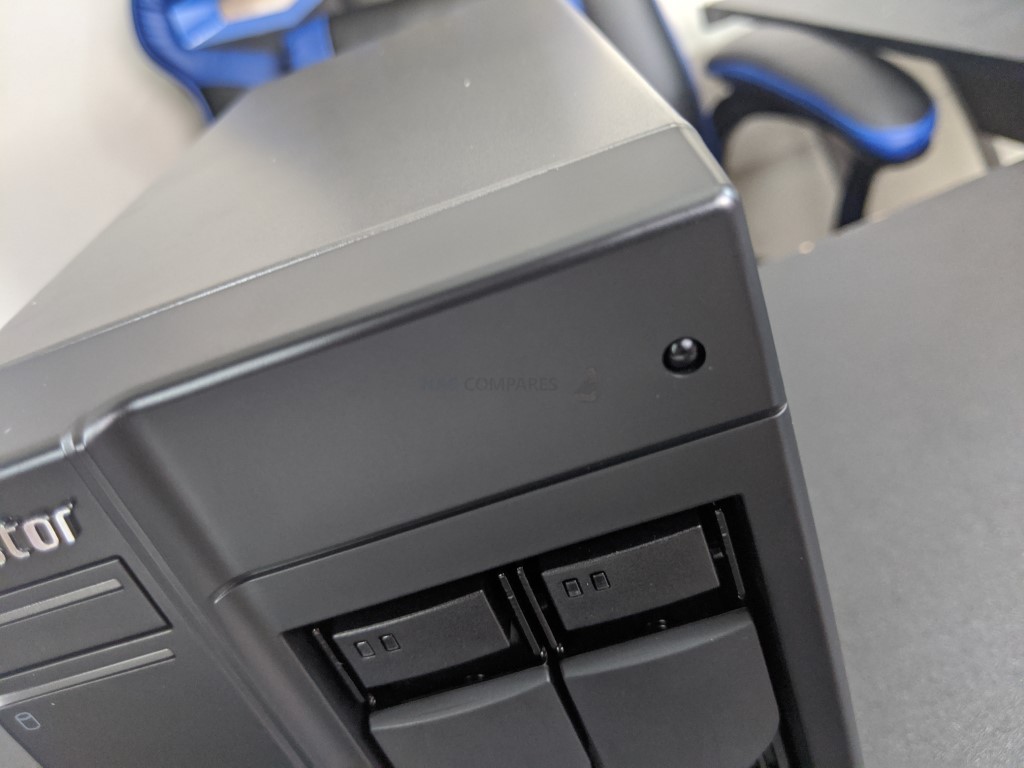 Sadly, this 2-bay does not feature a controllable LCD front-mounted panel (available on the Lockerstor 4 AS6604T). This is a real shame and sure, you can access this information by logging in via the client applications or browser-based GUI, but this can take longer than a simple click of a button on the physical NAS and is especially relevant when the alert buzzer is triggered for reasons of or storage degradation where the time frame is important. Perhaps for reasons of space it has been removed, but it is still something that I feel gives the 4-Bay lockerstor an edge.
Additionally, the Lockerstor 2 features numerous areas of LED notification. these are considerably less useful and detailed than the LCD panel but still provide minimalist information about system access and activity.
Another physical feature of the Lockerstor 2 that I'm pleased to confirm is still present in this 2020 NAS drive is a front-mounted USB 3 copy button. More and more brands are removing this feature in favour of a stand-alone USB port that can trigger backups automatically when a given external drive is connected. The Lockerstor 2 has both a physical button that can manually instigate multiple types of NAS to USB backup, as well as an automated trigger system too – better to have both than either, as if you are going to the trouble of connecting a drive physically to this NAS the extra steps in assurance to simply click a button and the first-hand witness the backup begin is just an extra layer of peace and self-assured security that for me is vital, to have confidence in your backup strategy.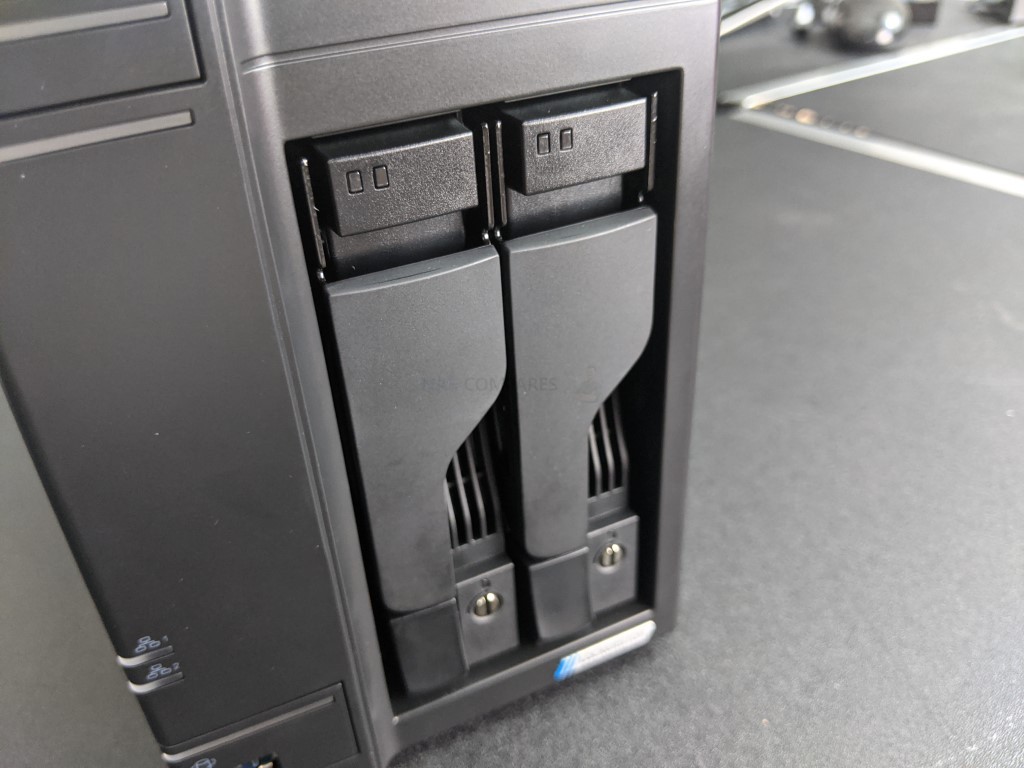 Carrying on with the theme of rugged design, the drive trays featured on the Lockerstor 2 are particularly good. Each tray has a dedicated switch-based locking mechanism, plenty of ventilation and is even spring-loaded, something we are seeing less and less these days. Each tray supports a 3.5 inch or 2.5 inch SATA media drive, as well as allowing you to deploy this device with a single drive if you choose.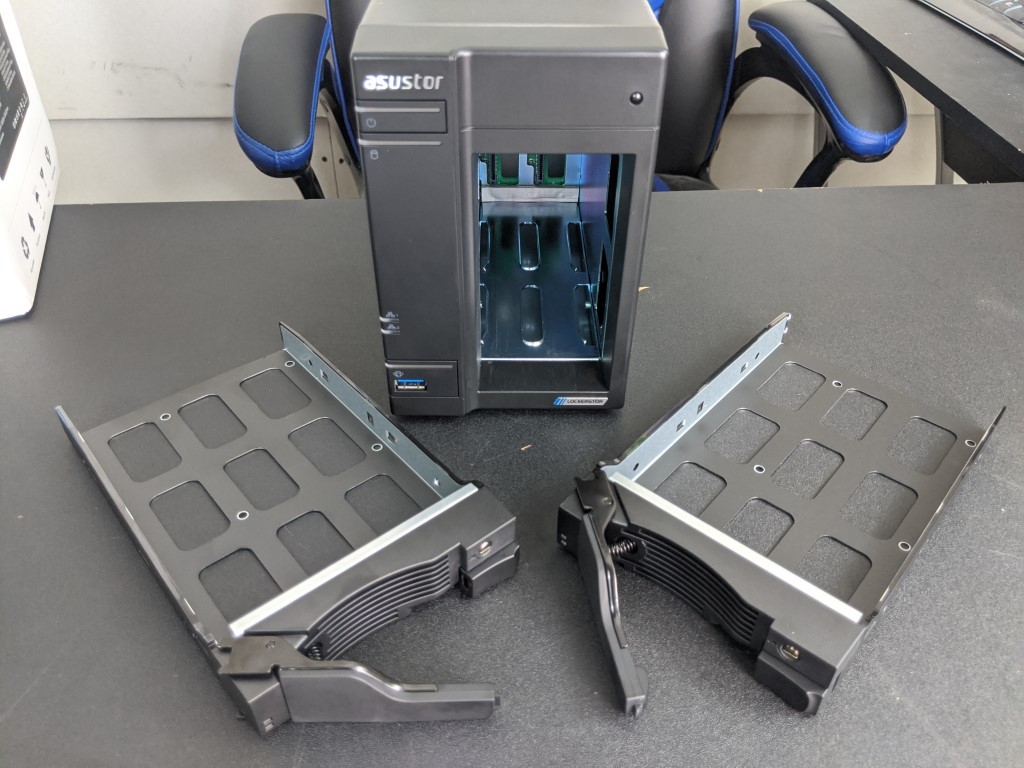 Of course, this device is designed with the utilisation of a RAID configuration ideally in mind and as this device supports both the very latest 16TB and 18TB drives, as well as numerous RAID configurations in JBOD, RAID 0, and RAID 1. Which means by current storage drive standards, this device can support up to 32TB of storage, and can even be expanded with numerous official Asustor expansion devices.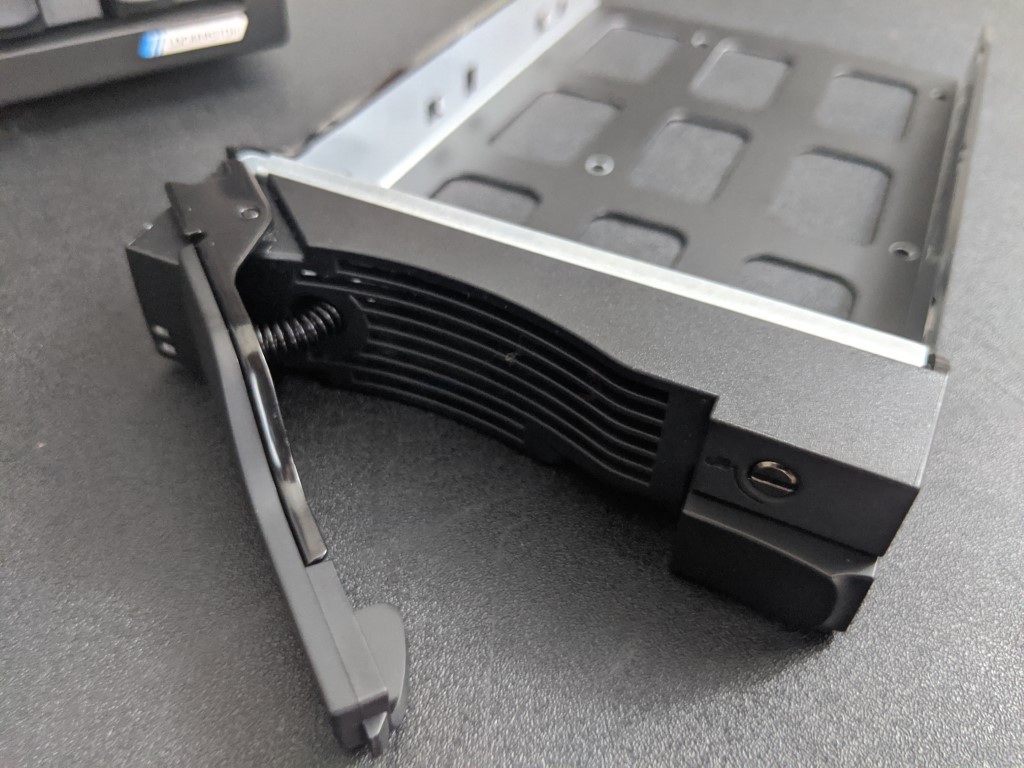 The fact that each tray is metal is, once again, something that may divide some buyers. Each tray being metal, along with the metallic outer casing of this marriage chassis, means that more enterprise-level hard drives at 7200rpm and larger platter quantities inside will produce more clicks, whurrs and vibration, which will then be marginally amplified by the metal external casing.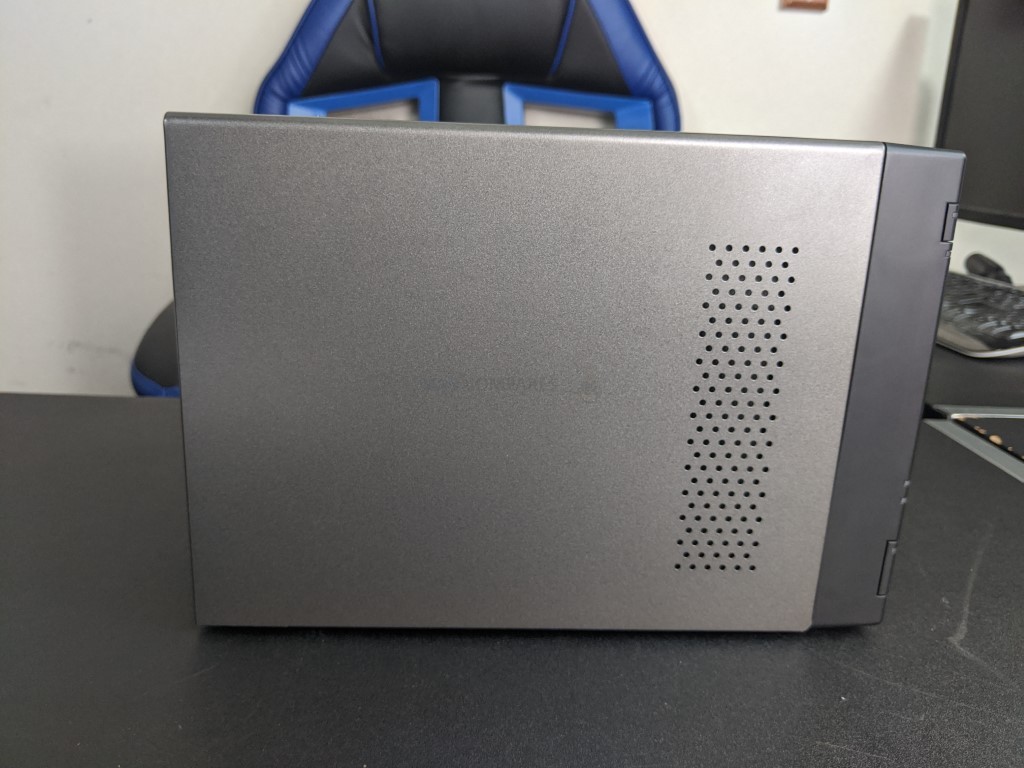 The abundance of metal design on the Lockerstor 2 nice will certainly assist heat dissipation, but there is no avoiding that it will also play its part to increase general sound levels negatively.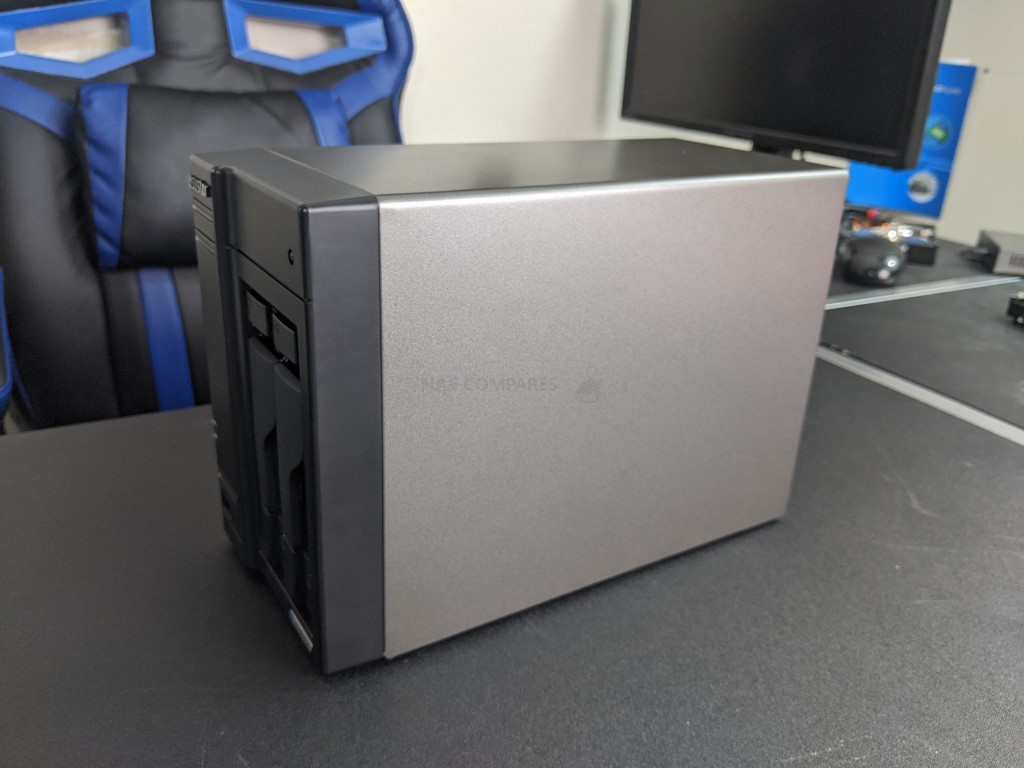 Alongside this, the Lockerstor 2 features less typically visible ventilation than what you see on most 2-bay solutions. Alongside the rear-mounted active cooling fan, the only other passive cooling to assist airflow is via a minimal ventilation slit on the side and what ventilation is available on each drive tray. Once again, this system requires a little less ventilation than more plastic-based NAS casing and therefore excusable to a degree. Next, we discuss the ports and connections available on the Lockerstor 2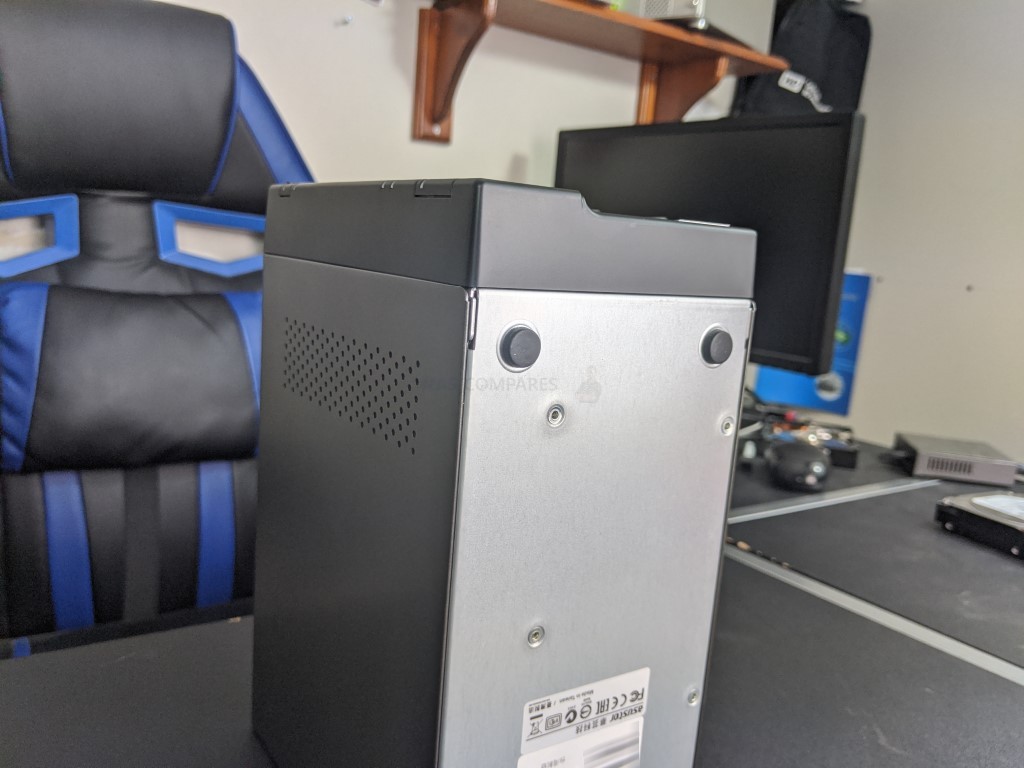 Asustor AS6602T Lockerstor 2 NAS Review – Ports and Connections
The ports and connections on the rear of the Asustor Lockerstor 2 AS6602T NAS are comparable to that of the Nimbustor 2 (AS5302T) released in mid-2019. That isn't to do them a disservice and in fact Asustor that broke the mold on a number of current NAS hardware trends with last year's Nimbustor release.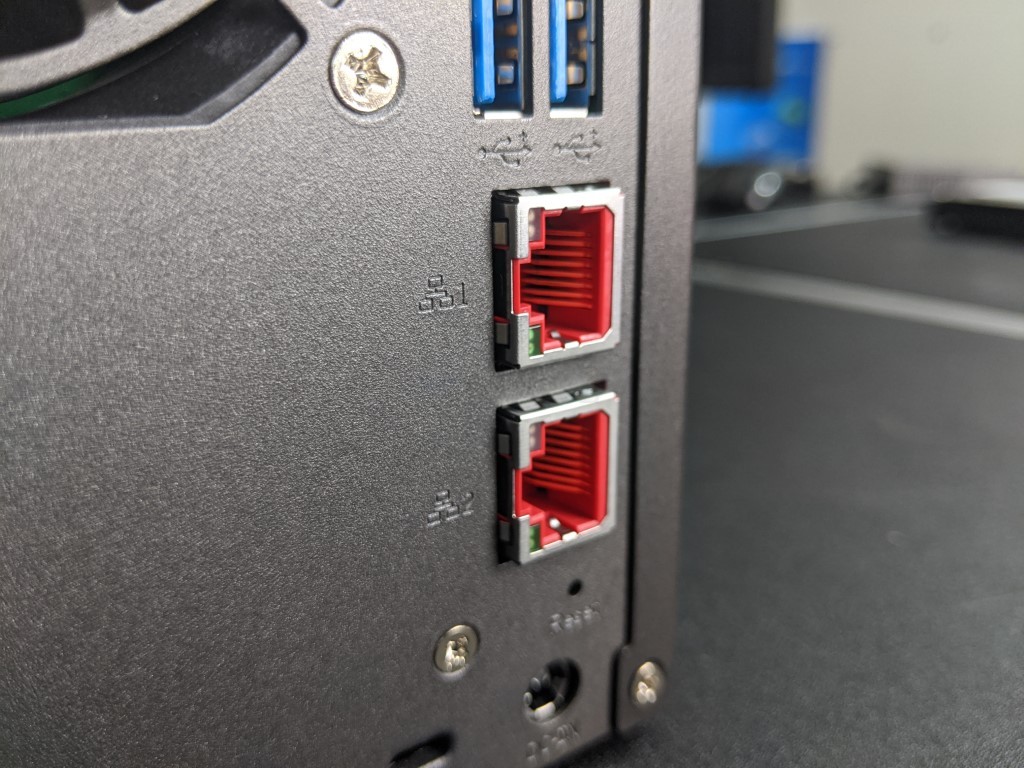 Probably one of the most innovative connections on the rear of this Lockerstor4 drive is that of the Ethernet connections, both of which feature 2.5Gbe – 2.5x that of traditional ethernet speeds. Additionally, these ports can be combined (via link aggregation/port trunking) to allow up to 5 Gbe combined bandwidth. There are, of course, numerous factors to consider before reaching these speeds such as making sure the rest of your network environment is 2.5Gbe and above compatible, as well as the storage media inside providing that level of performance. However, it is still impressive that the Lockerstor 2 can arrive at the same price as the Synology DS920+ and QNAP TS-453D, and yet still arrived with some great prosumer hardware.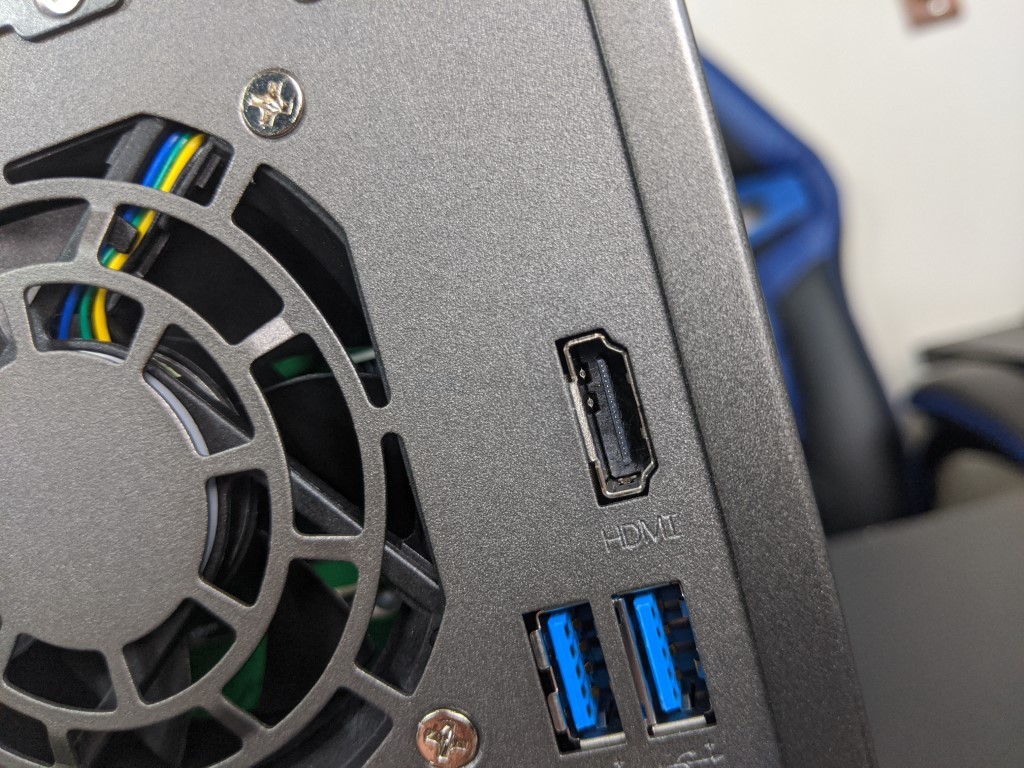 Additionally, this system also features an HDMI out that can be used in unison with the dedicated parallel GUI, Asustor portal. This separate user interface and means to interact with the data on your NAS in a far more graphical level is something currently only QNAP provides. The visual out used in conjunction with the two additional USB 3.0 ports opens up numerous KVM (or keyboard video mouse) applications, such as a stand-alone surveillance system, a stand-alone desktop computer used in conjunction with the virtual machine software, direct output of your movies and box sets from your collection, a retro arcade machine with support for controllers and numerous other first and third-party software options. Additionally, the Lockerstor 2 features HDMI 2.0, which is a 4K 60 frames per second visual output. that means that you will be able to enjoy particularly dense 4K top-end media with close to zero playback and browsing latency, by connecting the NAS directly to your TV, as opposed to streaming such large media over the network.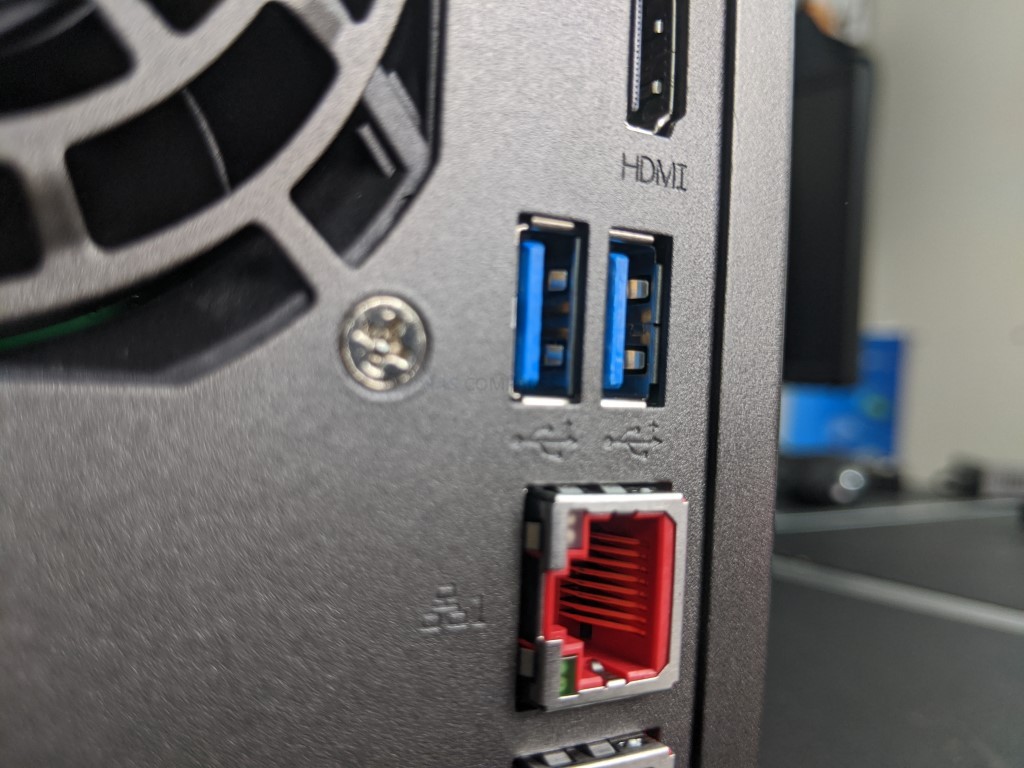 The USB ports that are featured on the Lockerstor 2 can also be used by numerous supported hardware peripherals and storage devices by the core NAS system, such as UPS devices, printers, expansion chassis, remotes, external storage and wireless dongles. There is even 2.5Gbe and 5Gbe USB adapters that allow you to add further network interfaces to this NAS and increase the available bandwidth to multiple users(and apps) accessing the data on the lockerstor NAS for their own needs.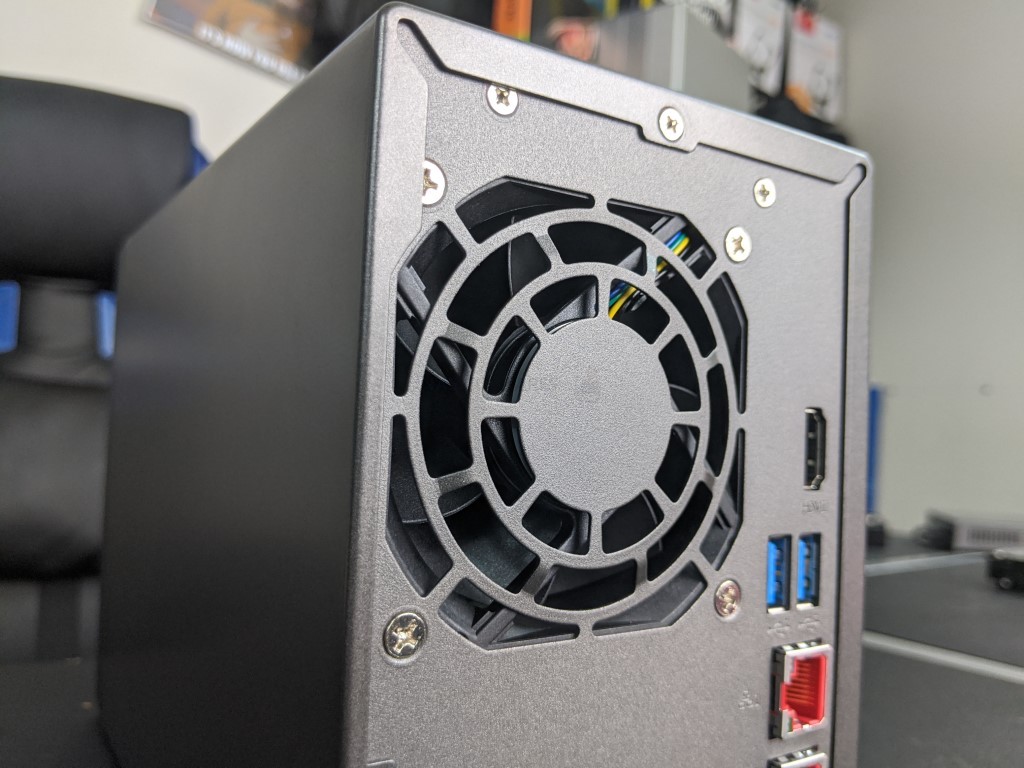 That said, one feature that is seemingly missing from the Lockerstor 2 NAS is a PCIe upgrade slot to allow further network interface ports, larger bandwidth connections and other expansion card upgrades. comparing against the flagship Synology and QNAP solutions, this is the only feature that remains absent and even then, the explanation for this becomes abundantly clear once we remove the lid of this chassis.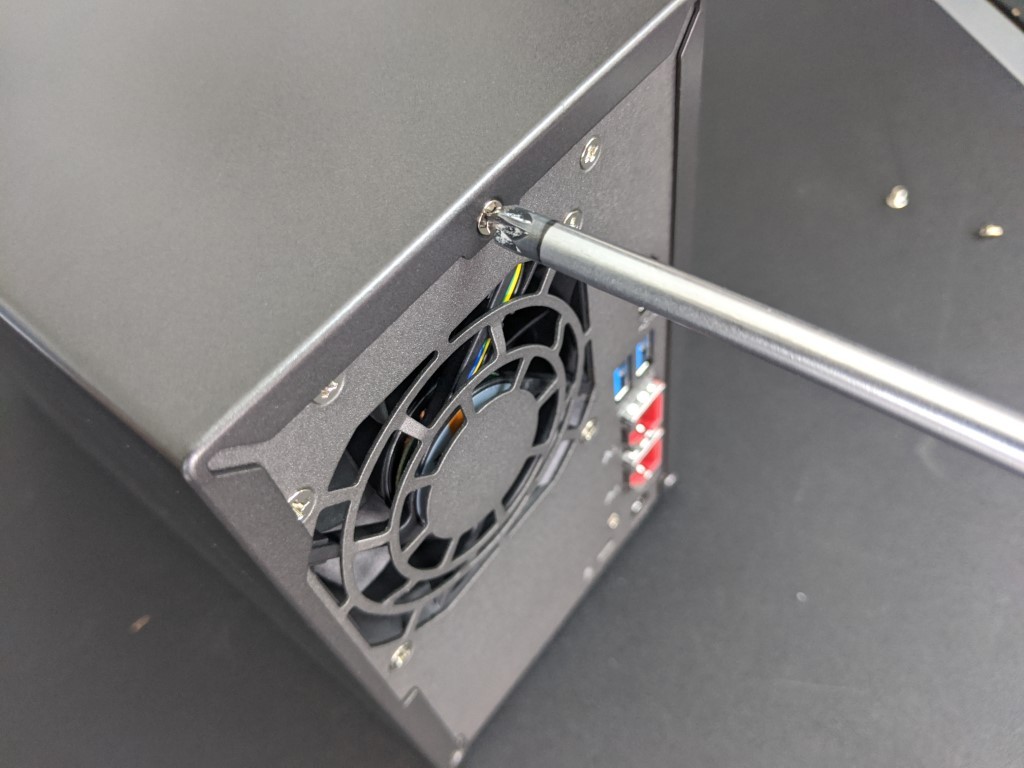 Asustor AS6602T Lockerstor 2 NAS Review – Internal Hardware
Once I removed the external casing of this NAS drive, we find that the bulk of the main controller PCB is covered by a layer of heat-reflective plastic. Under this, we find the main CPU and memory of the Lockerstor 2 system.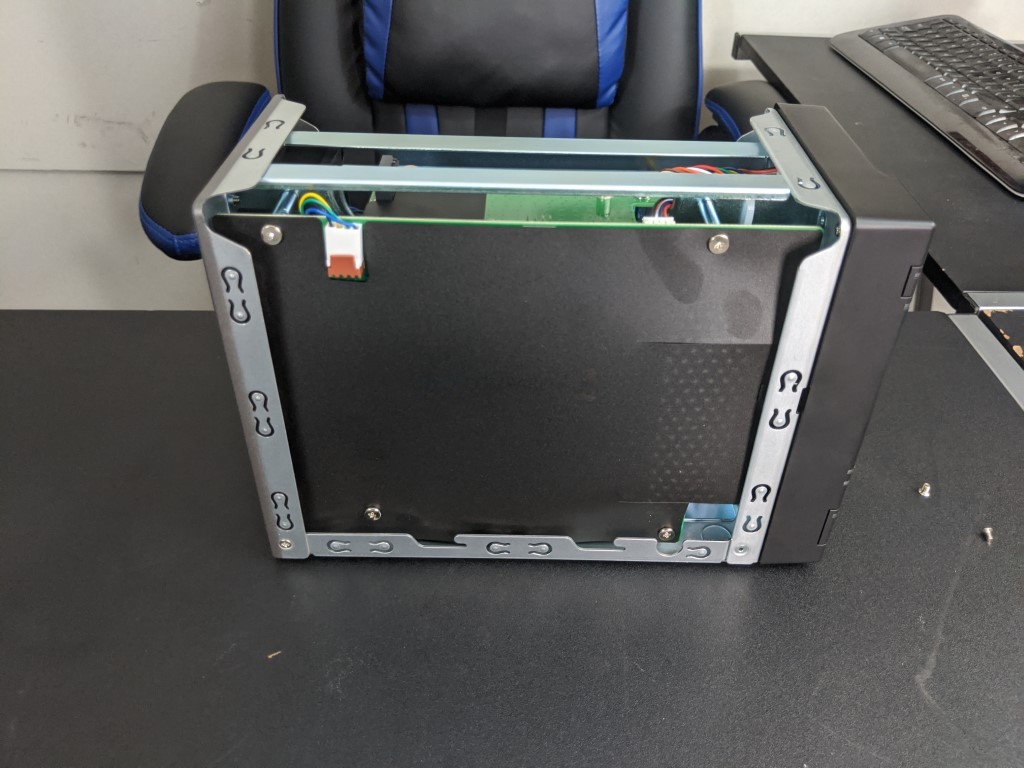 The CPU featured in the Asustor Lockerstor 2 is an Intel J4125, a processor that has become exceptionally popular this year in most mid-range NAS solutions with its excellent price vs featured chipset support. This CPU features a 2.0Ghz clock speed that can be upped to 2.7Ghz when needed, on each of the 4 cores.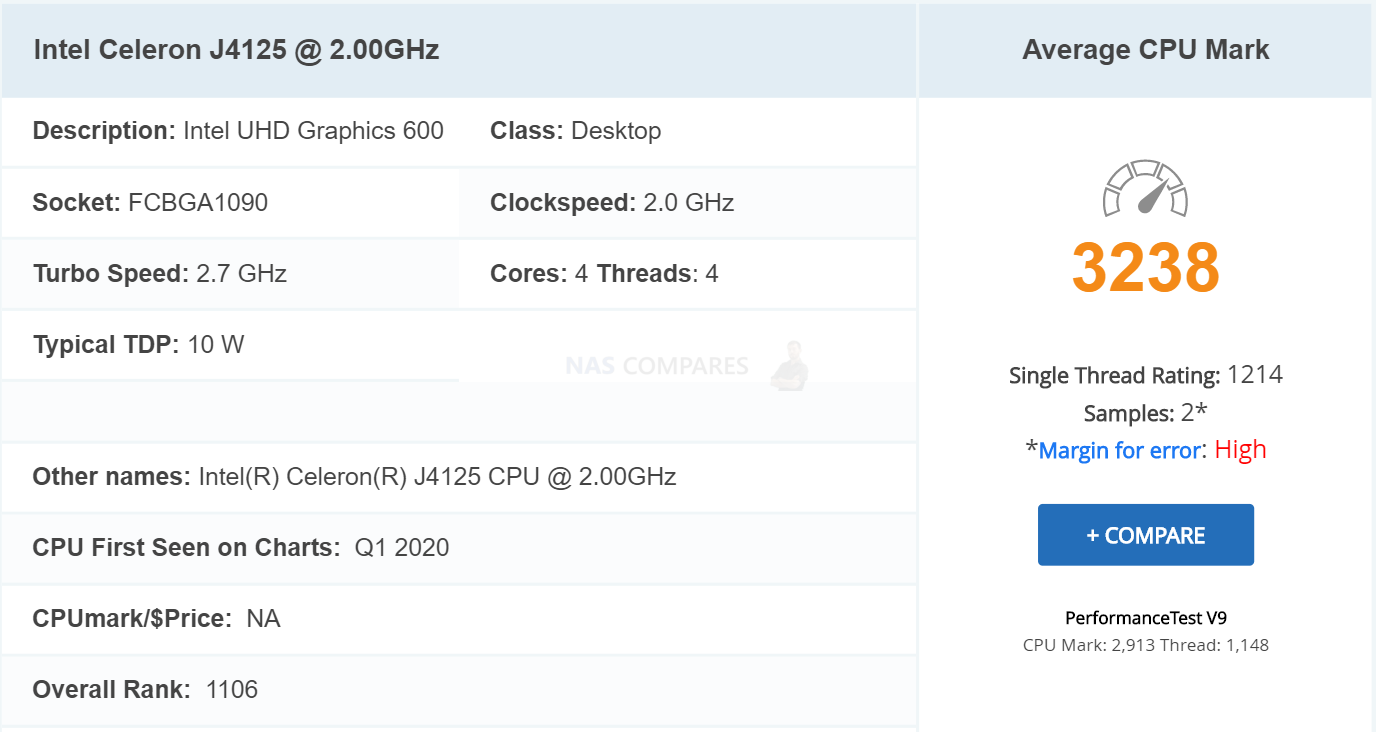 Additionally, this CPU opens the door to AES-NI encryption (which allows faster-encrypted transmission), UHD 600 embedded graphics with support of both 4K and 1080p (inc. transcoding), a great floating-point and DDR4 memory upto 8GB with 4GB already included at 2400Mhz.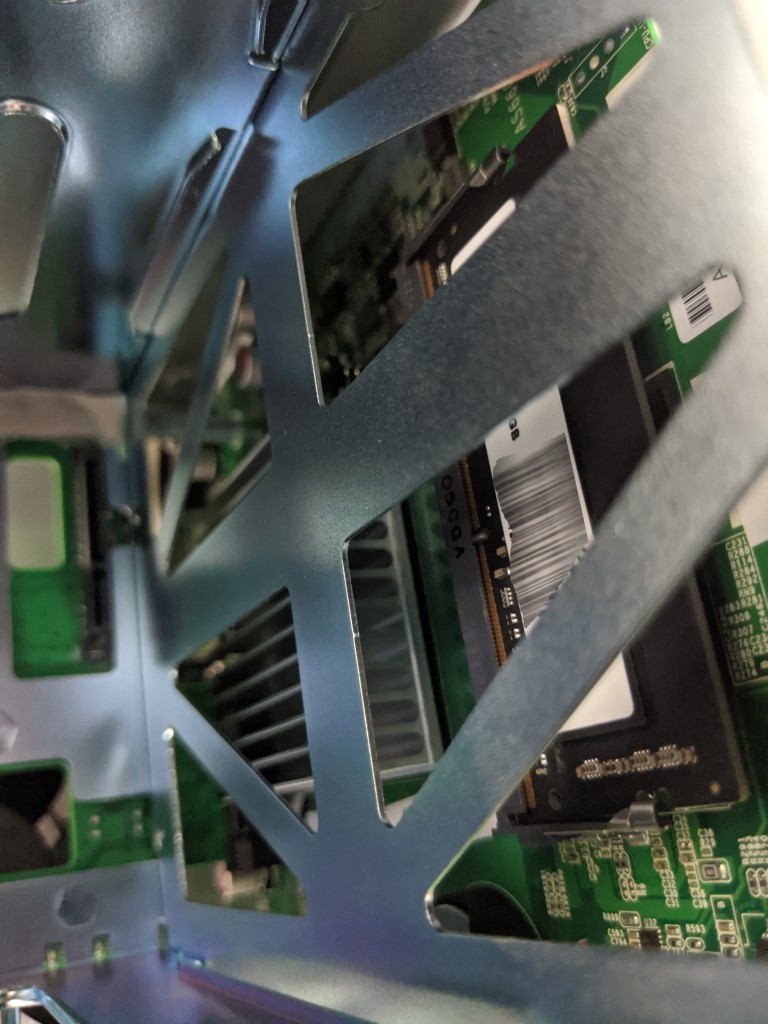 Although the pre-included 4GB RAM module of the Lockerstor 2 cannot be easily accessed to upgrade, you should not need to given the maximum 8GB supported by both the Lockerstor 2 and the CPU manufacturer Intel.
However, there is the second sodium slot inside that allows the end-user to install an additional 4GB of DDR4 SODIMM memory. Asustor support numerous memory brands currently and this is something that is becoming increasingly rare with many brands only supporting their own own testing memory modules, which arrived at somewhat of a premium compared with that of Crucial and Kingston.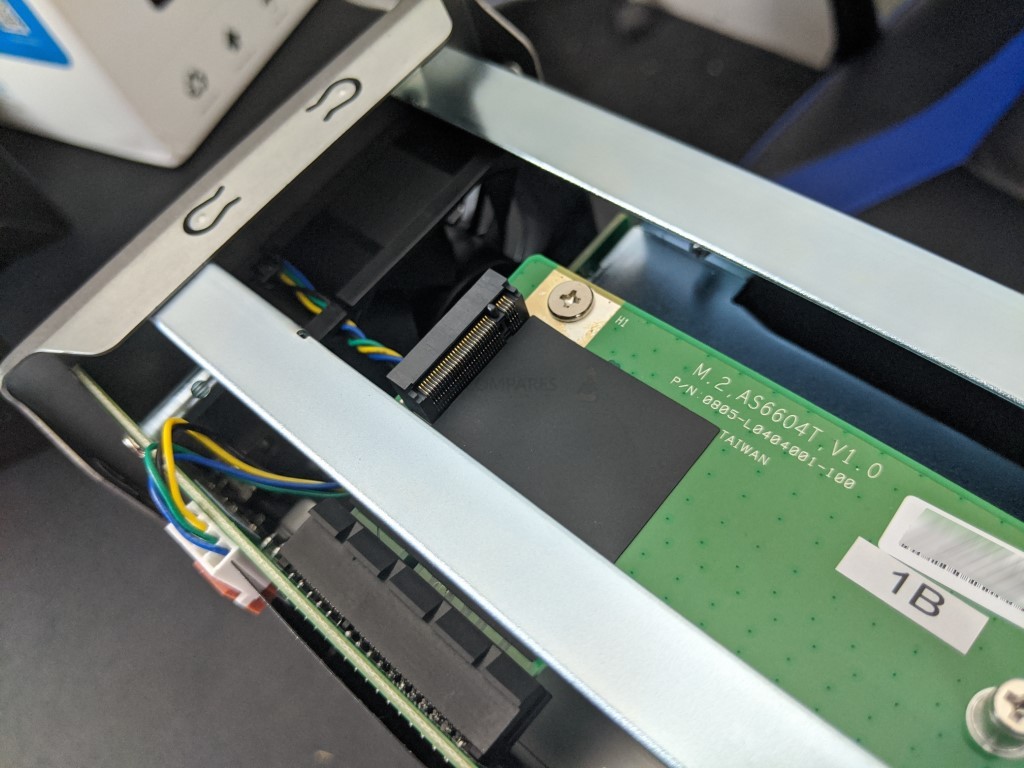 However, a little further investigation shows us why the Lockerstor does not feature an available PCIe upgrade slot, as it is already pre-populated with a separate minor PCB with two to NVMe SSD bays onboard. Given the Intel Celeron J4000 series CPU and the available PCIe lanes it supports, there is every likelihood that these NVMe PCIe slots are Gen 2 x 2 each. This does present the tiniest bottleneck when connecting more modern PCIe Gen 3 x4 NVMes (Seagate Ironwolf 510s and WD Black SN750 for example), but you will still see great performance benefits (particularly in file operations that require smaller and more frequent files in high quantities) and the benefits of SSD cache used in conjunction with a larger more cost-effective hard drive RAID array have long been established.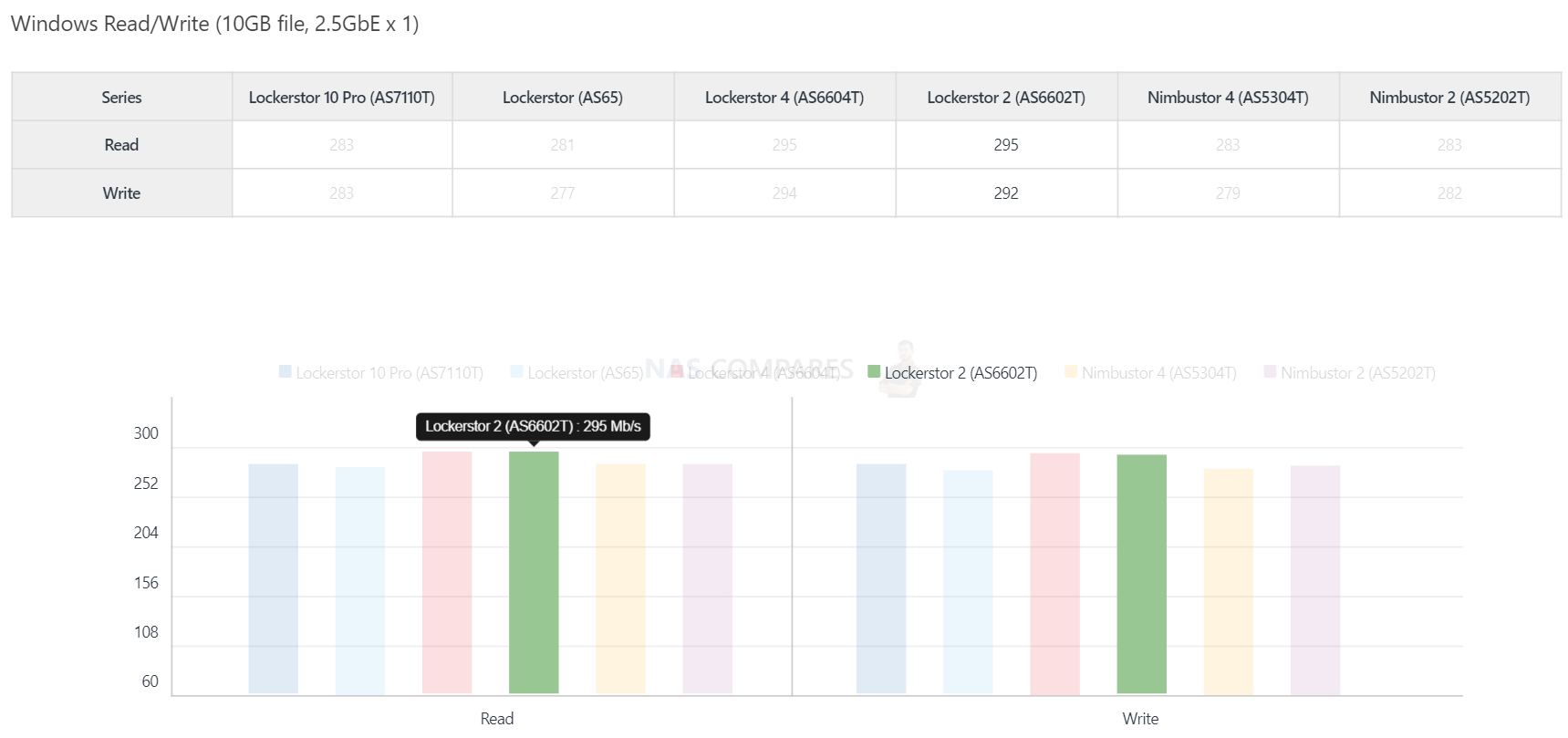 However, it is worth highlighting that you will be unable to use these PCIe SSDs for traditional raw storage and much like the Synology flagship two-bay series, The NVMe SSD that you install inside the Lockerstor 2 are limited for use in caching ONLY. Given the potential PCIe throttling that this particular CPU chipset might provide, this may well be a wise choice. However, QNAP has long since championed the use of NVMes in their systems for both storage and caching, at the end user's behest.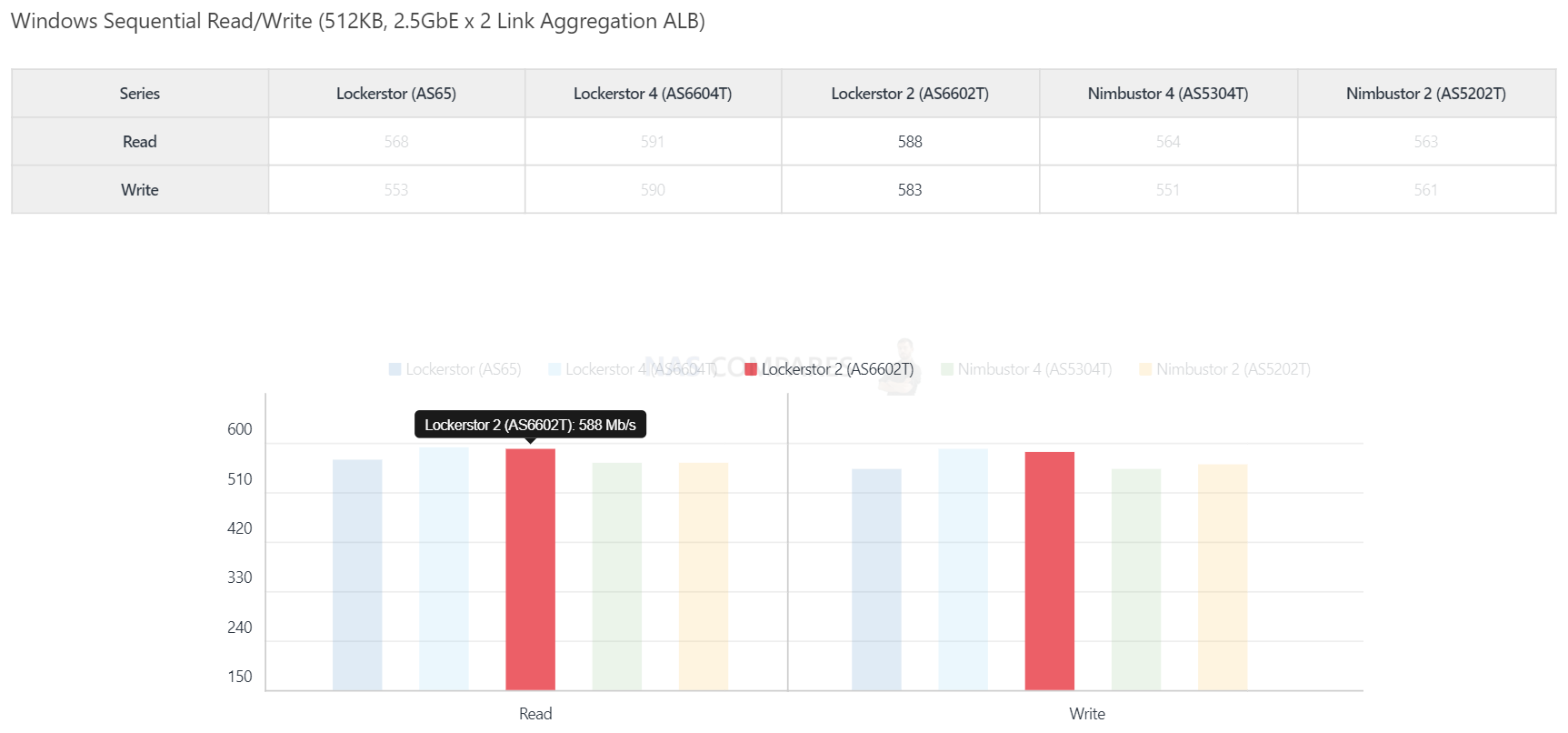 Apart from that, there are not many more big surprises inside the Lockerstor 2 NAS system. Everything is very clean and robust in its construction, and what we have here is a well put together piece of kit in terms of hardware. The only negatives for me are the lack of NVMe utilisation as raw storage and maybe a couple less USB than I would like, especially when of the three available, at least two are likely to be occupied by KVM accessories in order to make the most of this device and it's HDMI output. Next, let's move on to the software.
Asustor AS6602T Lockerstor 2 NAS Review – Software
The Asustor AS6602T NAS arrives with the latest version of ADM included. Additionally, this software receives frequent updates to ensure that the software runs the very best it can on the Lockerstor, as well as keeping up to date with security patches and application versions. We have touched on a number of the features in our Nimbustor 4 NAS software review (below) and it highlights already, but I have a full Lockerstor4 software review in the works and should be with you shortly. What this CPU means in terms of NAS drives like the Lockerstor is a large variety of things. We will go into more depth with the software review, but in brief:
Plex – Hardware Transcoding (with a Plex Pass) is likely and with 1080p handled very well indeed, as well as some Plex 4K transcoding in H.265 – lower tier stuff though
Virtual Machines – A graphical embedded CPU like the Gemini Lake in this Nimbustor NAS will run Windows 10 and Android VMs very well. With the added support for Ubuntu and Hackintosh with VirtualBox
Storage Management – BTRFS Support, as well as EXT4 for the traditionalist, Multiple Snapshot storage and browsing for recovery, a large number of ISCSI and LUN target creation, fast-acting SSD caching use
Network Management – Support of LAG, Load Balancing and virtual switches, as well as maintaining top transmission over 2.5/5Gbe for editing or gaming over the network. As well as Jumbo Frame control, DDNS automation, Wake on LAN support and internet/external NAS access with EZ Connect
Backups – Supporting a wide range of multi-tiered backup options that can be carried out simultaneously thanks to the powerful CPU in the Nimbustor NAS, such as network RSync, USB Backups, NAS-2-NAS migration, Cloud Backups with Google Drive, Dropbox and Backblaze and numerous RAID levels internally for redundancy.
Content Management – Numerous Content Management Systems (CMS) and Customer Relationship Managers (CRMs) available in 1st and 3rd party forms, with simultaneous operations supported by the Asustor Nimbustor 4 NAS
User Account Control – Supporting over 4,000 accounts, each with their own bespoke privileges and access levels, as well as grouping methods to automate the process easily
Security – AES 256bit hardware encryption on data in/out of the device, as well as over backup methods, with the J4125 CPU in the AS5304T maintaining high R/W speeds throughout, as well as Windows ACL permission and configuration, auto blacklisting and multiple VPN provider support
Antivirus (ClamAV) – Scheduled Scans, Automatic Virus Definition Updates, Quarantine Infected Files
Download Center – Supports BT(Torrent & Magnet Link), HTTP and FTP Downloads, Torrent Search, Bandwidth Control, RSS Subscription and Automatic Downloading (Broadcatching), ASUSTOR Download Assistant for Windows & Mac
DropBox, OneDrive and Google Drive Sync – Each ADM Account is Able to Individually Log into one cloud Account, supporting Sync, Directly Upload Files to cloud from the NAS, or from cloud to NAS
LooksGood Media App –Built-in three main video library categories; movies, TV shows, home movies and smart video sorting management
The efficient global search function allows for searches by keywords followed by the execution of more detailed searches for the purpose of finding categories of movies, TV shows, home movies and parameters such as actors, director, year, genre, writer and title
Attractive poster wall and thumbnail display
Automatic production of video poster thumbnails
Centralized management and ability to configure the order of favourites and playlist history
The system administrator is able to configure video library and editing permissions according to user preferences
Can configure access permissions to share with
Multimedia conversion feature
Self-defined smart folder for video conversions
Supports digital TV recordings via digital
Easy streaming with Chromecast and DLNA
Supports playback of videos in Apple TV via AiVideos tvOS version
Mail Server – Each ADM Account can Become an Independent Email Account, Provides SMTP, IMAP and POP3 Mail Protocols, Spam Filter and Black List Settings, Antivirus Scanning for Emails, Exclusive Email Backup Mechanism, Auto-Forwarding and Auto-Response Protocols
Photo Gallary – "Album" and "Browse" Viewing Modes, Manage Photo Album Access Rights: Public Access, Restricted to Certain Accounts, Album Password, Multi-level Folder Structure Support, Supports Tagging of Photos, One-click Sharing to Social Media (Facebook, Google+, Twitter, Plurk, email), Intuitive Drag and Drop Management, Slideshow Viewing Mode, Supports a Wide Range of Image Formats: JPG/JPEG, GIF, PNG, BMP, TIFF, RAW and Supports Video Playback
Surveillance Center – Up to 64 channels in 720p on single live view display, On-screen camera controls including camera PTZ, manual recordings, take snapshots, configure camera settings and open Maps, Up to 4 channels of synchronous and non-synchronous playback with audio, Intelligent video analytics including motion detection and foreign object detection, Supported Browsers: Windows Internet Explorer, Microsoft Edge, Firefox, Mac Safari, Mac Firefox ESR, Event notification supports SMS, E-mail, and mobile push notification, AiSecure mobile app for iOS and Android with Push notification, Maximum IP Cam (4 Free Licenses; Additional Licenses to be Purchased)
Takeasy – Download from YouTube, Vimeo, Twitch and More, Selectable Video Type and Quality, Automatic Downloads with YouTube or Twitch Subscriptions, Preview Downloads in Progress and Online Playback
SoundsGood Audio App – Import Personal/Public Music Collection, Personal/Public Music Collection Permission Control, Playlist Editor, ID3 Tag Editor, Local Speaker Support: HDMI, USB, Audio Jack, Supported Audio Formats for Browser: MP3, WAV, Ogg, Supported Audio Formats for Transcoding Through Browser: AIFF, Flac, Supported Audio Formats for Local Speaker: MP3, WAV, Ogg, AIFF, Flac
Backup Tools – Rsync (Remote Sync) Backup, Cloud Backup, FTP Backup, External Backup, One-Touch Backup, EZ Sync, Btrfs Snapshots
These are just the tip of the iceberg and I will be going into more ADM 3.4 and AS6602T applications in the Software Review.
Here is how the Asustor ADM platform compares with the Synology DSM platform:
Asustor AS6602T Lockerstor 2 NAS Review – Conclusion
You simply cannot fault the Lockerstor 2 NAS system in terms of hardware. Pretty much every single recent innovation that other NAS brand has boasted about in 2020 (BTRFS, HDMI 2.0, 2.5Gbe, NVMe SSD, etc) on their platforms have ALL been combined into this system. There is a tremendous amount of flexibility available to the end-user, and you can certainly see that Asustor has REALLY made the most of out of this architecture, ensuring this chipset has had its boundaries pushed as far as they can go in terms of hardware features. There is no avoiding that the software could still do with a few extra top-tier applications and although Asustor ADM is a huge leap forward from the already impressive platform we discussed at length a year ago, it still feels like it is still playing catch up with a number of the other brands that leverage a decent percentage of their budget in favour of software.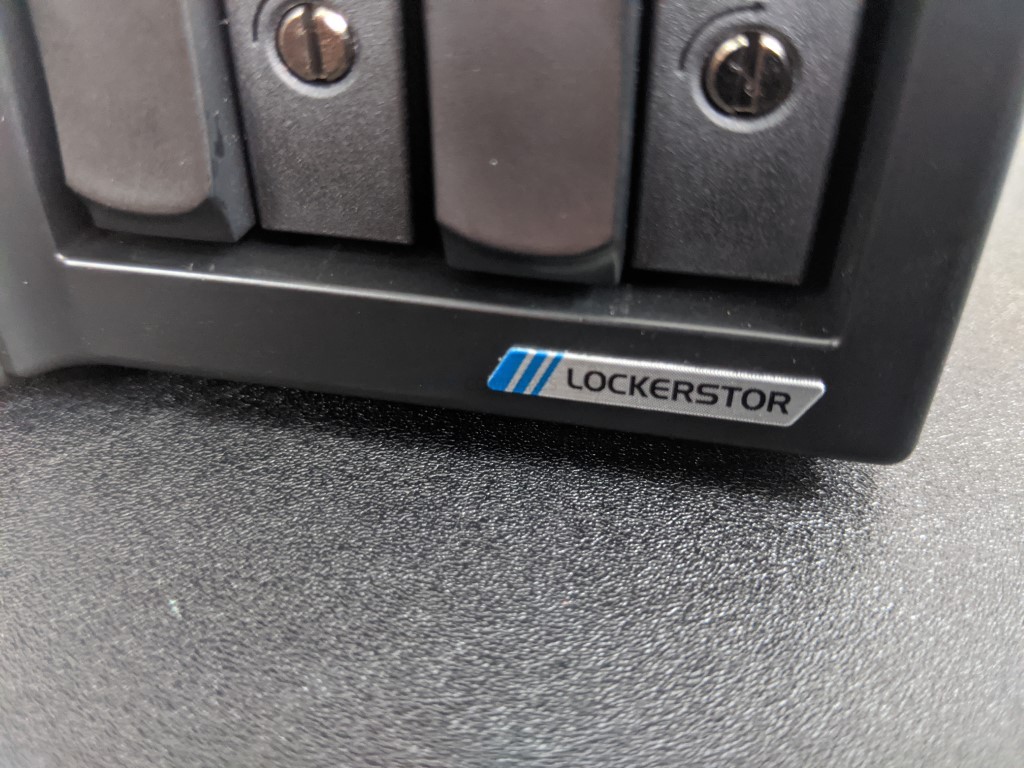 That said, the Lockerstor 2 represents an excellent 50/50 balance between hardware and software for the end-user and if you are someone that will chiefly use the NAS' system for your own pre-existing third party software (eg your own PC/Mac software and then pointing them at the NAS system storage), then you genuinely will struggle to find better than the Lockerstor 2 right now for your money. All the while with the ADM platform featuring regular updates, regular security monitoring and anti-malware measures in place doing their thing in the background regardless.
PROs of the AS6602T Lockerstor 2
CONs of the AS6602T Locksterstor 4

Best Price Vs Hardware right now
2.5Gbe Speeds
NVMe SSD Cache Bays
Best Mid-Range CPU
Great Plex Media Server Hardware
HDMI 2.0a = 4K 60FPS
Dedicated HDMI (Asustor Portal)
Huge USB Peripheral Support
BTRFS Support
Cloud/NAS/USB Backup Support
Great VM Support

No PCIe Upgrade Option
No option for NVMe as raw storage – possible CPU limitation
Software still not quite on par with competitors
Going to Buy on Amazon? Use the button Below – Thank You!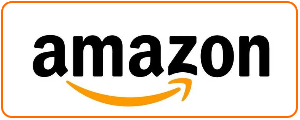 📧 SUBSCRIBE TO OUR NEWSLETTER 🔔
🔒

Join Inner Circle
Get an alert every time something gets added to this specific article!
This description contains links to Amazon. These links will take you to some of the products mentioned in today's content. As an Amazon Associate, I earn from qualifying purchases. Visit the NASCompares Deal Finder to find the best place to buy this device in your region, based on Service, Support and Reputation - Just Search for your NAS Drive in the Box Below
Need Advice on Data Storage from an Expert?
Finally, for free advice about your setup, j
ust leave a message in the comments below here at NASCompares.com and we will get back to you.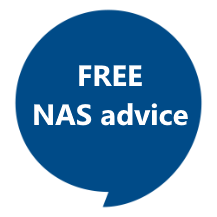 Need Help?
Where possible (and where appropriate) please provide as much information about your requirements, as then I can arrange the best answer and solution to your needs. Do not worry about your e-mail address being required, it will NOT be used in a mailing list and will NOT be used in any way other than to respond to your enquiry.
TRY CHAT
Terms and Conditions
If you like this service, please consider supporting us.
We use affiliate links on the blog allowing NAScompares information and advice service to be free of charge to you.
Anything you purchase on the day you click on our links will generate a small commission which is
used to run the website. Here is a link for
Amazon
and
B&H
.
You can also get me a ☕
Ko-fi
or old school
Paypal
. Thanks!
To find out more about how to support this advice service check
HERE
If you need to fix or configure a NAS, check
Fiver
Have you thought about helping others with your knowledge?
Find Instructions Here

ASK NASCompares forum
, by clicking the button below. This is a community hub that serves as a place that I can answer your question, chew the fat, share new release information and even get corrections posted. I will always get around to answering ALL queries, but as a one-man operation, I cannot promise speed! So by sharing your query in the
ASK NASCompares
section below, you can get a better range of solutions and suggestions, alongside my own.
This description contains links to Amazon. These links will take you to some of the products mentioned in today's video. As an Amazon Associate, I earn from qualifying purchases
Summary
Reviewer
Review Date
Reviewed Item
Asustor Lockerstor 2 AS6602T NAS Review
Author Rating