Does the Asustor

LockerStor

10-Bay NAS Drive Deserve your Data?
For those that have been searching for the right network attached storage device in 2020, you will almost certainly have done plenty of research. Whether it is looking at the hardware, the software or the brand/manufacturer in question, there will always be something that will draw you towards or detur you from a particular device. Asustor is a NAS brand that might well lack some of the high profile of Synology and QNAP, but they have the history and what the save on the marketing, they spend on the hardware. With a solution portfolio that features in many ways rivals brands like QNAP in terms of HDMI, 10Gbe, CPU choices and chassis, as well as the software support of BTRFS and Mac users that are often associated with Synology NAS. In short, the Asustor NAS brand and the LockerStor 10 NAS drive are things that have been in discussion with business NAS users since it was first revealed back in 2019. Featuring an impressive mix of 2.5Gbe and 10Gbe, as well as NVMe and SATA storage caching opportunities, there is alot going for it. So, is the new Lockerstor 10 (also known as the AS6510T) worthy of your time, your money and, most important of all, your data? Let's take a look.
Asustor

LockerStor

10-Bay NAS – Quick Review
Ultimately, for the most part, anyway, the Lockstor 10 NAS does Asustor very good service. It continues with the way they shaped NAS in 2019 (being the first to adopt 2.5Gbe commercially) and ups that game with a fantastically functional and storage ready device. Being one of only a handful of 10-Bay NAS Drives also helps the AS6510T find a niche place in the NAS food chain. Good design and a number of key areas of construction make this device stand out and for all this hardware choice arriving at under £1000 ex.VAT, it is tough to argue with. However, you need to take into account that the CPU inside may well be the unseen bottleneck, as it seems to be an odd choice of low-mid range processor, for such a high calibre hardware device.
Asustor

LockerStor

10-Bay NAS – Packaging
The retail packaging of Lockerstor 10 is an example of how mature the Asustor brand has become. They started out with a retail design that many NAS brands featured at the start of their product ranges, having difficulty finding a balance between branded design and one found in PC hardware brands. I am pleased to say that the new 10-Bay Asustor NAS arrives with clear, clean and appealing retail packaging.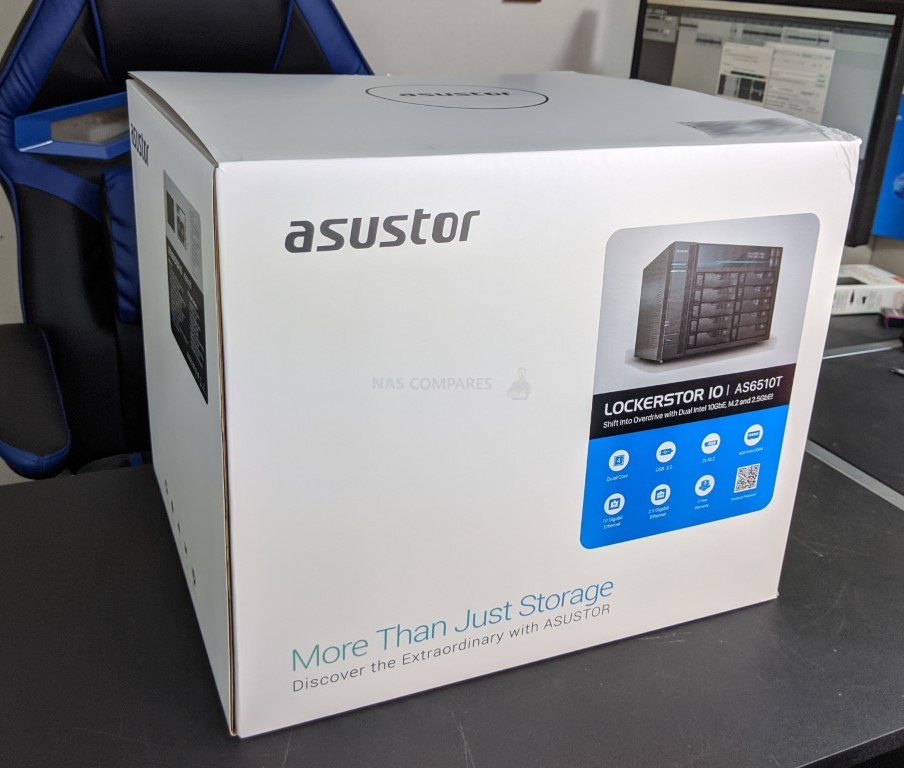 Unsurprisingly, the lockerstor 10 NAS itself takes up the bulk of the space in this retail box and features multi-panelled hard foam to protect it from movement damage in transit.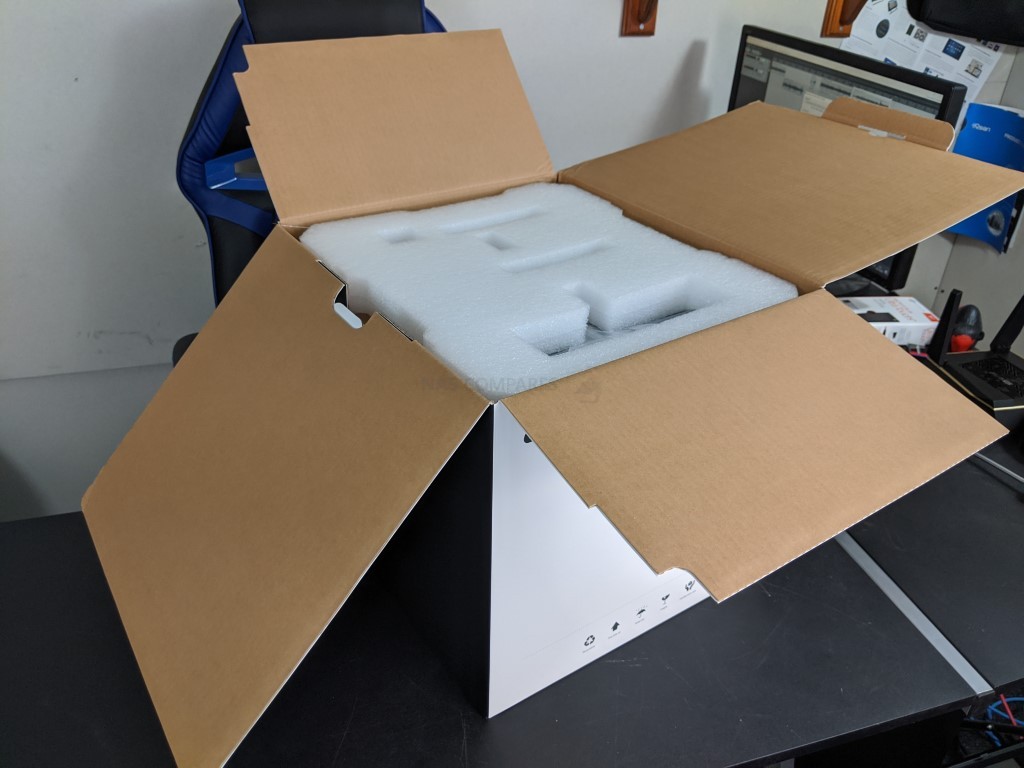 Like most PC cases, laptops and chassis-based IT equipment, the idea behind this kind of protection are because of the sheer damage that a physical drop or repetitive motion in transit can cause. You will rarely find a brand protecting their device from physical penetration of the retail box, because ultimately if a poorly handled forklift truck fork or lorry accident happens, then no amount of traditional box protection is going to help. So protection from movement and static are key. The unit itself arrives in its own coverings along with accessories in a separate box slotting inside the retail box.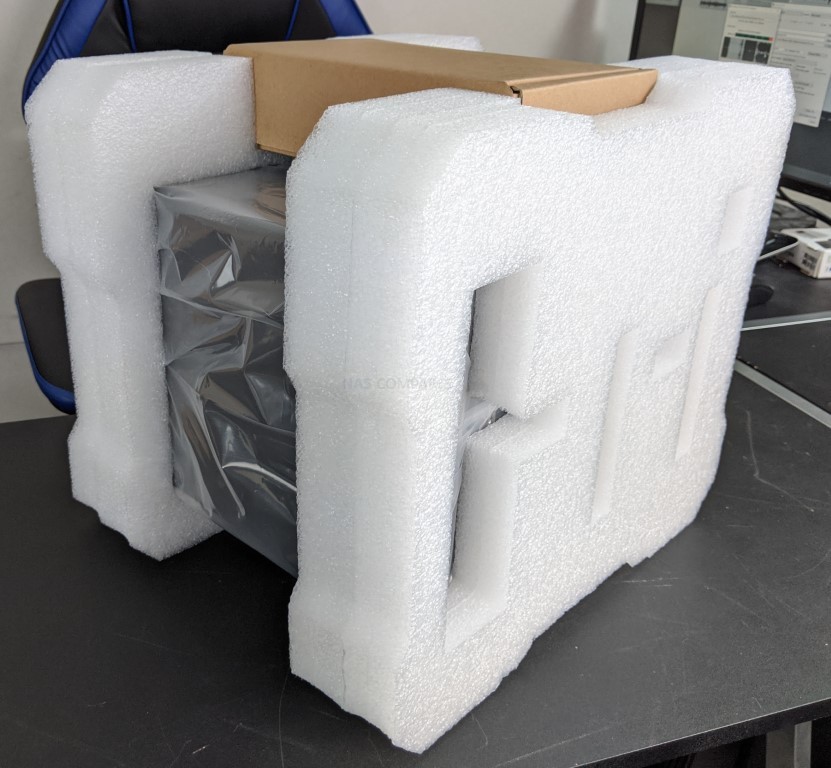 Removing the Lockerstor10 from its box and placing it with the full accessories contents, shows the full contents of the retail purchase of this NAS.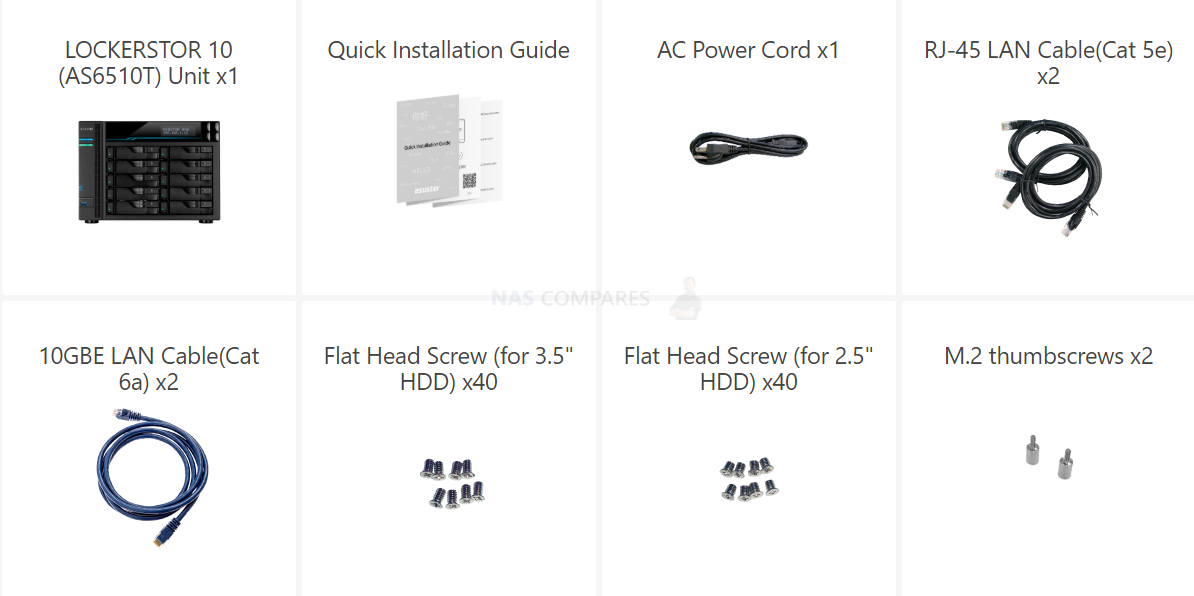 Inside we find the lockerstor 10 NAS unit itself, Instructions manual that includes a first-time setup guide, two RJ45 Cat 5e cables for the 2.5Gbe Ports, two Cat 6a cables for the 10Gbe ports, multiple screw types for the SATA bays for 2.5″ and 3.5″ media, thumb screws of those NVMe SSDs and a mains power cable. All fairly standard stuff, but it is worth highlighting the inclusion of the separate RJ45/Copper based LAN cable types. This is a tiny but noticeable touch that I was impressed by.
Asustor

LockerStor

10-Bay NAS – Design
So, now if we take a closer look at the NAS itself, we can learn alot more about how they created a 10-Bay Storage device in a desktop chassis, that is still somehow the same size/smaller than many 8-Bay NAS devices by other brands. The chassis is quite an aggressively designed front panel.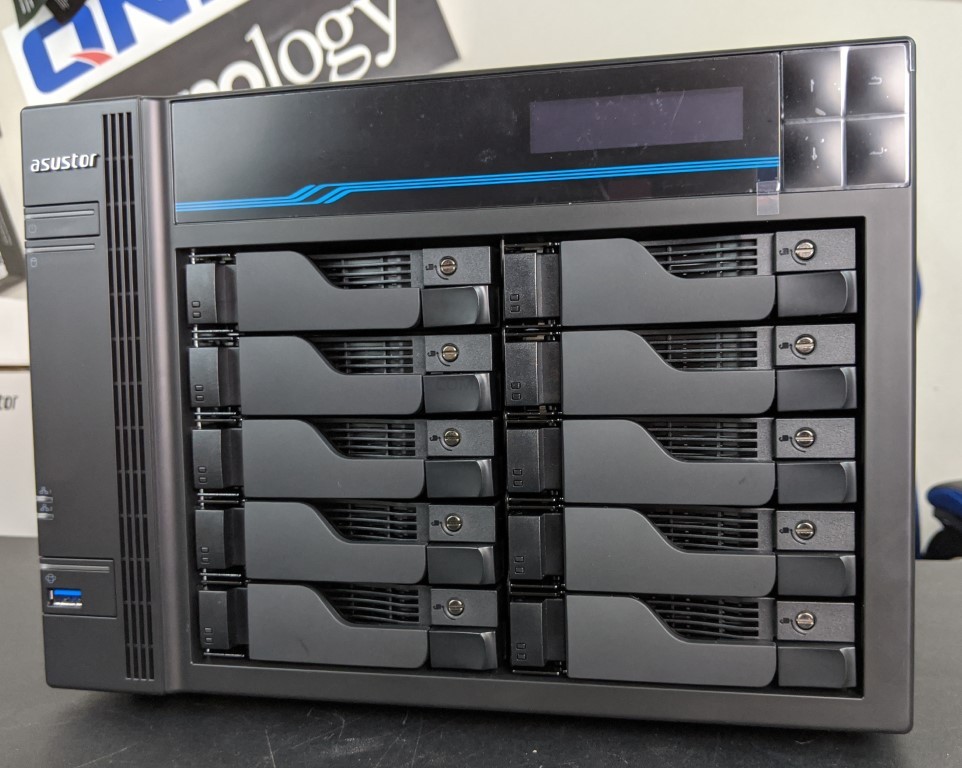 The entire chassis itself measures 215.5(H) x 293(W) x 230(D)mm, which is fairly compact for this amount of RAID enabled storage. Obviously, the storage bays take up the bulk of the space on the front of the lockerstor 10 and I will go into more detail on them later, but I wanted to take a second to look at the rest of that front panel design. One chassis feature that is found on many Asustor and QNAP NAS at this storage/price level is an LCD control panel, and the Lockerstor 10 is no exception.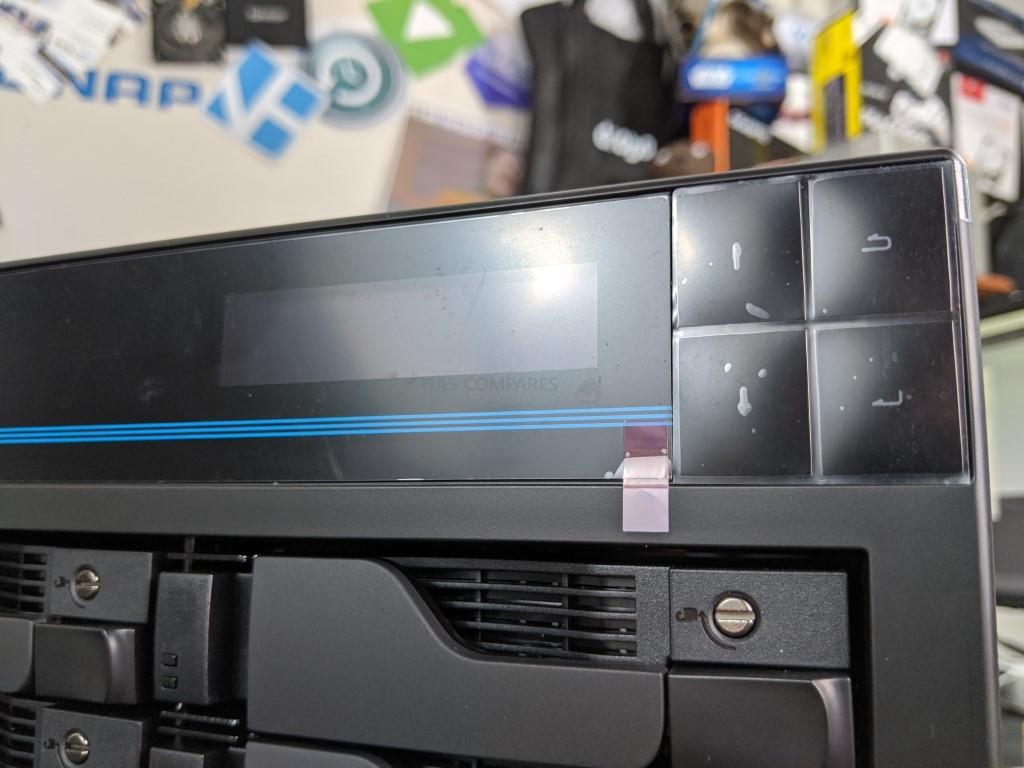 This panel, when the device is in operation, provides lots of realtime information about the NAS including the IP addresses of each port, system temperature, system access, storage health and more. These menus and options can be browsed and selected via the 4 control buttons on the top right of the front panel. But there are other less direct and more low demand means of alerting you to system developments.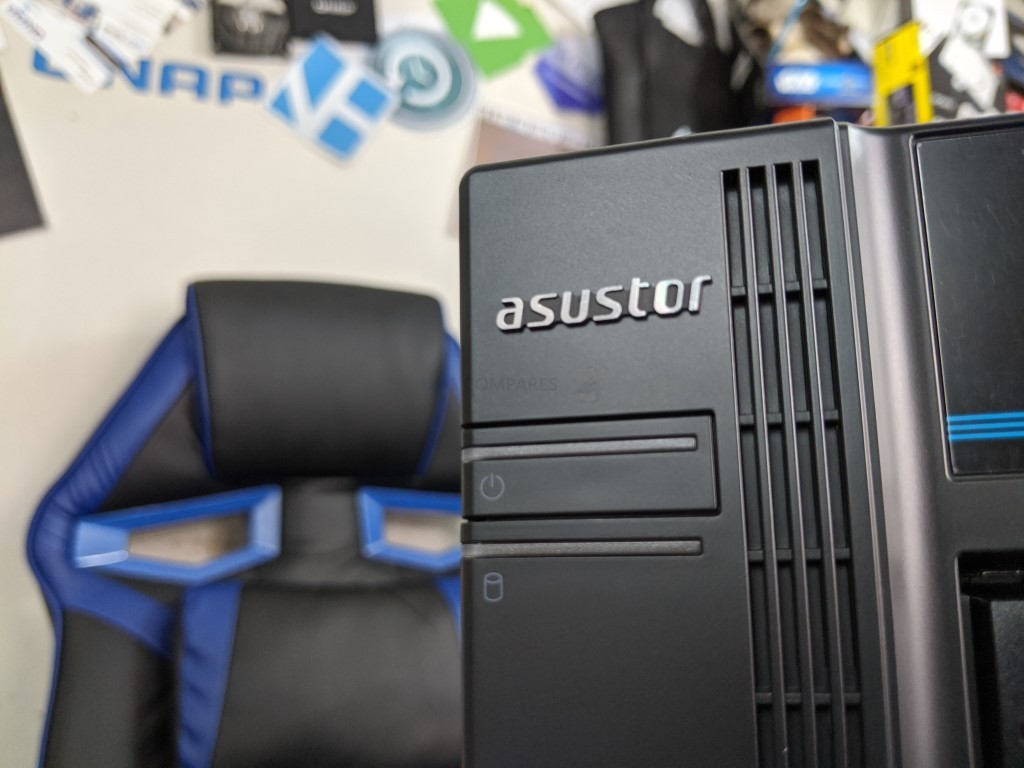 The top right of the Asustor AS6510T features the first set of LEDs that denote the power, access and activity of the NAS device when in use or idle. This gives you a 'quite glance' means of seeing if your lockerstor 10 NAS is healthy. This is not unusual and fairly common in NAS drives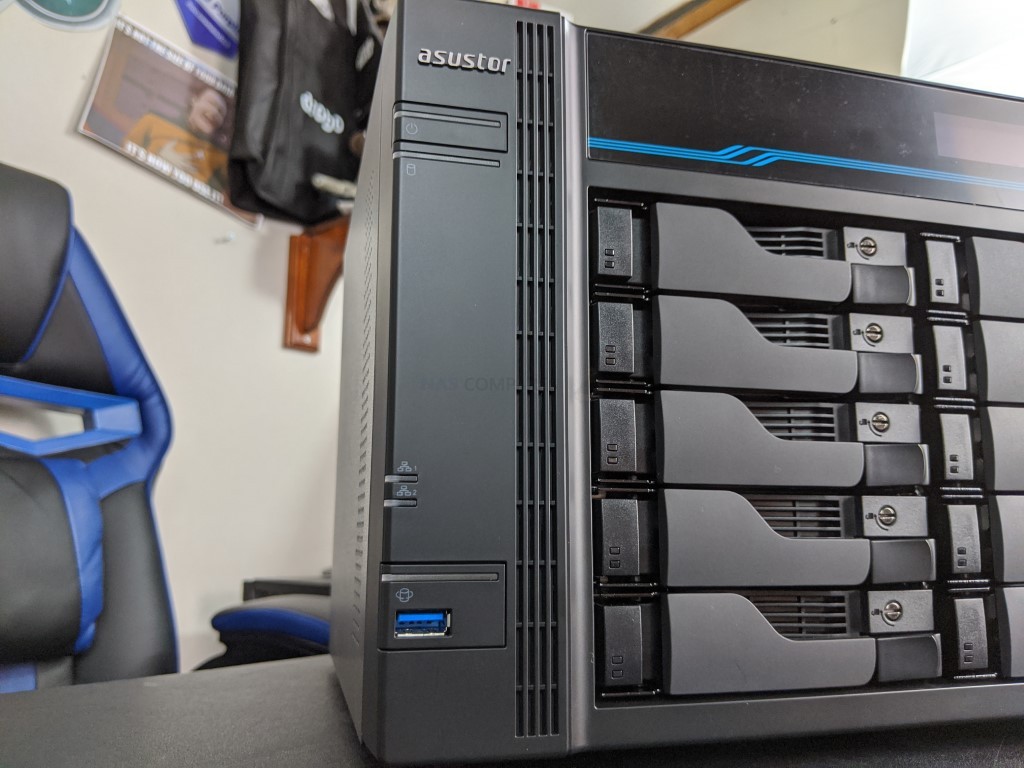 One neat little design choice though is the placement of the front ventilation. I will touch on other areas of pass cooling on the AS6510T lockerstor 10, but this discreet full chassis height ventilation panel is very nicely done and has little/no design impact on the negative. There are other areas of cooling on the external casing, but this is a lovely design choice.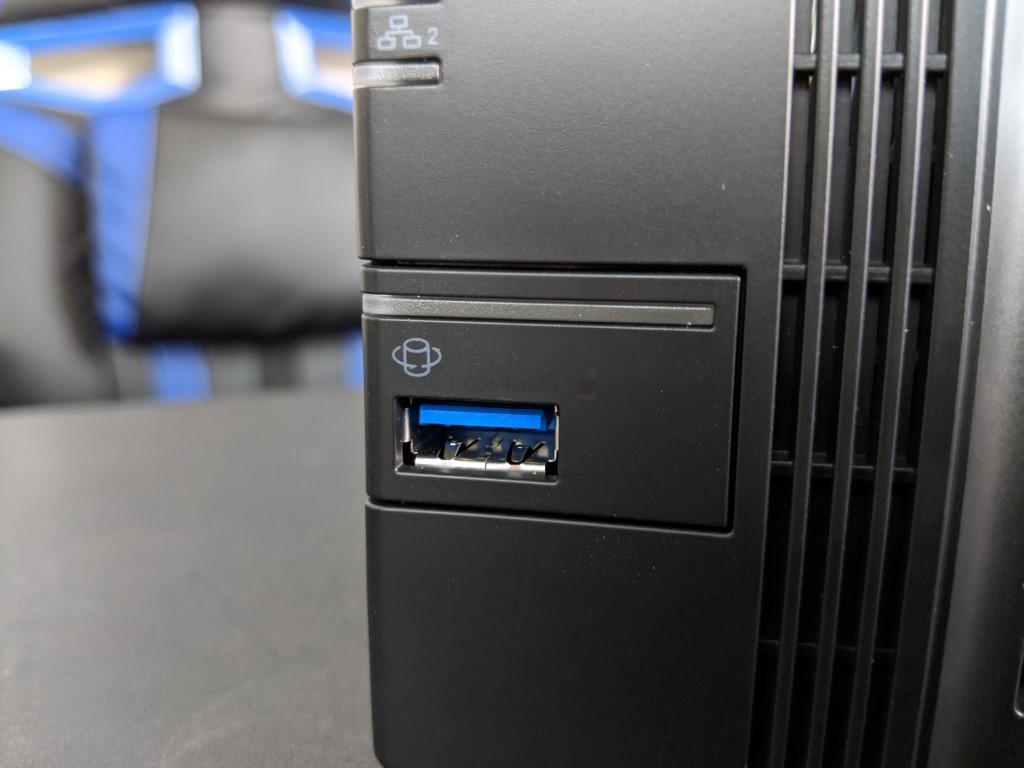 Another feature found here and on other NAS drives in 2020 that I am always pleased to see is the USB Copy Bitton and port. This is a big deal for me, as USB backups (for me) will always continue to have a  place in multiple tiered backup strategies. If you weren't aware, the port is the same as all the other USB ports on the NAS, with the added bonus that it has a physical button that you can configure in the asustor backup software to either backup the whole NAS/selected folders to the connected USB at the touch of a button, or backup the USB to the NAS without going through apps or the web-based GUI. You can even set up the backups to be full, differential (only the changes) and versioned (so a new folder each time).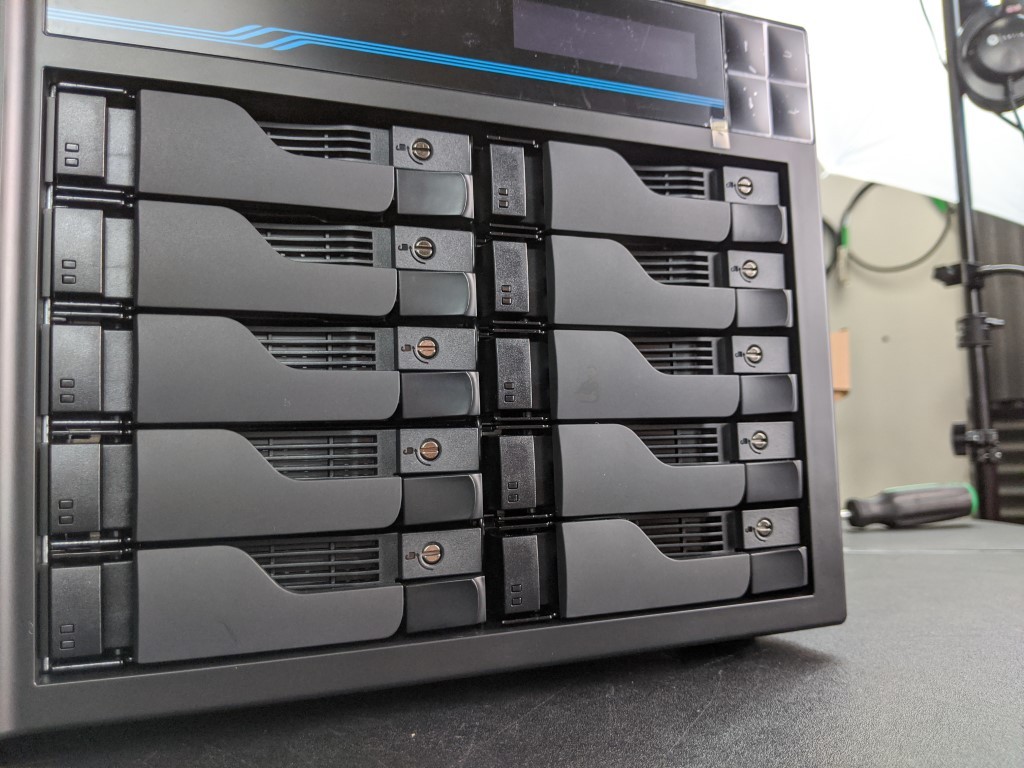 Now to the trays themselves. This is another area when I was impressed that the Lockstor went a little further than a few other brands. The trays are all metal, feature good ventilation, an anti-slip/static panel and a locking mechanism.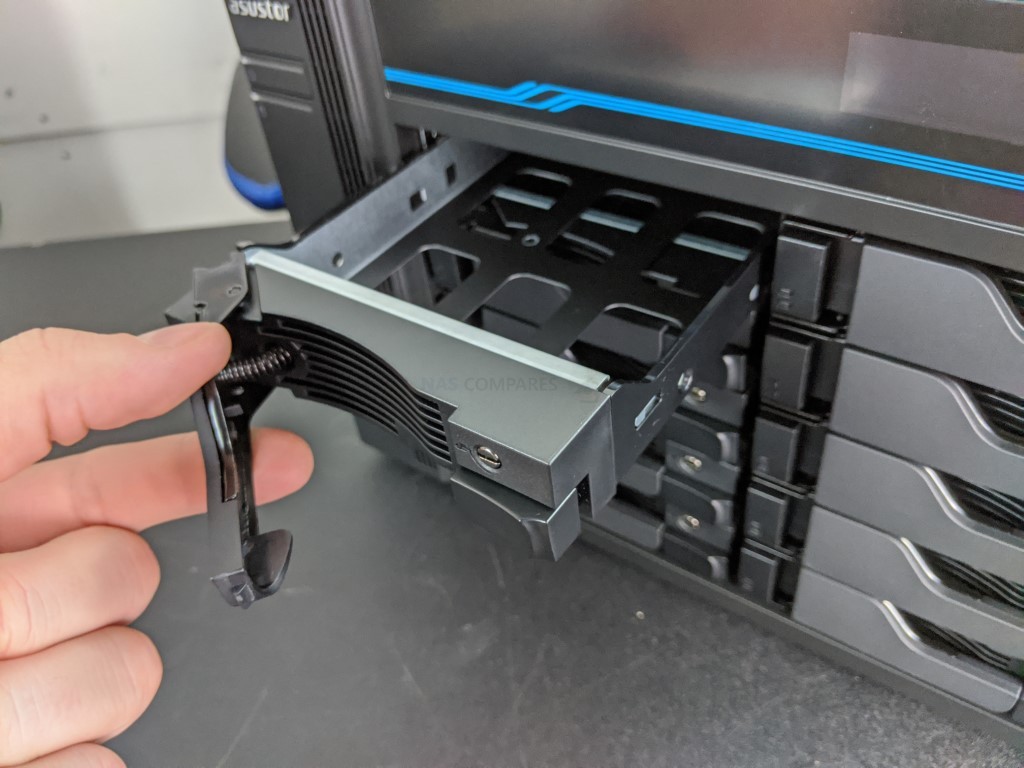 Each tray supports the very latest commercially available SATA based media (currently 16TB Seagate Ironwolf NAS drives or 4TB SSDs at 2.5″). Each tray has it's own dedicated LED to show activity/health, as well as the spring-loaded handle.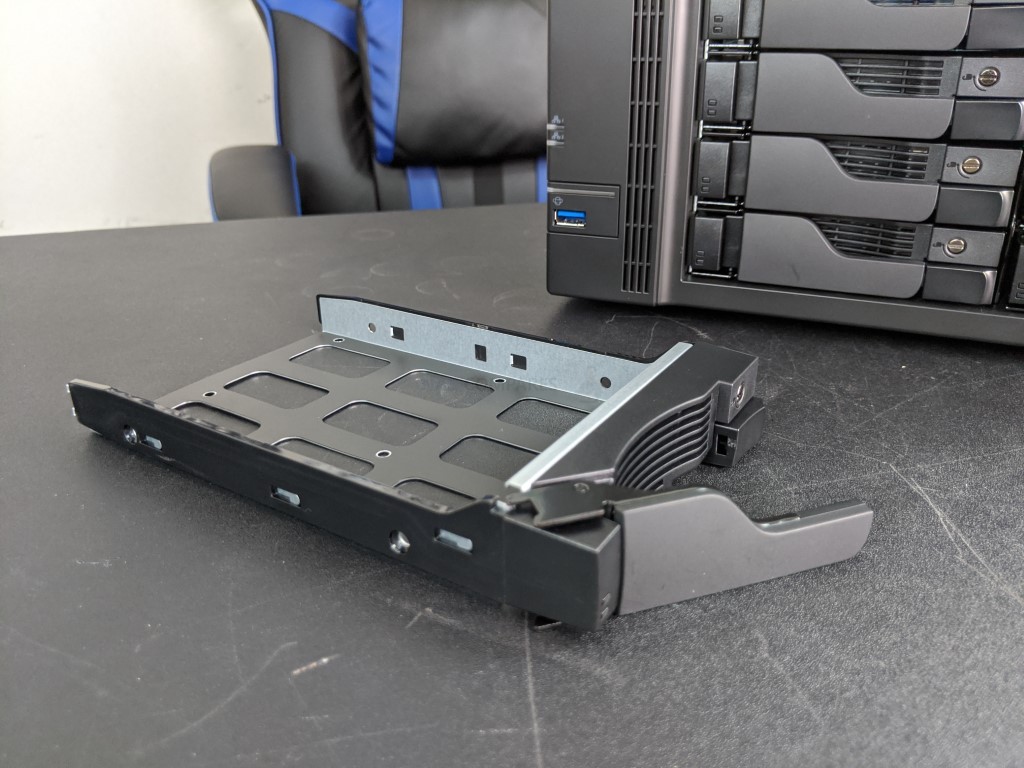 Another neat thing to remember (and this is not Asustor exclusive) is that despite this being a 10-Bay NAS device, you can operate it on a single hard drive and just add drives, and expanding the RAID as you need it to (e.g. RAID 1 into RAID 5).
The sides of the device feature additional ventilation that works with the two rear fans to help cool air pass through the device, over the drives and internal components. As the Asustor Lockerstor 10 is made of more metal than most NAS (which you can decide for yourself is a good/bad thing), it will produce more noise when in operation compared with largely plastic-based chassis, such as the Nimbustor 2/4. This can often be avoided in a small part with well-designed fans vs cooling vent placement, resulting in the fans rotating less and lowering noise levels.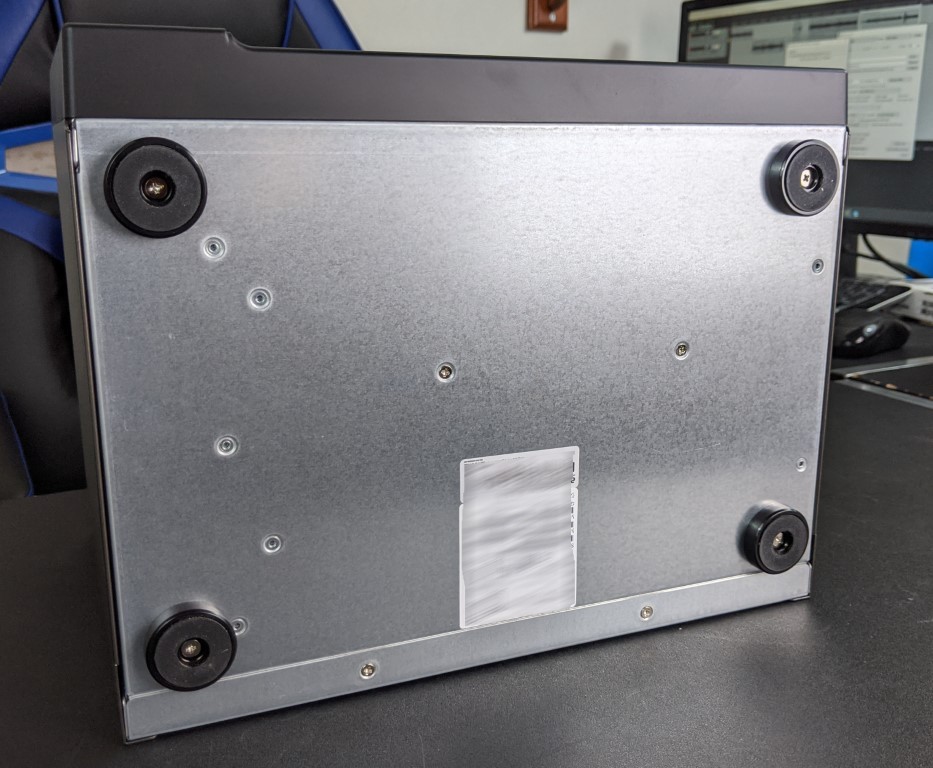 Finally, the device features no ventilation at the base but does feature four large, rubberized feet. This in term helps the noise and vibration be kept in check, but I am sad to see no base level ventilation.
Asustor

LockerStor

10-Bay NAS – Ports
Once we turn this device around, we can take a good look at how you can connect with the lockerstor 10 NAS locally, over the network and the internet.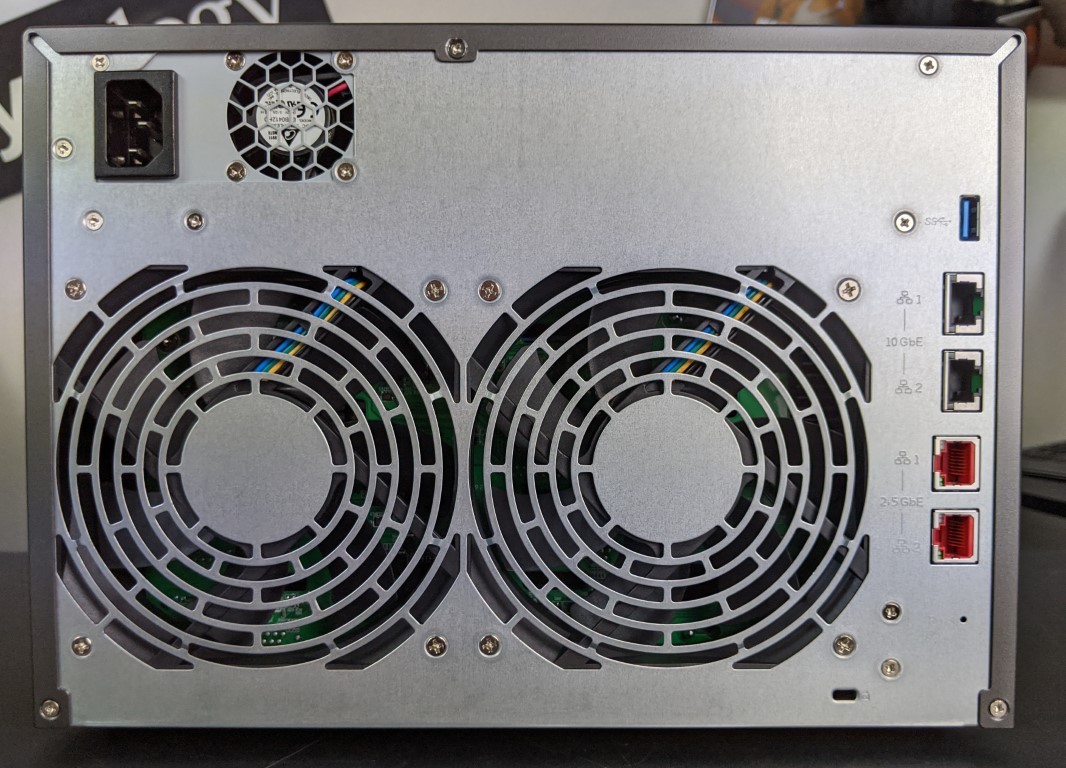 Clearly, the first thing that jumps out at you is those rear fans. Which can be adjusted manually or automatically in their rotations per minute (RPM) to maintain the core temperature of the NAS be at the best level.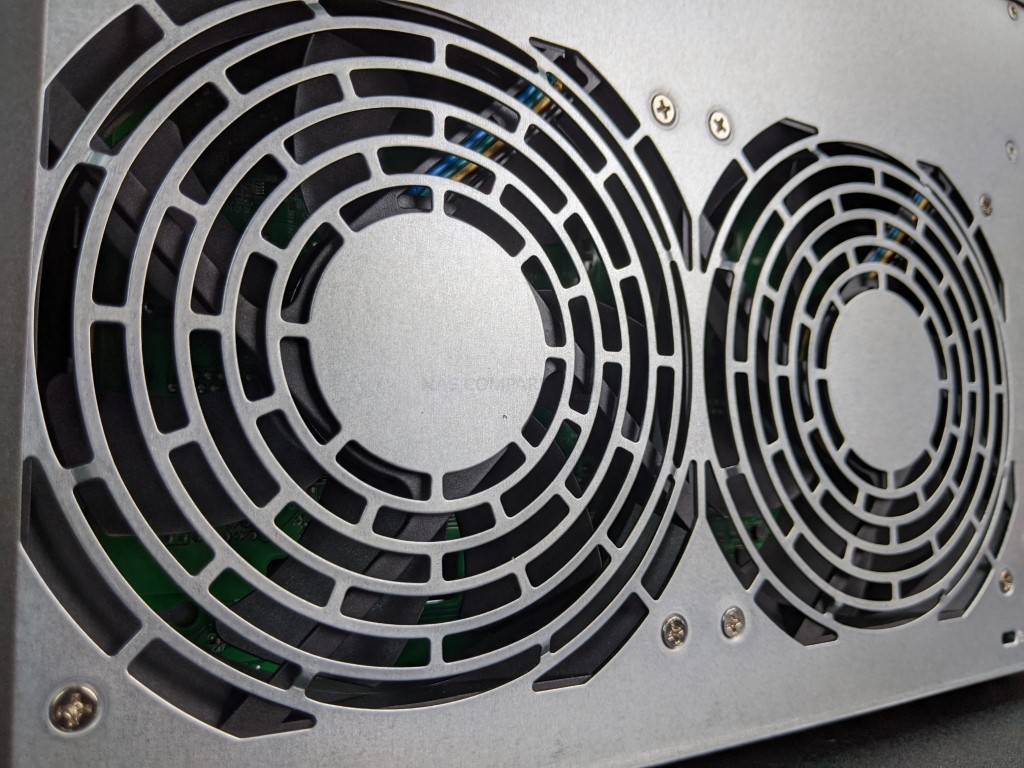 Most users are advised to leave fan control on the automatic settings, to ensure that they rise and fall as needed, dictated by internal temperature readings. However, one case where some users choose to tinker with the fans is in terms of noise level. As mentioned, the LockerStor 10 from Asustor is a largely metal chassis design and this makes an impact on the sound generated. The official site lists that noise level at 22dB(A) when the unit is idle, which though still quite low, is higher than alot of 8-Bay NAS and this would rise during constant drive access.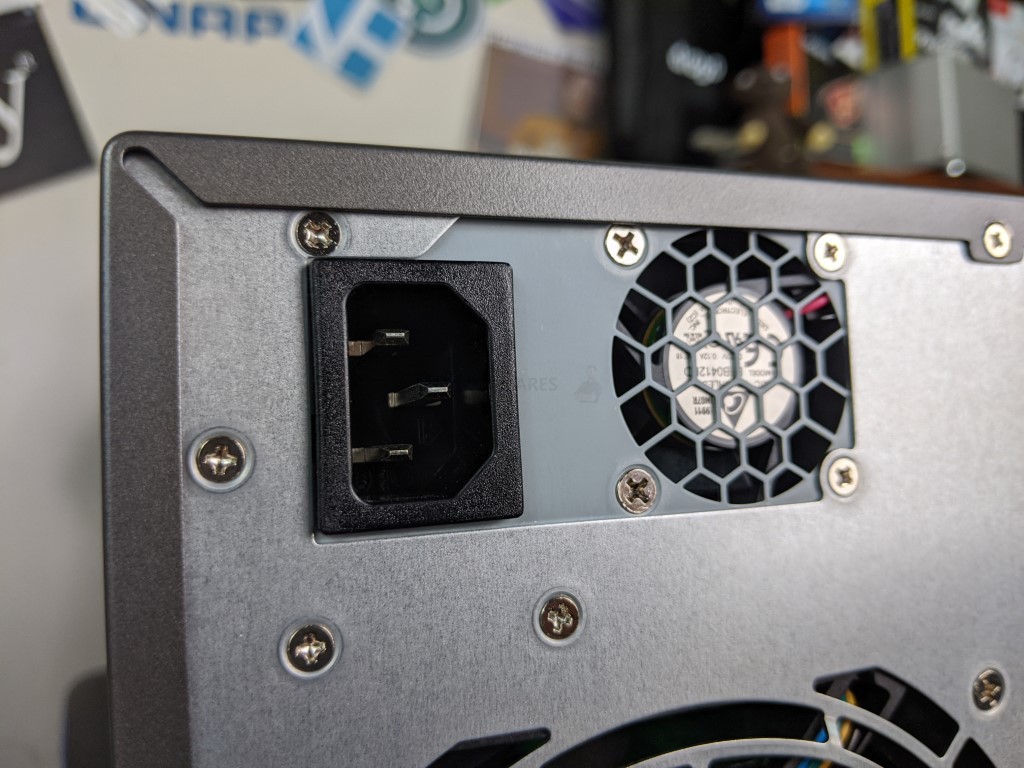 The AS6510T NAS also features an impressively compact 250W power supplier that is internal with its own small fan. When the lockerstor 10 NAS is running, Asustor report power consumption levels of 76.8W  whilst in operation and 41.1W whilst in standby/disk hibernation. This isn't too shabby at all and I would be interested to see the Wattage levels this NAS hits when fully populated with 10TB+ drives, SSDs and all network ports active.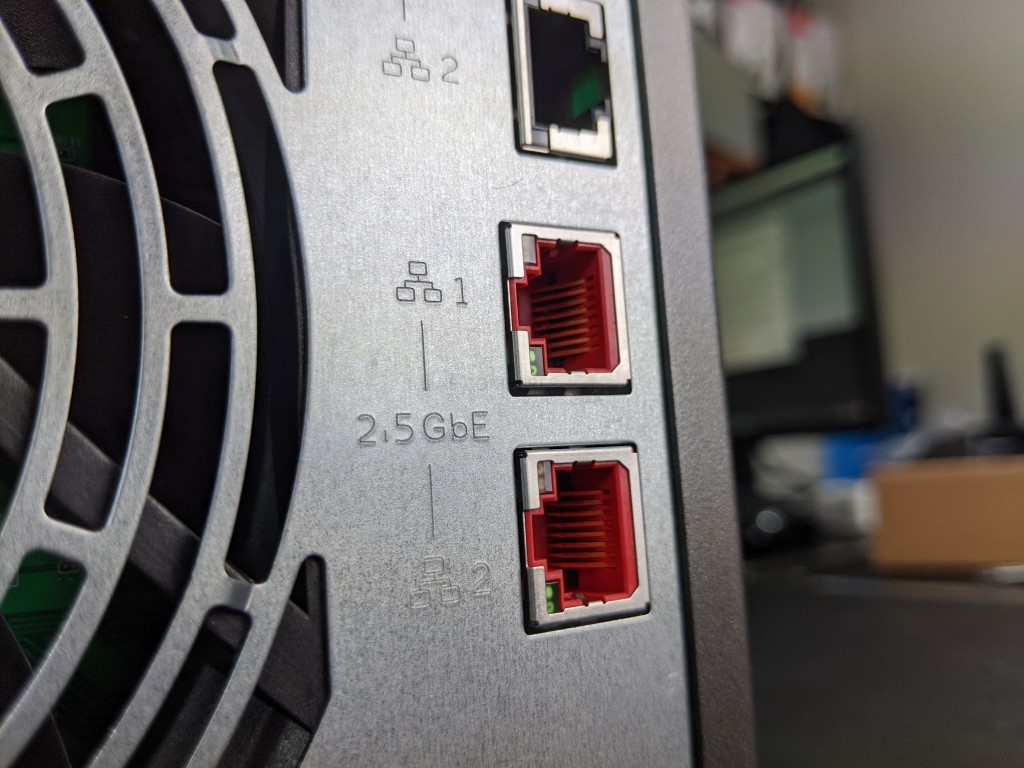 On the subject of network ports, we can talk about the combination of 2.5Gbe and 10Gbe network connections available by default on the Lockerstor 10 NAS drive. The two 2.5Gbe ports support link aggregation, so a potential 5Gbe of upload/download (or Read/Write) is possible via this NAS device. It is worth highlighting that the Lockstor 10 is the 2nd NAS in the Asustor product family to include this connection and the previous unit, the Nimbustor NAS was the first in the world commercially to offer this as a default option, over 1Gbe.
But where things REALLY get interesting is the inclusion of 10Gbe ports, two to be precise. This is a big deal to have both sets of these plus gigabit ports available, but this achievement is ever so slightly undercut by the CPU choice of the LockerStor 10 NAS, which we will cover later on. Still, nevertheless, it is a great hardware choice and definitely provides great futureproofing for those looking to gradually upgrade their network environment in a modular fashion.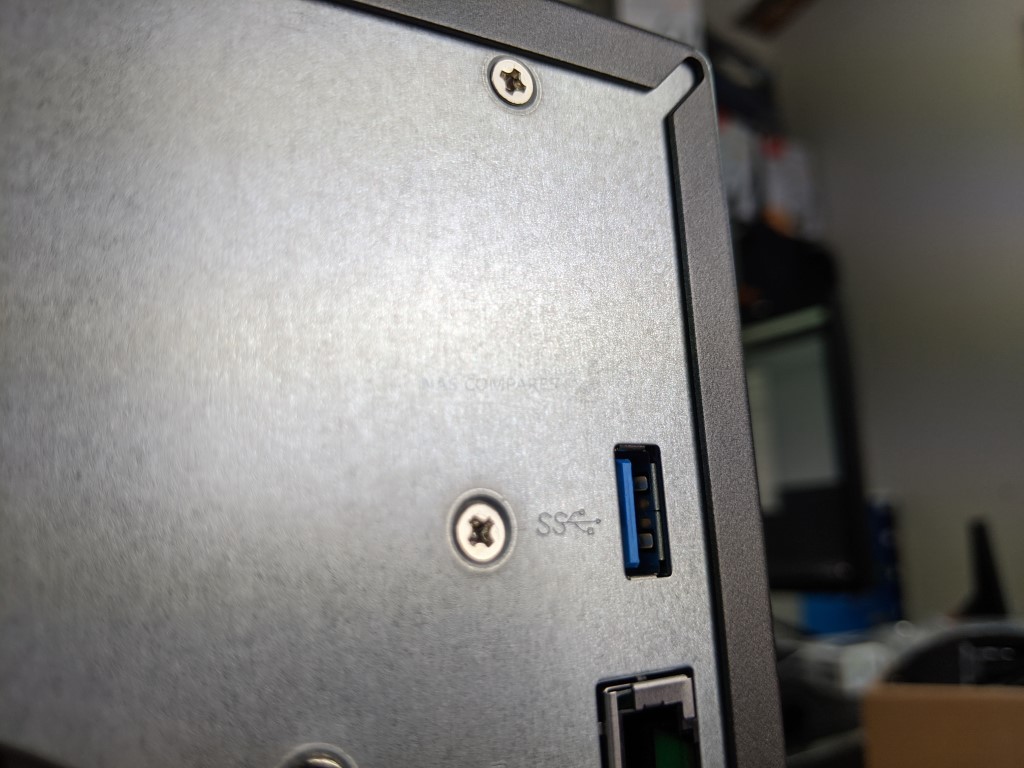 Finally, there are more USB ports that can be used for numerous devices, such as WiFi dongles, USB Storage devices, USB-to-Ethernet Adapters, UPS monitoring devices and more. In other Asustor devices, they support KVM (keyboard, video, mouse as well as joypads and controllers). But due to the lockerstor 10 not arriving with an HDMI outlet, this makes supporting control based local peripherals rather pointless.
Asustor

LockerStor

10-Bay NAS – Internal Hardware
Now we move onto the internal hardware of the Asustor lockerstor NAS drive. I was interested to see how well-arranged these internal hardware components would be, as its quite a compact chassis. So I set about removing the screws keeping the lid of the device on.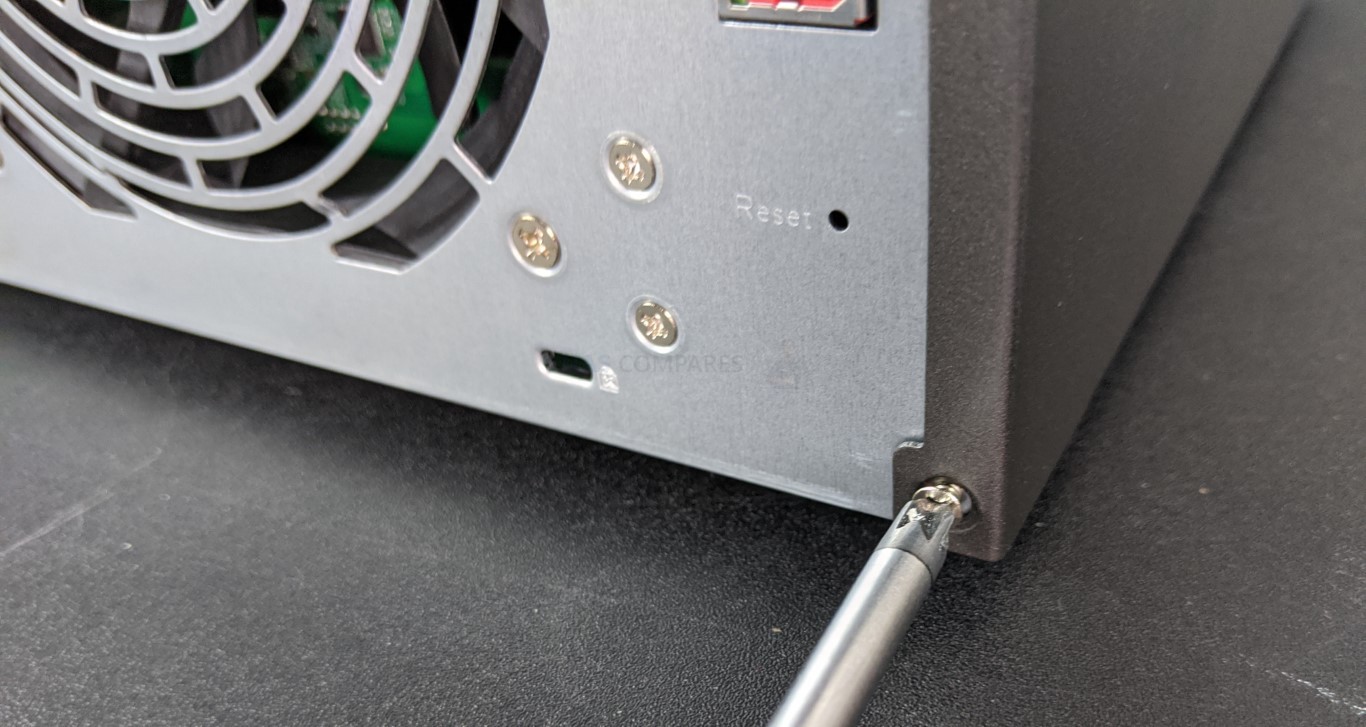 One I got the lid from the Lockerstor 10 chassis removed, I can take a good look at the framework of the device underneath.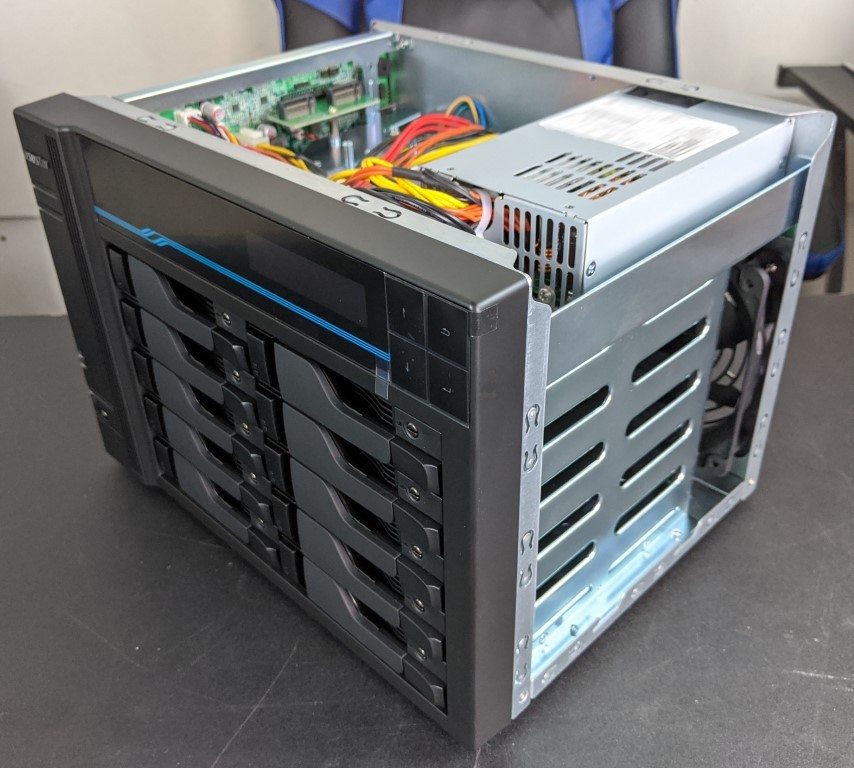 As expected, the SATA storage bays take up the lion share of the space, but this is some nicely partitioned space around the controller board, as well as an impressive spacing of the chips across the boards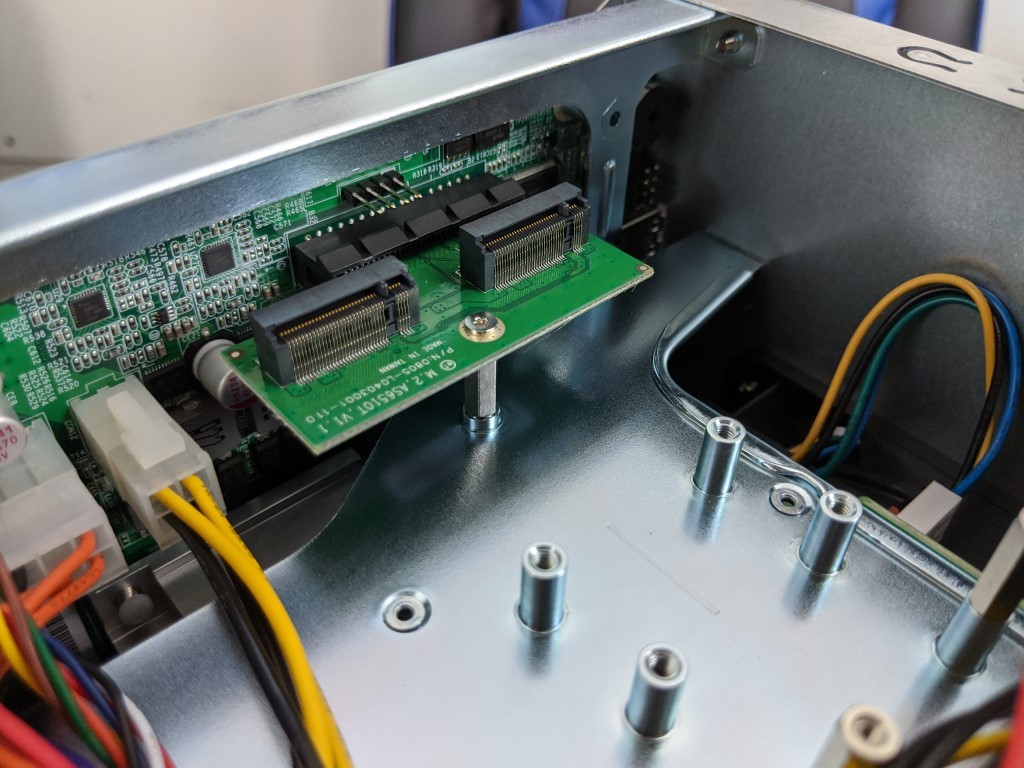 Another nice area of the build quality is in the location of the NVMe SSD bays. These are located in an offshoot area fro the controller board, seemingly protruding from a PCIe slot that cannot be accessed/used in any other way. The who slots can be used individually or combined in the right SSD caching configuration (Read-only caching and Read/Write caching), compatible with M.2 2280, 2260 and 2242 sizes. SSD caching has long been established as a means of improving the performance of internal speeds of a NAS, removing bottlenecks, which connections like 2.5, 5 and 10Gbe can then take advantage of.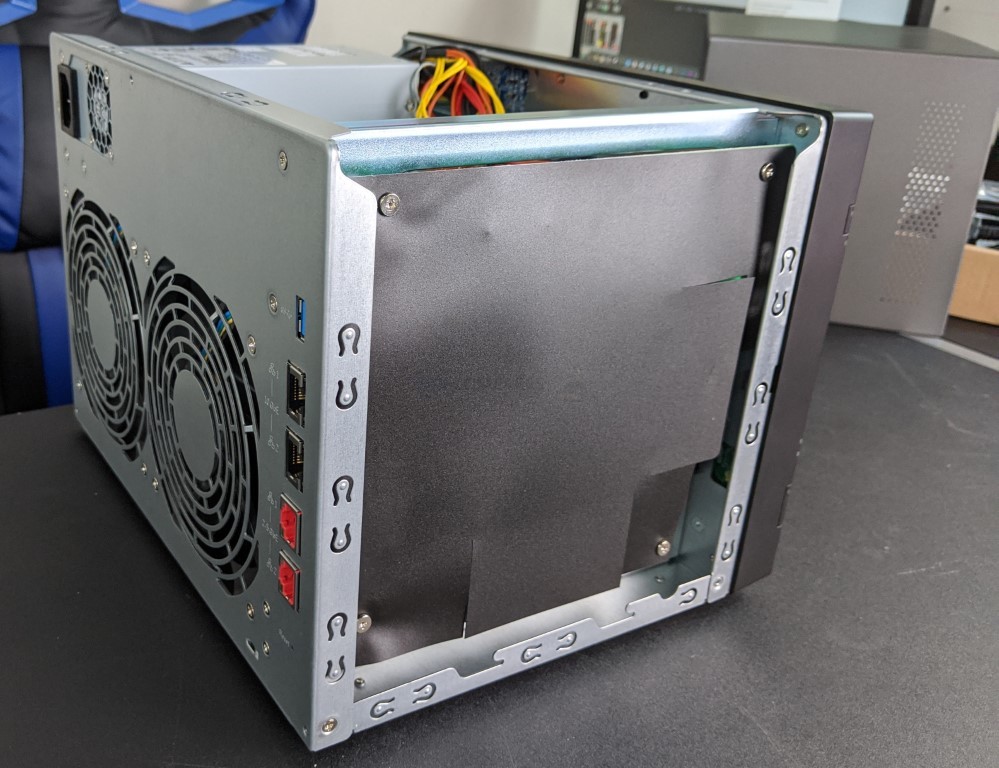 On the other side of the chassis is a black panel that is used to protect the CPU, Memory and other key networking chips. I have not seen this on other NAS brands internally in the last few years but cannot tell you if this is a good or bad thing.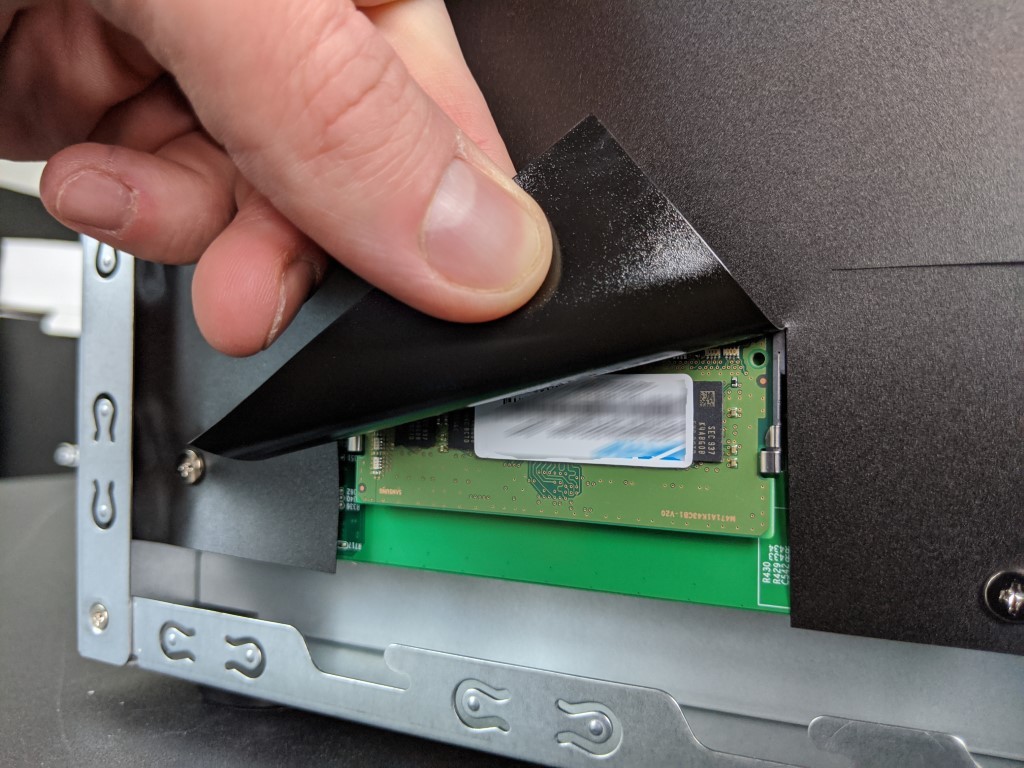 But areas of the black panel can be lifted in order to access things like the DDR4 memory slots, in order to upgrade this device from the default 8GB DDR4 configuration to 16GB of DDR4. However, the CPU (like many NAS devices) cannot be upgraded. This is not especially surprising, but it does result in a slight issue that I will touch on later in the review. Regardless, here is the internal hardware specs that matter:
CPU Model
Intel ATOM C3538
CPU Architecture
x64 64-bit
CPU Frequency
Quad Core 2.1GHz
Memory
8GB SO-DIMM DDR4
Memory Module Pre-installed
8GB (1 x 8GB)
Total Memory Slots
2
Memory Expandable up to
32GB (2 x 16GB)
Flash Memory
4GB eMMC
Asustor

LockerStor

10-Bay NAS – Software and Performance
In the areas of the performance of the Lockstor 10, I have mostly good news, but a pinch of bad too. To start with, the utilization of the 2.5Gbe ports in LAG in this setup, thanks to the 10Bays of SATA storage and NVMe SSD, mean that hitting those maximum performance thresholds of 500MB/s+ Read and Write are more than possible. Achieving noticeably better results than the 2×2.5Gbe Nimbustor NAS with their Celeron processor.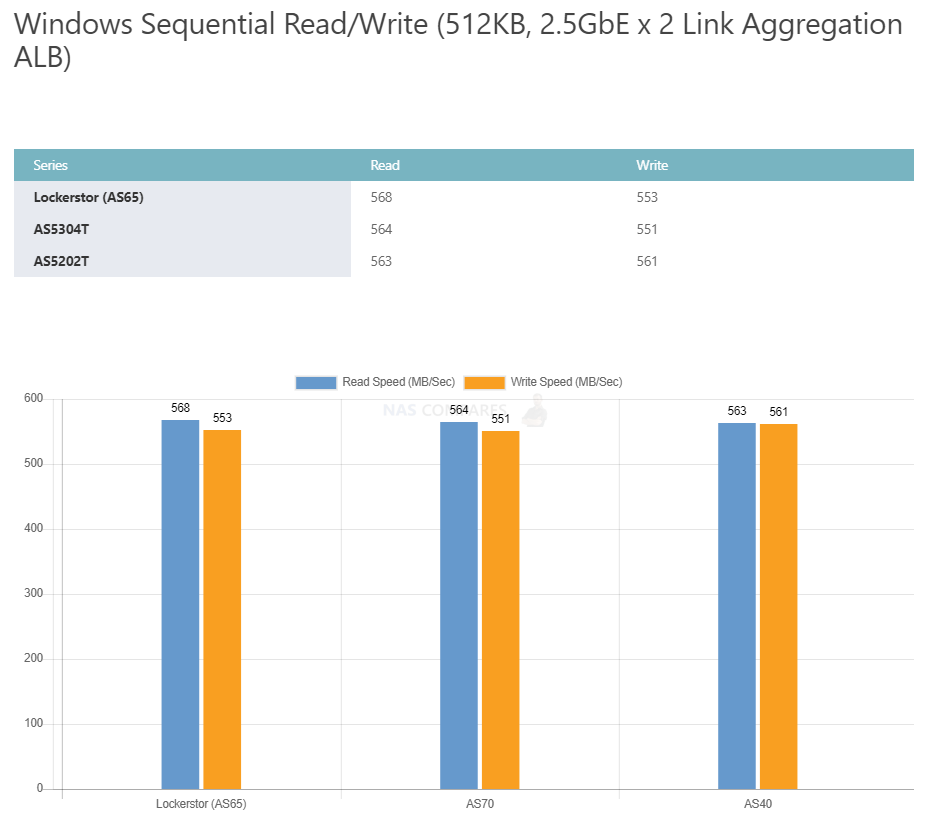 Likewise, with the 10Gbe port being utilized, you can see very good read speeds possible over access of a big 10Gbe file on the NAS via a Windows connection. However, this is where a gripe I have with the lockerstor NAS begins to show itself. Despite the 1,000MB/s potential of 10Gbe, the Write speed of this file is less than impressive without SSD Only or SSD+HDD storage pools. Alot of this is because of hte CPU they have chosen to use in this NAS – TheIntel C3538 2.1Ghz 4-Core CPU. As seen previously in both Synology and QNAP NAS systems, this processor has it's limitations compared with a good Xeon or Intel i Core processor and this becomes clearly over 10Gbe.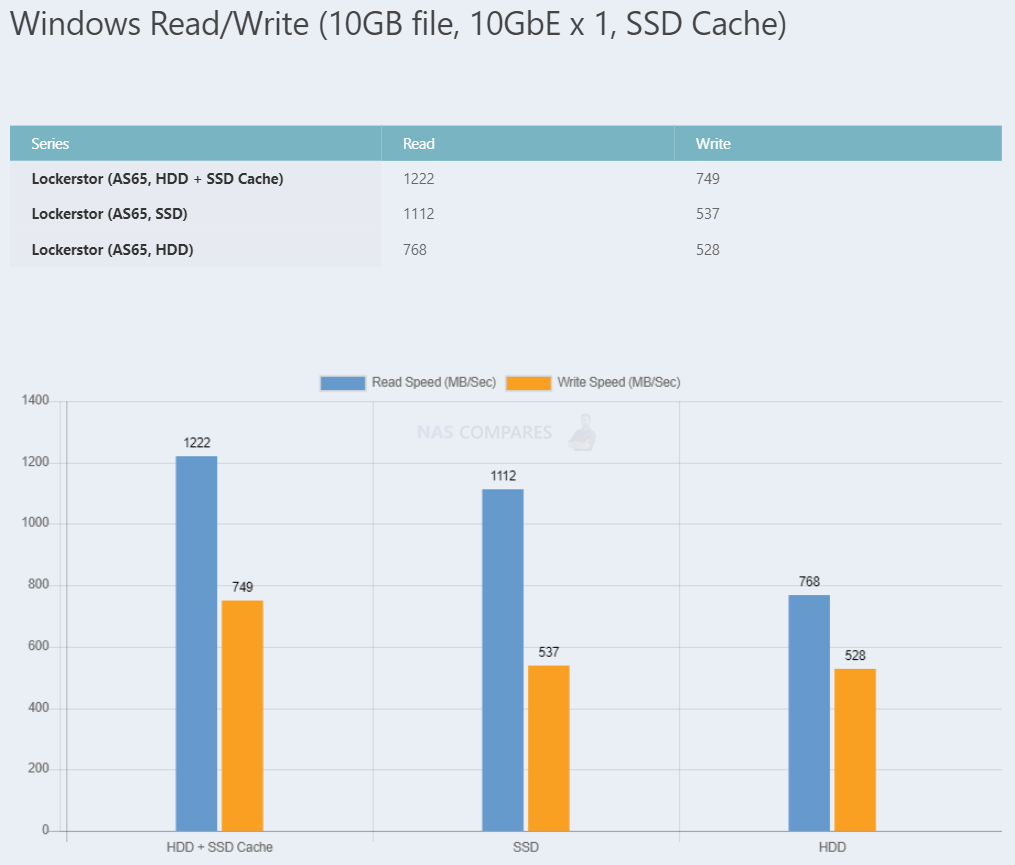 Taking it one step further, if you link aggregate (trunk) the two 10Gbe connections together, with a potentially 2,000MB/s bandwidth, iSCSI Sequential Read and Write achieved 1028MB/s read and 803MB/s write. This means that the CPU is just not enough to give you FULL 10Gbe LAG. Different results may well happen with 2 separate network connections to separate 10Gbe LAN ports, but I fear this processor would still struggle and rather than allow each connection to get 1000MB/s each, I think it would bring them both down noticeably. This is made additionally annoying when you hear that this si a LockerStor 10 PRO edition releasing in Q1 of 2020 that arrives with similar hardware options, but a XEON processor, ECC memory and USB 3.2 (USB 3.1 Gen 2) connectivity.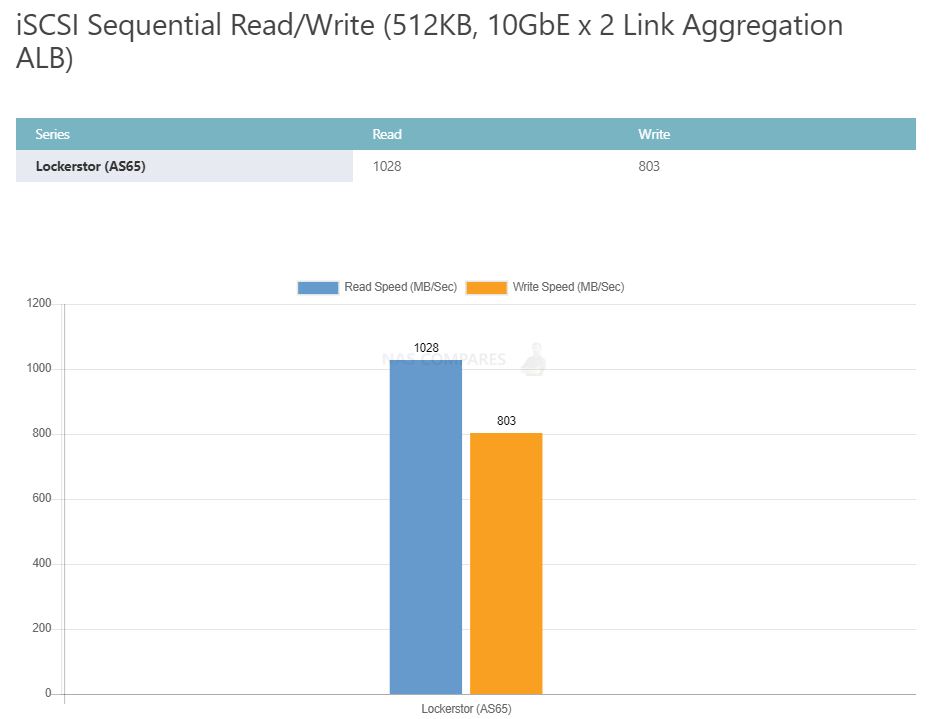 Alongside traditional measurement of NAS performance in read and write speeds, there is also a great deal of support in the Lockerstor 10 for apps in their app center. Key ones are:
Antivirus (ClamAV) – Scheduled Scans, Automatic Virus Definition Updates, Quarantine Infected Files
Download Center – Supports BT(Torrent & Magnet Link), HTTP and FTP Downloads, Torrent Search, Bandwidth Control, RSS Subscription and Automatic Downloading (Broadcatching), ASUSTOR Download Assistant for Windows & Mac
DropBox, OneDrive and Google Drive Sync – Each ADM Account is Able to Individually Log into one cloud Account, supporting Sync, Directly Upload Files to cloud from the NAS, or from cloud to NAS
LooksGood Media App –Built-in three main video library categories; movies, TV shows, home movies and smart video sorting management
The efficient global search function allows for searches by keywords followed by the execution of more detailed searches for the purpose of finding categories of movies, TV shows, home movies and parameters such as actors, director, year, genre, writer and title
Attractive poster wall and thumbnail display
Automatic production of video poster thumbnails
Centralized management and ability to configure the order of favourites and playlist history
The system administrator is able to configure video library and editing permissions according to user preferences
Can configure access permissions to share with
Multimedia conversion feature
Self-defined smart folder for video conversions
Supports digital TV recordings via digital
Easy streaming with Chromecast and DLNA
Supports playback of videos in Apple TV via AiVideos tvOS version
Mail Server – Each ADM Account can Become an Independent Email Account, Provides SMTP, IMAP and POP3 Mail Protocols, Spam Filter and Black List Settings, Antivirus Scanning for Emails, Exclusive Email Backup Mechanism, Auto-Forwarding and Auto-Response Protocols
Photo Gallary – "Album" and "Browse" Viewing Modes, Manage Photo Album Access Rights: Public Access, Restricted to Certain Accounts, Album Password, Multi-level Folder Structure Support, Supports Tagging of Photos, One-click Sharing to Social Media (Facebook, Google+, Twitter, Plurk, email), Intuitive Drag and Drop Management, Slideshow Viewing Mode, Supports a Wide Range of Image Formats: JPG/JPEG, GIF, PNG, BMP, TIFF, RAW and Supports Video Playback
Surveillance Center – Up to 64 channels in 720p on single live view display, On-screen camera controls including camera PTZ, manual recordings, take snapshots, configure camera settings and open Maps, Up to 4 channels of synchronous and non-synchronous playback with audio, Intelligent video analytics including motion detection and foreign object detection, Supported Browsers: Windows Internet Explorer, Microsoft Edge, Firefox, Mac Safari, Mac Firefox ESR, Event notification supports SMS, E-mail, and mobile push notification, AiSecure mobile app for iOS and Android with Push notification, Maximum IP Cam (4 Free Licenses; Additional Licenses to be Purchased)
Takeasy – Download from YouTube, Vimeo, Twitch and More, Selectable Video Type and Quality, Automatic Downloads with YouTube or Twitch Subscriptions, Preview Downloads in Progress and Online Playback
SoundsGood Audio App – Import Personal/Public Music Collection, Personal/Public Music Collection Permission Control, Playlist Editor, ID3 Tag Editor, Local Speaker Support: HDMI, USB, Audio Jack, Supported Audio Formats for Browser: MP3, WAV, Ogg, Supported Audio Formats for Transcoding Through Browser: AIFF, Flac, Supported Audio Formats for Local Speaker: MP3, WAV, Ogg, AIFF, Flac
Backup Tools – Rsync (Remote Sync) Backup, Cloud Backup, FTP Backup, External Backup, One-Touch Backup, EZ Sync, Btrfs Snapshots
Asustor

LockerStor

10-Bay NAS – Review Conclusion
Ultimately, for the most part, anyway, the Lockstor 10 NAS does Asustor very good service. It continues with the way they shaped NAS in 2019 (being the first to adopt 2.5Gbe commercially) and ups that game with a fantastically functional and storage ready device. Being one of only a handful of 10-Bay NAS Drives also helps the AS6510T find a niche place in the NAS food chain. Good design and a number of key areas of construction make this device stand out and for all this hardware choice arriving at under £1000 ex.VAT, it is tough to argue with. However, you need to take into account that the CPU inside may well be the unseen bottleneck, as it seems to be an odd choice of low-mid range processor, for such a high calibre hardware device.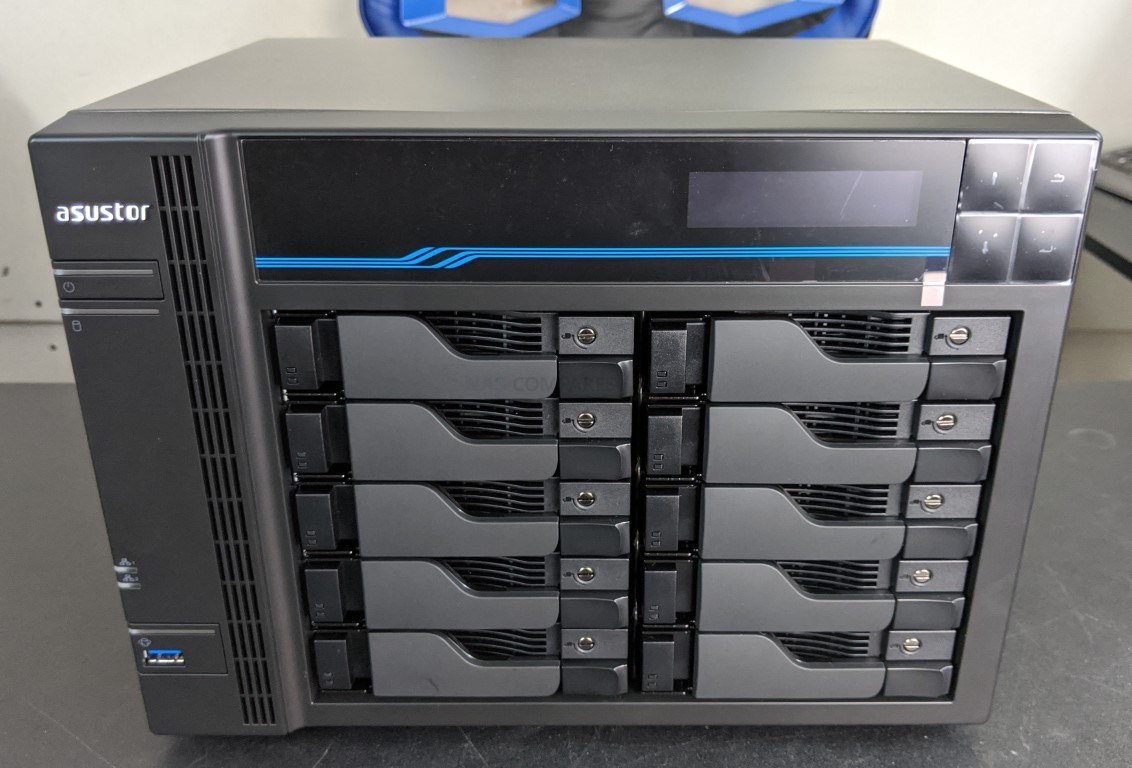 If you want 10Gbe and unparallel storage potential at the top end of hardware, but do not want to break the bank, the Lockerstor 10 is a solid choice for you. However, if you are looking to push boundaries and remove all those pesky bottlenecks, the LockerStor 10 PRO edition might be better for you.
If you plan on buying your NAS Drive from Amazon, please support this website by clicking the button below to take you there. This costs you nothing and I will earn a small commission on anything you buy(helps me keep the lights on), so that will help keep this site up and running. It just costs you a click and ensures I can keep helping more users with their data storage needs. Thank you.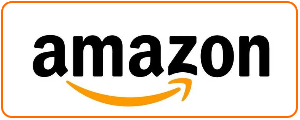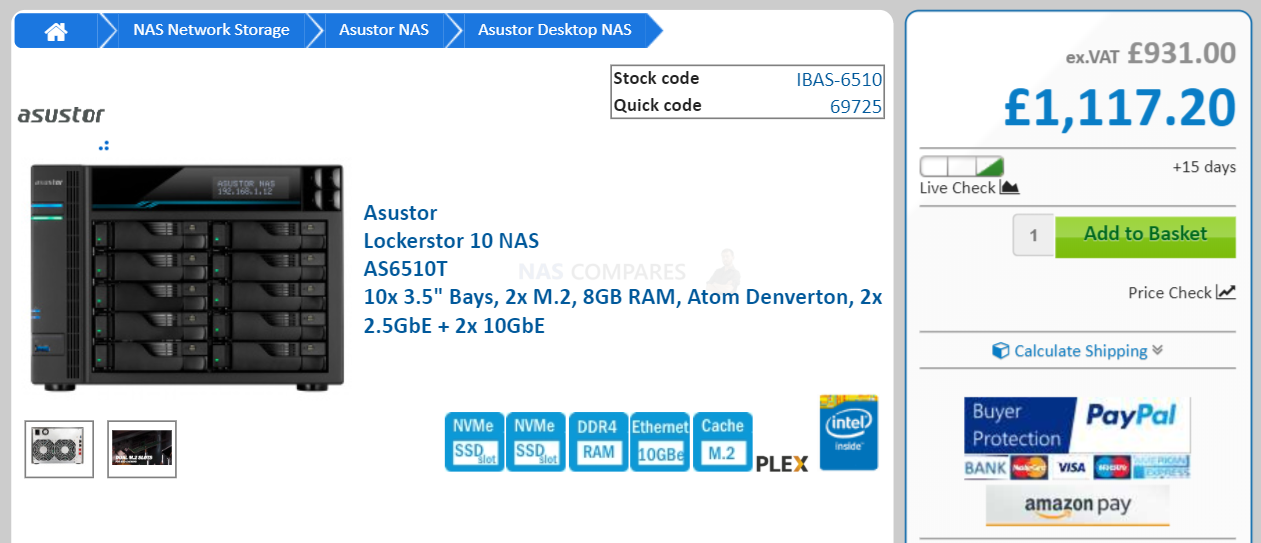 📧 LET ME KNOW ABOUT NEW POSTS 🔔
Join 1,414 other subscribers
Get an alert every time something gets added to this specific article!
This description contains links to Amazon. These links will take you to some of the products mentioned in today's content. As an Amazon Associate, I earn from qualifying purchases. Visit the NASCompares Deal Finder to find the best place to buy this device in your region, based on Service, Support and Reputation - Just Search for your NAS Drive in the Box Below
Need Advice on Data Storage from an Expert?
We want to keep the free advice on NASCompares FREE for as long as we can. Since this service started back in Jan '18, We have helped hundreds of users every month solve their storage woes, but we can only continue to do this with your support. So please do choose to buy at Amazon US and Amazon UK on the articles when buying to provide advert revenue support or to donate/support the site below.

Finally, for free advice about your setup, j
ust leave a message in the comments below here at NASCompares.com and we will get back to you.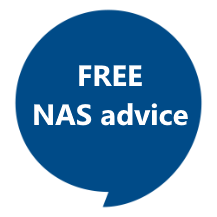 Need Help?
Where possible (and where appropriate) please provide as much information about your requirements, as then I can arrange the best answer and solution to your needs. Do not worry about your e-mail address being required, it will NOT be used in a mailing list and will NOT be used in any way other than to respond to your enquiry.
Support What We Do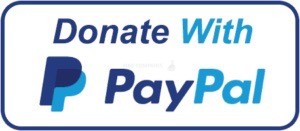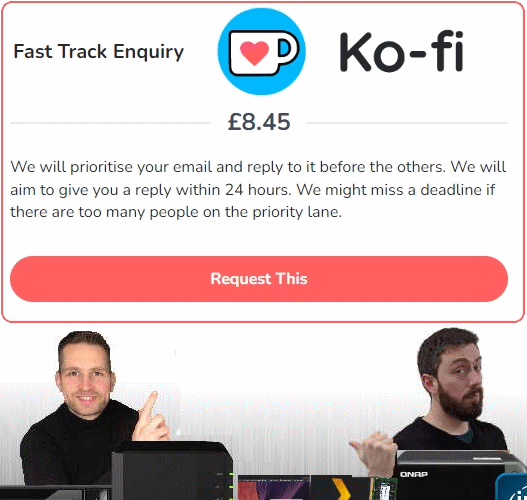 Terms and Conditions
Alternatively, why not ask me on the
ASK NASCompares forum
, by clicking the button below. This is a community hub that serves as a place that I can answer your question, chew the fat, share new release information and even get corrections posted. I will always get around to answering ALL queries, but as a one-man operation, I cannot promise speed! So by sharing your query in the
ASK NASCompares
section below, you can get a better range of solutions and suggestions, alongside my own.
This description contains links to Amazon. These links will take you to some of the products mentioned in today's video. As an Amazon Associate, I earn from qualifying purchases
Summary
Reviewer
Review Date
Reviewed Item
Asustor LockerStor 10 NAS Hardware Review
Author Rating





Product Name
Asustor AS6510T LockerStor 10 NAS