Which 2-Bay NAS Should you Buy in 2020
A Network Attached Storage (NAS) device that can house two hard drives is pretty much the usual entry point for many home/small business users to the world of network storage. Whether it is for enjoying media at home, backing up all the devices on the network, or for more critical business needs like customer data and surveillance, a 2-Bay NAS gives you a great starting point in terms of price, security, reliability, redundancy and features. Unfortunately, like any technology that stays around for a while, choices become numerous and with each brand in this industry releasing hardware solutions every year, it can be hard to make sure you buy the best and more suitable network storage solution for your needs. So, today I am going to highlight 4 noticeable brands in the world of storage; Synology, QNAP, Asustor and TerraMaster, and then highlight the best 2-Bay solution that they have to buy right now in 2020. But do remember that this is a comparison of the best 2-Bay NAS to buy in 2020 from each brand, not the best NAS overall! So, I have tried my best to ensure that the NAS selected are the best for this type of user. So bear in mind that your NAS needs might exceed a 2-Bay NAS Drive (such as 4/8-Bay, Thunderbolt connectivity, 10Gbe, etc). Let's get started on what is the best NAS for your data!
What Should you look for in the Perfect NAS Drive?
Why should you consider a 2-Bay NAS drive in 2020? A few good reasons actually. First off, the hardware value vs price is generally the best you can get, as in many cases they give you the software support of much bigger NAS devices, but with fewer bays and smaller chassis. Second, 2-Bay NAS drives are generally released with a greater frequency than any other sized NAS (this is relevant to all NAS brands) and this means that the hardware evolution of the 2-Bay NAS tends to be more competitive. Lastly, 2020 has greeted us with some interesting developments in the world of storage (such as 2.5Gbe, more efficient CPUs, bigger/faster connections and more) which have landed on the specifications of many a 2-bay NAS this year. All of the NAS drive solutions today support the following:
Multiple Backup, Protection, Synchronization and Restoration Options. Including RAID, Snapshots, Cloud Sync, RSync, NAS-to-NAS Backup and USB
Several Photo, Music and Video Streaming Software options, ranging from first-party media applications and third-party apps such as Plex Media Server and iTunes
Surveillance Support, from just supported as a network drive, to the inclusion of a full NVR software solution and IP Camera Support
Support of Multiple Users concurrently, each with tailored access and privileges that can be customized on the fly
Free Mobile and Desktop Client app support, on Mac, Windows, iOS and Android
Virtual Machine and/or Container application support
1080p and 4K Multimedia Support, including transcoding
Access via the network and internet at all times
Multiple tiers of security and encryption
Support of the latest 14TB and 16TB NAS Hard Drives
Support of SATA based 2.5″ SSDs for Storage or Caching
At least 2 Years of Manufacturers warranty (higher in some cases)
Arrive in Desktop Form, though each brand does have rackmount solutions available
So, in most cases, any of the solutions below will fit your needs. It is more a question of the kind of user you are. If you are unsure about which NAS brand best suits your environment, then I recommend checking out my NAS brand comparison article here, which focuses on the BRAND, rather than the hardware – https://nascompares.com/compare/synology-qnap-drobo-asustor/
A Quick Request to You – Yes, you reading this!
If you plan on buying your NAS Drive from Amazon, please use the links below for the best prices and Availability
Best 2-Bay Synology NAS – The DS718+ NAS Drive –

££

£
0- 32TB, J3455 Intel Celeron 4-Core 1.5-2.3CPU, 2-6GB DDR3L Memory, 2x 1Gbe,  $399 to Buy 
Hardware Review of the DS718+ NAS HERE – https://nascompares.com/review/synology-ds718-nas/
https://nascompares.com/tag/ds718/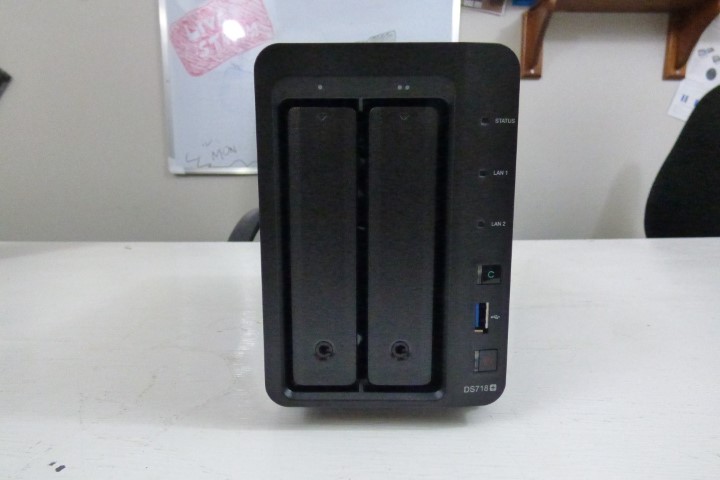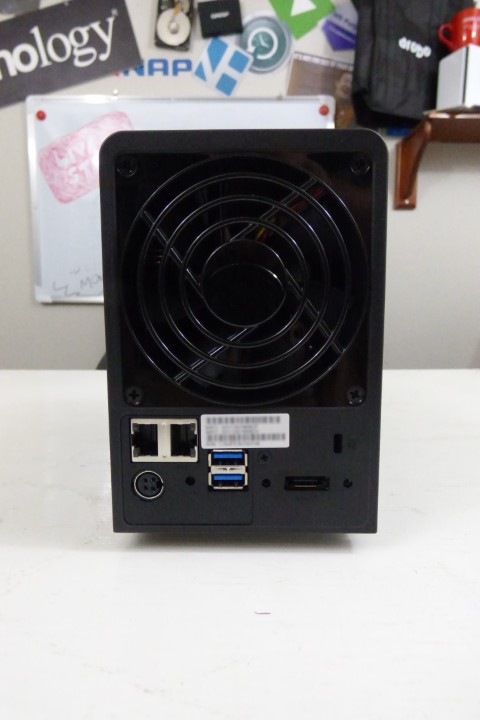 The DS718+ is looking a little old with its late 2017 release, but it makes up for it with still being the most powerful two-drive NAS that Synology has ever released and still makes it the best Synology on offer in this category.
Quick Synology DS718+ NAS Review
NAS Software – 8/10
NAS Hardware – 7/10
NAS Multimedia Support – 8/10
NAS Surveillance and NVR Support – 8/10
Plex Media Server NAS – 7/10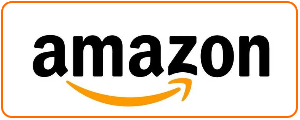 ---
Best 2-Bay QNAP NAS – The TS-251D NAS Drive –

££

£
0- 32TB, Intel J4005 2-Core 2.0-2.7Ghz CPU, 2-8GB DDR4 Memory, 1Gbe, HDMI 2.0a HDMI 4K 60FPS,PCIe Gen 2 x8  $340 to Buy
Hardware Information of the TS-251D NAS HERE – https://nascompares.com/2020/01/20/qnap-ts-251d-and-ts-230-2-bay-nas-comparison/
https://nascompares.com/tag/ts-251d/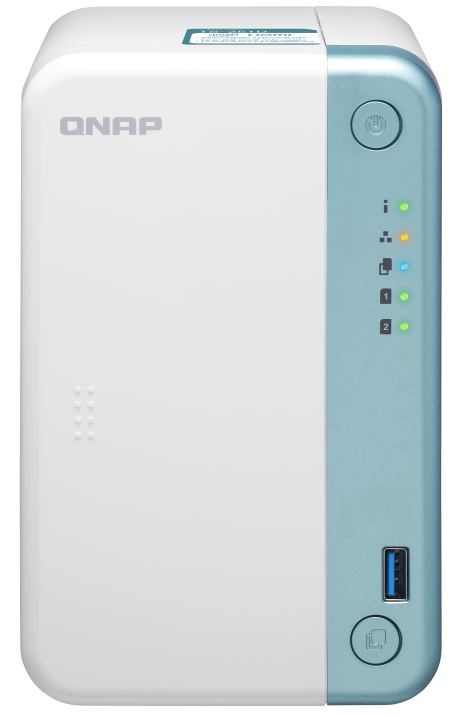 If you are looking to buy a new 2-Bay NAS in 2020, then chances are that you will be looking at some of the newest releases. The reason for this is pretty obvious – you want to invest in hardware that has staying power, is upto date in terms of hardware and software, but most of all you want value. This is where the new QNAP TS-251D and has really found early popularity even before the official release. The TS-251D NAS provides you with some of the most current hardware in NAS 2-Bays you can buy arriving at £265+ (ex.VAT), it does give excellent value. TS-251D is equipped with Intel® Celeron J4005 dual-core 2.0GHz processor (burst frequency up to 2.7 GHz) and 8GB of DDR4 dual-channel memory, built-in Gigabit network port, and supports SATA 6Gb / s hardware The disk transmission interface, combined with the optional network card, can provide high-speed continuous reading and writing performance, allowing tasks to run smoothly and quickly. The built-in Intel AES-NI 256-bit encryption acceleration engine can maintain high-speed data reading speed when encrypting the entire NAS or folder, and protect important data in TS-251D, while maintaining the high performance of the system.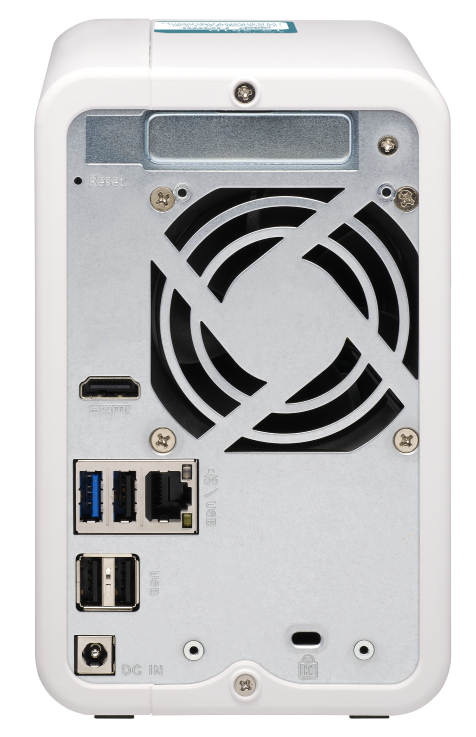 In terms of software, the QNAP TS-251D NAS drive supports everything you would expect in a 2020 NAS. The surveillance application QVR Pro gives you a detailed and user-friend surveillance system, with 8 Camera Licences included and supported many, many more at once. 3 kinds of virtual environment support in Virtualization station, Container Station and Linux station give you the ability to create virtual desktop space accessible over the network, internet and even locally over HDMI with a keyboard and mouse. And for the data concerned, Hybrid Backup Sync 3 still continues to be one of the most functional and fully equipped backup and synchronization tools I have ever used for communication between the QNAP NAS and another NAS, PC, Mac, mobile device, server, cloud, USB Drive and more. And that doesn't even touch on the support of all file types being easily searched and catalogued with File Station, QSirch, Qfiling and QuMagie – the AI-Powered categorization tool. The QNAP TS-251D is designed at those looking for a more established point in the world of NAS technology, supporting almost all modern NAS hardware and software choices, providing a much fully featured and true QNAP NAS experience. Alongside this, the TS-251D can be upgraded and improved in many more ways than most other NAS devices, rangling from memory upgrades, HDMI direct operations with KVM support over USB devices and a PCIe slot for adding improved network interface ports and SSD caching bays as needed.
In real terms, that means you can add 10GbE / 5GbE / 2.5GbE network card or install QM2 M.2 SSD / 10GbE PCIe expansion card to add SSD cache and 10GbE network, and use Qtier automatic tiered storage to optimize the overall access performance. In addition, you can use QuMagie Life Photo Butler to classify photos through the AI ​​image recognition engine and automatically create albums of people, things and places. TS-251D is equipped with HDMI 2.0 port and provides a variety of media streaming applications, allowing you to enjoy an excellent home video experience. The TS-251D supports up to 2 hardware decoding and transcoding, allowing you to smoothly play multimedia files on your NAS on each device. It might be the most powerful QNAP 2-Bay right now (that goes to the TS-253B and TS-253Be, but with a more modern CPU and improved PCIe slot in PCIe Gen 2 x 4, this device has more future-proofing in 2020 in a number of ways and until we see a full follow up to the B/Be series (much later in 2020 I assume), then this is a fantastic purchase.
Quick QNAP TS-251D NAS Review
NAS Software – 7/10
NAS Hardware – 7/10
NAS Multimedia Support – 8/10
NAS Surveillance and NVR Support – 8/10
Plex Media Server NAS – 7/10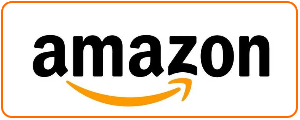 ---
Best 2-Bay Asustor NAS – The Nimbustor 2 NAS Drive –

£

££
0- 32TB, Intel J4005 2-Core 2.0-2.7Ghz CPU, 2-8GB DDR4 Memory, 2x 2.5Gbe, HDMI 2.0a HDMI 4K 60FPS  $329 to Buy  
Hardware Review of the Nimbustor 2 AS5302T NAS HERE – https://nascompares.com/2019/07/21/asustor-nimbustor-2-as5202t-nas-review/
https://nascompares.com/tag/as5202t/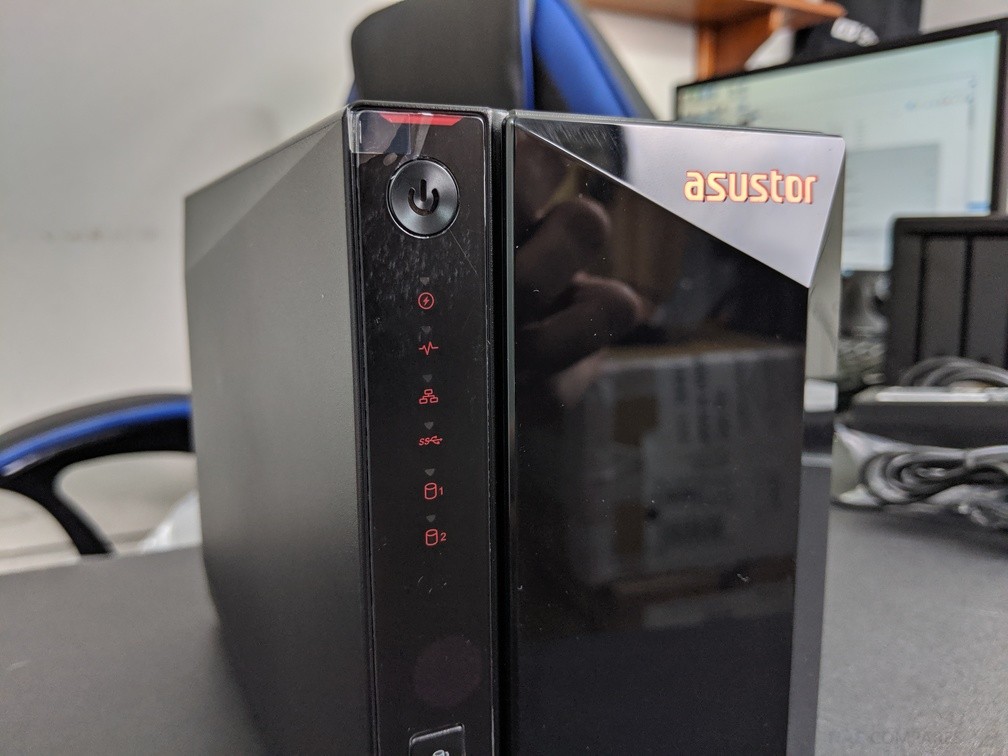 As long as I have been in the NAS industry, I can say with confidence that there has been one single constant – gigabit ethernet (1Gbe) via copper (RJ45) has been present on every single device up to this point. From small little DLNA media NAS boxes, all the way upto enterprise-grade rackmounts, the humble 1Gbe port has always been there.  Even when a brand has included large 10Gbe ports, it has always been largely outnumbered by 1Gbe ports. This is understandable, the network market hugely features this default port, but with file sizes always getting bigger and increased access speeds being required, it is fair to say that 1Gbe is starting to look rather out of its depth.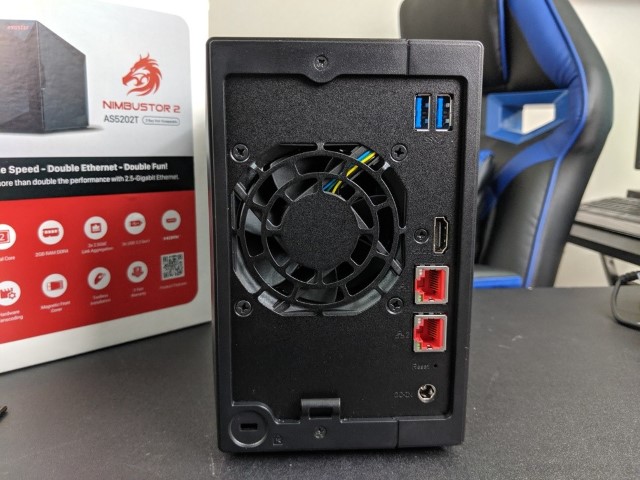 It is for this reason (or similar) that Asustor's newest generation of NAS drives for home and business in 2019/2020 have taken the very bold move of completely eliminating the 1Gbe RJ45 ports, and instead, making the jump to 2.5Gbe ports by default instead. I have already touched on this previously on the build-up to, and during, the Computex 2019 event – highlighting why this move into 2.5-gigabit ethernet is such a big, BIG deal, but today I finally have a Nimbustor 4 here in the office and am going work my way through its hardware, it's software and how the new AS5302T NAS compares with likewise rivals units from Synology and QNAP.
In terms of hardware, the Nimbustor 2 NAS arrived with the same J4005 CPU and 2GB DDR4 memory found in the QNAP TS-251D. Arriving at around £375 / $475 / EUR 425, this is a very, VERY impressive selection of hardware at this price point. Even without the 2.5Gbe, it still arrives at a price lower than the Synology DS718+ and QNAP TS-251D NAS. Add to this that buying the Nimbustor 4 means you are using a network connection 2.5x larger in speed (potentially 5x with Link Aggregation) and you are looking at some seriously affordable NAS with serious future-proofing for things like Plex Media Server, Business class surveillance, true 4K playback and media enjoyment in many forms too. Alot depends on the software (featured in the send part of this review) but in terms of hardware, the Asustor Nimbustor 2 AS5302T NAS is currently a very appealing hardware vs price device to buy in 2020! The software may not reach the heights of QNAP or Synology (and will always draw comparison by me and many others) but if you are going to use your own software on Mac/PC, this is not an obstacle to worry about.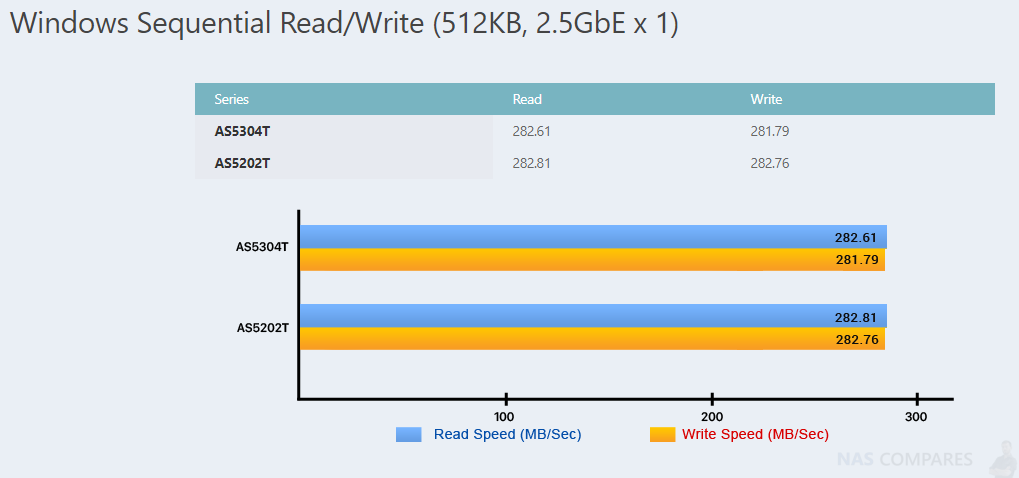 Nothing is perfect of course. Little things that can be overlooked, like an LCD panel on the front, CAT 6/7 cables included or the ability to upgrade with a PCIe slot would be nice, but at this price point, it makes it very hard to complain about these physical issues. Just remember that to take advantage of the 2.5Gbe increased network coverage, you will need to upgrade your network to 2.5Gbe or 10Gbe over copper(RJ45) accordingly. However, seeing as the storage industry is fast approaching this as the normal, that isn't necessarily a bad thing. Be sure to check out the links below to 2.5Gbe Network Interface Cards (NIC) to upgrade with.
Quick Asustor Nimbustor 2 NAS Review
NAS Software – 6/10
NAS Hardware – 8/10
NAS Multimedia Support – 7/10
NAS Surveillance and NVR Support – 6/10
Plex Media Server NAS – 7/10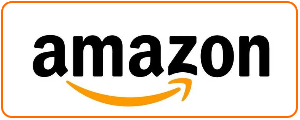 ---
Best 2-Bay TerraMaster NAS – The F2-421 NAS Drive –

£

££
0- 32TB, J3455 Intel Celeron 4-Core 1.5-2.3CPU, 4-12GB DDR3L Memory, 4x 1Gbe,  $329 to Buy
Learn More about TerraMaster NAS HERE – https://nascompares.com/tag/terramaster-nas/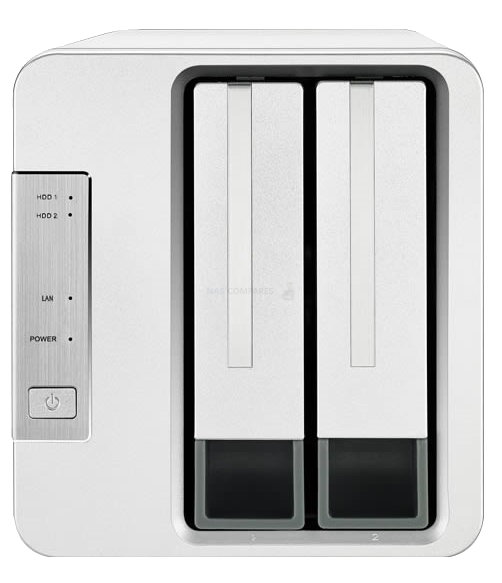 TerraMaster packed the F4-421 with a lot of great stuff. It is powered by a quad-core Intel Celeron J3455 processor running at 1.5GHz and with a 2.3GHz turbo. It is equipped with 4GB DDR3 memory which is soldered. While that's true, it also features a SO-DIMM slot in which you can install up to an 8GB module for a total of 12GB RAM. Thanks to the choice of CPU, you also get a very efficient AES NI hardware encryption. Overall, the F4-421 is capable of over 400MB/s throughput when all network ports are set up and used. The physical design continues to be the same as we've seen on previous devices. An aluminium shell and a finish that makes it look a little better than it needs to. For example, I love the pinhole LEDs up against the polished metal. It just looks great. Granted, that's probably not one of the selling points when it comes to SMBs, but it doesn't hurt either.
Inside the Terramaster F2-421 is quite a simple affair. This isn't a huge surprise, given that NAS is designed to be primarily large areas of storage that can be accessed over the network/internet. It is, therefore, no big surprise that the bulk of the internal space is given to the media bays. However, in order to maintain a combination of intelligent and fast access to the data, as well as supporting the RAID, Operating system and handling multiple users at once, you need a good CPU and Memory combination (much like any PC/Mac/Mobile device. The CPU featured in the Terramaster F2-421 NAS is the popular Intel Celeron J3455 Quad-Core 1.5GHz (Max burst up to 2.3GHz) processor and that is supported with 4GB of DDR3L Memory that is expandable to12 GB (4 GB + 8 GB). This is a very reliable and well-tested hardware backend and this combined with the 4x 1Gbe support featured on this device means that you have a 4K equipped CPU, with transcoding, AES 256bit encryption and rendering power at your fingertips That said, the power consumption is a pinch higher in practice than the majority of the Terramaster NAS or it's competitors that arrive with this CPU, but this is largely down to that CPU and potential LAG over four LAN ports – something rarely found at this level and definitely throws the numbers out a bit, with a reported 46.6W Power Consumption in Full Access and 2.0W Power whilst in Idle.
Once again, I need to highlight that the F2-421 NAS needs to be viewed with its price tag always in mind. With software and hardware that is available on other NAS brand devices, it is easy to imagine that this device is a much, more affordable alternative to QNAP or Synology NAS. However, you should always remember that this device is still aimed at those looking for a first dip into NAS and if should be compared with WD NAS and D-Link when making your choice of NAS. it is DEFINITELY better than those and arrives at a better price, but it may still be a year or more before the Terramaster TOS Software platform can compete with DSM and QTS. That said, the Beta is really showing that TOS is going to evolve even further and for more information about the TerraMaster TOS operating System, I recommend visiting my software review here.
Key Software and NAS tasks that are supported are:
RAID 0, 1
Apple Time Machine Backup
Cloud Migration and Synchronization
NAS to NAS Rsync Support
Plex Media Server
Docker
Mail Server
Web Server
DLNA Media Server
WordPress Server
Download Server
Snapshot Support
With a good range of applications to choose from, as well as the support of modern NAS applications in the mix, the TerraMaster F2-421 does give you a good base with which to start your NAS journey, though it may feel a little streamlined for those with greater NAS experience.
Quick TerraMaster F2-421 NAS Review
NAS Software – 6/10
NAS Hardware – 7/10
NAS Multimedia Support – 7/10
NAS Surveillance and NVR Support – 2/10
Plex Media Server NAS – 7/10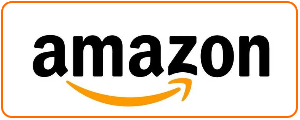 ---
📧 LET ME KNOW ABOUT NEW POSTS 🔔
Join 1,750 other subscribers
Get an alert every time something gets added to this specific article!
This description contains links to Amazon. These links will take you to some of the products mentioned in today's content. As an Amazon Associate, I earn from qualifying purchases. Visit the NASCompares Deal Finder to find the best place to buy this device in your region, based on Service, Support and Reputation - Just Search for your NAS Drive in the Box Below
Need Advice on Data Storage from an Expert?
Finally, for free advice about your setup, j
ust leave a message in the comments below here at NASCompares.com and we will get back to you.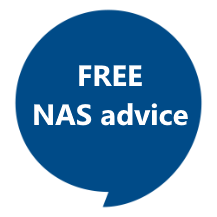 Need Help?
Where possible (and where appropriate) please provide as much information about your requirements, as then I can arrange the best answer and solution to your needs. Do not worry about your e-mail address being required, it will NOT be used in a mailing list and will NOT be used in any way other than to respond to your enquiry.
TRY CHAT
Terms and Conditions
If you like this service, please consider supporting us.
We use affiliate links on the blog allowing NAScompares information and advice service to be free of charge to you.
Anything you purchase on the day you click on our links will generate a small commission which is
used to run the website. Here is a link for
Amazon
and
B&H
.
You can also get me a ☕
Ko-fi
or old school
Paypal
. Thanks!
To find out more about how to support this advice service check
HERE
If you need to fix or configure a NAS, check
Fiver
Have you thought about helping others with your knowledge?
Find Instructions Here

ASK NASCompares forum
, by clicking the button below. This is a community hub that serves as a place that I can answer your question, chew the fat, share new release information and even get corrections posted. I will always get around to answering ALL queries, but as a one-man operation, I cannot promise speed! So by sharing your query in the
ASK NASCompares
section below, you can get a better range of solutions and suggestions, alongside my own.
This description contains links to Amazon. These links will take you to some of the products mentioned in today's video. As an Amazon Associate, I earn from qualifying purchases