Should you Buy the QNAP TS-251D or TS-230 NAS in 2020?
If you are looking to buy a new 2-Bay NAS in 2020, then chances are that you will be looking at some of the newest releases. The reason for this is pretty obvious – you want to invest in hardware that has staying power, is upto date in terms of hardware and software, but most of all you want value. This is where the two latest releases from QNAP, the TS-251D and TS-230, have really found early popularity even before the official release. With the TS-230 NAS marketing itself as the perfect entry point NAS at just £150+ (ex.VAT) and the TS-251D giving you some of the most current hardware in NAS 2-Bays you can buy arriving at £265+ (ex.VAT), they do aim to give excellent value. However, Value arrives in many forms and with just £100 between them and is designed to last for years, this is a very small margin of difference on your budget. So today I want to help see what they have in common, what they have that is different and help you decide which one you need for your data. First, let's look at the hardware inside:
QNAP TS-230 NAS

Realtek 64bit ARM – DDR4

QNAP TS-251D NAS

Intel Celeron x86 64bit – DDR4
CPU
TS-230">
TS-230 active spec_value" data-sku-name="TS-230">TS-230 NAS – Realtek RTD1296 quad-core 1.4GHz processor, 64-bit ARM, AES 256bit Encryption
TS-230">
TS-230 active spec_value" data-sku-name="TS-230">TS-230 NAS – 2 GB DDR4, not expandable + 4 GB Flash Storage for the OS
TS-251D">
TS-251D-2G spec_value active" data-sku-name="TS-251D-2G">TS-251D NAS – 2 GB SO-DIMM DDR4 (1 x 2 GB), Expandable to 8GB (2 x 4GB) + 4 GB Flash Storage for the OS
TS-251D-2G">Ports and Slots
TS-251D">
External Ports and Slots
TS-230 NAS – 1x 1Gbe Ethernet, 2x USB 3.0, 1x USB 2.0, USB Copy Button
TS-251D NAS – 1x 1Gbe Ethernet, 2x USB 3.0, 3x USB 2.0, 1x PCIe Gen 2 x4, 1x HDMI 2.0a, USB Copy Button
Environmental Impact
TS-230 NAS – 65W External PSU, 4.48W Usage in Sleep, 12.27W Whilst Accessing, 15db(A) noise level in operation avg
TS-251D NAS – 65W External PSU, 8.08W Usage in Sleep, 15.25W Whilst Accessing, 16.7db(A) noise level in operation avg
TS-251D">
TS-251D"> So, straight away you can see that in terms of hardware, the
TS-251D
provides more than double the power and practically 4x the potential software abilities in most cases. This comes at a price though (not just in £/$) in the form of being a pinch noiser in operation and consumes a pinch more power. But what about software differences? Let's take a look at what stands out about both of these NAS.
Highlights of the QNAP TS-251D NAS Drive for 4K and 1080p Media Users
The TS-251D integrates secure storage of data and multimedia entertainment in one machine and is equipped with a PCIe expansion slot to provide a high degree of application expansion flexibility. You can add 10GbE / 5GbE / 2.5GbE network card or install QM2 M.2 SSD / 10GbE PCIe expansion card to add SSD cache and 10GbE network, and use Qtier automatic tiered storage to optimize the overall access performance. In addition, you can use QuMagie Life Photo Butler to classify photos through the AI ​​image recognition engine and automatically create albums of people, things and places. TS-251D is equipped with HDMI 2.0 port and provides a variety of media streaming applications, allowing you to enjoy an excellent home video experience. The TS-251D supports up to 2 hardware decoding and transcoding, allowing you to smoothly play multimedia files on your NAS on each device.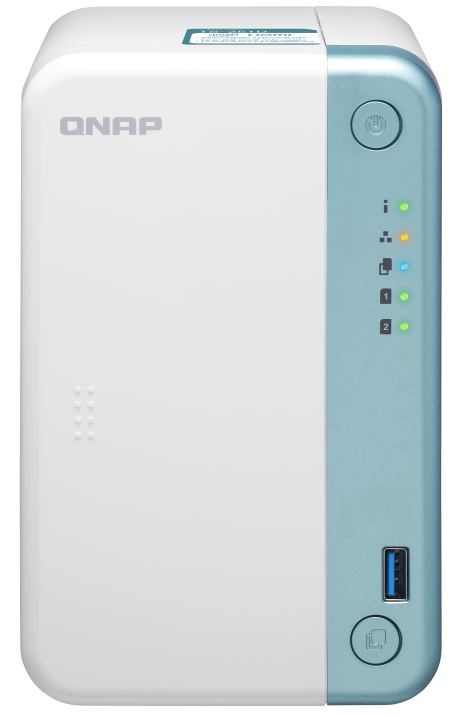 PCIe Gen 2 x4 Upgrade Slot
The TS-251D has a PCIe Gen2 x 4 expansion slot. You can flexibly configure the QNAP QM2 M.2 SSD / 10GbE PCIe expansion card according to your needs. You can add M.2 SSD cache or 10GbE network transmission to the TS-251D. Optimize access performance; Compatible with QNAP QWA-AC2600 wireless network card, and use WirelessAP Station software to make the NAS a wireless network base station to create a convenient wireless video streaming environment; QNAP QXG-10GbE or 5GbE network expansion can also be added Card, and upgrade to high-speed network bandwidth through the existing CAT 5e network cable to enjoy smoother NAS video streaming and multimedia applications. Your TS-251D and laptop can also be paired with QNAP USB 3.0 to 5GbE-QNA-UC5G1T network adapters to connect to each other to establish a 5GbE network speed. Flexible upgrade the network environment with a reasonable budget; USB 3.1 Gen 2 (10Gbps) expansion card can be easily connected to external USB storage devices, through the USB interface to quickly complete large-scale transmission of audio and video media.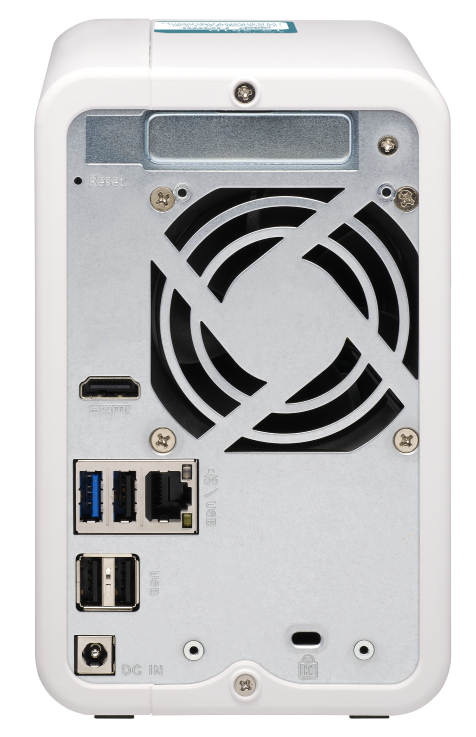 4K 60FPS HDMI Output with HDMI 2.0
The TS-251D integrates Intel® UHD Graphics graphics chip, providing 2 channels of video hardware decoding playback and transcoding, which can instantly convert 4K video to a format that can be smoothly played on various devices *. You can output 4K high-definition content through the HDMI 2.0 port, watch precious audio and video files on HDTV, or stream audio and video files to PDL multimedia server to support DLNA, Roku, Apple TV, Amazon Fire TV And Chromecast and more, watch your NAS collection on your NAS from your phone, tablet or TV. You can purchase additional QNAP RM-IR004 remote control, and use QButton to apply the flexible custom remote control button function to enjoy the convenient NAS digital life experience. Plus, enjoy 4K video playback and real-time transcoding, enjoy video and audio content across devices via HDMI or with the video streaming app with H.264 or H.265 formats.
Enterprise Level QVR Pro Surveillance Software to use your NAS as an NVR
QNAP QVR Pro security monitoring solution allows you to establish an independent monitoring environment on the TS-251D and enjoy the highly expandable storage space of the NAS. Camera management, video space planning, real-time monitoring, and video playback have become easier. You can view it at any time through the QVR Pro Client mobile app. You can also use a USB video camera with the QUSBCam2 application to turn the USB camera into an ONVIF network camera. QVR Pro upgrades the key monitoring area (ROI) function, breaking the limit of the number of frame selections in the past, and supports multiple frame selection in real-time monitoring and video playback mode. The video image can also be partially enlarged, and the image monitoring is clear with zero dead angle.
Another bonus of the QNAP Surveillance software QVR Pro, is the inclusion of 8 Camera licenses with the TS-251D NAS, 4x that generally included with most other NAS brands and devices. QVR Pro supports all network cameras with standard fisheye images on the market and provides Qdewarp universal fisheye image restoration technology, which can restore the distorted parts around the original fisheye image to a standard picture ratio. QVR Pro also provides advanced features that are unique in the industry, such as allowing a single fisheye camera image to establish 9 independent restoration areas at the same time, and supporting cross-platform fisheye camera image hardware acceleration to ensure security without dead angles and better monitoring performance. And deployment flexibility.
Highlights of the QNAP TS-230 NAS Drive for Backups and Multimedia Sharing
The lightweight, low-noise, highly efficient TS-230 is your ideal entry NAS. The simple solid colour style can be harmoniously integrated into the living space and easily start your intellectual life. You can centrally store and back up all files on TS-230, and enjoy convenient file access, synchronization and sharing functions; protect important files and precious memories through a practical snapshot function; and create an audio-visual entertainment station for the whole family. Stream photos, music, and videos to multiple devices for fun. Make life smarter and more fun. In addition to laptops and mobile phones, the TS-230 NAS is also an essential tool you should have!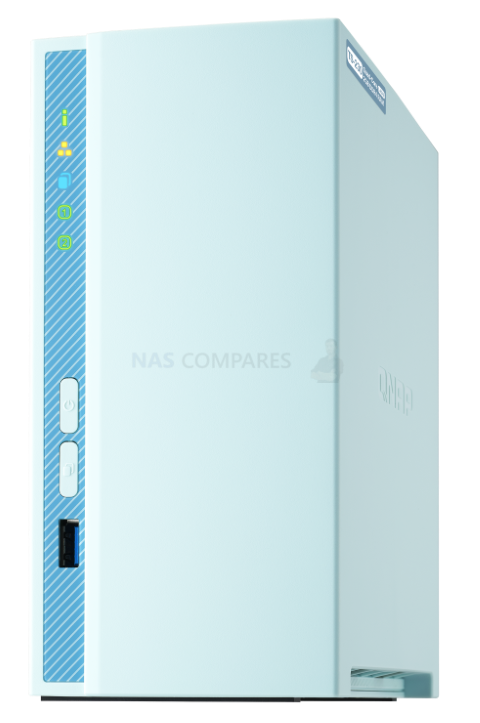 User-Friendly and Intuative Central Backup Solution for Home and Business
Centrally store personal, family, and family photos, music, and videos for easy browsing, organizing, and sharing. Flexible multimedia streaming capabilities for unlimited enjoyment. From file storage, management, synchronization, to retrieval and archiving, TS-230 integrates multiple applications to provide all-round services and is a really easy to use intelligent NAS. You can easily read files from USB devices, mobile phones, and multiple sources, sync any file with friends, family, or work partners at any time, quickly and accurately find the files you need in the vast data sea, and let all files, pictures, and audio files Perfectly archived by category. TS-230 can help you save a lot of file management time, make work and life more comfortable.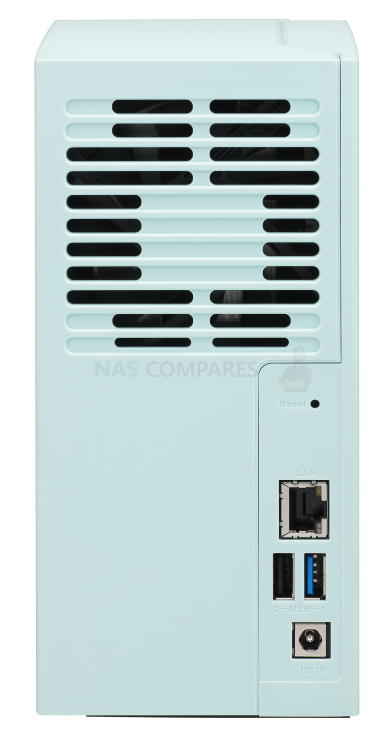 Affordable and Efficient 4K Playback and Transcoding
The TS-230 supports 4K (H.264) video hardware decoding, playback and transcoding, which can instantly convert the video to a format that can be smoothly played on each device. You can also share your favourite movies or travel videos from your NAS to your friends and family through the sharing link, so you can enjoy great audio and video experiences anytime, anywhere. Though you should note that this is still designed to be low power and efficient device, so the processor and hardware specifications of TS-230 provide H.264 10-bit hardware accelerated decoding, encoding, and transcoding. Actual video and audio presentation quality will vary depending on the playback software used, file format, system resource usage, and network bandwidth. TS-230 will reserve some memory for image calculation.
What Do BOTH of the QNAP TS-251D and TS-230 NAS Provide?
As these are both QNAP devices and both are 2-Bays RAID storage NAS, the TS-251D and TS-230 provide a great deal of support of software and services (1st and 3rd party) that are the same. Typically, the difference will be the extent to which it supports those services (with the TS-251D providing better quantity or quality of support overall, thanks to it's Intel x86 Processor compared with the ARM 64bit processor of the TS-230). Below are the things both of these NAS can provide.
QuMagie AI-Powered Photo Recognition for Fast Searching and Tagging
QuMagie integrates the QuMagie Core artificial intelligence image recognition engine, which can recognize faces and objects in photos, and automatically compose similar people and things into "people albums" and "thing albums". At the same time, you can automatically categorize photos based on the location where you took them. You can quickly find photos taken in each location in the Location Album. QuMagie also provides a variety of useful functions, including: timeline, custom folder cover, dynamic playback of iOS Live Photo, and a more powerful search mechanism to bring you more intuitive and smooth photo management and sharing experience.
The TS-230's large-capacity space allows you to easily back up all photos on your computer, mobile device, and mobile hard disk, and then easily share photos to friends and relatives via Email, social networking sites or sharing links. Whereas the TS-251D provides this, along with faster cataloguing and even faster searching.
Multiple Layers of Security and Access, Under your Control
Both the TS-251D and TS-230 have multiple protection mechanisms just to ensure your data is safe.
● Security Counselor: Performs a security risk assessment for the NAS and suggests appropriate security settings; also integrates the Malware Remover and McAfee Antivirus applications.
● IP blocking: Automatically block suspicious IPs or directly block specific IP addresses to strengthen system security and reduce malicious network attacks.
● Two-step verification: Once enabled, anyone who wants to log in to TS-230 must enter a set of one-time dynamic verification codes in addition to the account number and password.
● Notification Center: Integrate all QTS system events, alerts and notifications to help you easily grasp the status of your NAS at any time, and set to get via email, mobile text message, instant messaging software and push notifications (Qmanager mobile app and web browser) Real-time information.
This is combined with Internet/Anywhere access, thanks to MyQNAPCloud services included with your NAS. No matter where you are, the myQNAPcloud service allows you to use a unique domain name to securely connect to your TS-230 at home through the Internet to easily access, manage, and share files on your NAS without any process at all Complex router forwarding settings are quite convenient. Moreover, myQNAPcloud supports SSL 2048-bit connection encryption to enhance the security of data transmission during remote access.
Multiple Backup, Synchronization and Snapshot Systems included
QNAP provides reliable and flexible data backup and restore functions, and supports the Snapshot function to completely record the system status and data of the NAS. When the system is abnormal, you can quickly restore normal status through backup files or snapshots.
Backup and Restore Choices for Mac and Windows – Use the free QNAP NetBak Replicator backup tool to back up / restore data on your Windows® laptop or desktop computer; complete backup tasks on your Mac device with Time Machine support. Everything is so simple, fast and convenient.
Snapshot Support –  An important tool for protecting NAS data. It can completely record the system status and data (including metadata) of NAS. When file corruption occurs or encounters ransomware threats, you can quickly open the snapshot manager from Storage & Snapshots Manager or directly from File Station to restore the system to normal status through snapshots. QNAP snapshots operate on a block-based basis, storing only changing data at a time, which not only saves space but also significantly shortens backup and restore times. Upto 64 Snapshots are supported on the TS-230 NAS and a huge 1024 snapshots are supported on the QNAP TS-251D NAS.
The Hybrid Backup Sync 3 application – The HBS application integrates three functions of data backup, recovery and synchronization. You can easily back up or synchronize the data in TS-230 to another QNAP NAS or cloud backup space for multiple protection of important files. With increased support and versioning available on the TS-251D, it centrally stores and manages various data, and supports protocols such as SMB / CIFS, AFP, and NFS. It can share files between different operating systems such as Windows, Mac, and Linux / UNIX. With Qsync, any file uploaded to TS-251D can be read on other desktops, laptops or mobile devices connected to the NAS; HBS helps you to easily back up the data in TS-251D Or sync to another QNAP NAS, remote server, or cloud backup space, so you can enjoy a sound disaster recovery solution. Deduplication (QuDedup) technology can accelerate multi-version backup efficiency and significantly reduce backup and restore time. You can use QuDedup Extract Tool to restore deduplicated backup files directly on your computer to recognizable files so that large files can be viewed on the go.
How Do the QNAP TS-230 and TS-251D NAS Performance Compare?
Needless to say, with their different hardware and network connection options, the overall read and write of the TS-230 and TS-251D QNAP NAS do differ greatly. The 1G performance is very similar, with a slight edge given to the TS-251D over more dense Read/Write operations being higher. However, the real difference is that PCIe upgrade slot that allows the potential to add 2.5/5/10Gbe network ports and/or SSD caching bays with the QM2 upgrade side.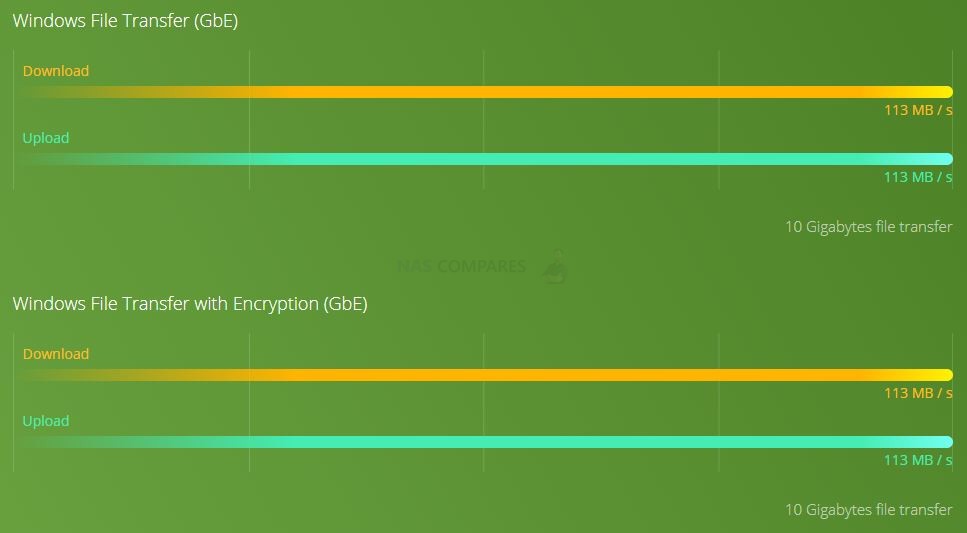 TS-230 is equipped with Realtek RTD1296 quad-core 1.4 GHz processor and built-in 2GB DDR4 memory to provide smooth home processing performance. TS-230 has a Gigabit network port, supports SATA 6Gb / s hard disk and SSD transmission interface, provides high-speed access performance; even when AES-256 encryption acceleration is performed, it still provides excellent data access speed. You can also enable SSD cache on demand to speed up IOPS performance of disk access.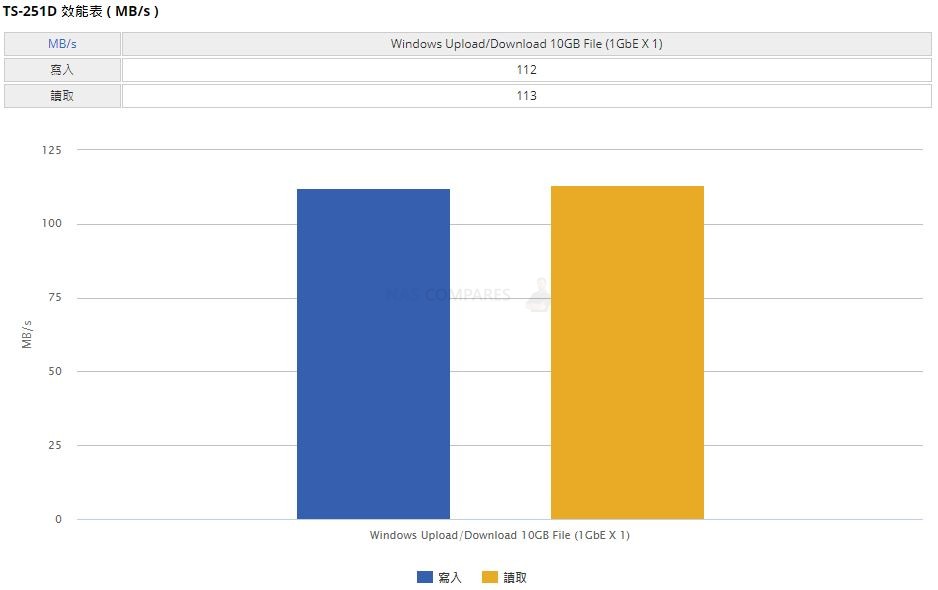 TS-251D is equipped with Intel® Celeron J4005 dual-core 2.0GHz processor (burst frequency up to 2.7 GHz) and 8GB of DDR4 dual-channel memory, built-in Gigabit network port, and supports SATA 6Gb / s hardware The disk transmission interface, combined with the optional network card, can provide high-speed continuous reading and writing performance, allowing tasks to run smoothly and quickly. The built-in Intel AES-NI 256-bit encryption acceleration engine can maintain high-speed data reading speed when encrypting the entire NAS or folder, and protect important data in TS-251D, while maintaining the high performance of the system.

QNAP

TS-251D

and

TS-230

2-Bay NAS – Which Should you Buy?
The TS-230 is clearly a NAS aimed at either first-time buyers, those looking for an uncomplicated and reliable backup solution, or are just searching for a network storage solution that gives you a good base level of support of modern NAS applications and services. What it lacks in raw power, it makes up for in leaving a small footprint in your hardware environment and even less on your pocket! The QNAP TS-251D is designed at those looking for a more established point in the world of NAS technology, supporting almost all modern NAS hardware and software choices, providing a much fully featured and true QNAP NAS experience. Alongside this, the TS-251D can be upgraded and improved in many more ways in its lifespan (PCIe Slot, Expandable Memory, HDMI and KVM support, etc) than the TS-230. So in short:
Buy the QNAP TS-230 NAS
Buy the QNAP TS-251D NAS

You are on a tight budget
Will be used by 1-10 users at once
Have less graphical tasks in mind (Editing, Plex, Light VMs, etc)
Will be in close proximity to the NAS

Looking for better 4K Support locally and over the network
Want to use Plex, Surveillance or Linux VMs
Want to upgrade to 10Gbe at some point
Have 1-25 Users in mind






📧 LET ME KNOW ABOUT NEW POSTS 🔔
Join 1,410 other subscribers
Get an alert every time something gets added to this specific article!
This description contains links to Amazon. These links will take you to some of the products mentioned in today's content. As an Amazon Associate, I earn from qualifying purchases. Visit the NASCompares Deal Finder to find the best place to buy this device in your region, based on Service, Support and Reputation - Just Search for your NAS Drive in the Box Below
Need Advice on Data Storage from an Expert?
We want to keep the free advice on NASCompares FREE for as long as we can. Since this service started back in Jan '18, We have helped hundreds of users every month solve their storage woes, but we can only continue to do this with your support. So please do choose to buy at Amazon US and Amazon UK on the articles when buying to provide advert revenue support or to donate/support the site below.

Finally, for free advice about your setup, j
ust leave a message in the comments below here at NASCompares.com and we will get back to you.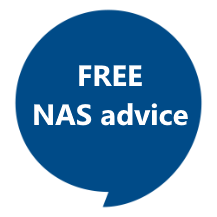 Need Help?
Where possible (and where appropriate) please provide as much information about your requirements, as then I can arrange the best answer and solution to your needs. Do not worry about your e-mail address being required, it will NOT be used in a mailing list and will NOT be used in any way other than to respond to your enquiry.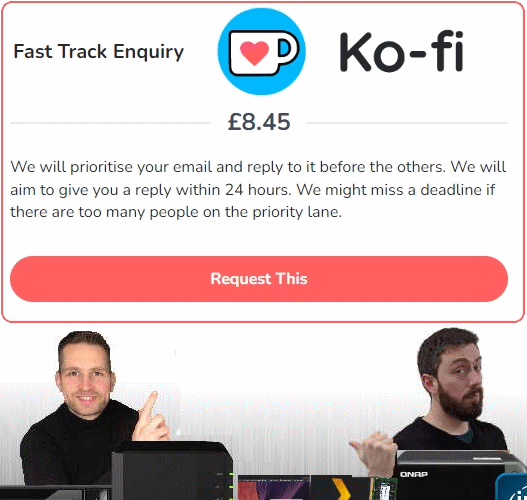 Terms and Conditions
Alternatively, why not ask me on the
ASK NASCompares forum
, by clicking the button below. This is a community hub that serves as a place that I can answer your question, chew the fat, share new release information and even get corrections posted. I will always get around to answering ALL queries, but as a one-man operation, I cannot promise speed! So by sharing your query in the
ASK NASCompares
section below, you can get a better range of solutions and suggestions, alongside my own.
This description contains links to Amazon. These links will take you to some of the products mentioned in today's video. As an Amazon Associate, I earn from qualifying purchases
Summary
Reviewer
Review Date
Reviewed Item
QNAP TS-251D and TS-230 2-Bay NAS Comparison
Author Rating