Breaking news! The new D6-320 6-bay USB 3.2 Gen2 10Gbps External Hard Disk Enclosure has been released and it's set to revolutionize the storage industry!
With its high-speed capabilities, the D6-320 boasts a data transmission bandwidth of 10Gbps and can achieve read/write speeds of up to 1,030MB/s when all 6 hard drives are installed. But even with just one hard disk, the read speed can reach an impressive 510MB/s.
Storage enthusiasts will also appreciate that the D6-320 can support up to 6 hard drives with a maximum capacity of 22TB, providing a total storage space of up to 132TB. And with compatibility for various hard disks such as 3.5-inch and 2.5-inch SATA hard disks, and 2.5-inch SATA SSD, users have plenty of options.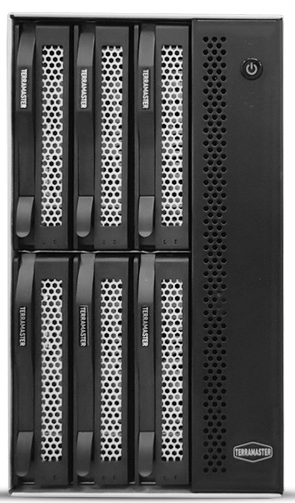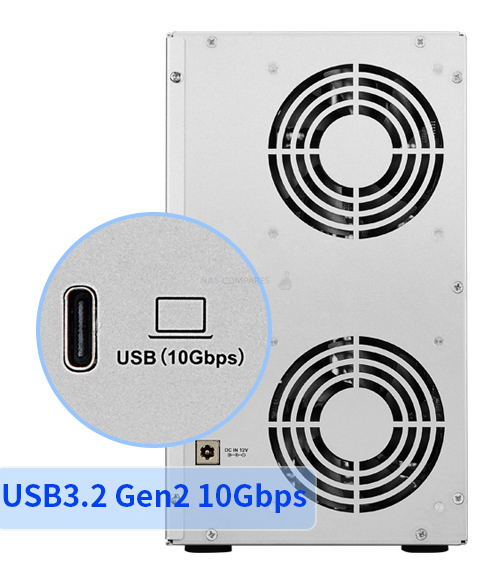 Not only that, the D6-320 is highly compatible with different computer interfaces including USB 3.0/3.1/3.2, Thunderbolt 3/4, and has a USB Type-C interface with a 1-meter long USB typeA-type C cable. And with hot-swapping capabilities, replacing hard drives has never been easier.
But that's not all, the D6-320 also features intelligent disk sleep and power supply protection to ensure the safety and longevity of your hard drives. Plus, with its optimized internal structure and low-noise fan, the D6-320 maintains low noise levels even under full load.
And for those looking to expand their NAS storage space, the D6-320 can be connected to a TerraMaster NAS and storage pools and arrays can be created with TerraMaster TOS.
With its compact all-metal design, the D6-320 is perfect for commercial clients with limited space, and its vertical and horizontal types offer flexibility for various setups.
Don't miss out on this groundbreaking new release from TerraMaster – the D6-320 External Hard Disk Enclosure!
SPECS
Storage
Disk Slot Number
6
Compatible Disk Types
3.5″ SATA HDD
2.5″ SATA HDD
2.5″ SATA SSD
File System
NTFS, APFS, Mac OS,FAT32,EXT4,exFAT
Maximum Internal Raw Capacity
132 TB (22 TB drive x 6) (Capacity will vary along with the RAID type)
RAIDs Supported
SINGLE DISK
Hardware RAID
/
RAID Manager Software
/
RAID Manager Software Language
/
RAID Online Expansion
/
RAID Migration
/
RAID Auto-rebuilding
/
Drive Hot Swap
√
HDD Sleep
√
HDD S.M.A.R.T. Inspection
/
Sector Inspection and Parity Check
/
SSC Cache
/
Daisy Chain
/
HDD NCQ Technology
/
Alert Notice
/
Event Log
/
External Ports
USB
USB3.2 Type-C gen2  10Gbps
Thunderbolt
/
DP Interface
/
Network Interface
/
USB HOST Interface
/
Power Socket
DC IN 12V
Reading/writing Speed (max.)
Reading Speed (max.)

Read

:

520MB/s ( SSD* 1 ); Read

:

1016MB/s ( SSD* 6 )

;

Writing Speed (max.)

Write

:

500MB/s ( SSD*1 ); Write

:

986MB/s ( SSD*6 )

;

Appearance
Size (H*W*D)
226 x 130 x 218 mm
Packaging Size (H*W*D)
325 x 210 x 282  mm
Weight
 net weight: 3.4 Kg   Gross Weight: 4.5 Kg
Others
System fan
80 mm x 80 mm x25mm (x 2)
Fan mode
Smart
Noise Level
28.4dB(A)
Power Supply
Power Supply
120 W
AC Input Voltage
100V to 240V AC
Current Frequency
50/60 HZ, Single Phase
Power Consumption
2.0 W(Access)
Environment Temperature
Working Temperature
0°C  ~ 40°C (32°F ~ 104°F)
Storage Temperature
-20°C ~ 60°C (-5°F ~ 140°F)
Relative Humidity
5% ~ 95% RH
Supported OS
Windows OS、Mac OS
Warranty
2 years
Certificate
CE, FCC, CCC, KC
Environment
RoHS compliance
Package Contents:
Host unit (x1)
Power cord (x1)
USB Cable A to Type-C(10Gb) (x1)
Quick Installation Guide (x1)
Power adapter (x1)
Screws (several)
Limited Warranty Note x 1
High Speed

Adopt the USB3.2 Gen2 protocol, D6-320 provides a 10Gbps data transmission bandwidth, with the actual read/write speed up to 1,030MB/s when 6 hard drives are installed (WD Red 8TB x 6 simultaneously read/write).
Highly Compatible Interface

D6-320 is equipped with a USB Type-C interface and a USB type A-type C cable (1 meter in length), and could be compatible with a variety of computer interfaces: USB 3.0/USB 3.1/USB 3.2/USB4 /Thunderbolt 3/Thunderbolt 4.
Super-large Storage Space

D6-320 supports 6*22TB large-capacity hard disk, which can add more available storage space (up to 132TB) for Windows, Mac and Linux computers.
Expansion of TNAS Storage Space

Connect TNAS through the TNAS USB interface, D6-320 can be used as a storage pool or an external disk to expand TNAS storage space.
Small and Compact Design

D6-320 is designed as vertical and horizontal types to better meet the requirements of small commercial clients with limited space.
If you like this service, please consider supporting us.
We use affiliate links on the blog allowing NAScompares information and advice service to be free of charge to you.
Anything you purchase on the day you click on our links will generate a small commission which is
used to run the website. Here is a link for
Amazon
and
B&H
.
You can also get me a ☕
Ko-fi
or old school
Paypal
. Thanks!
To find out more about how to support this advice service check
HERE
If you need to fix or configure a NAS, check
Fiver
Have you thought about helping others with your knowledge?
Find Instructions Here
☕ WE LOVE COFFEE ☕

Or support us by using our affiliate links on Amazon UK and Amazon US