The QNAP TVS-h474, TVS-h674 and TVS-h874 NAS – THINGS JUST GOT SERIOUS!
If you have been holding out for the perfect desktop NAS in 2022/2023 and avoiding the temptations of older systems on sale or recent releases that didn't quite tick the right boxes for you –  then you might have done EXACTLY the right thing now that the QNAP TS-hx74 series has been revealed!  I have been following NAS for quite a few years and although I personally find the subject very interesting, I appreciate that many others see NAS drives are functional 'setup-and-forget' devices that you might need to research every 5-7 years when you need to upgrade (much like when you buy a new TV and have to suddenly understand what's new/futureproof). However, occasionally, a solution comes along that genuinely changes things dramatically and much like it's predecessor QNAP TVS-x72XT series back in 2018, the new QNAP TVS-h474, TVS-h674 and TVS-h874 desktop NAS systems are genuinely insane in the amount of future-proofing they bring to the table! Alongside being the first commercial NAS systems to introduce the use of Intel 12th Core processors (i9, i7, i5, i3 and Pentium), these are the amount the first range of PCIe 4×4 M.2 NVMe SSD and PCIe Gen 4 x16 upgradable NAS drives in the world right now. Add ZFS Support, GPU Card upgradability, up to 128GB of DDR4 ECC memory and 2.5/10GbE and you are looking at an insanely capable range of systems coming from QNAP here. Let's discuss EVERYTHING we know about the TVS-hX74 NAS series and what makes them so OP in 2022/2023.
The QNAP TVS-hx74 NAS Series Hardware
As previously mentioned, the QNAP TVS-h474, TVS-h674 and TVS-h874 are the follow-ups to the popular TVS-472XT, TVS-672XT and TVS-872XT released in the closing stages of 2018. In the 4 years since their initial release, that thunderbolt 3 product series ended up being diversified into a standalone 10GbE version and a 5GbE version – all of which using 2/4/6 Core, 8th Gen Intel Core processors and PCIe 3 architecture. The newer 4, 6 and 8-Bay x74 series have pretty much ramped up every element of their predecessor's architecture (even the USB ports) and although the CPU is the main reason for this tremendous upscaling of the result of the hardware architecture, you do still get some fantastic hardware under the bonnet generally. That said, it's worth highlighting that the scaling of the hardware between each capacity tier (and even sub-versions at each tier) means that depending on which system in the series you choose, some hardware options might not be available. The TVS-h874-64GB 8-Bay version is the full Intel i9 16 Core version with full PCIe4 support and 10GbE, whereas the most affordable tier is the TVS-h474-8G 4-Bay with PCIe 3/4 architecture, a Dual Core Pentium Gold and 2.5GbE. Let's quickly compare the hardware architecture of the three NAS systems and their sub-versions:
Feature
TVS-h474
TVS-h674
TVS-h874
Front
# of SATA Bays
4x SATA
6x SATA
8x SATA
M.2 NVMe Bays
2x M.2 (Gen 3×2)
2x M.2 (Gen 4×4)
2x M.2 (Gen 4×4)
CPU
Intel Pentium Gold G7400
Intel i5 12th Gen i5-12400

Intel i3 12th Gen i7-12100

Intel i9 12th Gen i9-12900

Intel i7 12th Gen i7-12700

Intel i5 12th Gen i7-12400

Cores
2-Core / 4 Thread
i5 6 Core / 12 Thread

i3 4 Core / 8 Thread

i9 16 Core / 24 Thread

i7 12 Core / 20 Thread

i5 6 Core / 12 Thread

CPU Speed
3.7 Ghz
i5 Max 4.4Ghz

i3 Max 4.3Ghz

i9 Max 5.1Ghz

i7 Max 4.9Ghz

i5 Max 4.4Ghz

Graphics
Intel UHD Graphics 710
Intel UHD Graphics 770

Intel UHD Graphics 730

Intel UHD Graphics 770
Memory
8GB Default
16/32GB
32/64GB
Memory Max
128GB SODIMM DDR4 (2 Slot)
128GB SODIMM DDR4 (2 Slot)
128GB SODIMM DDR4 (2 Slot)
PCIe Slots
2x PCIe (Gen 4×16, Gen 3×2)
i5 / i3 = 2x PCIe (Gen 4×16, Gen 4×4)
I9 / i7 / i5 = 2x PCIe (Gen 4×16, Gen 4×4)
Rear
Network
2x 2.5GbE
2x 2.5GbE
2x 2.5GbE

2x 10GbE (Intel i9 Only)

HDMI
1x HDMI 1.4b (1080p x 60FPS, 4K 30FPS)
1x HDMI 1.4b (1080p x 60FPS, 4K 30FPS)
1x HDMI 1.4b (1080p x 60FPS, 4K 30FPS)
USB
3x USB 3.2 Gen 2 (10Gb, A+C)
3x USB 3.2 Gen 2 (10Gb, A+C)
3x USB 3.2 Gen 2 (10Gb, A+C)
Fans
1x System, 1x Core, 1x PSU
2x System, 1x Core, 1x PSU
2x System, 1x Core, 1x PSU
Expansions
2x 4/6/8//12/16 Bay
2x 4/6/8//12/16 Bay
2x 4/6/8//12/16 Bay
Size
188.2 × 199.3 × 279.6 mm
188.2 × 264.3 × 279.6 mm
188.2 × 329.3 × 279.6 mm
PSU
250W
250W
350W
Warranty
2 years (ext to 5yr)
2 years (ext to 5yr)
2 years (ext to 5yr)
Check Online Availability
CHECK
CHECK
CHECK
So, let's dig a little deeper into those CPUs.  With QNAP slowly revealing more and more PCIe 4 upgrade and expansion cards (such as the 2x10GbE+2xPCIe4 NVMe Combo card QM2-2P410G2T and the Dual Port 100GbE QXG-100G2SF-CX6), the necessity for their business class and desktop enterprise solutions to utilize these cards is going to be tremendously important. However, PCIe 4 bandwidth is what makes these cards possible, as a single PCIe4 lane provides approx 2,000MB/s compared with the 1000MB/s of PCIe3 – even when you add x4 or x16 lane multipliers that form the architecture of PCI slots, that still means a difference of 16GB vs 32GB of potential bandwidth. The barrier for many though is that PCIe4, although established in many motherboards and accessories, is not quite as widely supported in server-class CPUs till around 2021 onwards. This (alongside a hugely powerful onboard embedded graphics component) is what continues to push QNAP to utilize the Intel Core family of CPUs in this product tier over the years. With CPUBenchmark scoring for these CPUs ranging from 6,600+ to 36,000+, you have some series Xeon/EPYC challenging processors here and when you consider these are DESKTOP solutions, not rackmount, that is especially impressive!
Comparing the full range of five early 2022 released 12th Gen Intel Core processors available, it becomes abundantly clear that the 8-Bay system and it's options for the i5, i7 and i9 are the most powerful option, scaled according to it's larger capacity for storage and throughput (with a higher equipped 350W PSU compared with the 250W in the 4/6-bay tiers). Interestingly, with the exception of the Intel Pentium Gold processor, the rest of the processor family has a hugely impressive 4-5Ghz turbo/burst performance level available per core and the 6-16 Core architecture (and upto 24 threads) means that everything from high-performance database creation, heavy Virtual Machine deployment, video editing and large scale surveillance is going to be an absolute doddle!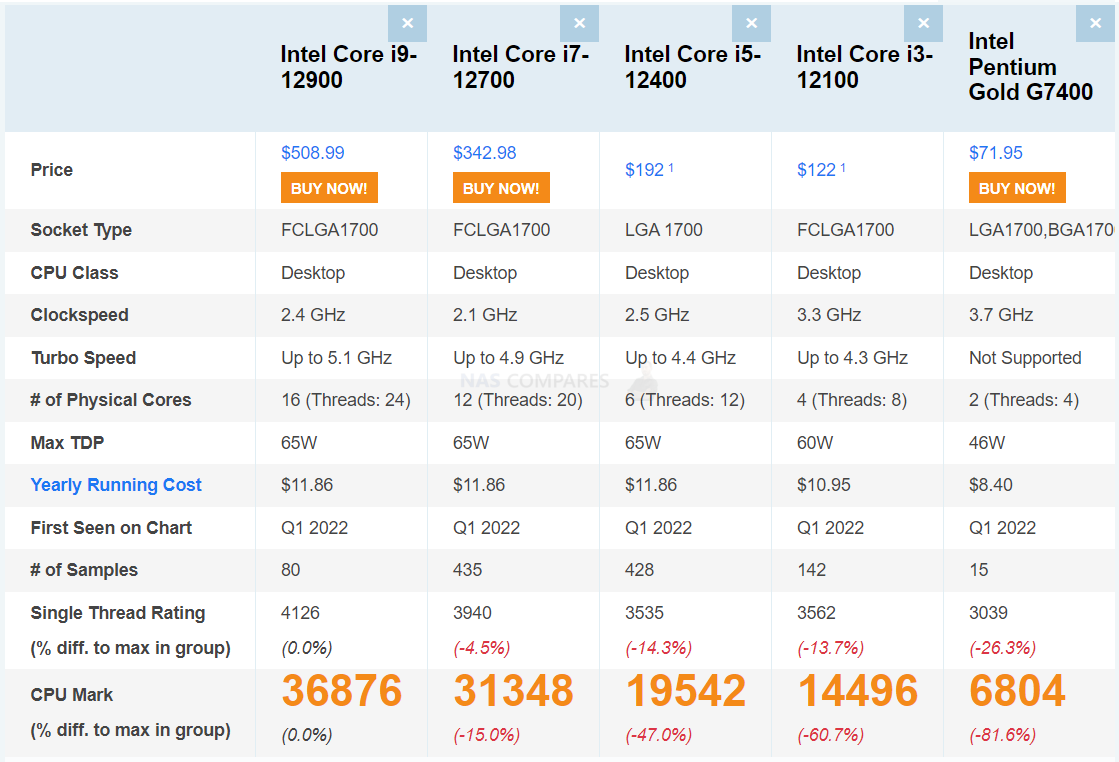 Next up, we need to discuss the SSD support on the TVS-hX74, as this is another excellent advantage to the support of PCIe 4. In the last 2 years or so, we have seen huge commercial availability of PCIe 4 x4 m.2 NVMe SSDs in the market and with it, drive media that can hit over 7,000MB/s (7GB/s) throughput! All of the TVS-hx74 NAS systems have 2X m.2 NVMe SSD slots internally (though the TVS-h474 is PCIe Gen 3, the 6 and 8-Bays are PCIe 4×4), which means that you have the option to either use the M.2 bays for SSD caching, RAW storage pools of RAID enabled PCIe4 SSD media or a combination of the two with QTier (currently not supported in the ZFS system QuTS, but is available in EXT4 QTS) which combines them into 1 mixed media storage pool that intelligently movs files between the HDDs and SSDs to where they are most appropriate for access (i.e more frequently accessed media is moved to the SSDs so it further speeds up access for the end user).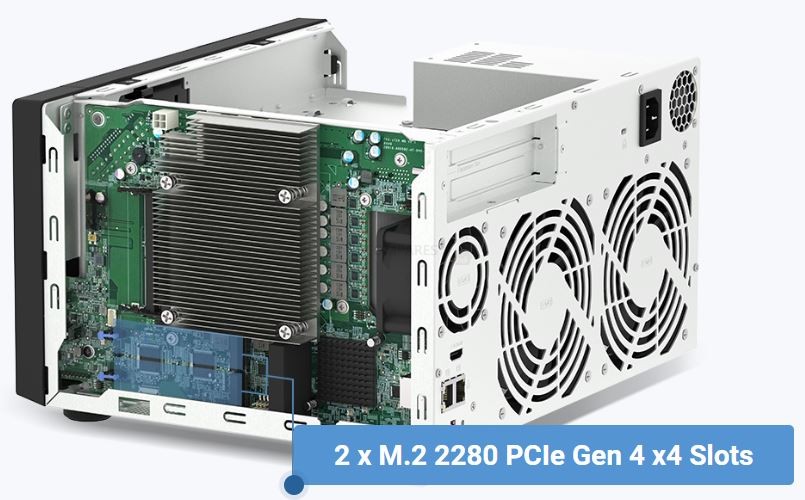 PCIe 4 Support really is the main thing that sets this NAS family apart from the QNAP NAS solutions released in recent years. Alongside the increased PCI lanes made available the system/chipset so you can add more ports, memory and hardware in general, it also affords higher bandwidth to them that you would normally expect. Most 2021/2022 generation desktop NAS are PCIe Gen 3, and the bulk of 2020 and earlier NAS are PCIe 2. Typically, only Business class and rackmount solutions would prove exceptions to the rule. Below is how each PCIe tier compares in availability, transfer speeds and sclaed multiplication: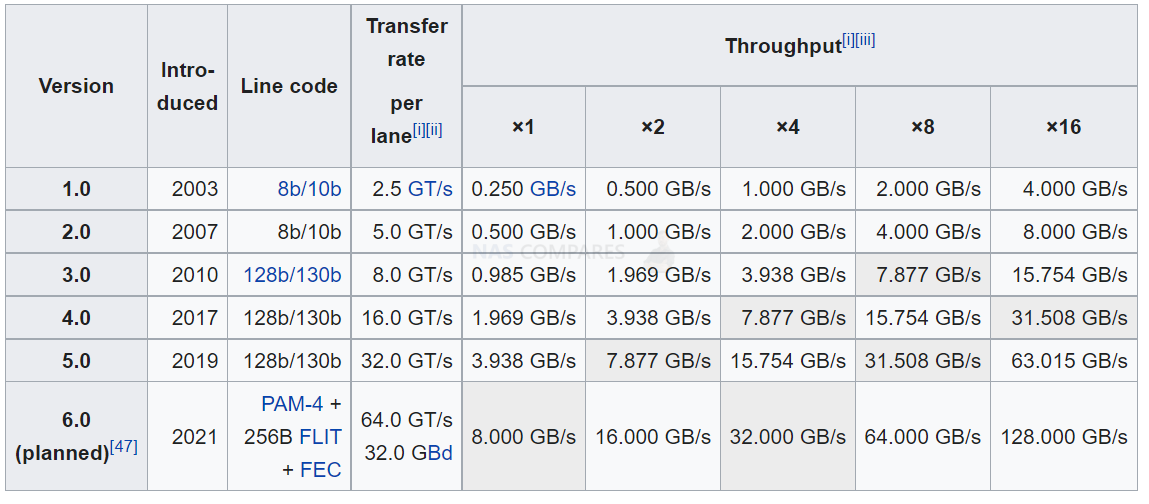 The rest of the system architecture is quite comparable to the rest of desktop NAS systems. The QNAP TVS-h474, TVS-h674 and TVS-h874 arrive with 2x PCIe upgrade slots (one at x4 and the other a CPU direct x16), a 4 fan architecture (1x for PSU, 2x for storage and 1x for the CPU+Memory+SSD+Network controller), HDMI and 3x USB. The HDMI is a little disappointing, arriving at HDMI 1.4b architecture, so that means 1080p at 60FPS but 4K at 30FPS (though internet/network streamed media is unaffected and this CPU can handle 8K). The USB Ports are USB 3.2 Gen 2, so that means the connection of 10Gb/s storage and peripherals, as well as KVM support with the HDMI port and allowing 2x expansion devices from QNAP that arrive in x2/x4/6/8//12/16 Bay scaled configurations – all of which support the latest generation of 22TB WD/Seagate hard drives.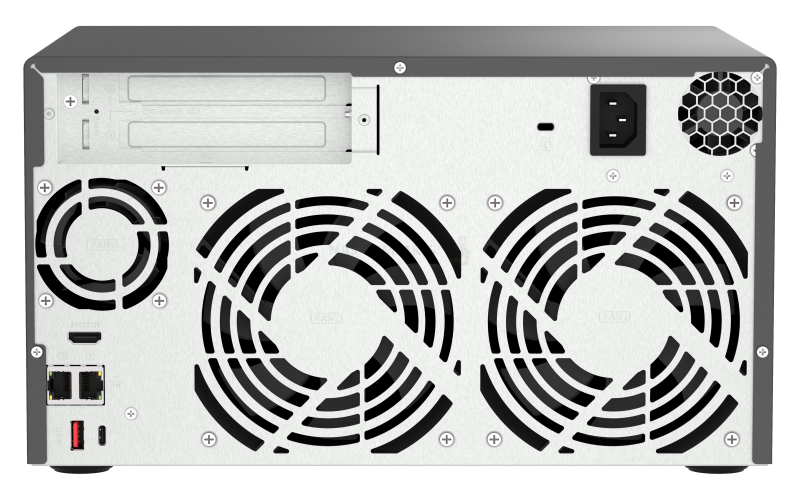 The QNAP TVS-hx74 NAS Series Software
Although already touched on above, it is worth reiterating that the QNAP TVS-hX74 arrive with a choice of the QNAP QTS EXT4 File system software/GUI AND the option to choose the ZFS based QuTS Hero software/GUI at no additional cost. The software found with the ANY of the TVS-h474, TVS-h674 and TVS-h874 can be broken down into 2 sections. namely those of the advantages that QNAP QTS already bring to a business user, and then the widespread system and storage advantages that QTS hero and ZFS bring as well. For those unfamiliar with the QNAP operating system, it arrives with hundreds of free applications, can be accessed from a web browser or desktop client, arrives with many, many apps for mobile on IOS and Android and is definitely in the top two operating systems you can get for network-attached storage devices. Often compared with their biggest rival Synology NAS and DSM, QNAP QTS GUI is designed in a way that will definitely appeal more to Android and Windows users, giving you everything you will need from a network-attached storage device in 2022/2023 and arrives with constant updates for added features and security. To learn more about the EXT4 QTS 5 platform, you can watch my full review below:
QNAP File Management Highlights
File Station – File Browsing and Management Tool
QSirch -Intelligent and Fast System-wide search tool
QFiling – Smart and customizable long term storage and archive tool
SSD Caching Monitor and Advisor – Allowing you to scale your SSD cache as needed, or get recommendations on how much you need
QTier – The QNP intelligent, multi-layer tiering system that works to optimize your SSD and caching configuration
Microsoft Active Directory– Support and cross-platform control of Active Directory processes
Access-Anywhere with myQNAPcloud – Safe and secure remote access over the internet to your storage systems, apps or just file storage
Qsync for multiple hardware environment backups and Sync – Client applications that can be installed on multiple 3rdparty devices and create a completely customizable and scaled backup network between your devices
QuDeDupe / Deduplication tools – Allowing you to conduct backups between multiple devices and directories, but allows same-data in numerous locations to be only held once (but recorded in all locations) to allow smaller backups and lesser bandwidth consumption. Once again, remember that you will need to upgrade to 16GB of memory in order to take advantage of these more advanced ZFS utilities in practice.
Then you have KEY applications that are used on the QNAP NAS system that moves into tailored data access and use, such as:
Hybrid Backup Sync 3 – Allows you to Backup and Sync with Amazon Glacier, Amazon S3, Azure Storage, Google Cloud Storage, HKT Object Storage, OpenStack Swift, WebDAV, Alibaba Cloud, Amazon Drive, Amazon S3, BackBlaze B2, Box, Dropbox, OneDrive, Google Drive, HiDrive, hubiC, OneDrive, OneDrive For Business, ShareFile and Yandex Disk. As well as backup to another NAS over real-time remote replication (RTRR) and USB connected media. All scheduled and all accessible via a single app user interface.
vJBOD and Hybrid Mount – Gives you the ability to mount cloud storage as a visible drive within the NAS (and the apps access it as if it was local) or mount a % of space from your NAS onto another as a virtual chunk of space to use
Multimedia Console – one portal access point to manage media access, searching, indexing and transcoding on your NAS device.
Photo, Video and Music Station – Multiple file type tailored applications to access data in the best possible way that is suited to their output – along with smart searching, playlists and sharing
Virtualization Station – Used to create virtual computers that can be accessed anywhere over the network/internet with the correct credentials. Supporting Windows, Linux, Android and more. You can import an existing VM image to the NAS, or you can even download Linux and Windows VMs directly to the NAS for trials for free
Container Station – much like the VM app, Container station lets you mount and access smaller virtual tools and GUIs, then access them over the network or internet.
Linux Station – Handy application to deploy multiple Linux based Ubuntu VMs from the NAS, all easily and within a few clicks
QVR Pro and Surveillance Station – Surveillance applications that allow you to connect multiple IP cameras and IP speaks to your network and manage them with the applications. Arriving with 4 camera licenses for Surveillance Station and 8 licenses for QVR Pro (the better one IMO), QNAP is constantly updating this enterprise-level surveillance application – adding newer security hardware and software tools for 2020 (see QVR Face and QVR Door)
QuMagie – Facial and Thing recognition application to help you retrieve, tag and catalogue photos by its use of AI to actually 'view' all your years of photos and let you search by the contents of them, not the file names.
Download Station – A download management tool that can handle HTTP, BT, FTP and NZB files in bulk to be downloaded to your NAS drive and keep safe. As well as keeping an eye on your RSS feeds and keeping your podcast downloads automatically updated with every episode
Malware Removers and Security Councillor – Along with Anti Virus software trials on the app centre, QNAP also provide numerous anti-intrusion tools and even a whole app interface to monitor in/outgoing transmissions with your NAS. It can make recommendations to beef up your security and keep you safe
Above are a few of my software overviews that cover the general GUI and system of QuTS Hero on the TS-h886, as well as RAID rebuild and storage management overviews of the system to give you some idea of what the TS-x73A range can and cannot do:
Space Saving Efficiency – Inline data deduplication, compression, and compaction reduce file size to conserve storage capacity and optimize performance.
Intelligent Memory Cache – Main memory read cache (L1 ARC), SSD second-level read cache (L2 ARC), and ZFS Intent Log (ZIL) for synchronous transactions with power fail protection are simultaneously supported to boost performance and security
RAID Z – Multiple RAID levels allow flexible capacity utilization. RAID Triple Parity and Triple Mirror deliver higher levels of data protection.
App Center – Apps for backup/sync, virtual machines/containers, content management, productivity, and more features can be used to expand the application potential of these NAS
All in all, the fact that the TVS-h474, TVS-h674 and TVS-h874 arrive with the option of the ZFS or EXT4 versions of the QNAP Software and GUI is a large part of what makes these NAS appealing.
The QNAP TVS-hx74 Series – How Much Will the TVS-h474, TVS-h674 and TVS-h874 NAS Will Cost?
Details regarding the pricing and availability of ANY of the TVS-h474, TVS-h674 and TVS-h874 NAS are still unconfirmed. On the one hand, the fact that QNAP has revealed information on these solutions likely means that release is not hugely far away, however, we are still very much living in a pot-pandemic world as far as technology is concerned and although the global supply chain and production lines in the east are better than they were, they are by no means 'back to normal'. Additionally, the hardware shortages as a result of poor semi conductor availability will likely means that even when this series is released, that available quantities will be a small % of demand. Most likely this NAS series will arrive in Q4 of the year and approx £850-3000+ (hardware configuration and local currency/tax dependant).
📧 LET ME KNOW ABOUT NEW POSTS 🔔
Join 1,671 other subscribers
Get an alert every time something gets added to this specific article!
This description contains links to Amazon. These links will take you to some of the products mentioned in today's content. As an Amazon Associate, I earn from qualifying purchases. Visit the NASCompares Deal Finder to find the best place to buy this device in your region, based on Service, Support and Reputation - Just Search for your NAS Drive in the Box Below
Need Advice on Data Storage from an Expert?
We want to keep the free advice on NASCompares FREE for as long as we can. Since this service started back in Jan '18, We have helped hundreds of users every month solve their storage woes, but we can only continue to do this with your support. So please do choose to buy at Amazon US and Amazon UK on the articles when buying to provide advert revenue support or to donate/support the site below.

Finally, for free advice about your setup, j
ust leave a message in the comments below here at NASCompares.com and we will get back to you.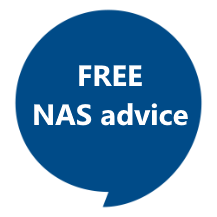 Need Help?
Where possible (and where appropriate) please provide as much information about your requirements, as then I can arrange the best answer and solution to your needs. Do not worry about your e-mail address being required, it will NOT be used in a mailing list and will NOT be used in any way other than to respond to your enquiry.
TRY CHAT
Support What We Do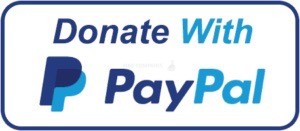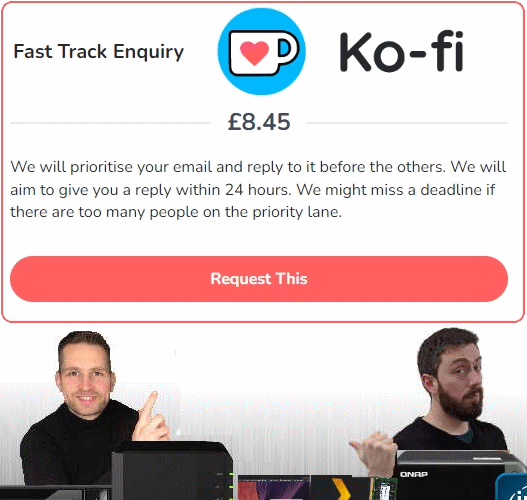 Terms and Conditions
Alternatively, why not ask me on the
ASK NASCompares forum
, by clicking the button below. This is a community hub that serves as a place that I can answer your question, chew the fat, share new release information and even get corrections posted. I will always get around to answering ALL queries, but as a one-man operation, I cannot promise speed! So by sharing your query in the
ASK NASCompares
section below, you can get a better range of solutions and suggestions, alongside my own.
If you like this service, please consider supporting us.
We use affiliate links on the blog allowing NAScompares information and advice service to be free of charge to you.
Anything you purchase on the day you click on our links will generate a small commission which is
used to run the website. Here is a link for
Amazon
and
B&H
.
You can also get me a ☕
Ko-fi
or old school
Paypal
. Thanks!
To find out more about how to support this advice service check
HERE
If you need to fix or configure a NAS, check
Fiver
Have you thought about helping others with your knowledge?
Find Instructions Here
☕ WE LOVE COFFEE ☕

Or support us by using our affiliate links on Amazon UK and Amazon US