The Storaxa NAS Kickstarter – A New Kind of Solution?
Note – This Article is being updated Monthly, so scroll ahead a couple of page lengths to the latest updates. Alternatively, use the chapters above to skip directly ahead.
What is the Storaxa Kickstarter NAS and why is it a big deal to alot of potential storage buyers? Well, let's rewind a bit. If you want to own a private network attached storage (NAS) solution in your home or office, until relatively recently, you only really had two options. The easiest, but more expensive option is to buy a ready-to-go NAS solution from the likes of Synology or QNAP, which is a ready-to-go out-the-box, arriving with its own software and services included (more often referred to as a 'turnkey' solution). Alternatively, the more affordable option, but more technically challenging, is to build your own server (or repurpose old tech) and then install open-source software onboard, such as TrueNAS or UnRAID. One option easy but expensive, the other way is cheaper but features a substantially higher learning curve. So, what is the solution? Well, in the last year or two we have seen big increases in a 3rd option, a middle ground between Turnkey NAS and FULL DiY, in the form of NAS servers from companies such as Topton and CWWK (we reviewed one here), which are ready-built desktop NAS devices (CPU, Memory, OS SSD, etc), but either arriving completely OS-free or include popular Open-Source software preinstalled. These solutions not only arrive at an overall price point lower than turnkey NAS (which needs to factor in the software costs and continued technical/software support), but they more often than not arrive with even better hardware too. Better CPU choices, better default connectivity and all of this whilst allowing OpenSource software users to skip the whole 'build the thing from scratch' element and get thermal paste under their fingernails! So, what has the Storaxa Kickstarter got to do with this?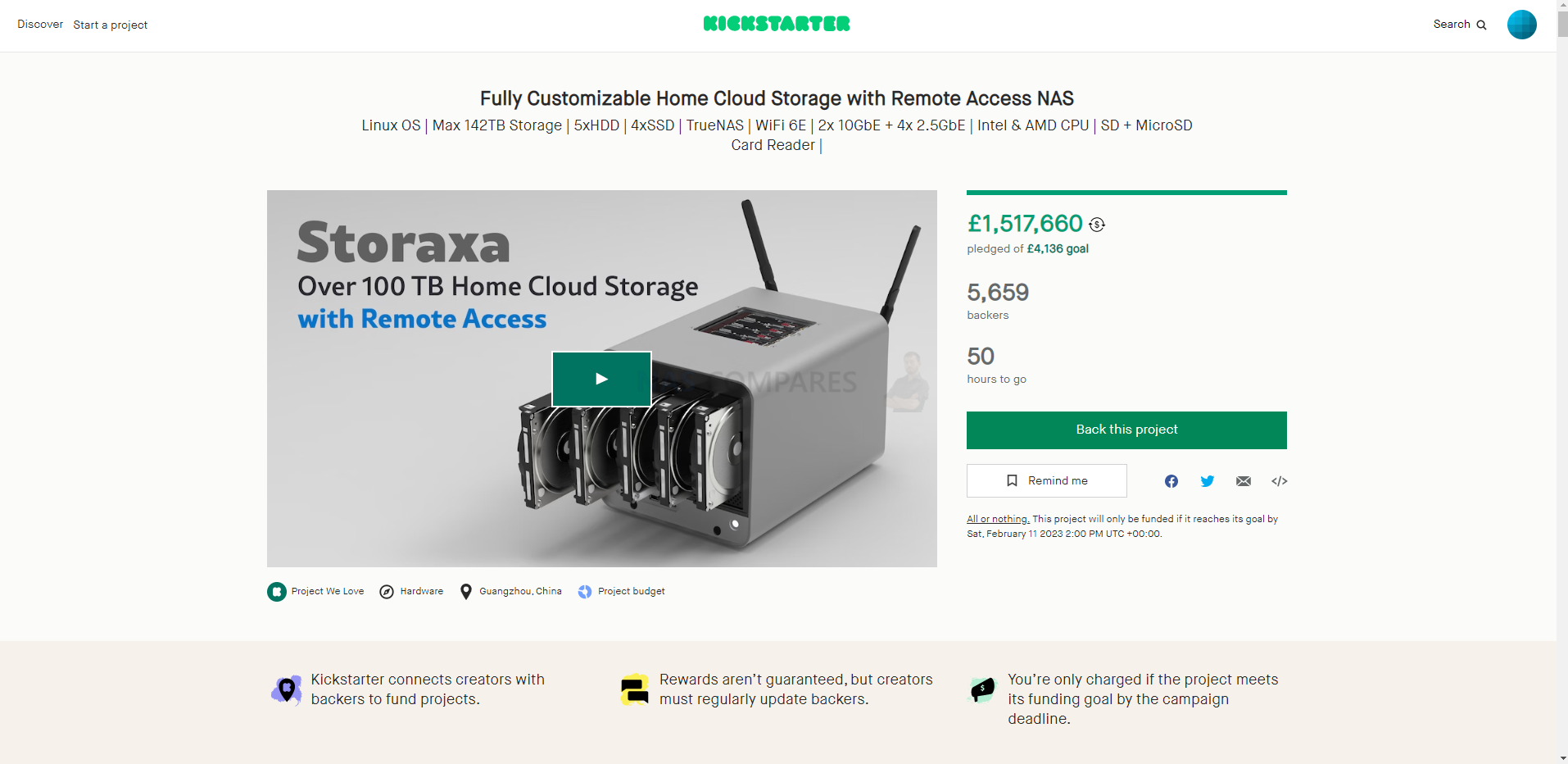 Well, because it arrives as one of the most compelling examples of this growing 3rd option open to potential NAS buyers that we have seen. With the Kickstarter campaign arriving at frankly incredibly low price points, even when compared against the numerous alternatives available on Aliexpress etc, as well as a dual OS (proxmox) and Dual network management/NAS architecture too thanks to WiFi antenna, few NAS solutions have promised to delivery so much for so little. So, what's the catch? Well, Kickstarter! Like any crowdfunded project, the solution is a crowd-funded project that lacks the guarantee of a refund if the campaign is unsuccessful or suitable recompense if the eventual product does not meet its promises. So, thanks to alot of regular subscribers to the YouTube channel highlighting this project, doubts in the air around pricing, all alongside some interesting back-and-forth with the creators, I want to follow the progress of the Storaxa Kickstarter NAS right to when/if it crosses the finish line. Maybe it will be the breaking point for a new kind of solution that established names in the industry wake up and smell the coffee over? Maybe it will not and these videos and paragraphs will simply form a record of what when right and what went wrong. Regardless, it will be interesting to find out!
Why Did I Back the Storaxa NAS on Kickstarter?
Originally, I had no real intention of backing the Storaxa NAS Kickstarter project. As a long-time follower of channels such as Slope's Game Room and his Kickscammer series, as well as only backing a tremendously small number of projects on the platform (and even then, for small sums comparatively) I have always had an especially sceptical mindset for alot of crowdfunding projects that have tremendously small profit margins early doors. Additionally, I was not in the market to buy a new NAS solution, as I cover plenty on my YouTube channel and (though contrary to popular belief, I rarely get to keep them and the ones that I do, go into channel content) I already have two personal servers up and running that I am in no rush to replace.
This slideshow requires JavaScript.
However, after I was contacted by several existing backers of this project and potential backers looking for a 2nd opinion, I started looking into the Storaxa a little more, contacting the organizers about a future review. After this point, a few different things happened. The campaign was nearing conclusion and more backers had been in touch that weekend to express further concern (alongside rising questions on the usual public forums, such as Reddit and STH). So, I made a video on the campaign, my initial impressions, my own questions about the price point vs distribution, and further questions surrounding heat dissipation. This resulted in my original message to the Storaxa group regarding reviews being screenshotted and shared to the comments section of the official page by the organizers themselves, with many points being highlighted (but not all) in my video being addressed.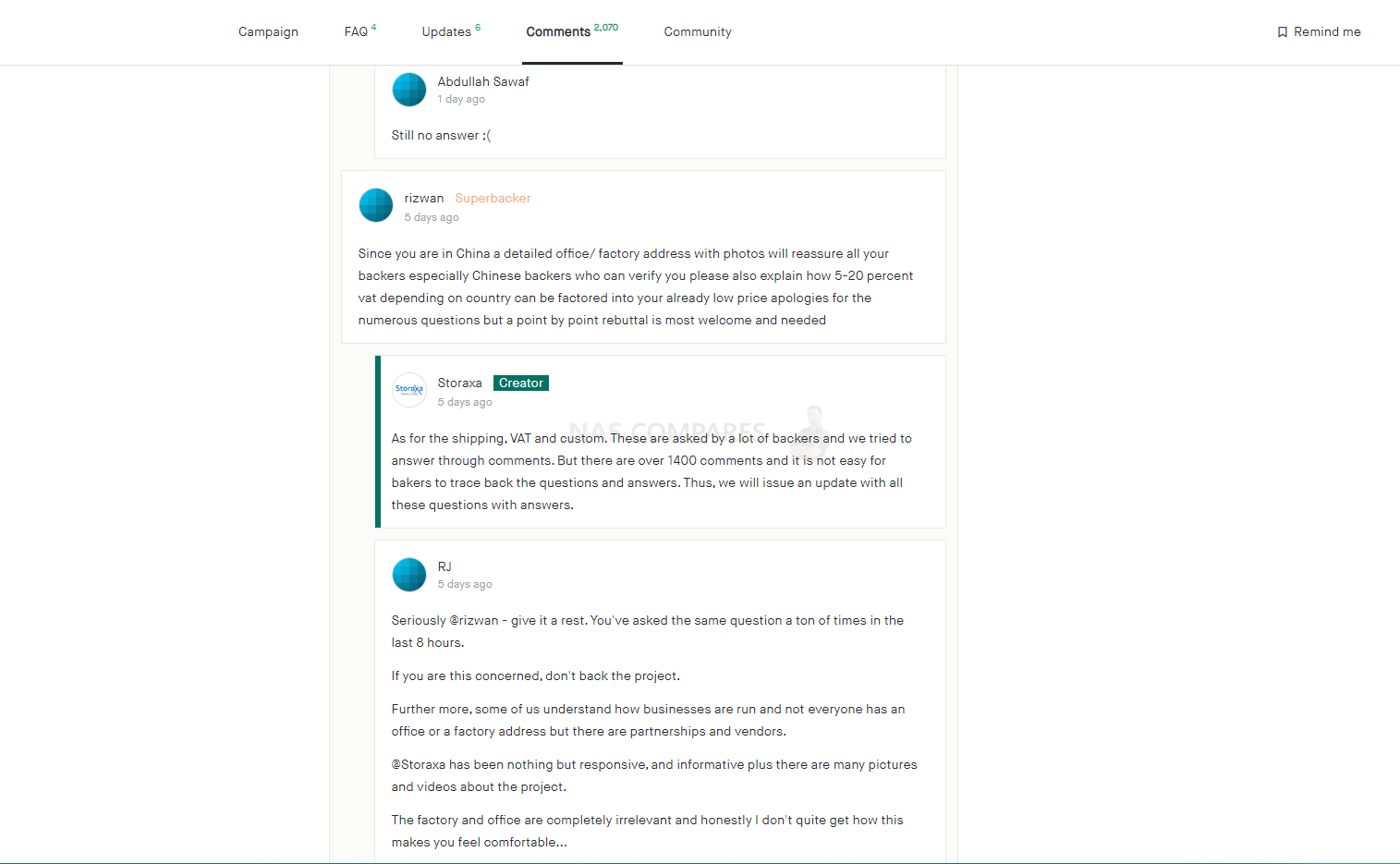 The odd thing was that I never got a reply to that message personally, only hearing about this from other backers, who too thought the way it had been handled rather odd. So, I sent a follow-up message, with further questions, explaining my position, the methodology behind my video and my intentions in greater detail. The response came two days later, stating that I was playing media games and did not address my questions (stating that the answers were in the comments section – of which only 2/6 were, with 1 other in the backers only area and 3 others surrounding the team, Opensource distribution and production fulfilment waves not answered). Needless to say, I replied with my questions once again (with a few new points) and sadly have never received a reply to that one to date. So, why, after all that, did I back the project?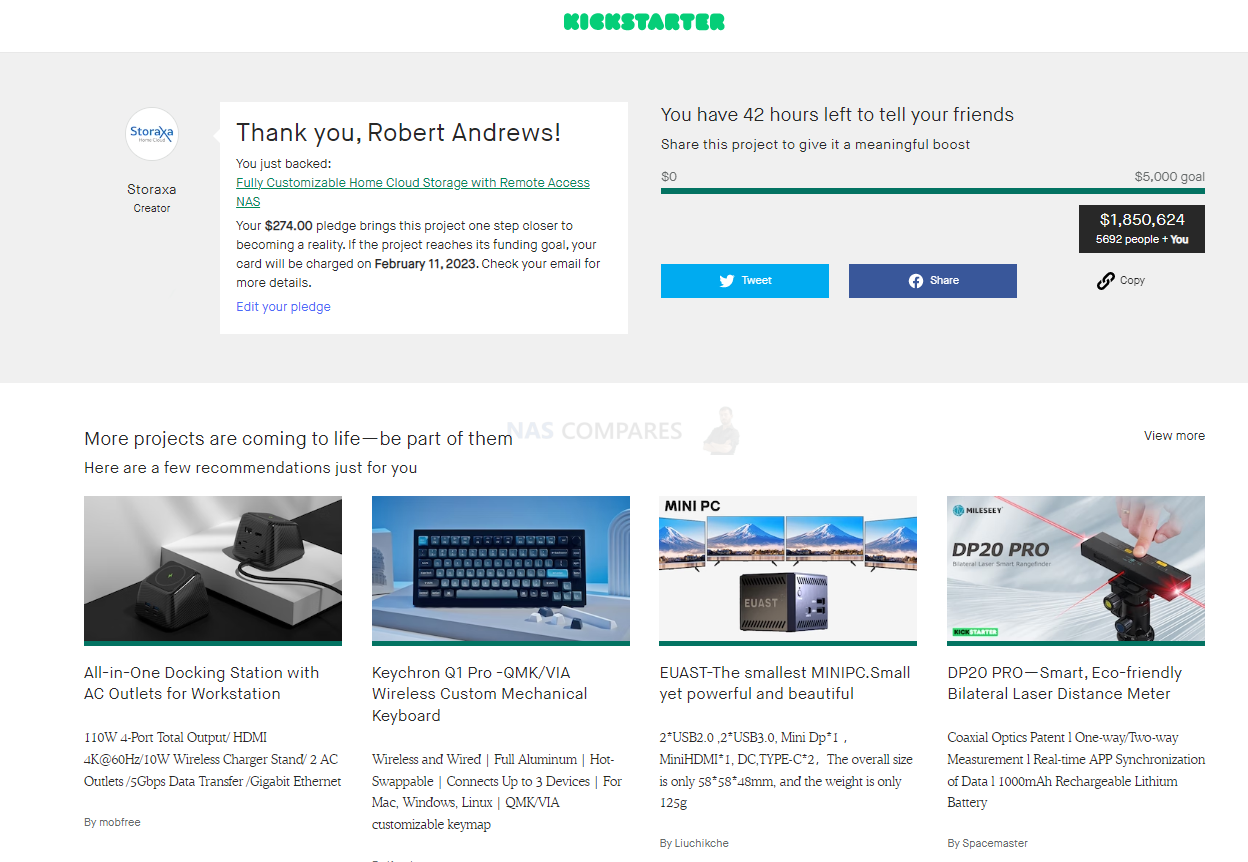 Now, one hurdle that is part kickstarter's design and part campaign presentation choice is/was to do with how information is relayed to potential/existing backers. There needs to be a central framework that can be adapted to all projects of all types – there is no 'one shape fits all' campaign mould that can be used. This proved especially true when (at that time of writing) the comments section comprised around 2,000 comments (now at more than 6,000 – without a search function too!) and many comments were broken into sub-conversations (and the Kickstarter framework only allows X number loaded in), a long thread of hundreds of voices with the facts getting soon mixed with assumptions and contradiction in places, potentially leading to an echo chamber effect. Again, this is the framework that Kickstarter has for its central conversation thread and not the design of the project organizers. Nonetheless, this did lead to an issue. The bulk of the main information was published behind the main update section, which was set to only be visible to backers and shared videos for the project were made unlisted and shared with backers online.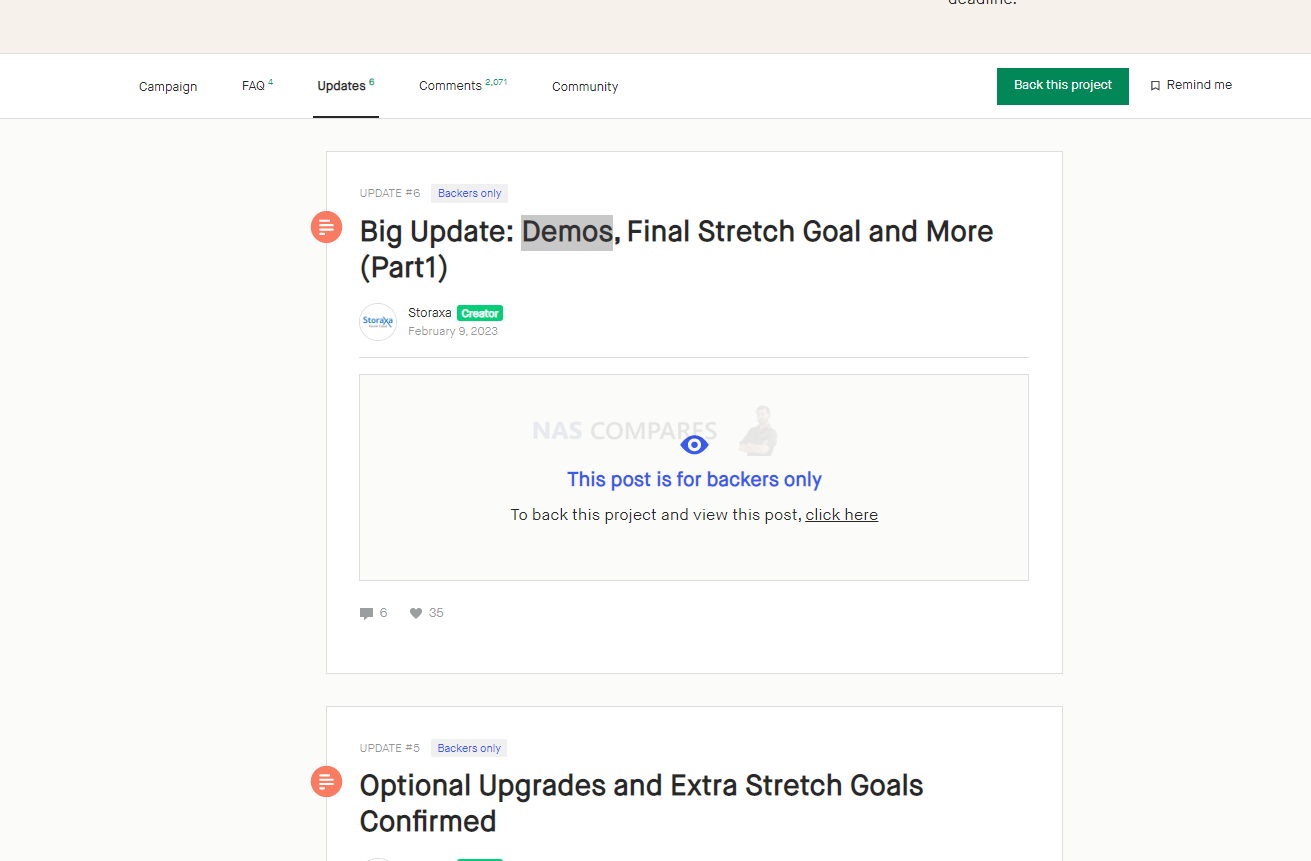 At this point, I was intrigued enough by the campaign conclusion, the subject of OS-free NAS solutions rolling out from the east more and more, keen to see if/how it could deliver, as well s wanting to ensure an element of accountability and reference for the future. So, I decided to back the project in order to update users on the progress of this unusual NAS regularly. What follows are my monthly updates on the Storaxa Kickstarter NAS. Starting with that initial video from February 6th 2023 and with information, screen grabs and important milestones/changes in the campaign as time moves on. Hopefully, this article will end with high-order fulfilment, everyone getting their Storaxa system, a new kind of NAS solution entering the market and this growing 3rd choice between the Turnkey solutions and full DiY Opensource builds getting bigger and better, but we will have to wait till Summer 2023 to find out. 
Note – I have broken all the information below into monthly chunks (with the 2x Feb chunks being an exception, as the campaign concluded at the end of that month and a volley of updates happened at the end). I am writing the February coverage retroactively, so I apologise in advance if my tenses on some parts are incorrect. I did not even realise at that time that I would be making this article and therefore, it's been a case of catching up with myself! Additionally, I am composing this with the most recent information FIRST (eg months in reverse order), and updating it each month, so those following this article can get notifications about the updates with the Storaxa NAS summarized. Alternatively, you can browse the comments section HERE or if you are a backer, use the page's own official updates HERE.
Aug/Sept

2023 Storaxa NAS Updates
In recent developments regarding the Storaxa NAS by Arrowtrack, a series of unexpected challenges have emerged, primarily involving financial delays and fund withholding by the payment processor, Stripe. As backers eagerly await the product's release, Arrowtrack has been surprisingly transparent about the situation, providing updates on every facet from supplier negotiations to production adjustments. Here's a quick breakdown of the key points from their latest updates.
Situation Affecting the Storaxa NAS by Arrowtrack (Updates #27 and #28 Summary)
Funds Withholding by Stripe:

After successfully raising funds on Kickstarter, Arrowtrack encountered issues with their payment processor, Stripe. Due to the sudden large transaction amount from their campaign, Stripe withheld a significant portion of their funds.
Initially, Stripe released only 50% of the funds after Arrowtrack provided all the necessary documents. The rest of the funds were expected to be released during production time.
Instead of releasing the funds as expected in June, Stripe extended the payout date to August 31.
Just a week after confirming that the funds would be released on time, Stripe decided to hold the funds for another 60 days (until November 7). The primary reason was a high rate of refunds, which triggered their system for a further review. Arrowtrack believed these refunds were due to backers changing their minds about options before the delivery date.
Stripe had previously disabled the chat function on Arrowtrack's account dashboard, limiting their communication. In Update #28, this function was re-enabled, which Arrowtrack took as a positive sign.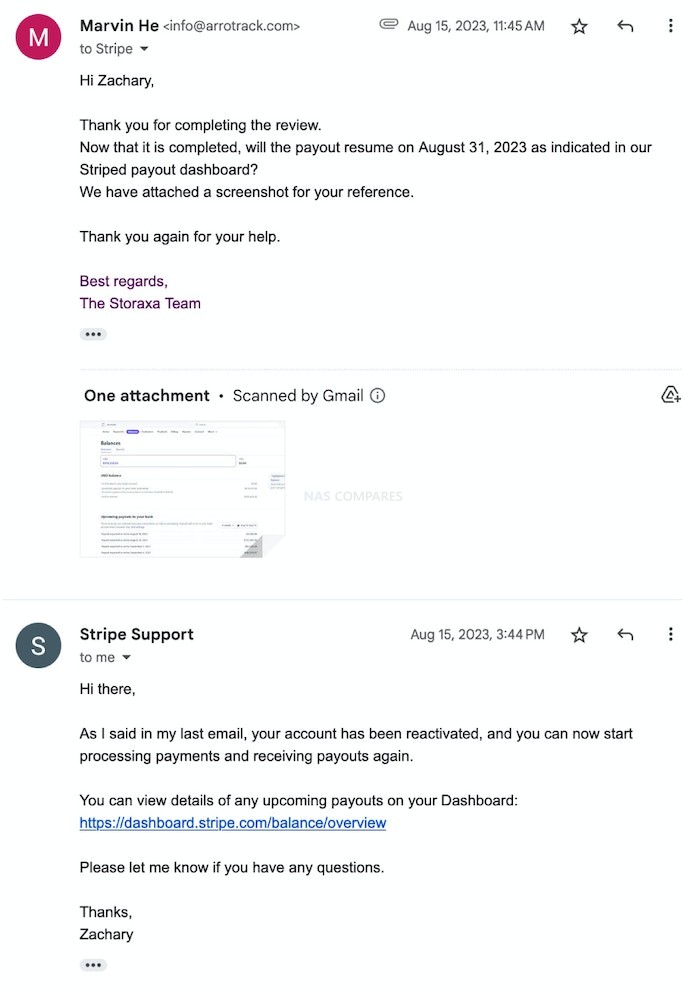 Financial Details:

Kickstarter funds raised: $1,688,332.29.
Pledgebox funds: $950,257.09, with $982,864.57 being held by Stripe.
Deposit for mass production and ODM: $2,116,258 of $3,074,638.
Account Balance (as of Sept 4th): $480,874.
Arrowtrack has paid around 70% deposit for all manufacturing costs, including materials, parts, setup costs, and ODM/OEM costs. However, the current balance is insufficient for completing production.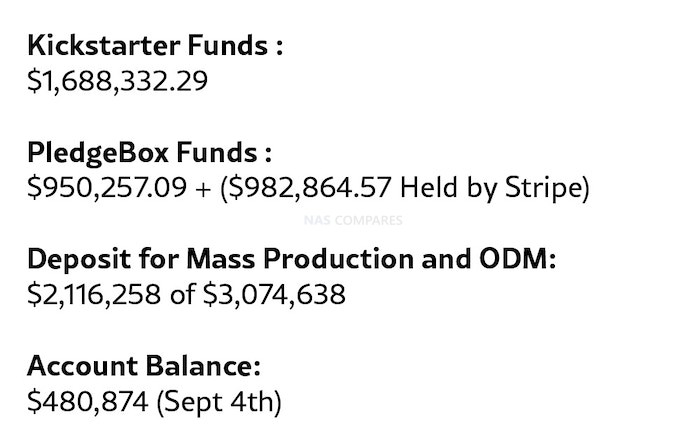 Production and Delivery Delays:

The delays in Stripe's payout affected Arrowtrack's ability to maintain their original schedule.
Production was initially postponed until September, and after the latest delay, the shipping has been rescheduled to start in the second half of November.

Negotiations with Suppliers and Manufacturers:

Arrowtrack has been in negotiations to extend payment deadlines to ensure deposits aren't forfeited.
In the wake of extreme weather conditions in southern China, meetings with some suppliers were postponed. Still, Arrowtrack managed to renegotiate with all but two suppliers for a 3-month extension on final payment.
Production of the upgraded Intel boards was paused due to payment uncertainties but is set to resume in two weeks.

Review Sample and Refunds:

There was a delay in sending out a review sample to NASCompares, but Arrowtrack hopes to use this time to gather feedback from the review.
Arrowtrack has received 20 refund requests so far and is appreciative of their backers' patience and understanding.

General Backer Support:

Arrowtrack expressed deep gratitude to their backers for their understanding and support during this difficult time. They highlighted the importance of their backers' continued faith in the project's success.
Arrowtrack's Storaxa NAS project faced significant challenges primarily due to Stripe withholding funds. This caused delays in production, requiring renegotiations with suppliers and adjustments in their delivery schedule. Despite these hurdles, the company remains committed to delivering the product, and backers have shown substantial support and understanding. Of course, we also need to remain grounded and remember that we are only seeing half the story here. Additionally, although Storaxa has been forthcoming with its updates, these updates and regular comments have reduced in frequency in the last few months. Additionally, lack of further documentation of suppliers being used, further communication with Stripe being shared, the recent update arriving later than stated and many users (myself included) reporting that these last two updates did not result in email notifications to users (yet all others did) – these are all matters that remain pertinent to many users following this campaign. These are mostly small potato arguments in the grand scheme of things, but it is important to remain as objective as possible. Users who have invested thousands of dollars towards the system in an upgraded state + storage media purchased now a considerable time ago might well be having understandably cold feet.

Reactions to the Storaxa's updates on the issues with Stripe by the backers of the campaign were mostly positive, save for a few users highlighting that update #28 arrived late and that proactive email notifications appeared to be disabled (still unconfirmed, but certainly noted online). One user (@Ruan) did take the time to do a breakdown of the finances as stated and made efforts to highlight potential issues of finance in the numbers reported, but this had to be built on only partial by partial numbers related to finances and stock procured by Storaxa, and therefore open to error. Neverthless, even at a casual glance and only using the barebone numbers provided by the campaign creators, the margins do seem rather thin. I wanted to share it here (linked below, just click the image) as I think it's worth keeping in mind about the scale of this project, once you factor in multiple base configurations and the storage upgrades that have been added: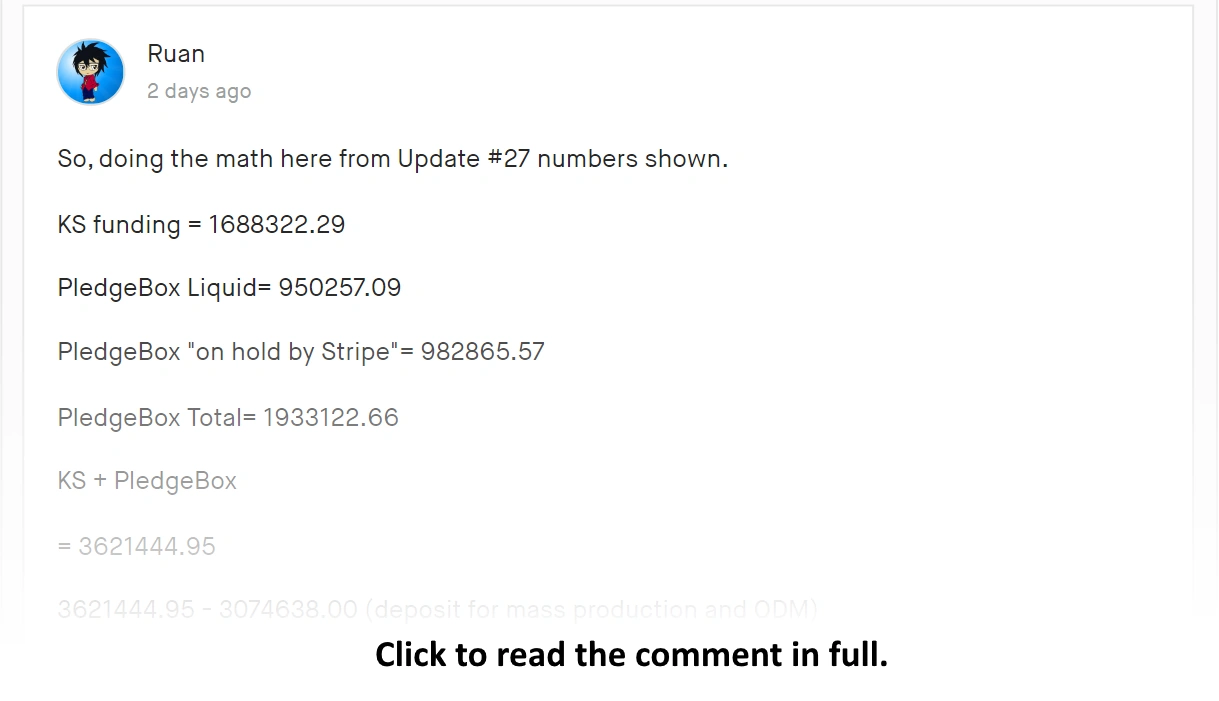 The post examines the finances of the Storaxa Kickstarter NAS campaign in light of potential delays, as half of the funds are being held by the payment provider, Stripe.
The total funds raised on Kickstarter and PledgeBox combined is $3,621,444.95.
A deposit of $3,074,638.00 was made for mass production and ODM, leaving a balance of $546,806.95.
Using a breakdown of addons, including HDDs, NVMes, SSDs, and Samsung 980 Pro 2TB NVMes, the post calculates the total estimated addon cost at $537,600.
This leaves just $9,206.95 for global shipping of at least 5,000 packages, and other costs like SD cards, which is viewed as unrealistic.
Analyzing the base Storaxa unit costs, the post estimates that at least 8,000 units were necessary from the original pledge, and there may be a discrepancy in the number of additional units backed versus those being produced.
Three hypotheses are proposed:

The creators got an exceptional deal on addons.
The creators won't profit and are primarily pushing their brand.
More funds than expected were used for non-Storaxa addons, which might hinder the actual Storaxa product development.
The post concludes by asking for an update on the actual numbers of non-Storaxa Addons and clarity on why the production costs appear so high, emphasizing concerns about delivery costs. From the information provided, there are several points to consider:
Funds Being Held: Storaxa mentioned that Stripe is holding onto 50% of the funds raised from the campaign. If this is accurate, it would indeed create a liquidity issue for the company.
Discrepancy in Costs: Based on the post's calculations, the funds left after accounting for production costs and the estimated addon costs appear insufficient to cover worldwide shipping of at least 5,000 packages, plus other ancillary costs. This raises concerns about whether all the promised items can be delivered without additional funding.
Estimated Addon Costs: The calculations for the addon costs are based on minimum values, and as mentioned in the post, if backers ordered more than one of an item, these costs would rise. Moreover, the post speculates that many might have chosen higher-priced items, which would further strain the finances.
Unit Discrepancy: The analysis suggests a potential discrepancy between the number of Storaxa units backed and those being produced, pointing to possible over-production or an underestimation of the number of units required.
Three Hypotheses: The post's hypotheses suggest that Storaxa either secured an incredibly good deal on addons, isn't looking to profit and is pushing their brand, or has used more funds for non-Storaxa addons than projected, potentially hindering Storaxa product development. The validity of any of these hypotheses would significantly affect the interpretation of Storaxa's financial situation.
The BIG takeaway here is that Storaxa will need to start engaging with its audience more regularly. There are many in the comments who would point out that this project has seen more updates than many other campaigns on the Kickstarter platform. However, we are still talking about a campaign with $1.8 Million raised in the initial campaign and a further $2 Million in pledge upgrades – these are bot atypical numbers for an average Kickstarter campaign on average (it happens, but most polished campaigns will live in the 5-6 figures in $). Given the reported change in work on their side related to negotiating with suppliers for later deadlines on payments and maintaining the project through this relative period of 'hand-on' inactivity, many would like to see higher engagement with their audience in the comments, further updates, tests/demonstrations in-house with the units that they have, further details of the communications with Stripe (share those conversations in greater details to well further refunds perhaps?) and just generally make their activity and presence felt more than it is. Kickstarter is NOT Amazon or eBay, but it does thing on communication and transparency, something that Storaxa was good on and now arguably becoming weaker on during this period of flux. As always, I will continue to follow this evolving crowdfunded NAS campaign.
---
July

 2023 Storaxa NAS Updates
Right at the tail end of the month (31st July to be precise), Storaxa rolled out an update that was largely centered around 4 videos of the system (in a component-out state) being demo'd. The specifications for the unit and client machine they state are the testing system are:
AMD Board
64GB Memory
1TB Samsung 970 Pro Boot SSD
WiFi 6 Card (via an M.2 riser adapter card)
10GbE (Via TB3 adapter)
5x 16TB HDD (unconfirmed, but not hugely important for these tests)
3x WD Black SN750 SSDs
Connected to Macbook Pro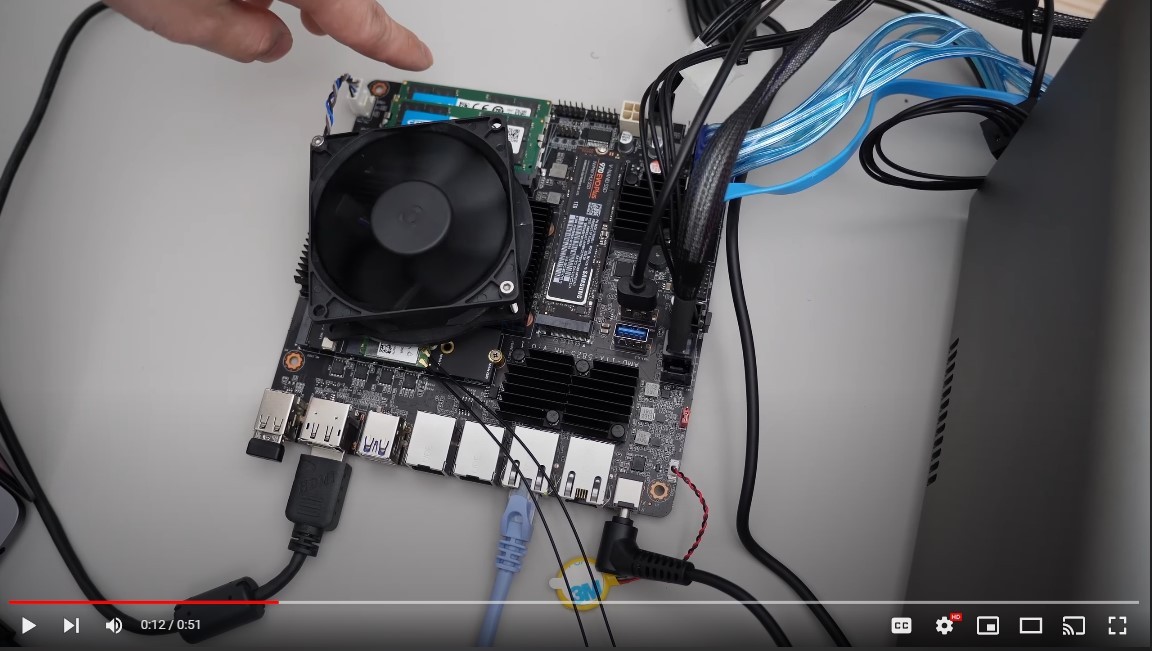 The system board seemed to be connected via a standard multilane to SATA adapter, though I couldn't quite 100% confirm the means that the 3x m.2 NVMe bays were connected (clear cable type there though). The testing Mac book was connected via a Thunderbolt3-to-10GbE adapter. The first test was a 10GbE transfer test (video here):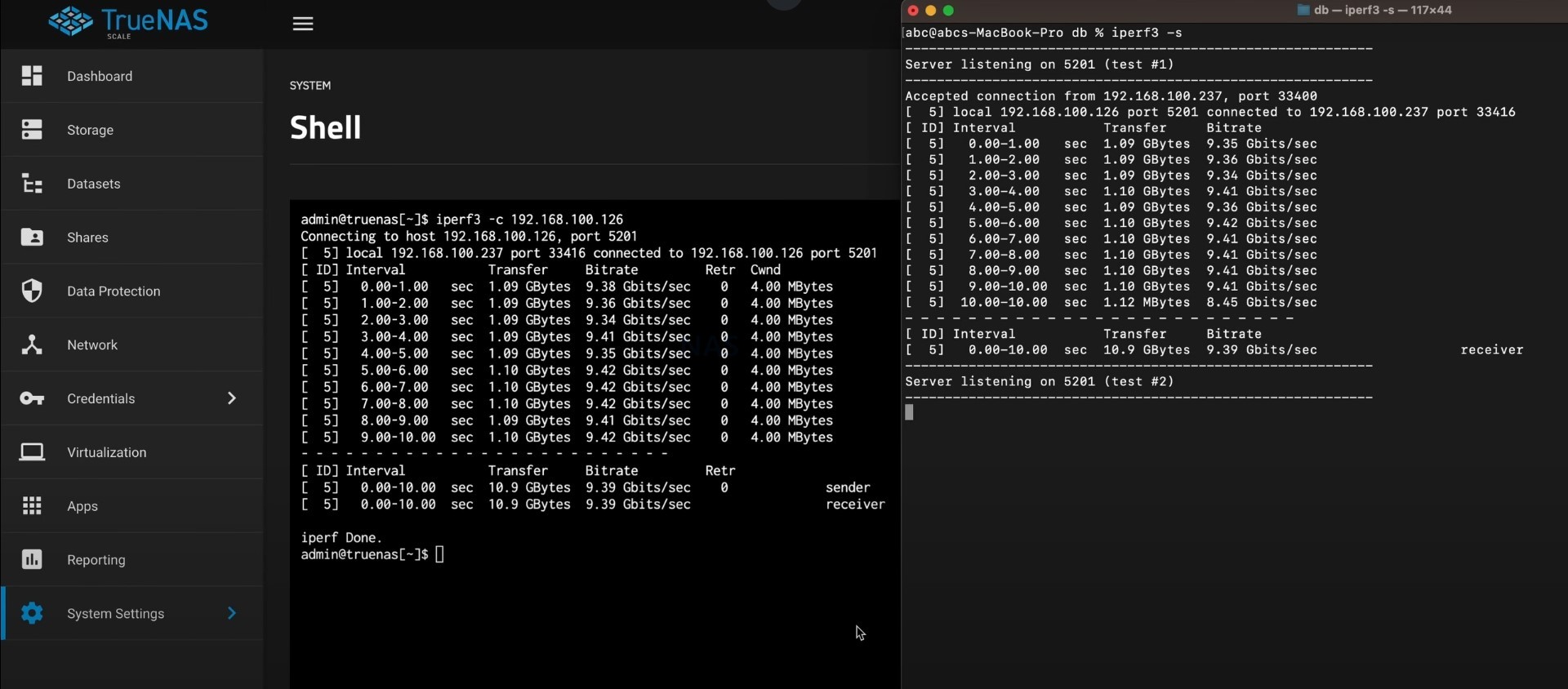 Next, there was a straightforward copy/paste into a RAIDZ1 (i.e comparable ZFS alternative to RAID 5). Video HERE, but result screen below: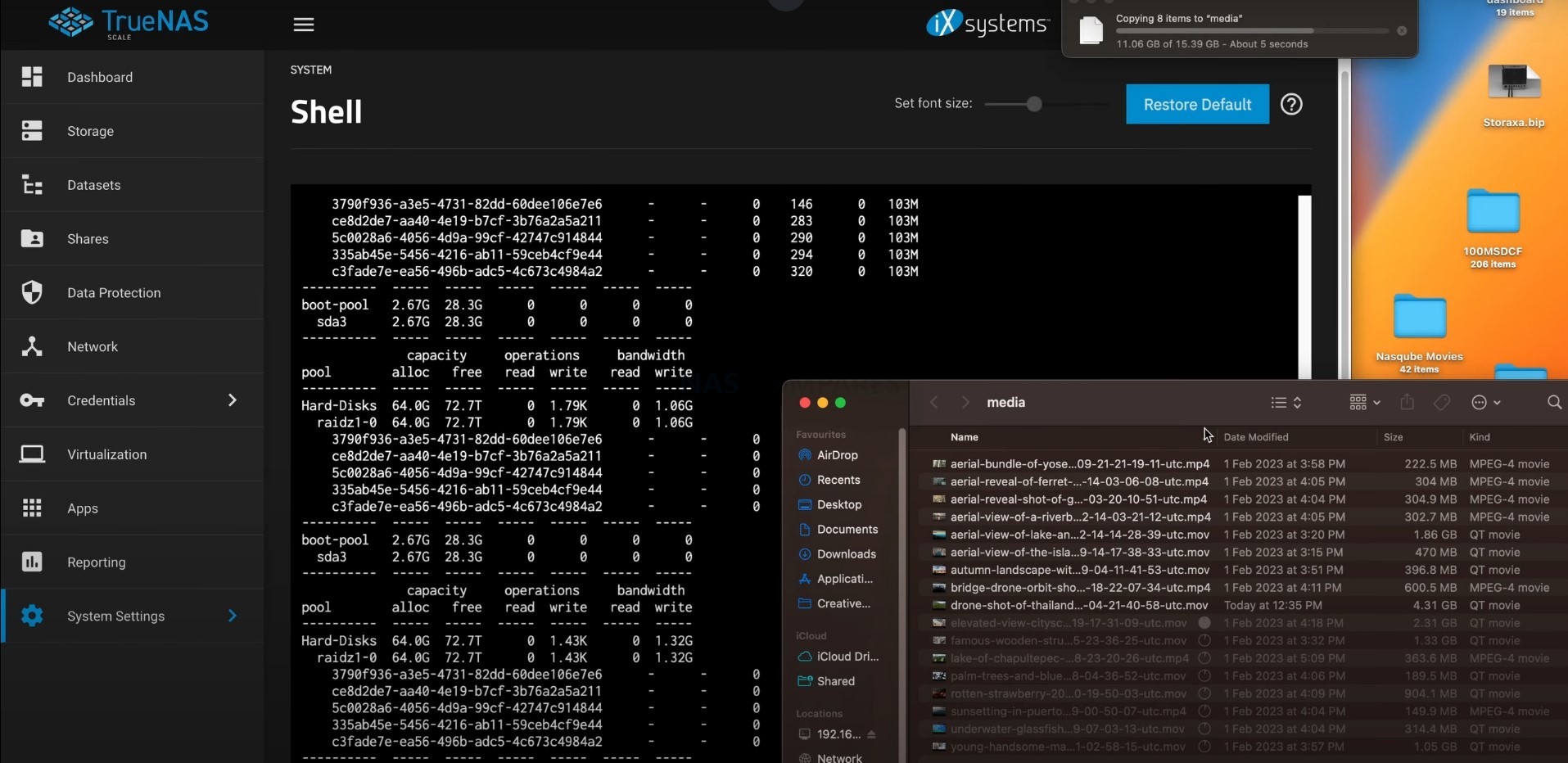 Finally, there was a session of Plex testing, with three videos being streamed at once in H.265 and H.264. Again, the video is HERE.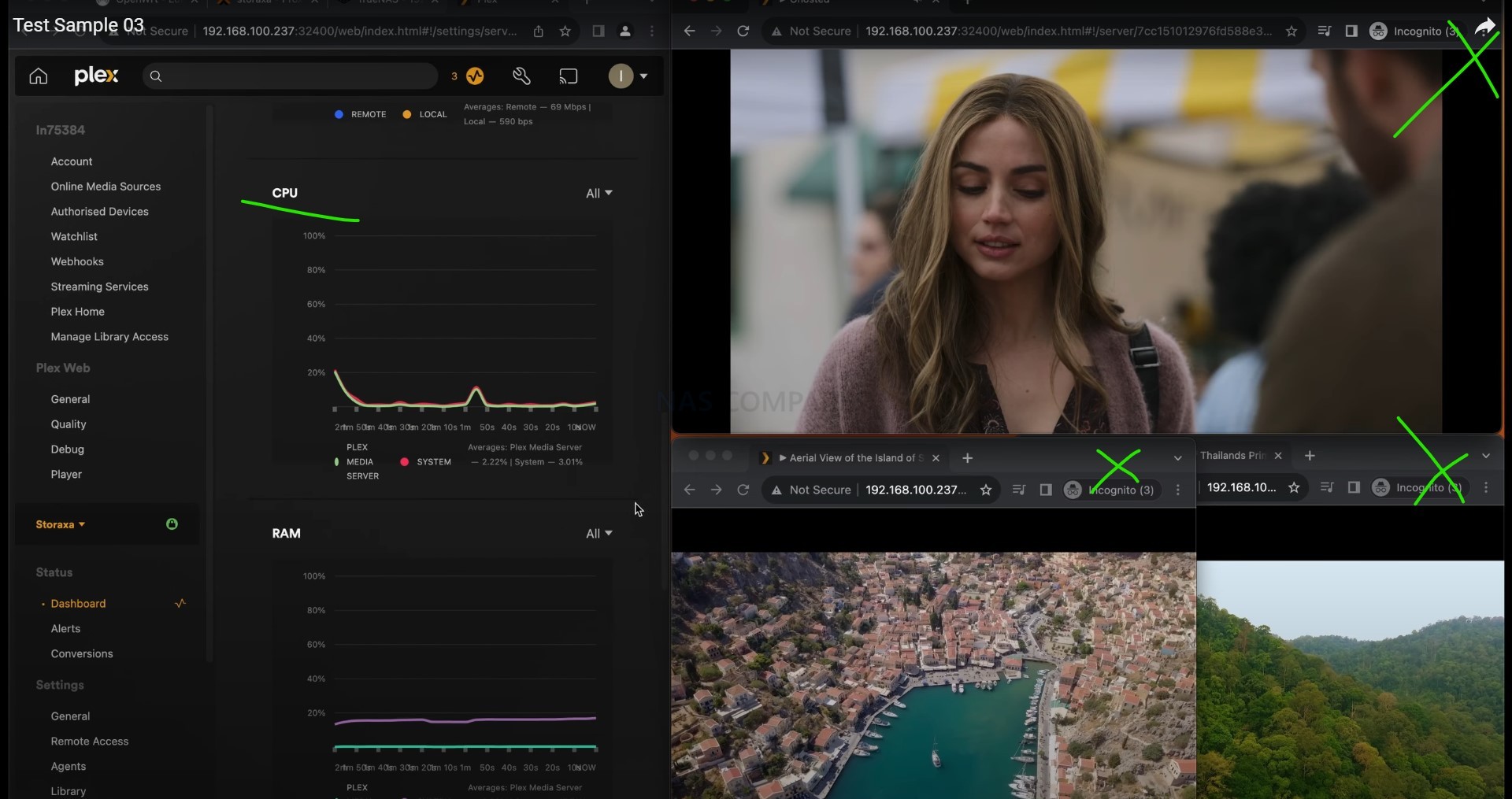 Also, the Memory cards that formed one of the stretch goals from the initial Kickstarter campaign (more on that shortly) have started to arrive in Europe. The card from my pledge arrived on July 31st via Royal Mail, no signature was required but was trackable from Hong Kong onwards.
This slideshow requires JavaScript.
Rewinding back to the very start of the month, July started quiet – REAL quiet! In fact, it was unusually quiet times for Storaxa, with a period of over 2 weeks of Storaxa no longer responding to public comments or producing any updates. This was eventually addressed in the comments, backers section, on Reddit and more by concerned users who had noticed the sudden gear change.
This slideshow requires JavaScript.
That said, things seemingly returned to normal in the 2nd half of 2023, returning to a lot of those older comments, including my own (shown before/after), with apologies and highlights that a bigger update will be coming at the end of the month:
This slideshow requires JavaScript.
Backer SD Cards Arriving
Last month, Storaxa detailed that as a move to test shipping fulfilment in preparation for the eventual full Storaxa shipment and test the company shipping companies' rather impressive delivery quotation, they would send backers their stretch goal included 32GB SSD Card (quote below from the June Update).
"We are starting the shipping test this week. Please expect to receive the package in 10 to 20 days. We will email you the tracking number through the PledgBox system within one week of sending out. This test will help us as a test run for when when we ship your Storaxas and also help us test the flexibility of shipping your rewards in different patches. We received mixed feedback about this test, but we feel this will help us to ensure you receive your rewards safely without additional costs." Storaxa Team, Update 21, June 19th 2023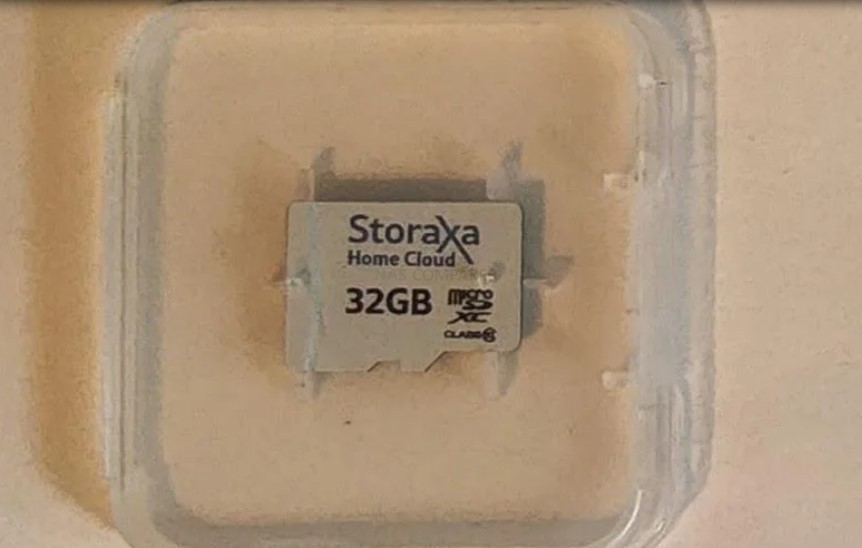 Cards began arriving in mid-July and it quickly became clear that these were being shipped by region/country/continent, with the U.S (likely the largest % of backers being located) being the first to state they had received the cards: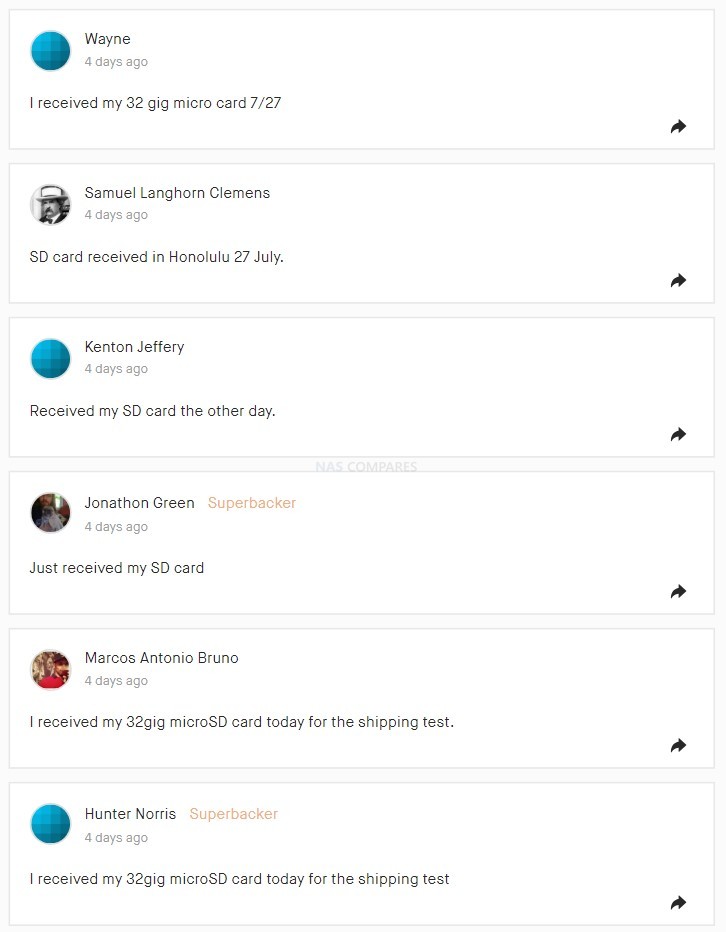 Additionally, some incredibly kind users (such as u/AkaiYui97 on Reddit, credit for images below), shared the contents of the Storaxa SD card delivery.
This slideshow requires JavaScript.
That said, not everyone (at the time of Writing, July 30th 2023) has received their SD card and it looks like Europe has been one of the last in the list of regions shipped to. Again, most likely a % based staged shipping method based on the locations of backers.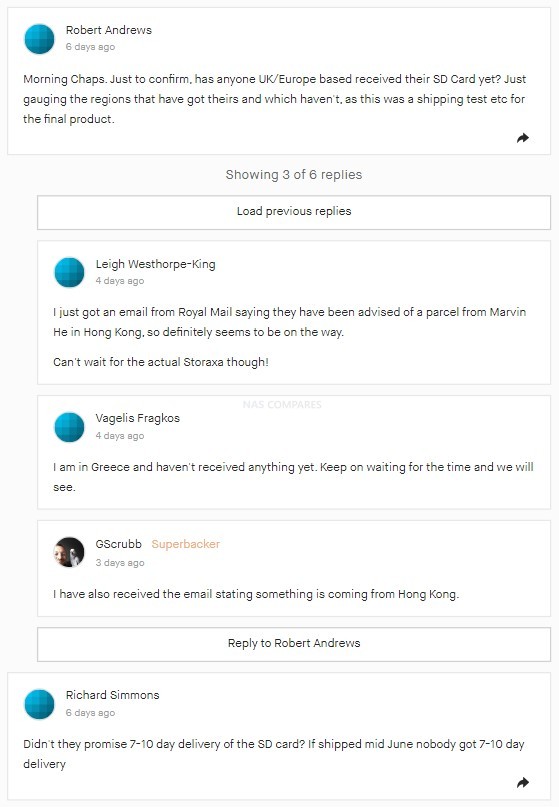 Now, on the face of it, we are talking about an SD card here… with an exceptionally low value. Although in itself a very low-value item, it's worth remembering that these cards were shipped as a test of the shipping company and prospected fulfilment. Also, several users highlighted that the SD cards had tracking information indicating that they were received in Hong Kong in the last full week of July.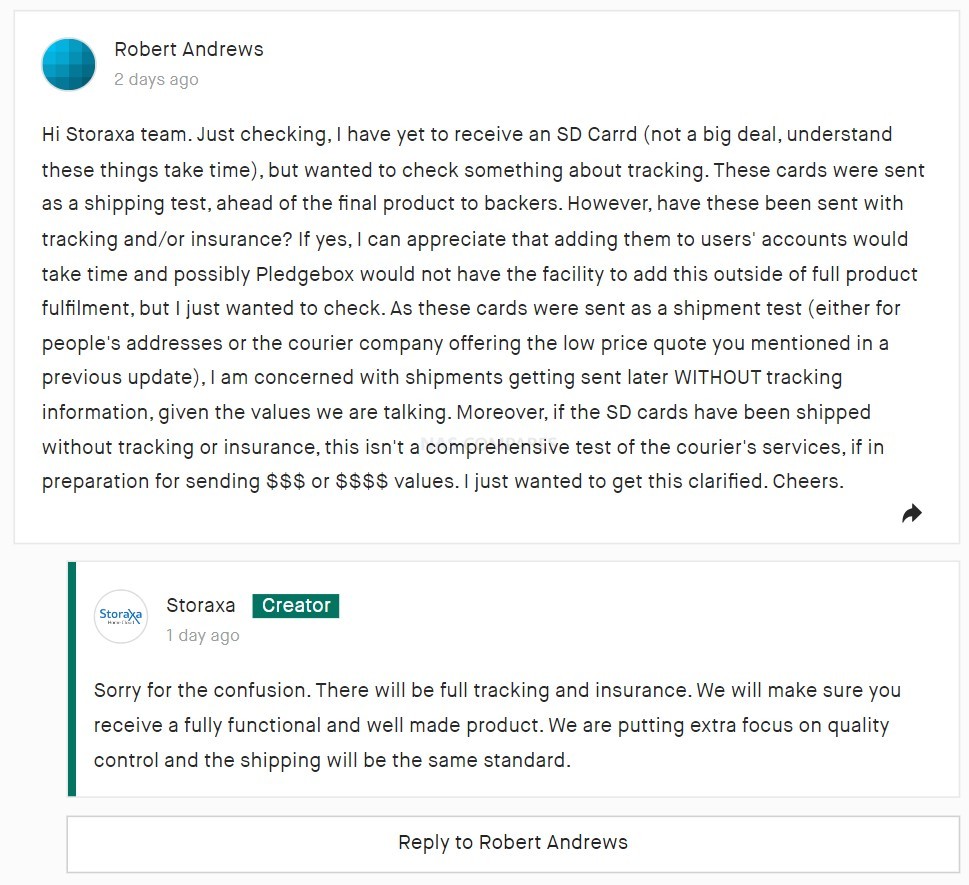 At the time of writing, the SD cards for the UK/Europe have started to be trackable and users might well see their cards arriving during the course of this week (31/07 – 4/08), as indicated by the tacking below.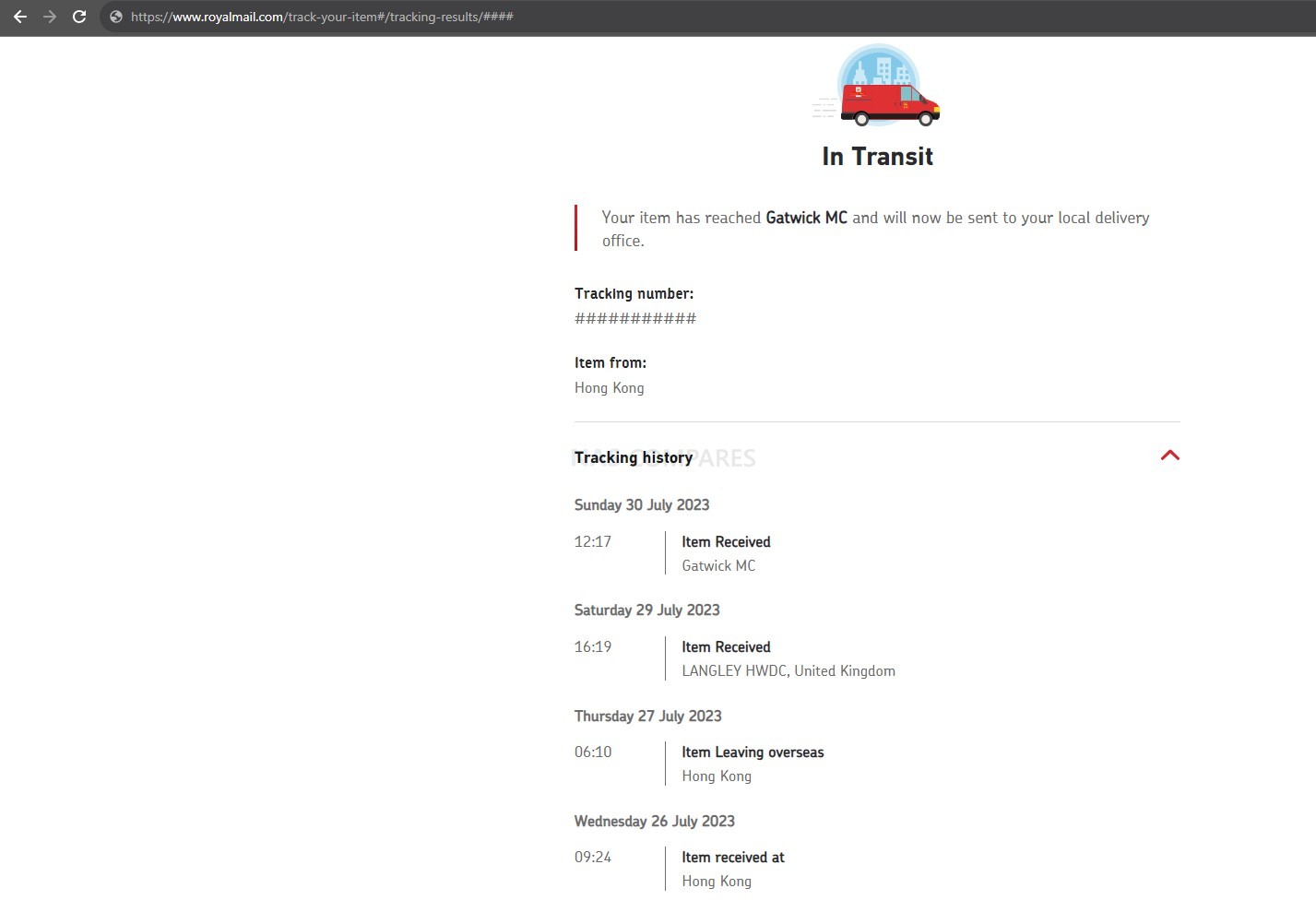 Production and Shipment of Storaxa Now Delayed till September 2023
Another point worth touching on, and one that was certainly anticipated by many, was the officially stated delay of the Storaxa first fulfilment from 2nd Half of July to the 2nd Half of September. How this will impact users based on their configuration choice and global location is yet to be elaborated upon (there IS an update stated to arrive on July 31st, which might address this), but for now, the project is now slated for later in 2023. Not a huge surprise and not unusual for Kickstarter.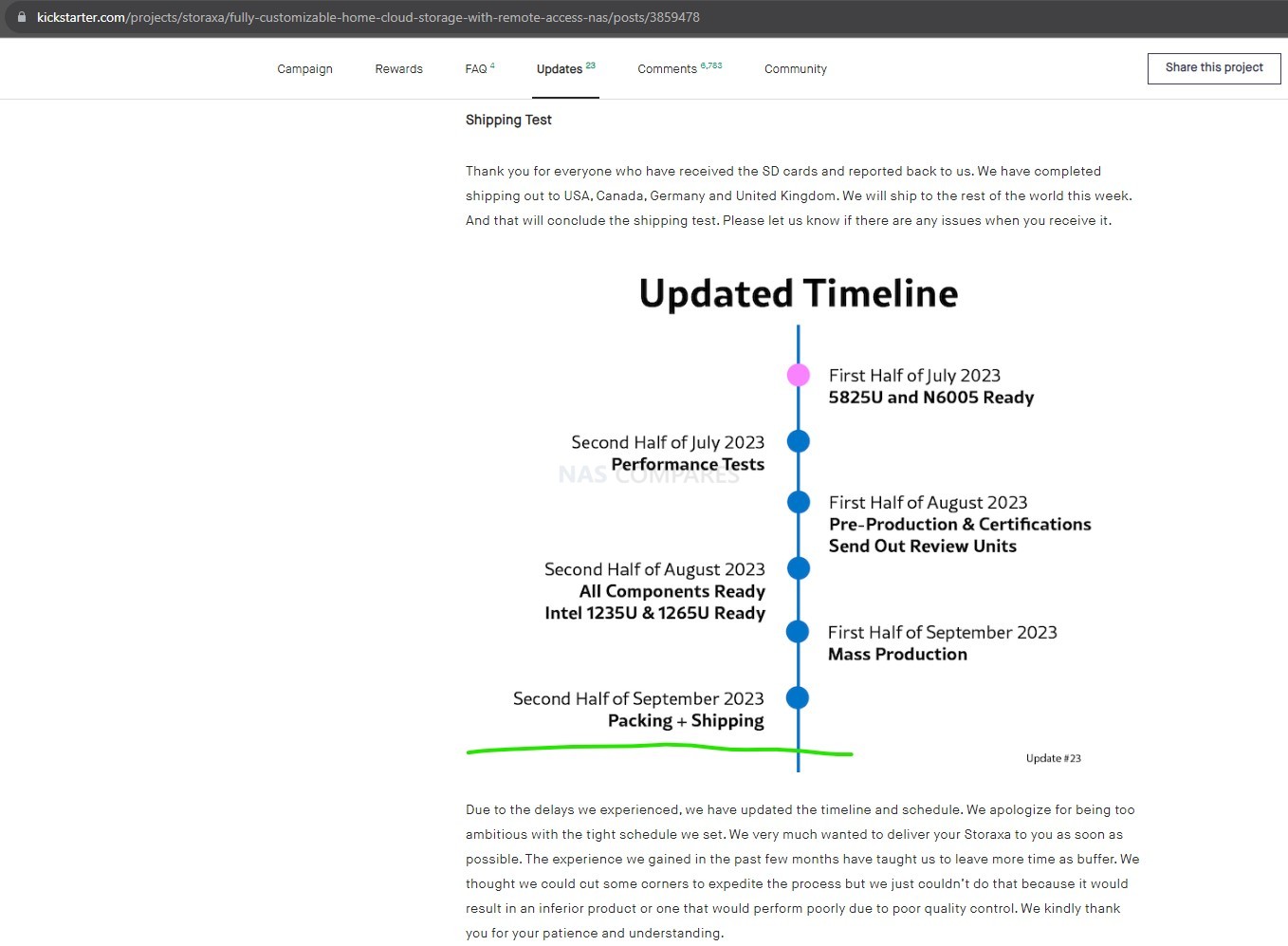 The final statement from Storaxa regarding the updated timeline was as follows:
"The production timeline is the same as last update. Mass production will begin in September and shipping will start in the second half of September. All major parts and components have been ordered and will arrive before that time. The case and chassis sample is arriving at the end of this week so we can show that to you soon too."  – Storaxa Team, Update #24, 1st Aug
June

 2023 Storaxa NAS Updates
June saw three updates from Storaxa on the production of their system (the first larger than the two that followed, but all three addressed new information). The main subjects covered with the new intended Shipping Test, are fulfilment of the SD Card stretch goal (part of the shipping test), errors and issues encountered at production and planned tutorials and guides. There was also updated information on the GaN external Power Supplier, it's a 19V supply with a 5.5*2.5 barrel jack in 140W/180W/200W depending on the chosen CPU (N6005/5825U/1235U,1256U).
"It is meant to plug directly into a power socket. It has a C6 socket, so you can also choose to use it like a power brick by using it with standard C5 cable. The power supply will only come with the plug suitable for your delivery location. After getting your feedback from the last update, we will include the C5 cable for your convenience." – Storaxa Team, Update 19, June 7th 2023
Board for the 5825 CPU Storaxa NAS, Good and Bad News
The early June update started on a positive note, with the announcement that the production samples of the AMD 5825 controller board on their #20 update. This was a little soured for some by the additional note that the Intel board configuration systems had fallen behind schedule:
"We are proceeding with production now. However, the upgraded Intel main boards are behind schedule. By starting with two versions first, we can avoid delayed production overall. As long as the upgraded Intel board samples are ready within two weeks, we can stay on the delivery schedule for end of July." – Storaxa Team, Update 20, June 7th 2023
Still, this was good news for those backers who had opted for one fo those AMD config choices. However, this was a little short-lived, when comments from the Storaxa group highlighted that they had hit a tech roadblock pertaining to the detection of the M.2 NVMe.
This slideshow requires JavaScript.
Twelve days later, in the June 19th Update, the Storaxa team highlighted that an issue was recognized in the AMD 5825 board:
"During testing of the AMD 5825 main board, the 4 top M.2 slots could not be read or detected. After further testing, we discovered that something went wrong during SMT and there was a problem with one of the resistors on the main board that affected the recognition of the ASM2812X chip PCB. We are fixing this now. This is not a big problem and it will be fixed in a week. Once it is complete, we can continue with testing and production."– Storaxa Team, Update 20, June 7th 2023
Later in their final update of June, they did state that the SMT issue had been resolved:
"The AMD 5825 main board has finished SMT. The problem with the unrecognized ASM2812X chip has been fixed and testing and production can continue. The upgraded Intel versions can proceed after this." – Storaxa Team, Update 21, June 30th 2023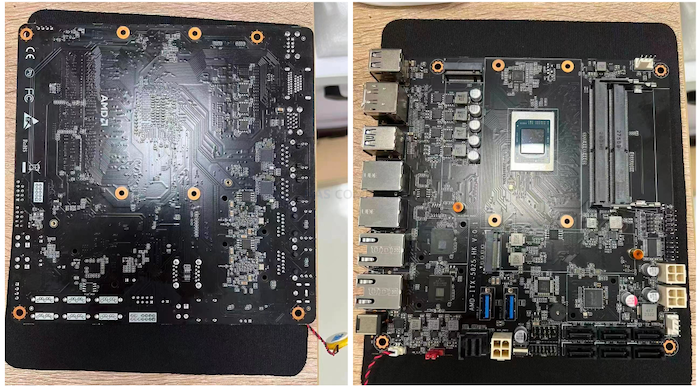 The Storaxa SD Card Shipping Tests and System Recovery Images
In the early stages of the kickstart campaign, when alternative versions of the Storaxa configuration, rewards and stretch goals were being shared, one thing that was discussed was an SD card for every backer that contained the system recovery image (dependent on the OS choices across both elements of the system).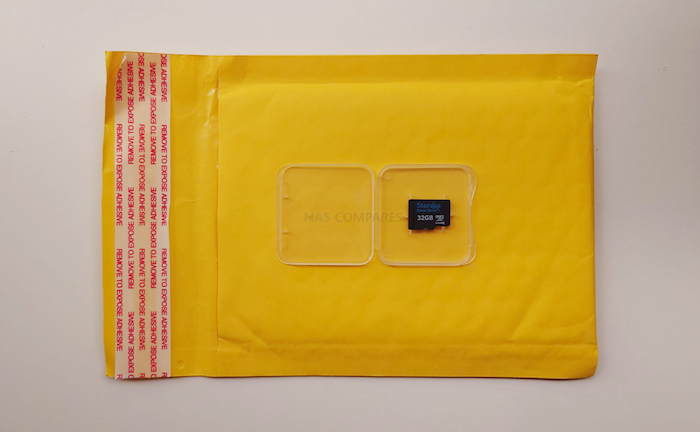 Although it became quickly clear that providing an 'one for all' system image for the SD card become untenable, they stated that they will provide the means to download these at launch, but use the SD cards for every backer as a means to test shipping:
"Since before our campaign started we tried our best to quote the lowest price for shipping to keep the price of Storaxa as low as possible. We didn't give up that search even until after the campaign so we can keep the add-on and extra units shipping cost low too. We found a logistics company that quoted prices that we couldn't believe. This would be very good for us because we can save some costs, but we didn't think it was safe enough to entrust them with your rewards which ranges from hundreds to thousands of dollars. However, they assured us they have global coverage and can ensure the safe delivery of all rewards. To back up their proposal, they are willing to do a shipping test to show us they can handle all our orders.  Due to this, we are happy to announce we will conduct a shipping test by sending you the free 32GB microSD unlocked in the final stretch goal ahead of schedule. This test will show us the reliability of this new service and also serve as a practice run of fulfillment. We will start sending it out on June 15. It will take around 7 – 14 business days to be delivered. – Storaxa Team, Update 20, June 7th 2023
This still led to the question of less experienced users who wanted to have a recovery/initial-boot SD Card for this system, two of which Storaxa stated the following:
"We originally stated that the microSD card will come with a system recovery image for your Storaxa. However, after careful consideration, due to the fully customization feature of the Storaxa, no single image will fit everyone's purposes. Therefore, we will send you a blank card so you can create the image right for you with the instructions below. (We will post the instructions again after you receive your Storaxas). We are starting to make the tutorial videos this week. We will film some demos to teach the basics on how to install and run the software for the Storaxa. The videos will be posted on our Youtube channel. We will start with some simple videos first and ask for your feedback before we move on to tutorials for the more advanced uses of Storaxa." – Storaxa Team, Update 21, June 19th 2023
Storaxa is stated to arrive with the system pre-installed and pre-configured, so you can plug in the network/power cables and drives, and start using it. Storaxa boots to Proxmox VE, which hosts 2 virtual machines, which respectively has TrueNAS-SCALE, and OpenWRT installed.
We cover this and more in our June Update video below:
May

 2023 Storaxa NAS Updates
May 2023 saw 4 official Updates by the Storaxa team on their Kickstarter campaign, mainly focusing on the changing of the system PSU from an external model to an external one, and the Pledgebox credit/payment issues.
Changes from an Internal PSU to an External PSU
This goes into a lot more detail for the reasons for/against, as well as the logic they outline in their decision, but this quote below summarizes it best:
"After careful consideration and evaluation, we have decided to use an external GaN power supply with a 5.5*2.5 barrel jack in 140W/180W/200W depending on the chosen CPU (N6005/5825U/1235U,1256U). GaN (gallium nitride) is a new technology that allows for smaller, more efficient, and cooler power supplies. It has several advantages over traditional silicon-based power supplies, including higher efficiency, faster switching speeds, and smaller size. A Type-C PD power supply was not chosen because of the higher cost we couldn't fit into our budget. The power supply will be external, which will allow for more space in the case for better thermal management and air circulation for heat dissipation. This also gives users more space for customization inside the case. And it is easier to replace the power supply if needed. We have several suppliers lined up and will decide on the final one soon. Here are some images of the potential power supply. It is meant to plug directly into a power socket. It has a C6 socket, so you can also choose to use it like a power brick by using it with standard C5 cable (not included). The power supply will only come with the plug suitable for your delivery location." – Storaxa Team, Update 19, May 25th 2023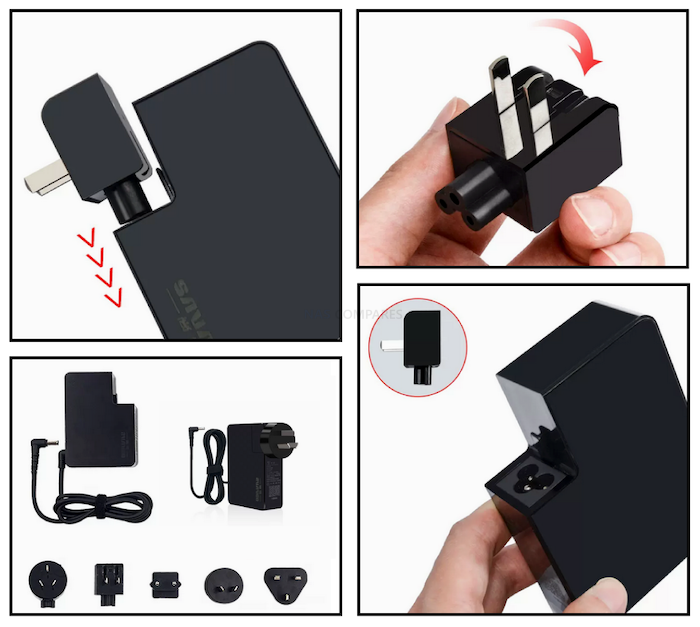 They also supplied an updated system build graphic to detail the case in progress and adjusted layouts: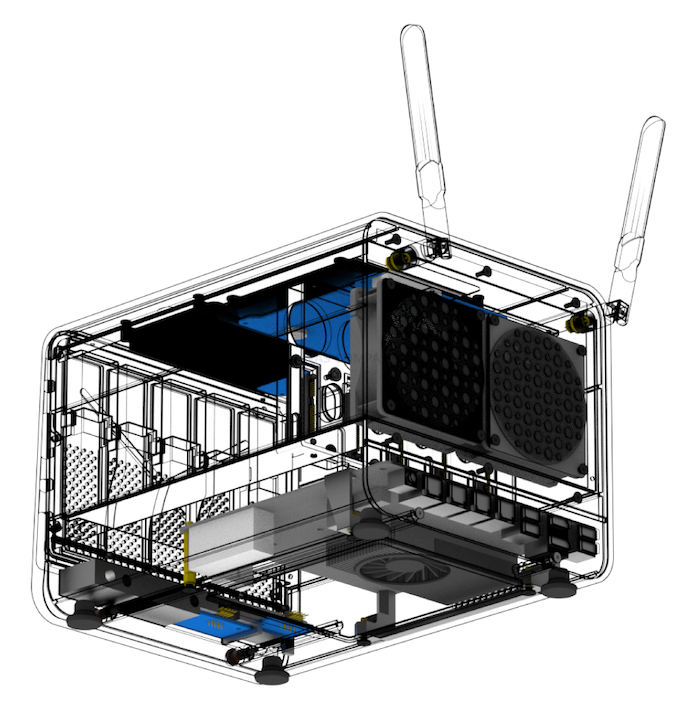 May 22nd also saw an update on the motherboard that is intended for the baseline N6005 Pentium models, with the stated arrival of the production sample for testing and assessment. See below: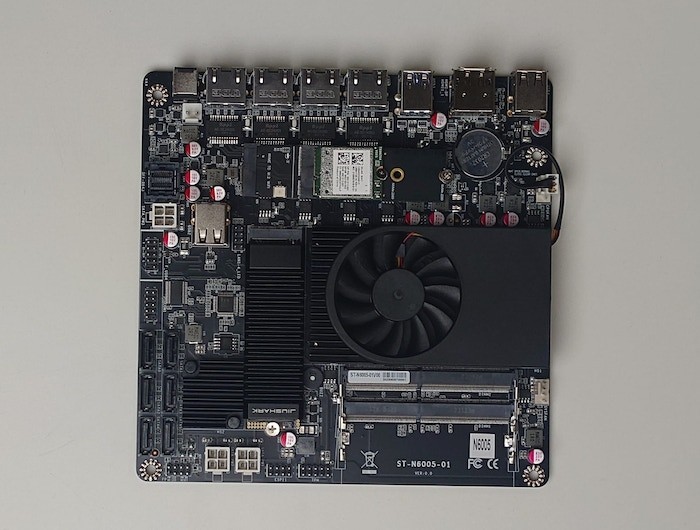 Storaxa NAS Case Changes
As pleasing as this way, I was more concerned with the production and information on the casing for the Storaxa system, as that is one fo the truly unique elements of this system. How the change to an external PSU and the difference in architecture between the configurations impacting the case cooling/shape was also addressed in this same May 2023 update:
"Getting the first sample is a critical milestone because it lets us finalize the case design. The case sample will be ready in the week of June 5, 2023. Our plan has always been to use the same case for all the different versions of Storaxa. This is so that all units have a uniform appearance and also it will help save on production costs. However, with the introduction of the higher-performance versions, the power supply unit had to increase. And with the increased wattage, we also struggled with thermal management. Moving the power supply outside was the best solution. We thought about keeping it inside for the basic model, but decided against it because it will be easier to have the same case and it will be easier for assembly and repair. The external power supply has many positives. There is more room inside for air circulation for heat dissipation and also gives users more space for customization inside. It can also be replaced more easily." – Storaxa Team, Update 18, May 22nd 2023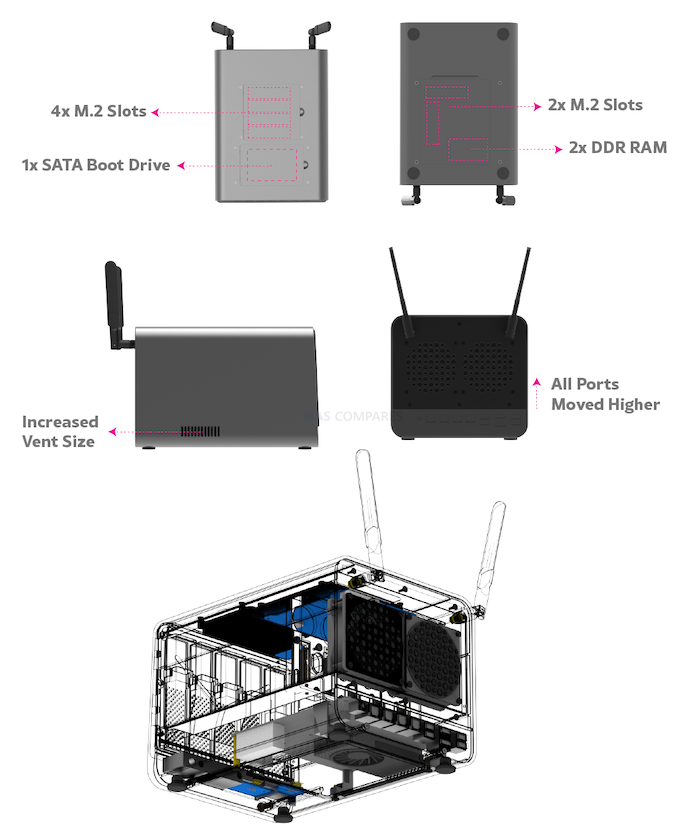 The Storaxa Group continue:
"The new case has three easy-access openings, two on top and one at the bottom. The top ones are for the 4 M.2 slots and the boot drive. The bottom is for access to the main board with the DDR RAM and the 2 onboard M.2 slots. The side air vents are also larger for better air flow. Since the power supply has moved, the main board is also raised, leaving more space for personalization and airflow. This means the ports in the back are all raised higher." – Storaxa Team, Update 18, May 22nd 2023 
They have updated their current projected timeline with the shipping of the first wave of solutions in the 2nd half of July (see blow):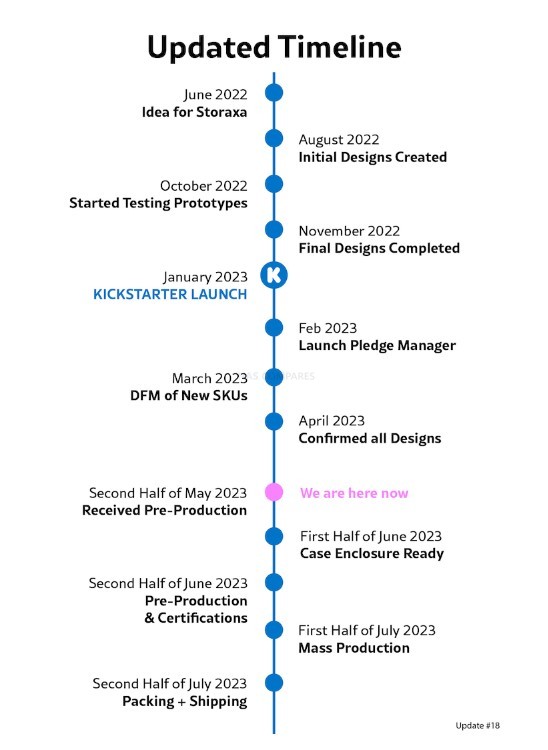 The last 30 Days or so of the Storaxa NAS Kickstarter campaign (going into the 15th May) have been a fantastic mix of good news, bad news and just plain odd news. Although the Storaxa team have continued to respond to comments and enquiries, they have certainly been a little less prompt. That said, between the evolution of the campaign as it moves through the proposed production timeline and a couple of the hurdles that will be covered in this May update, there might be reason enough for these. Let's go through all the updates (both project-published ones and those made in the comments).
PledgeBox Issues
Pretty much the big topic that has been bubbling around the Storaxa Kickstarter in this period was the Pledgebox manager not factoring in payments previously made to people's existing backing sums. In short, a % of users found that their initial payments had been ignored and new 'balance due' messages had appeared. It is still not certain how many users were affected by this out of the 5,917 backers of the project (though some backers took to reddit to try and poll the numbers of those affected/unaffected), but clearly, this issue was big enough to be raised and referred to a decent amount in the comments. This is the image provided by Storaxa in their update to denote how the issue appeared to those affected users: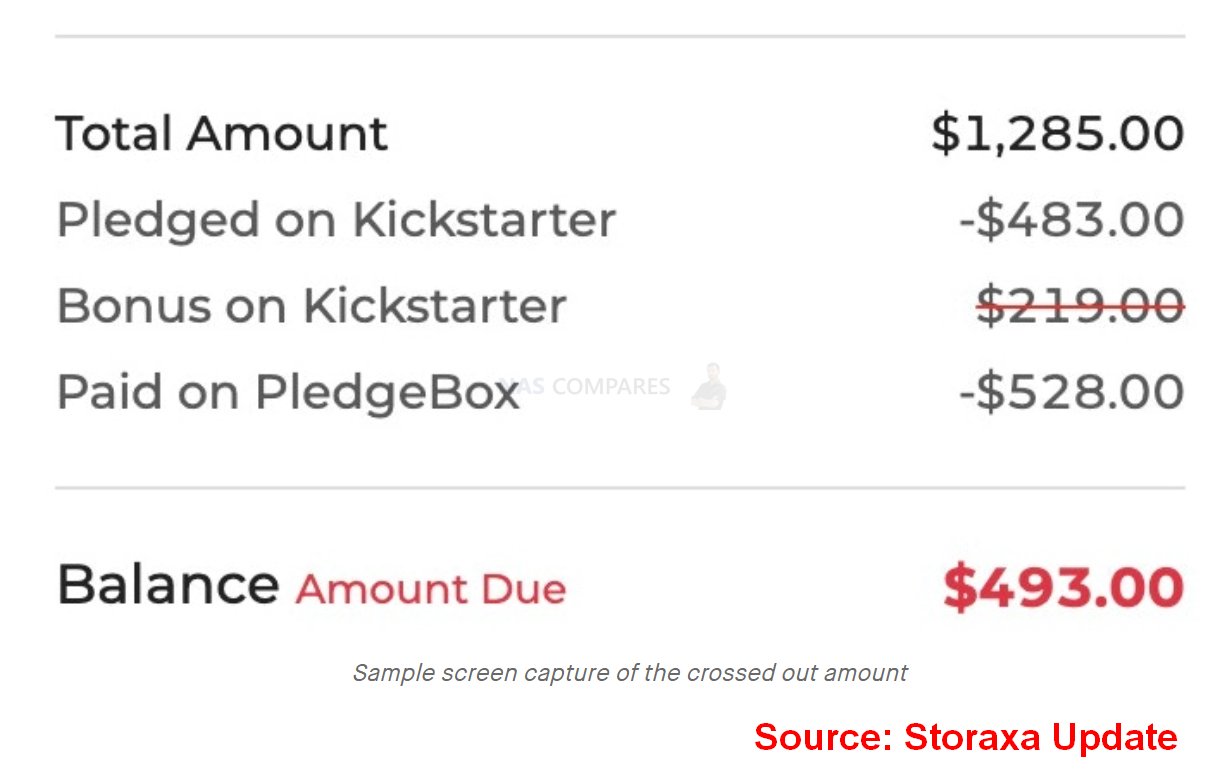 What caused this issue in the Pledge manager is still unclear, but Storaxa/Arrotrack did address this in their project update on May 2nd:
"We apologize for a new issue on PledgeBox that crossed out the bonus amounts of backers' pledges from Kickstarter. If you are experiencing this issue, please wait patiently as we try to fix all the affected accounts within one week. There is no magic button to fix all the accounts at once, so we need to do it individually. Please understand that we may not be able to reply to all your messages, emails, and comments, as we are focused on resolving this issue. This issue does not affect how we will fulfill your rewards so we kindly ask for your patience as we fix this." – Storaxa Update #16 HERE
This seemingly continued to be raised in the comments section and although individual queries were addressed by the group in the general comments section, it wasn't until May 15th that we saw the issue fully confirmed as resolved by Storaxa in a full backers only update:
"The issue with the subtracted Kickstarter bonus has been resolved. Thank you backers for your patience as we fixed the problem. If we missed anyone with this issue, please don't hesitate to reach us so we can fix it."  – Sroaxa Update #17 HERE
Initial Motherboard Errors and Changes
The board that is to be used inside the Storaxa (though differing fractionally in each CPU Config) had only really been shown in schematic, Diagram and CAD form up to this point and understandably, many users had been chasing for updates on this. Although already volunteered by Storaxa that the board use was being produced by the same manufacturer as the likes of Topton/CWWK NAS systems, real world examples of the mainboard for the Storaxa were still 'coming soon'. So, with that in mind, the initial update for this on May 2nd was a little bitter-sweet.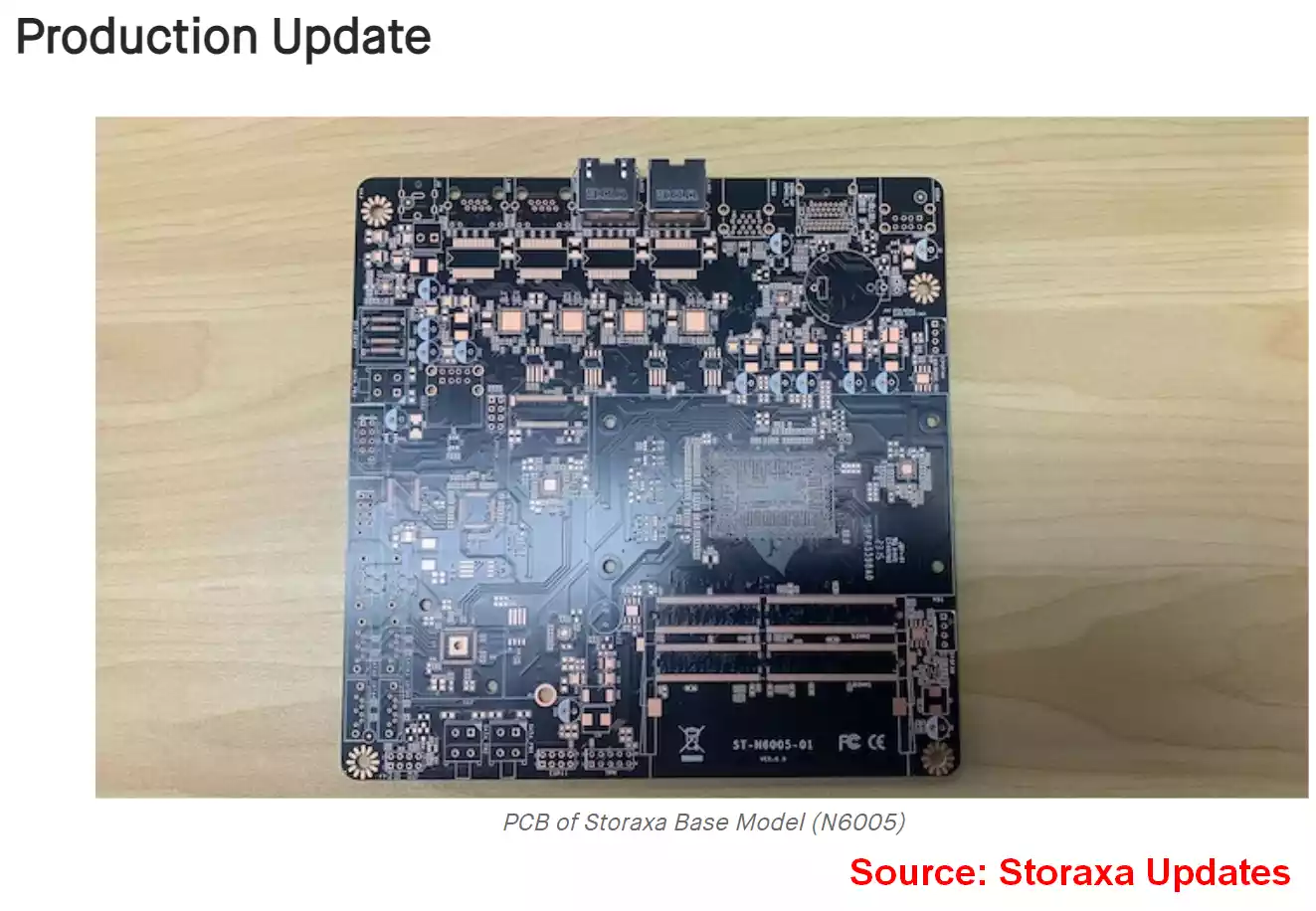 Although they showed a board in the update (which had been promised already), it was highlighted that mistakes in the layout had been recognized and therefore more work/time was needed for completion:
"The manufacturer tested the first print of the mainboard last week and discovered that there were some mistakes in the layout. Since it is Golden Week holiday here, the factory will be on break this week. The new samples for testing will be ready next week. We will continue monitoring their work and update you about the progress" – Storaxa Update #16 HERE
Fast forward two weeks and we saw the next update, which included images of the ready-soldered and prepared board for the default N6005 board. Arriving somewhere between the design of the N6005 board HERE and J6412 board HERE on Aliexpress, the photos are a little oblique. I appreciate that Storaxa state the manufacturer has supplied these, but a top-down angle would have been nice. Still, better something than nothing:
This slideshow requires JavaScript.
There is no avoiding that there has been contention in the response to this update regarding the main board of the storaxa NAS. The first issue for many was that the Intel N6005 model is the entry-level device and many of the much higher configurations (who have paid considerably more into this project since the Pledgebox option appeared) have been left to wait. Now, on the one hand, given that the Kickstarter began with pledging on the initial N6005 configuration, it makes sense that chronologically that would be the first thing to be on the timeline for production. But given the scale of the upgraded components (significantly more power-hungry processors, 10GbE, Gen 4 SSDs, etc) in this compact chassis on boards that are not available right now on AliExpress etc right now, it's understandable why users opting for these more unique configurations are wondering about their system delivery window.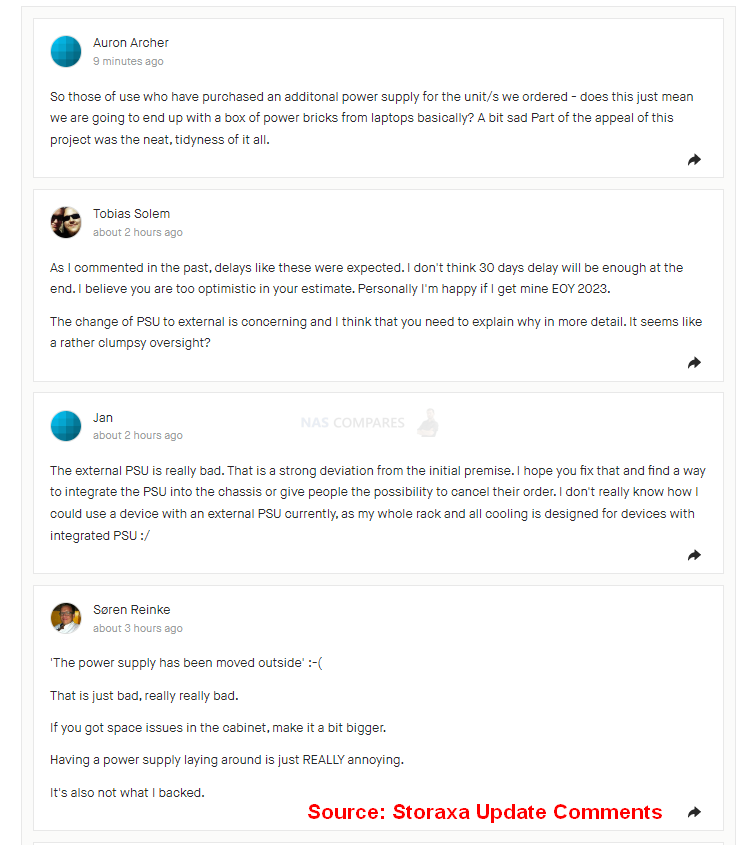 The other hardware change that has occured in the recent project update was one that many had already raised early in the campaign (myself included), regarding the PSU. Storaxa have opted to remove the PSU from the internal casing of the device and opting for an external PSU (with a promise to elaborate more on this in the next project update). Now, on the face of it, I have always been a fan of external PSUs. They are easier to replace and in some cases, can remove internal heat generation and/or restrictive airflow blocking in more compact systems (more in the case of bare-PSUs, not blocks). However, in the case of the more aggressive system configurations, this might well result in quite large PSUs and add this also raises the question of external PSU quality. That was always a factor in ANY PSU, but ask anyone who has ever purchased a cheap PSU for their GFX-Card laptop or external PCIe Box on eBay/Ali and they will discuss 'noisy' PSUs or those that just feel 'unsafe'. This is pure conjecture right now of course and until the PSU in question is shared in an update, it's way to early to complain. But some users are definitely less keen on external power bricks in bigger NAS systems, as that can also result in an easy-to-disconnect power connection or extra part to lose!
Delay in Order Shipping and Fulfilment Warned
The above changes regarding the system board and possibly due to the impact of the Pledge Manager issues requiring attention (again, an assumption on my part) have led to Storaxa highlighting delays to shipping an order fulfilment in this campaign. Initially, shipping was timeline'd to start in Mid-June, but now looks like the end of July:
"We have been working diligently with our manufacturer to complete the designs and samples of the main boards. Even though our manufacturer started work earlier than scheduled, not all the pre-production samples will be completed on time within the 45 days stated in our contract. They have explained to us that ever since our campaign, they have become more busy and received even more orders. The estimated dates were accurate but due to not enough man power, any mistakes and redesign delayed the samples. The production time of assembling the units will not be affected. They have been very accommodating during this whole process, so we believe that they are sincere and tried their best to keep to our schedule.  Due to the bottleneck in completing the pre-production samples, the shipping date will be delayed for 30 days. We apologize for this inconvenience and we thank you for your patience and understanding." – Storaxa Update #17 HERE
Delays in Kickstarter campaigns are hardly unusual and fair play to them for, at the very least, raising it now. It's still going to be disappointing for many, but after many users quering the shipment date, this is something to go on.
Arrotrack / Storaxa Domain Ownership Expiry?
A rather odd point and one that was raised in the comments of the Kickstarter comments for the Storaxa was that the domain for the Arrotrack company (the group producing the Storaxa) had a very, very short domain registration time remaining. In my last update (in the April Update below) I highlighted that Arrotrack and Storaxa has a website up and running that had further information on the updates made available to non-backers, details of the company (something of a debate there that was discussed) and information regarding terms of returns and support. Well, that domain was registered on 23/05/20 but seemingly is going to expire on 23/05/23.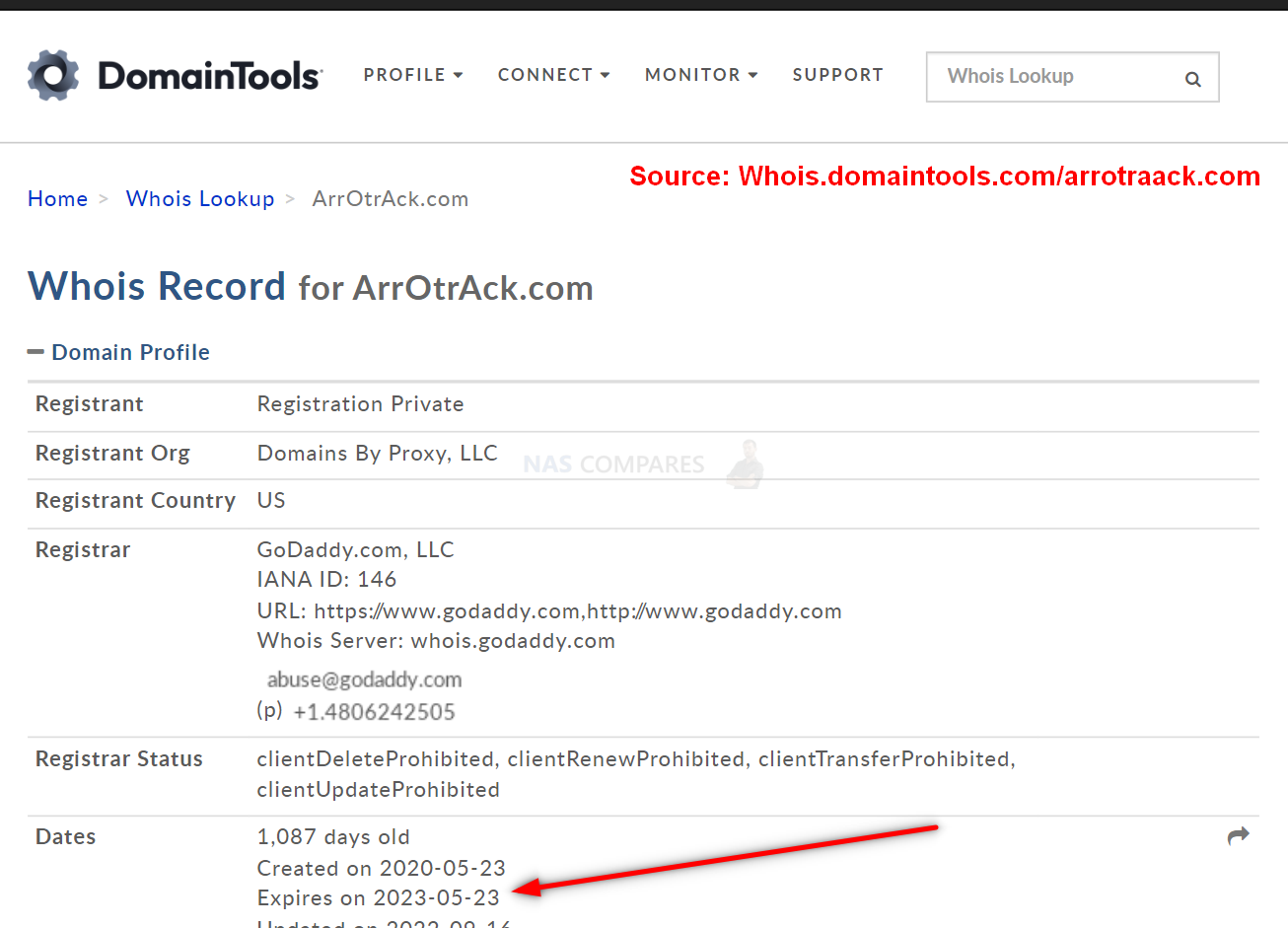 Now, this in itself is not the end of the world. Notwithstanding that this is not directly connected to the Kickstarter campaign, the company could be moving to a new domain and letting this expire (since realizing a new domain and site was needed). Likewise, they could be running the clock out on it to exchange it's ownership to a new party. Nevertheless, it's an odd little thing.
Potential Refunds to Customers of HDD/SSD Storage Bundles
One matter that increased in the comments of the Kickstarter campaign comments of the Storaxa over the last couple of months was to do with the price of storage media. When the Pledgebox manager for Storaxa NAS went live, one of the additional configuration options included adding SATA HDD/SSD media and PCIe Gen 3/4 m.2 NVMe SSD Media. However, since these options were first made available and priced, the general cost of alot of these drives (and other alternative drives that were not included in the Pledgebox from 3rd parties, location dependant) have seen noticeable decreases. So, many users wanted to know if reductions in the cost of drives would be reflected in their purchases (i.e. partial refunds?). Storaxa addressed this in their mid-May update:
"Due to the delay in completing the main boards, the delivery of the accessories such as SSD and HDD will also be delayed. Although we already paid the deposit, we  were able to renegotiated with our supplier to give us a discount on the drives if the prices drop. In the event that market prices drop lower than our previous negotiated price, we will receive a discount. In turn, we will offer that same discount to backers who have added the drives to their pledges and refund the difference to you." – Storaxa Update #17 HERE
Now, fair play to Storaxa. very few would have expected them to refund these savings. Mainly as the quantity of HDDs and SSDs would have likely been quoted and paid partially/fully at Distribution shortly after the closing of the Pledgebox. These are all still promises and considerations that are being outlined on a crowdfunding project that has still not (at the time of writing) shown details on money in/out on the media ordered, or final shipping devices. But this is nonetheless a positive stance to take in this update and one that I wanted to highlight in my updates.
Here is my round-up of the updates above (and a few of the April updates), all in one video. Enjoy!
---
April

2023 Storaxa NAS Updates
April (and very late March) saw two main updates to the Storaxa Kickstarter campaign, as well as two updates to the project timeline. This was also combined with a few questions surrounding the business address of Arrotrack (the company that Storaxa creators are trading under).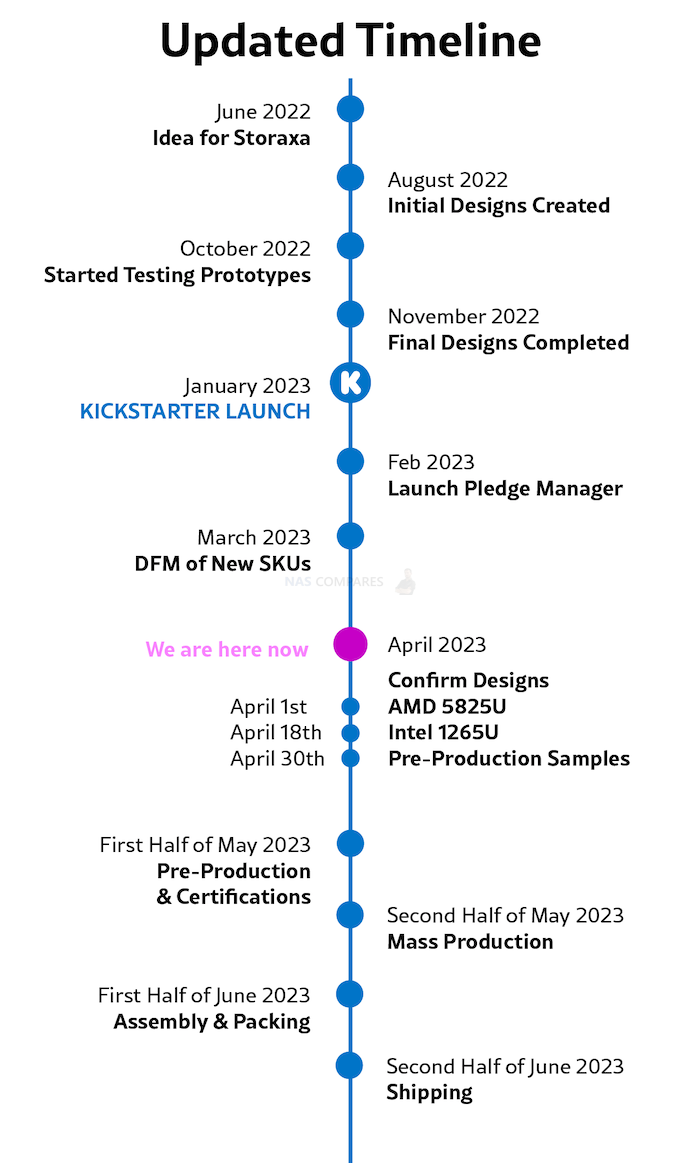 There have been several references to the project being slightly delayed (not unusual with Kickstarters) and also a few extra details surrounding the regional delivery plans. The key updates from Storaxa though surrounded confirmation of the AMD layout and changes to the Intel schemes.
Free DDR5 Upgrades
Due to a change in the Intel Storaxa board layouts and specification support, Storaxa confirmed that those opting for the higher-end configurations would have an upgrade from DDR4 to DDR5 Memory. This was largely down to these boards not supporting DDR4 memory, but nonetheless, a welcome bonus for those affected.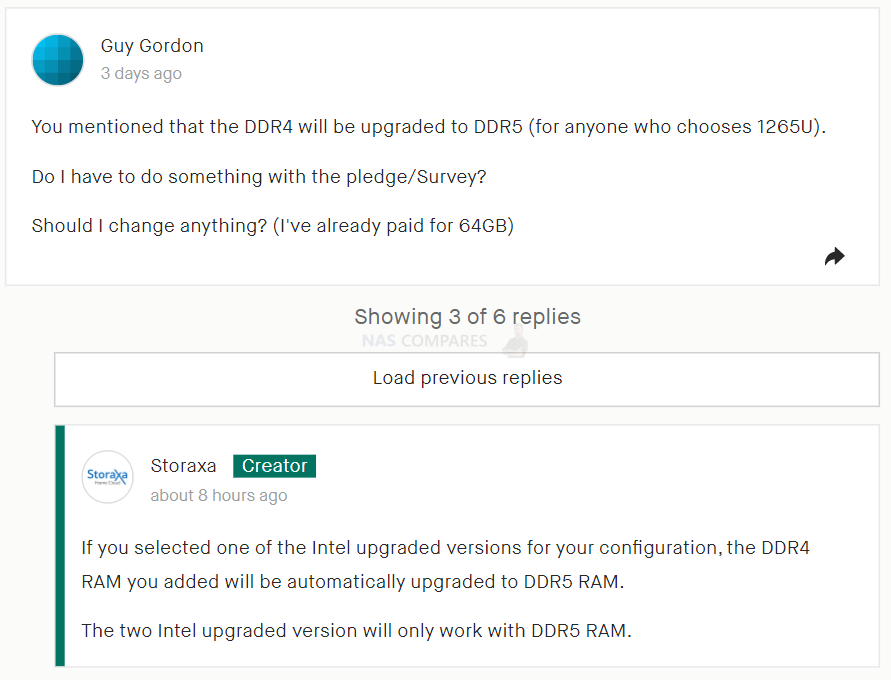 ---
Future of Storaxa NAS, Post Crowdfunding?
There was also a discussion of Storaxa plans post-fulfilment, with Storaxa clearly indicating that they plan on continuing production after fulfilment of Storaxa Kickstarter units concludes. Hopefully, this occurs after ALL backers have been satisfied, as it is not unheard of for some Kickstarter campaigns to introduce late-stage outside retail options in order to financially support the initial Kickstarter pledges, which might have been priced incorrectly. Again, there is NO INDICATION of this and it is perfectly normal/sensible for them to keep an eye on the future. Indeed, its actually a positive sign in many respects that they are thinking long term.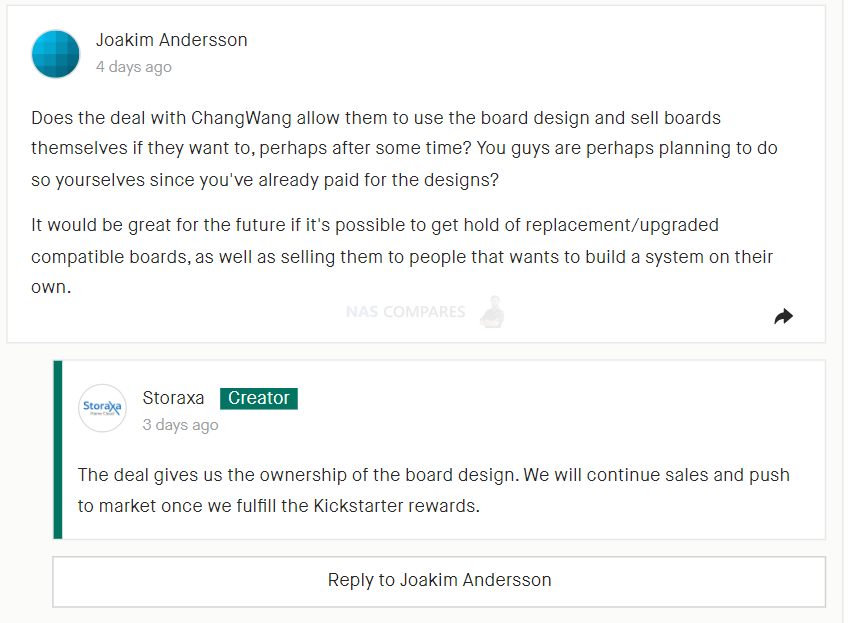 Talking of long-term thinking and planning, I have to give them credit for sharing some of the background finance matters of the project with backers. As the initial pledges and additional sums garnered by the dynamic pledgebox have rapidly increased the campaign total, Stripe (the financial management in the middle) has opted to hold 50% of the collected funds until the fulfilment of orders begins (for reasons of product and backer satisfaction). This is not unusual and quite a useful safeguard when followed correctly by the intermediary parties, but it is good that Storaxa showed this exchange. I would still have preferred these to not be behind 'backer only updates' and it doesn't change anything regarding fulfilment commitments, beyond the 2nd 50% of collected funds – but it's still a positive move by them to share this.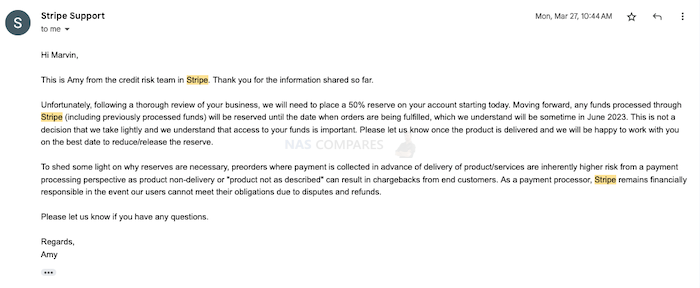 There is, of course, the argument that they lose nothing by sharing this and gain goodwill by doing so, but it's still a net positive. This is what they had to share:
"The result of the review is that Stripe will hold 50% of the funds from PledgeBox until fulfillment begins. Based on the payment terms outlined in the supplier contract, Stripe will distribute payments in the following manner: 50%, 35%, and 15%. We will keep Stripe updated with our mass production status in order to release the funds. For different components, we have to pay a deposit of 60% to 80%. For the main board we only need to pay a 50% deposit for mass production. Although we didn't expect any funds to be held by Stripe when they asked for the review, the total funds from Kickstarter (100%) and Pledgebox (50%) is enough for all deposits."  – Storaxa, April 12th Update
Storaxa also showed the current balance of funds collected at the time of writing: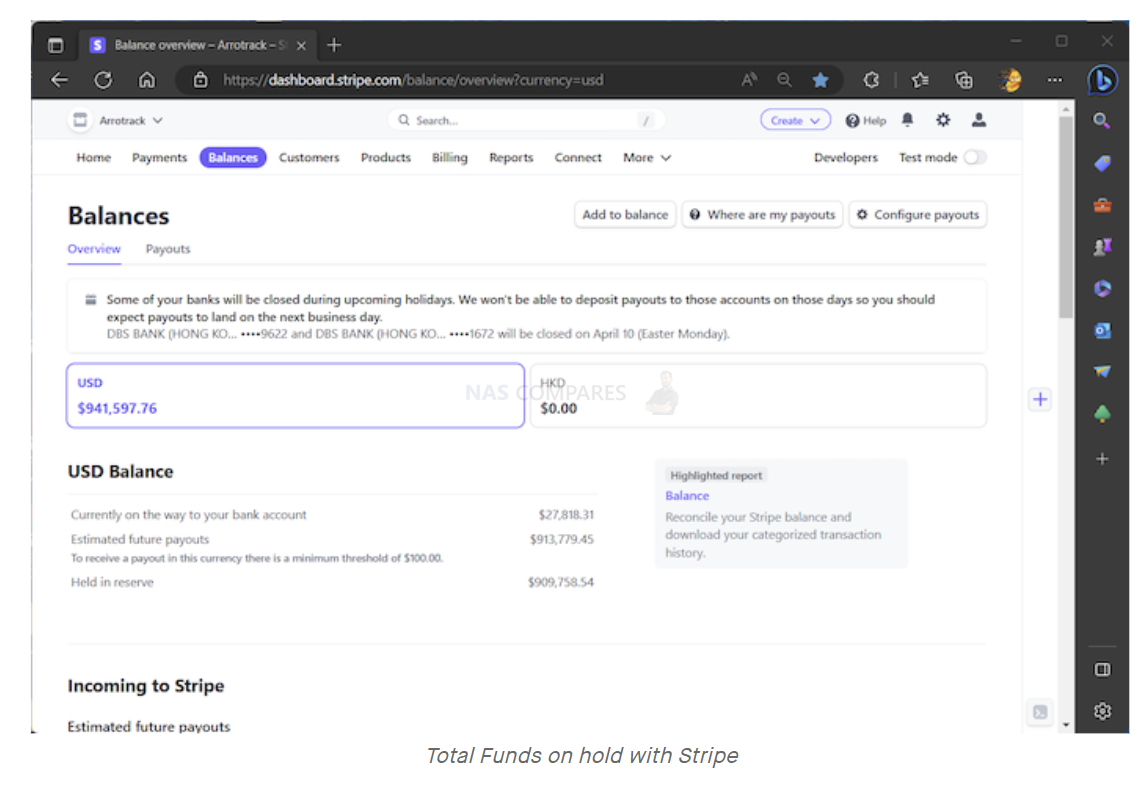 Lots of positive reception to this move (with merit) and high praise for this transparent move.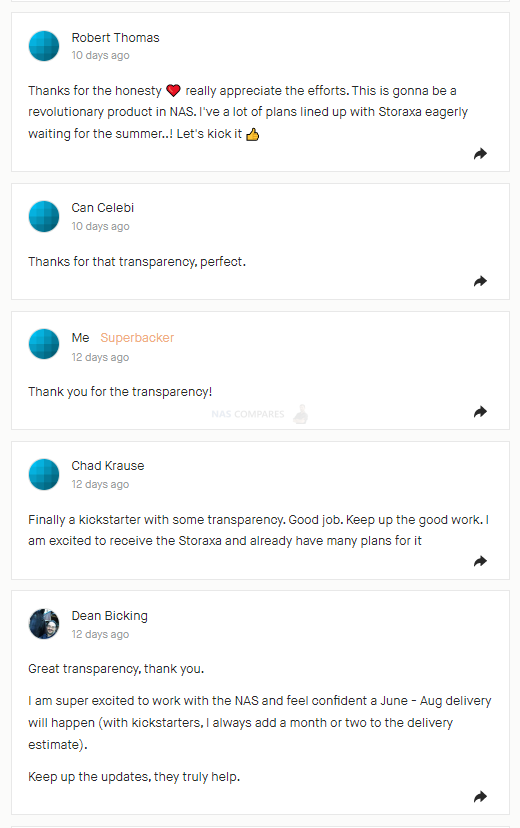 ---
AMD 5825U Layout Detailed
The manufacturer had completed the CAD of the main board for the pre-production sample.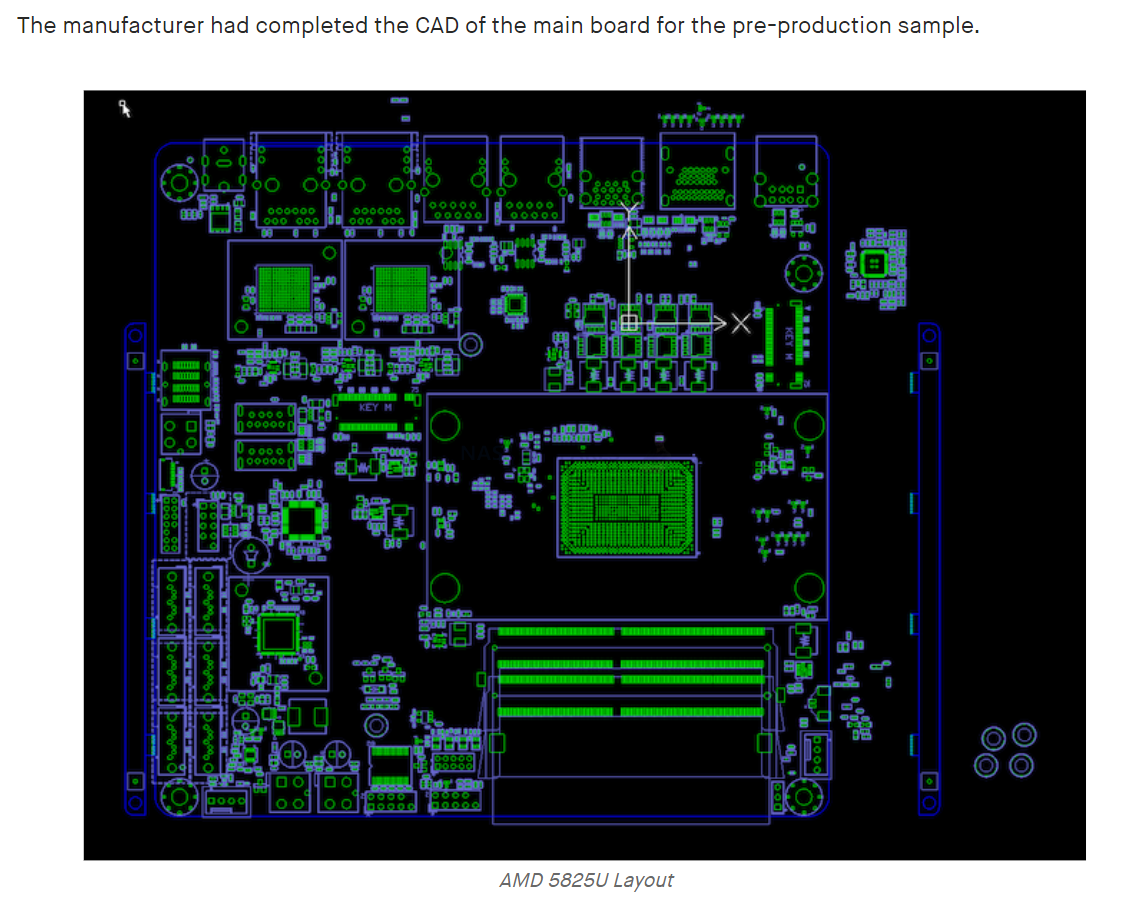 Intel Component Changes Highlighted
As previously mentioned, there layouts for the internal boards for the Storaxa for each configuration have started arriving and they stated that due to hardware shortages, there would need to be component changes:
"There is a delay for the upgraded Intel CPU schematic. The manufacturer discovered that there is a shortage for some of the parts in the design. So they need to change to parts with a more stable supply. All main features remain unchanged. It will be ready after April 3. We will publish an update once that is ready. This does not delay mass production. Backers who wish to see the schematics before finalizing their choices can rest easy, because the survey deadline is extended to end of April. " – Storaxa, March 31 Update
Later in a 2nd April 2023 update, they went on to show the system block diagram that factored in these component changes. These included upgrades to a DDR5 memory channel (which would lead to the free DDR5 upgrades mentioned above).
(later in the April 19th Update)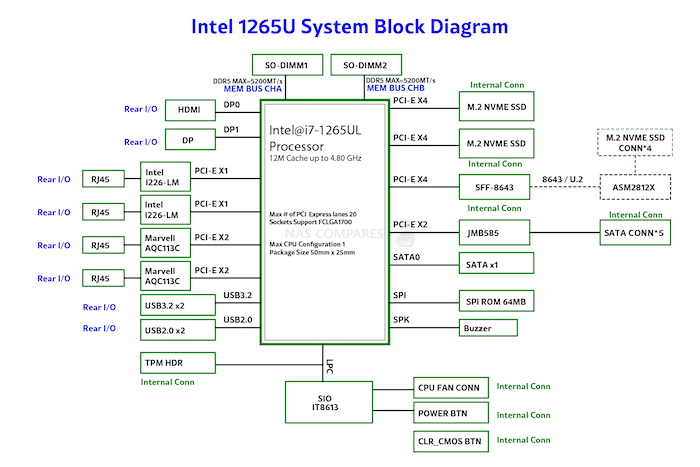 ---
Business
Address Changes
One slight fly in the ointment during the campaign this last month or so arose regarding the business address of Storaxa/Arrotrack. The campaign creators sharted a draft of the invoice that they would be using for finished order fulfilment and the address for this China/HK-based company had changed to a U.S/Denver address: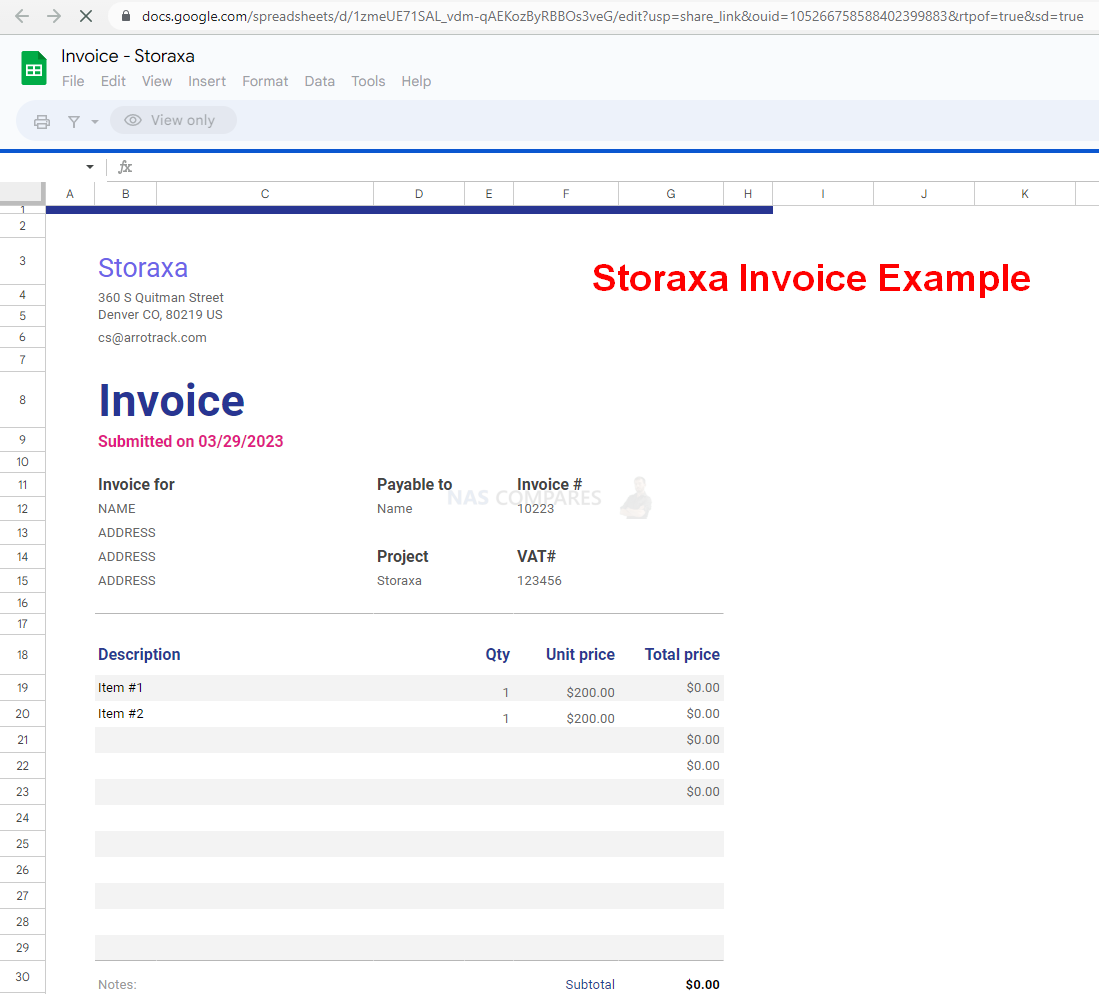 To confirm, the invoice stated '360 S Quitman StreetDenver CO, 80219 US' and the original Arrotrack company was Unit 1113, 11/F, Global Gateway Tower, 63 Wing Hong Street, Cheung Sha Wan, Kowloon, Hong Kong. This was confirmed in their own company documentation provided below: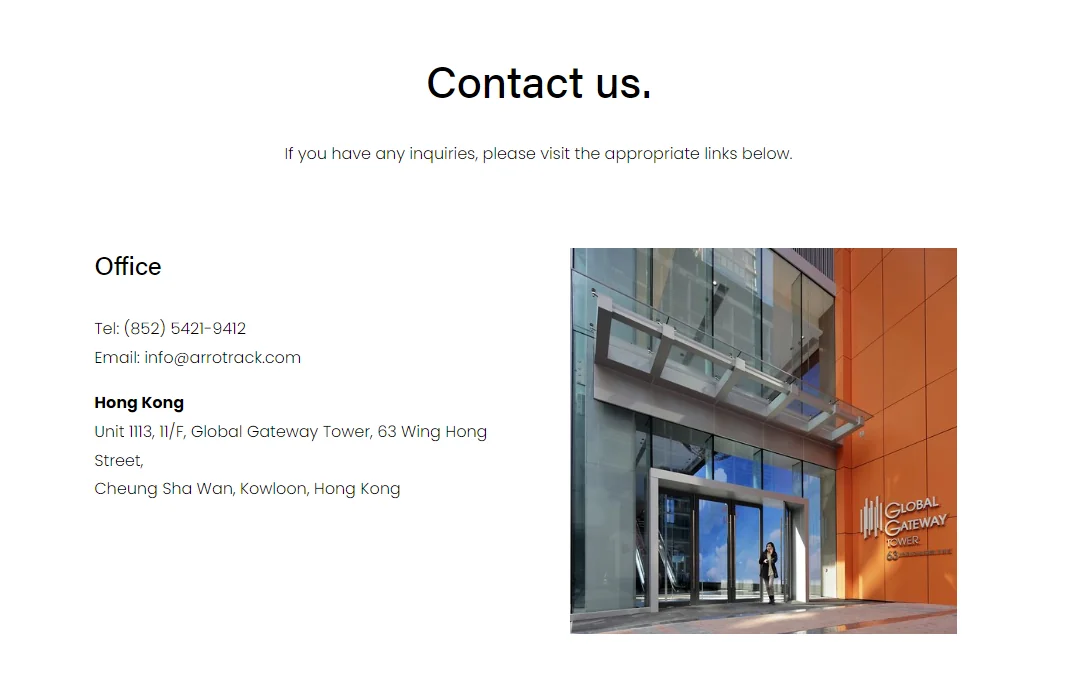 A quick Google of the new U.S register address showed a slightly underwhelming business location: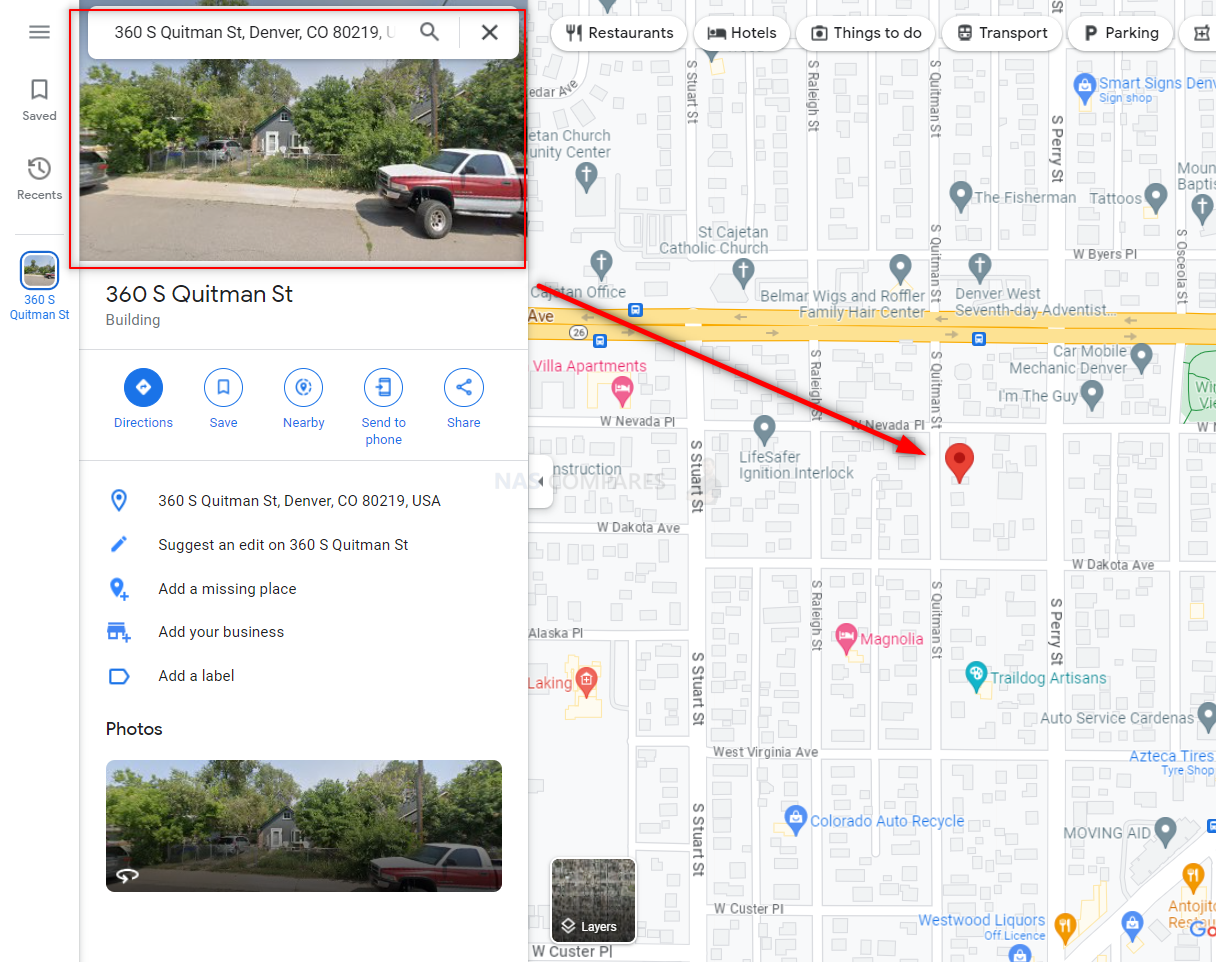 This did raise a few concerns in the comments section and (far play) to Storaxa; they were not being secretive about this address/location. Answering direct questions about this in the comments: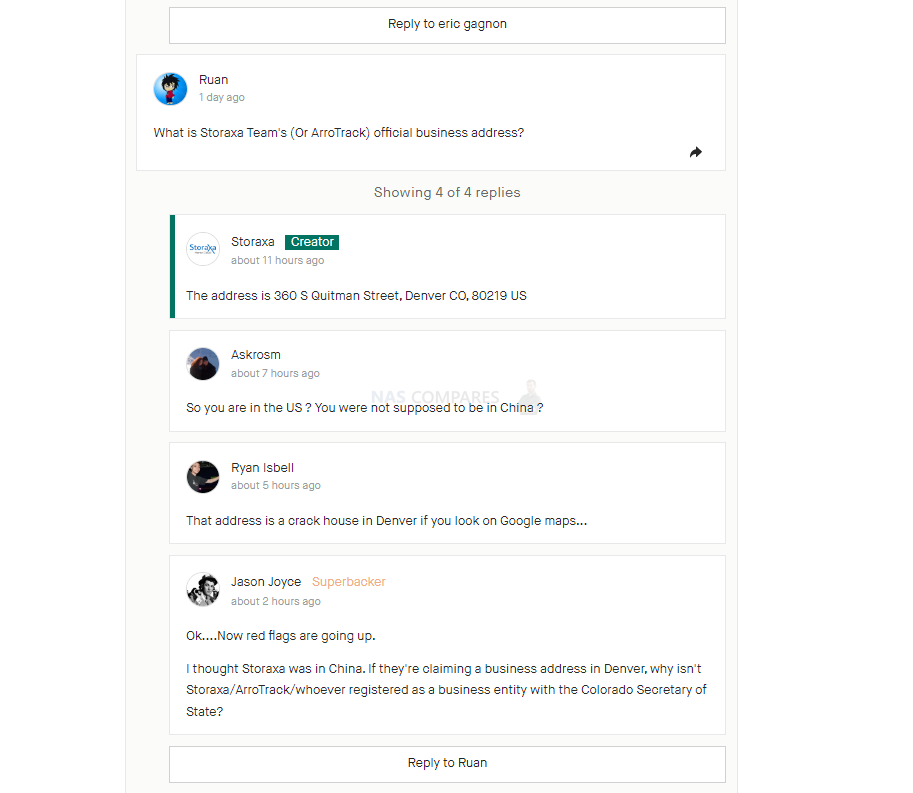 They did go on to further clarify reasoning for this, stating that it was needed in order to proceed with a crowdfunding campaign, due to local restrictions imposed on Chinese companies. The duality of the registered addresses was for reasons of finance and handling returns/shipping.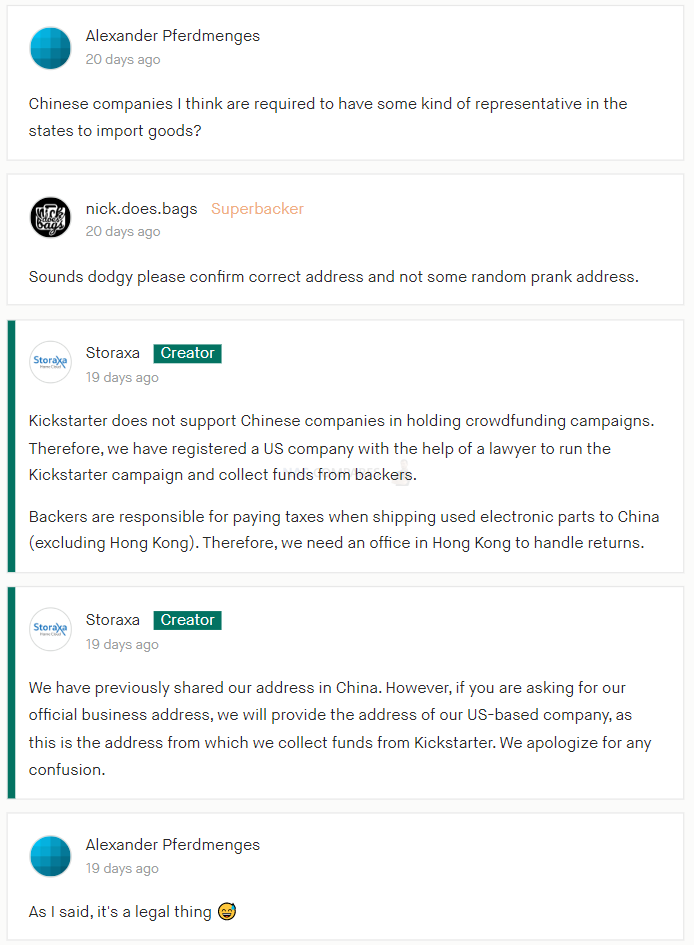 Below is the timeline for the first half of April and everything, bar the pre-production samples being shared directly with backers (direct images and real-world examples) was correct.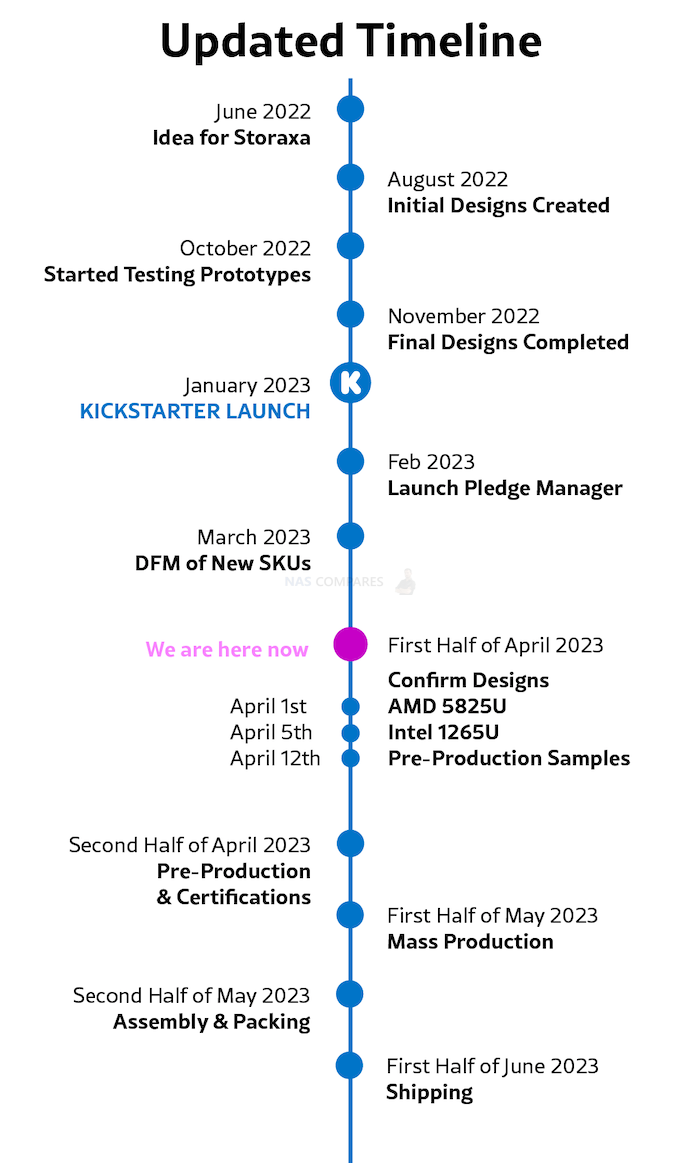 ---
At the start of April 2023, we asked Tom @Lawrence Systems for his perspective on the project, it's viability and his initial thoughts. It is worth highlighting that this was presented his immediate perspective and without any additional research on his part.
---
The March/April period also saw the Arrotrack/Storaxa site go live. Though in an early skeleton form that largely copied the content of the Kickstarter campaign (though the March 31st update was now publically visible)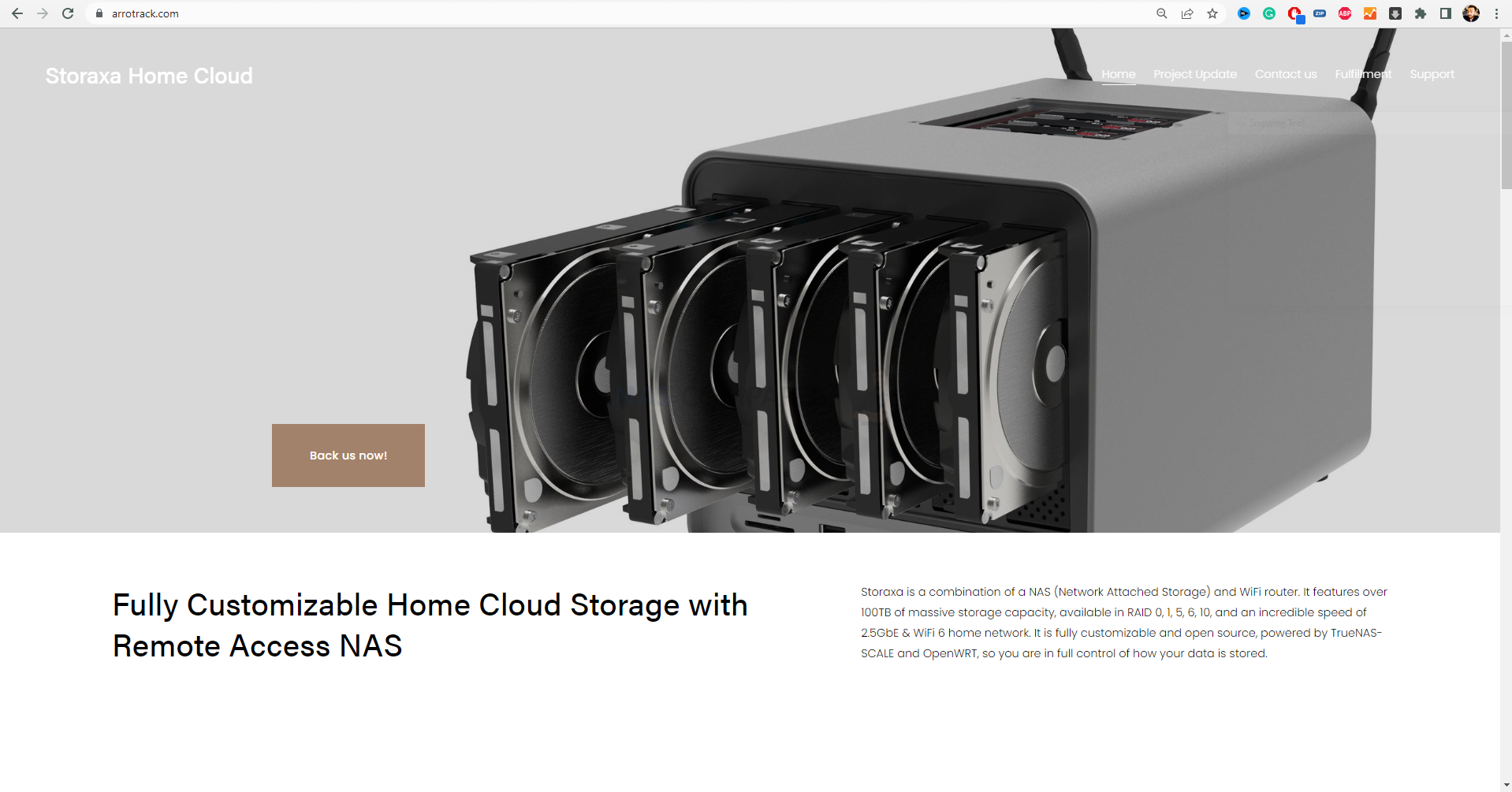 The domain ownership appears to be alot older, but according to waybackmachine the site has only really seen active changes in the last month or so (understandable).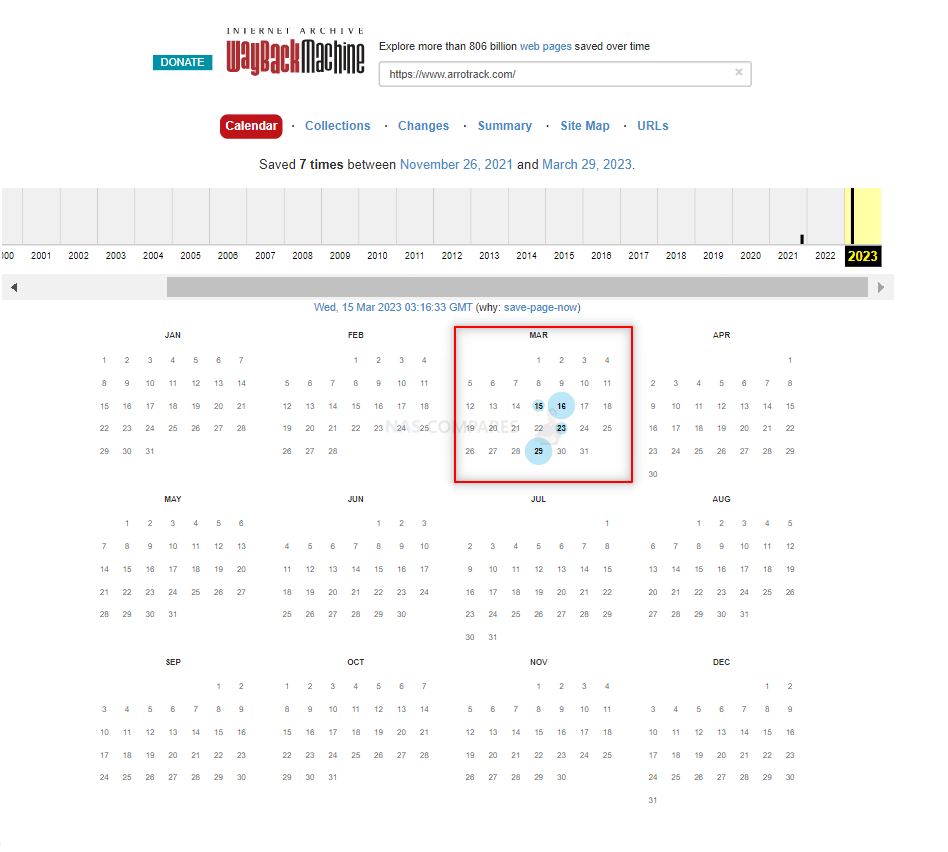 One notable thing is that although the number of unique and available pages was limited, the Fulfillment and Returns page is completed. This is quite surprising, given that the device has yet to or even finished production. This might seem a bit 'cart before the horse has bolted', but one could also argue that this is a further positive move by them that underlines that they intend to fulfill, but are also aware of the thin-ness of their profit margins to withstand cancellations at the 11th hour.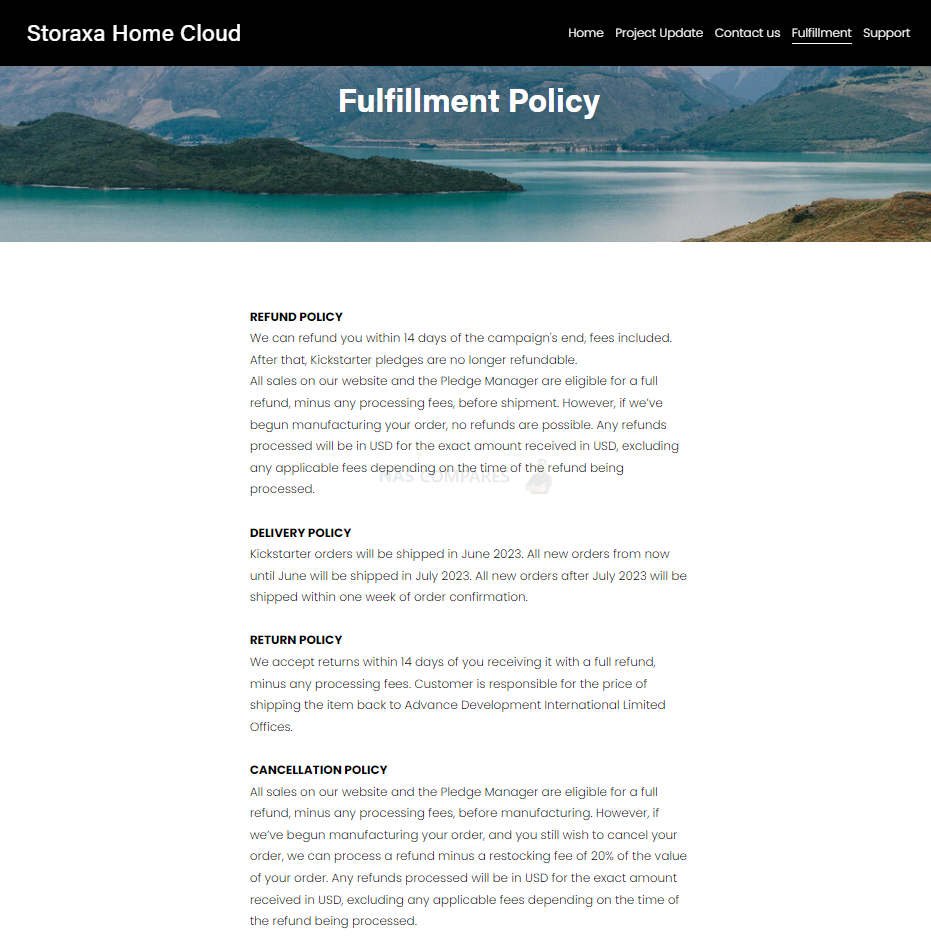 ---
Storaxa NAS –

March

Updates
The Storaxa timeline has now shifted forward, with pledges stated at 82% of completion as of 27/03. Likewise, the timeline has now been updated on the project by the Storaxa team:
Users who had access to the Pledge manager were given a considerable number of options with regard to customizing their Storaxa, with detailed pricing throughout. There were reported payment issues and bank authentication issues, but these were PlexBox/PlegeManager related. If a user wanted to stick with the default configuration (Intel N6005, 16GB DDR4, WiFi6, 120GB SSD, 2.5Gx4), The Lowest Priced Storaxa NAS Configuration remained at $274:
This slideshow requires JavaScript.
However, the range of configurations was surprisingly diverse.
Configuration Options –  Wireless Module #1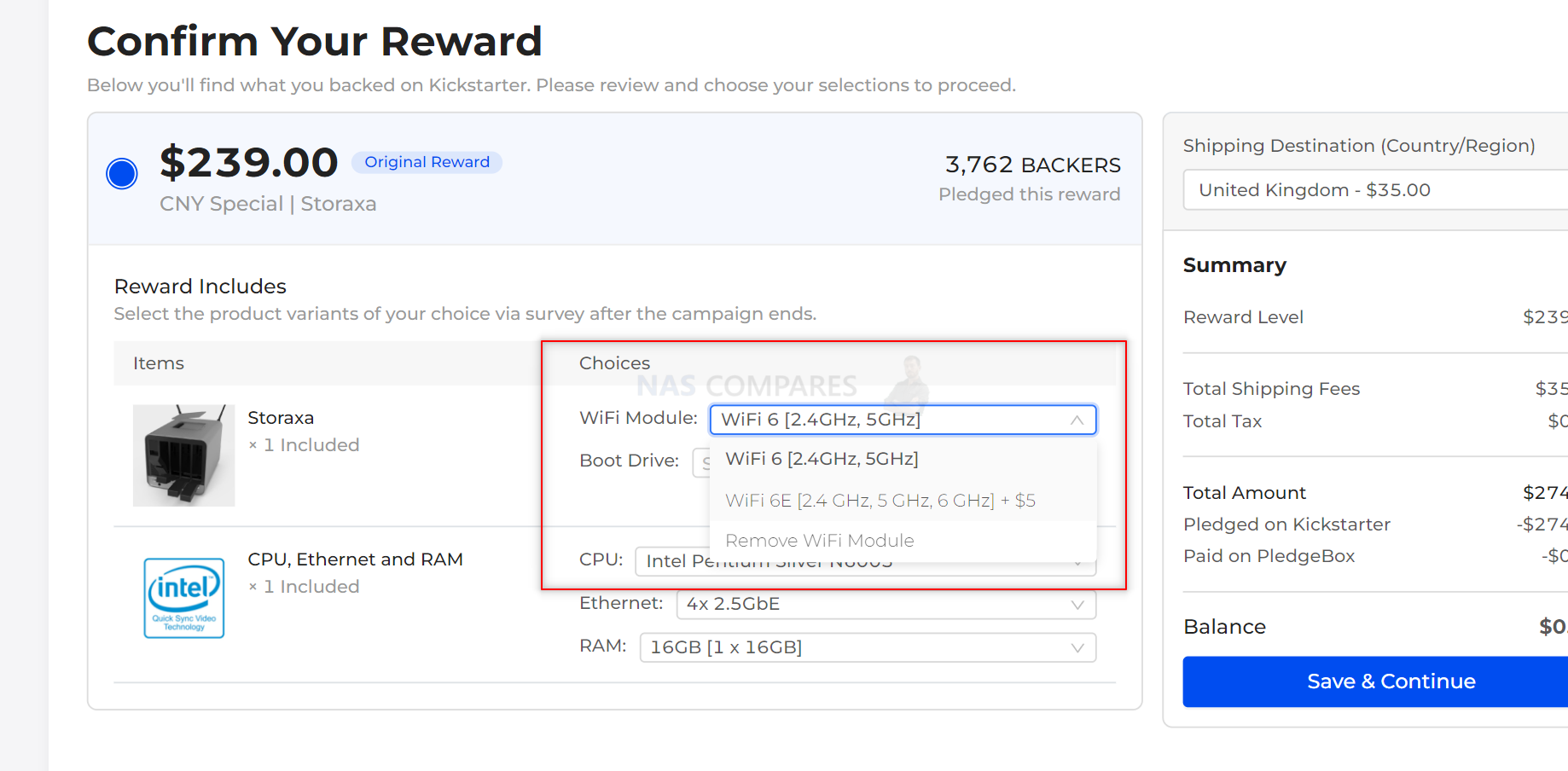 Configuration Options – OS Drive #2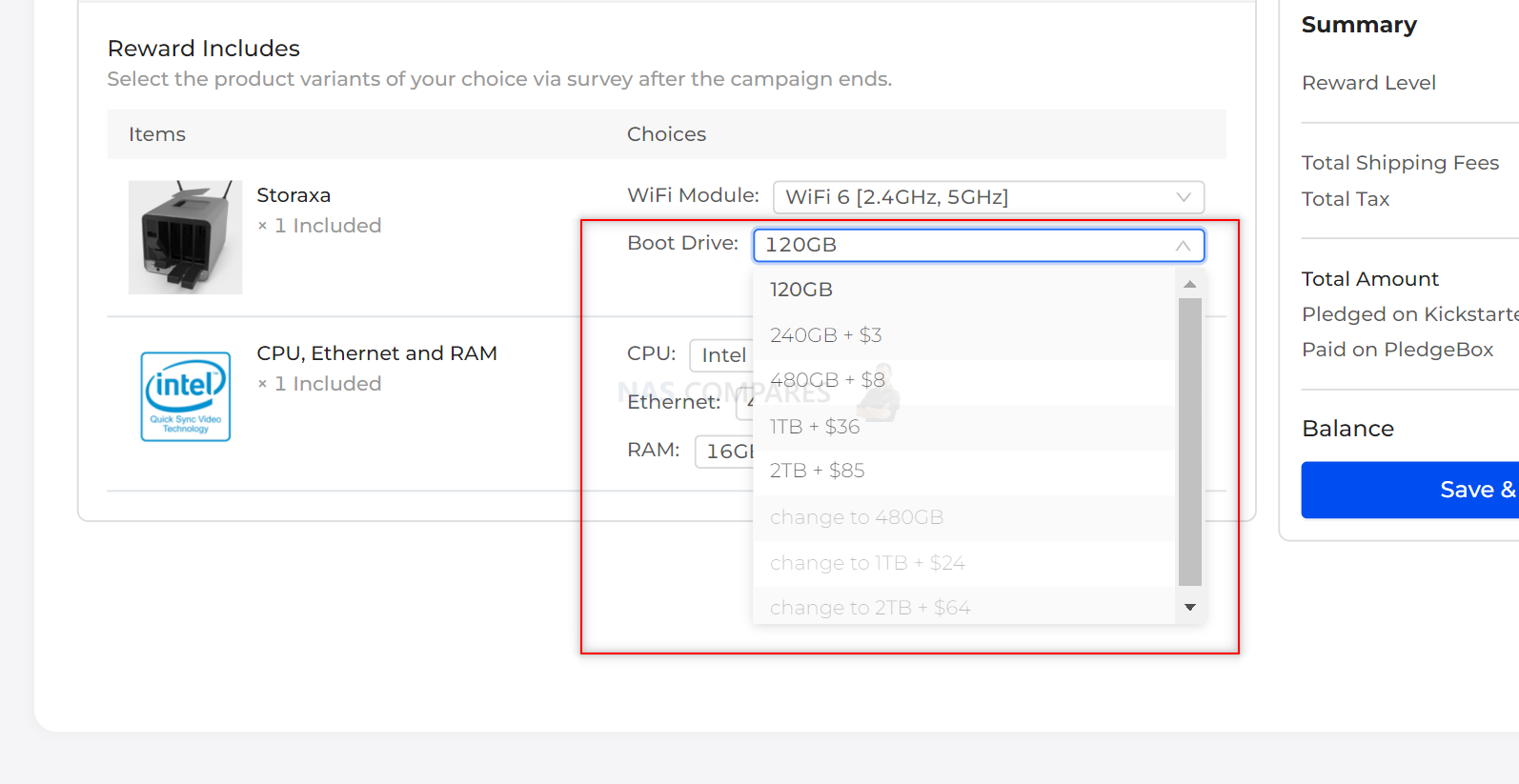 Configuration Options – CPU Choice #3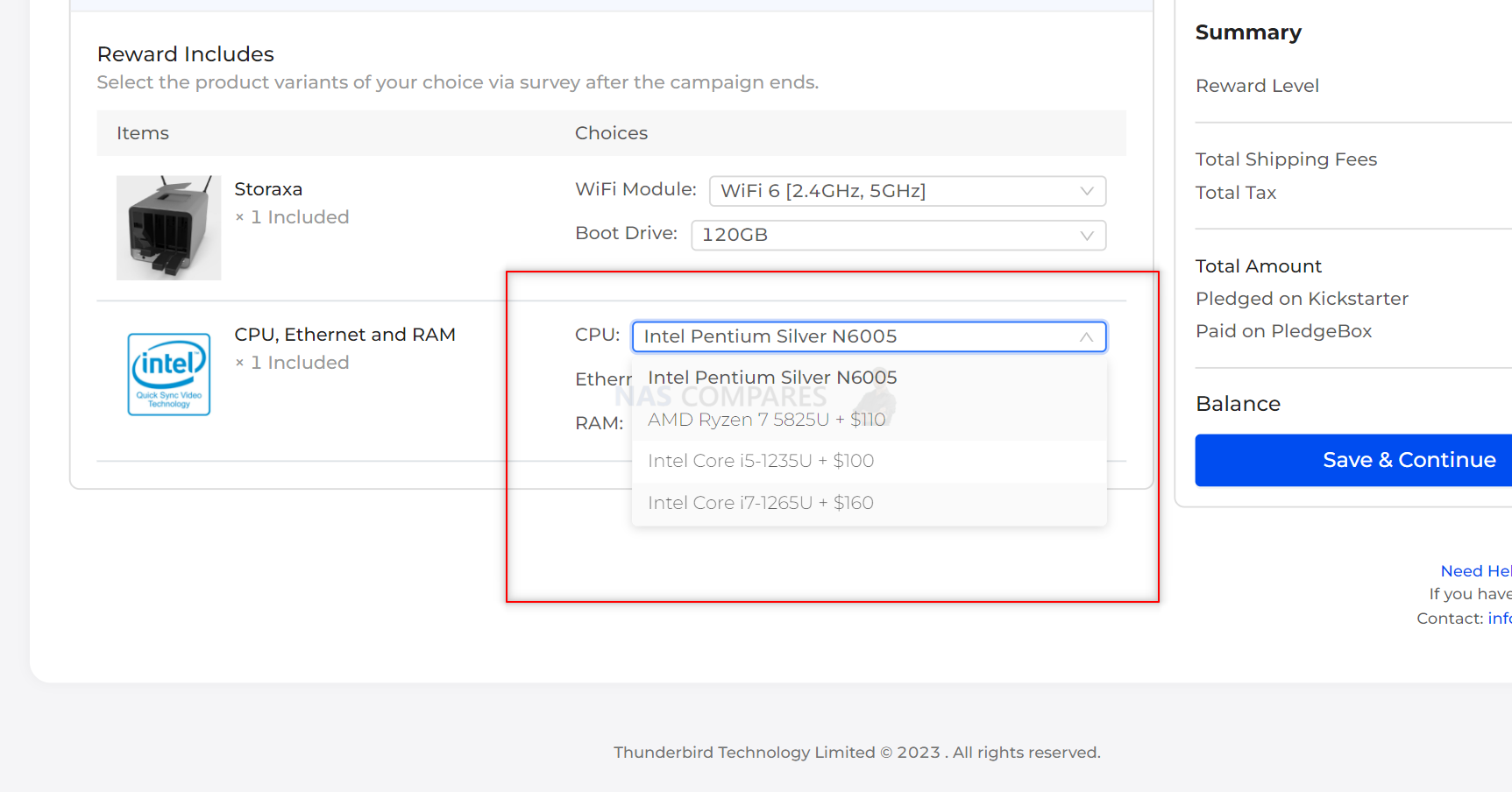 Configuration Options – Network Connectivity Choice #4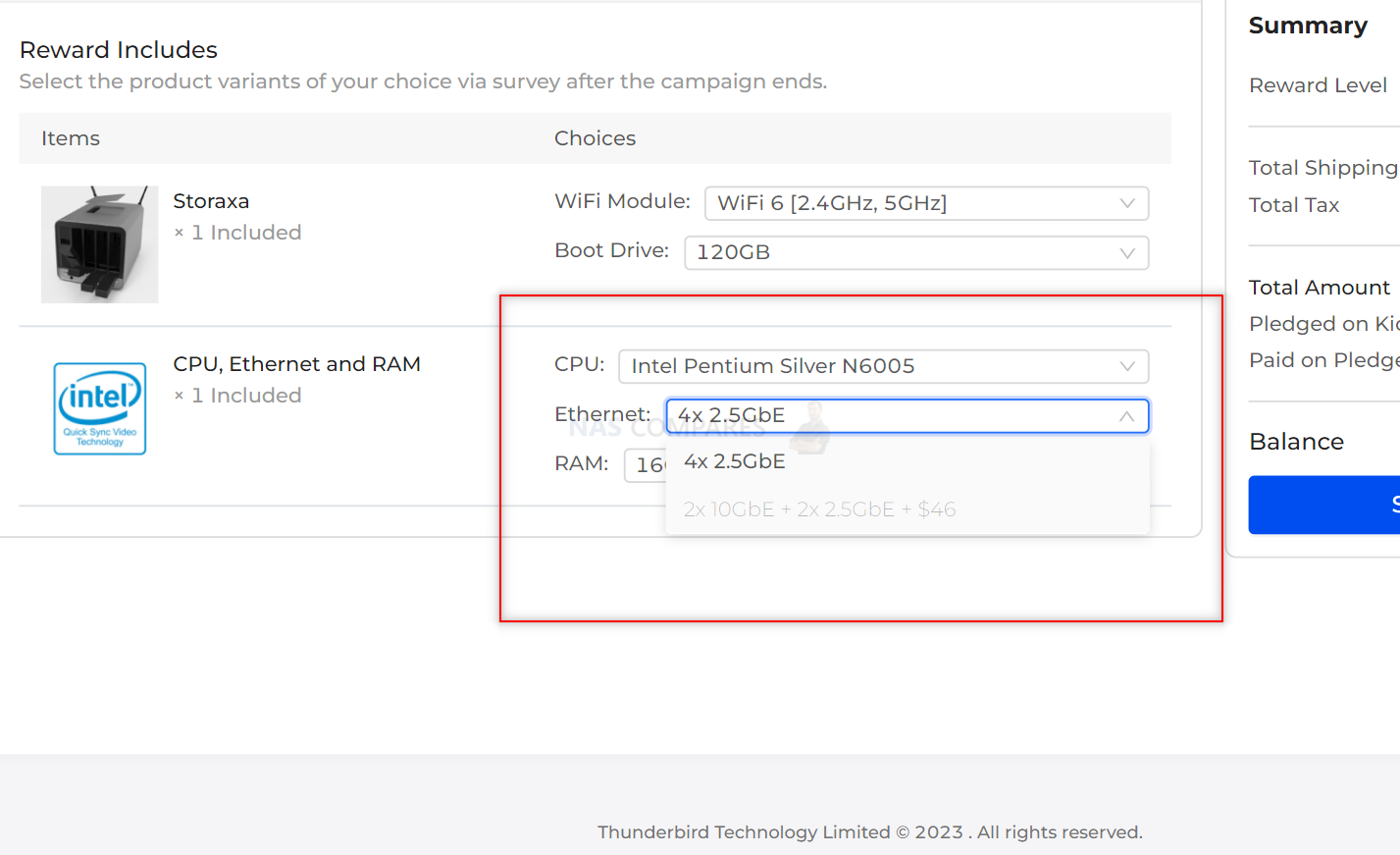 Configuration Options – Memory Capacity Choice #5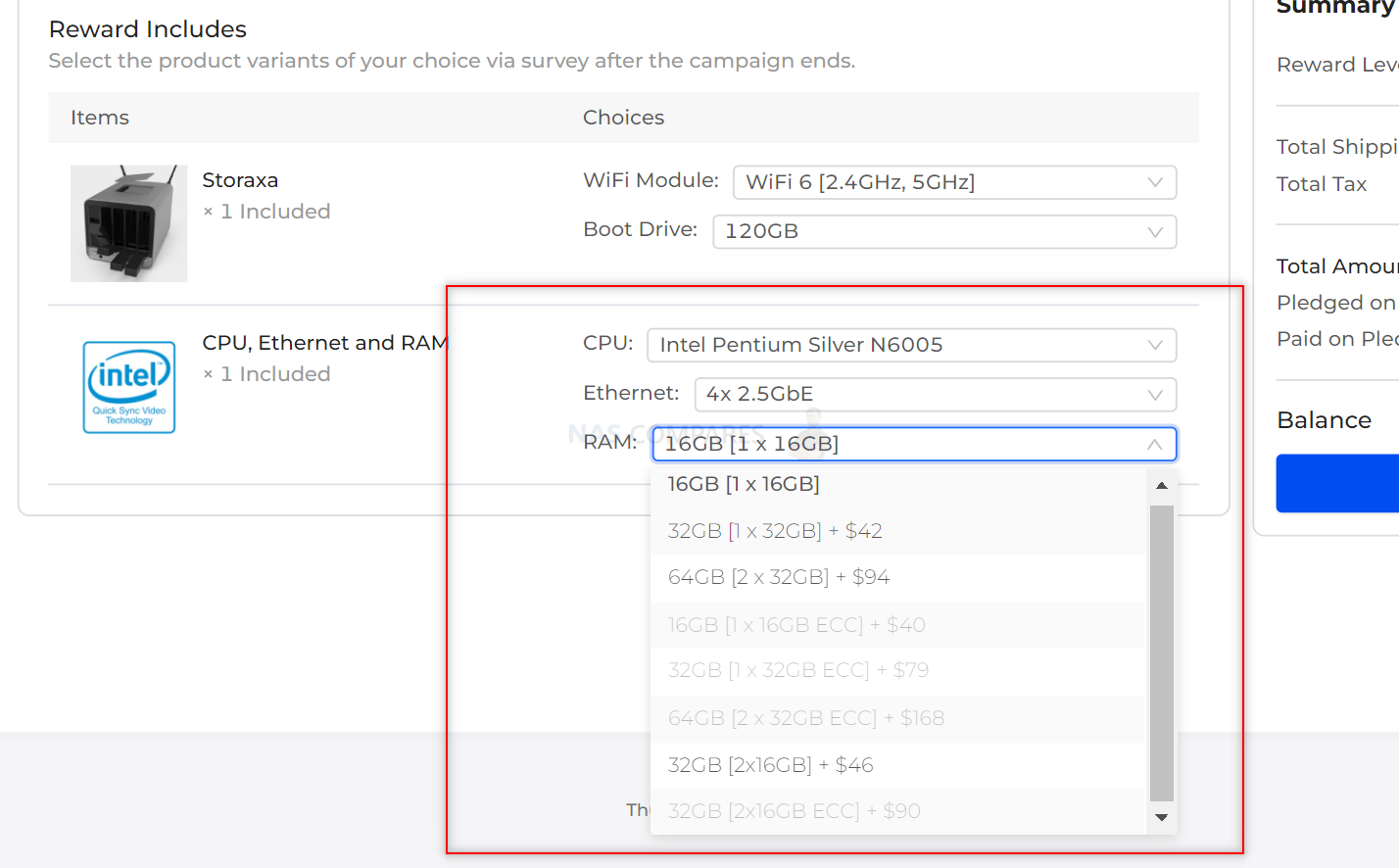 If you wanted to scale the Storaxa up to the maximum configuration of the system (Intel i7-1265U, 64GB DDR4, WiFi6e, 2TB SSD, 10Gx2, 2.5Gx2), that increased the price by $390, making the Highest Priced Storaxa NAS Configuration at $664: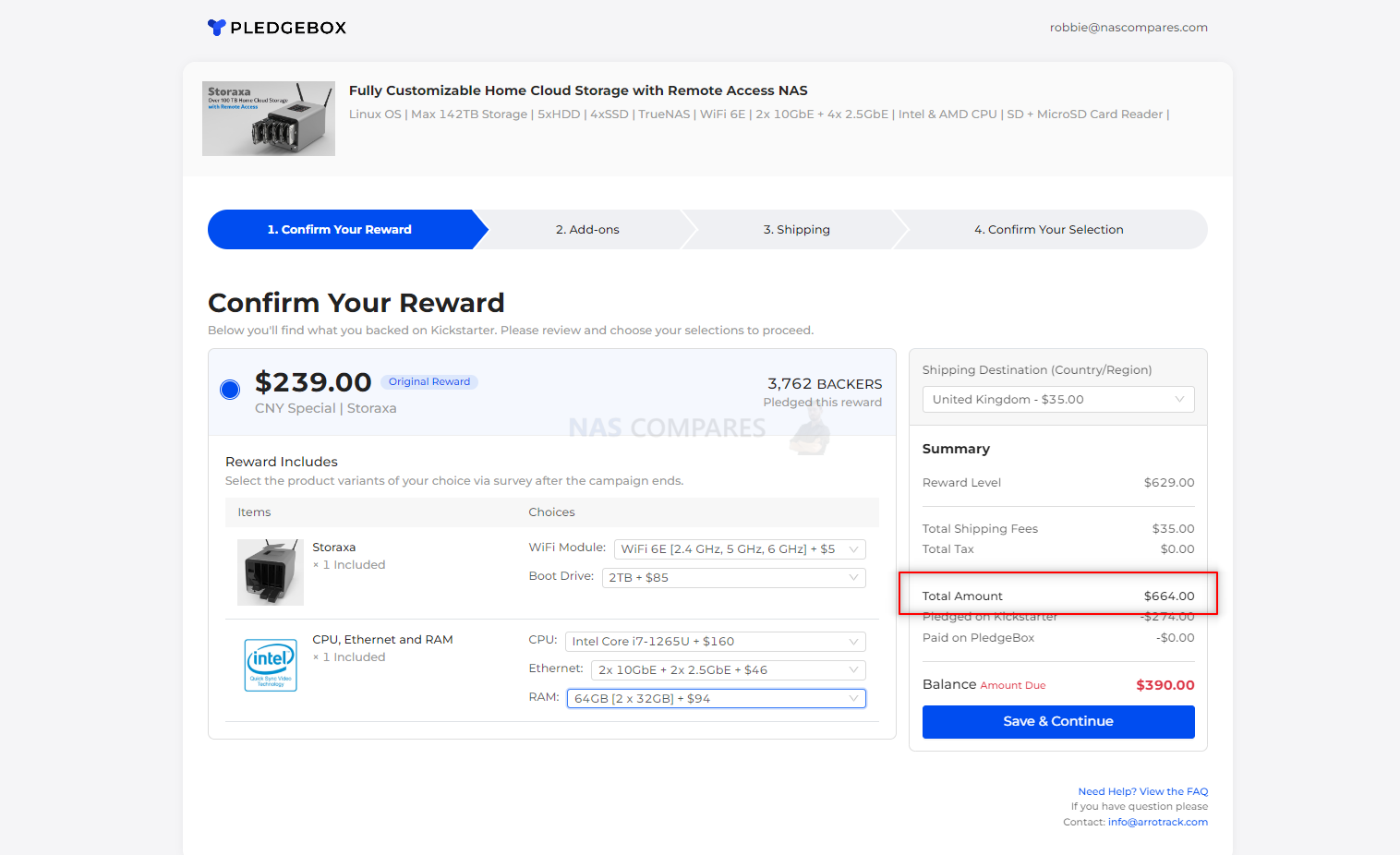 There were also additional options for adding additional Storaxa NAS systems, storage media, spare PSUs and drive adapters.
The Optional Add ons and Media Choices Available: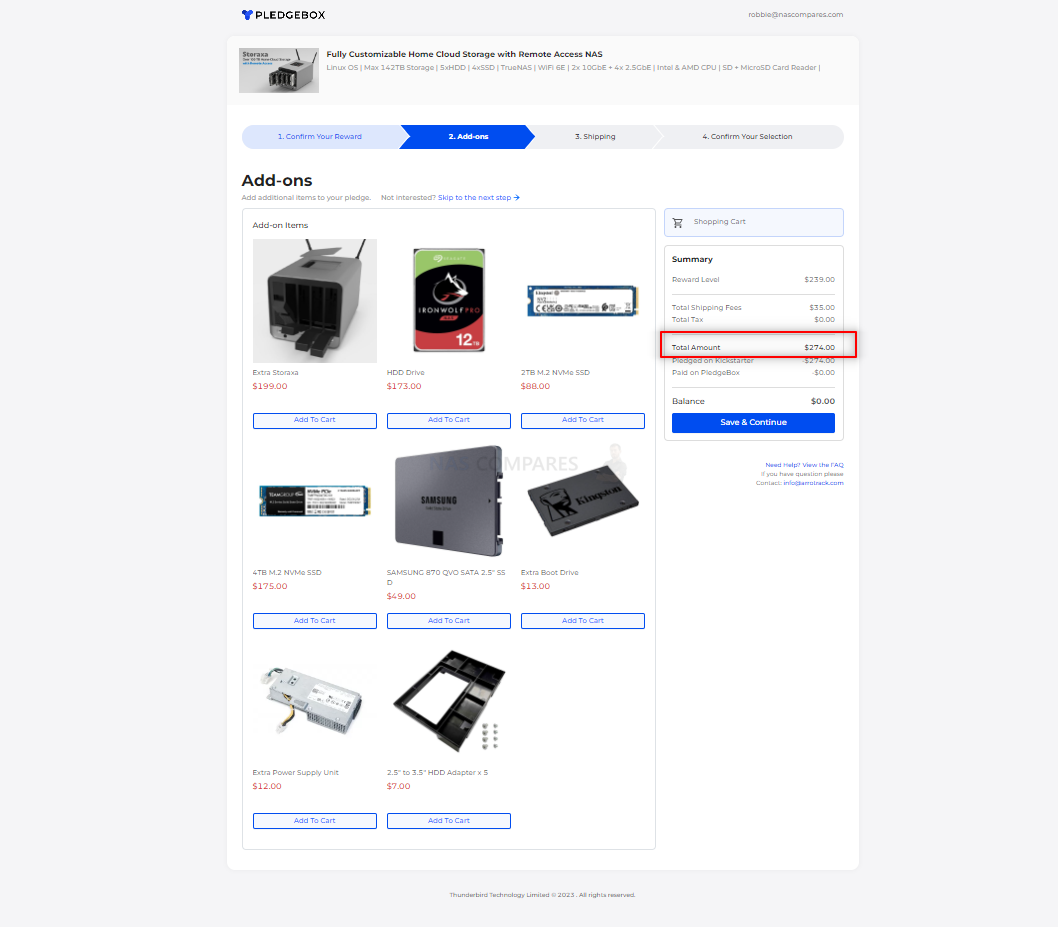 So, if you wanted to opt for the Storaxa system with 20TB Seagate Ironwolf Pro', 4TB WD Black SN850X PCIe4 SSDs and spare Boot disk, the Maximum Specification Storaxa System was priced at $2899.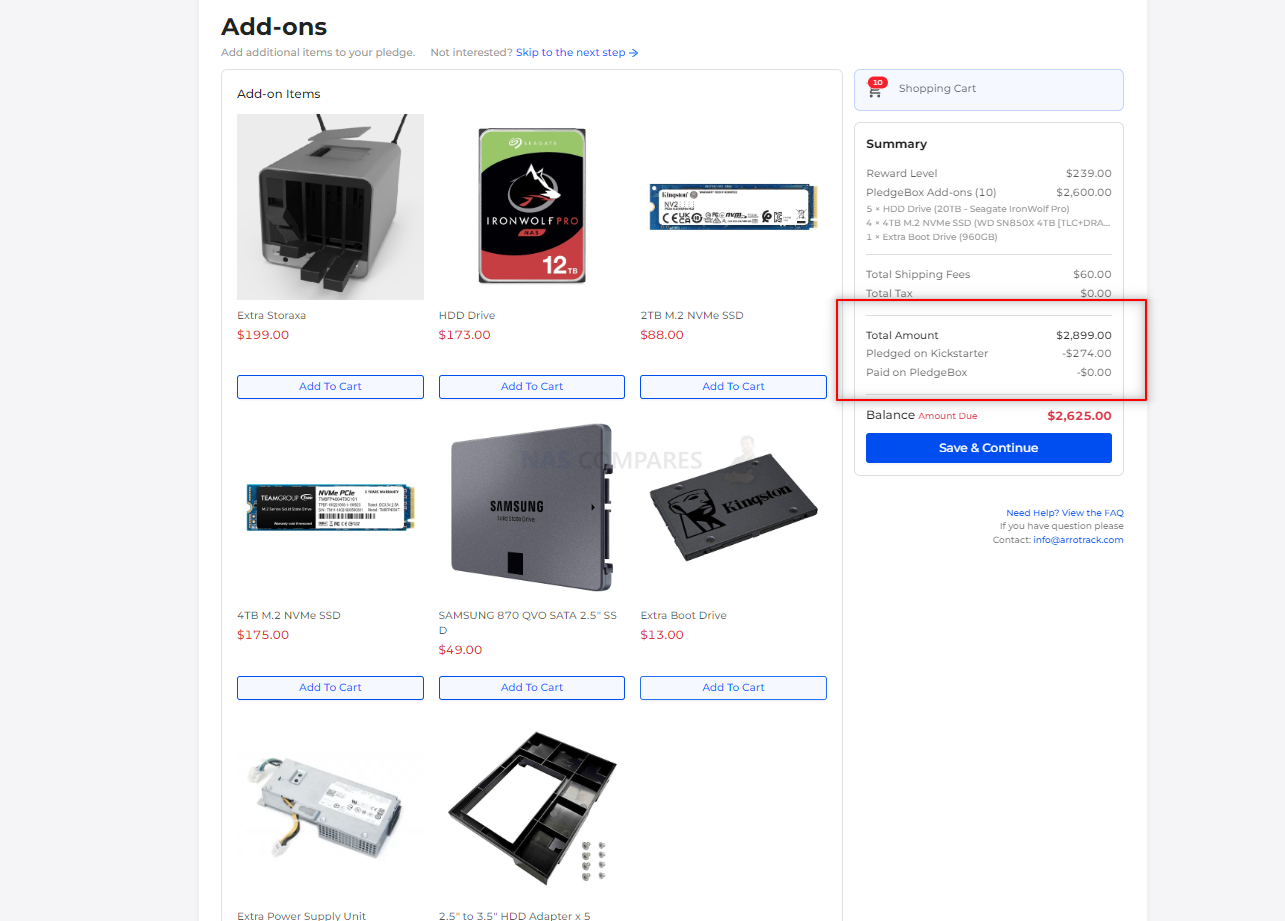 For perspecitve, the QNAP TVS-h874 8-Bay NAS (no media included, 32GB, no 10GbE) is currently priced at approx at $2498 (one example below):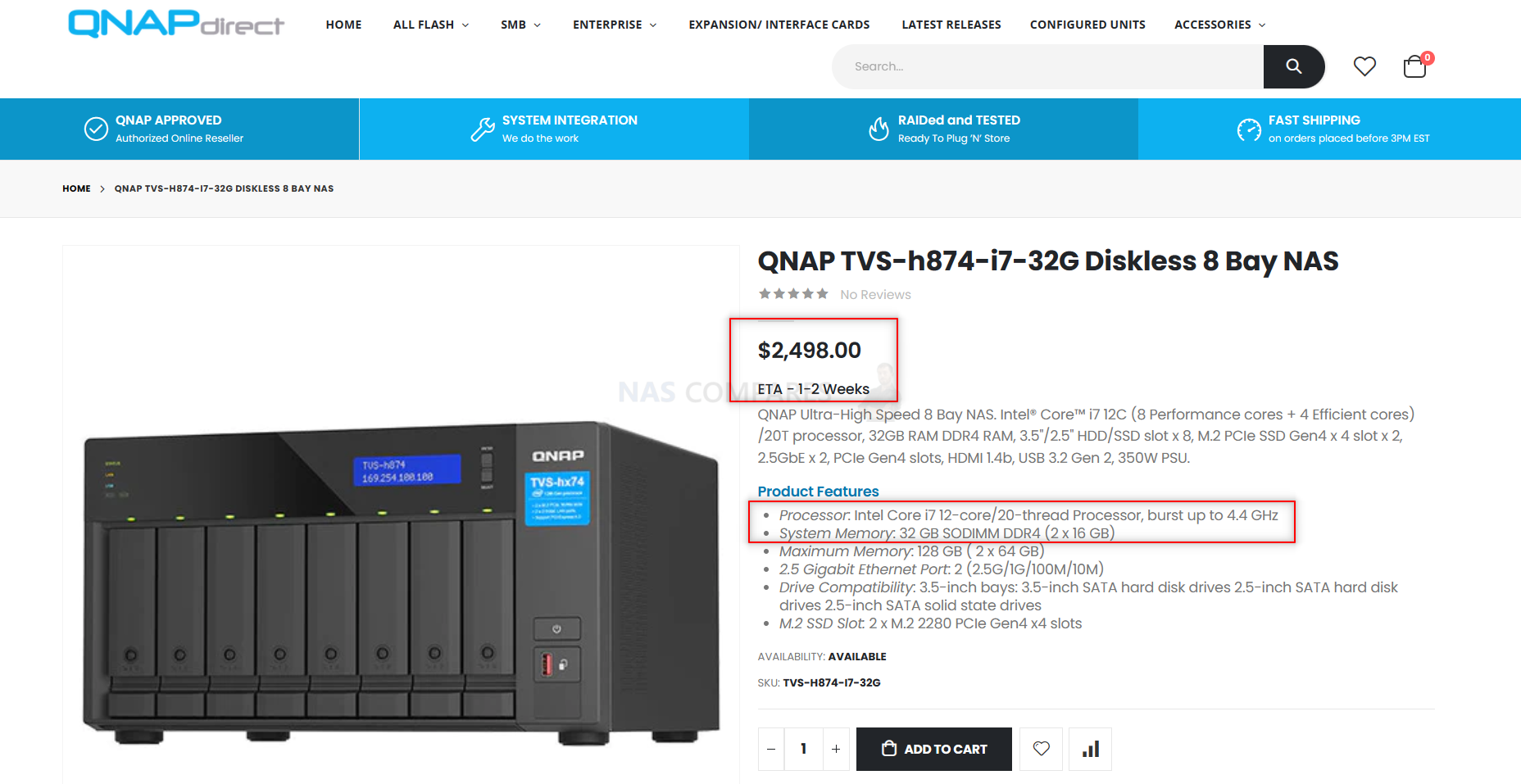 That is a huge saving indeed. This once again makes me want to hope that devices like this can/do happen and can give biggest/etablished names in the NAS industry pause for thought!
Elsewhere. there was continued back and forth regarding concerns about the CWWK board and the diminished SATA speed potential vs the bandwidth/lane allocation across the system (Most detailed example HERE). The Storaxa Team responded 5 hours later, highlighting that the default/baseline configuration will have these more limited bandwidth issues. This is something that many more experience tech users/builders had postulated earlier in the crowdfunding stages, but less experienced users or those less familiar with CWWK/Topton systems seen online might have been less aware. This is another one of those points of presentation where the simplicity of the solution in the initial Kickstarter videos and bullet points have glossed over the capabilities of a system at this pricepoint: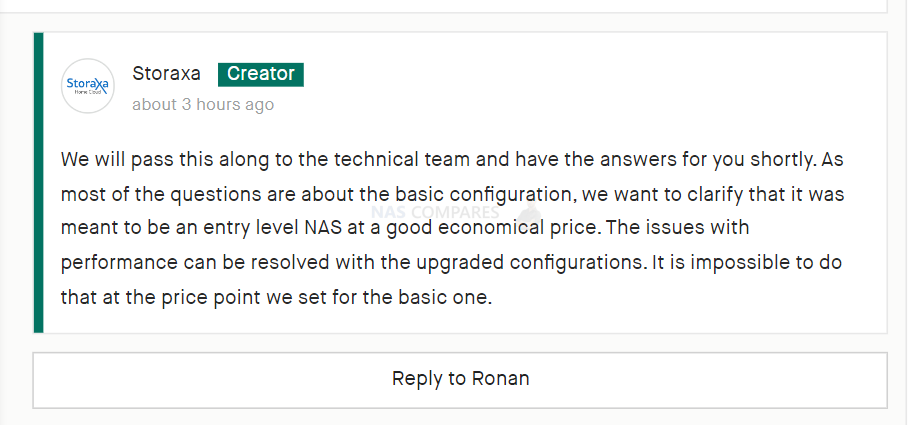 Below was our March update that goes into more detail about the pledge manager and pricing comparisons:
Video Chapters
---
Storaxa NAS –  Late

Feb '23

Update
When the Kickstarter concluded, it passed all stretch goals and at the time of writing, the stats are:
"5,917 backers pledged $1,924,001 to help bring this project to life."
Regarding the Pledge Manager (for users to customize/confirm their order), it arrived a week later than expected, as Storaxa stated Pledgebox recommended aiming for the 25th Feb, so funds would be appropriately wired over and to eliminate errors when exporting backer pledges from Kickstarter to PledgeBox). Additionally, there were further breakdowns on the Storaxa page regarding the Schematics and Main board/layout of each configuration, detailed as follows:
Before we start, here is a schematic diagram of the main board with the key components. Please click on the image to view the diagrams for all the other CPU configurations. You can refer to these diagrams to help you choose your options. For experts and backers with advanced knowledge on NAS, these may be enough. 
This slideshow requires JavaScript.
After several requests for updated videos of the system being connected and from multiple angles, the following was provided in the backers-only area and via unlisted videos:
Uncut, Unedited Demo
Here is the uncut unedited demos as requested. We included a different angle to show all the cables and you can see that WiFi is disconnected and nothing is under the Storaxa. It can be viewed in 4K so you can see everything clearly. 
As per further updates and details on the stretch goals that were hit during the progression of the campaign, they proposed that they would  include an additional 32GB SD Card with all Sotraxa purchases after the campaign hits $1.9 Million (which it did). Their original update:
Also we have decided on the Stretch Goal #5. For the final stretch goal, we want to add something that won't increase the SKU and something that everyone can benefit from. Once we hit $1.9 million, we will include one 32GB microSD card with the recovery image for all Storaxa units. You can use it to store snapshots and since you can always leave it in the slot, it won't be easy to lose.
Regrding shipping, Staraxa state that they worked with a backer volunteer to test ship an item as a demonstration of the means of shipping to the EU and that it was received without any additional tax/customs payments being required:
One of the most asked questions was about extra VAT, customs and taxes that backers will need to pay regarding shipment to the EU. We have already explained that our forwarder has included all customs and taxes in their quotation and they will send it in a way to avoid extra charges to the recipient. During one of these discussions, a backer volunteered to help us test this shipping method to see if any additional VAT was charged. We were contacted by that backer yesterday after she received the package without any extra VAT.
Video Chapters
---
Storaxa NAS – Too Good to be True?

The Initial Pitch
The initial campaign from the Storaxa group for this NAS was made up of several elements. It arrived with a production video that made the system look easy to use and access, not uncommon in this kind of kickstart project presentation. The initial general outlined specifications were:
Base/Entry Storaxa NAS Specifications
Linux OS (Promox Base, TrueNAS Scale & OpenWRT VMs)

Max 142TB Storage

5xHDD

4xSSD

TrueNAS

WiFi 6E

2x 10GbE + 4x 2.5GbE

Intel & AMD CPU

SD + MicroSD Card Reader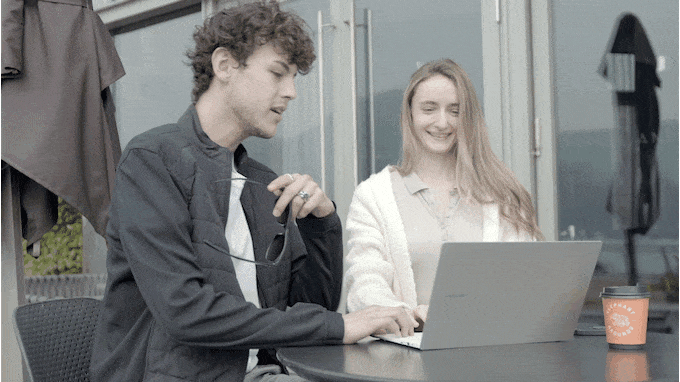 The design is pretty much the main thing that stood out. The actual casing, at least as far as a 5x SATA bay chassis) is fairly standard, but it is only when you factor in the additional 4x M.2 NVMe 2280 SSD bays and twin rear dual band antenna that the unique design that is being proposed here standards out notably.
This slideshow requires JavaScript.
Sketches and 3D plans of the Stroaxa NAS chassis were shown, as well as a breakdown of the main component placement on the internal motherboard were also shown. This was one area where questions arose around PCIe lane distribution and potential heat concerns around the project. Some of these concerns were answered in the comments section, whilst others were approached in the backers-only section. Kind of odd that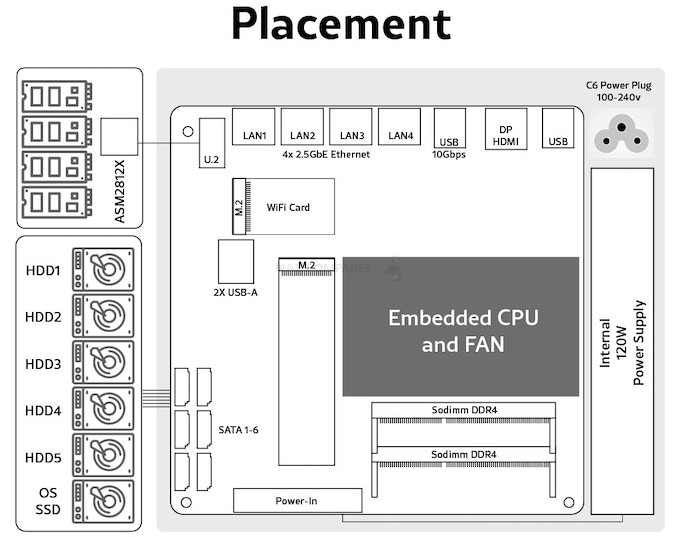 Here is the breakdown of the hardware in the base line Storaxa NAS (further configurations were rolled out later on after a backer poll was conducted):

Hardware Specifications of Initially Proposed System:
Intel N6005 Pentium Silver CPU (Quad Core, x86, 2.0 – 3.3Ghz)

Integrated Graphics, 450Mhz – 900Mhz

16GB 3200Mhz SODIMM (non-ECC) Memory

Five SATA 3.5″ Hard Drive Bays (2.5″ SSD with adapter)

Four M.2 NVMe SSD 2280 Slots (Gen 3)

Internal 128/120GB SSD (OS Drive, OverP Considerations)

WiFi 6 (802.11ax), Twin External Antenna and Dual Band

4x 2.5GbE Network Connections

HDMI 2.0 4K 60FPS (+DP)

3x USB 3.2 Gen 2 (10Gb/s) Type A/C and 2x USB 2.0 Type A

20cm x 18cm x 26cm Chassis

Twin Rear Cooling Fans and Heat dissipating casing
Here is a similar board below, from the Storaxa pages: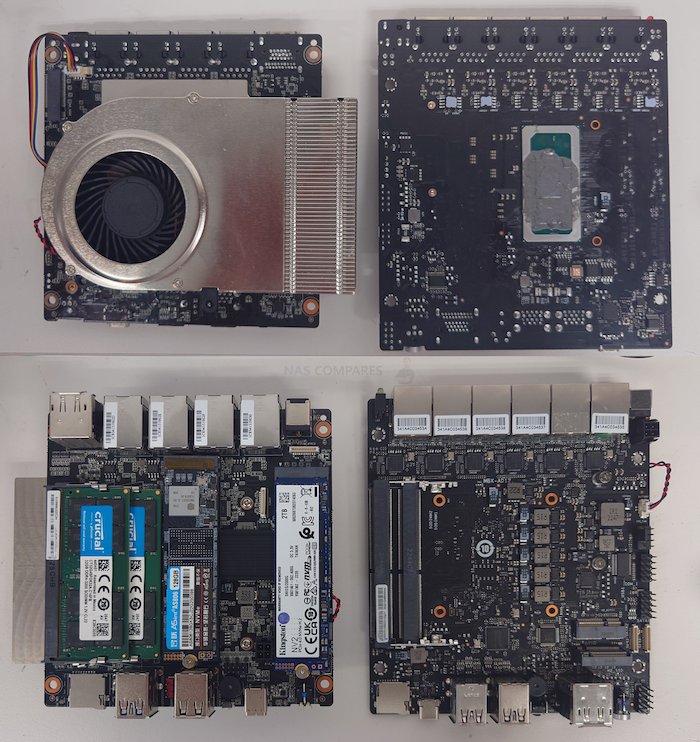 Now, as mentioned, Storaxa has stated that they are using an existing hardware architecture for the internals of the Storaxa, providing a few examples of the architecture and references deep in the comments section. Long before this though, blogs and forums (once again, I have to give props to Reddit and STH here) had already called out that it was likely the boards used in Mini PCs under the TopTon and CWWK branding. An example of which we reviewed – CWWK AIO-T6 6-Bay NAS Review. Bang For Buck? (Massive Review and Hardware Breakdown) HERE on NASCompares
For a closer look at how the CWWK AIO-TT6 NAS looks, you can use the gallery below. 
This slideshow requires JavaScript.
Alternatively, you can watch the video review below (SELF PLUG ALERT!!!):
Following repeated questions by some users about the background of the team,, the team appeared on a video published on a backer-only update on the 9th Feb '23:
Additionally, It is worth highlighting that they had already detailed their key members in the initial Kickstarter presentation (repeated below):
The Storaxa NAS Team Members:
Marvin He is responsible for the industrial design. He made use of a 3D printer to print the structure and design from CAD. He printed and tested all the parts, and made sure the assembly is feasible and easy. 

Matt Wang

 is our electrical engineer. He is responsible for two parts in the development of Storaxa. Firstly, he communicates with the PCB supplier and solve related technical issues. Secondly, he confirms all the specifications and design of the PCB that connects with the SSDs.

Keith Zhou

 is our procurement and logistics executive. When there is shortage for different parts in making Storaxa, he will find substitutes for engineers and PCB suppliers. He is also familiar with VAT for importing and exporting, as he worked in an international logistics company for the past year.

Thomas Li

 is our system engineer. All of Storaxa's software development is created by him. For example, he decides which Linux distribution to pre-install, and test the compatibility and reliability between software and hardware

Li-Sau Man (Karen)

 is responsible for PR and customer service. Alongside strong writing and editing skills, she has a good understanding of digital communication channels and tools. She is effective in circulation of internal and external communications including newsletters, campaigns, speeches.
In a backers-only update, there was further information on the Plex Media server performance of the Soraxa, in an unlisted YouTube video. Again, it is good to see some test benchmarks and user case information to relate with, but these videos being unlisted still seemed unnecessary. Original text below from Feb 3rd:
Testing Plex with AMD 5825U
The easiest way to run Plex on Storaxa, is to install the Plex app in the Truenas-SCALE official app catalog. To ensure the system is not constrained by memory, we installed 64GB of RAM, and assigned 50+ to the TrueNAS-SCALE VM. We prepared H.264 30fps 1080p videos, and stream at 720p so as to force Plex to transcode. The streaming client is a MacBook pro connected via an ethernet cable. We managed to run six player instances  simultaneously, each playing a different video, without noticeable stutter.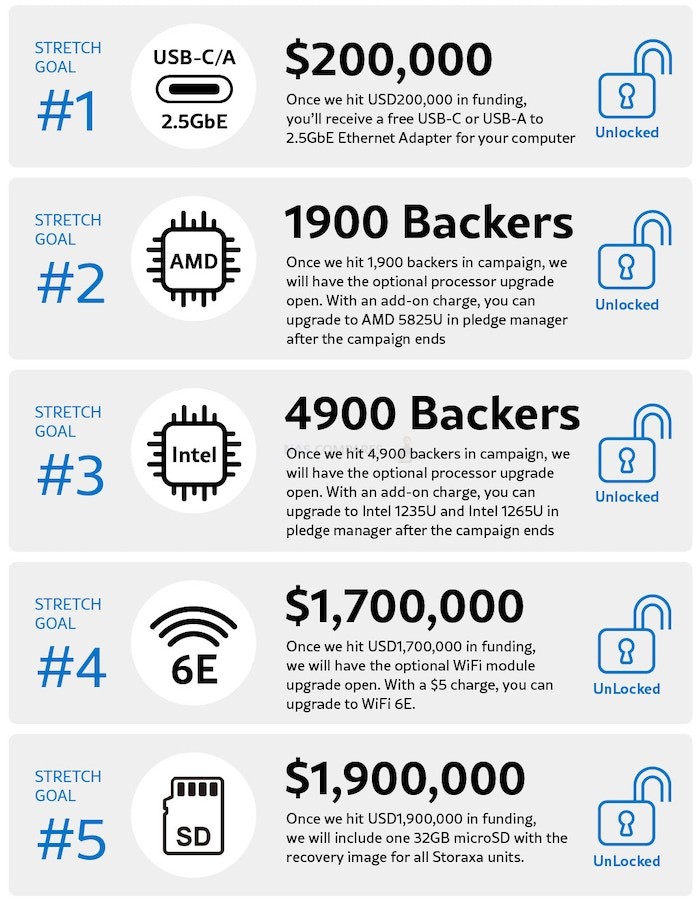 It is worth remembering that alot of the information above was to only backers, which is still rather odd and only reasons of patent/IP protection might cover this – but it would be an odd stance to take on only the smaller % of the details. Nevertheless, I want to remain optimistic. It is not impossible that the Storaxa can be released and be a good product for the price point, but we are still talking pretty thin margins! For example, a similar Topton/CWWK/etc board can be purchased with the same N6005 CPU, SSD and 8GB of memory for £246 (so, approx $339) on Aliexpress. There are lots of differing examples under different brand names, but here is an example: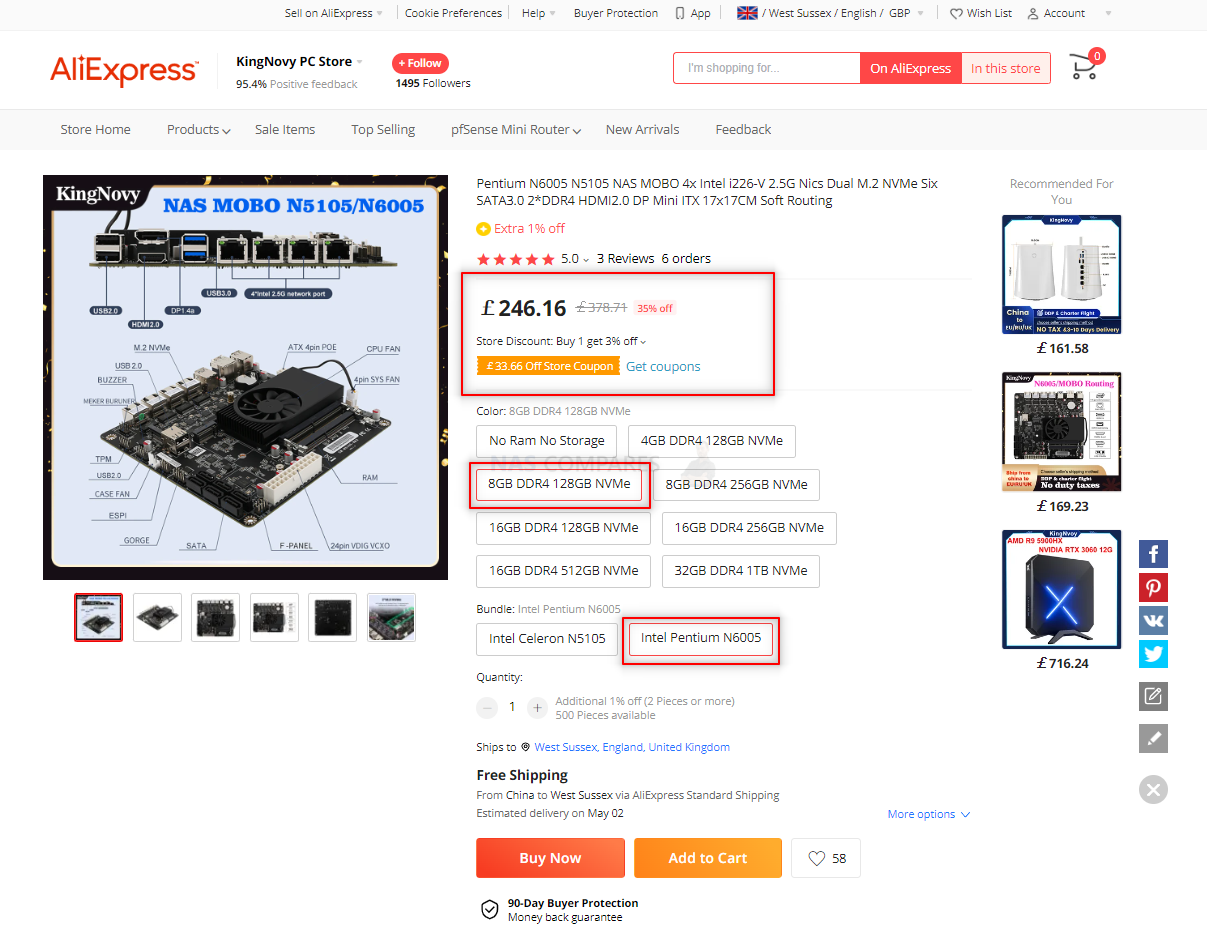 And the baseline Storaxa NAS (no add-ons, just the Intel Pentium N6005, 120/128GB NVMe, WiFi 6 module and 16GB of memory) comes in at $274. And that also has to include the casing, antenna, testing, time spent with software installation and testing/Q.C (PLus that free 32GB Memory card too now). Even if you factor in the profit margin that sellers on AliExpress need to factor in per sale vs the savings made possible by bulk buying by Storaxa team at the production level – that still leaves a remarkably narrow profit margin. It was this, plus the comments sent my way, odd presentation inconsistencies (nothing big, but blips here and there) that led to the video below:
Video Chapters
---
📧 LET ME KNOW ABOUT NEW POSTS 🔔
Join 1,750 other subscribers

Get an alert every time something gets added to this specific article!



This description contains links to Amazon. These links will take you to some of the products mentioned in today's content. As an Amazon Associate, I earn from qualifying purchases. Visit the NASCompares Deal Finder to find the best place to buy this device in your region, based on Service, Support and Reputation - Just Search for your NAS Drive in the Box Below
Need Advice on Data Storage from an Expert?
Finally, for free advice about your setup, just leave a message in the comments below here at NASCompares.com and we will get back to you.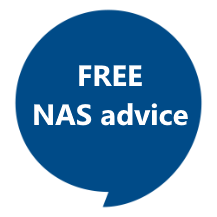 Need Help? Where possible (and where appropriate) please provide as much information about your requirements, as then I can arrange the best answer and solution to your needs. Do not worry about your e-mail address being required, it will NOT be used in a mailing list and will NOT be used in any way other than to respond to your enquiry.
TRY CHAT
Terms and Conditions
If you like this service, please consider supporting us. We use affiliate links on the blog allowing NAScompares information and advice service to be free of charge to you.Anything you purchase on the day you click on our links will generate a small commission which isused to run the website. Here is a link for
Amazon
and
B&H
.You can also get me a ☕
Ko-fi
or old school
Paypal
. Thanks!To find out more about how to support this advice service check
HERE
If you need to fix or configure a NAS, check
Fiver
Have you thought about helping others with your knowledge?
Find Instructions Here

ASK NASCompares forum, by clicking the button below. This is a community hub that serves as a place that I can answer your question, chew the fat, share new release information and even get corrections posted. I will always get around to answering ALL queries, but as a one-man operation, I cannot promise speed! So by sharing your query in the ASK NASCompares section below, you can get a better range of solutions and suggestions, alongside my own.

If you like this service, please consider supporting us.

We use affiliate links on the blog allowing NAScompares information and advice service to be free of charge to you.

Anything you purchase on the day you click on our links will generate a small commission which is

used to run the website. Here is a link for

Amazon and B&H

.

You can also get me a ☕

Ko-fi

or old school

Paypal

. Thanks!

To find out more about how to support this advice service check

HERE

If you need to fix or configure a NAS, check

Fiver

Have you thought about helping others with your knowledge?

Find Instructions Here

☕ WE LOVE COFFEE ☕

Or support us by using our affiliate links on Amazon UK and Amazon US