The Synology HD6500 Rackstation 60-Bay NAS is REAL and it is COMING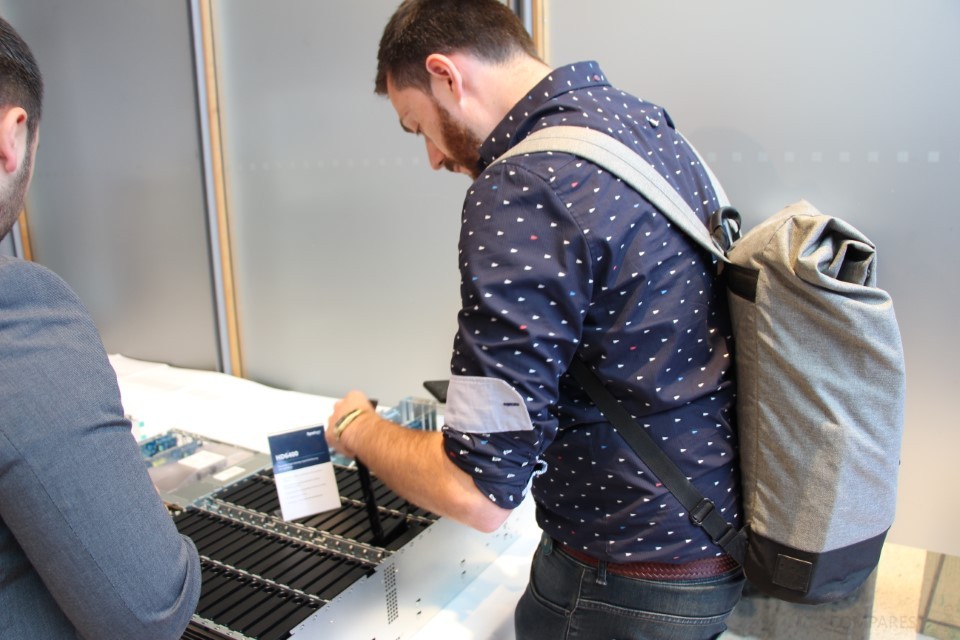 Before I crack on and explain why the Synology HD6500 Rackstation NAS is a big deal, indulge me a little and let me tell you a story. I have been following the world of NAS (and data storage in general) for the bulk of my adult life and although I have seen quite a few solutions shown off at trade shows and previews, I have always had this tiny voice in my head that, when I see something particularly groundbreaking, whispers "I wonder if this will ever see release?". This is because in the last decade alone I can name about 15-20 different NAS solutions that never saw commercial or even industrial release. Synology is as susceptible to this as any other brand – they are a business and as good as a concept is, it has to remain viable, profitable and in market demand. Remember the network gateway SG1000? The 2.5G equipped DS1620xs? They came and went – either changed in architecture or gone altogether. Why am I telling you this? Well, this is largely because I would have SWORN than the 60-Bay HD6400 Rackmount that QNAP previewed to visitors of their global launch events in autumn 2019 was cancelled. Aside from it never being mentioned again in ANY public or event semi-private event in the 2.5+ years since, it was also a fantastically huge solution that was several times to architecture of anything the brand had produced up to that point – heavily gearing towards the hyper-scale. Of course, I was wrong! The newly revealed HD6500 Rackstation NAS server (yes, they changed the name) is actually coming and although this is most certainly a solution that is targetted solely at the enterprise and highest storage tiers, it is certainly quite a wild ride to look at the specifications of the biggest and most powerful NAS that Synology has ever commercially produced. Let's discuss everything we know.
UPDATED 27th APRIL 2022
Much more information has now arrived on the Synology HD6500 Rackstation NAS regarding its design images, connectivity, additional information on the included 2.5″ SATA SSD system drives that are included with the system, PCIe upgrade generations and information on the system software support.
I originally covered the Synology HD6400 60-Bay NAS when it was initially revealed as a concept here. Click to learn about it.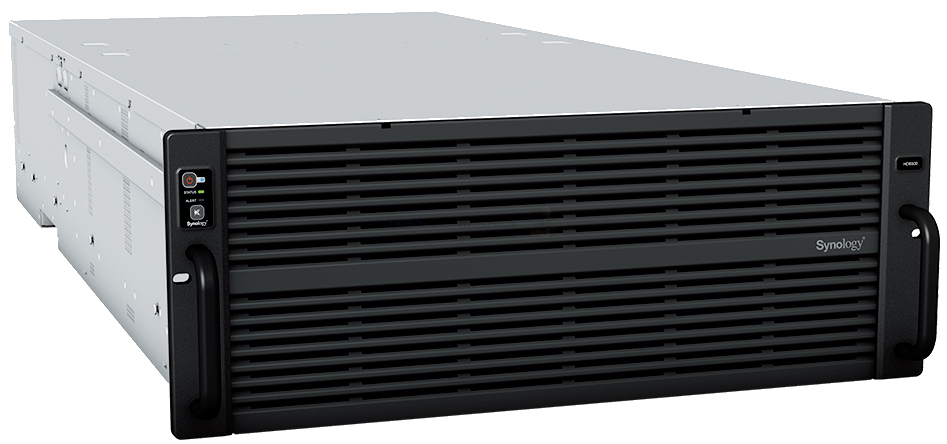 The Synology HD6500 Rackstation NAS – Hardware Specifications
Synology has classed HD6500 Rackstation NAS system with the following description:
Simultaneously large and highly scalable, the HD6500 is the perfect solution for organizations looking to consolidate their warm and cold data storage on a single, highly reliable, and highly capable platform.
There is a lot to unpack in that sentence. Although Synology has already provided some rather hefty 12-Bay, 16-Bay and 24-Bay NAS solutions in their rackstation portfolio that provide a large amount of storage frequency and capacity. However, the bulk of these are designed to be the primary operational platform for a business. They CAN of course be used for cold storage, but unless you are looking at the further end of the rackstation portfolio, they do not provide the sheer weight of years upon years of data (this is particularly true once you factor in multi-site backups being centralized). Now the Synology HD6500 attacks this in two separate ways. First off, the base system arrives with 60 Bays of storage in it's 4U height chassis. 4U (so 4 slots of a rack cabinet) is simultaneously big and small at the same time. BIG, as most Synology 16/24-Bay rackmounts are 2U or 3U, but also SMALL because you have several times the amount of physical bays available. This is due to the system using an unconventional top-loaded design for each of the 60 SATA/SAS bays. The front of the system that would usually feature the typical bays and trays is instead replaced by a huge ventilation panel that is going to be massively necessary when you factor in the sheer scale of active cooling that this system is going to employ throughout. Below is a photo taken of the original concept design of this NAS from back in 2019.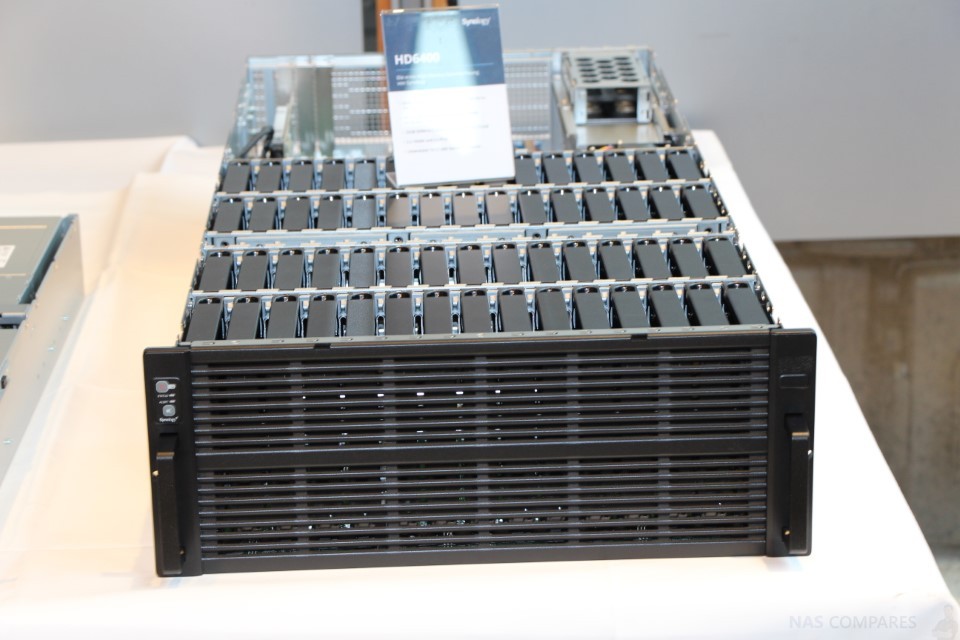 Now, all that storage is good, but it won't be much use without some solid and highly proficient hardware inside and outside to take advantage of. The system features a big, BIG CPU offering in the form of TWO Intel Xeon Silver 4210R server processors that are 10-Cores/20-Thread in architecture that arrives with a 2.6Ghz clock speed that can be ramped upto 3.2Ghz when needed This beefy CPU is accompanied by the system arriving with 64GB of ECC RDIMM memory that can be upgraded to a staggering 512GB (yes, half a gig!) of memory. This combined with the system featuring 2 10GbE network ports and four individual PCIe upgrade slots that can each support single/dual port network upgrades all the way upto 25G/40G Fiber allows this system to hit some insane benchmarks of performance. Synology state that the HD6500 can hit 6688MB/s Read and 6662MB/s write, but how this was achieved in drive media and network connections is still TBC.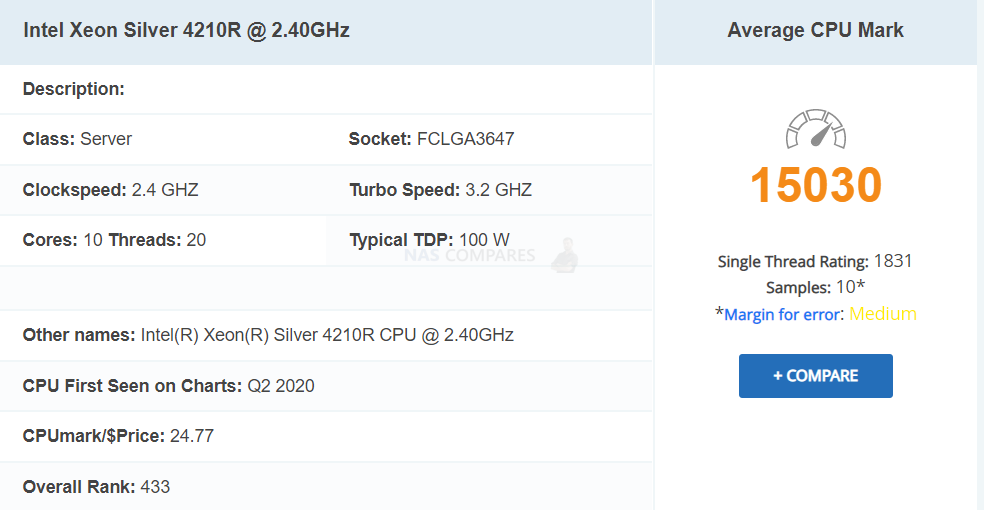 Then there is the sheer scale of the amount of storage that the Synology HD6500 is able to accommodate. Just in case the 60-Bays of storage available are not enough for you (what is wrong with you?), then the system also can be expanded in its storage with by connecting the new RX6022sas expansion chassis. This is a further 60-Bay externally connected expansion device and the original HD6500 can be connected to FOUR of these expansions at once and allows a 20U single tower stack to accommodate all these and provide a total 300 drives of SAS/SATA storage.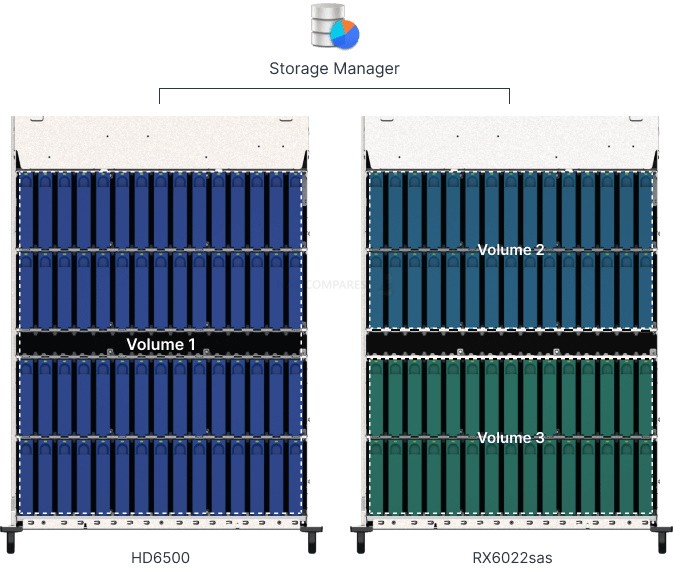 SAS multi-pathing is supported, allowing you to achieve up to twice the performance when deploying multiple expansion units, while Synology DiskStation Manager (DSM)'s online storage expansion and comprehensive storage management tools simplify initial configuration and management. ccelerates recovery from hardware failures and maintains maximum system resilience with SAS multipathing. The system can reroute data in the event of a main interface or connection failure, all thanks to alternate physical paths.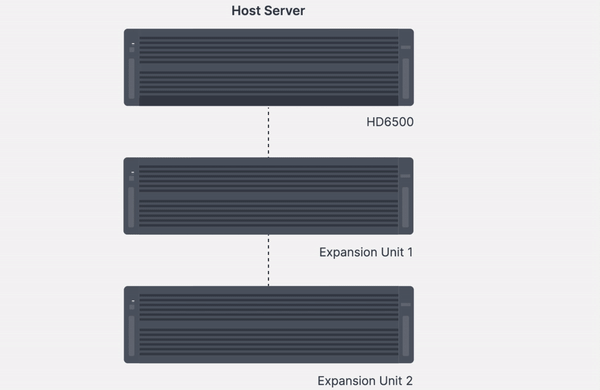 Each of the expansions and the original HD6500 arrives with a dual PSU architecture too, eliminating power supplier failures causing inadvertent complications in the greater storage array when in operation at this scale (with replacement being possible without powering the system down).
Synology RX6022sas Expansion Specs

number of disk slots
60
Compatible Disk Types
3.5″ SAS HDDs
Maximum Internal Net Gross Storage Capacity
960 TB (16 TB drive x 60) (capacity will vary with RAID type)
Disk hot-plug support
Yes

External port

expansion port
2

Exterior

Size (HXWXD)
176mm x 438mm x 985mm
Size (H x W x D) (with chassis brackets)
176mm x 482mm x 1020mm
weight
33.9 kg
Rack Mount Support*
Four Post 19″ (Synology Rack Kit – RKS-03 )

Power supply

Power auto-recovery
Sync with Synology RackStation
Power Supply / Transformer
1200W
AC input voltage
200V to 240V AC
Power consumption power*
811.8 W (Access)
231 W (Hard Disk Hibernation)
Dual power supply (RP model)
Yes
Remark
The power consumption test data is obtained when the Synology HAS5300-8T hard drive is fully loaded.

Temperature, Fans and Noise

system fan
80mm x 80mm x 4pcs
Replaceable system fan
Yes
Noise value*
61.7 dB(A)
I do wonder if this high-density series from Synology will meld into the existing active-active controller 'UC' series, as all indications point that this system is not part of that architecture but I think would lend well to that premium architecture later on.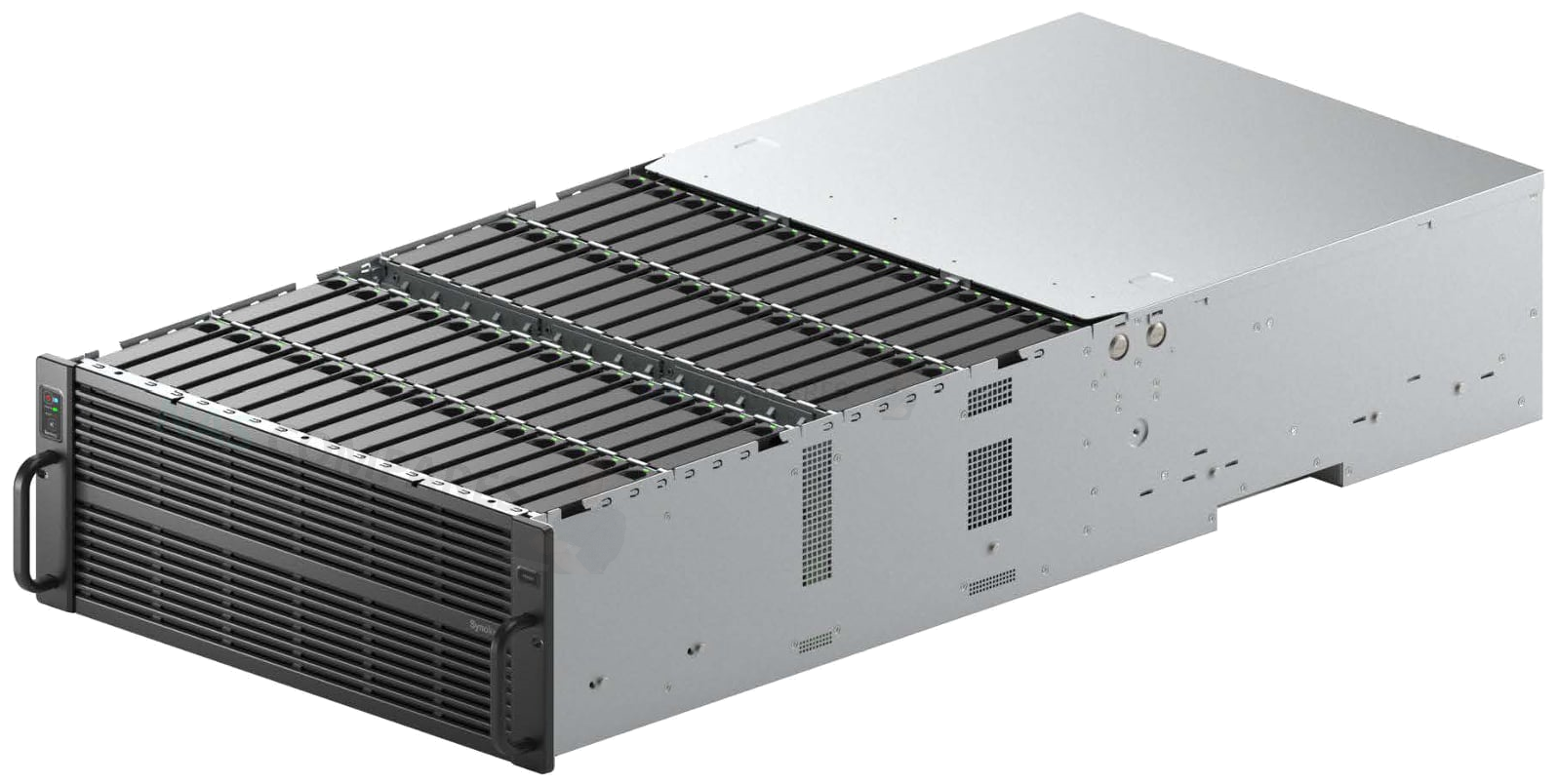 Another notable detail is that the HD6500 arrives with two included Synology SATA SSDs that stores the DSM software, services and entire operating system. This separates the huge 60 bays of SAS storage from the data to day system operations and is a smart move for a system of this scale. These are two Synology SAT5210-480G SSDs (I presume in a RAID 1 configuration for redundancy) and the covered within the 5 year warranty of the HD6500.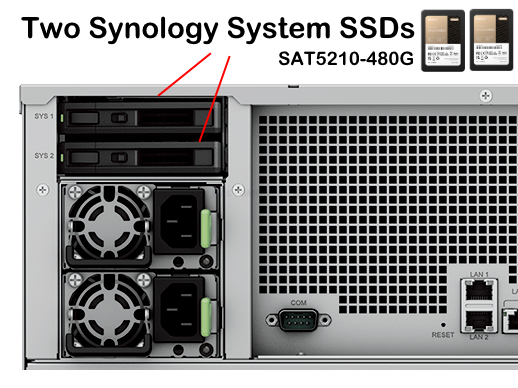 Below is a summary of that hardware architecture:
Synology HD6500 Rackstation Hardware

Processor model
Intel Xeon Silver 4210R
Number of CPUs
2
processor architecture
64-bit
processor clock
10-core 2.4 (base frequency) / 3.2 (max overclock) GHz
Hardware Encryption Engine (AES-NI)
YES

Memory

system memory
64GB DDR4 ECC RDIMMs
Pre-installed memory modules
64GB (32GB x 2)
Total number of memory slots
16
Maximum memory capacity
512GB (32GB x 16)

Storage

number of disk slots
60
Maximum number of disk slots to install expansion units
300 (RX6022sas x 4)
Multipath I/O
Yes
Compatible Disk Types* (See All Supported Disks)

3.5″ SAS HDDs
2.5″ SATA SSD (system hard drive only)

Hot Swapping
Yes
DSM Installation
The package contains Synology SATA SSD x 2. To check the applicable system hard drive model, please go to the Component Center .

External Ports

RJ-45 1GbE port
2 (Support Link Aggregation / Failover)
RJ-45 10GbE port
2 (Support Link Aggregation / Failover)
management port
1
USB 3.2 Gen 1 port*
2
expansion port
2
Remark
In 2019, USB-IF rebranded the standard formerly known as USB 3.0 to USB 3.2 Gen 1.

PCIe

PCIe expansion

2 x Gen3 x16 slot (x16 link)
2 x Gen3 x8 slots (x8 link)

file system

internal disk
external disk

btrfs
EXT4
EXT3
FAT
NTFS
HFS+
exFAT

Remark
You can install the exFAT Access package for free from DSM 7.0's Package Center. If you use DSM 6.2 or earlier, you need to purchase exFAT Access in Package Center.

Size

Dimensions (rack unit)
4U
Size (HXWXD)
176mm x 482mm x 1020mm
weight
37.9 kg
Rack Mount Support*
Four Post 19″ (Synology Rack Kit – RKS-03 )

Cooling, Noise and Operation

system fan
80mm x 80mm x 4pcs
fan mode

full speed mode
low temperature mode
silent mode

Replaceable system fan
YES
Power auto-recovery
YES
Noise value*
60.8 dB(A)
Timer switch
YES
wake on lan
YES
Power Supply / Transformer
1600W X2
Dual power supply
YES
AC input voltage
200V to 240V AC
Current frequency
50/60 Hz, single frequency
Power consumption power*
1025.2 W (Access)
418 W (HDD Hibernation)
British thermal unit
3495.93 BTU/hr (Access)
1425.38 BTU/hr (Hard Disk Sleep)
Remark

Noise level test environment: Synology HAS5300-8T hard drive in standby state, with two GRAS Type 40AE microphones installed at a distance of 1 meter from the front and rear of the Synology NAS; background noise level: 16.49-17.51 ​​dB(A); temperature: 24.25-25.75 degrees Celsius; Humidity: 58.2-61.8%.
The power consumption test data is obtained when the Synology 8TB HAS5300-8T hard drive is fully loaded.

temperature

operating temperature
0°C to 35°C (32°F to 95°F)
Storage temperature
-20°C to 60°C (-5°F to 140°F)
Relative humidity
5% to 95% RH

Certification body

Warranty

5 years
Remark
The warranty period begins on the date of purchase stated on the purchase receipt. (see more)

environment

RoHS Compliant

package contents

Host X 1
Synology SATA SSD X 2
Rail Kit Sliding: RKS-03 X 1
Accessory Pack X 1
Power cord X 2
Quick Installation Guide X 1
Synology HD6500 Rackmount Software Support
In terms of software, the HD6500 High-Density Server supports the entirety of the tools that Synology offer in DSM, as well as a vat array of 3rd party enterprise services arriving in SaaS that the brand is well known for. Alongside this, the HD6500 can be used as a bare metal synchronized service with many PaaS or form part of an existing hybrid storage system you may already have in your business. However, it is clear that Synology want you to consider their solutions (especially enterprise-grade ones like this) to serve as your primary storage system and integrate their own C2 platform and hybrid services into your business storage environment over multiple sites. The Synology ecosystem is remarkably impressive and simultaneously manages to arrive with a huge high-class business range of services available, whilst arriving at a price point that significantly undercuts the likes of EMC, Netapp and more. It is clear that Synology has huge designs on establishing a big presence in this storage tier, widening it to allow their solutions to be presented as 'breaking the strangle hold' that the highest tier providers have, which has allowed them to be largely self-designed in terms of cost and coverage. It's an interesting move and with their larger SA and UC releases in the last year or so, as well as their flashstations, storage media and the incredible evolution of C2 in such as short space of time – it might just bloody work! Here is the support of DSM and services that is confirmed:
DSM Support on the Synology HD6500

Storage

Maximum single storage space capacity*

1 PB (only supports RAID 6 groups)
200TB

Maximum storage space
256
RAID Group
Yes
Supported RAID disk array types

Basic
JBOD
RAID 0
RAID 1
RAID 5
RAID 6
RAID 10

RAID configuration migration

Basic to RAID 1
Basic to RAID 5
RAID 1 to RAID 5
RAID 5 to RAID 6

Expandable storage space with larger hard drive

RAID 1
RAID 5
RAID 6
RAID 10

Add hard disk to expand storage space
Global Hot Spare supports RAID types

RAID 1
RAID 5
RAID 6
RAID 10

Remark
Snapshot Replication, Shared Folder Encryption and Compression will not be available on Peta Volume enabled volumes. For more information on this restriction, see this article .

file service

archival agreement
SMB/AFP/NFS/FTP/WebDAV
Maximum number of simultaneous SMB/AFP/FTP connections
6,000
Maximum number of simultaneous SMB/AFP/FTP connections (with expansion memory)
6,000
Windows Access Control List (ACL) integration
Yes
NFS Kerberos authentication
Yes
Remark

For data equipped with expanded memory, all memory slots have been installed with the maximum supported memory capacity during the test.
Test criteria are based on the maximum number of simultaneous connections supported by this model. During the test, 25% of the connections were simultaneously transferring files. The transfer process only ensures that the connection is not interrupted, and the minimum transfer speed cannot be guaranteed.

Accounts and Shared Folders

Maximum number of local user accounts
16,000
Maximum number of local groups
512
Maximum number of shared folders
512
Maximum Shared Folder Sync Tasks
32

Hybrid Share

Maximum number of Hybrid Share folders
30
Remark
For more details on the maximum number of folders for Hybrid Share, see this article .

high availability

Synology High Availability
Yes

log center

Logs received per second
6,000

Virtualization Support

VMware vSphere with VAAI
Yes
Windows Server 2016
Yes
Windows Server 2019
Yes
Citrix Ready
Yes
OpenStack
Yes

General Specifications

Internet Protocol
SMB1 (CIFS), SMB2, SMB3, NFSv3, NFSv4, NFSv4.1, NFS Kerberized sessions, iSCSI, Fibre Channel, HTTP, HTTPs, FTP, SNMP, LDAP, CalDAV
Supported Browsers

Google Chrome
Firefox
Microsoft Edge
Safari

supported languages
English, Deutsch, Français, Italiano, Español, Dansk, Norsk, Svenska, Nederlands, Русский, Polski, Magyar, Português do Brasil, Português Europeu, Türkçe, Český, ภาษาไทย, Japanese, 한국어, Traditional Chinese, Simplified Chinese
Remark
For details on supported browser versions, please refer to the DSM Specifications .

Add-on Packages View Full Package List

Antivirus by McAfee (Trial)

Yes

Central Management System

Yes

Synology Chat

Maximum number of people online at the same time
500
Remark

Simulation of user environments, measured with an average of 20,000 messages, emojis, or stickers per user, requires less than ten seconds of server response time.
Where applicable, the system is tested with maximum memory installed and set to allow the maximum number of simultaneous connections.

SAN Manager

Maximum number of iSCSI Targets
256
Maximum number of LUNs
512
LUN Clone/Snapshot, Windows Offload Data Transfer (ODX)
Yes

Synology MailPlus / MailPlus Server

Number of free email accounts
5 (Additional purchase license is required to have more email accounts)
Maximum number of people online at the same time
800
server maximum performance
2,895,678 emails/day, about 85 GB
Remark

For models with expandable memory, the memory with the maximum capacity has been installed during the test.
In high-availability mode, the performance of the mail system is slightly reduced due to data synchronization between the two servers.
In all the above tests, the activated functions include: anti-spam, antivirus, DNSBL, greylisting, content scanning, full-text search (English only).

Snapshot Replication

The maximum number of snapshots supported by a single shared folder
1,024
The maximum number of system snapshots
65,536

Surveillance Station

Maximum number of camera support channels (requires installation of camera authorization)
150 (with 2 free licenses) (check compatible IP cameras)
Frames per second (FPS) (H.264)
4500 FPS @ 720p (1280×720)
2800 FPS @ 1080p (1920×1080)
1280 FPS @ 3M (2048×1536)
850 FPS @ 5M (2591×1944)
600 FPS @ 4K (3840×2160)
Frames per second (FPS) (H.265)
4500 FPS @ 720p (1280×720)
4500 FPS @ 1080p (1920×1080)
2700 FPS @ 3M (2048×1536)
1500 FPS @ 5M (2591×1944)
1120 FPS @ 4K (3840×2160)
Remark

The maximum number of IP cameras and FPS figures are obtained when the test rig is continuously recording with a full hard drive.
Actual system capabilities will vary based on system configuration, hard drive performance, number of features enabled, and presence of other workloads.
During the test, the number of SAS HDDs has been added to the upper limit supported by this model, and the configuration is RAID 5.

Synology Drive

Recommended number of clients that can be synchronized at the same time
2,000 (The number of devices that can be connected at the same time when the recommended number of files is reached)
Recommended number of files to store
100,000,000 (applicable to index or files belonging to Synology Drive , files accessed through other protocols, please refer to the file service in the above field)
Remark

Exceeding the recommended quantities above will not cause the kit to stop functioning, only longer response times.
For models with expandable memory, the memory with the maximum capacity has been installed during the test.
The Btrfs file system and unencrypted shared folders were used in the above tests.

Synology Office

maximum number of users
3,400
Remark

Test opening multiple files, each edited by 30 users simultaneously.
For models with expandable memory, the memory with the maximum capacity has been installed during the test.
Client performance may affect the maximum number of simultaneous editing users. Client Test PC Specifications: Intel Core i3-3220 / 8GB RAM

Virtual Machine Manager

Recommended number of virtual machines
40 (see more)
Recommended number of Virtual DSMs (license required)
40 (including 1 free license)
Remark
This specification varies by system configuration and amount of memory.

VPN Server

Maximum number of connections
60
Synology HD6500 6-Bay Rackmount NAS – Price and Release Date
As mentioned in the introduction, I spent quite a while thinking that this system was never going to be released at all, so now that I know that the Synology HD6500 is REAL and is genuinely coming, I can imagine that the brand will not want to rush this. It is a remarkably niche piece of kit and aside from the price tag almost certainly arriving in the 5 figures, this is not a system that you would release in a consumer period of the year. This is a very different system, even compared to 90% of Synology's portfolio and I would class this in a very select category alongside unique pieces such as the UC3200 Active/Active unified system and DVA3221 DVA Surveillance NAS. I DO think it will see a 2022 release however. I would also wonder about if/how the 60-Bay RX6022sas expansion chassis will be marketed, as it might well be supported by other Synology Rackstation NAS systems in their portfolio.
📧 LET ME KNOW ABOUT NEW POSTS 🔔
Join 1,406 other subscribers
Get an alert every time something gets added to this specific article!
This description contains links to Amazon. These links will take you to some of the products mentioned in today's content. As an Amazon Associate, I earn from qualifying purchases. Visit the NASCompares Deal Finder to find the best place to buy this device in your region, based on Service, Support and Reputation - Just Search for your NAS Drive in the Box Below
Need Advice on Data Storage from an Expert?
We want to keep the free advice on NASCompares FREE for as long as we can. Since this service started back in Jan '18, We have helped hundreds of users every month solve their storage woes, but we can only continue to do this with your support. So please do choose to buy at Amazon US and Amazon UK on the articles when buying to provide advert revenue support or to donate/support the site below.

Finally, for free advice about your setup, j
ust leave a message in the comments below here at NASCompares.com and we will get back to you.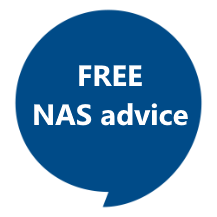 Need Help?
Where possible (and where appropriate) please provide as much information about your requirements, as then I can arrange the best answer and solution to your needs. Do not worry about your e-mail address being required, it will NOT be used in a mailing list and will NOT be used in any way other than to respond to your enquiry.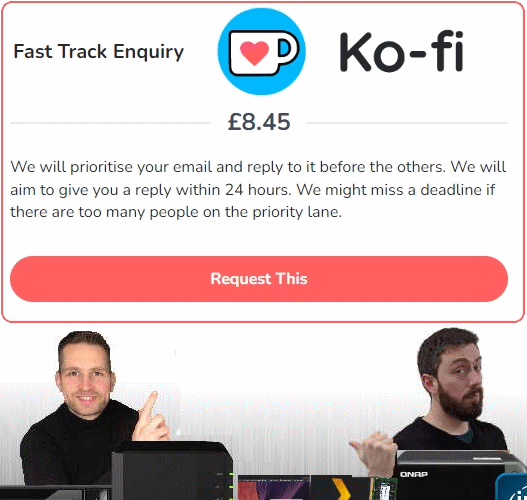 Terms and Conditions
Alternatively, why not ask me on the
ASK NASCompares forum
, by clicking the button below. This is a community hub that serves as a place that I can answer your question, chew the fat, share new release information and even get corrections posted. I will always get around to answering ALL queries, but as a one-man operation, I cannot promise speed! So by sharing your query in the
ASK NASCompares
section below, you can get a better range of solutions and suggestions, alongside my own.
If you like this service, please consider supporting us.
We use affiliate links on the blog allowing NAScompares information and advice service to be free of charge to you.
Anything you purchase on the day you click on our links will generate a small commission which is
used to run the website. Here is a link for
Amazon
and
B&H
.
You can also get me a ☕
Ko-fi
or old school
Paypal
. Thanks!
To find out more about how to support this advice service check
HERE
If you need to fix or configure a NAS, check
Fiver
Have you thought about helping others with your knowledge?
Find Instructions Here